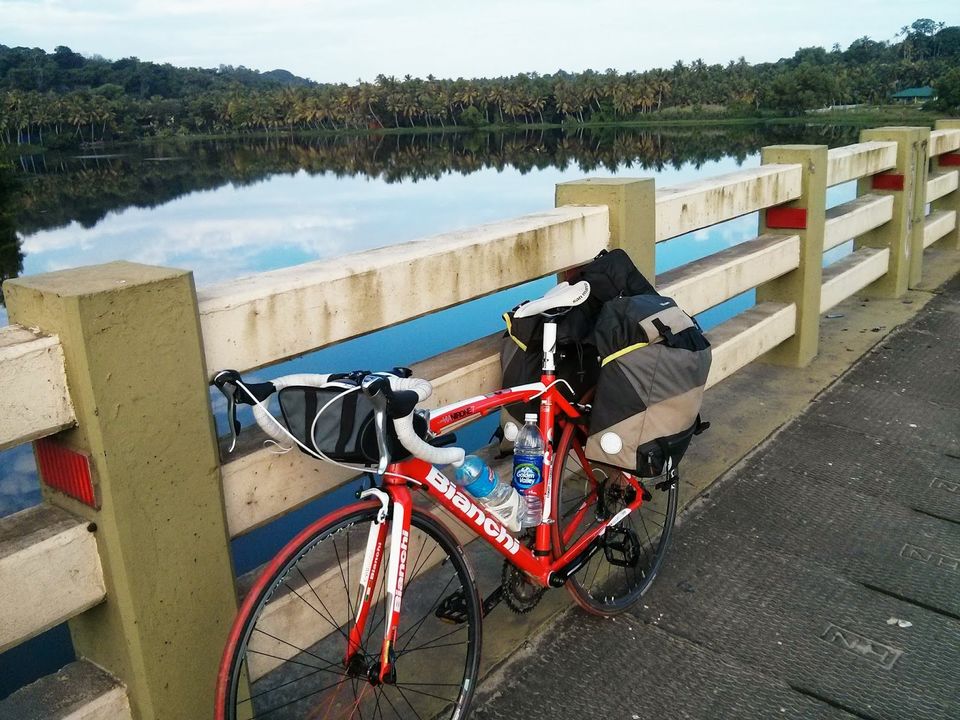 It sounds absolutely insane to many when I say I plan to cycle the complete southern coast of India solo without support in 15 days and many thought I was a lunatic when I yearned of doing so while I was recovering from an incision in my left sole due to an injury which I had ignored years back...
It was early 2013 when I conceived this idea of cycling the Indian coast, though riding along the coast has been something I have been planning to do since many years, but little did I know I will do that on a push bike.The task looked mammoth and the idea of being all alone by myself for 1200 + kms was a challenge by itself. But like many other things in my life I don't let much negative things creep into my mind. There are moments when your mind says its absolutely stupid and why am i doing this?
But the answer is there all the time -- "Because I can". If there is something I know I can, why shouldn't I ? Why do I need a social approval or a Go sign from somebody else to do something which I think I can do.
I get these question quite often from people -- What if you get mugged?, What if you are stranded in a no man's land and there is no way out ? What if the weather is really bad ?.. Don't we all face these situations when we are at the comfort of our homes or cities ?
I was mugged in a bustling city of
Melbourne
few years back and I almost got myself killed in that incident... miles away from my country and comfort zone. If I was able to fight back from that situation and manage to live another day, then why do these questions bother me now ?
So sometimes my reply to such a question is - "I will see then"(with a smile) .
What surprises me the most is all of us have such preconceived notions and fear in our minds about everything we want to do that it creates this invisible boundaries between us and our dreams. These fears are exactly why I make such trips. To go and find out if I can really achieve it. Am I really capable of getting myself out of such situations.
I can live a lifetime thinking I am strong but I prefer just going out there and finding it out if I really am.
August 2013,
After a lot of suffering due to a lingering pain because of a lump in my left sole, I finally decide to get that thing out. I have already delayed the process of surgery for many months now because that will stop me temporarily from running, cycling and all that I love doing. But I am no more able to endure the pain, I decide to take a break and get it fixed. I know this will be a major setback for my trip but then I should think about the bigger picture "What if the pain becomes unbearable during the trip and I have to call it off midway". So now I decide to get it operated and leave the rest to time. I am worried because my profession doesn't allow me to take vacations anytime i want to. So if I postpone the plans, I might have to wait another year to do this trip. And being an impatient the idea of waiting one more year is killing me. So I give myself a good 2 months to rehabilitate.
September 2013,
Instead I have started putting on extra weight during rehabilitation and thats a concern. A few extra pounds can prove to be a liability. Being out of training for 2 months can prove to be fatal for the trip. Because the level of endurance one needs to accomplish this kind of a trip is highly demanding and one cannot just get off the bed and start cycling from one coast to another. It requires a lot of physical as well mental preparedness to be able to do it.
October 5th 2013,
Armed with few extra pounds of body weight, less than half the endurance that's required for such a trip and lots of mixed feelings about the trip, I set my foot on the southern most tip of India. I quickly re-assemble my bike on the streets of a busy town "Kanyakumari". I have a sore body after the long 9 hour bus journey. People on the streets look at me more suspiciously than curiously as I do some last bit tuning to my bike.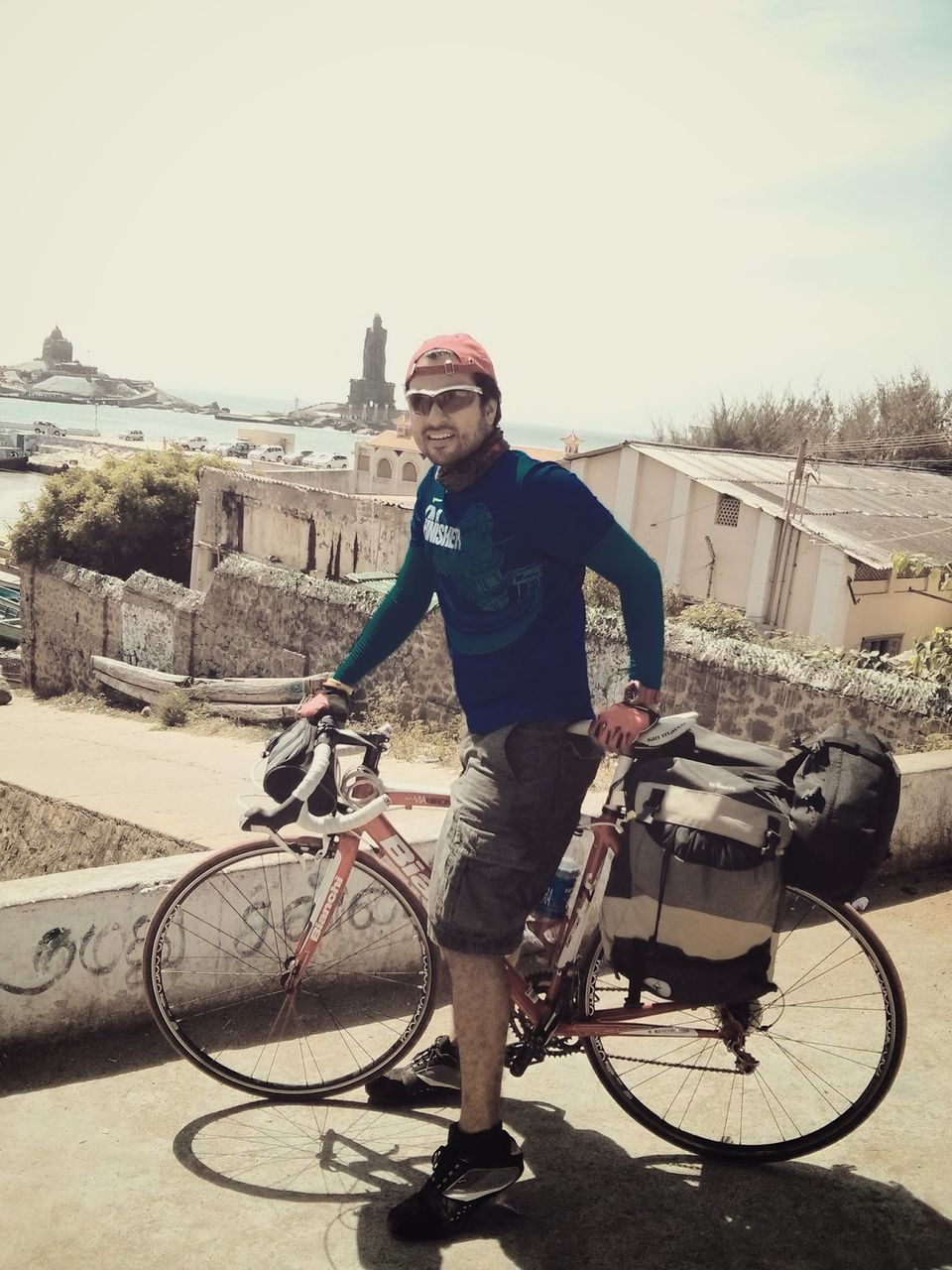 Its been almost 3 months I have sat on the saddle but the moment I fixed my bike, set the pannier bags and pushed my bike into the streets busy with tourists pouring to see the gorgeous tri-colored Indian ocean, I forgot about everything all the negativity about not being able to complete the trip. It doesn't matter to me anymore. Now I changed my goal, Its no more about reaching Goa in 15 days the challenge was now to live each day and take back something memorable out of every day.
This is something we all forget about living. We are so busy about reaching a destination that we forget living the very moment and waste our time thinking about things we have no control over....
Day 01 :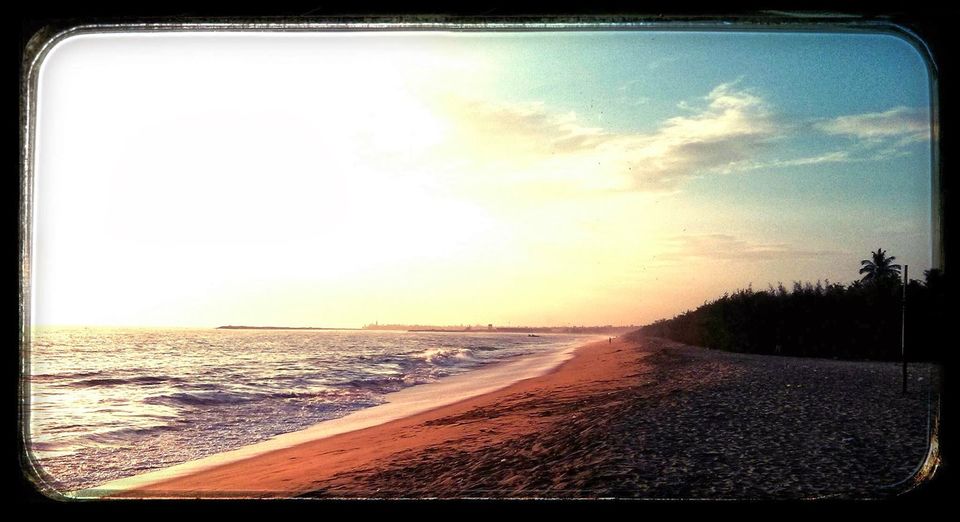 The first day of my trip is a short 89 km journey from Kanyakumari to Thiruvanthapuram, this part of India is quite famous for its humid weather and difficult conditions. Travelling to this region is a challenge in itself and cycling is unimaginable. The temperature in the morning was pretty ok and now its getting hotter every minute but I am ready for it. As its the first day of my trip I want to take it easy and slow.I am aware that my body needs some time to get used to this routine as I am out of training for a while now.
It's around 12 o'clock in the noon and I am only a few km's away from
Nagercoil
, the roads are pretty inhospitable.. not that I am expecting great roads and specially when the south of India has received heavy rain falls this year. Riding on a weekend isn't helping my cause either as the Highway is busy with local buses which rule the roads here. And being a cyclist I fall into the lowest denomination where people riding bigger vehicles expect me to be off there way . Cycling in India and specially on a push bike with accessories and colored clothing is a perfect recipe for some unwanted attention. People kind of try to push you out of the road as they find it pretty amusing. All a rider needs to do is focus on the ride and ignore such instances. It feels annoying at times when people look back at you after such an act and give you a wide grin. At times I feel like venting my anger by throwing the biggest possible stone around and smashing those teeth out, but instead I choose to wave my hands at them with a smile and thumbs up instead (That kind of annoys them I guess). Nevertheless I quickly realize there are greater and better experiences awaiting me en route.
The day progresses and the sun is just getting brighter and hotter all the time. 3 hours into the ride, I spot the dry landscapes slowly turning green and the aroma of coconut makes me realize that I have entered the state of
Kerala
. I make a quick stop for lunch and take a break as my back hurts.
Food options are pretty narrow for a Vegetarian like me as meat and Fish are kind of a staple diet for most of the Keralite's. I realize now that finding decent vegetarian food can become a challenge in this stretch of the trip. I need to eat minimum 5000 to 6000 calories a day for such a trip to be able to fuel myself properly to keep riding continuously. And being a vegetarian is not an option here. But little did I know there were bigger worries, I am getting a cramp in my left calf muscle, even after being careful about my hydration levels, I have managed to pull my calf muscle. I have around 20 more km's to reach Thiruvanthapuram. I have to somehow push myself and make it through the last 20 km's which looks to be a gradual uphill into the town of Thiruvanthapuram...
After a grueling 5 hour ride due to cramps, heat and mostly uphill roads, I manage to make it to the capital of Kerala -- "Trivandrum also known as Thriuvanthapuram". I found a budget accommodation for the night. I went in search of some good vegetarian food and only could manage some Iddiyapam and chana masala curry. I am surprised how vegetarians survive here as I am already a little weary about the food options available. Nevertheless i fill my stomach with some food and call it a day.
Day 02,
I wake up at around 4 am to make an early start to avoid the tropical heat. It can get really humid in Kerala during this time of the year, And i was riding next to the sea and it makes proceedings real sweaty.
The destination for Day 02 is Eravipuram Beach. The roads lead to pretty gradual climbs. To my surprise the roads were neat but very narrow for a National Highway. The best and the worst part of cycling early morning are the empty roads. Because when you need help you will find none. To my luck in most parts of Kerala the roads are well marked and it will take some super effort from some one to get lost here.
As I make progress, I bump into few cyclists from the "Trivandrum cycling club" who were training for an upcoming event. I stop by and say hello !!! they were excited to know what I was upto. I spend sometime discussing about the cycling scene in Kerala, discuss the routes , sip some local tea. 20 minutes later I make a move. The guys from Trivandrum cycling club cheer for me when I resume my Journey. There applause and whistles reverb in my ears as I slowly move away towards my destination into the busy NH 47. A sense of accomplishment slowly sinks into me for being appreciated for this effort. Its amazing how few words of encouragement can really make a difference into some ones efforts. Suddenly it all started making a lot more sense.
4 hours on the road and I see first signs of reaching Eravipuram. Day 02 is a short ride of around 70 odd Kms. There are bigger and longer days waiting for me in the upcoming weeks with 150 + kms a day rides. So the first few days were short planned rides in order to get used to the conditions.
Eravipuram is a small village in
Kollam
District. The village doesn't have many options to put up for the night. The only liveable place I found was close to the beach. The price was dirt cheap for a night stay but the rooms were horrible. But i have no options. As it was just about one night , I decide to stay here.
Day 02, 7:45 PM:
I wake up to a loud thump outside my room and I realize that I have slept the last 6 hours like some one has drugged me. I was drained totally because of the heat and fatigue. I get up quickly and go outside to see what made the noise. I realize there is a local beer bar on the top floor. It was a weekend so the place was crowded and I guess few people got crazy and started throwing empty beer bottles to the ground floor. Looks like that's some kind of a game once they drunk. I crawl my way back to the bed, I was feeling really weak though i didn't understand why i felt that way.

Day 02, 9:00 PM:
The power goes off !!...... I reluctantly get off the bed to get some food for myself as there was no room service. The corridor in the hotel was dark and stinky. I was on the 2nd floor, I manage to pull the torch out of my cluttered bag. I go out of the room and call out for the guy at the reception to come and help me get some food but no one responds. After waiting for a while I lock my room and go down the stairs. I see no one at the reception and frustratingly go out of the hotel in search of some food. The hotel was in the middle of no where and the only thing close to it was a small tea shop which was shut because it was a Sunday. I decide to go back to the hotel and check the bar at the top floor of the hotel for some food. All this while I had this totally negative vibes about this place.. the location, the room I checked-in, everything about the place was repulsive. When i reach the top floor of the hotel I found the waiter and ordered for some food.
After having some food, I felt a little better but I continue to get these negative vibes inside my room. I don't believe in occult but what followed that night kind of made me a believer in the existence of something paranormal ....
to be continued !!!