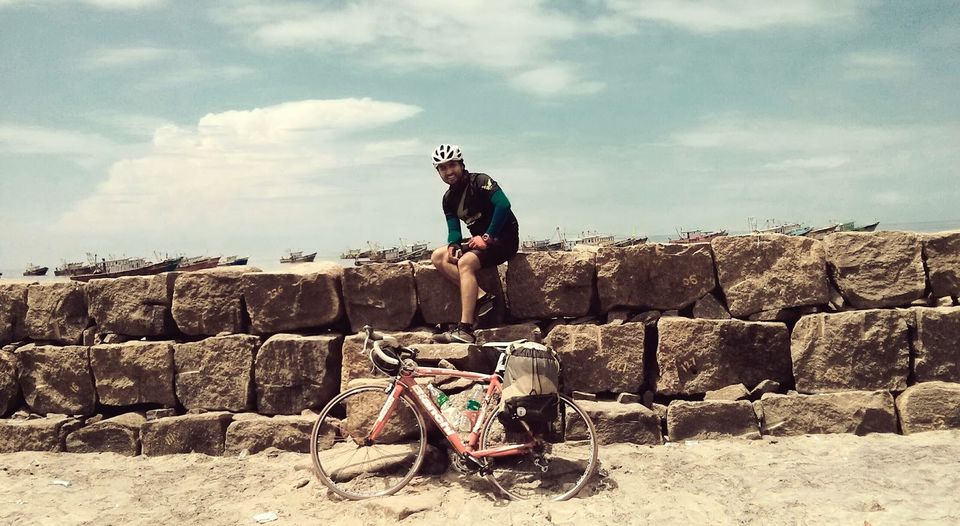 Day 02, 9:00 PM:
The power goes off !!...... I reluctantly get off the bed to get some food for myself as there was no room service. The corridor in the hotel was dark and stinky. I was on the 2nd floor, I manage to pull the torch out of my cluttered bag. I go out of the room and call out for the guy at the reception to come and help me get some food but no one responds. After waiting for a while I lock my room and go down the stairs. I see no one at the reception and frustratingly go out of the hotel in search of some food. The hotel was in the middle of no where and the only thing close to it was a small tea shop which was shut because it was a Sunday. I decide to go back to the hotel and check the bar at the top floor of the hotel for some food. All this while I had this totally negative vibes about this place.. the location, the room I checked-in, everything about the place was repulsive. When i reach the top floor of the hotel I found the waiter and ordered for some food.
After having some food, I felt a little better but I continue to get these negative vibes inside my room. I don't believe in occult but what followed that night kind of made me a believer in the existence of something paranormal ....
Day 02, 11:30 PM:
I was feeling uneasy inside the room, So I go out to take a walk on the beach. The beach in Eravipuram is totally ignored and destroyed. The sand on the beach is replaced with broken glass pieces and garbage.
The sea looks angry tonight, I sit on the beach which is just a few meters away from the Hotel and spend sometime looking at the roaring waves .

Day 02, 11:50 PM:
I go back to my room and try to catch up on some sleep , I have decided to make a move the next day to Alappuzha popularly known as Allepy. In my original itinerary Day 03 was supposed to be a rest day but now I wasn't having a great feeling about this place. So I decide to make a move next day. I clean my clothes, pack my bag, set the panniers back on the rack of the cycle, check the air pressure in my bike, arrange the clothes I need for the next day, set the alarm to 5:00 AM and call it a day.
Bang !!!
I wake up hurriedly.... In a moment my pupils dilate in the dark and I can see the door is open. I get off the bed and try to switch on the lights ... failing to do so, I remember keeping the torch handy in-case there is a power cut. I found the torch and point it towards the door, It's Open !!... I look for the switches again which was a few steps away from the bed. I switch on the lights and to my horror, I notice the latch of the door uprooted and laying down. I remember locking the door safely before I went to the bed. A series of thoughts start haunting my mind, Is it the wind? Did someone try to break open the door? I go out to check on the later, but there is no sign of any living soul in the dark corridor. I come back and try locking door again but the door had only one latch which is gone now. I got worried and wondered how to lock the door for the rest of the night. I guess, I was hypnagogic when all this was happening around me, I noticed the key that the boy at the reception had handed me when I checked into the hotel. I lock the door with it and go back to bed. Getting sleep was becoming difficult now, as the fear of someone breaking open the door again was now in my mind. My mind wanted to stay alert and awake but my body was falling asleep, because I was really drained.
Day 03 , 1:30 AM
I felt as if there is something very close to my face staring at me, I wake up horridly and realize there is nothing, this kept happening all night. Every time I tried closing my eyes I would get this feeling like there is something constantly moving, falling or staring at me. I cannot explain that feeling but it was as If some thing wanted itself to be heard or noticed. I never had any such experience before during my solo travels since so many years, I have never felt this way ever before. I have stayed in the remotest of places, in abandoned buildings, camped inside jungles but this was different. The room felt cold and repulsive. I remember a moment when I murmured while still in slumber.. "Let me sleep peacefully.. please". My body felt weak all night and I kind of gave up on the whole situation before I fell asleep again. I will never forget this night as what I felt was something I can never explain to anyone. But when I look back there was nothing that harmed me anyway, and may be I was too tired or may be the mysterious way in which the latch of my door broke that night, might have planted a seed of fear inside me to be alert.
Day 03, 5:00 AM,
The alarm rings loudly at 5:00 AM. I get up hurriedly and get ready to check out of that place and start my journey ahead. I have made all the payments for the hotel last evening , So all I have to do is to lock the room and get the hell out of that place.

The road from the beach connects to the NH 47 in some 5 km's. I kept riding in the dark till I reach the junction which has first signs of directions to Allepey . The incident of last night kept haunting me all day, but I realized quickly whatever it was.. didn't do me any harm and I should be glad about it and move on.

I made a quick pit stop for breakfast, Luckily I found a place which had loads of vegetarian food options. Now I have realized why I felt so weak last night, I wasn't eating enough. When you ride 90 + km's everyday you tend to burn roughly 6000 + calories which is close to a kilo of your body weight and if some one doesn't stay hydrated or doesn't refuel enough , it will leave your body drained and weak. In the long run this could impact the whole journey. Its a good idea to drink at least 6 liters of water everyday. But if its humid you can have more too. Its important to replenish the salt your body tends to loose everyday , So don't forget to add some salt supplements in the water you carry. I generally carry salt sticks which is easy to drop inside the water bottle and that slowly dissolves in water and helps replenish all the salt that you loose. Avoid drinking the popular health drinks available in the market, it does more harm than any good to your body. So stick to simple and basic things.

A very important thing to keep in mind while touring is the pre diet and diet during the tour. It's very important to load lots of carbs and protein in your diet. Make sure to add lots of quick energy food into your everyday diet when you touring. One should eat every half an hour, I generally make it a point to carry lots of energy bars and chocolates while touring. And do keep it handy inside the front handle bags or any other preferred place. Keeping all these handy saves unnecessary breaks and helps you from not losing the precious pedaling momentum. The bottom line is one can hog when and what they want to and that's one more reason why I love touring.
The opportunities touring on a cycle brings me , to explore a new culture , food and language is a reason irresistible enough for me to tour, apart from the challenges it gets me into. I will be wrong if I say I don't fear of being stranded in a bad situation or face inhospitable environment , but somehow I like it when I come out of such situations all by myself.
I believe the very reason of human existence is to explore , go out there face what challenges nature throws at you but instead we get trained to live a very sedentary life, a life where insecurities are the driving force of our existence and not intense passion to see and experience. If staying in your comfort zone is why you are here then why does nature pushes you out of your mother's womb .. when it thinks you are ready ? .. Only because the reason behind our mere presence in this planet is not only to exist but to explore, experience and enrich ourselves with all the experiences that this world has to offer us.
Day 03 , 11:00 AM,
Its a real humid day, I had to make lots of pit stops for food and water. As the day progressed riding under the sun was getting difficult. But the greenery all around and the gorgeous backwaters of Allepey were a welcome distraction from all the pain. Before one enters the city of Allepey there is a small fishing port called Thottappally, the beach is very clean considering it to be a fishing port. The fishing boat fleets make the whole place look surreal. I see few local fishermen sitting and having tea and smoking bidi (a local form of tobacco). The moment I looked at them they probably guessed that I am going to ask them to take a picture of mine. And they were right , I politely asked them to take a picture but only one of them reluctantly agreed to give it try. He said he cant promise me a good picture as he isn't that good with gadgets. I assured him its not as difficult as he thinks it to be and try teaching him some few basics about taking a picture. He looked a little confident and asked me to smile.
I wanted a pic with the sea and the boats at the backdrop, but he could only manage a little glimpse of the water and the boats. After repeated attempts he could take one decent picture. I thank him for the picture but instead he thanked me for stopping by and asking him to take a picture. I wave back at his friends who were looking at us curiously ,wondering what took us so long.
Day 03, 12:30 PM
I finally enter the city of Allepey, its a city built on the banks of the backwaters. You can never miss the narrow canals passing inside the heart of the city which opens up at the mouth of the sea. This town is considered to be the oldest planned town in this region. A town with picturesque canals, backwaters, beaches, and lagoons, its known as "Venice of the East.

I checked into the first Hotel I came across after entering the city. I was running a little low on energy because it was yet another hot day in Allepey. I just wanted to find a place and sleep for a while. I wasn't even feeling hungry, I was a little dehydrated. But the guy at the lodging had different plans.

This is a common problem for anyone touring in India on a bicycle. First of all, you cant leave an expensive cycle weighing just 5 kilos outside the hotel unattended , because that wont guarantee you safety of the cycle. So I prefer keeping my bike inside the hotel room . This man here at the reception looked at me suspiciously and was too adamant to let me keep my cycle with me. I didn't give up, I kept persuading him hard, I offered more money, I assured him that it wouldn't be a problem at all but the guy was really really adamant and didn't budge. He said there are other guests in the hotel who might complain. Though the reason he gave made no sense to me, still I kept my cool and persuaded him till he agreed to let me keep the cycle inside the room. He asked me for some extra security deposit and to give him a photocopy of my driving license or any other identity card.

Finally !! after an hour of melodrama and anguish, I was able to check into that room, take a shower and hit the bed .

I get up in the evening , quickly have something to eat and set off to explore the city. I have decided to take the next day off. I now make plans to meet a friend Ashish , who has promised me a tour around Allepey. And being a native malayali his knowledge about the city will help me go around and explore the place with a deeper connect. I was pretty excited about getting a small tour of the famous city which boasts to be a slice of Venice of the south. Ashish is a young boy born in Kerala, he did all his higher education in UK, so he is this right balance between the modern yet traditional native . It will be interesting to see his point of view about the city which is at the verge of expanding itself to the modern world with a risk of loosing its old world charm.
Day 04,
I wake up a little late today as its a rest day and I don't have to ride my cycle today. I lazily finish my breakfast and wait for Ashish to come and pick me up for the tour. In an hour we meet and set off for the tour.
Alleppey is an amazing bouquet of crowded lanes set around a bunch of canals spilling into the vast watery highways of the region..Charming backwater destination, Alleppey provides a picturesque realm of beautiful backwaters, thatched houseboats and swaying palm trees. It's a land of smiling sun washed by the silvery waves of emerald blue Arabian sea. This is most popular place to experience a foray into the backwaters, this is the hub for most of the houseboat-action in Kerala, and home to the famous Nehru Trophy Snake Boat Race.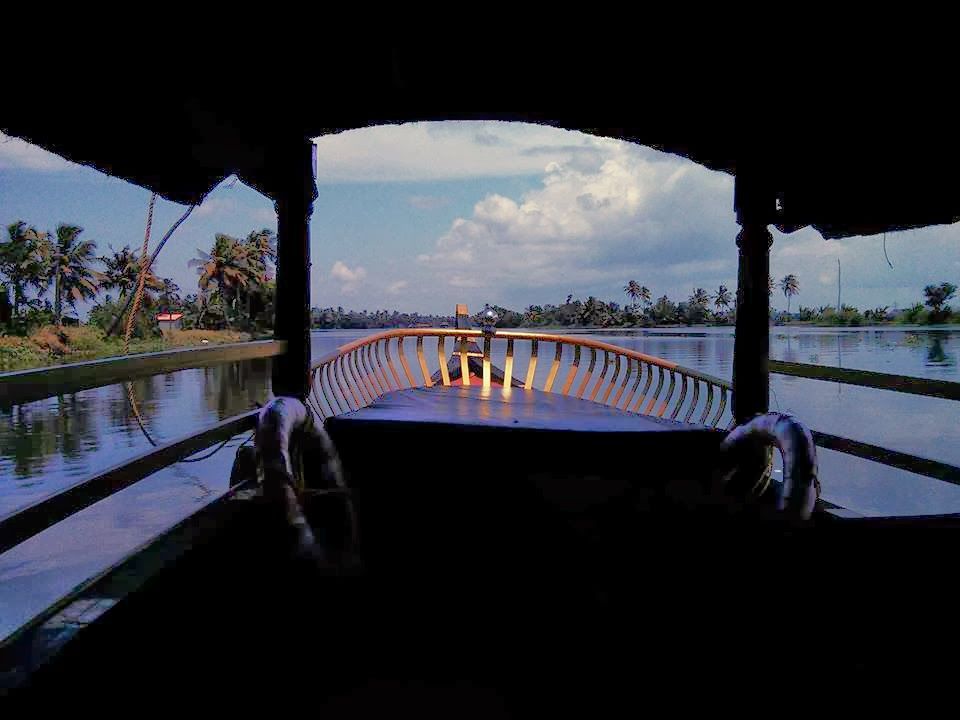 A delightful experience while in Allepey is a houseboat cruise, The house boats in the backwaters of Allepey are in fact reworked version of Kettuvallams of olden times. The original Kettuvallams used to carry tons of rice and spices. The Kettuvallam or known as 'boat with knots' was called so because the entire boat was held together with coir knots only.

Of late, houseboats have come up with all kind of comforts of a good hotel including furnished bedrooms, modern toilets, cozy living rooms, a kitchen and even a balcony. These boats can be hired for a day and you can either enjoy a laid back tour in the pristine backwaters or an amazing fun filled fishing tour into the mouth of the sea.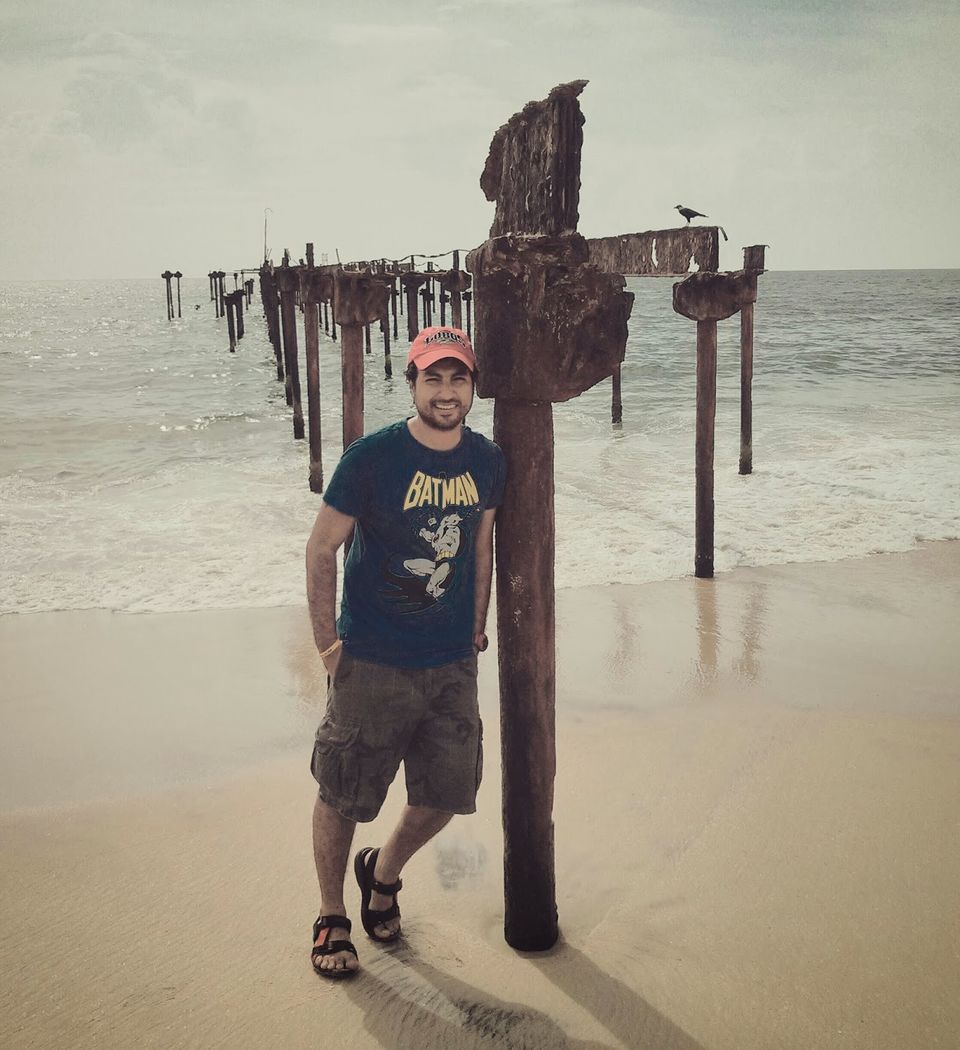 After a brief 2 hour tour of the backwaters, we head towards the Allepey beach. The beach has a small park nearby. Remains of Allepey Sea Bridge, which is in ruins, are still there as a memory of the good old days when Allepey port was one of the most famous and important ports in Kerala. The Sea Bridge enabled the passage of goods which came via ships. The bridge was destroyed because of the Tsunami which hit the Indian coast in 2004.

After spending a few hours on the beach , I bid good bye to Ashish and leave for my hotel. Next day I had to start my journey to commercial capital of the state of Kerala, Ernakulam. It's the mainland region of the city of Kochi.

To be continued ...