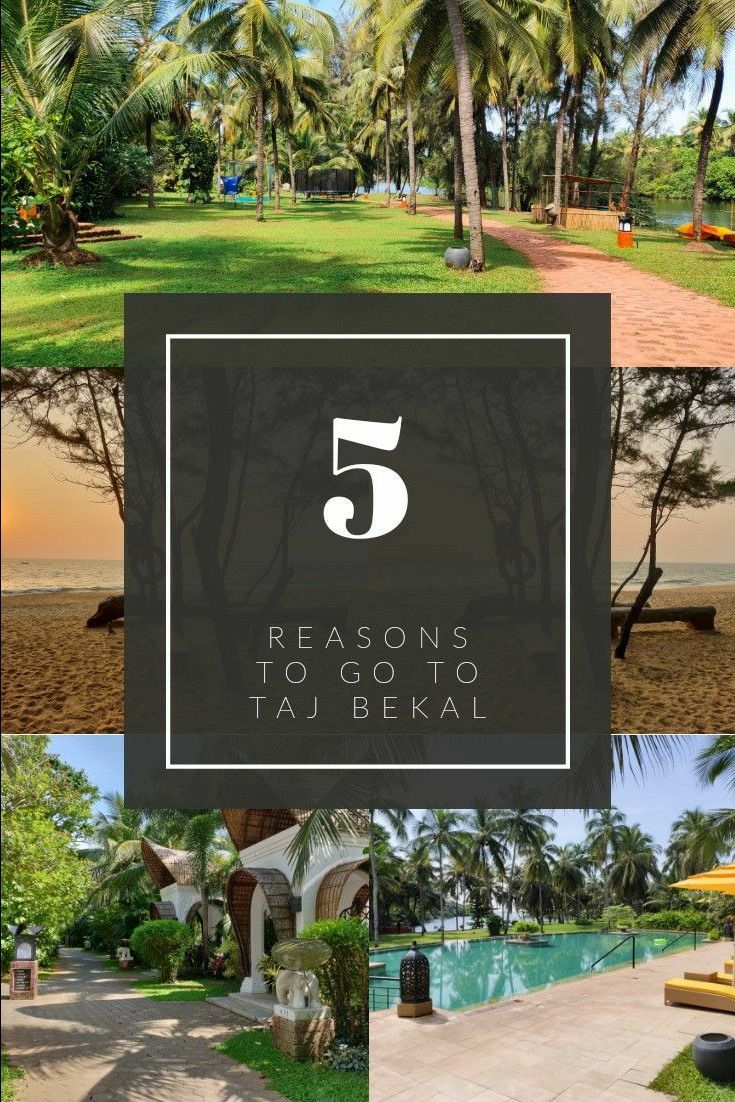 Can one fall in love again? If yes then I have surely fallen in love with Taj Bekal. It was my 5th wedding anniversary and my husband planned a 3 day short trip to Kerala and we couldn't have asked for a better location to spend some quality time.
Location
A picturesque village in north Kerala in the Kasaragod district, Bekal is a land with a storied past. Here, sun-kissed beaches, majestic forts, meandering rivers and rich traditions tell beautiful stories, harking back to an ancient time.
The easiest and most convenient way to reach Taj Bekal is by getting down at Mangalore Airport. From here on it's a short 2 hour drive to the resort.
Cost of Travel (one way): 2000 Rs if you hire a cab.
Welcome to the Property
Spread across 26 acres the resort oozes of perfection and luxury. With the backwaters on one side and the sea on the other what more can one ask for?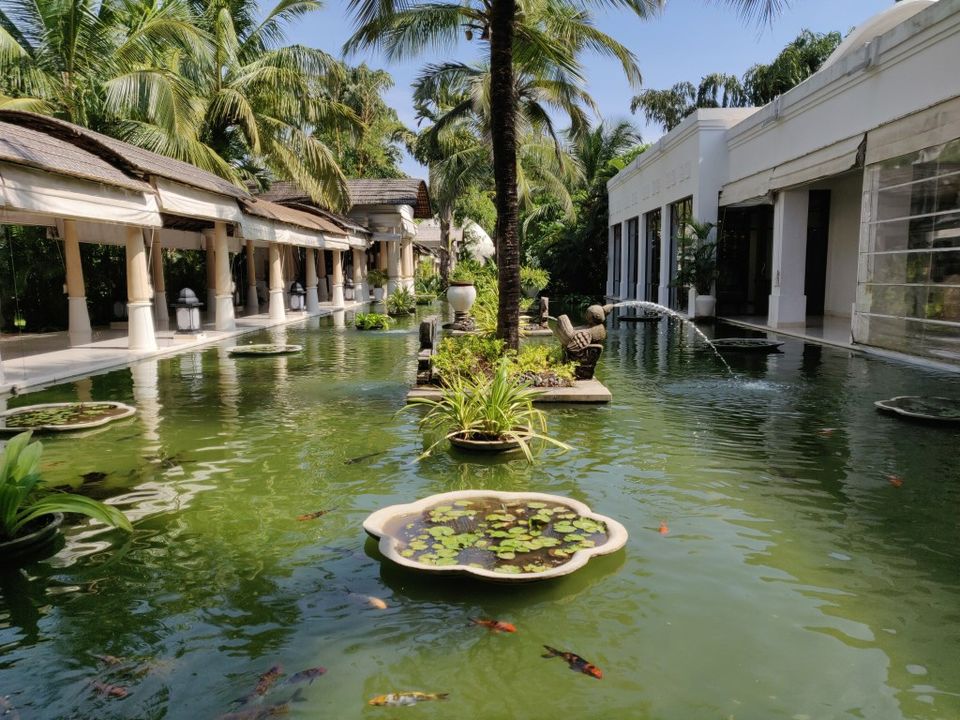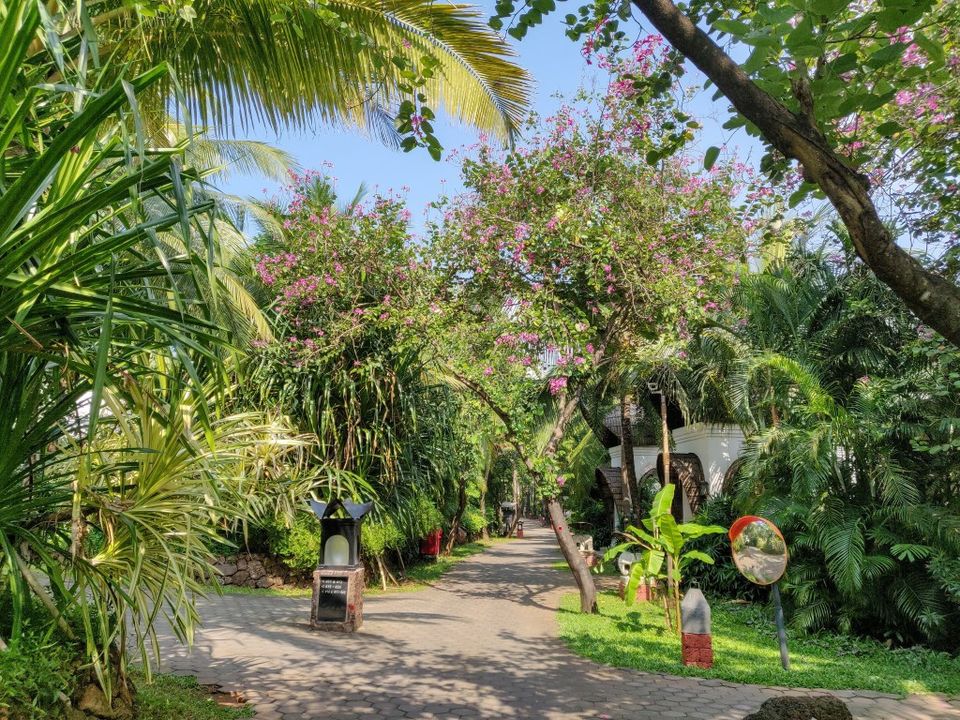 Upon our arrival at the property, we were welcomed with a warm smile by their front desk staff Varsha who promptly applied a sandalwood tikka on our forehead and offered a beautiful shell garland. The check in formalities barely took 5-10 mins and exhausted from our flight and drive we headed to our room.
A small buggy was arranged to take us to our room. While making our way to our rooms I couldn't help but make a mental comparison with Bali. Seemed like I had been teleported to Ubud. The vast resort, lush greenery, unique stylised cottages and dim yellow lighting glow everywhere was so very similar to Bali.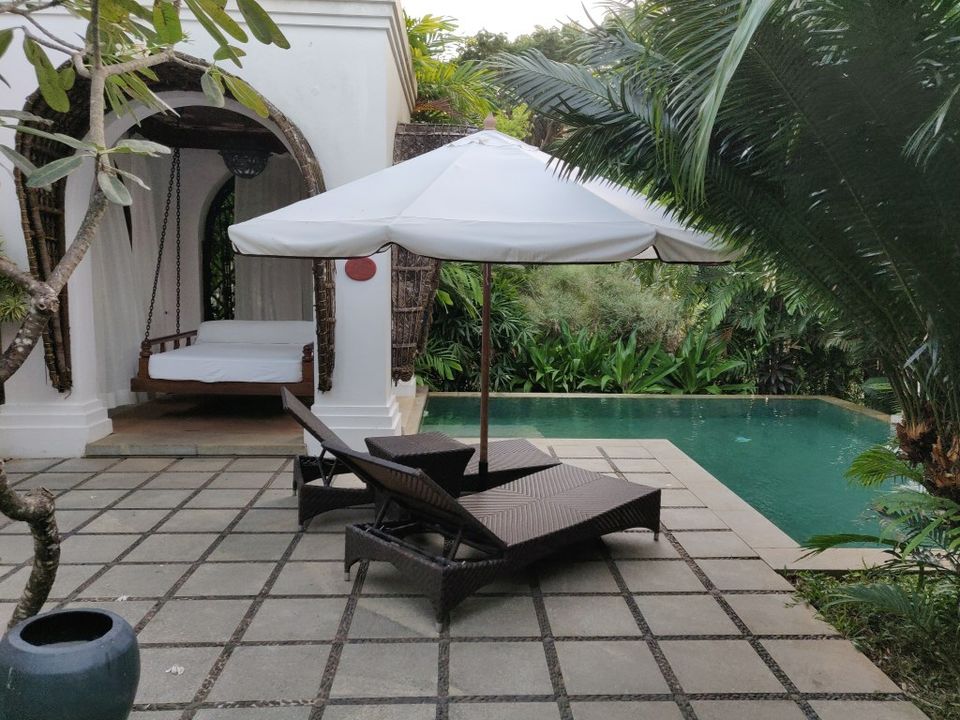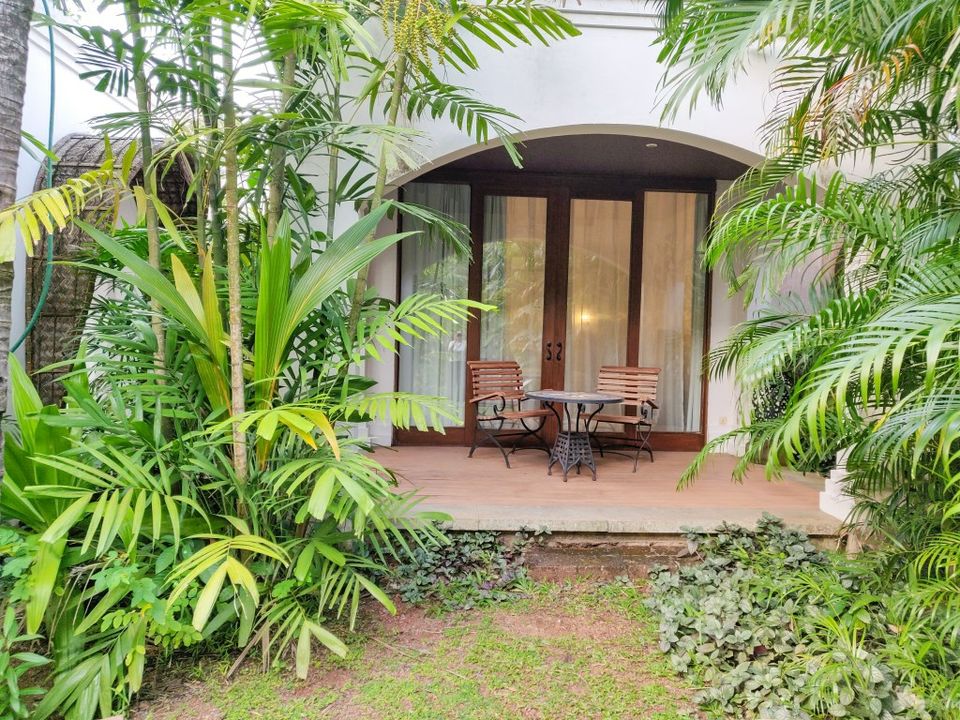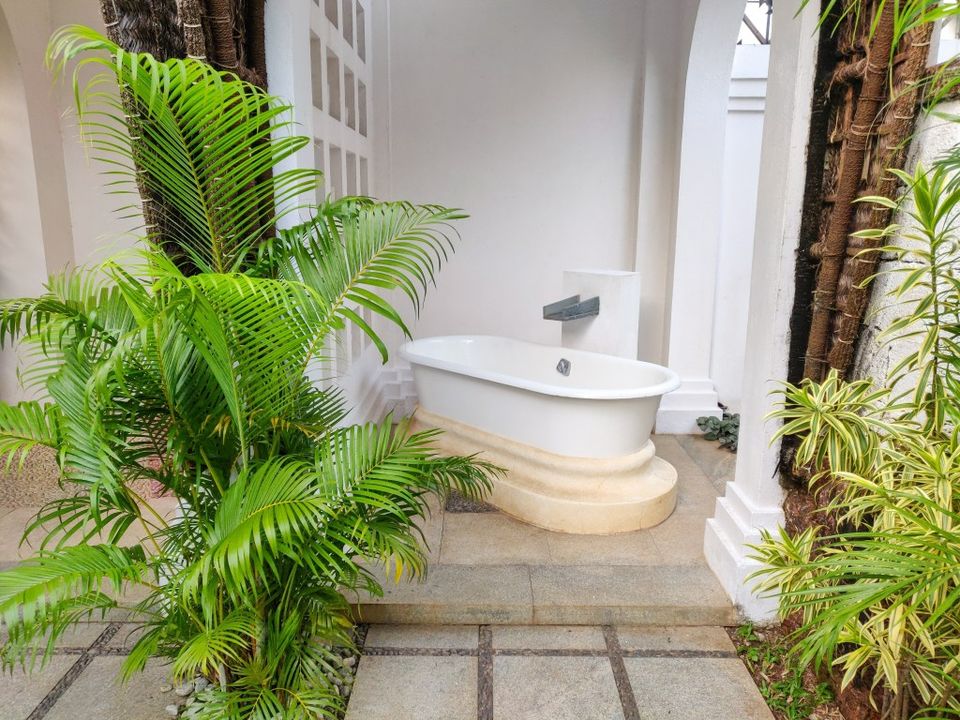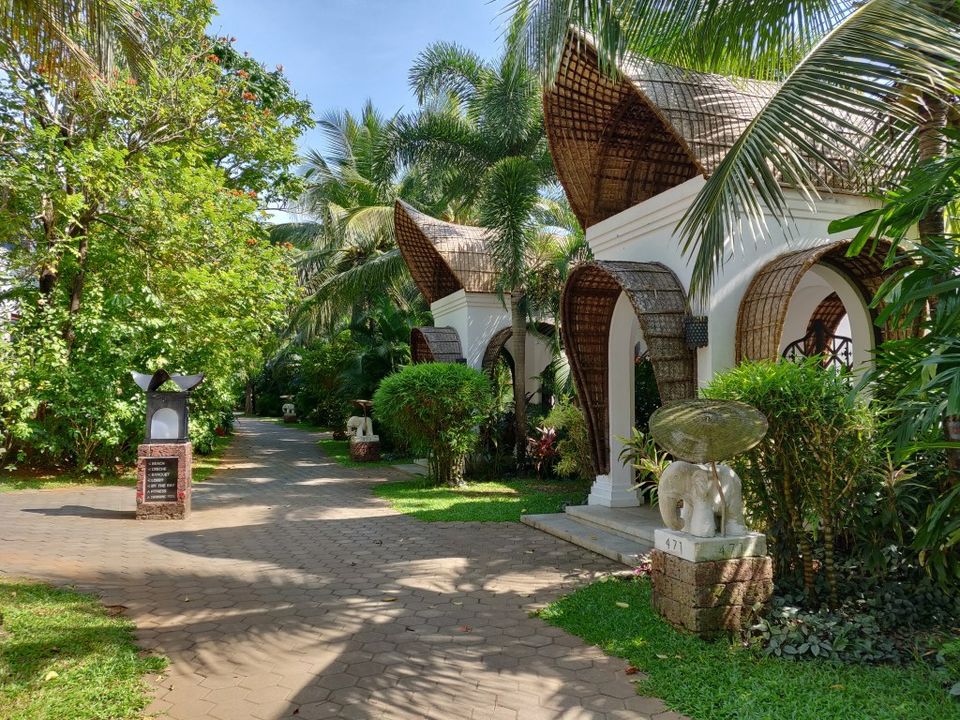 The rooms and villas are inspired by the design of Ketuvallam houseboats, with earthy Chitra Pothi-style painting on the wall. The balcony consisted of a swinging bed which is perfect for those afternoon siestas. What I loved most was the bathroom, rather large in size and one that came with a large bathtub. Of course, being Taj, the bathroom was stacked with essentials of all sorts and my personal favourite forest essential toiletries.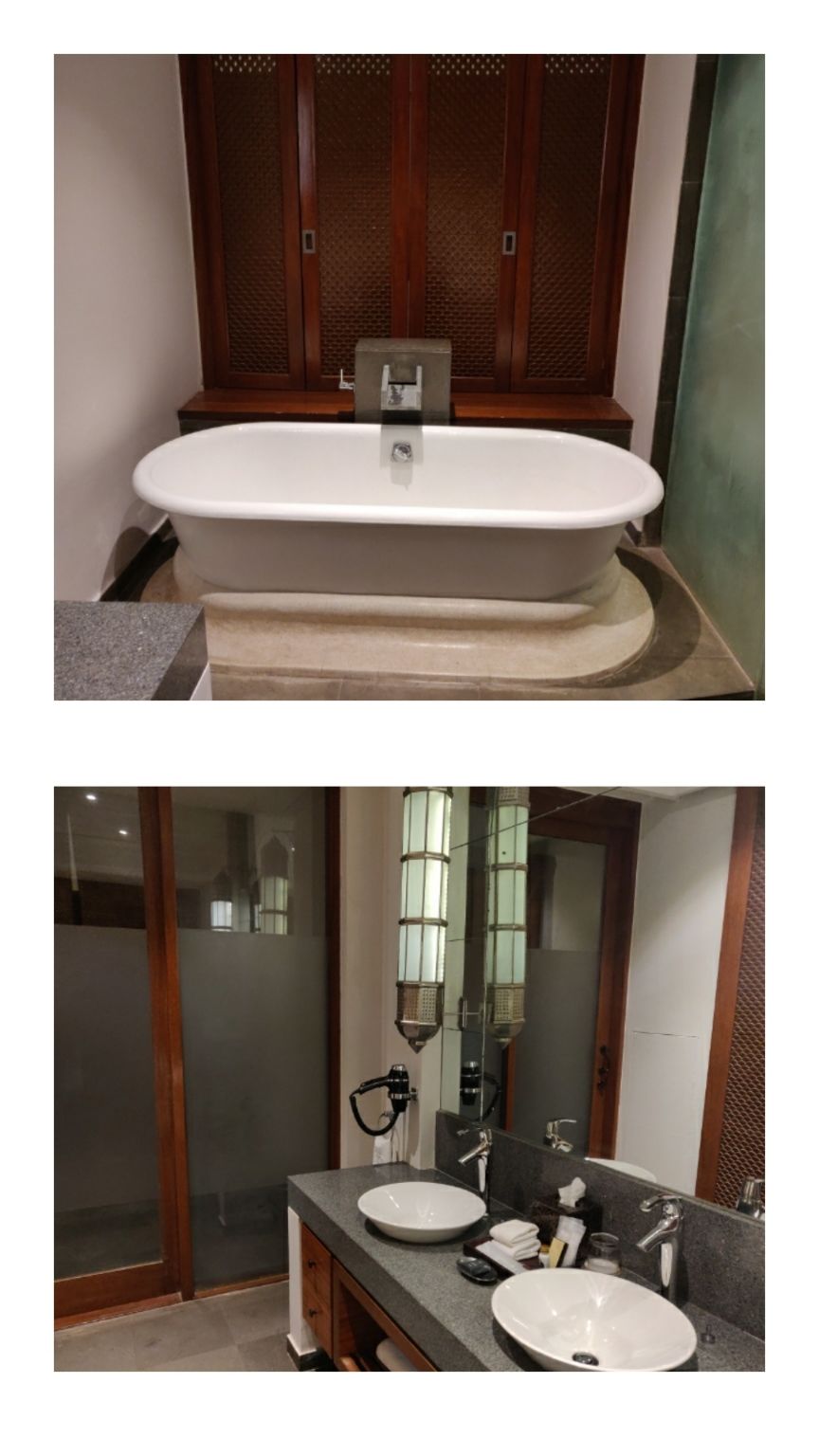 Taj is best known for its service and providing you that "Home away from home" feeling. There was a fruit basket stacked with different fruits, 3 cookie jars and a tray of assortments of chocolates and pastries…They spoil you to the core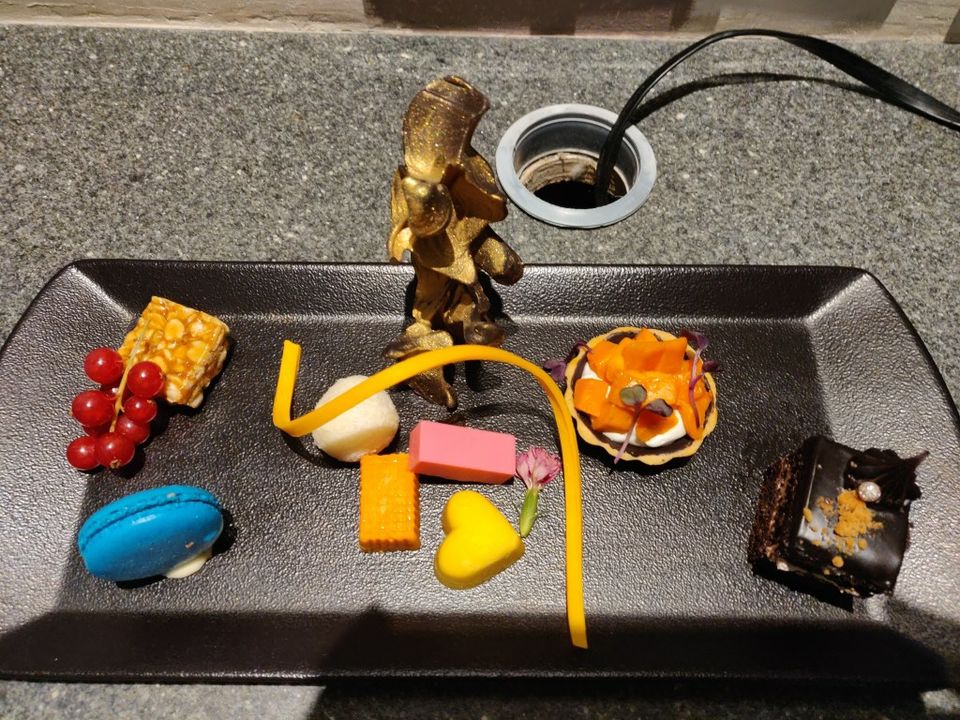 Exploring the property The property has something for every type of person. There is outdoor activities , indoor activities, small cute corners to just sit and relax, lush green trees that wrap around the resort, beautiful beach, a library for guests and the list goes on..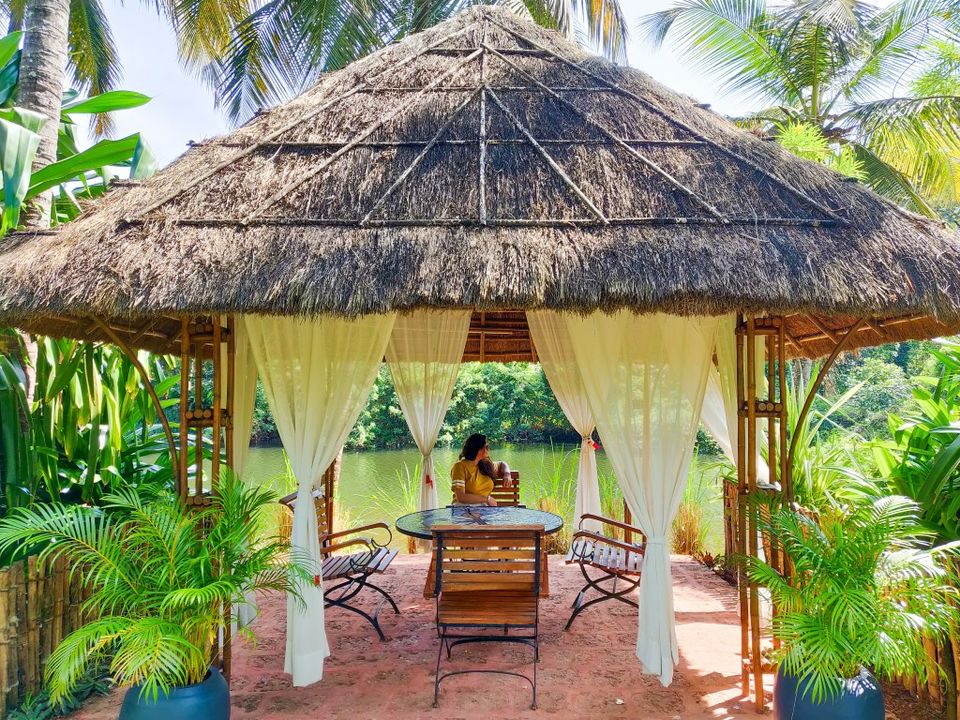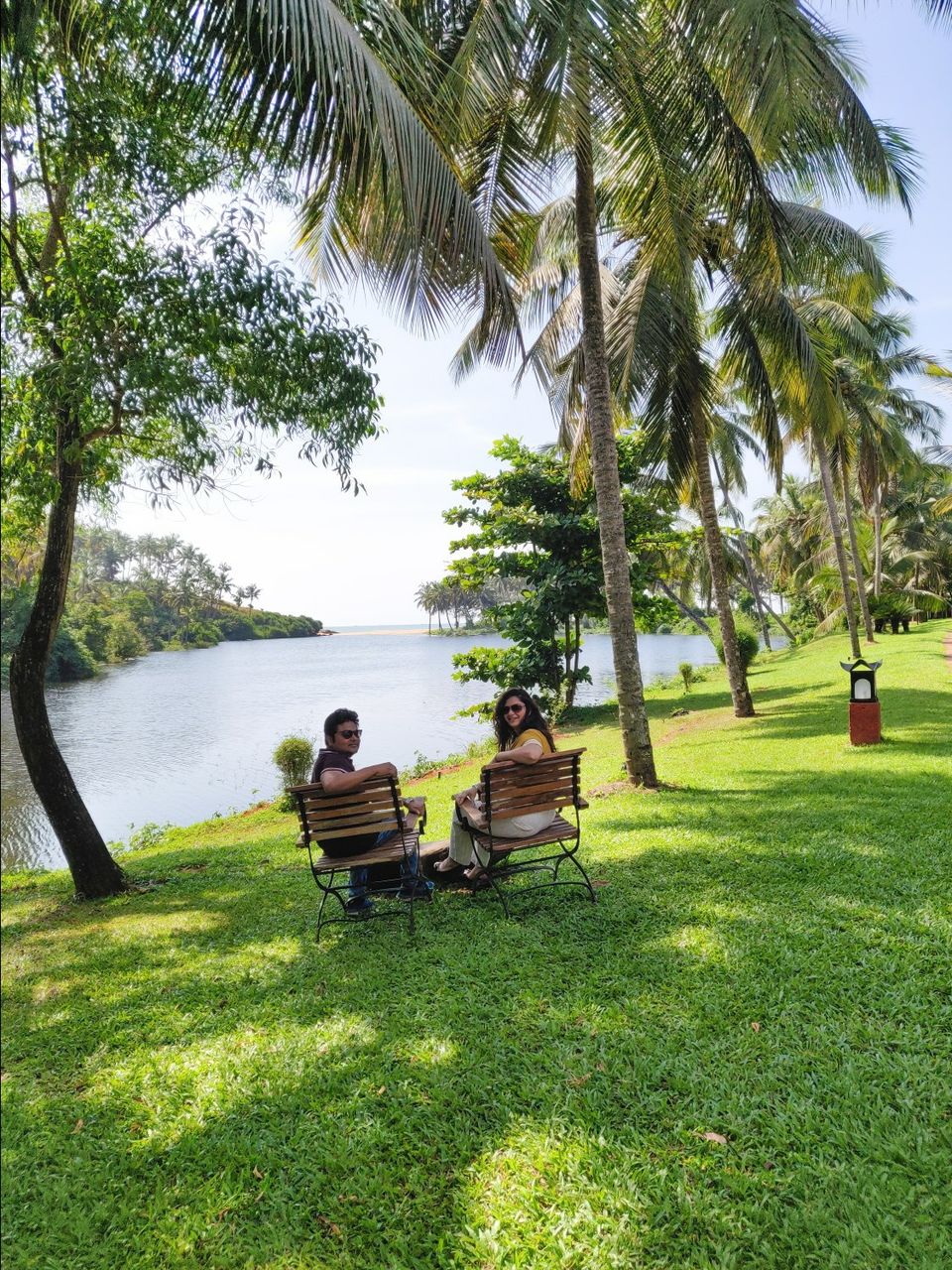 It was very relaxing to be in the midst of nature away from all the buzz of city life.
Food :
Now being an Indian guys we do love our food. It's said that if a person were to walk just a few kms from a place and reach another place then the food would differ from the first place. Don't believe me then do try it out the next time you are here! The resort consists of 3 such amazing lip smacking restaurants:
By the Bay: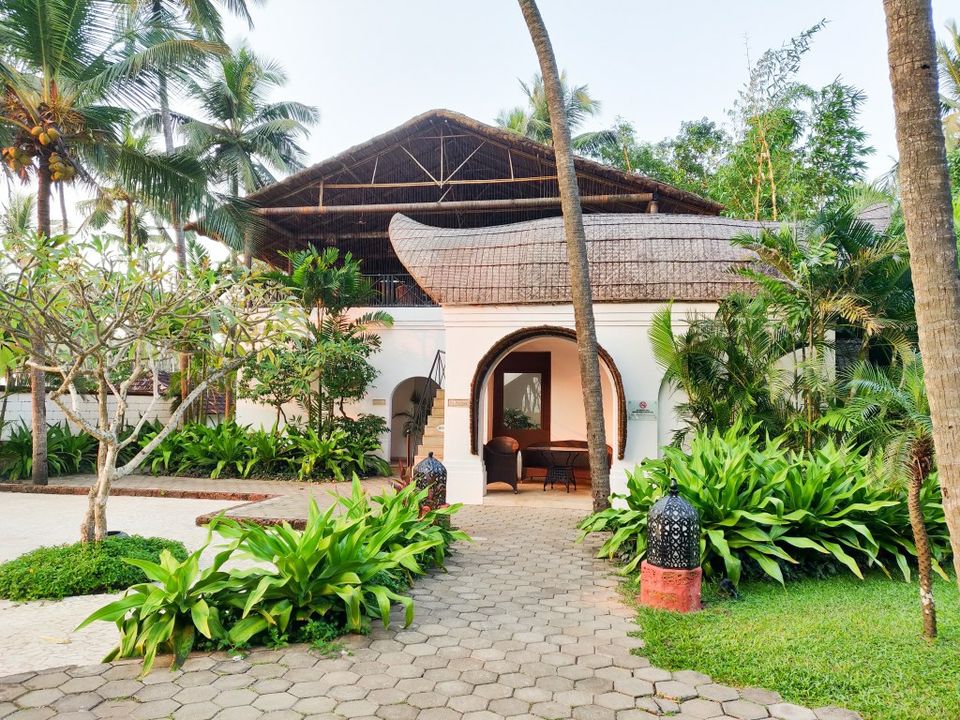 For our anniversary dinner we decided to have food at By the Bay. It boasts of local cuisine that will tingle your taste buds. To be honest, I had my reservations not having tried any south Indian food other than Idli and Dosa but Arun our host for the evening made some great suggestions and made out try out some exotic new dishes.
We first started off with a " Quilon Cashew Vada" that was interesting. We all have heard about Dal pakodas but this was different, a good different.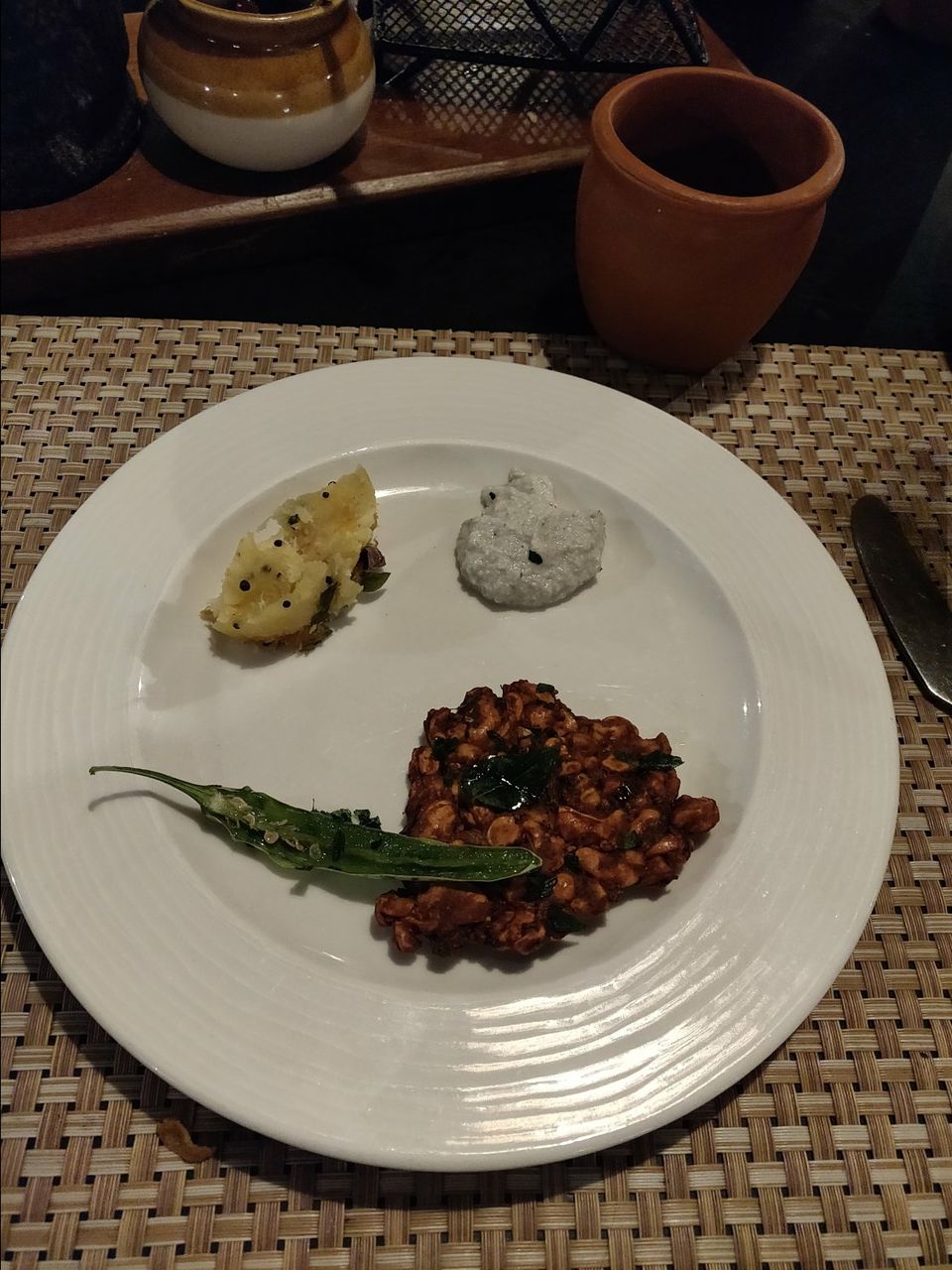 Next up were "Cashew Pidi Theyaal" – a classic take on cashew nuts and steamed rice in a rich gravy of coconut and tamarind & " Pachakari" – a vegetable stew was very promising.
Last on the menu was " Elaneer payasum" interesting part is that it was served in a bowl made of chocolate and consisted of tender coconut pieces which was a nice twist to the sweet. What to way to end a beautiful day!
Backwater Café:
We had dinner at the backwater café on the second day. It's a all day dining and multi cuisine restaurant. We decided to go for a veg pasta and pizza and both were super yumm. What I really appreciated is that the staff goes out of their way to make recommendations and even the chef makes it a point to come say hello and check if you liked the food. When Ali(the chef) came to greet us he made some amazing suggestions for us to try out the next time.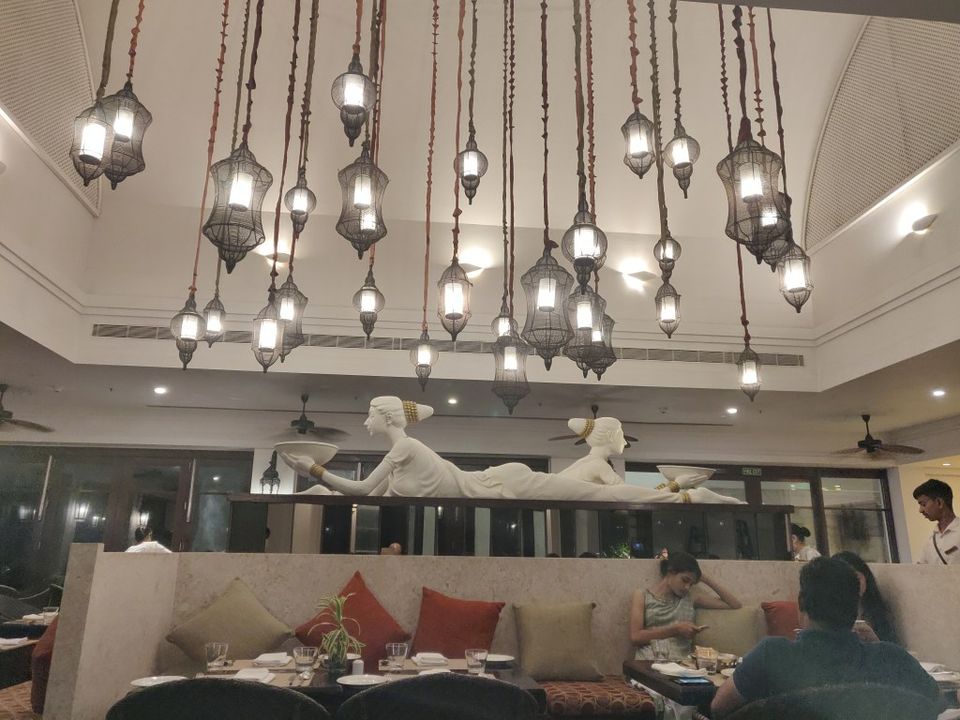 Pool Side Grill: Unfortunately we didn't get a chance to eat here. However if Ali's recommendation are anything to go by then the biryani is supposedly something to surely try out.
You can also check out the Elephant Themed Ivory bar that has a view of the backwaters and swimming pool.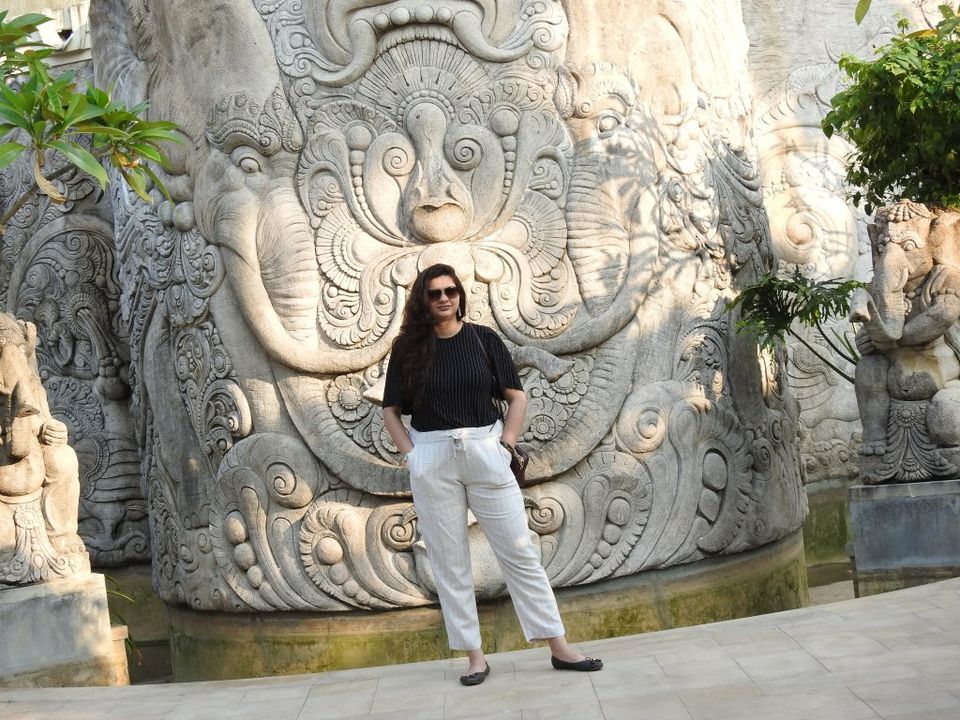 If you have any specific food requirements e.g. dietary or baby food then the staff ensures that those are met. You only have to ask them during your stay.
SPA
I had heard a lot of raving reviews of the JIVA SPA so was eager to try our some of the signature experiences, Indian therapies, body rituals and beauty treatments. I opted for a relaxing Indian aromatherapy. It starts off with a steam session followed by the spa and ends with a hot bath. The oils used were therupatic to say the least and the masseuse were skilled in their craft. All the weariness escaped my body and I left revived and energetic after the SPA.
P.S: A trip to Taj would be incomplete without their infamous SPA therapies.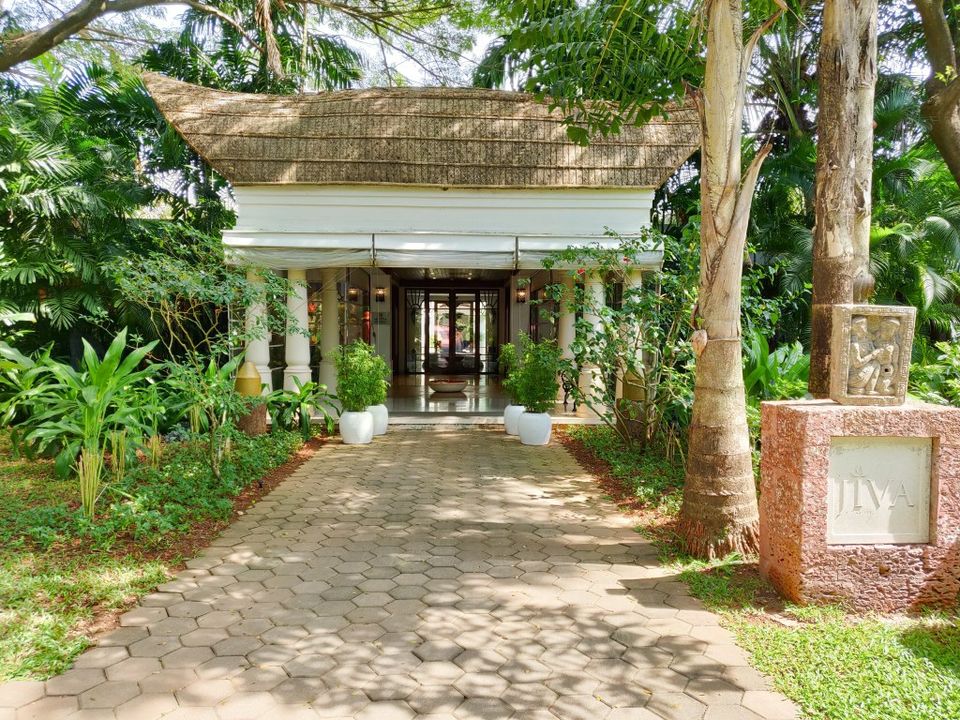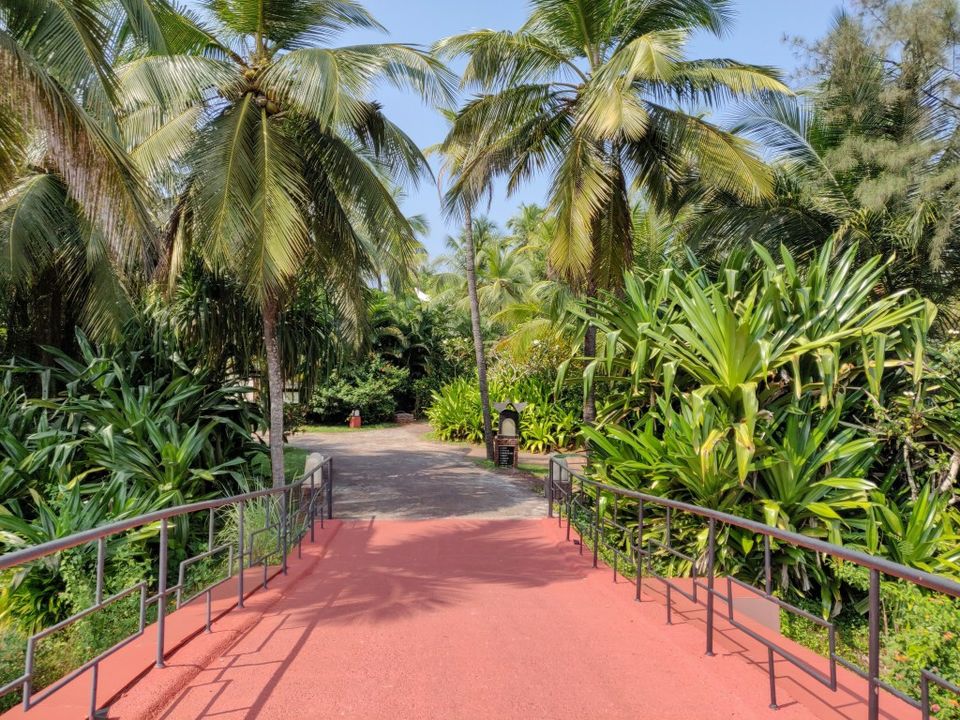 Activities
Though our plan was to just sit, eat and relax we still opted for some activities. The resort makes sure that they keep you engaged with numerous activities and that you do not get bored.
Archery:
This one is my favourite and I couldn't contain my excitement when I learned that they have this sport here! Of course Naved and I had to try our hand at it at least once. Though I didn't hit the bulls eye at all, it was stilll a lot of fun.
Cycling:
All you cycling enthusiast out there, you will be happy to know that the hotel has cycles to enable you to explore the resort. What's more interesting is that they even have cycling guided group tours that start from the beach to explore the surrounding area.
Indoor Activity room:
We were literally here the whole time! They have fuse ball, table tennis, pool, carom table, scrabble, X Box and the list just goes on. Try to reach here early or in the afternoon as its always crowded.
Moonlight Rafting:
All you romantics out there will be excited to know that the resort arranges for a moonlight rafting adventure. A decorated bamboo raft glides over the backwater and you just have to relax and enjoy the time with your partner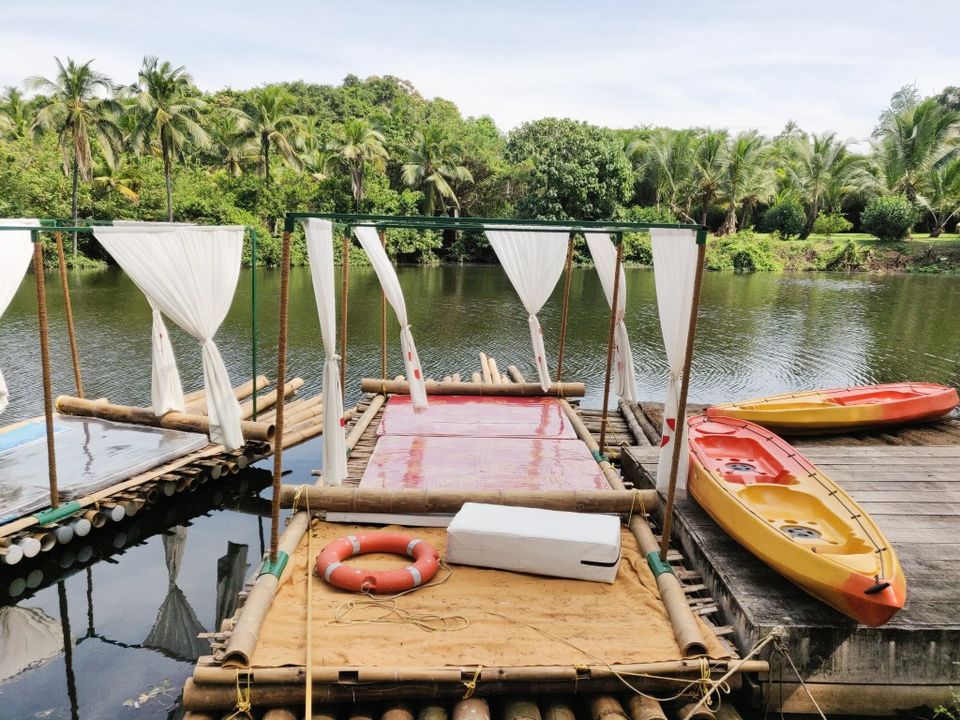 P.S: This ones always booked so be sure that make a booking in advance. You can also carry food and drinks if you wish.
Library: Being the bookworm that I am, I was happy to see that the resort also have a reading room right next to the lobby area. They have books for both adults and children.
Kayaking: I have had some history with Kayaking so this was something that I didn't want to explore. However considering that the waters are still, if you opt for this activity during the morning or evening it would be quite pleasant and peaceful.
Beach:
The Kapil beach is just a short 5 min walk from the resort and the way to the beach is adorned with fragrant Frangipani trees, Shoe flowers, Chikoo plants. The looming coconut trees on both the sides created a beautiful pathway to the beach.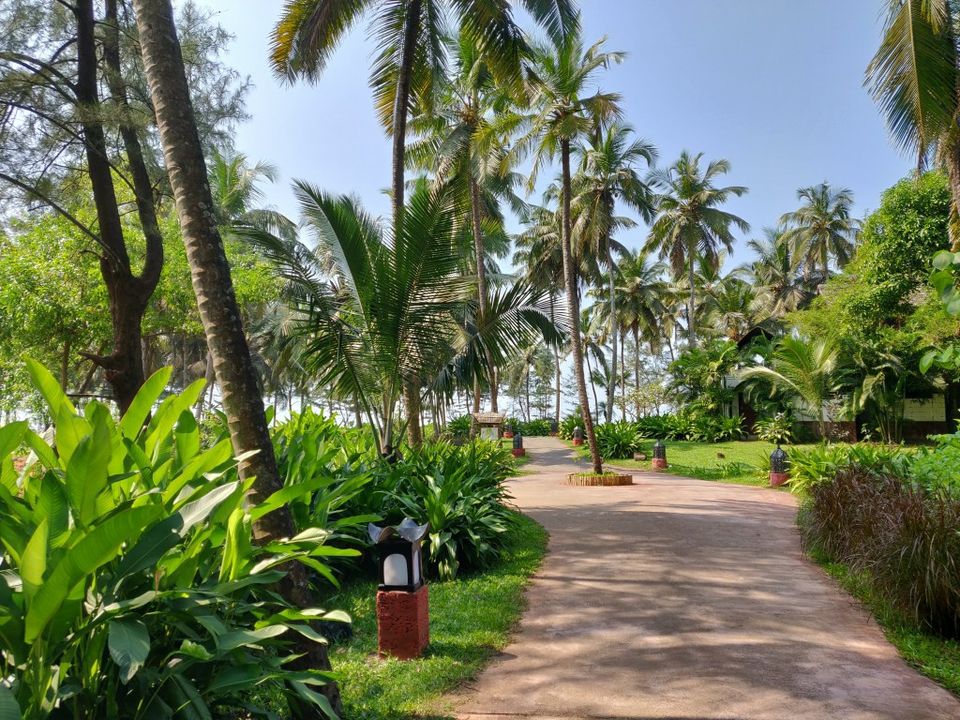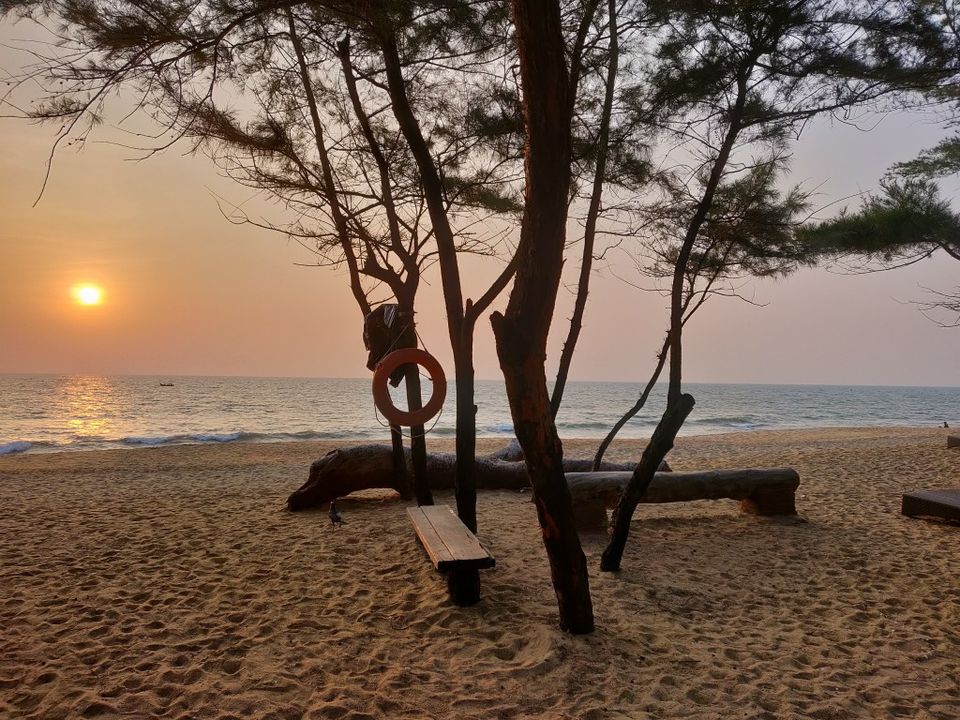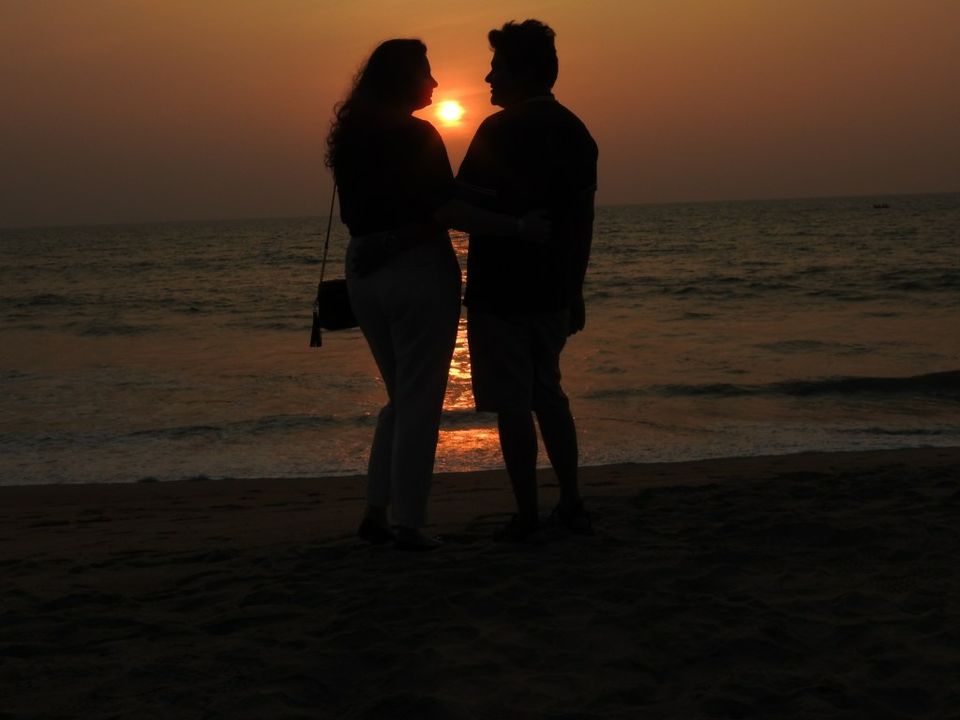 P.S: In the evening the path is illuminated by soft yellow lamps that adds to the serenity of the place.
Jaccuzi / Swimming Pool: The jaccuzi is located right inside the JIVA Spa and the best part is that the usage is free even if you don't opt for the spa.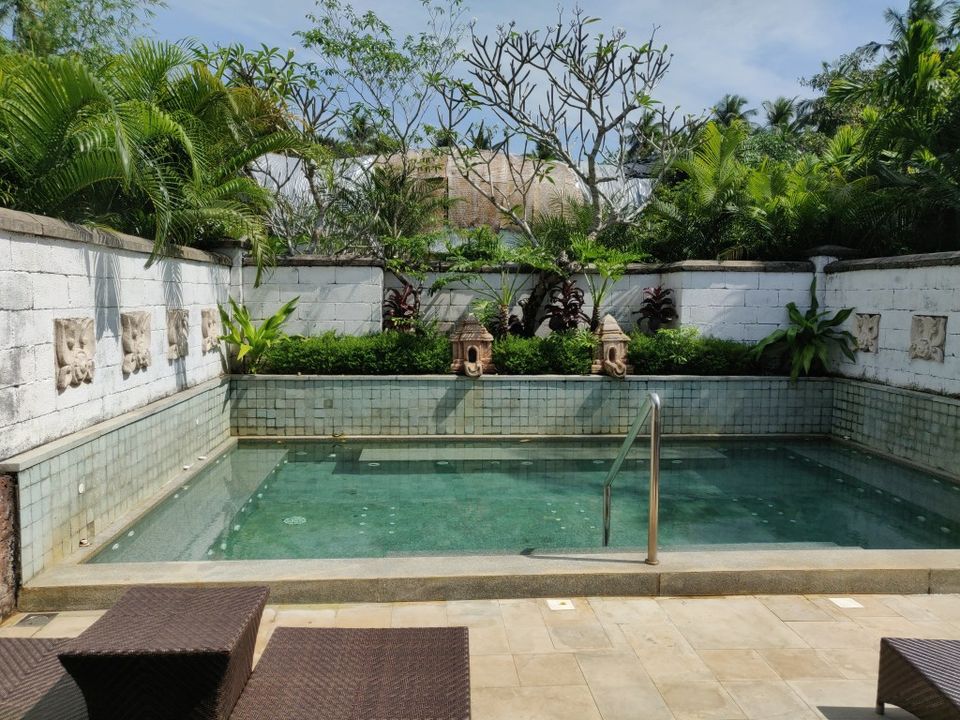 The Swimming pool is large and while you swim you can view the backwaters reaching out to the sea.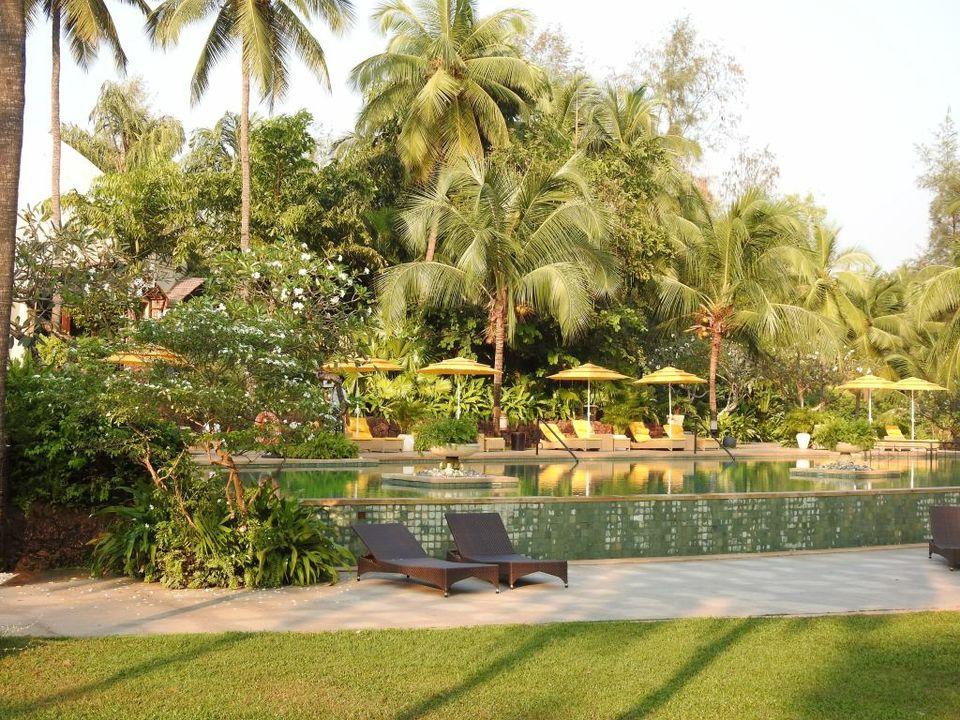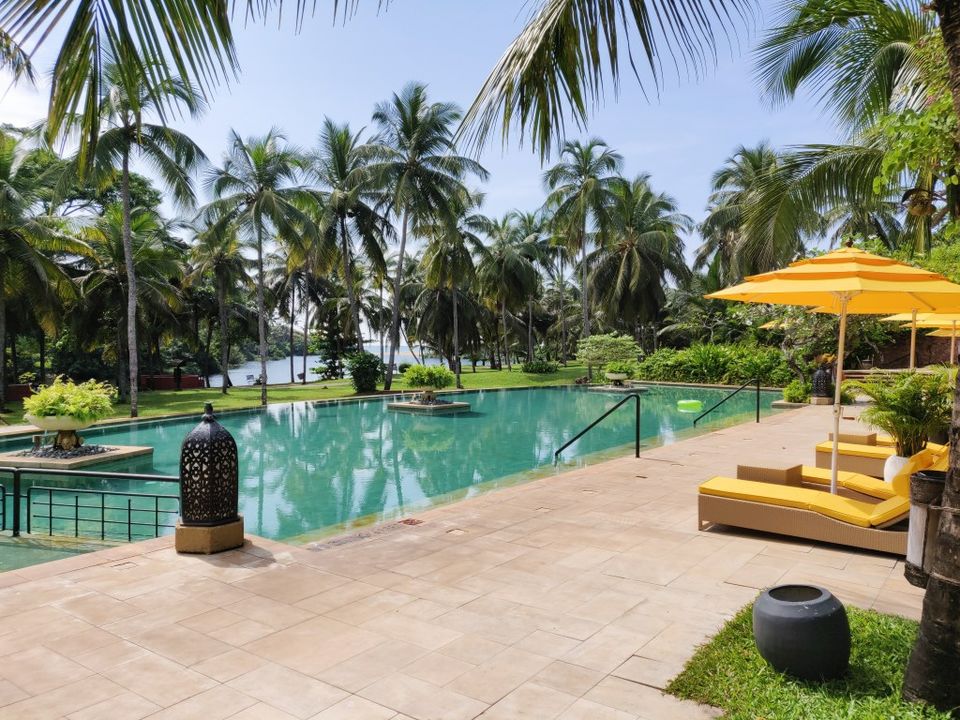 ATV Bikes: Yes you read that right! ATV Bikes are available for hire. Don't believe me ? Check out the next picture.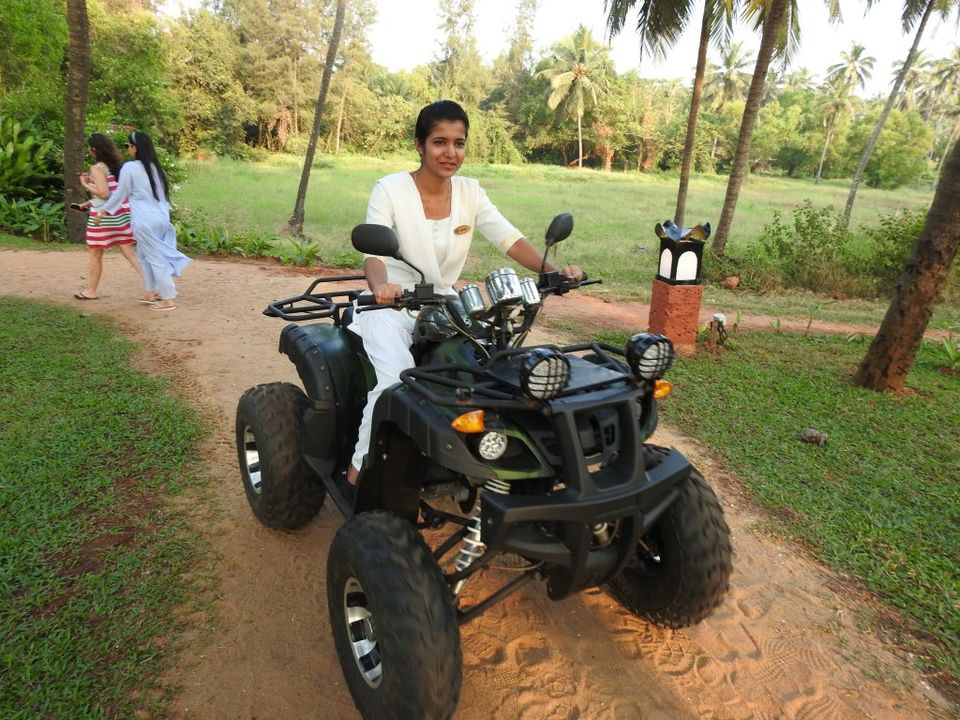 Things I loved about my stay:
The service hands down. The staff there is truly genuine and go out of their way to make your stay comfortable.
Value for money. For the kind of money you pay, you get even better service.
The food is great. Every restaurant has something different to offer.
Lush greenery that was so soothing to the eyes, cute sitting spots round every corner, the cute buggy ride that takes you around the resort.
With a happy heart and smiles on our face we made our way back to Mumbai vowing to return to this hidden paradise very very soon!
You can follow me on Instagram at https://www.instagram.com/touristtotravellers/