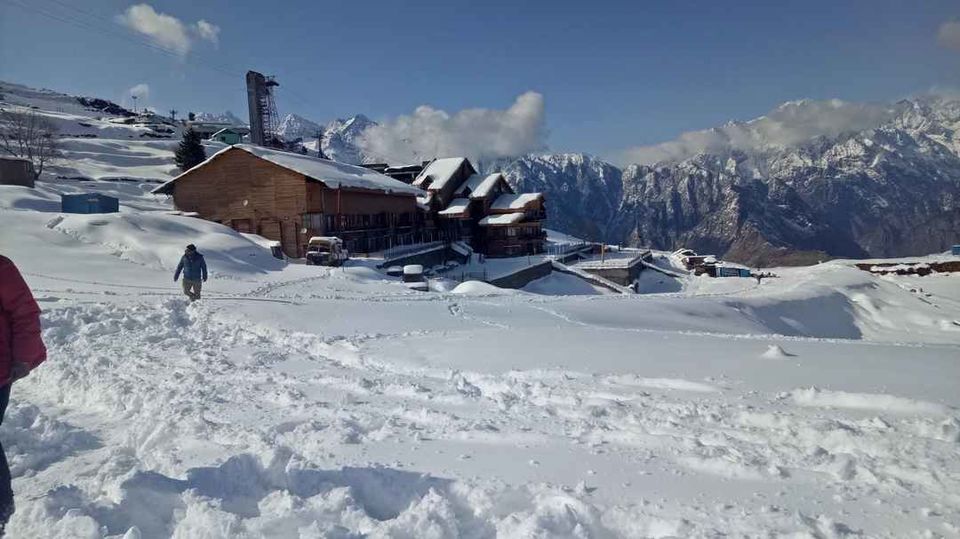 Auli is a beautiful Himalayan Ski destination in north Indian state of Uttrakhand. when you hear - "Auli", panoramic views of snow covered mountains comes in mind.Although, Auli is not just about the mountains but much more....
Here i come who was not aware of such a gorgeous beauty of Uttrakhand, not knowing anything about Auli i said yes to an ex office colleague "Priyanka" whom i never met as she was based at head office those days and i was working at one of the office branch but i was so keen to travel that i said yes without even knowing that how it is going to turn out. I am someone who has a fear for winters that i wear min 10 layers in winters though i belong to north india.
I was not aware that Auli will introduce me to the first ever snowfall of my life and i will meet one more crazy friend ;) who is still part of my life.And Its rightly said - " Hota wahi he, jo hona hota hai".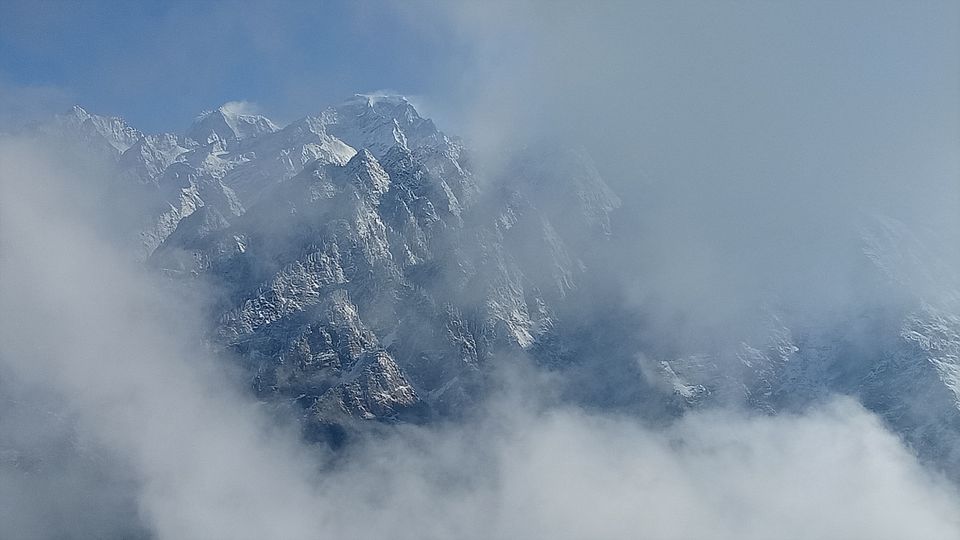 Why is Auli so Famous & Things you should never miss in Auli
After reaching Auli, I lived a "Brand New" Life as i was exposed to an addictively pristine view of nature, where everything had its own pace, totally different from city life..Below are the things as you should be knowing if you are planning to visit Auli & you should never miss if you are there -
1. Auli is a Hiking & Ski destination in Uttrakhand, surrounded by Nanda Devi & Narparvat mountains along with Oak forests all across.
2. Auli is connected to Joshimath town by a rope-way & a chairlift or a cable car. This rope-way is said to be Asia's second highest Rope-way.
3. A famous Hindu pilgrim Badrinath Temple is situated in north Auli.
4. Artificial lake which is a man made water reserve on the Topmost part of Auli is a must visit place.
5. Last Indian village on Indo-China Border "Mana"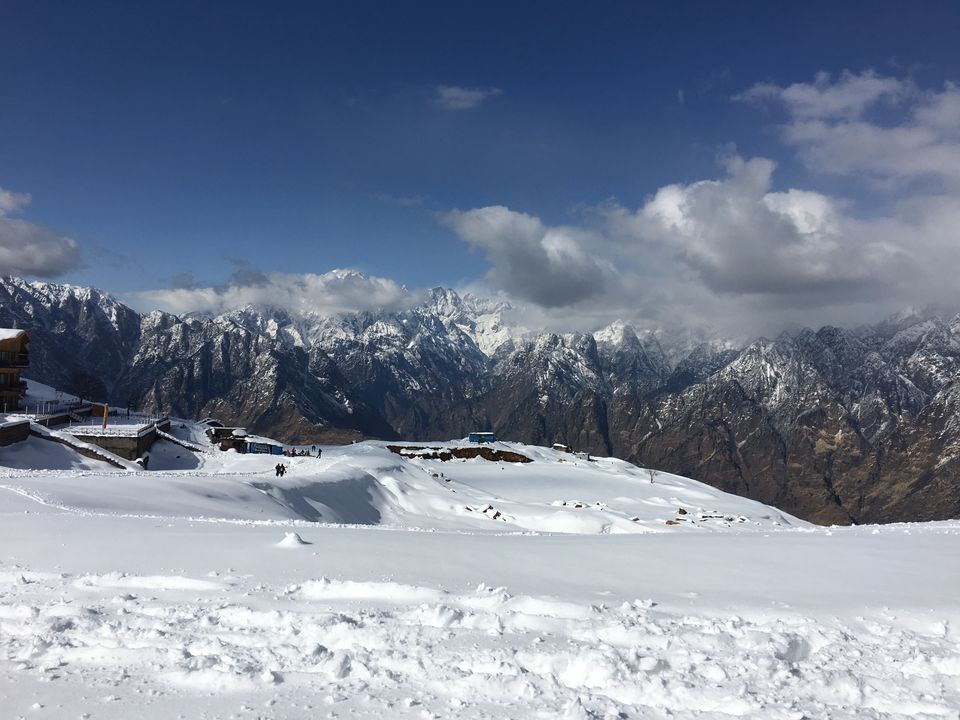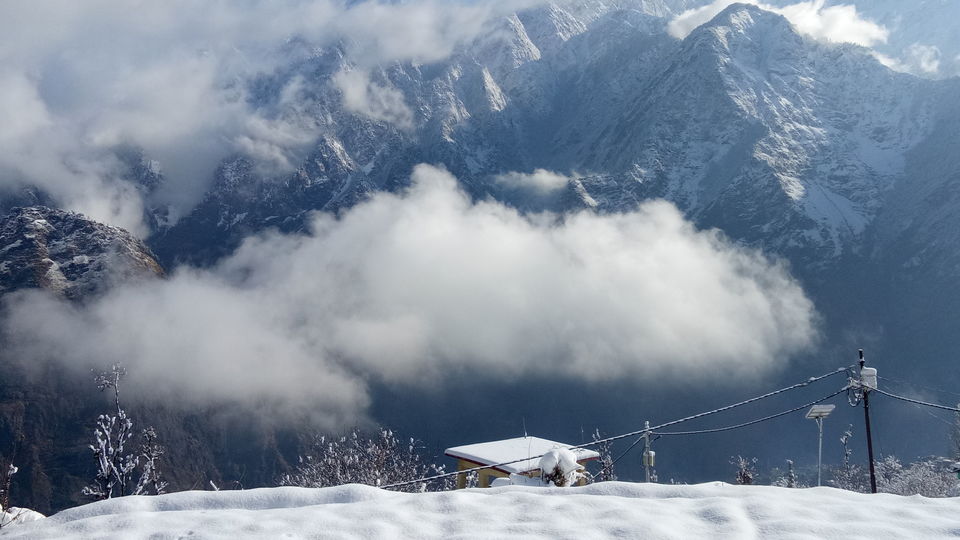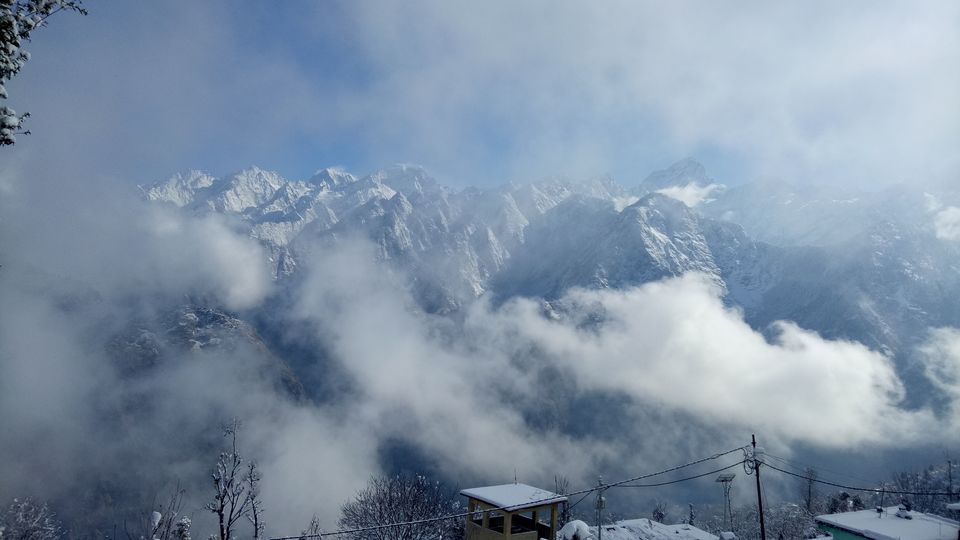 Our Route Plan for Auli
After saying yes to Auli trip, i had to go to Gurgaon as the rest of the group was staying in Delhi-Gurgaon itself & as per our route plan we all had to board the cab from Priyanka's place which was in Gurgaon. Yes it was a group travel and interesting thing was i didnt know anyone from the group of 7 people except Priyanka Gupta. Infact i never met her too. Finally we started in night, we were supposed to reach Auli via Rishikesh. But Hey, There was this one girl - Priyanka Singh who did not board as she got late; but dude the moment she boarded, a nuclear chain of laughter started just after the moment we said Hi to each other as she was sitting right . Guys if you like reading my travel stories, Please dont forget to follow me.Sharing the picture of group i traveled with-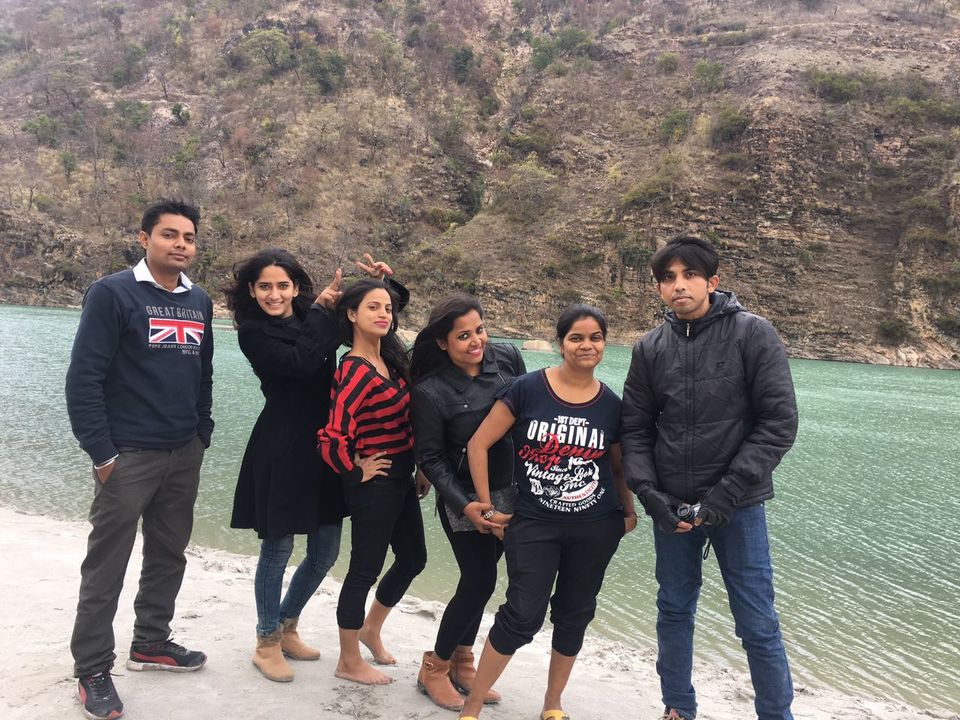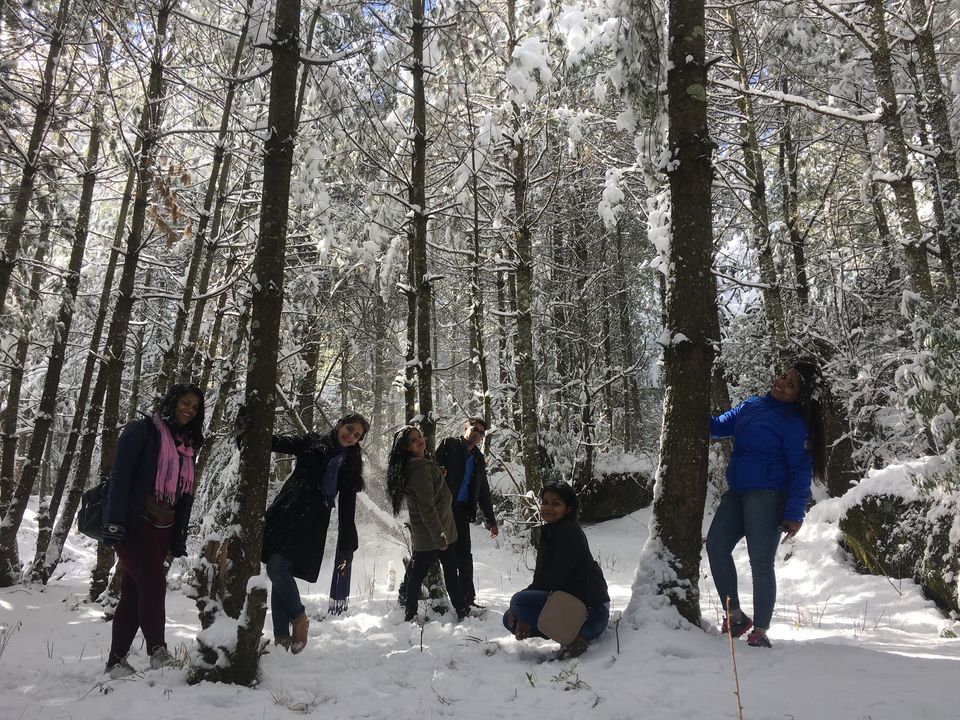 Yes so, on this trip we had two Priyanka's with us. One is Priyanka Gupta, who added me to Auli trip(my Ex colleague) whom we call PG.Second is Priyanka Singh- Jisko pyar se hum PS & Nidra Devi bulate hen ;). So PS our Nidra Devi is the Craziest wonderful friend i met on this trip who is still my friend as i mentioned in the beginning of this write up.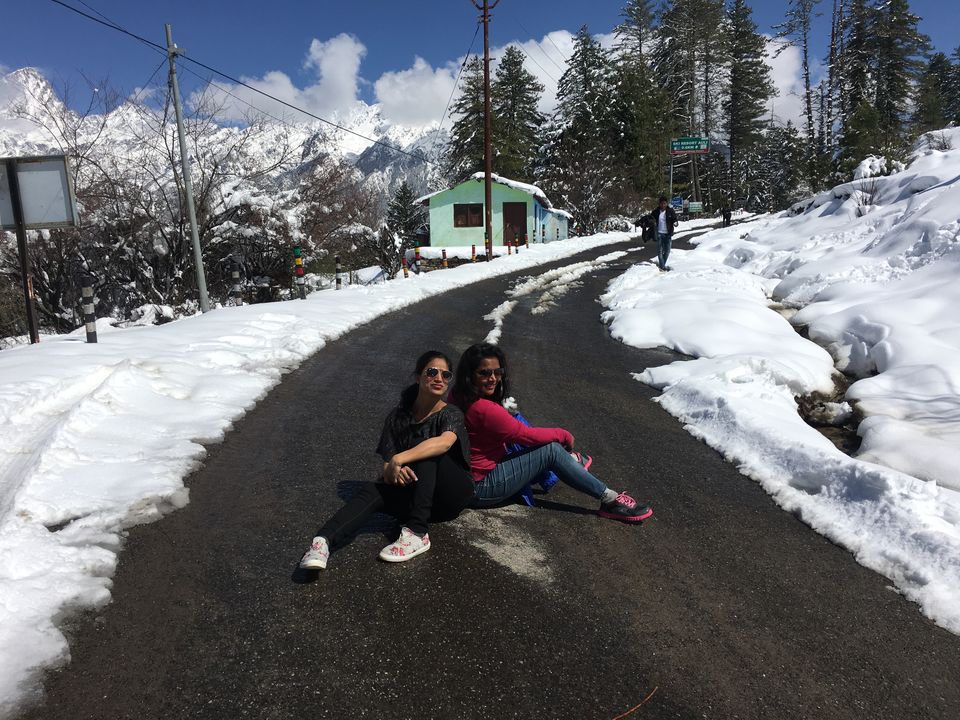 Why Nidra Devi ???
Deviating a bit from the travel topic but this beautiful girl has a specialization in sleeping anywhere & anytime, Hence the name comes into picture - "Nindra Devi" . While traveling with her, i realized that while we were in the mid of some conversation & suddenly she is not speaking Bang i saw her swinging on my shoulder -- yes she fell asleep.. i thought its night obviously she'l sleep... but same thing happened many times throughout next day till the end of the trip.. So Nidra Devi name comes live.
Rishikesh - Har ki Paudi
we reached Rishikesh at around 3:45 am in the night & here is what i got to capture ....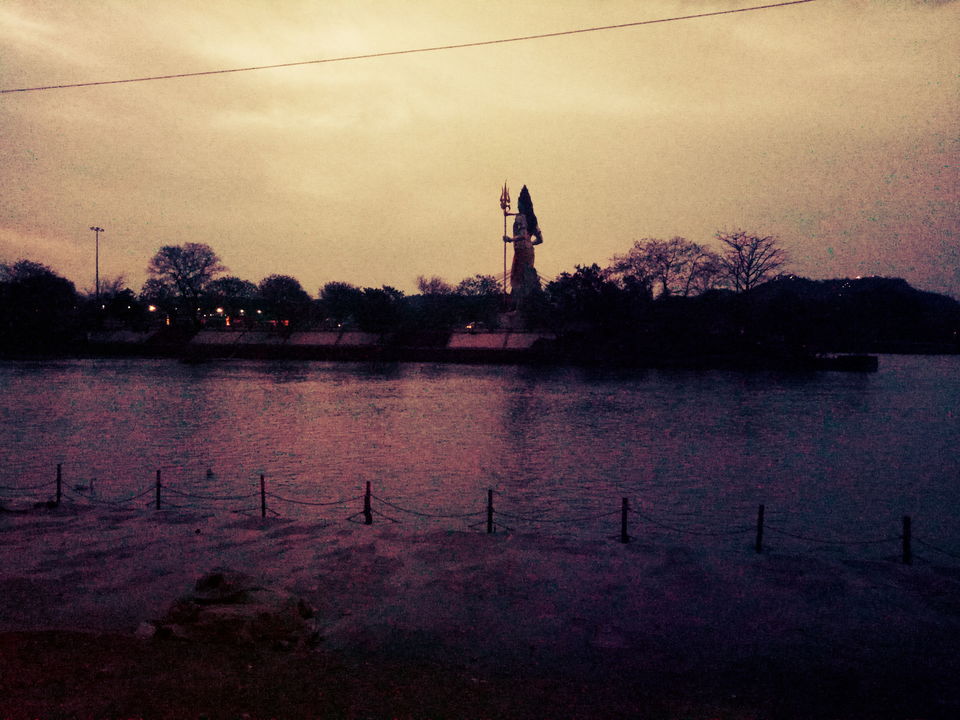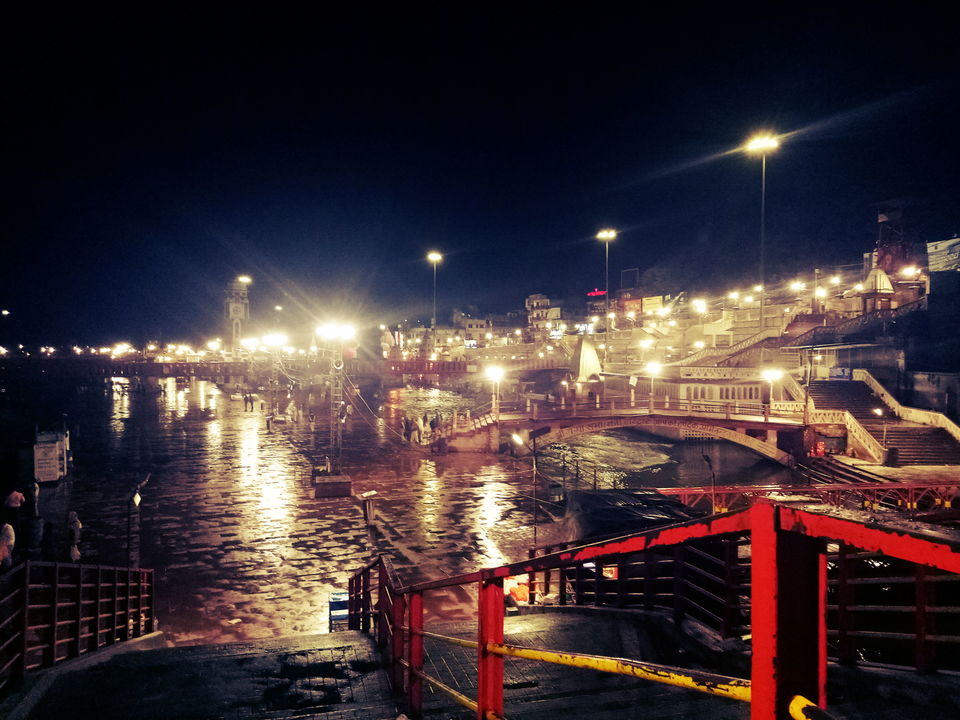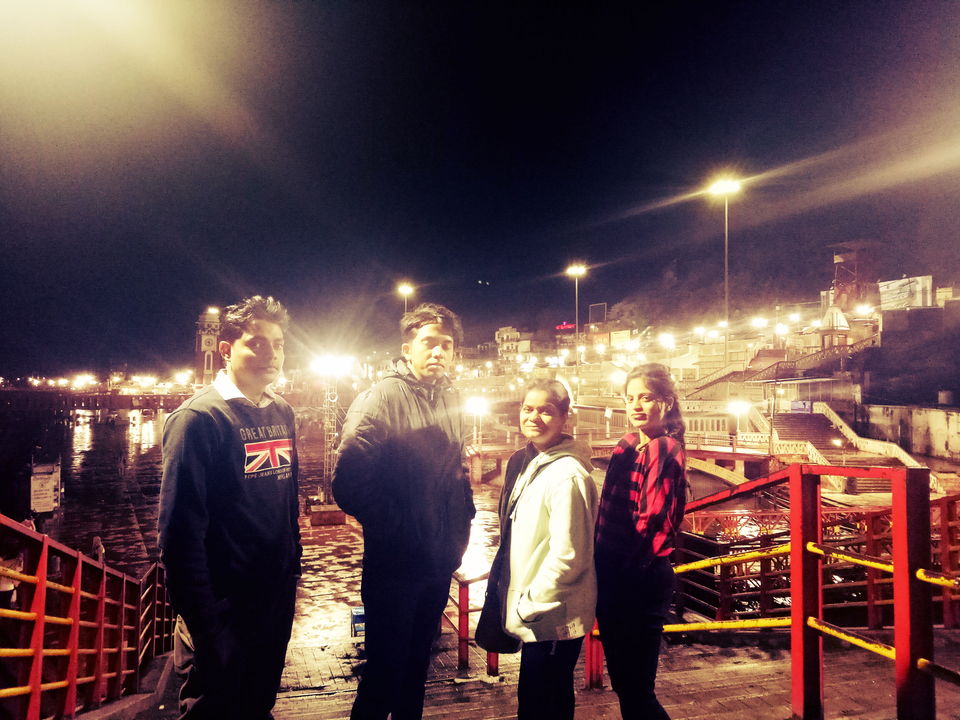 Holi in Joshimath
After Rishikesh, finally we were able to make it to Joshimath after so much of hassle of tyre puncture on the top side of hills, asking lifts from people to find someone who could fix the puncture, waiting for help with no other options around, Finally Priyanka Gupta took over the charge, managed to convince a scuty rider, got the mechanic and Gosh we were back on the roads - Thankfulllllyyyy....
But as its said - "Mehnat ka Fal meetha hota he". We reached Joshimath after so much of mehnat & guys it was- " Holiiiiiiii "
But me being very restricted person, I never used to play Holi and i was so afraid of this group that they may throw their colours on me and my trip is going to be spoiled. But Life wanted me to learn to live life, many things were happening for the first time in my life and i was not able to digest- is this me? Well yes, the rarest thing happened to me & i celebrated Holiii, it was a shocker to me because i was enjoyinggg it.. sharing the pics of that Life changing event in my Life -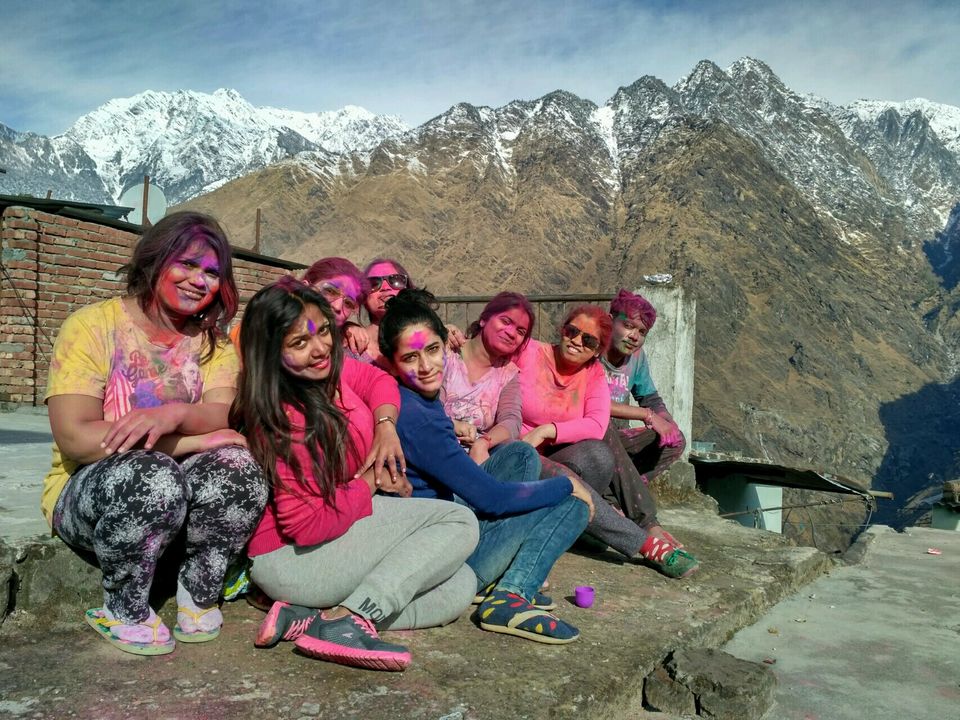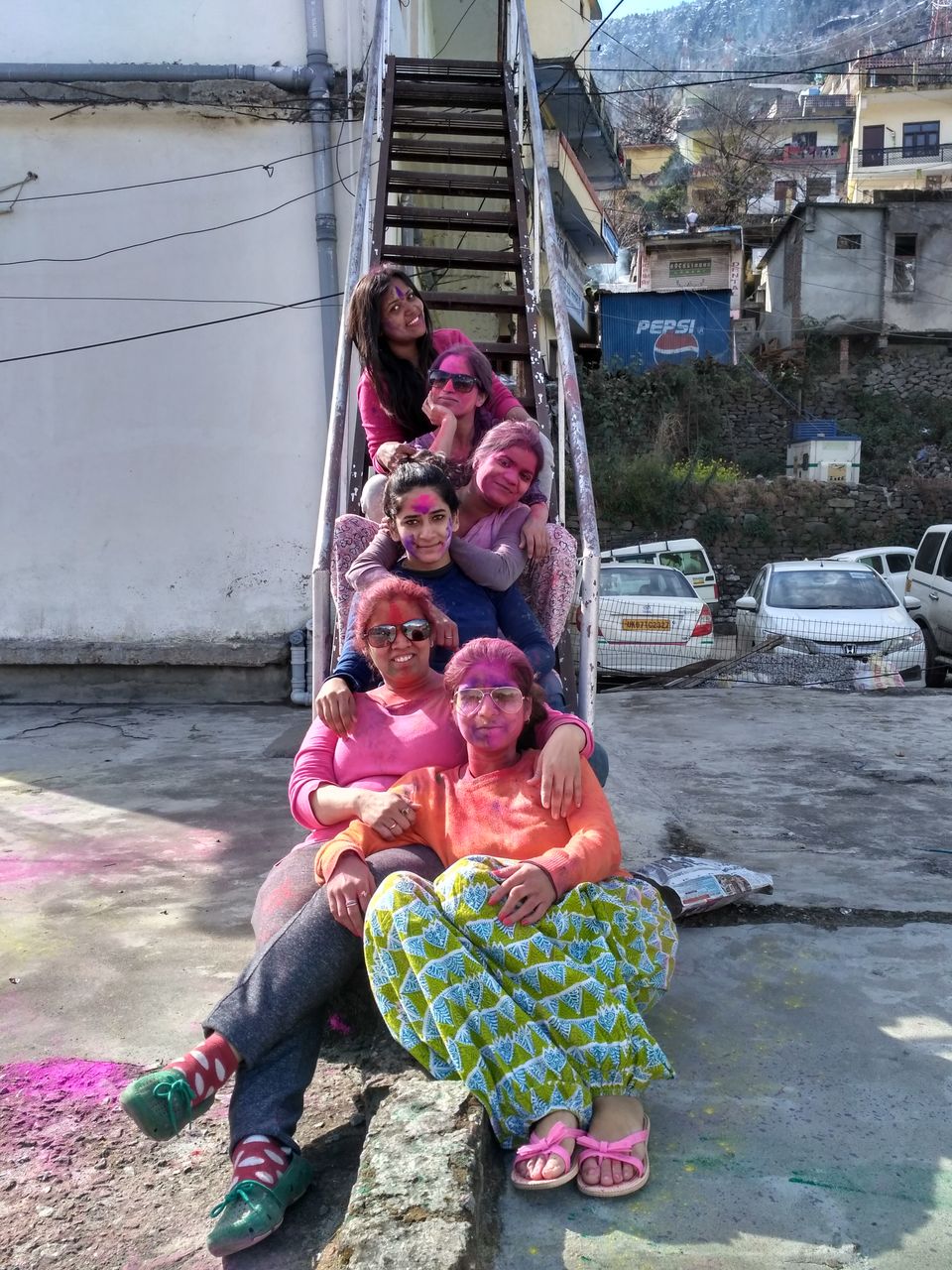 I believe - " Every Travel is unique, Every travel changes something in you. Every travel helps finding a different version of you in yourself" like this travel did to me.
This Holi was special for one more reason as we got to be the part of Local Holi, we gota see the Pahadi Holi, in the evening a group of people started singing the local songs with "Dholak" and as they were passing through the houses people from those houses kept joining the group and eventually it became a full village.. it was The Best holi so far.
But because it was Holi, we could not get to the Ropeway to Auli as it was closed from two days; hence we decided to go up by our car from Joshimath.. as we headed towards Auli, it started Snow fall and the dream came true to see Live snow fall. A new energy, thrill, excitement and all such things went through our veins and we started Thanking God for this. Will try uploading some of the videos from auli trips as i am not able to post here somehow..here is the glimpse -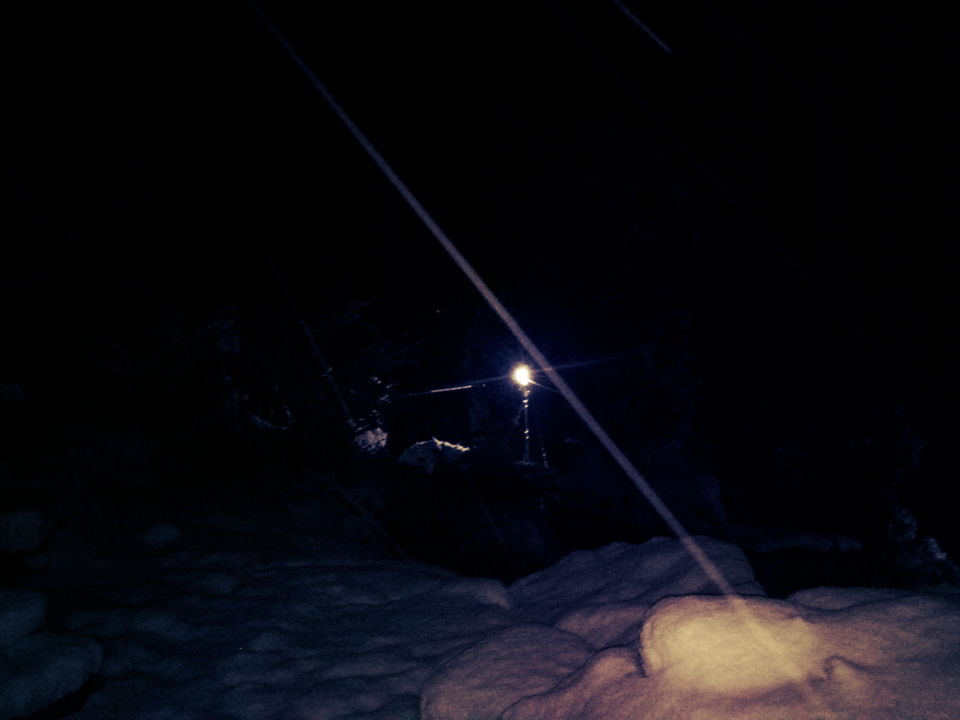 we kept moving ahead in snowfall,there came a time when the roads started slipping, snow was heavy on roads it was already dark and we could not afford to move ahead. But the problem was we could not manage to reach to some hotel or lodge.. so we were not left with any other option but spending the whole night in car on the road in heavy snowfall.. now the fear of freezing cold came in picture.. it was horrifically cold but we are were just praying from God to get some help.
Locals came to the Rescue
after spending an hour or so in the car, we saw a torch light coming towards us. lucky us, it was a Local- he offered us to come to his place after knowing from us that we were stuck there... well that night, that Local man & his wife were God for us. They saved us from bone-freezing cold, offered us Tehri (Kind of pahadi Khichdi), gave us all their blankets they had and sigdi too, to keep our room warm.
Waking up to a Breathtaking view
Next morning was full of surprises for us, as when we woke up and we could not believe our eyes... Snow all over the mountains, trees, stairs, rooftop & everywhere on everything. In-fact the water in taps got frozen. first sun rays of sunrise were making the snow on mountains shine like anything, no matter how many words i write still i find it less to explain the beauty of this place ..we saw this-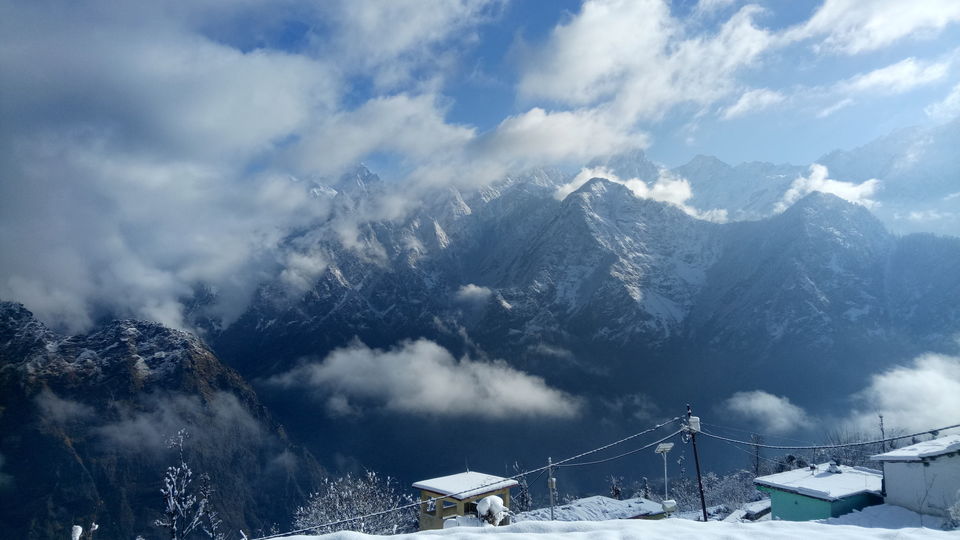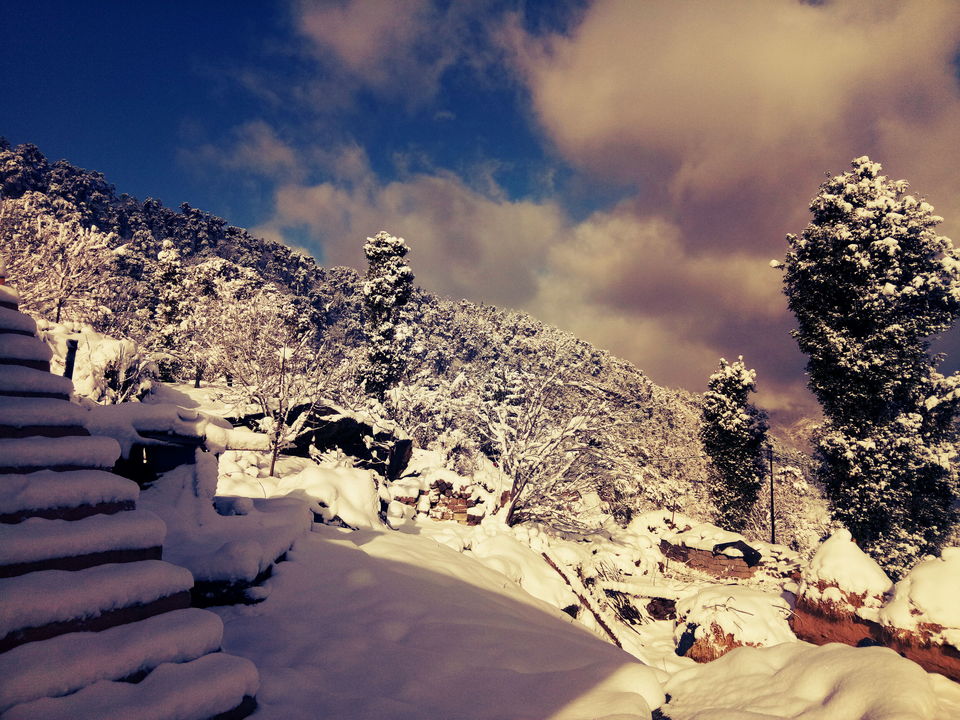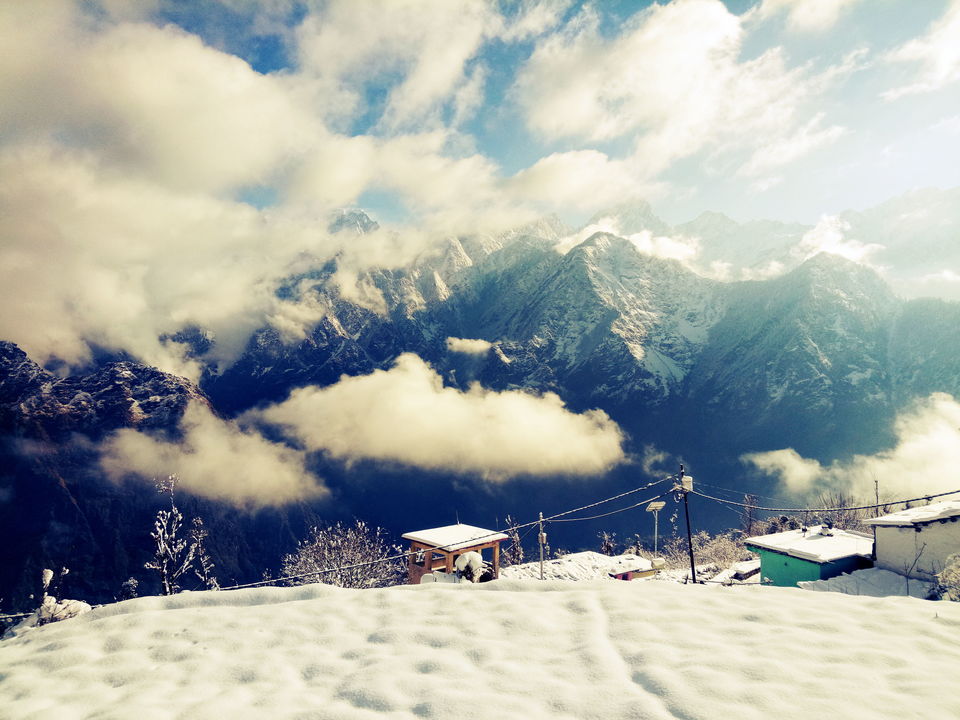 Trekking to Auli
After freshening up from the wise local's place, we started for Auli top & said bbye to those kind souls, not sharing their pic is not good..right? here we go -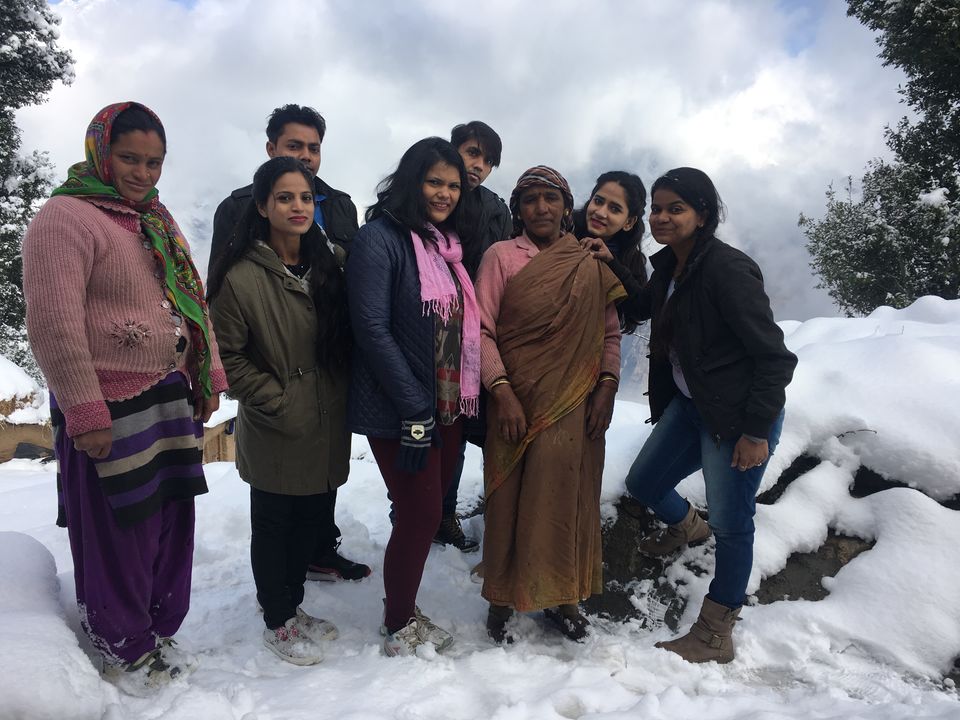 after climbing down from the Local's house we got to know from people that the road to Auli top was closed so there was no way we could take our car. some from the group thought of dropping going on Top and end the trip but most of us were willing to go after coming passing so many problems, we decided to leave behind our vehicle and trek to Auli Top.. Yet again it became the first ever Brand new trek of my Life :). See Auli had so much to offer me and may be i was brought to this trip by destiny.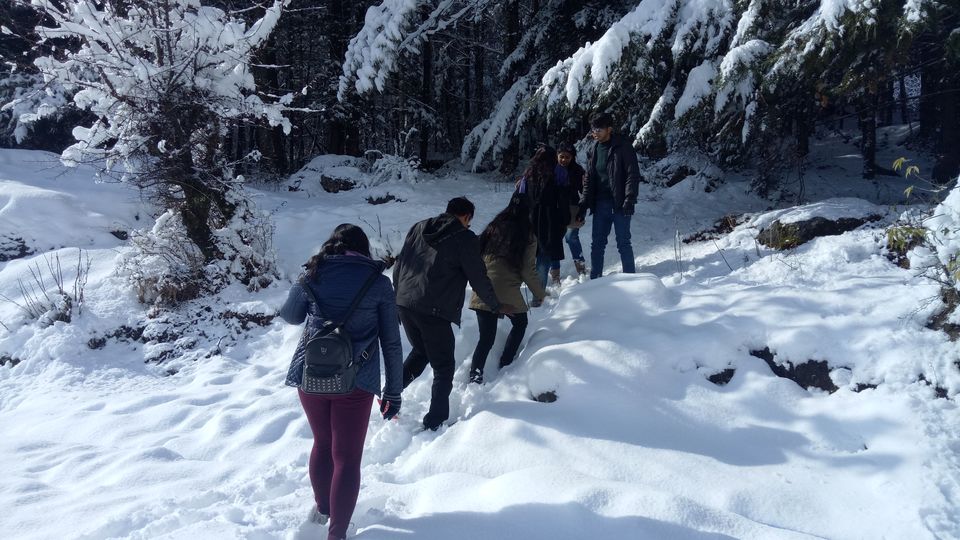 Snow was so dense & deep that our feet were going inside the snow till our knees...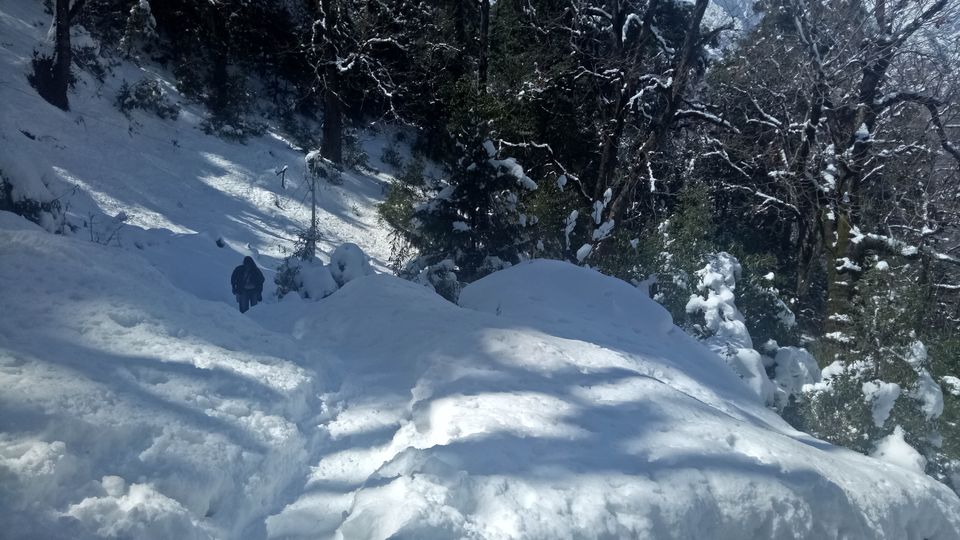 Finally after so much of adventure, Enjoyment on the way, fears & hard work we made it to the Top.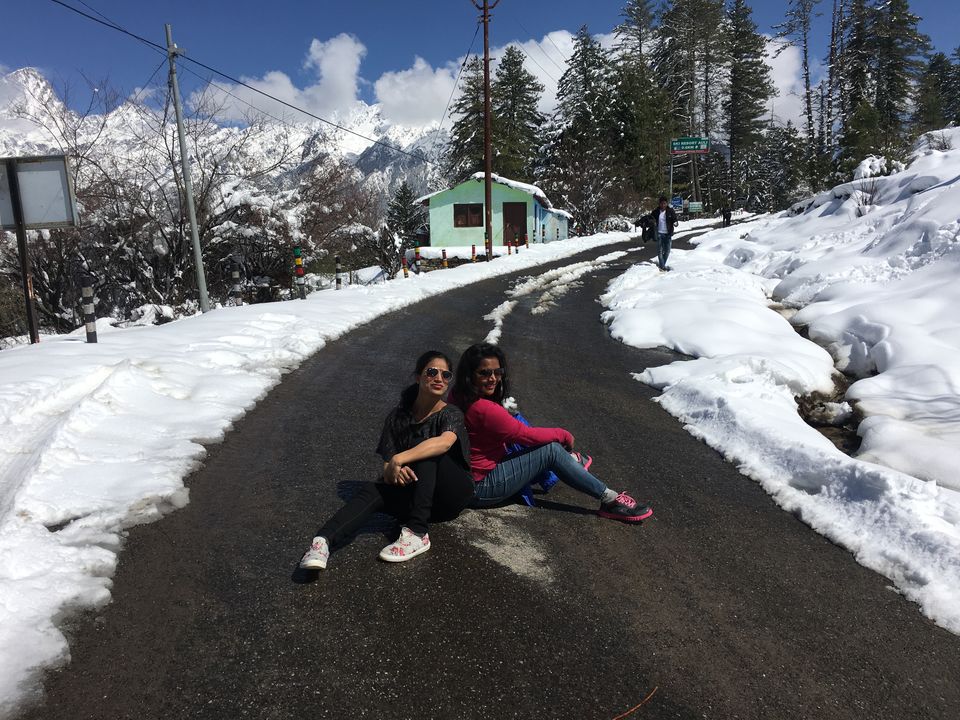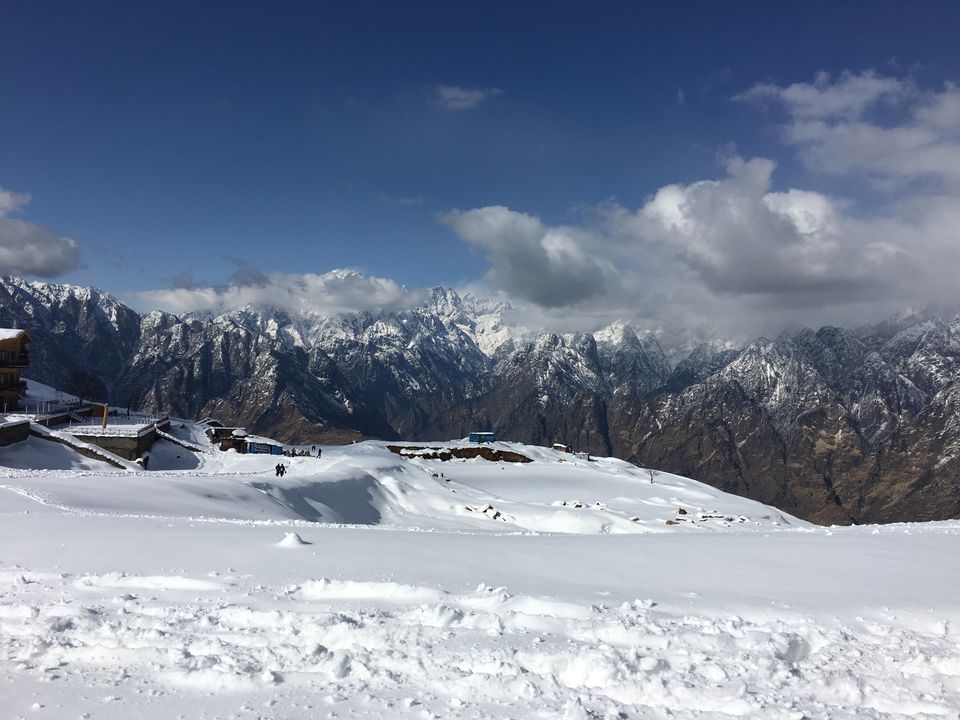 Here after short Skii lesson, we tried our hands on skiing. Auli aa kar bhi Skii nahi kiya to kya kiya Bosss.... :)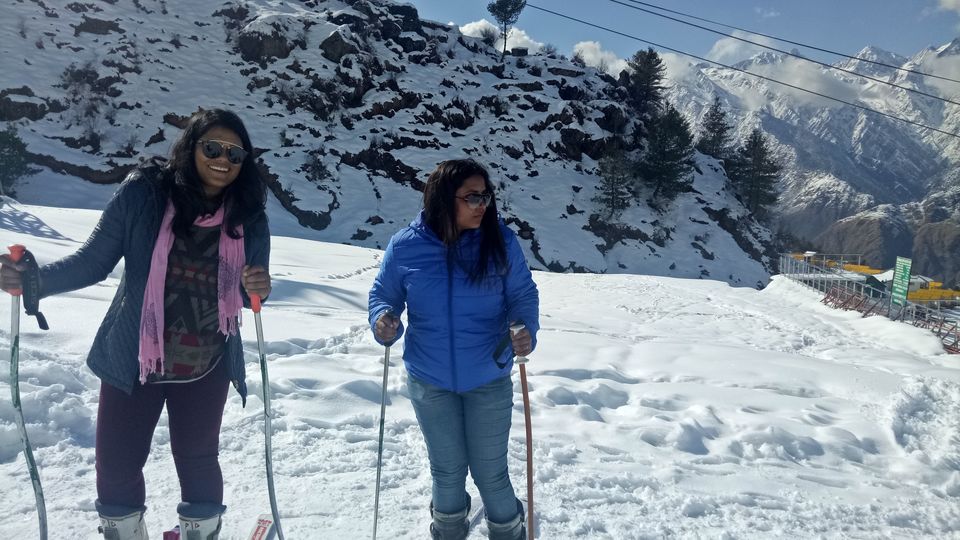 After a full session of skii we headed towards the Artificial Lake on Auli top, for this we had to take the cable car or chairlift. and Bang it was again another experience... it was not just an experience watching the view.. it is a feeling. we finally reached Auli Lake and here is the picture i took from my phone camera -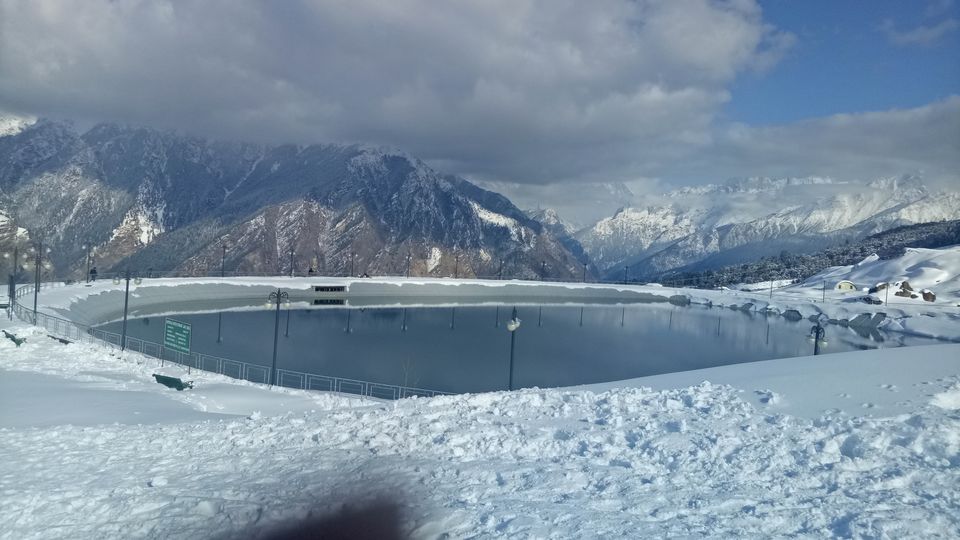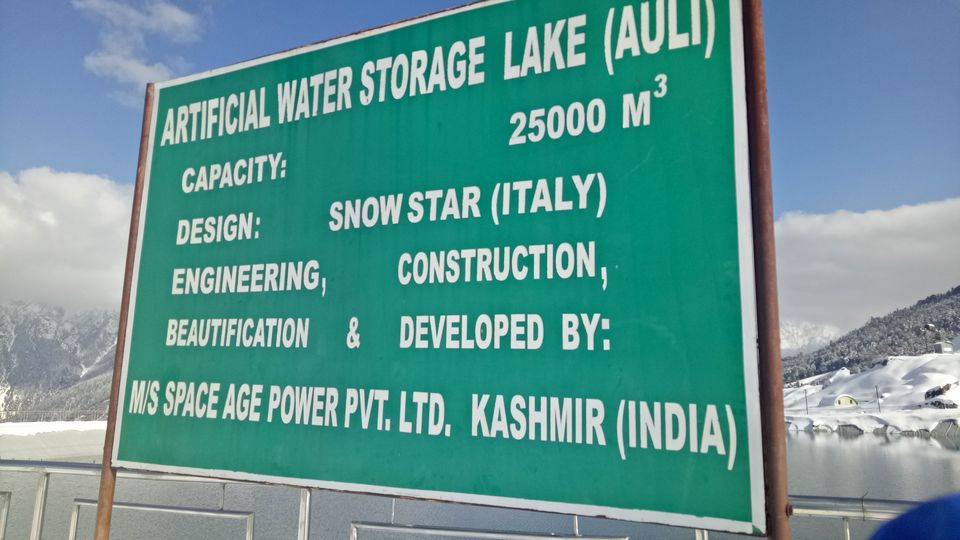 After reaching here, i was lost in the world of my thoughts like always. To me, Auli was a magical world where everything was snow-covered, everything was as dreamy as it could be. i felt like i am dreaming of a Beautiful magical world. and with this experience we started for our way back home.
will share some more Beautiful pictures on photo blog from Auli. For now
Adios ... Keep Traveling & meeting a new version of yourself!
#winterwonderland
if you like reading my travel stories, Please dont forget to subscribe me on my youtube channel - www.youtube.com/renumahajan