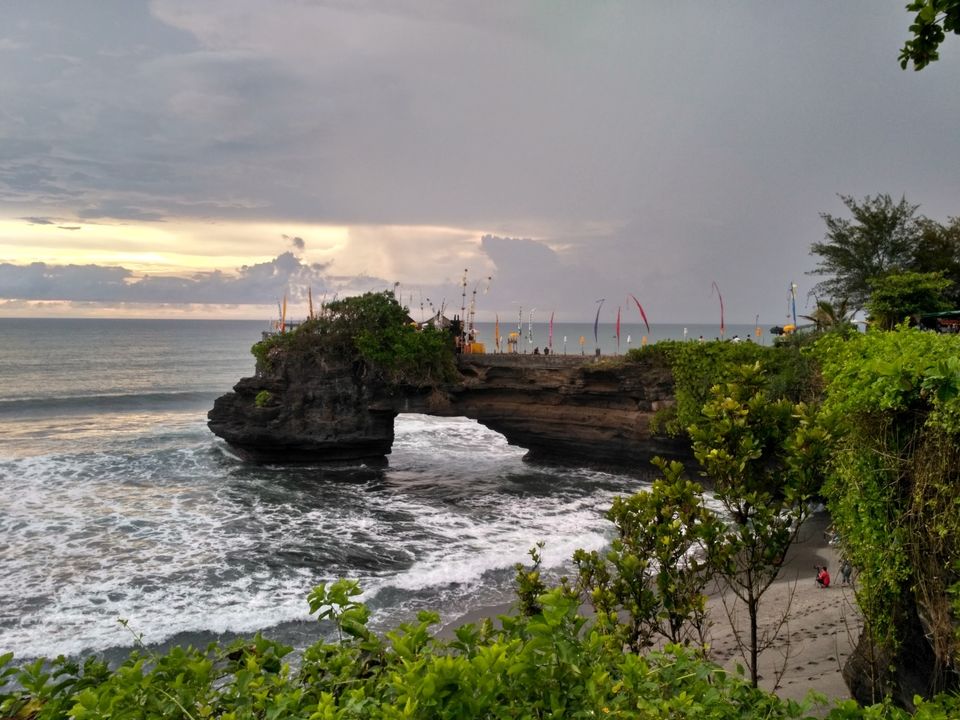 Bali is perhaps the most favoured destination in south-east Asia. It's the playground of the world and everyone comes here to have fun. Affordable fun – for the Indonesian rupiah goes a long, long way. Sun, surf and seafood. Vibrant night-life. Winds and waves. Warm hospitality. What more could one ask for?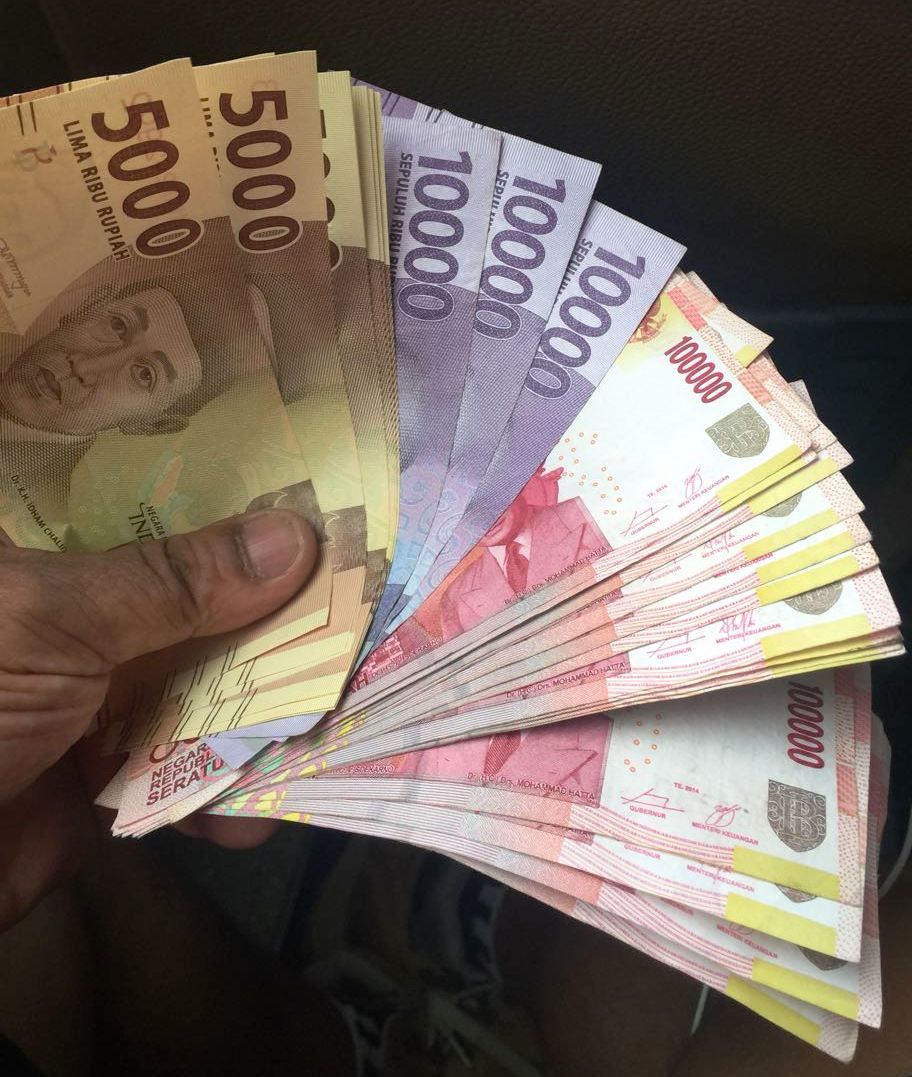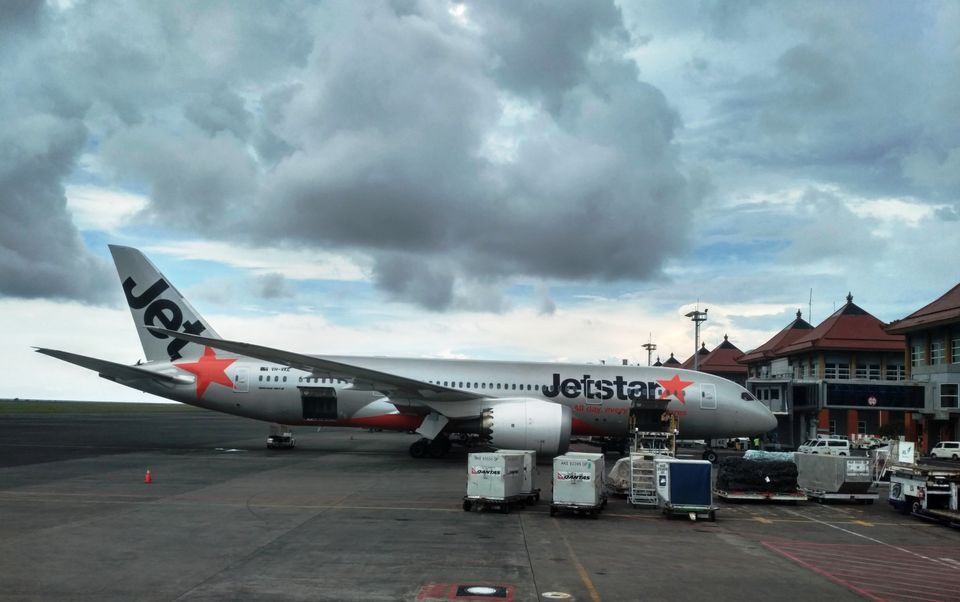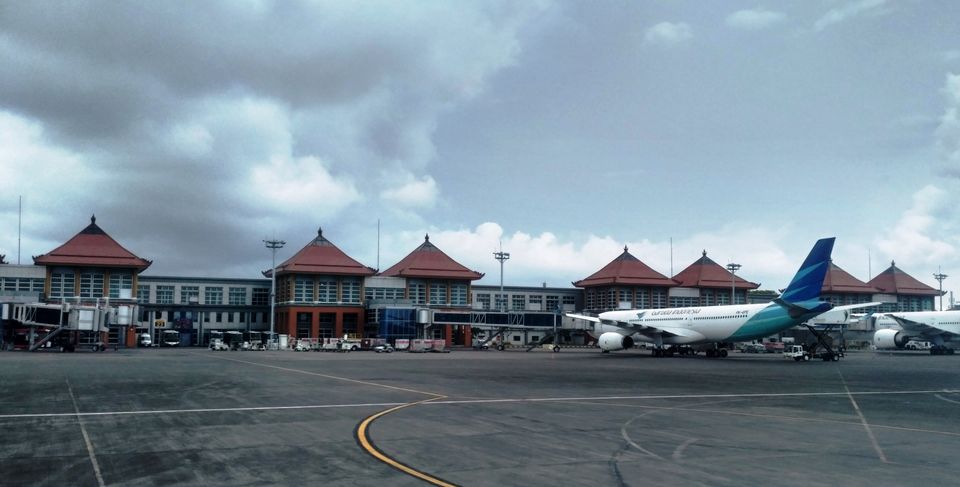 Indonesia is made up of over 17000 islands, the largest being Sumatra, Java and Kalimantan. Bali is one of the smaller ones but it's far more popular than the rest of the country. And it's easy to see why.
Every tourist is garlanded on arrival. The fragrance of the frangipani (chempaka) blossoms drove away our travel travails. We kept our garlands on for a while, taking them off only when we stopped at an Indian restaurant for a meal.
Three days after our departure from Bali, the Agung volcano decided it was time to spew out some ash. It had started rumbling in September and thousands of villagers living in the vicinity had been evacuated. Everyone knew a violent outburst was on the cards but we decided to go ahead with our plans. I even suggested going near the volcano to the edge of the danger zone – as far as the authorities would permit – but our tour leader vetoed the proposal. That meant the Pura Besakih temple was out of bounds too.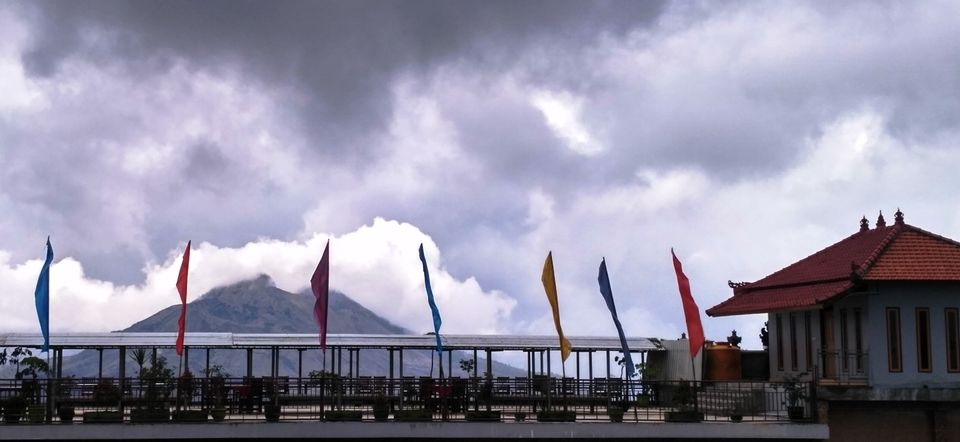 We went to the Kintamani (Mt. Batur) volcano instead. It's an active volcano and if you are physically fit you can take a two hour trek to the top, eat a steam-fried egg and enjoy great views. We had no such luck. It was cloudy and drizzling and all we could see was some clouds atop the mountain. Thanks to the poor visibility we barely caught a glimpse of the Batur Lake. The trip was a disaster but we got to taste some delicious local food. Then it was off to Ubud – a must-visit place on the island. There are dozens of craft shops where you can buy exotic wooden sculptures at reasonable prices.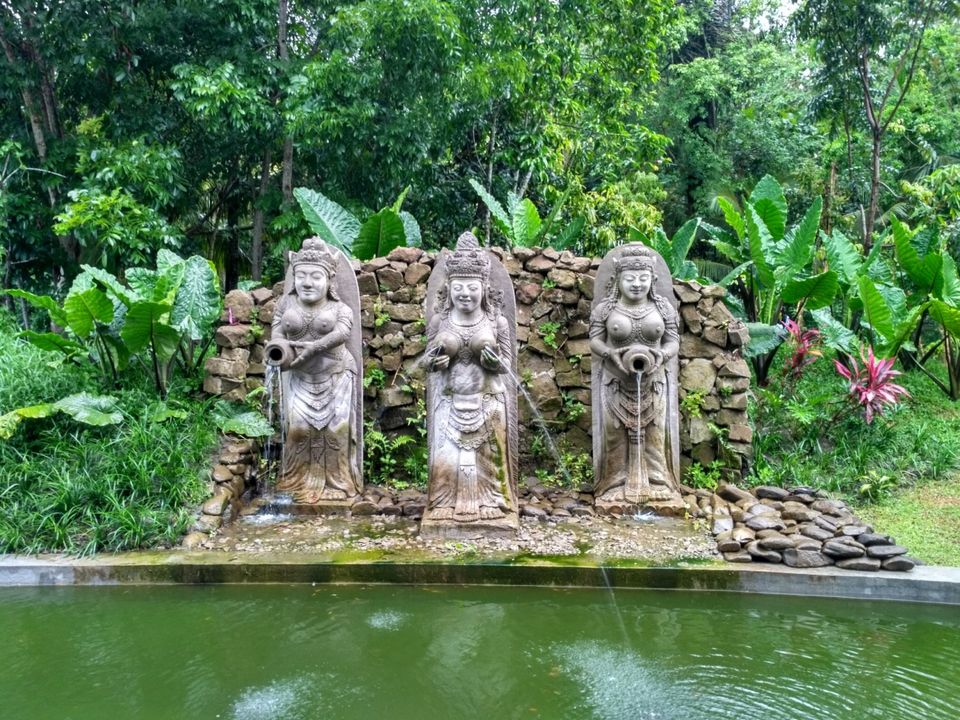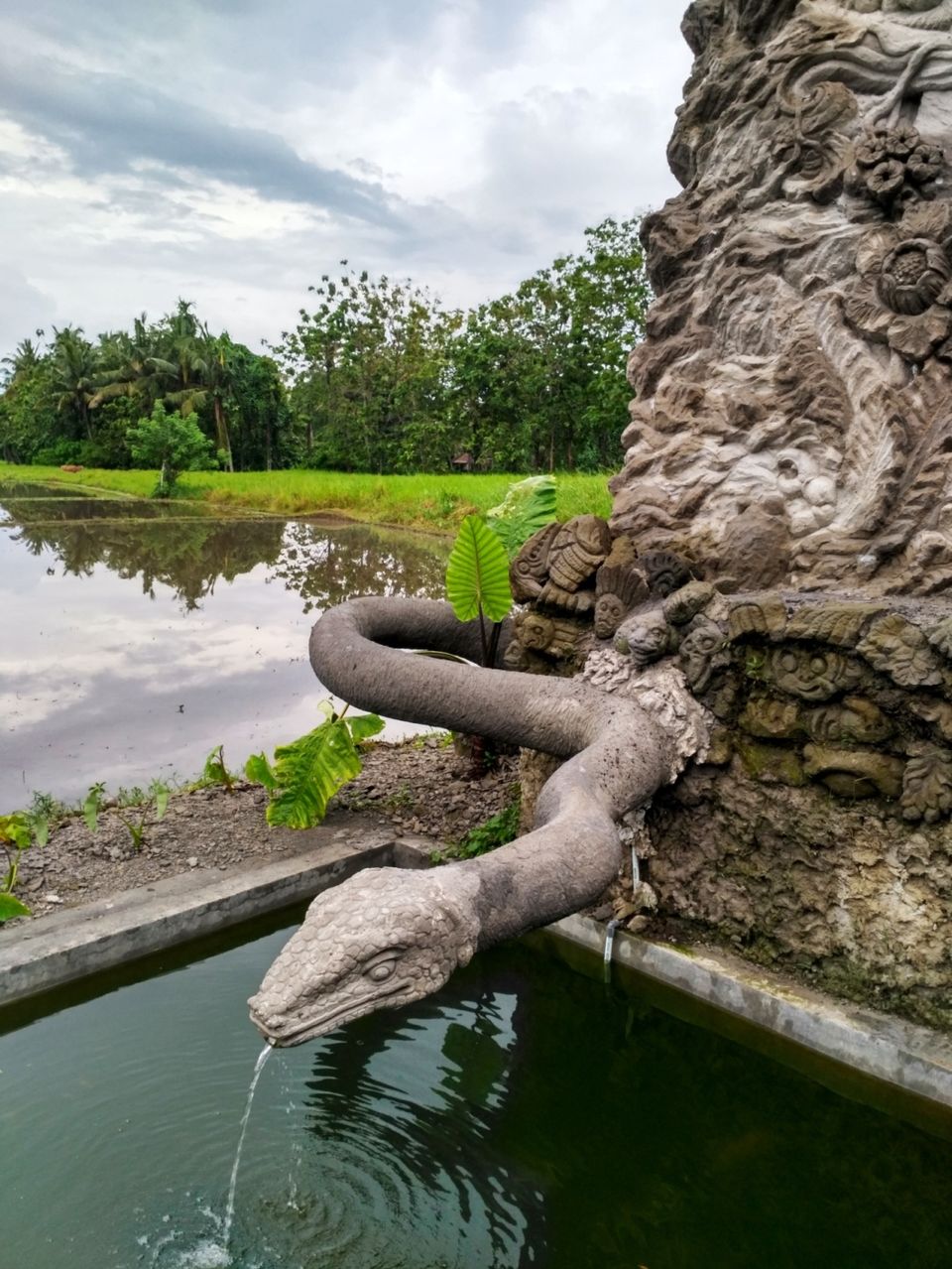 The rice terraces of Ubud made pretty pictures, but the Monkey Forest was a disappointment. Perhaps it's because there are plenty of monkeys in India and they are probably bigger, stronger and more impressive. The monkeys in the reserve looked like a dwarf species, and they had seen too many people so they neither avoided us nor made friends. The sculptures and statues looked so much like the ones we see in India.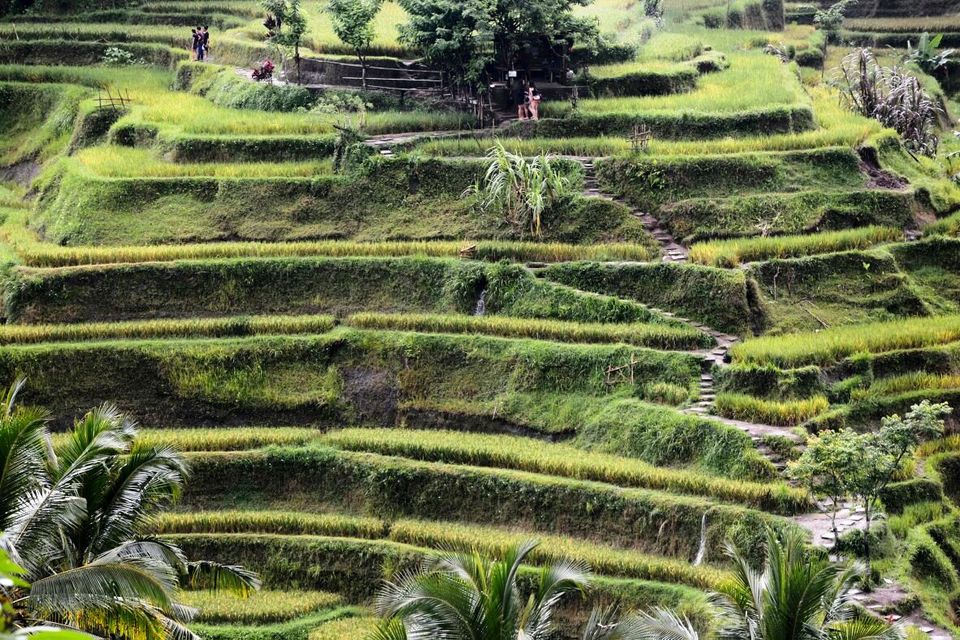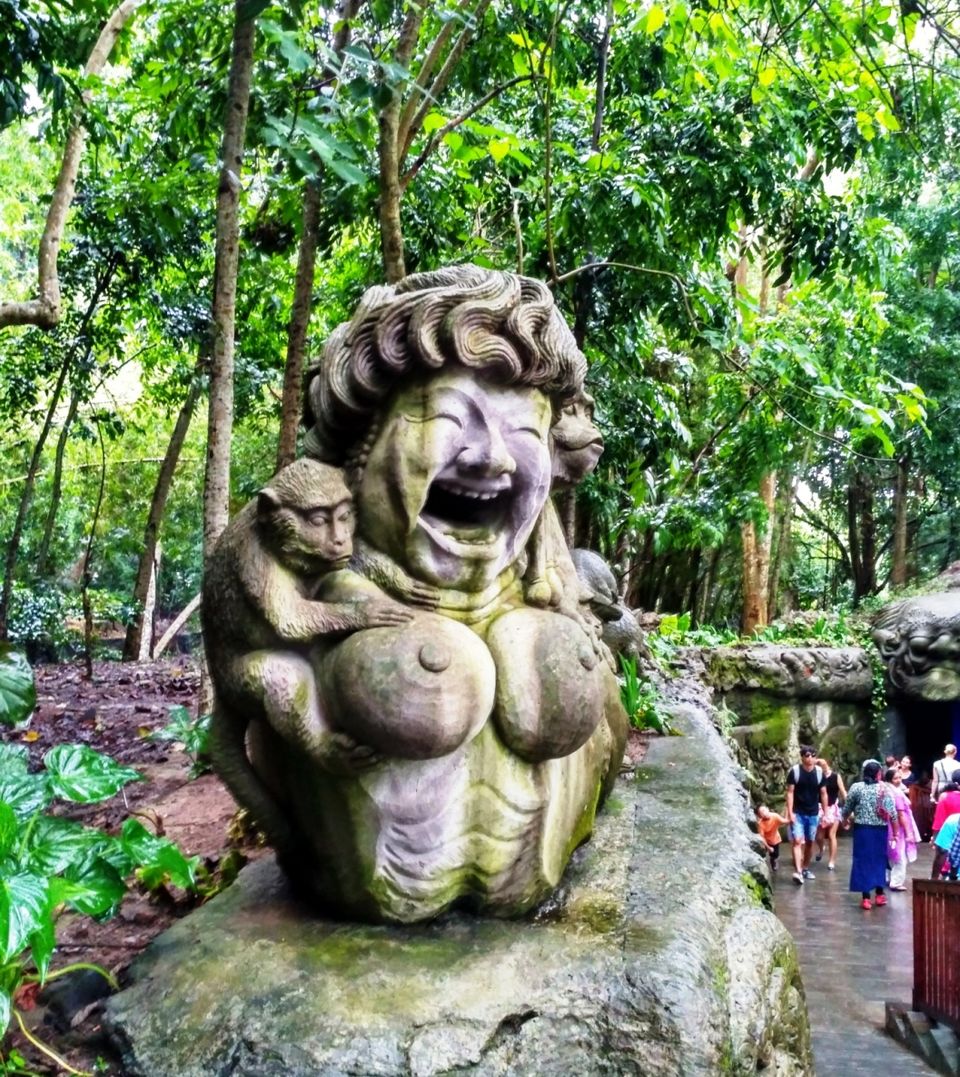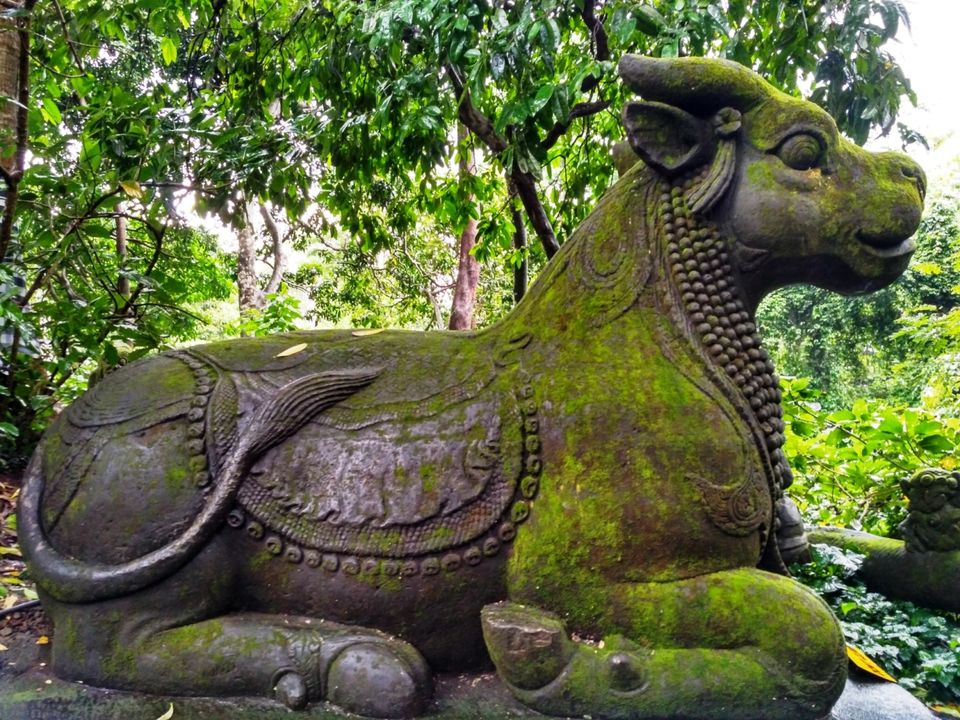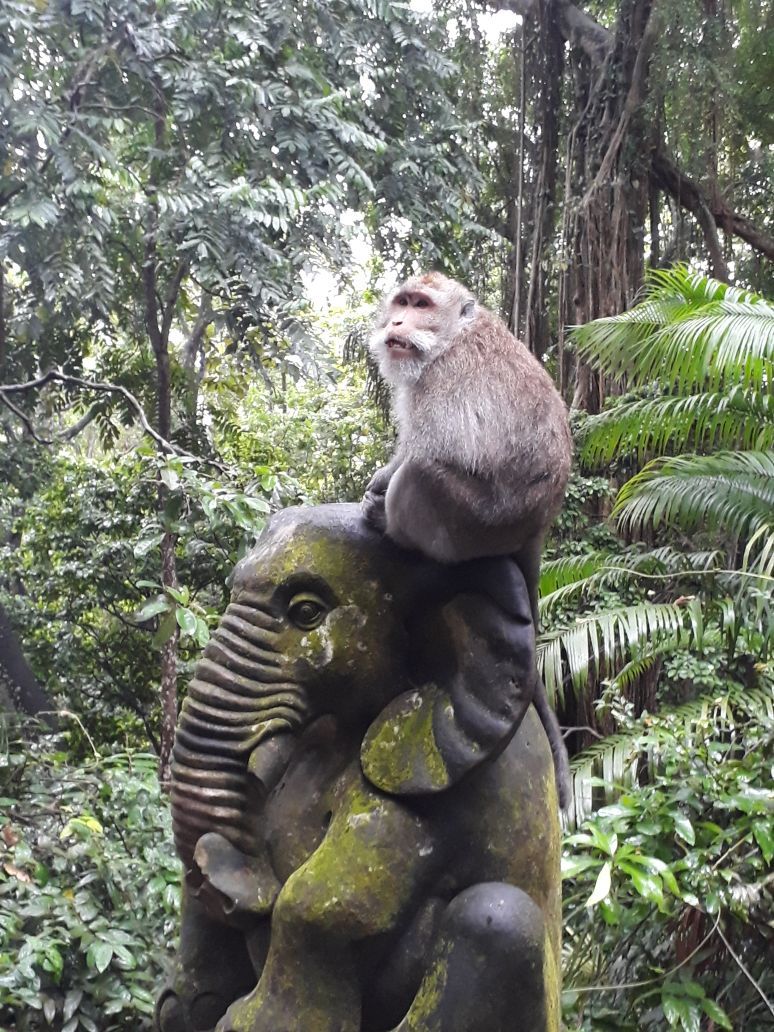 In fact Bali looks a lot like Kerala, with the same greenery, the same plant species, and beaches and cliffs all over the place. The chempaka (frangipani) tree was everywhere – in all possible colours. We have them in Kerala too but not in such luxurious abundance. The climate is pretty similar too, only a trifle hotter. Sun in the morning, showers in the afternoon. At night I'm dead so I never know what's going on. At home the folks tell me we have thunder, lightning and rain. May be Bali has all this too. Trivandrum lies 8.5°N of the equator, while Bali lies 8.5° S at its south-eastern end. We have a lot in common - except the volcanoes and earthquakes!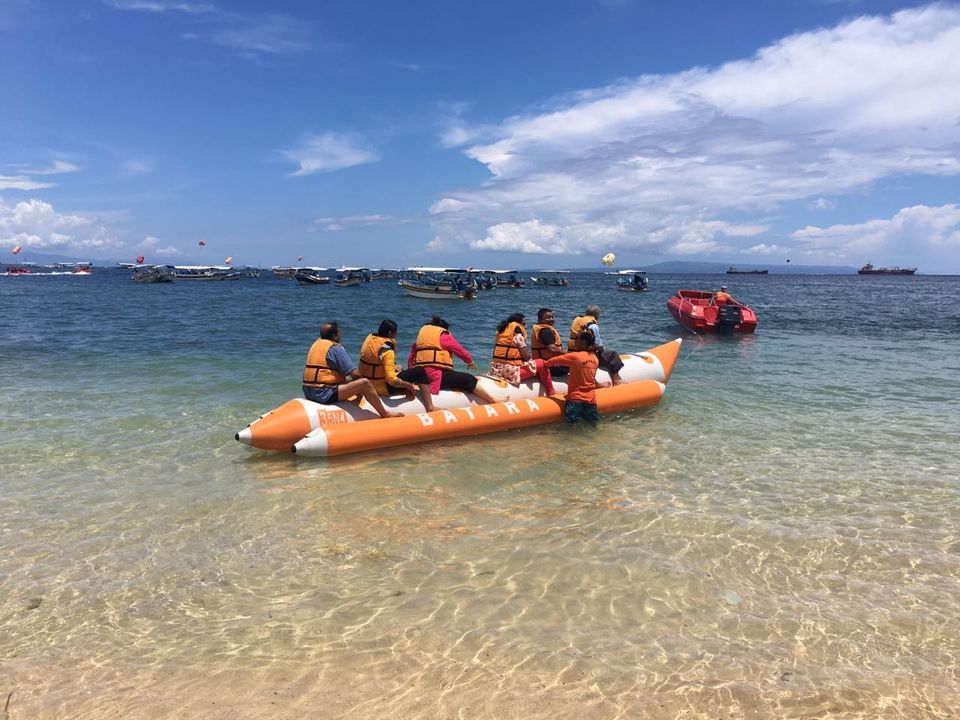 Kuta and Nusa Dua are among the most popular beaches. Kuta is virtually the night-life capital of the island. On the day after our arrival we headed for the Tanjung Benoa beach. I'm not really enamoured of boats, beaches and blue-green waters, because there are plenty where I come from. But in Bali there were umpteen things to do – paragliding, ocean walking, snorkelling, surfing and what not. I did none of these things though. All I did was take a ride in a banana boat, then sit in a glass bottomed boat and sail to Turtle Island, which was a misnomer because it was actually a turtle zoo with a few pathetic specimens, which everyone picked up to enjoy a photo opp while the poor creatures thrashed wildly. As for the glass bottomed boat all it had it was a 3 ft x 1 ft patch in the middle of the small boat through which we managed to see only a little green grass.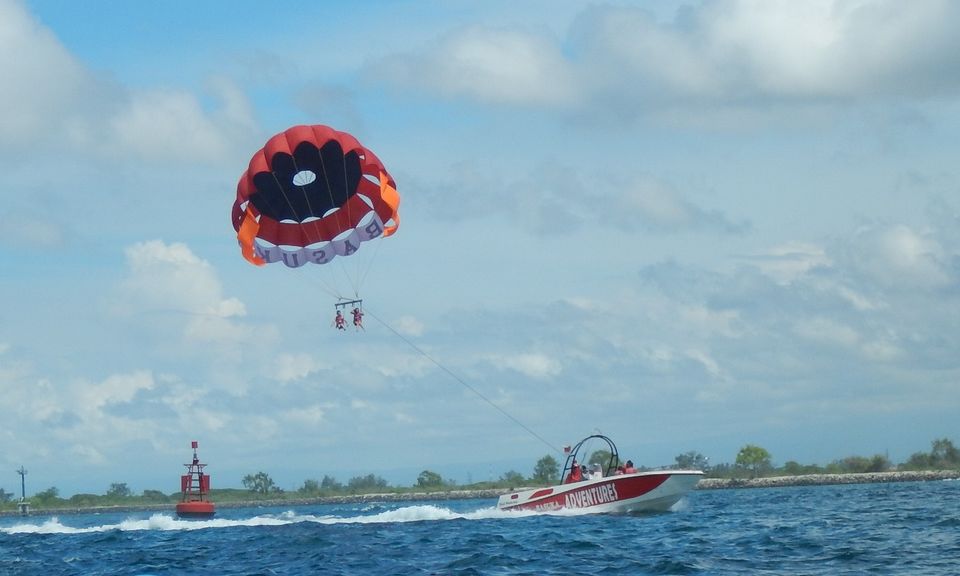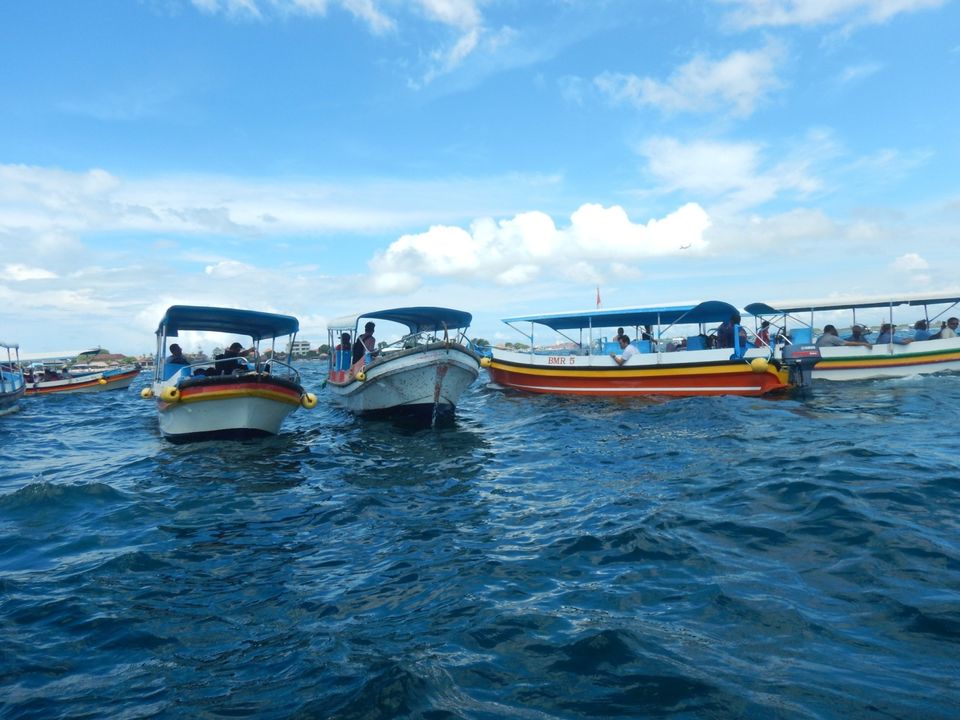 The beach was messy and crowded. The blazing sun made the beach sand blistering hot, so we had to hop skip and jump to the boat to keep the soles of our feet from getting burnt.

The most striking thing about Bali is that it has a Hindu ambience. In a Muslim majority country, this is an unusual phenomenon. Our guide informed us that 95% of the people of Bali are Hindus. Women enter the temple clad in a lungi and full-sleeved blouse with a sash tied around the waist. Floral offerings are carried on the head.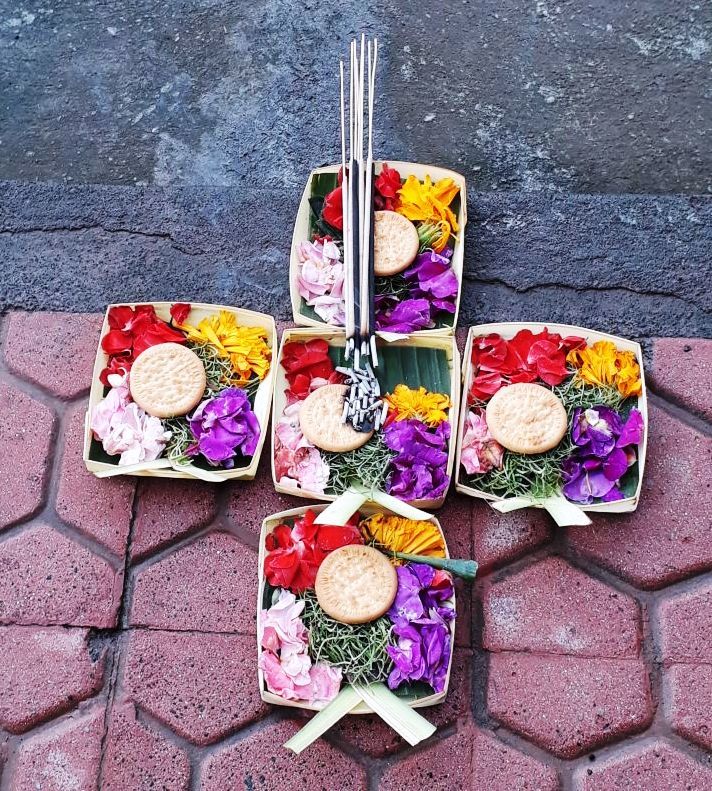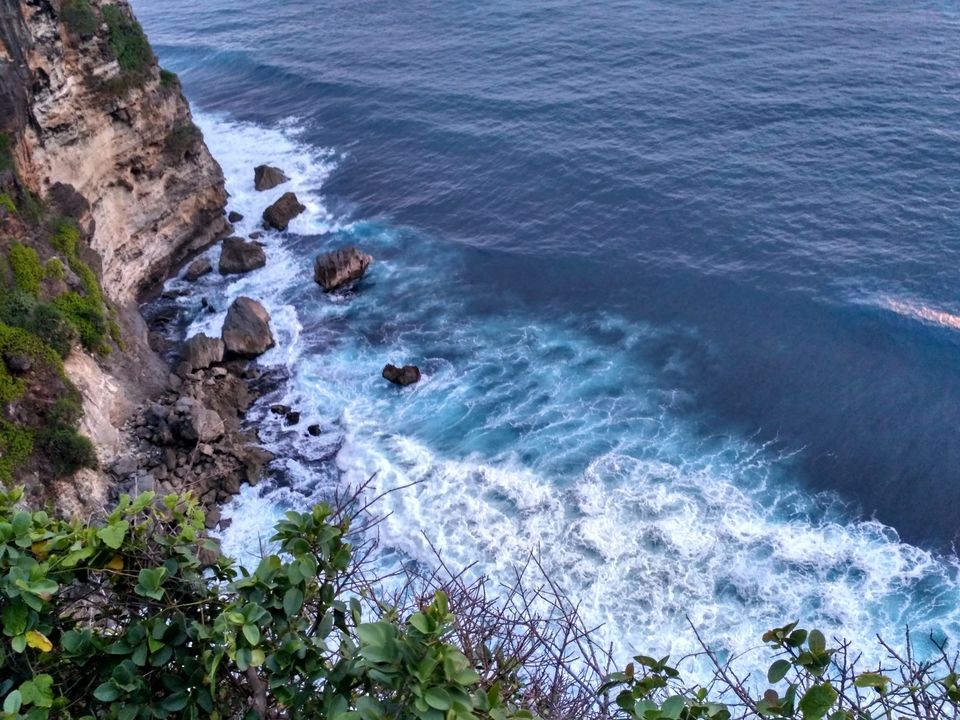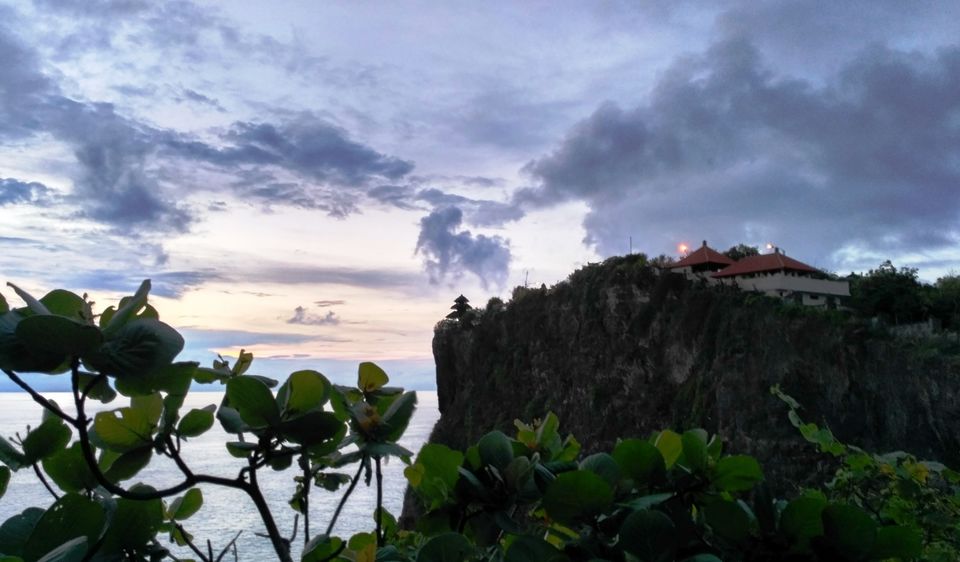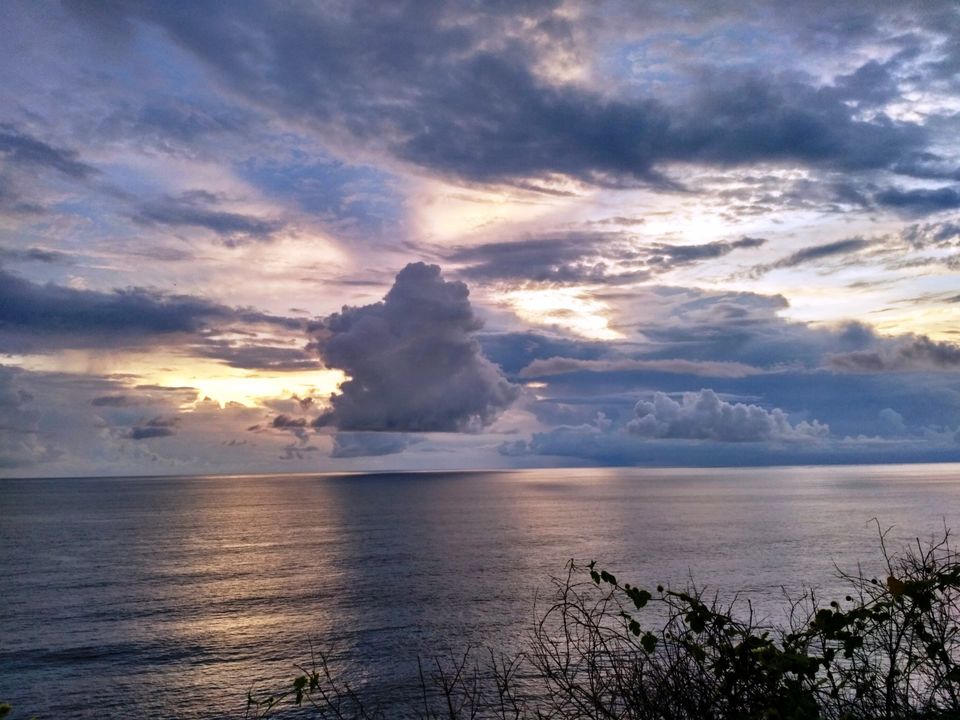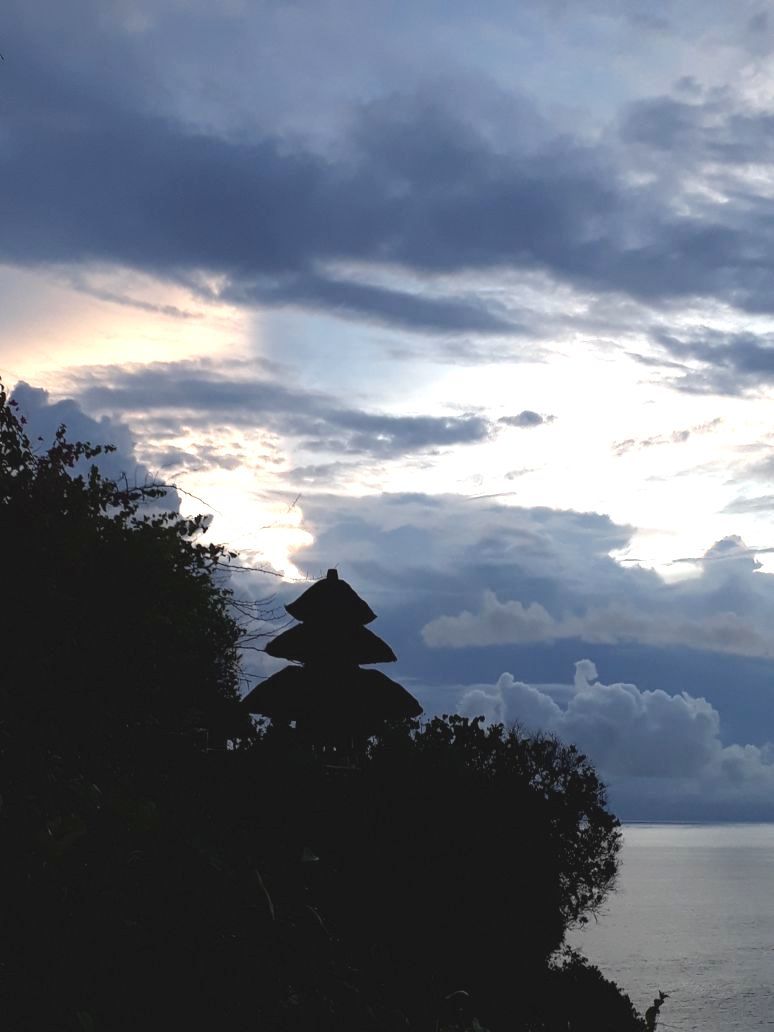 The Pura Luhur Uluwatu and Pura Tanah Lot temples were absolutely stunning. Photography enthusiasts would love to spend hours at these locations but our tour was badly planned and we arrived at both places a few minutes before sunset to see only rain clouds and dark shadows. The disappointment was heart-rending. The Hindus among us were not pleased because we were not able to enter the temples, and had to placate the deities from afar. At Tanah Lot the presiding deity is Dewa Baruna, the ocean god (Varuna of the Vedas). The temple has been defying the Indian Ocean waves for centuries and some reconstruction has been done with Japanese aid. The Uluwatu temple area is full of monkeys that are said to be skilled at handbag snatching and even bartering, but we never got to find out because none attacked us.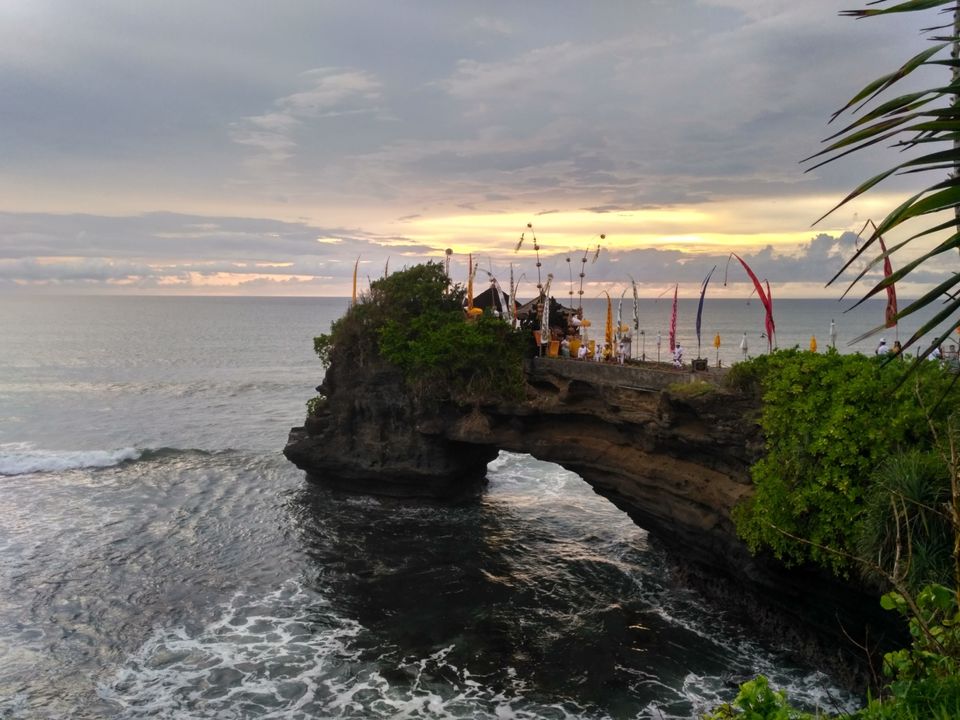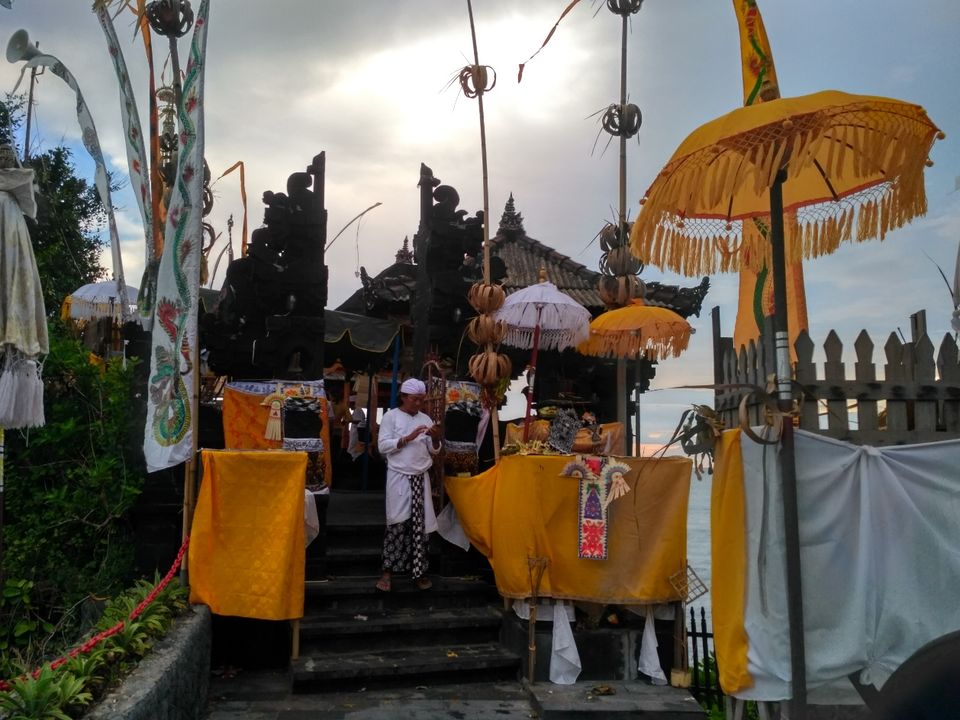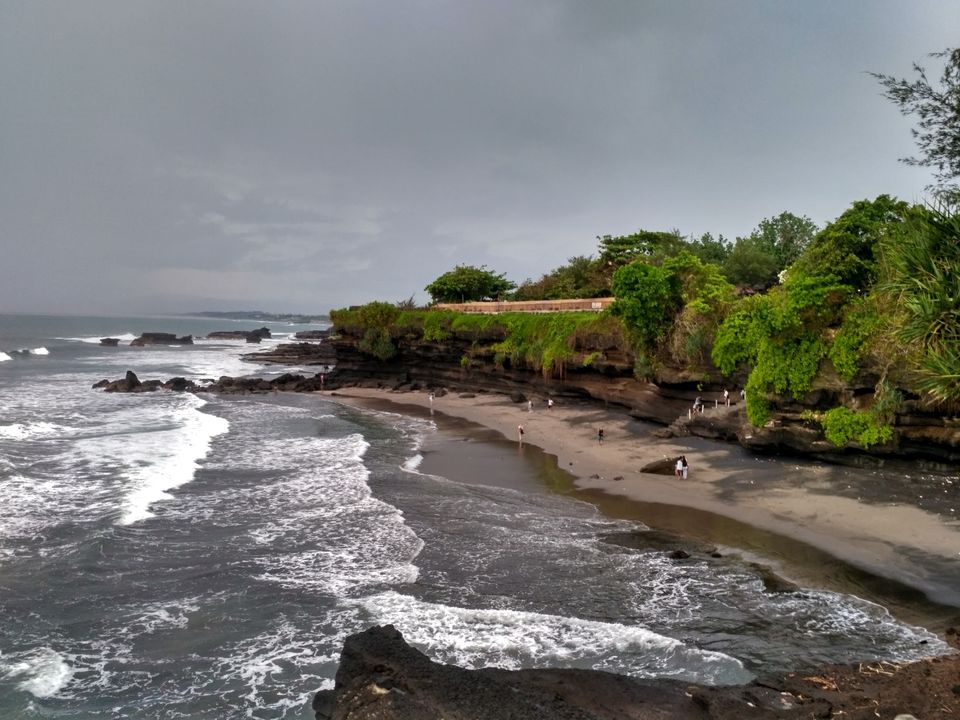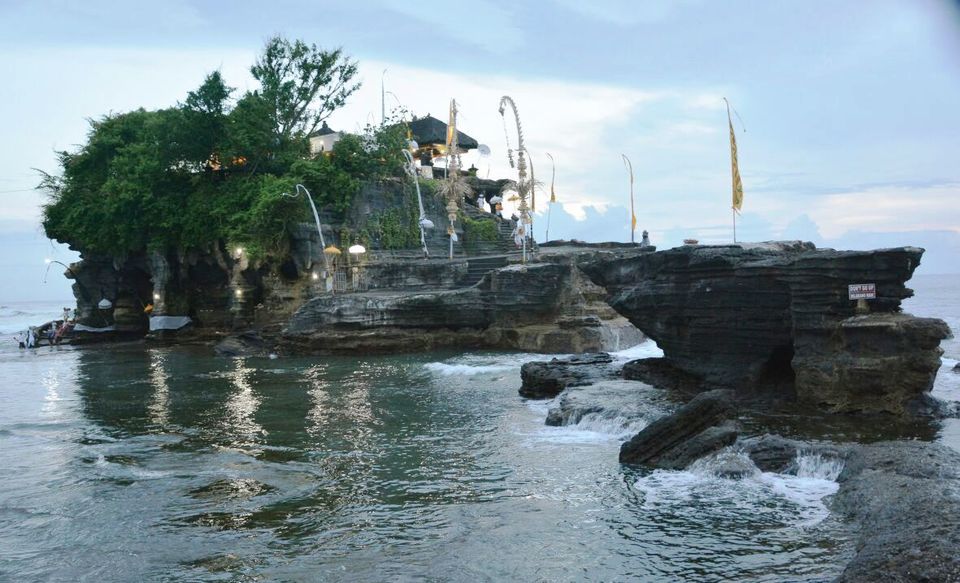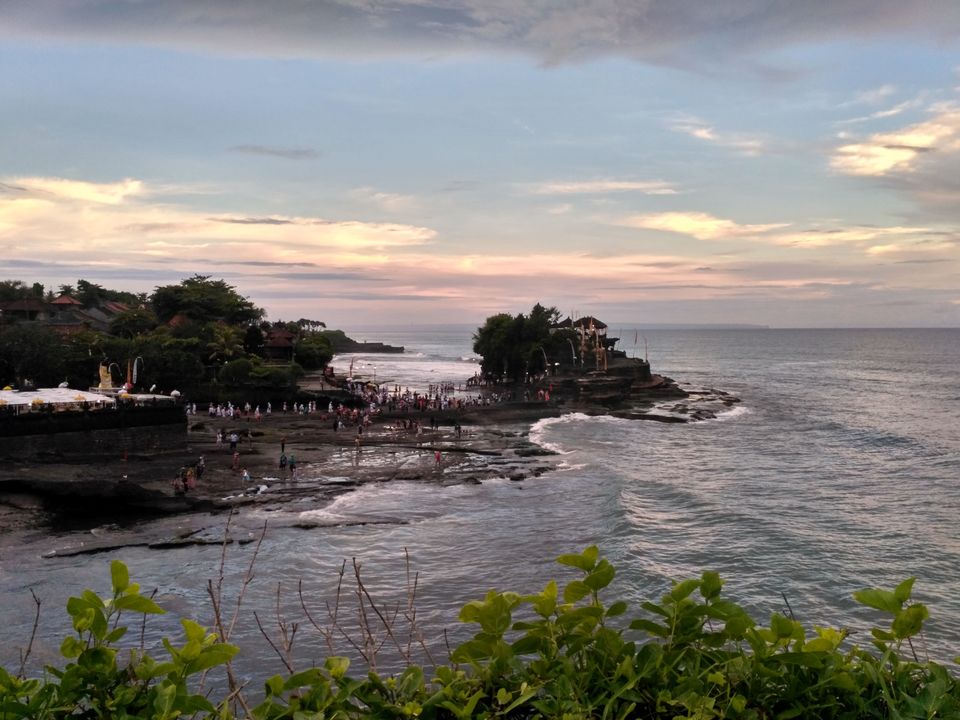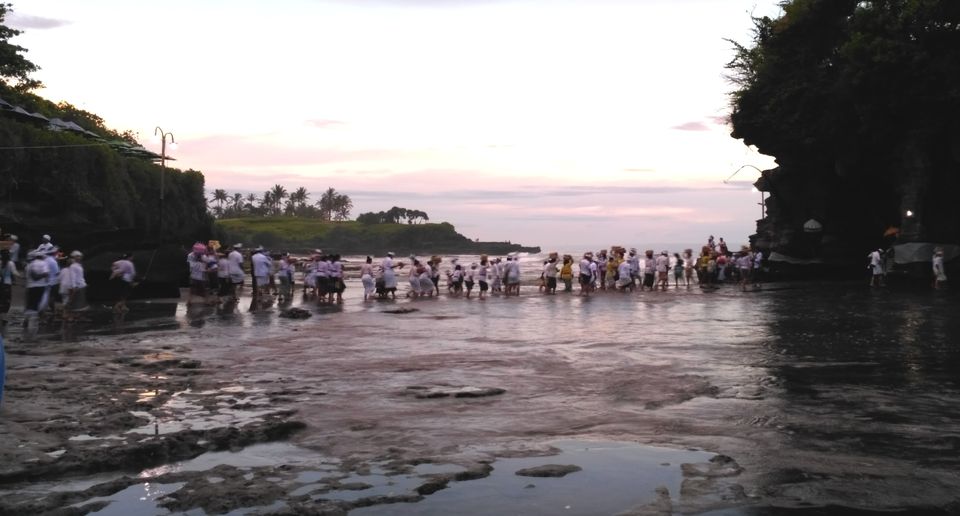 The Pandawa beach, situated on the Bukit Peninsula has statues of Kunti Devi and the five Pandavas. I wish we'd had time to go there. A huge statue of Ghatotkacha, son of Bhima, was seen at a little distance from our hotel. At one of the shopping locations, there was Yamadeva on a buffalo, but he looked a lot like Krishna because he was playing a flute! I am yet to see any statues of these guys in India.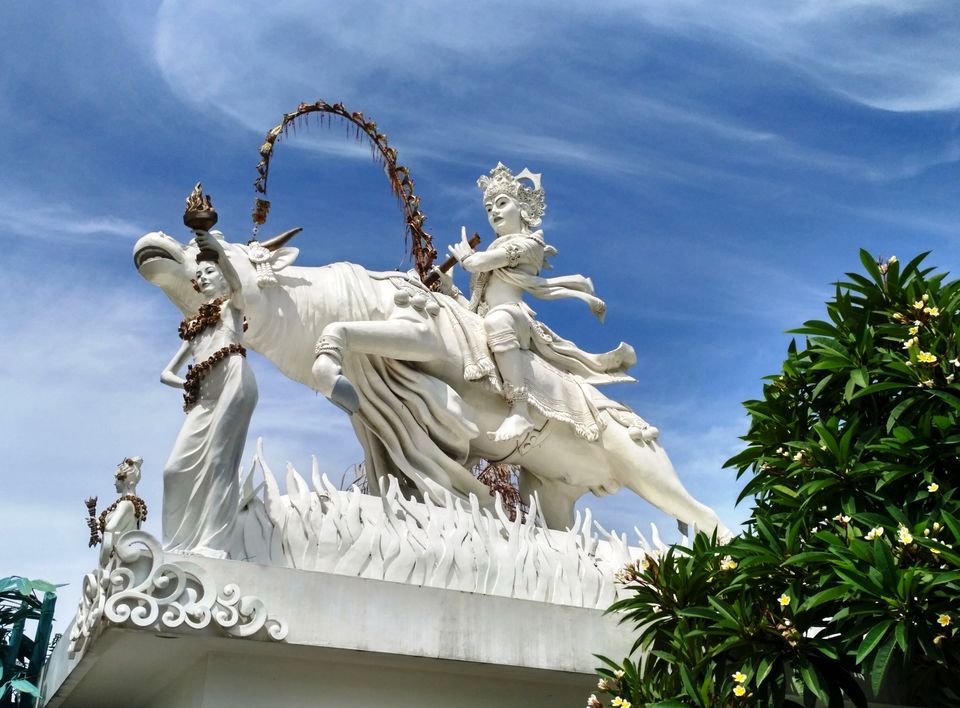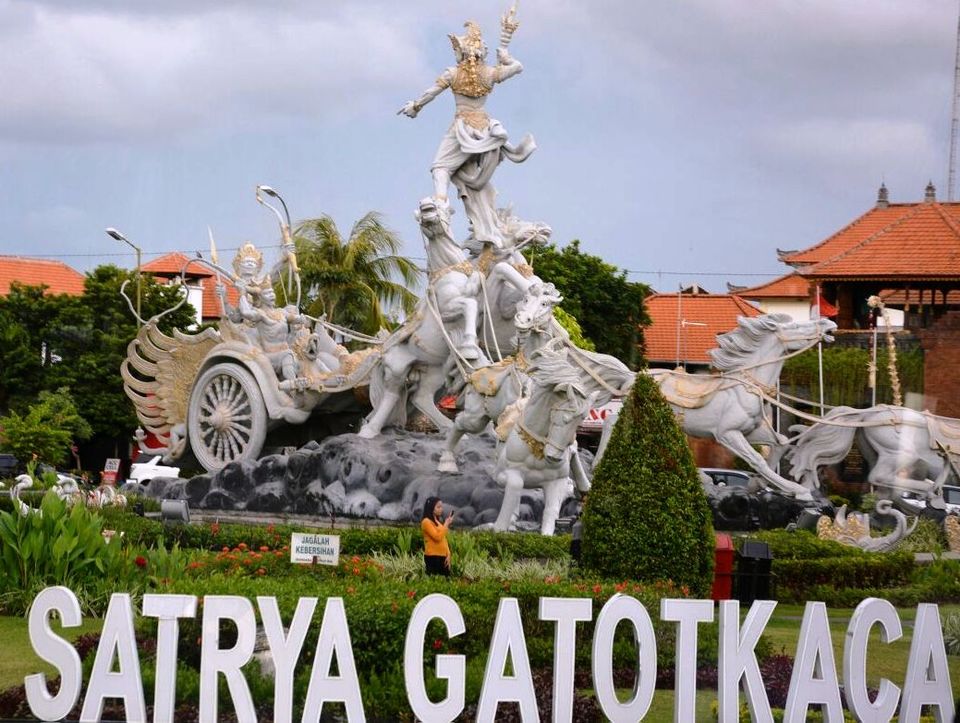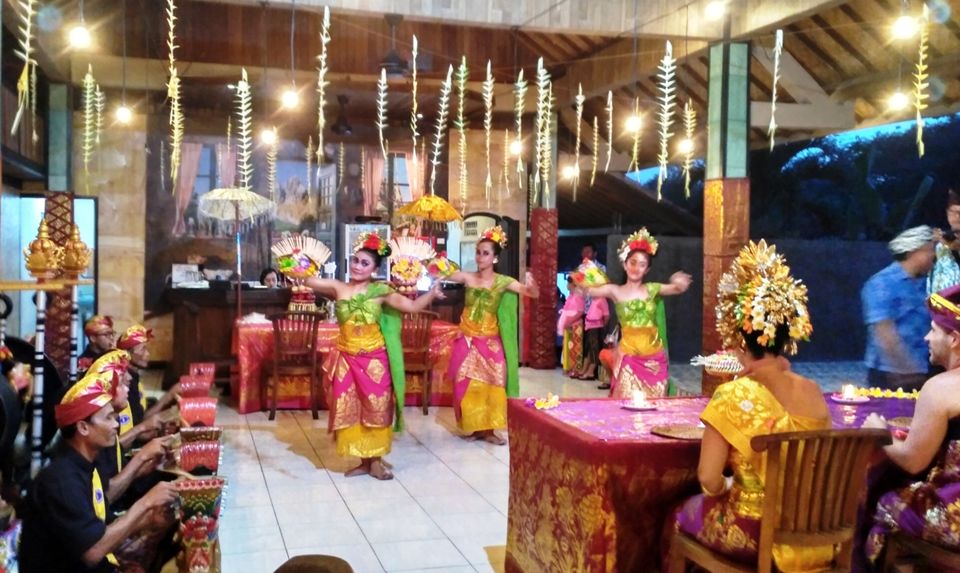 Bali is culture rich. Balinese theatre has glorious tradition. The symbol of Bali is the garuda, the mount of Vishnu. At the Garuda Wisnu Kencana (GWK) cultural park daily renditions of Indian epics such as the Ramayana and Maharbharata take place. Art forms and costumes very similar to the theyyams of northern Kerala can be seen. Next time I need to go there. Don't want any tour leaders or guides messing up my plans!

Next time I'm coming back alone. I'll go dolphin watching in Lovina, take the ferry to Lombok island, offer worship at the Temple by the Lake (Pura Ulun Danu Beratan) , take flights to Jakarta and Yogyakarta and visit Borubudur and Prambanan. I might even make a dash to the Tirtagangg, simply for its name! And then there are the neighbouring teeny weeny islands of Nusa Lembongan, Nusa Ceningan and Nusa Penida, 35 minutes by ferry from the mainland. I hear they have amazing beaches with razor sharp rocky formations and even a cave temple called Goa Giri Putri.

(With photographic inputs from Bryan, Balan and Shajil)