The famed island of the Gods, known for its beaches, volcanic peaks, rice paddies and coral reefs, Bali is paradise on earth. A unique island which is as much modern in its facilities as it is traditional in its art, culture and lifestyle, it is a heritage feast personified.
This post provides a summer guide for the top things to see and do while here.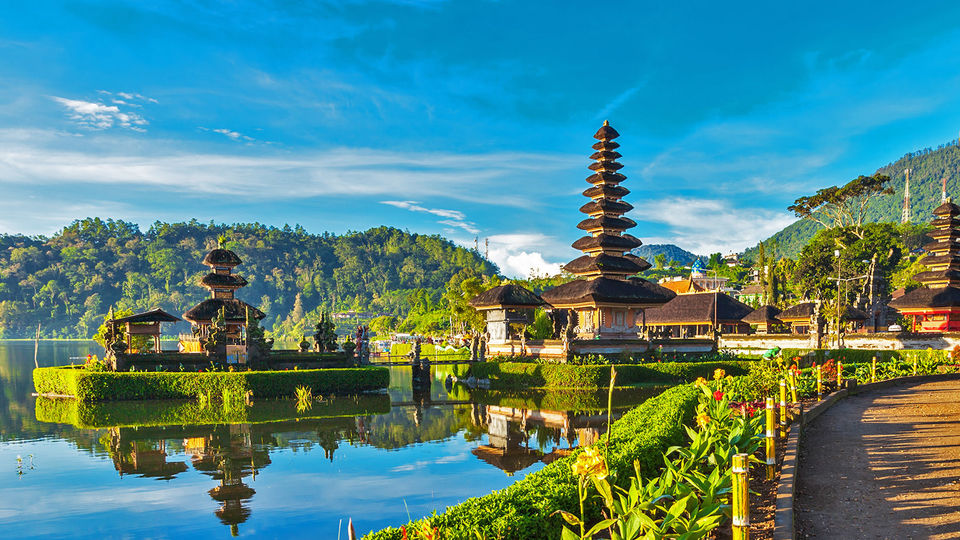 Getting to Bali
There are several airlines connecting Bali from India or other Southeast Asian nations in case you want to club a holiday to Bali with a holiday someplace close by (Malaysia, Singapore, Philippines, etc.)
And with HappyEasyGo's New Year Sale, you can book a return trip to Bali under INR 20,000 per person. Check out the offers here.

Visa
Travellers from 169 countries, including India, don't need a visa to enter Indonesia for visits of up to 30 days! Thus, you can get a 30-day free visa on arrival as you land at the Denpasar International Airport in Bali.
Trip duration
A week is usually good enough time to properly explore this haven, but it's really up to you what you want to focus on and how long you want to spend here.
Transport
The best way to get around in Bali is via hiring a car and a driver. The local drivers are resourceful and friendly, and they often double up as guides.
Why Bali?
We give you 10 excellent reasons why Bali is the ideal summer destination. So, go ahead and choose depending on your tastes—in order to truly maximize your stay here!
Enjoy the luxurious resorts at Nusa Dua
Nusa Dua is a lovely little area that hangs off the southern end of Bali almost like a teardrop. It's where Bali's largest enclave of luxury resorts is carefully laid out surrounded by lush foliage and serene beaches. An ideal holiday experience, Nusa Dua has a number of little souvenir shops and restaurants that offer traditional Balinese dance performances like the legong, among other little treasures.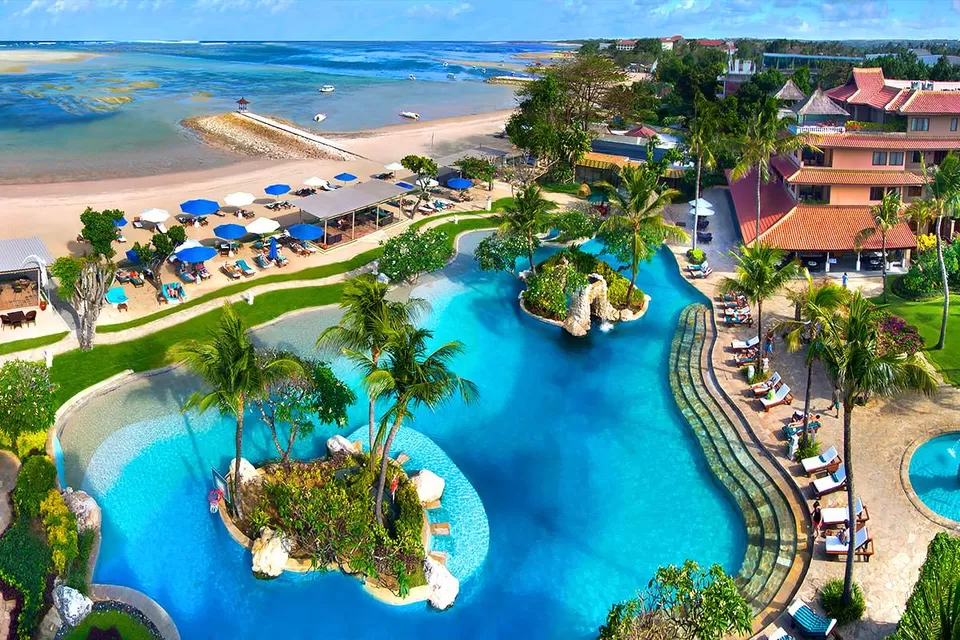 Nusa Dua also has some great options for shopping, mostly at walking distances. There is an interesting market called Bali Collection that houses a huge art market, convenience store and a range of other branded stores like the Sogo Department Store. It's a great place to do some last-minute shopping and pick up little trinkets for friends and relatives back home. We had dinner at an outdoor restaurant where a local troupe performed some of the most impressive dance styles such as salsa, Latin, Indonesian, Balinese and flamingo. By the end, we were all tapping our feet on stage!
Drown yourself in some exotic art at Ubud
If you have an aesthetic bent of mind, then undoubtedly, the first place for you to hit is Ubud, about an hour north of Denpasar. Ubud, Bali's cultural heart came to prominence after Julia Roberts' Eat, Pray, Love. This artful, creative and serene town is a treasure to be explored and the best way to get a feel of "the real Bali". Roaming around the town on foot or bicycle is like a dream come true—art and craft fill up every surface in sight all around this sleepy little hamlet. It is home to the most distinct Balinese painting style.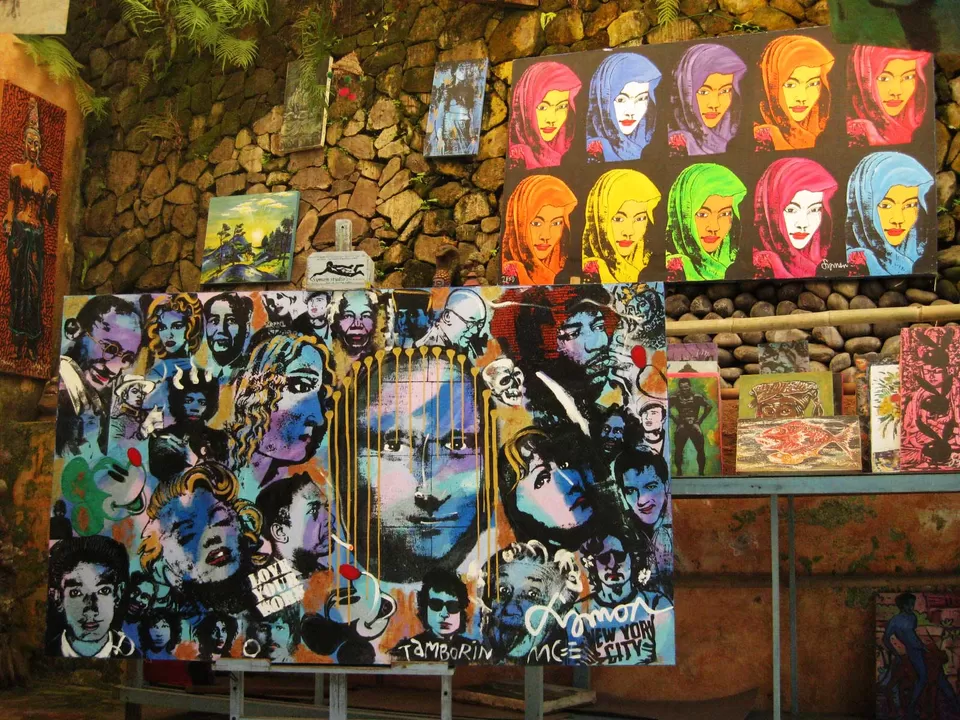 The drive to Ubud is full of its own surprises. With a number of little villages offering various arts of their own, you learn that in Bali, it's always about the journey rather than the destination. Stop over at Batubulan Village where you will see some rare stone carvings. An interesting thing to watch here is the batik processing. There are a number of shops that sell batik ware, with people working at it outside. The next village is Celuk, known for its famous silver and gold jewellery. A little further down is Sukawati where you can pick up some artistic hand-crafted puppets. The road north then passes through Mas. Here, you will find numerous shops selling several woodcarving masterpieces. Other interesting items you will encounter along the way are kites and masks. These make up the must-buy souvenirs from this truly magical island! You might also like to take home some famous Balinese coffee, cocoa and herbal tea packets.
Ubud mostly has shops that sell paintings, but it also has its own share of branded stores that you would find in any big city. You can't help but shop till you drop in this area and the best part is that you can always bargain! There are some intriguing cultural performances in the evenings that one cannot miss as well as traditional dance forms performed at the Ubud Palace.
Spiritual awakening at the Mother Temple
The famous Mother Temple stands tall against a stupendous mountain backdrop on the southeastern slopes of Mount Agung. Pura Besakih is fascinating because it is a massive complex of 35 small temples. So, if temples are a must-do on your list of things and you're short on time, definitely choose this one! Plus, climbing the steps is not really a misery, as there are temples at regular intervals that you can stop at and see. Overall, the experience gets along rather smoothly especially if you're with a guide, who keeps telling you what you're looking at. There are different sites devoted to Brahma, Vishnu and Shiva. The entire experience might even leave you feeling cleansed!
The most spectacular sunset and dance-drama at Uluwatu
Lying at the southern tip of Bali, Uluwatu has another beautiful temple called the Pura Uluwatu. The temple is known for its spectacular cliff-top setting on the edge of Bali Island. While here, one can hear the big waves of the Indian Ocean crash into the hill on which Uluwatu is located. The best time to get here is the sunset, as the view at this time is at its zenith! A little walk from the sunset point leads you towards an experience that you can barely forget in a lifetime.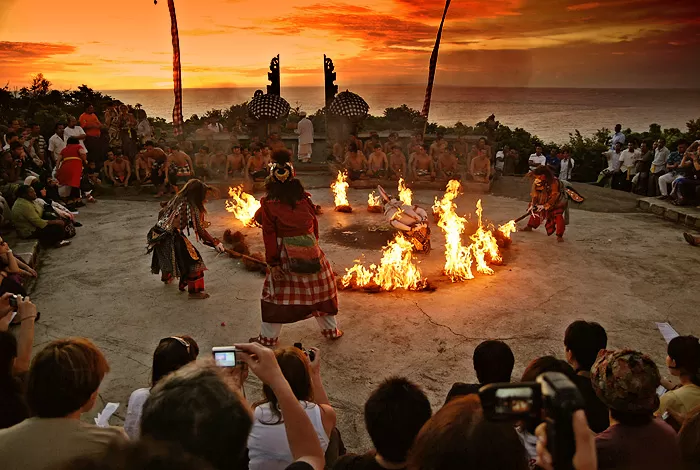 Just after sunset, the round-shaped auditorium here stages a dramatic representation of the Ramayana in the form of a lively dance known as the kecak. Kecak is the most unique Balinese dance form, which is not accompanied by any orchestra but by a choir of 70 men. In this, a person communicates with the deities in a state of trance. Using dancers as a medium, the deities convey their wishes. Needless to say, the costumes are magnificent and the performance is completed in the form of a fire dance. Some of the characters even interact with the audience in a jovial way, making it fun for children to watch. That said, it is an excellent way to learn about one's ancient scriptures and epics in a form that is educational as well as entertaining. It was the most simple and creative art I have ever seen for the great epic to be utilized.
Hike a volcano at Mt Batur
Mt Batur is an active volcano 1,717 metres above sea level, which last erupted in 1968. The hike to the summit takes around two hours from the starting point. It is a medium-difficulty climb done under the moonlight (with help of torches) and can be accomplished by people with basic fitness levels.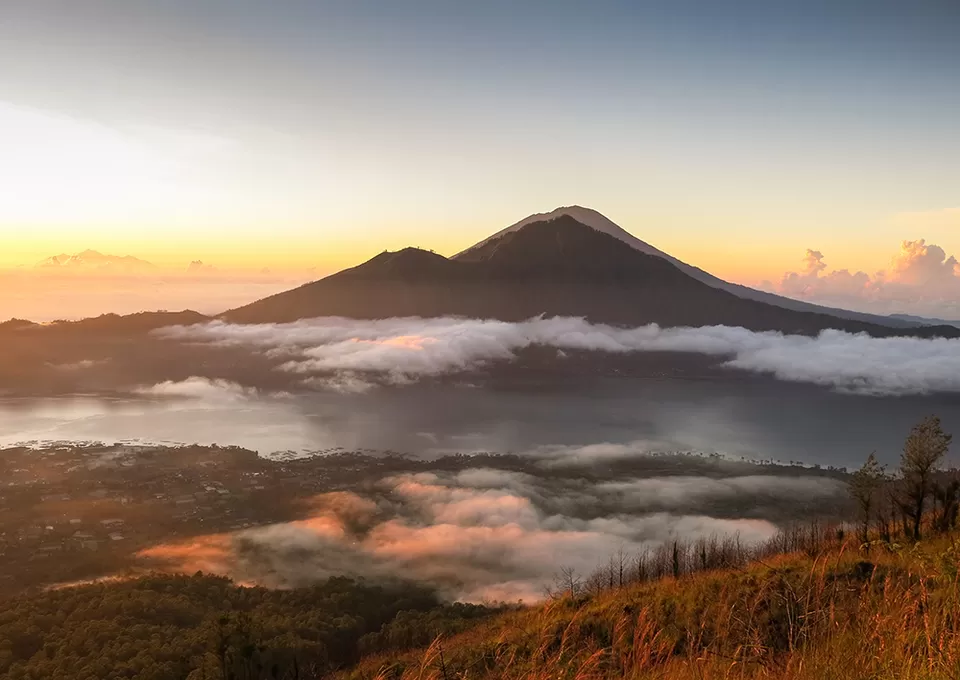 At sunrise, you can catch the panoramic views overseeing lakes, volcanoes and Lombok Island—a visual delight for all photography enthusiasts!
Surfing, snorkeling and Tanah Lot
If you're the adventurous sort, then consider signing up for a two-hour surfing lesson at Kuta beach—named as one of the top five spots in world for beginners to learn surfing.
You could also take a shot at snorkeling in the calmer waters of the east coast. Here, you will get a close view of the rich marine life (such as huge manta rays) in Bali's clear blue waters.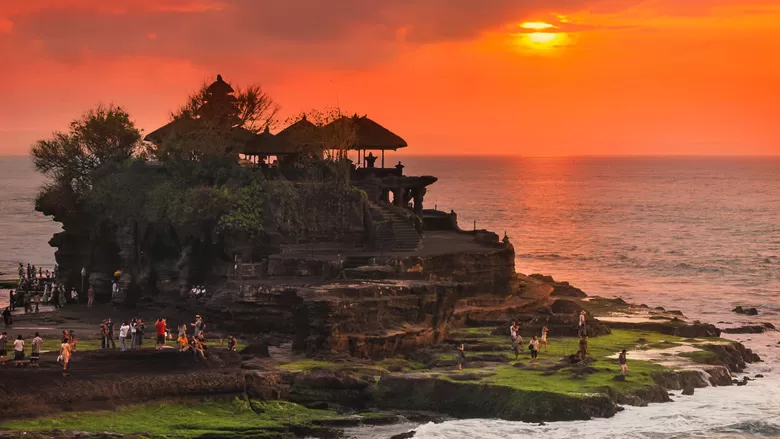 About an hour away from Kuta lies Tanah Lot, the magnificent 15th century temple perched on a rock just a few metres offshore. The views of the temple and the sunset behind it are amazing.
River rafting at Ayung River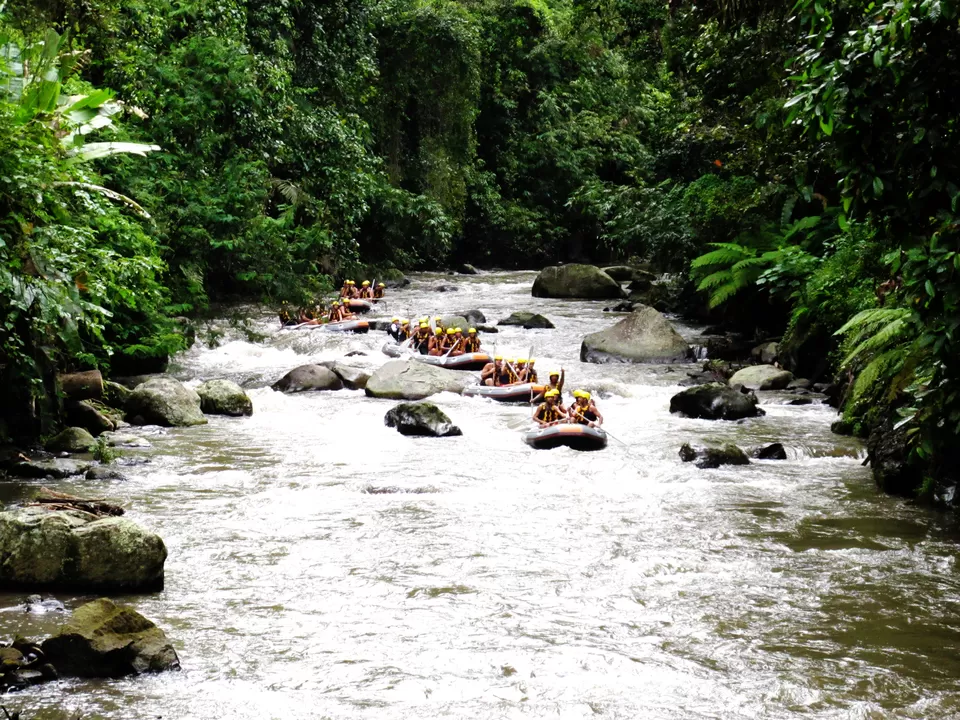 Ayung river is the longest river in Bali and is a short distance away from Ubud. The two-hour journey down the river is full of grade 2 and 3 rapids (fit for beginners and experienced, alike)—perfect for some exciting white-water rafting.
Splurge on a scrumptious feast at Jimbaran Bay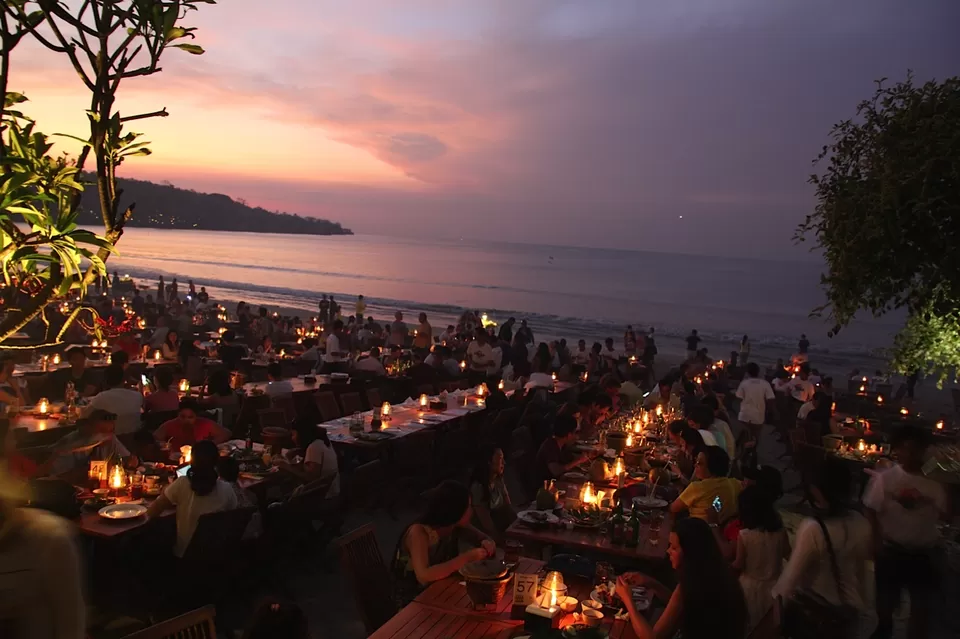 The bay itself forms the backdrop to a broad sweeping crescent of a beach. Having dinner on the coastline is romantic and the food is authentic Balinese or Indonesian. This is a good time to experiment and try out the native cuisine. And if you're a seafood person, then it's your day!
Participate in some traditional festivities
Balinese people are a mix of Malays and Polynesians. It's quite a unique experience to see a wedding or even funeral ceremony in procession, as it gives an insight into the local community life. It is believed that every single person present in the area must participate in these celebrations. The Balinese greatly value the ideal of selam-putih or black-and-white, as every motif resounds with a sense of balance. Even doors have two gates, one good and one evil.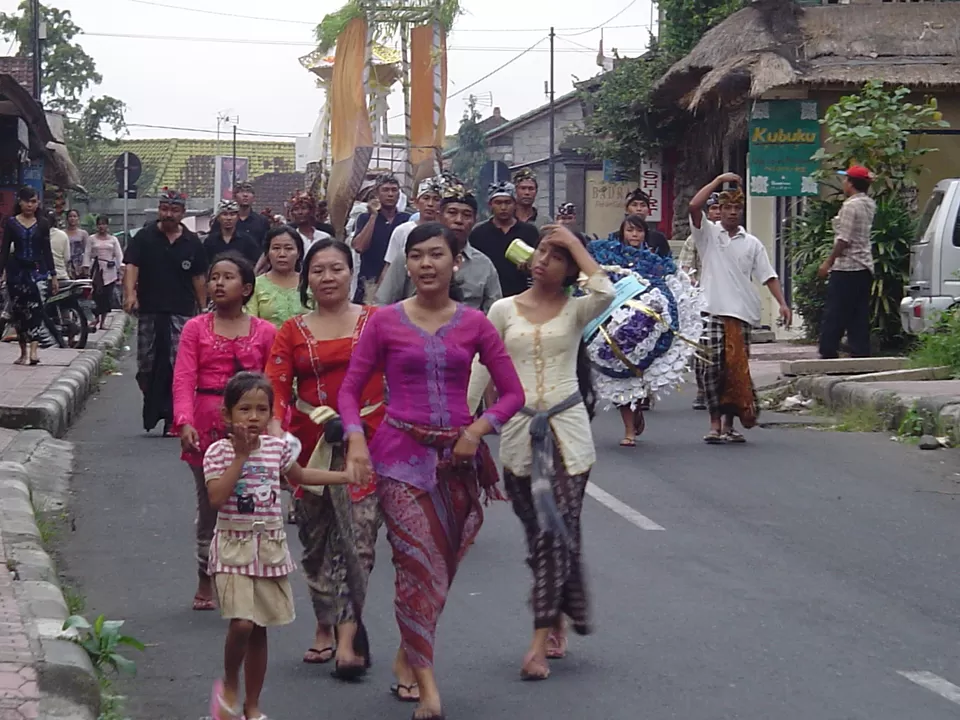 Further, we were fortunate that the Bali Arts Festival was on close to Kuta. Every evening was a feast of cultural performances, handicraft exhibitions and other related commercial activities. It's a microcosm of all that Bali is known for—its sights, sounds and smells! Stage performances, dance choreographies, musical creations, puppet shows and other revelry are the order of the day!
Indulge in a soothing Balinese massage
After all that exploring, my last memory of Bali was treating myself to a relaxing Balinese foot and back massage at a spa. This left me refreshed and recharged for the journey back home.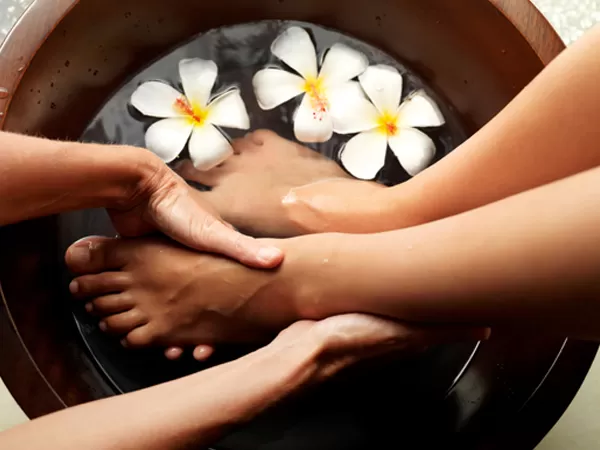 You may or may not return to this beautiful island again, but you know that Bali will surely remain with you forever.
Signing off in true Balinese style, Terima kasih!
Frequent searches leading to this page:-
Bali honeymoon package, Top places to visit in Bali for honeymoon, Bali tour package for couple, Bali Indonesia package tour with airfare, Bali Indonesia tour package, Bali tour package from India, Bali honeymoon package cost