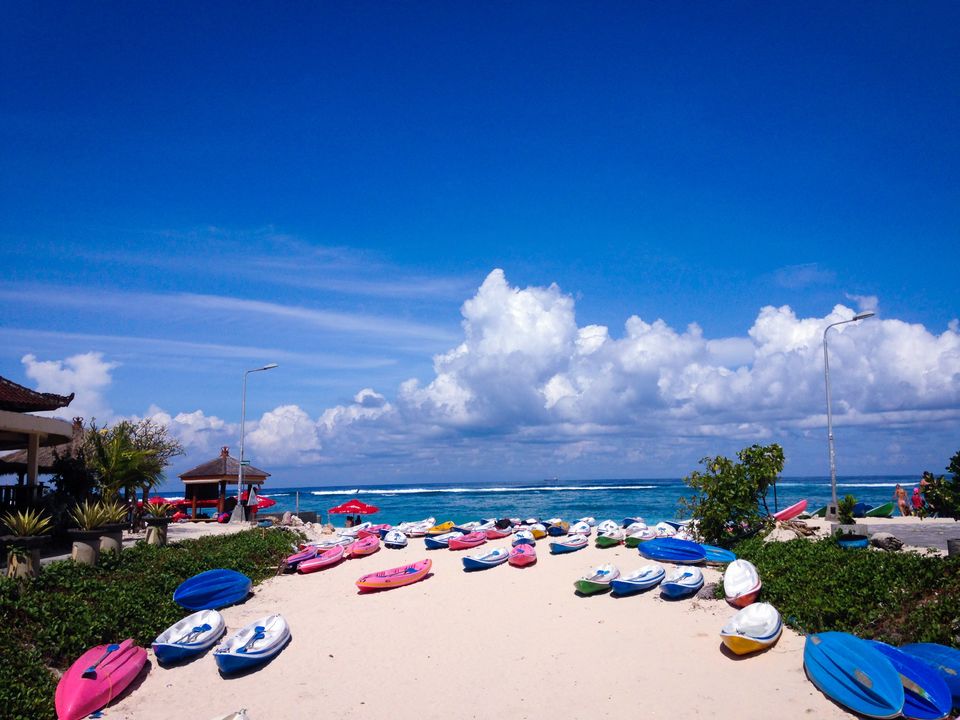 The summer break was coming and so was my anniversary so was trying to find a place to go. After much deliberation zeroed in on Bali the most prominent island gateway in Asia. The place whose beauty lies in the proud fact that it has everything you can ask for. Hills, Volcano, still water beaches and off course the famous surfing joints with awesome high tides. It has emerged as one of the most favoured destinations for adrenaline junkies looking to ride some awesome waves at fraction of cost involved in spending at similar places all over the world.

So the place decided the work began for finalising the itinerary. As all the itinerary which the travel website like Makemytrip, Thomas cook were giving were leaving some place or other we were hoping for so I started looking for a customised package. As it was going to be our first ever trip with my 2 years old we wanted it to be a kid-friendly holiday. Word of advice if you have just started the planning you should be aware that Bali is a place for which you need at least 2 weeks to cover all the point of interests. As we didn't have that luxury with a reluctant Boss giving us only 1 week off, so the travel plan we wanted to have the following points in our mind –
· No Long and strenuous travel
· Covering places that have something for Kid
· Food (My wife being vegetarian)
· Near to civilisation stays in case of any emergencies.

To narrow it down I created a list of all place of attraction usually suggested by Travel website. This normally involves the following itinerary Kuta-Dolphin Tour-Ubud market-Kinta Mani-Dipansar city tour coupled with Rice fields' tour. For someone looking for more beach like holiday, Nusa Dua is one place that comes recommended as it is frequented by who's who of World. But when I started exploring the articles on Bali I found many of these to be overrated places. So then started the work of building a tailor-made holiday. My 7 day 6 nights itinerary came to following plan –
· Day 1: Kuta
· Day 2: Kuta
· Day 3: Ubud
· Day 4: Lembongan Island
· Day 5: Seminyak
· Day 6: Seminyak
· Day 7: Airport Departure
Day 1: Rama Beach Resort Kuta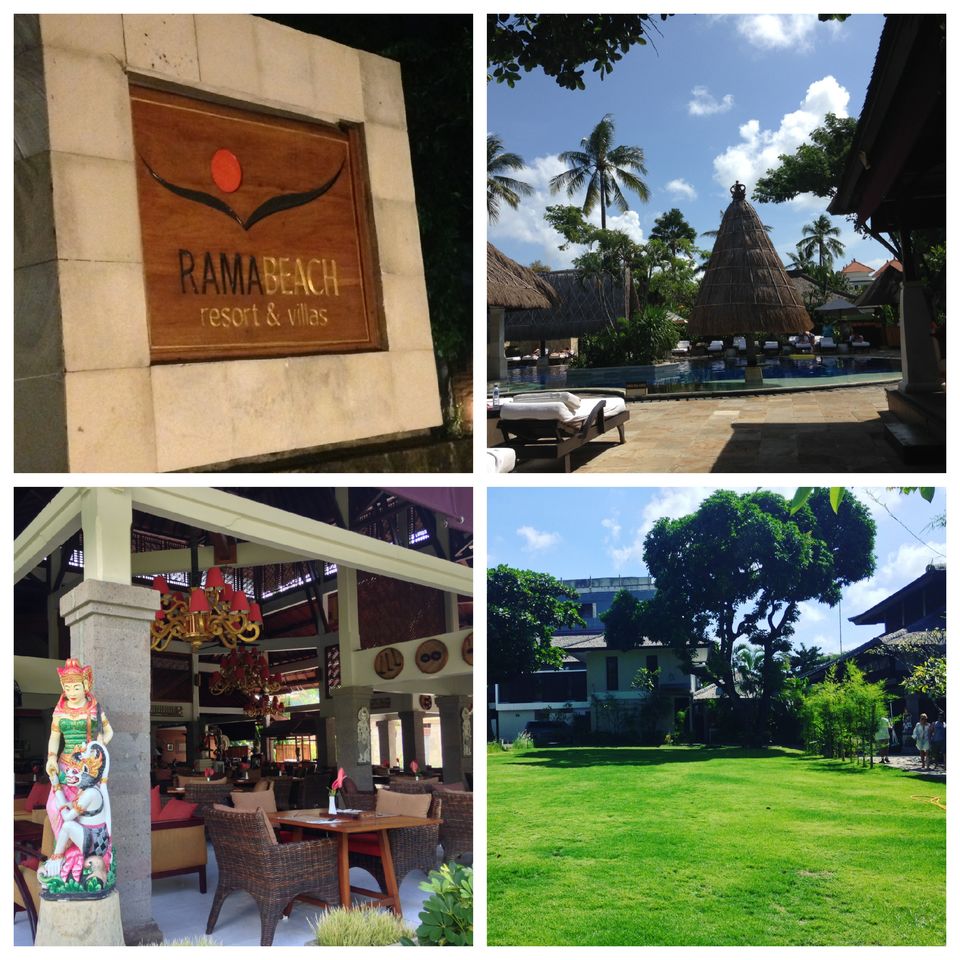 Our trip started from Bangalore and after one connecting flight, we landed in Bali Dipansar Airport using Air Asia which was a pleasant experience for us primarily because of having Row 1 pre-booked seats. This was a good option because even with all pre-bookings of luggage and seat the overall cost of the flight was way lesser than any other carrier. We also were up for a surprise when the Air Host turned Singer for all of us in flight. A wonderful omen for a great trip. The entire airport it seems has been designed local architecture in mind and has a temple-like feel to it. Once you will leave the airport you will be greeted by beautiful Indonesian girls and flowers much like Hawaiian tradition. My Kid was specially pampered with lots of love by them and she exited happily. Our driver was already waiting for us at the airport and after saying Namaste (like India) he guided us to parking. Our first stop was going to be Rama Beach Hotel in Kuta which is situated next to the world famous Kuta beach. The beach is loaded with shops ready to rent you surfing items if you are up for it. The rest of the day was spent roaming around the place getting pampered by Spas.
Day 2: Lovina Beach and Git Git Waterfall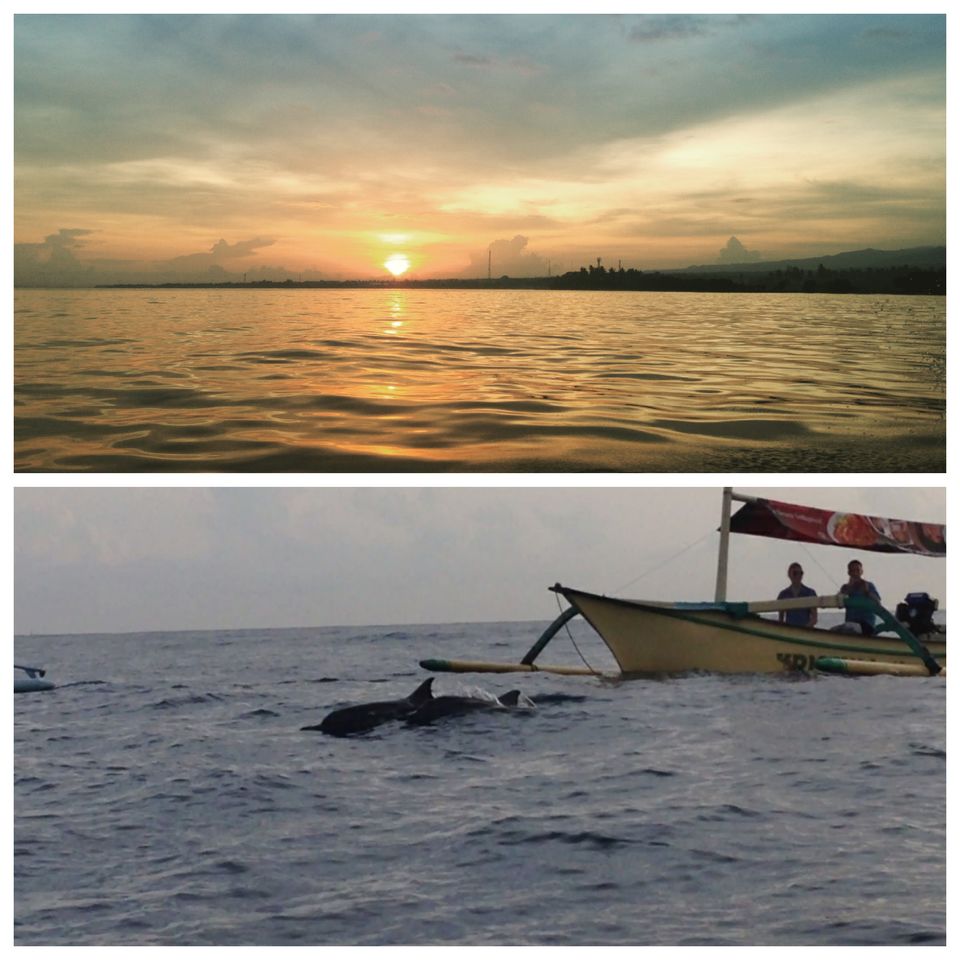 This is the day we started early to catch the famous Dolphin Tour. Adding on to the variety of Bali there is a beach up north called Lovina Beach which is famous for dolphin sighting. It's a long ride from Kuta as most of the roads of Bali are two lanes only. But it's a beautiful ride. The good thing is normally for each family they will have a dedicated boat. And so once settled the hunt for dolphin began with the sun rising in the background it was a wonderful feeling. We actually ended up seeing many of them moving along our boats. The place has some beautiful traditional building turned into the restaurant where in they will serve you authentic foods like 'Nasi Goreng (fried rice)'.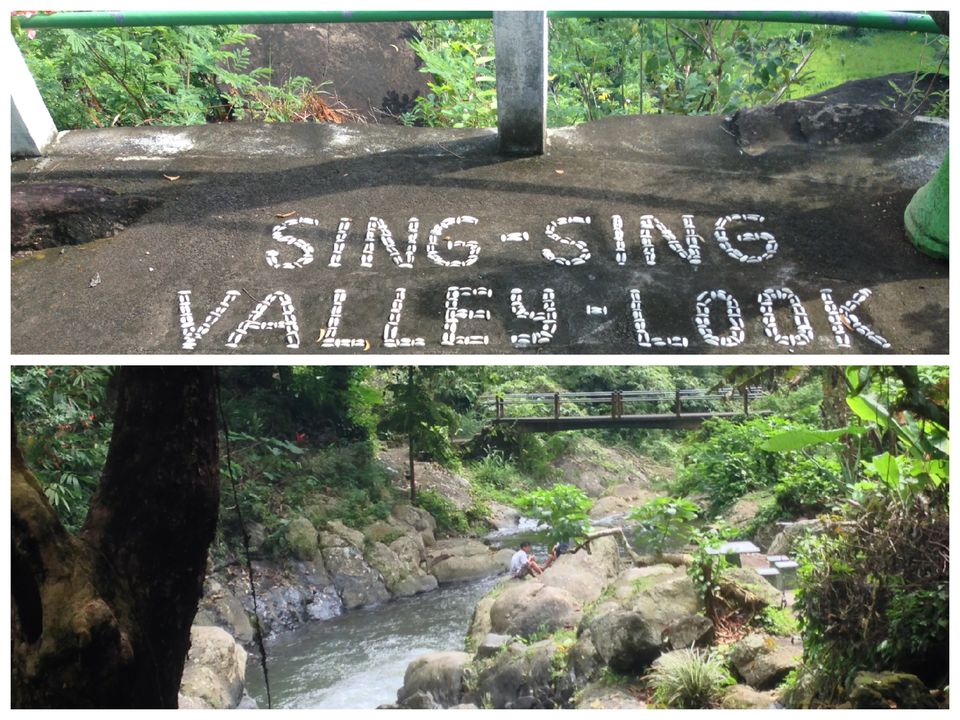 Once done with the place the next destination was SingSing Waterfall. The place is not known to many as there is a bigger and more famous GitGit waterfall nearby. But if you are up for a bit of adventure and have the stamina to walk down a narrow staircase you are finally going to have a gorgeous waterfall all for yourself. But this place is not to go with a kid which we got to understand rather painfully. Tired as we were we headed back to the famous one and well it was really well maintained and easy to reach as compared to its lesser known brother.
The way is thronged by small handicraft shops selling all kind of items ranging from wooden carvings to colourful clothes and what not. Be ready to bargain hard here though or else you could get almost all of these in the main town. I will recommend still to buy from here as it seemed these were maintained and run by an entire family for their livelihood. Handicraft work of Bali is actually very beautiful and you should definitely ensure to take home some of them. After having a dip in the cold waters of GitGit we gorged on local restaurant food which was very tasty if you are ok with a basic setup. The Bali people are normally very welcoming and would go an extra mile to serve you. Our restaurant hostess knowing that we were travelling with Kid got us cut fruits grown in her backyard. A small gesture but great feeling overall.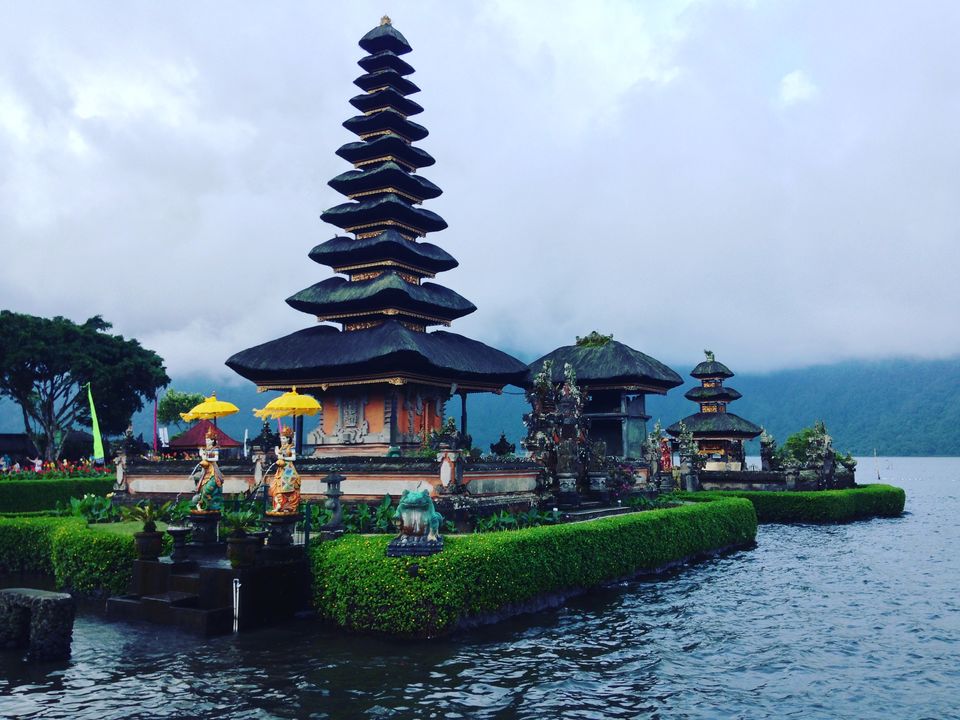 Our next destination was Pura Ulun Danu Beratan. Indonesians, in general, are very religious and in spite of accepting new world rules still have kept their old world tradition. The balance between the two could be experienced in every aspect of the Balinese life. This temple has an entry fee of 35000 IDR and only accepts cash. One word of caution regarding the Forex. That is the only thing not great about this place, you will see lots of forex agents on roadside advertising an exchange rate much higher than banks. But don't fall for them as what they save you in exchange rate they will fleece you in counting the money. They have a simple modus operandi they will deliberately give you exchange in lower denomination notes which means even for a 100 USD you will have a bagful of the Indonesian currency. So stick to your hotel or ask the driver to take you to main market exchange shops, the one where they give you printed receipts and higher denomination notes.
Anyways coming back to Pura Ulun Danu Bratan, or Pura Bratan is a major Shivaite and water temple on Bali, Indonesia. Built by the King of Mengwi in 1633 (who later built another water temple, Pura Taman Ayun) this picture-postcard temple is dedicated to the lake goddess, Dewi Danu, to ensure plentiful water and bountiful crops. Set in the Bedugul Highlands, 1,239 meters (feet) above sea level, Pura Ulun Danu Bratan is one of Bali's most photographed and iconic temples. Its thatched multi-roofed shrines (meru) are surrounded and reflected by the lake, and its misty mountain backdrop highlights its serene beauty.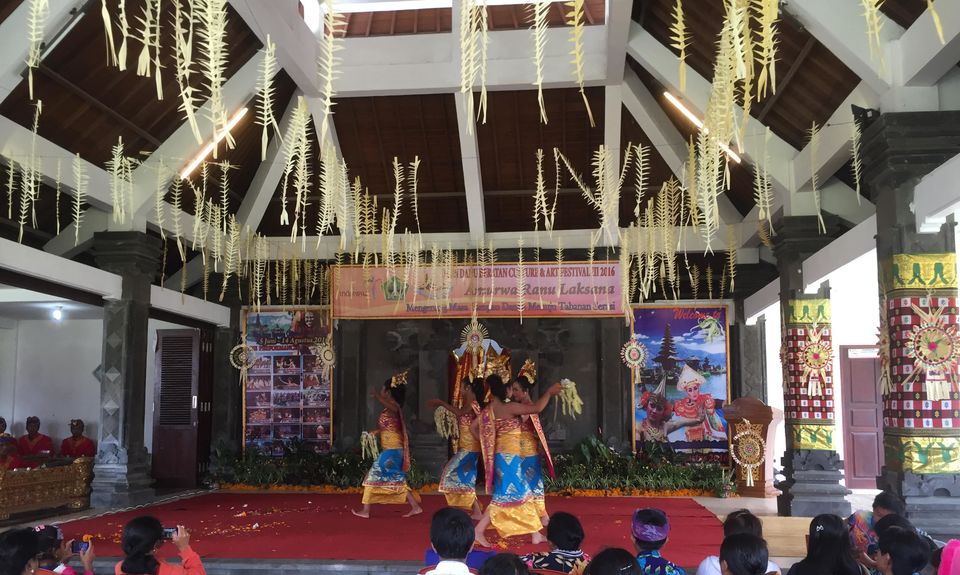 The main temple is disconnected for normal public entry and only the priests enter to do worshipping. You can pose outside though for beautiful postcards to send home. The place is normally very crowded but because of open space, you will not notice them. The campus also has a small performing stage which luckily was hosting one of the traditional dance show that day. Indonesian girls dressed in full traditional attire were performing dances to please Gods.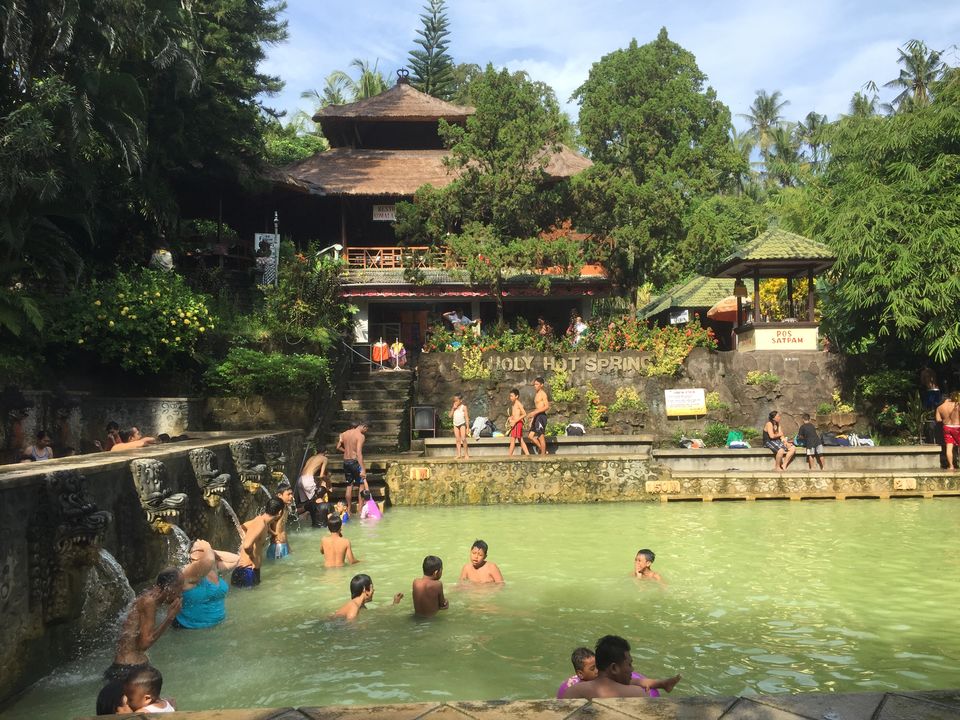 Once you are coming out of the ground at the extreme corner you can see a handful of bats at one corner. Asking them about the detail we came face to face with a dark side of the place. It seems here captivity of animals and birds are not illegal. Hence you can have bats in your captivity amongst other exquisite animals and pay to get yourself clicked with them. By now we were all tired so we headed for our final destination for the day and that is Banjara hot water springs. It is a must go place to have a dip in naturally occurring hot water springs and is believed to have medicinal value by the locals.­ This was real bliss after the long day we had and we spent quite some time here before starting back towards Kuta. The place has changing rooms and shower place so you can go ahead and take a dip without any concerns.
Day 3: Kintamani Tour and Ubud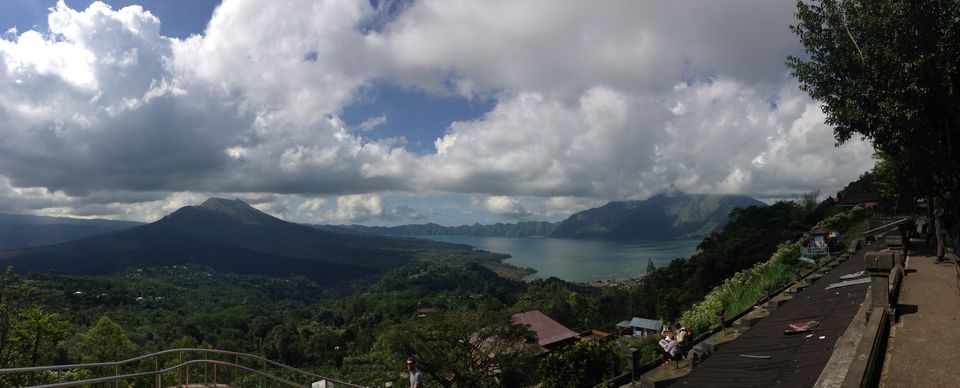 Again a beautiful morning and after a wholesome breakfast at the hotel we started for Kintamani Volcano which is one of the most prominent landmarks of Indonesia. The Kintamani area consists of three main villages, namely Penelokan, Batur, and Kintamani. We stopped at the penelokan village which has a series of hotels giving panoramic views of the place. Due to its fertile land, this place is the largest producer of fruits and most hotels will serve you fresh fruits as part of their meal plan. It was an out of world sight with its combination of dark lava slopes and black molten rocks, lush green vegetation and the blue-green coloured lake. Mount Batur comprises three volcanic cones: Batur I, Batur II, and Batur III. Trekking and hiking as well as observing the sunrise are all popular pastimes. The large and beautiful Batur caldera lies on the north-west. Caldera II is circular-shaped, spanning at least seven kilometres in diameter.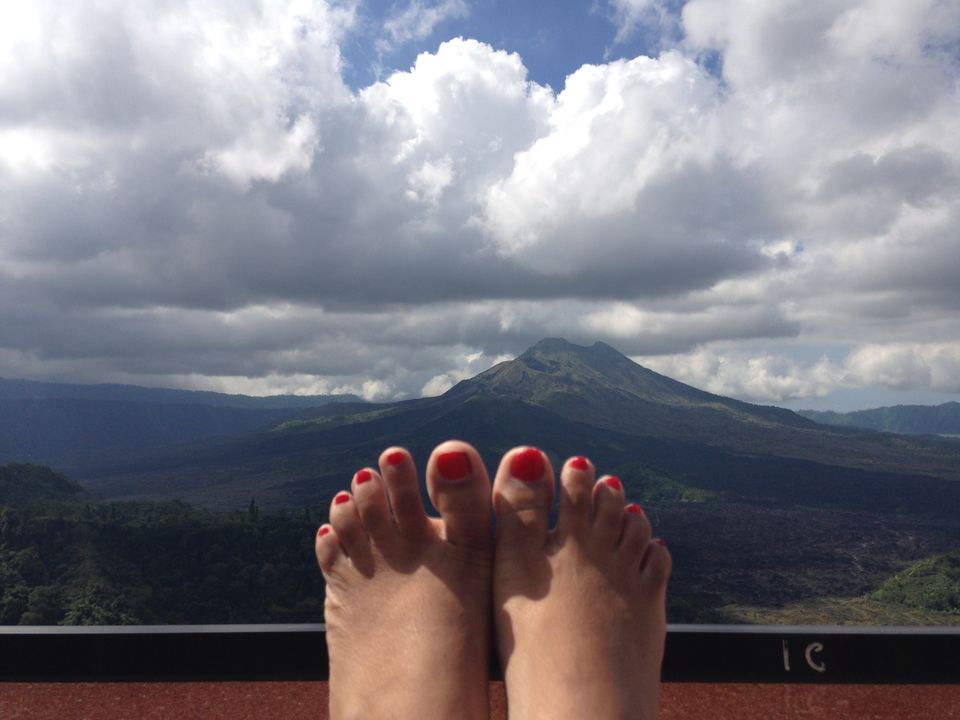 Lake Batur is on the south-east side of the volcano, 16 kilometres wide and is a popular fishing spot. Toyobungkah has hot lakeside hot springs, known for its curative mineral water. It is a popular choice among trekkers to spend the night before hiking up Mount Batur to watch the sunrise. West of adjacent Mount Abang is the secluded old Balinese village of Trunyan, known for its ancient burial traditions using an open graveyard. The Pancering Jagat Temple is an interesting stopover while in Trunyan, with its name derived from a four-metre-tall statue called 'Arca Da Tonta' or 'Ratu Gede Pusering Jagat'. You will have to change your clothes to local dress to see this place, though.
After lunch, we started back to the next stop of very famous Monkey Temple. This was one place which was long awaited to let my kid have a ball. As soon as we entered swarm of monkeys started moving around us. It was real fun watching playful monkeys in their natural habitat, swinging through canopies, lazing along pathways or feeding on bananas, the site offers cool walks along paved pathways through a leafy nutmeg forest. Public admission is IDR 40,000 for adults and IDR 30,000 for kids. Deep inside the forest lies the 14th century Pura Dalem Agung Padangtegal. Most mossy relics and statues are under dense foliage with little sunlight, giving these smaller sites their mysterious and ancient feel straight out of an Indiana Jones movie. Banyan tree roots hanging over shadowy dragon staircases offer exotic photo opportunities.

You can also discover an ancient bathing temple, located north-west of the main Ubud Monkey Forest grounds, known as Pura Beji, accessible down a flight of stairs and next to a stream. For safety concerns it is recommended that one does not touch any monkey, I was standing near a tree when a kid monkey took me for a tree and stood on top of me. I tried to keep it safe but as soon as I caught him his mother came screaming at me. Luckily a guide was nearby in their yellow scarfs and while asking me not move ensured the monkey do not attack me. Phew, narrow escape!!!
Finally, we reached Ubud Market where our driver left us. We first visited the Ubud King's palace. It has the same thatched roof structure but no one lives here. After moving through the place we headed for the market. A holiday in Bali always calls for some sort of shopping for souvenirs or memorabilia of the trip, and the best place to make the search would be in the artistic central region of the island, namely Ubud and its Ubud Art Market. Here you can find beautiful silk scarves, lightweight shirts, handmade woven bags, baskets or hats; statues, kites and many other hand-crafted goods. Most of the goods found at the Ubud Market are made in the neighbouring villages of Pengosekan, Tegallalang, Payangan and Peliatan. Bargaining is the usual mode of shopping here but do so with a smile as most of them are small villagers trying to meet their ends meet.
Day 4: Lembongan Island Cruise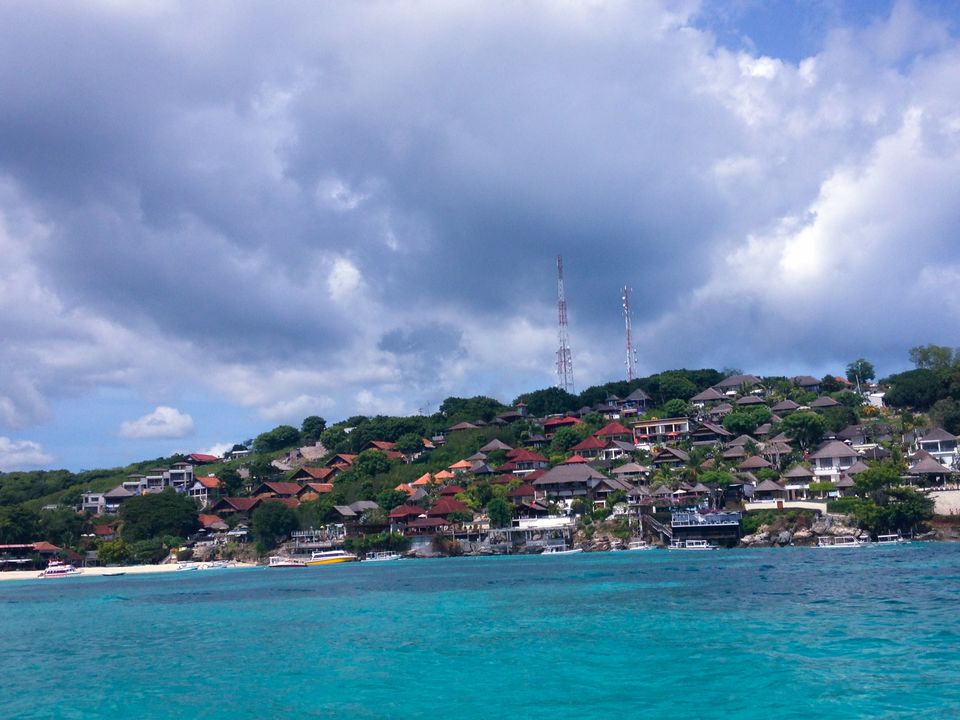 This was the Island hopping day for us. There are two main islands famous among tourist beside mainland Bali. One is Gili and other is Lembongan. We choose Lembongan primarily because it was near and secondly it has some very nice hotels to stay. This island paradise is the world away from the hassle and hectic pace of South Bali. Neither hawkers nor traffic mar the magnificent scenery; this is a fine place to just put your feet up and relax. Main activities include surfing, diving and snorkelling. The water is some of the clearest you will find anywhere, and a vivid aqua blue in colour. There are two packages available here with speed boats one in which you can go on a day cruise of the place and have water sports and on the deck lunch. The second option picks and drops from your hotel in Bali, transfer you to Lembongan island and then your local hotel.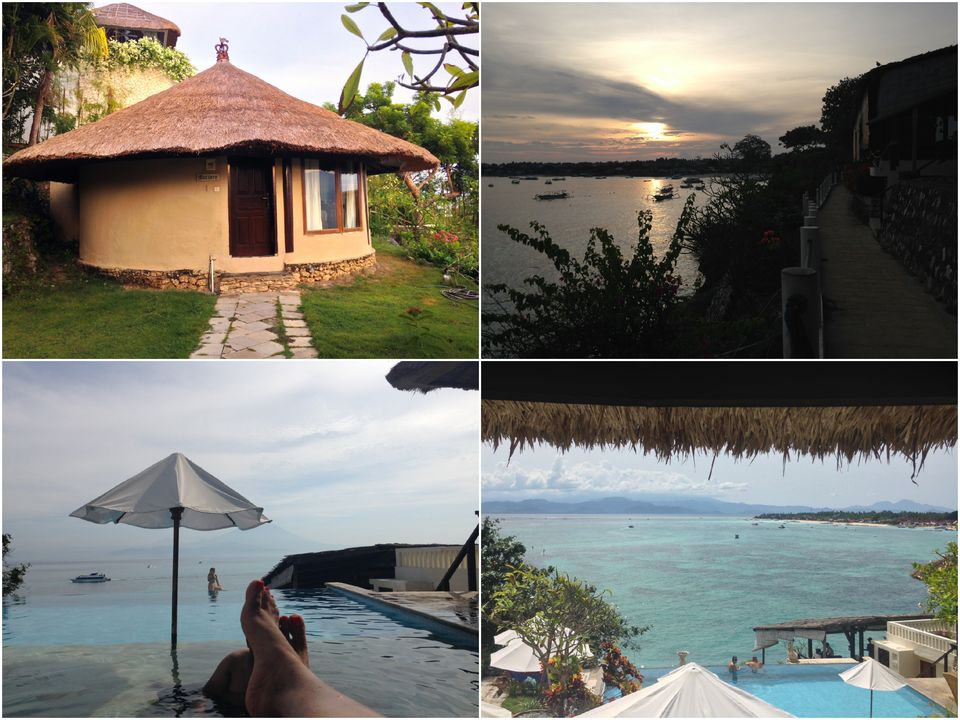 We choose Coconut Beach resort especially due to the view from its Hut-shaped rooms. We were not disappointed as it did provide us with an excellent stay. Though we did face an issue as the place where you are dropped is on top of the hill and then you have to hop down to actual rooms. The place has two pools as well of which one is open for exclusive guests while the other one is for people visiting the restaurants. Otherwise, it's an out of world feeling roaming around the island streets on foot with lush green cover and aqua blue water across wherever you see. This beach is famous for surfing all season. The most famous and not to be missed is the Mushroom beach. You can hire bikes on the island to explore it at your own pace. If you are staying here for a longer period you can take three island cruise which will take you to even smaller island like pearls in the ocean.
Day 5: Seminyak Beach and Villa
How exciting it is to have a room at the edge of the cliff overlooking blue waters, and then a morning where the sun literally wakes you up with its majestic orange light and a painted sky. This was our last day on the island and bidding farewell to awesome caretakers of the place we again started our journey back via the boat to the main island of Bali. After being in the midst of township last time in Rama Beach Resort we wanted a more private option and have chosen Astana Batubelig Villa with private pools for last two days of the trip. Bali is full of some of the world's most beautiful Villas and one should definitely stay here to enjoy the lavish lifestyle that comes with it. The area we were staying was Seminyak that is known for its nightlife and some of the best clubs.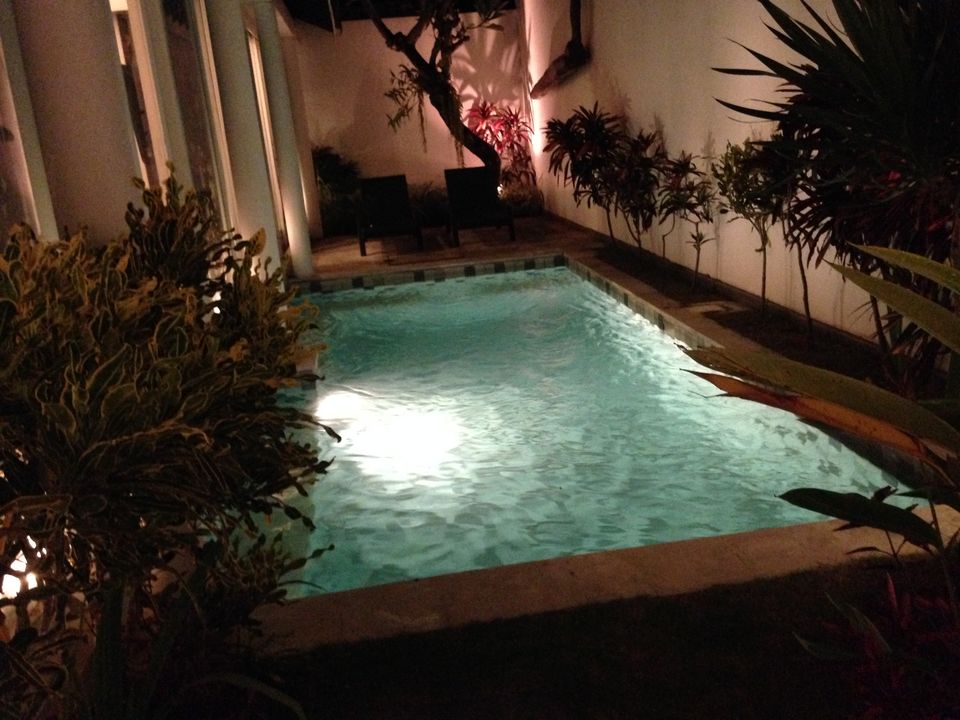 Bali is a land of some exquisite restaurant which serve food on your table in the middle of the jungle to places with live crocodile and other wild animals sitting right next to you. In fact, in Marine Wildlife safari you can get your pictures clicked sitting next to a lion under watchful eyes of the trainer. Although the marine park has a night safari which should be taken to experience wildlife in a new light(sic) and costs 75 USD with dinner.
Back to the villa, it was a treat for eyes and body with some tastefully done bedroom, huge washroom and full Jacuzzi fitted private pool. My baby had a blast playing in the pool and the bathtub. Overall a taste of exclusiveness. The place although does not have any attached restaurant but that won't matter as we have a rich mix of food serving places all within a walking distance. For fish loving people Sardine is one the best warung nearby. Warung stands for restaurants in Indonesia. But don't get stuck with bigger joints I tried a desert in one of the smaller joints called Apples and it one of the best dishes I had in Bali I ended up daily eating it after dinner.
Day 6: South Bali Tour: Hidden beaches
This was our last day in heaven, Heaven yeah I think it's an apt synonym for the place. So what more can you expect from your last day? But it seems destiny has saved the best of the lot for us. Originally this day was supposed to be a different plan but within last few weeks due to extreme heat and baby over my shoulders, I had to do a reshuffle of the same. This lead to this day where we were supposed to visit Tanah Lot temple, Pandava beach, Padang Padang beach and finally the Uluwatu Temple or Pura Luhur Uluwatu.
So first stop was Tanah lot also called as the sunset temple as you have some awesome view with the sun setting in the backdrop of the temple. The setting itself is perfect it is situated on a remote cliff in the middle of the sea like protecting it from invaders and only an Indonesian can set foot in the main premise that too with the help of a boat.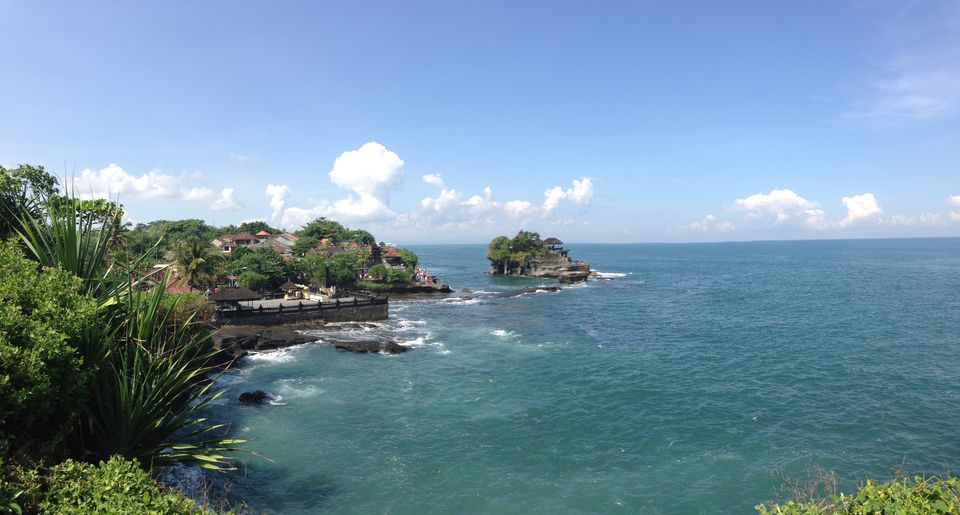 Balinese architecture is quite evident here as well adding to the grandeur of the place coupled with black lava coloured ground. After centuries of large waves persistently crashing at its rock base, Tanah Lot faced the constant threat of erosion, reaching a significant decline in 1980. The authorities carried out preservation efforts to Tanah Lot and other historical sites island-wide with aid from the Japanese government. Fully restored, a third of the present Tanah Lot is actually artificial rock. Only on the low tide, the path made of stones to the temple is visible and one needs to be careful even then to cross it. This somehow reminds of the rumoured bridge between India and Sri Lanka by Lord Ram and Hanuman.
Our car drove straight to a long ride to the southernmost beach of the place called pandawa beach. Once you start the ride down the beach road the first thing you notice is unlike any other beach huge idols of all the Pandava brothers and their mother Kunti who are treated as heroes of Mahabharata. It's all made of natural limestone cliffs that have been carved to create a road. This was actually a hidden beach till 2012 when this road was made.

From here we took right as we wanted to explore the area with a calmer beach. One can also go left to have a stone filled beach ideal for some surfing. And wow what a sight it was in middle of all those cliffs lay the most picturesque, exquisite and exotic beach whose water is a combination of green and blue. The secret story of green colour is from seaweed farming by the locales nearby. The look is eventually elevated to unfathomable natural sea panorama with the presence of white sand, blue sky and Surf.
We had some amazing time playing in pure white sand and crystal clear water. We really cursed ourself in not choosing to stay more at this place. Next time maybe our resort will be nearby. As we moved on we crossed a small bridge with a small beach view in distance. We were about to ask about the place when our driver announced there is our next destination, a really well-hidden beach named Padang Padang. Once it was discovered engineers had to blast through the cliff and carve around 100 steps to reach this place. And wow its like coming out of a cave in a brilliantly lit paradise of your own. It's a very small beach but just the nestling of it between cliff is breathtaking. Bali, wow you can make someone fall in love for you, again and again, pulling out a rabbit out of the hat every time.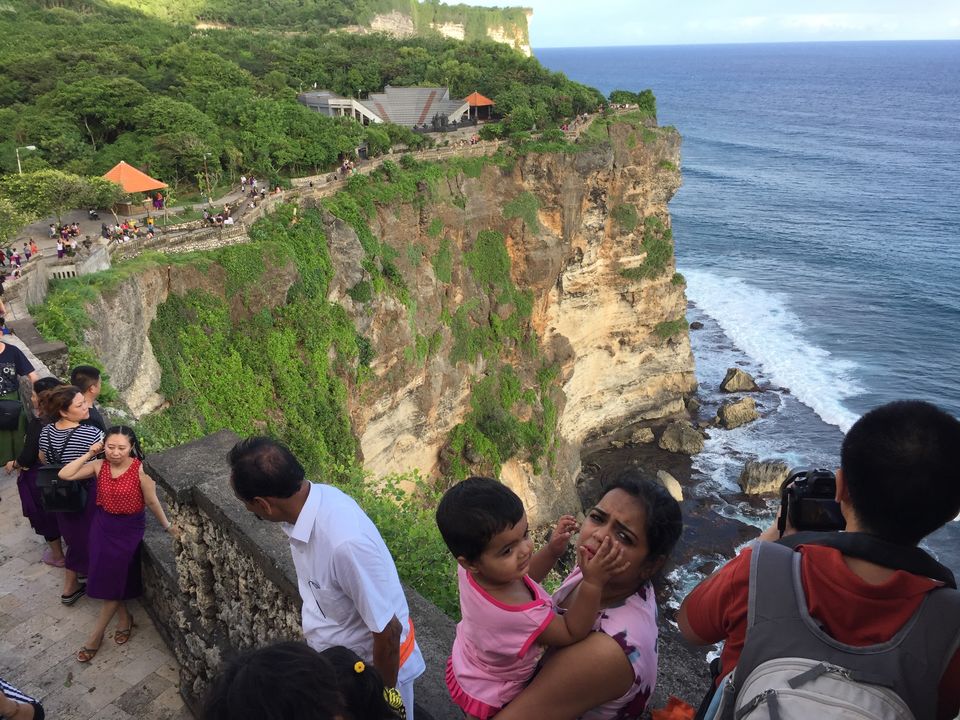 The final stop of this wonderful and fulfilling journey was Uluwatu Temple, or Pura Luhur Uluwatu, one of six key temples believed to be Bali's spiritual pillars, is renowned for its magnificent location, perched on top of a steep cliff approximately 70 metres above sea level. 'Ulu' means the 'top' or the 'tip' and 'watu' means a 'stone' or a 'rock' in Balinese. This temple also shares the splendid sunset backdrops as that of Tanah Lot Temple, another important sea temple located on the island's western shores. The Balinese Hindus believe that the three divine powers of Brahma, Vishnu, and Siva become one here. That belief results in making Uluwatu Temple a place of worship of Siva-Rudra, the Balinese Hindu deity of all elements and aspects of life in the universe. You have to keep your lower half covered before entering the place and you get them on rent while booking the tickets to the entrance. Beware this place has acres of forest area which are inhabited by yes you guessed it Monkeys. The entry guys will actually warn you to take out any necklace or loose shining objects and keep them well hidden to avoid the encounter.
Day 7: Final Adieu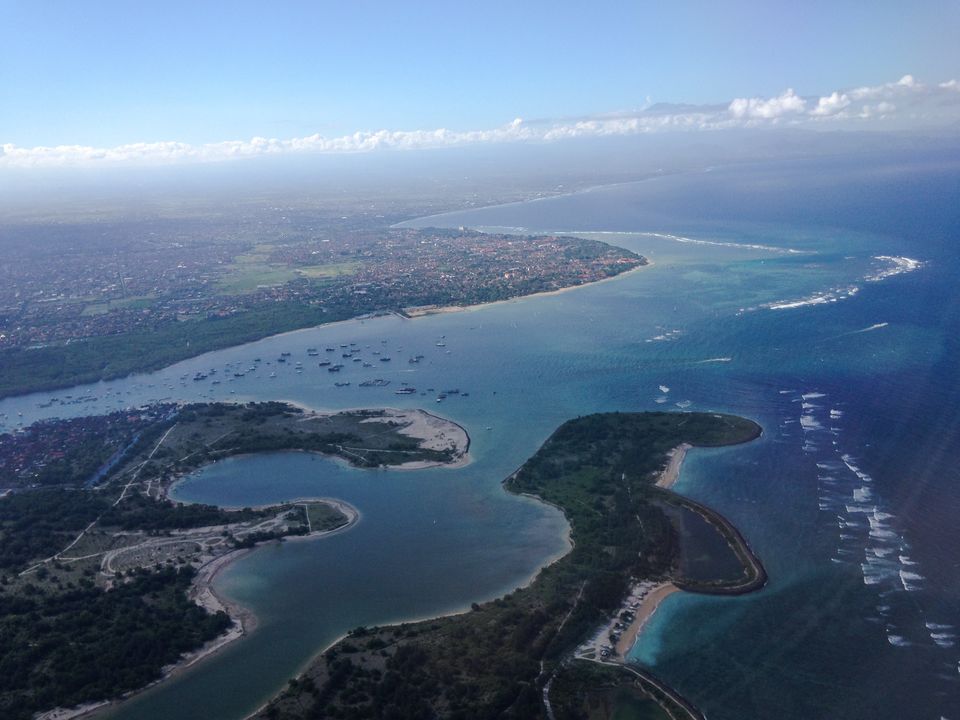 So with every great thing coming to an end, we headed back to our villa still lost in the dreamland. A night sleep and morning breakfast put the curtain to the Bali trip. A place which by no means is ever captured in 7 days but nevertheless always remains at your heart forever because of not only the beauty of the place but by friendly faces all around, some excellent service all around. Hope we can come again sometime. Good Bye Bali and thanks for making our anniversary so special. The final view from Aircraft was still inviting as we flew back to India.