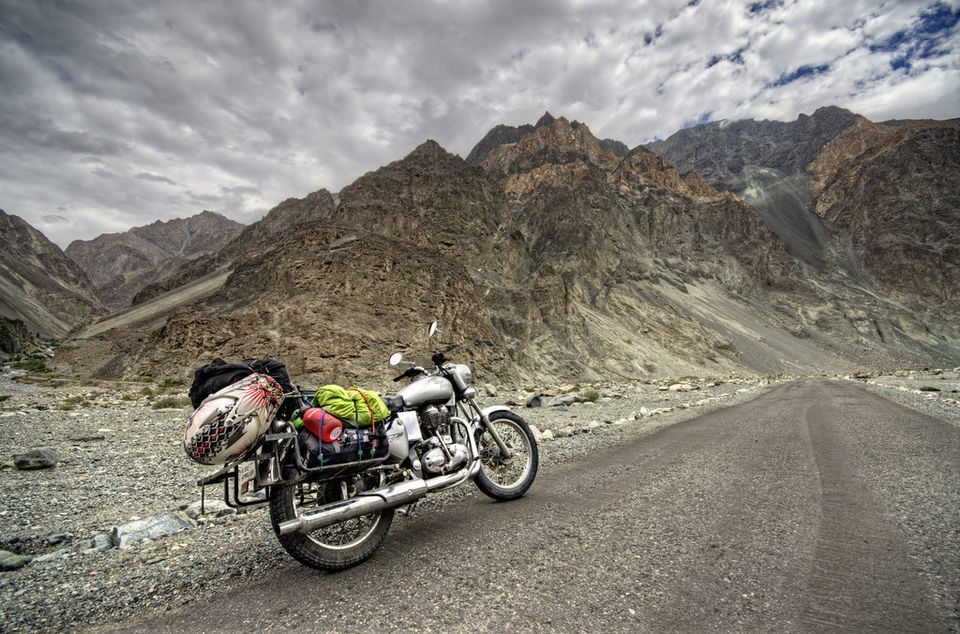 Home to the most extreme mountain system in the world, the Himalayas, it comes as no surprise that India has continued to attract adventure seekers since time immemorial. Be it paragliding in Bir, rafting in Rishikesh or skiing in Kufri, even the most popular tourist destinations in the hills have always had their own share of thrill to offer. While all these adrenaline pumping activities add a crazy twist to a mountain vacation, there's nothing that even comes close to the ultimate adventure—feeling the journey and riding through the hills.
The sheer thrill of riding a mean machine through rocky roads and narrow passes and still not knowing what to expect at the next turn, is something every biker lives for. If you're a biker who's brimming with some major wanderlust and can't wait to hit the road again, here's a list of the best biking routes in India that will help you explore the hills with all the thrills and chills:
Srinagar to Manali
Passing through some of the most challenging trails in India, the Srinagar to Manali road trip via Leh is one that deserves to find a place in every biker's bucket list. Spreading across more than 10 days, this journey has everything that an avid traveller looks for—stunning destinations, spellbinding views, tranquility and most importantly, a thrilling journey.
Days: 11 days/10 nights
Best time to go: Leh is accessible by road between the months of May and September. However, to avoid the tourist rush, plan a trip in late May or early June when the roads are opened but tourists are yet to come in.
Top experiences: Seek a spiritual experience at Leh's monasteries; tread through mysterious trails in the Kashmir Great Lakes Trek; invoke a sense of patriotism at Drass War Memorial; indulge in water sports at Pangong Lake and get a taste of the backpacker life in Old Manali.
Suggested route: Srinagar - Sonamarg - Kargil - Leh - Nubra - Turtuk - Nubra - Pangong - Hanle - Tsokar - Keylong - Manali - Delhi
Spiti Valley
A road trip in which the entire journey becomes a destination, a biking experience through the pristine Spiti Valley is simtply unlike any other. Biking through Spiti Valley is bound to change you forever—exploring those picture-postcard villages, crossing narrow mountain passages and camping out in the middle of nowhere are some of the innumerable things that stay with you long after you've left. Give yourself a much needed break, put your gear on and set off because trust me, this one is for the soul!
Book your dream biking trip through Spiti Valley by simply clicking here.
Days: 9 days/8 nights
Best time to go: The region experiences summer during the months of May to October with temperatures ranging between 0 to 15 degrees Celsius, making it the best time to visit Spiti.
Top experiences: Witness a mummy in the village of Giu; test your limits and bike through the dangerous Baralacha Pass; shop for skull sculptures at Kaza's main market; enjoy a yak safari and go white water rafting in Spiti and Pin rivers.
Suggested route: Chandigarh - Narkanda - Sangla - Kalpa - Kaza - Kunzum La - Chandrataal - Manali - Delhi
Manali to Pangong
If you think visiting Leh is all about dealing with overcrowded tourist spots, a ride from Manali to Pangong will change your perceptions forever. Passing through mountain deserts, glistening lakes, barren hills and even the world's highest motorable road, the road takes you to some of the best hidden spots in the region. Whether you're someone who's in the mood for some soul searching or just someone who wants to take that one epic biking trip, the Manali to Pangong stretch deserves all your attention.
What's even better is that you can simply book this memorable experience by clicking here!
Days: 11 days/10 nights
Best time to go: The best time to take this trip is during the onset of summers, that is between May and June since the roads are in the best condition during that time.
Top experiences: Take a dip in Vashist's 'healing' hot water springs; visit the centuries old mountaintop Leh Palace; spend a night camping by Tsarap River and offer your prayers at Gurudwara Pathar Sahib.
Suggested route: Manali - Jispa - Sarchu - Leh - Khardungla - Pangong Lake - Leh - Sarchu - Manali
Chandigarh to Leh
From the land of love and delectable food to the rooftop of the world, a ride from Chandigarh to Leh is as enriching an experience as it an exciting one. A journey that promises a myriad of cultures and traditions, the experience promises the absolute best of Punjab, Jammu and Kashmir and Himachal Pradesh.
Click here and book a journey of a lifetime from Chandigarh to Leh right away!
Days: 12 days/11 nights
Best time to go: Roads connecting Chandigarh and Leh are open only between May and October, making it the only possible time to take this trip.
Top experiences: Dine at Chandigarh's most iconic eatery, Pal Dhaba; meditate at the serene Thikse Monastery; gaze at the clear night skies in Nubra Valley; witness the unique landscape of Leh at MoonLand and offer your prayers at the famous Hidimba Devi Temple.
Suggested route: Chandigarh - Udhampur - Srinagar - Sonmarg - Drass - Kargil - Lamayuru - Leh - Nubra Valley - Pangong Tso - Sarchu - Manali
Kathgodam to Munsiyari
Starting from the foothills of the mighty Himalayas in Uttarakhand, the route from Kathgodam to Munsiyari takes riders through an interesting mix of tourist destinations and remote mountain towns. While roads in the first half of the journey are relatively more rider-friendly, the terrain gets quite tricky post Nainital, testing even the most seasoned riders. However, the snow-clad peaks act as the biggest motivation on the route, leading all the way to the serene hamlet of Munsiyari.
Days: 7 days/6 nights
Best time to go: The best time to take this trip is in summer (March to July) since the region experiences heavy rains and snowfall which makes it nearly impossible to ride.
Top experiences: Shop for organic produce and homemade chocolates at a Kumaoni store; spend a night in the famous Kainchi Dham ashram; indulge in adventure activities in the hills of Uttarakhand; trek through the Binsar Wildlife Sanctuary and visit the ancient Nanda Devi temple.
Suggested route: Kathgodam - Nainital - Mukteshwar - Ranikhet - Kausani - Binsar - Bageshwar - Munsiyari
Guwahati to Tawang
Commencing from Guwahati, which is rightly called the 'gateway to the North-East', the road connecting to Tawang makes for a great way to kick off your maiden adventure in this part of the country. A ride on this route is guaranteed to give you an interesting insight into Buddhist culture while you pass through lash green national parks, frozen lakes and snow-covered passes. If you're someone who loves taking the offbeat path and awakening the explorer within you, plan a biking expedition between Guwahati and Tawang right away!
Days: 7 days/ 6 nights
Best time to go: The region experiences summer from the month of March and lasts till June. The temperature remains comfortable between 5°C to 25°C, making it apt for riding.
Top experiences: Spot one horned rhinos at Pobitora Wildlife Sanctuary; seek blessings at Mahabhairav Temple; explore the ruins of Bhalukpong Fort and visit the Tawang War Memorial.
Suggested route: Guwahati - Tezpur - Bhalukpong - Bomdila - Dirang - Tawang
Rishikesh to Badrinath
Easily one of the most taxing biking routes in the country, the stretch between Rishikesh and Badrinath throws challenges at riders at every single turn. The exciting terrain coupled with narrow, winding roads makes it one of the most dangerous stretches in India, thus attracting seasoned riders from all over the world. An out and out adventurous one that is just not meant faint hearted, a ride from Rishikesh to Badrinath deserves to be on your to-do list this summer.
Days: 10 days/9 nights
Best time to go: The best time to visit Badrinath is in summers, from May to June and then before the onset of winters between September and October.
Top experiences: Offer your prayers at the famous Hemkund Sahib; learn about the village life in Chopta; marvel at the beautiful flora at Valley of Flowers and visit the last Indian village before China border, Mana.
Suggested route: Rishikesh - Rudraprayag - Chamoli Gampeshwar - Joshi Math - Govind Ghat - Badrinath - Mana
Siliguri to Gurudongmar Lake
Connecting Siliguri to the last accessible point in North Sikkim before the China border, Gurudongmar Lake, this is actually one of the most scary bike rides one can take in India. Even though the distance covered during the course of the ride isn't too much, the very fact that these roads are extremely treacherous makes it a highly challenging ride. To add to that, the highway takes you through villages and valleys with sparse populations which further tests your will power and confidence.
Days: 10 days/9 nights
Best time to go: Summers (March to July) are moderate and quite pleasant in Lachen.
Top experiences: Learn all about the process of making tea in a tea estate; take your taste buds for a ride with the region's unique street food; go white water rafting in Teesta River and gaze endlessly at the beautiful view of Mount Siniolchu and Khanchendzonga
Suggested route: Siliguri - Kurseong - Darjeeling - Kalimpong - Gangtok - Chungthang - Lachen - Thangu Valley - Gurudongmar Lake
What is the most memorable road trip you've ever been on? What was the experience like? Write in here and share all your stories with the Tripoto Community. Don't forget to head over to our YouTube channel for some insane travel videos from all over the world.