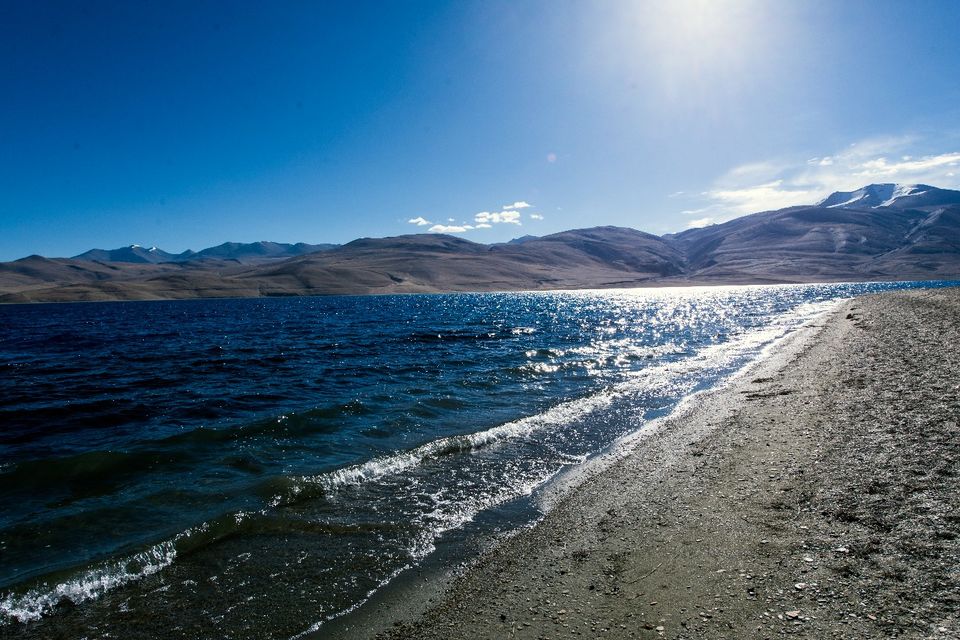 Ladakh, no matter how much gets written about it, the words cannot do justice to this piece of heaven on earth. A biker's life is never complete without riding on picturesque Ladakh roads offering a true all terrain experience. Ladakh is surely much more than just a riding destination. It offers window to a unique culture, never seen before landscapes, truly high altitude roads, rivers, lakes, valleys and so much more. You go to Ladakh to capture the beauty of it and bring it back with you. But while leaving, you end up losing a piece of your heart only to be found when you visit again.
I was serving a three month long notice period in my company when I got to know about my friend's plan to ride to Leh. I made a case to my Manager to approve 2 weeks leave at the cost of my remaining weekends in office. I ended up being allowed to take that oddball sabbatical; and it was a fantasy come true.
The plan was still 1.5 month away. In no time, I decided to buy a bike - an avenger as it suits my height. I wanted every element of this trip to be as mine as possible. I started riding to office every day to make my bike eligible for first service. Riding 3 hours everyday during rush hours on Delhi-Gurgaon's extremely busy roads was making me feel extremely tired. In no time, anxiety had taken over the excitement for me. Gym was the next obvious thought in mind. I did rigorous work out during next 20 days without giving up on riding and on work. Fortunately Manish's friend Hemant had taken responsibility of planning the trip so I did not have to worry about that. He also made a cool presentation to attract people to join us. The more the merrier. To my surprise, three of my female friends - one from office and two from school days decided to join me. Due to lack of time and enthusiasm in biking, they were going to directly fly to Leh. Even though I was doing all that I could to build my stamina and to improve my riding skills, I was living in fear that I will not be able to make it all the way to Leh. But I still wanted to give it a shot.
Trip was just 10 days away when I got my bike serviced and got a carrier fixed around the back seat. I stopped going to gym and spent time with friends on booking hostels and camps. I outsourced all the local requirements to a friend living and working in Leh city. He arranged permits and a cab for us.
I and Manish started riding from Delhi. There we were, at 6 AM, on bikes fully-loaded - with fuel, clothes and lot of passion.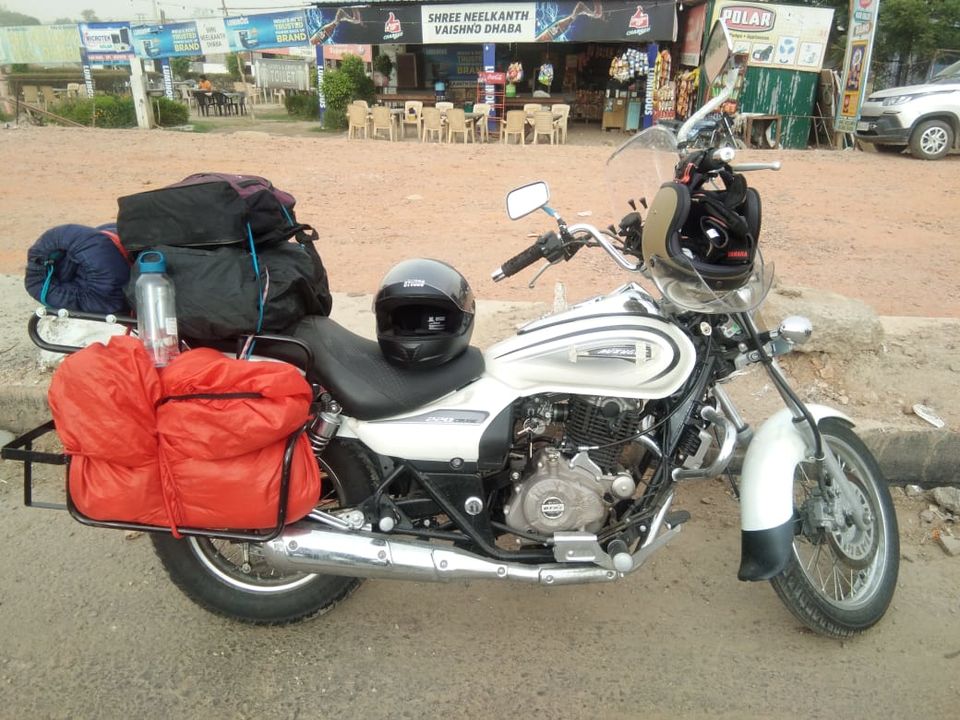 After 15 hours of riding through heat and dust, we met Hemant directly in a restaurant in Manali for dinner. We stayed in a hostel named "Nomads Den" and it offered beautiful view of valley from the terrace. We were adviced to start at 4 in the morning to avoid traffic at Rohtang pass. But unsurprisingly, we woke up late. Then we decided to first get fuel cans from market. And get them filled with fuel.
Rohtang pass was jammed. Being on bike helped weave through the traffic. Roads ahead can't really be called roads - they were bumpy and dusty. For some time, it felt like an end of civilisation. And then there were barren roads- opening their arms to take us in.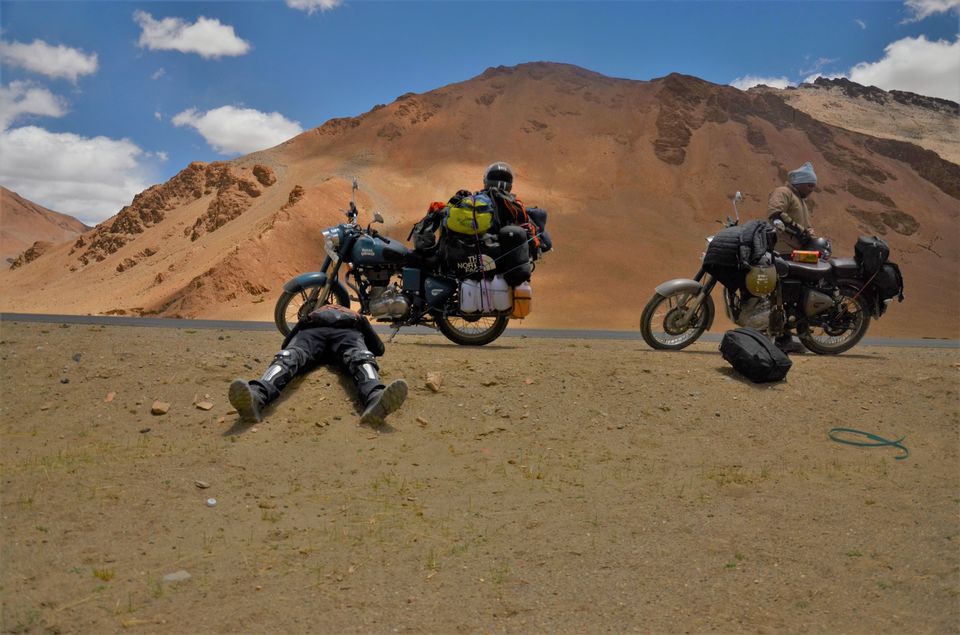 We crossed Keylong and Jispa in high spirits. There was this very small shack where we decided to stay for the night. We had crossed a water logged junction just before reaching here. Since we had to put our feet down to drag the bike through the ditch, our feet were wet and cold. The care taker moved his stove towards us to help us feel our feet. Hemant realized later that he had burnt his toe. After being served hot fresh food in the bed, we couldn't make ourself come out of the blankets till sun rays fell on our tent next morning. Hemant and Manish had severe headache when they woke up. It was probably due to altitude sickness. We climbed 2500 meter in a day, which is not advisable. None of us had medicine to cure altitude sickness. So while both of them slept again, I managed to get 2 tablets from a biker who had stopped for having breakfast. It was a beautiful morning. With no electricity and mobile network, I was just sitting outside the shack looking at travelers on bikes, on motorbikes and on foot.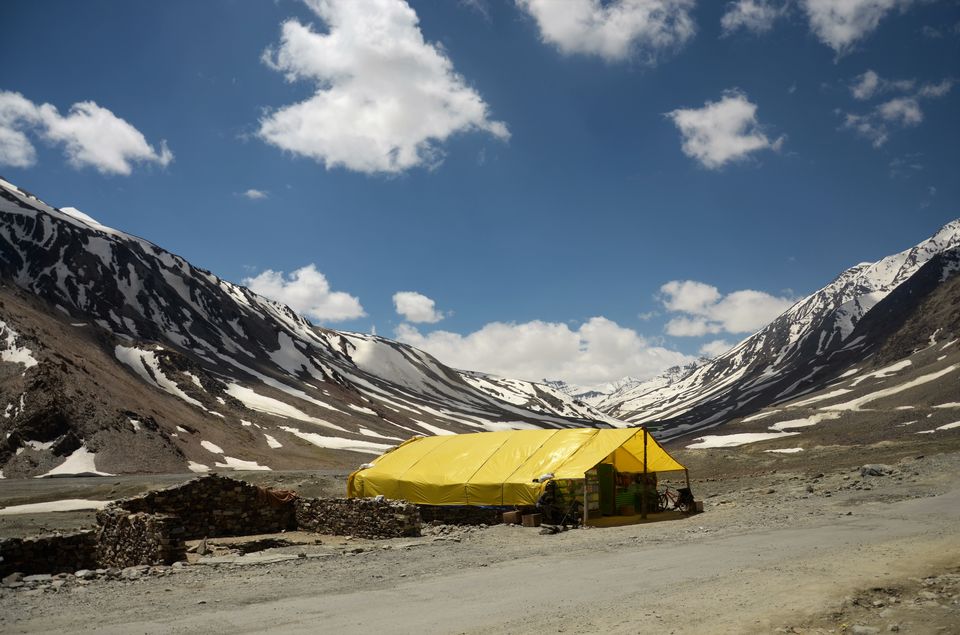 Like every day, we spent half an hour tying our bags and fuel cans on bikes' carrier using bungee ropes. We had Pang in our mind as the place to crash next. But just a hundred kilometers before Pang, I felt a jerk in my bike. It was followed by another – more powerful than the earlier one. The seat went down to hug the tyre and my bike refused to move. My bikes' shockers had broken. Both of them. Bikers passing-by stopped, wondered for some time and came to only one conclusion in unison – it is an engineering fault. We dragged the bike down the road to a camp in Bharatpur Tent Colony which was 2 kms away. Trucks usually go loaded on the way up - Manali to Leh. And empty on way down. Knowing this, I was almost certain that I wouldn't be able to take this bike to Leh. We decided to sleep over this thought.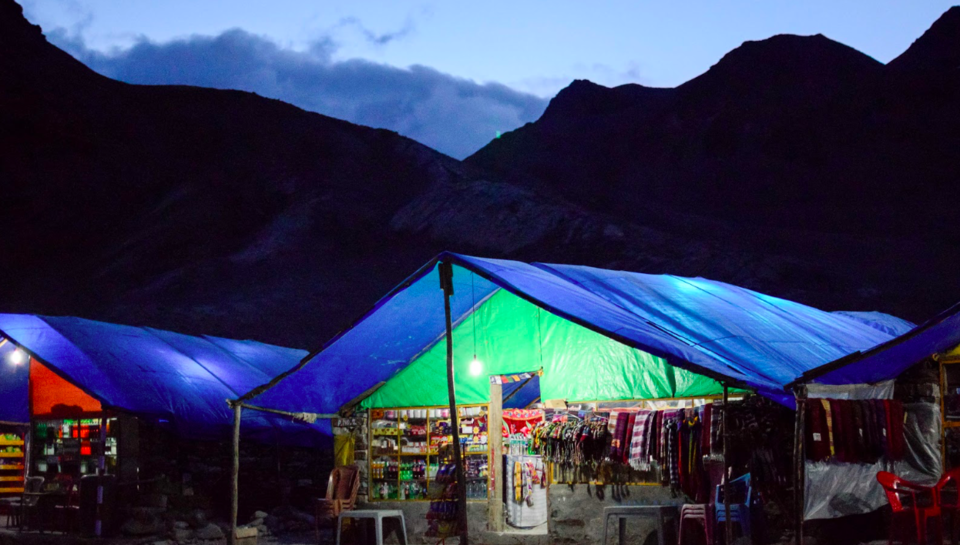 We were thrilled to wake up to a snowfall. Cut to - tears began streaming down my face for not being able to do the trip on my own bike. I was trying hard to hide my emotions. But It did not work. Hemant was standing on the road for hours. He did not miss even a single truck. With slight possibility of enough space in one of the truck, almost everybody from nearby camps joined in to convince the driver to take my bike along. I promised to pay for any damage that my bike may cause to the stuff they were transporting. The guy reluctantly agreed. He did not have mobile phone. All we had was the truck number and his words that he would meet us at 6am the next morning in front of a particular shop in Leh market. I was not at all convinced with this arrangement. But knowing that this is the only way possible to still do the trip on my bike, I decided to stay positive. Roads from here were well-maintained and offered beautiful view of cold desert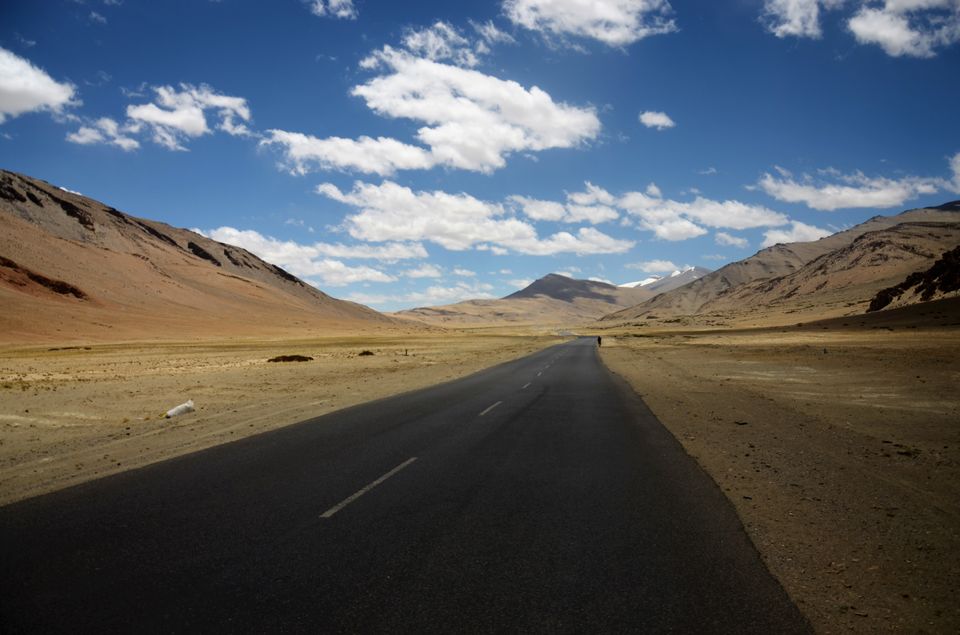 I realized more than ever how much it sucks to be a pillion rider. I was sleeping quite frequently during last 200kms to Leh. But then I woke up to this mesmerising view and all my boredom went down the hill -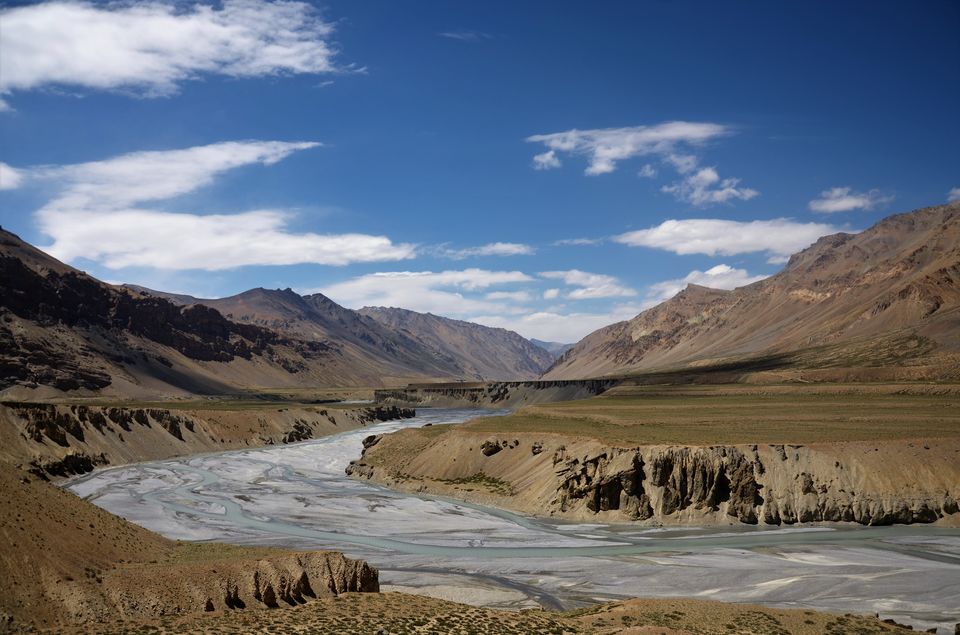 We were in Leh hostel by late evening. Although I don't believe in prayers, but I was still shamelessly praying for getting my bike. I told my friends that we should wait in shifts – one hour each. But as I reached the shop, I saw my bike parked nicely on side of the road. I was jumping out of joy. It was like meeting long-lost love. My office friend - Supari came in a while. And soon did my school friend – Ankita and her younger sister – Shilpa. Fortunately, all three of them gelled pretty well with Hemant and Manish. I was relieved that I don't have to act as mediator. While girls were catching up on sleep, we went to get our bikes fixed and serviced.
Getting on to the rider seat of the bike was like getting to re-live the beautiful dream somebody woke me up from.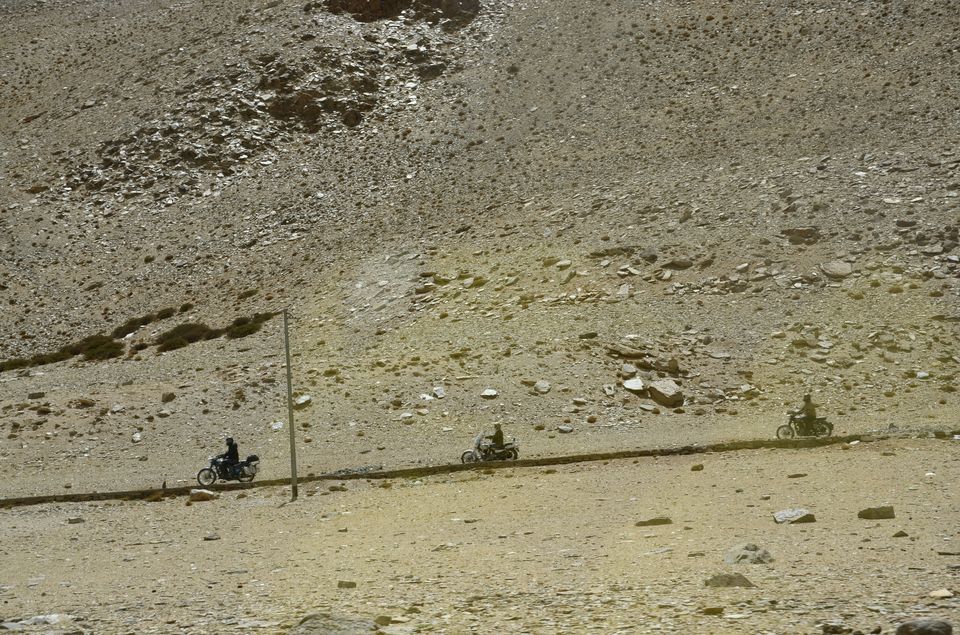 We were heading to Tso-Moriri lake. Because of long distances, bad roads and Bollywood representation of Pangong lake, people usually skip going to this lake. Hemant was fascinated to cover all circuits in Leh. Hence we included this lake in our itinerary. It was already evening when we reached the Golden Mark Camp we had booked before hand. Hemant and Manish finally got privacy in the tent they setup for themselves. We were shivering when we unloaded ourselves from our bikes. While people were stretching themselves, I went for a walk to the lake from which I never wished to return -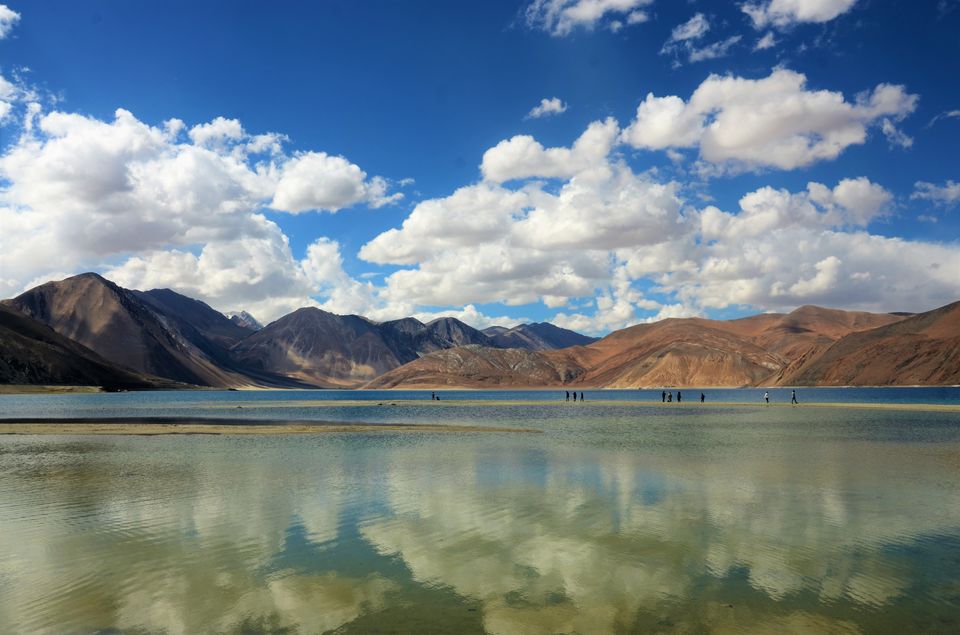 We planned to take the same direction to go to Pangong Tso. But we were told on a Checkpost that we do not have permission to cross a particular junction on this route. Hence we were made to go back some 6 hours to take another route to the lake. It took us close to 12 hours to make it to the commercial yet beautiful lake. The camps were more-than-expected clean and comfortable. And the view from the camp was astonishing. So much so that we cancelled our plan to go further ahead to Nubra valley and extended our booking by a day.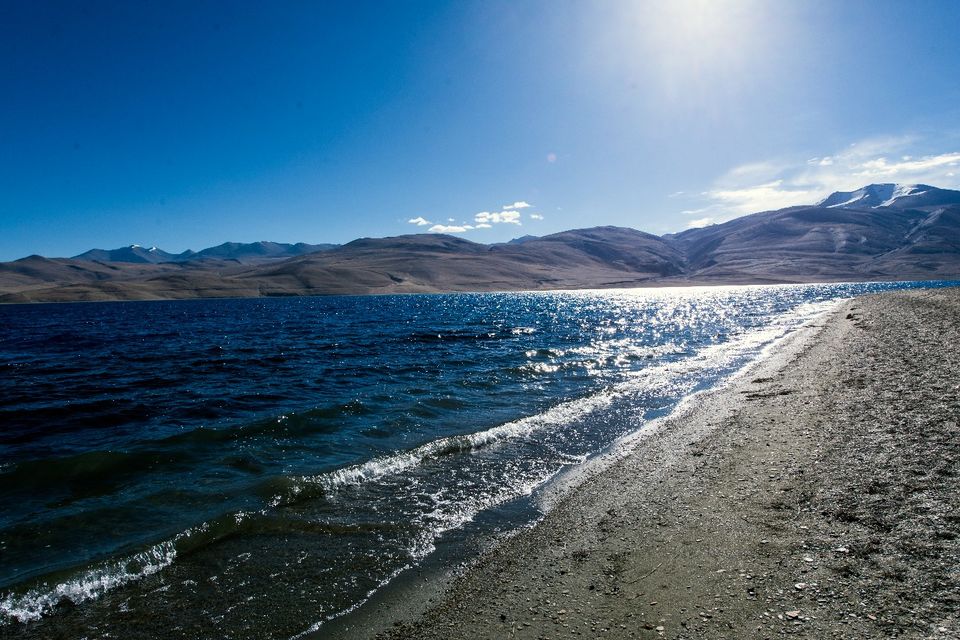 We returned to leh after spending two nights in Pangong. We stayed in another hostel in outskirts of city. We made a visit to my friend's house who stays in Leh. Houses in Leh have low ceiling to keep themselves warm. After buying local soveniers for friends and family, we went to a pub which was shut for everyone but us. It was a dry day. Hemant passed out by the end of the day and had to be dragged to the hostel. This was out last evening together. It was like raising a toast to the successfully completed trip.
Ankita and Shilpa flew back to Delhi next morning. Hemant and Supari had flights booked from Srinagar. And since we had a lot of luggage and I had to get my carrier removed, we hired a cab for Hemant, Supari and our luggage. Road from Leh to Srinagar is a beauty in itself and runs through the awe-inspiring Kashmir valley and scenic towns of Sonamarg and Drass. It gets difficult to contain the beauty of nature here.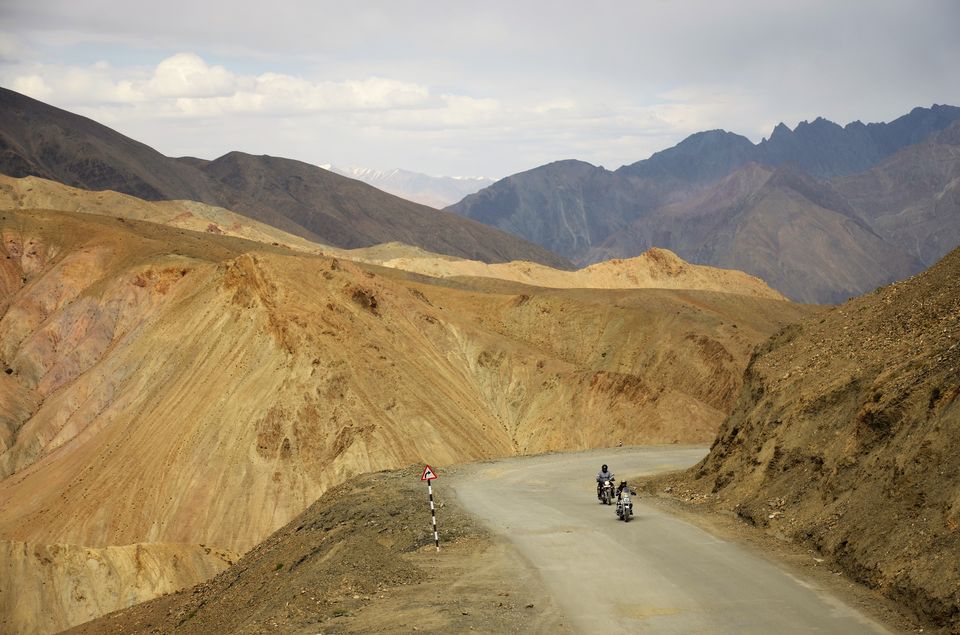 We reached Kargil by early evening. It is the second largest town in Ladakh after Leh. 90 percent of Kargil's local population comprises Shiite Muslims. The Kargil locals are conservative by nature. You won't find a single wine shop in the town. The preferred clothing during winters consists of 'pheran', worn by men as well as women. Under the pheran, they wear 'kangri', a pot filled with hot coals to protect themselves from cold.
After having breakfast in second coldest inhabited place in the world - Drass (temperature goes as low as -50 degrees in winter), we stopped for lunch in lush green Sonamarg. Serenely located in the Kashmir Valley, the picturesque town of Sonmarg is a proud part of a state popularly known as 'Paradise on Earth.'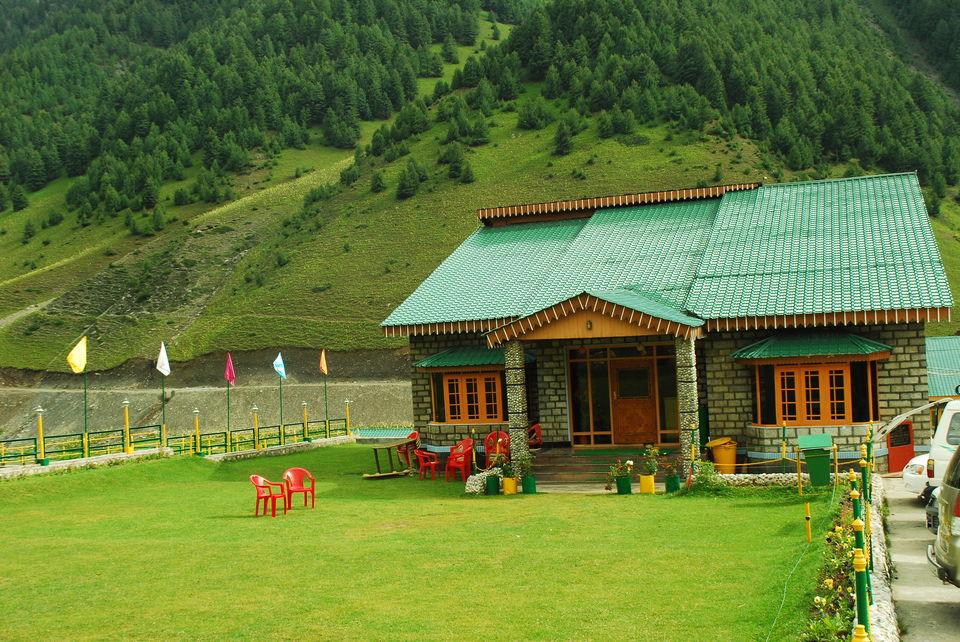 After dropping Hemant at Srinagar airport in evening, three of us went to stay in a beautiful houseboat parked in the famous Dal Lake. Supari flew back to Delhi the next morning. And both of us rode back to Delhi. There was a major temperature shift as soon as we left Srinagar. Stopping bike for having water itself was a torture. Once I spotted a covered patch and while i was trying to stop bike there, my bike skid in muddy patch and I fell on my knee. While it was disappointing to lose balance of bike when I was so close to home, it was a blessing that the injury happened by the end of the trip.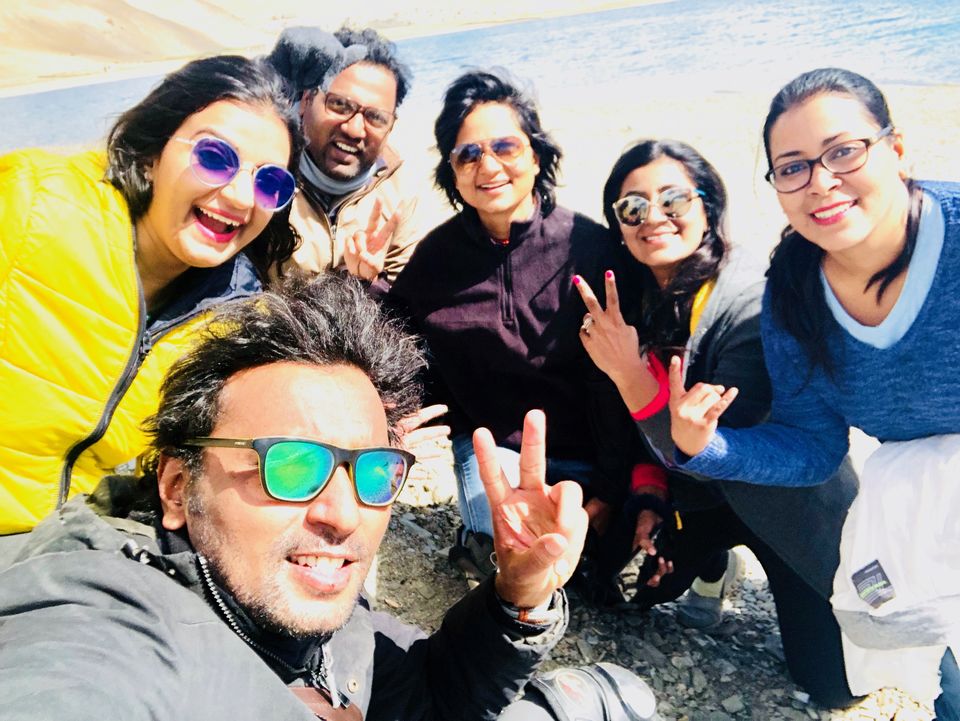 I want to specially thank Manish for making this dream come true for me by watching my back through out the journey.
Frequent Searches Leading To This Page:-
Leh Ladakh Road Trip Packages, Places to Visit in Leh, Top Leh Tour Packages for Family, Top Leh tour packages with price, Budget Trip Packages for Group to Leh, Things to do in Leh, Leh Holiday Tour Packages, Leh Ladakh Tour Packages Itinerary