Sikkim, the little gem of India, is situated in the northeast part of the country sharing its borders with Bhutan, Nepal, and China. It is one of the most beautiful, but less explored places in India, which has got a variety of experiences to offer to any traveler. Every place of Sikkim has its own distinct vibe. Alluring valleys, marvelous waterfalls, lofty snow-capped mountains, quaint villages, pristine picturesque scenery, Glittering glacial holy lakes, vibrant Buddhist Monasteries, never-ending blue sky, colourful prayer flags at every corner, stunning green fields with horses and Yaks gazing, borders dotted by Indian Army, people and their hospitality, backbreaking curvy roads on the mountains, and the list goes on... All these added so much context and colours to my trip making it a lifetime experience that I can never forget.
I always wanted to go on a trip to mountain regions. Sikkim had been on my bucket list for a while. After an adequate research on the internet, I decided to take a 9 day trip to Sikkim with few of my friends to explore the unexplored part of India.
Sikkim has 4 districts: East Sikkim, North Sikkim, South Sikkim, and West Sikkim. Once I got familiar with the Sikkim map, I penned down all the major attractions that I could consider visiting and prepared an itinerary based on my choice of interest. The resulting route map of my trip, which goes as below: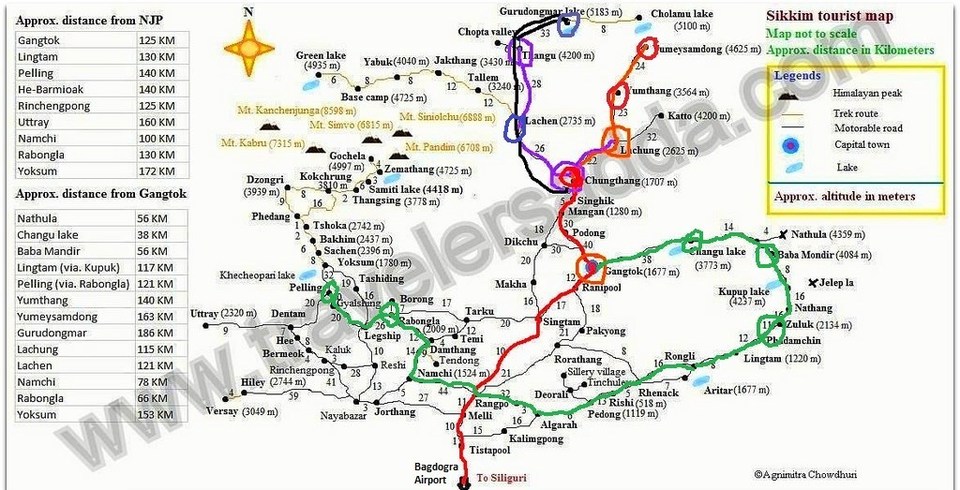 Bagdogra -> Gangtok-> Lachen -> Lachung -> Gangtok -> Zuluk -> Pelling -> Bagdogra
These places, mostly cover the entire Sikkim as mentioned below:
East Sikkim: Gangtok (Capital of Sikkim), Zuluk, Padamchen
West Sikkim: Pelling
North Sikkim: Lachen, Lachung
South Sikkim: Ravangla
MY ITINERARY FOR THE TRIP (From Bangalore)
Day 1: Fly to Bagdogra Airport and transfer to Gangtok
Day 2: Gangtok to Lachen
Day 3: Visit Gurudongmar Lake, Chopta Valley, Kala Pathar in Lachen and transfer to Lachung
Day 4: Visit Zero Point, Yumthang Valley in Lachung.
Day 5: Lachung to Gangtok
Day 6: Visit Tsomgo Lake, Old Baba Mandir in Gangtok, Elephant Lake, Tambi viewpoint and transfer to Zuluk/Padamchen.
Day 7: Zuluk/Padamchen to Pelling via Ravangla Buddha Park.
Day 8: Pelling sightseeing.
Day 9: Back to Bangalore
BUDGETING FOR THE TRIP:
The budgeting for the trip varies depending on the kind of hotels, transport you're choosing, where you are flying from and also the places you consider visiting.
- Flights (Bangalore <-> Bagdogra): INR 10,000 per person
- Accommodation: Keep aside at least INR 4000/day for a comfortable stay.
- Transport:
It should cost you around INR 1000 to 5000/day. The Sum varies depending on the kind of the transport (Shared/Private) and the car type you're choosing. I suggest opting for a bigger car as the roads are in very bad condition especially in the regions of North Sikkim.
- Permits:
If you are opting the package tour, most of the permit gets covered in transportation cost except for the below which you will need to pay to the driver on the spot.
Kala Pattar: INR 3000/Vehicle
Zero Point: INR 3000/Vehicle
Mt Katao: INR 3000/Vehicle
Nathuala Pass: INR 3500/Vehicle
- Food + Miscellaneous: INR 5000
DETAILED ITINERARY: (ACCOMMODATION, MAJOR ATTRACTIONS, AND TRANSPORT)
Day 1: Bagdogra Airport, West Bengal to Gangtok, Sikkim
Altitude: 5500 Feet
Distance: 120 KMS
Duration: 4-5 HRS
We started our journey from Bangalore at 12 pm and arrived at Bagdogra Airport by 4.30 pm (Inclusive of 30 minutes delay at Bagdogra airport). Since everything was booked in advance, we didn't have to waste time anywhere finding a cab and bargaining on the spot. I had planned our entire trip with the help of Travel Triangle (https://traveltriangle.com/) which made transportation, permits, and accommodation hassle free for us.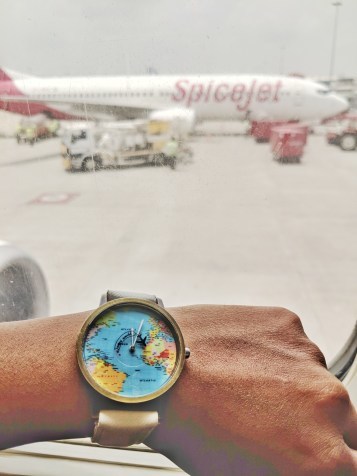 After a 5hr exciting and exhausting journey, we reached Gangtok at about 9 pm. Checked into our hotel and had dinner. We chose to stay at 'The Jagjeeth Sikkim Retreat' for a comfortable stay. This hotel is located a km away from the MG Marg market with some great views and a football stadium close by.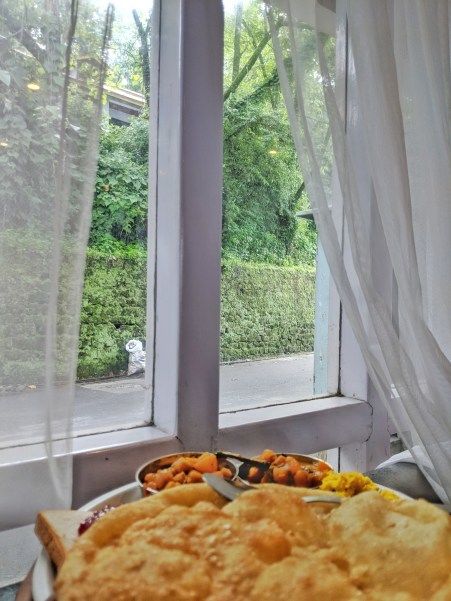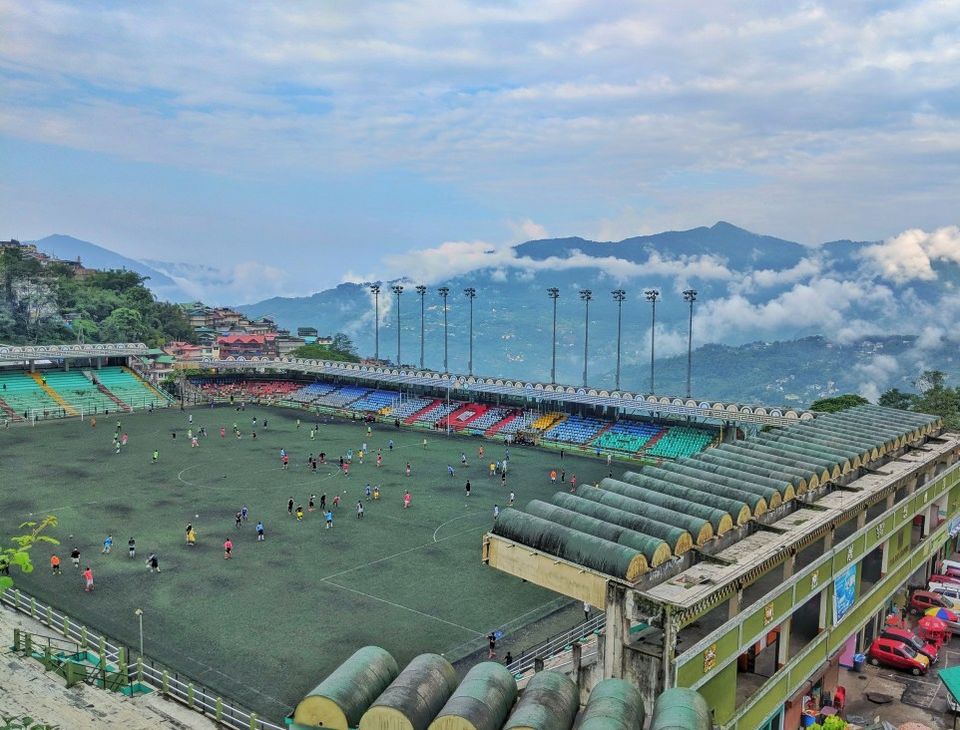 Tips: Just in case you want to book transport on spot: From Bagdogra to Gangtok, a private transfer should cost you around INR 3000 to 3500 for an Innova or Scorpio. A shared transfer should cost you around INR 250 to 300/Person and the vehicle will vary depending upon availability. But I suggest booking one in advance to be carefree while on the trip, especially during peak seasons. The road from Bagdogra Airport to Gangtok is one of the few decent roads in Sikkim but might take you more than an expected time due to heavy traffic in some regions of the mountain. So be prepared for a comfortable yet a long journey with some great views along the way.
Day 2: Gangtok to Lachen
Altitude: 9500 Feet
Distance: 127 KMS
Duration: 5 HRS
We woke up to chirping birds in the mountains next to our hotel. It was around 4.30 am. We could not resist but go out to watch the sunrise and to take an early walk in the capital city. We walked to M G Marg which is a km away from the hotel, took a stroll in the place. It felt so good watching kids play football at that time of the day in one of the beautiful football stadium bounded by mountains. We got back to the hotel by 7.30 am, had a heavy breakfast and we started our journey from Gangtok towards Lachen at about 9 am. It took a good six-hour drive to reach Lachen. Due to the rugged terrain, the bad road conditions and as you know one can't say no to a several pit stops on the way to soak in all the beauty of waterfalls, picturesque landscapes, which took us longer than expected to reach. We arrived at Lachen by 3 pm and checked into hotel Royal delight Lachen, a hotel with good food and a great view of the mountains.
Lachen is a picturesque hamlet in North of Sikkim, wherever you go you see mountains that take your breath away. We went on an aimless stroll in the Lachen village in the evening. We tried some delicious Momos at the local shop and picked up some snacks for the journey that was ahead of us for the next day. After a refreshing walk in the village of Lachen, we got back to our hotel, had dinner and slept as early as we could.
An incident to remember: that late evening, I lost my phone (Google Pixel 2) while we were out for a walk. I was so worried, but a local guy, who found my mobile on the road, gave it back with such a huge smile on his face. I gave him some money with tears in my eyes as I could not thank him enough for his sweet gestures. He looked happy!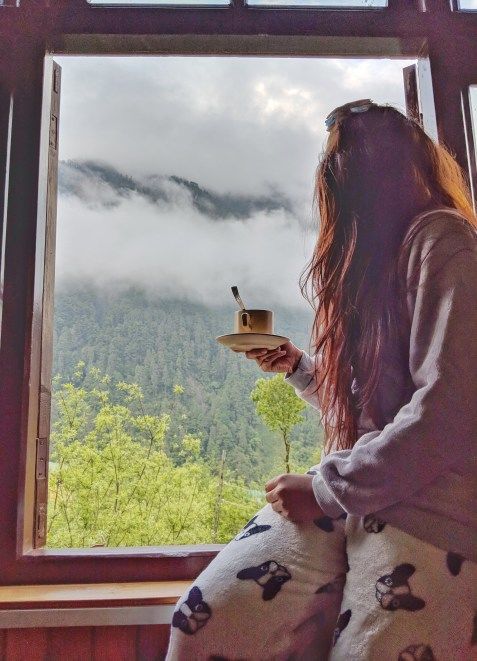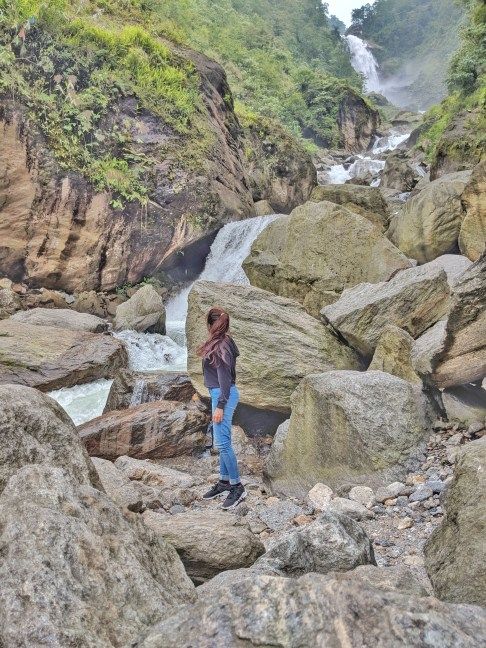 Day 3: Visit Gurudongmar Lake, Chopta Valley, Kala Pathar in Lachen and transfer to Lachung
Altitude: 18000 Feet (Gurudongmar Lake)
Distance: About 75 KMS
Duration: Takes a whole day and 2 hours in the late evening for Lachen to Lachung
Yayy!!! This day, we geared up for the ultimate roller coaster ride. So should you.
We left our hotel early in the morning at about 4.30 am for the exciting drive to Gurudongmar Lake. We stopped on the way for breakfast. Sipping hot tea with delicious steaming Maggie staring at the Lofty Mountains had already made my day. We drove further into Chopta valley to the picturesque landscapes and finally to the lake. Gurudongmar Lake is one of the highest alpine lakes in the world (18,000 feet), not only known for its spectacular beauty, but is also revered as a sacred lake by Buddhists, Hindus, and Sikhs. Roadway to the lake is a rugged terrain with little vegetation and no human population. As we reached the lake, we were welcomed by the mesmerizing views of the emerald blue lake surrounded by snow-covered peaks of the Eastern Himalayas which took our breath away. Literally, we all went short of breath due to lack of oxygen at such high altitudes. We had carried Oxygen cans (Bought it from Amazon.in) which came to our rescue. We could not stay there for more than 25mins as we were hit by AMS (Altitude mountain sickness) and from there we started our journey towards Kala Pattar which is at an elevation of 18,519 ft. It was not on the regular package but was added by paying a little extra to the driver on the spot (INR 3000). It was suggested to us by the driver and we didn't miss a chance to visit the place. The drive to Kala Pathar was absolutely stunning with the black mountain stone complementing the white snow. It was really a sight to behold. We hired boots & gloves on spot to hike and play in the snow. This was where I got to see and play with snow for the first time in Sikkim. Took a Snow Slide too!!
We drove back to Lachen. This is when our body started responding to AMS plus the bad roads that aren't worthy of being called roads which made us fall sick. After a light lunch and some resting at our hotel, we started our journey towards Lachung at about 6 pm and reached Lachung by 8 pm, checked in to our Hotel Norling. We could not do anything other than resting as we were completely exhausted.
Tips: Make sure to carry the necessary tablets and Oxygen Cans to prevent/treat AMS.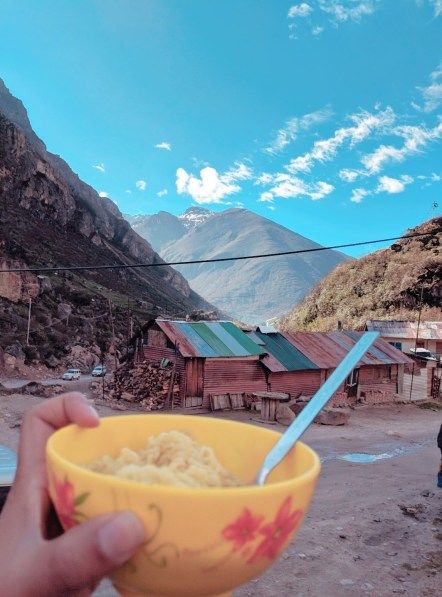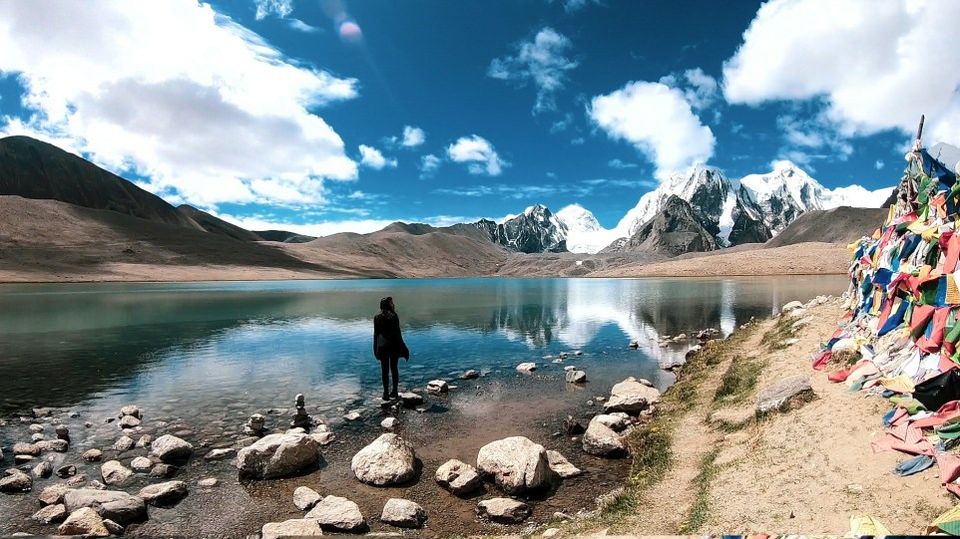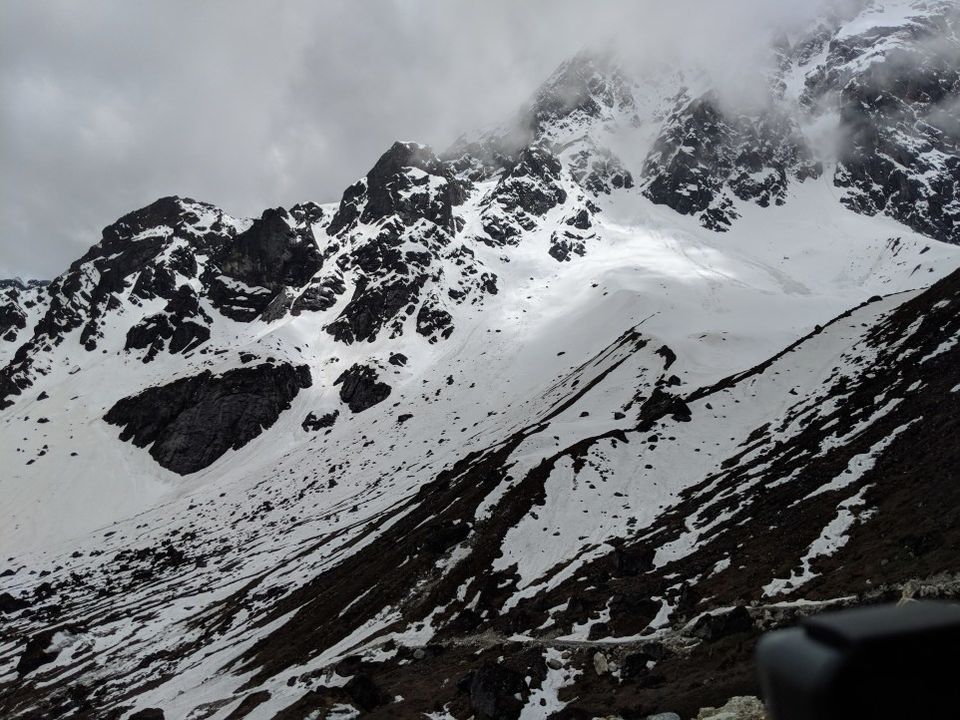 Day 4: Unplanned, Unexpected yet much needed Rest Day
As we were all majorly hit by AMS and motion sickness, we fell sick and we were not in a good condition to travel. So, we decided to take a day rest to bounce back to the action ahead. We loved the hotel people and their hospitality which helped us to recover sooner than expected and by early evening we started feeling better. We went for a quick walk around our hotel which had the best views of mountains and a mini stream flowing right next to our hotel. We had taken the necessary electrolytes drinks in the morning to keep us hydrated after continuous throwing up all night.
Tips: There are no medical stores in the Lachung village. So make sure you carry all the necessary medicines required to prevent Vomiting, Fever, Loose motion, etc. and also ORS as you will be dehydrated, which we forgot to carry but the hotel manager managed to bring 2 packets somehow. How sweet!!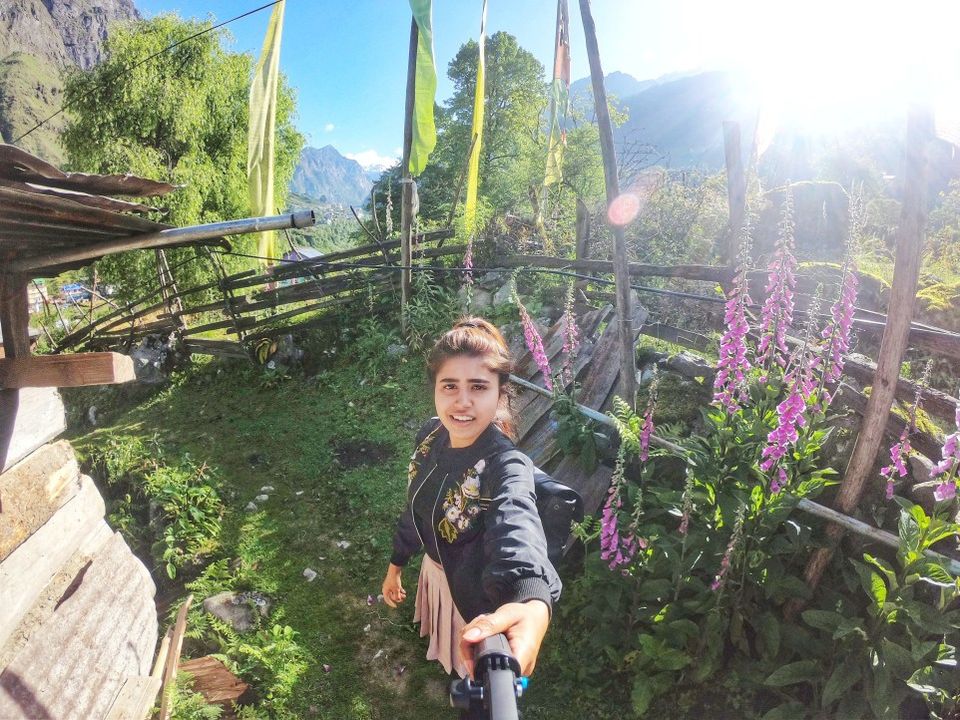 Day 5: Visit Zero Point, Yumthang Valley, Hot spring in Lachung Lachung to Gangtok (124 KMS/5-6 HRS)
Altitude: 15300 FTS (Zero Point), 12000 FTS (Yumthang Valley)
Distance: about 200kms inclusive of 124KMS from Lachung to Gangtok
Duration: Whole Day
We woke up by 5 am, had breakfast and decided to visit Yumthang valley and Zero Point which we had missed on the previous day due to ill health. We started our journey to Yumthang valley, the valley of flowers. Winding mountainous roads from Lachung to Yumthang Valley took us through enchanting vistas of sparkling streams, lush slopes and stretches of mountain flowers. This valley and sanctuary gets painted in hues of red during April-May when all these varieties of Rhododendrons are in full bloom; But since we visited in June, we could not get a good sight of the flower-filled valley as the flowers had shredded due to the rain. We continued further to Zero point (Yumesamdong) which remains covered in snow throughout the year. We spent some time there eating boiled eggs and peanuts staring at the alluring mountains. And then we started our journey back to Gangtok. En route Gangtok, we stopped to see the hot spring for which we had to hike for about 15mins. It was in a building, to our surprise, found two guys bathing in the tank where hot spring was flowing. Looked as if we had entered someone's bathroom with permission! ???? We had lunch on the way and reached Gangtok at around 7 pm, checked into our hotel: Sikkim Retreat (the same hotel as of the first day). Had heavy dinner and dozed off in no time.
Tips: You can reach Zero Point by paying INR 3000 to the driver on the spot. Zero Point can be skipped if you have visited or planning to visit Kala Pathar.
Check your permits properly with your travel agency and confirm that it is for the exact planned days in North Sikkim. We stayed in North Sikkim for 3days but the permit for Yumthang valley was taken only till the second day, which could have been a problem if the driver had not managed to get us ahead by convincing the officials, reasoning our ill health on the previous day.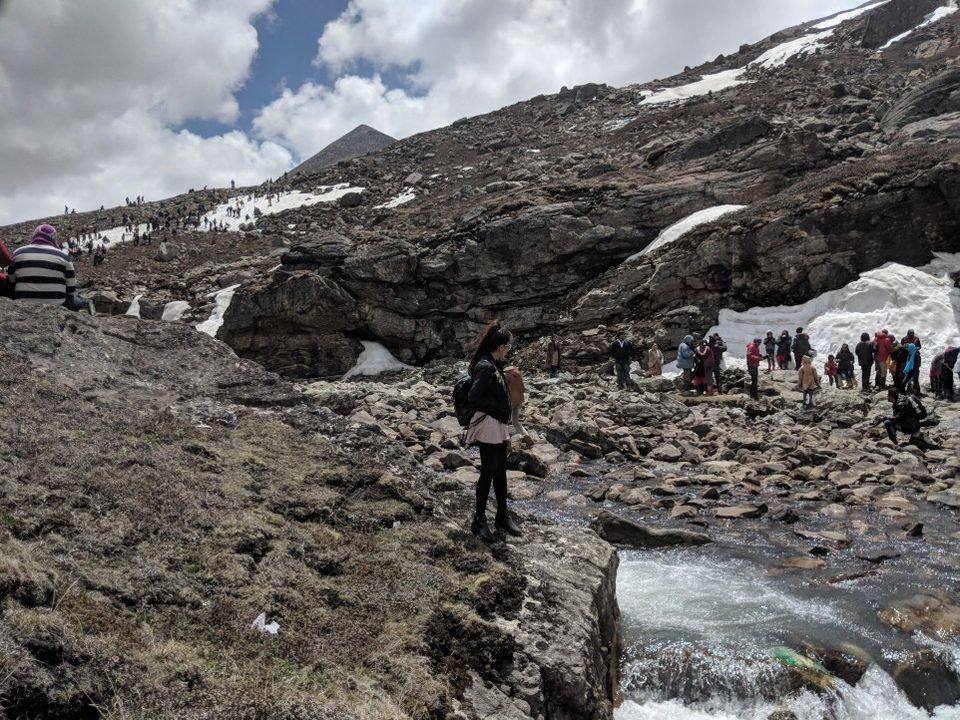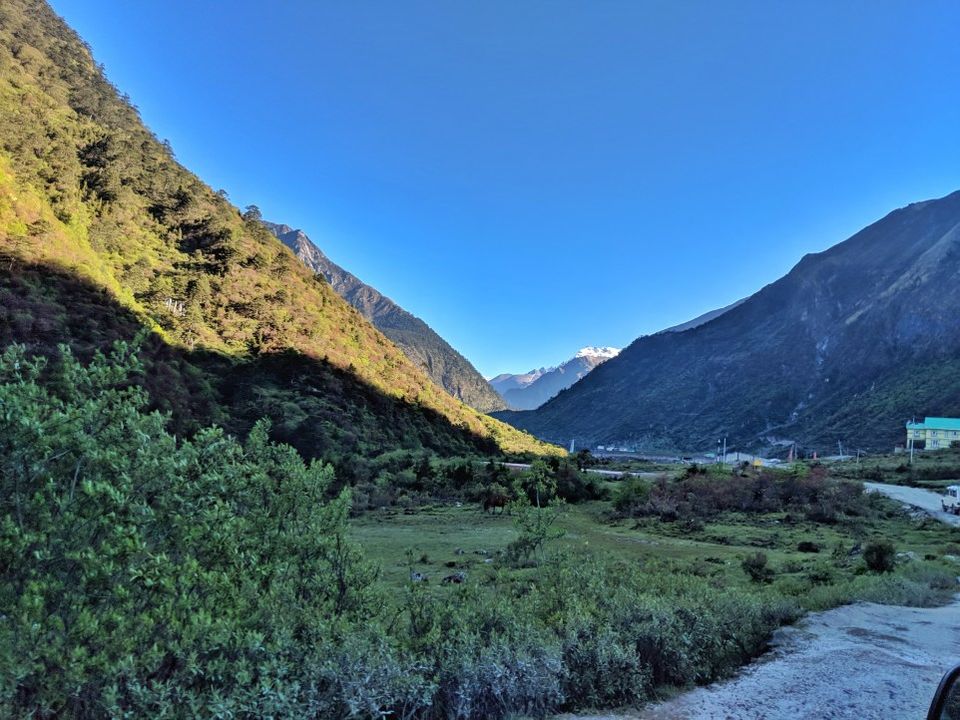 Day 6: Visit to Tsomgo Lake, Old Baba Mandir, Elephant Lake, Thambi viewpoint and transfer to Zuluk/Padamchen.
Altitude: 5500 FTS (Gangtok), 11200FTS (Thambi View Point)
Distance: about 100KMS
Duration: Whole Day
After a heavy breakfast, we started our journey towards Zuluk by about 9 am. Due to heavy traffic, we could not move not more than 6kms/ hr, which delayed the whole trip. We visited Tshangu Lake (40 km) - enchanting oval shaped Sacred Lake en route Nathula Pass where you will also see hundreds of Yaks. We also took a memorable Yak ride in its vicinity.
Further, we drove to Elephant/Kapup Lake. Then we stopped by old Baba Harbhajan Singh Mandir, the memorial is dedicated to the brave soldier of the Indian Army who lost his life around 30 years back in this region. Google about him for fascinating stories.
From there we continued our journey to Thambi viewpoint, located at 11200 feet, which offers a panoramic view of mountain ranges and loops of silk route and Zuluk village. Viewpoint had only one stall where I tried a local dish Tukpa and some boiled eggs with hot tea. The view from up there was incredible. We drove further down to Padamchen village passing through Zuluk village which had the eye-catching landscapes. We reached Padamchen by 5 pm and were welcomed by authentic local black tea and snacks by our Homestay owner. Zuluk and Padamchen villages are of scenic value and very rejuvenating. No matter where we saw, we could only find scenery that was worth taking a thousand pictures. There are no resorts or hotels in these areas. You will find Homestays only. As it's one of the remote villages of the country, there was no electricity at all and we spent the evening just in candle light which cannot be forgotten and resumed our travel the next day.
Tips: It's biting cold in the regions of Zuluk. So make sure to cover yourself well and just to let you know there is literally no network in the area. Be prepared for the #ultimatedegitaldetox. There might not be electricity so make sure to charge your gadgets well before and I also suggest carrying a power bank just in case you don't want to run out of battery to capture the beautiful place.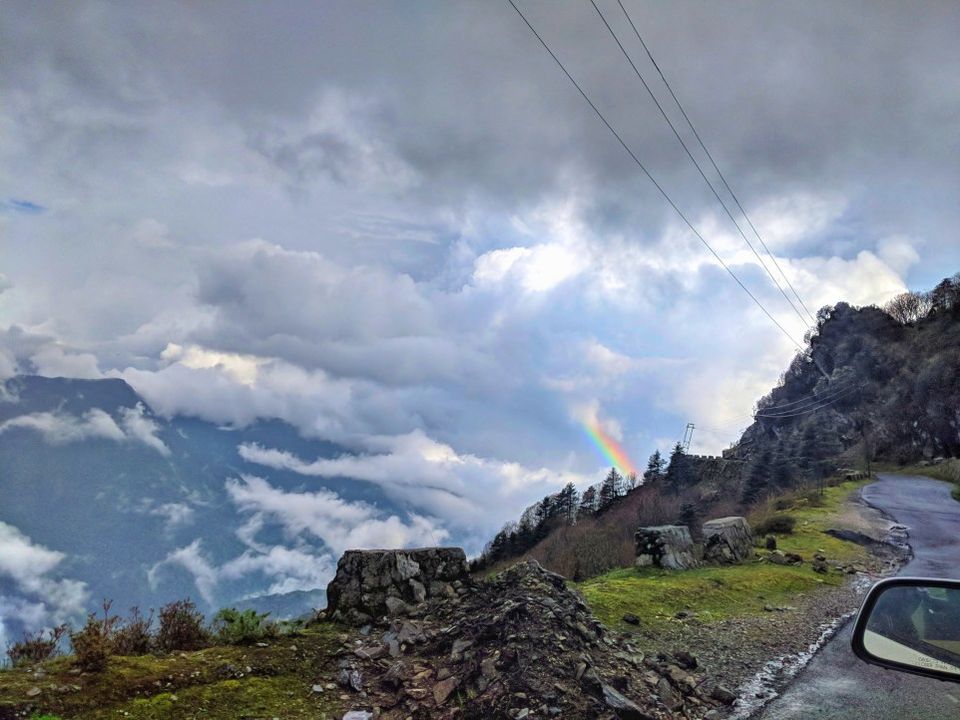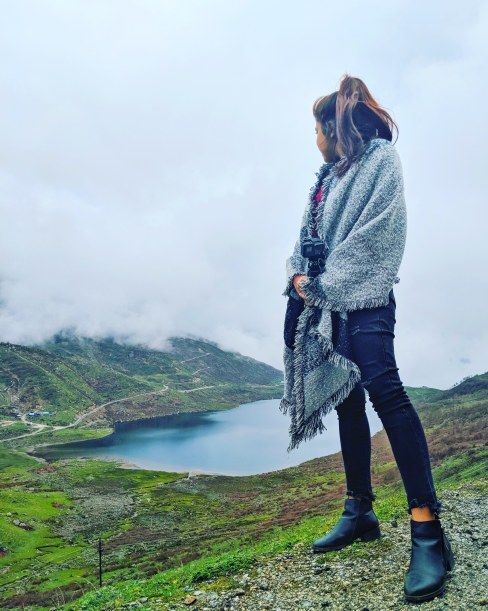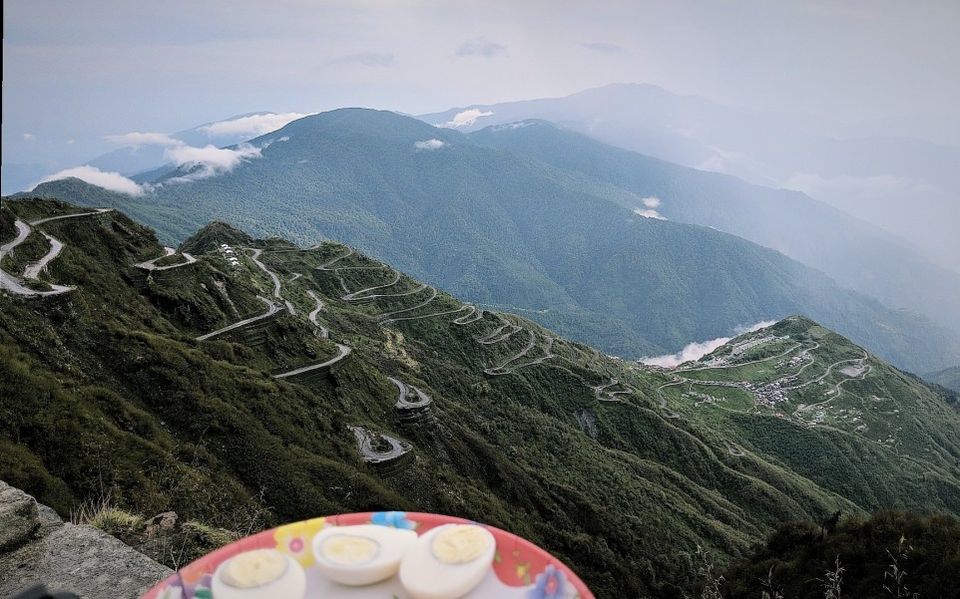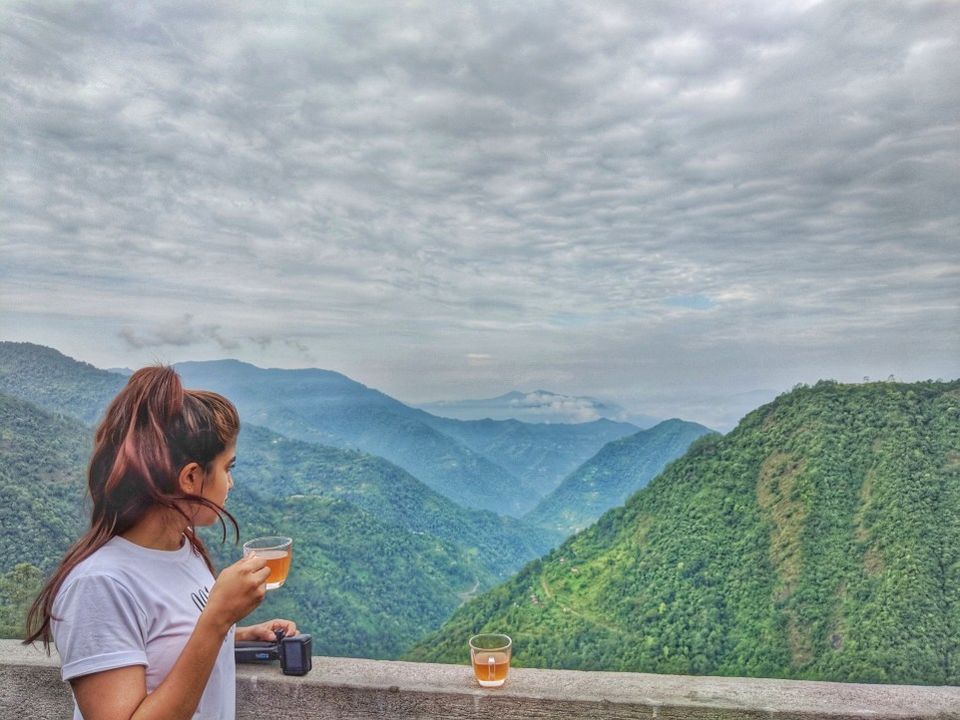 Day 7: Zuluk/Padamchen to Pelling via Ravangla Buddha Park
Altitude: 6250 FTS
Distance: about 160KMS
Duration: 6-8hours
We woke up early for a walk where we witnessed Army school kids doing push-ups on the road at about 5.30am. So much energy in such little place!! We were stunned looking at them. We also got to see a part of Bhutan from the place we stayed. We had breakfast at the Homestay and started our journey towards Pelling by 9 am. We visited Tathagatha Tsal (Buddha Park) at Ravangla on the way followed by lunch. After Lunch continued towards our hotel we were excited about, Hotel Norbhugang Retreat and Spa, which had the best views of the Mt. Kanchenjunga ranges and is located at Upper Pelling. We made sure to save the best for the last to relax & have Leisure time to stroll around the city without opting for cabs.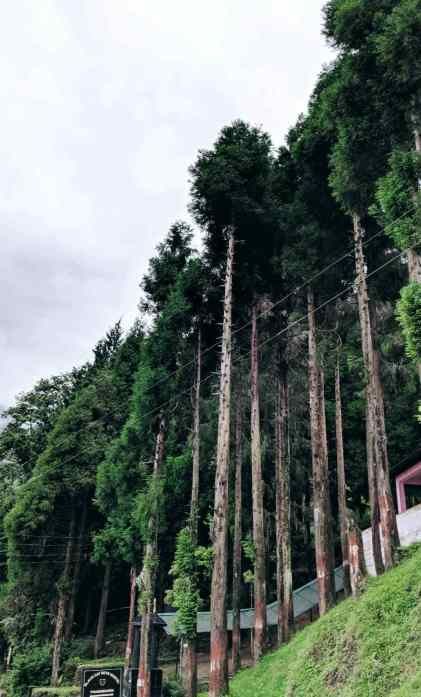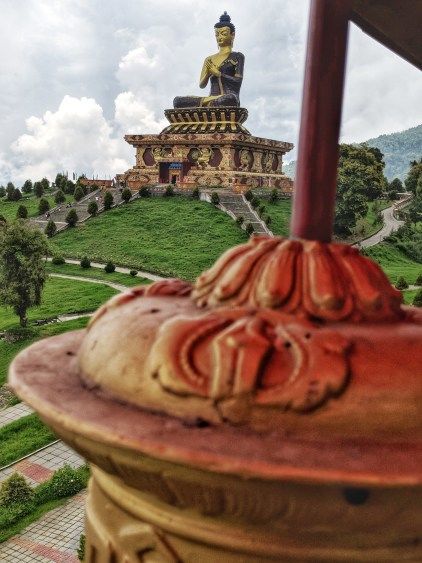 Day 8: Pelling sightseeing.
Altitude: 7200 FTS
Distance: about 40KMS
Duration: 3-4hours
On this day, we had planned to stroll around the city without taking any transport. We woke up to no view as the rain was pelting down heavily. We had heavy colourful breakfast at the hotel and started to walk towards Rabdentse Ruins, which was 3km away from the hotel we stayed in. As it was raining heavily, walking to the Ruins seemed difficult, so we stopped by a taxi stand and took a taxi to the Ruins which costed us INR 150. As soon as we reached Rabdentse Ruins, we bought entry tickets for INR 50 each and started hiking to the top. The place was filled with lush green, was very quiet and dark which reminded us of the dense Amazon forest. After around good 30mins walk we made it to the top which had no view of the city due to dense fog. But the Jungle trail was absolutely amazing. We next visited Pemayangtse Monastery. The abode of peace is one of the oldest monasteries of Sikkim which is located on a hilltop a km away from Rabdentse Ruins. We paid a nominal fee of INR 20/ person to take a look at the beautiful treasures of this monastery houses and the little monks chanting prayers. We bought souvenirs at the Monastery shop and then we left to the hotel hiring a taxi. We had delicious hot chicken sizzler and biryani for lunch at the hotel with the view. We spent the evening strolling around the beautiful hotel property as the rain had stopped giving us some clear views of the mountain ranges.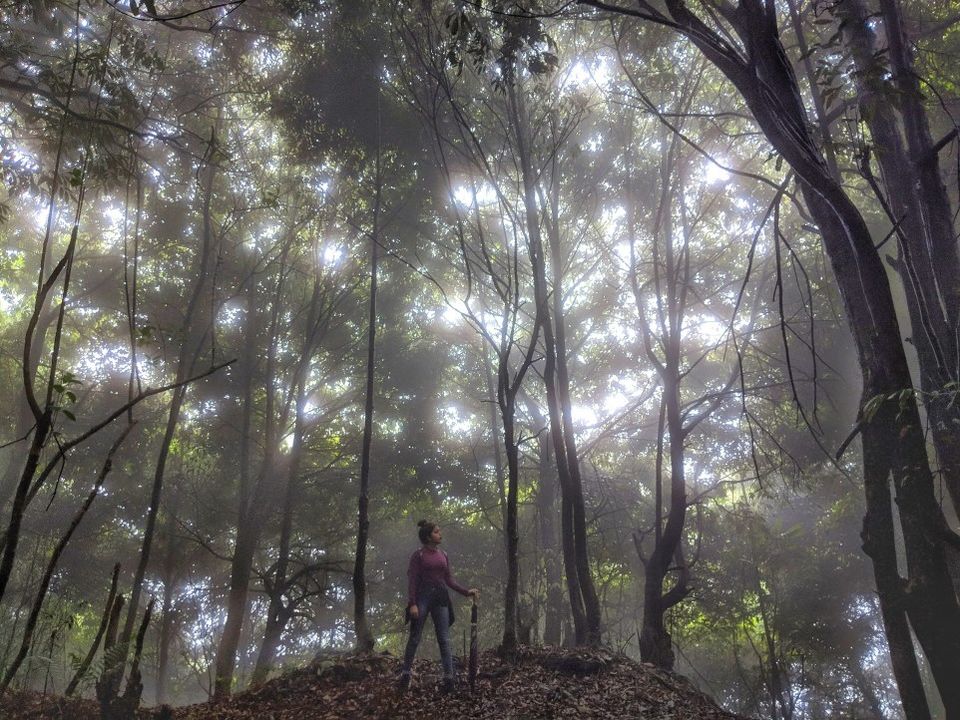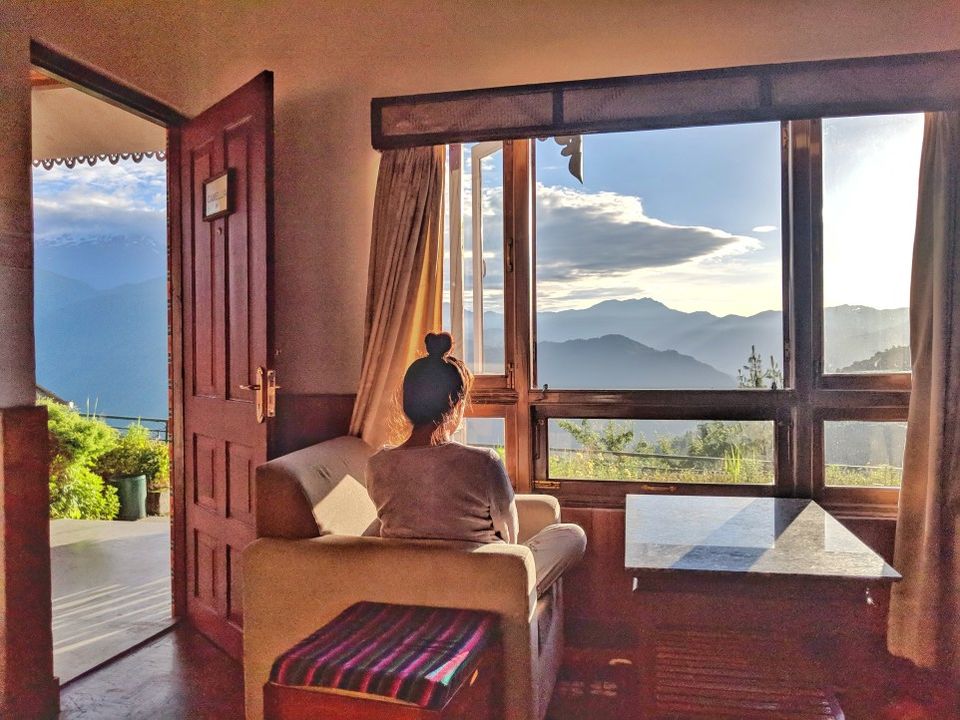 Day 9: Pelling to Bagdogra Airport
Woke up early feeling hard to leave the place, but we were totally satisfied as we were taking memories and experience of lifetime home. As the last thing, but the best, we got to see the clear view of Mt. Kangchenjunga summit from our hotel along with sunrise. It's a rare event where the sky gets clear and Mt. Kangchenjunga gets shown up so clearly. Just couldn't wish to be any more blessed!
Hotel restaurant packed us breakfast as we had to start by 6.30 am to Bagdogra Airport to be in time to catch the flight, which was scheduled at 3.30 pm. Everything went as planned and we were home in a blink of an eye.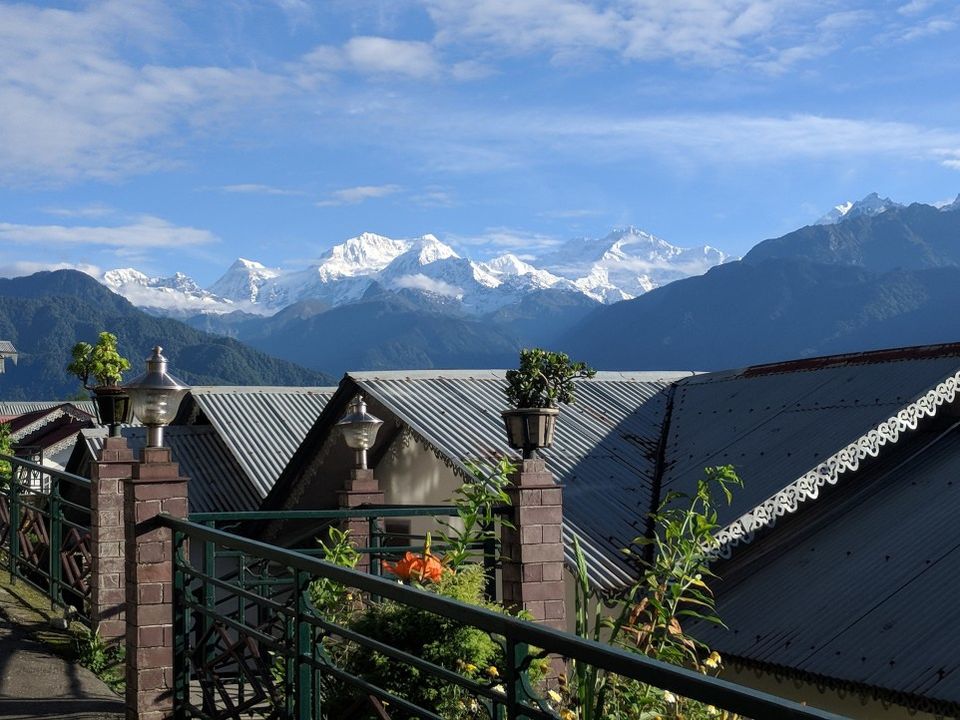 I have honestly got so much more to share with you, but assuming this should be enough. There's still more coming, including travel guide and things you need to consider before planning a trip to Sikkim, which I hope will be very informative in case you intend to take a trip to Sikkim in the near future. Until then, keep exploring this space!!
This blog was originally posted on Roving Rainbow.
Frequent Searches Leading To This Page:-
trip to Sikkim north india, Sikkim Tourism, best sikkim tour packages, sikkim tour package for couple, darjeeling gangtok honeymoon package