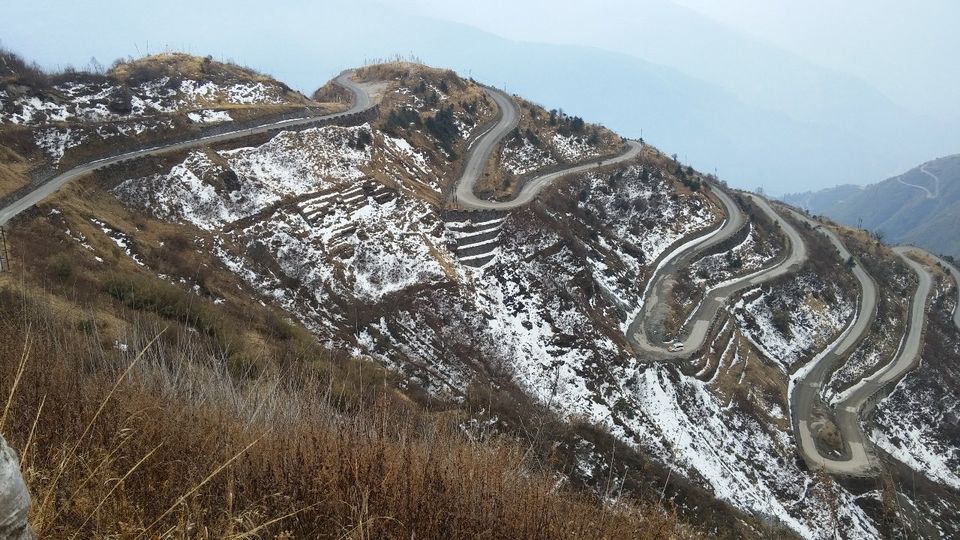 Bonjour all my avid followers.

Bonjour all my avid followers.
Perhaps those who know me are already aware of my love and passion of travelling. Exploring the mountains being the first and foremost interest. This has lead me to travel many of the places. Since I am from Bengal the first place that comes to my mind for planning a mountain related trip is North Bengal and our adjoining brotherly state of Sikkim. A small chunk of the Himalayan range crosses from here too.
The experience that I am going to share with you now is related to Sikkim's Old Silk Route. Not to worry my friends I will share my detailed itinerary also. Actually I was planning this trip for last one year but had to postpone my trip last year at the very last moment for a personal cause. So you can get an idea that how much I was into this trip as it got finalized. Now on I will start to give you my day by day actions on this trip. Keep Reading!!!
We started our Journey on 2nd January 2020 night.Train - Darjeeling mail departing from Sealdah at 10.10 P.M and arriving at NJP 8.15 A.M on next day.We had our car reserved for 4 persons . Point to note we had a NJP to NJP Package already booked.I will personally advise to book this type of package trip for silk route. The reason for this being the remoteness of this place.
New jalpaiguri (NJP) - Rishikhola
Our first destination was Rishikhola situated at an altitude of 2000 ft in Kalimpong sub -division of Darjeeling district. The place has got it's name from river Rishi. We stayed in the cottage name Rishi River Cottage situated on the bank of Rishi river . Guys the freshness and tranquility of the place is just mesmerizing. The burbling of the flowing water of the Rishi along with chirping of different birds will make your mind refreshed.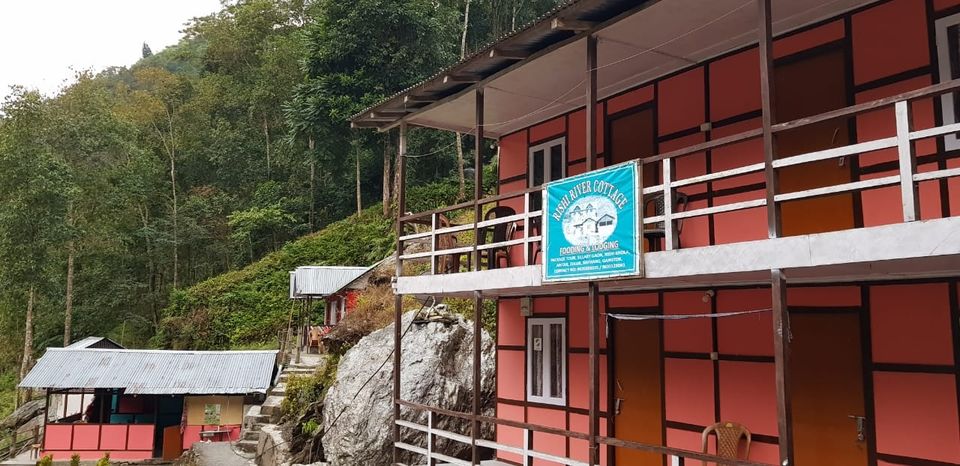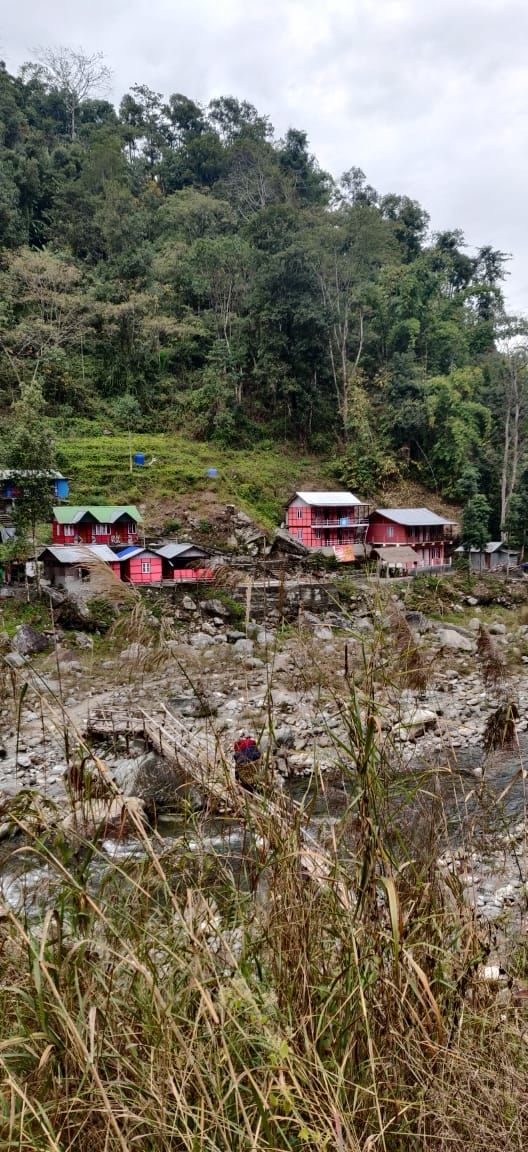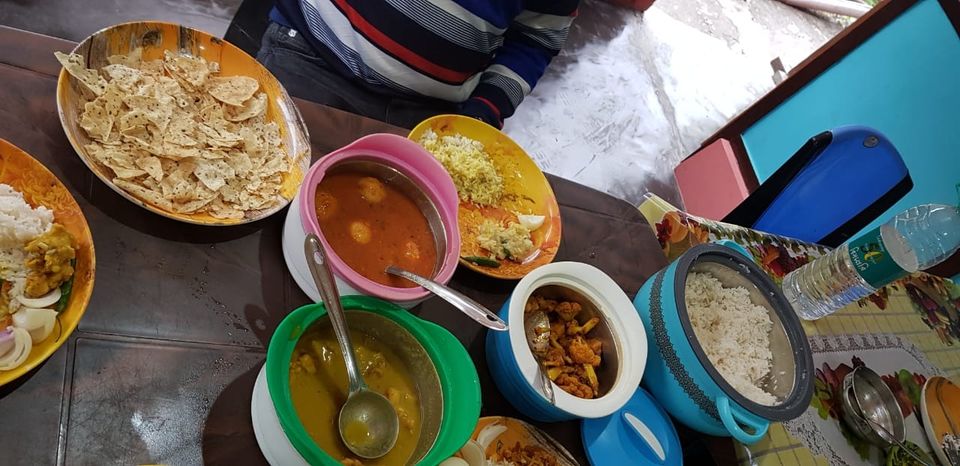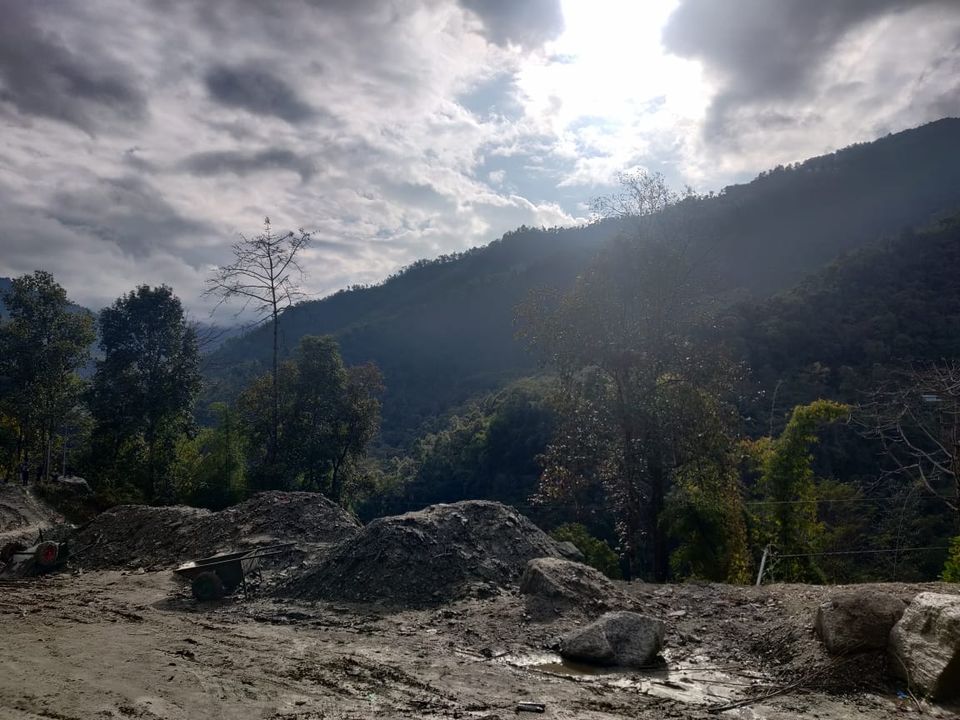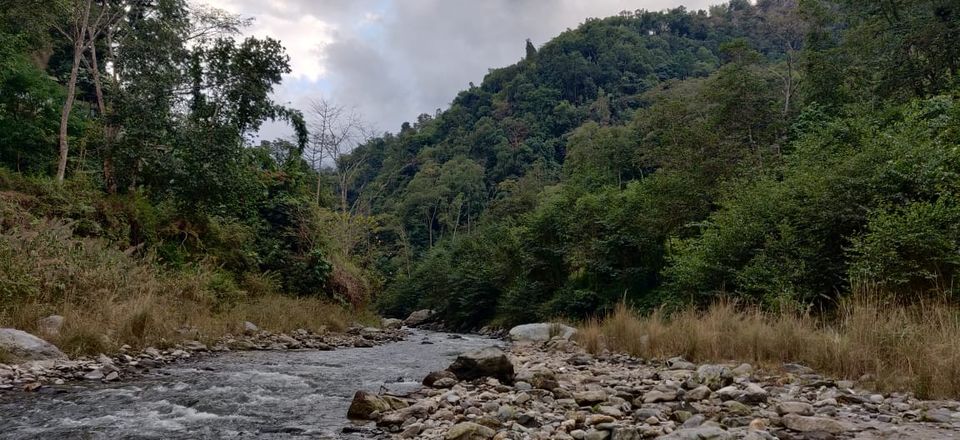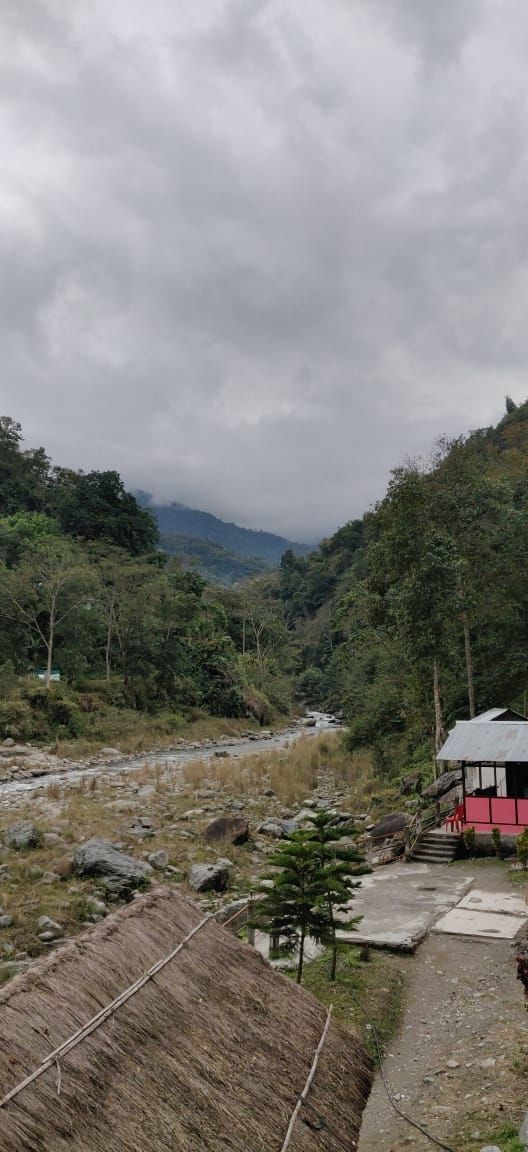 we checked into our cottage around 2 P.M. We were very hungry and were served delicious meal. The food was out of the box experience. The owner also manages to preheat the same before serving us. Amount of food was more than enough. After having our lunch we took some rest and then went to the bank of the river and enjoyed its beauty till the sunset.We walked along the bank, collected some pebbles as souvenirs, took some snaps but honestly no picture can justify the beauty of the place , you have to visit and enjoy the nature with your own eye.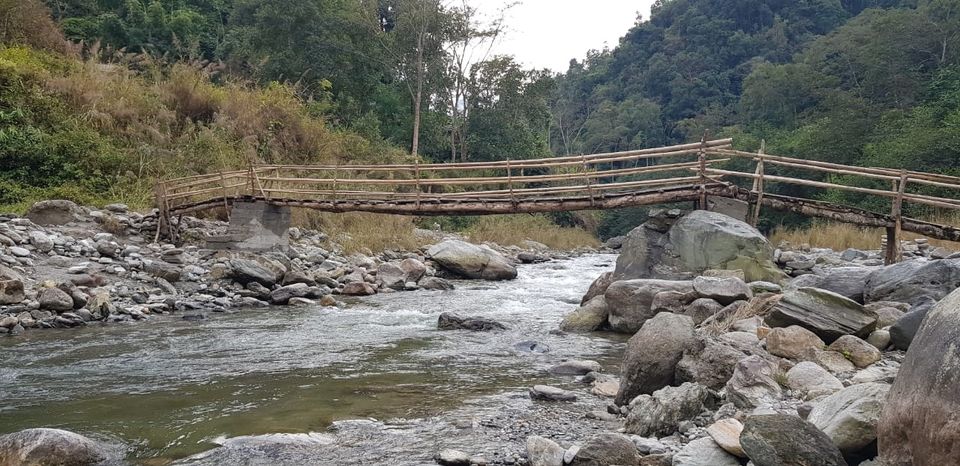 In the evening you can enjoy bonfire under the moon in chilly, windy weather with the relaxing sound of Rishi in the background. Overall as I said, it creates a illusive and magical environment . We had this plan but this has to be cancelled as it suddenly started raining. Yes friend in winter it "started raining", so always carry an umbrella while travelling to any mountain in the world.
Next morning we woke up to find many migratory birds , I am not so much into ornithology though. Please not this place is famous for bird watching also. So a must visit for bird watchers too.
Needless to mention the people or owner of the cottage were very courteous and friendly.
Next having completed our Indian breakfast with Puri and Sabji and obviously with a cup of steaming hot tea , we started our journey for Zuluk , the main attraction of our journey around 9 A.M . Point to highlight, to reach your car you have to climb up few steps so please take care of you elders or any senior citizens travelling with you.
Rishikhola - zuluk ( via Rongli)
!! Morning shows the day !!
We started our journey in a Trauvera with our famous guide Nangayal ji . By the way like to let you know that this was my second time to Zuluk . It was a lovely shinning morning after previous whole night rain. Our cars started for Zuluk and on the very next turn our car got stuck in a pile of mud on an under construction road though after few minutes of struggling Nangayal ji was able to overcome the odd. Information , all the national highways connecting to old silk route in Sikkim is getting renovated that is why roads are not as good as you expected everywhere . Thus though the morning started good there was a hitch on the beginning of our journey but the worst was yet to come.
Few minutes passed, Nangyal ji came up with another two mixed news. Last night while it was raining in Rishikhola, Zuluk has received a huge volume of snowfall. Positive was I was travelling to snowfall for the first time in my life. I felt awesome hearing the news but my happiness could not last long as Nangyal ji came up with the next bouncer. Government body which issues permit for zuluk and Nathang has stopped giving the same.a Instead they are issuing permit to a lower village called Padamchen. I was so disheartened to hear that.
With broken heart we reached Rongli. This is a small town on a valley where we will be issued with the mentioned permit and our destiny for the day will be written. Needless to mention all through out the road I kept on nagging to see snowfall . Nangyal Ji told that he will try to manage if possible also suggested us to buy any thing we need from here only since this is the last market in this route .
After almost an hour Nangyal ji returned with perhaps the worst news possible. He had been allowed permit until Padamchen. With heavy hearts we began our our journey towards Padamchen. On the way we came up across a waterfall called Que khola falls. We had some Momos and some tibetan dish there . Trust me it was really yummy.
!! Morning comes whether you set the alarm or not !!
Though we were not in mood but yes we woke up to see the beautiful Morning In Zuluk . After having our breakfast and packing our luggage we started our walk through slippery snow. We managed to get down to our car . It was at the same place where we left it yesterday. We had some water bottles in the car those were all freezed to snow. We started our journey for Mankhim.
On the way back we stopped at the Rongli market and bought some gift item for our family members and self.
Mankhim is also an upcoming tourist point with the major attraction being Aritar lake(lompokhri lake) and adjoining monastery. Apart from this the reason for a day stay at Mankhim was the picturesque view of the Kanchenjunga Range.
On our way to our home stay we visited the Aritar lake and the Monastery. Honestly in my opinion visit to the lake is a so so scenario. Basically we stopped for a plate of Momo from a local shop. It was good but not exclamatory. From there we went to the Monastery. By the time we reached it was well after noon. So main monastery was closed and we were not able to trace any monks there. We clicked some pics and we started walking for a statue of lord Buddha that we had seen from the Aritar lake up above the hill top.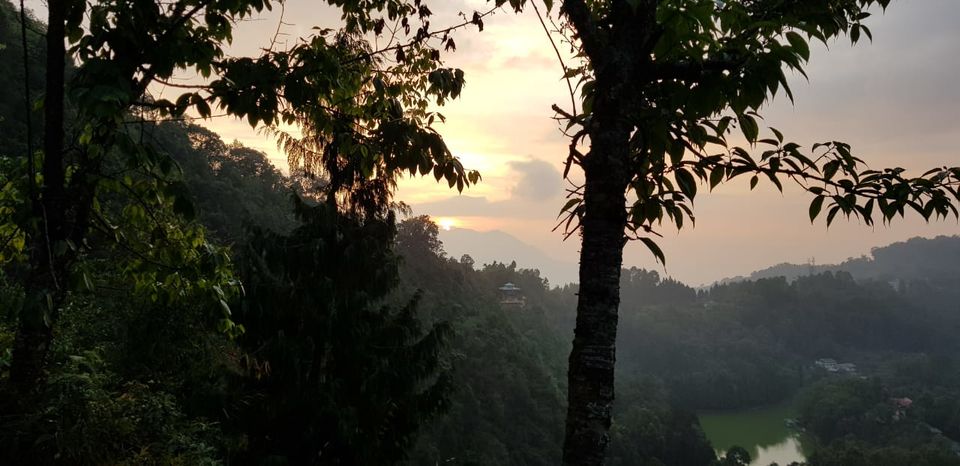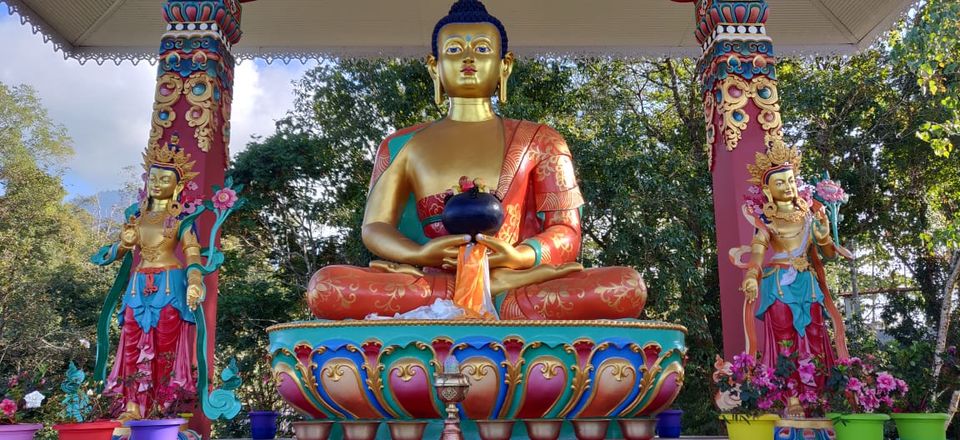 After spending few time we started moving again . After sometime we reached the check post in Padamchen. By now we were totally depressed. Nangayal ji went to produce the document and came back and said "chaliye" (lets go).
Our car started rolling, we asked where he was taking us . He told with his ever ending smile "Baraf Dikhane "(to see snow). Some how these two words worked like some proper medication for our depressed heart.
Another 45 minutes of travel brought us to see the first snow of the tour. We felt so happy to see that we request Nangyal ji to alight us for sometime but he kept on moving with his . We felt bad at first but on the next turn there was more snow and on the next it increased a lot more . Needless to say this took us to the next level of happiness .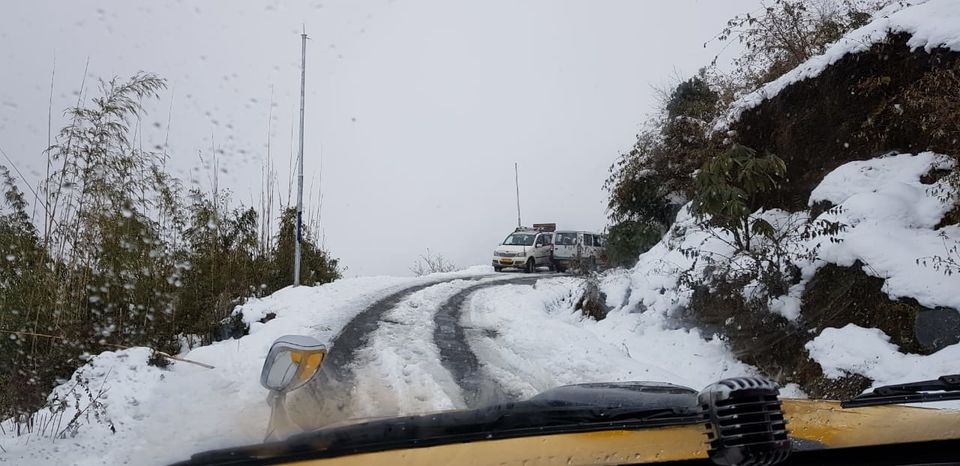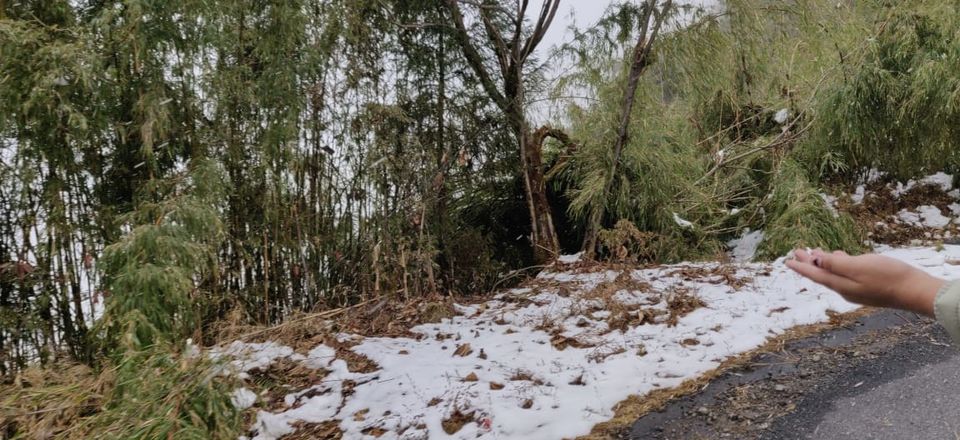 suddenly snowfall started. Friends this was my first experience of witnessing snowfall in my lifetime and by the time we realized we were already in zuluk. Suddenly the whole landscape turned into full white canvas.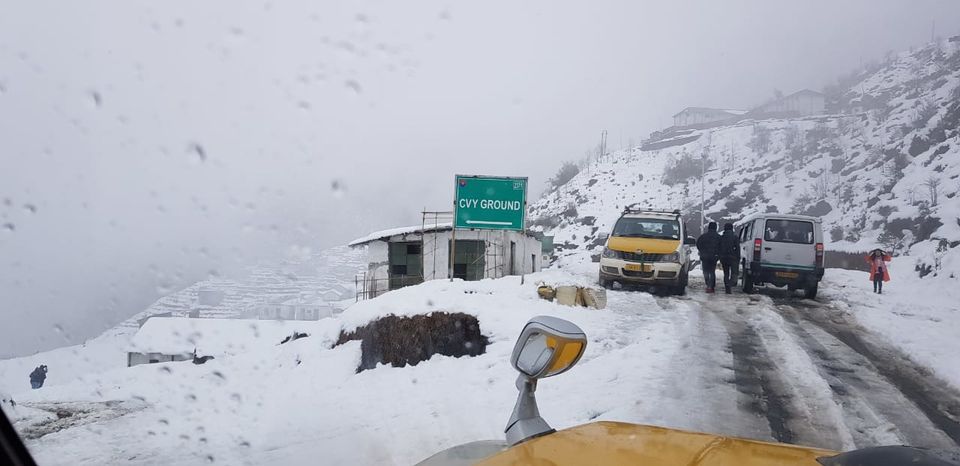 Nangayal Ji asked us to get down on the road it self and asked us to follow a trail which was covered with fresh white snow. It was snowing profusely then. We started walking and enjoying with snow by the time Nangyal ji came there with his ever smiling face. He said " aaiyay sir ji aaj aaplog mere mehman ho" (Please come, today you are my guest).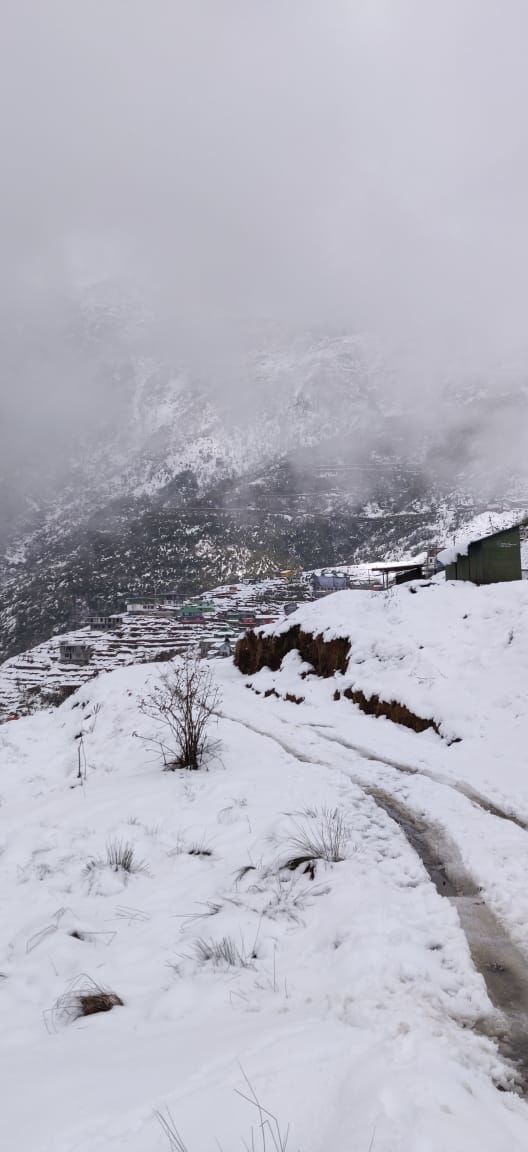 Needless to mention we dodged the security permit. But as it is said sometimes being not obedient gives you much more pleasure.
We stayed there in Nangyal ji's beautiful homestay, no less than a 5 star hotel in this rugged terrain. Actually the first floor of his home converted to homestay with all necessary amenities for tourists. It was almost 20 minutes walk from the main road to the homestay with slippery snow. we followed Nangyal ji's footstep. The whole path was covered with a thick layer of snow and we were falling again and again ;) . It was fun though.we clicked many photos, dancing, snow fighting with our friends.By the way you must carry good snow boots and gloves. Minimum temperature that night went down to -9 degree c . So you can imagine how chilly it was.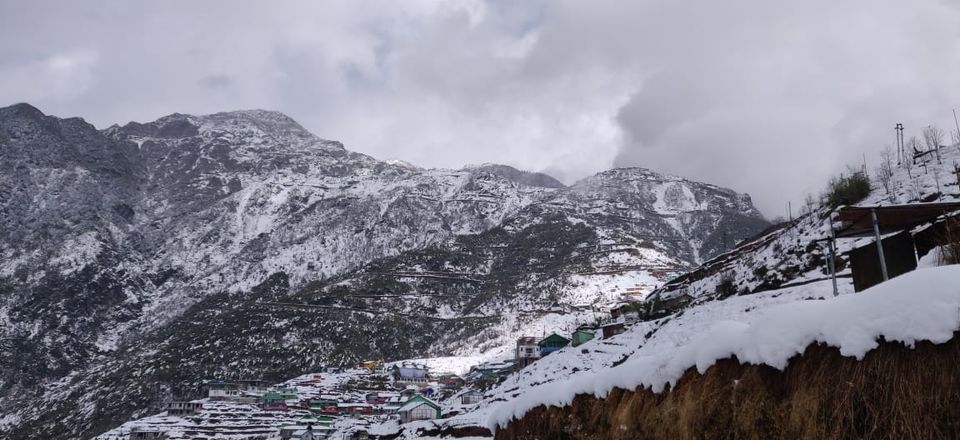 Rooms were air tight and spacious with the view of whole valley.one room is enough for 4 persons .You can enjoy the beauty of zuluk through the windows by simply laying on the bed under your blanket. lunch and dinner all were home cooked by Nangyal ji and his wife. we were served piping hot food and quality of food was very very good as you all know Sikkim is fully organic state.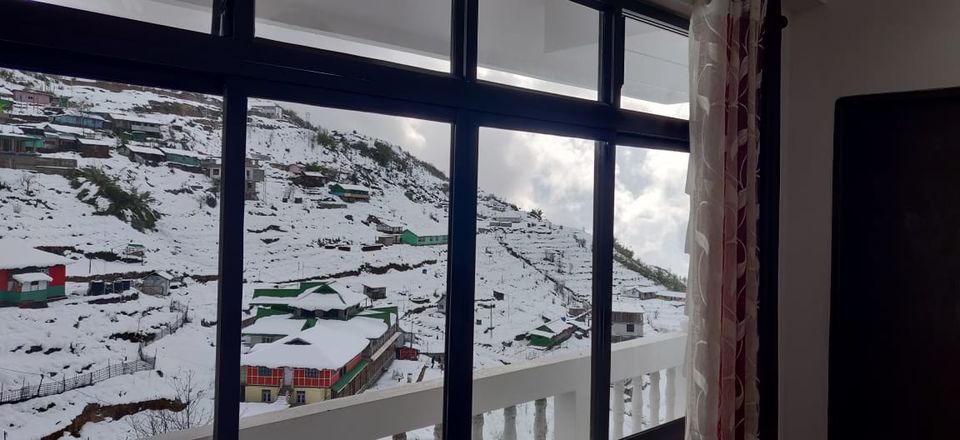 Unfortunately, we had to face power cut whole day due to the heavy snowfall. But the sky was completely clear and constellation was visible with bare eye. Forgot to mention that it was a full moon that day and the whole zuluk valley was flooded with moonlight. I was an out of best experience of the trip. Army camp was very near to our homestay. We were only 4 people(tourist) present on that day in entire zuluk . Thanks will be a bad word but no word is coming in my mind now to explain the hospitality and generosity of Nangyal ji. The whole valley was very quiet and calm that day. The whole experience was indescribable.
In night we had an hour of discussion with Nangyal Ji about his daily life . Came to know about the Great Black Himalayan Bears, their presence in the Zuluk. How they used to disturb the daily life of common man and Army staffs. Also we discussed about medical facilities and how they travel in those odd days to higher altitudes etc. Though there was no power but this power packed discussion did not made us bored for a single minute.
That Night er had simple Roti (Nan ) with delicious chicken curry and some vegetable Pakoras (Indian Fries) from the same kitchen of-course.
In the morning next day we were glad to see part of Kanchenjunga. The weather was crystal clear. We were not able to visit to the Nathang valley, Hambi view point and Kupup lake this time since the road was closed by army. Better luck next time.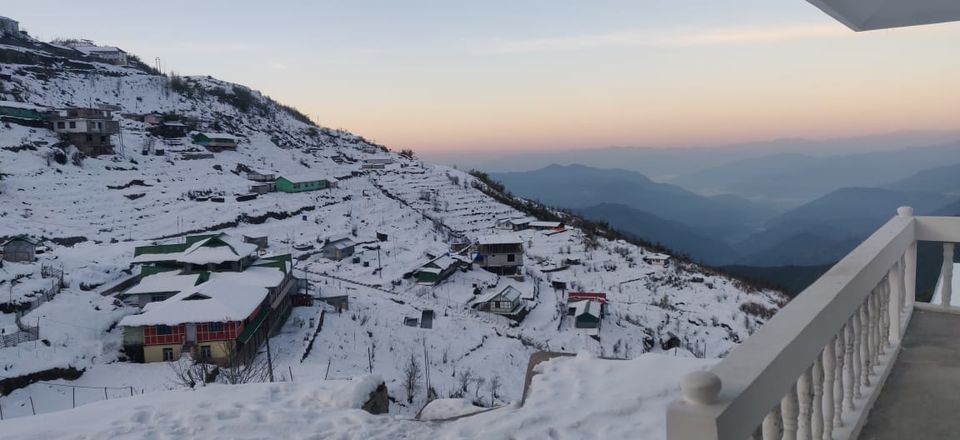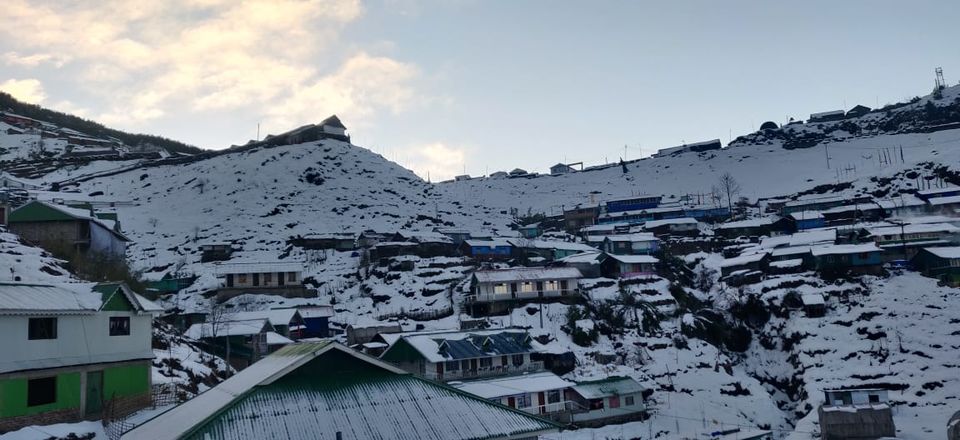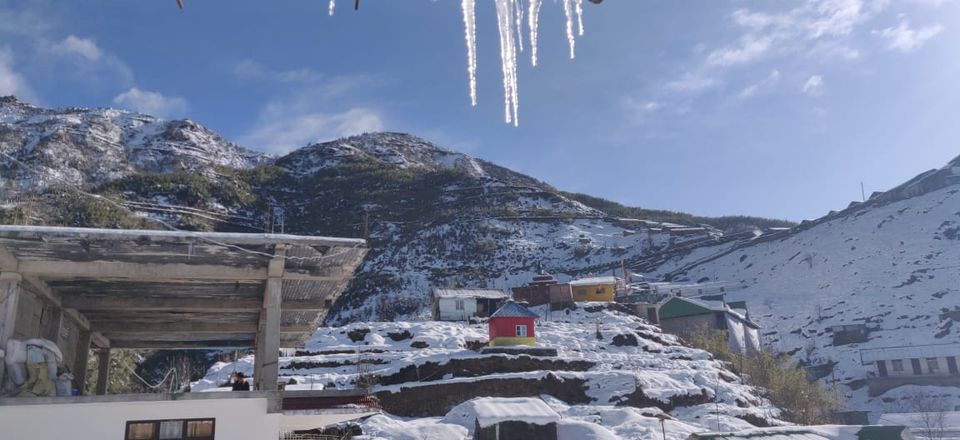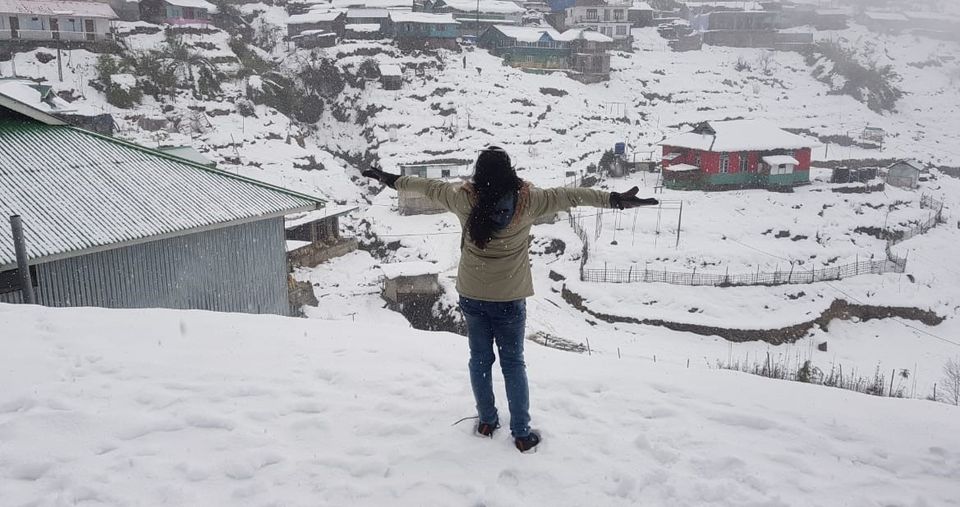 After having our breakfast with some Egg Maggi we bid adieu to the beautiful Zuluk and headed towards our next destination, a new upcoming tourist spot, Mankhim.
Zuluk - Mankhim( via Rongli)
After almost ten to 15 minutes of walk we managed to get the view of lord Buddha. As we went forward the view of the Kanchenjunga slowly became prominent. With Buddha looking towards the peak and place being so calm and quit made me feel like that I was in an outer world.
Spending some time there we came back to our car and went to our home stay. After reaching there we came to know that it was basically the Mankhim View point beside which our home stay is located. Needless to say it was indeed at a greater altitude.
Finishing our shower we went for lunch. We had some normal Rice and fish curry meal.It was pretty good. After our lunch we had some discussion with Nangyal Ji and he told us that he will leave for Zuluk and that he had made arrangement for our next day transfer to NGP. It felt bad that we will not be able to see this man again till next visit to Zuluk ,for whom I was able to see the first snow, rather first snowfall of my life, but it was time time to say him Good Bye!!
With heavy heart Nangyal Ji left us and we decided to roam around the property. We head toward the sun set point to see the sun set . We spend some time there and clicked some photographs. At night we had some tea and a luxury meal of whole chicken roast , roti and another chicken dish.
Next morning we woke up early to get a view of the famous sun rise on Kanchenjunga . We packed ourselves in heavy winter garments and went towards the sunrise point. Friends this is a real suggestion. Do not miss the sunrise on Kanchenjunga at any point .Its is a merciless crime.
As the sun rise started the peak of the Kanchenjunga was slightly visible in a violet color. After few minutes it was pink ,next it was orange and thousand other indescribable colors carried on. By the time the range was totally visible it was around 7:30 A.M. Simply friends it was a jaw awing experience. Perhaps many of you had this experience at Tiger Hill in Darjeeling but trust me Mankhim is no less a better spot with lesser crowd and tranquility.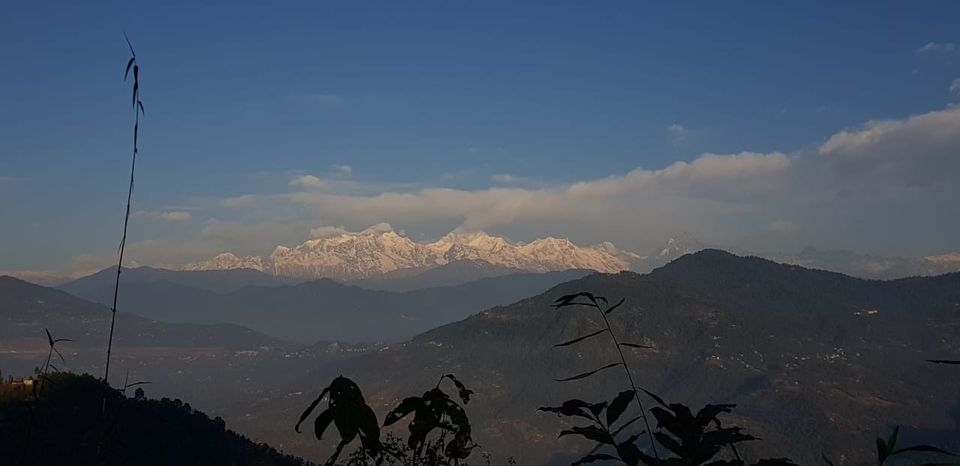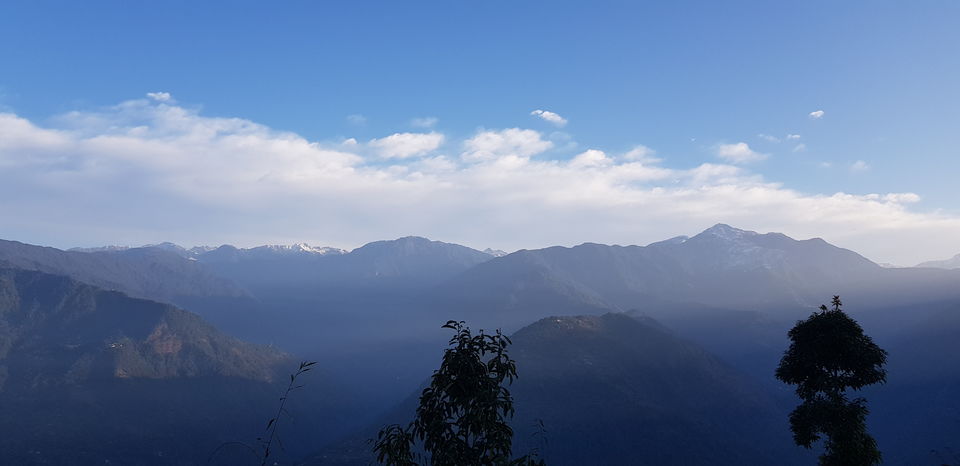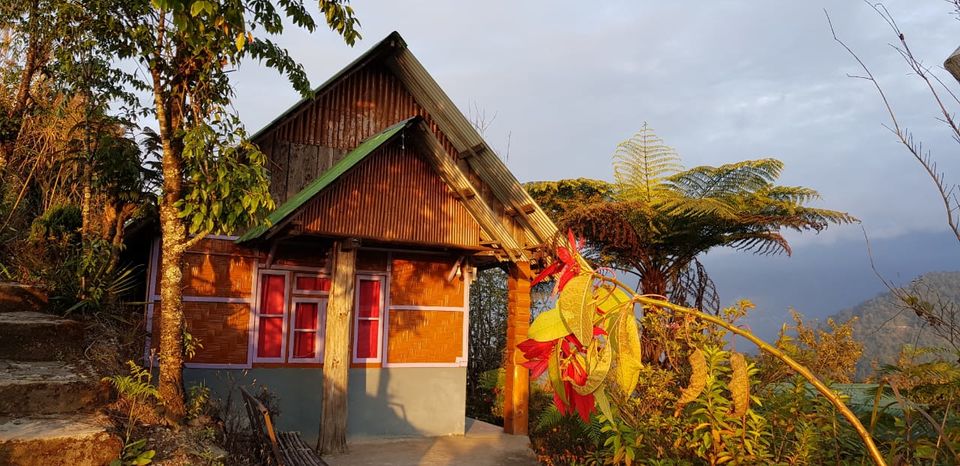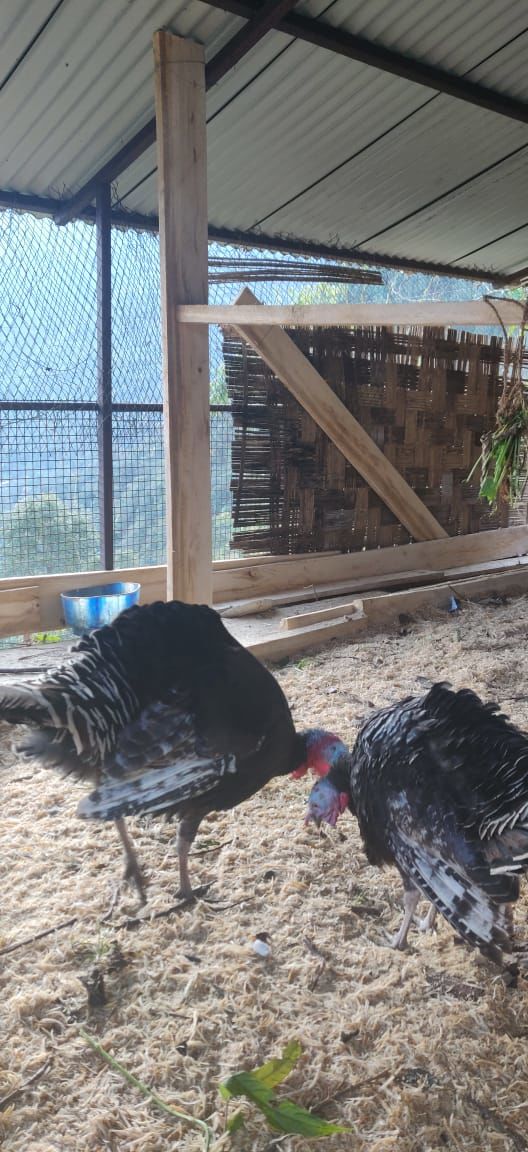 Around 8 A.M we returned to our home stay . We were greeted with a cup of hot tea and some Puri and Sabji. Those seems magical at that time. Completing our breakfast one by one we headed for our shower. In the mean time our return car to NJP had arrived . We packed our luggage and offered some oranges and biscuits to the kids present in the home stay. We started for NJP around 9 A.M.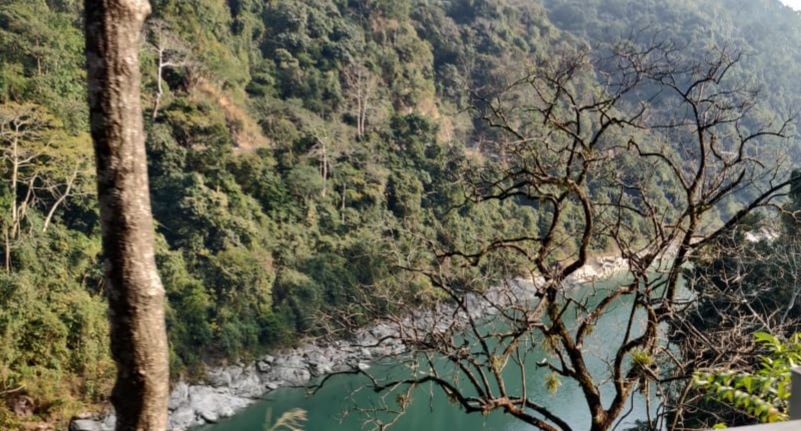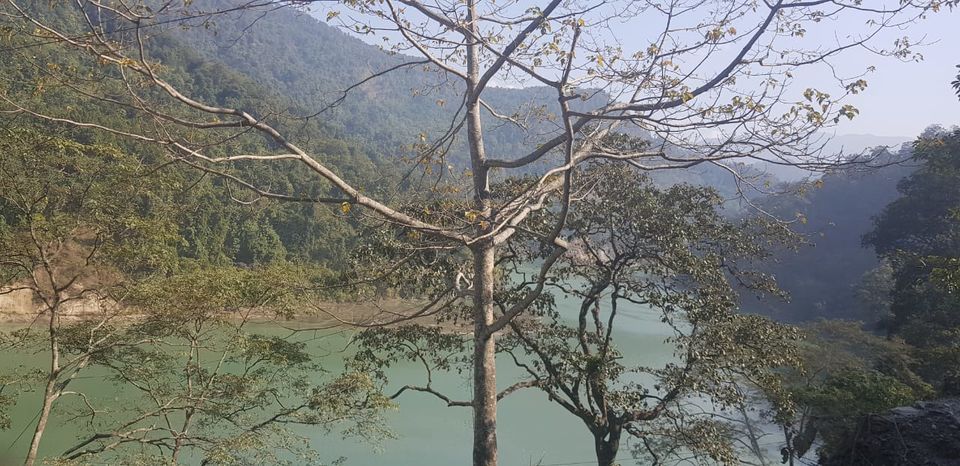 Finally I can say this three nights and four days of my travel was really magical. I will say that I was lucky enough to meet a person like Nangyal Ji for the second time. I was able to visit three dream destinations of mine and enjoyed every bits and parcels of each place with vivid accuracy. I will personally request every one of you who are reading my blogs , my friends please visit Sikkim and West Bengal when you are in India. I can assure you you will never feel any discomfort and every day will be full of surprises. Above all it is INDIA our own "INCREDIBLE INDIA" .
Frequent Searches Leading To This Page:-
North sikkim itinerary, north sikkim tour , north sikkim yumthang valley , north sikkim trip , north sikkim package cost