Writer Mark Twain once said, "Benaras is older than history, older than tradition, older even than legend and looks twice as old as all of them put together." And this is the story of BrijRama Palace, one of the oldest landmarks in the bustling city of Varanasi.
Perched on the Darbanga Ghat, BrijRama Palace is the hotel of your dreams. Incredible views of the Ganga River, aesthetically-pleasing interiors, courteous staff and delectable food, make a stay at this 200-year-old palace a trip to remember.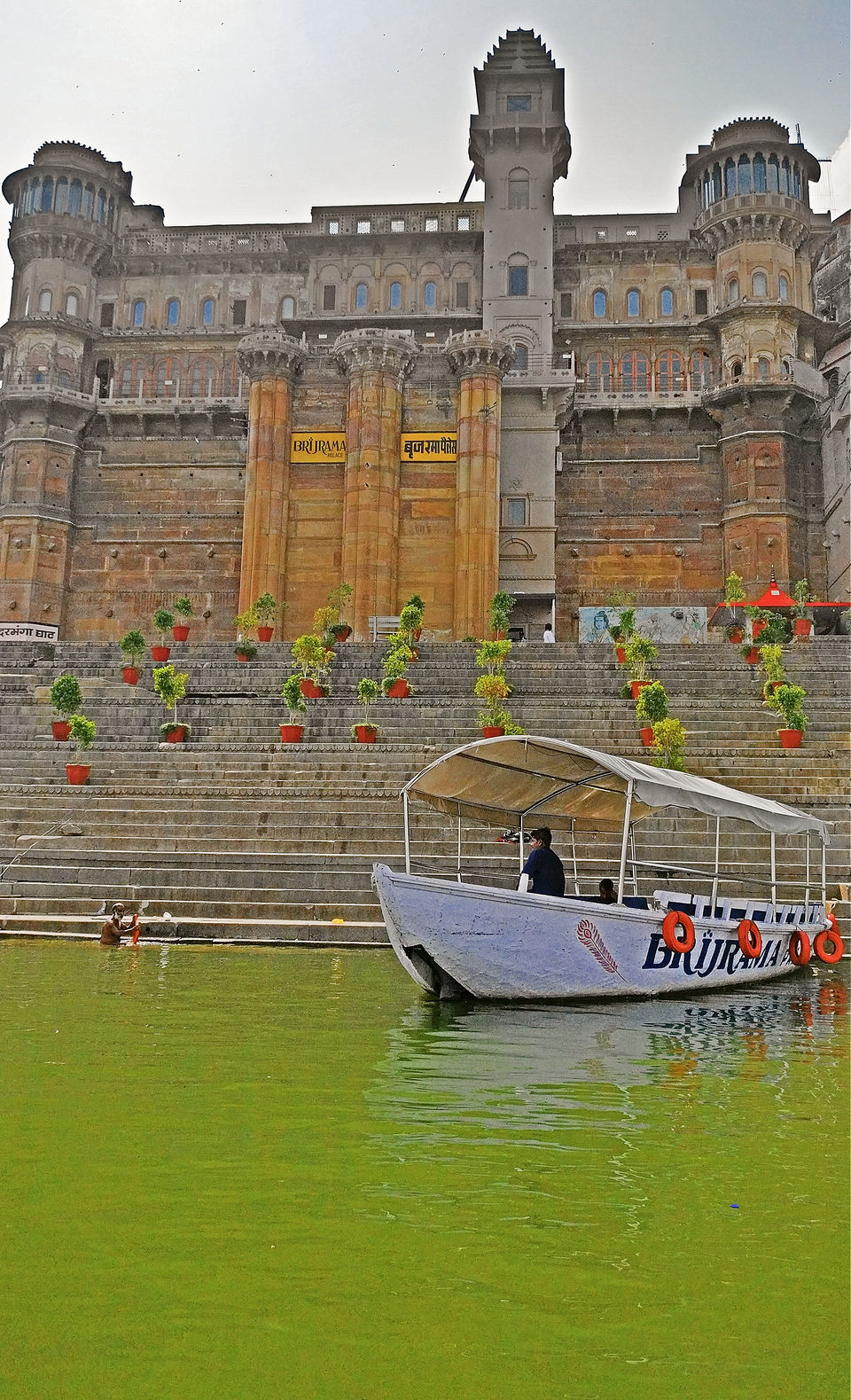 Ideal for
Couples and families who enjoy indulgent luxury. BrijRama Palace is located on the Darbanga Ghat and serves as the perfect base to explore the city of light and its many sides.
About BrijRama Palace
As I was walking towards belt number two at Lal Bahadur Shastri Airport to collect my luggage, my colleague pointed towards a man dressed in a blue suit holding a placard with my name written on it. I knew it there and then that the next two days were going to be a riot of guilty pampering and lasting memories.
After an hour-long car ride from the airport, our driver pulled over at Raj Ghat and asked us to alight, where three men dressed in a blue kurta were waiting for us. They loaded our luggage onto a boat and asked us to hop on. As the narrow lanes of Varanasi make it difficult to reach the property by car, all guests of BrijRama Palace are received by a private motorboat.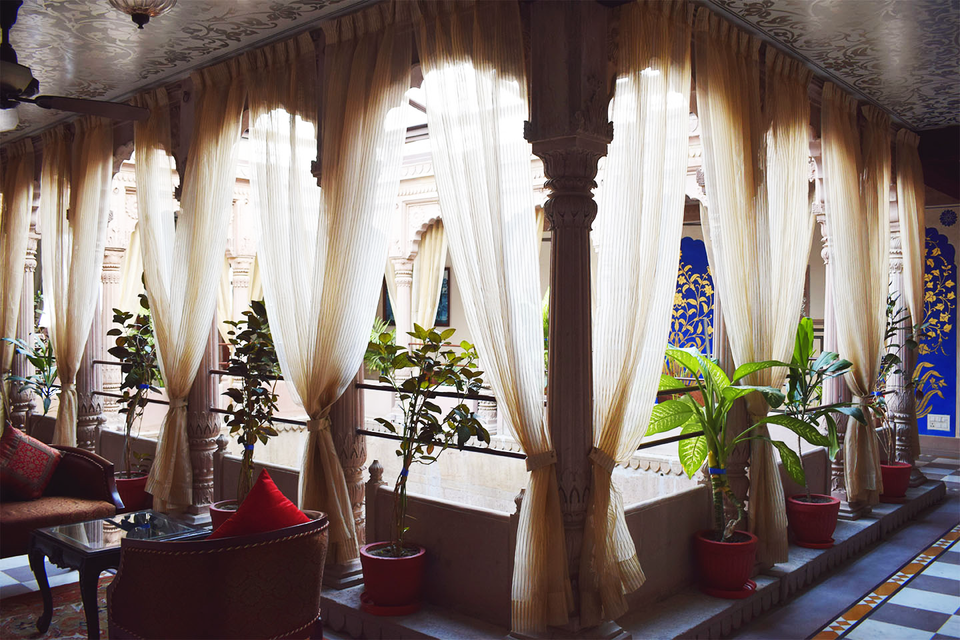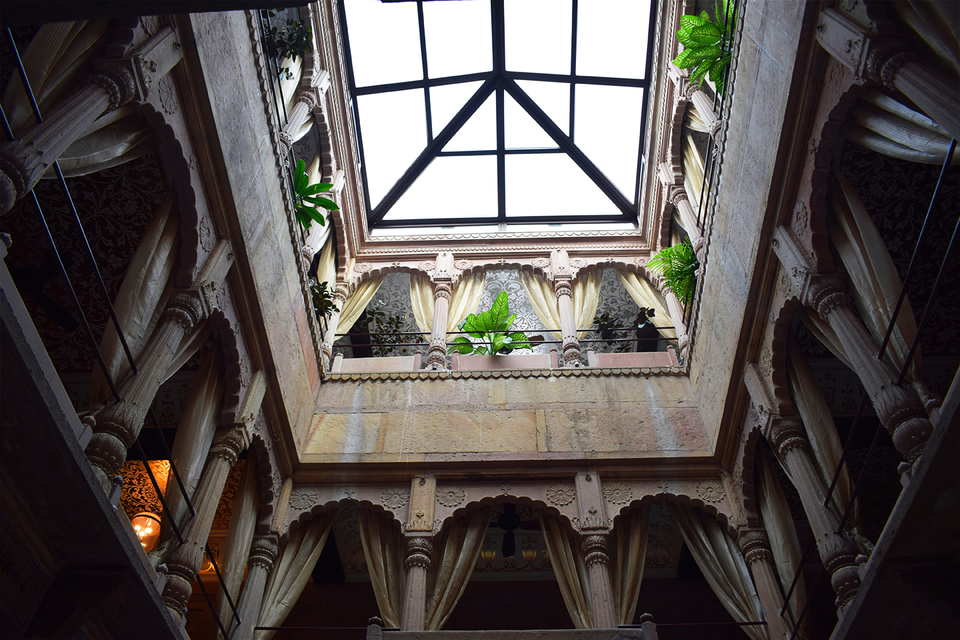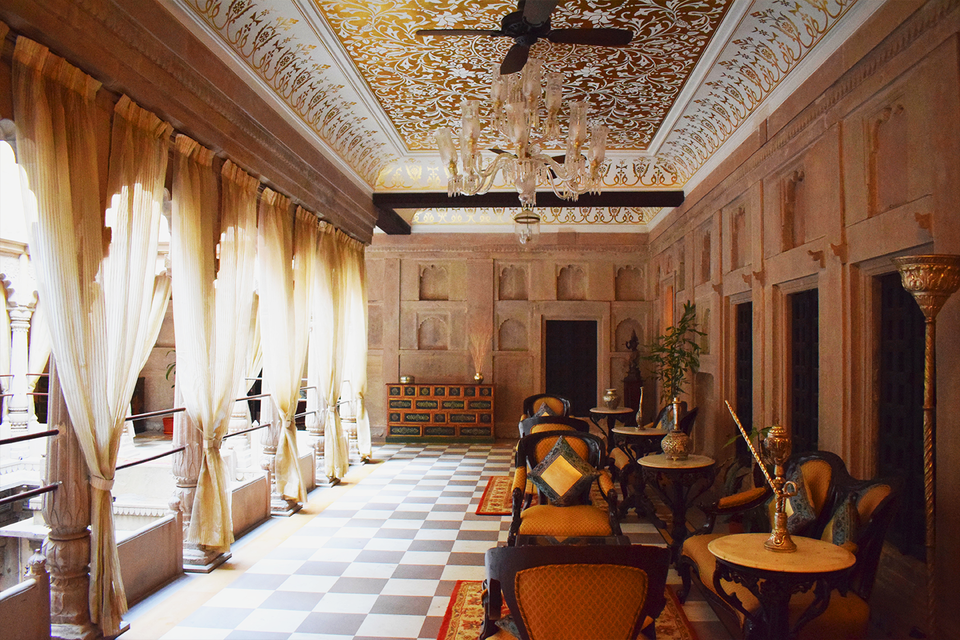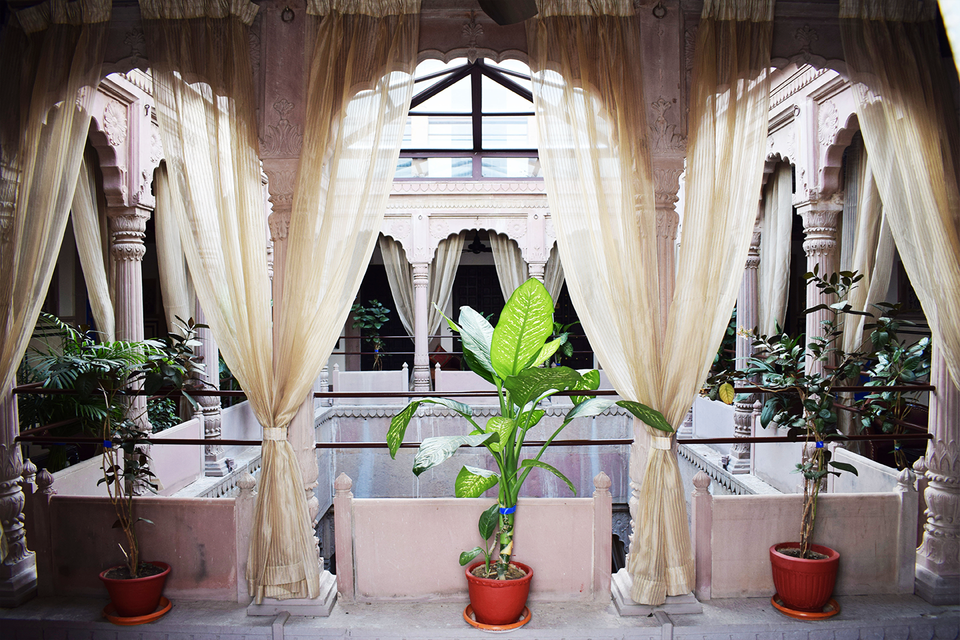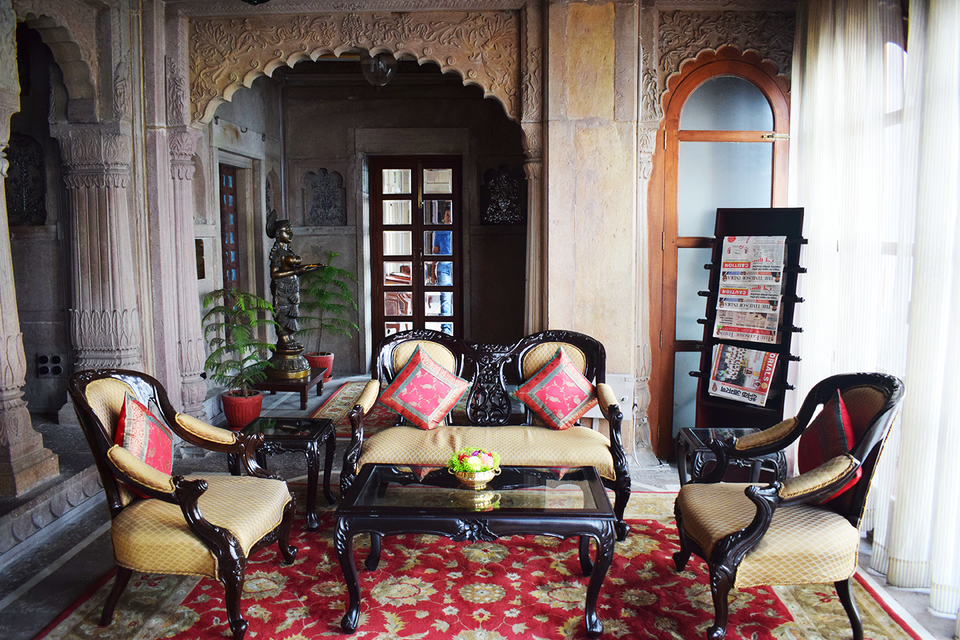 After a spiritual reception with mantras and a chilled glass of thandai, we took an elevator ride up to the lobby. Mind you, this is not an ordinary elevator. Installed in the year 1918, the elevator boasts of being the first elevator of India. Thanks to their room check-in policy, the staff of BrijRama Palace immediately escorted us to our room Vasundhara, one of the highest categories, made up of a study area, royal bedroom, and a white-marble bathroom with a stand-alone tub, shower and Kama Ayurveda toiletries.
The palace has 32 rooms that are spread across three floors. The bedding in each room has a local touch with its use of Benarasi furnishings. If you're aiming for a room with an incredible view, go for the 300 sq ft Varuna Burj Room, which offers a 180° panorama of the holy river Ganga.
History of BrijRama Palace:
This imposing structure on the banks of the Ganges was built in 1812 to serve as a fort by Shridhara Narayana Munshi, from the Royal House of Nagpur. Later in the year 1915, the fort was acquired by Rameshwar Singh Bahadur, the Brahmin King of Darbhanga, who christened it as Darbhanga Mahal.
The conglomeration of architectural styles at BrijRama Palace reflects the change of hands over the years. While the betel leaves, semicircular bastions and lined pillars are all Maratha elements, Greco-Roman statuettes represent the style of Maharaja of Darbhanga.
But make no mistake as this is not your usual fort-turned-luxury hotel which is so common in India. Instead, the current owners, 1589 Hotels, have meticulously invested two decades to tastefully build upon the original structure, which reflects in the hand-painted frescoes, wooden-blade ceiling fans and thekari artwork.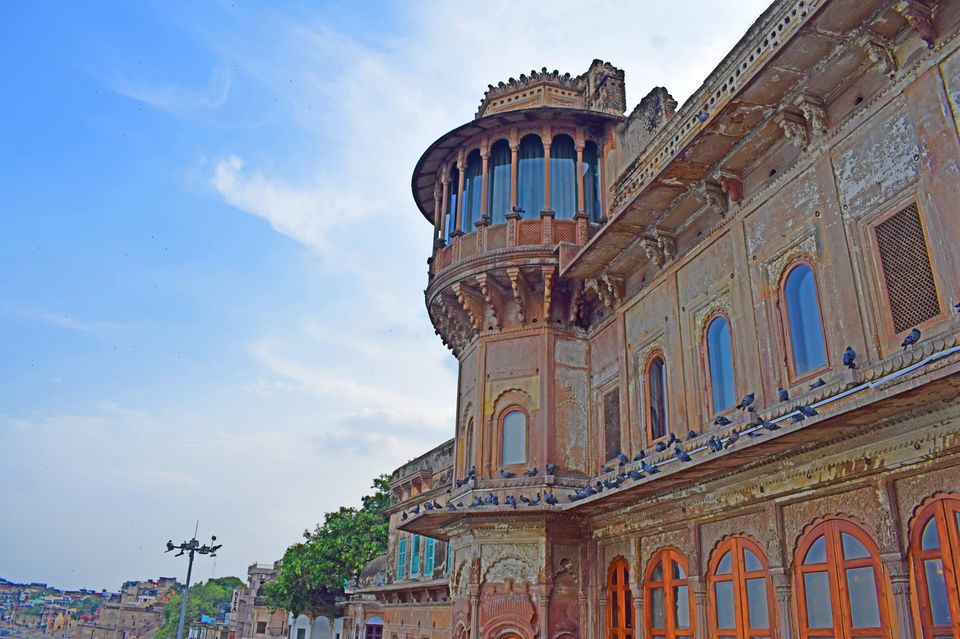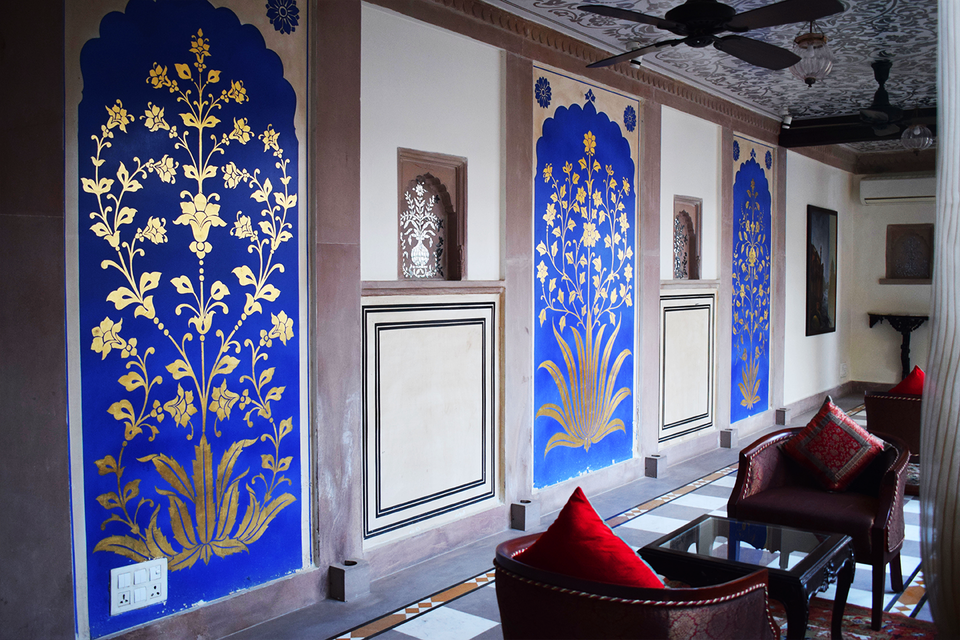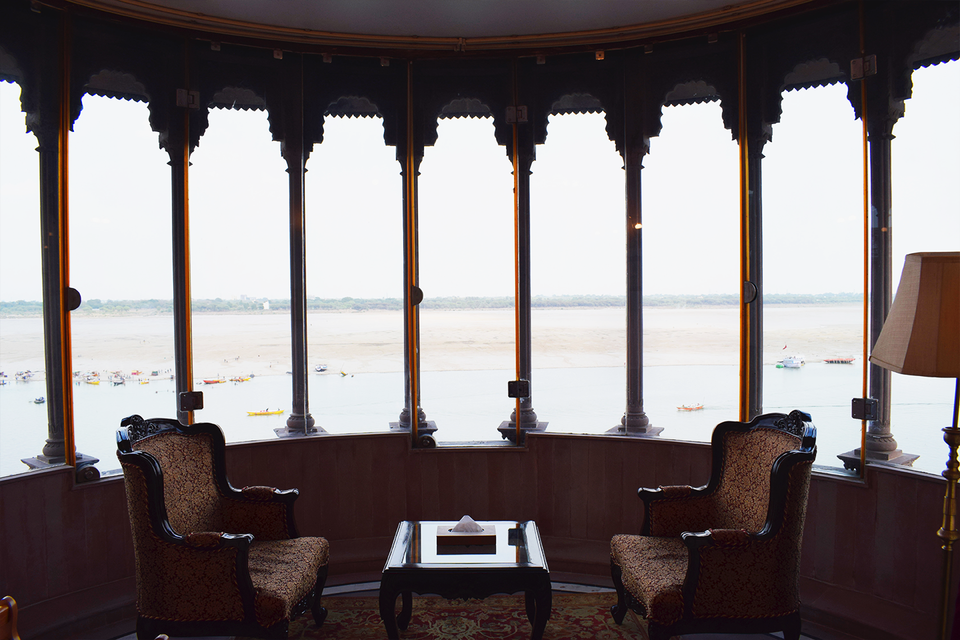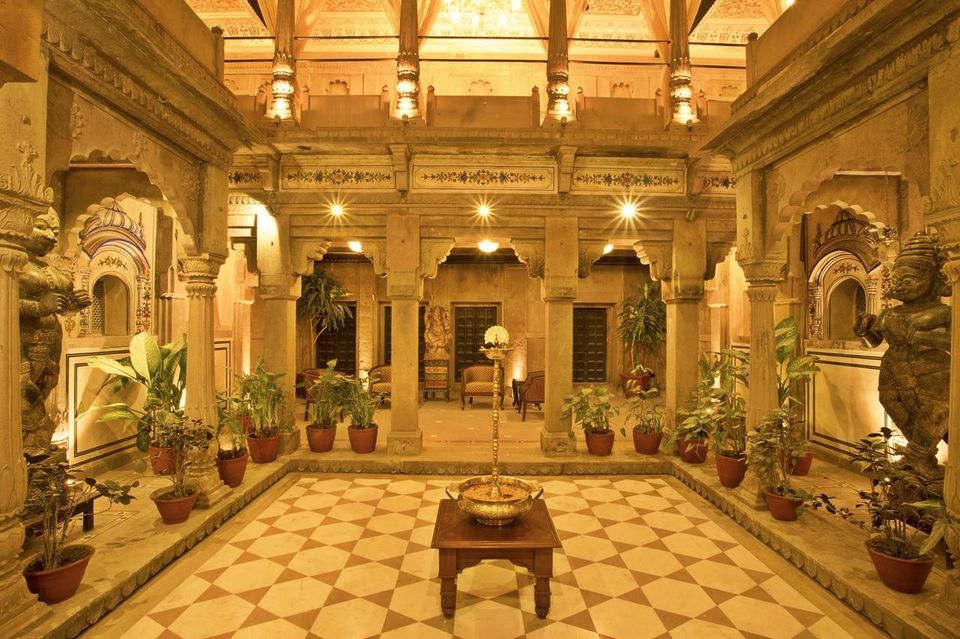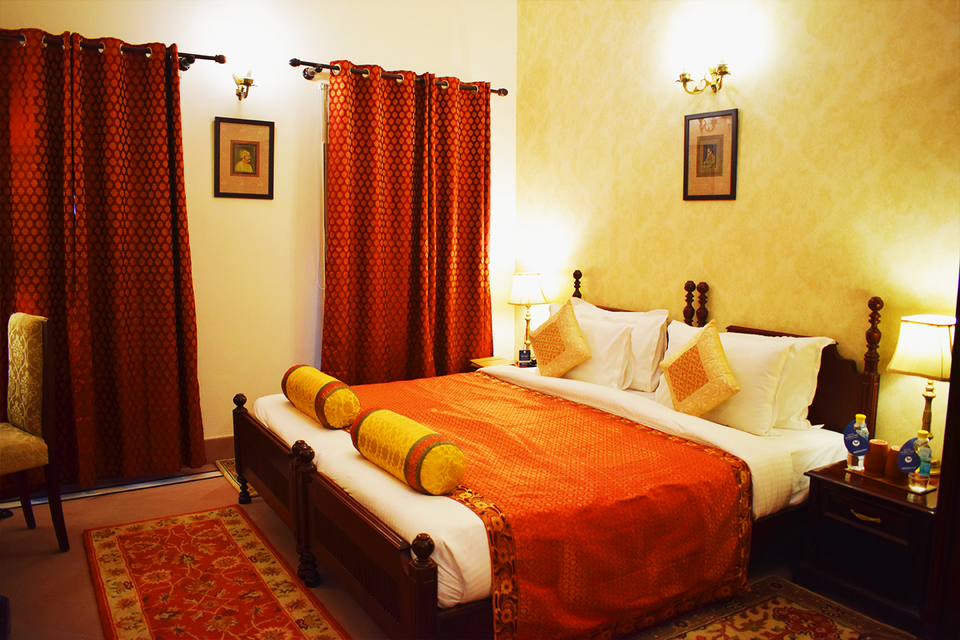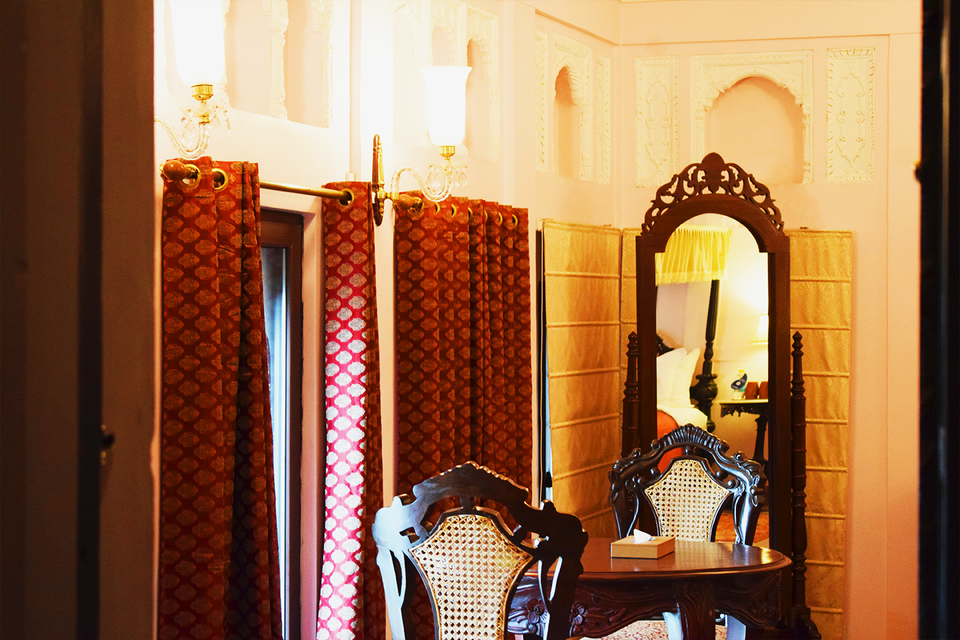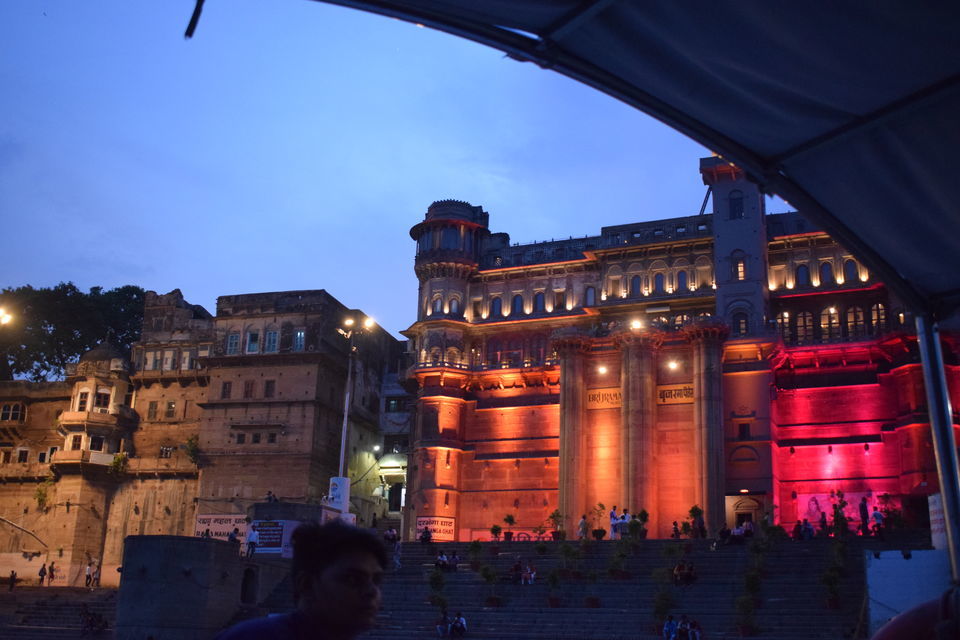 Food
Because the palace is located on the sacred ghat, they don't serve meat and alcohol (although you do get eggs for breakfast). The absence of meat hardly made any difference as we feasted on delish vegetarian food at the multi-cuisine Darbhanga restaurant.
All meals at the BrijRama Palace come with an elaborate menu, featuring dishes from several cuisines. You can enjoy a choice of traditional Banarsari thaali or request the chef to prepare your favourite food from choices including Indian, Chinese, Italian, Mexican and Thai. Standout dishes were wild mushroom in lemon chilli sauce, tomato basil lasagna, dal makhni and mushroom curry.
Lunch is followed by high tea in the evening at a table full of plated items such as cold sandwiches, tarts, breads, teacakes and fruitcakes. The time between high tea and dinner is reserved for cultural evenings at the main atrium of the palace. Local musicians and dancers come together to show you a culturally rich side of Varanasi.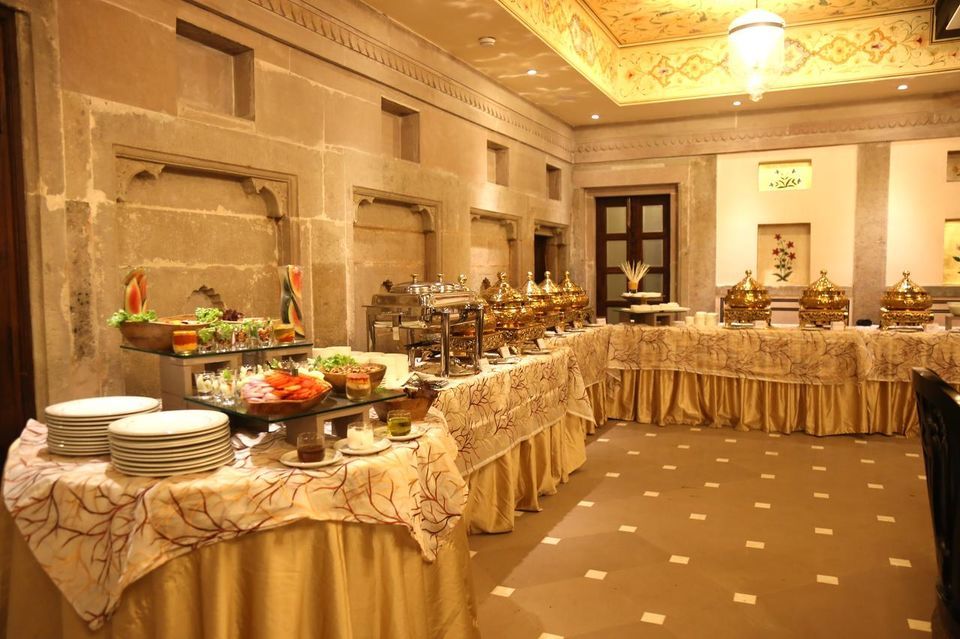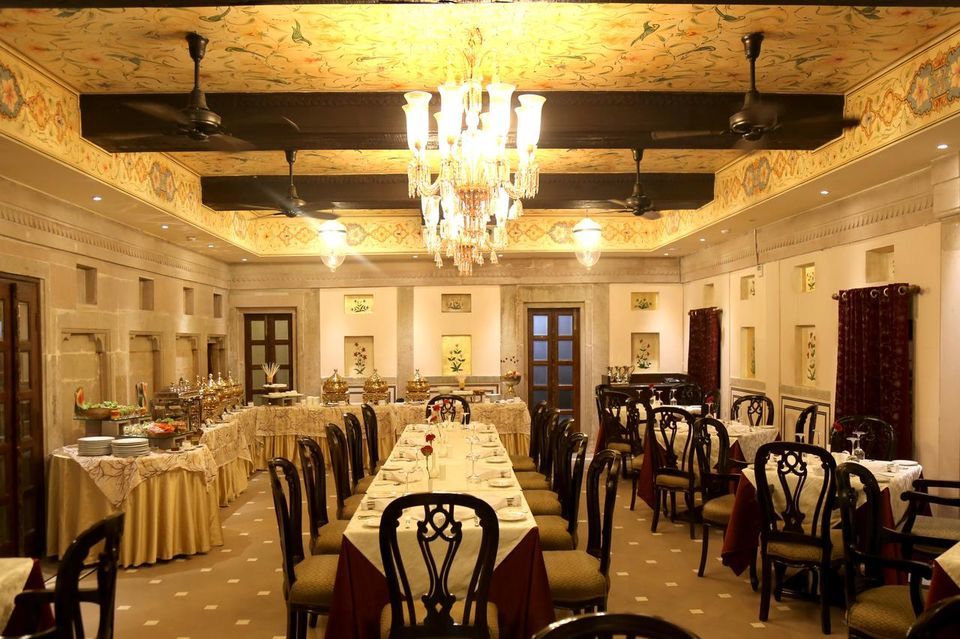 Things to do around BrijRama Palace:
1. Be sure to catch the spectacular evening aarti at Dashashwamedh Ghat. The hotel also arranges a boat ride for the same.
2. Visit the weaver's village of Sarai Mohana that is known for its gold and silver brocade and immaculate zari work weaved onto the finest of silks.
3. Take a boat ride across the placid waters of the Ganges.
4. Head to the Kathwala Temple (Nepali Temple), that is a replica of the Pashupatinath Temple in Kathmandu.
5. Go to the Bharat Kala Bhavan that showcases a vast collection of clay and bronze sculptures epitomising Varanasi's colourful history.
6. Explore Sarnath, where Buddha gave his first sermon.
7. Take back home a few florid banaras silk sarees.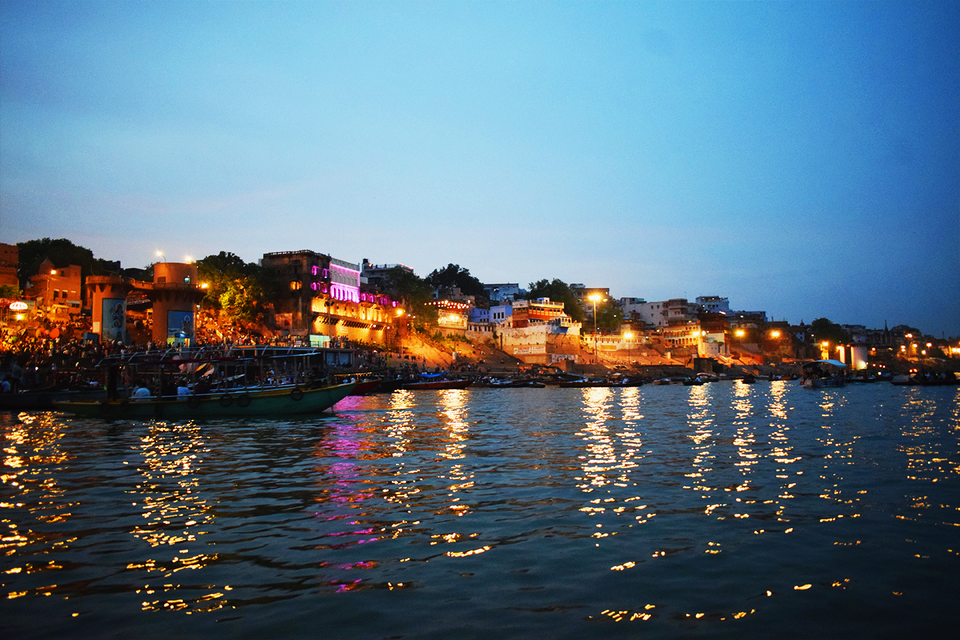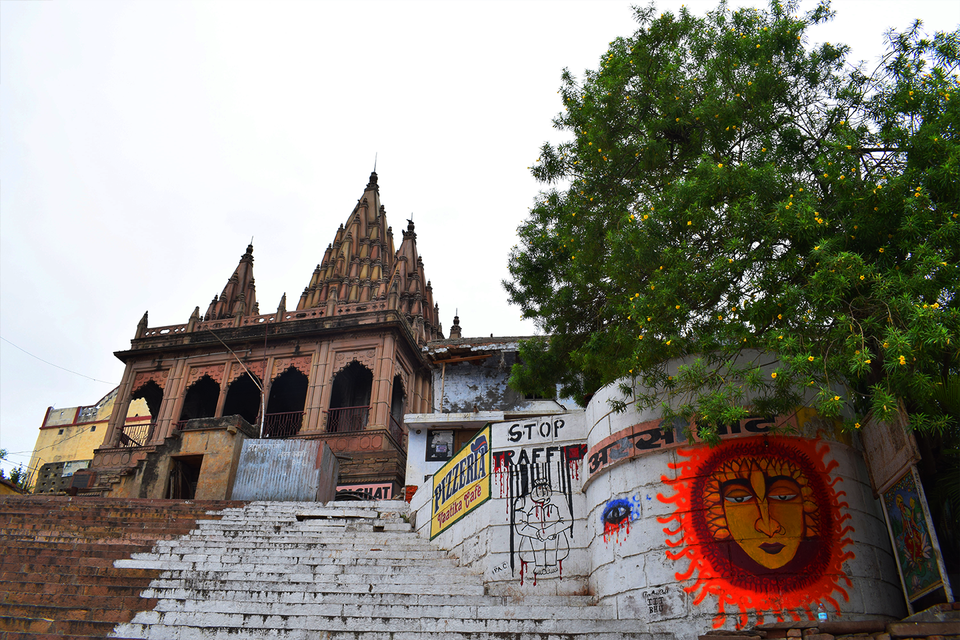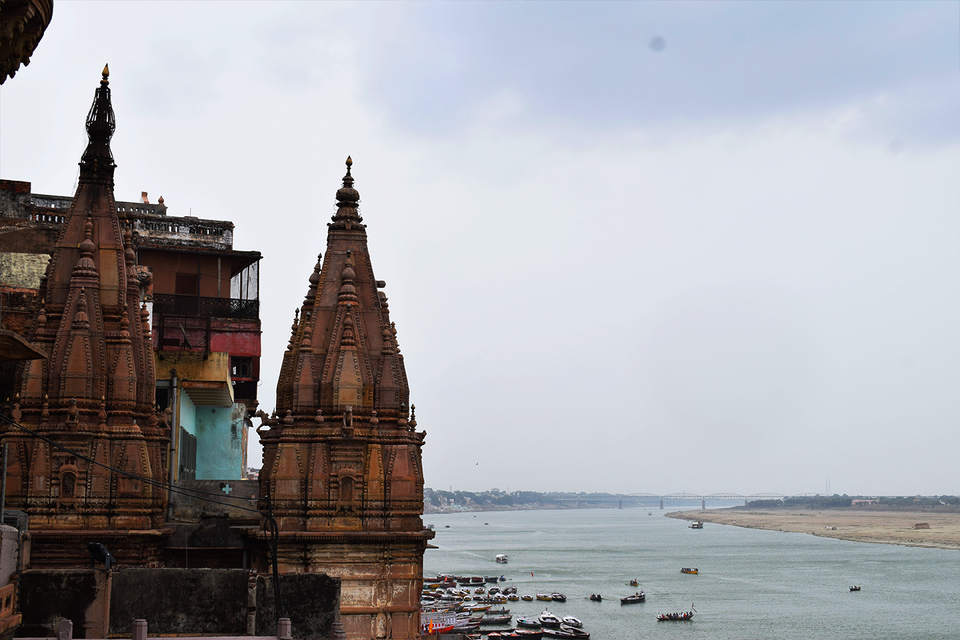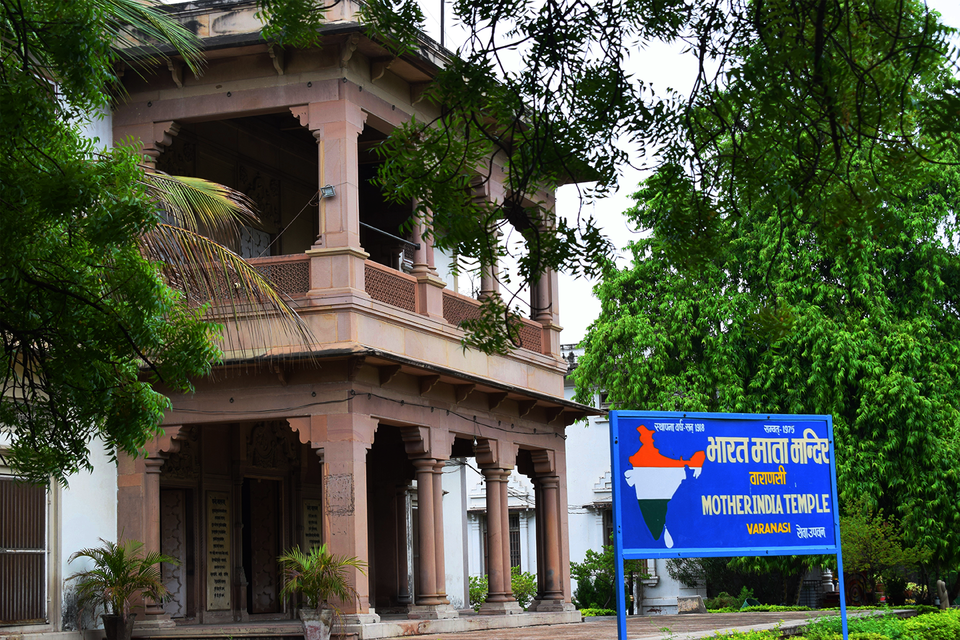 How to get there
By air: Taking a flight to Varanasi's Lal Bahadur Shastri International Airport is the best way to reach BrijRama Palace. The property is around an hour away from the airport. The staff of the hotel will arrange a car to pick you up from there.
By train: Trains to Varanasi's three stations run from all major Indian cities. You can either head to the Varanasi Junction or Varanasi Cantt Railway Station
By road: Varanasi is connected to Delhi, Kolkata, Agra and Kanpur by National Highway 19. So if you love adventure, take a road trip.
A stay at BrijRama Palace will help you reimagine the life of the Marathas and the Maharaja of Darbhanga. To complete the authentic Banarasi experience, you're gifted a timeless souvenir, a copy of the Bhagavad Gita on checkout.
For prices, please visit the official website of the hotel.
In association with 1589 Hotels
Travelled to Varanasi recently? Share your travel journey on Tripoto and inspire millions to travel!