My friends had been raving for two years about their stay at a resort called Tree of Life in Jaipur. The stories of fabulous service and attention to detail was retold over and over again. So when I received an invitation from their new resort Tree of Life, Varanasi, I was super pumped to review their property. I logged on to their website and a quick scan convinced me that I had to go.
A 12-hour overnight train ride on Shiv Ganga Express took me to Varanasi. A chauffeur from Tree of Life came to pick me up from the station. What followed were two days of guilty pampering and lasting memories.
Ideal for
Families, who will enjoy the spacious rooms, personal service and the indulgent luxury offered by the resort. The property offers a quiet getaway from the city's noise and pollution, while offering a good base to tour Varanasi and discover its many sides.
About the Tree of Life, Varanasi
Dressed in a plain silk kurta pajama, the resort staff welcomed my partner and I at the gate of the resort with a smile and namaste. They ushered us inside while making polite small talk about our journey.
Inside, in an open air courtyard with an arrangement of 12 shivalings, a pandit put tilak on our foreheads and also slipped a cute rudraksha bracelet on to our wrists. Though we are not religious, the warmth and eagerness of the staff made us feel quite special.
A cobbled-stone pathway took us to our room. Outside the door was a pretty cutwork wood basket, and in it was the day's newspaper, ready to be read. Govind, from the staff, helped us inside our suite.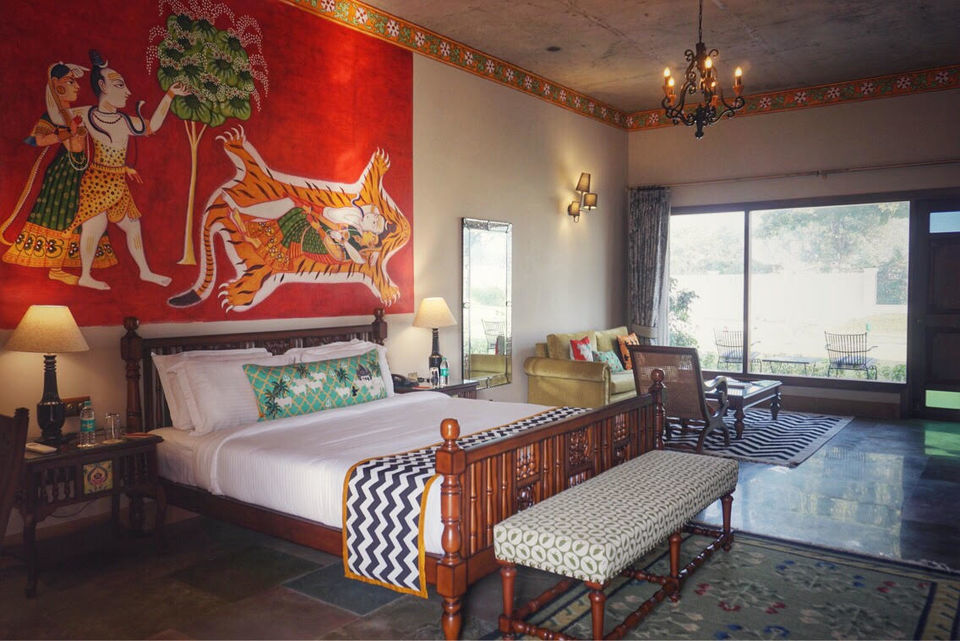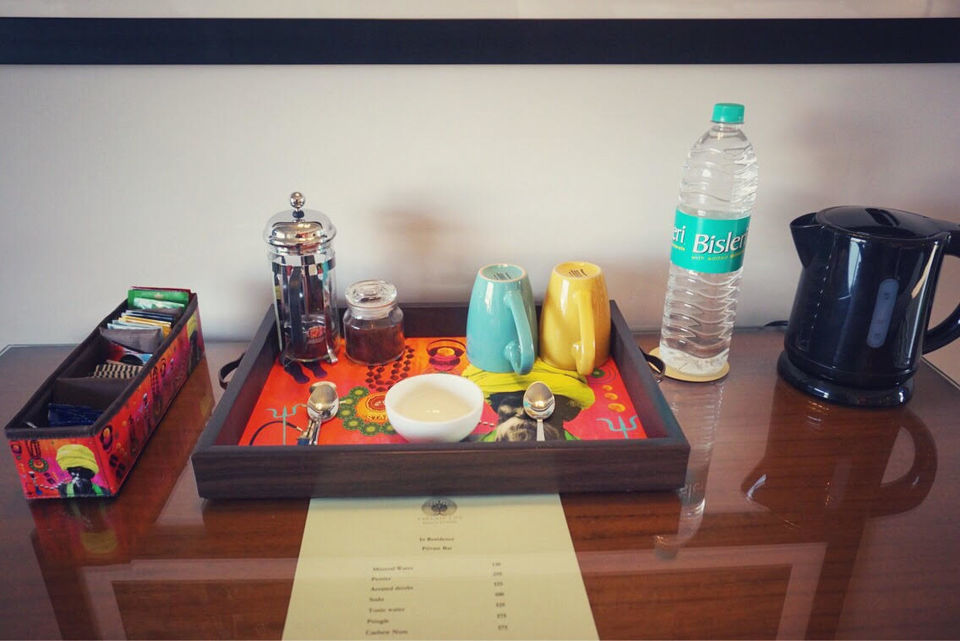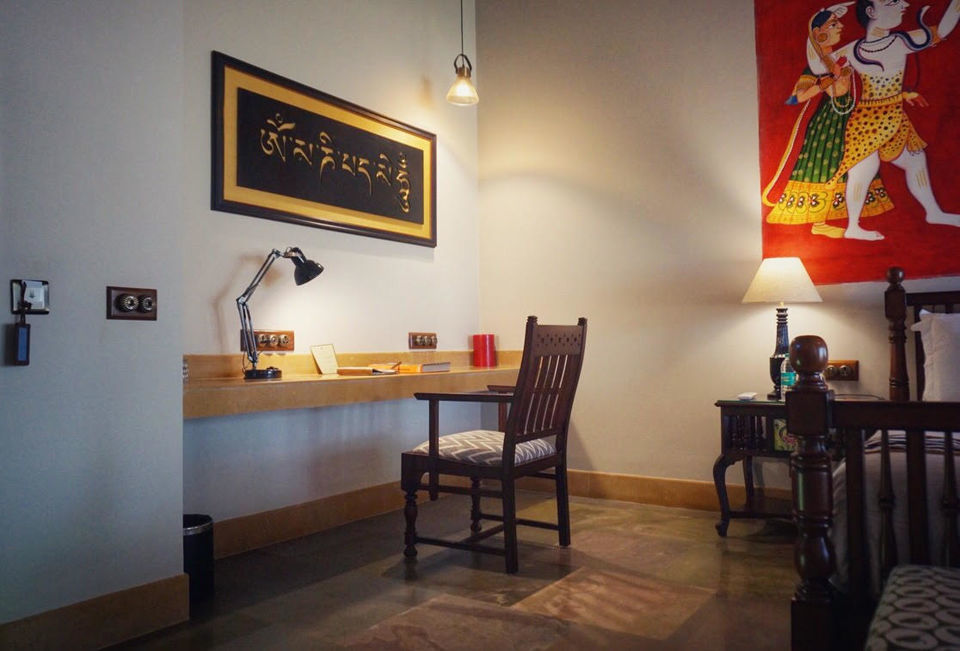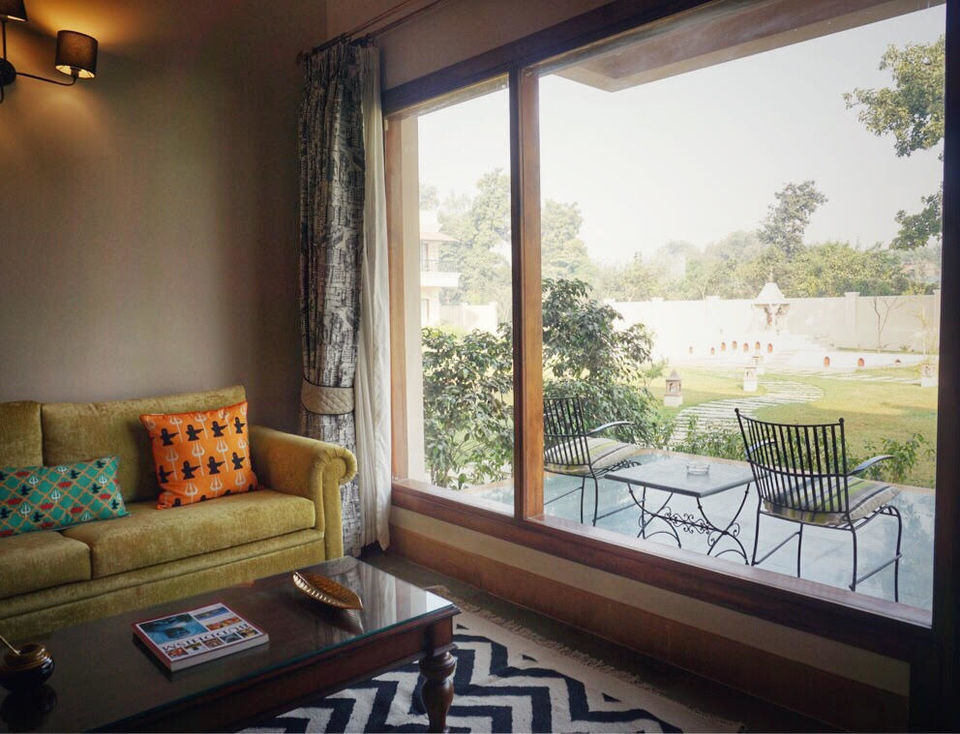 The resort offers 18 junior suites, which are around 650 square feet each. Staying true to the aesthetics of the city it is nestled in, the rooms are furnished with beautiful local-style teak-wood furniture and a striking wall-size hand-painted image of Shiva. There is a king-sized bed with a super bouncy mattress and a comfortable bed end, a small cupboard with a mini-bar, selection of teas and a French press. There is a workspace with a long wall-mounted table and chair, and a living area with a luxurious couch, large flat screen television and a rocking chair. Despite all this, the single room is quite spacious with a high ceiling and large French window that looks out to the garden. The suite is attached to a private sit-out area, with two chairs and a small table, where you can enjoy some time in the sun.
The bathroom is even more exquisite. Laid out length-wise, the bathroom is furnished with nature and animal motifs and an indulgent rain shower with running hot water. Robes, an iron, a locker and traditional khadau chappals are also provided for additional luxury.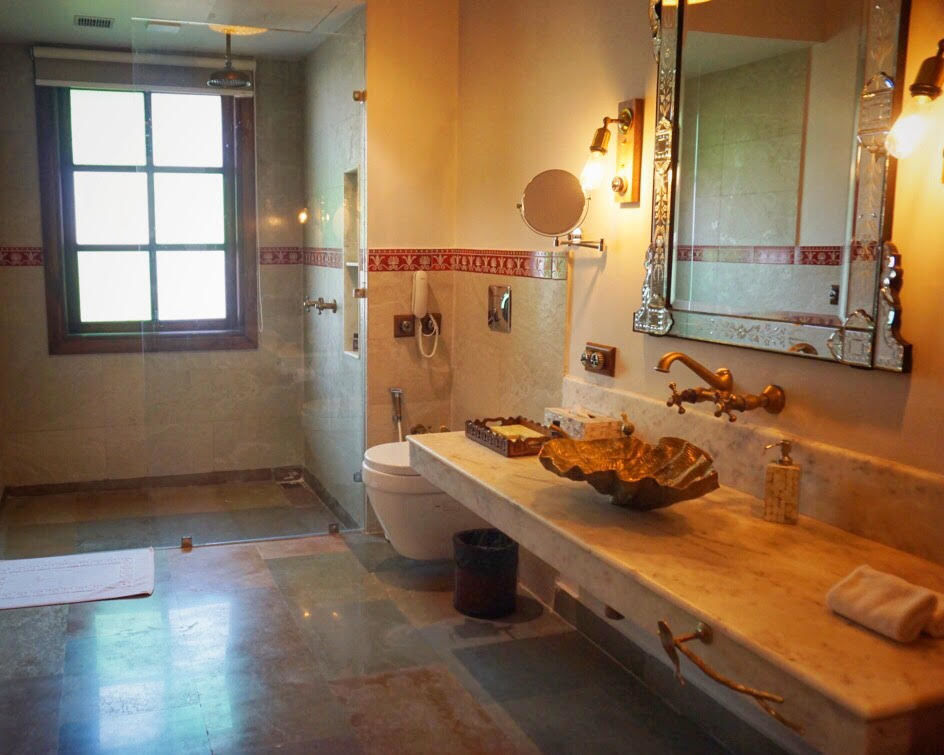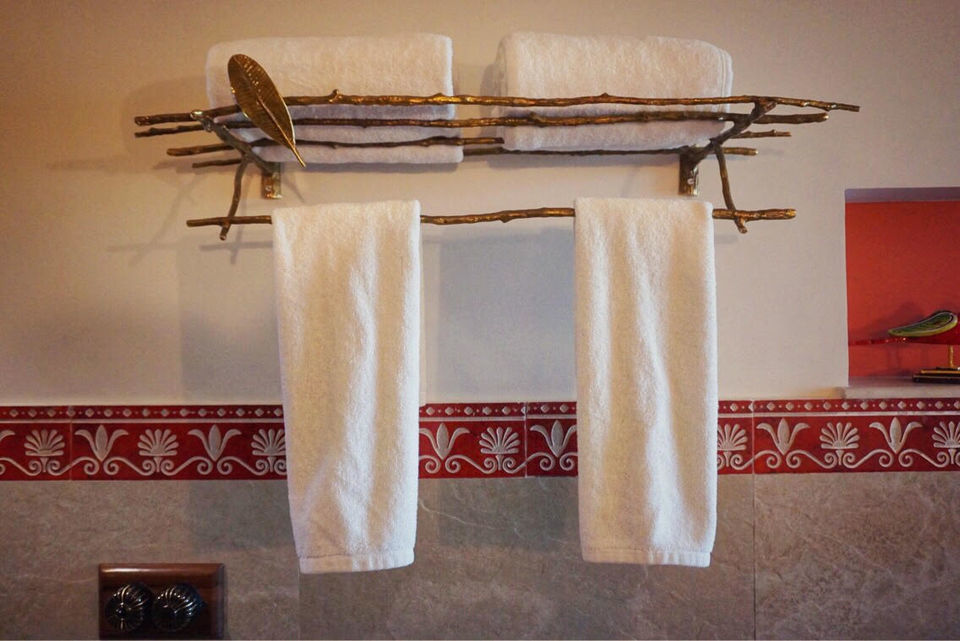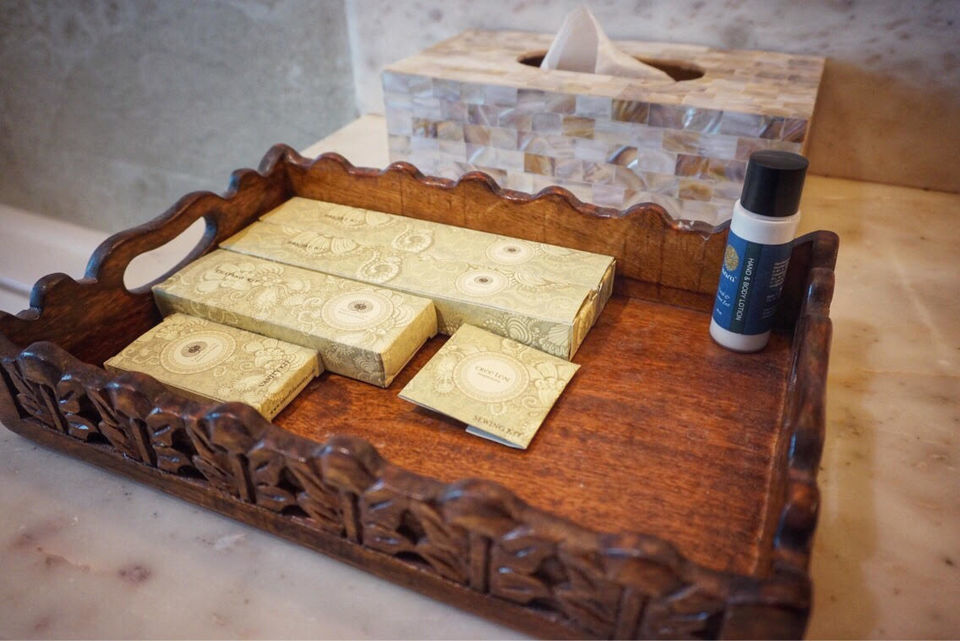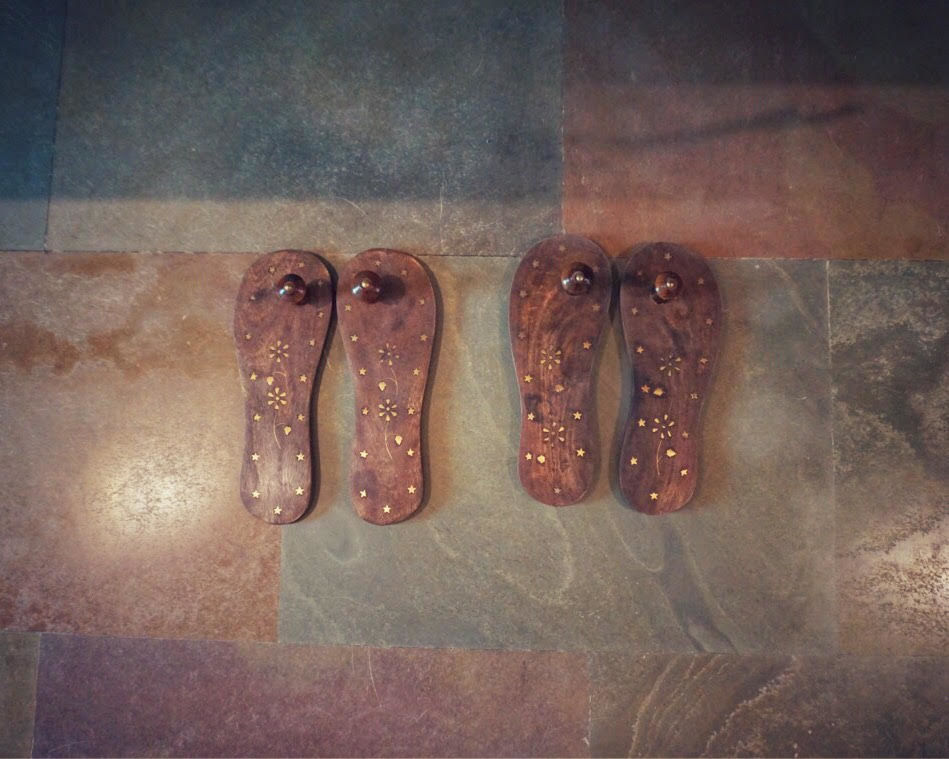 If you come here for a staycation like me, you will rarely want to venture out. The only time we did was for a swim in the pool and a lovely stroll around the property, which is decked with religious iconography and features a small Ganga Kund with a temple.
Food
When it comes to food, I always set out with low expectations. Maybe because I am usually disappointed. But the tuck at Tree of Life, Varanasi left me happily stuffed and satiated. All meals came with an elaborate menu, featuring dishes from several cuisines, and were served at the intricately-decorated restaurant called AnnTripti. For all three breakfasts we ate there, we had a plate of freshly-cut fruits, a cheese platter, a fresh juice of the day, French toast, an English breakfast with an omelette, smoked ham, grilled tomato and a hash brown, and pancakes. Standout dishes for lunch were mutton curry and rice, Greek salad and paan kulfi.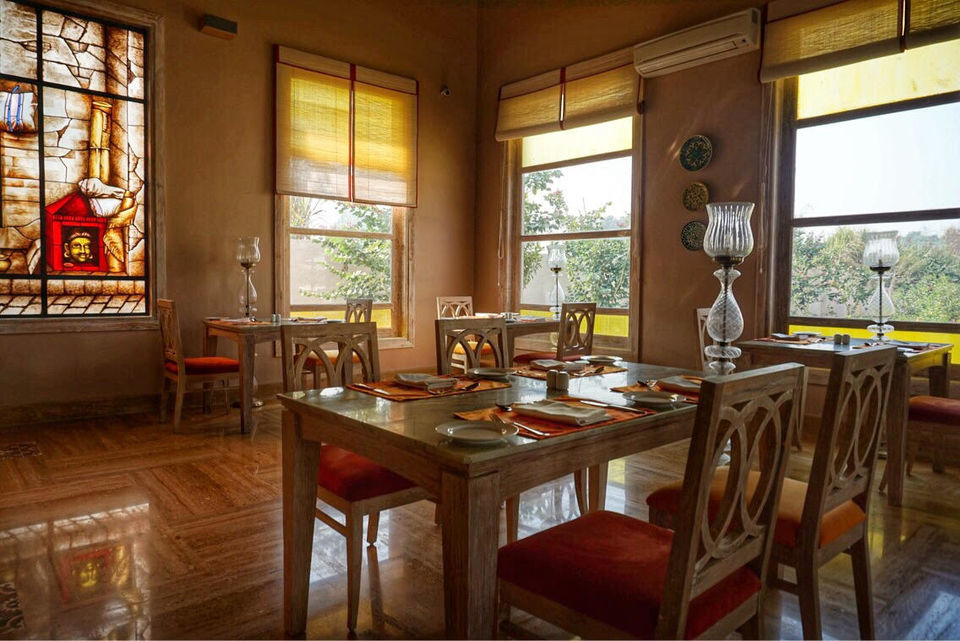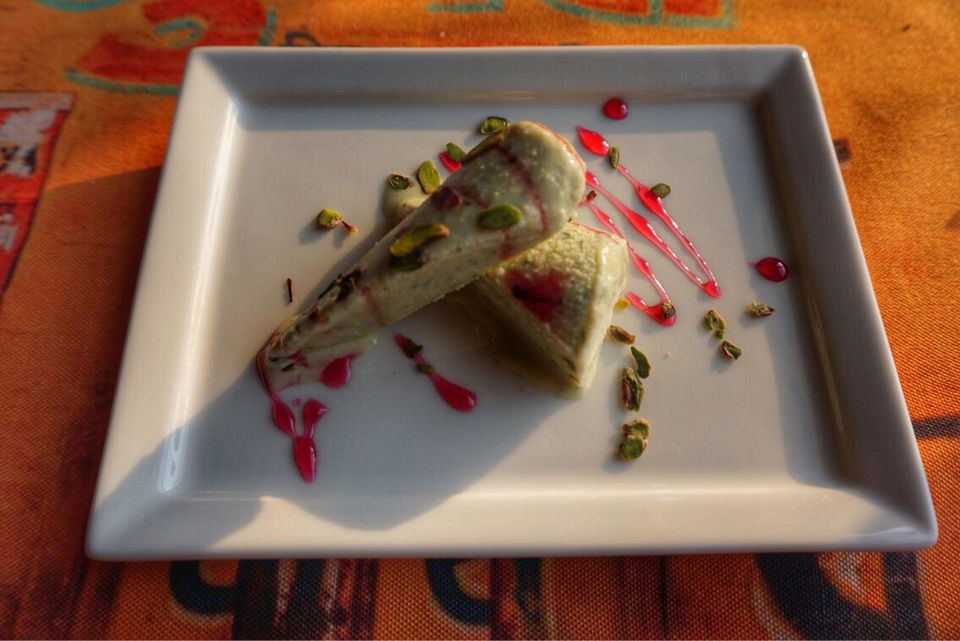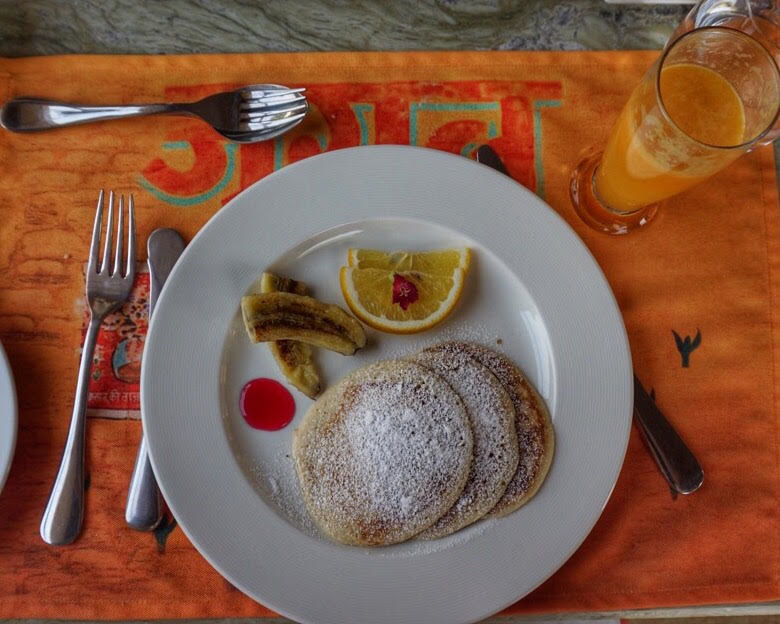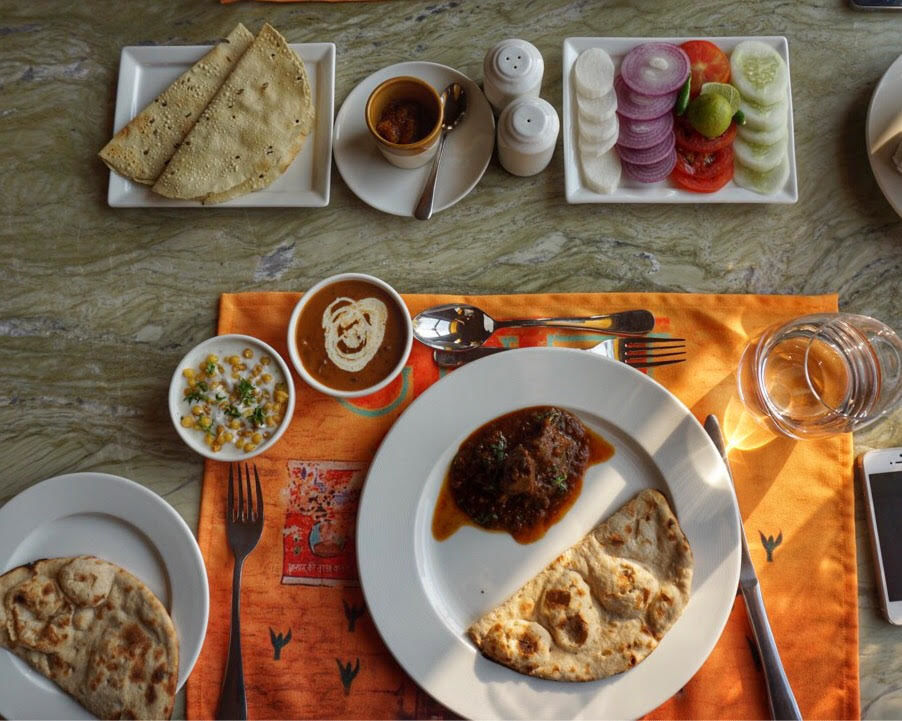 Dinner, though, was my favourite. Around 6pm, the chef would come to our room with a dinner menu that had our names on it. He would then discuss what we would like to eat as part of our four-course dinner, which included soup, a starter, main course and dessert.
Cost
A junior suite at the resort with breakfast costs around ₹14,000 (depending on the season) for two. Add two more meals to it, and the rate goes up to approximately ₹17,000 for two people.
Best time to go
November through February, winter season, is the best time to be in Varanasi. The weather at this time is perfect to explore the outdoors and take the boat ride along the ghats.
What to do in and around the property
Tree of Life curates experiences for you inside and outside the property.
Inside:
Swim in the pool and then dry off with a book in the sit-out area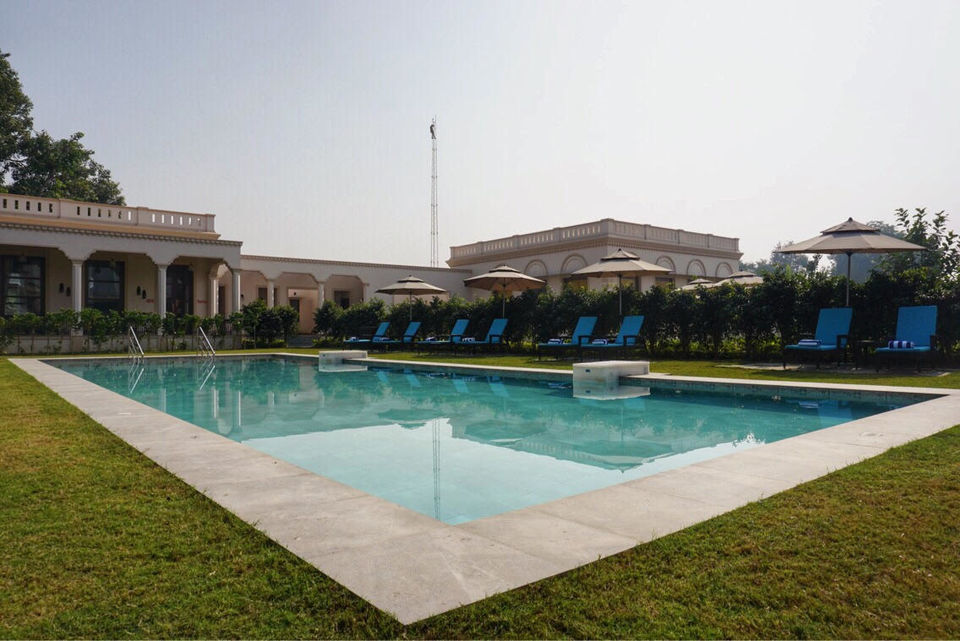 The property has a large pool in the centre of the garden area. Waddle in the water for as long as you like and then head out to soak in the sun on the lounge- chairs or in Barja, the charming sit-out area.
Let a massage therapist work on your body at Ekam, the spa
The in-house spa, Ekam, offers a variety of Ayurvedic wellness treatments in its two rooms. Surrender yourself to the experts as they work on relieving your mental and physical stress and pamper you with relaxing massages. The spa also provides steam and sauna facilities.
Pump up the romance with a range of activities
Is your partner a foodie? Then whip up an authentic meal at the Tree of Life kitchen with the help of the in-house chef. Then surprise them with a candlelight dinner under the stars in the garden, along with some beautiful classical music – all organised and set up by the staff. Too much work? Then just hop aboard a horse-drawn buggy and see Varanasi's countryside through the winding roads near the resort.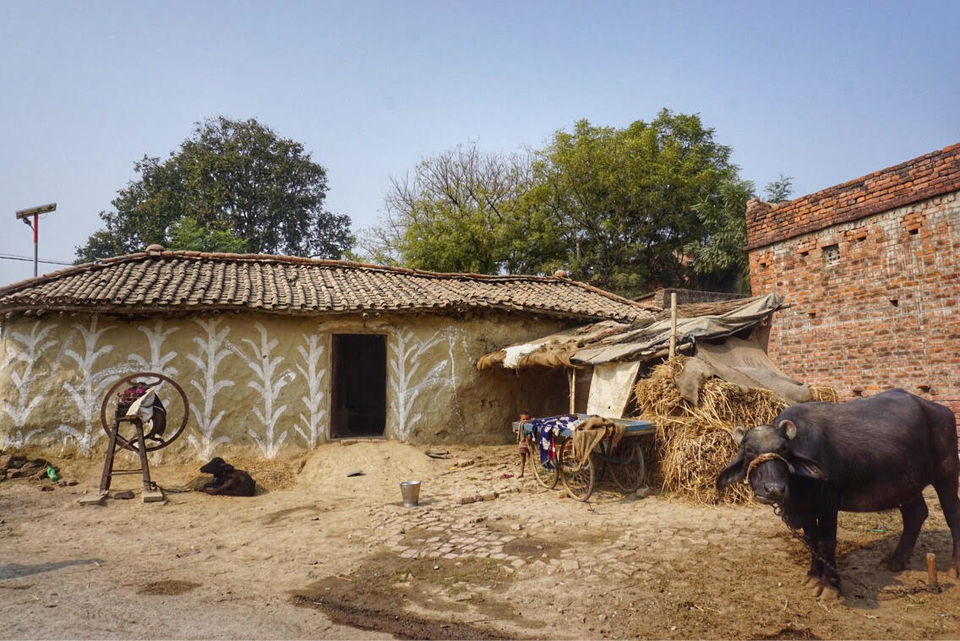 Go on a walking tour of the ghats, bazaars and end with the evening aarti
For ₹3,500, the resort will organise a getting to know Varanasi tour. Lasting for around four hours, a guide will take you around the narrow alleys of the city, where you can sample the street food; introduce you to Dal Mandi, a wholesale market for silk saris, and help you explore hidden mosques and markets. The tour ends at Dasashwamedha Ghat, where you can witness the popular evening aarti, before heading back to the hotel.
Explore Sarnath and its archeological ruins
Buddha gave his first sermon at Sarnath, which is just around 25 minutes from the resort. The resort staff will provide you with a cab and take you around the Dhamekh Stupa and the archaeological ruins for a complete tour. Also visit the Archaeological Museum for a deeper understanding of the place and its connection with Buddha.
How to get there
By air: Taking a flight to Varanasi's Lal Bahadur Shastri International Airport is the best way to get to the resort. Airlines from most major cities fly to Varanasi. The property is around 20 minutes/11km away from the airport. The resort staff will arrange a car to pick you up from there.
By train: Trains to Varanasi's three stations run from all major Indian cities. You can either head to the Varanasi Junction or Varanasi Cantt Railway Station, which is 45 minutes away from the resort, or the Varanasi City railway station, which is 25 minutes away. Manduadih station in the city, which is where the popular Shiv Ganga Express ends, is another option.
By road: Varanasi is connected to Delhi, Kolkata, Agra and Kanpur by National Highway 19. So take a road trip to the resort, if you are up for it.
All pictures have been taken by me and should not be reproduced without permission.
Know of a hotel, homestay or resort that made you fall in love with the destination just like the Tree of Life, Varanasi? Write about it on Tripoto and help the traveller community discover something new.
In association with Tree of Life Resorts & Hotels.
Frequent Searches Leading To This Page:-
tree of life varanasi, tree of life resort varanasi contact number