Under the watchful presence of inky skies strewn with stars, we left Kathgodam's charming railway station in the quest of the Ojaswi Himalayan Resort. We drove through, and left behind pine forests, trees camouflaged by moss, mooing cattle and a multitude of century-old Kumaoni homes. And around two hours later, we turned a bend in the road and suddenly there it was, far away the tourist hullabaloo – a cluster of stone and wooden cottages, with the sun glinting down on the sloping red roofs.
Set amidst tall deodars, Ojaswi Himalayan Resort is a picture of serenity, a deeply comforting place. Its cottages, each more charming than the next, dot Mukteshwar's Shitla hillside and fan out over the terraced highlands and tumbling Himalayan valleys. This resplendent abode is perfect if you're looking for a space to wind down, partake in long conversations or companionable silences and breathe in greedy gulps of the sweet mountain air.
Ideal for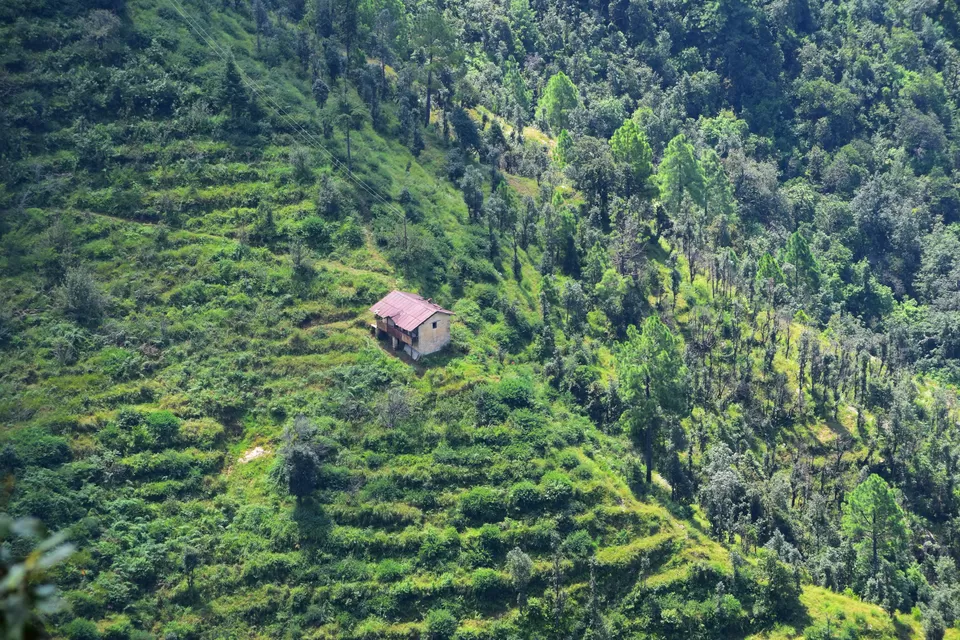 The Ojaswi Himalayan Resort is the perfect hideaway for families, a large group of friends, and couples who can either have a complete staycation here, or use the property as a base to explore Mukteshwar and its treasure trove of secret hilltops and forests. Their capacious conference hall is perfect to host parties, corporate symposiums or business meetings. Go to Ojaswi if you're in the quest of impeccable service with a dash of Kumaoni luxury, and an abundance of peace, all while being close to the great outdoors.
About Ojaswi Himalayan Resort
Upon sunrise, magic ensues as the resort's neighbouring mountains glimmer like molten gold. Every morning, Ojaswi's cottages enchant you with a dramatic orchestration of cotton candy clouds cloaking and softening the folds of the Nanda Devi and Trishul hills. And at dusk, the premises are awash with an orchestra of cicadas and bathed in the golden glow of the vintage evening lamps, peppered across the premises.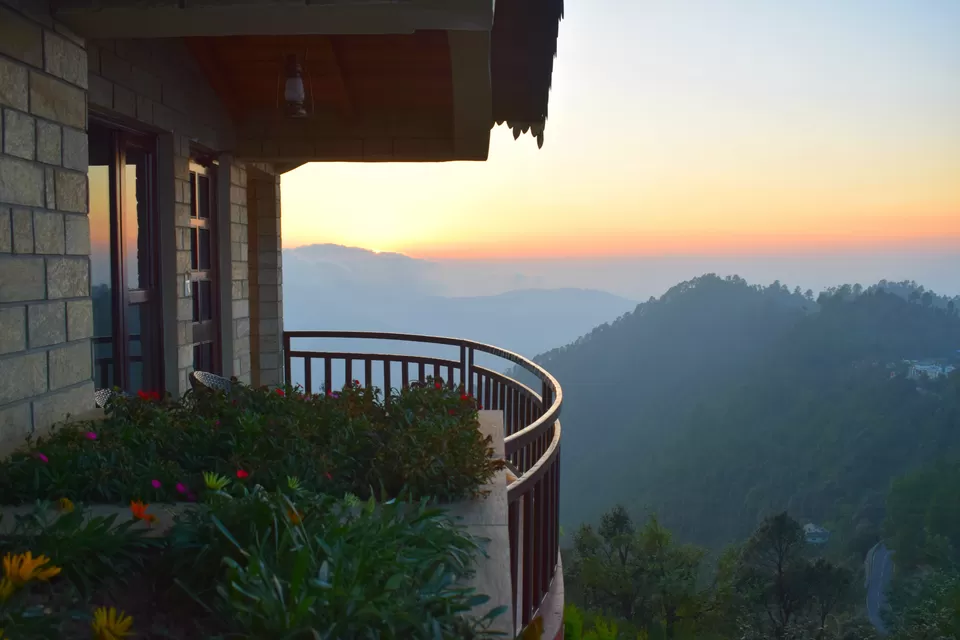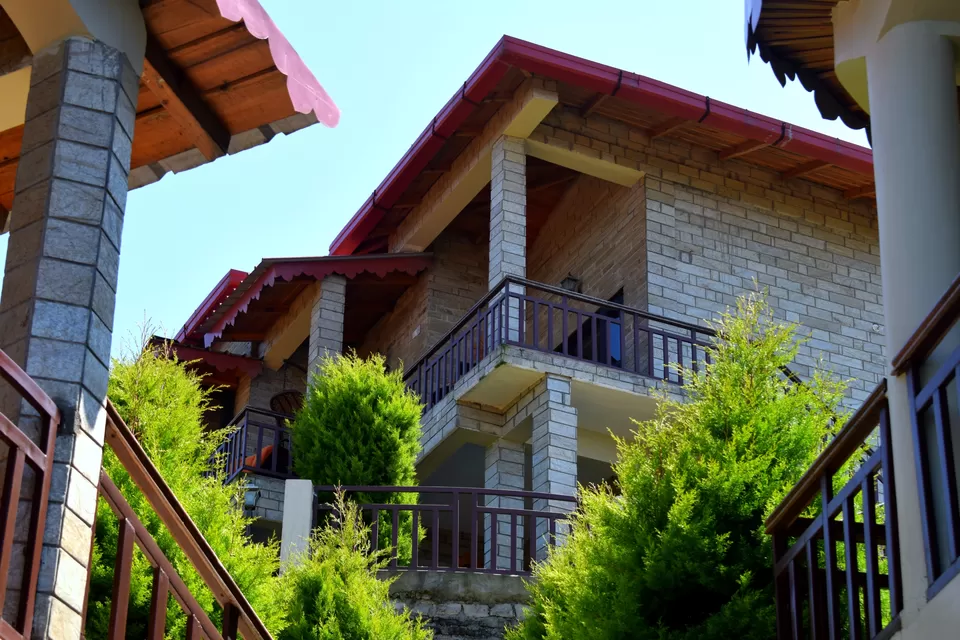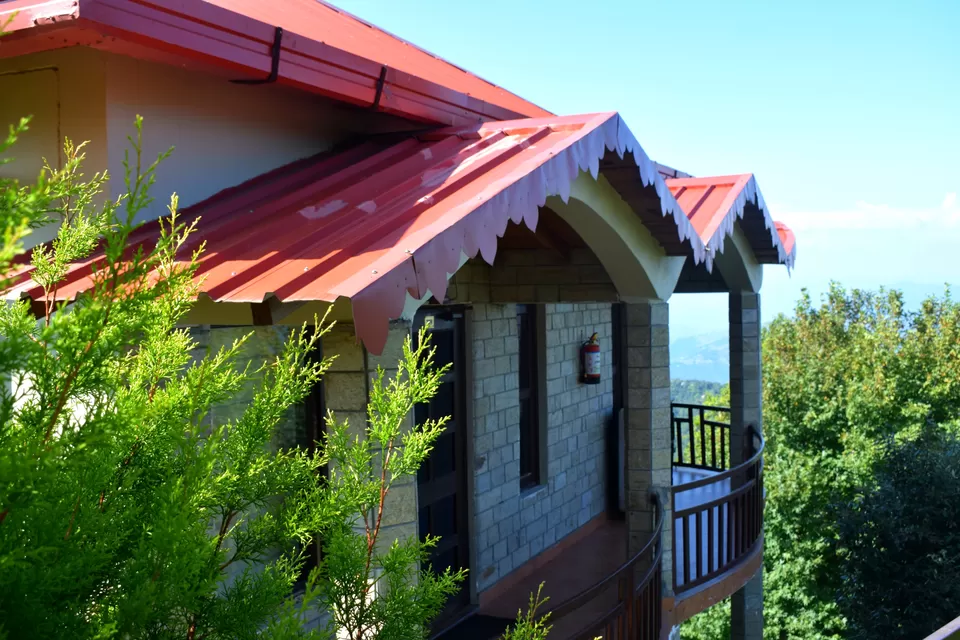 Every cottage will welcome you with unhindered views. Your view won't be barred by electricity poles or a sea of vehicles, and instead you'll wake up to a landscape painted in varying shades of green. Upon nightfall, imitating the twinkling stars in the sky, little lights appear in the valley, disclosing the locations of faraway villages.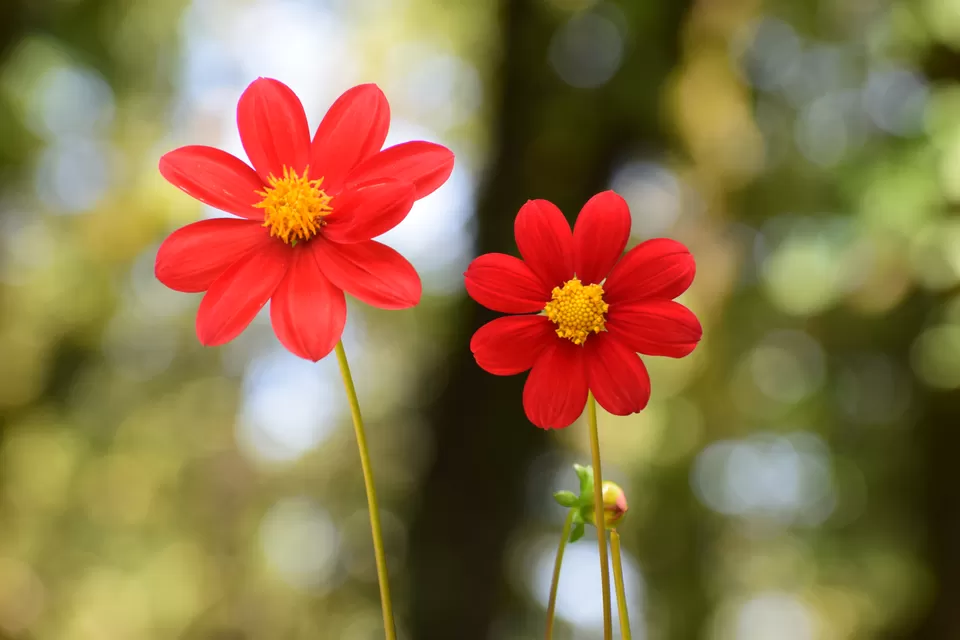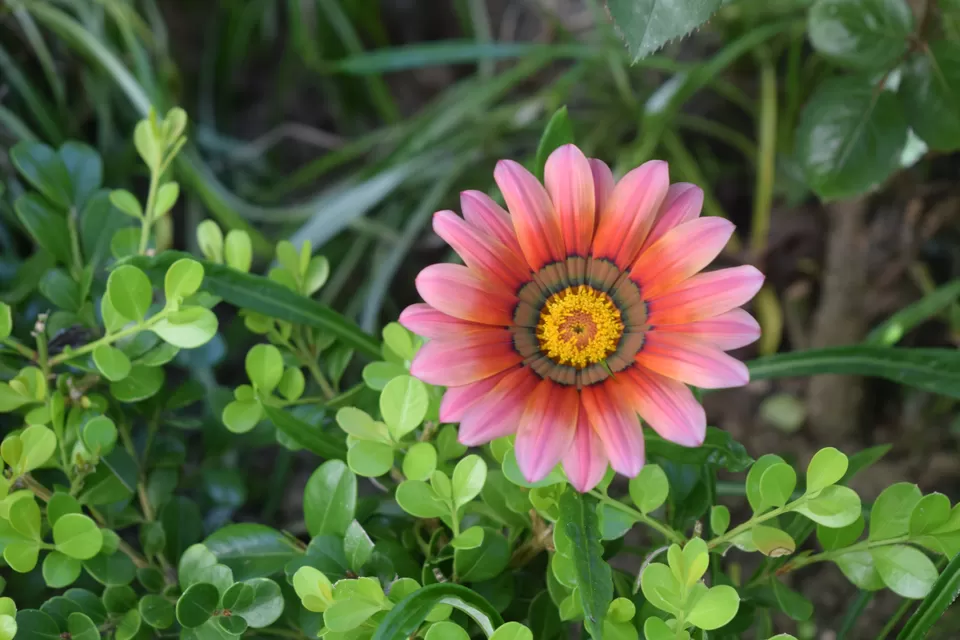 One of Ojaswi's most prized possession, are its gardens. Flocked by a myriad of birdlife, the cottages are fringed with flowers in all possible shapes and hues, and bushes teeming with sweet smelling blooms. Their other prized possession has to be their staff. Most of them hail from nearby villages and exude warmth and patience like no other. Their unassuming service will make you feel right at home.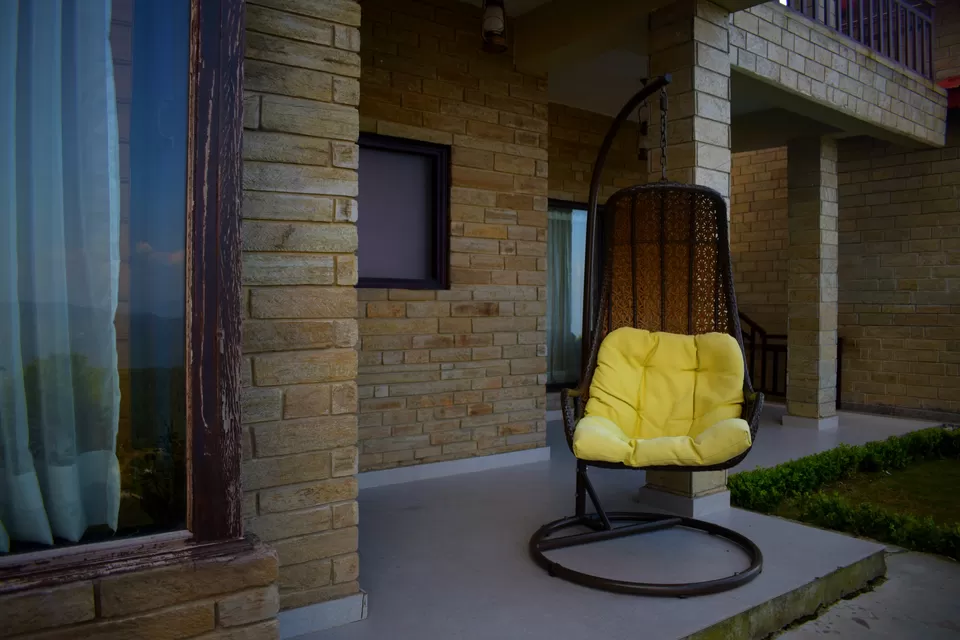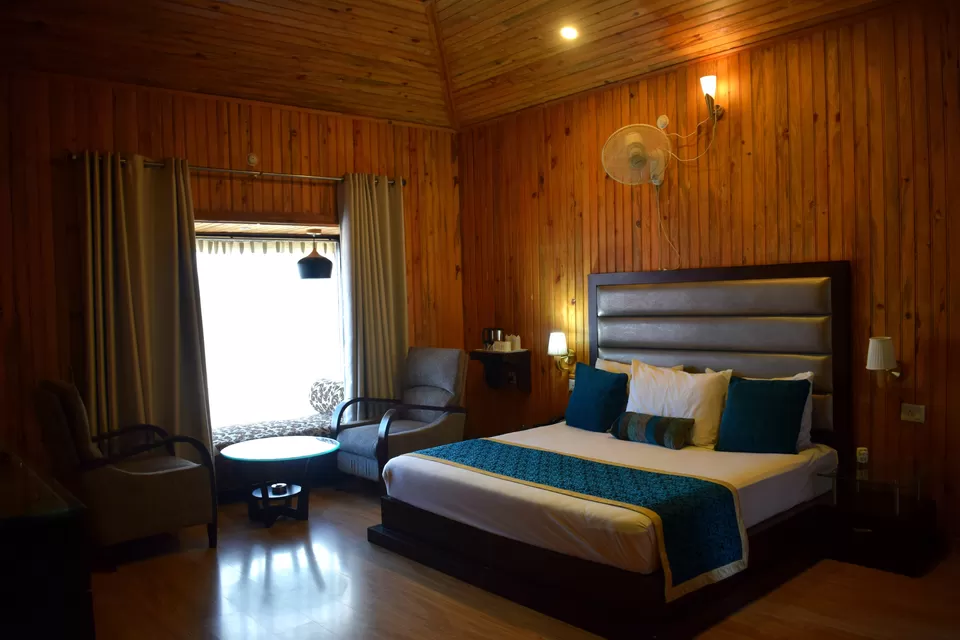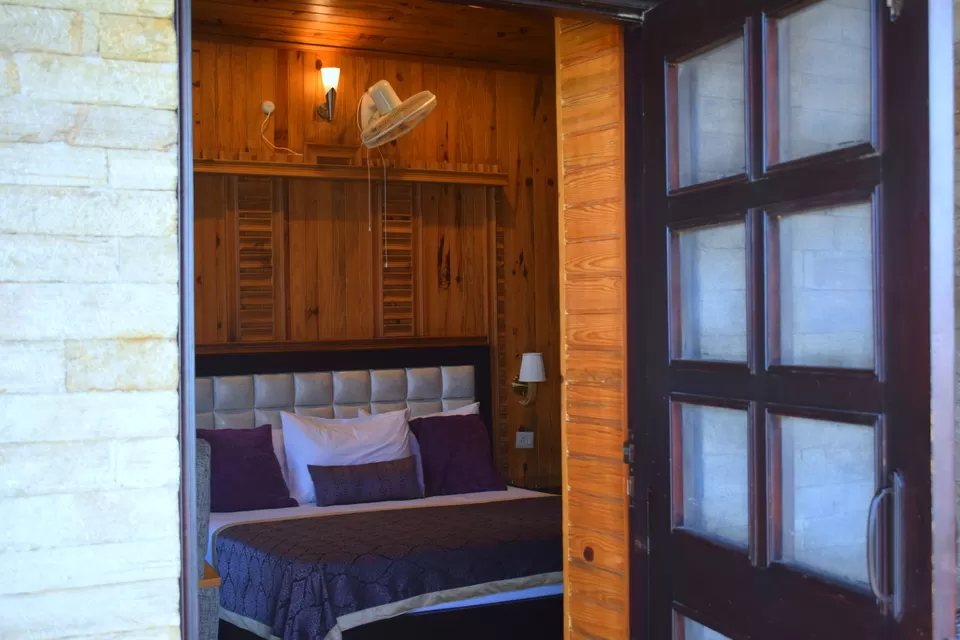 The resort is decked with five kinds of accommodation – the Jungle Retreat, the Club Retreat, the Ojaswi Family Suite and the gorgeous Himalayan suite. There are six beautiful terrace rooms as well, for travellers looking to be in complete sync with the surrounding wilderness.
Jungle Retreat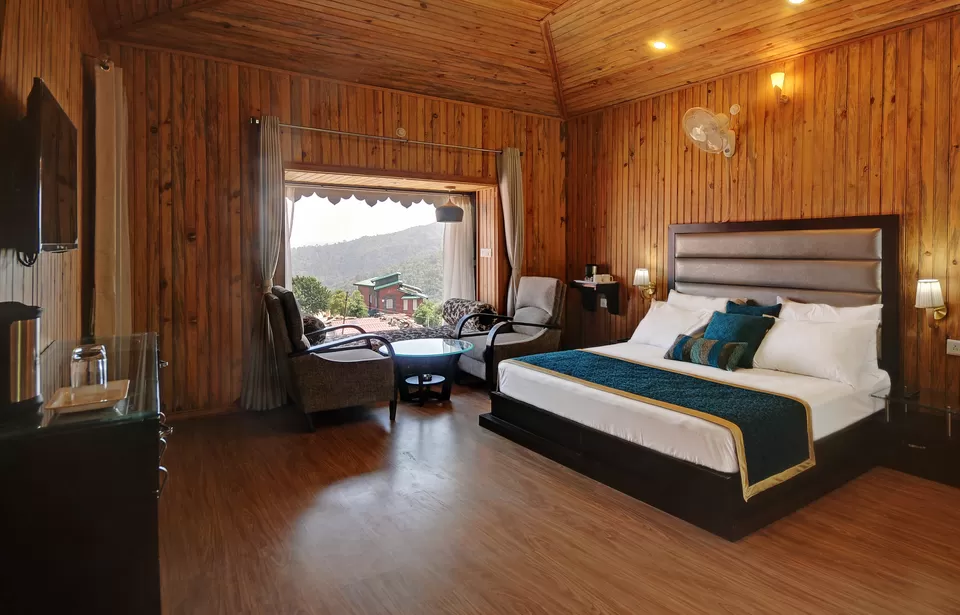 These beautiful wooden cottages are scattered across the grounds in clusters of four and two, with each having private balconies or small gardens overlooking the magnificent Chhanguch and Maiktoli ranges.
Terrace Rooms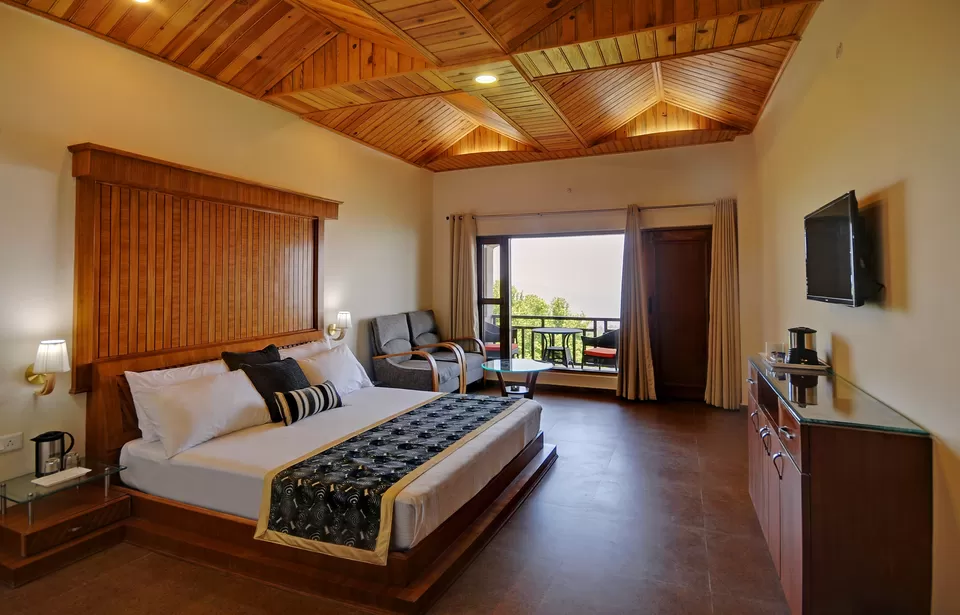 Emanating a homely ambience, these rooms are packed into the main building of the resort. Ideal for family get-togethers, each of these six rooms come with a private balcony and a shared open space.
Club Retreat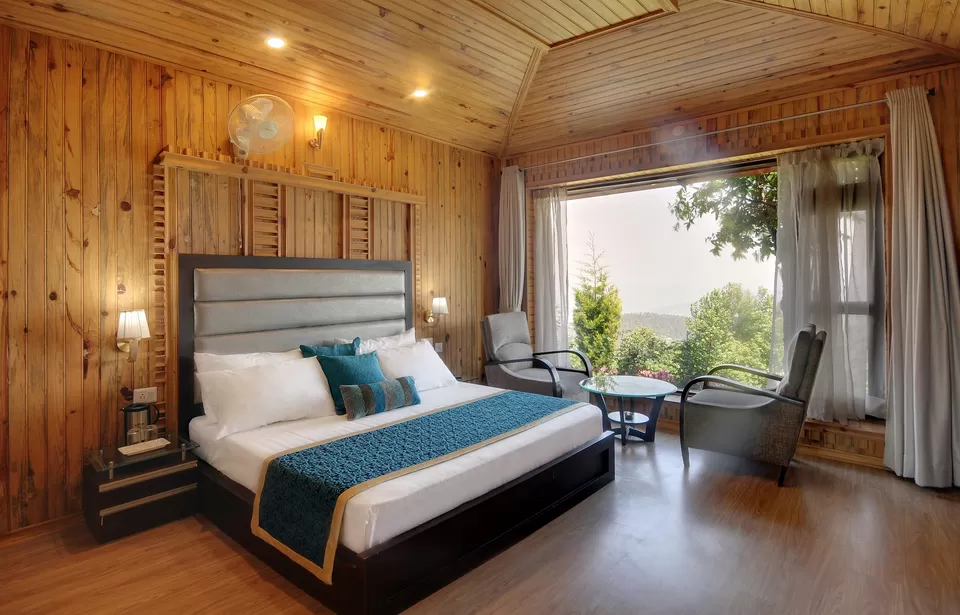 These two wooden cottages, surrounded by pine groves are imbued in warm tones. They're usually in high demand, due to the dizzying views of the Mrigthuni range visible from the room's humungous window on a clear summer morning.
Ojaswi Family Suite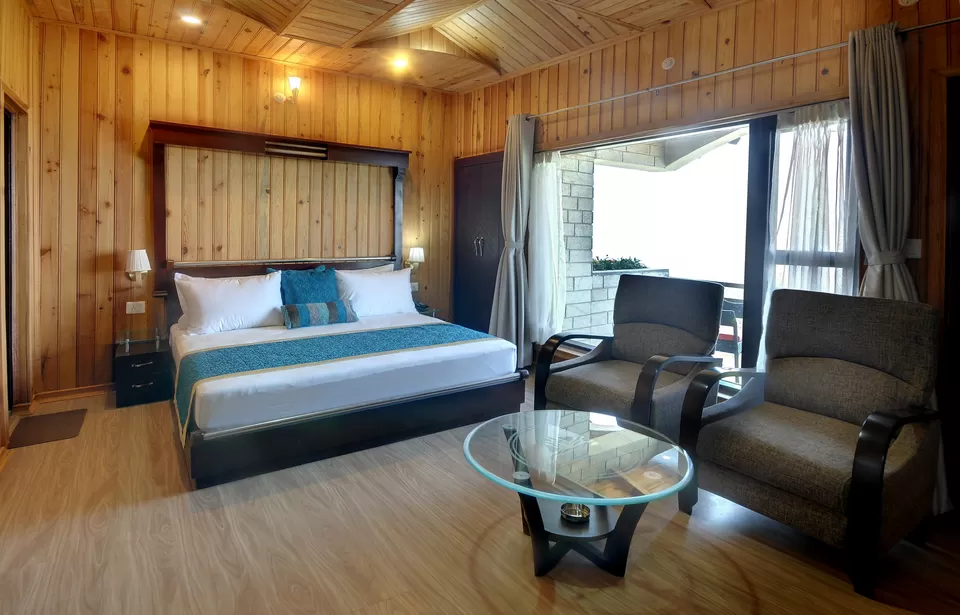 Overlooking cascading slopes, carpeted with verdant orchards and deodar thickets, the four cottages are perfect for that big family vacation. Each of these suites boast of two spacious bedrooms and minimalist boutique bathrooms.
Himalayan Suites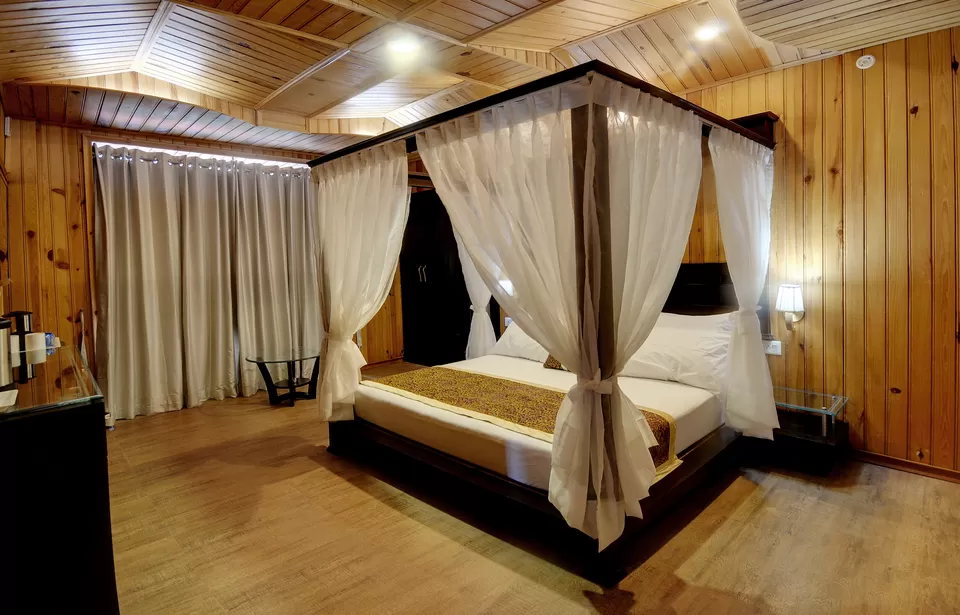 The most opulent of them all, these four cottages are deluged in traditional Kumaoni fittings and guarantee absolute comfort. With private balconies and a snug swing perched on the surrounding lawn, this is Ojaswi's most exquisite home.
Food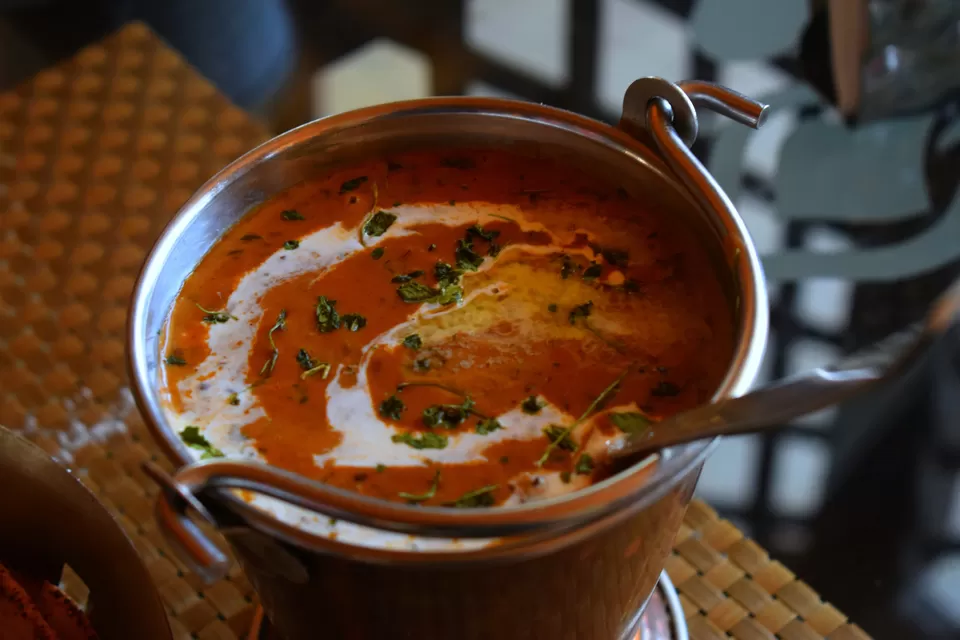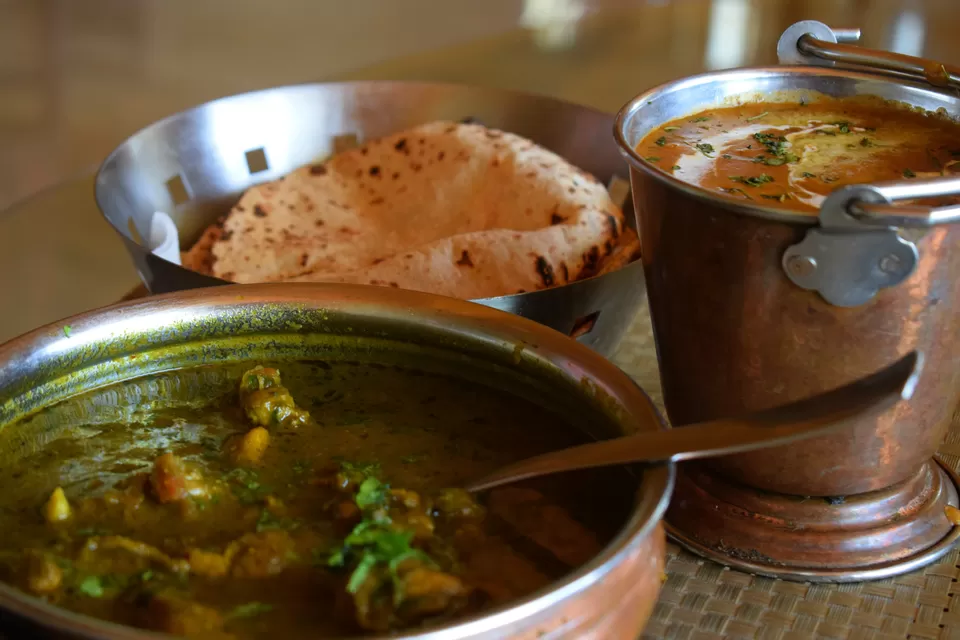 The resort's in-house restaurant boasts of a bevy of excellent chefs. The mornings are started with a lavish spread comprising of the staples – tea, coffee, a variety of eggs, toast, poha, the most delicious paranthas and the most flavoursome south Indian fare. The kitchen can also whip up any dish from the Indian, Chinese and continental cuisines, but we recommend you head straight for their Kumaoni delicacies, especially their simple yet luscious chicken curry, that happens to be a local favourite.
There are a few other cafes and restaurants in the nearby town of Sargakhet, of which these two are the most sought after:
Eighteen kilometres away from the resort, this cafe will beckon you in with its rustic furnishings and then delight you with its eclectic menu. Featuring umpteen dishes inspired by the local cuisine, go for their mutton curry, the taste of which will stay with you long after you've left the place.
Head to this cafe for some great pizza and a good cuppa. Their pizza dough is made using organic unbleached flour, that is derived from a roller-milled blend of wheat, that makes for a distinctive taste. All the vegetables and dairy products used in their dishes are sourced from their own organic farms and are devoid of any chemicals whatsoever. You can also go to their neighbouring shop, and marvel at the mere variety of tea they sell – rose and mint, chamomile, lemongrass, rosemary and thyme. Also on sale are their scrubs, jams, chutneys, oils, dry herbs, bhaang seeds and the local rajma.
Cost
The tariff is based on double occupancy per night, per room and is exclusive of taxes.
Jungle Retreat: ₹6,400
Terrace Rooms: ₹6,800
Club Retreat: ₹7,000
Ojaswi Family Suite: ₹7,200
Himalayan Suite: ₹7,400
For further details, visit their website.
Best time to go
October through January are the months when Mukteshwar is at its most beautiful. The sporadic rains withdraw by October, making way for chilly nights, and winters are welcomed to the town by mid-November. If you are lucky, you might even catch a snowfall or two while at the hilly town. Regardless, Ojaswi's Himalayan Suites will offer you the most arresting panoramas all year round.
What to do in and around the property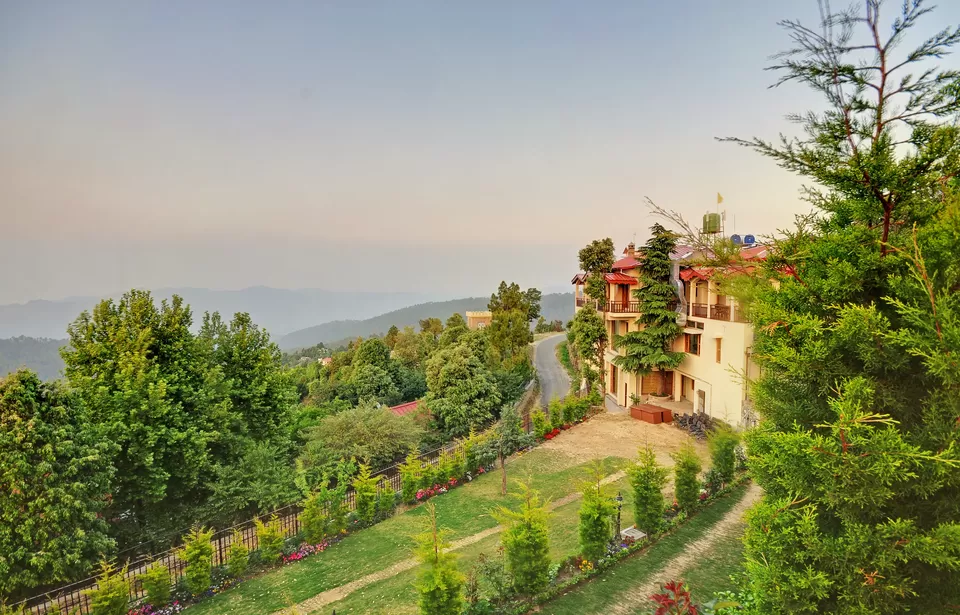 The Ojaswi Himalayan Resort offers a cornucopia of activities. In their lively games rooms, you can engage in a game or five of the addictive air hockey, carrom, snooker or billiards. There's also a table tennis room neighbouring the conference hall.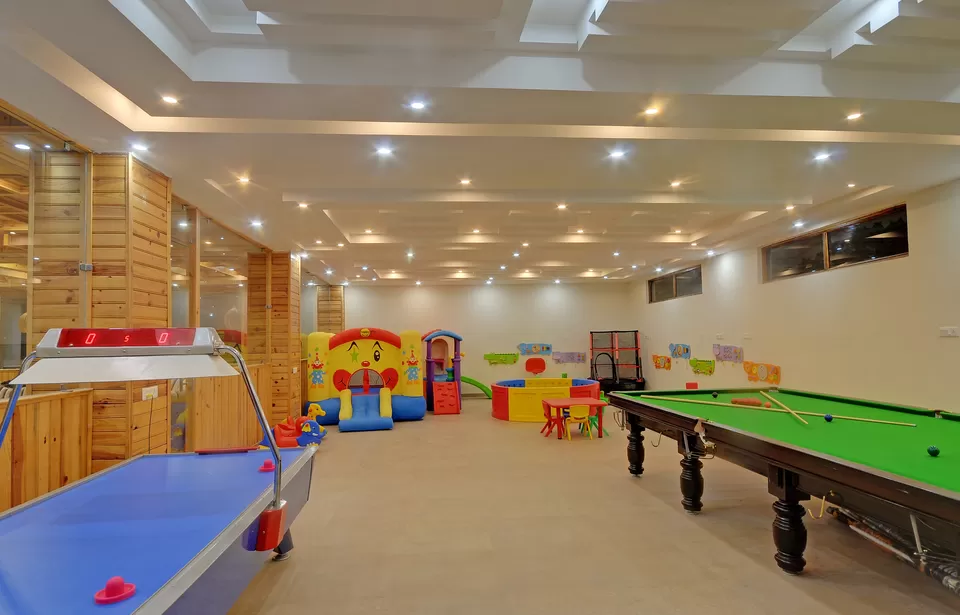 The upstairs kids section, teeming with a few hundred toys and a ginormous inflatable Mickey Mouse bounce house with its motley of colours, will tempt adults also. You can shoot darts too, and after all the above have been done and dusted with, find yourself the assortment of board games – Monopoly, Tambola, Ludo and Jenga.
The resort boasts of an excellent spa service, that offers numerous indulgent therapies and treatments designed to uplift your spirits and calm your senses. Guests can opt for the spa package or make an appointment after check-in. Some of the available therapies are – Shrirodhara, Abhyangham and Swedish, deep-tissue and Balinese massages.
Those seeking adventure can head over to extremely efficient staff at the front desk, who can organise a variety of thrilling activities such as zip-lining, rock climbing and rappelling, angling, paragliding, hiking and cycling trips.
Around the property
Locally referred to as Chauthi Jali, nine kilometres away from Ojaswi, these dizzying overhanging cliffs are cloaked in Hindu mythology. Supposedly, a celestial battle was fought here; the remnants of which –hazy outlines of a sword and a shield – are etched onto the rock formations. Frequently thronged by devotees and curious tourists, Chauli ki Jali subjects you to breathtaking vistas of the Kumaon valley and offers a glut of hair-raising experiences such as zip-lining, rock climbing and rappelling, which can be organised by the resort.
Mukteshwar derives its name from this 350-year-old temple that worships Lord Shiva. It's believed to be built in the 15th century, by a Pandya king hailing from the Tamil kingdom. Nine kilometres away from Ojaswi, and planted at an elevation of 7,500ft, the Dham was once home to a saint, Shri Mukteshwar Maharaj, and is now blessed by his disciple, Swami Sanshudhanand. The tranquil temple grounds are essentially a Tapovan (a forest of austerities or spiritual practice), the perfect place for meditation.
Dhakuna Waterfalls
This hidden waterfall near the placid waters of the Kosi river, lies 23km away from the resort. Ideal for a picnic in the midst of its dappled deodar forests, head to Dhakuna for a game of frisbee and some of the most mesmeric pictures you can ever capture in Mukteshwar. One can also try angling at the river that sustains the Mahseer fish.
Fifteen kilometres away from the resort, this waterfall located in the Dhari village, shimmers away to glory on a sunny day. Fringed by small rock formations, numerous caves and thick forestation, one needs to embark on an easy hike crossing many random brooks for about two kilometres to reach the falls. The birdwatchers are bound to fall in love with this spot that is home to a plethora of birds, such as the red billed blue magpie, grey treepie and titmouse, to name a few.
For travellers looking to take back home souvenirs, make a visit to the Kilmora Shop, a stone's throw away from the Ojaswi Resort. Some of their shelves are decked with locally-made jams, preserves, chutneys, artisanal soaps and scrubs. Others are chock-full with shawls, stoles and woollen tunics.
Getting there
Ojaswi Himalayan Resort sits on the Mukteshwar-Shitla road, on the outskirts of Mukteshwar.
By air: The nearest airport to the resort is located in Pantnagar, a little over a 100 kilometres away. Accessible by taxis, it takes three and a half hours to reach Ojaswi.
By rail: The railway station nearest to the resort is 73 kilometres away, at Kathgodam, connecting all major Indian cities such as Kolkata, Delhi, Guwahati, Chennai, Mumbai, Bangalore, Bhubaneswar and Cochin. Plenty of local taxis and shared jeeps ply from Kathgodam to Mukteshwar, with the drive lasting for about two and a half hours.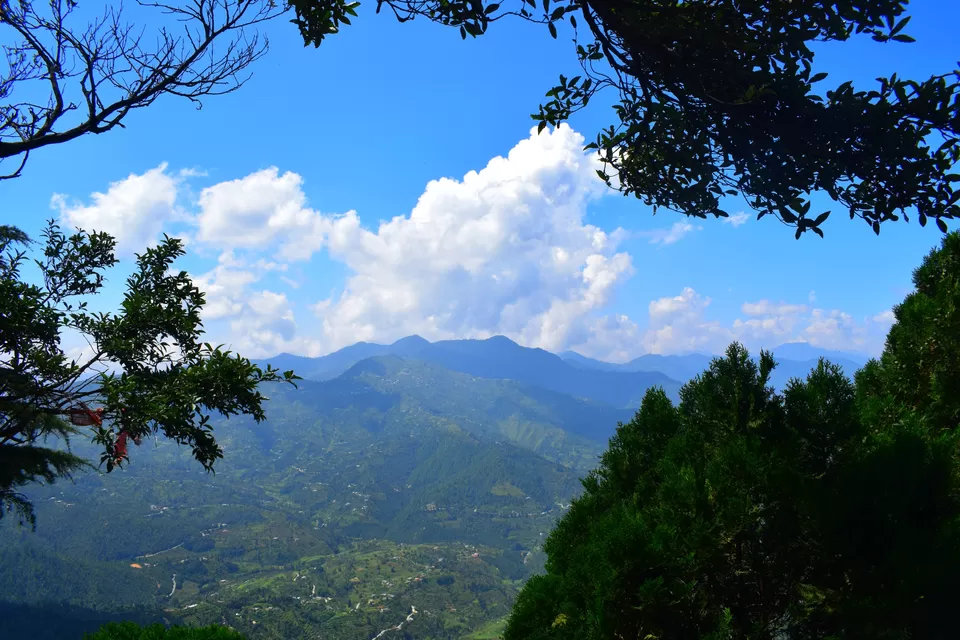 If you've been to the Ojaswi Himalayan Resort or Shitla already, do share your experience on Tripoto and inspire over a million travellers to choose this as their getaway.
In association with Ojaswi Himalayan Resort.
Frequent Searches Leading To This Page:-
ojaswi resort mukteshwar contact number, ojaswi himalayan resort contact number, top resorts in mukteshwar, casa dream resort mukteshwar, jungle retreat mukteshwar