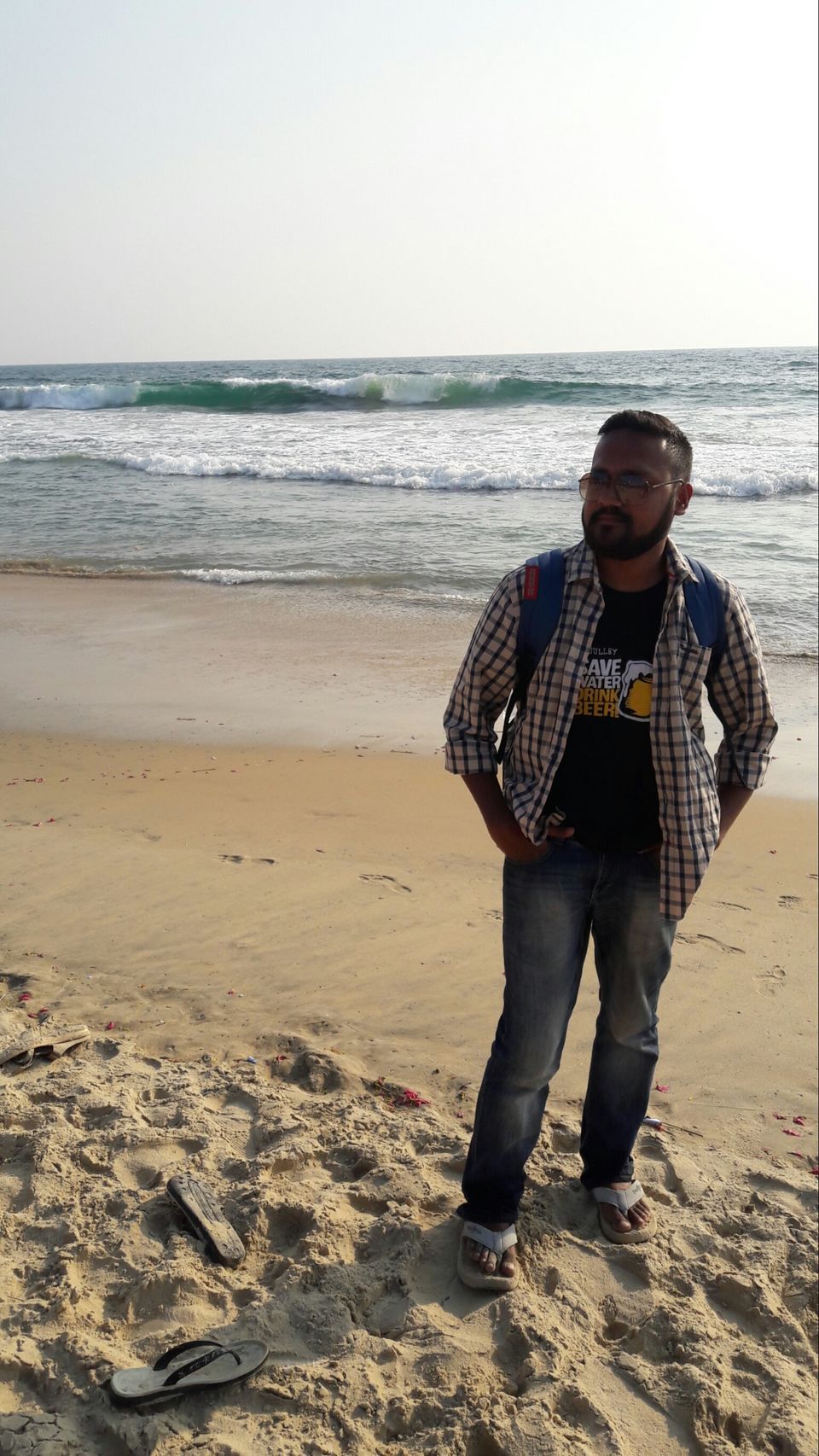 Cont... I took my rucksack from Kanyakumari railway station cloak room and bid good bye to the Last Pinpoint Of India - Kanyakumari.
I came to the bus stop near by the Kanyakumari railway station, where the KSRTC( Kerala State Road Transport Corporation) bus will come and around 09:30 the bus arrives and i boarded and get myself a window seat for the 90kms journey which is almost 3hrs. Kerala govt buses is totally different specially the windows, its totally opened with no such rods so that every breeze can kiss your checks without any barrier.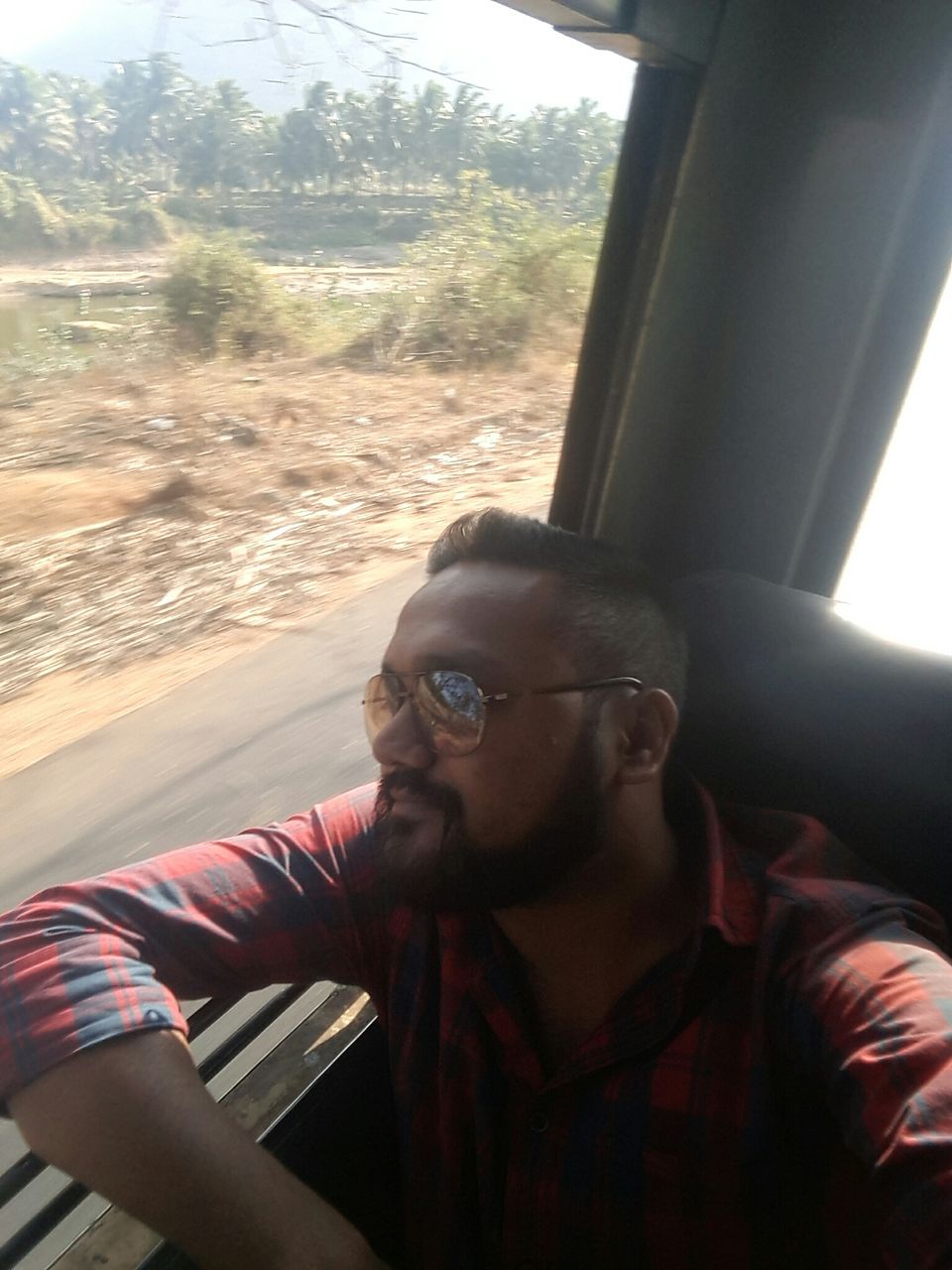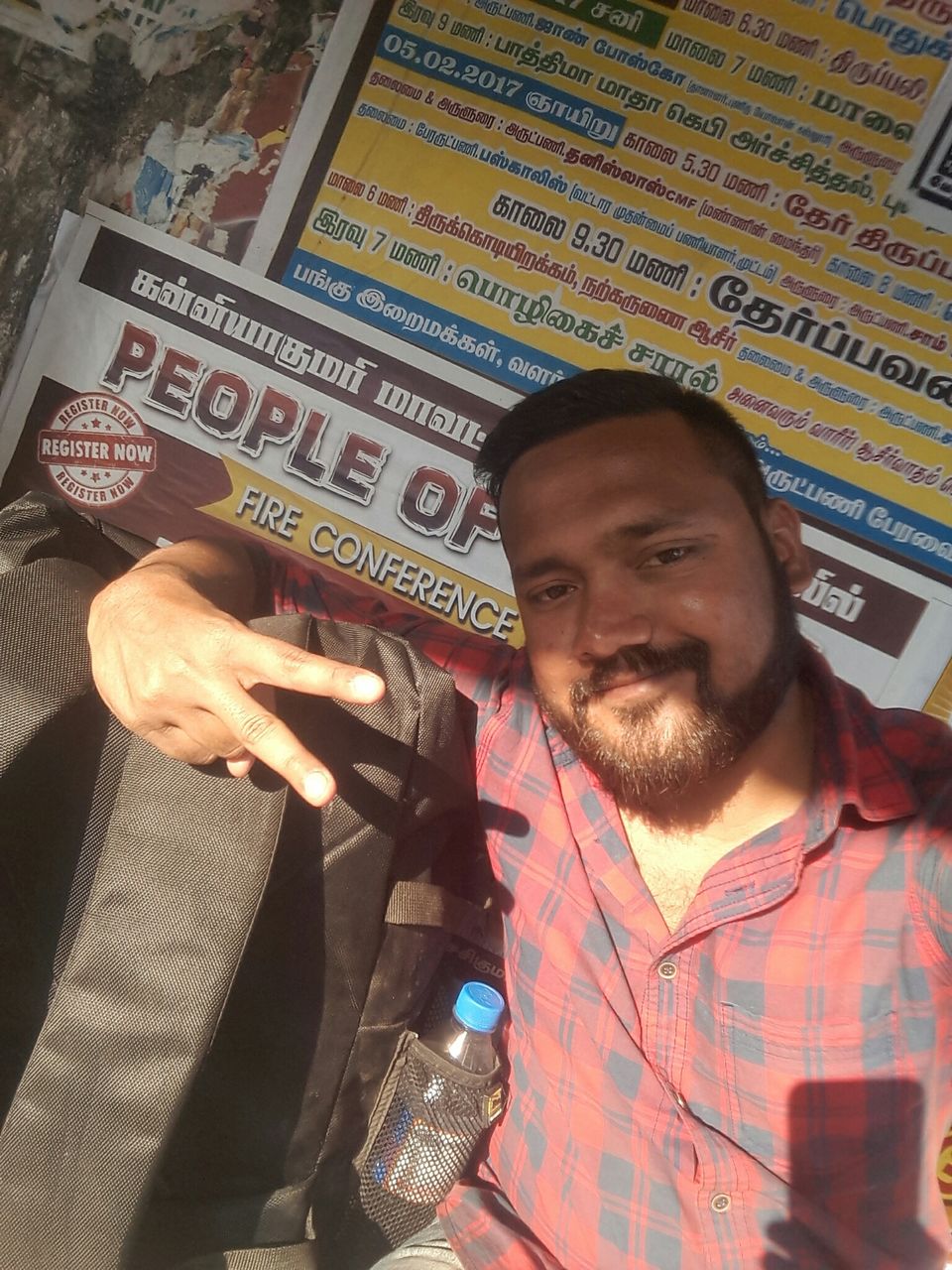 I'm super excited as soon i'll be crossing the state border between Tamilnadu & Kerala. The outside scenary starts changing as i'm proceeding forward towards Thiruvananthapuram the capital city of Kerala former known as Trivandrum. Coconut farming took my full attaction with some small and giant hills. One interesting things i saw here that every small or big grocery shops sell Coconuts and Bananas here.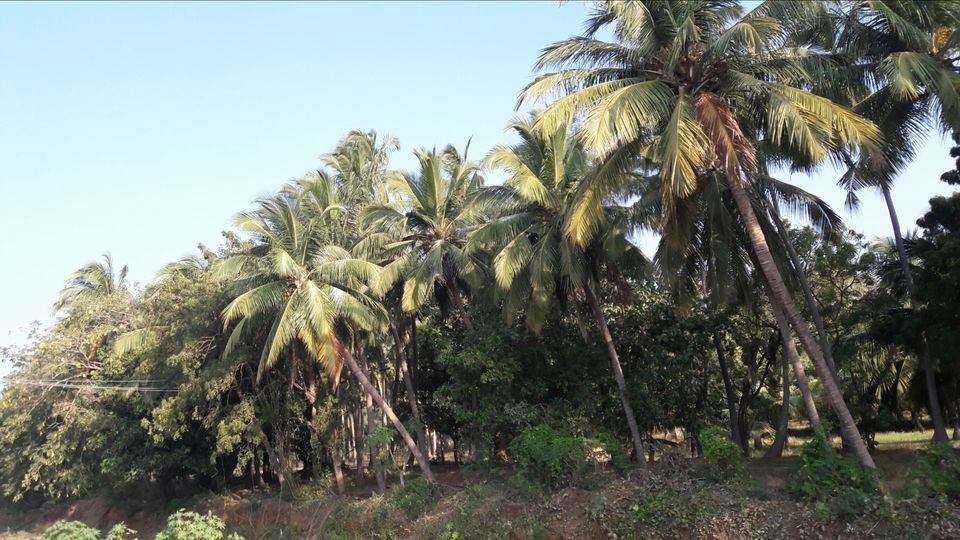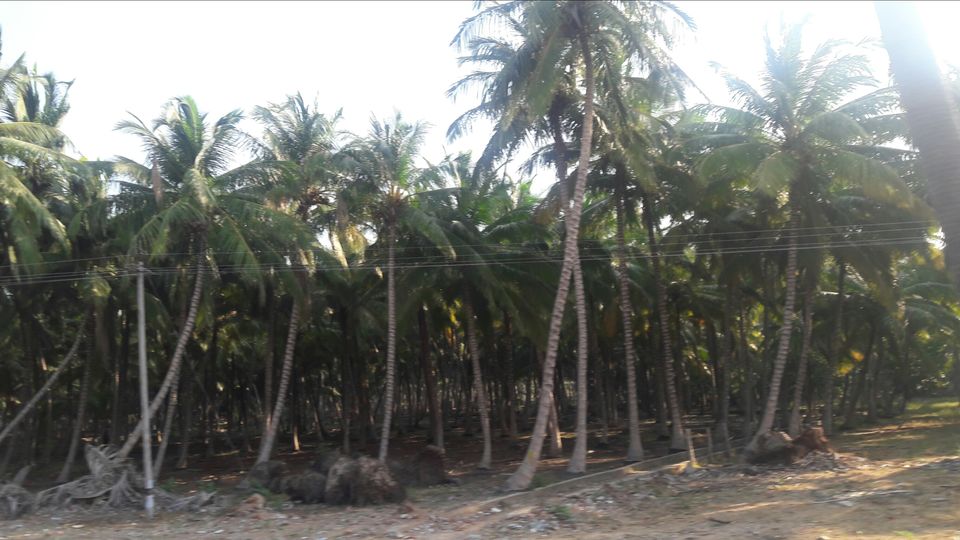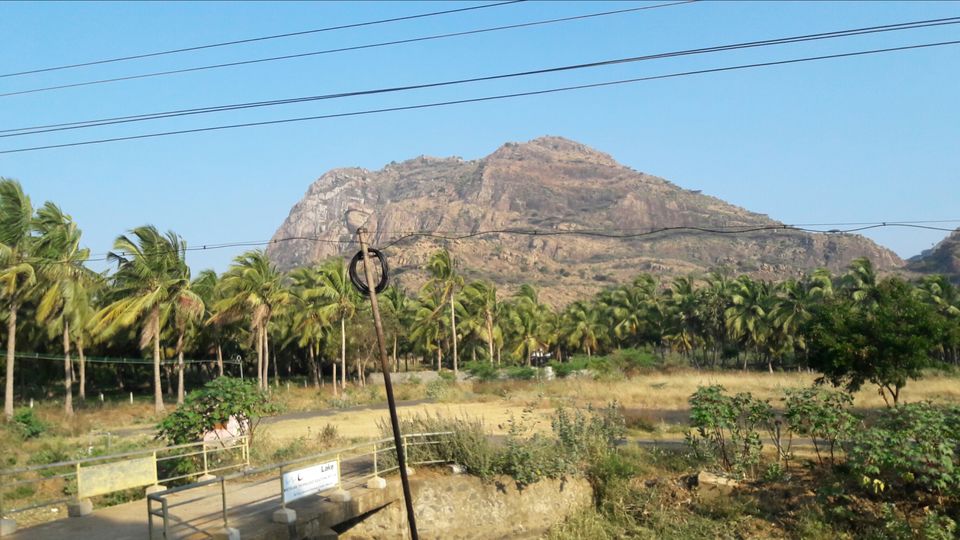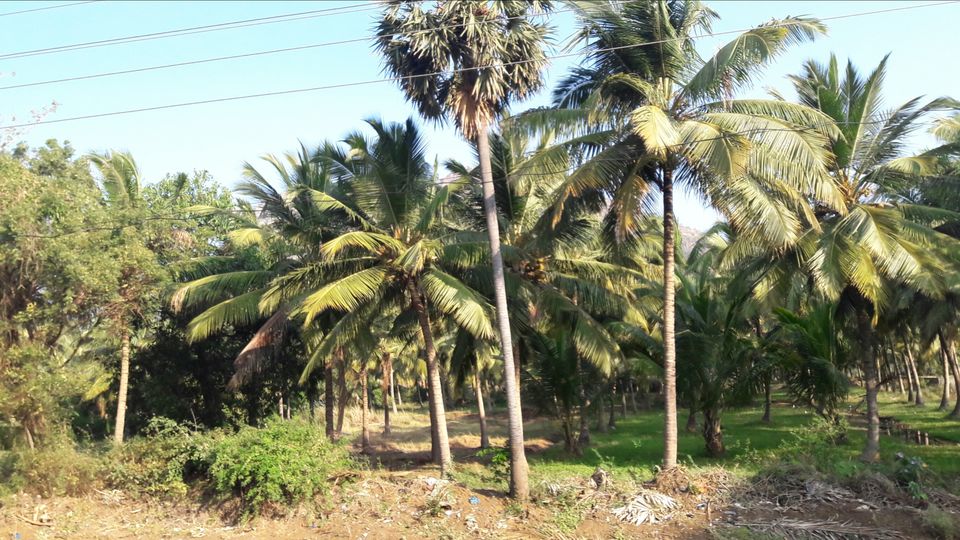 One anna told me that this particular place is the border between the two states as i can see outside big churches with written Kerala Catholic Church Association. And as my bus moves inward towards Kerala state i saw people wearing white Dhotis everywhere in the street and shops, as Dhoti is the official wear in Kerala.
Around 12:30pm in the afternoon my bus reached the Thiruvananthapuram Bus Stand, it is the main bus stand from where entire buses ply around Kerala and even to Tamilnadu also. Opposite to the bus stand is the Thiruvananthapuram Railway Station.
Lots of foreigners are roaming with their big rucksack like me near the bus & railway stations here.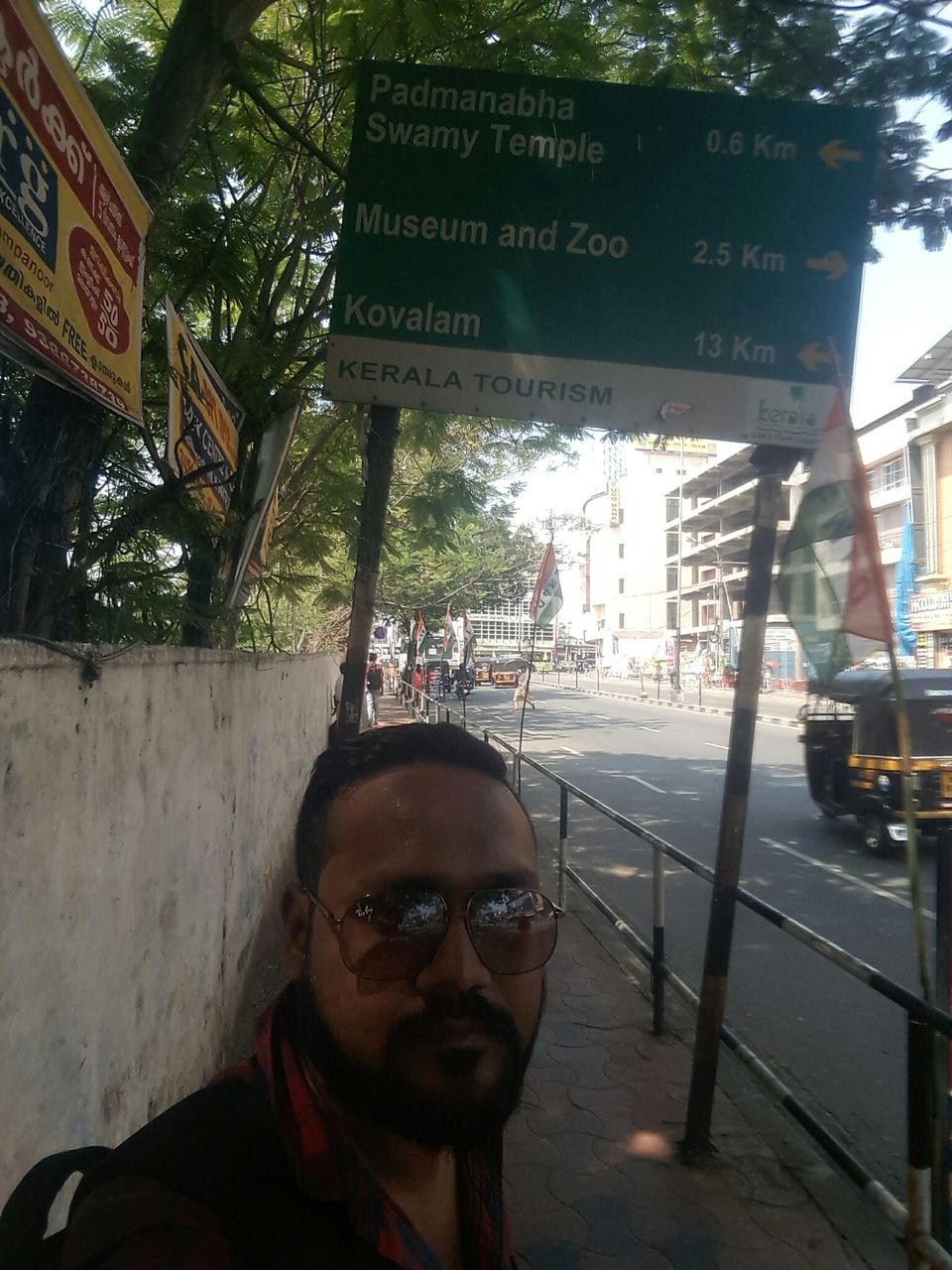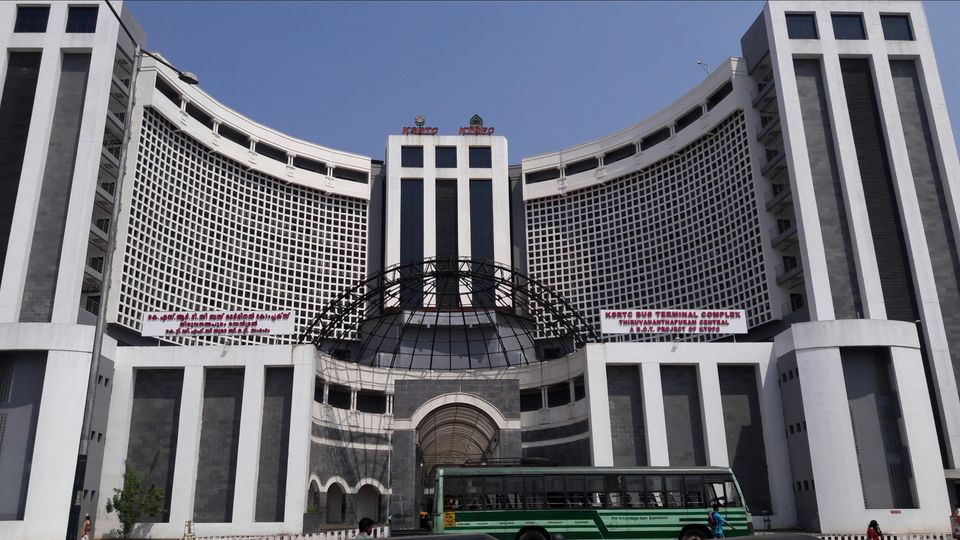 And i'm in the God's own country(Kerala) for the second time as in the year 2010 i was here in Kerala in Cochin (Ernakulam).
My first urge is to pay a visit to the World's Richest Temple-Padmanaswamy Temple which is 1km. I started walking by asking few locals some told me to go fast as the temple remained close from 13:00 - 17:00 hrs and i saw the timing in my mobile which says 12:45 and i crossed my finger for a positive hope and came near the Temple. The temple is gold in colour an the structure is just like an other temples we came to see in south india.
The temple area is huge & huge just i cant explain and that is why i thought it is the richest temple in India & World. One need to keep their valuables and all belongings in the temple cloak room to enter the temple. Also one important thing one need to enter the temple without shirts and trousers and to only wear a dhoti inside the temple. So i bought a dhoti at Rs-40 and asked the locals to assist me to wear dhoti.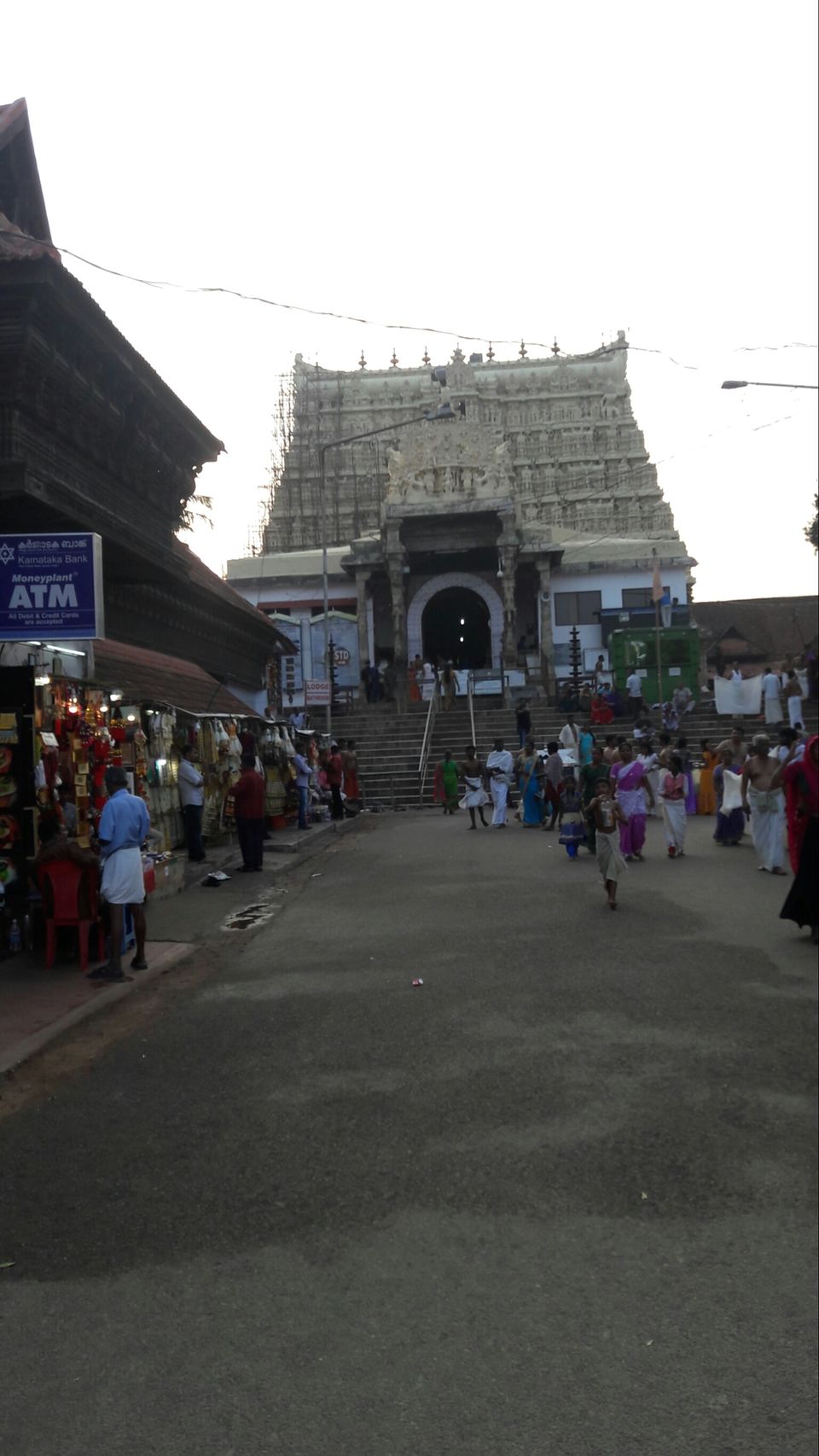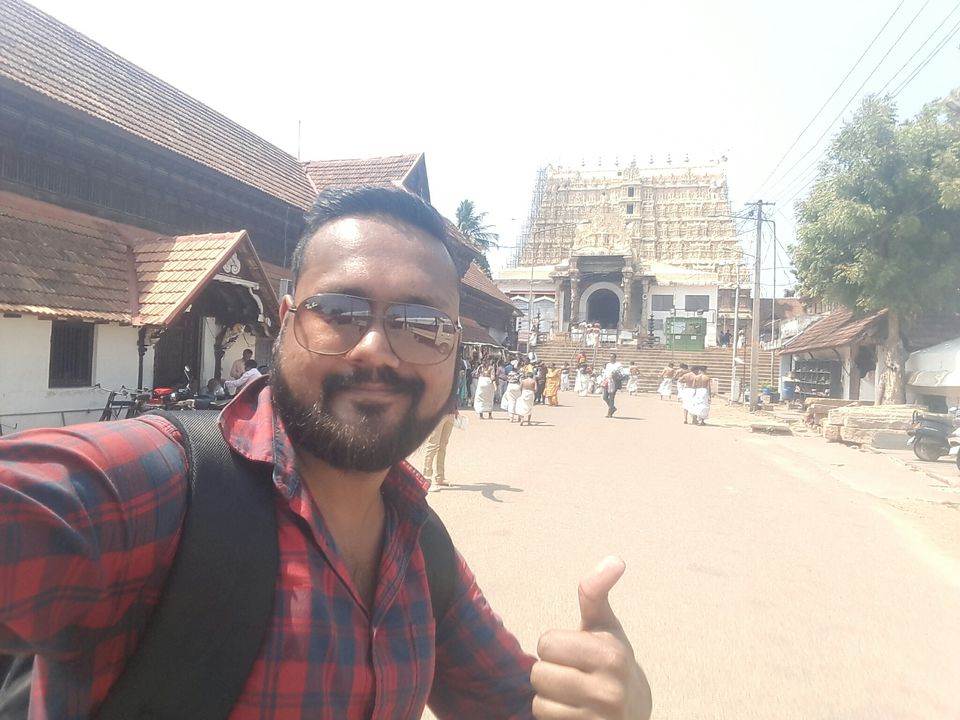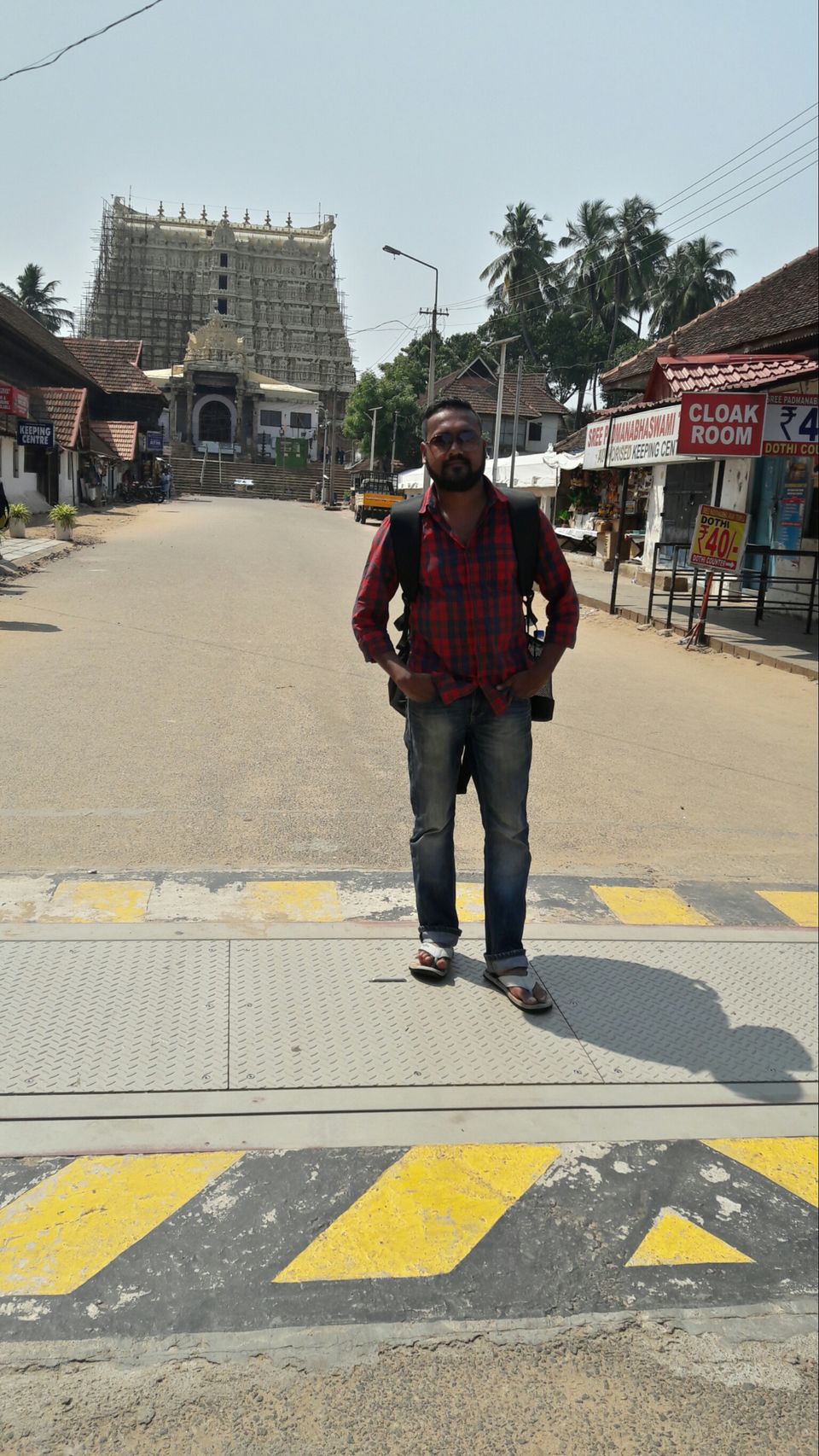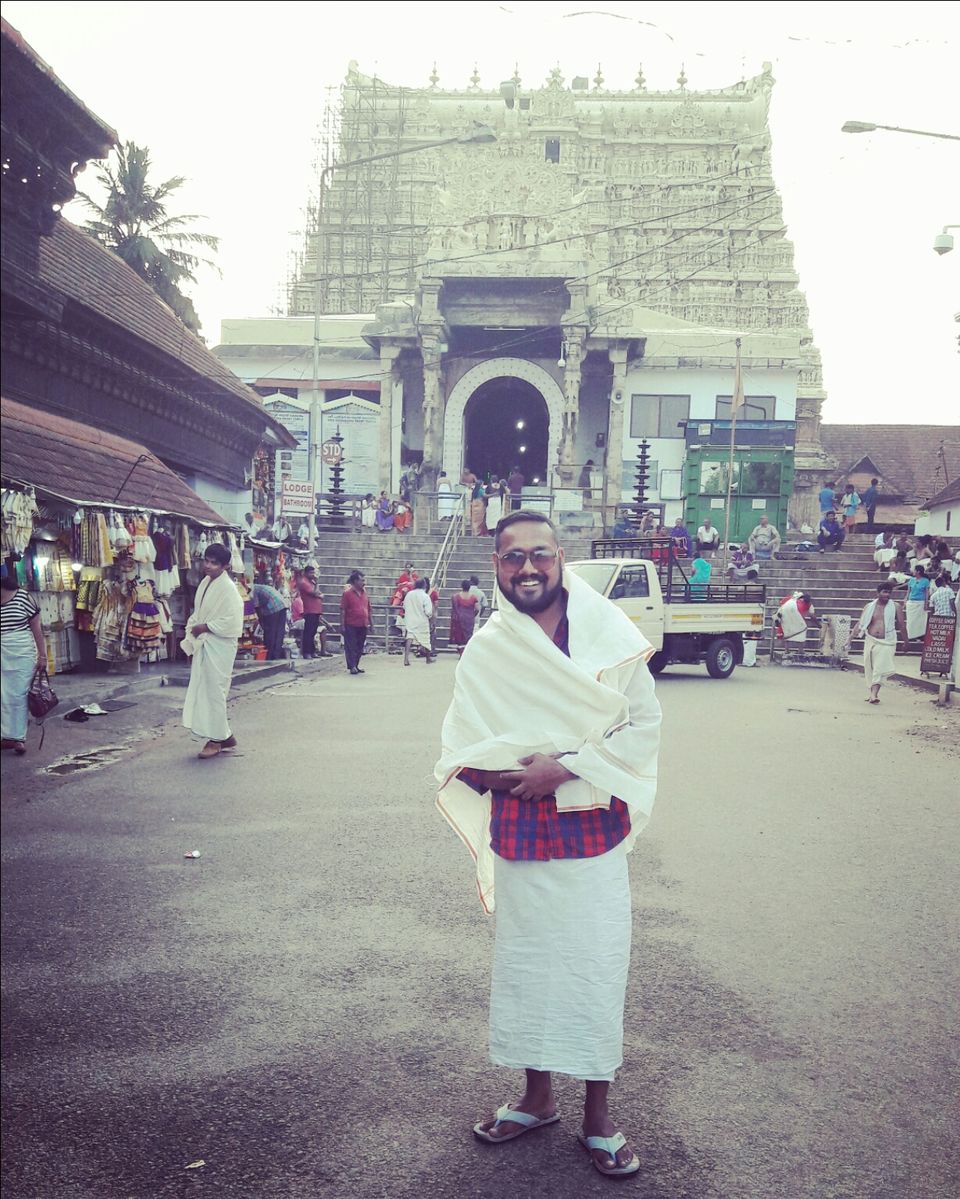 Without wasting any time i entered the temple premises and the security guard of Indian Army told me the darshan is already closed now. But still i entered with some hope. The arts on the roof top and the pillars are amazing.
The temple is dedicated to Lord Vishnu. The 2nd richest temple in the world is also dedicated to Lord Vishnu which is Tirupati Balaji in Andhra Pradesh.
Many more peoples seems upset as they can't have the darshan but i made my mind that i 'll wait till 17:00hrs to do the darshan. I'm in my bare body with a traditional dhoti covering from my waist till my feet.
Suddenly while roaming around the temple premises i saw a queue where peoples were standing for afternoon 'Bhojan" and i too make myself stand in the same queue as i was really hungry and i dnt want to leave the opportunity to have Bhojan inside the temple which must be a tradional Bhojan. I came near the place where i took one plate & a glass of *warm drinking water and stepped inside suddenly one person put rice on my plate next to it sambar next to it one sabji,and found myself a chair to seat and eat. One need to wash their own plates and glasses after Bhojan and i exactly did the same.
*Warm drinking water- In entire kerala where ever you go to a small restaurant or posh restaurant or to anyone's house you'll get a glass of warm drinking water as they malayali belief drinking warm water is good for health and for digestion which is very much true. But unless you have a practise to it i being a north indian can't sip a normal water in 30 degree temperature so i bought water bottles in most of the times in kerala.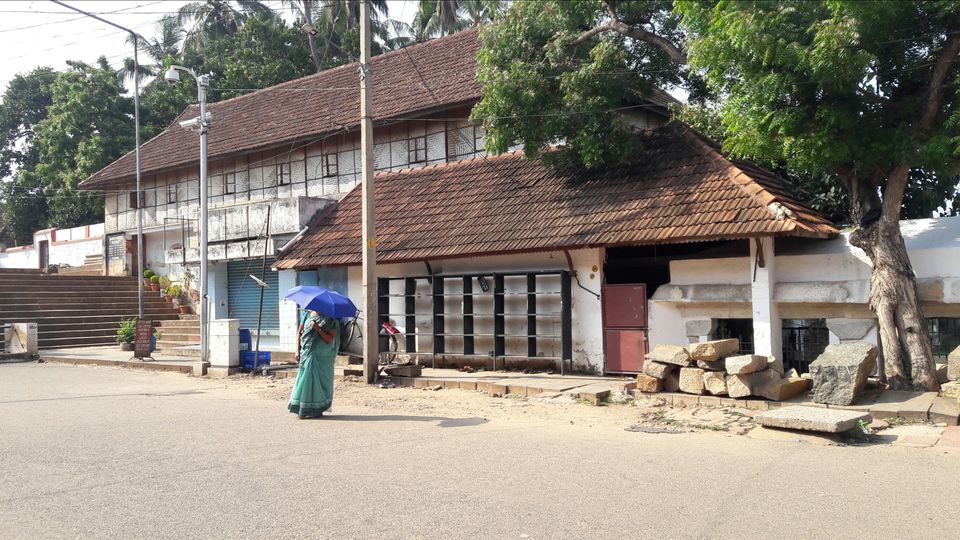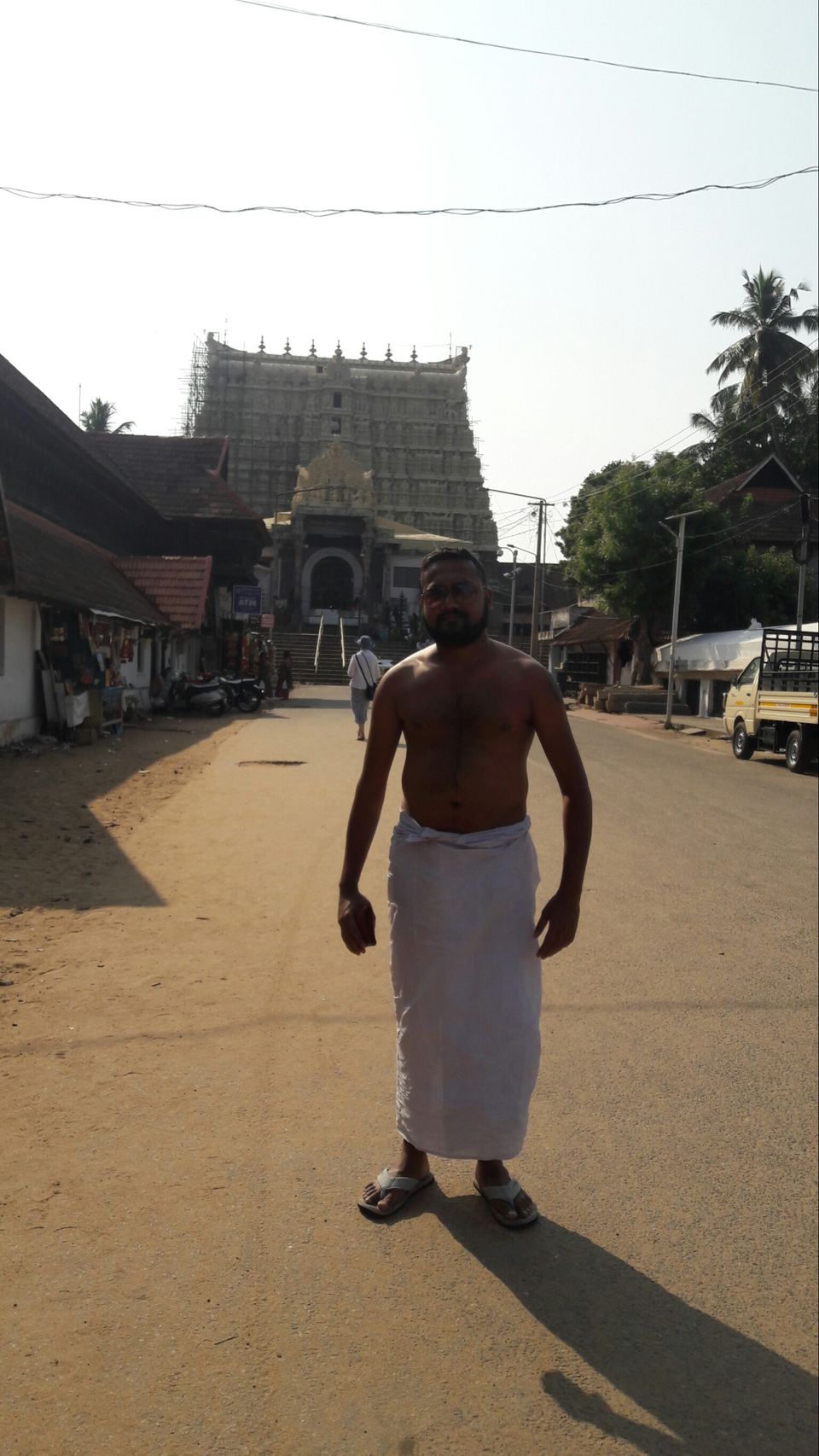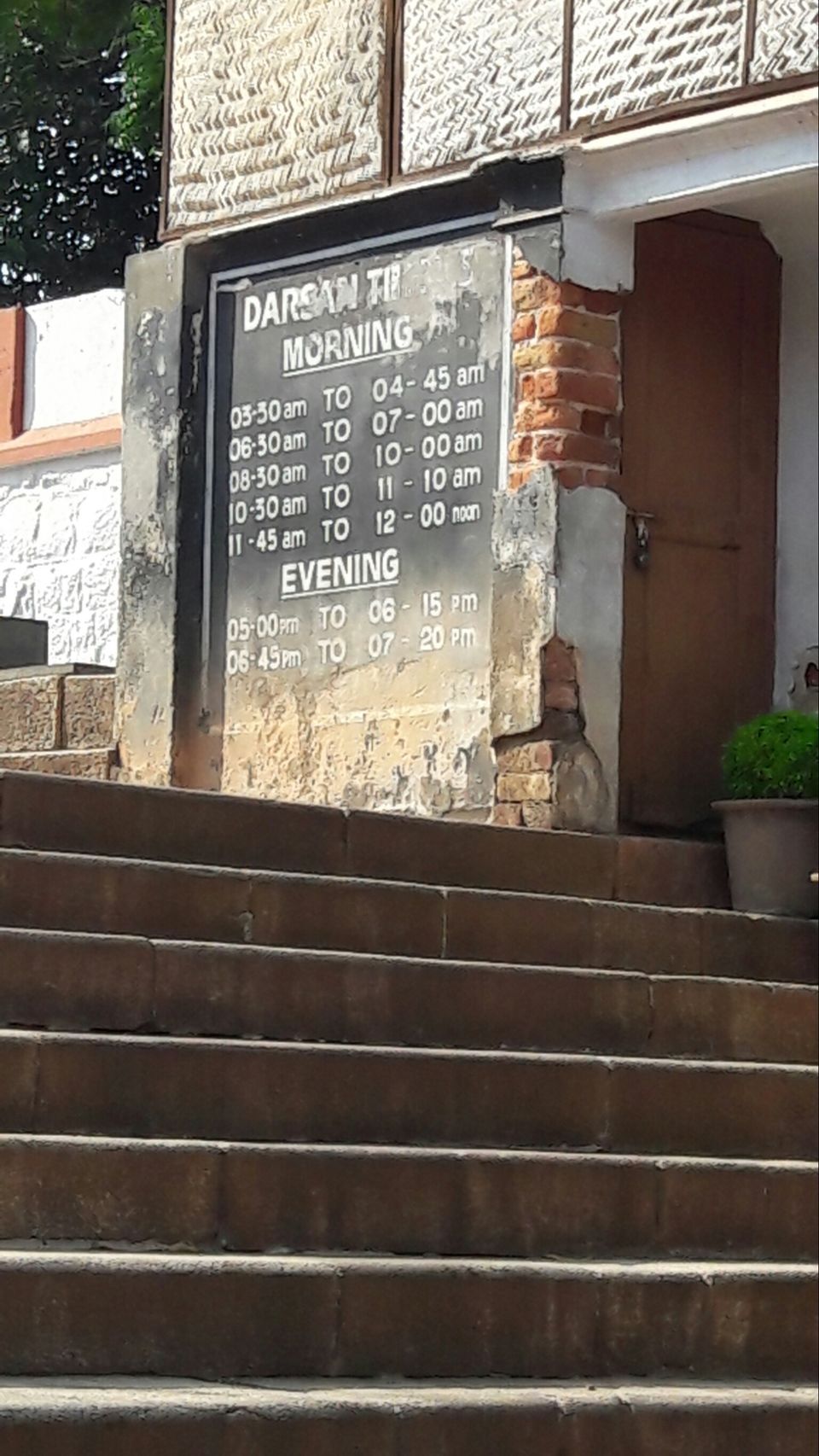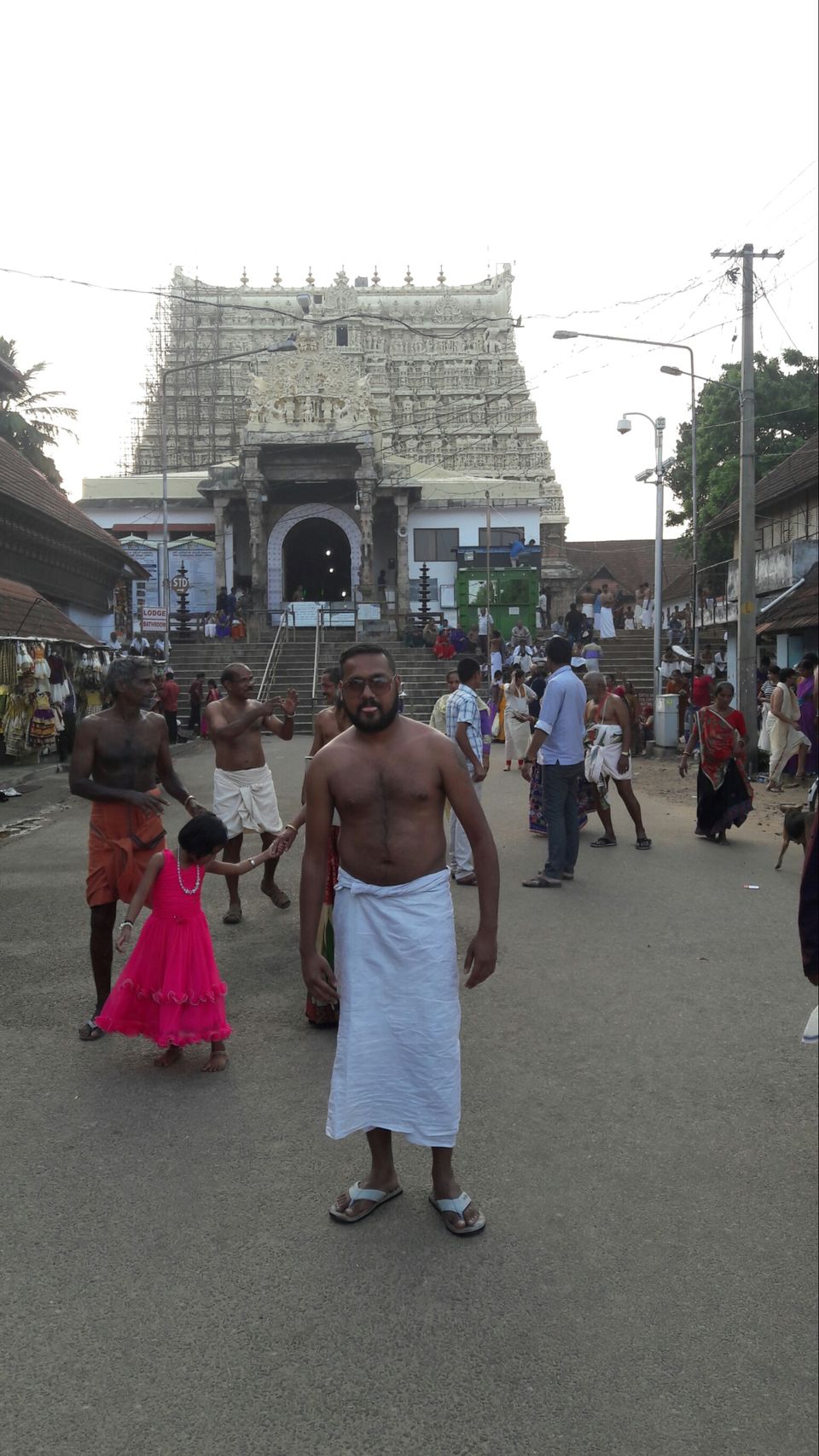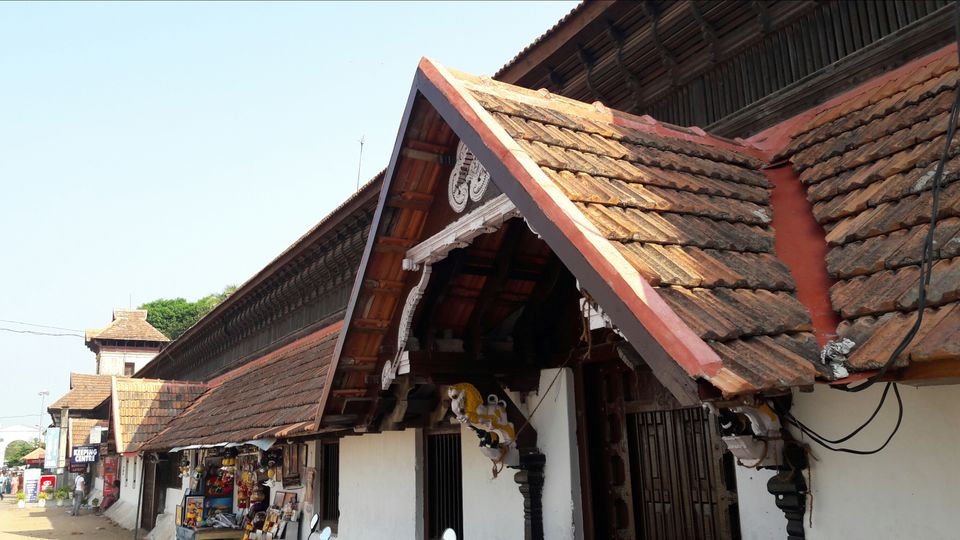 After Bhojan i came outside the temple and the temple gate was closed. I changed from Dhoti to my actual wear and waited near the temple stairs. Around 16:30 i again wore Dhoti and entered the temple and this time i did the darshan with a little bit queue. Here Lord Vishnu is in the sleeping position with a giant size. For example see the below advertisement picture where i kept my belongings.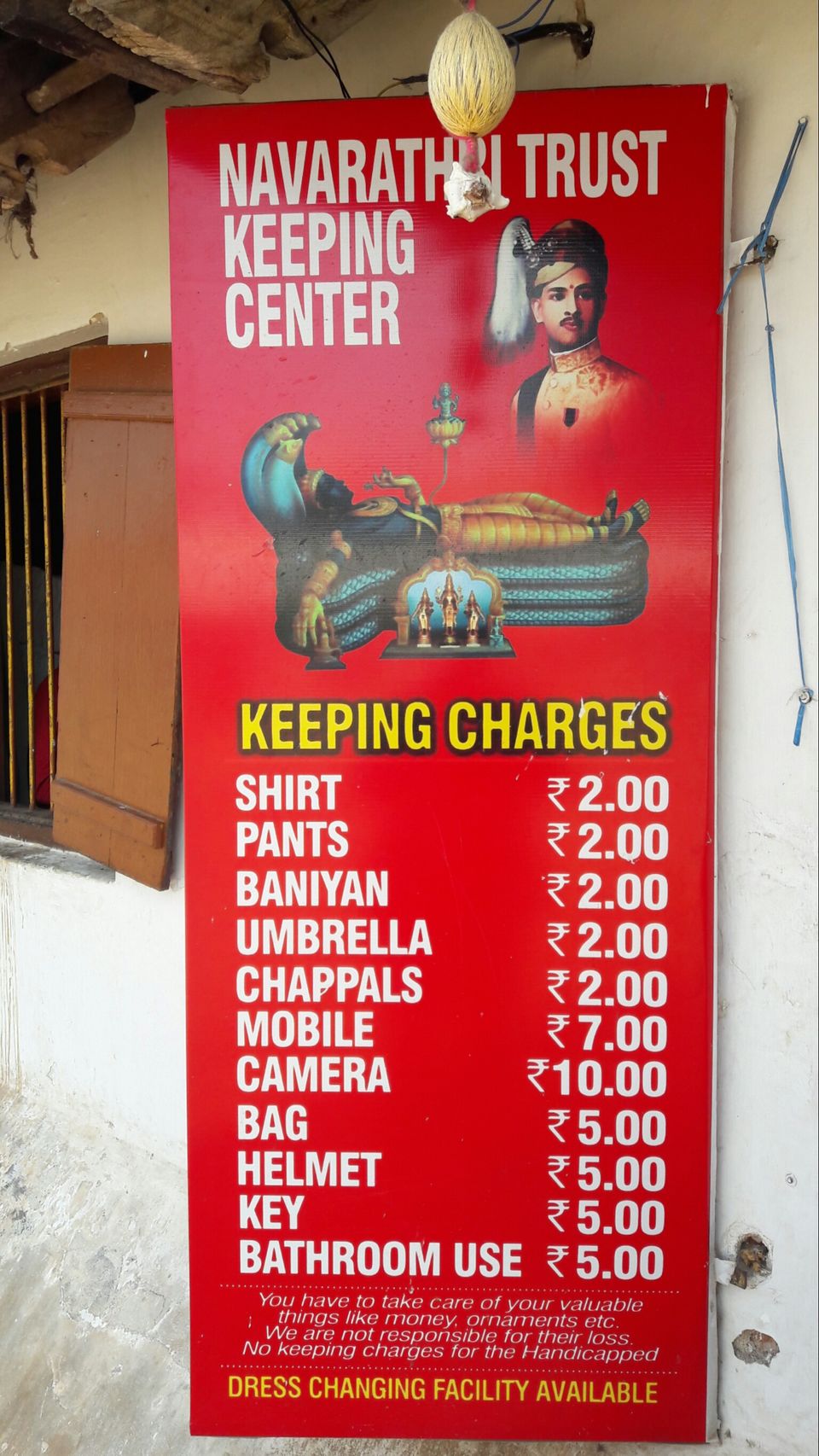 Around 18:00 hrs i came outside the temple after my darshan and started searching for a lodge to stay that night and yes somehow i managed to get a room at Rs-300 just near the temple area.
It was nice cozy room in the 2nd floor with attached washroom. I kept my rucksack on the chair and locked my room and went outside. I thought of having some whisky with some banana chips so i bought banana chips first and then asked the locals about the nearest wine shop but i just shocked to hear that in Kerala wine shops closes by 21:00hrs and it was 20:50hrs that time i somehow rushed to that wine shop and as i entered the shop the shop keeper took me inside his wine shop and closed the shutter of the shop.
Kerala's wine shops are totally different from other state it is always on the 1st floor one need to climb the stairs to the wine shop.
I asked for one McDowells generally it means either Rum or Whisky in all around Indian, but here what i get is McDowells Brandy, i told the shopkeeper to give me Whisky not Brandy but he said in Kerala you'll barely found whisky, here brandy is the running liquor, anyway i know Kerala is going to be Dry state very soon.
While coming back to my room i parcelled one kerala dosa with me and after boozing i ate dosa and slept.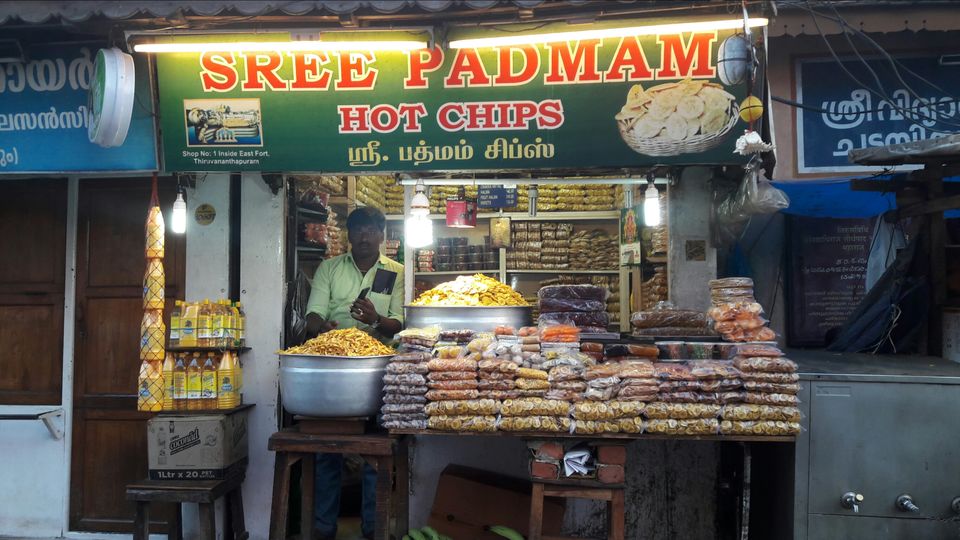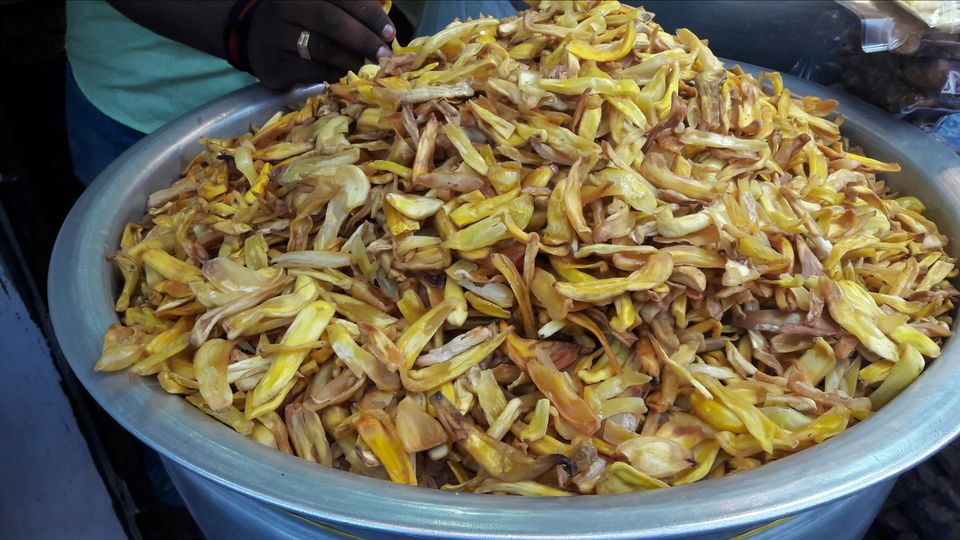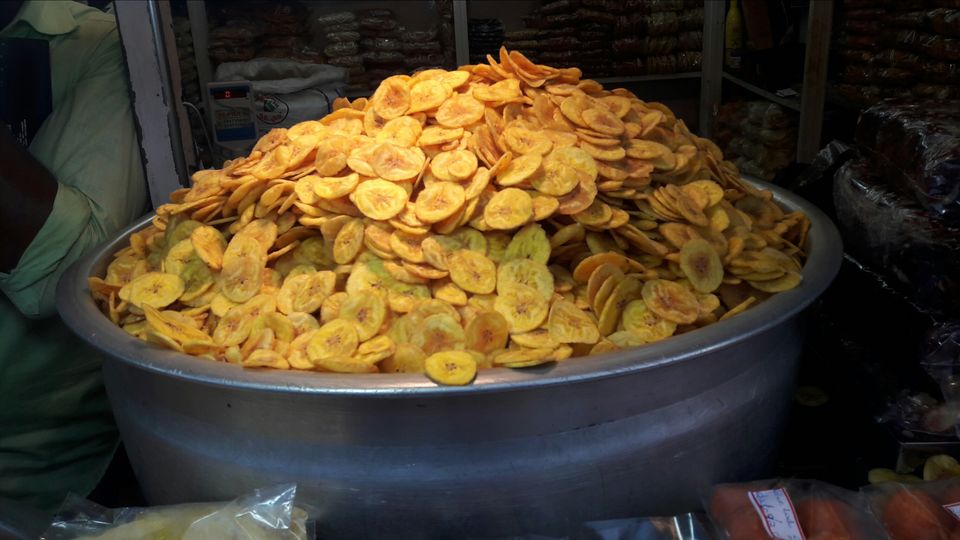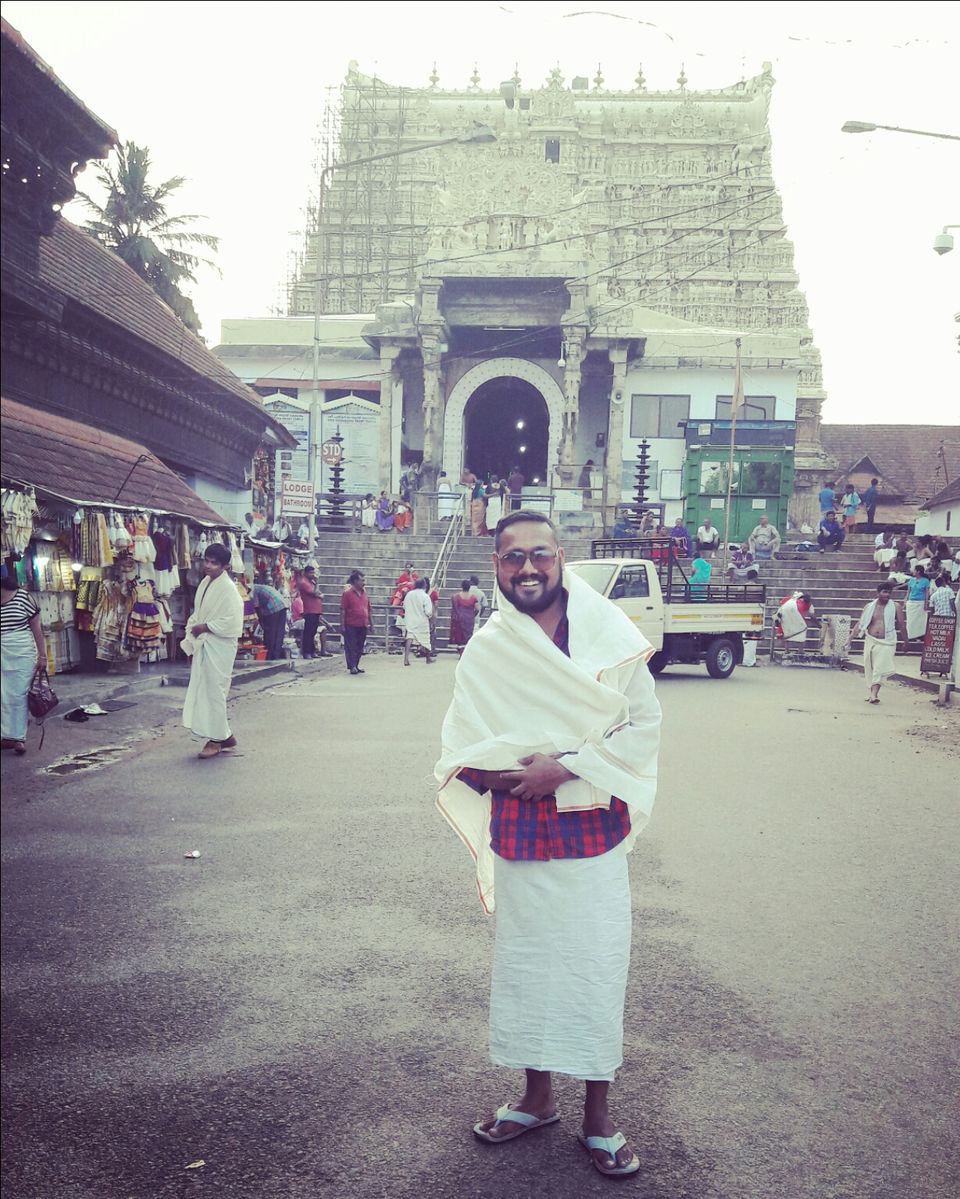 I woke up around 07:00am and freshen up and start my trip towards Kovalam. Kerala & Goa is the only place in India where you'll see coconut tress near the beach area. It looks stunning. It was sunday so there was no such rush outside, i asked few locals about the bus number for Kovalam and instantly one bus came calling kovalam kovalam and i boarded. It took Rs-20 for Kovalam beach which is 12kms from the temple area or railway/bus station.
And i reached Kovalam, the sky above me is pure blue in colour and the road towards the beach is so clean. I saw many foreigners doing morning walk. Many beautuful posh luxury hotels are situated there near the beach one of those is Leela Resort the 5* hotel.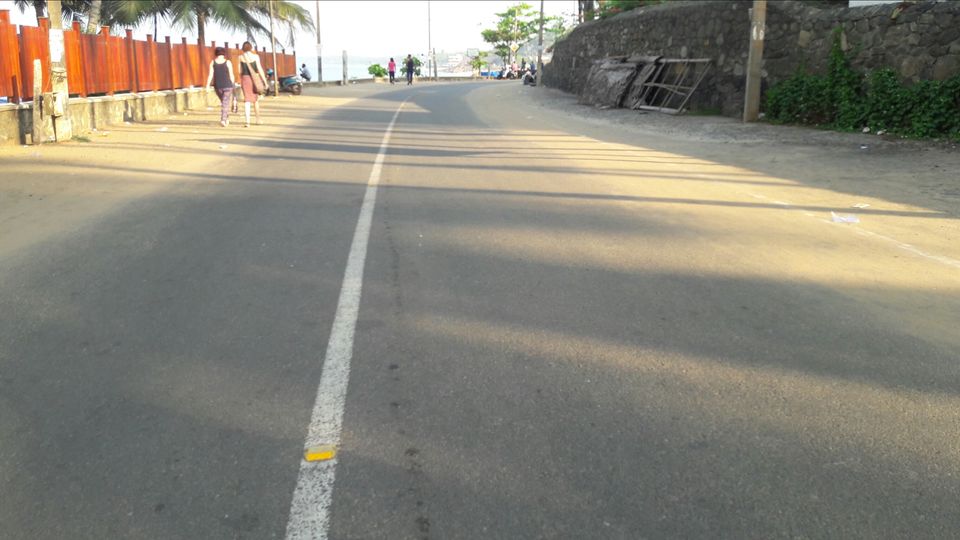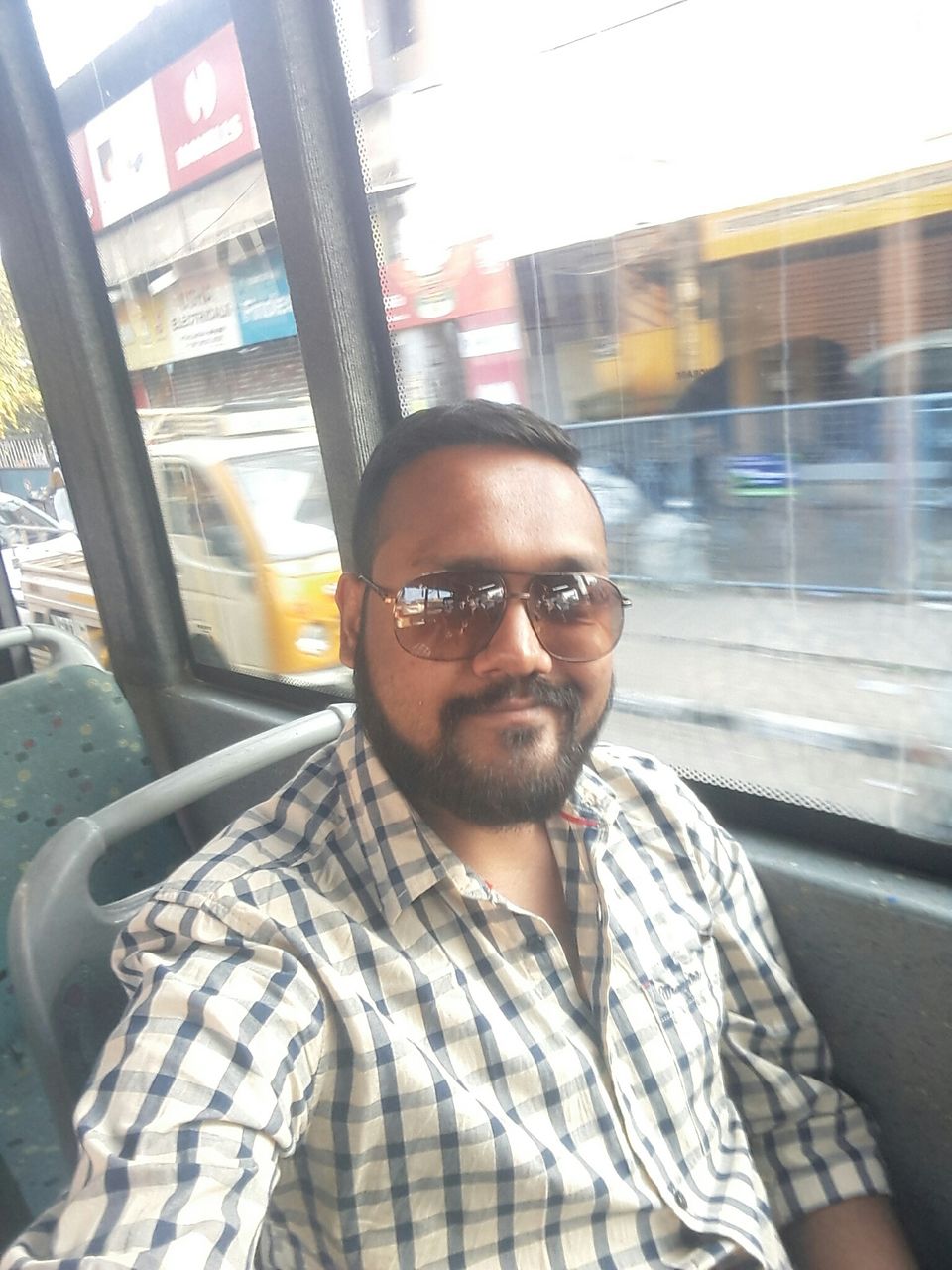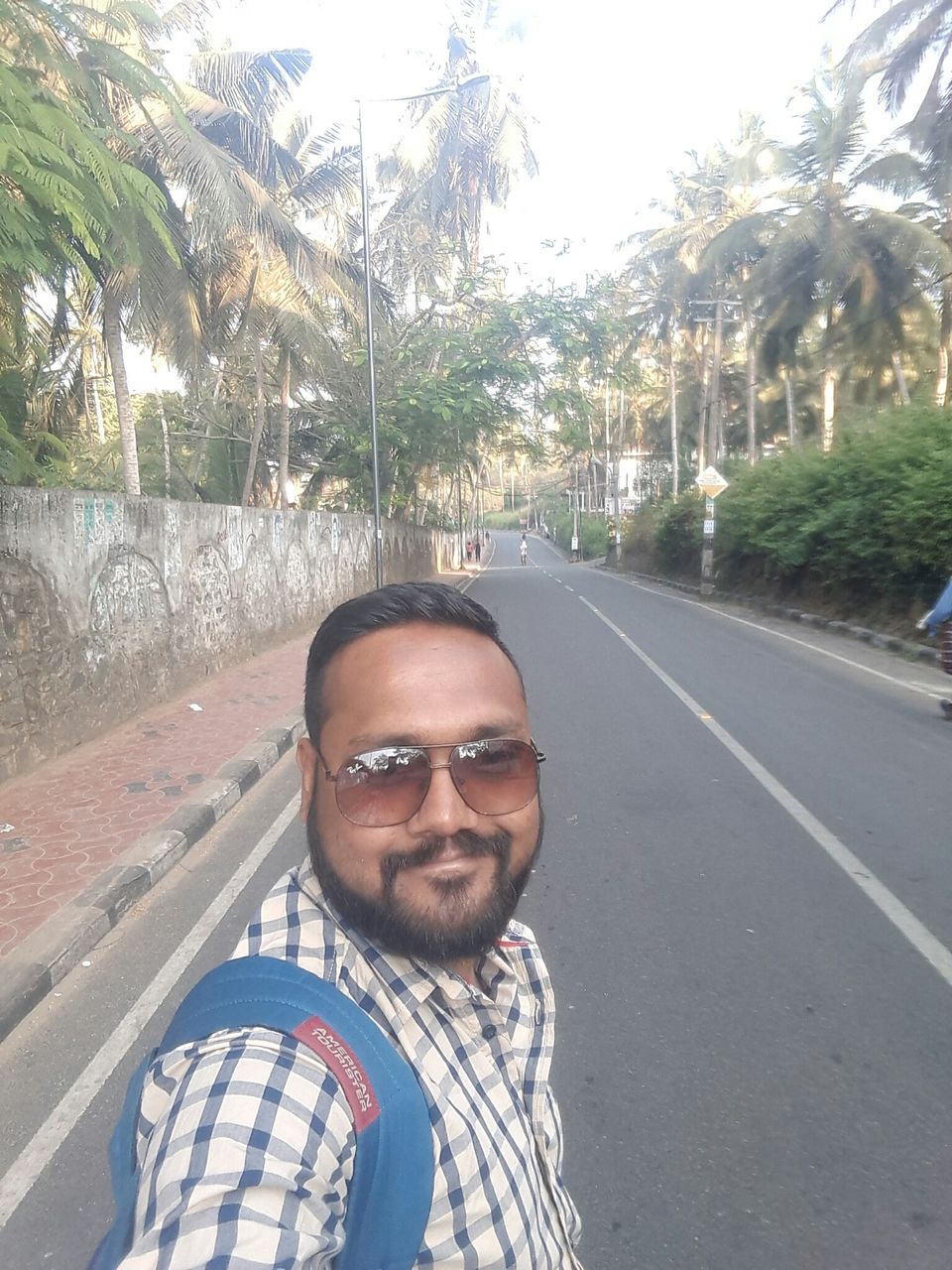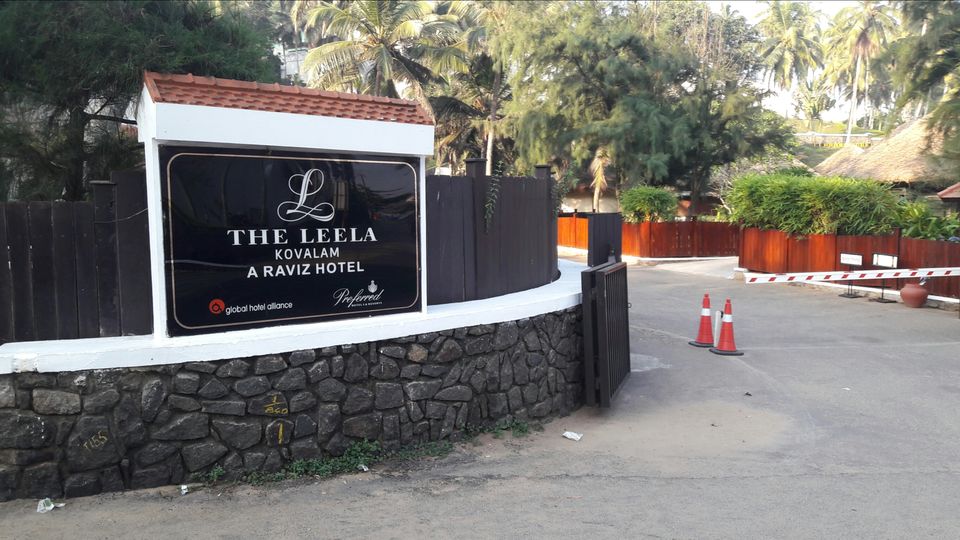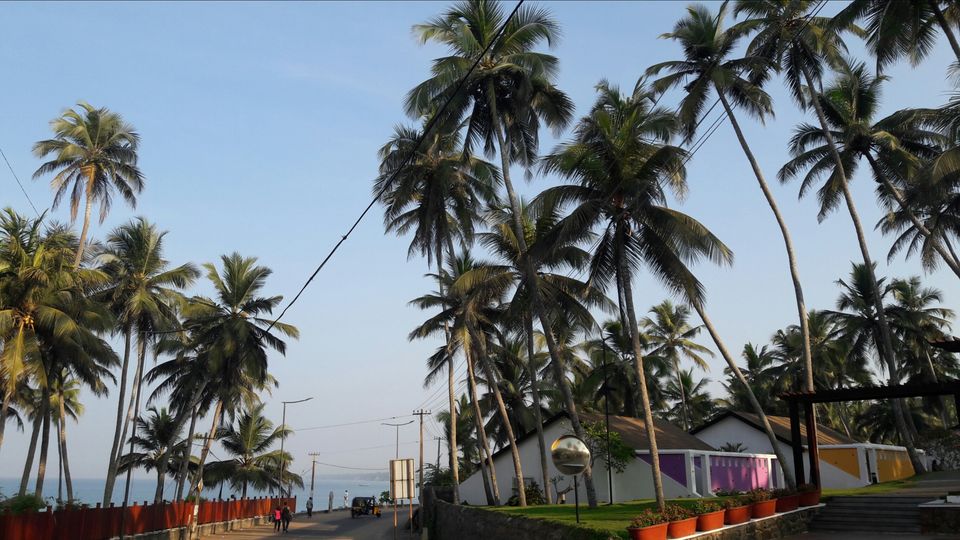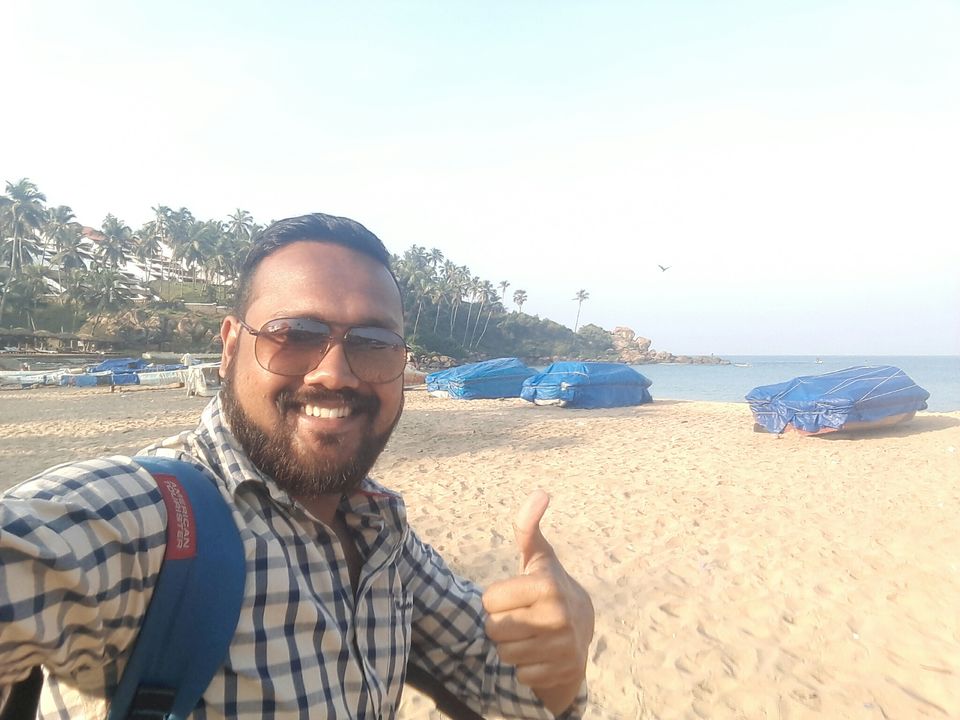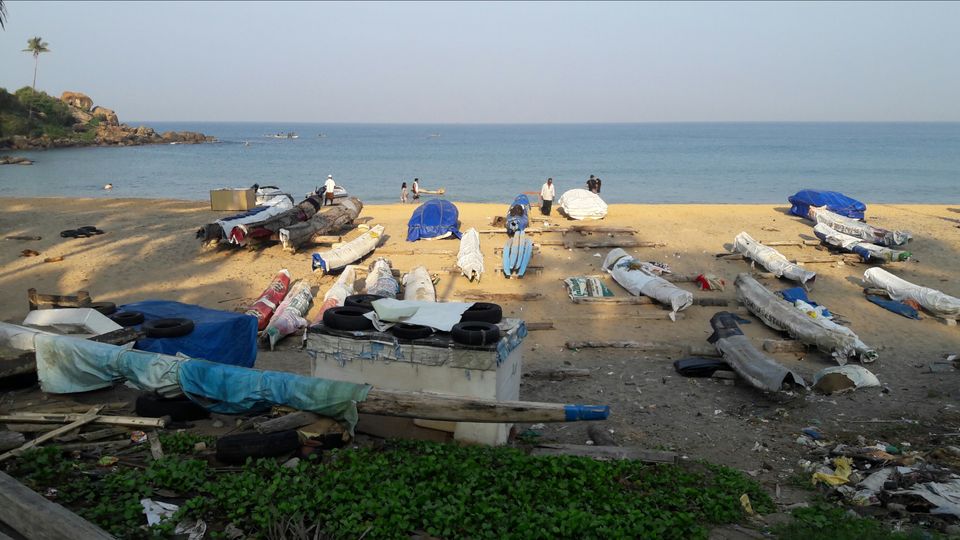 Kovalam is one of the beautiful beach in Kerala & in India. The colour of the water here is greenish blue as somewhere this water mixes with Indian Ocean. Kovalam beach is famous allover the world for its underwater world. As one can see many Scuba Diving offices near the beach area, which charges Rs-4000-5000. But as i have already done under water scuba diving in Andaman Nicobar Island i didn't have the urge to do it here too,also my this trip was on a shoe string budget.
The beach is not very big in length it is 2km long sexy beach with rocks somewhere deep in the sea standing like a tower where local fisherman were fishing with their nets.
The beach is full with foreigners staying near by the resorts & hotels as i continue to roam around on my bare foot to feel the sea water o my feet one white gentlemen said good morning to me & as a gesture i replied him back and he asked me where i'm from, am i travelling alone here and replied him and came to know he works in Bangaluru and he was here on his weekend vacation, we exchanged some more Q&A and then he bid me bye and walked back to his resort.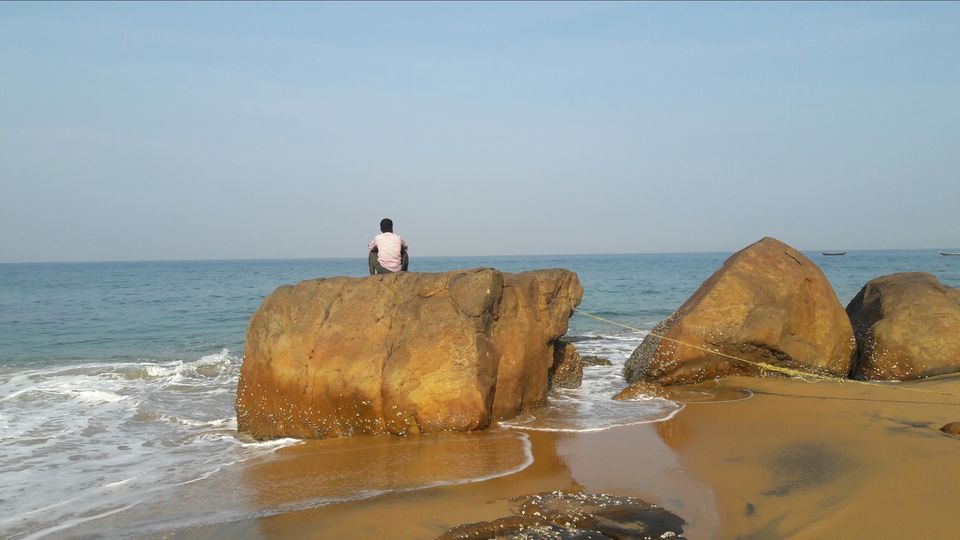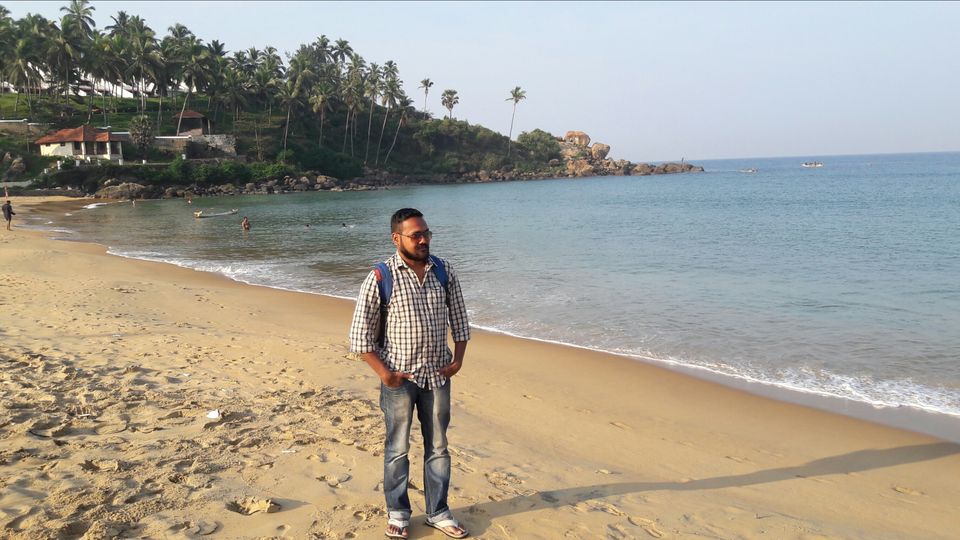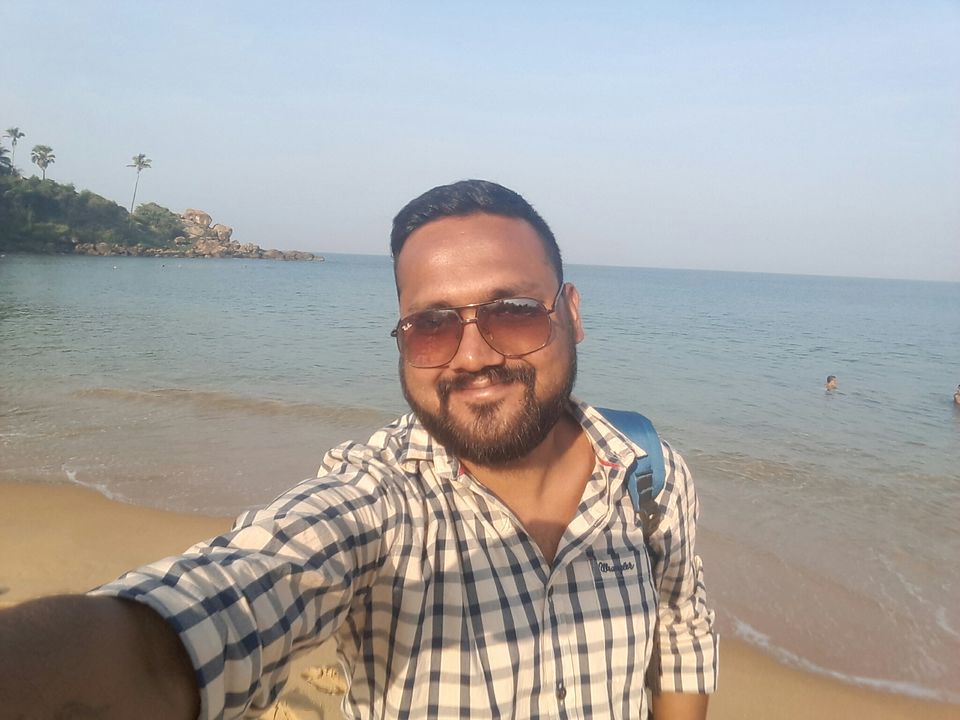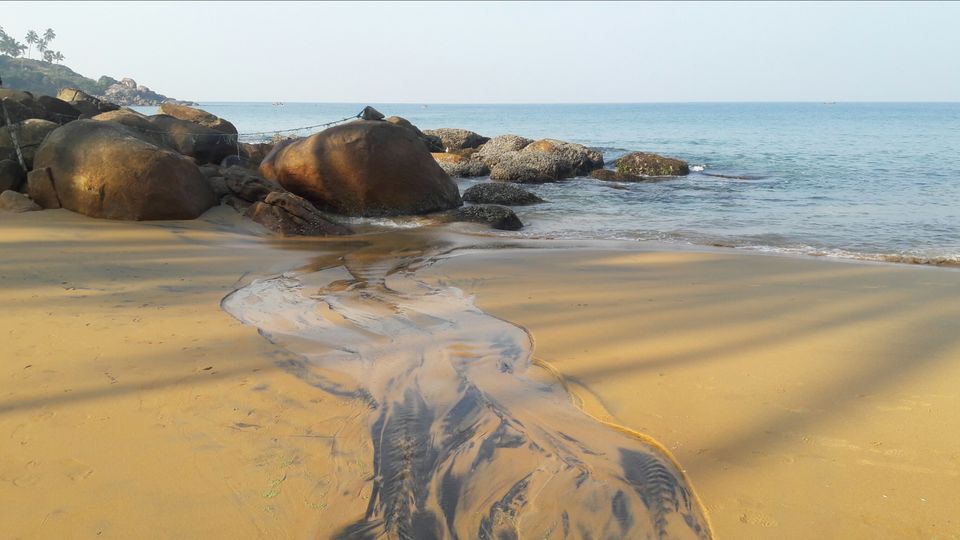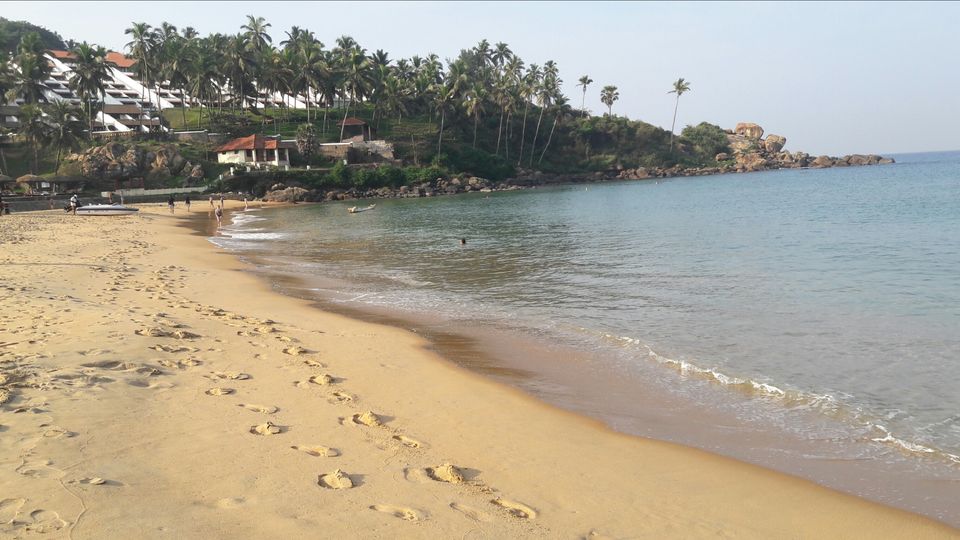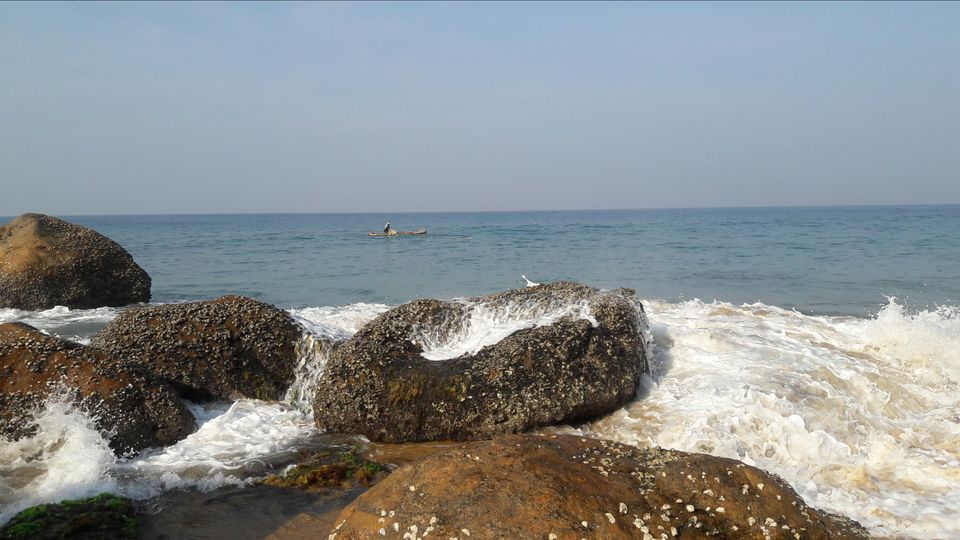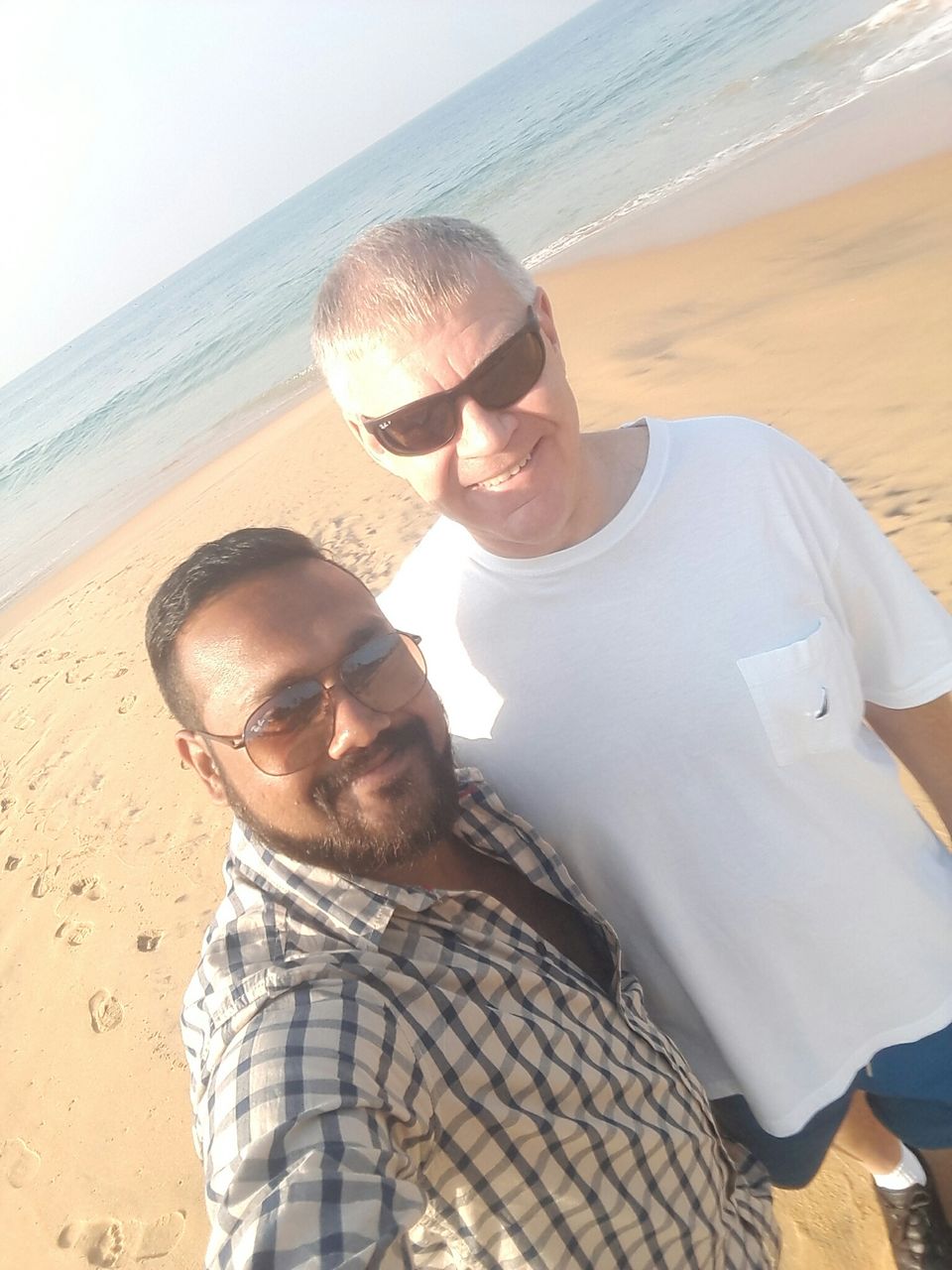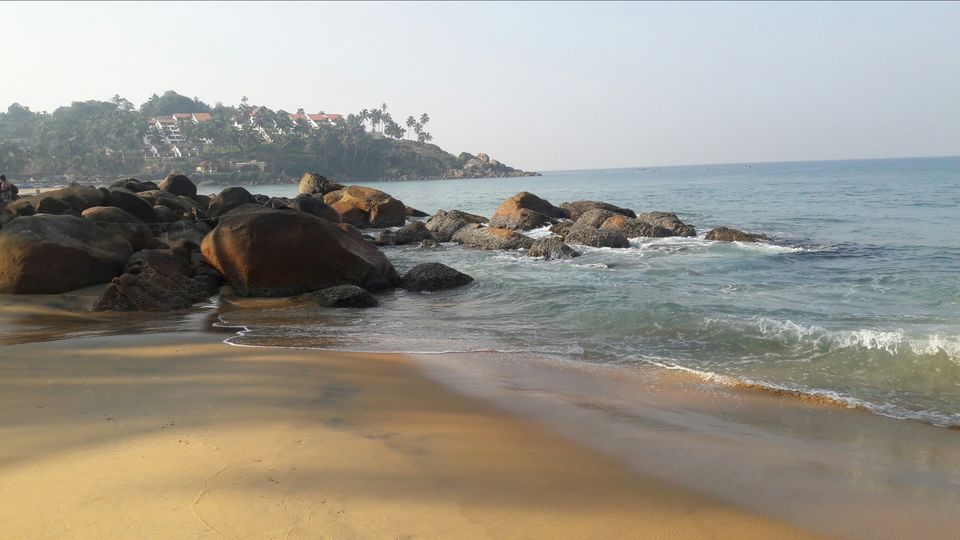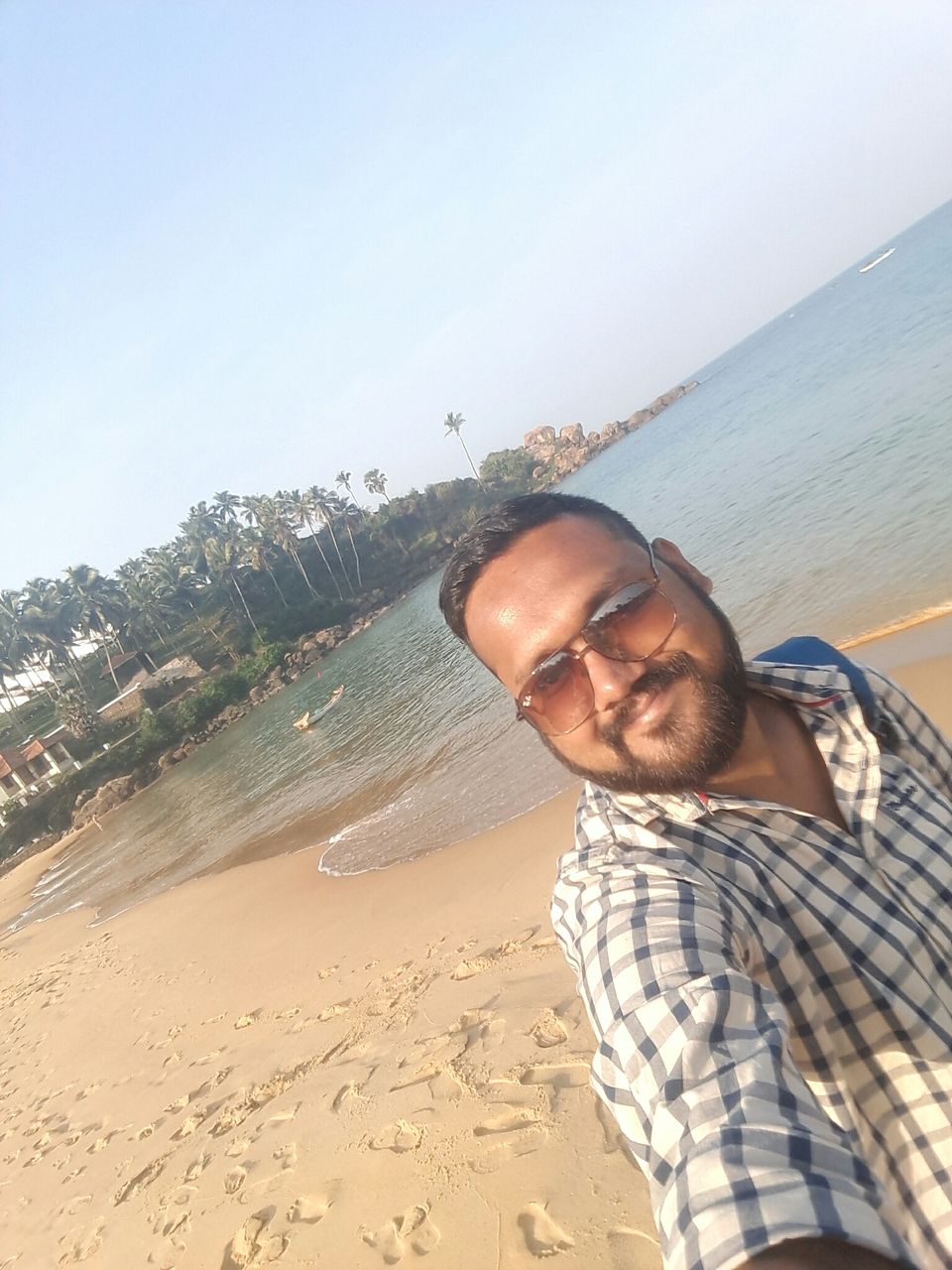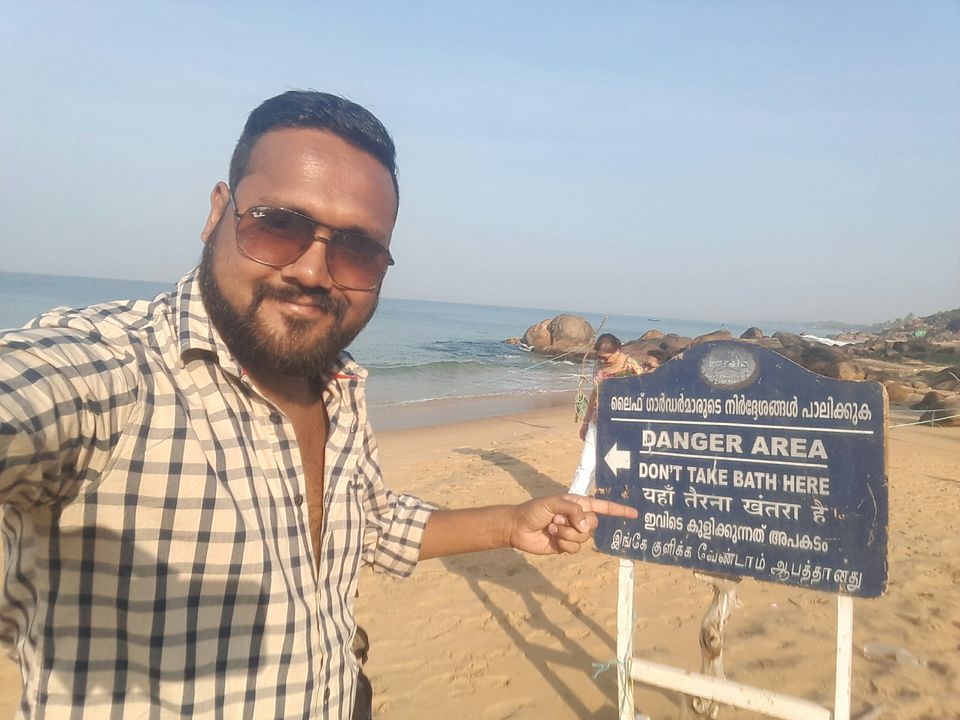 I wanted to take a bath in this beautiful sea, so i changed myself into a half trouser, kept my backpack near the mosque which is situated near the beach and i jumped into the sea. Though swimming here is prohibited as i can feel the strong current of the waves which pulling me deep inside with its waves. But i enjoyed and felt blessed to watch such a beauty of nature.
I came near my bag change my cloths and ready to leave Kovalam beach. Now my next destination is Poovar Island which is 35kms from here. I can't tell you but there is lot of differences that i feel in myself while i travel i became travelbrat or travel junkie. I need to go to the main road from here as i need to catch a bus for poovar as locals instructed me.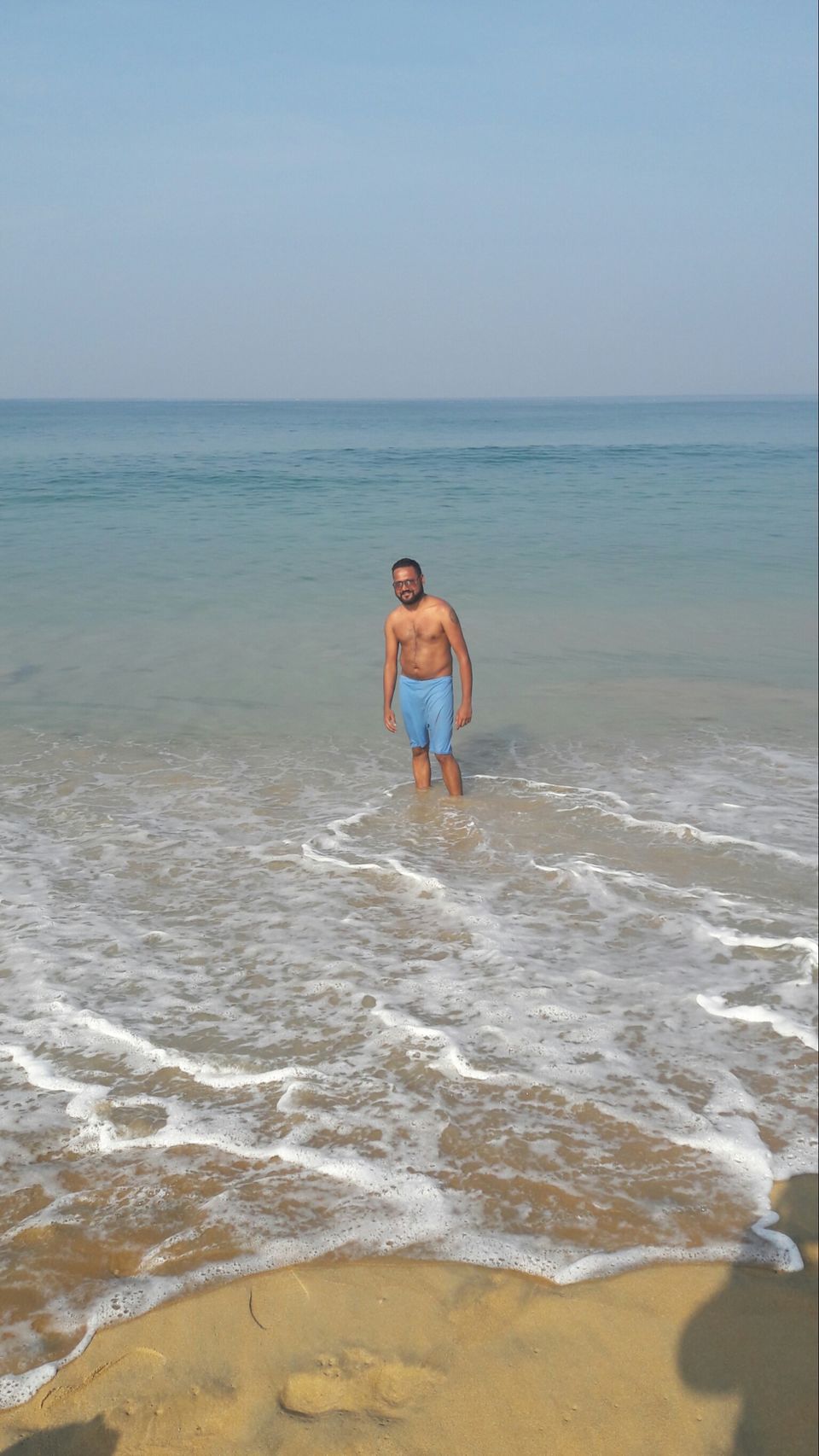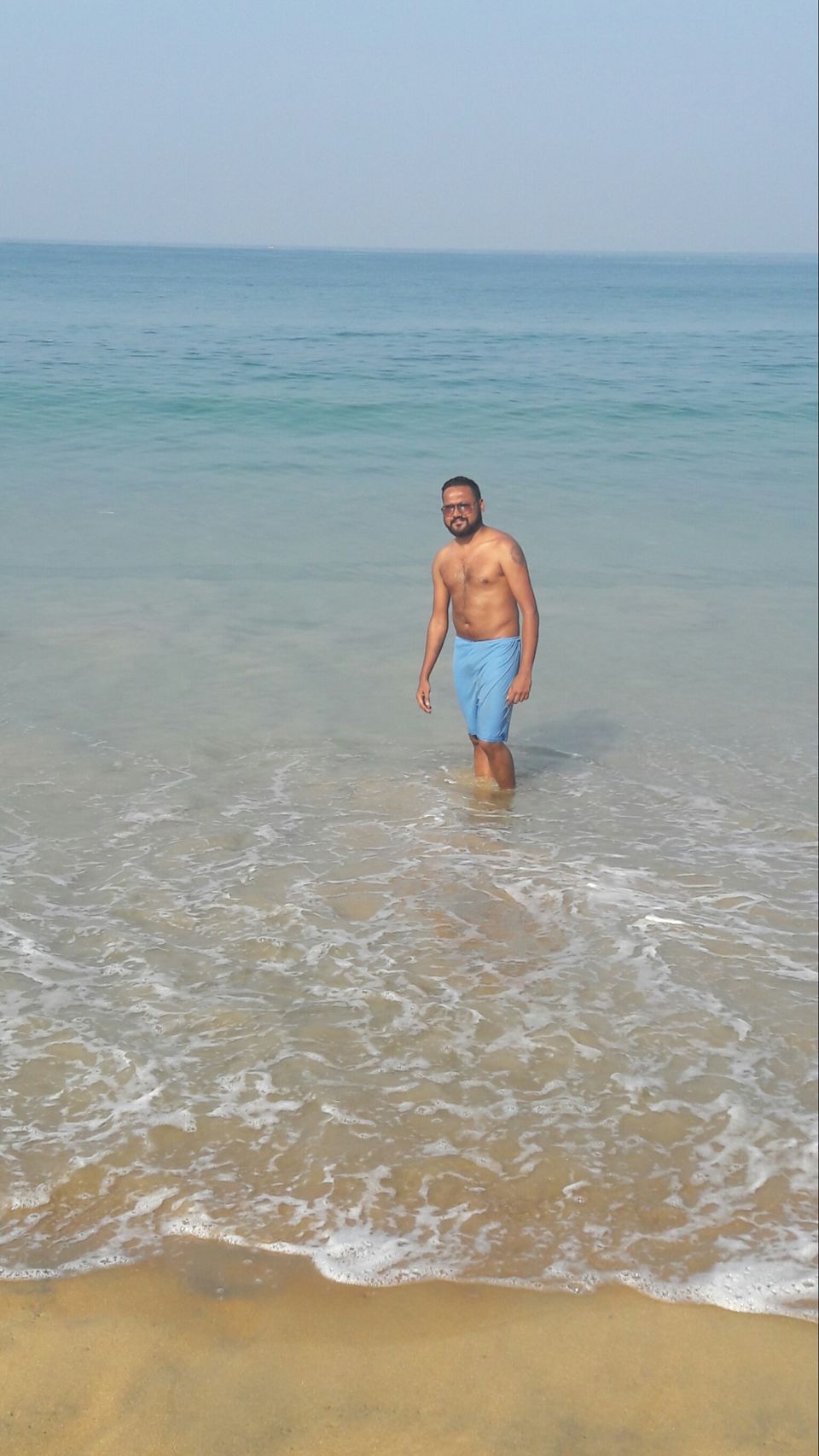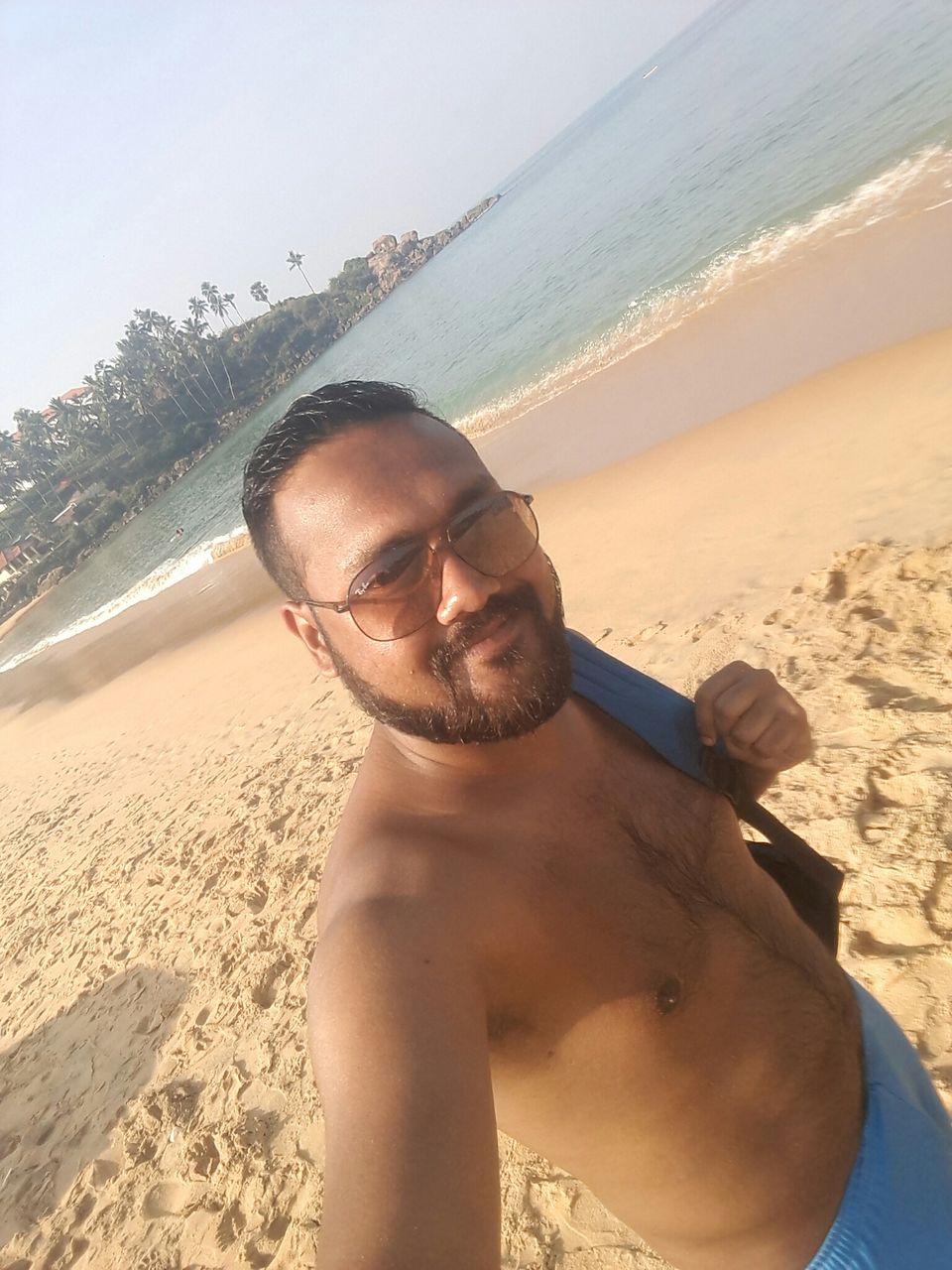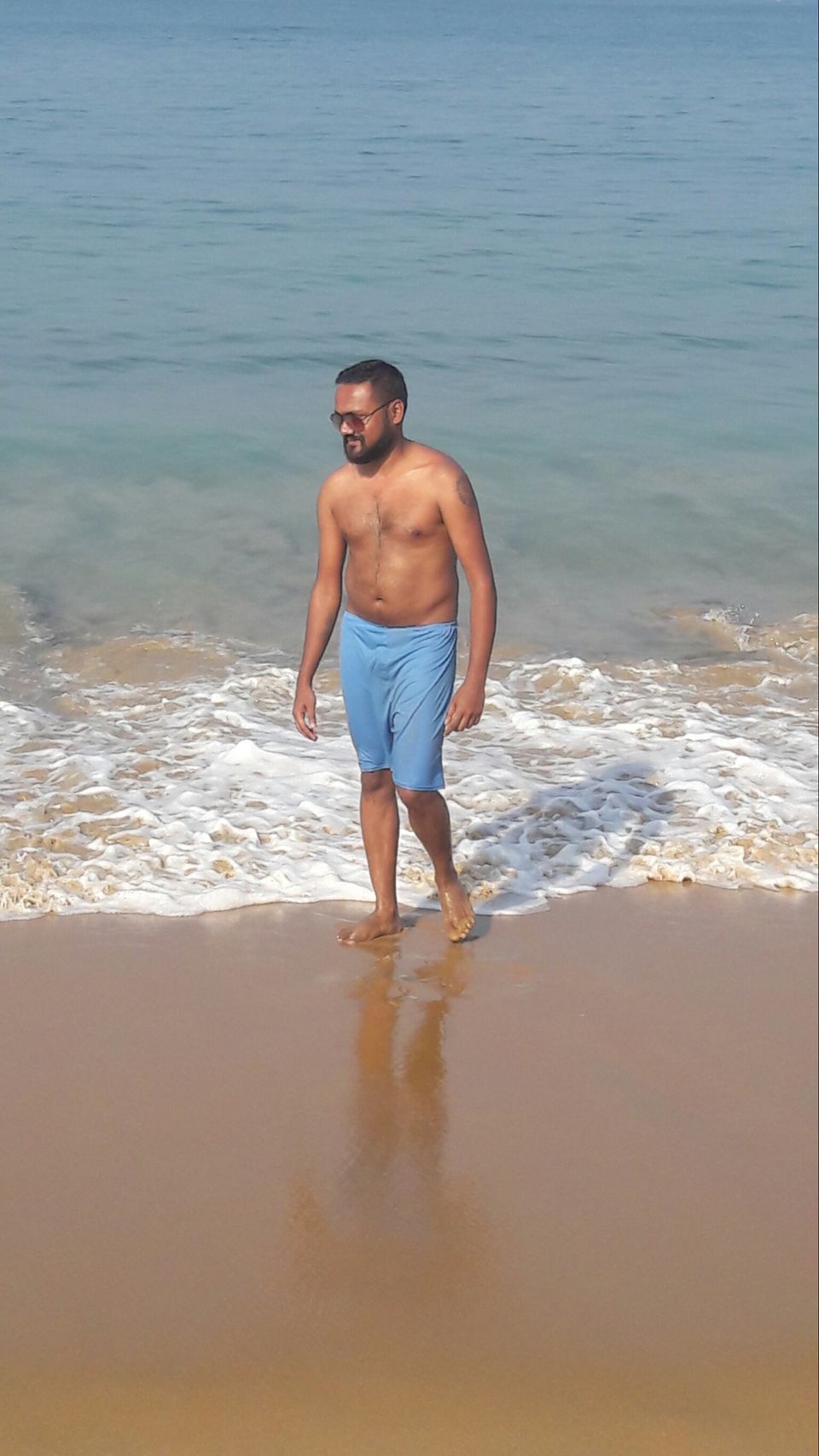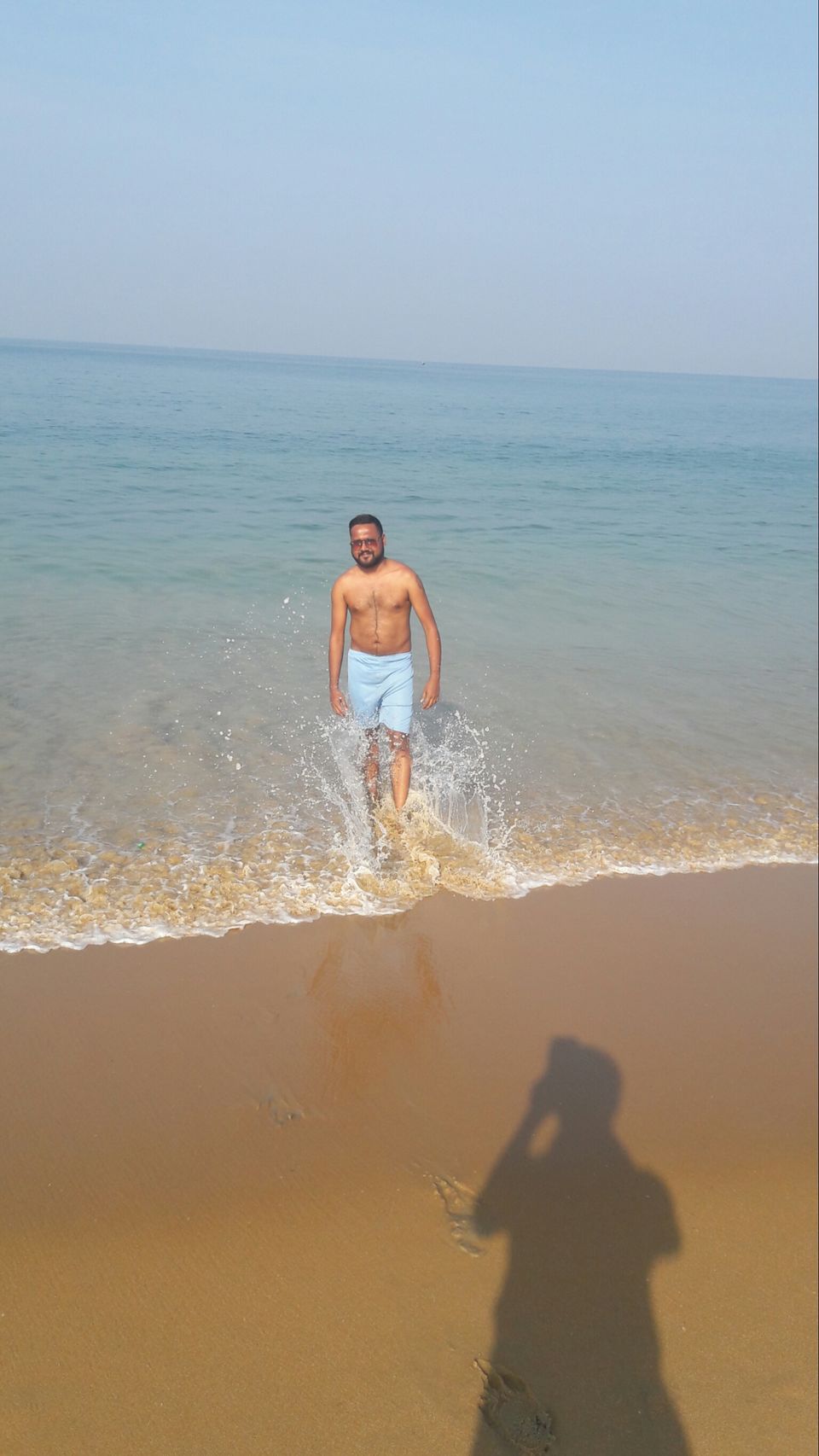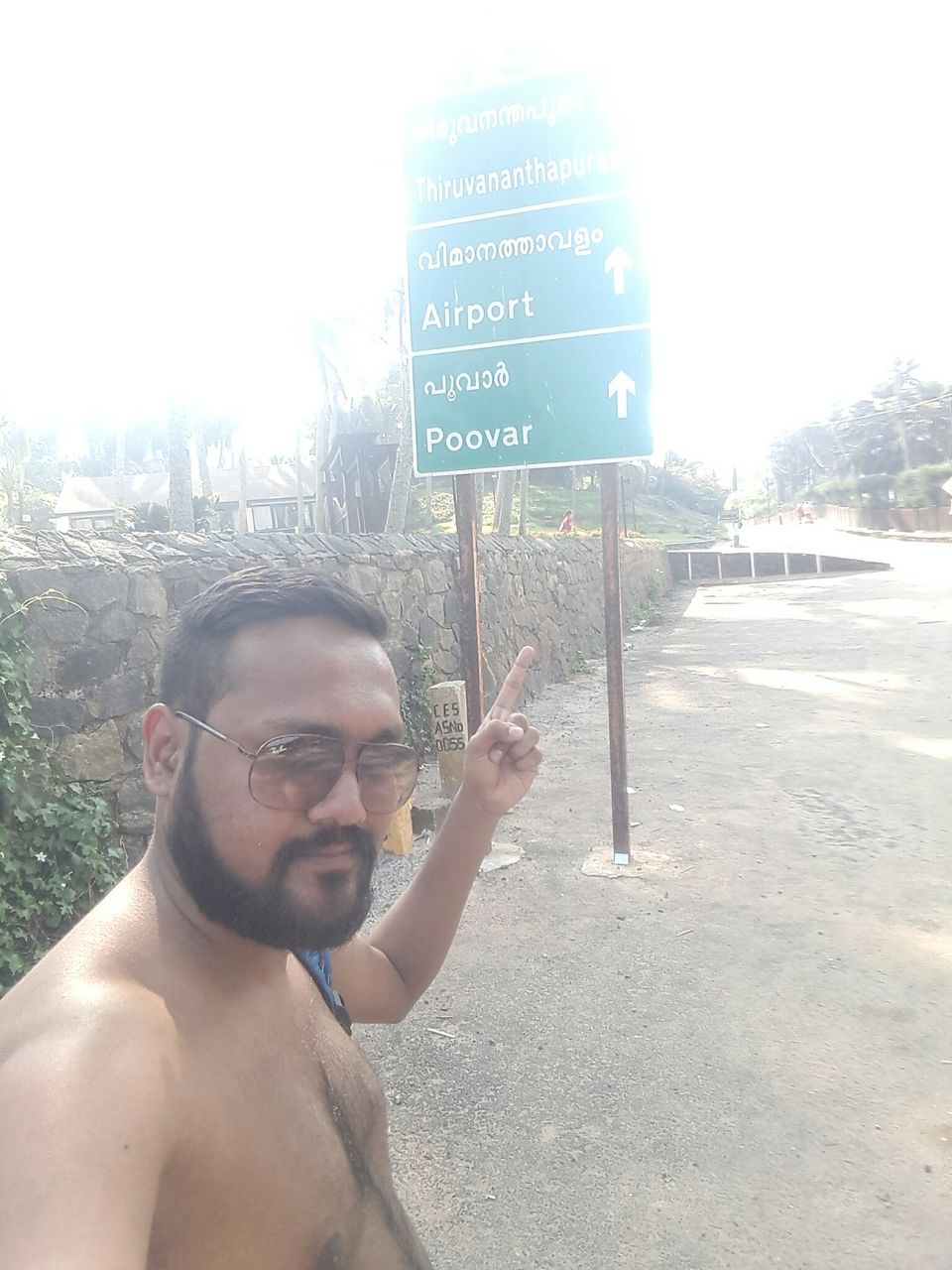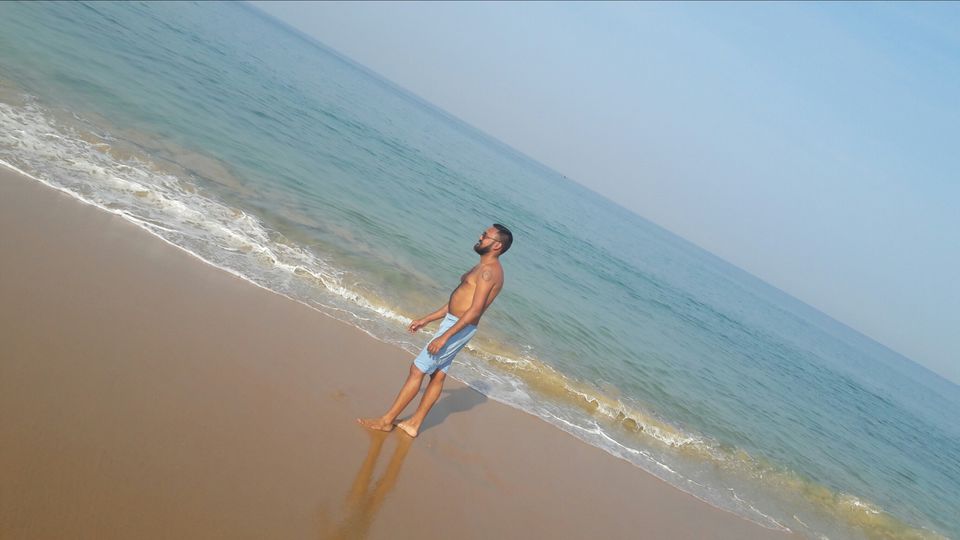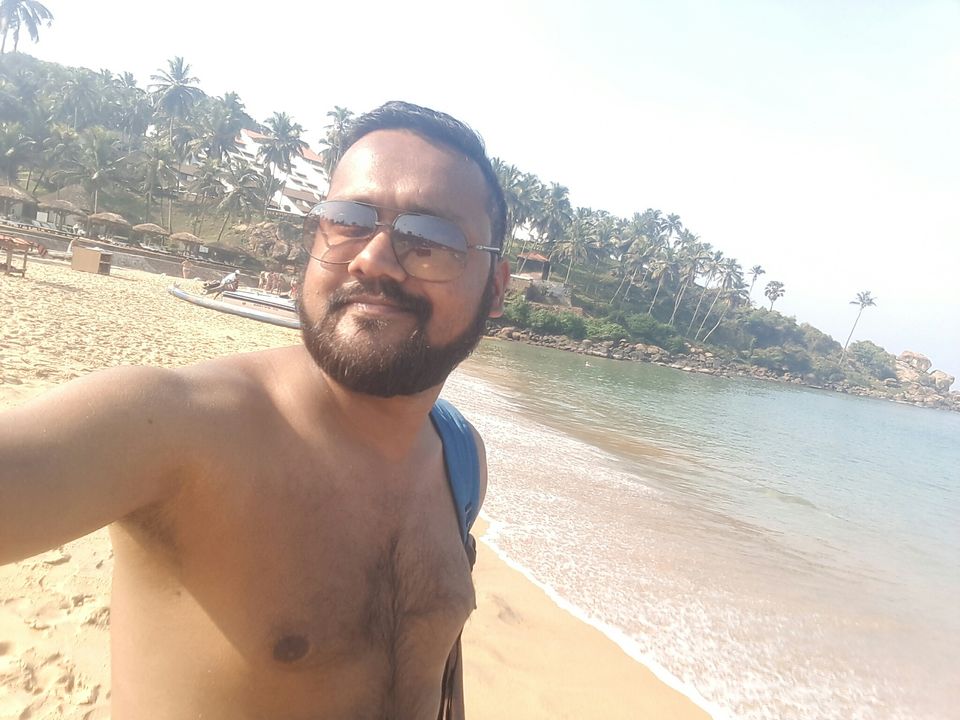 I thought of doing something crazy here and instead of walking i asked for lift to the ongoing motor bikes & vehicles. One anna stops next to me and asked where i need to go i replied the main road actually i need to catch a bus for Poovar. The anna dropped me at the exact bus point i thanked him and he smiled back and gone.
After waiting for few minutes i saw a bus coming near to me written Poovar on it and i boarded without asking anyone. I bought my ticket from the bus conductor at Rs-25 and make myself relaxed in of the window seat. I saw few Malayali girls wearing golden colour kerala silk sarees with flower pinned in their hair, it must be jasmine as the aroma of that flower was all around the bus. It took 1.5hrs to reach Poovar from Kovalam bus stand.
As soon as i reach Poovar i checked in one of the near by local restaurant and refueled myself with Kerala Paratha with sambar & coconut chutney with one strong Kaffe (Coffee) at Rs-30
After i done with my breakfast i came out to the main road and asked the local autowallah's the location of the beach, and they came to know that i'm here as a tourist and they started showing me the beach photographs and backwater. They asked Rs-100 for droping near the beach which is only 5mins of walk. I smiled & thanked them but i didn't follow the way or route they told me for the beach. Actually i went to the opposite direction as i dn't want to go the main beach but i want to explore the fisherman's beach first. The autowallah's told me to not to go that way because there was nothing and only the locals go their for drinks and gossiping. They recommend me its not safe going solo there. But who cares when i already made my mind all the way to explore the unexplore destinations. I moved towards the unknown fisherman's beach and i saw a beautiful green coloured Mosque and without thinking any thing i entered inside the mosque by leaving my pair of sleepers outside. I saw few mens were offering their prayer. Now i can see the greenish water waves while i came out of the mosque. I need to walk on the sandy football ground to reach the beach which is filled with fisherman's boat and small huts. The water is very much vibrant over here as the waves are just looking like a small turbulence here. Some local mens are fishing and few are stiching their net tightly for next day. Birds & hawks above me are in a group and waiting to grasp some fishes from the sea. I clicked many pictures & done my video too which i have uploaded in youtube. One can watch my post by searching -Pritam Pandit Poovar Island. There was no tourists and all and thats the best part of this beach to enter from the fiserman's colony to enjoy the raw beauty. Suddenly few small kids came naked near the sea to have bath (Masti) actually. They came to me and clicked some selfies with them too and they blushed & gone back to the water.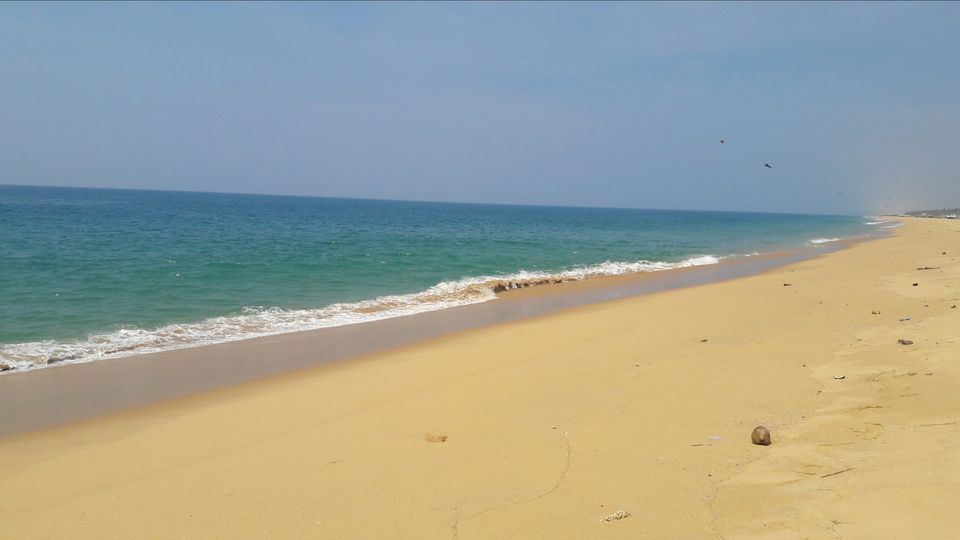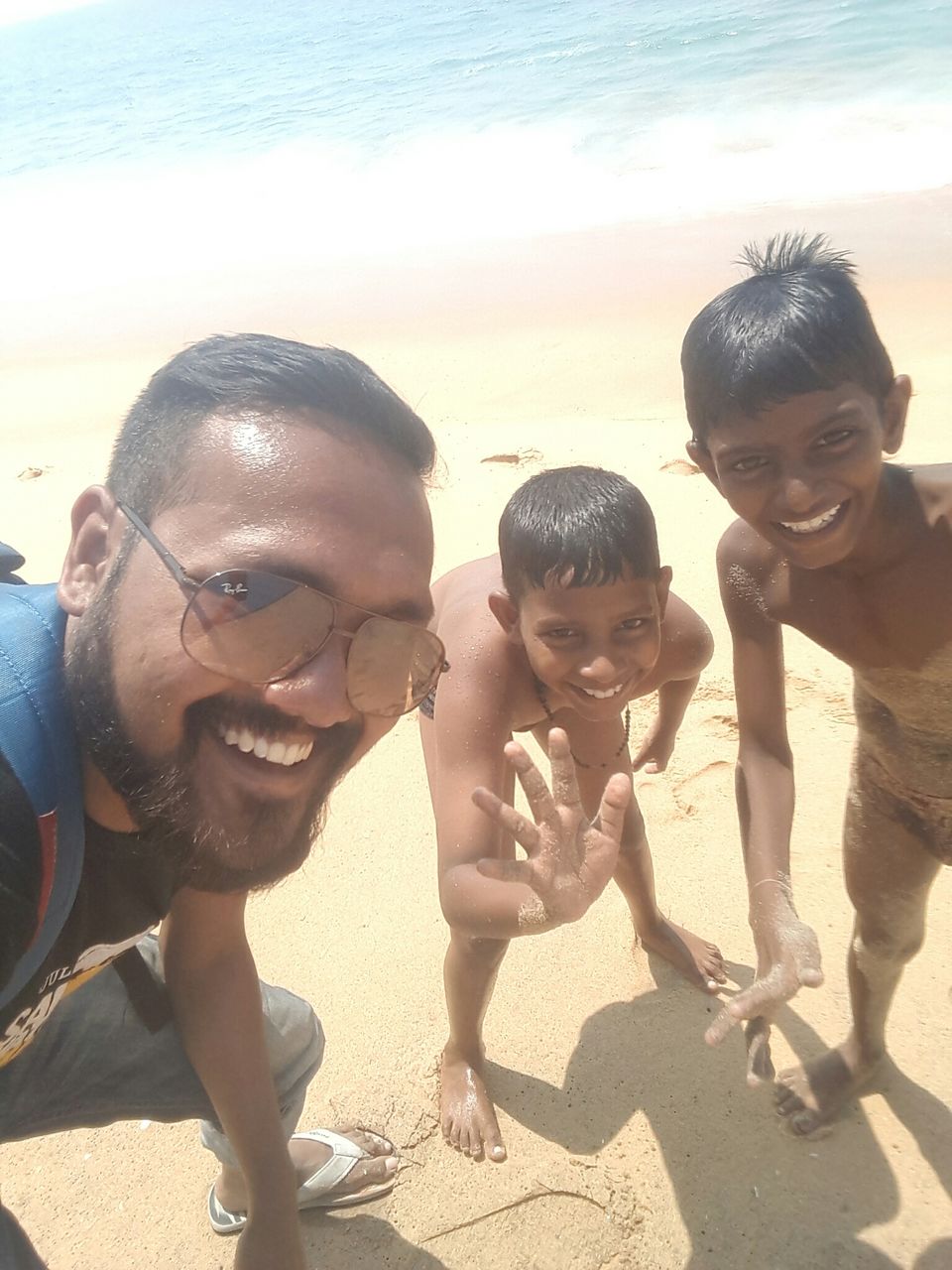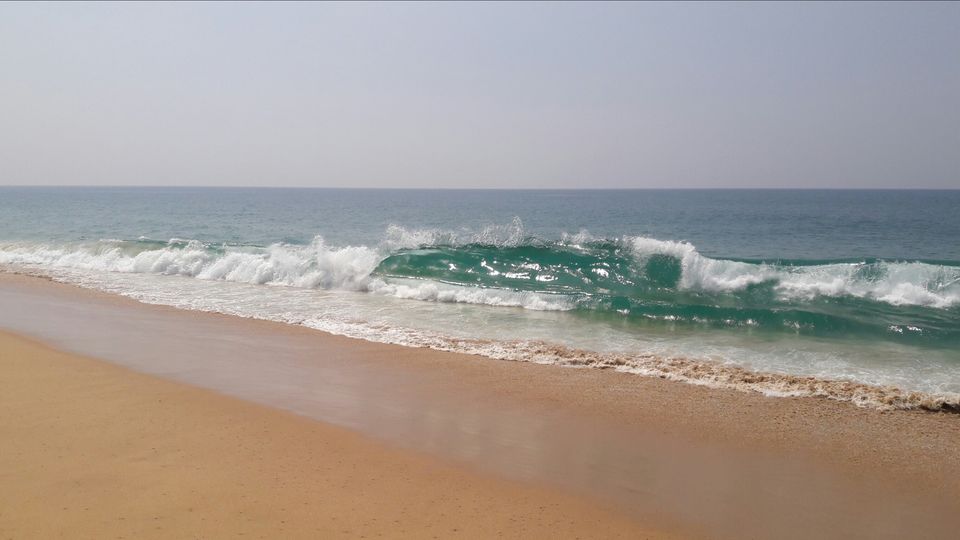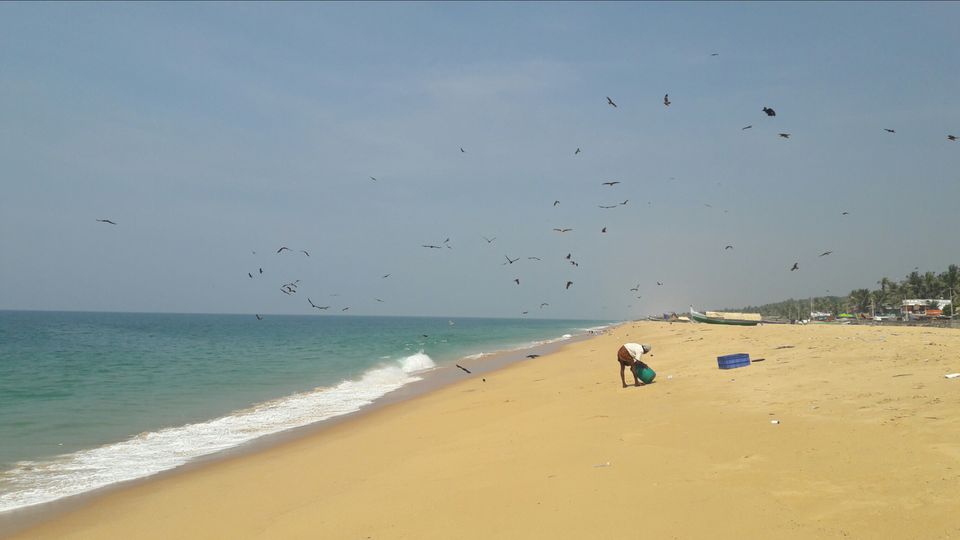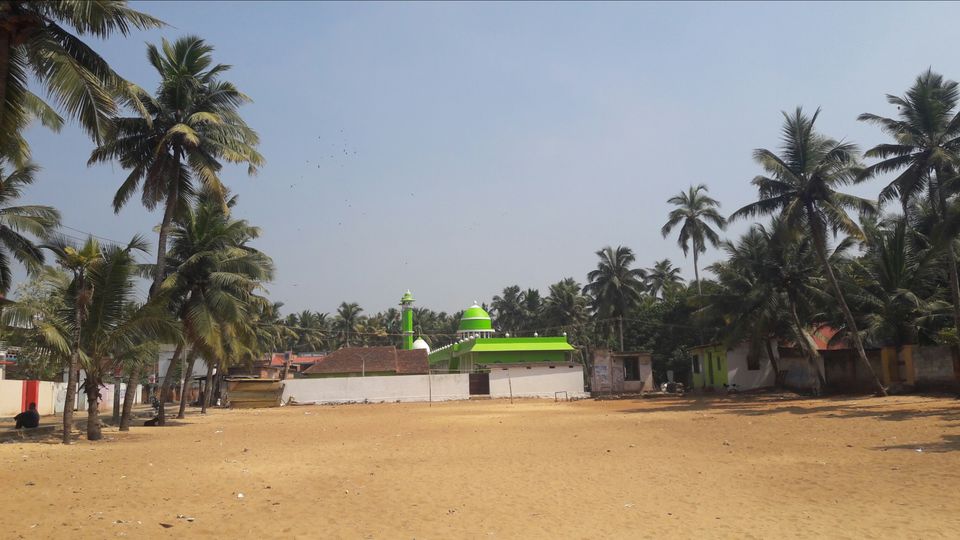 I almost walked 3kms now and i have no sense about it...and far away now i can see tourist buses and tourists too. As that is the main entry of this beach from where the autowallah wanted to take me. And after walking for a few minutes more on my left handed side i saw the Kerala famous Backwater. Now what is backwater actually - In Kerala the Lakes & The Arabian sea lies parallel also known as Malabar Coast. Sometimes in the year the the sea water waves comes forward and also mix with the Lakes near by which is known as Backwater.
Now i can see the Arabian sea on my right side, the backwater on my left side, blue sky on my above and golden sand down my bared feet. Amazing!!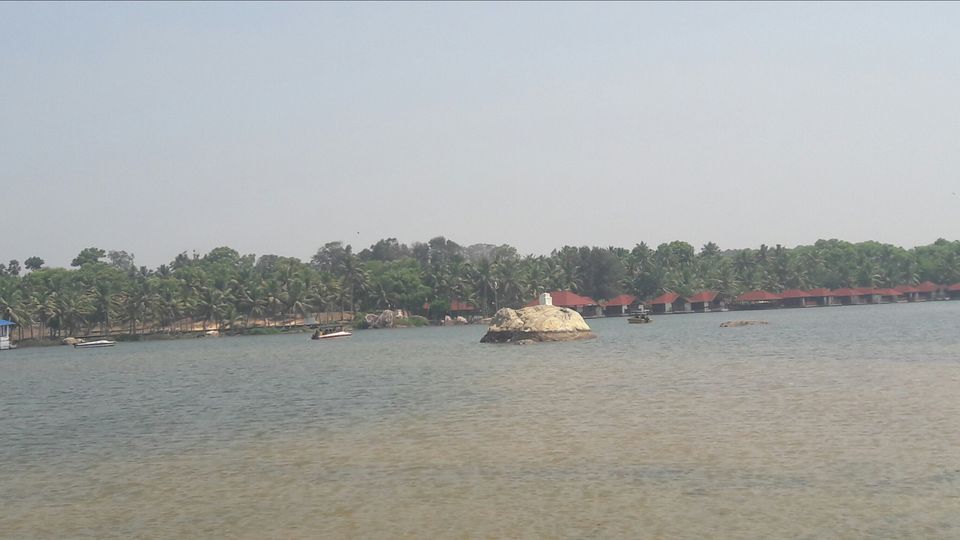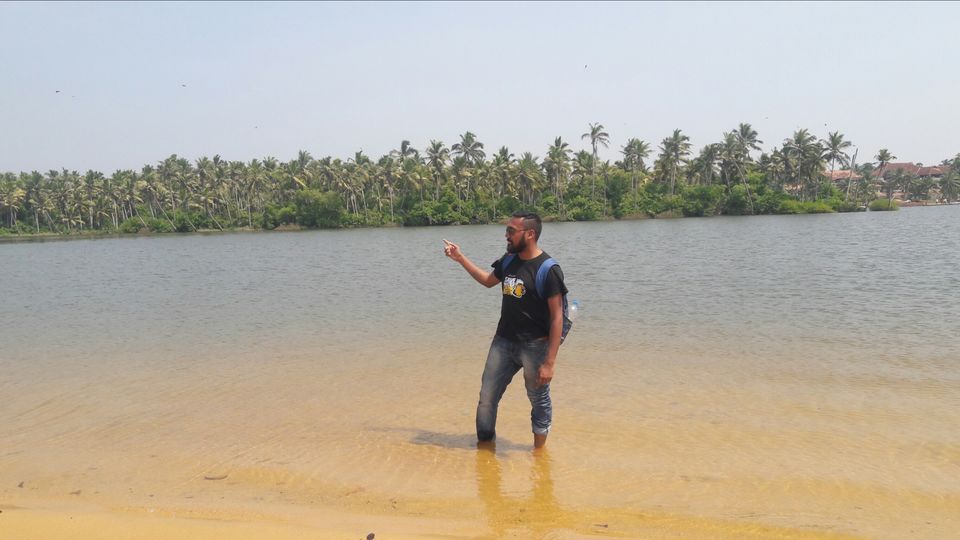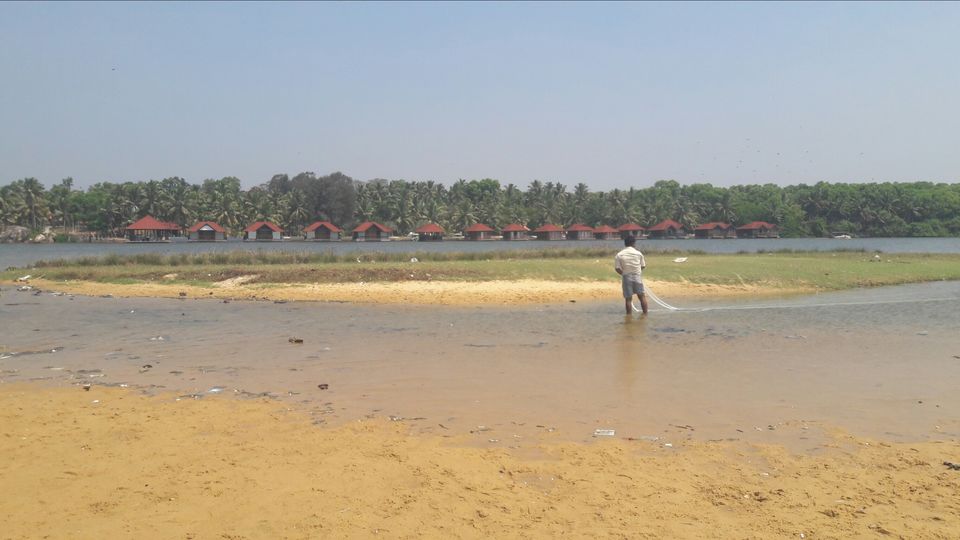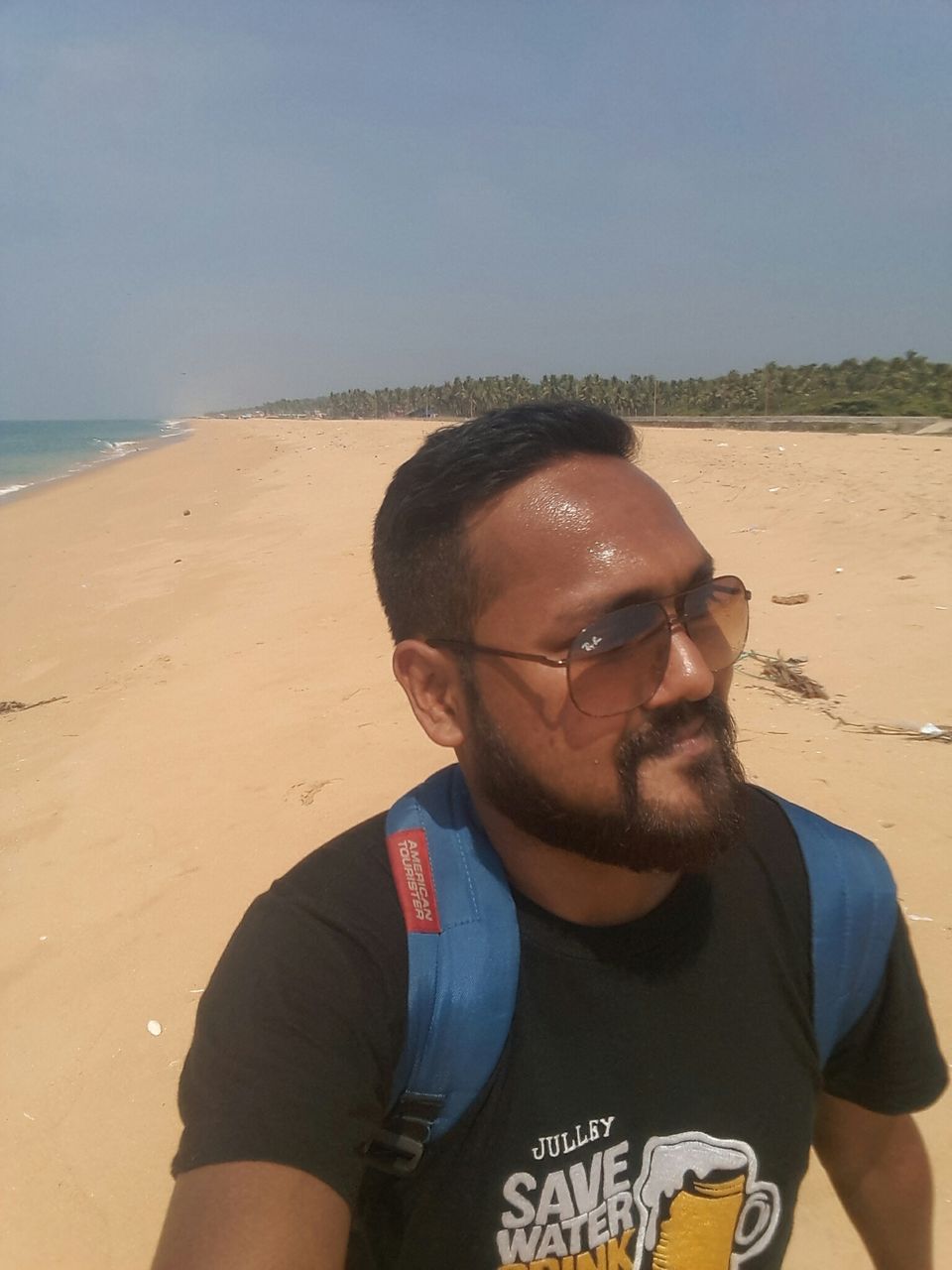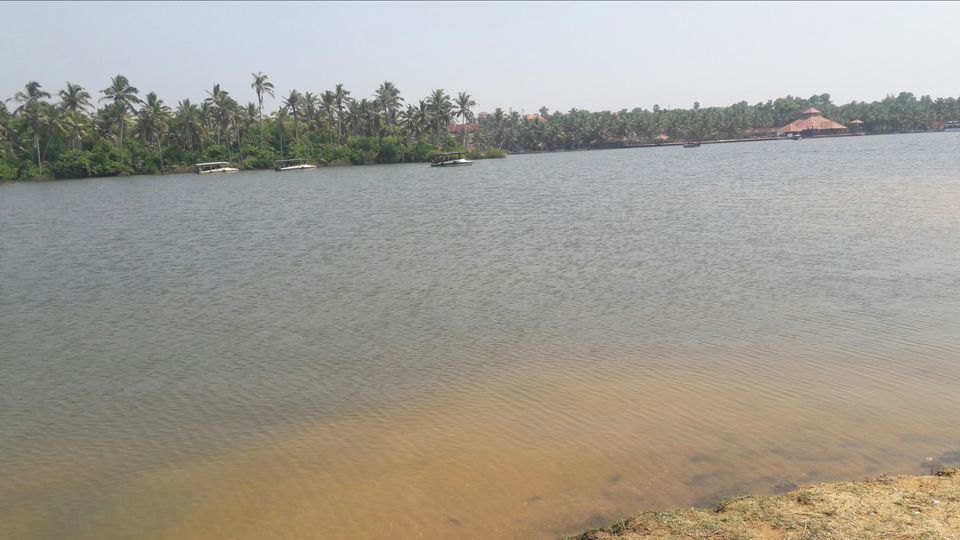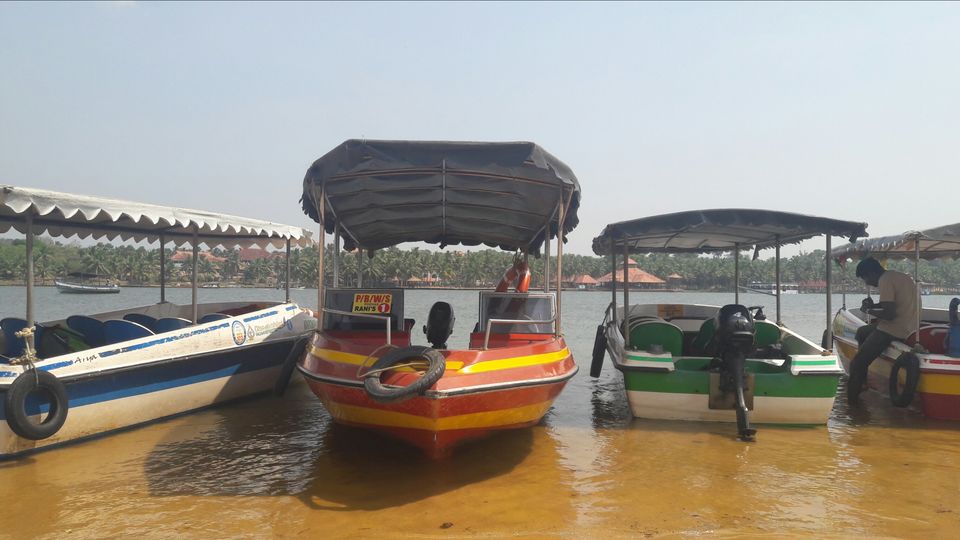 Here too i clicked few pictures of this superb serene. There are small boats in the backwater which are there for tourists backwater ride. And on the opposite side of the lake some hotels are there for tourists too for night stay. I came to the main road and saw a big church facing the arabian sea with mother mary holding child jesus.
I bid goodbye to Poovar and head to catch y bus for Thiruvananthapuram for my next destubation Varakala. I asked the local about the Poovar bus stand but i shocked to heard that it ia almost 6kms away...ha haha.. that means i walked 6kms on that sandy beach watching the great beauty of nature and i just really didn't feel anything such. By taking a bike lift from a local person i came to the Poovar Bus Station and got myself a window sleep for Trivandrum (Thiruvananthapuram Railway Stn).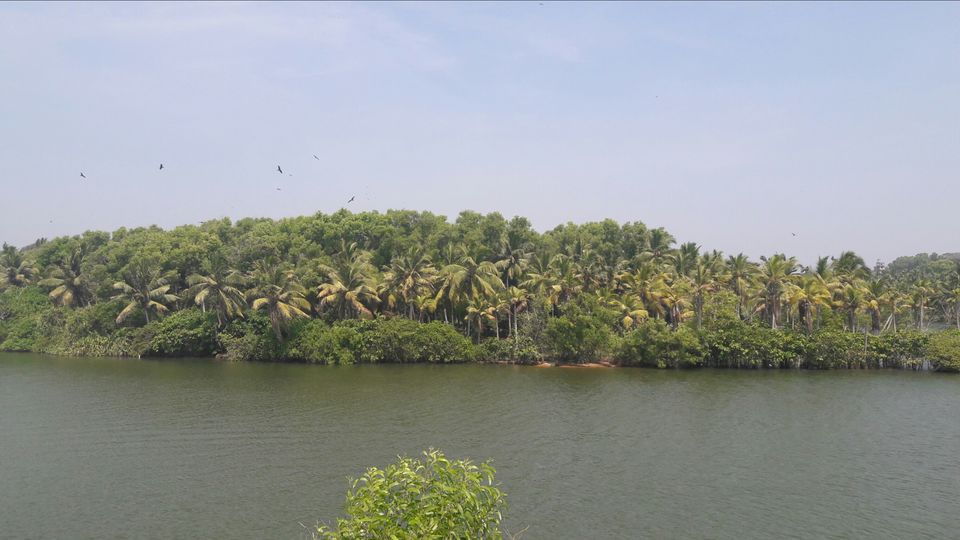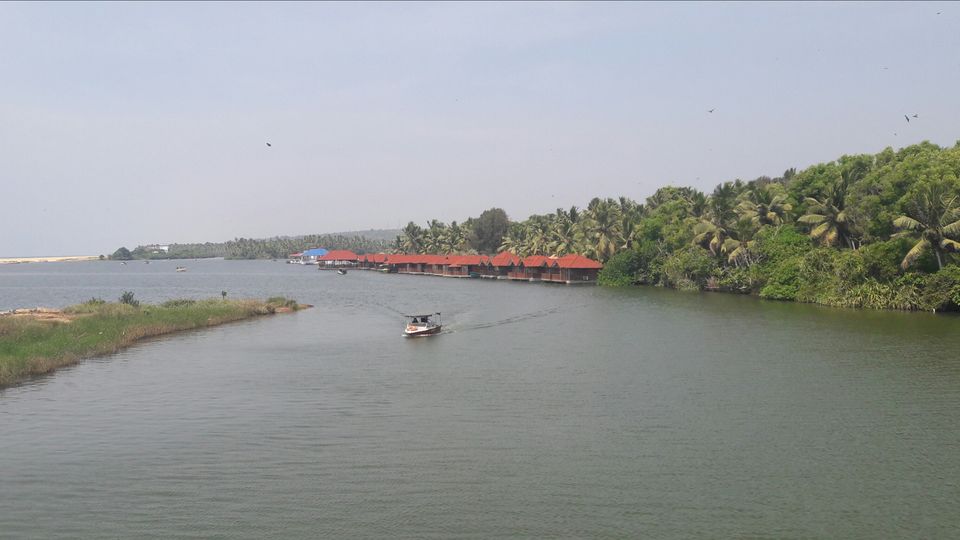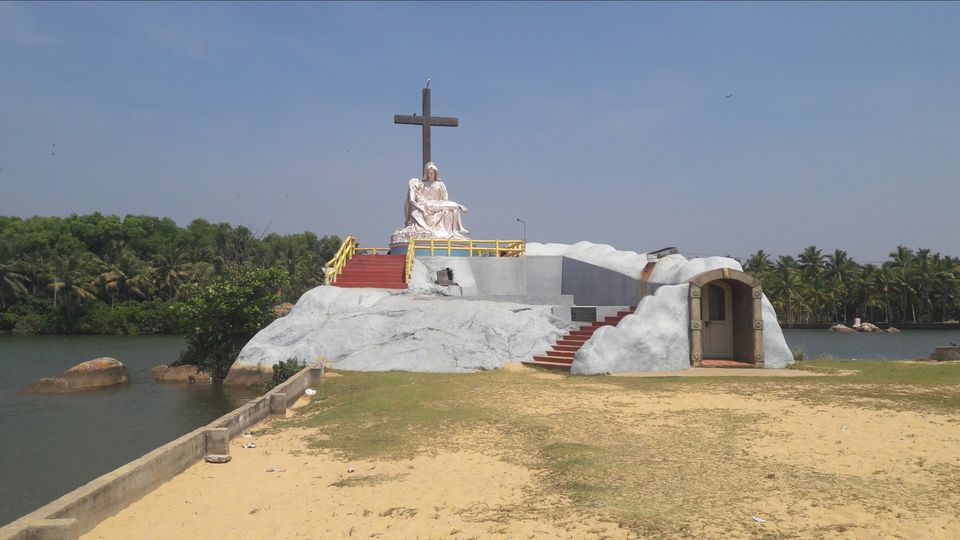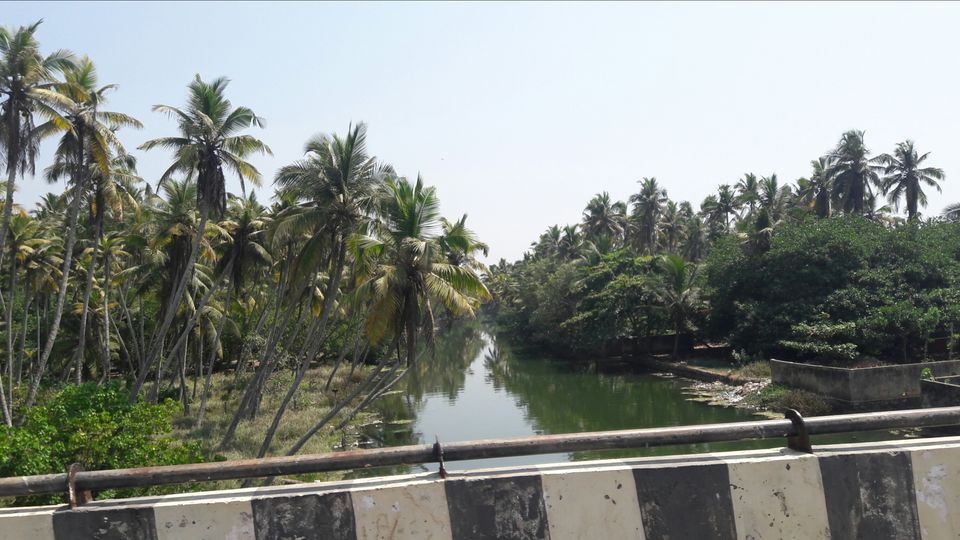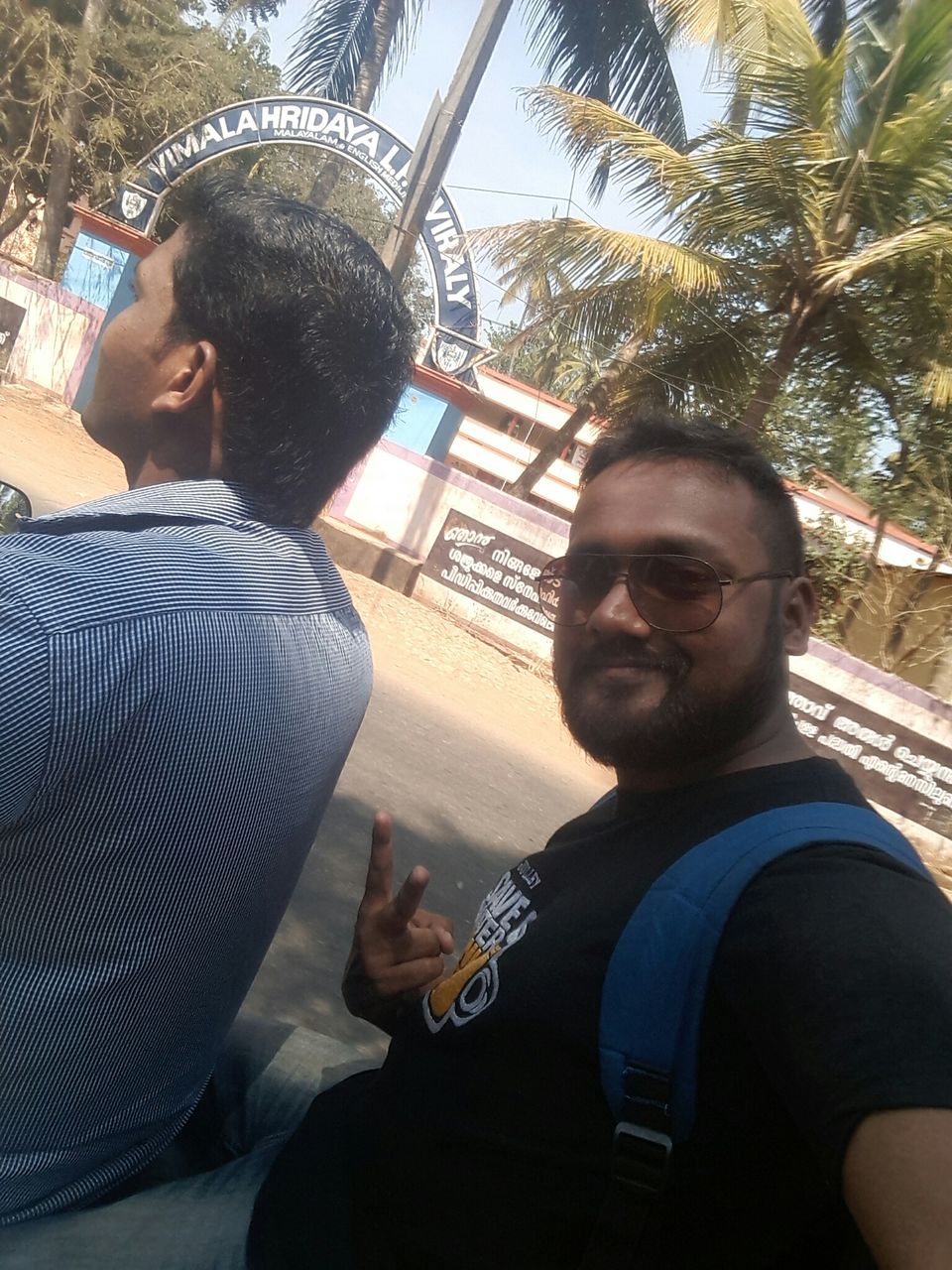 I slept in the bus may be due to the long continious journey and i woke up while my bus was just entering the Trivandrum bus station. I deboarded from the bus and enter to a near by reastuarent. I ordered a kerala meals for my lunch @ Rs-60. The restaurant is full with Bihar & Jharkhand staffs as i spoke to one of the staff there. I came to the enquiry counter and ask about the bus for Varakala. The person shown me the bus and i get into it and found a seat and i saw the bus ia mostly full with foriegners as i love those travellers most who travel by local transport mostly like me,so i started talking to a solo lady who is from Isreala and we continued. It almost 60kms from Trivandrum to Varakala. After 2.5hrs of South indian coastal tip journey i reached Varakala. The road to the beach is covered with coconut farms and Temples.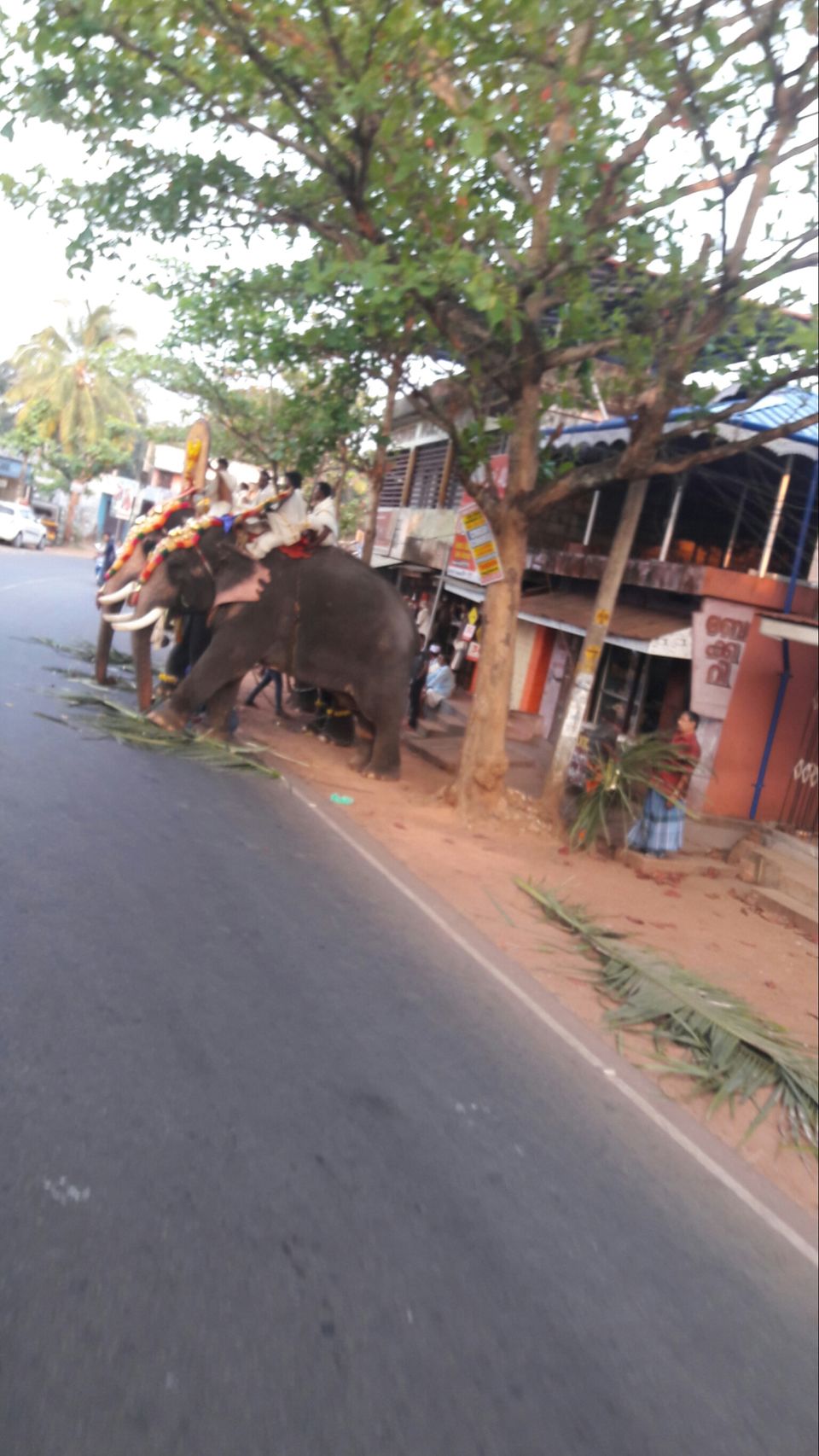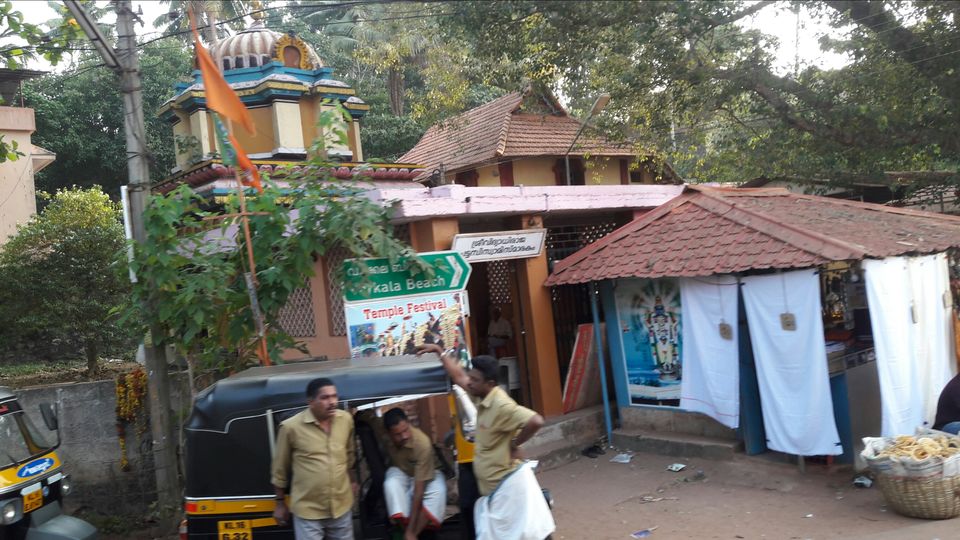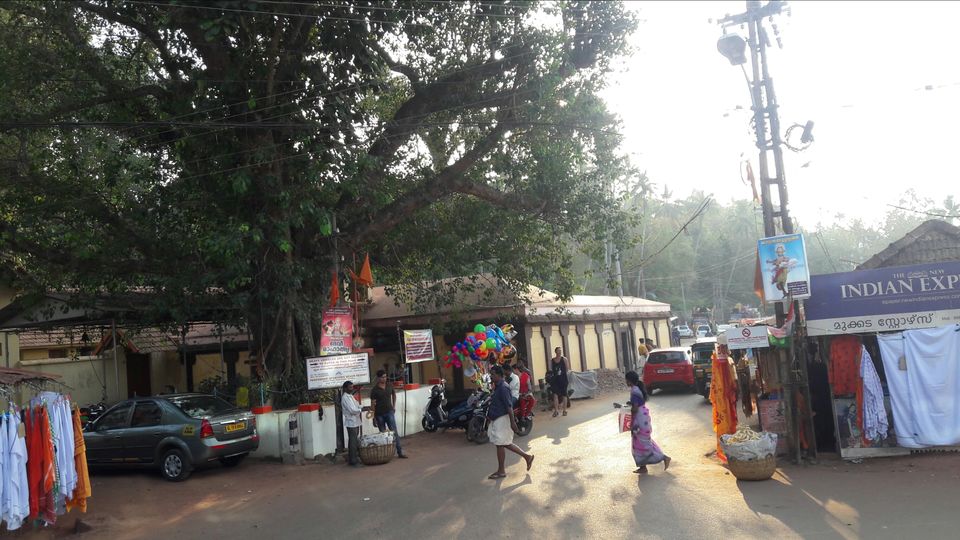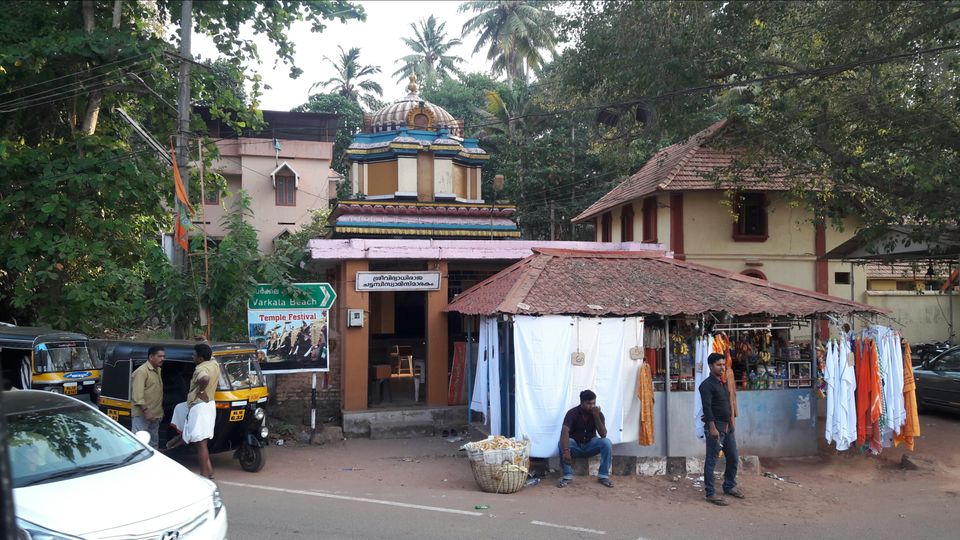 As i came near to the beach i saw it is over crowded with 70% foreigners & rest locals and indian tourists. Varakala beach is very auspicious place for locals as they used to do pujas & all near the beach. Also it is said that a dip in varakala will remove one's past sins... The colour of the beach here is also green as down some where its the same water of Lakshawdeep. I sat on the sand facing the sea...saw many foreigners are enjoying sunbath and opposite to the sea is the cliff...which is another USP of Varakala...so i went to the top of the cliff to view the arieal view of Varakala. Fea coffee shops and lodges are here for tourists. The beach here is not big it is max 2kms long beach. The waves here are nornal not vibrant & i started walking near the shore on my bared feet and the waves are coming and kissing mumy feets and going away continiously. I checked the timing and it was almost 17:00pm and i need to leave as i dnt want to keep my hotel for tonight and will leave from Trivandrum towards my next destination.
I bid goodbye to Varakala just just while the Sun was getting ready to set. I caught my bus for Trivandrum bus station. I came to my hotel near the Padmanaswamy temple and had a quick bath and checkout from the hotel.
Recommended - To keep two separate days for Padmanaswamy Temple & Varakala and Kovalam Beach & Poovar Backwater the other day.
I came to the bus station and enquired for Chennai going bus but the person replied Anna its left few hours ago,so the only option i left with to move towards Trichy (Tiruchirapally).
As i started to get back to Kolkata only by road trip i:e; Kerala 2 Kolkata.
Kerala - Tamilnadu - AndhraPradesh - Odisha - Kolkata (WB)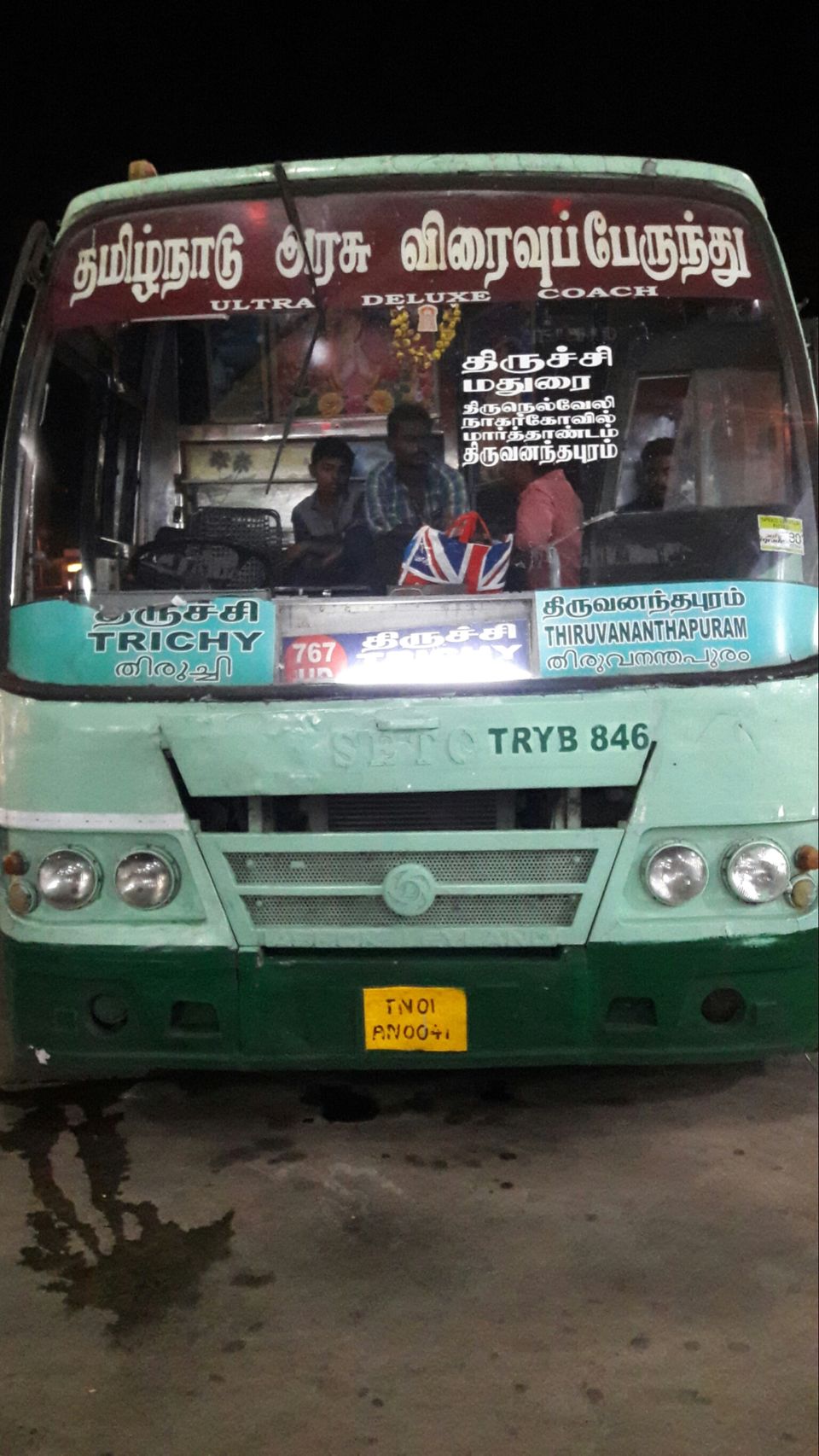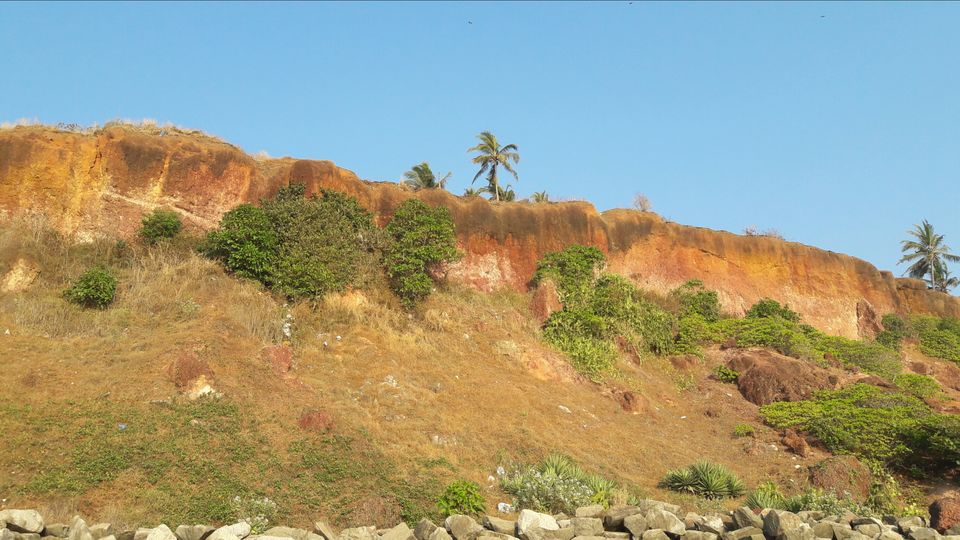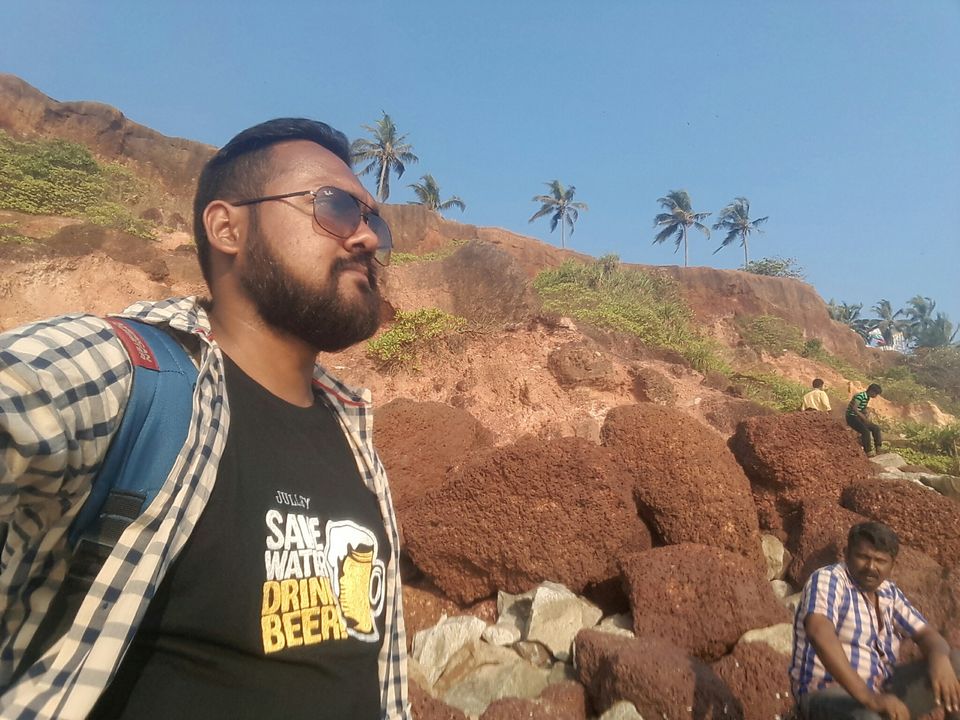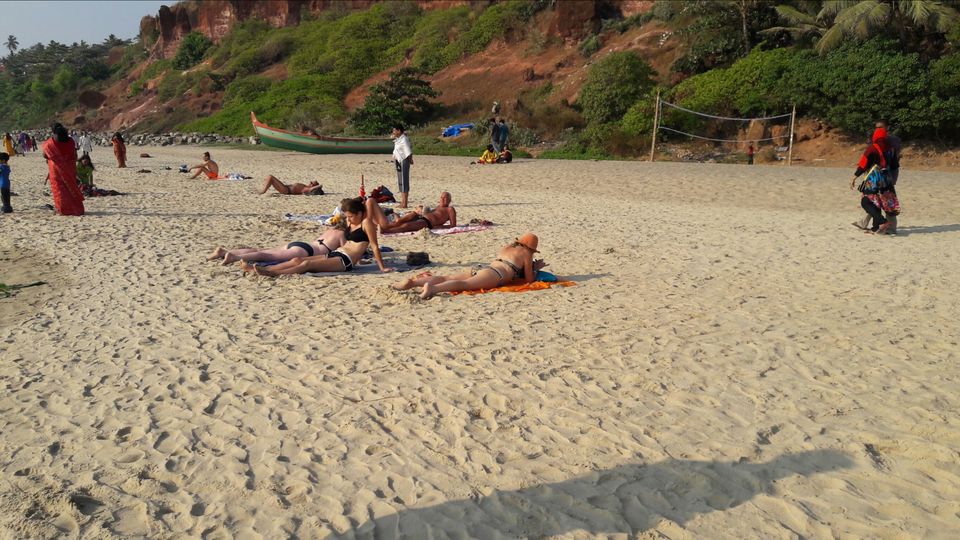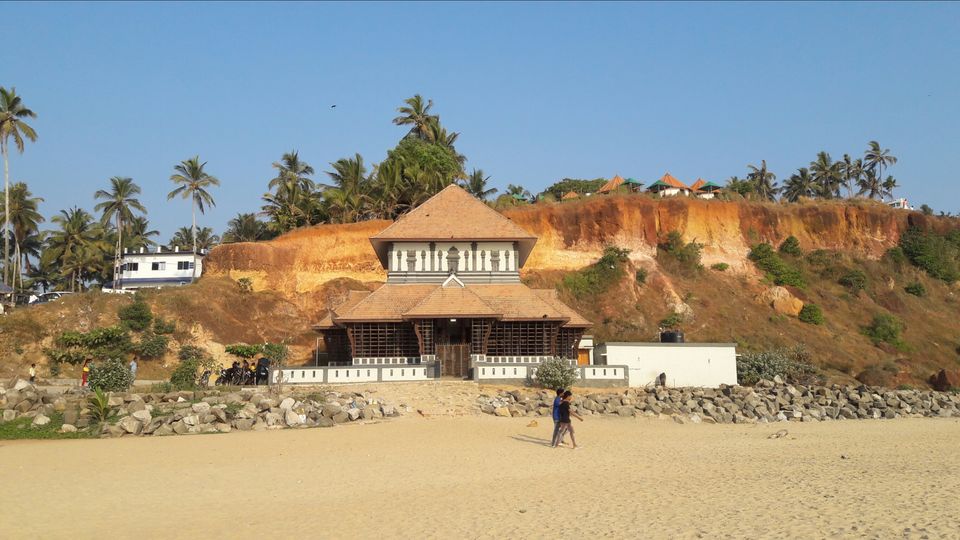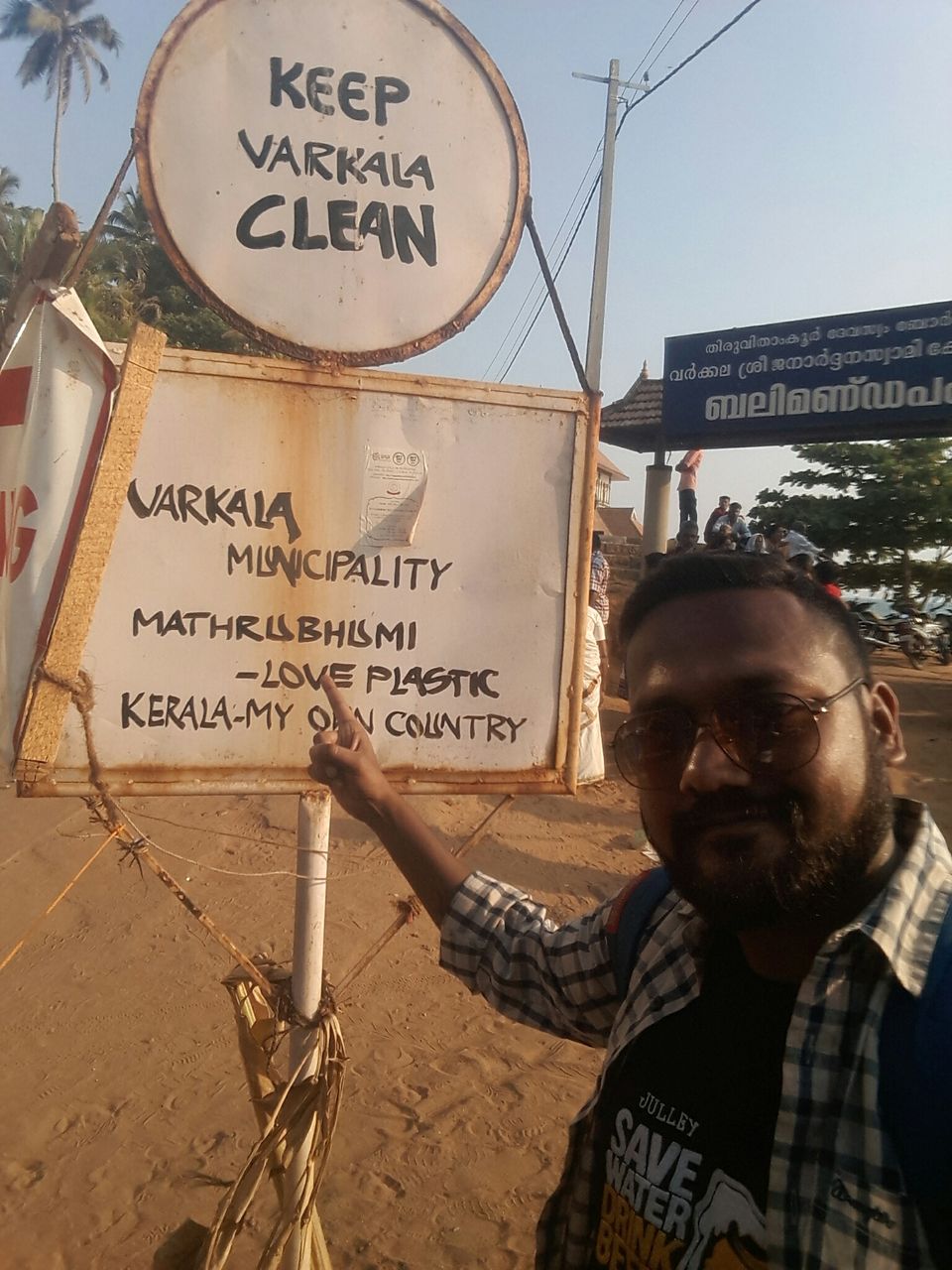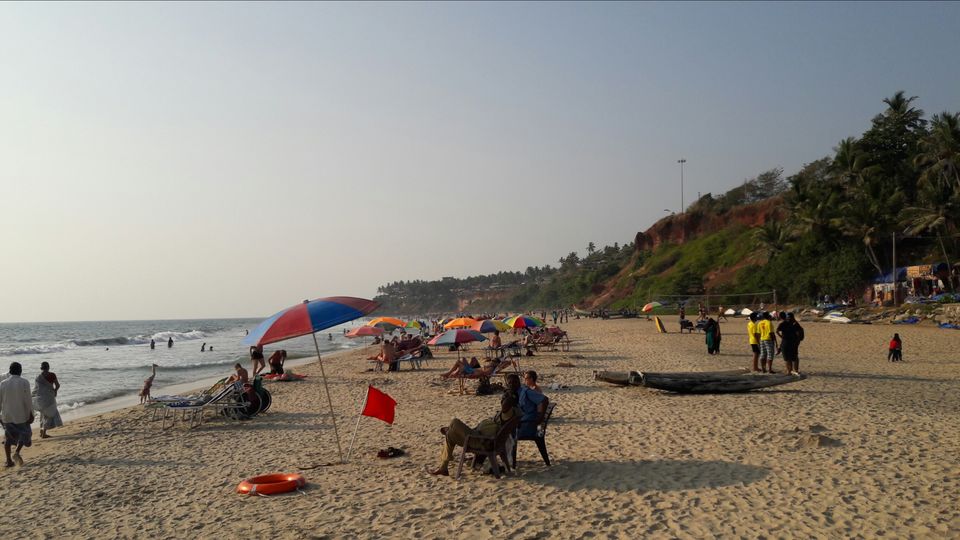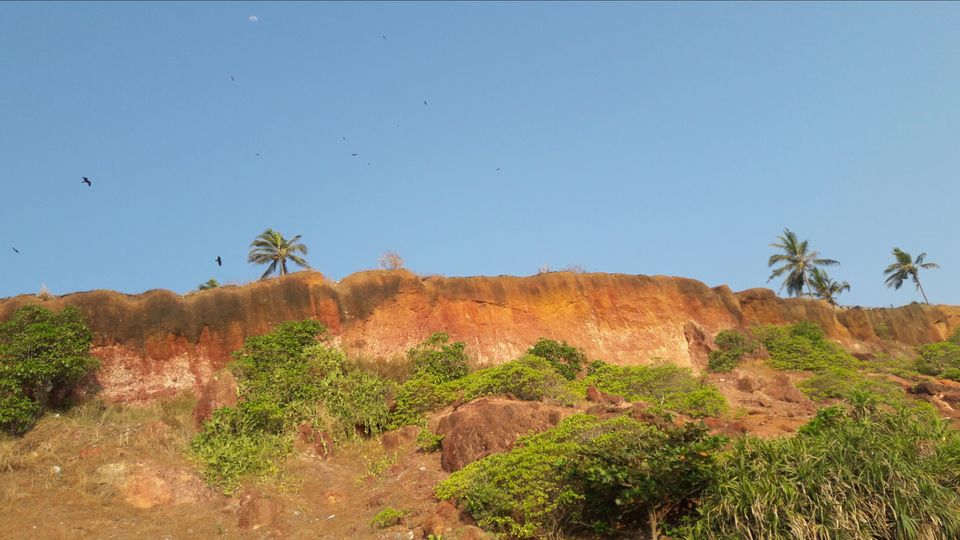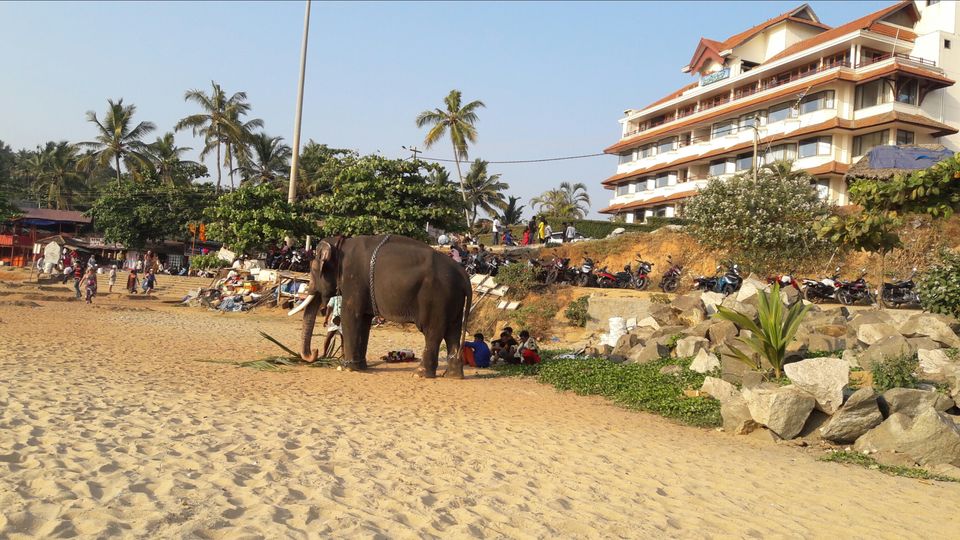 Keep following me..my next blog is all about Vishakapatnam. Happy Travelling!!