The Northeast is also a storehouse of folk music and dance. Assam, Tripura, Meghalaya, Manipur, Arunachal Pradesh, Nagaland and Manipur have somehow not been on the radar of the Indian tourist. It's time now to change that. Imposing mountains, raging rivers, ethnic customs and traditions beckon you to explore.
1. UJJAYANTA PALACE, TRIPURA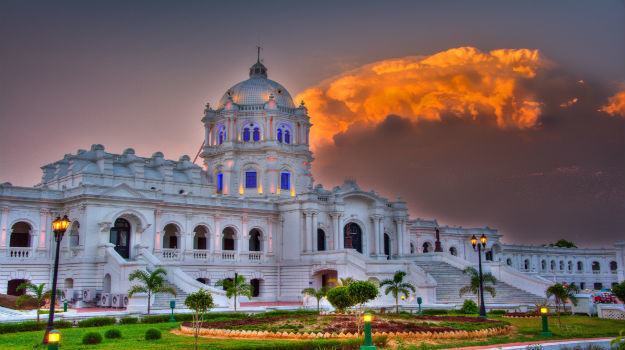 Tripura is the third smallest state amongst the Seven Sisters. Its stature however is large in architectural grandeur and medieval history.  Standing proud on the banks of a river, the palace is spread over a mammoth 800 acres, and was built by King Radha Kishore Manikya in the 19th century. Converted to a museum, the high-domed white structure is a treasure trove of priceless art. The exterior of the palace is no less spectacular. Immaculate Mughal gardens with water fountains accentuate the setting and offer a peaceful respite. Floodlit by evening, the monument looks nothing short of magical.
2. CHAMPAI, MIZORAM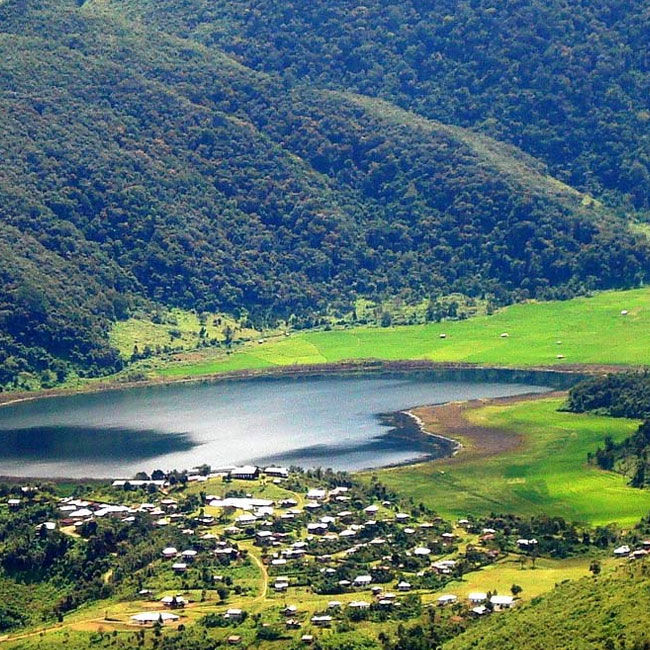 Mizoram is the place to come to if you're looking for an idyllic, languorous, laid-back holiday. Its unhurried pace of life is just the right antidote for a city dweller. Once you land in the capital city Aizawl or the "Home of Highlanders" as it's also known, you'll need to get yourself a tourist permit. Eleven thousand feet above sea level, the city sits on a hilly ridge, with the entire valley lying below like a glittering jewel. You can well imagine the view that awaits you. Do take back a few cane or bamboo artifacts from here.
A few hours drive from Aizawl, and you arrive at a charming hamlet called Champai. Hill slopes alive with rhododendron flowers, orchids and butterflies will greet you on arrival.The visual is sure to inspire many a painter's brush. Laze around in grassy meadows, sit by the Rih Dil Lake or just gaze at the Blue Mountains said to be the abode of Gods. Sounds divine isn't it?
3. TAWANG MONASTERY, ARUNACHAL PRADESH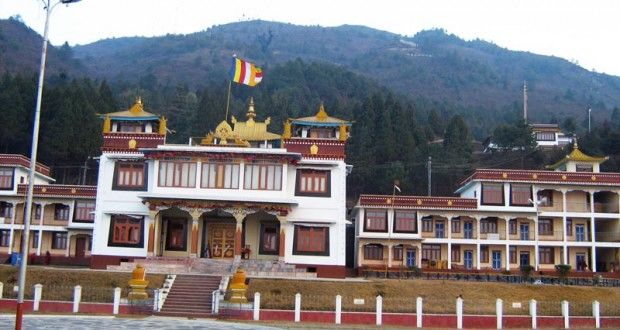 The state's secluded and remote location has helped to create an aura of mystery. Well it's time now to reveal some of its secrets! Arunachal is a fascinating tableau of rivers, ravines, virgin forests and nature parks. For adventure junkies there's trekking, mountaineering and river rafting. An important seat of Buddhist learning, the 17th century monastery seated atop a mountain, is the largest in India and the second largest in the world. Home to almost five hundred resident monks, the three-storey building also houses several valuable scriptures. The ceiling and walls of the monastery have been painted with frescoes that depict celestial beings.
It's best to visit in autumn, when the valley is bathed in fall colors and blooming flowers. The central market is also an extension of Buddhist culture, with religious murals and prayer wheels occupying place of importance.
4. UMSHIANG, MEGHALAYA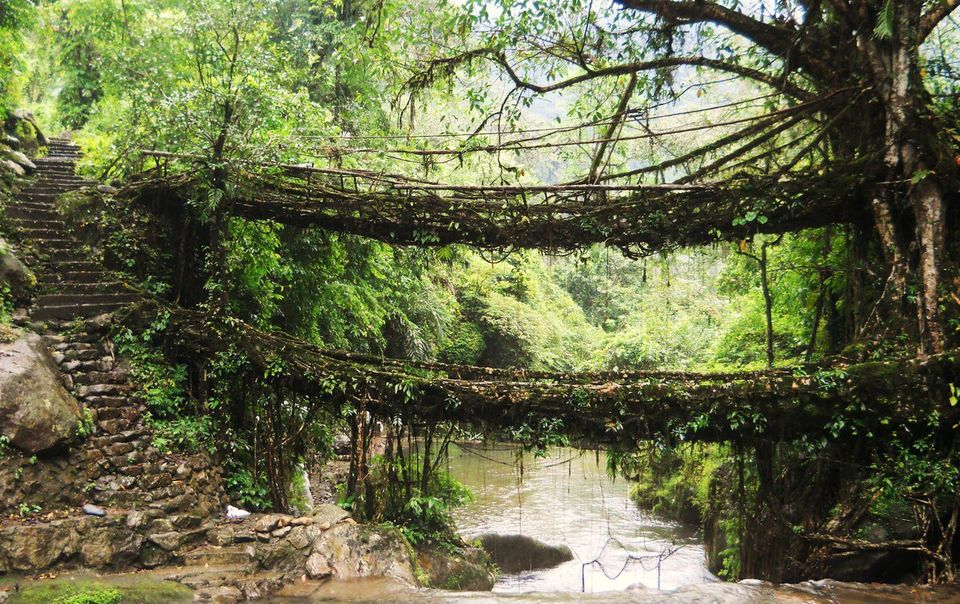 'The Abode of Clouds', is such an accurate description for Meghalaya. It rains here torrentially, and as a result the terrain is pockmarked with waterfalls, ponds and brooks. Cherrapunjee in Meghalaya has the distinction of being the wettest place on earth! It is for another unique reason however that we recommend coming here. Deep in the forests, the Khasi tribe has mastered the art of training roots of the rubber tree into forming a bridge over streams! It takes almost 15 years for this man-assisted natural wonder to become strong enough to bear load. A root bridge doesn't decay as quickly as a wooden one, and miraculously seems to get stronger with time! The structure can take the load of up to fifty people at a time.
5. KAZIRANGA, ASSAM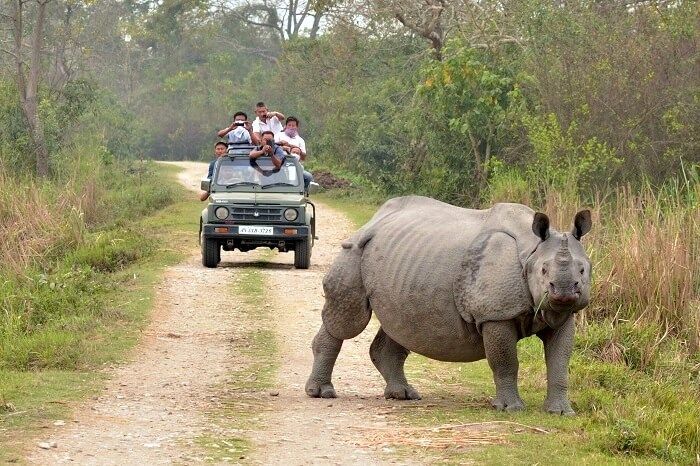 Blessed with rich fertile soil of the Brahmaputra river valley, the view is heavily tinged with green. Assam has the highest density of tigers in the world, and Kaziranga is the lair of the Royal Bengal Tiger as well as the endangered one-horned rhino.
Safari through tall elephant grass to discover a world that seems right out of Jungle Book! Amongst the fauna, leopards, wild boars, water buffaloes, deer, are just some that will make your foray into the forest unforgettable. The park, a UN World Heritage Site is crisscrossed by four big rivers, and the Himalaya's stoic, resolute presence can be seen in the far distance.
6. KHONOMA, NAGALAND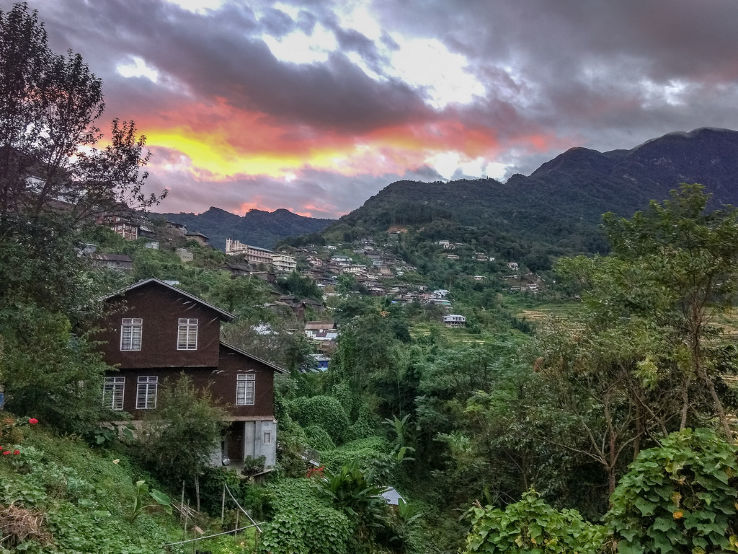 Nagaland is the polar opposite of an urban metropolis. Although modern amenities have crept into its towns, the state's topography is still mostly rugged and wild. Some 20 km ahead of the capital city Kohima, is the village of Khonoma. What's particularly alluring about this village is that visitors can lodge in homestays with the tribals, eat with them and learn about their traditional way of life. The hillside is embedded with rustic cottages all the way down to the valley, and the surrounding wilderness is soothing as well as invigorating. 
7. LOKTAK LAKE, MANIPUR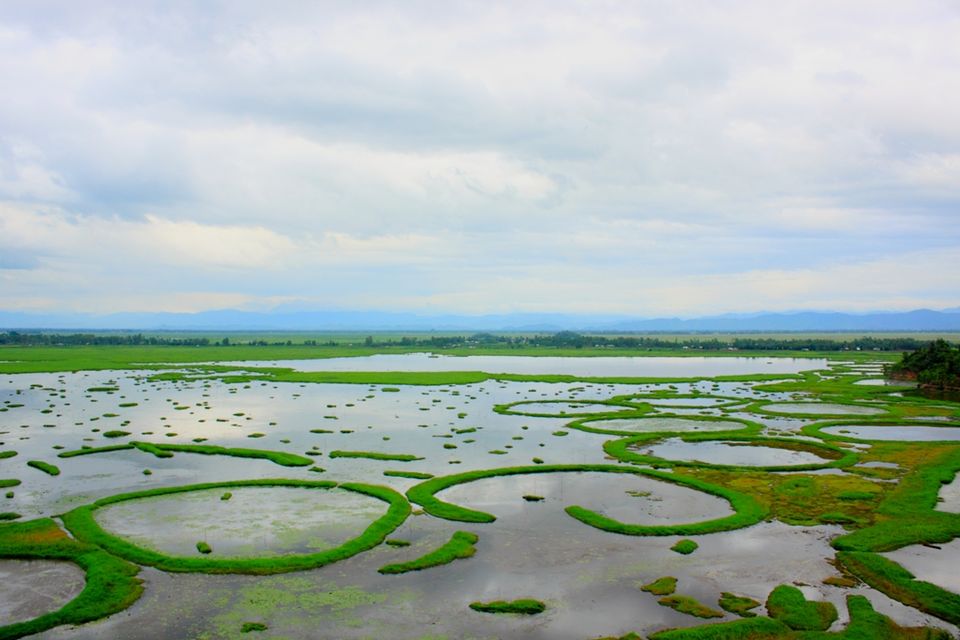 Rich in culture and evergreen beauty Manipur has a few surprises up its sleeve. Loktak Lake, some 48 kilometres away from Imphal is the Northeast's largest freshwater lake. It is also the only lake with floating islands of its kind in the world. Clumps of organic matter, soil and vegetation have fused to form floating islands. The islands are dotted with little huts, home to fishermen folk who seem quite content with their drifting life! Imagine waking up to a new scene outside your window every few days!
Loktak is a bird lover's paradise. Keep your binoculars ready for migratory and resident birds that can be spotted at the Keibul Lamjao National Park, located on the lake's end. A floating lake that supports human, aerial and aquatic life; you'll have to look hard to find something as unusual as this!