Route 2: Indore-Neemuch-Chittorgarh-Bhilwara-Ajmer-Jaipur-Delhi Departure Time : 6:30 am
Distance : 900+ kms
Directions on Google Maps: https://goo.gl/maps/sVWhtHLj3T7wVrJU7
Indore to Neemuch : ~280 kms (4 hours)
The road from Indore to Neemuch is a state hig hway where the first patch is on the Ahmedabad highway from which you go via a village through Lebad to the state highway. The 10 kms before and after Lebad is a 2 lane and you go slightly slow. However once you hit the Pithampur - Neemuch road it is a 4-lane. 2-wheeler traffic can be heavy during the day and early mornings and late evenings you will cross tractors and other vehicles coming back from the farms on the wrong side.
Though there are a lot of small eateries in towns like Badnawar famous for their Kachori's, we usually stop for lunch at the MP Tourism retreat, Neemuch (it is now managed by the owners of "Makkhan Singh Dhaba", no longer the tourism. Location)
"The state tourism retreats at other places on this highway seem deserted and shut"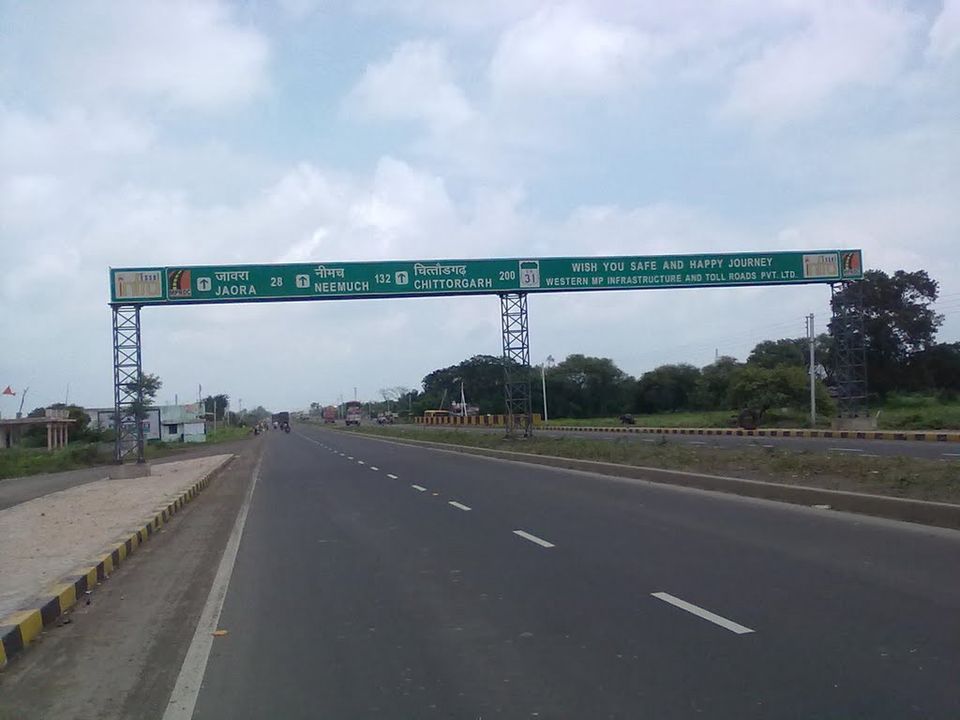 Neemuch to Bhilwara : 120 kms (2 hour)
The road to Bhilwara via Nimbahera and Chittorgarh is a 4 lane highway. Due to a few major cement factories on the route you might have a bit of truck traffic. From Nimbahera there is a 6 — lane road, though certain patches are still under construction but 90% of this stretch on the highway the work is complete. The flyovers around Bhilwara are also now in use, so there should not be any delays. Just around Chittorgarh there are a few highway dhabas who serve safe and decent food in case you want to take a halt for a meal here.
Chittorgarh has a fort, but if you plan to visit that you will have to go into the town. The highway goes around 25–30 kms away from the city
Bhilwara to Jaipur: 250 kms (4 hour 30 min)
A standard 6 lane highway, however there are a few flyovers still under construction and a bunch of rowdy drivers on this patch. The road is 50–60% complete and misses a lot of markings till the exit ahead of Ajmer. However you can make up for lost time on the Ajmer-Jaipur stretch. Beware there are 2 wheelers which cross the highway without signal and the truck drivers on the Ajmer-Jaipur stretch believe the right most lane is theirs to drive in. There are multiple spots including Cafe Coffee Days and Mcdonald outlet for clean washrooms and a decent meal here. It's even safe to drive here at night
"We usually take a halt at Jaipur:
Shahpura House (Rs 5000+ incl of breakfast)
Ibis Hotel (1.5–2k incl of breakfast, the rooms are extremely small)"
Jaipur to Delhi : ~270 kms (4.5-5 hours)
You will find a lot of blogs around Jaipur to Delhi, our favourite is this by Top Gear. Though 9 years old and 2 lanes short, this road is still quite similar. It is now a 6 lane highway with certain bridges/culverts still having 1 lane less. As you approach towards Delhi towards Neemrana, the road is crowded at all times of the day. You will find multiple rest stops and food courts on this stretch.

If you plan to travel further north, we would recommend taking the Western Periphery and going towards Sonipat from Manesar rather than entering Gurgaon and Delhi. There are a few places around Neemrana where you can camp or you can drive till Karnal and spend the night at Karnal.