After an another successful trip i am writing my experience about my ride to the city of lakes "Udaipur". Deciding this destination was not at all difficult as I have always heard about the beauty of this place also known as romantic city of india. But for me it was yet another solo trip. So keeping the trend of my flags a week before i printed my flag for the flag post of my bike. I decided the theme based on the beautiful lakes that adds to the beauty of this city. You all can have a look of my flag for this trip below:-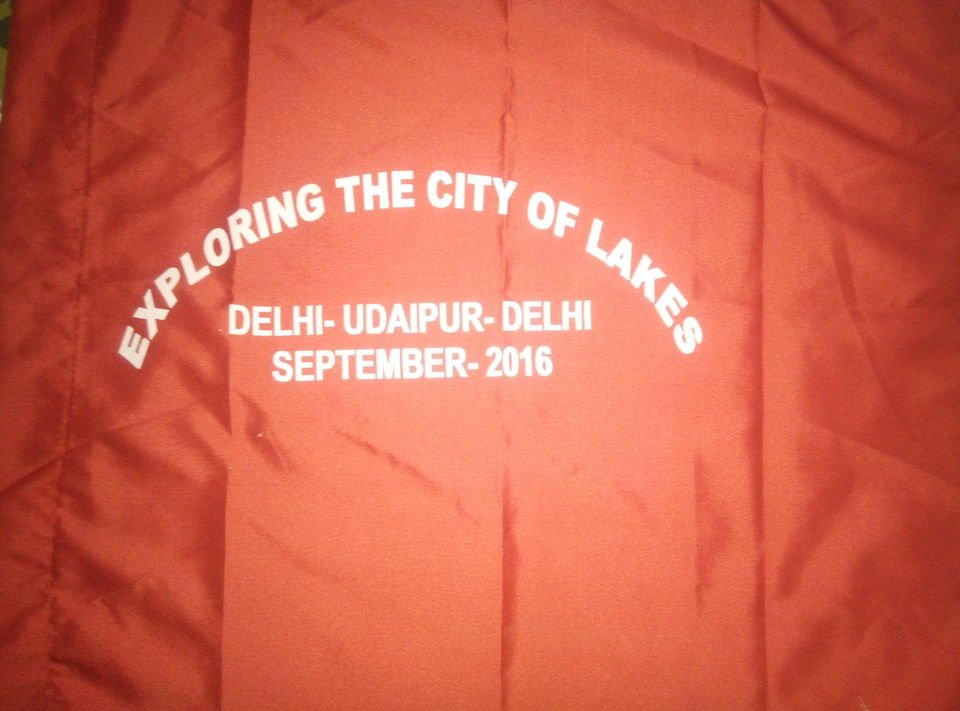 The dates i zeroed on for the trip was 10.09.2016 to 13.09.2016. I made an extensive search for stay, places to cover in such a short time. The distance was always in my mind as i had to travel by bike that too solo. The finalization of the route prior to start from home is must for such kind of trips. Google maps like always, helped me and shown following three routes:
1) Delhi(Tilak Nagar)---gurgaon---jaipur(by pass)----kishangarh---ajmer(by pass)--beawar---rajasmand----nathdwara---udaipur.(Total 677 Km)
2)Delhi(Tilak Nagar)---gurgaon---jaipur(by pass)----kishangarh---nasirabad--bhilwara----nathdwara---udaipur.(Total 666 Km)
3)Delhi(Tilak Nagar)---gurgaon---jaipur(by pass)----tonk---madalgarh--chittorgarh(by pass)----udaipur.(Total 723 Km)
After a bit more search and thoughts i decided to follow route mentioned in serial no. 1 as till beawar i had witnessed the road during my earlier bike trip to jodhpur. I knew that the road are fabolous in this stretch. So i zeroed on in this route. Since i had three nights for the trip i decided to cover chittorgarh too , 10 and 11 night at udaipur 12 night in chittorgarh. So for the return journey i decided to follow the following route:
Retrurn route: Udaipur---chittorgarh---bhilwara----nasirabad---kishangarh---jaipur(bypass)---gurgaon---Delhi(Tilak Nagar).
This itinerary helped me to see two different highways.
After all these preparations finally the day before i attended the office reached home. Got my bike tank full. Packing as always was done by my father. I was excited about the next day riding so i had my dinner early and slept by 2200 pm. I was dreaming about my journey when suddenly my eyes opened after soothing noise of my alarm at 0500 @10.09.2016. I quickly stepped out of the bed and got freshen up. Took bath and got ready by 0545. I was on time as targeted i.e leave home by 0600 to avoid delhi, gurgaon traffic and hit the smooth highway. It took me just ten minutes to tie my bag with the help of my bungees and sipped a warm tea. Thanks mom to leave her sleep by 0530 and making tea for me. Without any delay I took blessings of my parents and grandma and kick started my bike at 0600. Just stepped down temple near my home to get blessings from GOD.
Day 1:-
It was a pleasant morning with still the dark and mild cold winds. I just saw my flag waiving because of wind and one could clearly read the theme on my flag. When i reached the kirbi place light after crossing red light i looked back and was shocked that there was no flag on my bike post. I immediately braked and realized that it might get flown away because of wind. I realized that i might have not tied it properly. My heart started sinking as i lost my flag which i used to preserve after successful completion of my trip. I just have traveled 5 km from home and lost my flag. I decided to head back and search for it. I took u turn riding slowly to search my flag but i was not able to trace it. I reached near my home observe my watch and it was reading 0640. I was feeling bad, after seeing my watch again i realized i m losing time so i just pray to GOD to take care of my ride as i have lost my lucky charm in form of flag and started my journey back. I was riding at a speed of 60 kmph and was still thinking of my flag. I crossed gurgaon and was heading at a steady speed of 75 kmph. After crossing daruhera when i observed not so crowded highway i got little smile and i concentrated on my riding and was now heading at a speed of 80 kmph. When i covered first 100 kms I felt good as i covered my first 100 kms in 1 hour 20 minutes. I started missing my breakfast, but keeping distance in mind i decided to take stop for breakfast at 0900. I continued riding and enjoying my bull till i stopped at "Hotel Highway king" somewhere around shahpura.
It was 0900 and i had covered around 180 kms. I ordered one pyaz parantha, curd and tea. I quickly check the distance left while waiting for my food to arrive. It was still 497 kms which i had to cover. My target was to enter udaipur city before dawn as i didn't want to ride in highways in dark. I quickly had my breakfast and reached near my bike to continue the journey.
Before reading further just have a look of my parantha which i had at "Hotel Highway King" that has a tag line " chuk na jana king ka kahana" about the place its very neat and hygenic one can see many cars halting at this place they have a nice garden which children will enjoy. There tag line simply match with the food.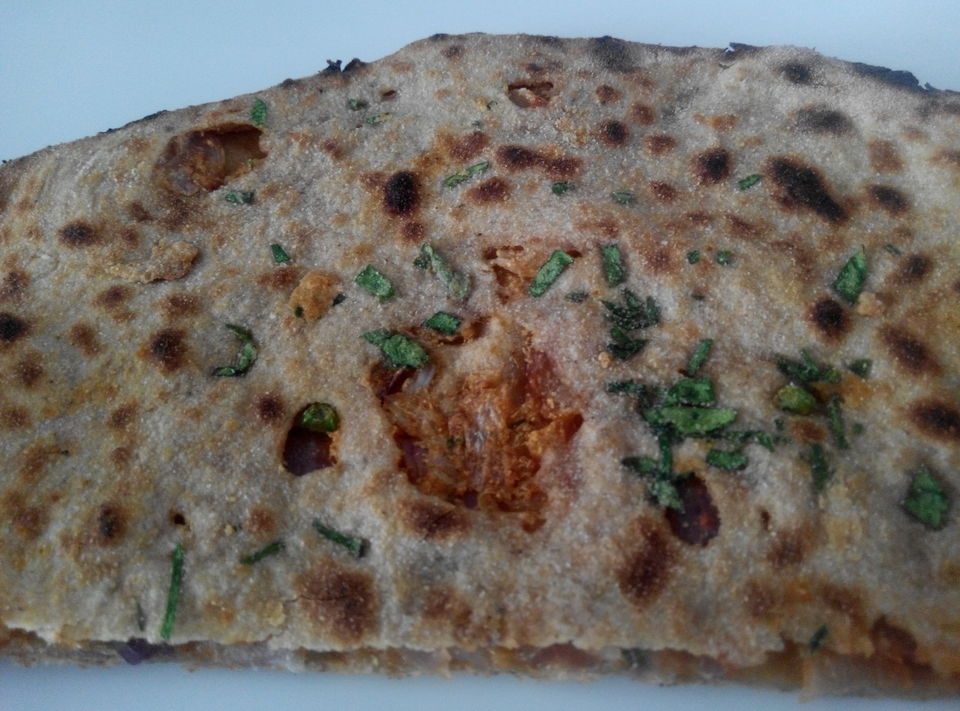 I kink started my bike and continued my journey at a speed of 80 kmph. As soon i reached jaipur by pass road was less crowded and i touched 100 kmph on few occasions. Jaipur by pass is a long stretch with nice bitumen road. It took me around an hour to cross jaipur by pass and once i reached on kishangarh highway road was even less crowded. I was enjoying my ride and people were waving me as i was in full safety gears looking quite different from other two wheeler riders. After covering another 130 kms i decided to take a coffee break and stopped my bike at cafe coffee day which was on highway itself somewhere on jaipur---- ajmer stretch.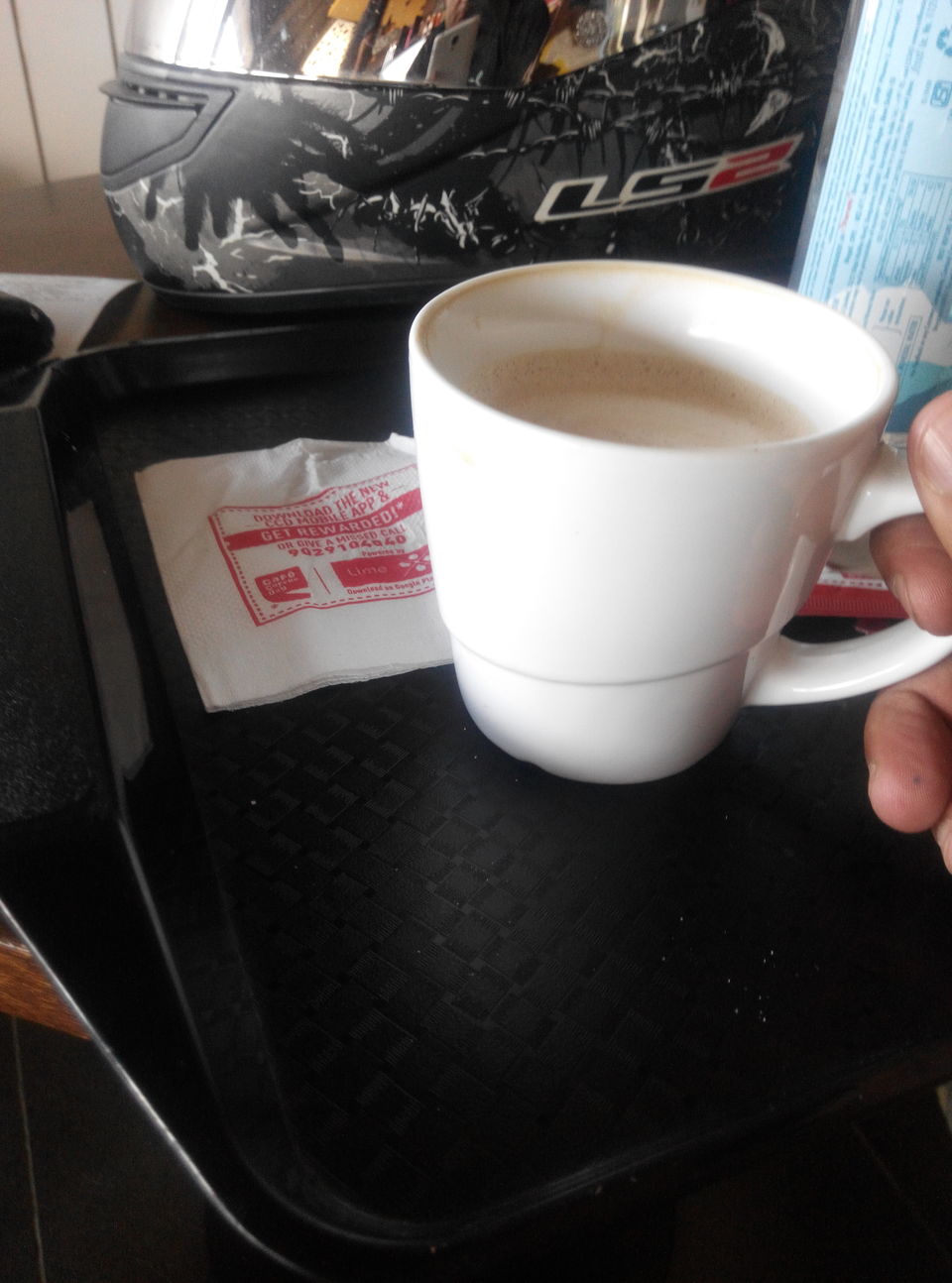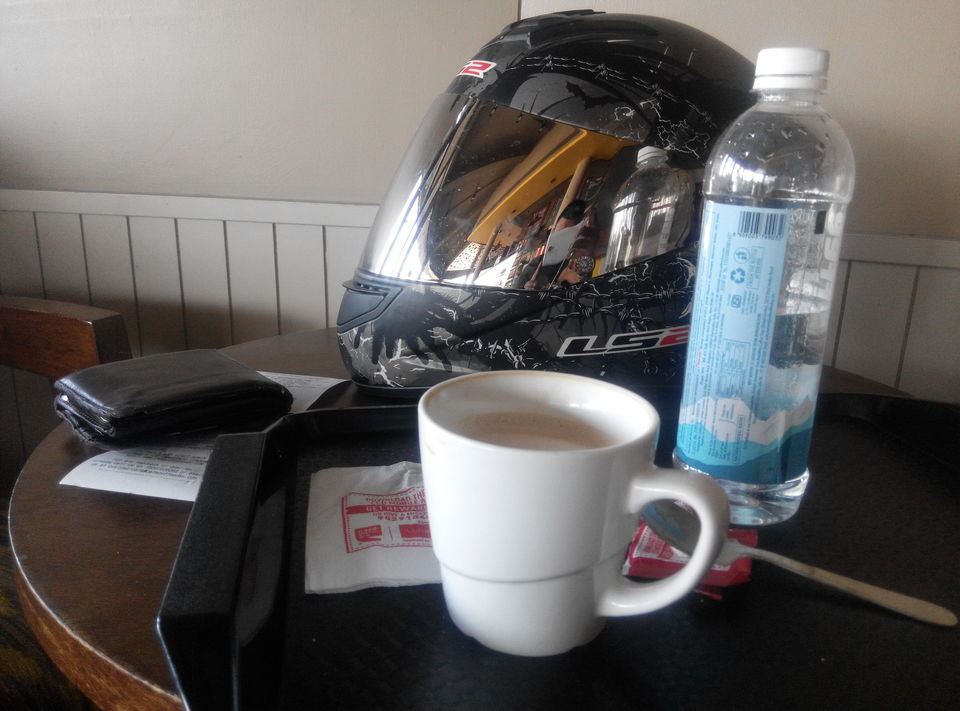 After cooling my bike and a great cafe latte i again kick started my bike keeping in mind remaining long distance. While riding i decided to take lunch break after crossing beawar. Beawar to udaipur is 210 kms, i decided my target so that when i stopped for lunch, i must cover more than half of my journey. I rided steadily at a speed of 80 kms and reached toll gate just before beawar. In my life beawar has a story, as it is the same place where my bike battery drained during my early bike ride to jodhpur. So i just stopped my bike at the same place touched the beawar land and kissed it. As during my early trip locals from beawar helped me out to replace my battery even on that day all the shops were closed(due to bakar-id festival). Beleive me Rajasthan people are very friendly and helping atleast that is my experience with them. After a quick flashback of that incident i again started riding and by passed beawar. It was around 1400 hours and the distance left was 210 kms. I was filling bit hungry. I continued riding to find a place along the highway in search of local dhabha.
I was riding on national highway that goes to mumbai via udaipur and ahmedabad. As i was moving towards udaipur i observed number of cars bearing gujarat number increased on highway. At around 1500 when my stomach literally kicked me i stopped my bull in a very raw local dhabha to have my lunch.
So this raw dhaba was newly opened by two local brothers on there ancestor land. I was the only person in that dhabha as it was not too famous and was very raw. I ordered simple arhar dal, curd and tawa roti. I stayed and relaxed there for half hour. Enjoyed my chat with the brothers and food. It was great afternoon under the cool shadow besides bright sun. Just look below my bull taking rest in that place while i was having lunch along with the natural view.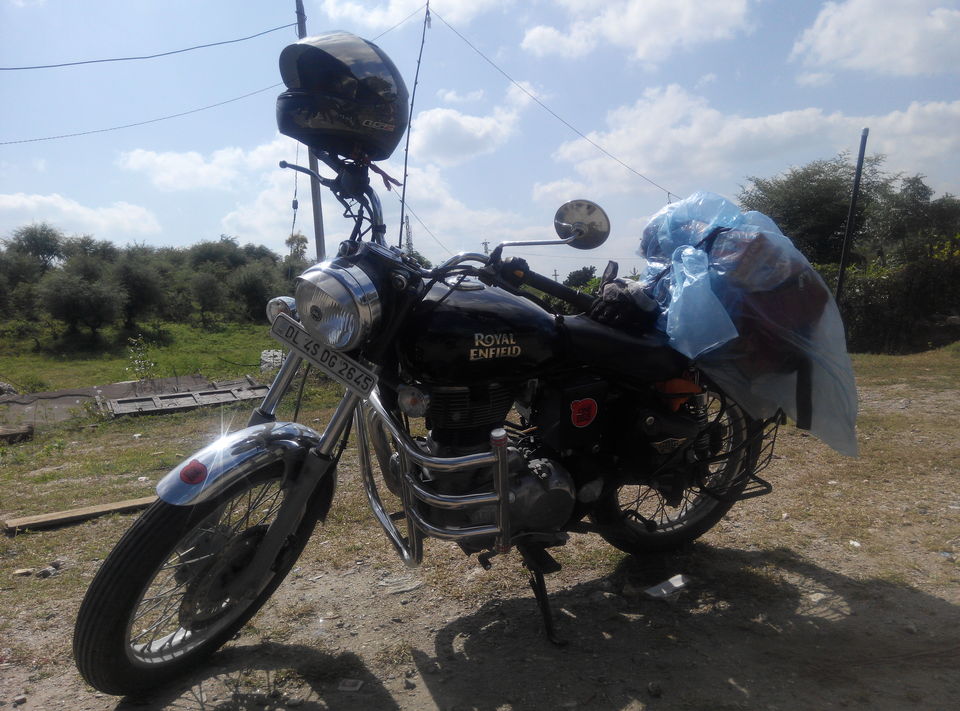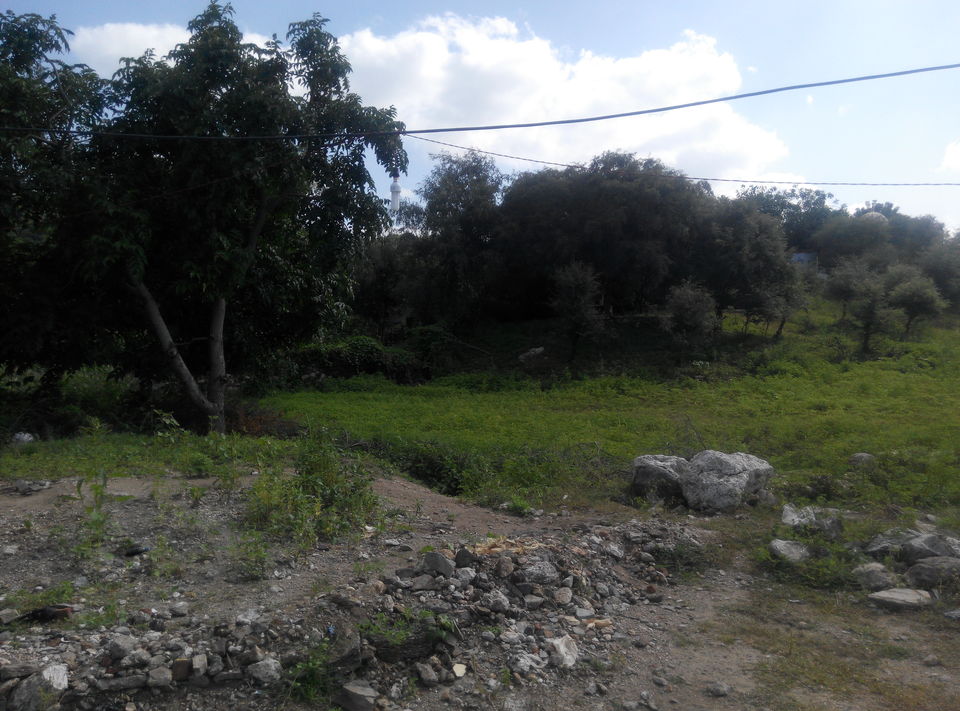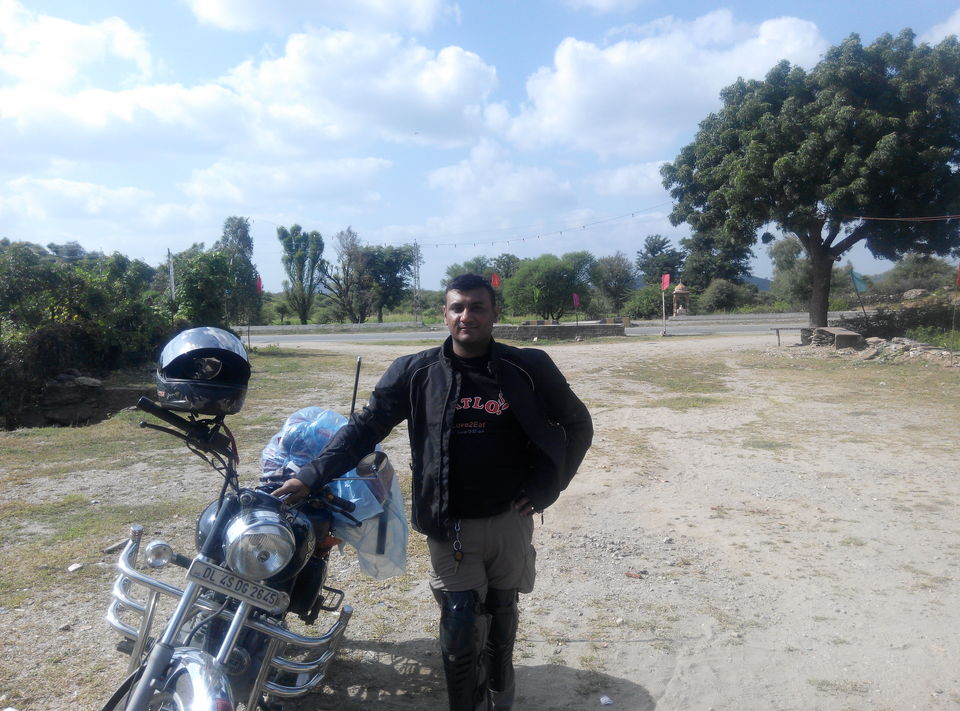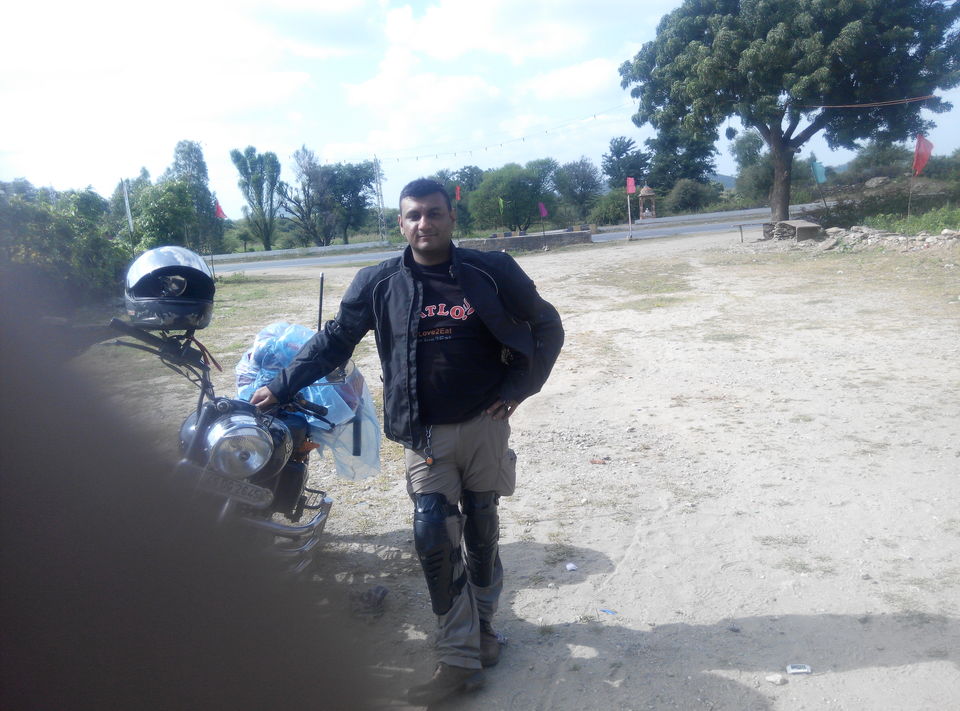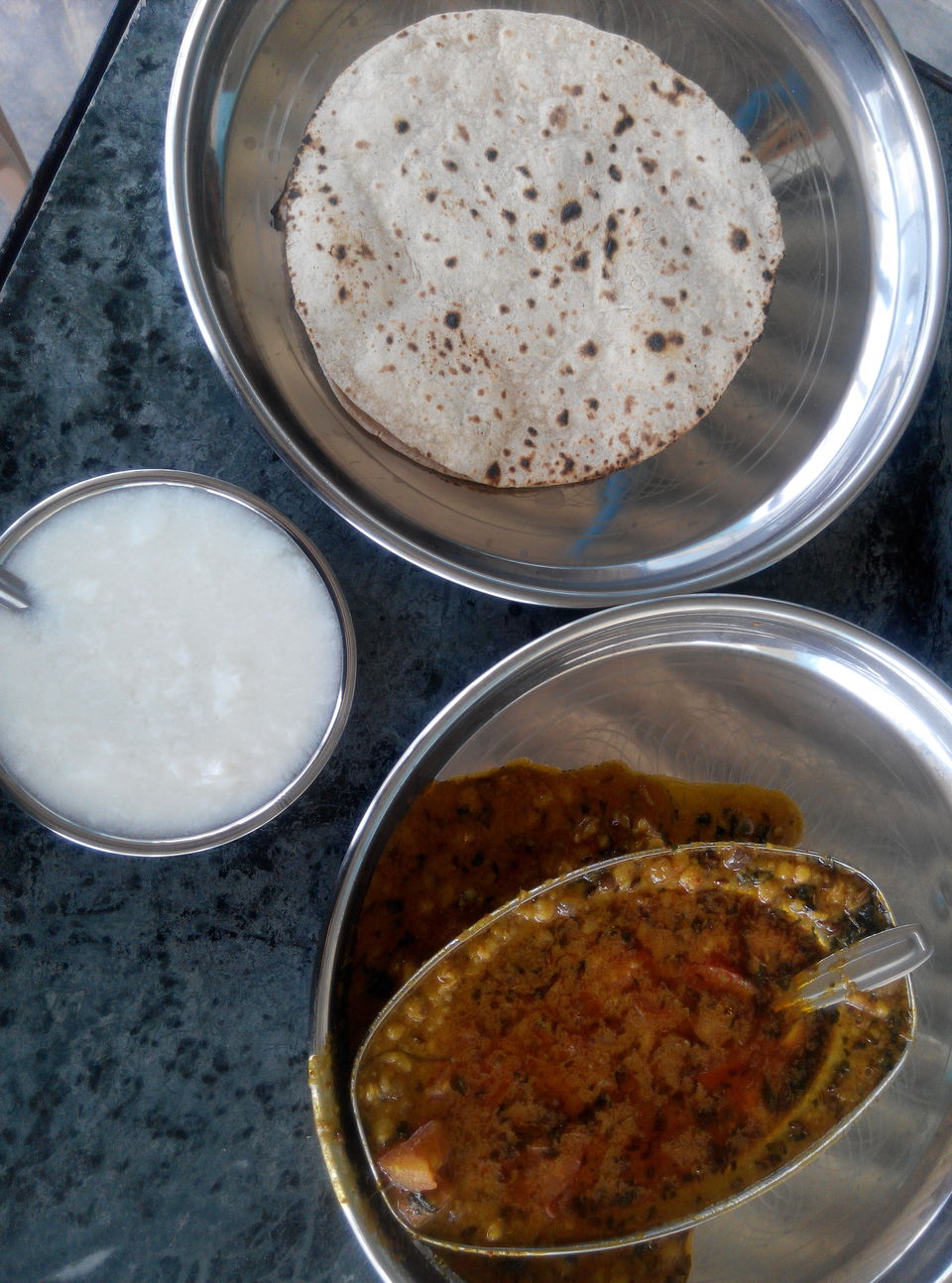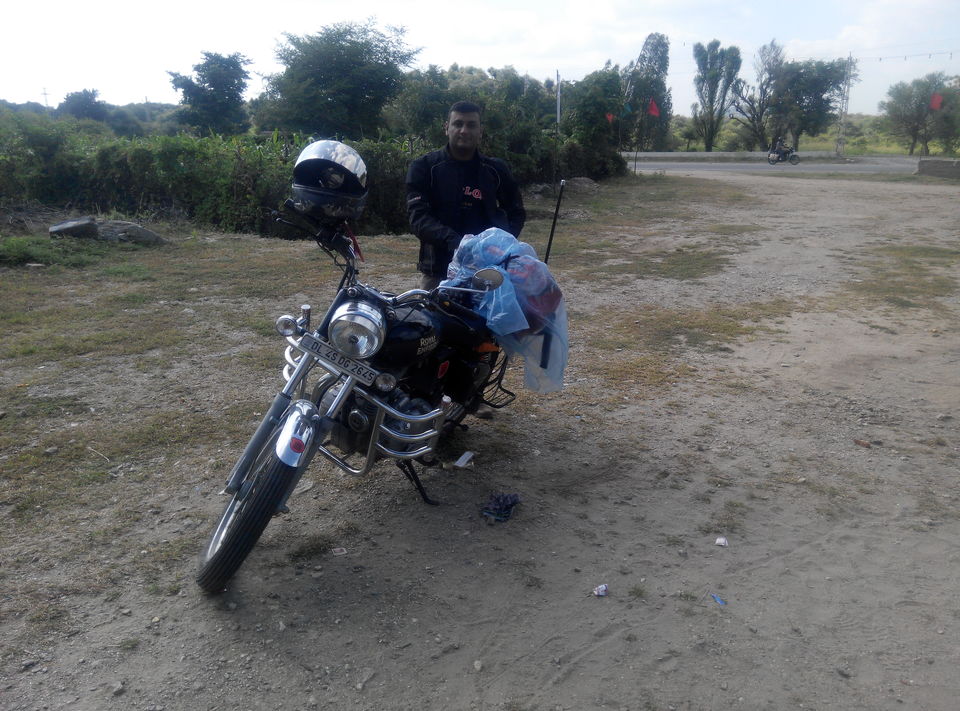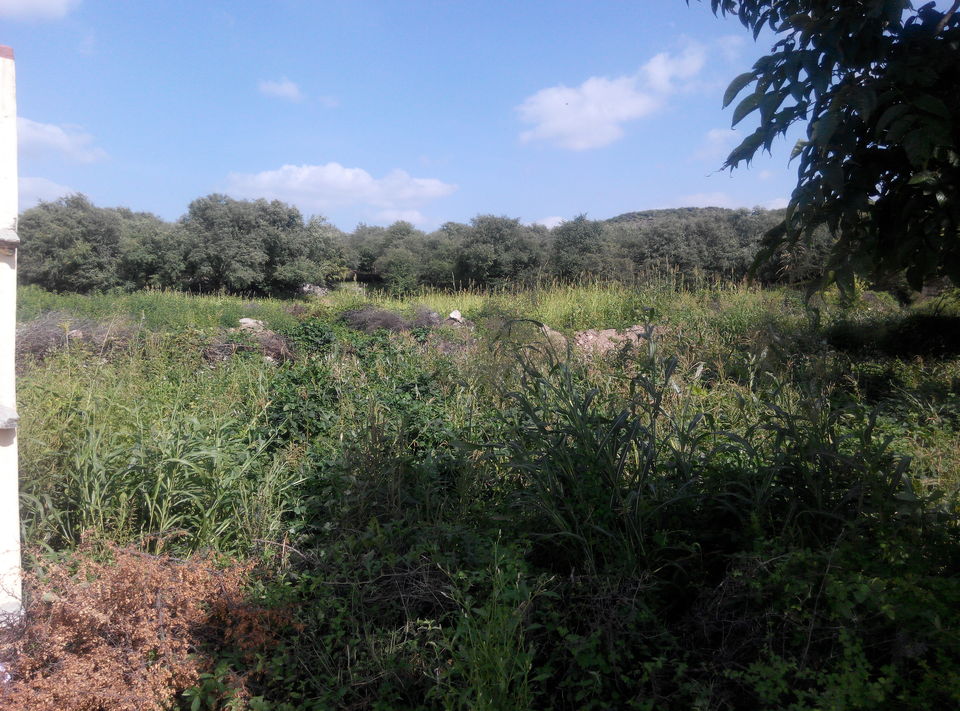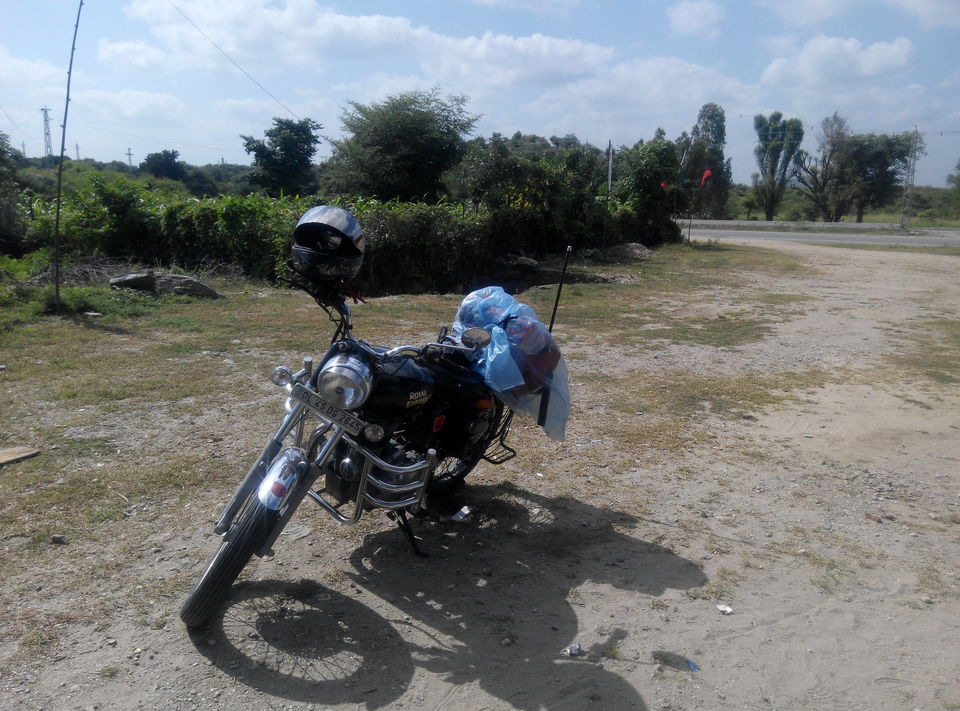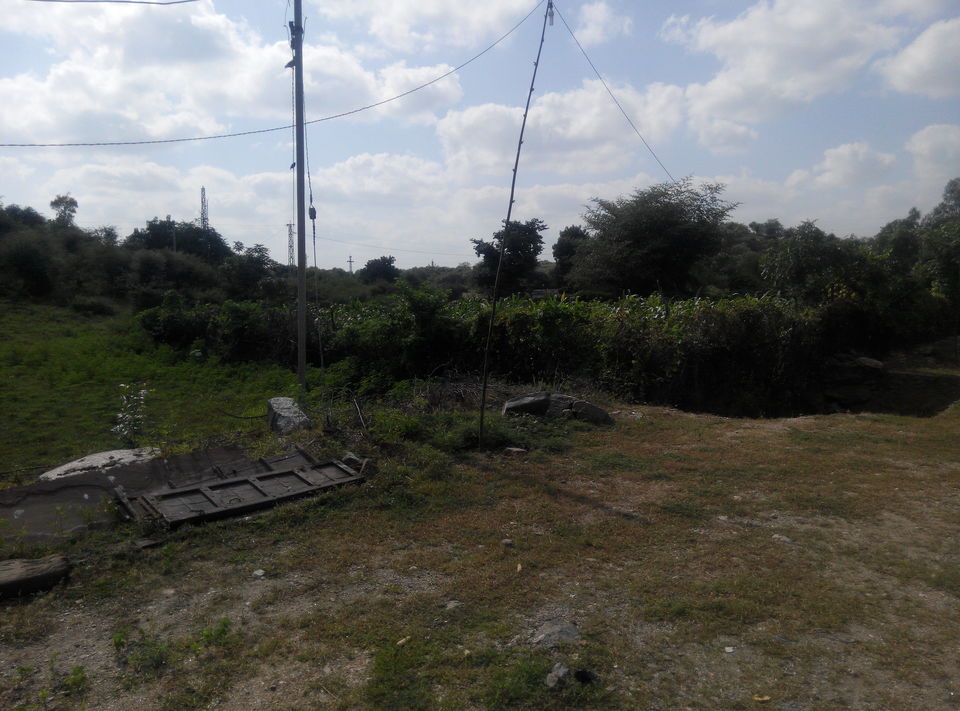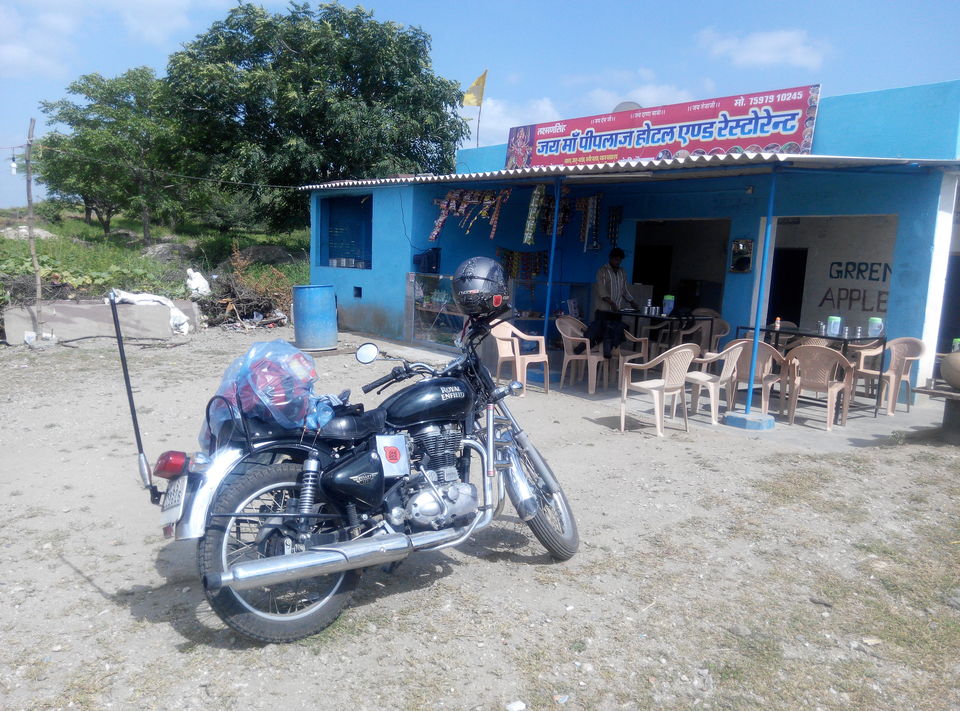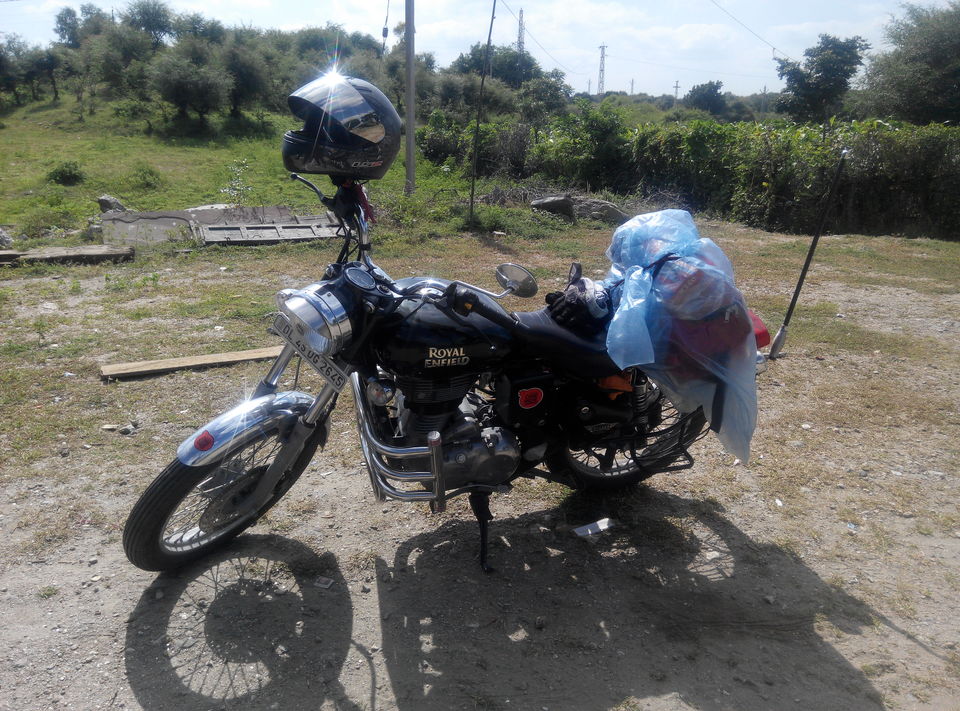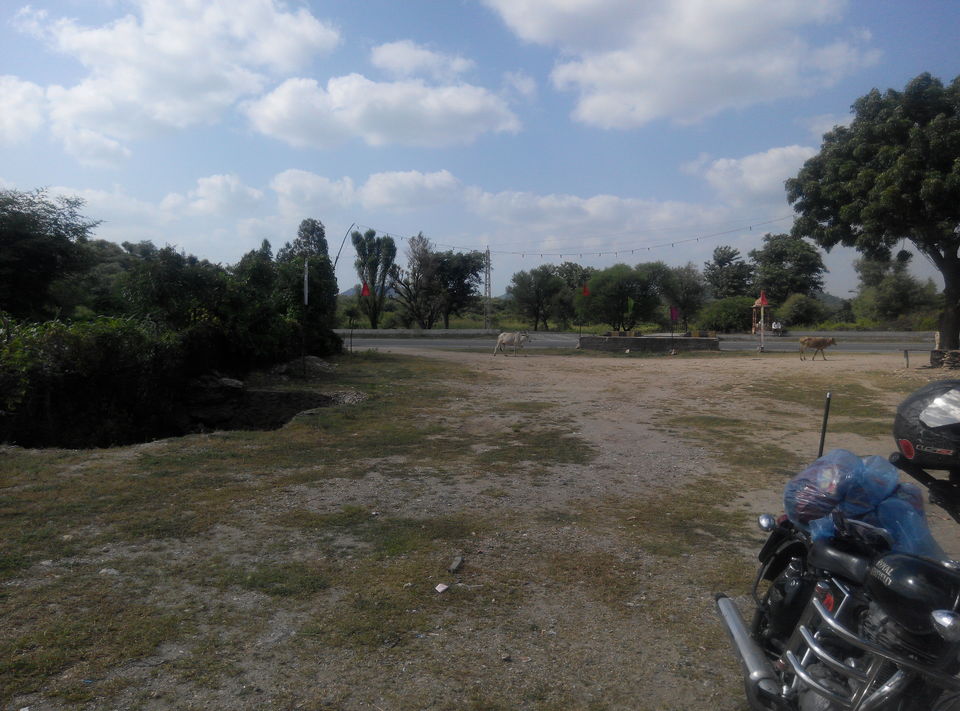 After having lunch i again kick started and continued my journey to udaipur. The highway was getting better and better with great roads and nice scenic all around. Just stopped in between highway for random click.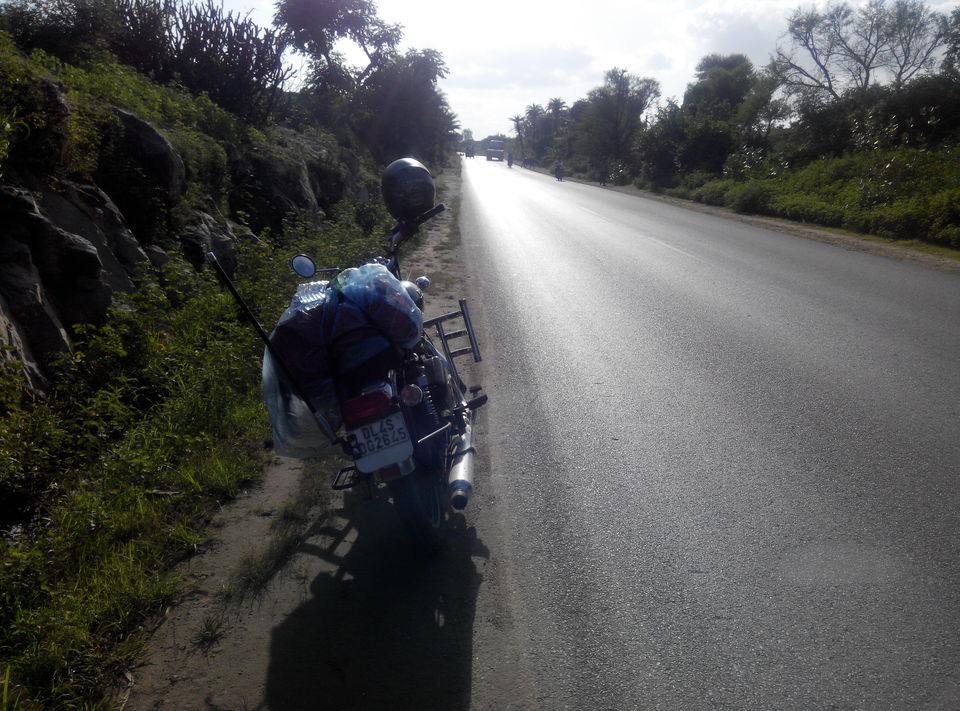 Not a single pothole in entire road. I was riding at a speed of 80 kmph and soon crossed rajasmand. Heading steadily i reached nathdwara by 1630 and stopped for tea. After having tea i again started riding. I was enjoying my ride when i finaly saw the udaipur signboard on highway after riding 650 kms. Have a view of the welcoming sign board. I was proud to reach this sign board before dark and now udaipur was just 12 kms.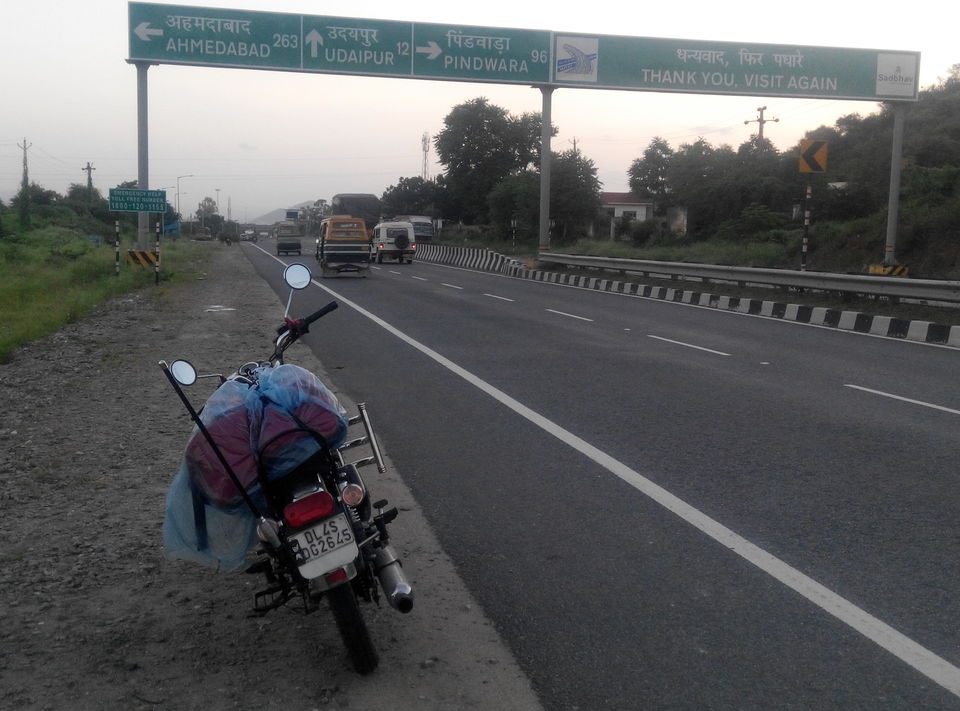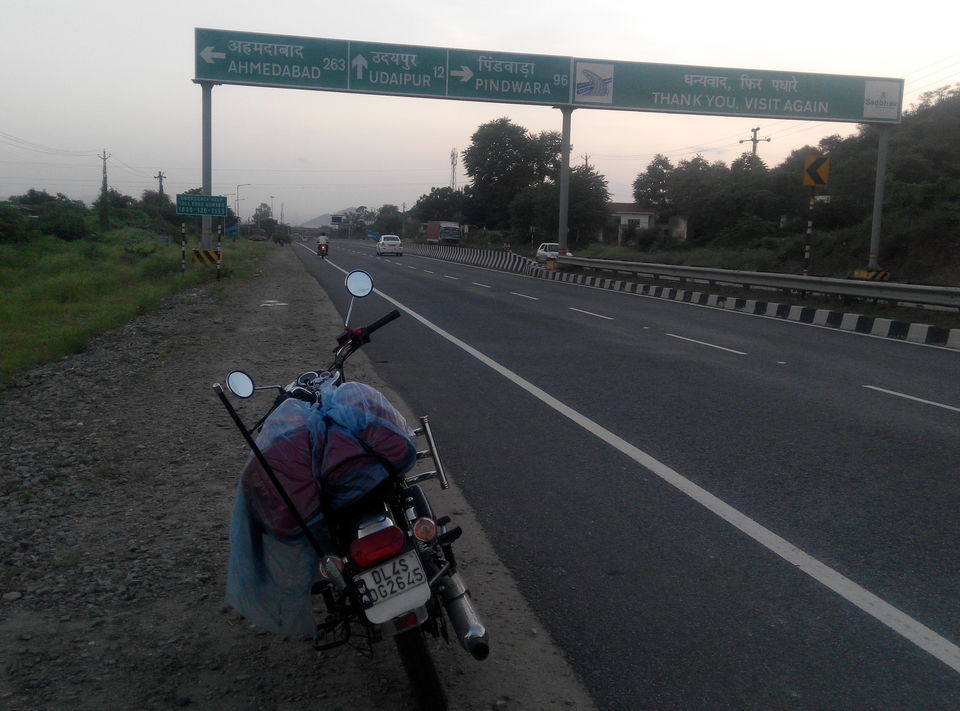 I quickly covered 12 kms to enter the udaipur city it was 1830 hours now and sun was already settled down. I stopped to observe the city crowd it was like any other city becoming busy at 1830 hours. I inquired about backpacker panda location from one of the local guy who guided me towards the road to fateh sagar lake. Yes i had done my booking in backpacker panda AC dormitory stay for just 600 rupees for two nights. Goibibo given me rs200 discount so i just landed up paying 400 rupees for two night stay.
I reached backpacker panda after asking directions couple of time. I stopped my bike enetred the reception and was surprised to see such a neat environment with couple of foreigners having chit chat and enjoying guitar played by one of them.
I checked in took my luggage and enterd the dormitary alloted to me there were four double decker beds and there was no body in the room when i checked in as all might have been gone out to admire the night life of udaipur.
I took a warm bath and changed my dress to have dinner in the city of lakes.
I asked the receptionist to guide me for a place to have nice dinner near lake. He recommended me one, i forgot the name but really enjoyed my dinner beside lake in dim light of candle. It was a great way to end the long ride (700 kms till backpacker panda). Although i forgot the name of the place but have clicks of view from my dinner table, that i m sharing below: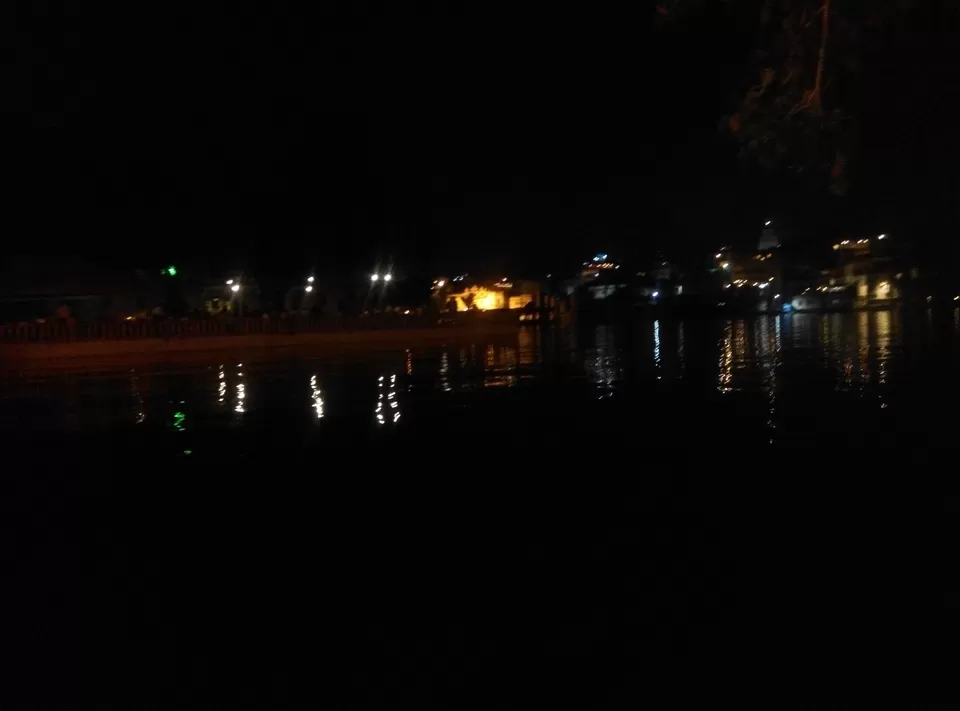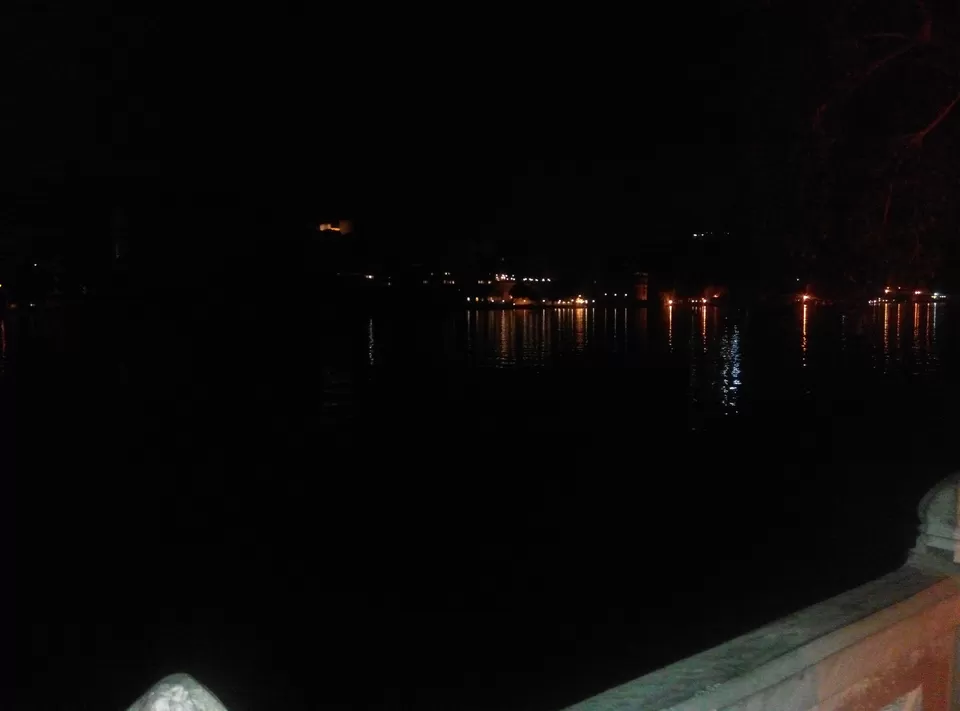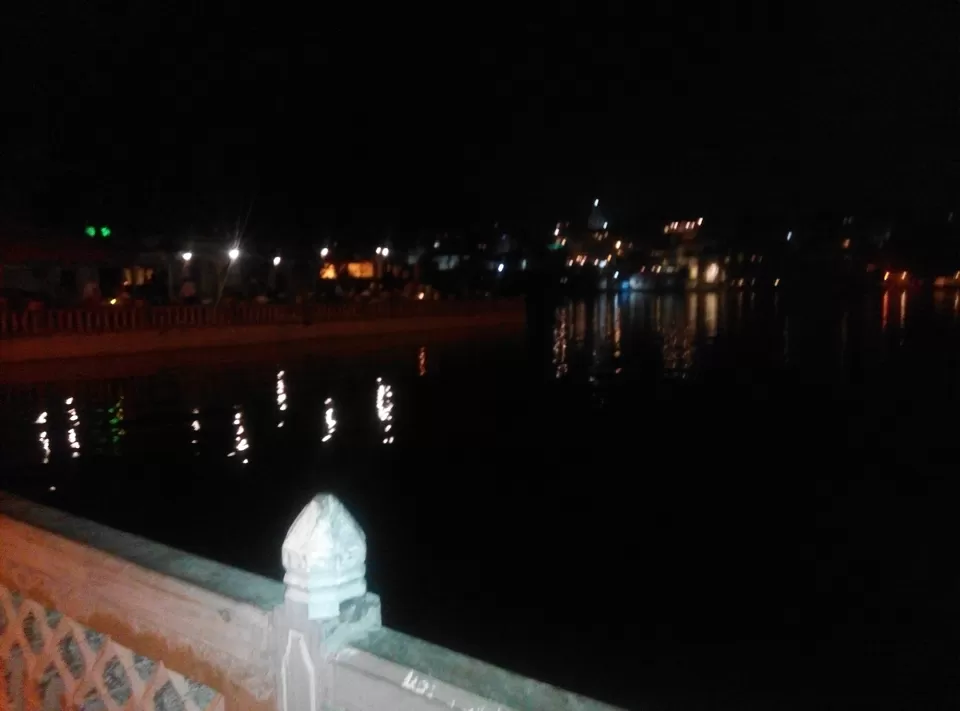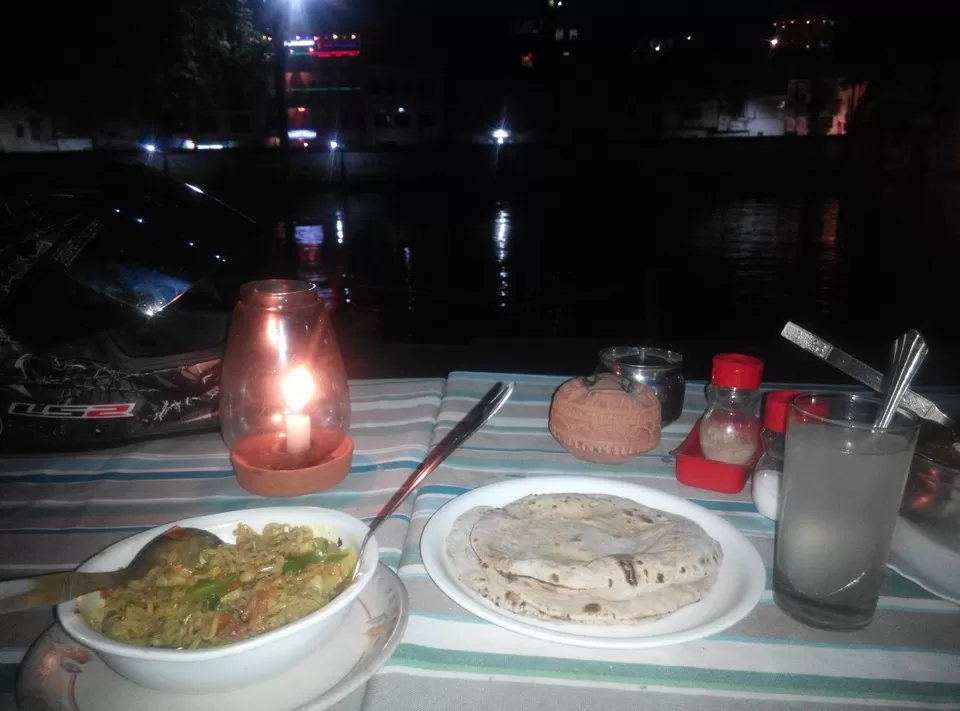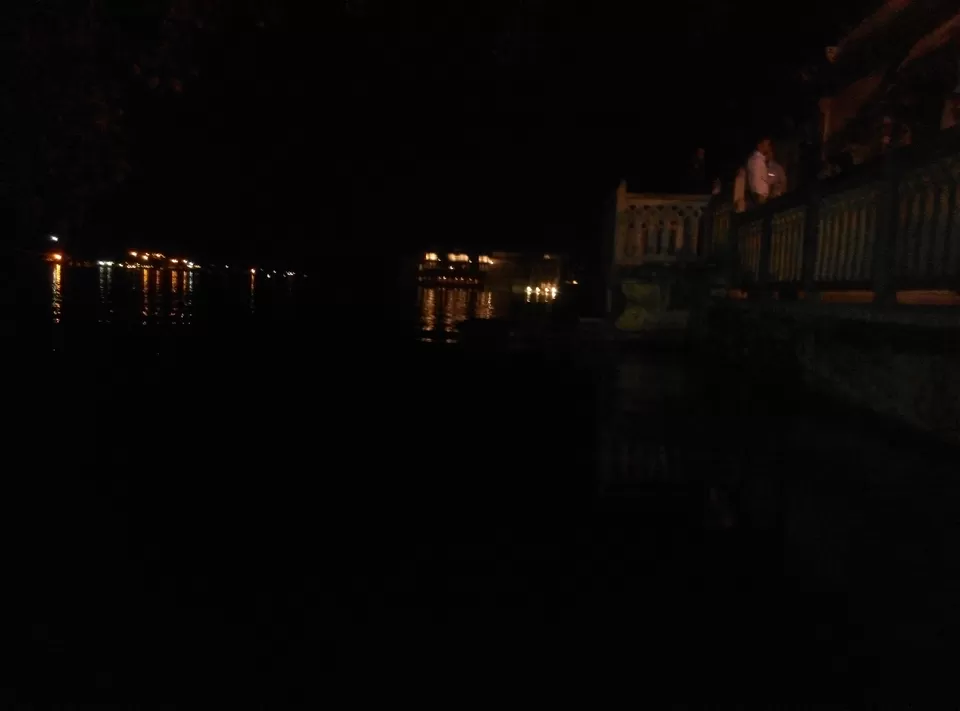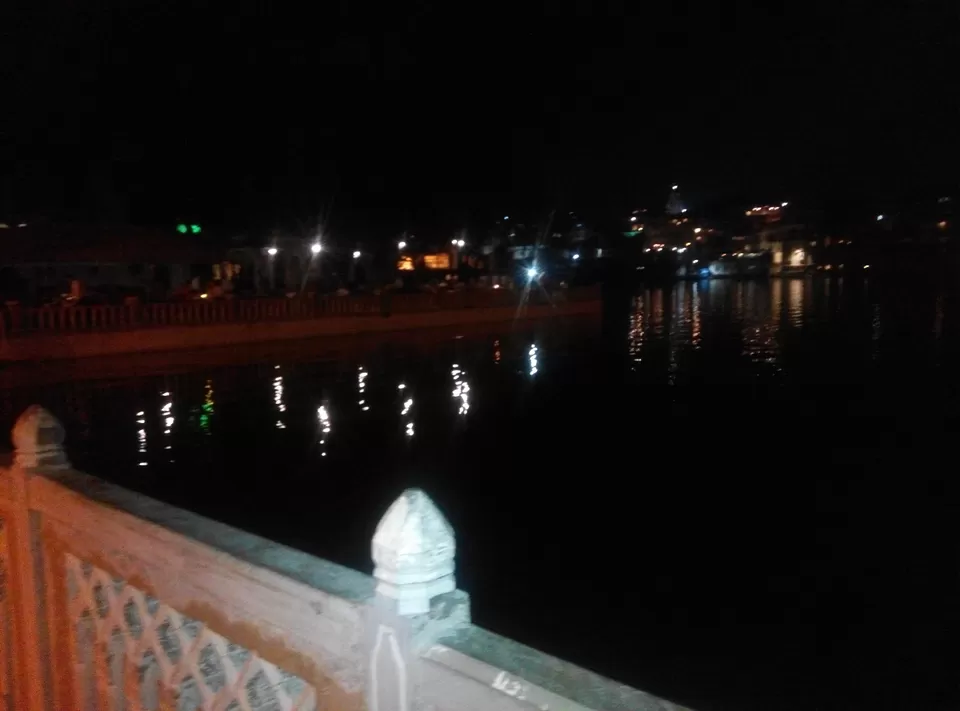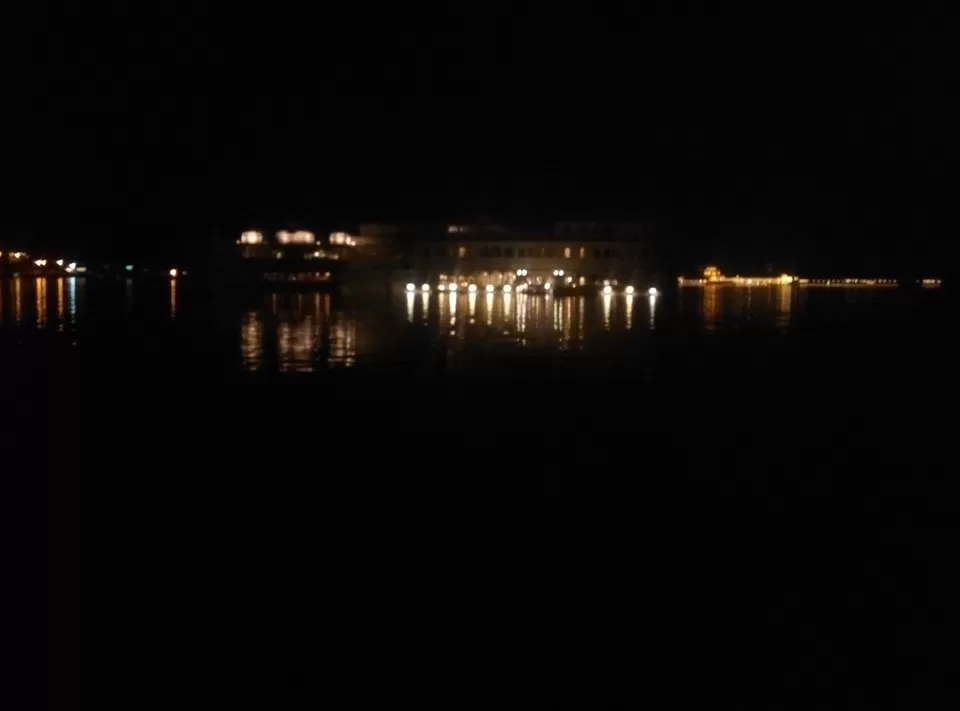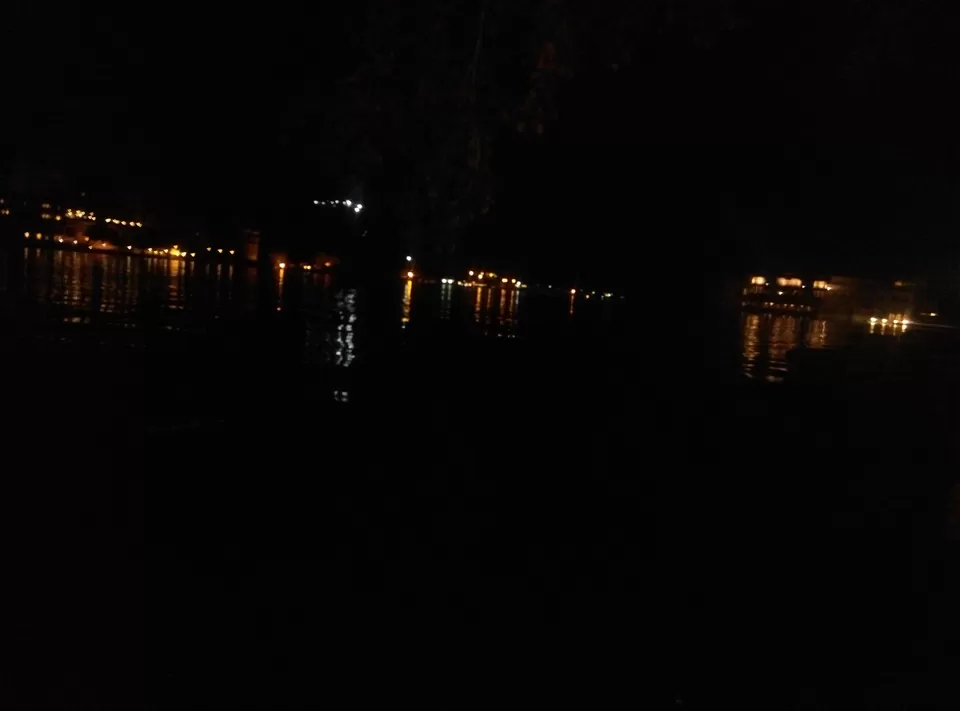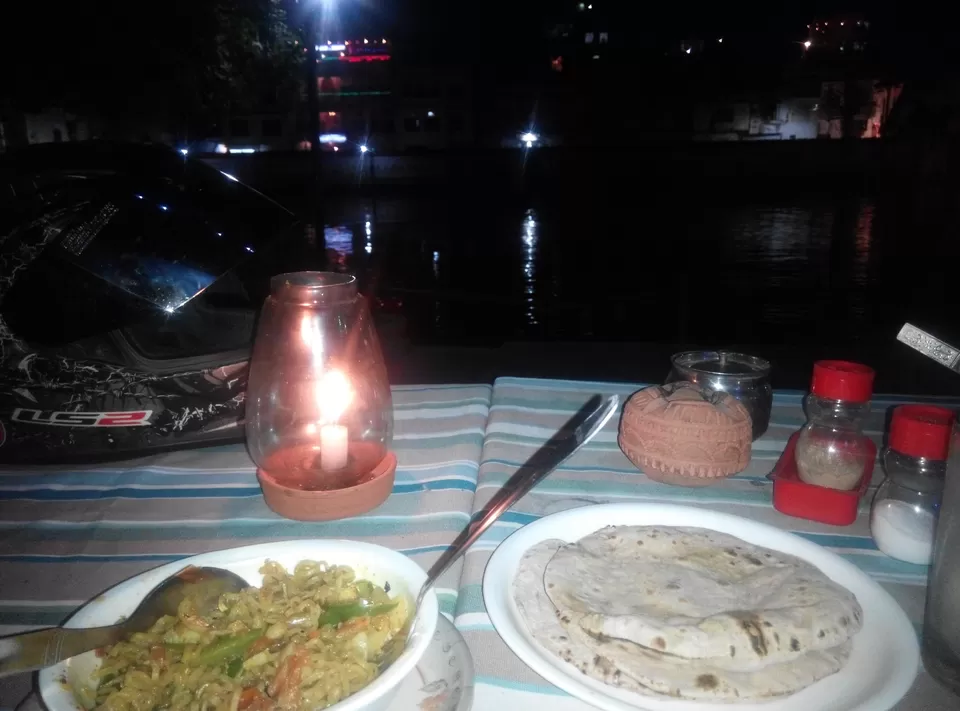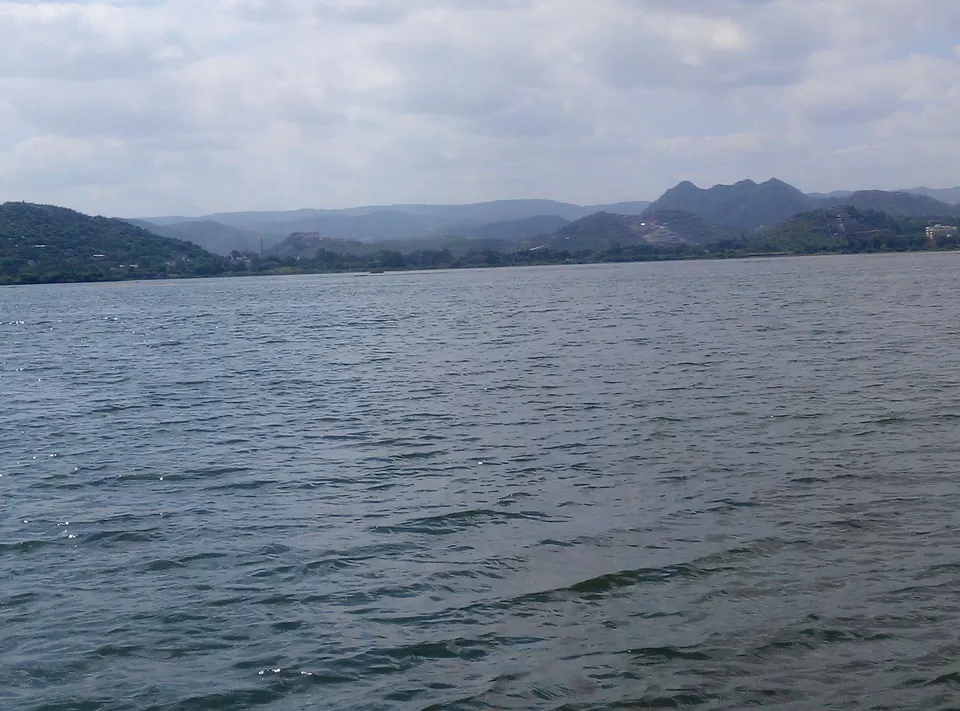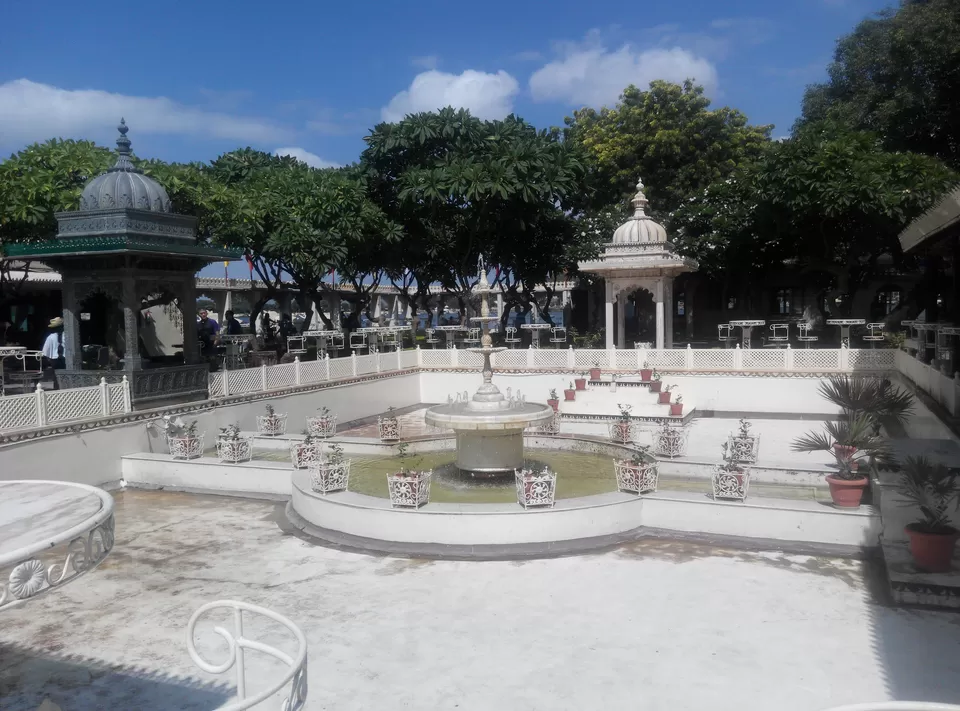 Day 3 ended with a great dinner at restaurant of Hotel pratap palace. After dinner i came to my hotel" The friends hotel" and went to sleep at 2300 hours. I needed a good sleep as next day i have to again ride back to my home town delhi.
Day:-4
Day 4 started at 0800 hours when i left my bed after a sound sleep.
Packed my stuff ordered breakfast and checked out at 1000 hours.
I kicked started my bike and as per my plan followed the highway to bhilwara----then nsirabad----kishangarh---jaipur(by pass)-----Delhi(Tilak Nagar). Travelling back like always is not busy because its and end of the trip. But as there is a saying every end is necessary for a new beginning. Keeping that in mind i enjoyed my ride. Just hold at few places for having tea, lunch and dinner.
I finally reached delhi by 2130 hours .When i stopped my bike in front of my home the meter reading said hey you have covered 1400 kms.
That given me a full satisfaction adding another 1400 kms to my riding and a successful completion of the trip. In the last three days i have almost explored udaipur and chittorgarh. One place that i skipped because of tight schedule was kumbhalgarh fort. It was around 100 kms from udaipur. But im sure i have skipped this just to go back and visit in some other trip.
With little tiredness in my fingers because of long ride i just fallen on my bed for a deep sleep with memories of my trip.
The recent series of Rajasthan tourism add inspired me to share this post which has a beautiful theme song with a nice music:-
"MAATI BAANDHE PAINJANEE,
BANGDI PEHNE BAADLI,
DEDO DEDO BAAVDO,
GHOD-MATHOD BAAVDI…"
The recent rajasthan tourism add also mentions that any individual can see something extraordinary in this beautiful state of INDIA mentioning" jane kya dhik jaye yahan"
Signing off for now to come back and post yet another trip. The next one will surely be from mountains.
Enjoy life and Keep Travelling.....
Frequent searches leading to this page:-
places near udaipur within 100 km, places to visit in udaipur in monsoon, udaipur half day tour, places to visit in udaipur at night, one day trip udaipur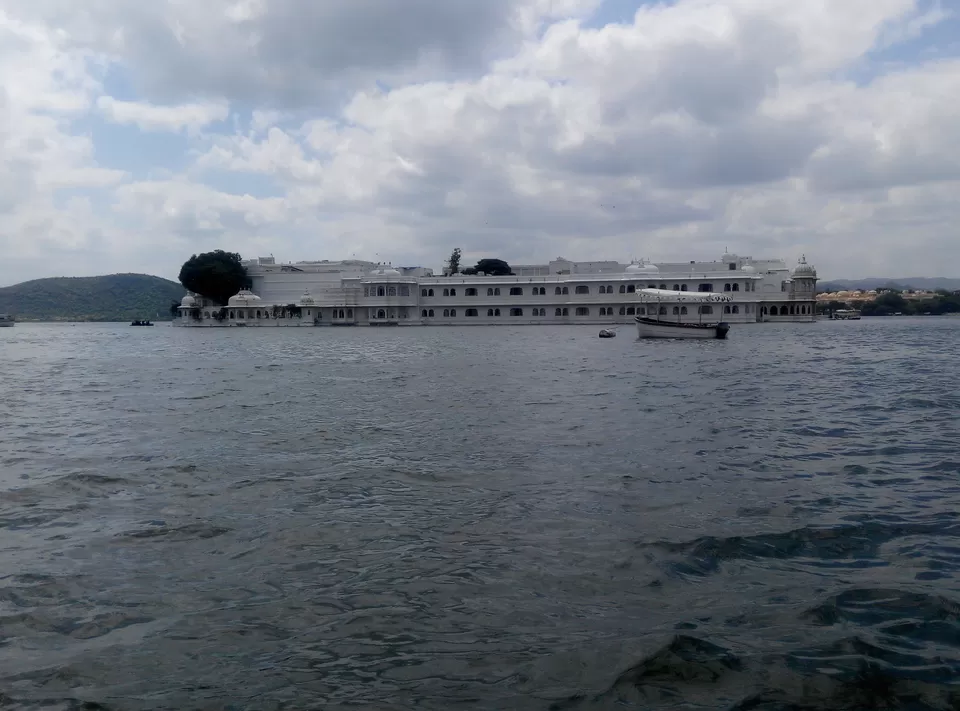 While riding back to my stay i met couple of guys who chatted with me and i shared my long day with them then finally i said bye to them and reached my bed by 2300 hrs. I don't know when i was arrested by my sleep.
Day:-2
I got up by 0700 to observe the fully occupied dormitory. all were in deep sleep i took shower got ready and left the place to explore the city.
I started my day with a beautiful view of fateh sagar lake(backpacker panda is just a walking distance from fateh sagar lake).
It was 0830 and still there was 1 hour more for the opening of city palace. I ended up having local breakfast comprising of pyaz kachori, moong bhajiya and mirchi wada.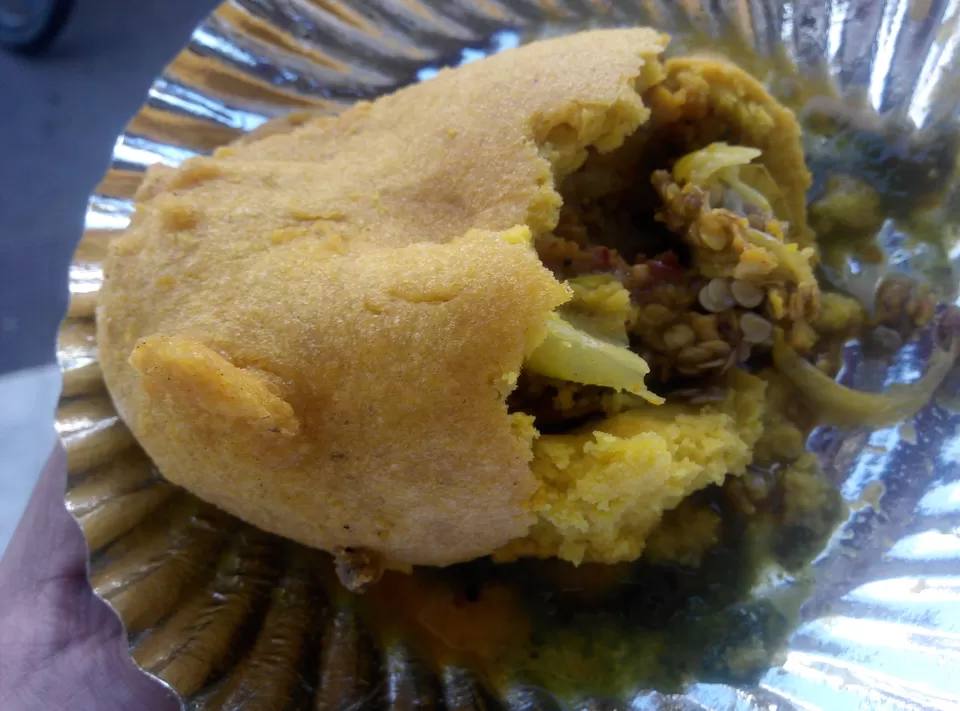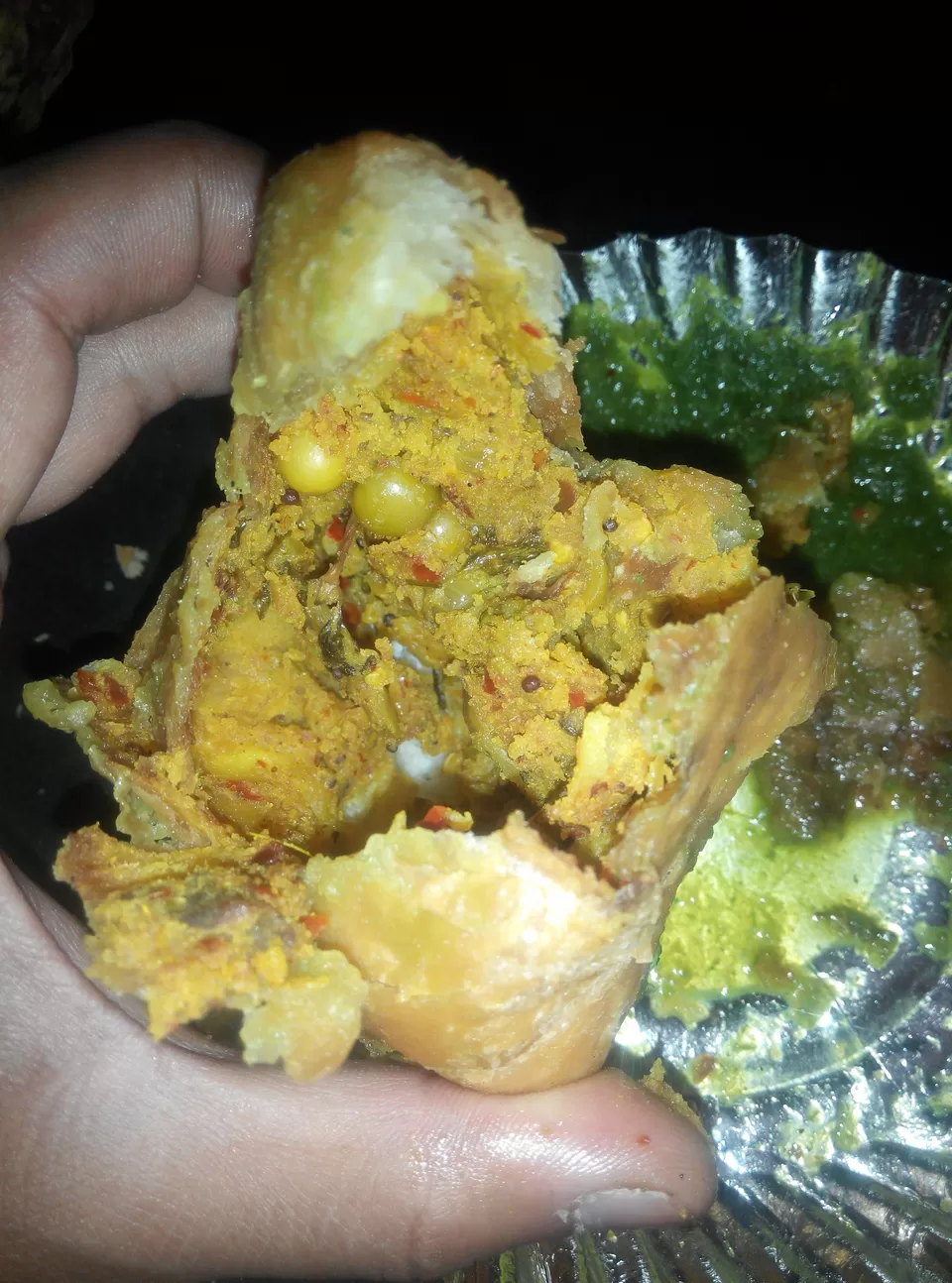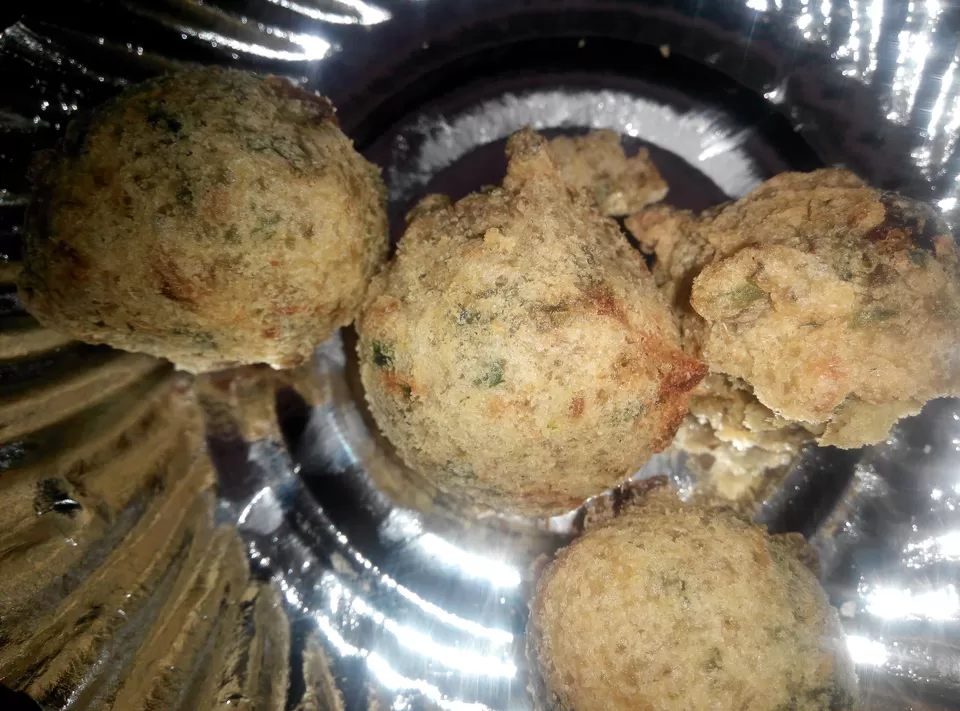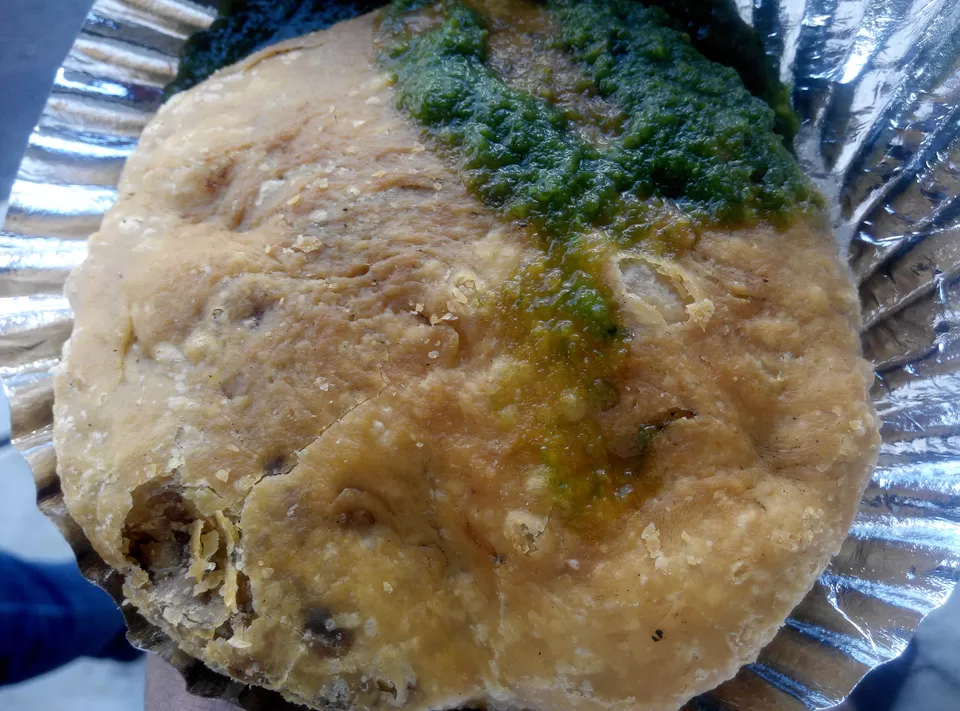 I still had time to grab tea at a local vendor near city palace.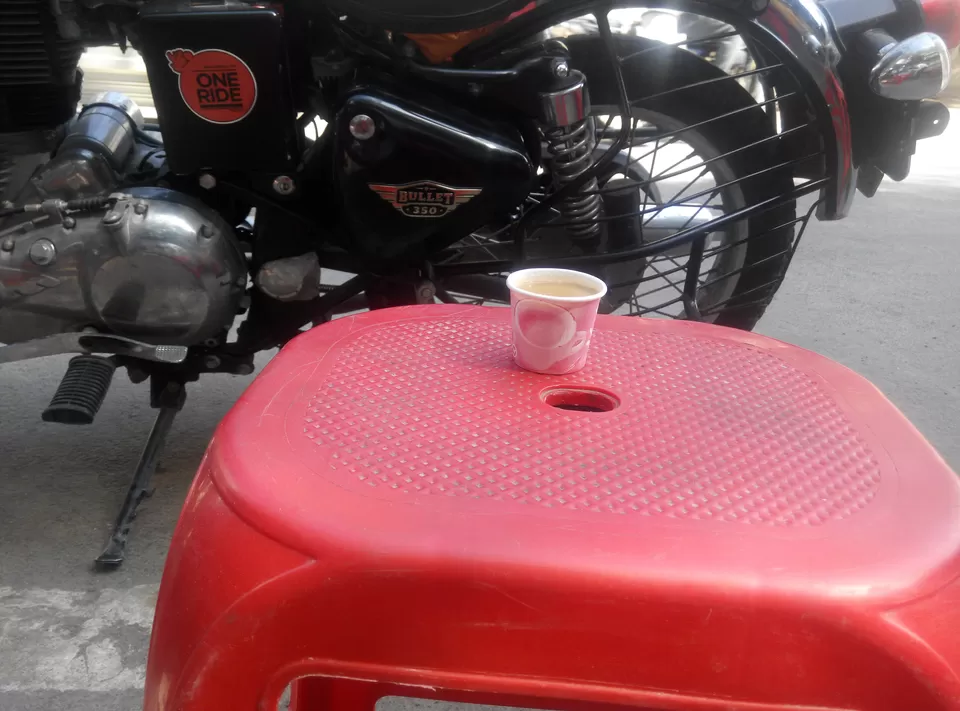 By 0930 when city palace opened i parked my bike in parking area of city palace and started to roam around it.
OMG the palace was so huge with a view of lake pichola. Pichola lake is very famous and houses the lake palace hotel operated by taj and jal mahal. Before the boat ride to see jag mandir (famous for grand marriages of big stars, businessmen and politicians) i had a thorough glance of the city palace.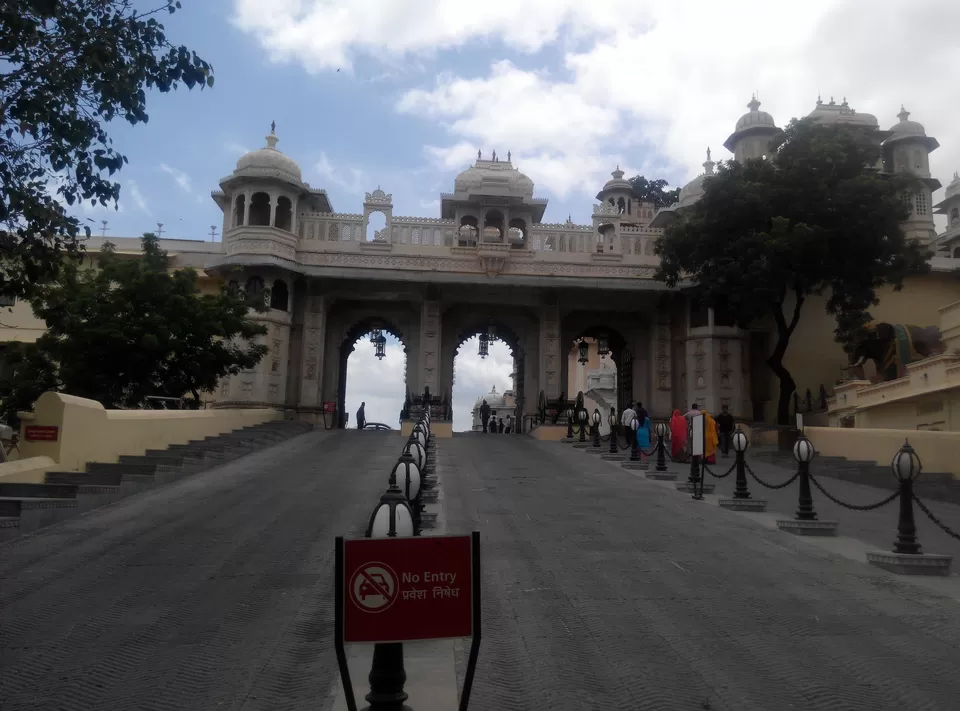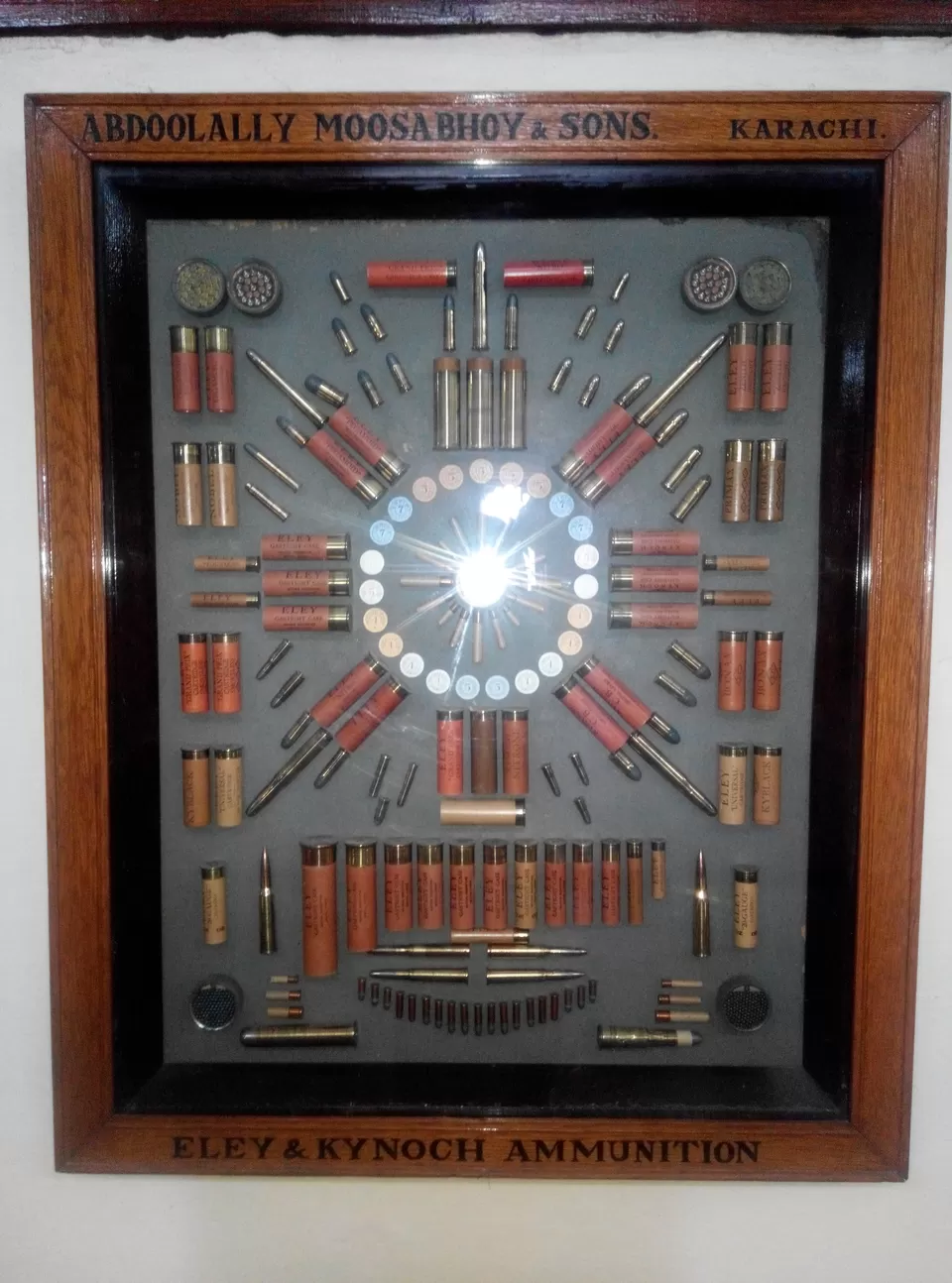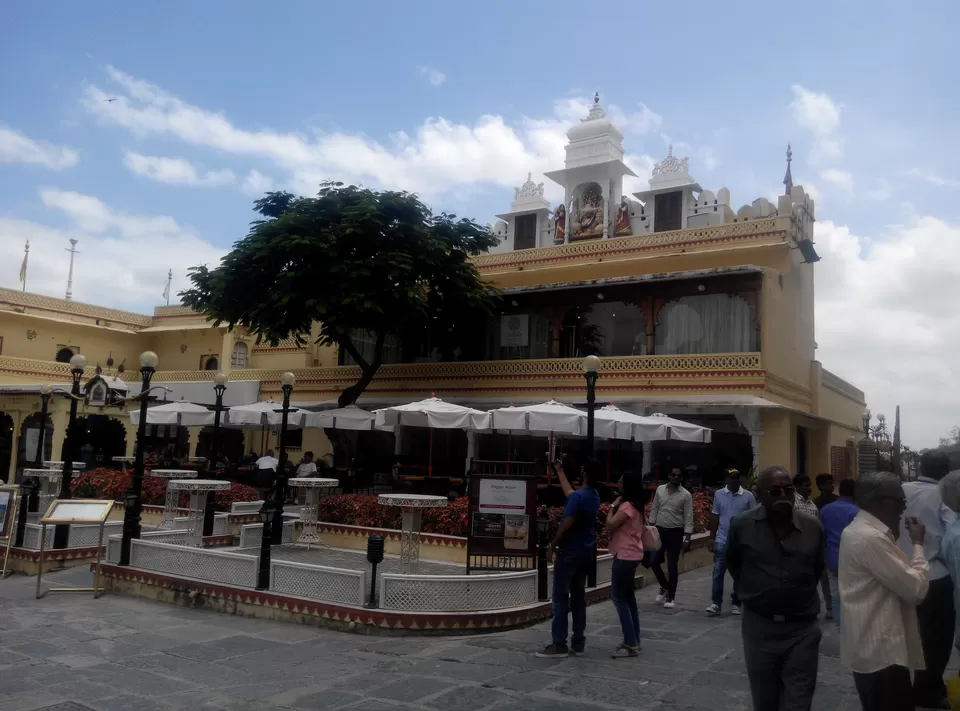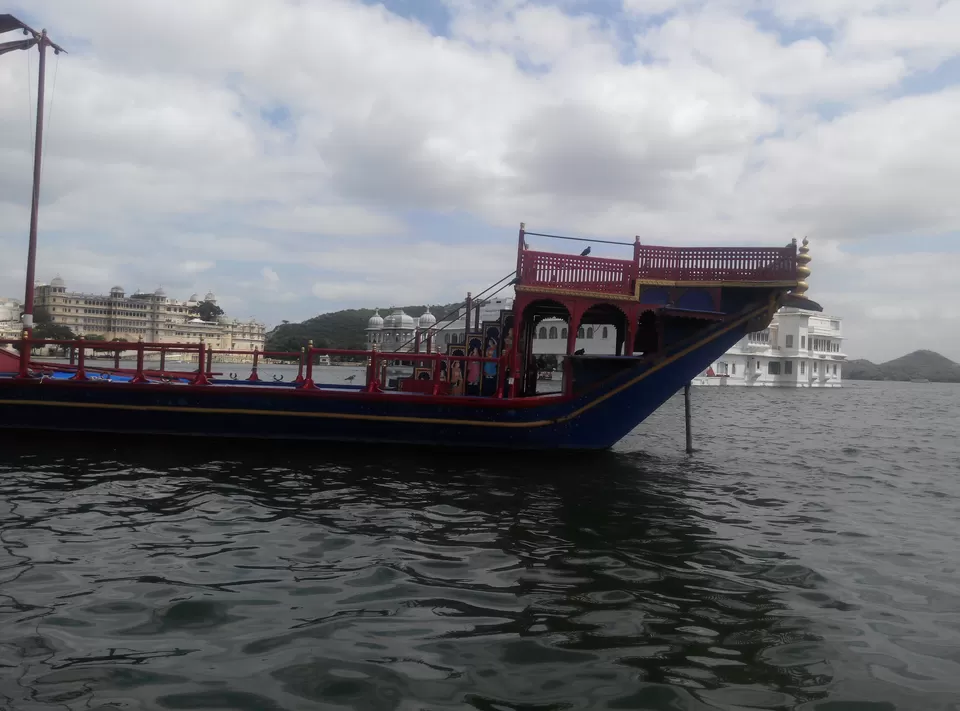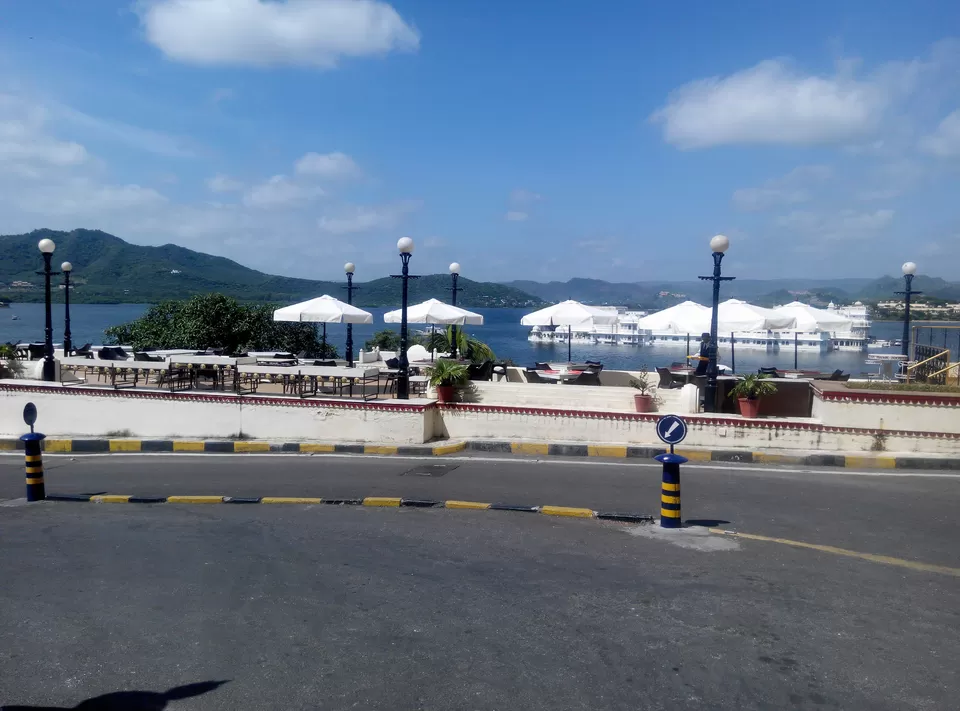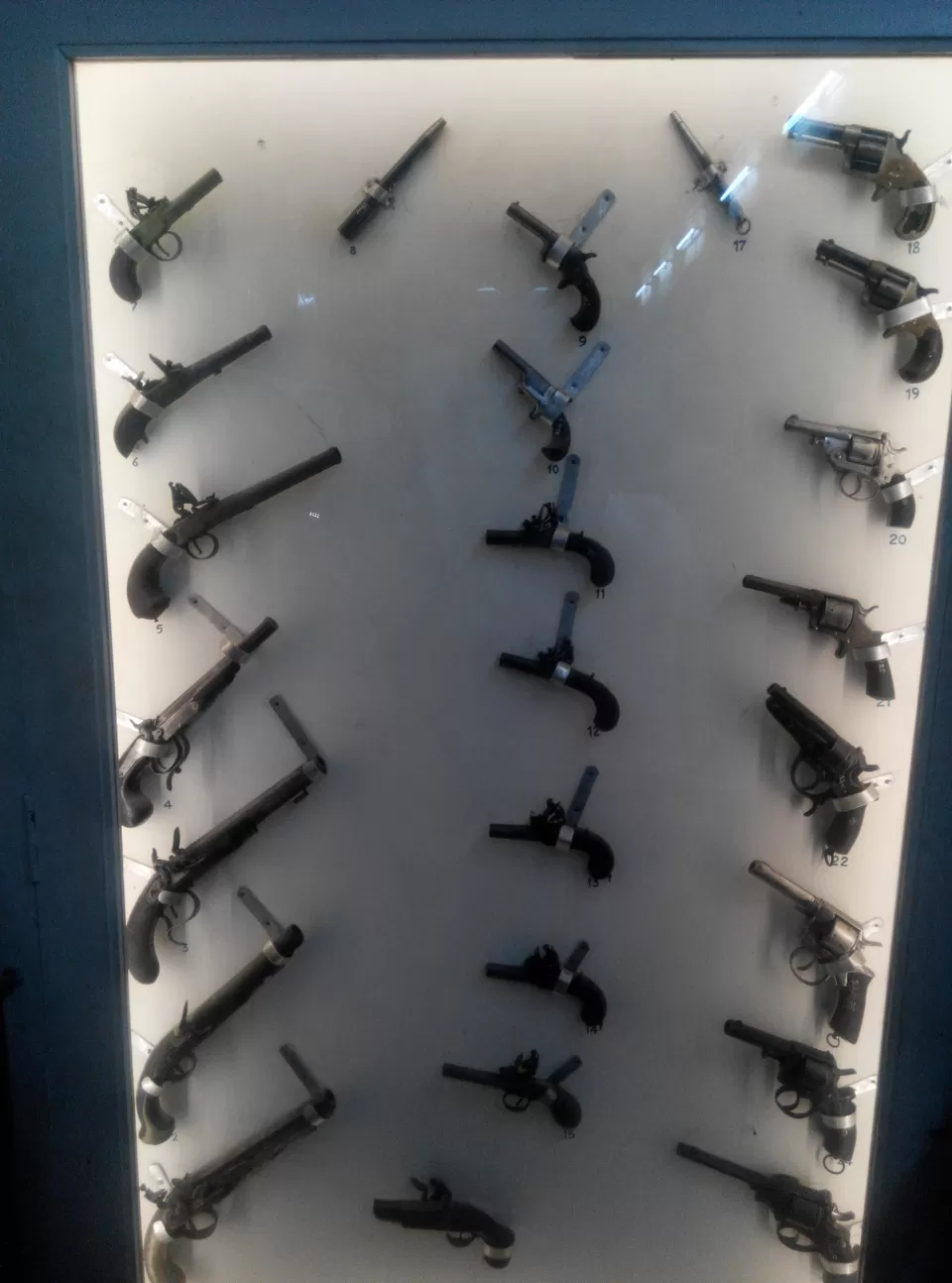 Its really a great place. Lake is so clean that one can just sit beside it and admire the nature.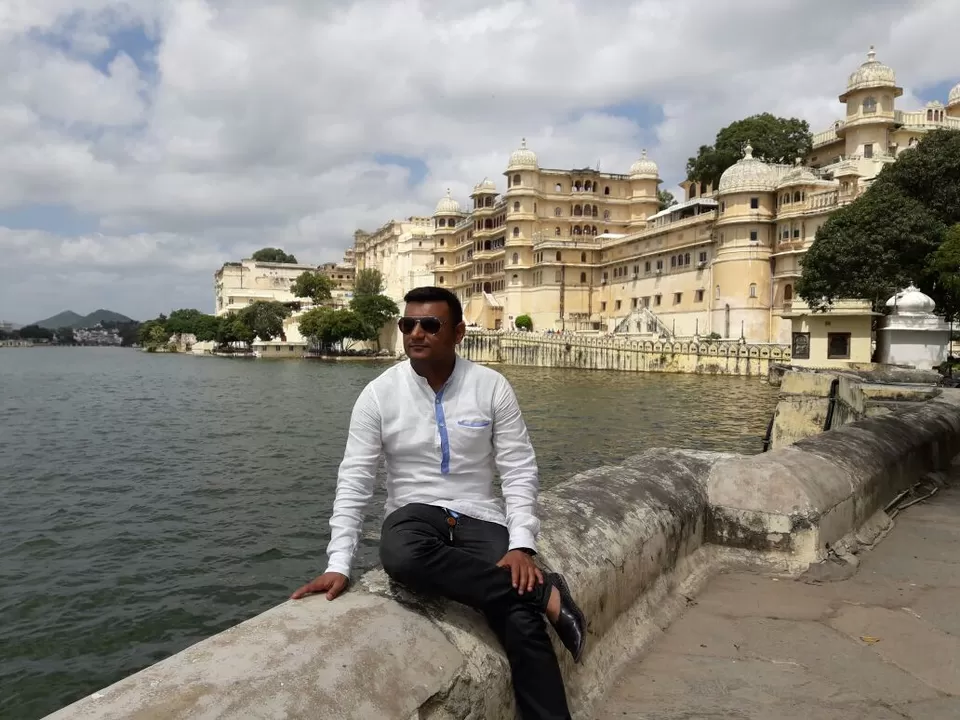 After exploring city palace i visited jagdish temple.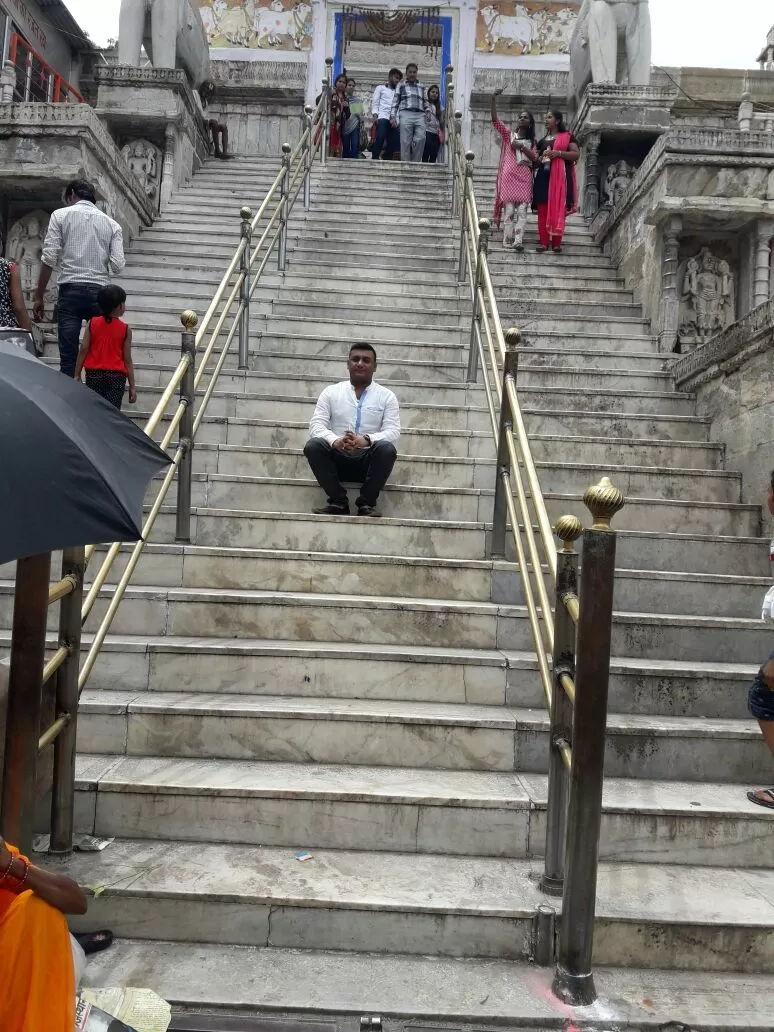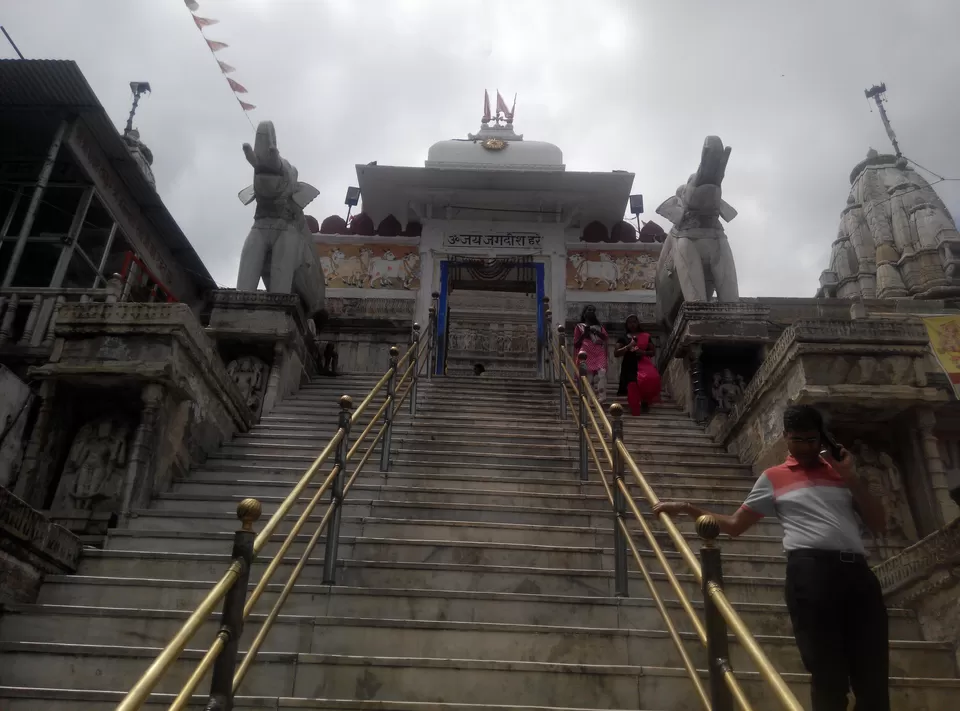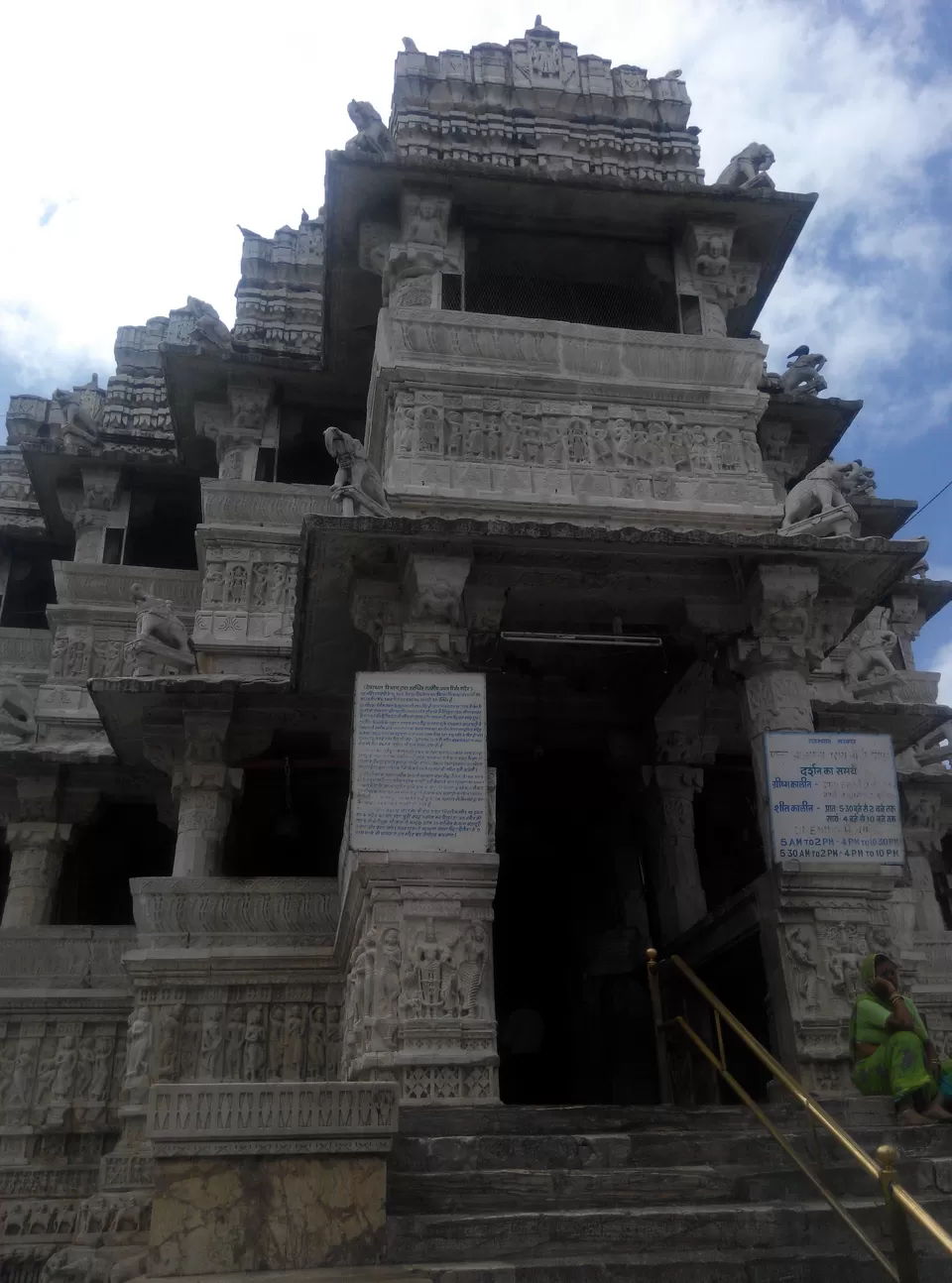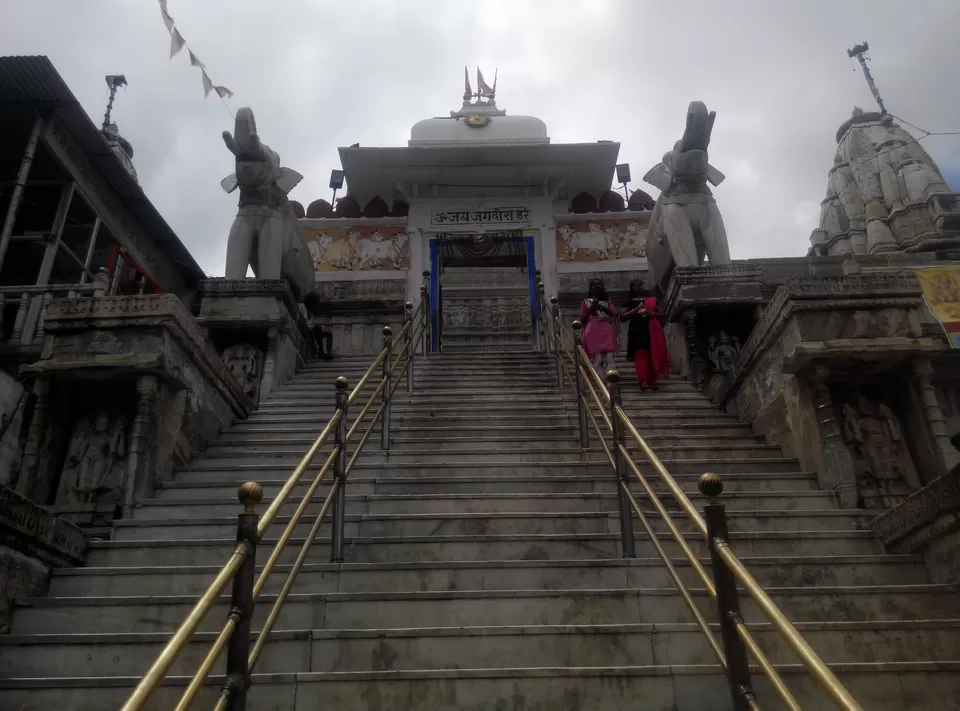 After having great time at city palace i headed towards karni mata temple. There is a rope way which takes you to the temple up in mountain. One can enjoy great view of city from this place.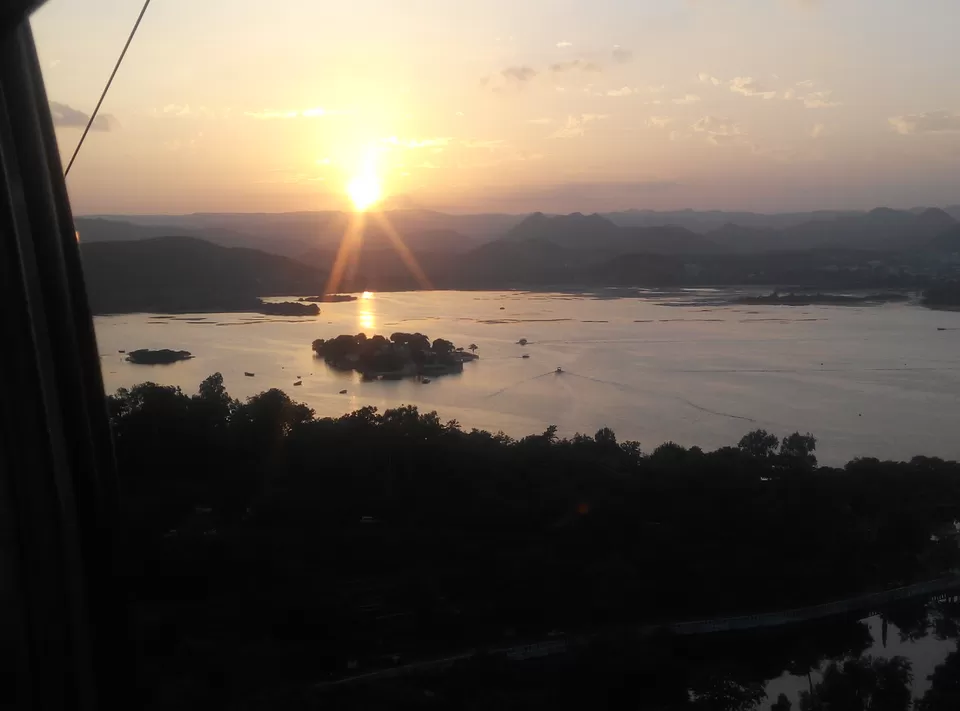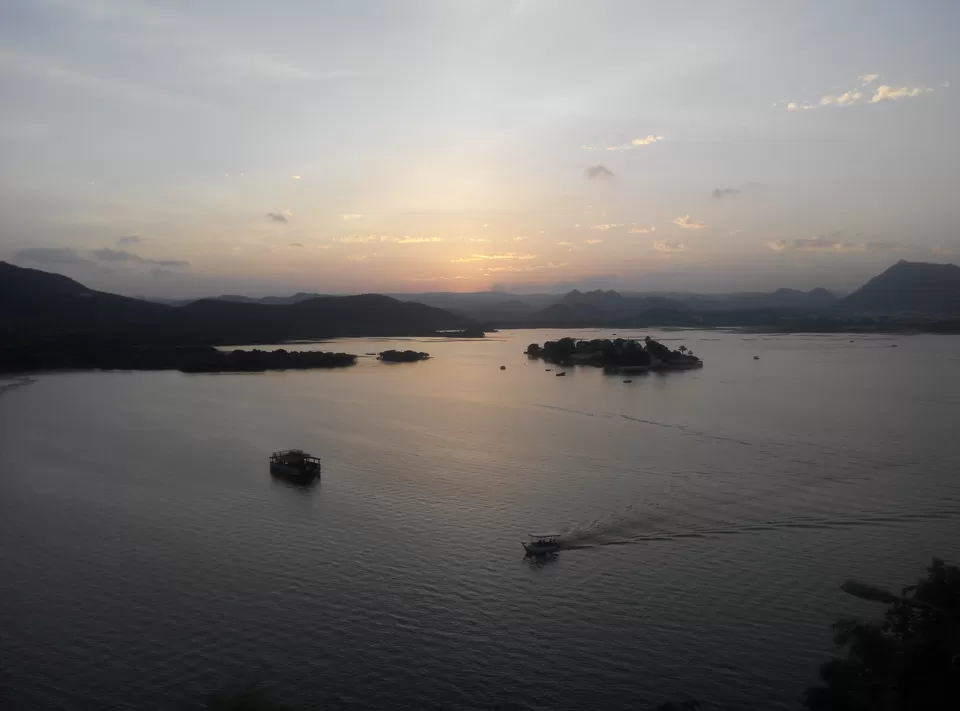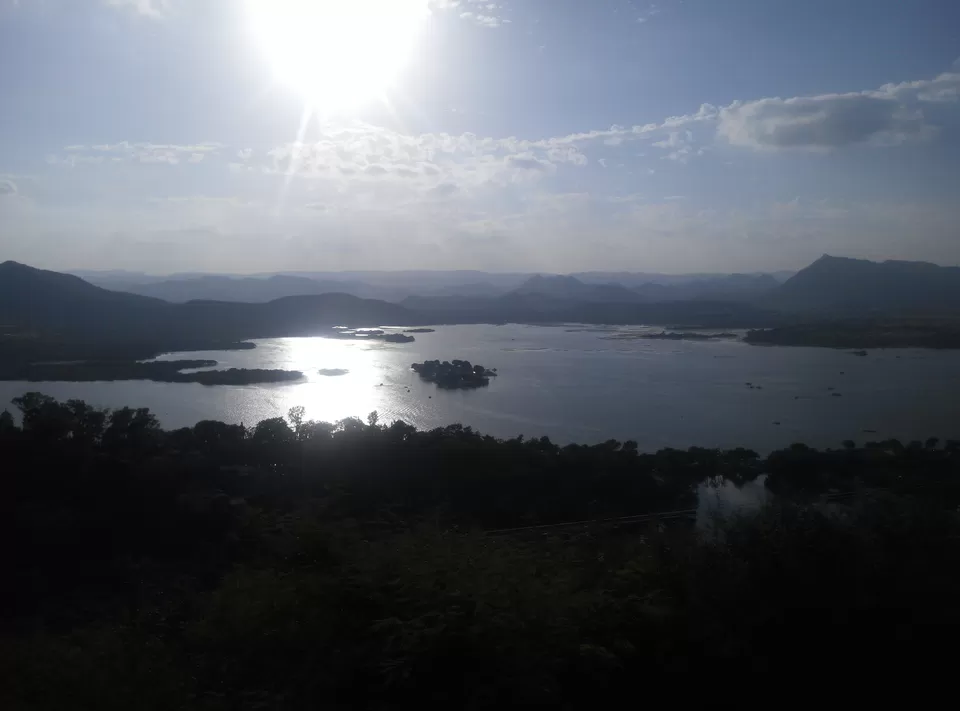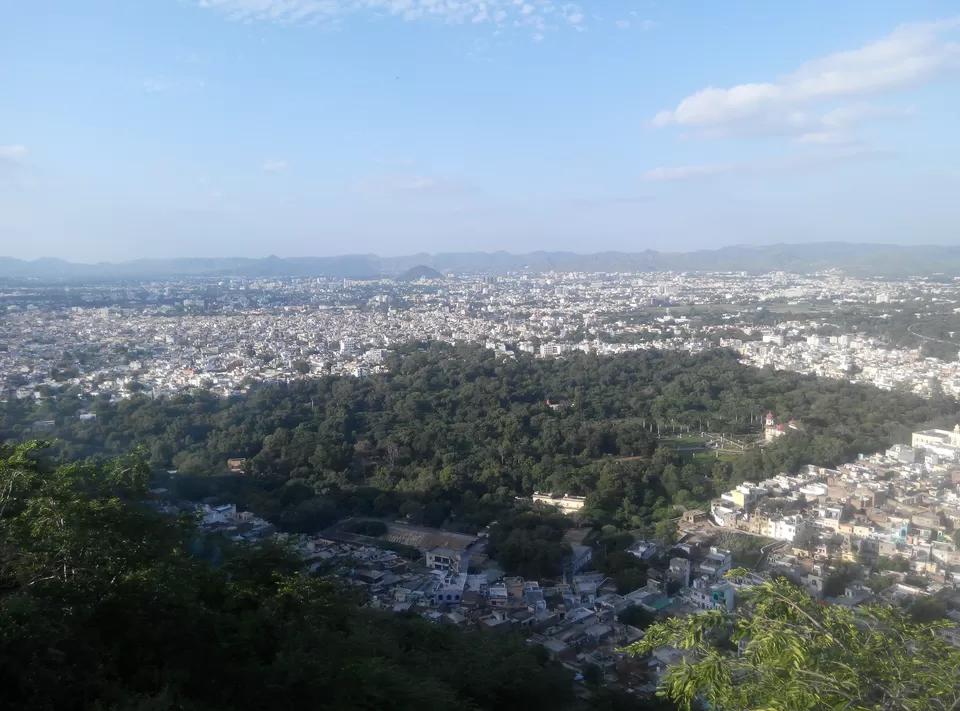 After that it was falling dark and i started riding in the city to explore its evening life. There are many stalls around fatehsagar lake where one can observe locals having walk or simply relaxing and enjoying the food along the lake.
I visited ambrai ghat. Believe me sitting here with your feet inside the water at ambrai ghat will bring you joy and you will forget the world sighting the lights which are like thousands of diamonds floating in the lake.
After having good time at ambrai ghat i visited the sukhadiya circle which is famous for it street food. The view of the sukhadiya circle was awesome it seems all the people of udaipur gathered together to explore every stall of vendor to have great street food.
Now it was 2100 and i decided to have a dinner at a roof restaurant. I had my dinner at "Charcoal by Carlsson". the place is so good with open terrace restaurant i cornered myself at seat from where i was having the view of lake pichola and sitting crossed legs in raja maharaja style.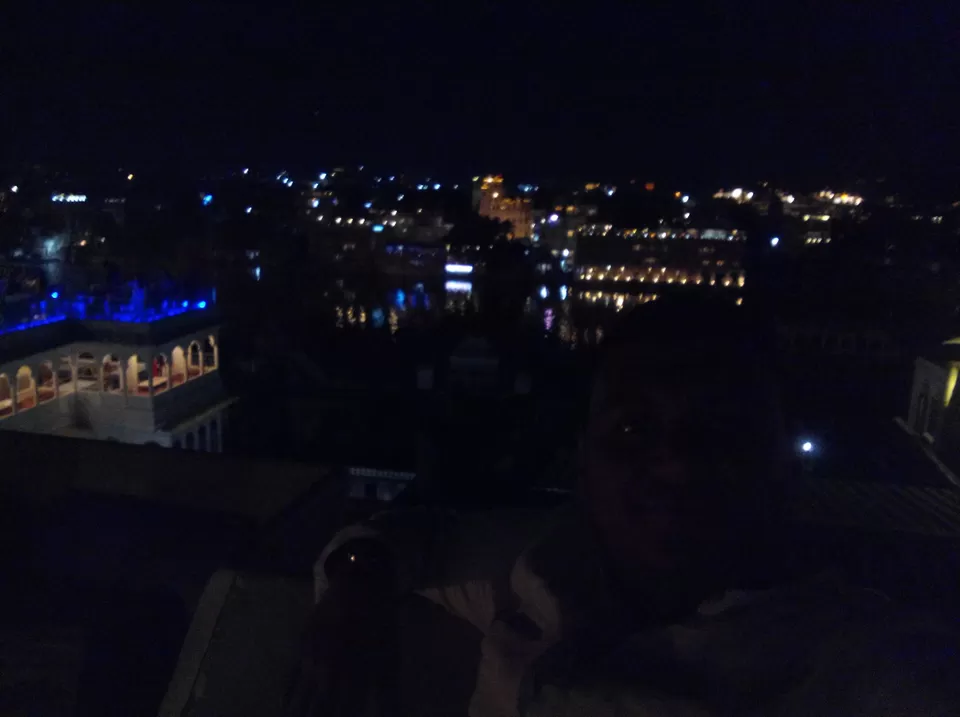 Mahipal, the owner son recommende me the dishes. He was such a nice person who chatted with me and shared his experience of running the restaurant and helping his father at an age of 21. Yes this guy is too young and still take care of all the guests on his own.
After a great dinner i headed back to my stay and comfort myself in my bed. The day ended with lot of sightseeing and great food.
Day:-3
Day 3 started at 0730, After a sound sleep i got ready, packed my stuff ,loaded it on bike and checked out. My stay at backpacker panda was nice, its truly a great place for solo travelers, pocket friendly. The backpacker panda also have a fully equipped kitchen that can be used by residents for preparing there own food. I strongly recommend this place to solo backpackers as its very neat at such a low tariff. Have an exterior look :-
So my planning for the day 3 was to have breakfast at fateh sagar lake, visiting maharana pratap smarak and a ride to chittorgarh to visit chittorgarh fort. I parked my bike inside maharana pratap smarak after taking tickets. There is a huge statue of maharana pratap riding his horse chetak. So finaly i witnessed the power of the chetak (which only we all have studied in text books specially a famous alnkar is based on chetak). There is a museum reflecting the haldighati war between maharana pratap and mughals. Its the same war when chetak took its last breath. This space is really different and reminds you about the sacrifices of maharana agains his fight with mughals. Standing in front of the statue was a great feeling. Have a look:-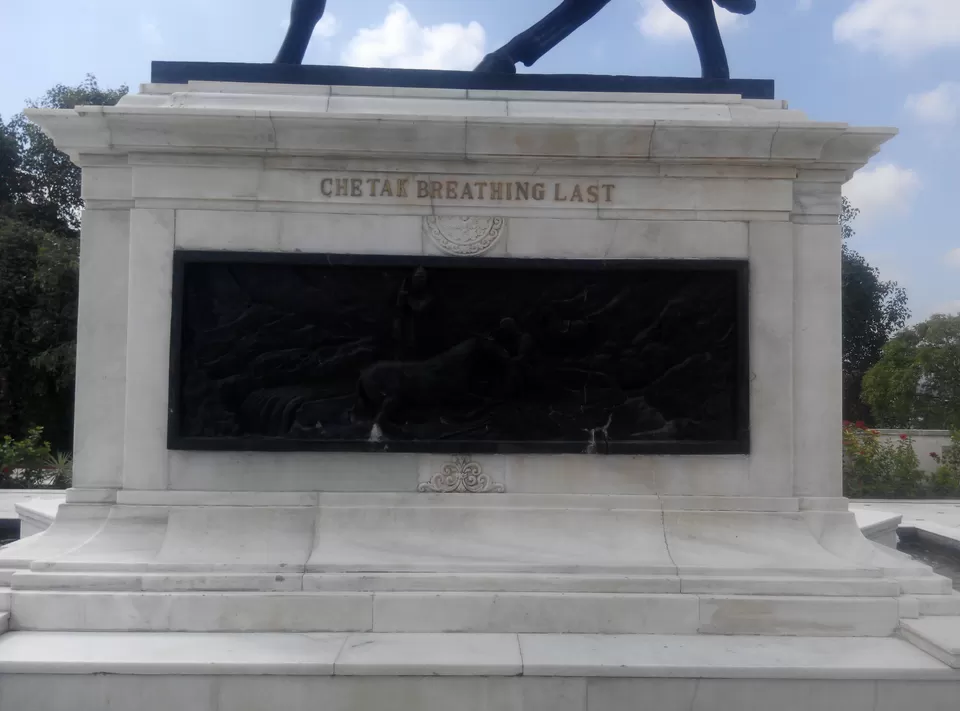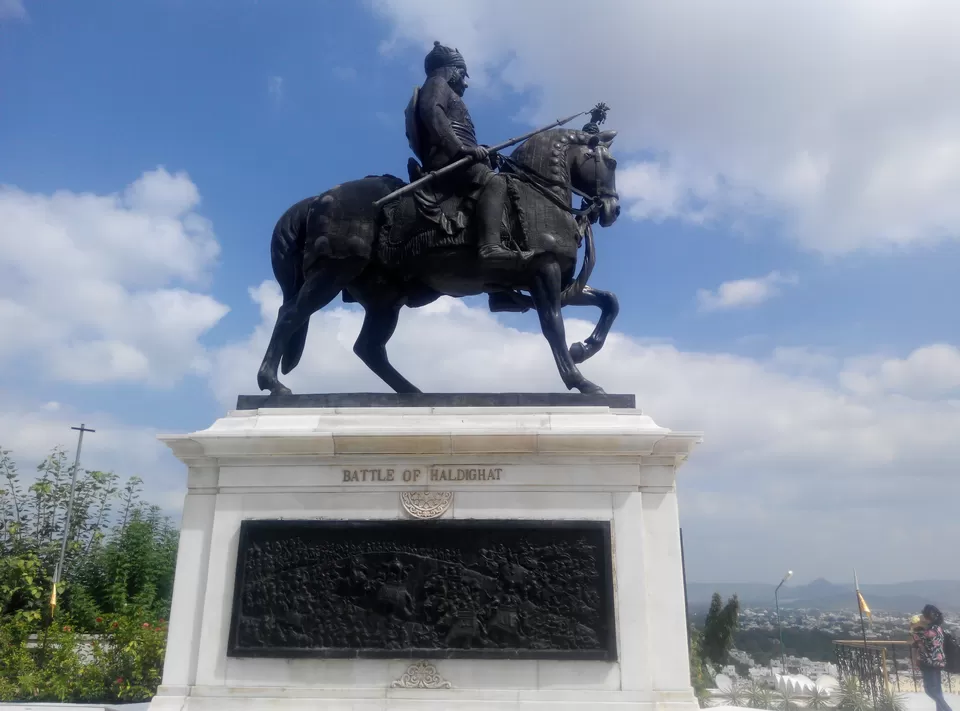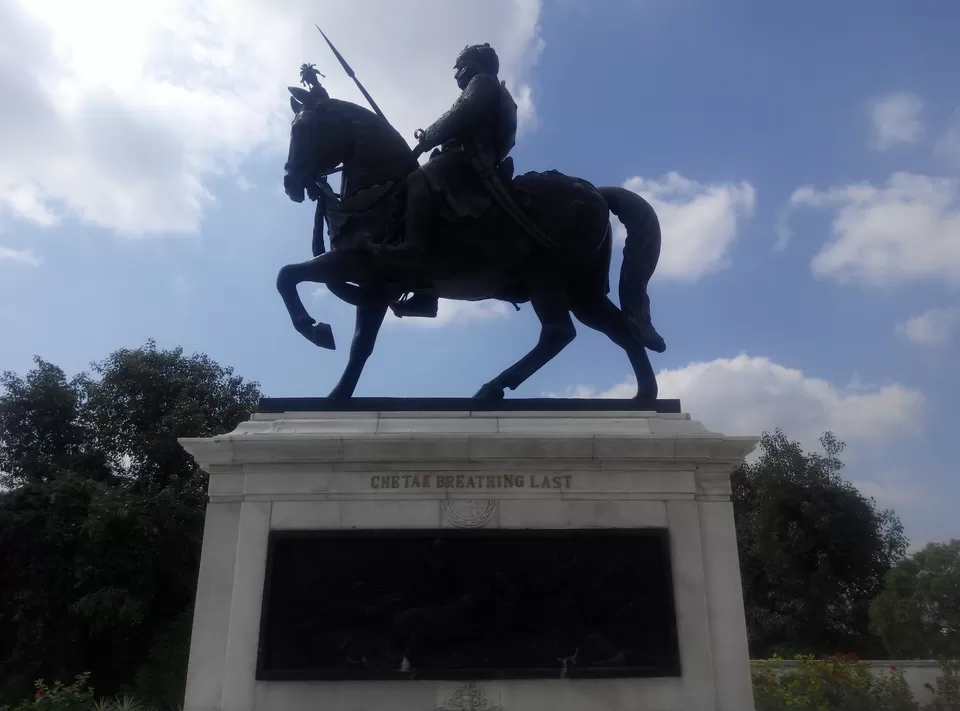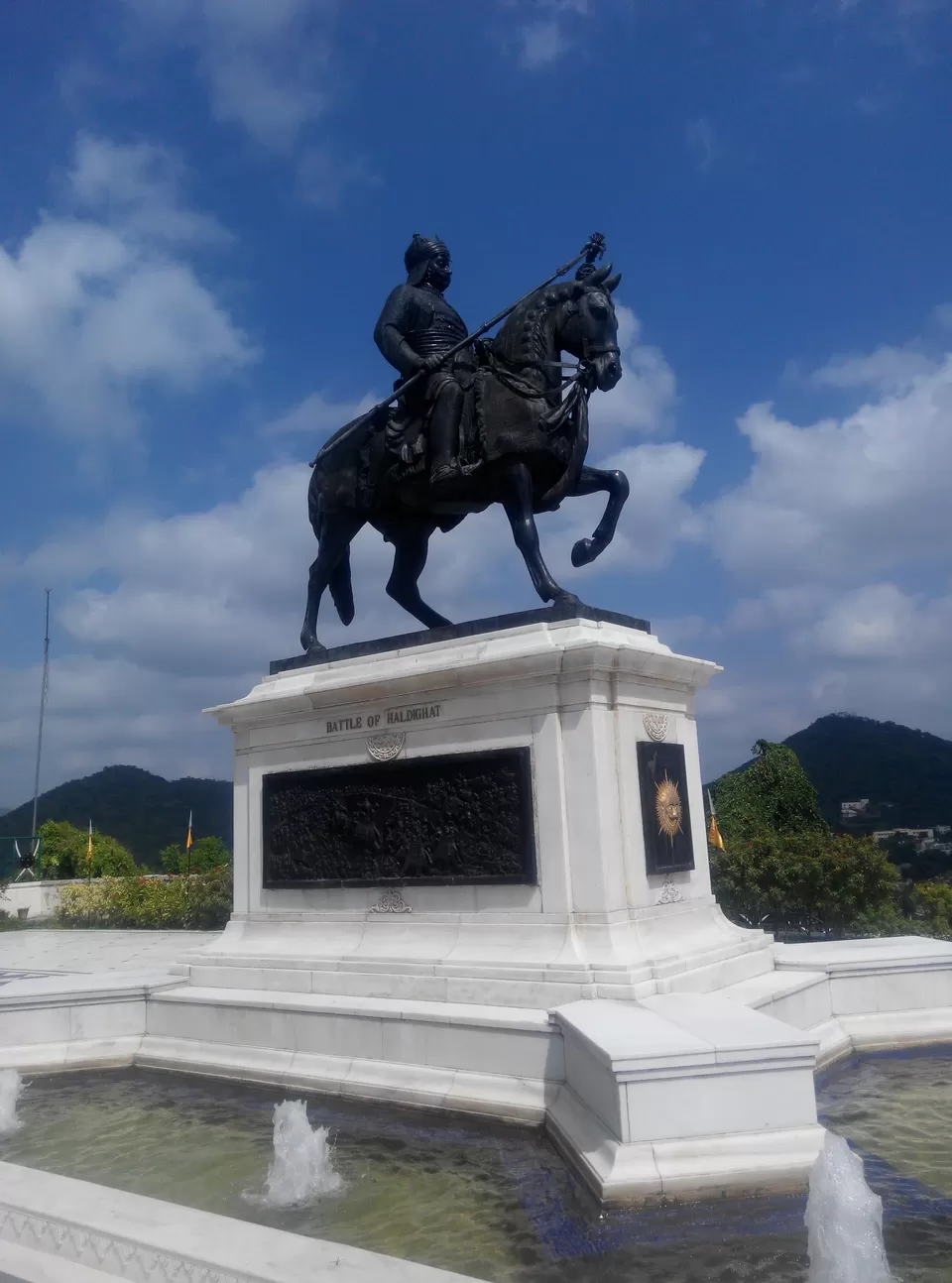 After coming out of the museum I had a walk around fateh sagar lake and parked myself at a stall for my breakfast. Ordered a veg sandwitch and a coffee. It was nice view of lake, i enjoyed my breakfast under sun and booked my stay for cittorgarh. My wstch was reading 1200 hrs. So i decided to say see you soon to the city of lakes and started my bull for a ride to chittorgarh. I decided to follow NH-27 i.e udaipur-----bhatewar-----mangalwad-----bhadsora---chittorgarh. Udaipur to chitorgarh is around 120 kms. I follow the NH-27 and after riding 80 kms took a short break for tea on highway NH-27.
I reached chittorgarh by 1500 hours it took just two hours to reach my destination and i checked in at Hotel Friends in chittorgarh. It was newly constructed property with very neat and clean rooms. Will recommend to other travelers who wished to visit chittorgarh.
Took a bath and went down to the reception. The owner was handling the reception at that time. He guided me to visit chittorgarh fort. He explained me in detail about the seven spots inside the fort which one needs to cover like meera temple, vijay stumbh, padmani mahal etc. Also he stressed me to witness light and sound show there at 1900 hours that is based on history of chittorgarh. I decided to leave hotel by 1700 hours to visit the fort.
I reached the fort it was like i was riding in a small mountain and started exploring the fort. Its a great place reflecting the history of chittorgarh maharaja and specially meera temple. Meera bai married bhoj raj who was the eldest son of great maharaj rana sanga. She stayed in this fort and the place where she worshipped lord krishna.
Have a look of chittorgarh fort:-
It took me two hours to explore the fort. Finally i landed up to the place of light and sound show. Took tickets and witness the great show. It was very nice show, explaining in details the history of the fort and braveness of raja sangha.I receommend this how to each and every one who is planning to travel chittorgarh. Please plan u r visit in such a way that u can witness this show in evening. Its a must watch.