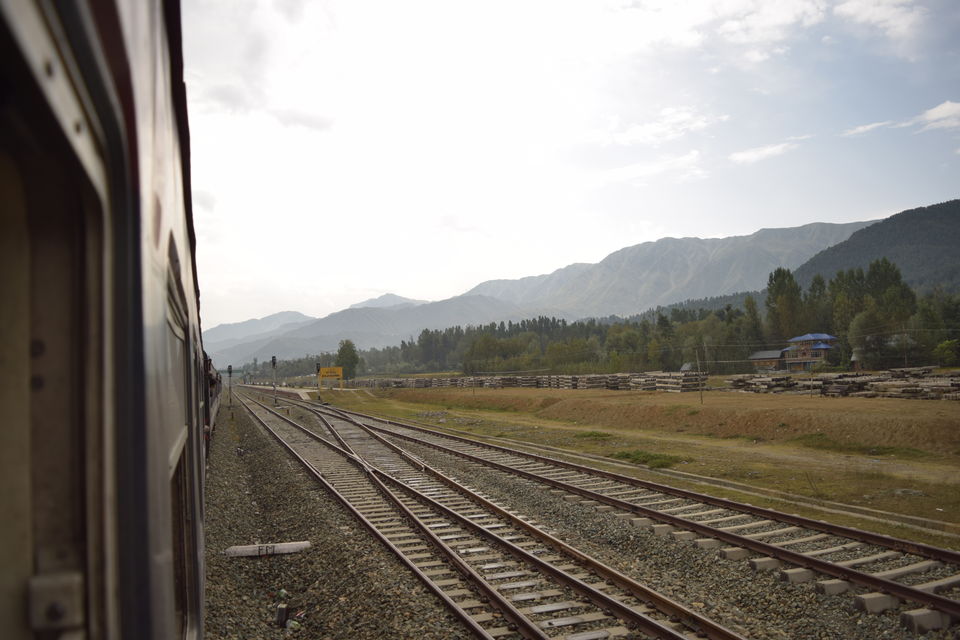 Soft breeze, green fields with a golden hue and snow-capped mountains is how a train journey in Kashmir can be described. A ticket of mere 35 rs shows you a world that otherwise will make you a lot of efforts.
The railway line in Kashmir connects Srinagar with Banihal. Among a few ways to travel between Srinagar and Jammu (or Udhampur) is only through this train. In my experience of traveling trains, this is one of the most scenic journeys.

The other ways to travel between Srinagar and Jammu are, private taxi, shared taxi and flight. All three will cost you minimum of INR 500 or 800 (shared) and around 8k for a private taxi or flight. Flight service is not that frequent and often costs so much that it is better to avoid and look for alternatives.
Compared to these options, a train journey proves a lot better and convenient, not to mention cheaper. As a solo traveller, I needed to reach Delhi without spending a lot, because it had took me some 1100 rs on my journey between Leh and Srinagar. So I asked around and found that a couple of trains leave in the morning, better get on one and reach Jammu by afternoon.
When you reach Srinagar, plan to spend at least 4 days exploring the beautiful valley. Here's a great itinerary to explore the best of Kashmir in 5 days.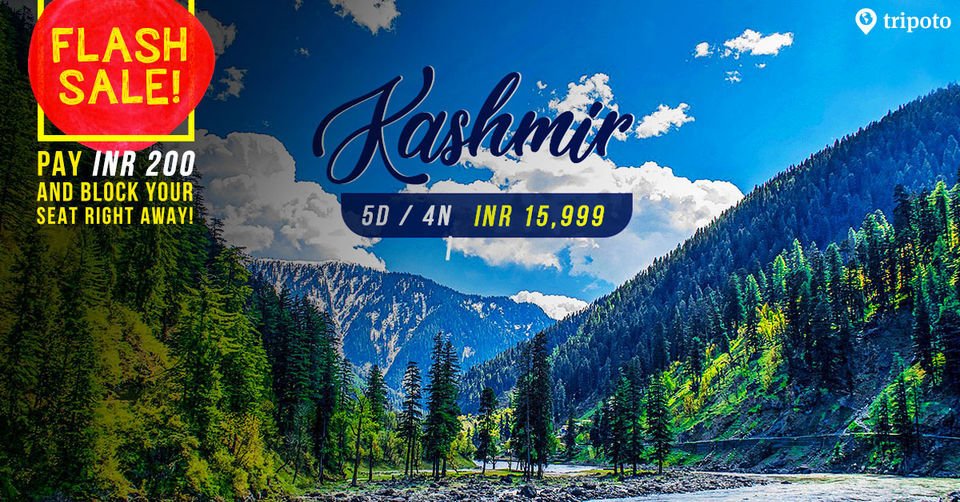 About Srinagar – Banihal Train Route: Srinagar – Banihal route is the part of Kashmir Railway network program. This route has Asia's 2nd Longest and India's Longest Railway Tunnel known as The Pir Panjal Railway Tunnel. Once complete, it will connect Srinagar with Indian rail network. Aimed at increasing tourism, this train has proven a lot helpful to the locals who otherwise had to spend a minimum of INR 500 for their regular commute between Srinagar and Jammu. This rail service connects various districts like Srinagar, Baramula, Anantnag and Budgam on the railway route. Banihal being the last station as of now, the further journey is possible by bus till Udhampur railway station.
Journey at a glance: To catch one of the trains running on this route, you need to leave your house boat or hotel early in the morning. Shared jeeps run from the Chowk near Dal Lake and a few buses travel till the railway station too. Not knowing about the point from where the jeep is available, you'll end up taking an autorikshaw and paying some INR 300 for no reason.

Srinagar Railway station, also known as Norwgam Railway Station, is connected to Banihal on one side and Baramulla on the other. The moment you enter the railway station complex, you come across a whole new side of Kashmir that you probably didn't witness during your travels.
Surrounded by green fields, the railway station looks like a fantasy land from a distance. A sleepy station with a handful passengers is how one would see this place.
The first train from Srinagar Departs at 6:12 AM, some other trains follow at 7:20 AM, 8:35 AM, 9:44 and 10:50 AM. The last train from Srinagar departs at 4:35 PM which reaches Banihal at 5:25 PM. It is advised to catch the train at the earliest as they are empty and less crowded compared to the following ones.

While coming from Delhi, you'll have to get down at Udhampur from where buses will take you to the Banihal Railway Station. Catch an early morning train and you'll find the government bus waiting outside. Sri Shakti Express leaves Delhi at 5:30 PM and arrives Udhampur at 4:00 AM. Reaching Banihal will take almost 3 hours so you'll catch any of the trains 8:15 AM, 9:35 AM or 10:50 AM. The last train leaving from Banihal is at 7:00 PM which reaches Srinagar around 8 PM. I'd recommend you to catch the morning trains and then reach your hotel by evening.
Srinagar Railway line is an experience to remember. A trip to the land of beautiful lakes, mountains and lovely people ends the best when you see this side of the fairyland.
Are you thinking of visiting Kashmir this season? Let us know if you decide to take this route to reach Srinagar. Click here if you are looking to book a trip to Kashmir - starting from INR 15,999 per person.