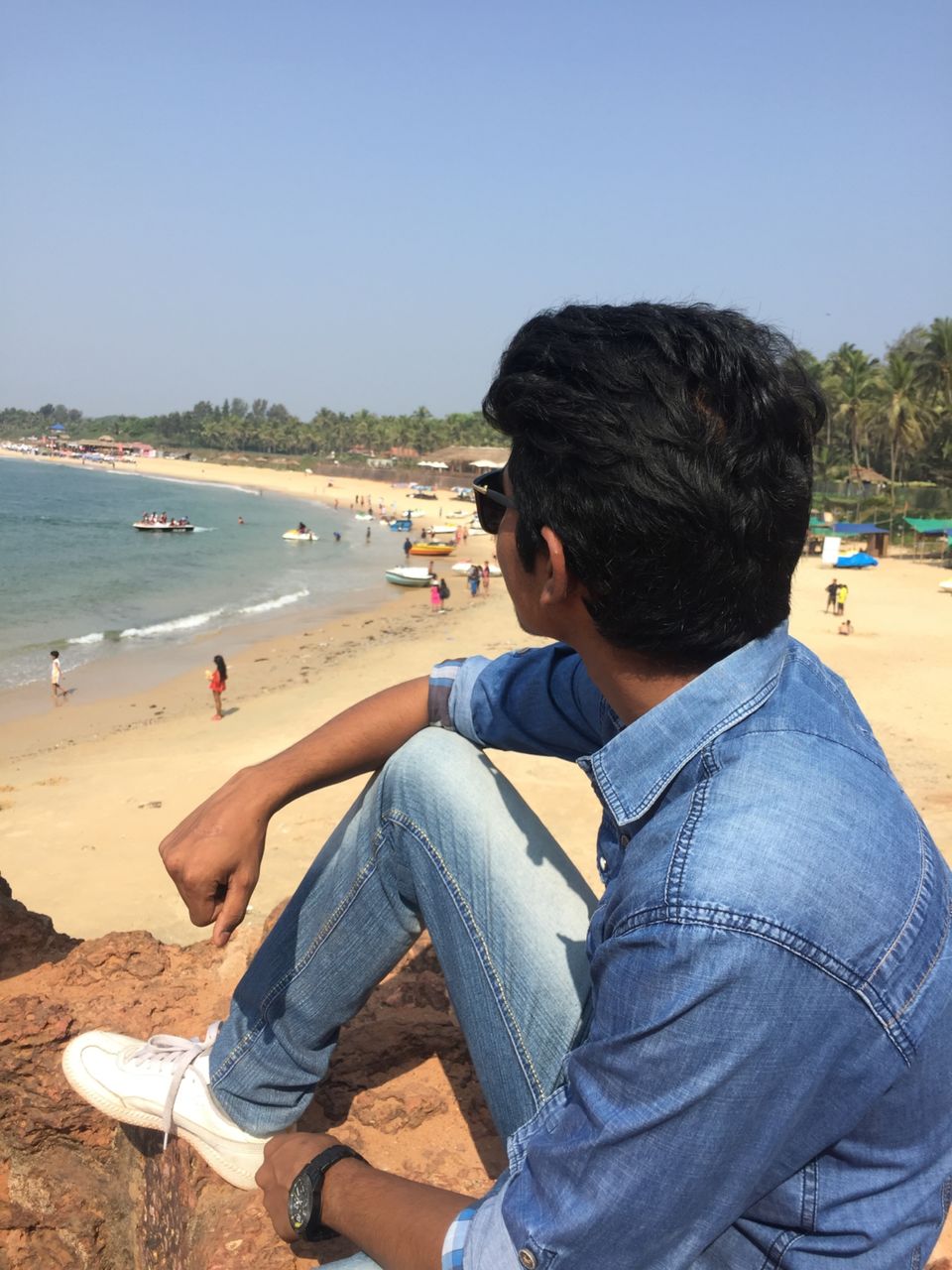 Catching a sleeper bus from Madiwala amidst the heavy traffic at 8 in the evening with a couple of vodka shots already in the bloodstream was the start of the trip to Goa. Four of us started the travel with crazy plans to do in Goa and then we dived into PUBG Mobile to set the fun mood to max. We then went on to a mid-night chat about having more fun and then drifted off to sleep in peace ☮️
I woke up to the intolerable swaying of the bus due to bad roads on the way from Hubbali. Luckily the bus made a pit stop somewhere around Hubbali, early in the morning. We got down, cleansed our faces and got ourselves a hot cup of tea to get the day going 😍 on. We boarded back our bus, and all four of us squished into a 2-people sleeper section and started talking about how lucky we were to have successfully executed the Goa plan after very long years 🤣. After a very long hour of traffic-filled journey, we reached the city of Goa ❤️. As soon as we got down, these bunch of taxi drivers surrounded us like bouncers 😂 asking for taxi services. After a big negotiation we got into a taxi and rode off to our resort at Calangute. It was almost past afternoon when we reached our hotel room, so we were pretty much hungry and so we checked in and immediately got ourselves a Fish Thali and a beer🍺 each.  We hit the beach and then dove right into the ocean. My friend pretended to be Aquaman and asked me to bow before him, when I said "I am Poseidon you jerk, kneel before me"🤣 . We had a good laugh and then we went back to our resort and got changed to fresh clothes. We went back to Baga and enjoyed our very much anticipated Port wine at Britto's and finished our dinner too. We broke the floors in Marin with the DJ half-drunk for about an hour and a half and then hit back our resort rooms to lay flat on top of one another on the bed to finish the crazy day 🤩.
We were so beat from last night's fun. Nobody wanted to get off the bed this morning, however the main reason we came to Goa is for the water activities on the ocean. So after a long motivational talk 😂 I got my friends to wake up and get ready to hit the beach. We had a very light breakfast because we did not want to puke in the ocean (which was so neat BTW) when having fun in the activities. We had no prior bookings done online whatsoever because we learnt "what we see online is not what we get in Goa" from the room we stayed 😒. We ordered a double bedroom with a balcony and all we got is a single bedroom with an extra bed and two chairs placed outside the room was their "balcony". So we decided to go to the beach for ourselves and look for water activities packages. I just wanna let you all know one thing - DON'T TRUST ANYONE IN GOA!
Yes, that's right. Goa is place where you will easily be a victim of scam. One guy comes over and says a package that costs 1500 bucks, another guy sees this and approaches you five minutes later for 1300 bucks. This is all a play. The package was actually 900 bucks only which was written on a board near Baga beach. That's when we decided not to believe any guy that comes by you and asks for services. We loved the ocean and all of its activities, but the rides are seriously not worth the money. Seriously!😔 They were fun. Yes! But the rides are for only for a minute or so. There is this one ride called "Banana ride" which he takes you for around 20+ seconds 😒. The jetski ride is one where you are supposed to simply sit behind as a pillion. What fun do you get from it, seriously? Which is why the rides in Goa are seriously not worth it.
If you plan on going to Goa, have fun with your friends in the beach, play a beach volleyball for yourselves, drink beer on the shore, do photoshoots. Do anything that won't cost you unworthy of the money. Sorry this day has been more of an advice to you kind people reading this. But I want you all to know the fact here.
We enjoyed the evening sunset with a beer on the beach before hitting dinner at a local restaurant and went back to our room and ended the day with another beer 🍺 before drifting off to peace 😴.
Tick tock boys! The sun has risen and the most tiring day has come. We are going to the Aguada fort and wander the whole day in a rented jeep. We got all excited about having a drive in the open jeep because it's my first time driving an open roof jeep. After our breakfast, we went to this local jeep rental place where the price of a jeep was 1800 bucks per day, although as usual the scammers told us that it is old pricing and now the price is 3000 bucks per day. I mean if it is old pricing why would they still have it on a board? However we picked the car up and started driving. They gave us a jeep with absolutely zero fuel. There are these guys on road sides who sell one litre of petrol for the price of 90 bucks 😒 when the actual price is around 60 there. The reason these guys are there selling petrol in black is because there are no fuel stations nearby the centre of city. You need to travel 20kms to reach the fuel station from your place. However we reached the fuel station on that 1 litre petrol and filled up our tank and left to Aguada fort. When we reached Aguada fort, there were these parking scammers who asked for money to park the jeep, however we did not park it there. We went about a hundred metres ahead and left the car on the roadside for free. The guys claimed our cars would be stolen, I mean come on, who can do that in a crowded area. These guys cheat people for that parking fee when there is a whole ground ahead to park your vehicle. The fort was so huge in area and the sun was scorching since it was mid noon. We walked all the way to the top and started our photoshoot session. Although it was so tiring, we really wanted to capture some great pictures for memories. Then we left Aguada fort and had a Fish Thali at a near by restaurant. We had nothing much to do the rest of the day because we were so drained from the walking. So we took our jeep and drove until we could empty the fuel tank 😈 (the way it was given to us). Before reaching our hotel room, we had an awesome dinner with whiskey. We went to our beds straight and closed our eyes in peace ☮️ because we are leaving to home tomorrow.
Ahhh!!! Our last day in Goa 😔. We woke up with mixed feelings this morning. We weren't sure if we ought to be sad for leaving Goa or be happy to go back home. We had booked a bus at 6 in the evening, so we did not want to get into the ocean and get our dresses wet. So we went to the beach and sat on the shore with lots of refreshers. We were so drunk last night because of the whiskey and did not want another drop of alcohol for few days. So we decided to stay non-alcoholic till we reached home 😜. We strolled on the beach for around two hours talking about how much these scammers would earn a day and that they must be richer than us - Engineers! 😂 We had a budget lunch at a local restaurant because we were almost out of cash to go back home. We went back to our rooms after lunch and packed our bags and rested for some time. We checked out and went to the Panjim bus stand by bus which took us around an hour to reach. We had a nice beverage at the bus stand where everything was surprisingly cheap actually. We boarded our 6'o clock bus and started our journey back to home. Our seats were in the last which made it so difficult to have a peaceful sleep. The roads were so bumpy and we were tossed in the air for every minute or so. Later, around 10 the bus stopped in a small motel where we had dinner and went back to the bus and slept. The sun hit my face in the morning and I woke up to see the bus stationary. I thought we had reached the drop point, but it was nothing other than the usual - Bangalore TRAFFIC! Yes, we were stuck in the morning traffic of Bangalore City 😂. That's when I realised I was back to a normal life❤️