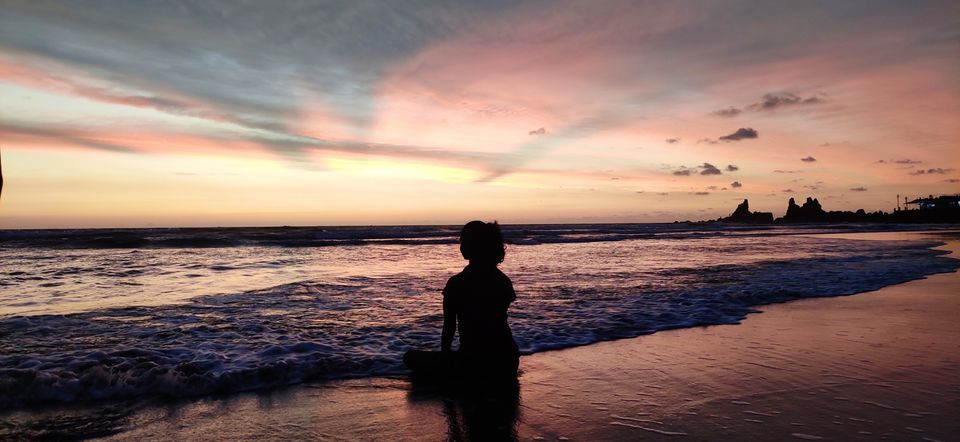 Hyderabad to Goa on bike!!!!!!
Are you Mad?
.
.
That's risky... Why don't you go by flight and take bikes there?
.
.
You will get tired and you can't enjoy Goa
And
So on....
I got so many shocking and concerned statements from my friends. But I decided to go to Goa on bike from Hyderabad.
Route - Hyderabad- zaheerabad - gulbarga - bijapur -bagalkot- belgaum- Goa
Let me start my trip experience with a huge THANKS to my friend who rode bike all the way to Goa. Yes, I was a pillion rider because my partner wants to live longer.
This time trip is all about relaxing at beaches... So like other trips I haven't covered any tourist attractions.
So for the people who are here to check what all tourist attractions you can visit.... I'm sorry!!!!!
October 1st.....
I completed morning shift, packed bag and left to meet my friend who was waiting for me at meeting point. We tied our bag to bike and started our journey.
The journey was so beautiful with amazing sunset which turned blue sky into red.
Overall road conditions are fine, But you will forget when you see how beautiful nature looks at early morning.
After gulbarga there are so many speed breakers on road, from Bijapur to bagalkot road condition was bad.
Carry extra fuel, always wear helmet and drive carefully.
We planned to go to anjuna beach for Wednesday shopping mela but we are tired, so we directly went to Arambol, North Goa.
We checked in a shaft called Arambolicious. It's on beach front near by sweet lake(which was not sweet). The location is so calm and peaceful. We checked in and slept for 2 hours and then our other friends also reached to our stay. After some time we went to sweet lake. There are shopping options on the way, bargain as much as possible🙊.
When you go to any beach side, first thing you should try is sea food. It was almost evening, we had food and sat there and played with waves. This beach is not deep so even children can also go inside and play.
After we freshen up, had dinner and rest for the day.
Try goan curries... I like Goan prawns vindaloo.
It felt so good to wake up early morning and walking sea side on sand while waves were touching my feet. That morning was peaceful and perfect in all ways.
Around 10 am we had breakfast and coffee, packed our bags and bid adieu to arambol.
Our next stop was candolim, where I booked a hostel for night stay. We decided to stop for a while at vagator beach. We didn't go near water as it was so hot, we just watched and clicked pictures at some height and left.
There are souvenirs shops for shopping lovers.
Our next stop was Baga beach,
Baga beach is a good place for water sports and to watch the crowd (you know what I am saying). My
friends went for boating and still talking about how fun that was. Aftet that we left for Agoda fort.
We stayed at backpackerpanda hostel. Finding hostel location was difficult but hostel was good and near to beach. After check in we went to visit agonda fort, there is 25 rs entry fee for Indians and closes by 6PM.
Agoda is a 17th century Portuguese fort which also has a light house and water storage. It won't take much time to visit the fort, 30 min is more than enough.
From there we went to candolim beach. This beach is nothing like arambol beach. Only hand full of people were there who were playing catch - catch with the waves, Sand here is slippery and uneven. So careful when you take children with you.
There is also one more beautiful beach nearby called sinquerium beach. My other friends went there and bragging rest of the day how beautiful that beach was.
Anyways we had a small party at hostel and slept around 2 midnight.
This day we planned to cover dudhsagar waterfalls. So we checked out from hostel and started. After 2 hours ride, we reached forest vehicle ticket counter.
Private vehicles are not allowed here. If you wanna reserve whole vehicle for you it's 3500INR. If you wanna opt for sharing vehicle is for 7 people and 500 INR per person. It was a fine ride through water stream, lush green forest running behind and mud road leads to a the entrance of waterfall. After that you need to walk, If it is raining, it might be slippery so watch your step. So finally we reached to waterfall and the view was so awesome and also I slipped and fell down on my back. Duh!!!!!!!!
It started raining when we were in water pool, and the water stream flooded. So we had to wait until water level became normal and took a new route to reach that ticket counter where we parked our bikes. Paid parking is available here at local restaurants and homes.
We had booking in The Lost Hostel, Palolem, South Goa. We loved this hostel. It had hippie vibe, host was friendly and the beds were so comfortable.
After freshen up, we had dinner, sat outside for sometime while listening soothing music.
We planned to go to Gokarna this day, but we were so tired we extended our stay in palolem itself. Unfortunately, rooms were full in the lost hostel so we booked a near by hostel "The Summer by Hostelworld". Rooms were good and beds are comfortable but it was kind of boring hostel.
Anyways we woke up played some games in The lost hostel and then moved to The summer hostel.
There are Udupi hotels near by for breakfast. After breakfast we went for boating to dolphin island and I am so happy that I got a chance to see dolphins, and then we went to butterfly island. We stayed there for sometime, clicked some pictures and then came back to palolem beach.
We had dinner at Dropadi restaurant, which is a beach front restaurant serving yummy food. It was costly but so yummy. We did some shopping there and then went to hostel.
We went to beach again by night and spent some time there and relaxed for the rest of day.
Palolem backwaters....
Our bike gave some trouble so I had to stay back and came by bus from Goa.
We booked bus which start evening from Panjim.
We had so much time so we thought to spend time at beach. Some guy came to us and asked if we wanna go backwaters boating.
We were so happy, we hopped into a small boat costed 200INR per person. That was the best thing happened in whole trip. Boating in backwaters is one thing you should not miss. It was quite and peaceful. After that we checked out, took a local bus to Panjim.
Our trip ended........
Goa is magical....
A different world itself.....
It has something which makes you wanting more Goa.
I promised I'll return to Goa again and left with a bag full of memories...............
P.S taking bus from Goa to Hyderabad is bad Option.
Signing off-
Mounika Swarna
Instagram - i.am.sanchari
"Travel safe... Travel responsible"