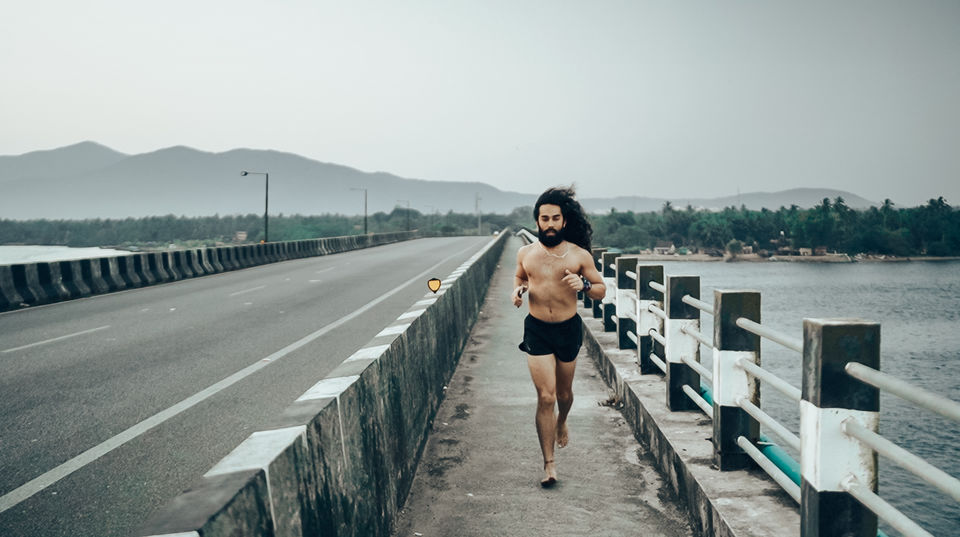 "Earth and sky, woods and fields, lakes and rivers, the mountain and the sea, are excellent schoolmasters, and teach of us more than we can ever learn from books."
- John Lubbock
Meet the man who ran 135 kms from Gokarna to Goa in two days, covering the trail in splits of backward running and barefoot running.
Sarthak Malani was 18 years old when he decided to start running as a fun hobby. He decided he wanted to look fit and do something out of the ordinary, when he picked on his running shoes and just took on the road. What started out as an impromptu decision, became love, hunger, grit and desire. In less than 3 years of running, Sarthak saw his body change, both physically and mentally. He saw himself get stronger, his heart and lung capacity go up and he slowly fell in love with the outdoors. What started off as fashion, now became his end goal - to cover as many trails as possible on foot, across both national and international borders.
Here is a conversation I had with Sarthak, an expert in backward running, which will give you a glimpse into his life, his passion, his motivation and his future goals.
Tell us what motivated you to start running?
Well, honestly, I started running because I wanted a good physique. Running is the cheapest form of physical activity. I always wanted to look good, and I thought running would help me with all this. But less than a few years into grabbing my running shoes, I started seeing changes in myself. Changes that were both physical and mental. I started eating better, I started looking better and stronger, my heart and lung capacity went up and running gave me an adrenaline rush and a dopamine hit.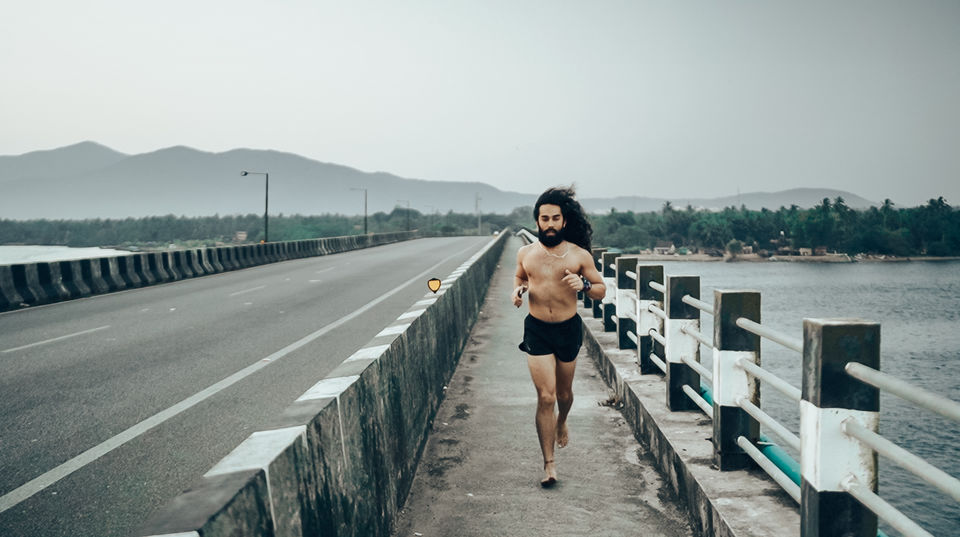 A few years later, I came across Milind Soman, the running heartthrob of our nation, and his zeal for running pushed me to better goals. With a change in my mindset, and a larger-than-life inspiration like Milind Sir, I knew I had to take this to the next level. So, I joined his 2017 run from Chandigarh to Dharamshala. At this point I wasn't concentrating on my transformation. My mind rewired and I joined him on his other excursions in Sri Lanka, Guwahati and Shillong, Jaisalmer and more. An ever since, I haven't stopped.
Why did you choose the Gokarna to Goa trail? Why not anything else?
When I joined Milind Soman's Pinkathon, I was the only runner in the group. His idea was to end and start every year by running. Under him I learnt to pick trails that would last 2 days (on 30th & 31st December of every year). We'd spend New Year's Eve at the final destination. I have chosen trails in Jaisalmer, Dharamshala to Dalhousie and many more where he wasn't a part of the run. Gokarna always fascinated me, and I decided to this one all by myself. I was a lone runner with my team of 6 members that I organized and gathered together over time.
Tell me something about your journey? Any hardships you had to overcome?
Well, as this was my solo run, I had to bring on board, a team of over 6 people, find the right sponsor, a videographer, a driver, a crew car, a travel team and a photographer. I knew I wanted to capture every moment of this run. I needed the right equipment and had to make arrangements for my team.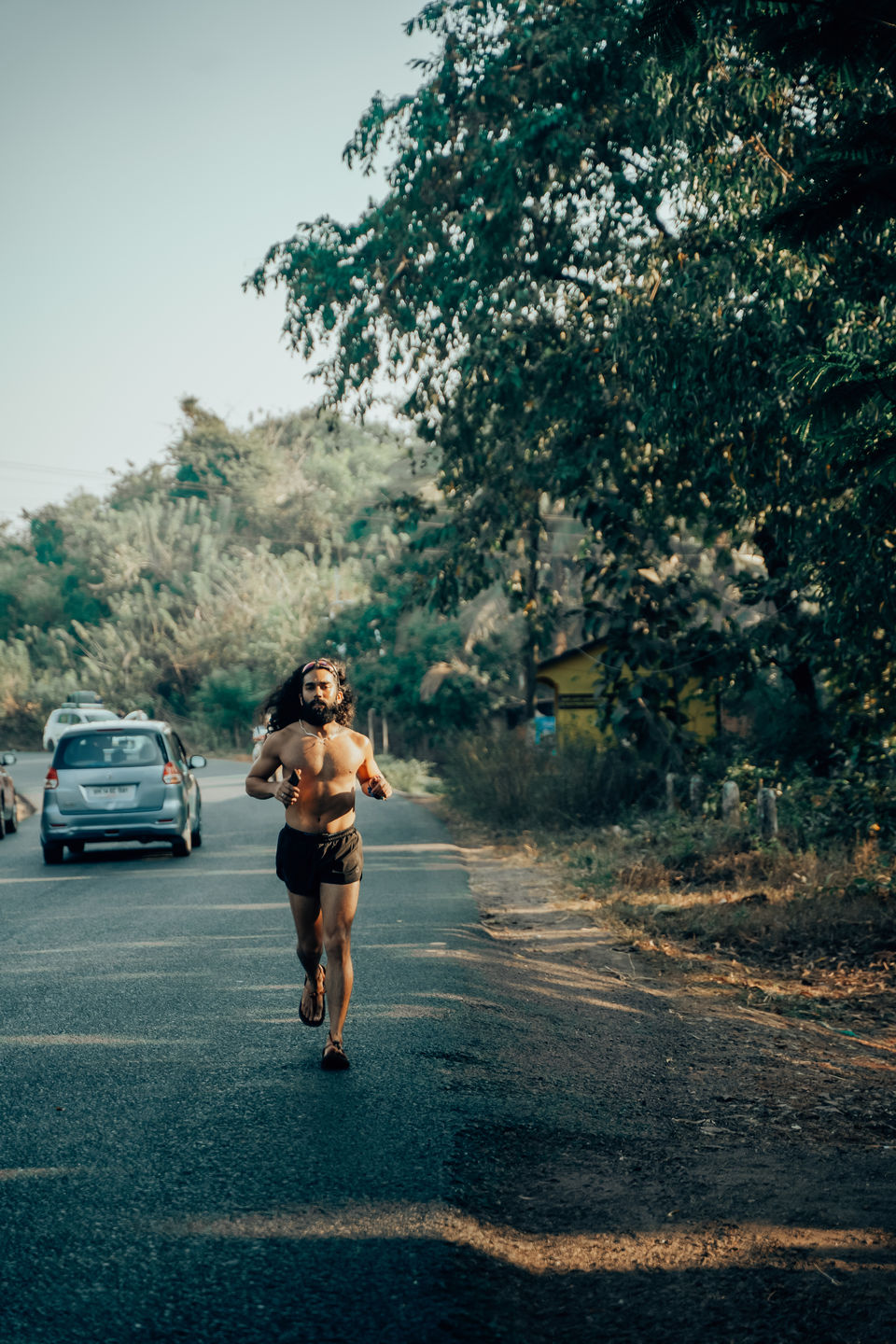 The whole run lasted for 135 kms. On day 1, I ran for 65 kms backwards and on day 2 I ran barefoot for the first 35 km and the last 35 kms wearing my running luna sandals.
Backward running sounds fascinating. Could you tell us more about the backward run?
When I first started running, I didn't know the science behind it. I wasn't aware of the pile and self-responsibilities that come along with running long distances. 4 years into running, my body started rejecting the stress and strain I put it through. Around this time, I injured my right knee because of little rest, and over-exertion. I got hit by the "Runner's knee", which is an overuse injury. The intesity of the injury was very high and my doctors recommended I take a break from the process and start strength training instead. I signed up for gym and trained in building my strength and completely stopped cardio for a few months. There was so much stiffness in my right knee that running for long distances wasn't an option at the time.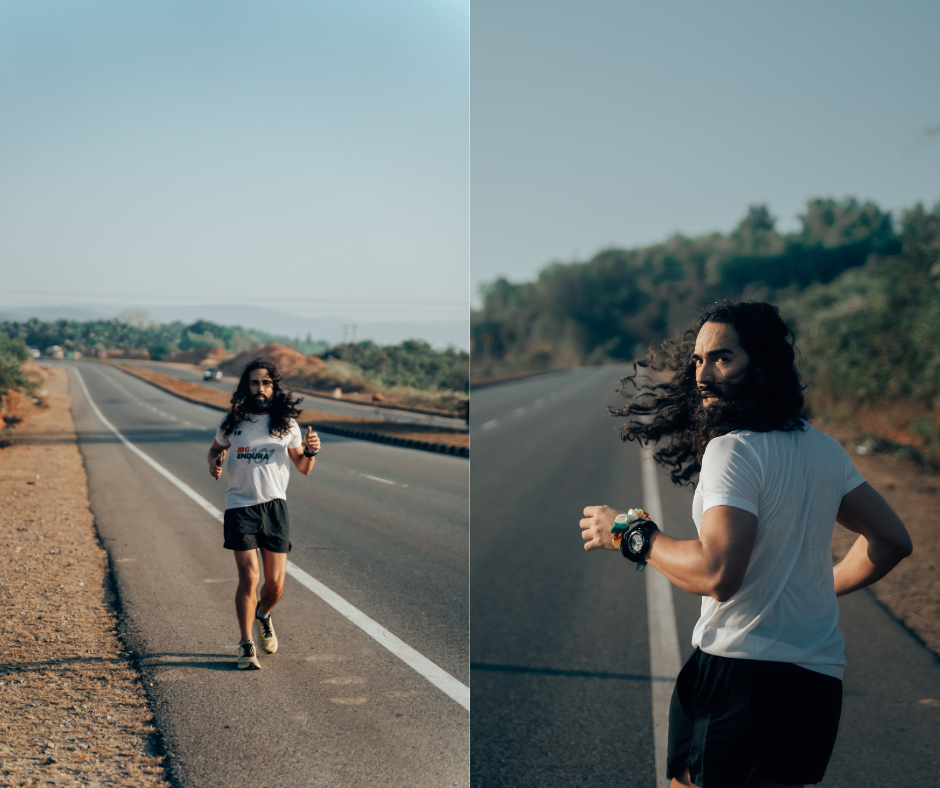 During this time, I ran into an article online that gave me insight on backward walking. There have studies in Japan and China where international athletes with similar interests were trained to walk and run backwards. I researched and studied more about it. Scientifically, backward walking and running activates a whole new set of muscles instead of putting pressure on your knee alone. I started practicing backward walks and in no time, I saw the difference it made in my injury. What started as a 1 km per day backward walking activity, eventually turned into 6km runs. Soon, I saw my injury heal and took to the roads. It took me over a year to touch a 12km backward run hit.
This is super insightful. Tell us something about barefoot running too?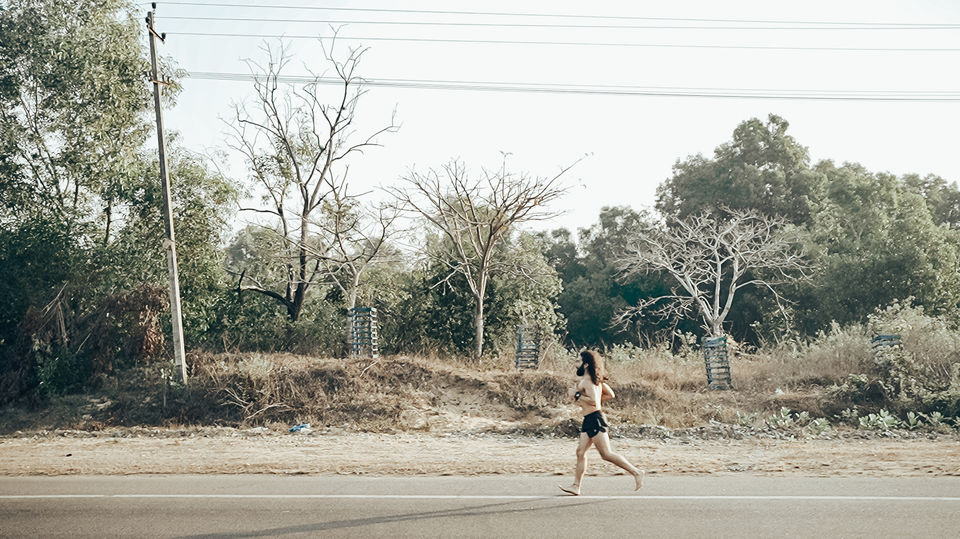 My biggest inspiration for this is Milind Sir. Barefoot running completely changed me. Did you know there are over 75,000 nerve endings on your sole. When you walk or run barefoot, all these nerve endings are activated, which over time, build a better posture and better running capacity in you. Early age humans hunted barefoot. This made them more aware of how their bodies worked. I realized; I ran faster barefoot than with shoes on.
Would you say running has changed your perception about travel?
Absolutely. When I was in college, we were a bunch of people who'd simply bike around the city or use public transport. But now, I make a conscious effort to explore cities on foot. I have realized, my sense of observation is much higher when I am on foot or on a bicycle. When you're walking across cities, you tend to stop at smaller villages in between for refreshment breaks. This leads to networking with locals, indigenous people, and you only learn how welcoming people all over the world are. There have been times when locals have invited me for conversations over chai and I have learnt so much about their culture, their lifestyle, their hardships. It only reaffirms my faith in humanity and teaches me to be more grateful for the life I lead.
Travel now, is all about Seeing more, feeling more, experiencing more, expressing more with a higher conscious and connected state of mind.
I think the world is learning so much from you. Is there something you'd like for your followers to know? Any message you wish to give them?
Nothing out of the blue, honestly. I just want to tell everyone to live an active life. It will only better your lifestyle, in terms of physical health, mental health and gut health.
Just be mindful, with yourself and your surroundings. The world has so much to offer. See it one foot at a time.
That message is here to stay Sarthak. Any future plans that we should know of?
I haven't planned anything precise for now. But do watch out some crazier adventures, longer runs and my ultimate goal - to cover the whole country on foot, out on the road.
A big shout out to Akshay for being Sarthak's confidante in covering his adventures and sharing these stunning photos. You can find him on Instagram here!
Do you share the same passion as Sarthak? Did Sarthak's story inspire you to grab your shoes? I for one, am definitely inspired. Watch his Instagram page for more updates on his upcoming adventures.
If this article inspired you, share the love and spread the word.
Be a part of the largest online community of travelers on Tripoto's Facebook page!
If you liked the article, share the love and follow me on Instagram - Whereizmyboardingpass