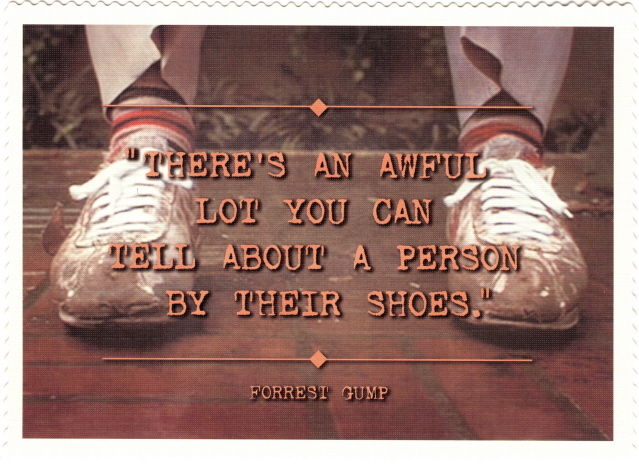 Do you drag yourself to go for a run every morning? Can you imagine covering the circumference of the world while running? Think it's impossible, do you? There are people who have already done it. One of them has done it twice. Yes, TWICE! And, many are already out there making a RUN for it.  Here, meet these real life Forrest Gumps. 

JESPER OLSEN (44 yrs) - Denmark
Jesper Olsen is the first verified runner to have run around the world, according to the World Runners Association. A marathon runner since the age of 15, Olsen has a Masters degree in Political Science. Olsen holds other records as well for the - Most Circumnavigations of Earth on Foot (Circumnavigated the Earth TWICE), and the Youngest to Circumnavigate the Earth on Foot (He was 33 years, and 147 days old when he completed his first run).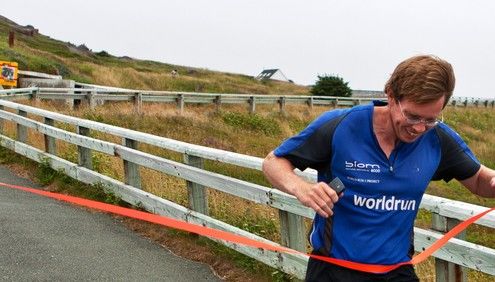 His first run started on 1st January 2004 and finished on 23 October 2005 (22 months). His route consisted of: London-Copenhagen-Moscow-Vladivostok-(air)-Niigata-Tokyo-(air)-Sydney-Perth-(air)-Los Angeles-Vancouver-New York-(air)-Shannon-Dublin-(air)-Liverpool-London. The total distance that he covered was 26,232 km. He started his second stint in 2008 but could complete the world run only in July 2012, because he was recovering from malaria, and a couple of infections in Norway, for about six months. In the second run,  however he completed a distance of 36,917 km over 1,489 days, and also passed through the South African continent. Planning for a hat-trick Mr. Olsen?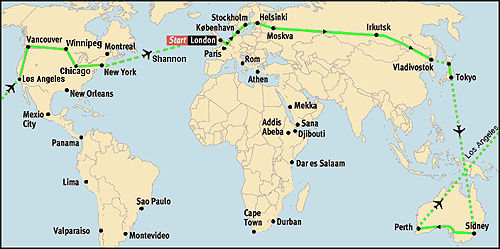 For more on his journey: http://www.worldrun.org
ROBERT GARSIDE - 48 Yrs - UK
While Jesper Olsen is said to be the first 'undisputed' verified runner around the world by the World Runners Association, according to the Guinness World Records the tittle is credited to British runner Robert Garside. Marred with controversies for fabricating his earlier attempts with false diary entries, Guinness Records finally authenticated Robert's third attempt which he started at India Gate, New Delhi in 1997. Robert finally managed to complete the run in 2003 after covering about 56,000 kms across 30 countries. However it took 4 years for the team at Guinness Records to authenticate the the records, and it was only in 2007 that Guinness recognised his run officially, and listed him as the first person to run around the world. First or not, the attempt deserves an applaud!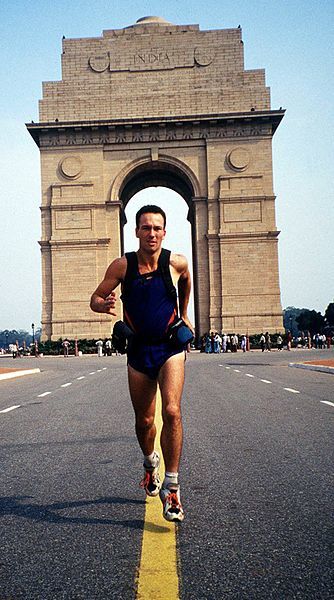 For more on his journey: http://www.the-runningman.com/
TOM DENISS - 55 Yrs - Australia
Tom Deniss started his journey from Opera House, Sydney on 31st December, 2011. He completed his journey on 13 September 2013 (622 days) after covering a distance of 26,232 km. Up until this year his was the fastest circumnavigation, before Kevin Carr (read profile below) broke his record by a day in April 2015. His run was documented thoroughly with the aid of GPS tracker, and his wife, Carmel. Tom is an Australian athlete, scientist, inventor, and entrepreneur. He has a PhD in Mathematics and Oceanography, as well as a First Class Honours degree in Science and a degree in Mathematics. Well, is there anything this man can't do?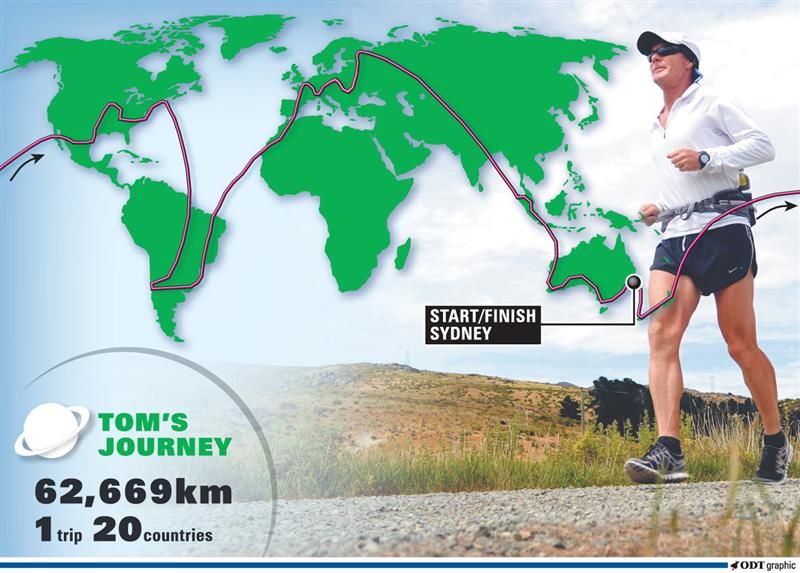 Image Source: http://www.odt.co.nz
For more on his journey: http://www.tomsnextstep.com
At 56 years, in 2014, Tony Mangan became the Oldest Person to Circumnavigate the Earth on Foot. Calling it a 'World Jog', Tony began his journey on 25th October, 2010 with the Dublin Marathon. Tony took the East - West route travelling from Ireland to North America to Central & South America and later moving on to Australia, Asia, and Europe, back to Ireland. He completed his journey on 27th October 2014, creating the record for Longest Circumnavigation of the Earth on Foot after covering 50,000 kms across continents.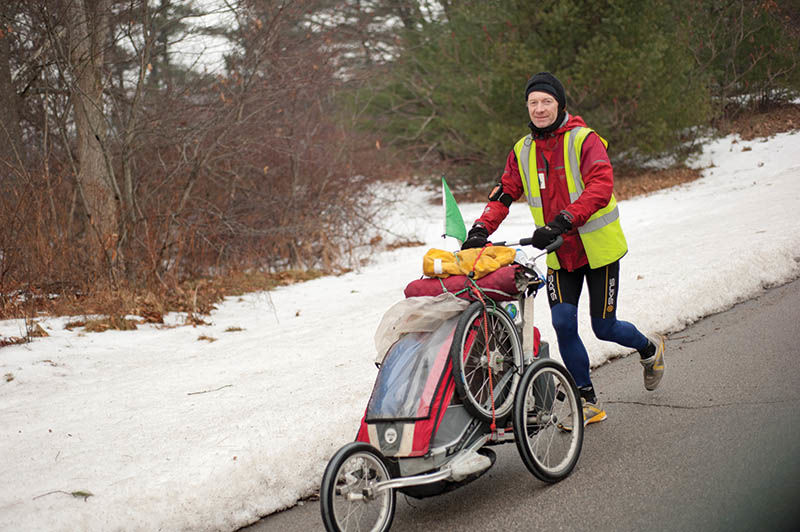 Image Source: http://www.outsider.ie/
For more on his journey: http://www.theworldjog.com
KEVIN CARR - 35yrs - UNITED KINGDOM
On April 9, this year (2015) Kevin Carr a physical trainer became the fastest man to circumnavigate the world. Kevin completed his journey in 621 days breaking Tom Deniss's record of covering 26,232 in 622 days. Yes, just by one day. However, the World Runners Association is yet to authenticate this achievement. Kevin also claims to be the first runner to complete this journey without any support - which meant carrying all the required provisions by himself - across mountains, desserts, and snow.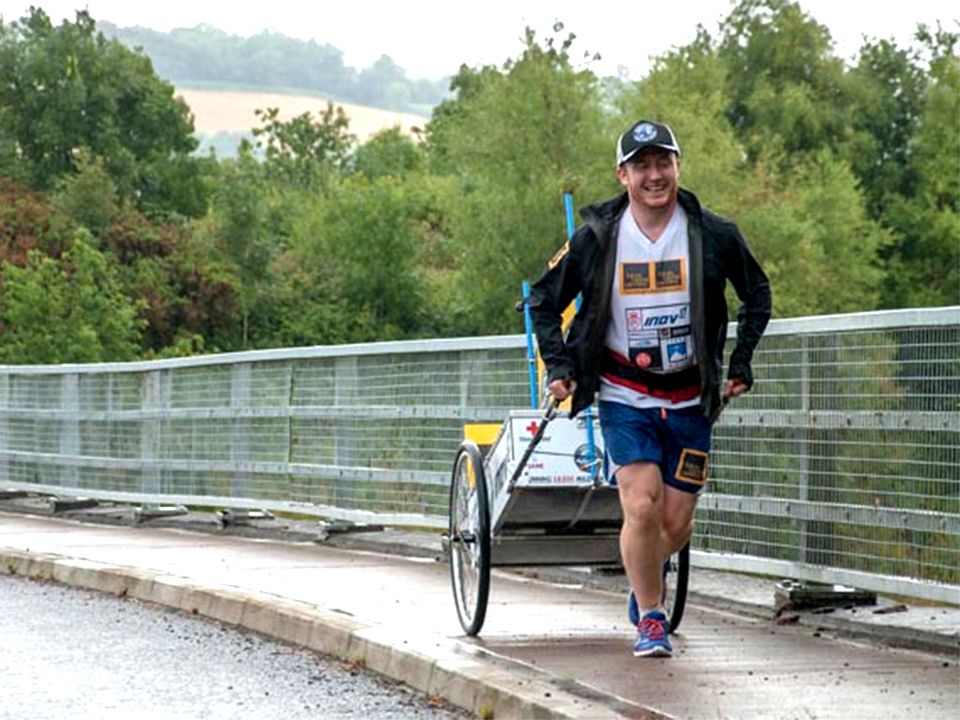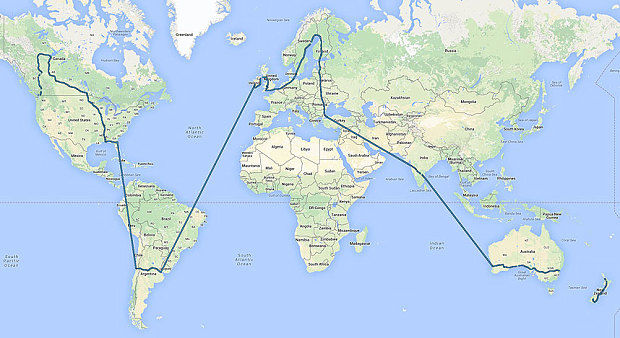 For more on his journey: http://www.hardwayround.com
In case you want a run down on the rules and regulations, and run across the world yourself then check this link - http://worldrunnersassociation.org/the-wrc/