Imagine a pristine location untouched by people and beautiful to the core is filled with plastic trash dumped by responsible campers. That's what we saw when we went to this place.
7 of us decided to book a Scorpio by Revv car since personal car was too small for 7 of us. We started from K R puram at 11 Pm and reached at 5.15 AM with enough breaks in between. The moon & the stars overlooking the dam was a sight to behold. I tried to take few shots from my phone and for the phone, it was a good enough capture.
We had to brush our teeth and get ready, there was stream of water coming out of the dam which was accessible from where we parked the car and we made use of that. Since we were carrying few camping equipment's, made chai and bread toast from that to quest the hunger. Gave a call to the trek guide, picked him up and parked the car to start the epic journey. The moment we got down the stones, we were greeted with South India's Pangong Tso lake. It was huge and beautiful with the hills on the background. We were amazed to see the beauty since we could not understand how huge it is due to dark when we reached.
We crossed the lake, started off with a pretty well marked sand trail. The walk was easy and after about 1 km of walk, we started hearing the sound of the stream. The excitement started kicking in and we were taking big steps to go ahead. Mannar, our trek guide was happily walking barefoot with a dhoti and a shirt and carrying 3 tubes. We decided to take the load from him and walk further. The walk became pretty steep at few places and you had to climb boulders to go ahead. If you have knee injury, I wouldn't suggest this place as it might be difficult. Otherwise, I will classify this as easy to moderate trek. We kept on drooling over the ponds and wanted to take a dip, but Mannar kept on saying that this is not the one and we have to go ahead. We were in the deep jungles of Eastern Ghats of India, in Andhra Pradesh. You heard it right. I didn't know that a beauty like this exists in Andhra Pradesh. This place is called as Nagala or Nagalapura situated in Chittor District of Andhra Pradesh (coordinates: 13.4000°N 79.7833°E). The trek involves visiting the waterfalls and pool created by the natural spring uphill. There is water 365 days a year.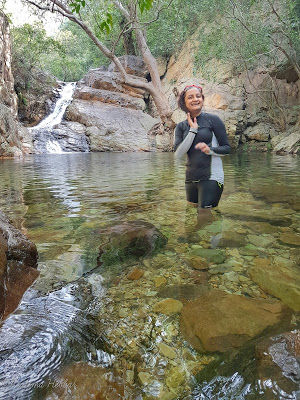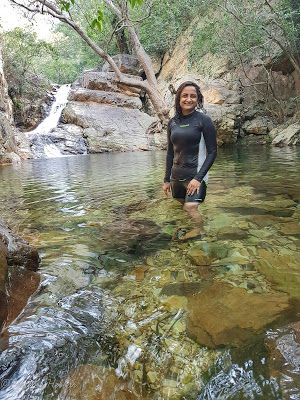 To reach the first pond we took about an hour's time. Second one takes 35-40 minutes and the Third one from second takes another 30 minutes. Crystal clear water with fishes beneath will never be able to replace any expensive spa experience. This place is a swimmers paradise. Even if you don't know swimming, you can enjoy the other areas of the pool which is not that deep. This place also has 5 pools in total. We could not climb the other two since we had to come back the same day. The pools are so beautiful that I won't be able to explain in words and may be the pictures can speak itself. Plus you need to go there to witness it.
The only sad part is people littering the place. Though it's unexplored by many, there are few who come here to camp and goes back leaving their trash. I have been inspired by MTM guy's motto #idonttrashmytravel. We picked up the trash how much ever we could and burnt it. So if you decide to go there, a humble request not to carry plastic while camping. Even if you do, please bring back your trash.
You can reach the parking lot by searching Nagalapuram West Parking Lot in google and it will take you till the parking lot. Call Mannar on +919849440712 before going and block his dates. He is amazing, so please don't call anyone else though you might get some numbers in Internet. Remember he speaks only Telugu & Tamil. Total to & fro distance by walk for 3 pool's would be 17 kilometers and you will burn approximately 996 calories. :-P. If you need any further info, you know where to contact me.
Things we carried: Cooking vessels, Eggs, Maggi, Cakes, Biscuits, Tea Powder, Honey, Bread & butter, Banana's, Glucon D, 10 litre water, swimming costume, quick dry cloths, trek pole, trek shoes, sleeping bags (Though we used in the car only), personal toiletries, sunscreen, cap, sun glasses etc. Remember you won't get any access to toilets as this is a secluded place. Be ready to use the nature for your nature's call.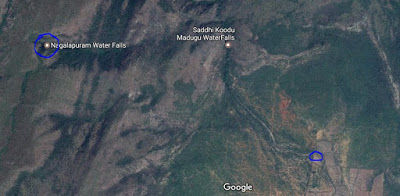 https://www.youtube.com/watch?v=LRKjeBzc6kk