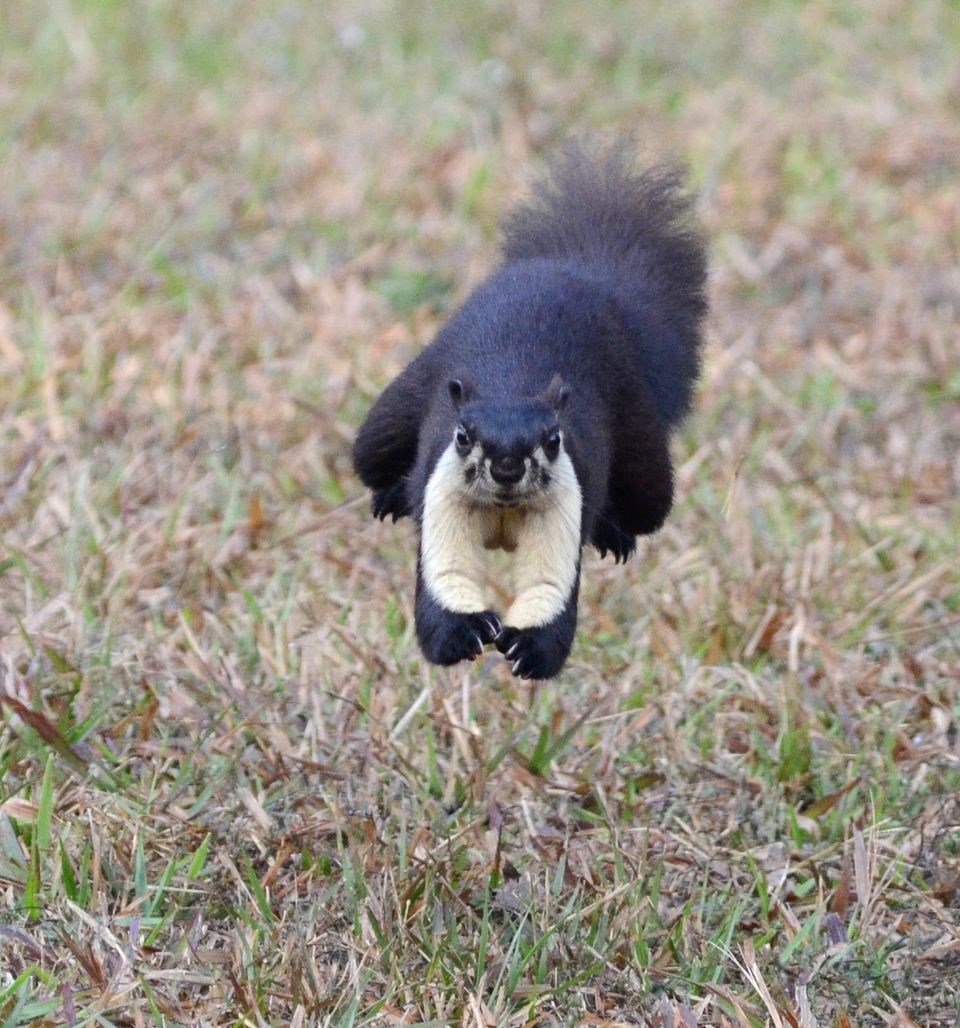 This is not about the royal tiger or the suave leopard this time. When in Gorumara, brace yourself for a whopping population of herbivores, ranging from the rare one-horned rhinoceros to Asian elephants, Indian bison, wild boar and the docile sambar deer. Once, one of the most poached animals in Indian forests for its horn, the rhino population thrives in this forest. So much so, that Gorumara National Park has been ranked as the best among the protected areas in India by the MOEF (Ministry of Environment and Forest) for the year 2009.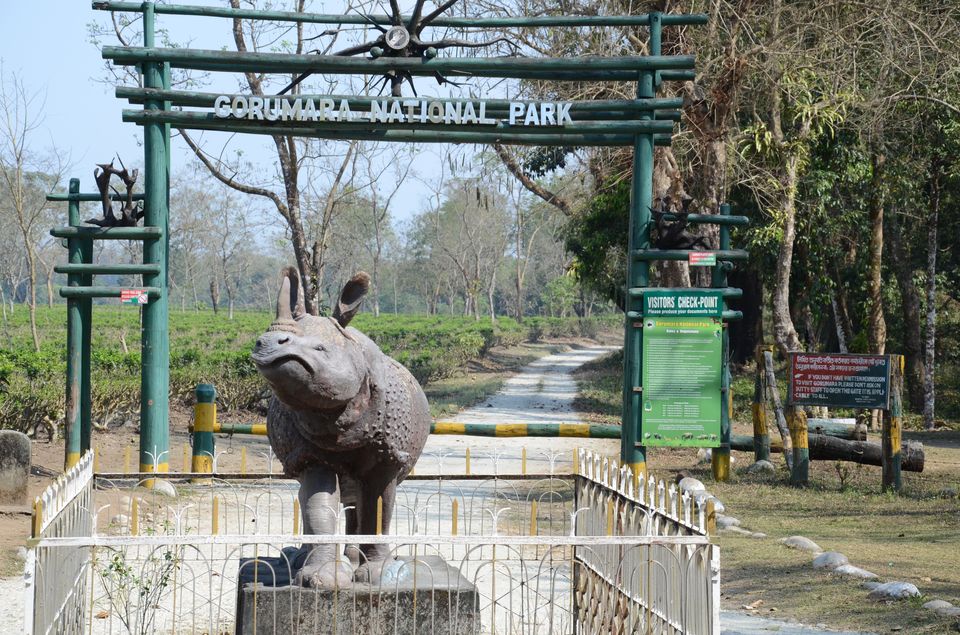 If you are lucky, you may witness a rhino territorial fight or even a rhino romance.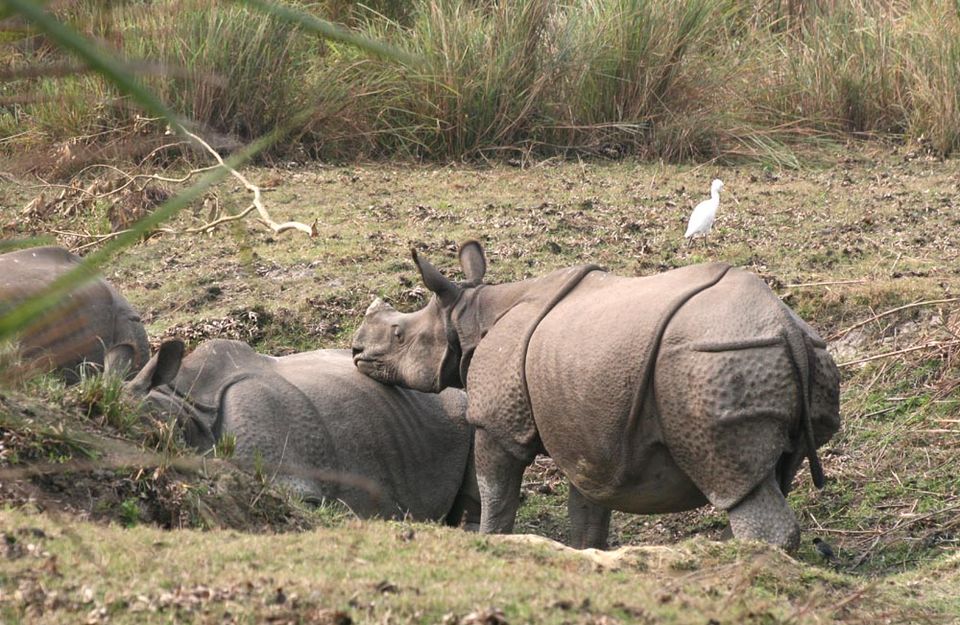 The dearth of large predators like tigers, wolves or packs of wild dogs led to the male:female ratio of rhinos to rise from 1:3 to 1:1, leading to male dominance rivalries. The only big cat here, is the leopard which again, is a very shy cat and especially difficult to spot in a forest like Gorumara. An extremely dense canopy of trees and thickets, the park sits in the Indo-Malayan ecozone with areas where even the sun's rays can't penetrate, so do not enter the park with any expectations to spot the only resident big cat here.
However, do not be disappointed as there are other surprises awaiting you. After a considerable time in this park, your mind will be overwhelmed by the rhino's impenetrable armour and its equally stoical gaze. Take a break then, to look up into the trees. A bushy agile blur of black and white may be leaping above your head.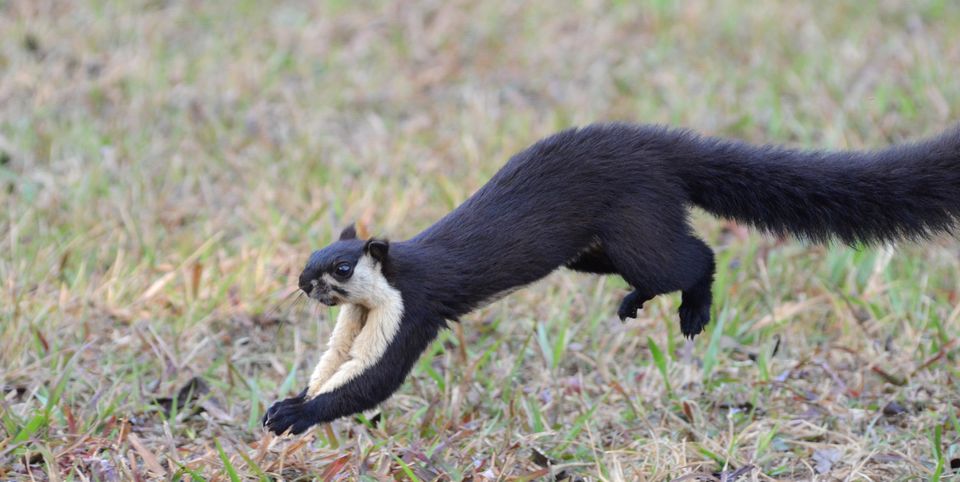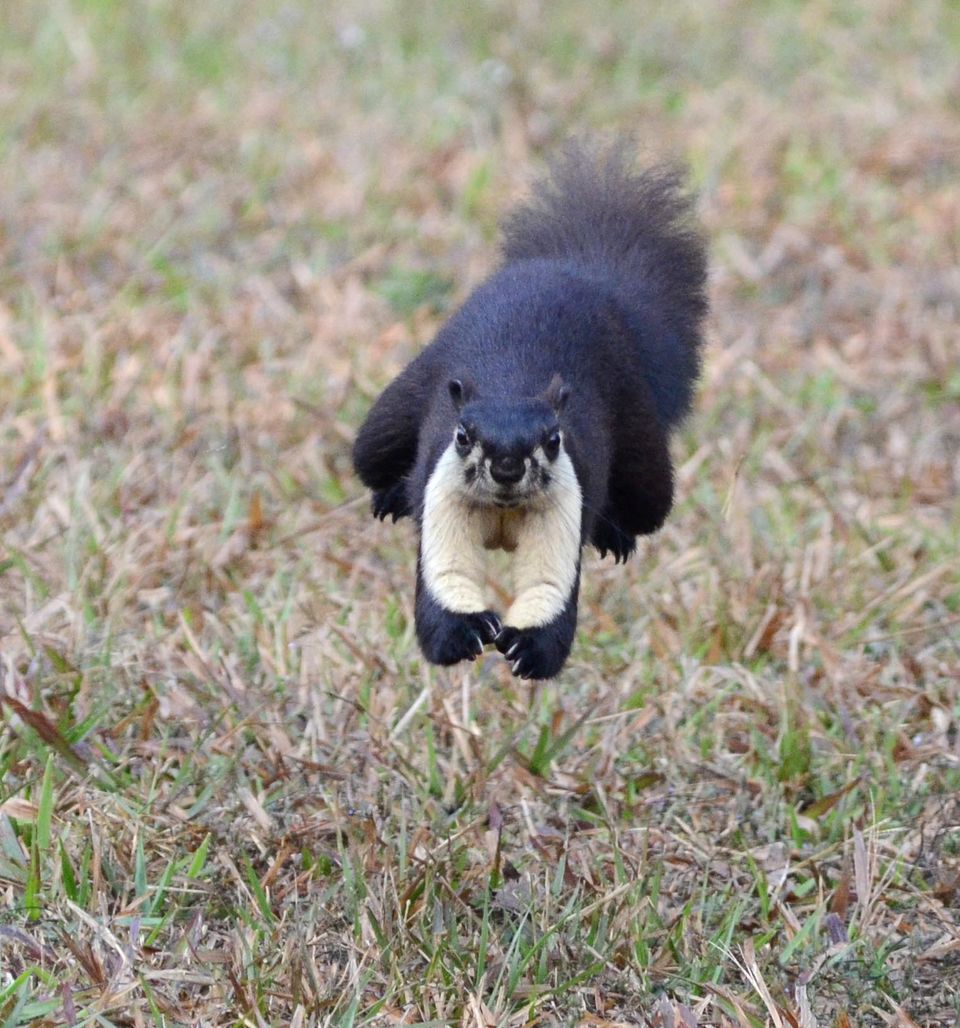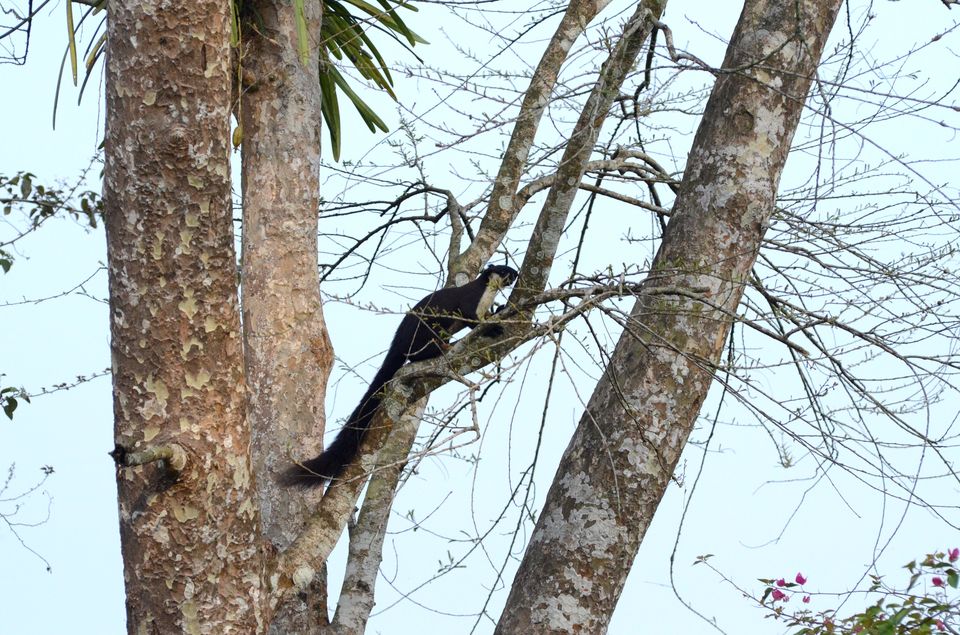 Coming to the second mammoth, the Asiatic elephant, is also very easy to sight in this forest. It is delightful to witness a herd of elephants saunter around you. The matriarch keeping a watchful eye, the calf fooling around its mother's legs and the others enjoying themselves, waving their enormous ears and mammoth trunks.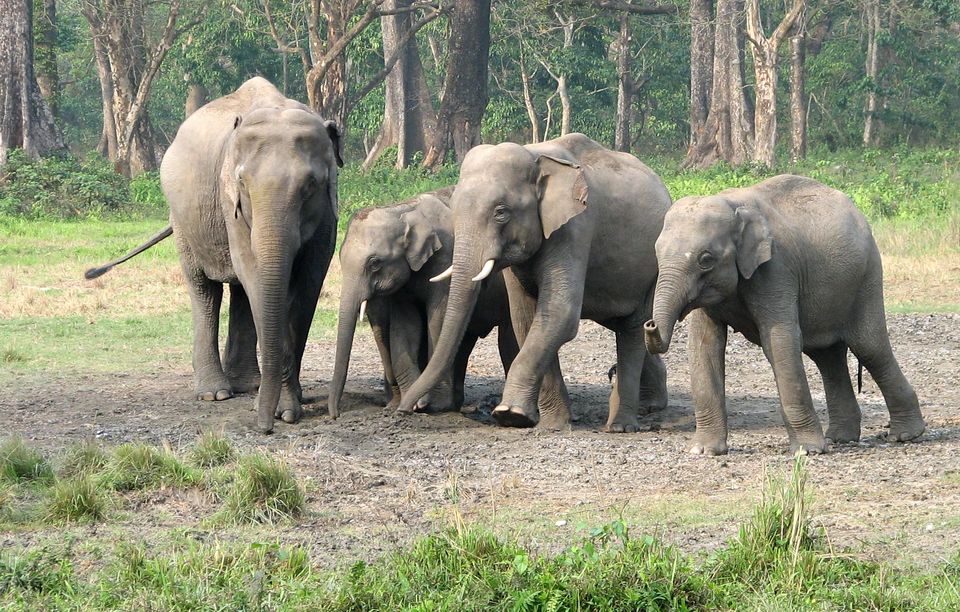 An arboreal creature with balanced measures of nimbleness and cuteness, Malayan giant squirrels are common to Gorumara. Though, the same cannot be said about the overall world population of Malayan giant squirrels as they qualify for 'near threatened' species with a steady declining trend according to The IUCN Red List of Threatened Species (2016).
Not just inside the core area of the forest, they are also often seen crossing rail tracks and roads constructed in the region. Gorumara, along with other adjoining forests form an important elephant corridor, the downside of which is a rising number of elephant deaths and injuries due train collisions at night.
Indian bison, sambar deer and wild boar are also found in abundunce. Their numbers have almost doubled in recent times. Other herbivores include spotted deer, hog deer, barking deer and even the endangered pygmy hog, a smaller type of wild boar and also, the uncommon hispid hare.
Do not tire yourself out with clicking just the mammals in this forest as the avian team will offer a tough competition to the ground population. Gorumara is a birder's paradise with over 300 species of birds like scarlet minivet, bee-eaters, sunbirds, Asian paradise flycatchers, spangled drongo, Indian hornbill, a variety of woodpeckers, pheasants, peacocks and peafowls among many others.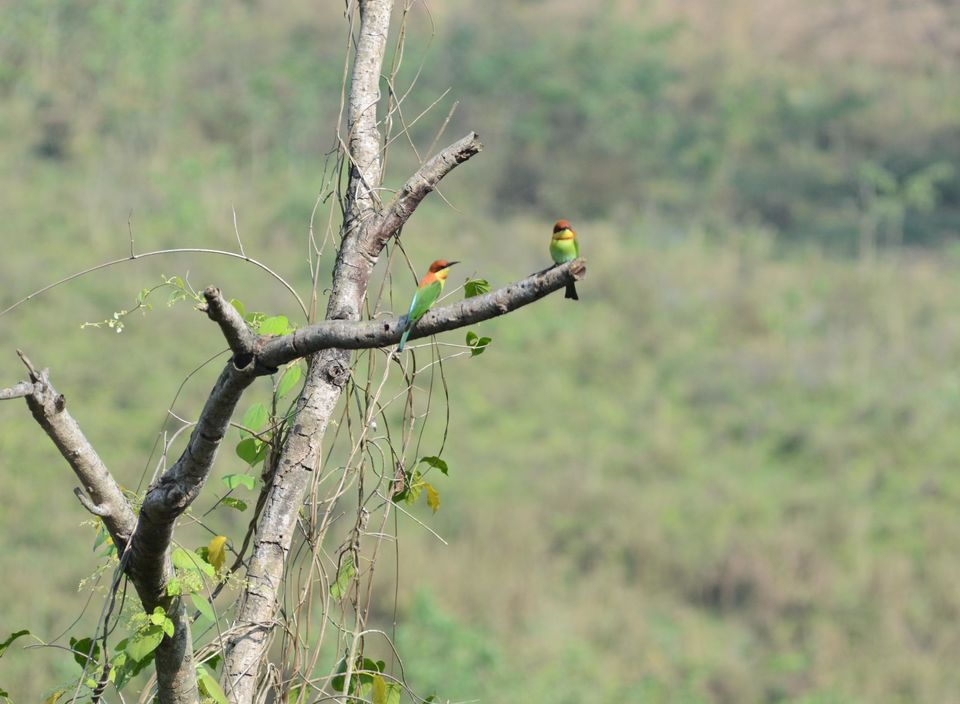 The forest is also a signifiant stopover for innumerous migratory birds like ibis, teals, storks and the unusual Brahminy duck.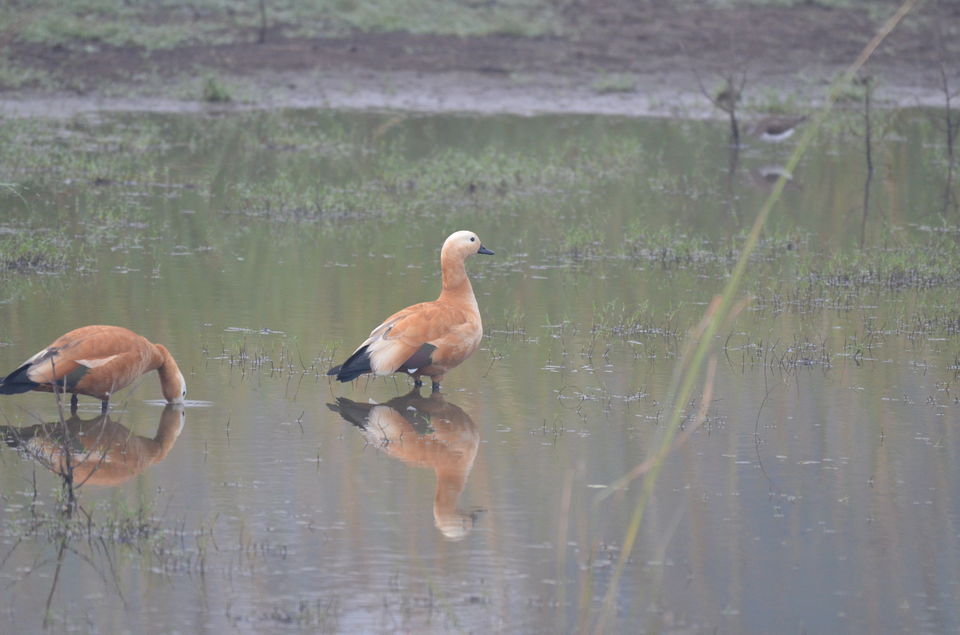 Fauna in Gorumara includes sal, teak, silk cotton trees, bamboo thickets and riverines. It is also home to a beautiful collection of tropical orchids.
Location:
Terai Belt in the foothills of the Eastern Himalaya, criss-crossed by the rivers, Murti, Raidak and Jaldhaka, a tributary of the Brahmaputra.
Geographically, it is located in Dooars, northern part of West Bengal.
• Nearest airport: Bagdogra (approx 72.6km from the park, approx travel time is 2 hours)
Rented cars are easily available from the airport to Gorumara N.P.
• Nearest railway station: New Mal Junction (approx 23km from the park, approx travel time is 30 minutes)
In case New Mal junction is not directly accessible to you, New Jalpaiguri station is the next best option as it is well connected to all major places across the country.
Both, buses and rented cars regularly run from the station to Gorumara N.P.
• Nearest town: Lataguri (approx 6.2km from the park, approx travel time is 10 minutes)
• Nearest city: Jalpaiguri (approx 55km from the park, approx travel time is 1.5 hours)
Public and private transport services are available throughout the route.
When to Visit:
November to February is an ideal time as Gorumara experiences pleasant weather during winter.
Summers are usually hot and humid with a little rainfall so it is better to avoid going there during this time.
Park remains closed on all Thursdays and for the period, from 15th June to 15th September every year. Check the official Dooars website for updated park timings and safaris bookings.
Unlike national parks in other regions like Madhya Pradesh and Maharashtra, the ones in North Bengal offer a lot of watchtowers for faraway sightings from atop.
Where to Stay:
It is best to stay in Lataguri which is just 6km. away. There are a number of hotels and resorts in Lataguri though prior booking is always more preferable.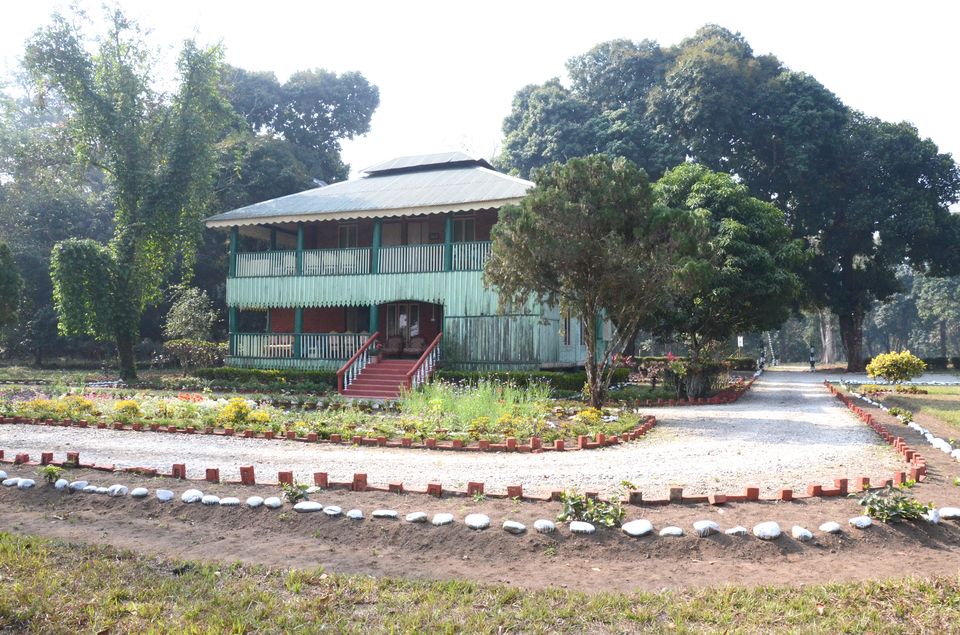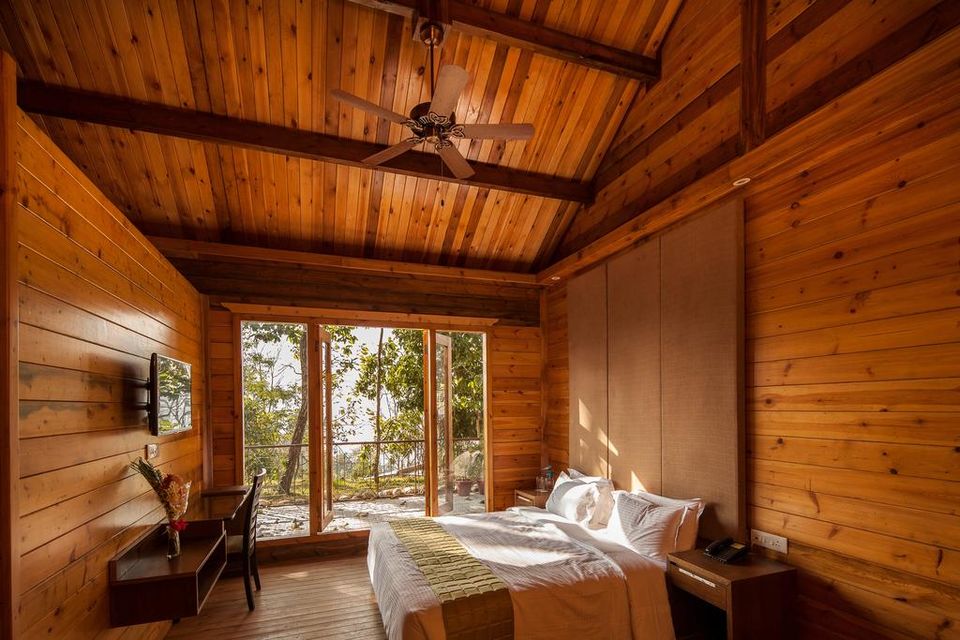 For those looking to splurge a little on a luxurious stay, Sinclair's Retreat in Chalsa is a good option. It is a beautiful property just 20 minutes away from Gorumara.
Inside the forest, Gorumara forest rest house is a beautiful wooden property dating back to the British era but it is very difficult to book there so do keep other options handy. Reservations for the rest house can be made through West Bengal Tourism Development website.
Had a tryst with the rhino yourself? Share your encounter with Tripoto or check out Tripoto's Youtube channel for more stories on wildlife.