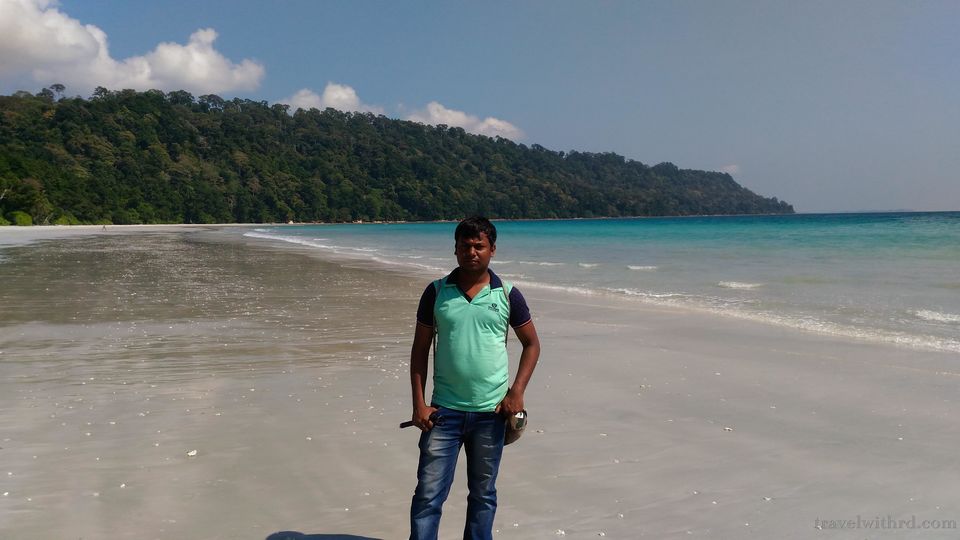 The same ship from which we came to Neil Island yesterday, will take us today to Havelock. It will run from Fort Blair at 7:30 in the morning and Neil will arrive at 9.30. After half an hour, it will depart for Havelock.
It starts early in the morning, but the habit of sleeping at eight to nine at the same time is to get up. The hotel's check-out time was seven and a half hours. Brightness got up before me Miracle! He started saying that he got up and walked on the beach and bathed. I refused. He went without resting in peace. Great miracle !!
Coming back soon - without a bath Told that it is Coral Coast. It is very difficult to take bath The injury on Coral Beaches is easily found and it seems like blood is coming out.
Check-out at 8:30 pm. I thought the hotel owner would take extra money, but it did not happen. Well I went by preparing for 'fight'. Thinking that anything would happen, there is no extra money to give. By the way, we were guilty of staying for longer periods of time.
Start coming out of the main road and waiting for the auto. An electric rickshaw came. We sat without saying anything and got down to the main market. Started asking for eighty rupees. I said ten to ten rupees, yesterday the auto owner too had so much. We have come in stock. After listening, keep quiet twenty rupees.
There was a desire to eat dosa. What could have been better than 'South Indian Dhabe' for this? Gave two plate masala dosa armor. At the second table some policemen were eating plain dosa. A passenger was enjoying Idli and some other parathas. The mistress was keeping a close eye on everyone.
Jaiti was a stroll at. At ten o'clock in the morning, the ship came from Port Blair - Ocean Cruise. First, passengers coming from Port Blair landed, then we climbed. This time left seats are available. That is, all the way we would get the views of the eastern coast of Havelock Island.
If the ship was running, then the encounter started with huge waves. It seemed that the waves were bigger than yesterday. When the next part of the ship rises up and falls down, it will get a shower of water. The place where the shower was merged into the sea, there would be a small rainbow at that place. Deepti's 'discovery' Then tell me. After a long time, it was my problem.
Havelock Island landed at eleven a.m. There was heavy sunlight. Google Map opened in mobile, then our location has arrived. The hotel where we had our booking - Pano Eco Resort - its location was already saved in it. But due to not running the Internet, the distance could not be known. I thought the main market would be nearby just like the island of Neil. The hotel will be half a kilometer away. So we left in the sun. Even after walking a kilometer when the market did not come, then seen in the map. It was discovered that even now half the distance is not fixed. Due to the strong sunlight and the feet in the feet did not have the courage to walk - neither myself nor brightness. If it was already known that the hotel is two and a half kilometers away, we would take auto But now after walking a kilometer I did not feel like taking the auto.
As soon as he went to the hotel, both of them fell short. Remained uninhabited for two hours. The doors of the room were also open. When we got up at 2 o'clock, it was felt that Havelock's praise did not do anything at all. Really great is here here. Such tiredness, such sleep and such a relaxed journey did not meet us.
Radhanagar Beach is the most famous beach of Havelock. We decided to spend the rest of the time there today. When we started leaving, hungry, we did not get our choice. We just wanted to eat something lightly. When the bottle of water started to be filled, the straw was full of bania - 'We ourselves also drink water of Bisleri Take also bisleri. 'And we took bisleri.
When considering the idea of ​​taking a scooter on rent, it was added to ask for light rent. Returned and said - 'Walk on foot only. Five hundred rupees are asking for money.
They started waiting for the bus to go to Radhanagar in the main market. Just did not come. It goes in every one hour. But it was not so much pity that waiting for the next bus to come. I asked - 'Do it yourself?'
Bid - 'Yes, if you take fifty rupees, then you can. He will also ask for a hundred rupees, otherwise he will not go. "
Caught an auto-holder. The rent he had told us was so much unpredictable for us that I had to do a Hindi translation of one Thousand 'One Thousand' 'hundred rupees'. Eight kilometers can be rent so much, never thought. One thousand rupees! A jeep came in a while. He reached here many passengers standing at Radhanagar for twenty-five rupees. The road is bad. There was a place board on the way - Elephant Beach 1.8 kilometers This distance has to be decided on foot. We did not want to walk or run away.
We did not come to introspection on Radhanagar Beach. For this reason, no extra clothes were brought, nor did the towel nor bag. We had come here for only two and a half hours to sit here - just sit and see the waves. But here comes the mind of a bath - we both have In fact this is very beautiful. There is not enough depth in the ocean, and this does not make waves like this, as other beaches are built on them. But big waves are coming. Sometimes these waves would be high for two to two meters, which was definitely exciting for those who were bathing. Due to lack of depth, neither was the fear of being injured due to these big waves nor drowning. We wanted to experience this. If there was a regular means of traffic for Govindnagar, we would go to the hotel and bring our clothes.
If you do not get clothes on rent here, then spend four hundred rupees and buy additional clothes for brilliance. I do not need extra clothes was. It will only bite. Put sandals, cameras, clothes in the distance and the water entered in the distance. My sea experience is almost zero, but it was a typical experience. One-two, two-two-meter high waves came in, then the moment of hitting the body would be the culmination of adventure. Then it collides with the body. We either drown in water, or rise up with a wave and many meters were thrown towards the coast. Many times the waves would stand wide by mouth and like the wave, the wave would have rammed us towards the shore.
Spectacular! I like all the beaches alike, but the Havelock's Rathnagar Beach was really special.
At sunset, the police ordered everyone to come out. From here, the last bus runs at six o'clock, but today it came late for fifteen minutes and lasted for half an hour.