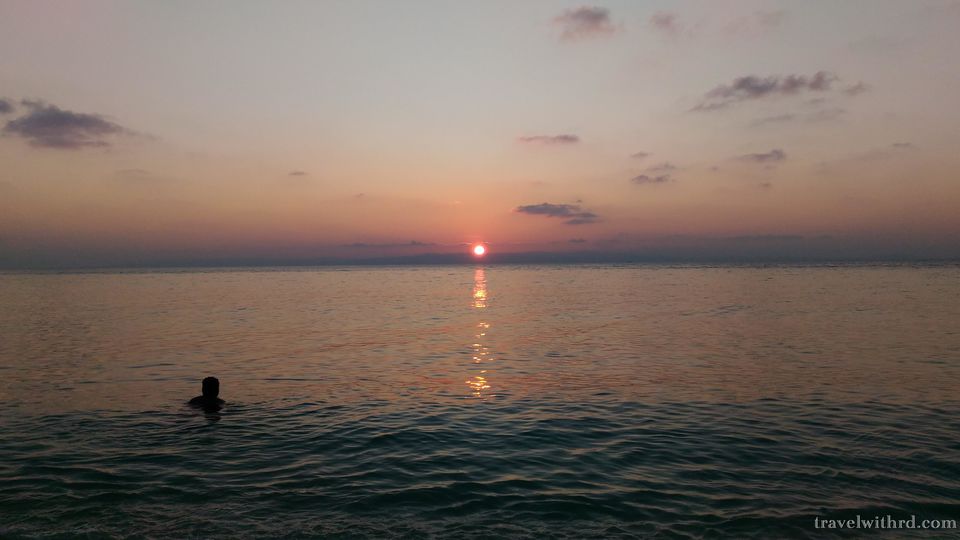 Tired of reaching the main market on foot from Natural Bridge. There was heat and humidity too. Bharatpur beach is half a kilometer away from the market. Have reached I got a place to lie and I fell asleep
Bharatpur, Sitapur, Lakshmanpur and Ramnagar are all the beaches on Neil Island.
I have no experience of beaches. Nor does it know that between flowery is beautiful and not fun. All shores look like one. I do not know the specialty of the middle nor the happiness there. This is what you will be seeing in these travel stories. I can not write the Andamanship with full authority. The heart dwells in the hills and trains only
After taking two hours to sleep, I started feeling great. There was no crowd here, but there was a laugh. There were some shops, where only the agents were sitting - for doing marine activities. The beach was sandy and clean, but there were corals in the sea ahead. That's why a good job of scuba diving was happening. The girls with high speed water scooters were going for a walk and till then they continued to advertise in the sea, until the girl did not get scream.
The southern tip of Havelock Island is quite close to here. A half-hour boat ride and you will reach Havelock. Although the main market is at its northern end and it takes two hours by boat to get there from the Neil.
Neil Jetty is equal in size. The ship from which we came here from Port Blair, took us off and went to Havelock. Now he came back from Havelock and stayed there for half an hour to Port Blair.
Walked back from here at 4 o'clock - for Laxmanpur beach But a mistake has happened. We had seen distances near Jetty in the morning. It was written three kilometers away between Laxmanpur, but we forgot it and began to believe that Laxmanpur beach is only half a kilometer away.
If you see jalabis filtered in Andaman, then you should immediately scroll down. He was filtering the jalibis by doing small holes in coconut shell. He liked this method.
Jalebi account-accounts run towards Lakshmanpur beach. There were five o'clock in the evening. The sunset hurried up here and we wanted to see the sunset. But half a kilometer, one kilometer, and two kilometers came too - did not come in between. If we knew we would catch an auto guy.
Laxmanpur Beach is very beautiful beach. I liked it. Sunset had been done, only the last redness was left in the sky, that is why we reconnected in the camera. No one was allowed to go into the sea after sunset, so no one had been invited, but photos were being taken on all photos. There was a thumb. The passengers did not leave him. Climbing on it, leaning around, lifting this leg, spreading the hand; All the photos were being taken from every angle. After waiting for a long time, after drinking two cups of tea, after eating a plate of pakodas, the number of climbing of lightness came on the thumb. Then my number was too, but I sacrificed my number.
On the other hand, lights were visible on the Havelock island very far north. It was not long before I understood that it was the most famous middle-aged land of Randhangar.
After returning, he did not feel like walking. Today we walked about ten kilometers and now there was no desire at all. Three kilometers away is the market and two kilometers ahead of our hotel - a total of five kilometers But if there was no way out of Lakshmanpur Beach, then there was a walk on foot. The legs were hurt, but had to walk in the dark. Then they went to the hotel.
There were only foreigners in the hotel. We order roti-vegetables. The entire cock raked in front of the foreign sitting in the plate. We would see for a while how they would eat it, but after a border the mind got spoiled and we had to turn away.
This girl made soft-sized loaves of pudding and very delicious veg. Of course, this must have been trained by it, otherwise in Andaman there is no such luxurious north Indian food.
The mosquitoes were many, but where mosquitoes are engaged, what is the mosquito's dish?
This hotel was at the side of Ramnagar beach. In the morning, Dipaa came to a bath in this middle, then returned in two minutes - "Coral Beach."
Well done, returned. If you tried to take a bath, then knee peeled.
This description of a 'tourist place' is quite enough. Hopefully you will not complain.