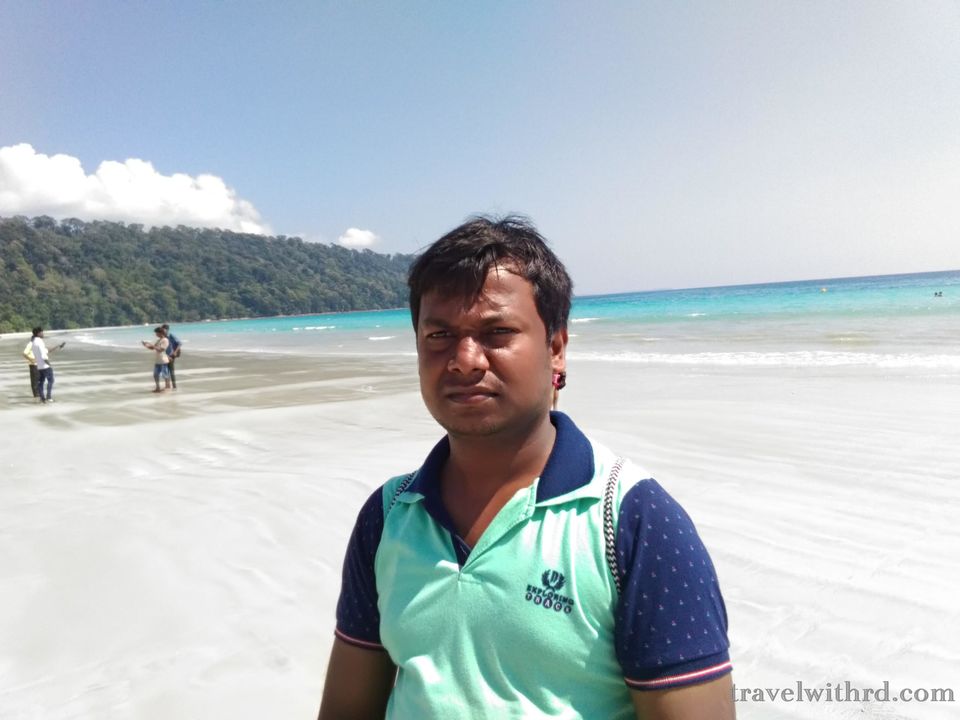 In today's post, I would like to tell you about the means of transport to go to Andman and in the Andman local area, and also how much is the flight fares to go to Andaman Nicobar.
There are two ways to reach the Andaman and Nicobar Islands: one is by air and the other is through the water route. Water route path would hardly attract a tourist in today's time. Nowadays, if you book flights a few months before the travel dates, you will be able to get air travel at the cost of going through the waterway.
Such views from the airplane will be found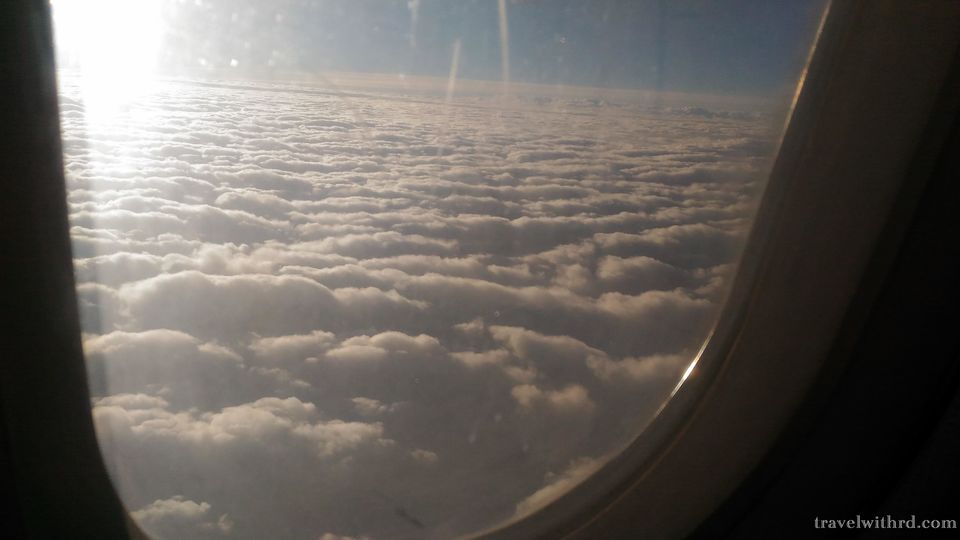 Air travel from Delhi is a bit expensive, but there are two ways to make it cheaper. Either you go to Andman in the season like we went in rainy time. Here rain is considered as an off-season, which starts here from the beginning of June. Often these holidays are also in these days. The second way is to buy a ticket in airlines flash sale nowadays. Many times, buying a ticket after three months before of non-sale is cheaper than the sale. I still keep checking for the same time, for the normal ticket from Delhi to Port Blair, where there is fare around Rs 10,000 to Rs 15,000, and if the ticket is booked three months ago, the same ticket is around Rs 8000. If you have more days then you can catch flights from Chennai or Kolkata and take a very cheap ticket which should cost around Rs 5000.
Public transport within the Andman Islands
It was a matter of reaching Andaman, now I will to go to Andaman and inform you of the situation of transport to roam the locals there. First talk at Port Blair in Andaman. Port Blair has two bus stands, one government and one private
From here, there is a bus for every part of Port Blair and for every bus there is a fixed time. The bus service on which you can also call the City Bus, its time is so sure that you can meet the bed of the clock. The bus from Port Blair to the island of Chidiyatapu is just an hour away. Similar other settlements are also available for visiting such as Wandoor Beach. Buses are usually simple but due to high traffic or lack of traffic, you will be able to arrive at certain times.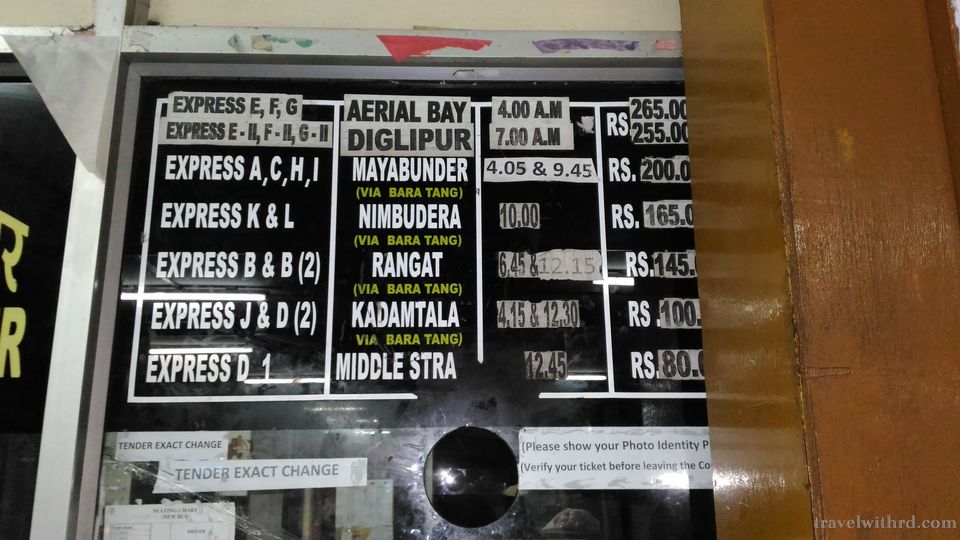 The second bus service is from the Port Blair of Diglipur. In it, settlements of Baratanga and Rangat are also inhabited. Actually the road is one from Port Blair to Diglipur, and main places like Baratanga, Rangat, Mayabandar fall on the same road. Apart from Rangat and Mayabunder, there are separate buses to Baratang. You can also fall in color of Diglipur bus. We also saw the local bus from Rangat to Mayabandar and also traveled there. Rangat and Mayabandar have their own bus depot. Those who are settled for Diglipur often take 12 hours and in the meantime take lunch and a tea break also. In addition to the government buses, there are private buses of 2/2, which are a bit costlier than the govt ones. Once again for your surprise, let me tell you that the facility of government buses is more affordable and cheaper than the private ones.
Excursion by bike in Havelock
Now let's talk about Havelock. In Havelock, people often pack up to roam, while in Havelock, you should not do this at all. Havelock is quite a small place. Walking around the bike can be a great option here. We rented the motorcycle and found the money given in it was in vain because the most distant place here is for the buses and buses for Radhanagar Beach and there for every hour, which takes only 10 rupees and takes 20 minutes.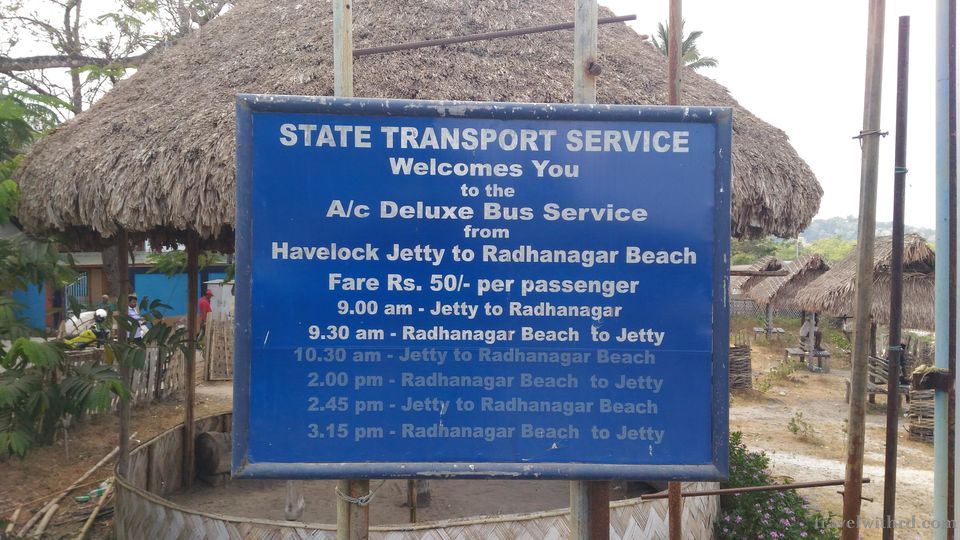 In reaching there Among the rest, they can walk on foot in the Havelock. So do not forget to book a hotel in Havelock, but if you do not have to book the traffic beforehand. We had booked motorcycles for Rs 300 and the 1 liter petrol was not spent all day. Bicycles can be booked for Rs. 50 in the entire day.
Bus and ferry information from Diglipur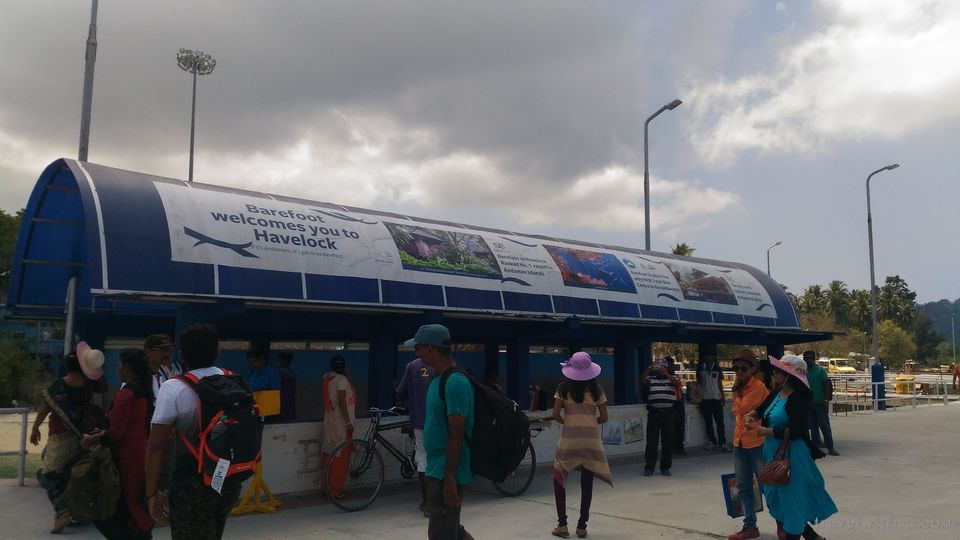 In Neil island we had booked a car to roam. You will think that there is a small dot from Havelock, why Neil is the car for that, so let me tell you that as soon as we landed on Neil island, there were many people who were car-operators. We have decided on the condition of the car, but the car owner. The car took us to the natural bridge first and then after sunset show on the main beach. He left our hotel from there and he came again to us in the morning to show us the sunrise. That means, he had given the responsibility to show all Neil in very little money, so we had booked him. You can roam around the cottage from here too.
There are plenty of options to roam in Port Blair. There is no shortage of taxis but they can cost you a lot. We did not notice at first, but later, in Port Blair, there was facility to get bike rental. Here are the photos I can contact.
Now let's talk about intermediate traffic. As you may know, the Andaman is not only a group but a group of people. Here, there are small hundreds of islands, most of which are uninhabited and some live on the population. To go to these places, there is a service of helicopter here, but I will not talk about it here. Havelock, Neil, to go to Long Island, both public and private here
Ship Moves They are called ferries in the local language and the place they stumble upon is called jetti. Just in our big cities there are bus stands on the four sides of the city, for different buses going in different directions, there is a different jetti to go everywhere. Like Delhi, like Anand Vihar, Nizamuddin, New Delhi, Old Delhi, you will also find different Jetti names to go to different places. Hire of these ferries is fixed. Compared to the tourists, the people living here find nominal rent. Understand that the real expenses of the ferry are given by the tourists only. Most of the jetty has online facility on ticket. We went three years ago and at that time only Neil did not have the facility online so we could not do our tickets already. To make a ticket in Neil, it has to be started in the line from the morning itself. If you are a tourist and you do not want to take these headaches, then you can put your hotel or any fence in a line by extracting a few rupees. They fall asleep at night outside the ticket counter. We did the same. It may be now online booking in Neil. One particular thing and because of being online, we can book Neel tickets from Havelock even in Diglipur, i.e. anywhere from anywhere.
One more thing to say about the ferry is that when I searched on the net before going, I came to know that Diglipur from ferry runs to Port Blair, which reaches Port Blair in 8 hours. Only This is a great thing for tourists, in which they can survive a whole day which is very precious. We reached the jetty booking office in Diglipur early in the morning and asked about this round, it was known that it is closed nowadays. That's how we got in color. There is a direct round for the Havelock from the color. If these ferries are found, then go back to Port Blair and go away from it, that is, one day can survive, but he could not even get it. Actually, the number of ferries for the Havelock and Neil from Port Blair is high, so there is little scope for getting canceled, but the ratio is much higher here. But yes if you are not running any package before and your luggage is not more than a bag, then a man can try any of these two ferries.
Here, one thing is worth keeping in mind that there are more local people in the buses than the tourists. Travelers will have to take the bus for the first day or else there is no guarantee of getting the bus. After we landed in Port Blair, we had booked our bus for Diglipur and were rest assured. There is no need for advance booking for local buses such as Chidiya Island, Wandoor Beach or other places, for bus buses only to Diglipur, Rangat or Baratang.
One thing is that if you do not get a direct bus from Diglipur, then you can go to Rangat by catching the bus to Rangat and go from Mayabunder, and Mayabandar to Diglipur till local bus. In this manner you can take two to three hours more but what to do if there is no other way here.
Bike rental facility is also available in Diglipur, but it is only for the Diglipur area. You can not go to Motor Cycle from Port Blair to Diglipur, because in the middle the Jarawa tribal area falls, where the vehicle is also taken from the group and in time. Now I tell you about another cheap means of Port Blair. There is a very comfortable and affordable ride in Port Blair with an auto or three wheeler. When you have less time and you want to look around any place or place rather than staying in the hotel, it can be very useful to you. Chidiya island is close to 30 km and we had booked an auto for which we roamed the road and stayed there and enjoyed the journey. On such a day we booked the auto for a few hours and went to the Carbon Cove Beach from our hotel first. From there, went to Jajar Park, Gandhi Park and Chatham Mill. In the journey of three to four hours, the Otto took us from the meter and we gave him extra money to stop. It was also a great tool to roam here. Our luggage was kept in the auto.
The distance of some main places from Port Blair is so much.
Rangat from Port Blair -175 km
Port Blair to Mayabandar -245 km
Chidiya island from Port Blair - 30 km
Port Blair to Wandoor Beach - 30 km
Port Blair to Diglipur - 265 km
A special thing - all the listings of these fares are three years old and this rental and bus or ferry can also come in the environment. You are requested not to consider it as final. When you arrive at Port Blair, you will get all the latest information. These pictures are given for the purpose of explaining to you.