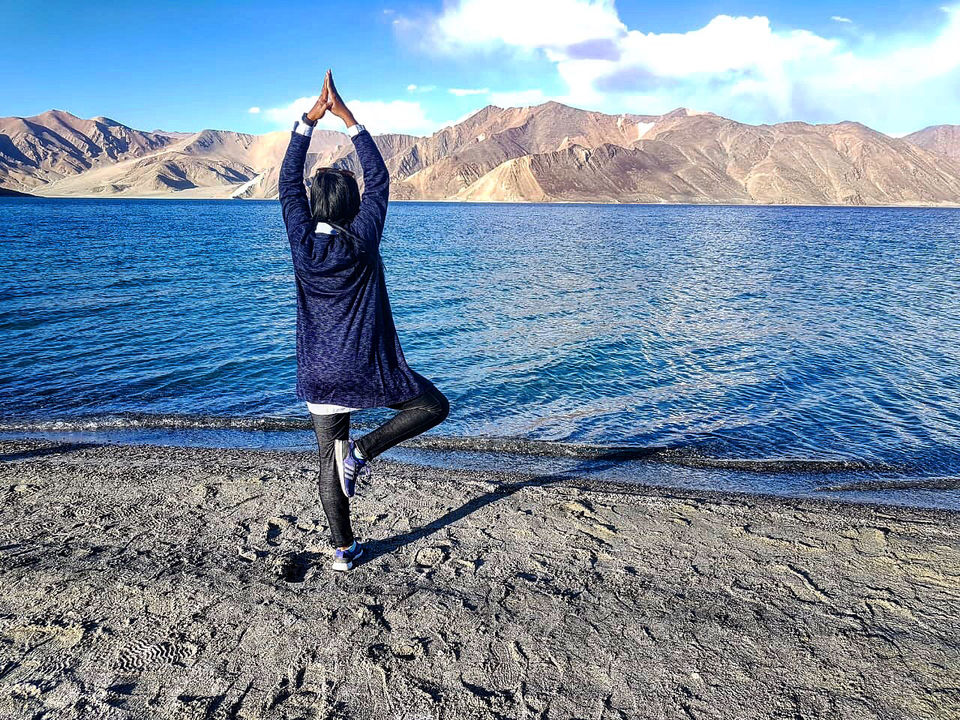 Ladakh has a lot of things to offer to those who loves peace, who enjoys nature, who loves crowd, who admires simplicity, who holds patriotism on his sleeves, who prefers religion over anything else...Ladakh welcomes you all. No one comes back with not feeling contended and with a negative state of mind.
Well, my journey dates back to a decade ago when I along with my friends planned for an extravaganza to this place...but in vain. Notwithstanding, every single year we have religiously planned for a Ladakh trip with different sets of group and finally out of my displeasure this year I went out by myself without planning a bit. Imagine, you are waiting for someone at a strange place with no idea about the person turning up and and just to kill some time you go into any online shopping app for random checks and you end up with the Best Buy of the season. Yes. My plan was as spontaneous as that. Thanks to me for being impulsive at certain times.
Booked flights and other things and waited for my leaves to be sanctioned. Just three days before the trip my leave application got sanctioned and I started my packing.
The real excitement starts while on board GoAir flight Delhi-Leh, the captain announces "we are landing in Leh shortly" and you look out of the window to see white sheet of snow wrapped on the top of mountains as if they are waving at you. Without wasting any time I pulled out my camera to capture the poses the mountains were at. To my luck the signal was not clear for our flight for landing so the captain took us a 360 degree view of Leh and after hovering around at least thrice it landed. Stepping out from the aircraft at the airport was such a delight that I felt like staying at the runway for a while just to feel the fresh & clean air.
Airport transfer to hotel was done in an hour or so. At the hotel the tour manager briefed us about the weather conditions and precautionary measures to be taken to get acclamatize to high altitude weather conditions and I was strictly instructed to take rest all day. How could I disobey ! I slept the whole day, woke up for lunch, and again slept off till evening. Around 5pm my cab arrived and it took me to Shanti Stupa situated in Leh town itself. The stupa commonly known as White Pagoda built by Japanese Buddhist is a sunset point where the panoramic view of Leh town is worth a watch. Back from Stupa a little time were devoted to explore local market where you can pick souvenirs and Tibetan jewellery for friends and family. I remember I had only 30 minutes to explore the area and I just walked through the Mall Road and rushed back to catch my bus.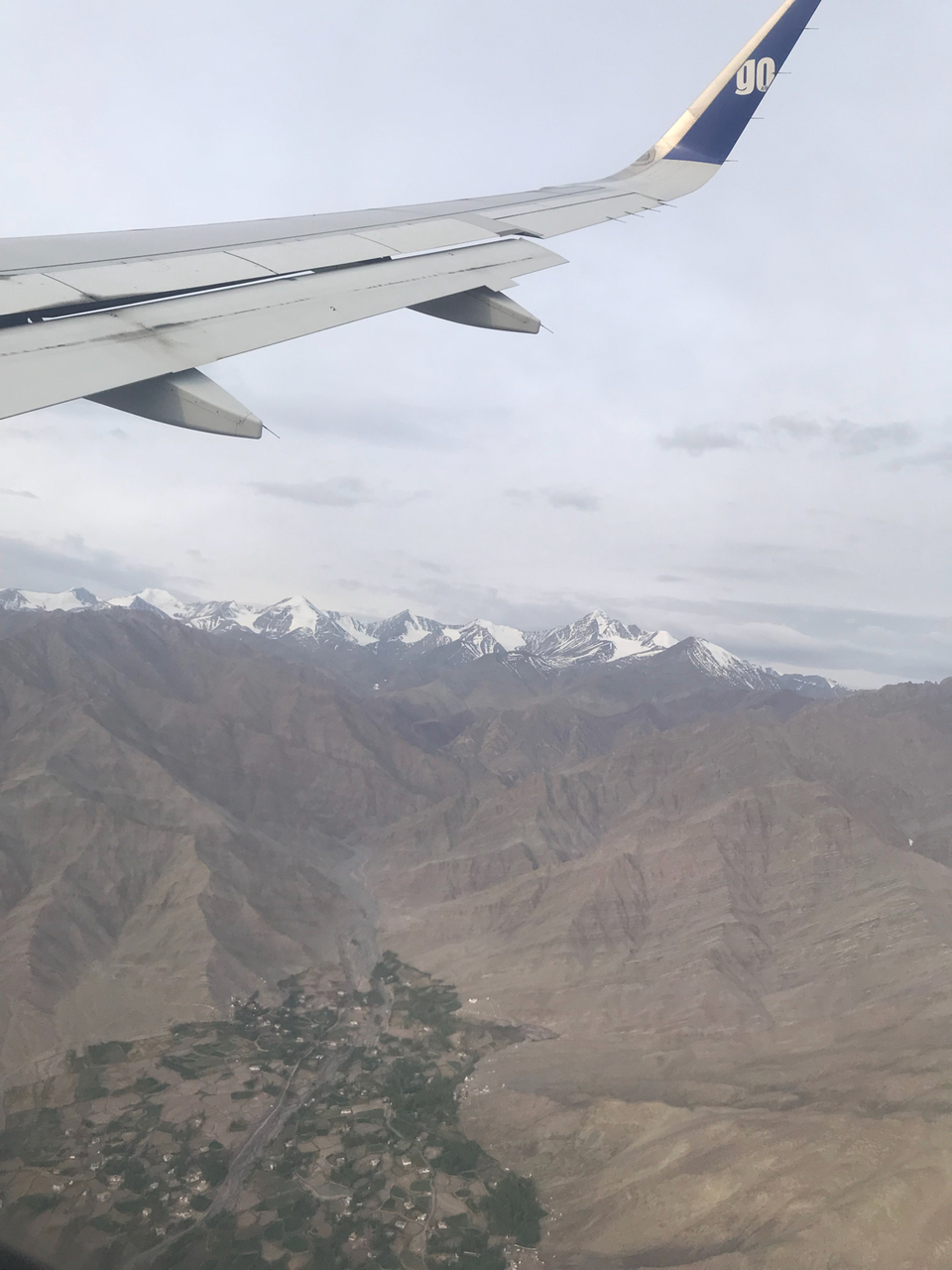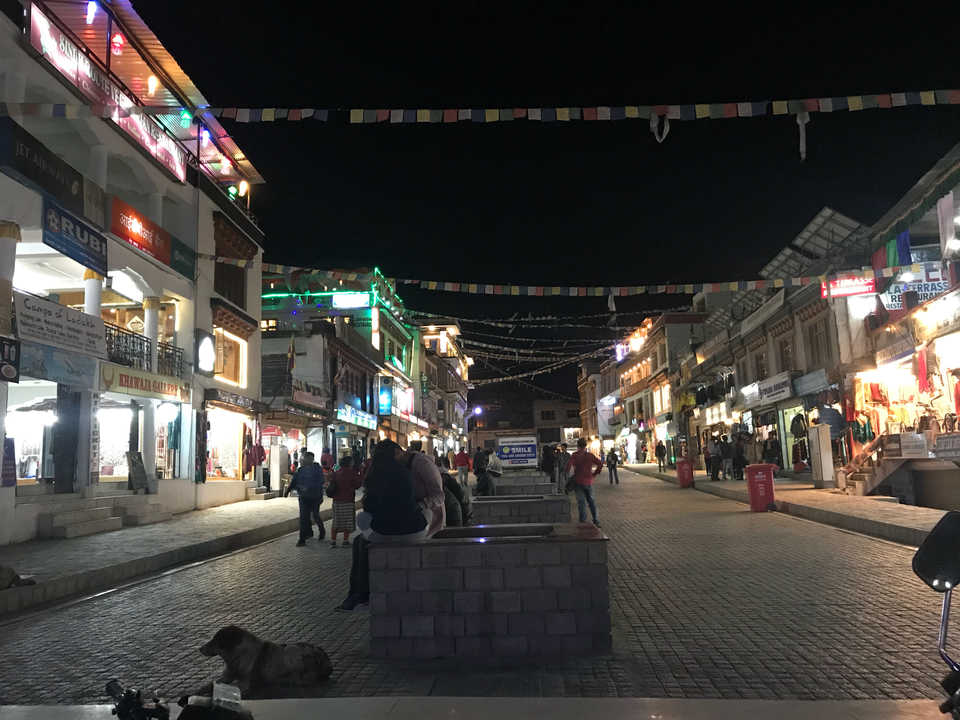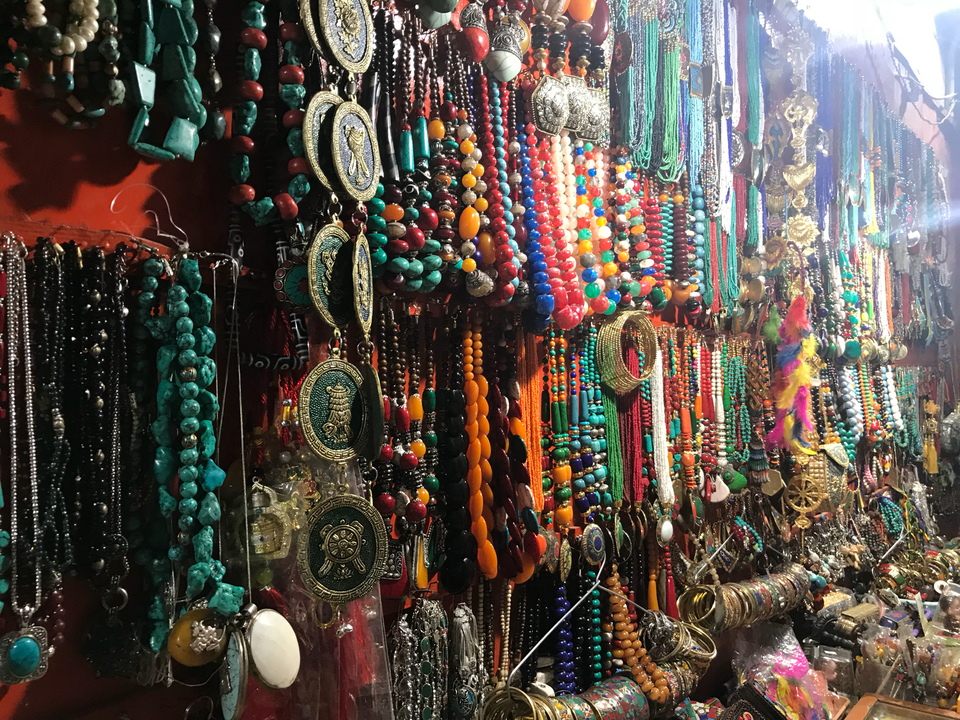 "Waking up alone to an unknown town is the most sensational feeling in this world!" - how rightly said. Waking up early was the most pleasant thing of the entire trip. The itinerary for the day included Hall of Fame, Magnetic Hill, Sangam, Gurudwara Pathar Sahib, Spituk Monastery in Sham Valley.
Sangam- the confluence is Zanskar and Indus is really a place to be endured. You can mark out the meeting point as two rivers are of two different colours, muddy Zanskar and green Indus.
And the most exciting part was to raft in river Zanskar amidst astounding landscapes. Imagine mountains on both side of river and you are floating in as if the waves are taking away all your negativity and anguish and you stair at the stream for long without blinking for a second. I was with a group of unknown cab-mates who were really cool to be with. This raft was fun because of them. Needless to say I have enjoyed a lot.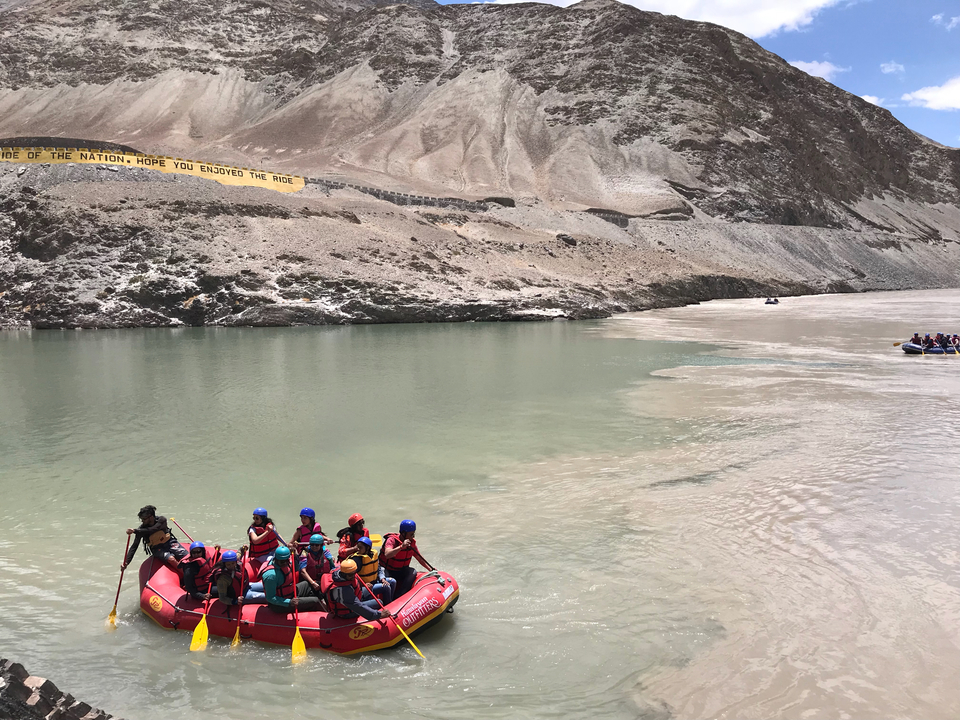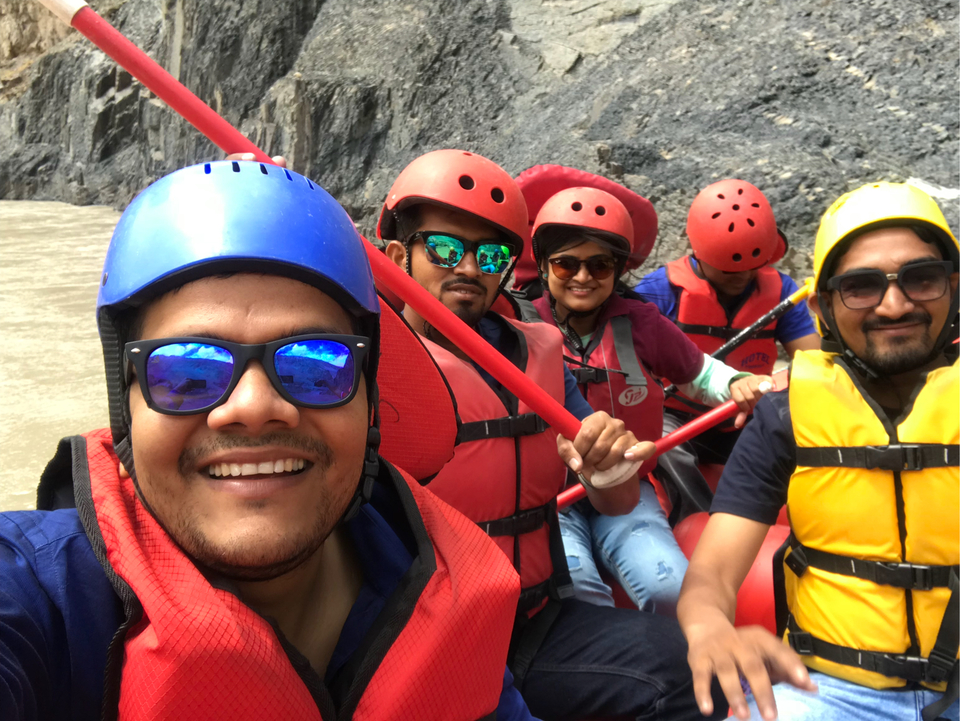 Day three started with a road journey to Nubra. Well, Nubra Valley is just like a perfect scenery anyone could imagine. For my cab-mates who find it really tiring, I enjoyed it to the fullest. Off road adventure is what I knew about Nubra Valley through travellogues and travel channels but experiencing it was like a great grandeur. I must say these travel channels exaggerate things or may be I was traveling in a quite feasible time of the year unlike these TV show producers.
Throughout my 5 hours journey to Nubra Valley, I was accompanied by 12 other gang and our cute driver bhaiya who made this journey a little more informative and pleasant. The gang I am talking about are different groups from Daman, Punjab, UP and West Bengal, Delhi and it took only a day and half to blend with them and the trip became more exciting.
Traveling through the picturesque valley led me to think about the Silk Route travellers who must have travelled such landscapes for years and years until the destination not giving a damn to extreme weather conditions or rough routes. I could internalise how clueless the early travellers would have been to walk forth without any sign of human settlement still continued up to Indus. Much Respect!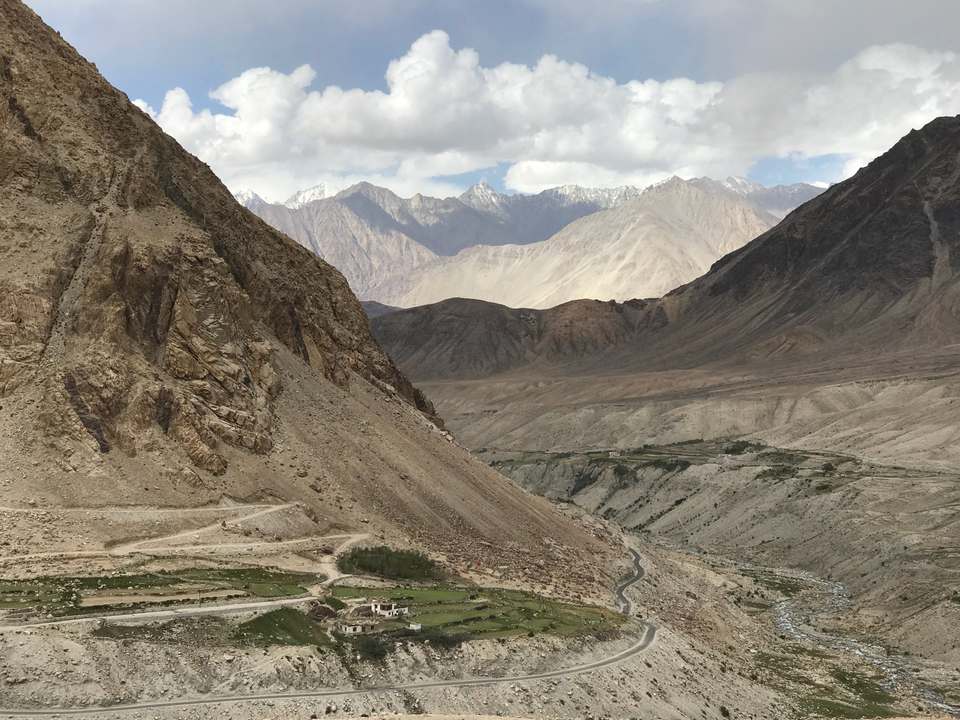 Coming back from Nubra we stopped at Dikset monastery which was again a place of ultimate peace. The Buddha statue amidst deserted mountain scapes was bliss. It was too sunny to capture the statue perfectly. But yes, our photo sessions never stoped where ever we went. Straight away from Dikset we reached at Khardungla when it was snowing a bit.
On the top of Khardungla I went into a view point which was less crowded and stood there to feel the cold waves rushing into my face which shivered myself with the excitement that "ohh man! Finally...I am here". Other than that picture booth Khardungla top has a lot of things to offer.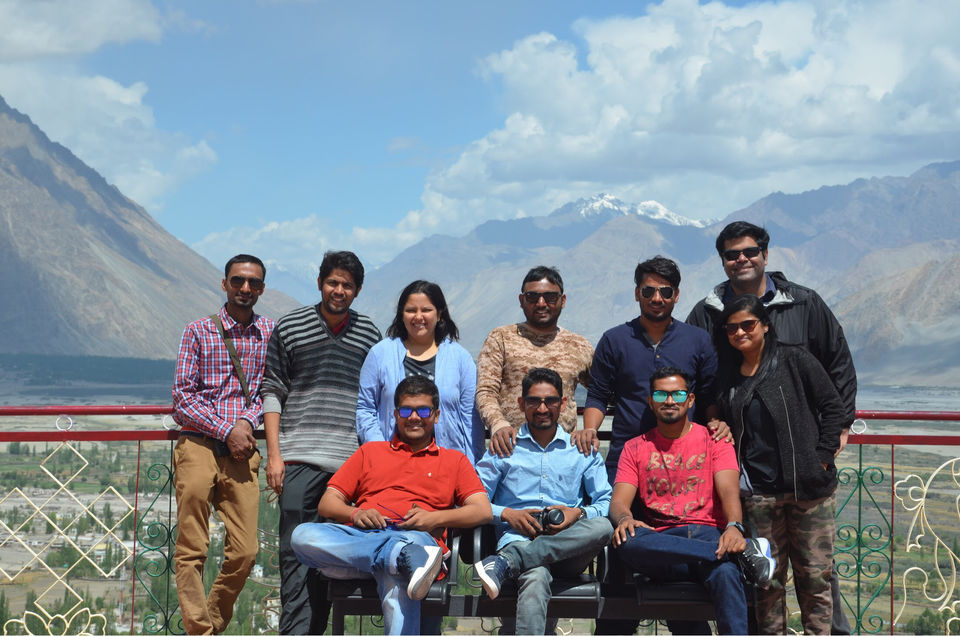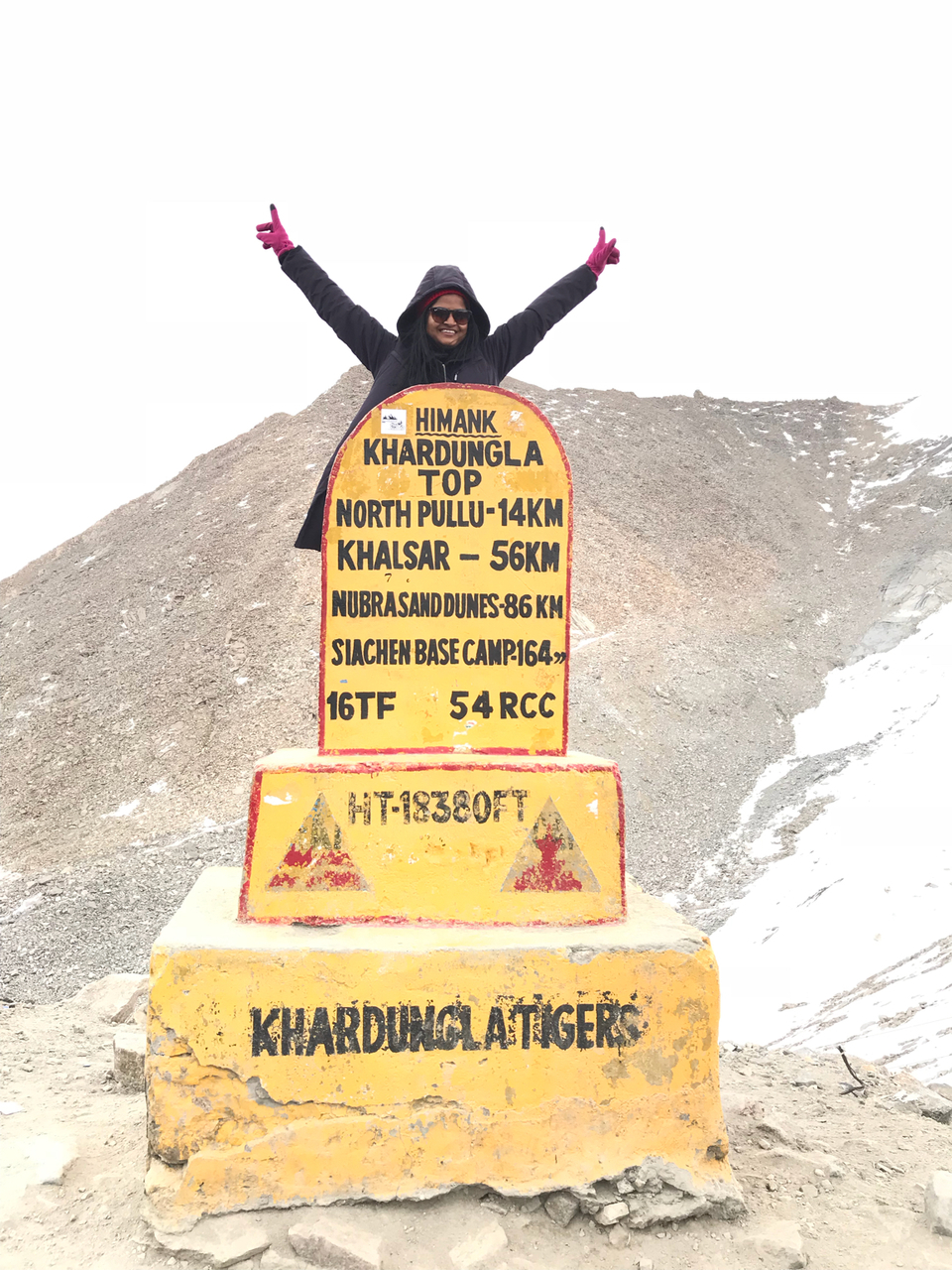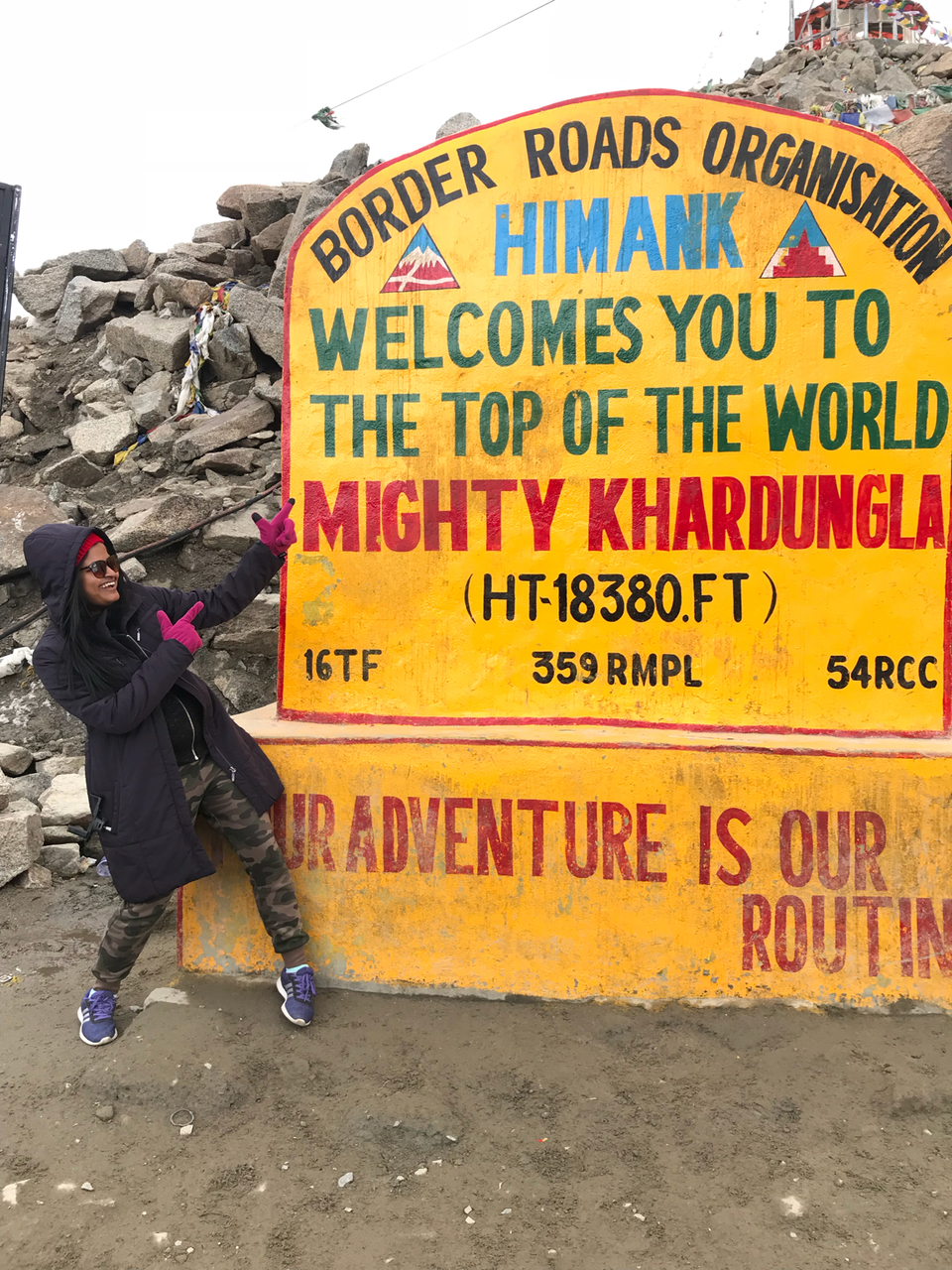 Pangong lake day. Yes for me it was the Lake day 13th June 2018. I know I sound bit extra but I can't help it. After an astounding 6 hours journey through Sangla Valley we reached Pangong Tso.
The lake was so beautiful that I got mesmerised by the contrasting brown mountain and blue water. The place was so beautiful that taking out your camera and clicking yourself on the frame won't suffice to the term "justice". Of course I clicked some of my pictures in the frame only to bring back some of me who had lost in there. I had seen the pictures of Pangong much before I started planning to visit this but believe me the pictures are just 1% of what you see in real. The lake has an aura of itself which radiates and extract the most serene and pure feelings in you. "Sit back and Relax" is the ideal thing to be followed there. If I could stay there for some more days only to adore this beauty but sadly good things are limited.
Evening was more fun with the gang and bone fires under clearly visible innumerable stars. I am a star person and I can't resist my eyes to stare at the twinkling of the stars if they are clearly visible. I felt privileged to be there at that time in the light of those uncounted stars. I lighted a cigarette and went bit further, away from group, sat there for sometime gazing the sky. The cold waves rushing in and a deep drag of cigarette was quite an equaliser. I cannot forget this moment when I looked above and rolled a few tear drops down...it's like that type of moment when you feel so enrichingly fulfilled that you can't help but cry like a child. I did the same.
Next morning I woke up late and regretted for not being able to see the sunrise at the lake as we did party till late night. On our way back we again stopped at the point to spend some more time by the side.
I secretly wished I could swim across the lake to the mountains only to have a other side view of this place called heaven. But then good things come with terms and conditions attached.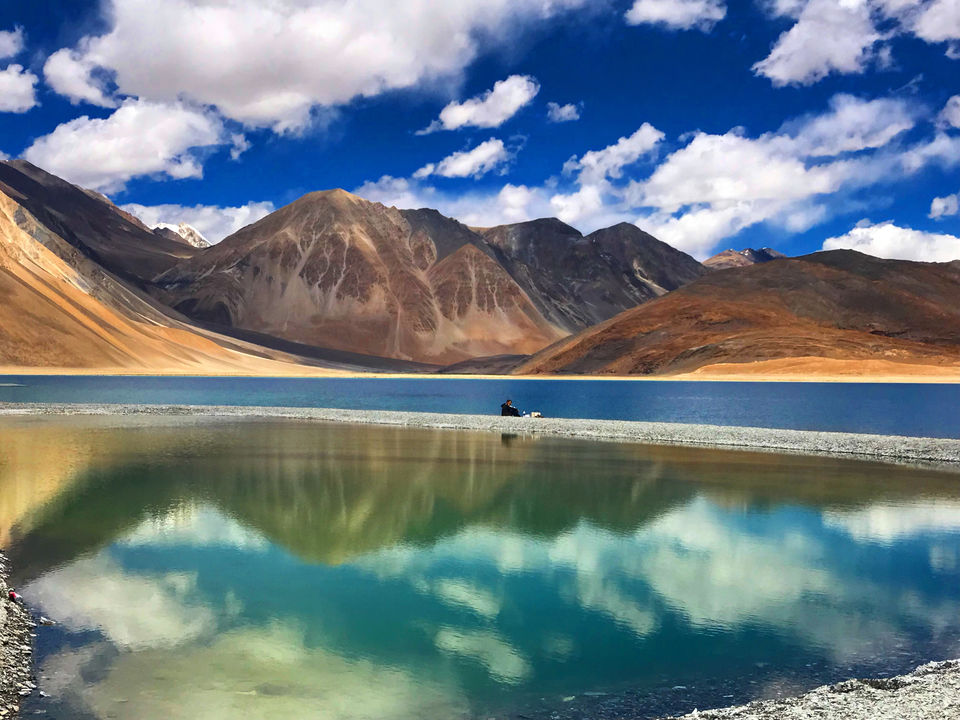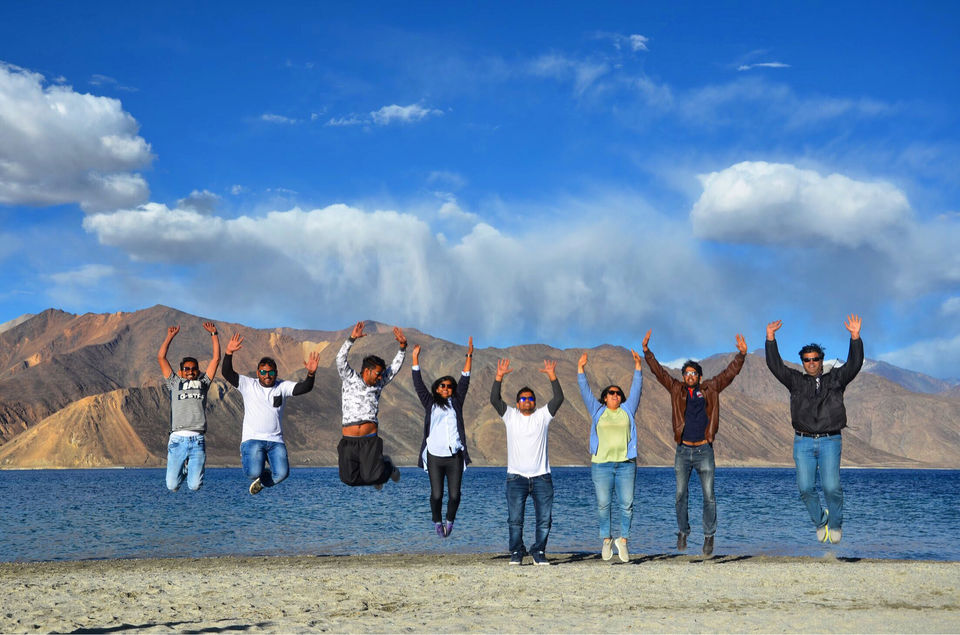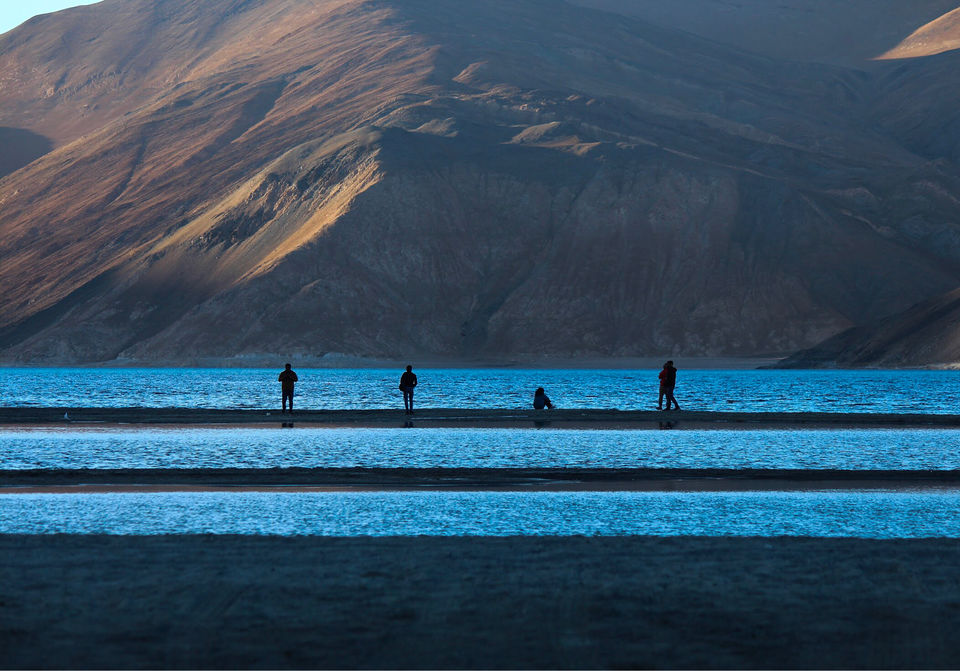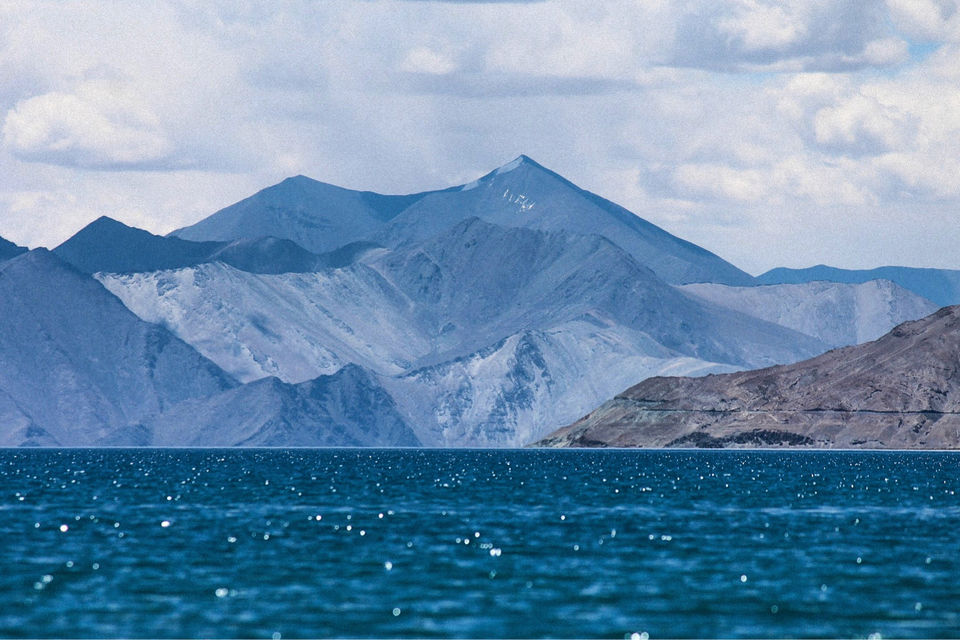 Coming back to Leh.
Again the route, Sangla Valley and it's astounding view.
We are very fortunate to be living in an era where such places are accessible and affordable but at the same time I wonder if those untouched, non accessed places like these might have been there in the Himalayas and I wish those places to be remain unaccessed so as to keep the bounty of nature intact unlike Lakadh where some of it's beautiful locations are insanely commercialised.
Nevertheless I lost myself in that resplendent summer morning and I am already planning to visit the place again...and this is why I captioned this story as "a never ending journey"!