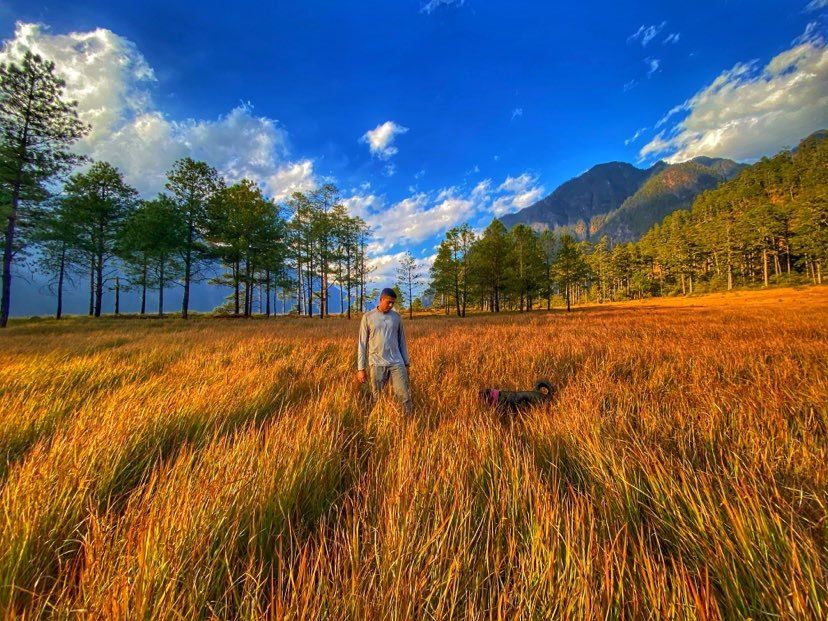 The more I travel, the more I see
It only reaffirms my faith and makes me believe
There's no country or land as beautiful as mine
Her mountains, rivers and tribes forever outshine
Ending the year with a good hike in the mountains with our two dogs is a yearly ritual of sorts. And being able to do that in 2020 was a blessing in itself thanks to the fact that we are based out of the north east. We've travelled many a places with our dogs but this trip was super special. ' Why though?' You ask! For there might be sunrises aplenty, but this is where the sun wakes up India first. In this lesser known Eastern Himalayan village called Dong, tucked far away in the easternmost corner of India. So here's how we checked ' The First Sunrise Of India' off our list.
WHERE EXACTLY IS DONG?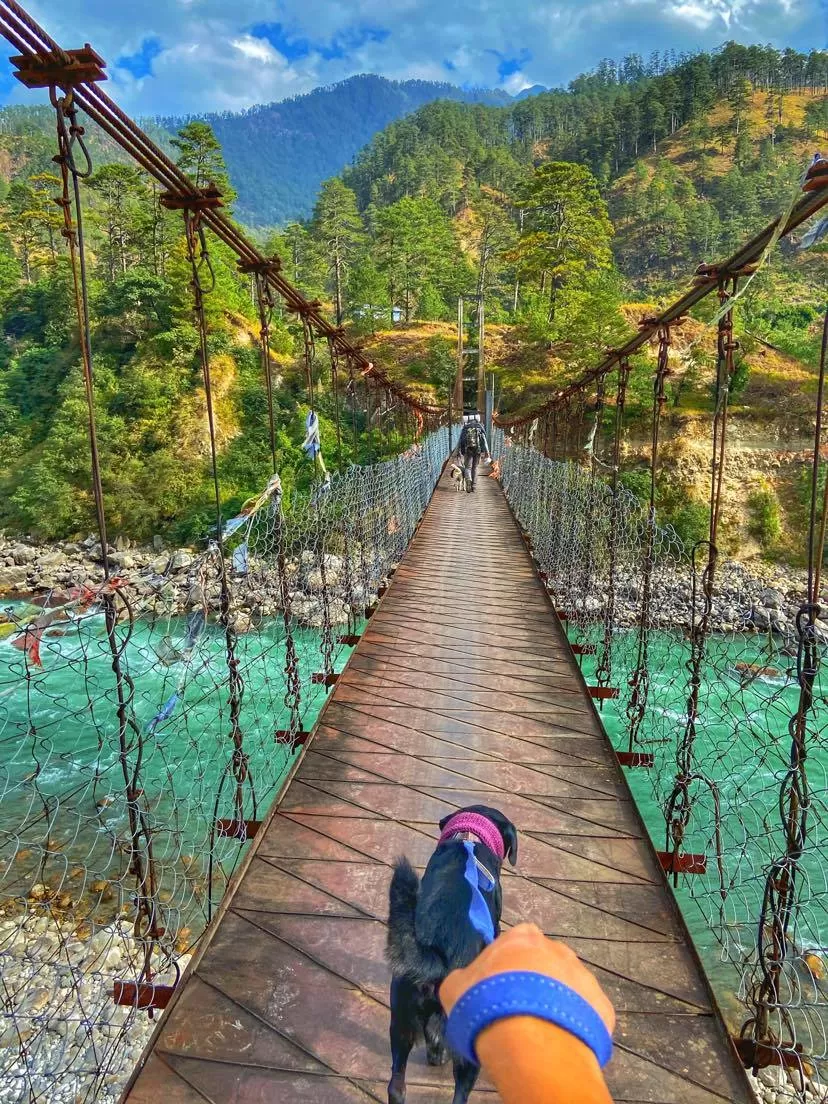 So the eastern part of Arunachal as compared to its western counterpart is much more unexplored, underrated and lesser known. In fact while writing this article here, I could not geo tag a single place mentioned below, that is how off beat it remains. The roads in this part of the state are truly less taken for there are places where they barely exist. The seven major districts in Eastern Arunachal are Changlang, Longding, Namsai, Lohit ,Anjaw, Upper Dibang and Lower Dibang. All three distinct and diverse in their culture, traditions, tribes and even flora and fauna. But what remains constant throughout is the boundless beauty of nature and surprises that they offer to explorers, birders, travelers and hiking enthusiasts. Dong is situated in the Anjaw district, a home to the lesser known Meyor as well as Mishmi tribes.
OUR JOURNEY TO THE EASTERNMOST HINTERLANDS OF INDIA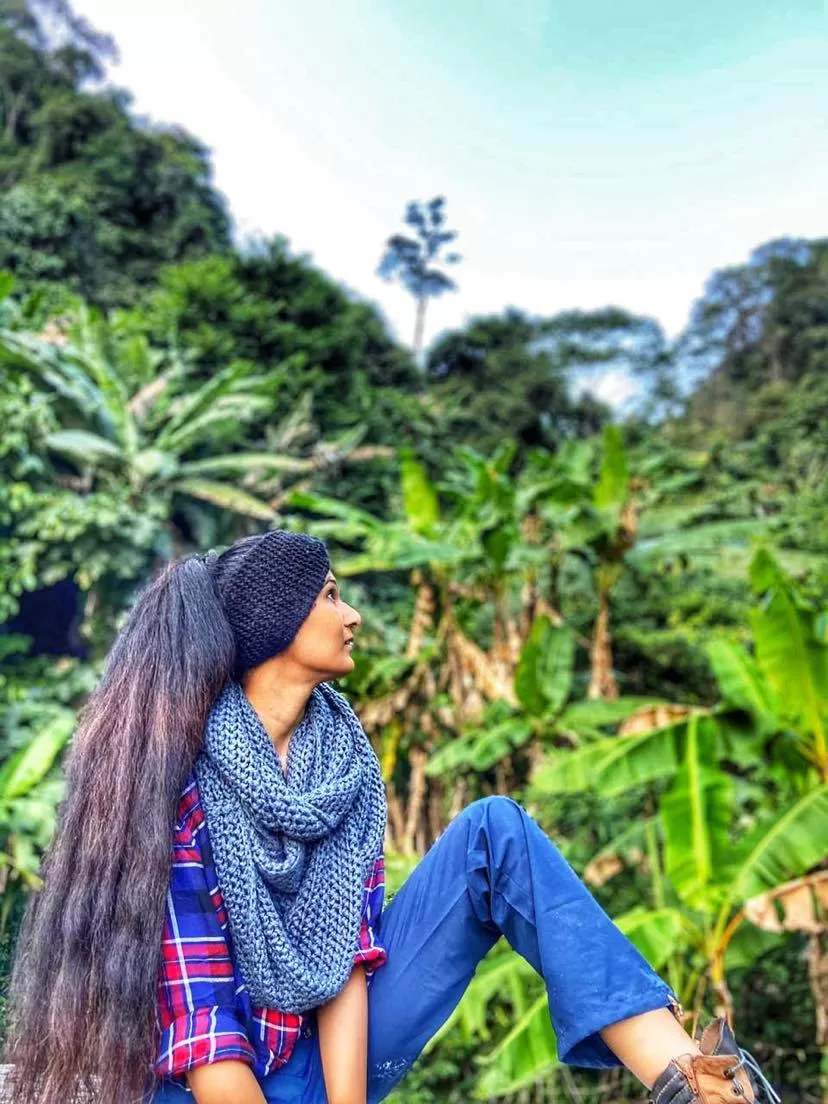 We set off for our first destination, a small hill town called Wakro that has with time become my favorite hill station around. A comfortable five hour drive from Tinsukia, Wakro is usually off the tourist radar and travelers driving or riding up to Anjaw usually go via Tezu, a rather more flamboyant cousin of Wakro. For a more holistic experience, you must visit both the towns on your round trip.
We stayed at Wakro while heading back and hiked up to one of the most stunning lakes, hiding in the wilderness of Kamlang Tiger Reserve of Arunachal called The Glaw Lake. Perhaps it deserves a whole new post, so about that later.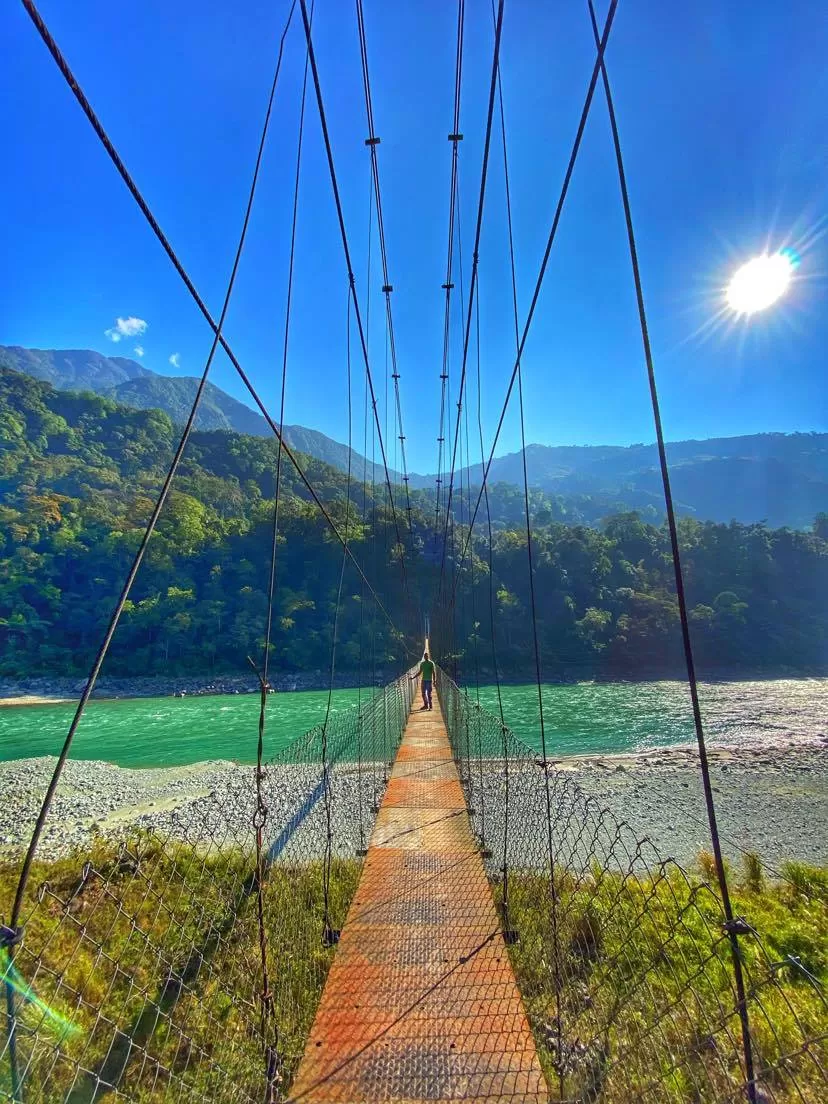 If there's one thing that would catch your eye while traveling in this region, it would definitely be umpteen number of bridges and the variety of them. Scanty villages flung across the mountains are now connected via wobbly suspension bridges. The population in this side of the country is just 4 people per sq km and it was only recently that these bridges became a part of the local infrastructure. Till very recent times, villagers would make their own makeshift pulleys and fearlessly slide across the roaring turquoise Lohit river.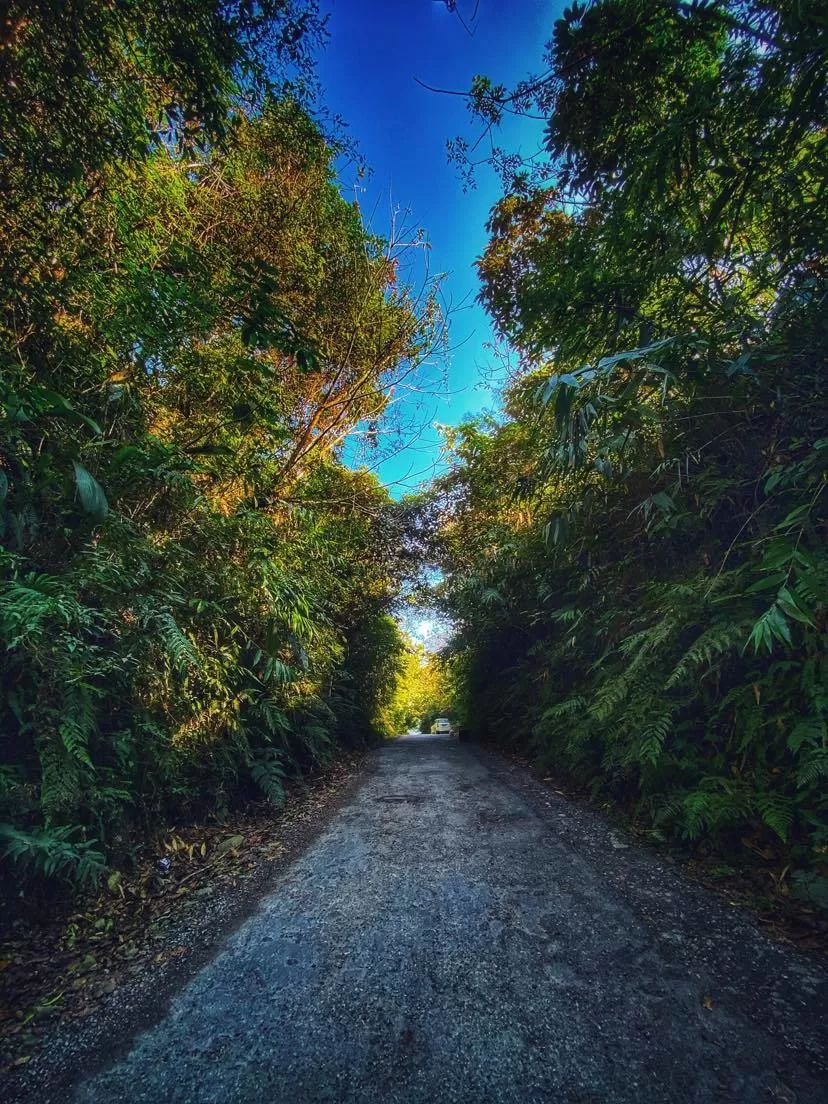 While Hawa Camp offers undisturbed birds eye view of Lohit Valley and the shimmering Lohit river, the road after Udayak pass is a serpentine drive along the densely wooded forests, a treasure trove for plant lovers and nature craving nuts. I stopped the car quite a few times, quite to my husband's dismay, snipping off some beautiful Philodendron cuttings and many others with gorgeous foliage rarely seen in the towns and cities. If there's one thing that North East and corona have gifted me in abundance is the love for gardening and obsession for plants and this entire stretch from Hawa Camp until Tiding, the route also known as Fango and Famgo with endless hairpin bends, had my eyes wide open in awe of the sylvan paradise on display.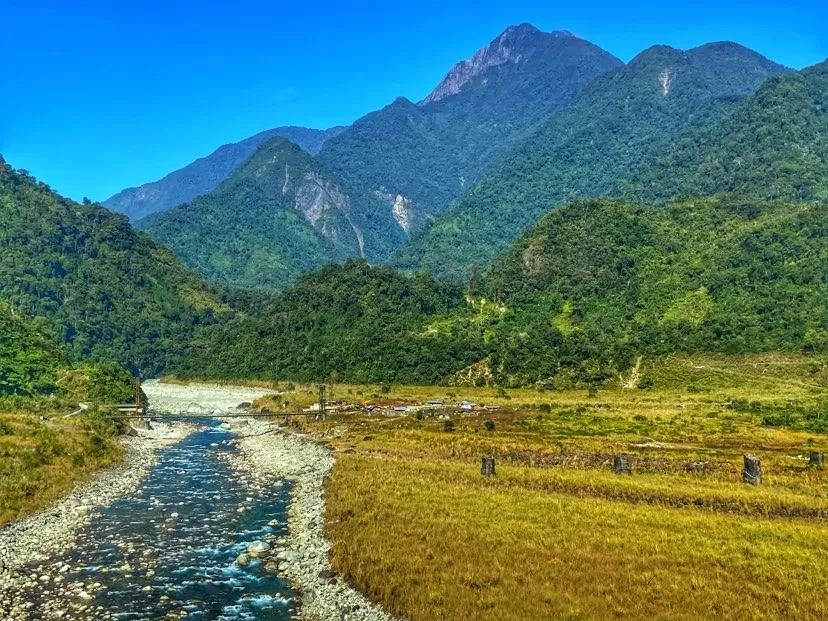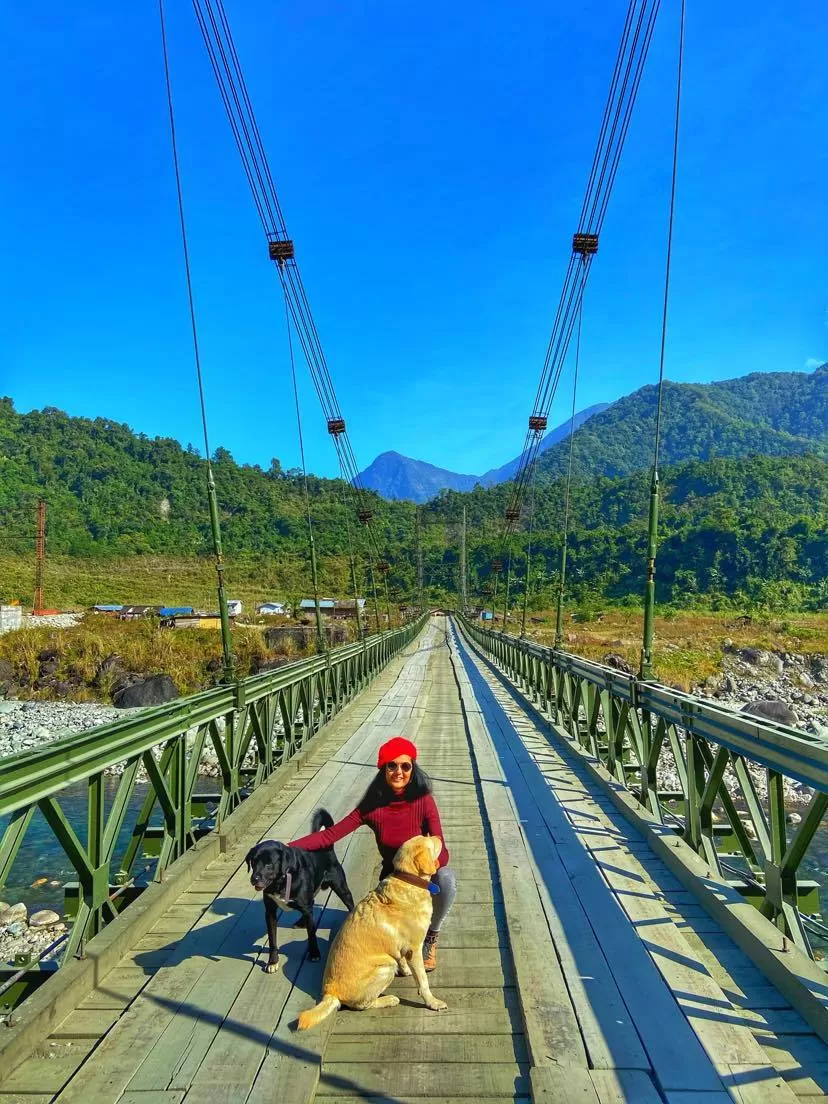 Tidding, a tiny hamlet by the river side and a massive suspension bridge hanging over it marked our arrival at Anjaw. A huge big board saying Welcome to Anjaw greeted us. Dhaabas or eateries in this part of the country are a rarer of the rarest sight but a small shop with a rather spiritual name 'God Bless You' served tea and pakodas here. God bless God bless you i murmured to myself for we were so in need for a chai break. The road hereafter gets difficult and bumpy with undulating slopes, gravel and rivulets defining the route. We were pleasantly surprised to find a fancy looking shack serving lunch by the river side on reaching Hayuliang. Hayuliang in local Mishmi language means ' A Place Of Respite' and it literally turned out to be one. I could easily count the number of villages and eateries that we came across on this entire stretch from Wakro onwards and it would definitely not exceed a single digit number. But i guess that's the whole beauty of it.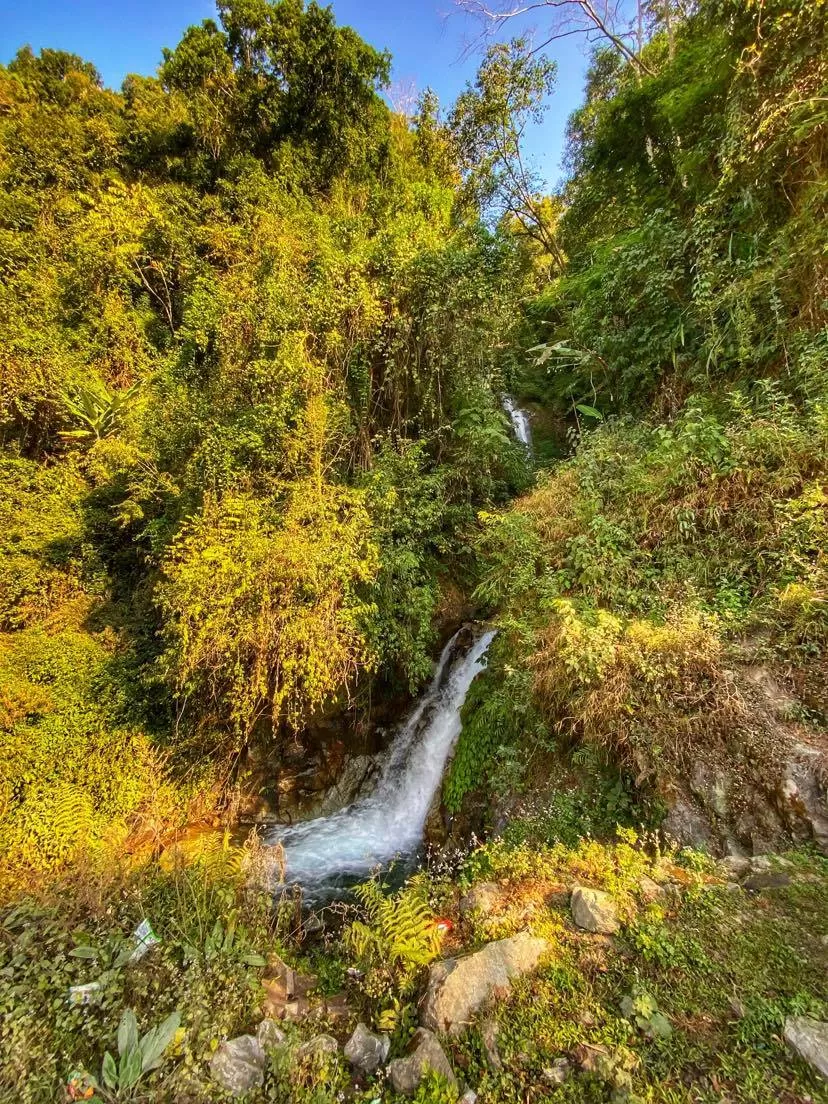 Unadulterated, East Arunachal lies hidden yet content in this corner of India left far behind by time. North east truly at its offbeat best. Though there's nothing much to see in Hayuliang but the town does offer splendid views of the confluence of Dalai and Lohit rivers. A diversion from here also leads to this lesser known town or rather hamlet called Chaglagam, which yields highest production of large cardamom in the state. The town rarely sees visitors as the roads up to here are treacherous and not for the faint hearted.
DID YOU KNOW ARUNACHAL HAS ITS OWN HAWAI!
Little would people know that we have our own Hawai here in India. In Mishmi language Hawai means 'pond'. You would find an acre of land right in the middle of Hawai which was said to be a pond earlier and is now used for perennial paddy and pisciculture.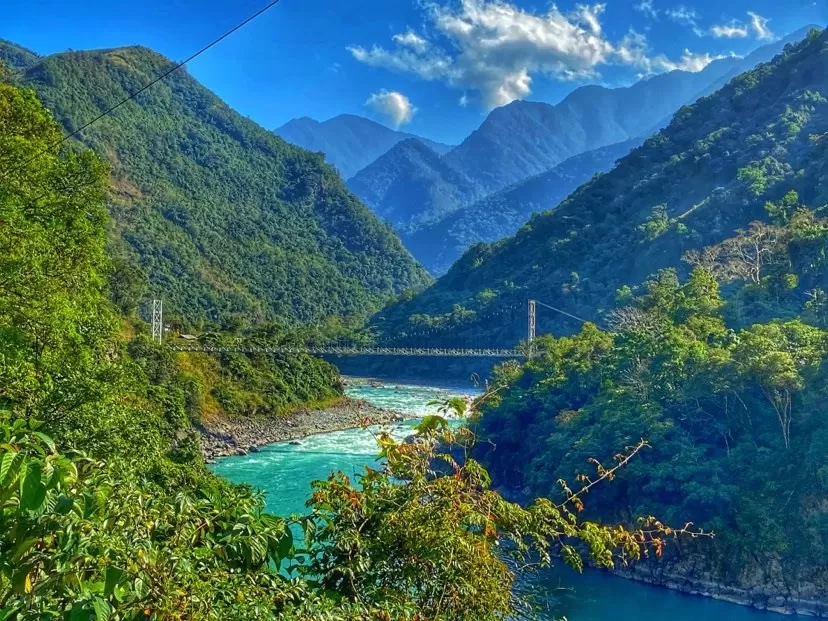 We decided to make a quick stop here before we would finally hit Walong. Hawai is the Headquarters of Anjaw district, a town perched on a mountain top offering one stunning vistas of the valley around but the concrete structures coming up in this town, civilization is leaving its ugly mark here. I only hope the government and the people make an effort to maintain the sanctity of this place. Beer cans and plastic strewn around in every corner was quite an eye sore.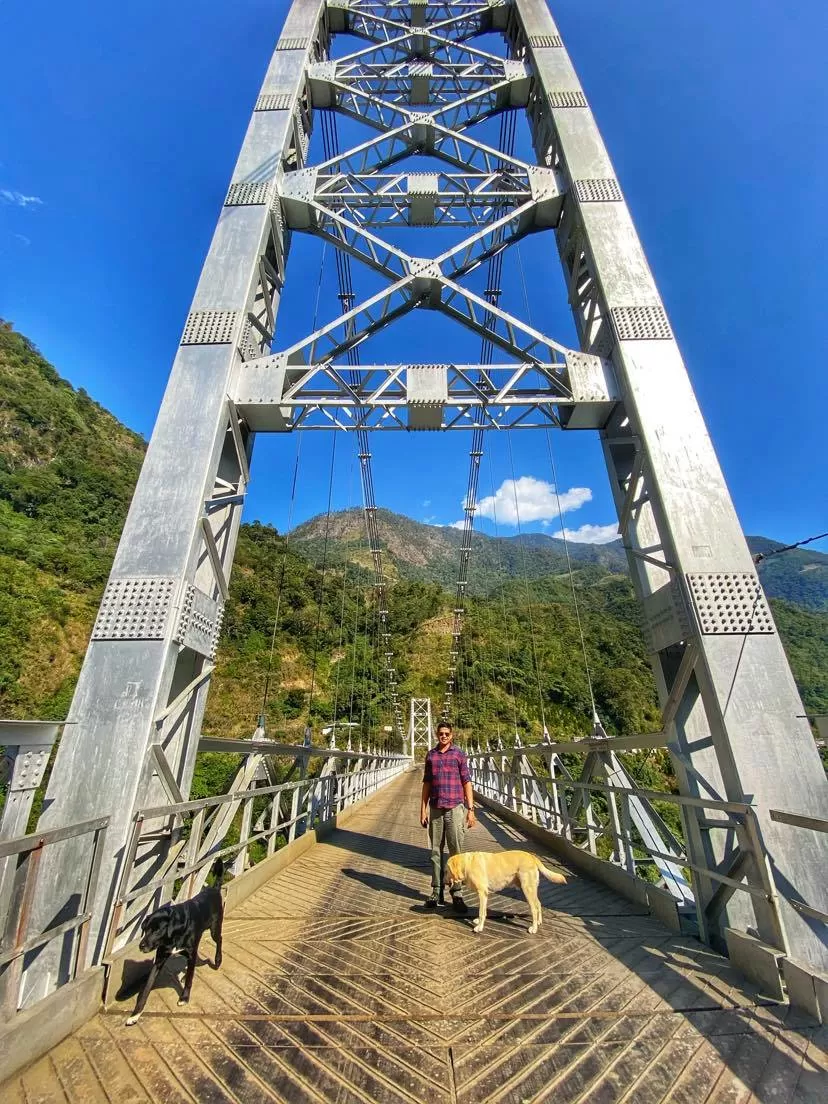 The town has a huge helipad and numerous official buildings and is divided into two small parts, new and old. One often finds Mishmi women walking around in their oh so stunning attires, all hand woven beauties with peculiar massive cylindrical silverish earrings, locally called Inksuf in Miju Mishmi language, a kind of tribal jewelry never seen before.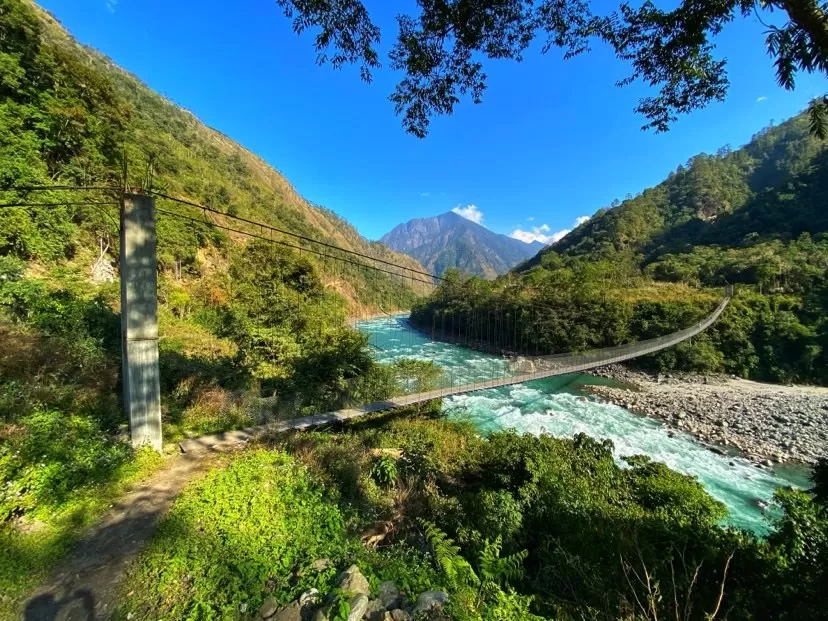 Jaw dropping waterfalls that cannot be geo tagged, fragrance of pines, orange trees dotting the roadsides and white shimmering sands of turquoise Lohit and rickety bridges hanging over them reminded me of the postcards I once drew as a little girl I used to wonder then if places like these existed in the real world. We stopped at one such bridge that was dwindling as the winds wailed. Dasher and Haachu took calculative steps, unsure of its mettle while I sat there staring at a tiny hamlet on a hilltop with just three huts. I wondered for how long it remained disconnected, living happily in its cocoon in this huge big world, unaware of what existed beyond this river, just when my thoughts were obstructed by the sound of a motorcycle.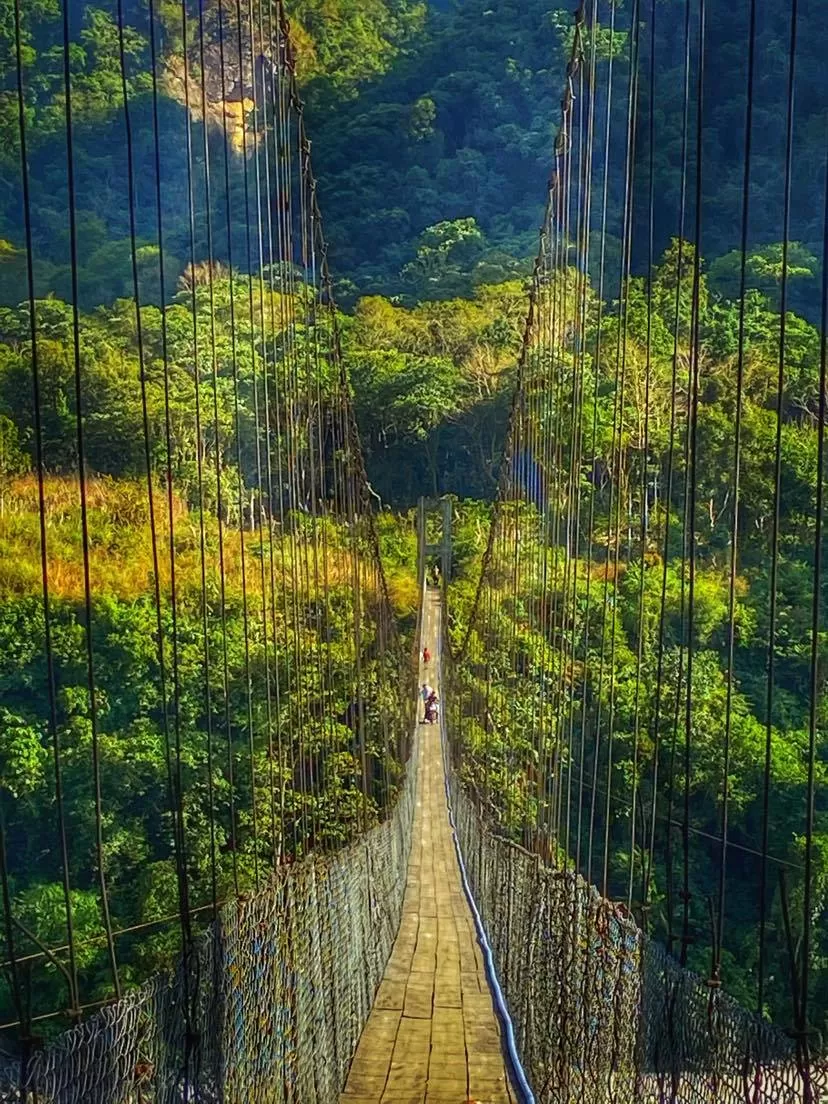 A young boy loaded with ration on his bike was going to cross on this bridge to drop off stuff at the other end. He took five rounds, the bridge swinging his bike as though he were trying one of those adrenaline pumping rides in an amusement park. But the bridge never gave up.
I was instantly reminded of this movie based on Arunachal that I watched on Netflix during lockdown. It's called Crossing Bridges, a beautiful film based on Shergaon ( western part of Arunachal) and first ever movie to be made in Sherdukpen language 💚 Must watch if you haven't yet.
PS: I have a thing for bridges, bridges of any kind. For they connect two different worlds, fading away the gaps so beautifully.
DONG FINALLY!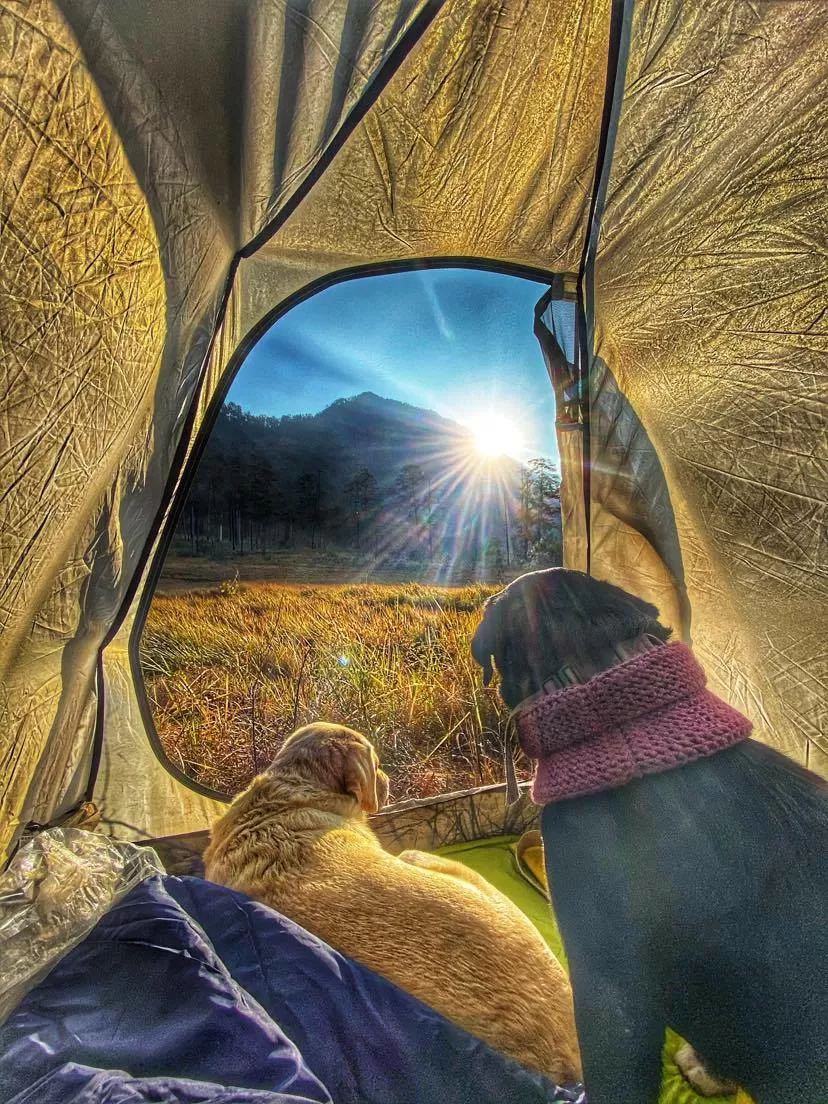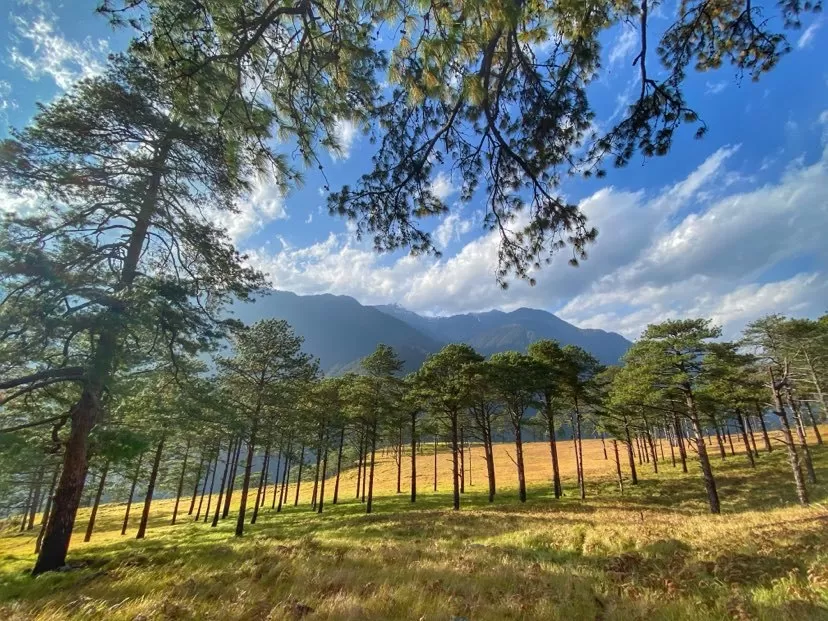 Since Walong has quite a few places to be covered, I shall write about it in my next post. We started the hike from Tilam, a small hamlet situated about 5 kms ahead of Walong on the east bank of the river. One can see two plateaus with Pine meadows beckoning you from the other side of the river. That is where the sun rays hit our country first. Even though the hike was an easy short ascent though breathtakingly beautiful, just the whole idea of climbing up a hill top to see that fiery ball of fire waking up the country before anyone and everyone from a deep slumber gave us an all new high.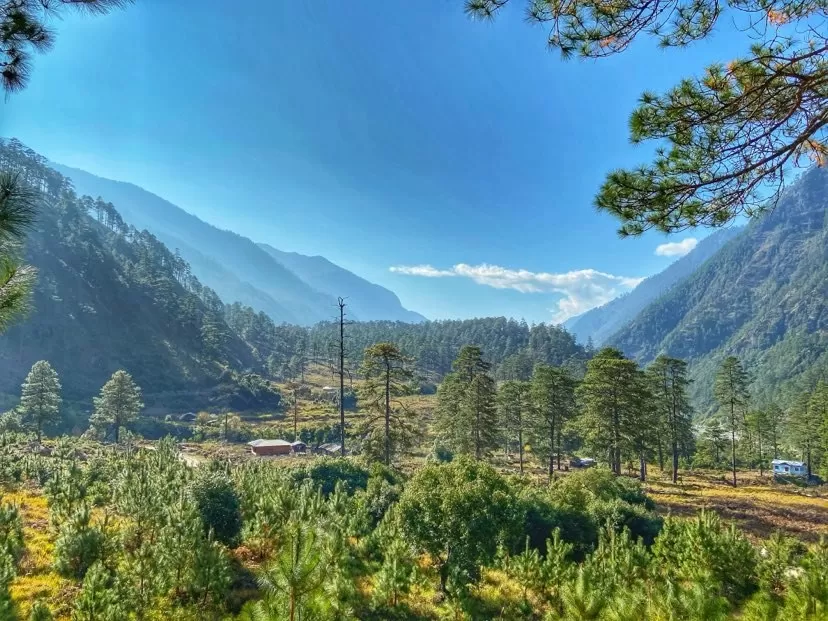 Back in the day the Dong village thrived on those meadows on the top but due to scarcity of water, villagers moved down closer to the confluence of Lohit and Sati rivers. There are just about five to six Meyor households at the base, where we also got our guide from. A trail leading to the iron suspension bridge starts from the PWD guest house ( on the right side) We crossed the bridge swinging noisily while Haachu, our younger Dog treaded along as as if he were performing a commando walk :P After crossing the bridge, a short ascent leads you to a left turn with an abandoned hut around. You would soon reach Dong village, wooden huts stand guarded by oh so rustic stoned wall boundaries while prayer flags flutter signifying a Meyor household.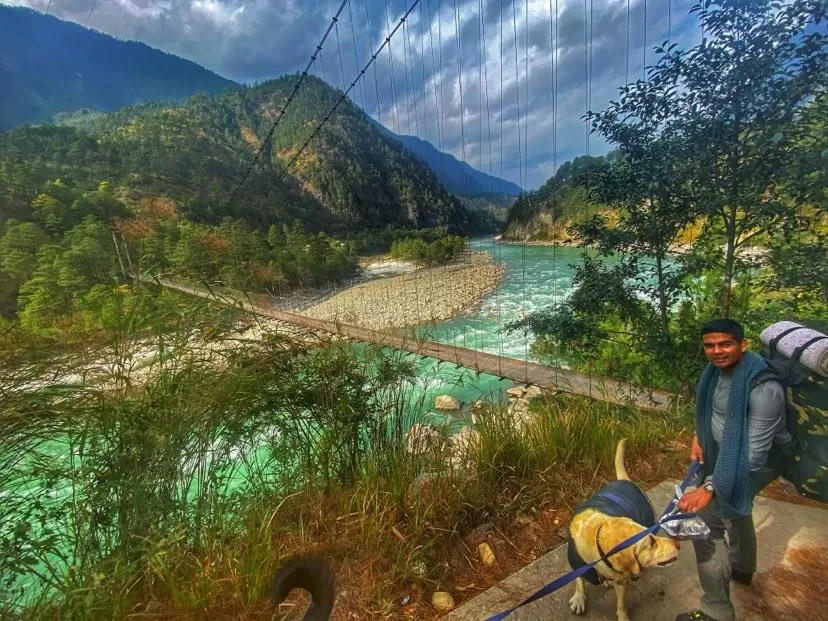 At this point you hit the main road ( under construction) from where a prominent trail winds up into the forest. The base where the village stands is called Lower Dong. two hours of gradual climb through fragrant pine forests, sprawling wild grass, vast open meadows with occasional breaks for collecting mountain souvenirs like pine cones and driftwood, we landed at Higher Dong Plateau. Dasher and Haachu's tails and tongues wagged out of sheer joy and exertion. They ran around like wild kids, the whole meadow was their playground. It was 3;30 pm and we were just an hour away from sunset. After taking a short breather, we started hunting for wood.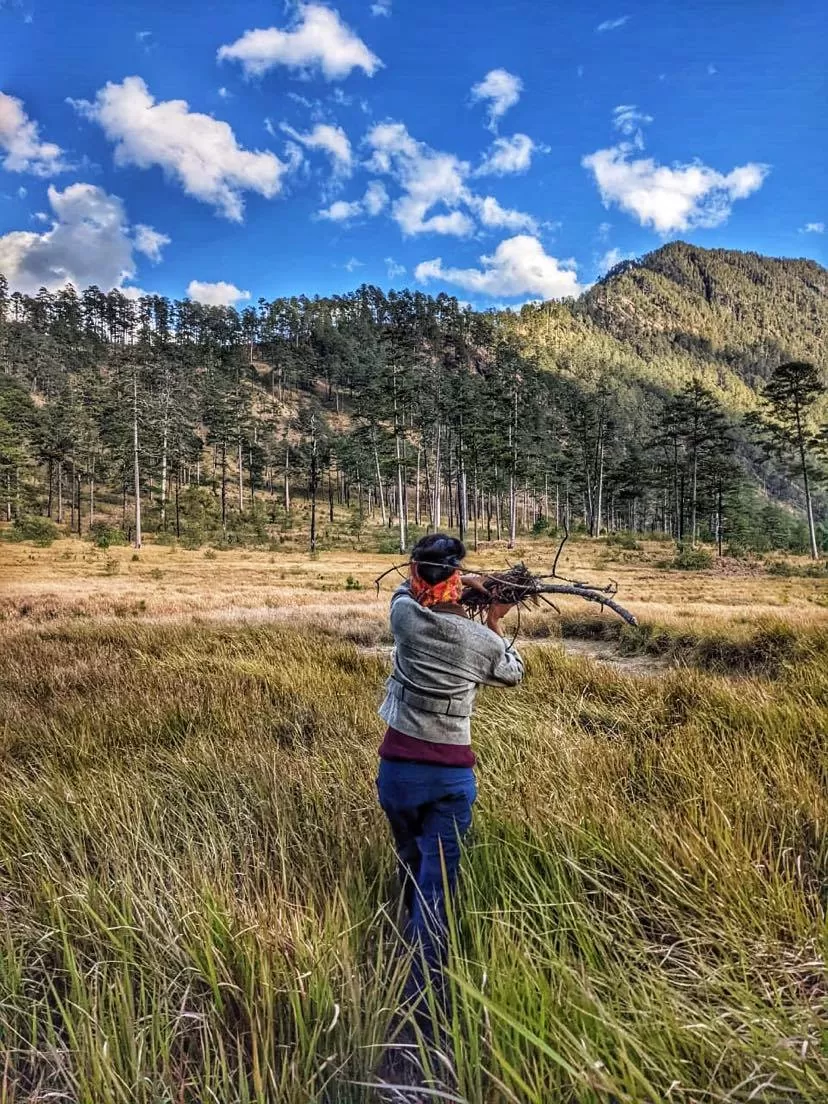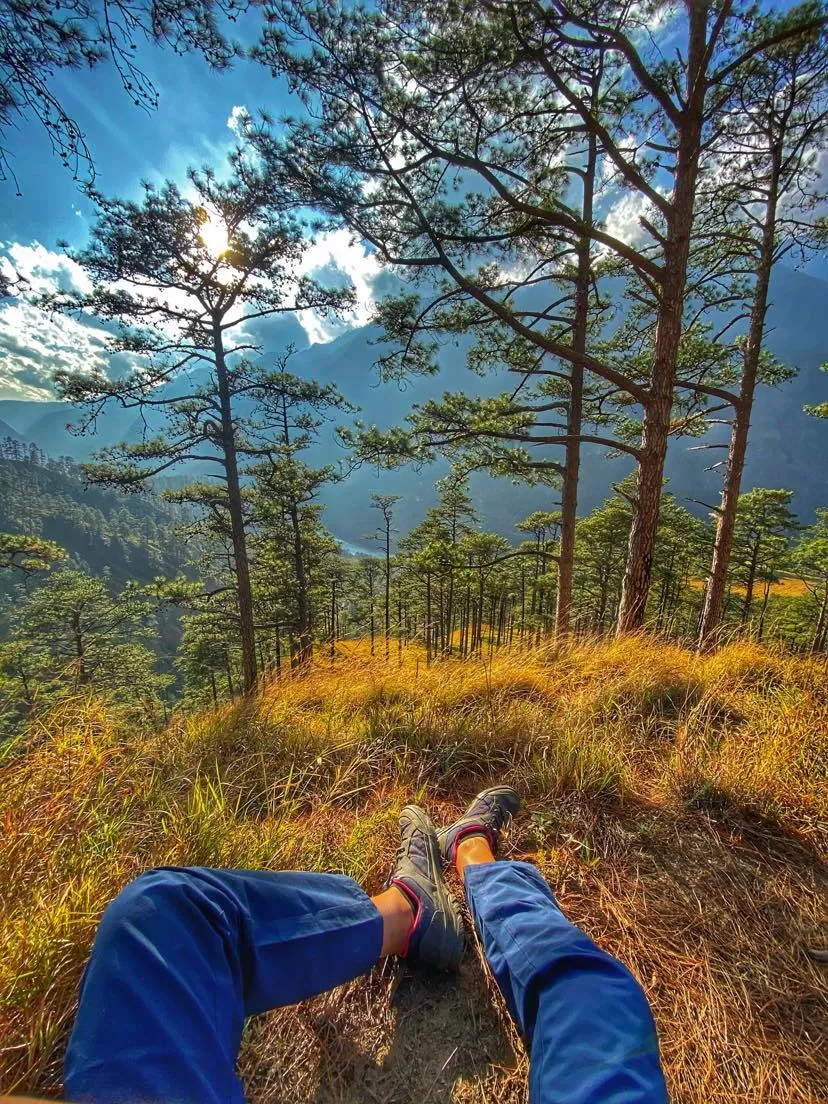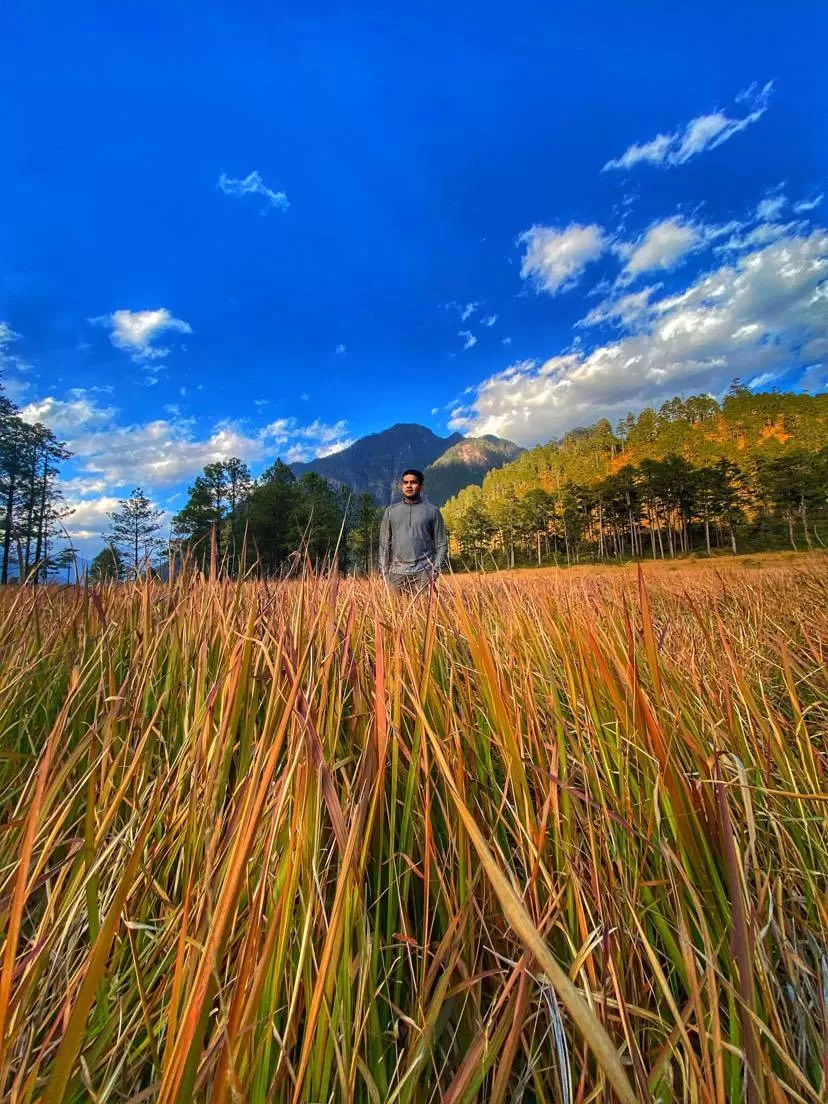 The meadow on top is vast and one can see spots where people might have camped or lit fire. Our furry tails sniffed around the entire country side while we toiled hard collecting pine wood to light fire. We fixed our tents in no time and hoped the gusty winds would stop sooner for temperature dropped in no time. That night two hoomans with their two hyper excited dogs, slept in solitude on that hill top under the sky that lit as bright as a chandelier.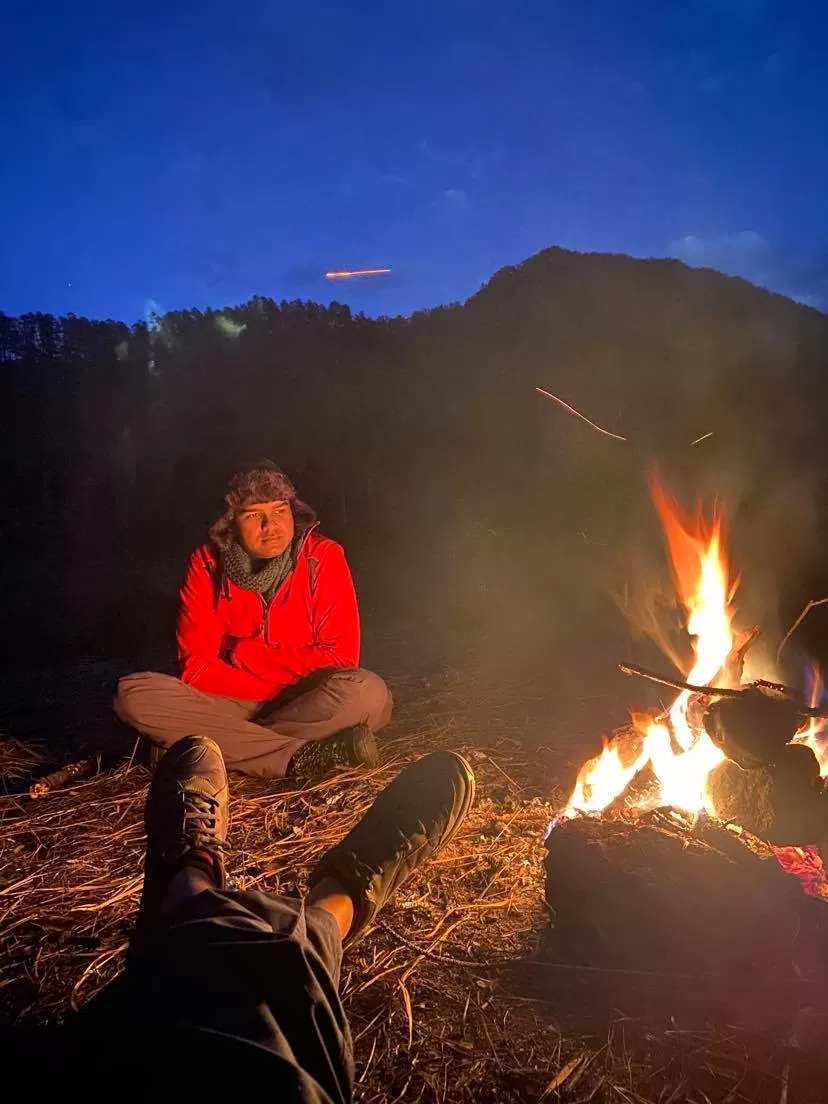 The rustling leaves kept Haachu up the entire night and his occasional growling in the middle of the night while staring at the tent flap didn't make me feel like we were the only ones! I feared if there were wild bears around but the moonlight and the owl rather comforted me more than my three male family members who snored away to glory. I didn't sleep that night for the excitement to witness India's first sunrise in a couple of hours was unexplainable. Dong was the first thing I wanted to see when I got here in the northeast and it was finally happening.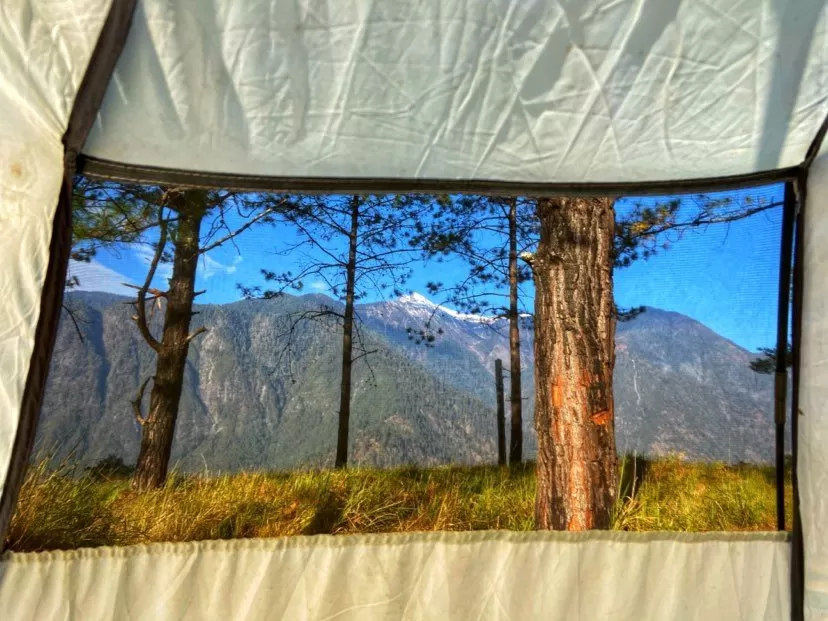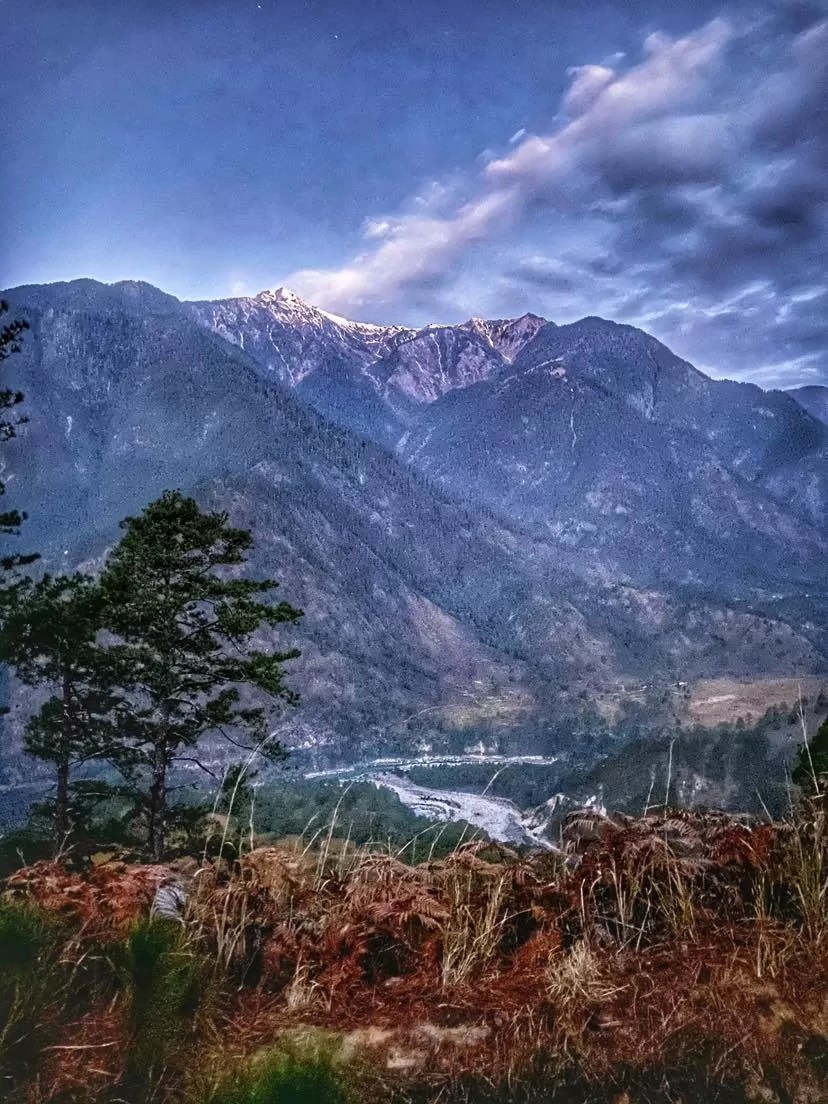 My alarm and Haachu's paw nudging me on my face pulled me out of my sleeping bag at 5 AM. and then the waiting game began. So initially it took us a while to figure out where exactly was the sunrise point. While faint sunlight greeted us in the morning, the first orangey rays reflected on the glistening snow capped mountains around 5:30. While everything around lay still except the river down below in the valley along with the chirping birds and rising sun. while the first sunlight of India engulfed us on this misty hill top, the sun finally showed up, rising behind the mountains on the right bank of the river and rightmost facing the meadow.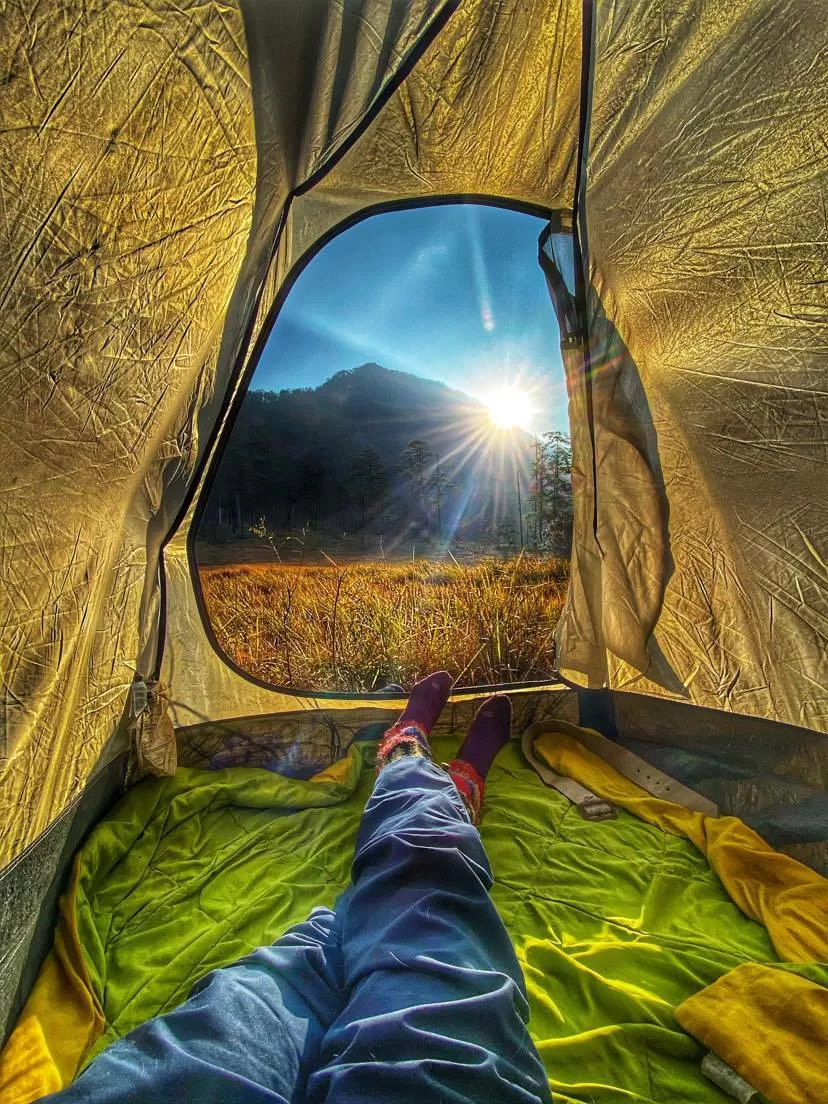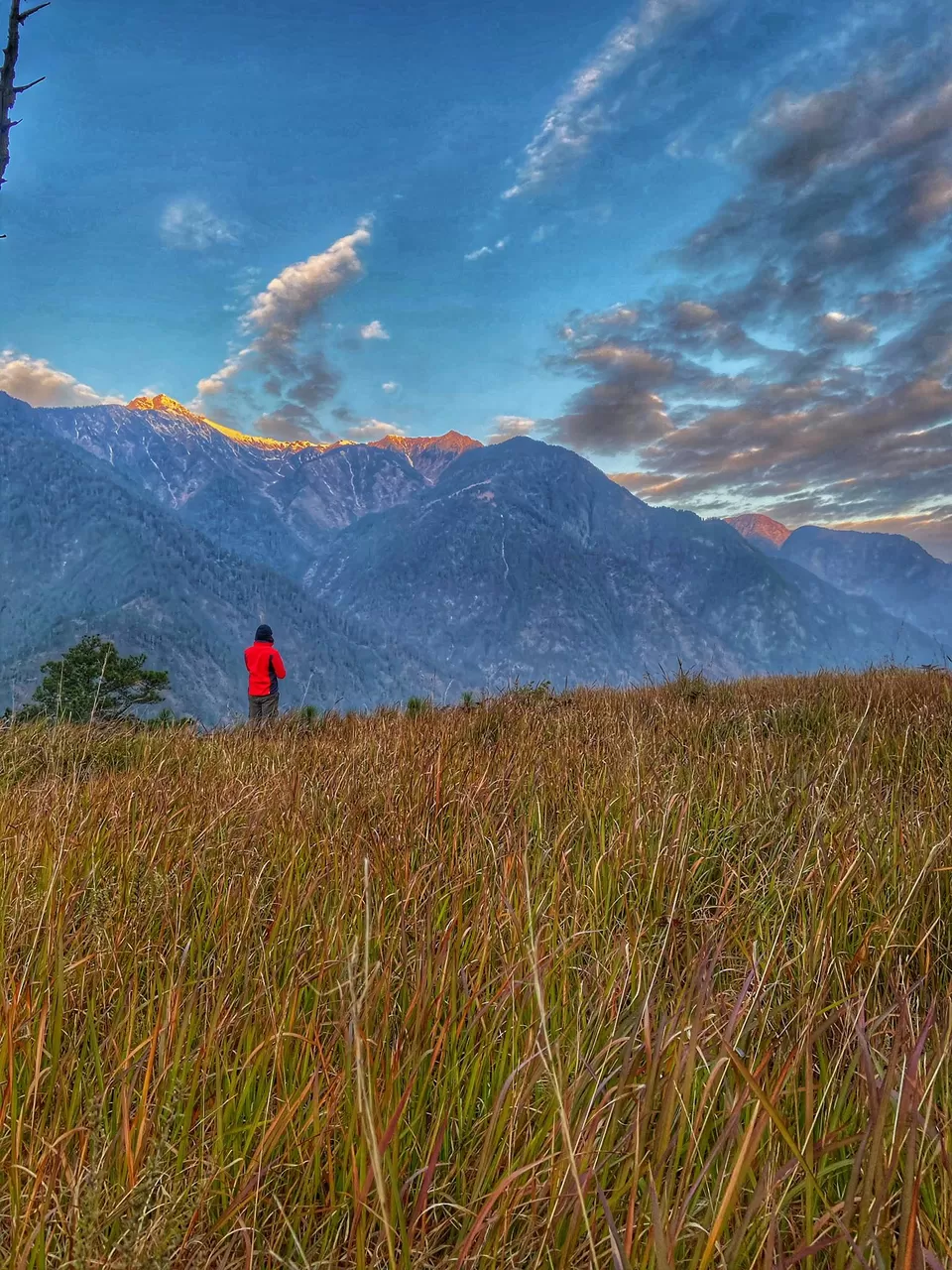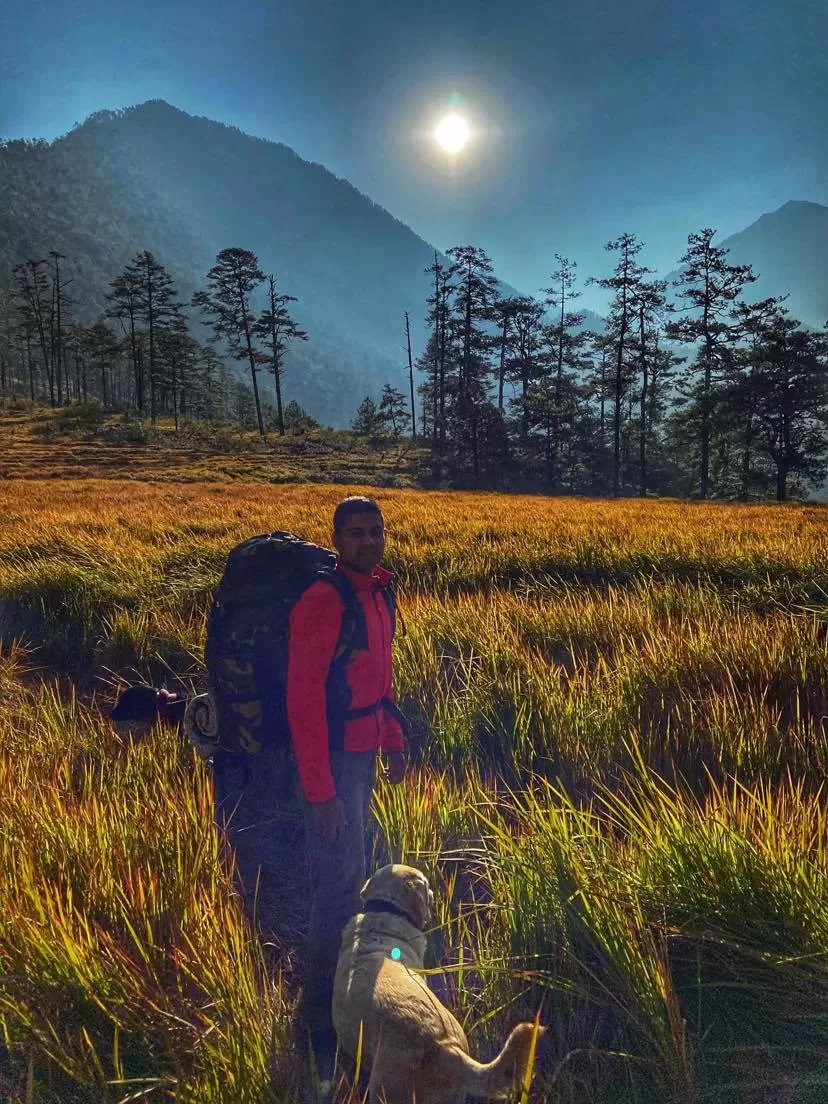 It truly was surreal. The mist on my tent melted away with its warmth while Dasher and Haachu too stood still for a while, as though in awe of that orange ball, soaking up its warmth. And just like that. While India was still in its deep slumber, fast asleep engulfed with darkness, we stood here at the edge of the country where light first breaks in India, in this lesser known humble village called Dong.
HOW TO REACH DONG VALLEY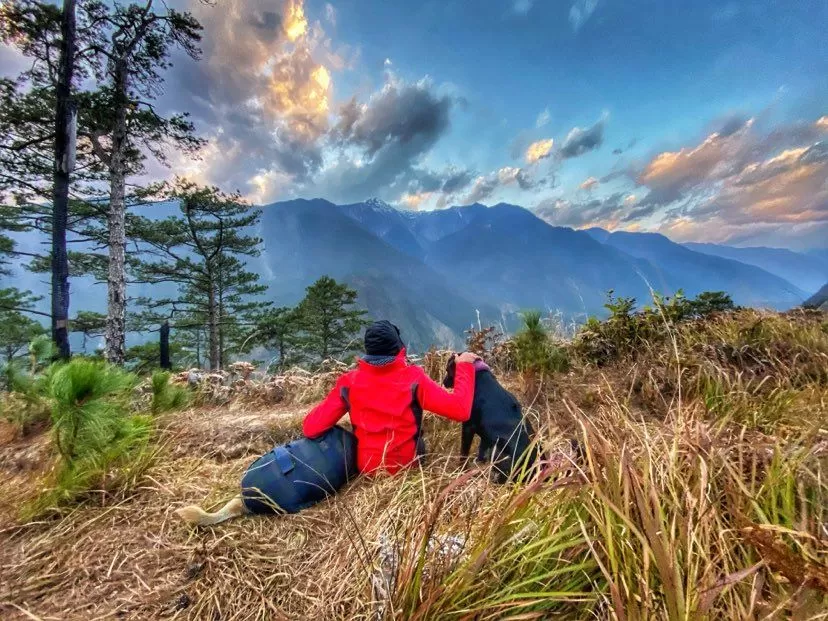 The nearest airport is located at Dibrugarh Assam while the nearest railway station is in Tinsukia, 325 kms away from Walong. There are frequent buses and cabs available both at Dibrugarh and Tinsukia as well as Tezu for your onward journey.
ROUTE TO DONG VALLEY
Ideally your first stop should be at Tezu/ Wakro, both small towns in East Arunachal. Here is the route that we followed
Tinsukia- Namsai- Wakro- Parshuram Kund- Tohangam-Hawa Camp- Salangam- Tidding- Hayuliang- Chagwanti- Hawai- Walong- Tilam-Dong
While we covered all these places, we stayed only at Wakro and Hayuliang enroute.
PS: The nearest or last petrol pump before Walong is in Khupa near Hayuliang. So make sure you top up your tank here in case you've hired a vehicle.
ACCOMODATION
Tilam, a small village situated 5 kms ahead of Walong has a good PWD guest house and the trail to Dong starts right next to the guest house on the right hand side. Another trail on its left side goes down to the hot water springs of Tilam. There are quite a few rooms available and can be booked on the spot as well.
There's only one home stay available in Namti, a village about 4 kms ahead of Tilam towards Kibithu axis.
GUIDE FOR THE TREK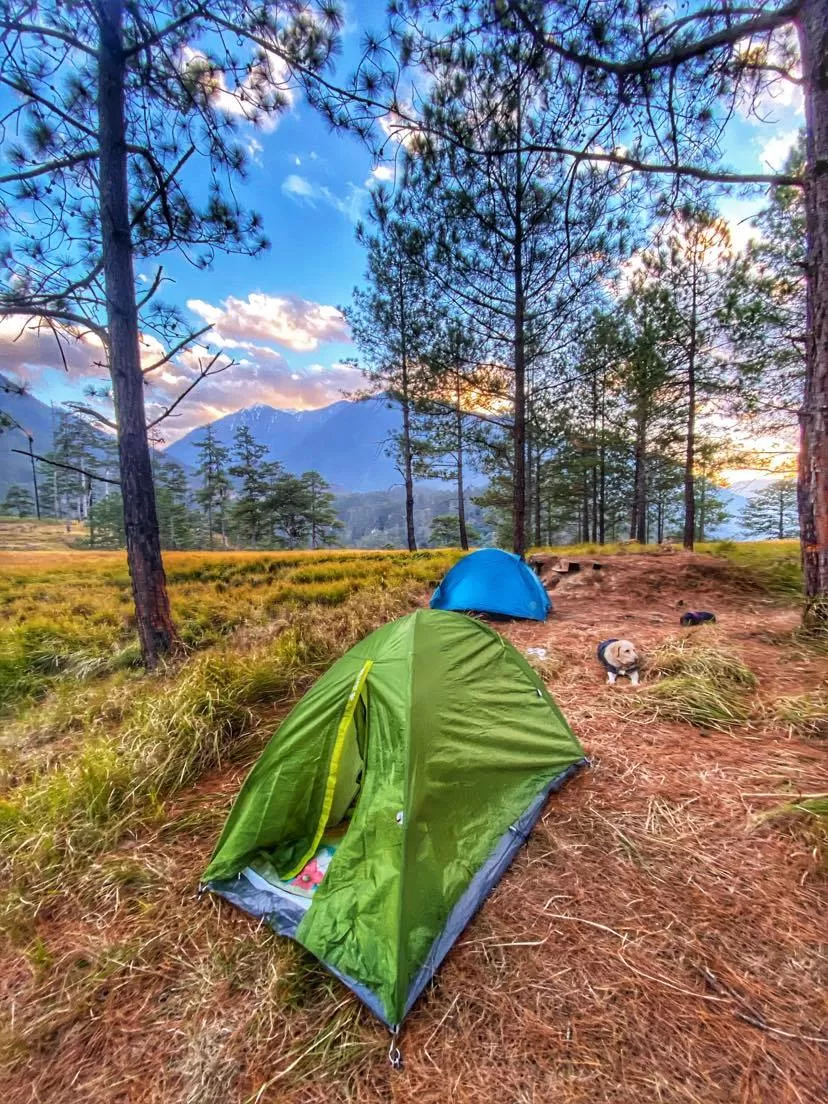 The local tourist administration has made it compulsory to take a guide along. One can easily find a guide from Dong Village. They charge Rs 3000 for up to 6 people and the charges increase according to the number of people. There are two ways one can do this hike.
1) Hike up early late at night around 2:30 am so that you're on top by 4:30 to catch the sunrise and then head back thereafter.
2) Hike up in the afternoon and camp there at night and watch the sunrise the following day. We opted for this idea but please note that we carried our personal hiking and camping gear. I doubt tents and trekking gear would be available as Walong is remote and not as developed as Tawang or other towns in Arunachal.
Please ensure you do not litter the place or leave any plastic or bottles or cans behind. There are very few places in our country that are left unadulterated. Lets try keeping their sanctity intact.
IDEAL TIME TO VISIT
North east is known to have eight months of nasty monsoons and therefore remains disconnected untill November. November to April is a good time to visit Walong.
PHONE CONNECTIVITY