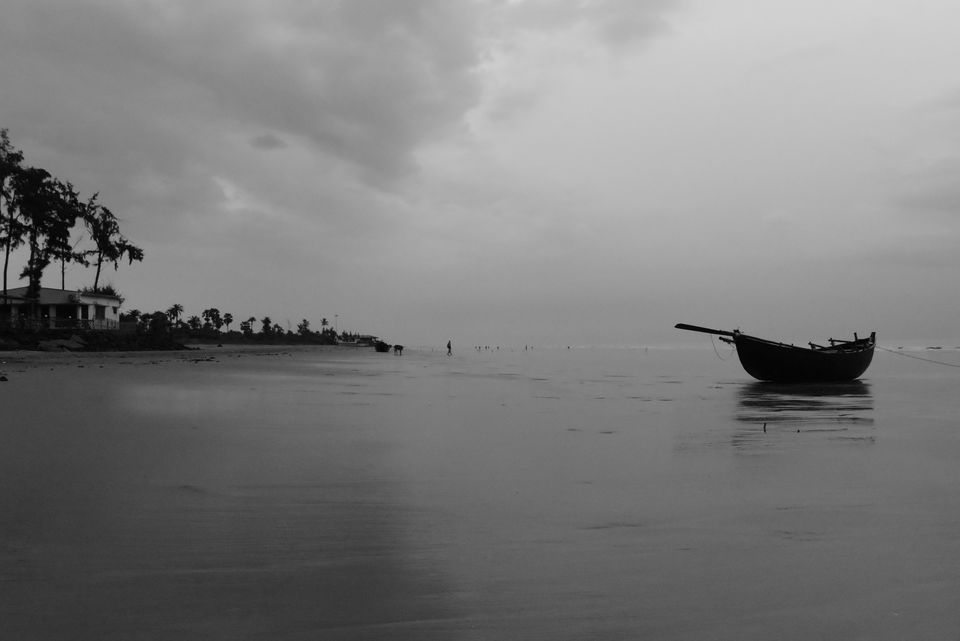 "Live life with no excuses, travel with no regrets"
- Oscar Wilde
The idea of this road trip suddenly came into my mind. The festival of Holi gave us the chance to make most of the extended weekend. I had to manage only one day from office, so we started planning for the trip. Initially our plan was to visit Purulia just to experience the beauty of this place during this time of the year as "Palash" the flower increases this place's beauty thousand of times. Once the plan was set, now it was time to search for accommodation but unfortunately we couldn't find a single accommodation in Purulia, as all the hotels and resort we booked in advance. So now we changed our plan and decided to visit Mandarmani.
Mandarmani is a fast developing seaside resort village at the northern end of the Bay of Bengal. It is said to be one of the large seaside resort village of West Bengal. It is argued to be the longest drivable (drive in) beach in India but now driving on the beach has been stopped by the administration. Geomorphologically, this area has relatively low waves than nearer tourist beach of Digha.
Our plan was to start from Kolkata on 7th March and stay at Mandarmani till 10th and return back to Kolkata by evening. As decided I started to look our for accomodations and managed to book our room at Hotel Sonar Bangla through Agoda.
ITINERARY
07.03.2020 – Kolkata to Mandarmani.
07.03.2020 – 09.03.2020 – Stay at Hotel Sonar Bangla, Mandarmani.
10.03.2020 – Mandarmani to Kolkata.
I was verymuch exited for this trip for mainly two reasons. Firstly this was my daughter's first visit to a seashore and secondly for photography. Recently I've started enjoying photography more than ever and I thought it would be a great opportunity to shoot the sun and the sea from many perspective.
Kolkata to Mandarmani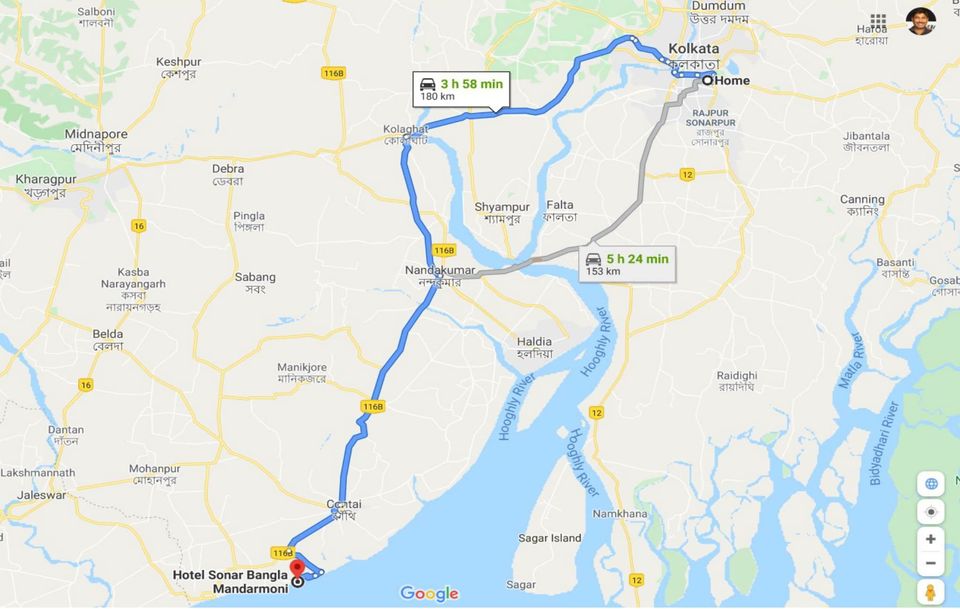 We left our home at 7.30 in the morning on 7th March. The weather was pleasant outside. After negotiationg usual traffic at santragachi, joined NH-6. As we approached Dhulagori toll plaza, google map indicated haevy congestion. Ever since Fastag has been made mandatory traffic congestion has become a regular affair at this place. I had faced similar situation during my Agra trip also. It took me more than 45 minutes to clear the Jal Dhulagori toll plaza. Here I noticed one thing that some people are standing before the toll plaza with hand held billing machines and they are issuing challans to vehicles travelling withour Fastag on payment of cash. These vehicles need to show the challan at the toll counter and they are allowed to go. This process has reduced the waiting time to some extent but still the situation is not like what was expected to be. Our first stop was at Express Food Plaza at Kolaghat for breakfast.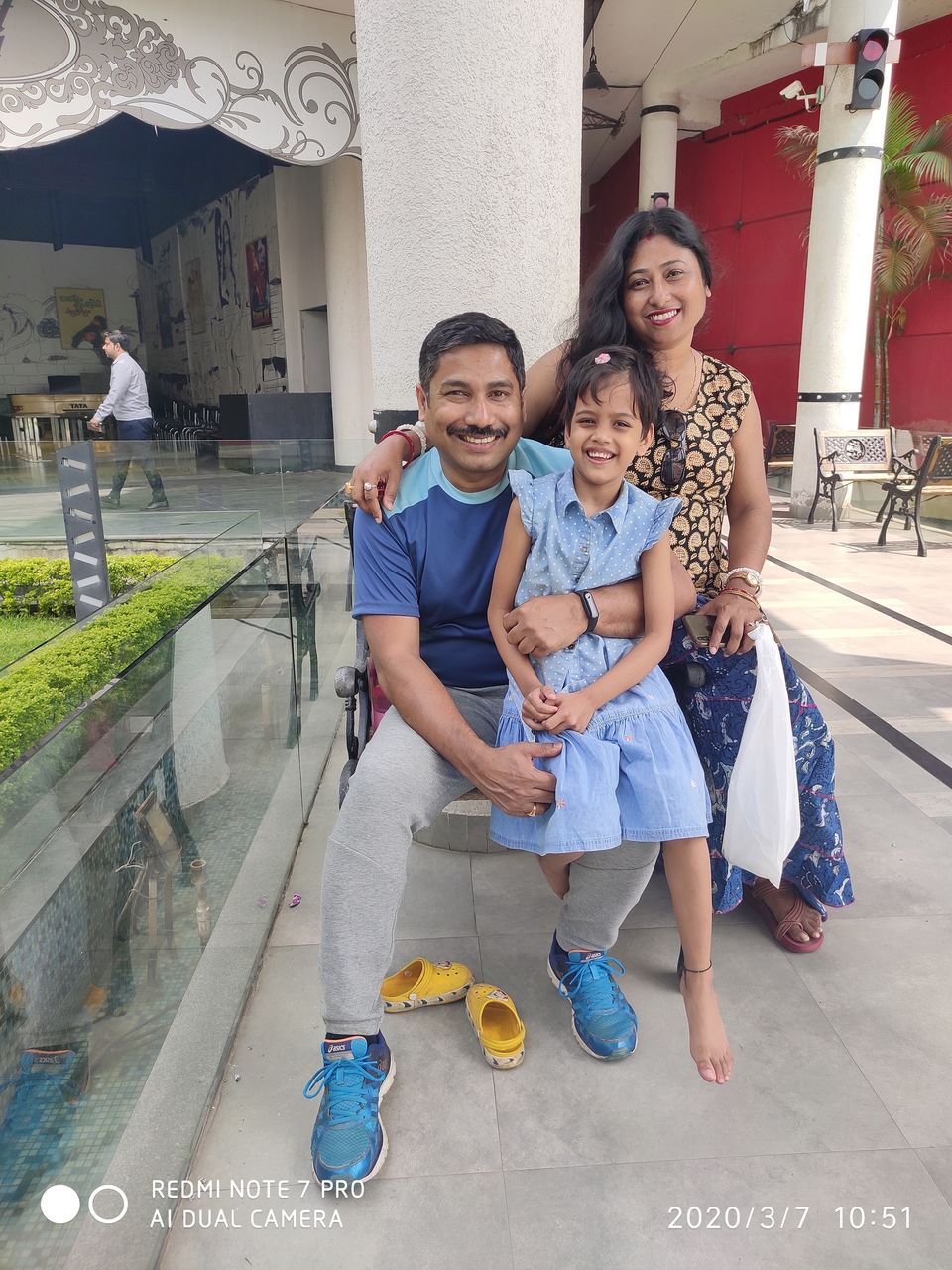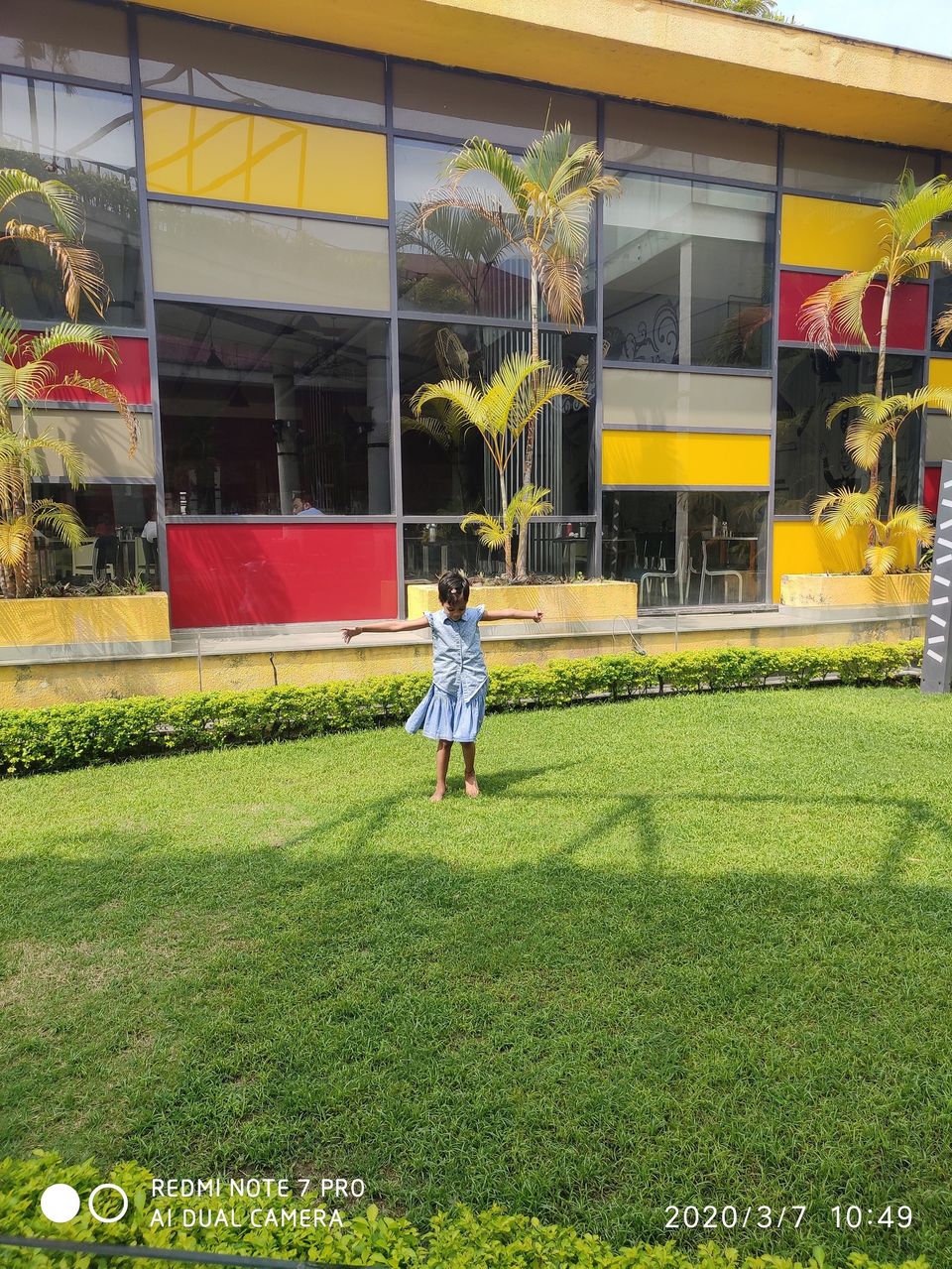 Heard a lot about this place. Ambiance was very good but the food was not as tasty as I had expected. After breakfast it was time to drive nonstop to mandarmani. From Kolaghat took the NH 116 and drove till Nandakumar. In between crossed one more toll plaza at Sonapetya and here the situation was totally different. I just zoomed past the toll plaza with my Fastag. From Nandakumar the road bifurcates, Nh116 goes till Haldia and people travelling towards Digha/Mandarmani/Tajpur need to take NH116B.
The road condition is good barring few stretches where road widening work is going on.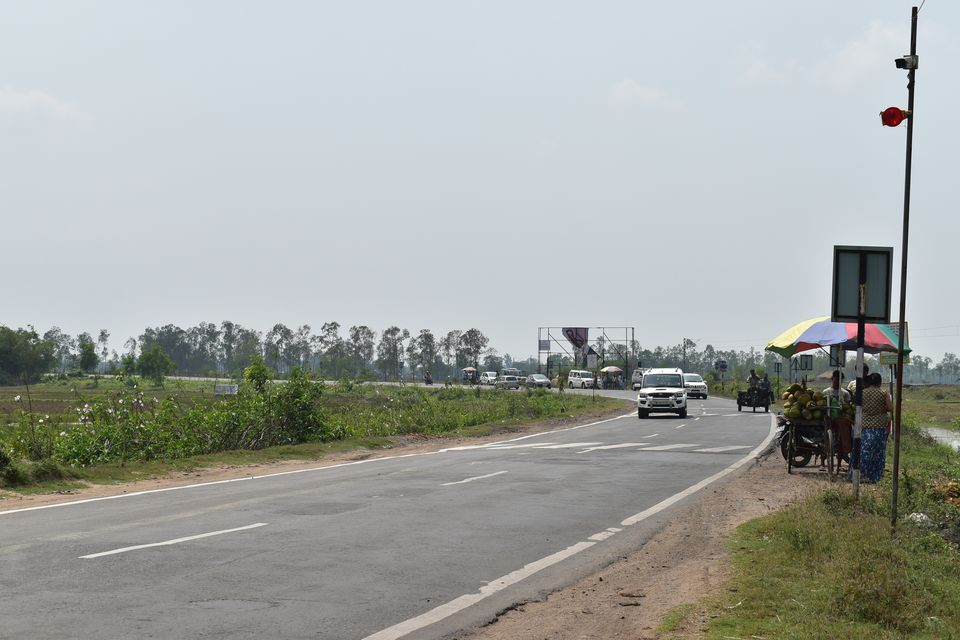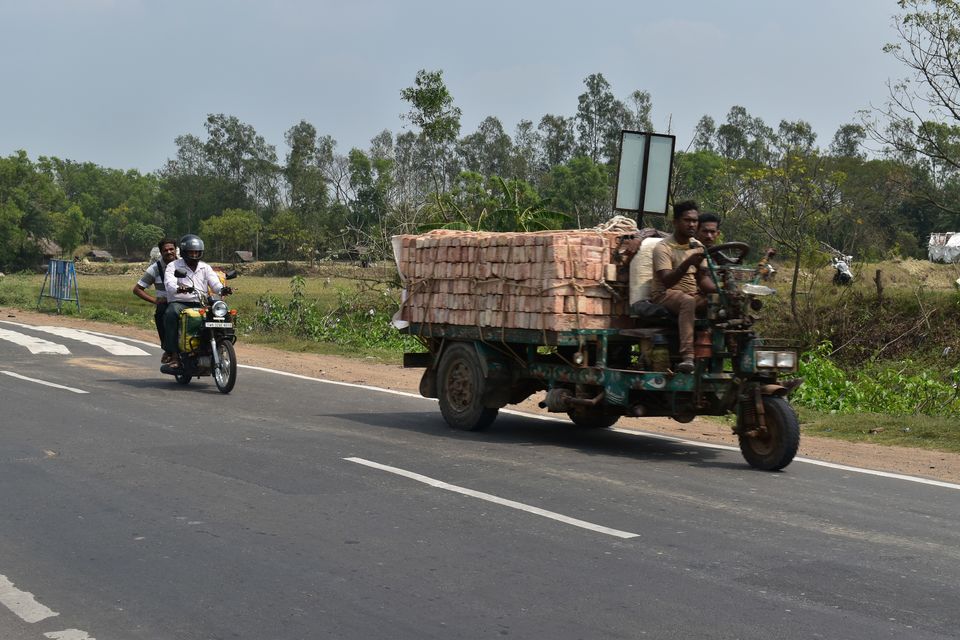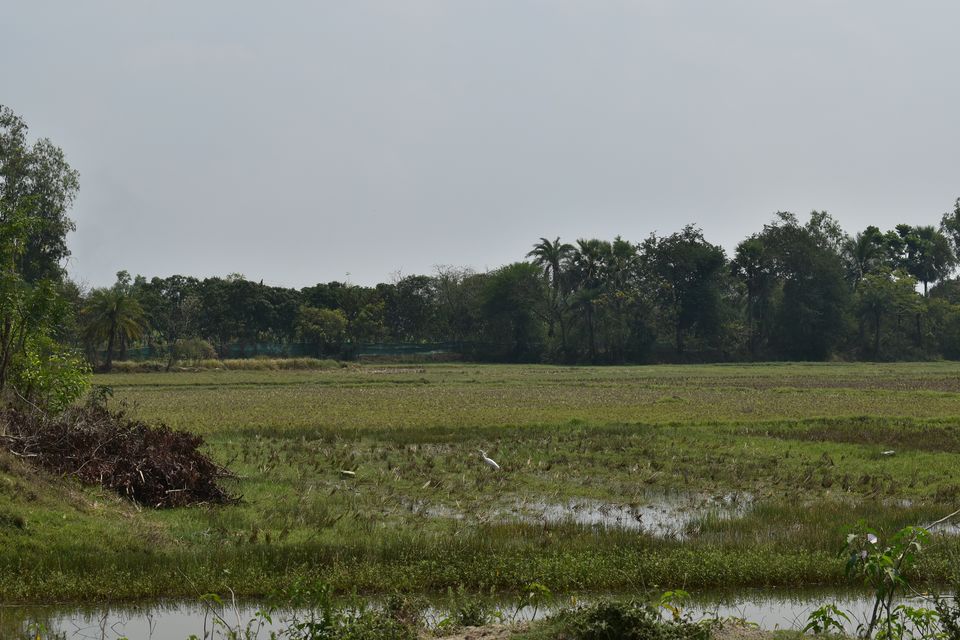 From Chawlkhola we took left turn on the mandarmani road, otherwise straight road leads towards Tajpur and Digha. Soon we reached our hotel and completed all the formalities. The day being prior to Holi, the hotel was full of tourists. On arrival very tasty butter milk was served and I took one extra glass of it. It was already 1.30 PM and we were a bit tired so after checking into our room ordered for lunch.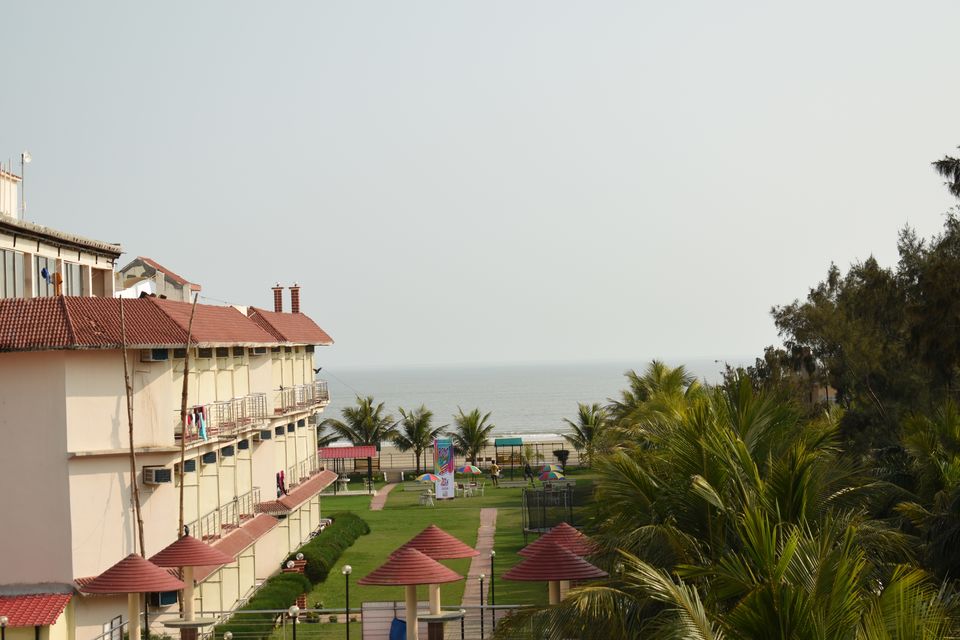 Lunch was finished off in no time as we all were feeling hungry. For the evening, our plan was to explore the beach and click some photos of the sun going down the horizon. Unfortunately we all slept and couldn't get up in time to catch the sunset. We went out to the beach and enjoyed the evening. It was altogether a different feeling, away from the chaotic city life. Everything seemed so calm and quiet. The advantage of Mandarmani beach is that mostly all the beach side resorts have direct access to the beach. One side of the resort is beach facing, so the visitors can walk straightway to the beach from their respective resorts.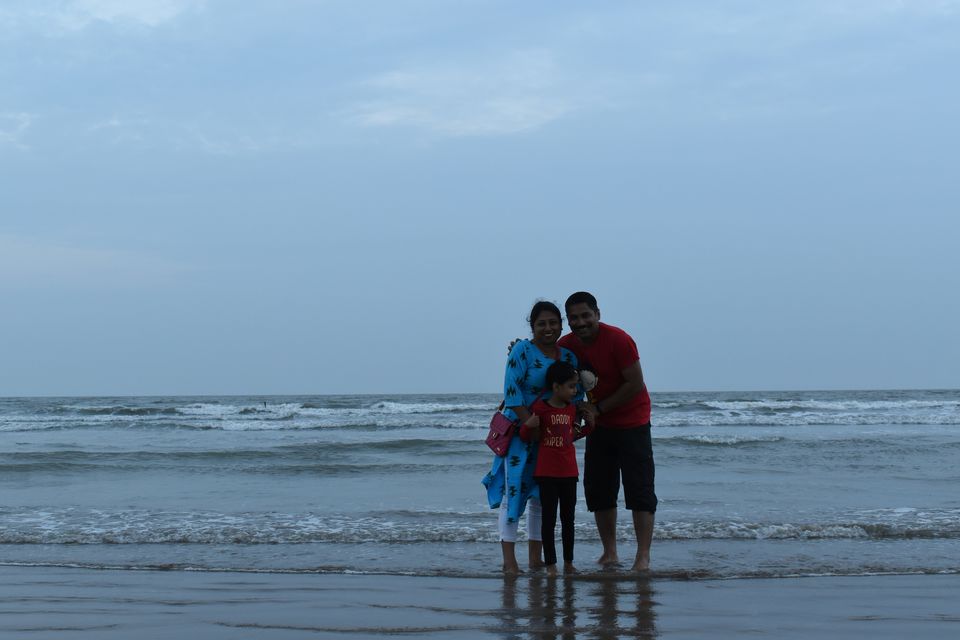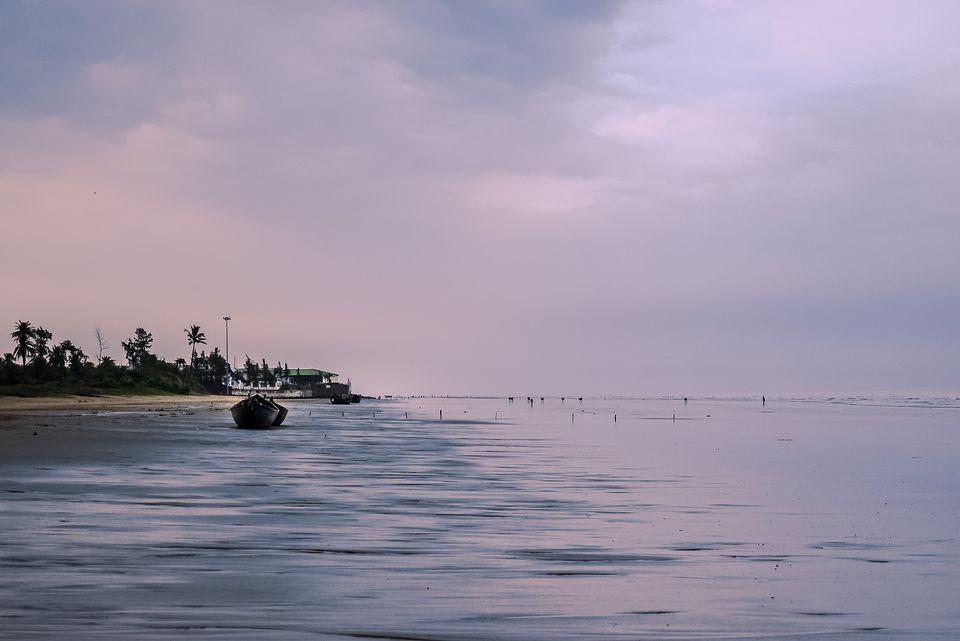 There is nothing beautiful than the way the waves refuse to stop kissing the shoreline, no matter how many times they are sent away.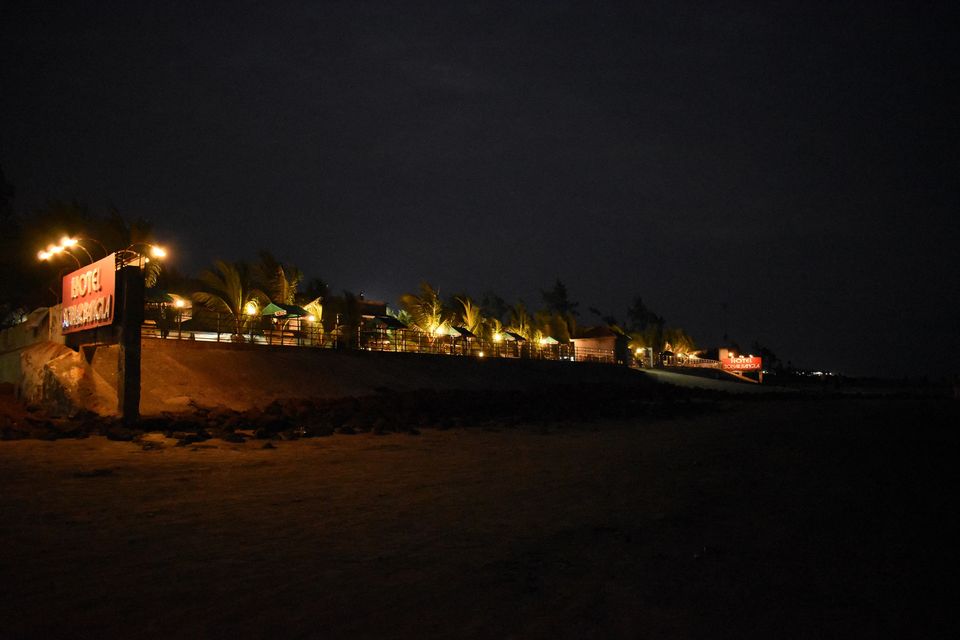 The evening was well spent by the sea. There are few shops by the seashore; they make some mouthwatering fries of Pomfret fish, Crabs. After some time we returned back to the resort and spent time with some chai & pakoda.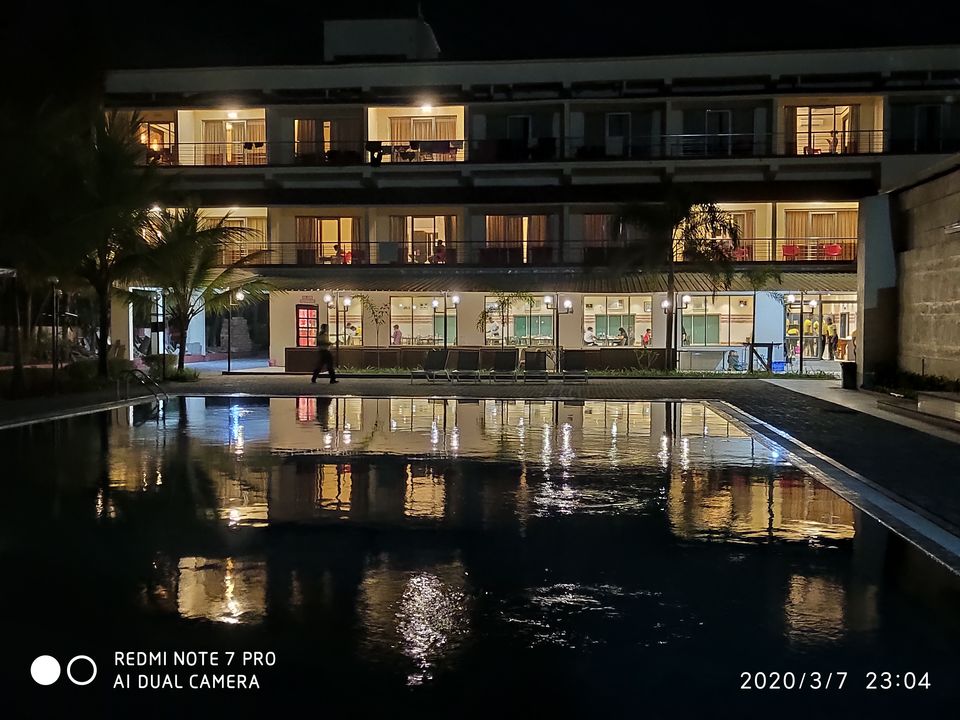 As our plan was to spend time by the sea so we did not plan anything else and just wanted to stay at the resort and experience the atmosphere by the sea. Next day my plan was to get up early and catch the sunrise.
08.03.2020
He sunrise timing was 05.54 in the morning and accordingly I got up around 4.45 and got ready to leave for the beach but it started to rain heaving and continued for the next one hour. Just after the rain stopped I jumped out of my room with my camera. The excitement level was high.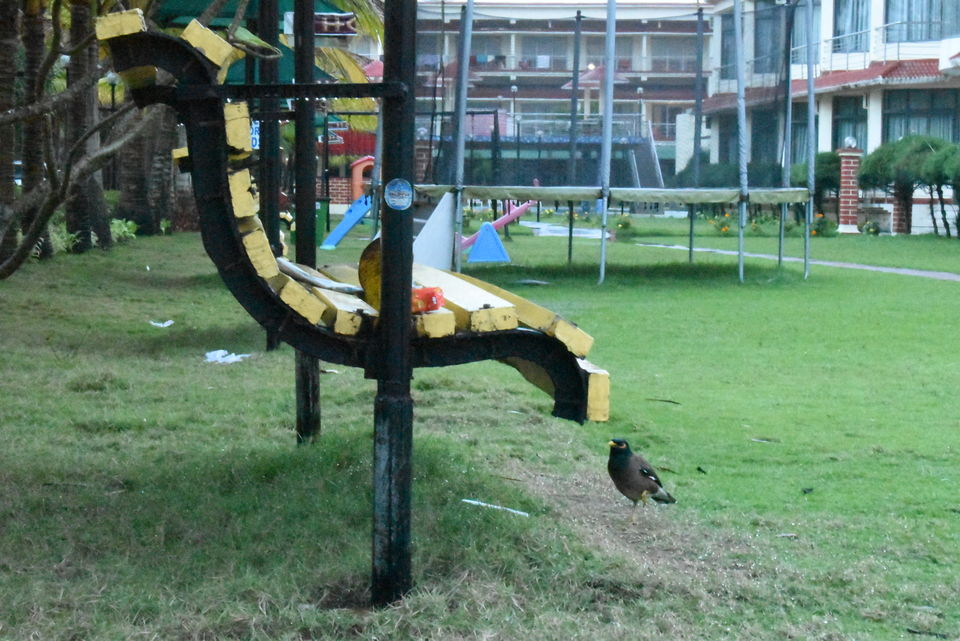 This is literally a virgin beach. The loneliness of the beach makes one meet nature in various forms. On the beach one will undoubtedly get the chance to feel the divinity and tranquility. If that's not enough to please your senses, then roll on the sand and listen to the waves crashing upon the shore, which will surely refresh your body and mind.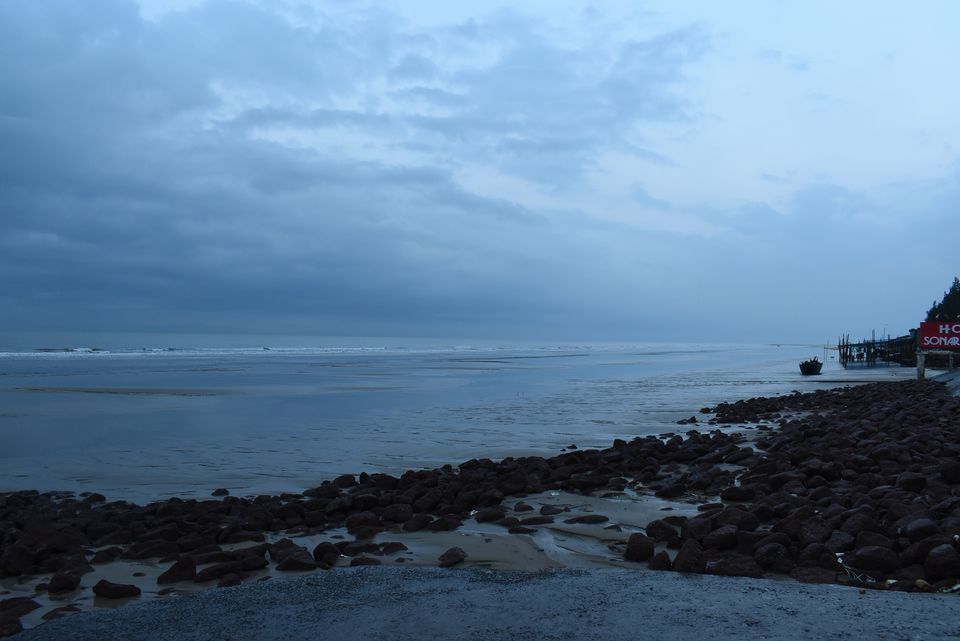 On the beach one will undoubtedly get the chance to feel the divinity and tranquility.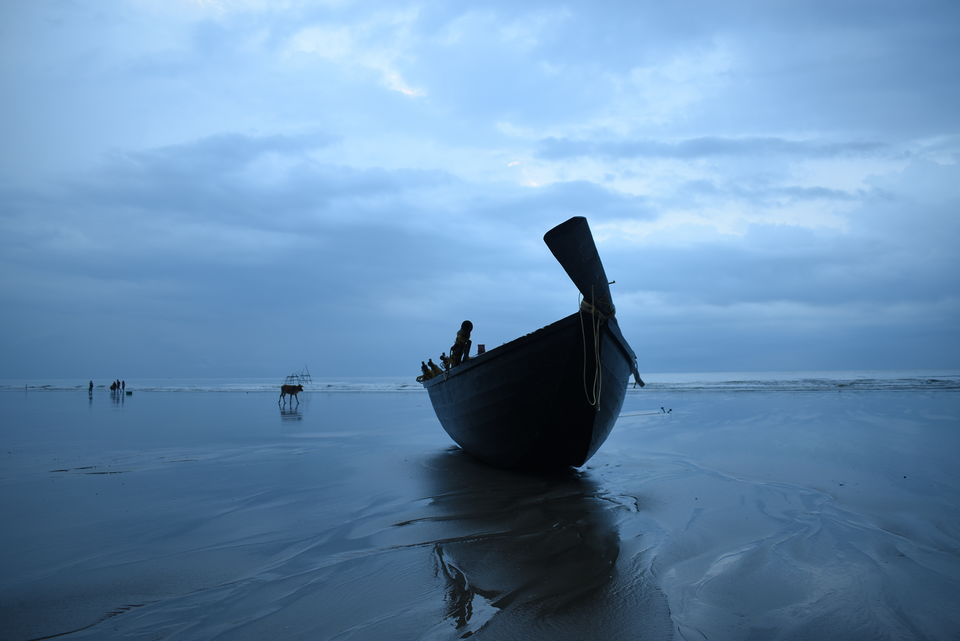 If that's not enough to please your senses, then roll on the sand and listen to the waves crashing upon the shore, which will surely refresh your body and mind.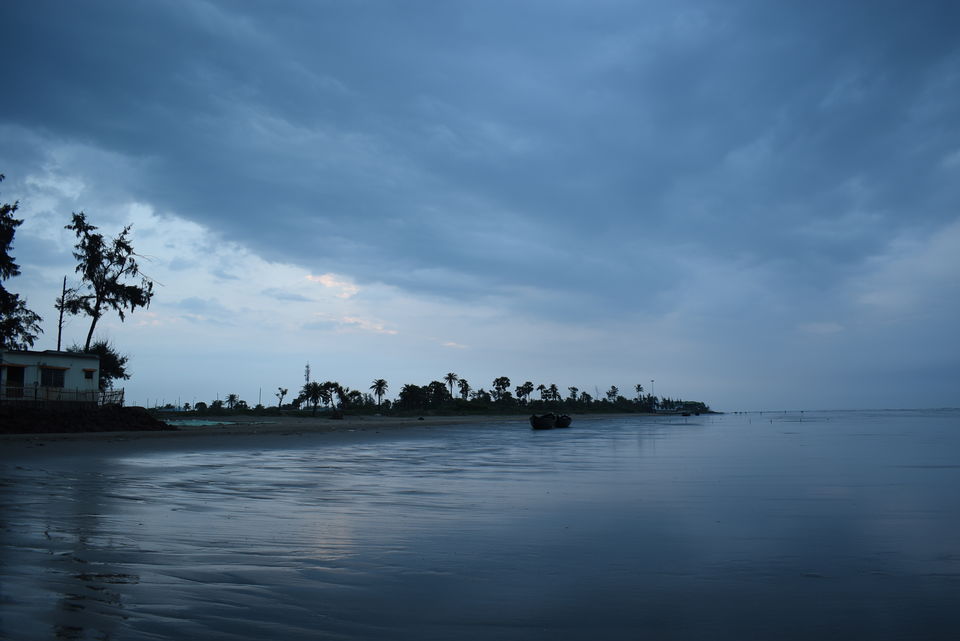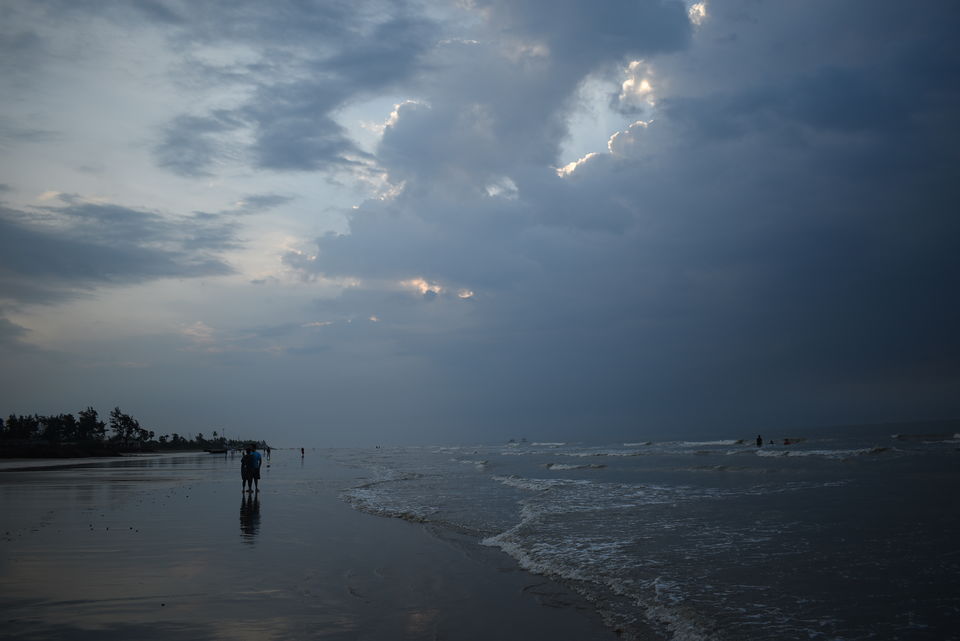 I had expected the sky to clear after the rain but it stayed cloudy for some more time and I could not catch the sunrise. The sun though came out later on but by that time it was too late. Nevertheless I have two more days to catch the sunrise.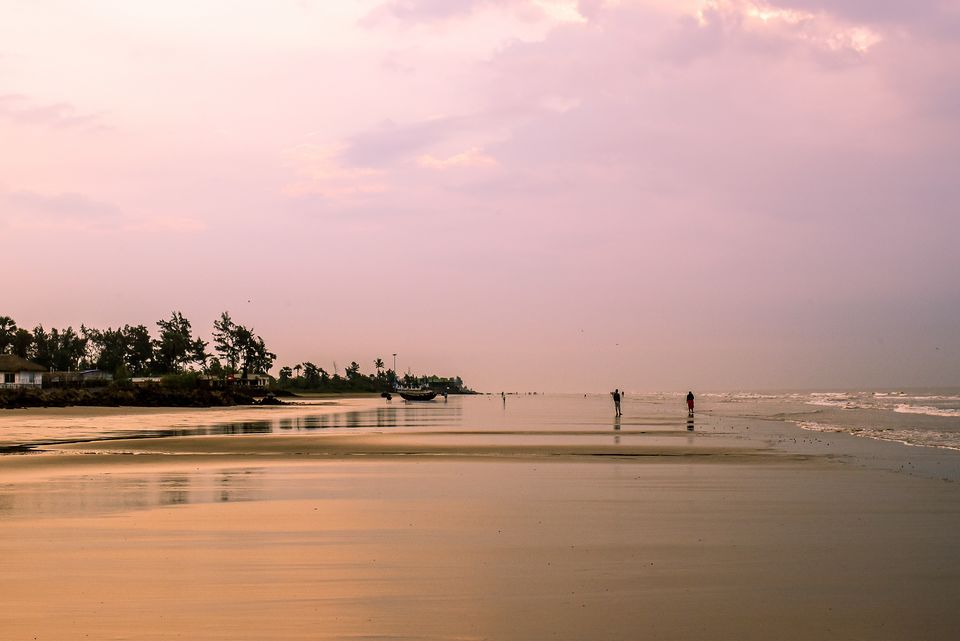 This is seashore. Neither land nor sea, a place that doesn't exist.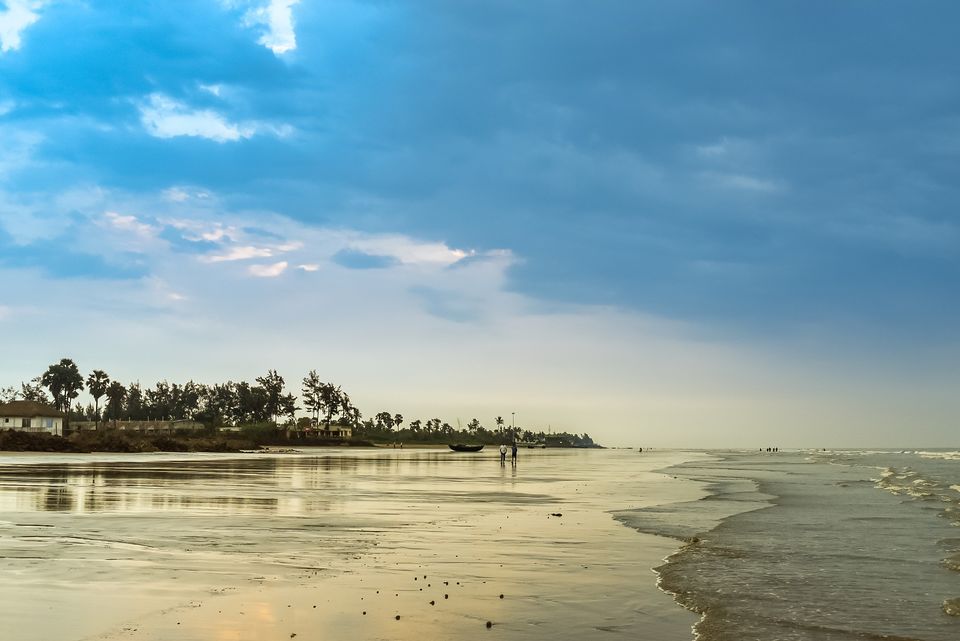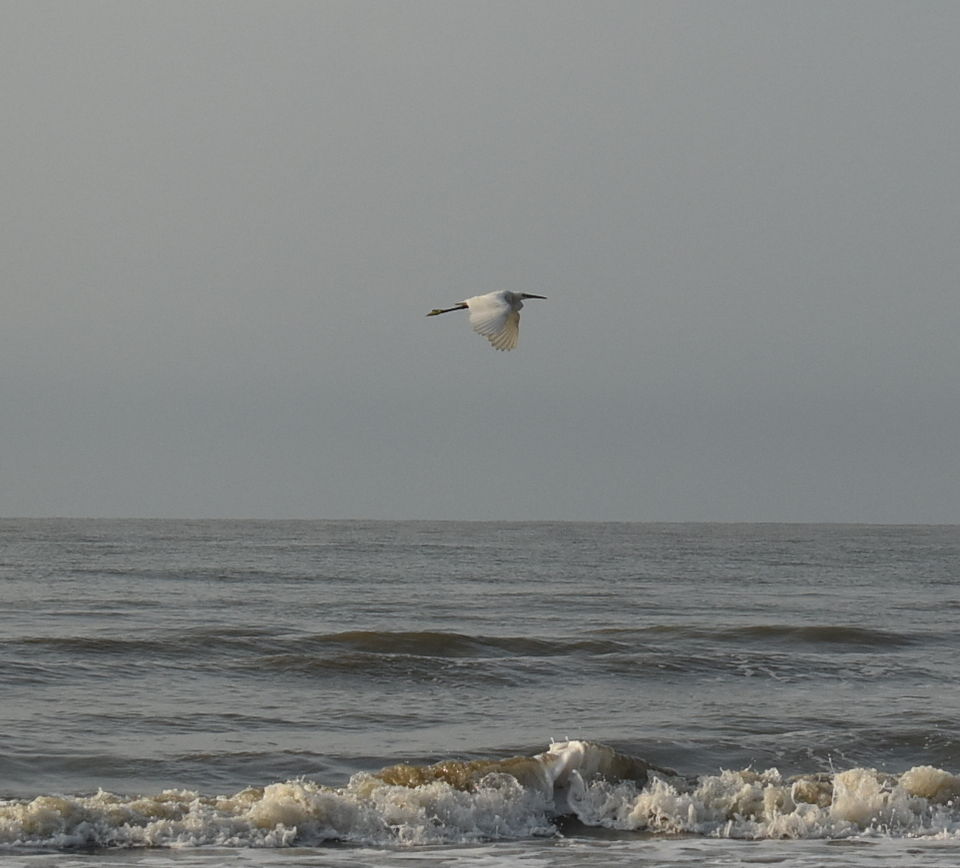 Until you spread your wings, you will never know how far you can fly.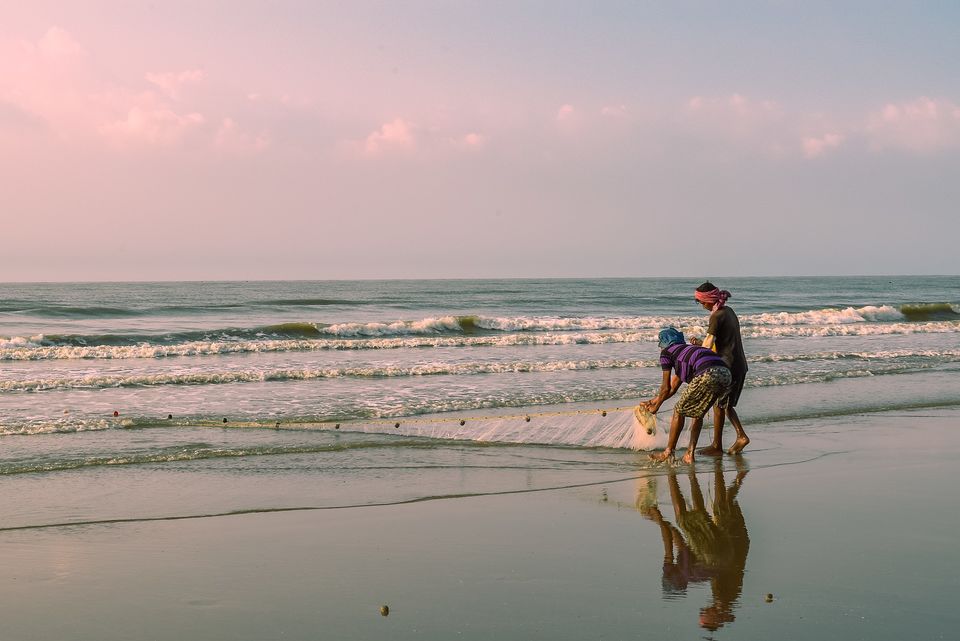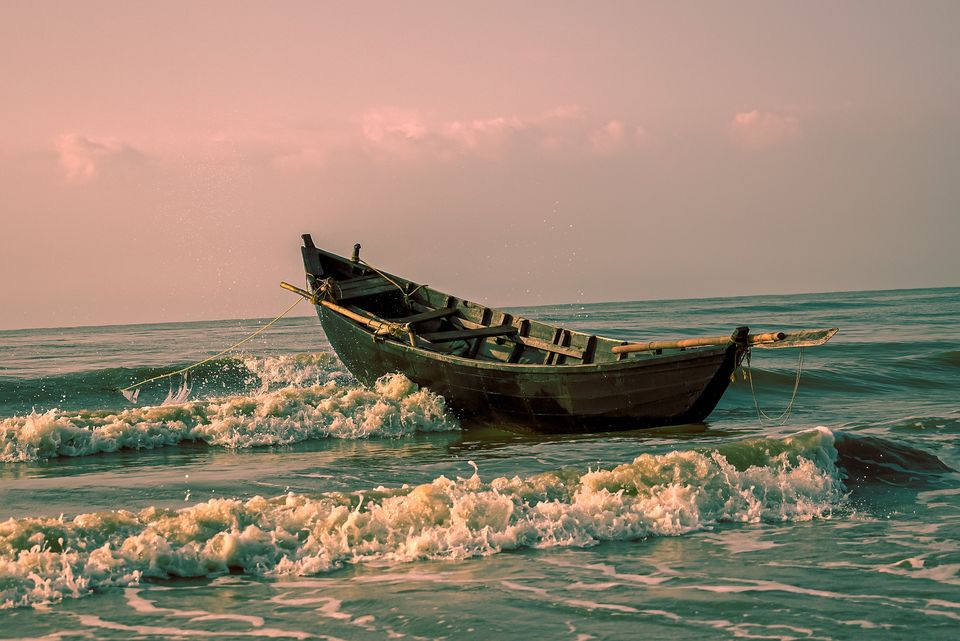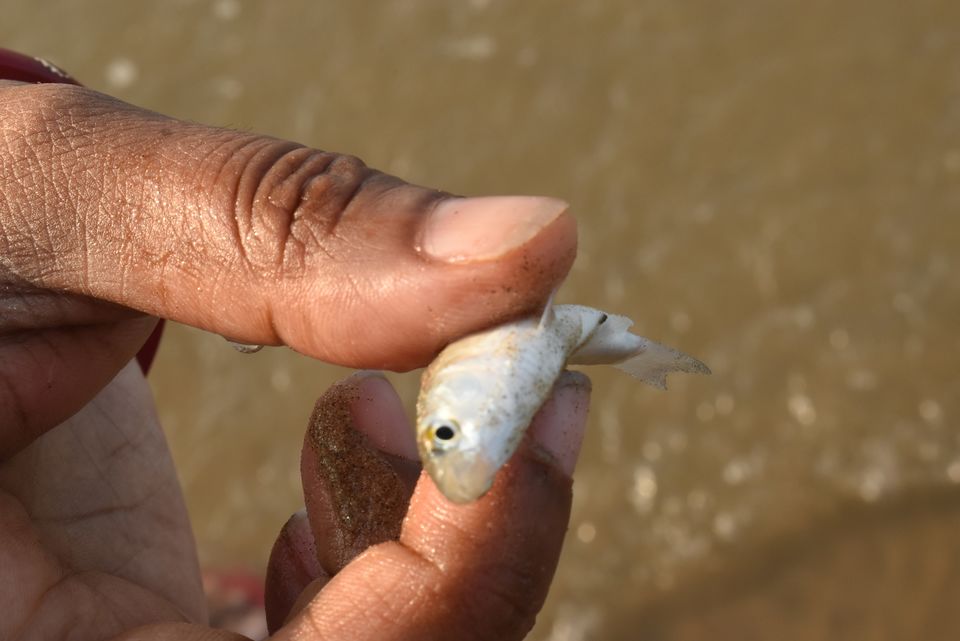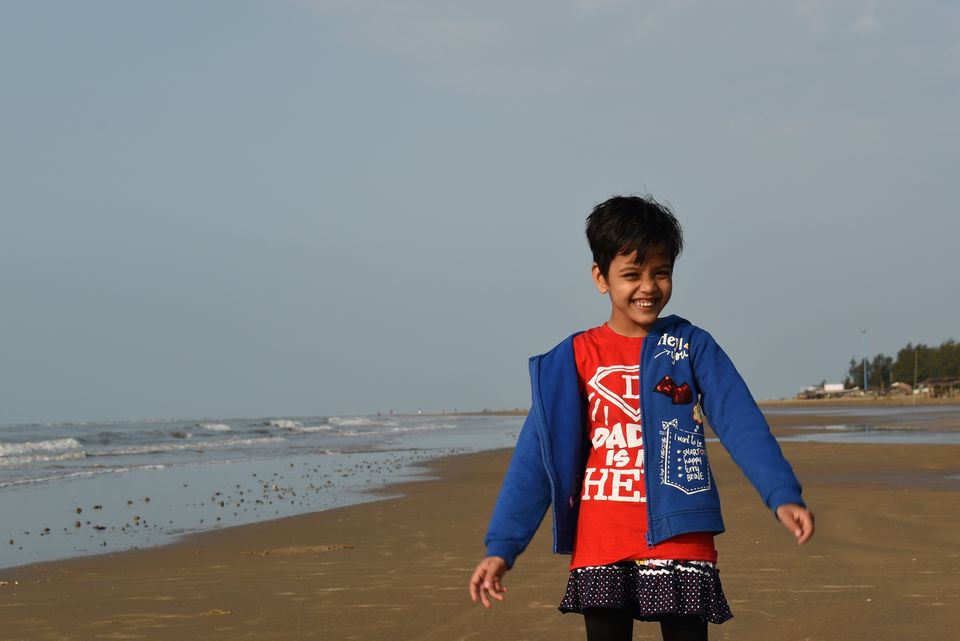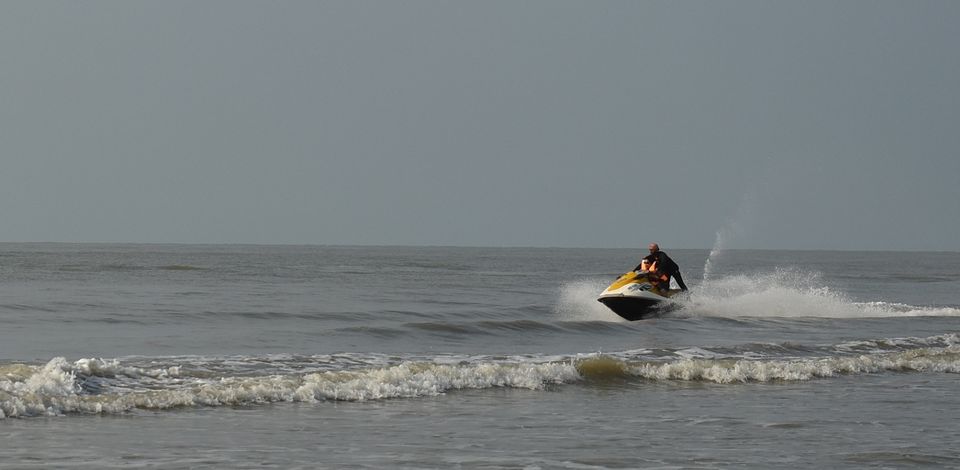 We went back to the resort and had breakfast. After spending some time at the swimming pool again went to the beach and spent some time.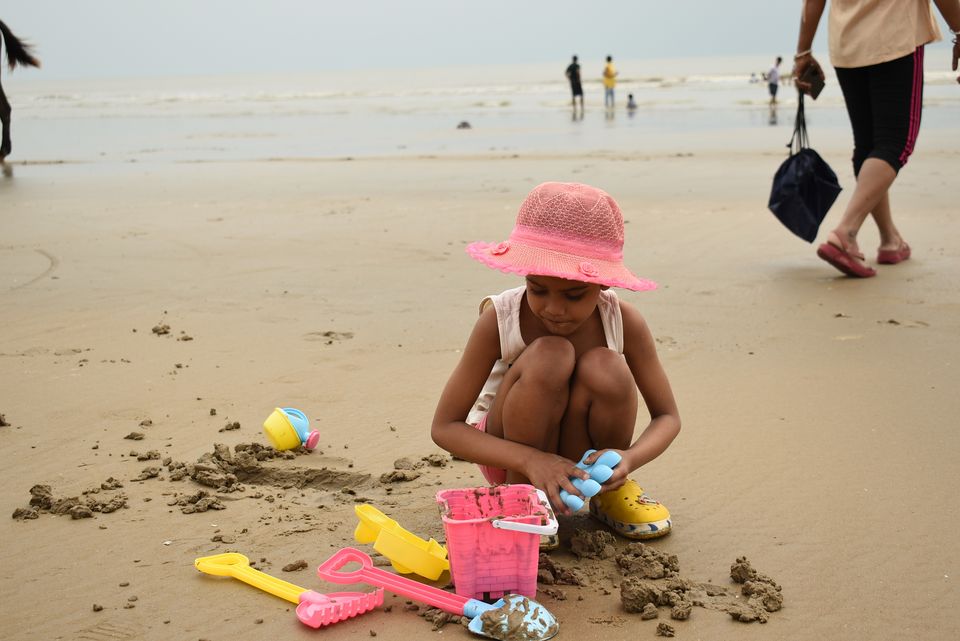 I asked the resort security guard about a suitable spot to witness the sunset and came to know that sunset can be best viewed from the Mandarmani Mohana. The Delta, which is also referred to as 'Mohana', is situated at the end of the beach. It also features some of the fishing settlements. This delta is positioned at the outskirts from the centre of the main coastal town. I decided to hire an auto and visit this place well before sunset. The auto reported well in advance and we started off for the Delta around 4.45 P.M. before leaving I had already checked the time of sunset. This place is dotted by dense Jhau trees along with the fishing village. Here, fishermen wade in knee deep water and lay their nets to catch fish and crabs. Red crabs are a chief attraction at the stretch of the beach area. Now it's time to witness the sunset.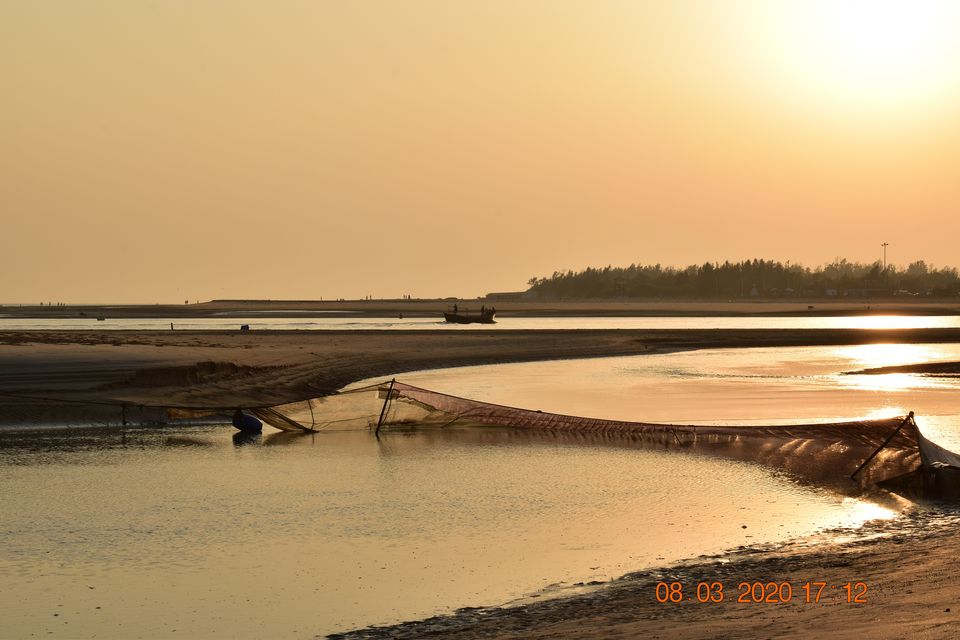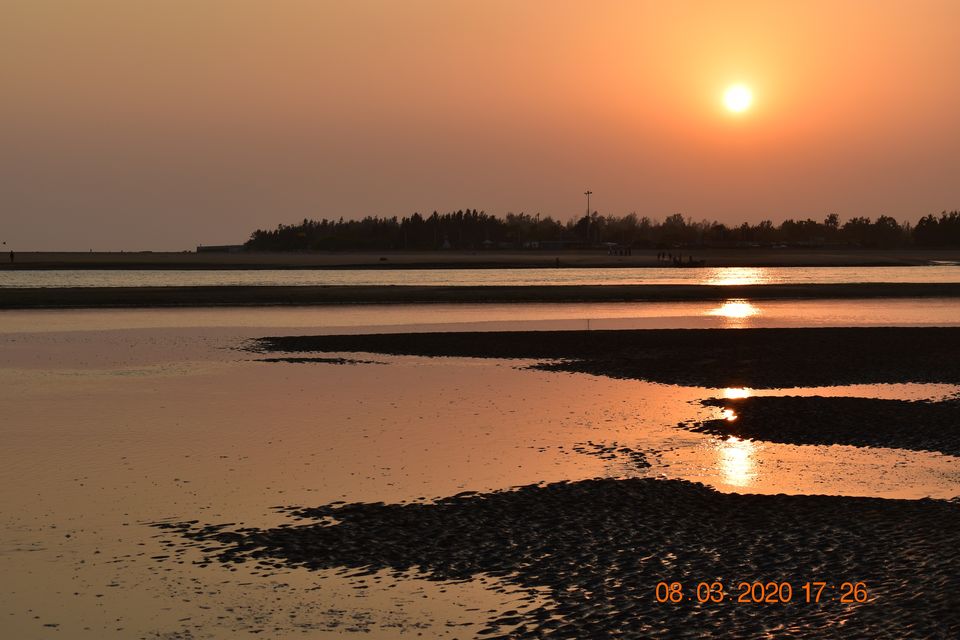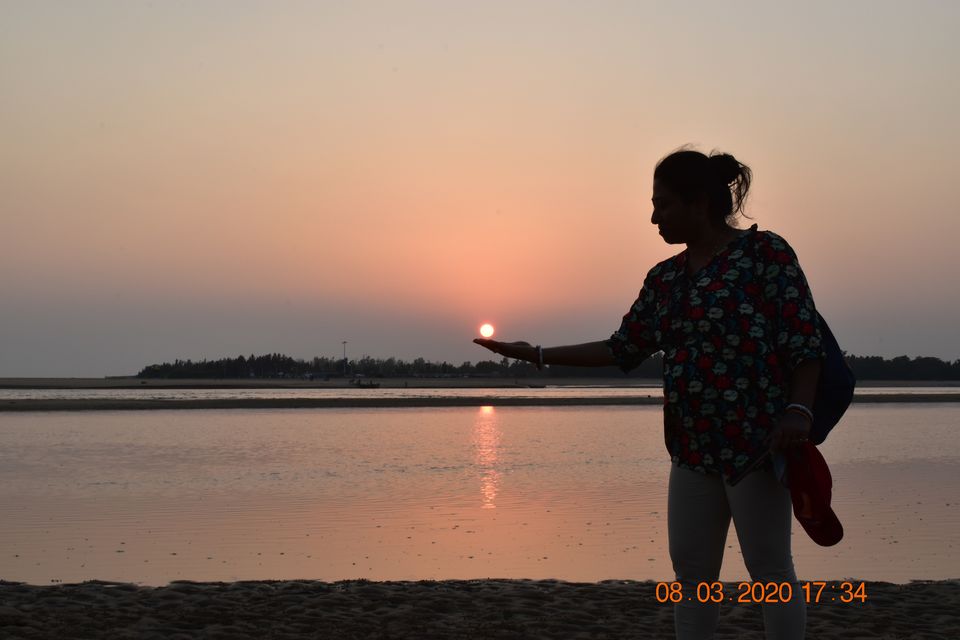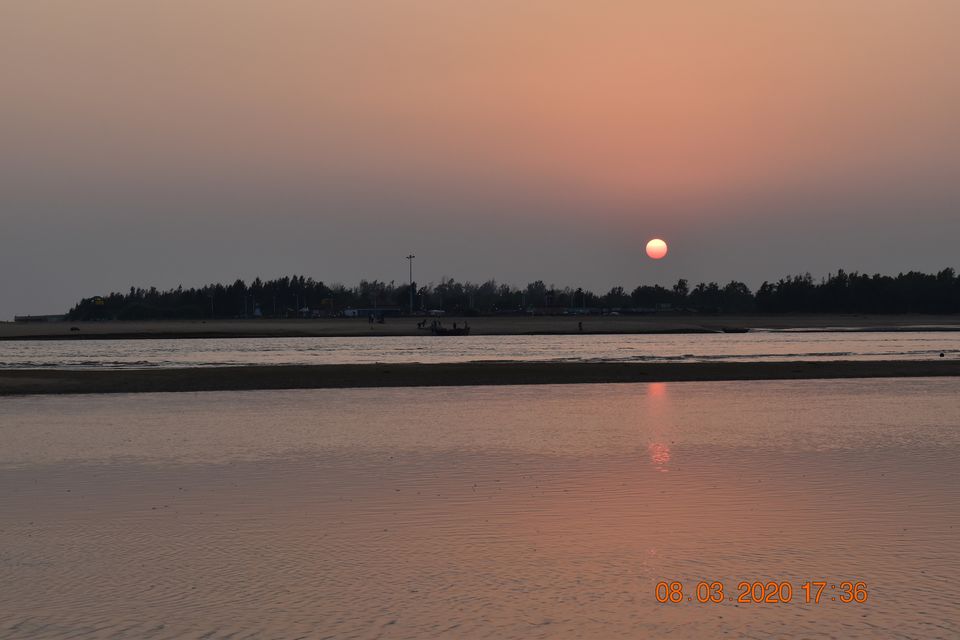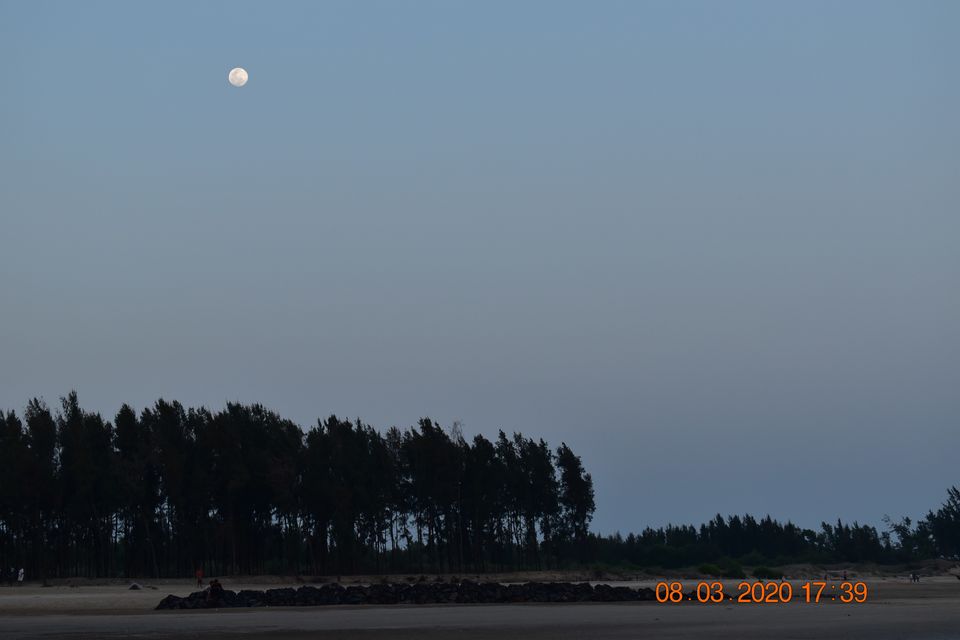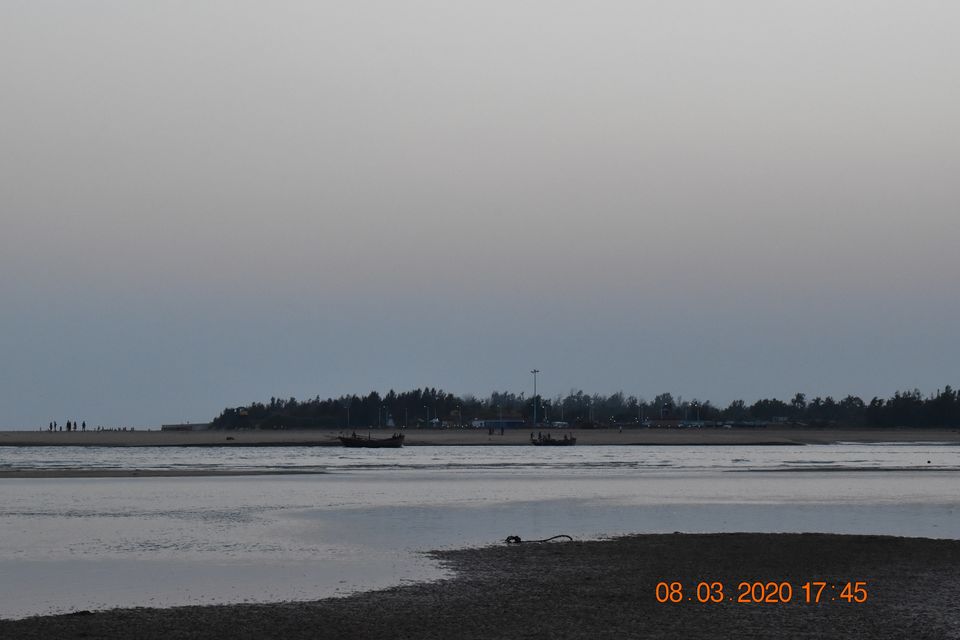 Although this place is famous for Red Crabs but unfortunately we couldn't spot them. May be I need to come again to catch them with my lenses. After spending some time at the delta, we went back to our hotel and I was feeling satisfied for being able to get some snap of sunset. After coming back to the hotel we again went to the beach and spent some time there and then came back to the hotel. The hotel was bustling with tourists as people kept checking in till late into the night.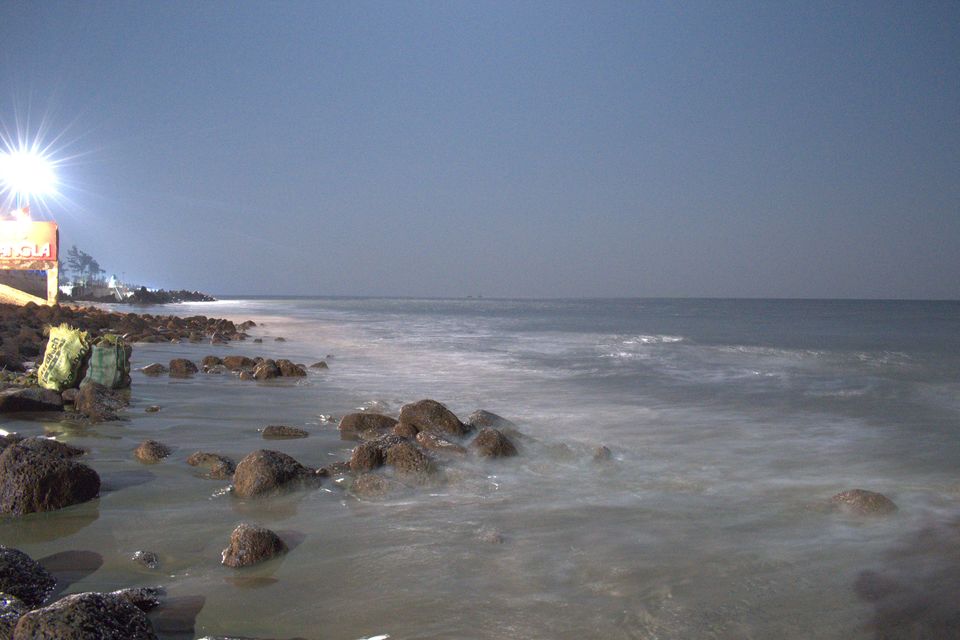 After finishing dinner again spent some time by the sea before retiring to bed. Till now I didn't get to take photos of sunrise. So again next day's plan was fixed and alarm was set at 4.45 A.M.
Next day I got up according to schedule and got ready by 5.30 and left for the beach. Today the sky seemed clear and I was feeling happy that I can see the sun rise.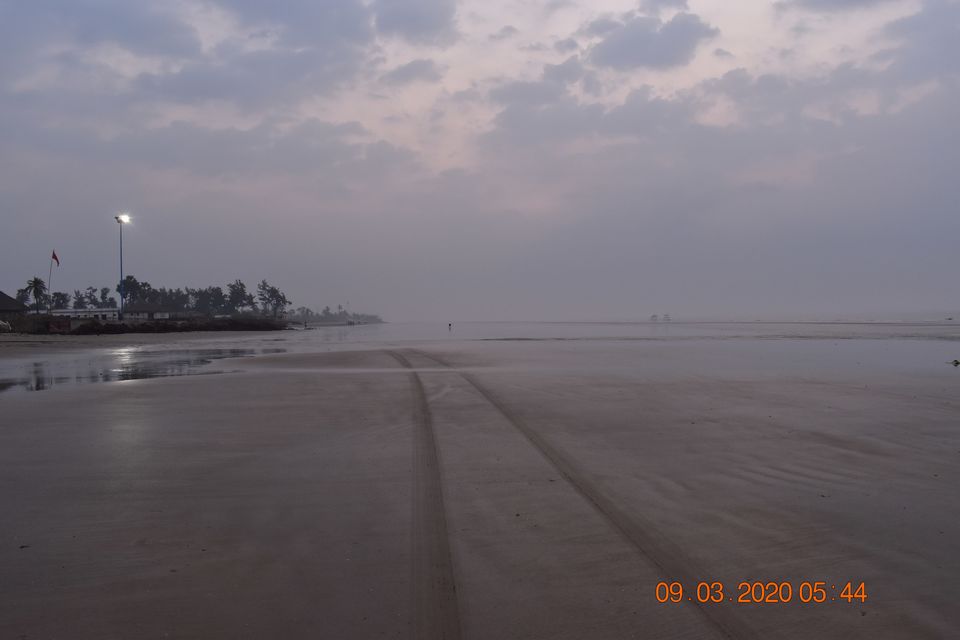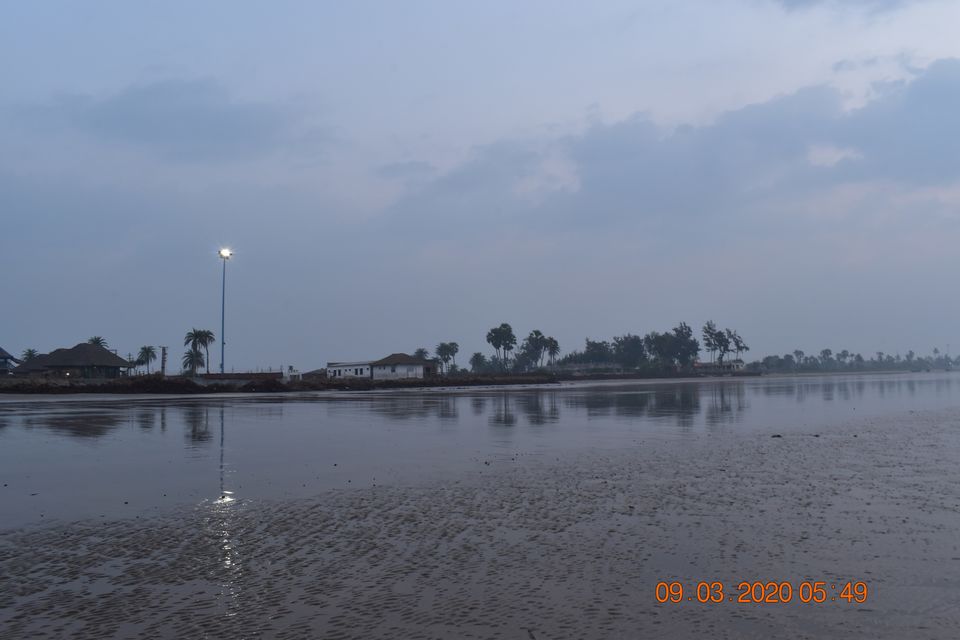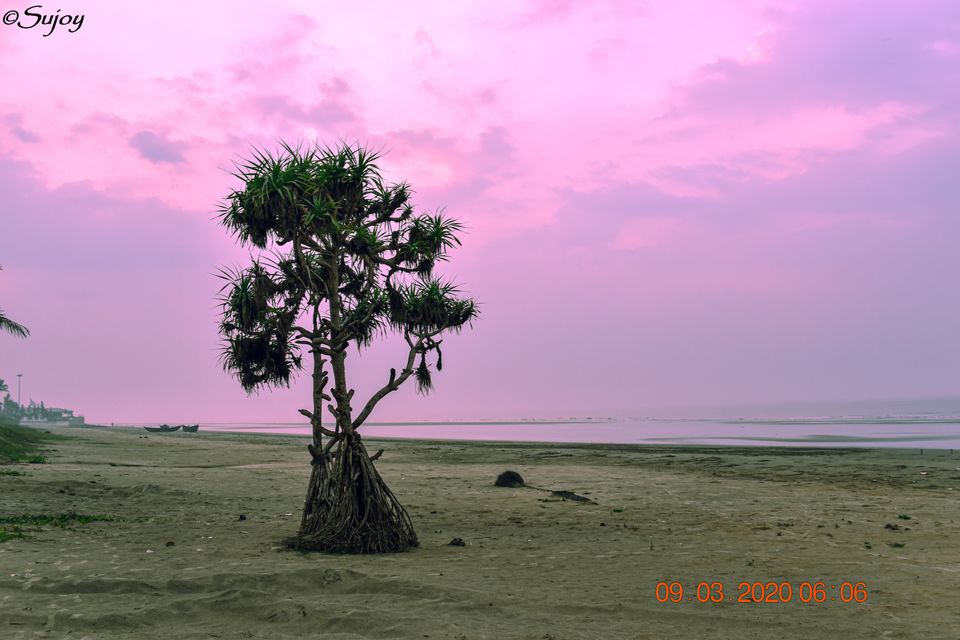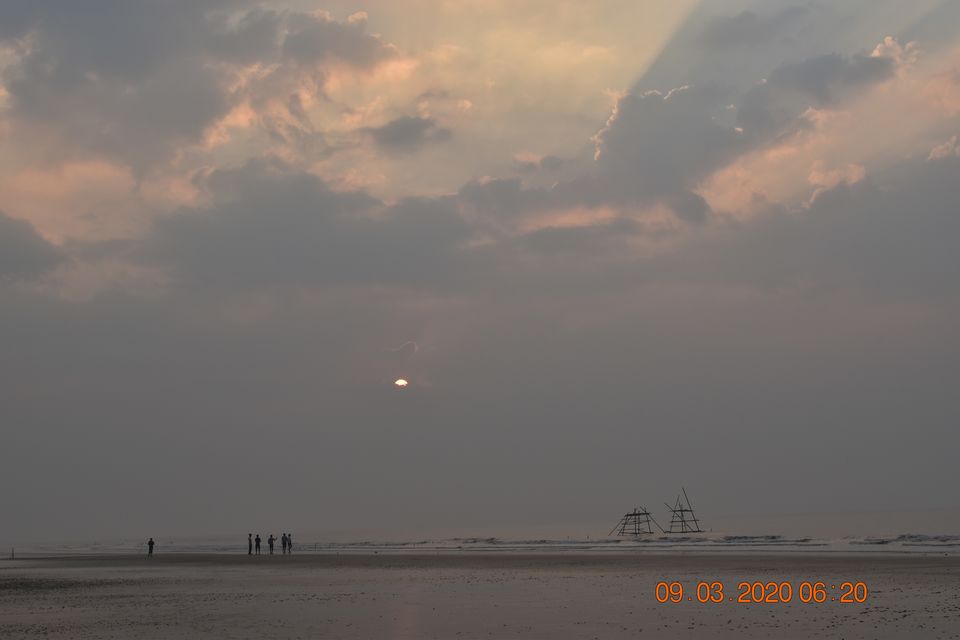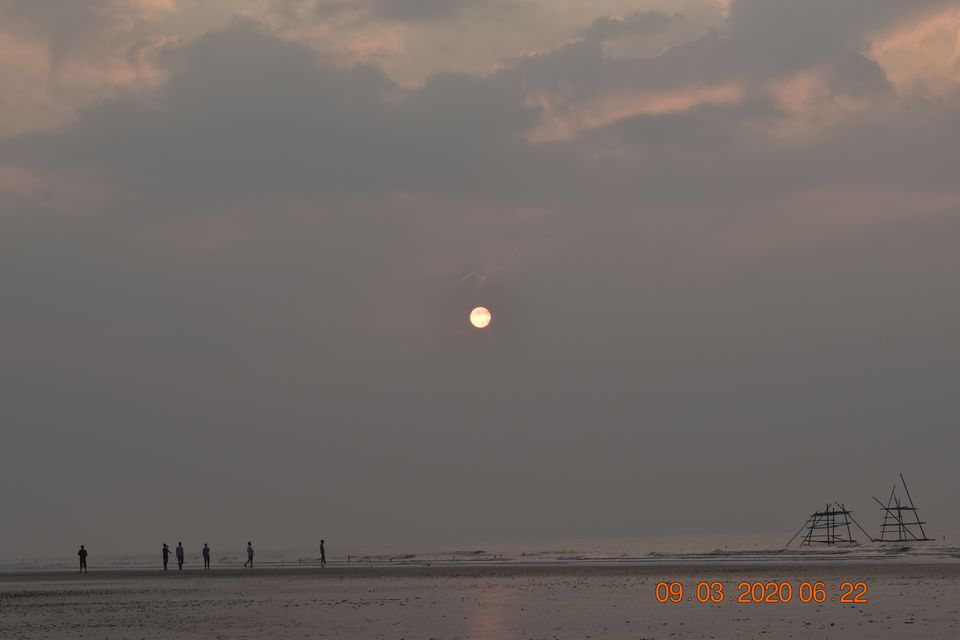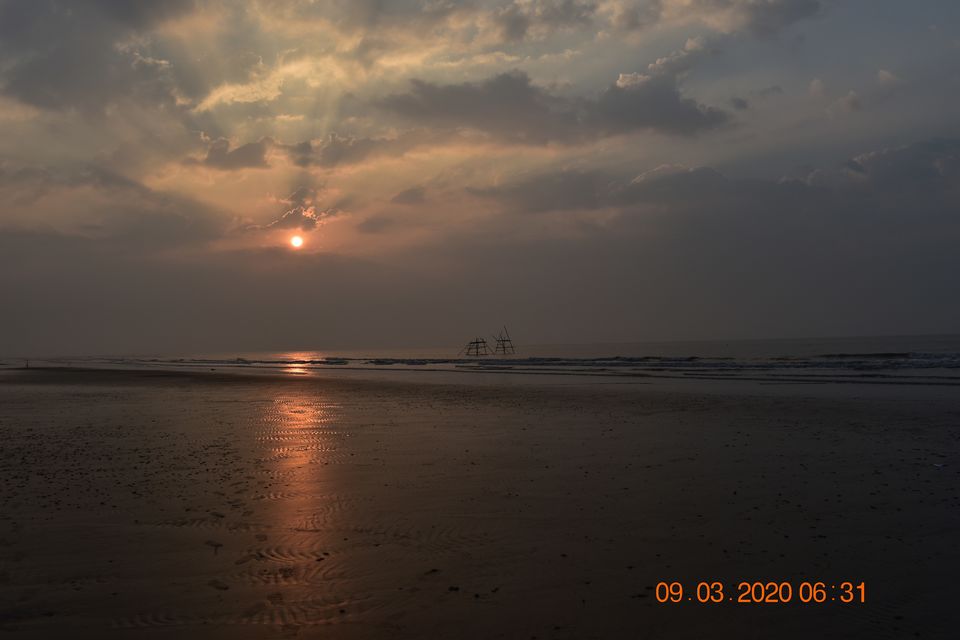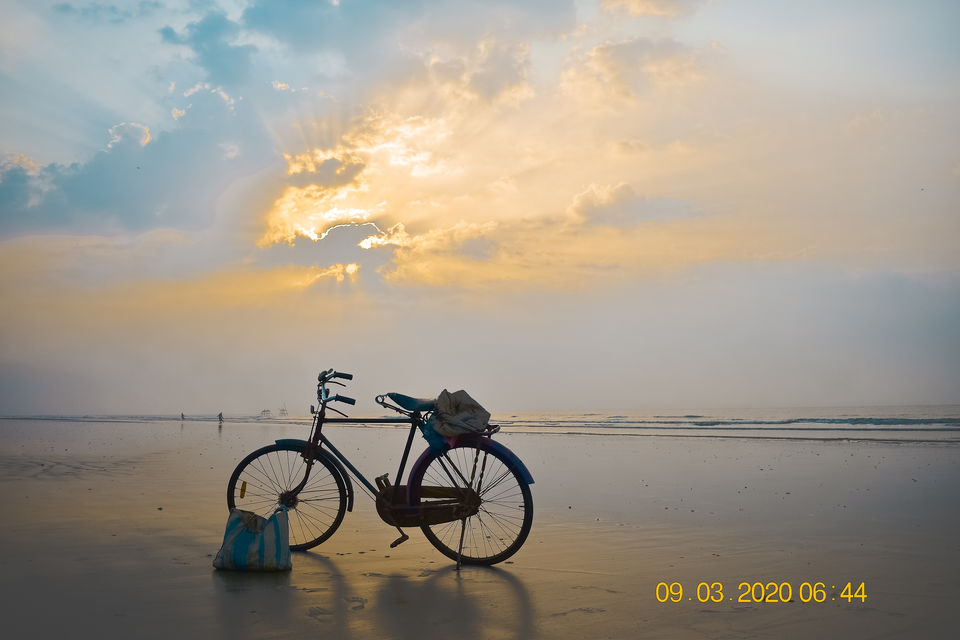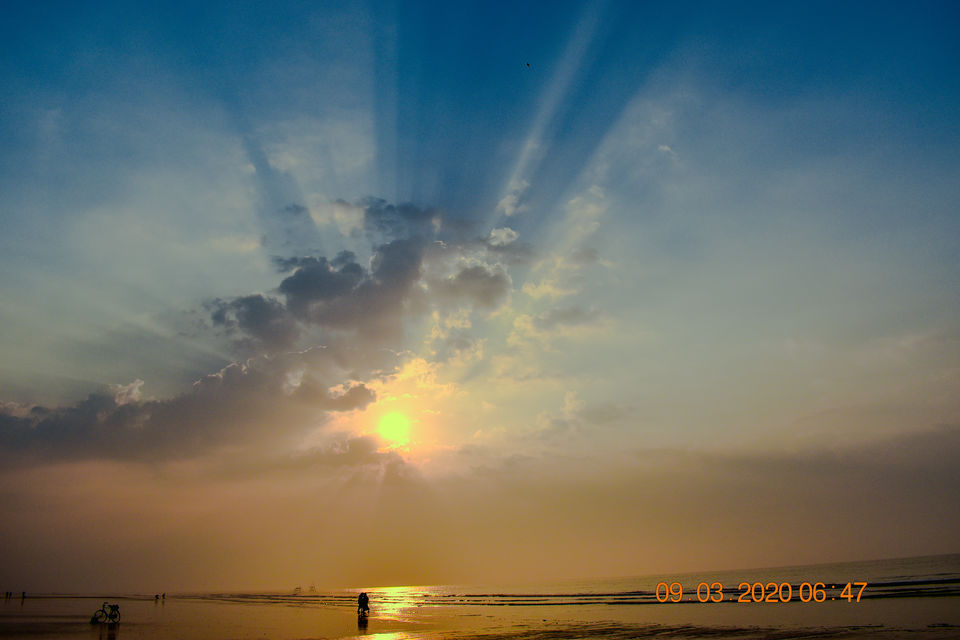 Again took a long walk down the beach and captured some more beautiful moments through the lense.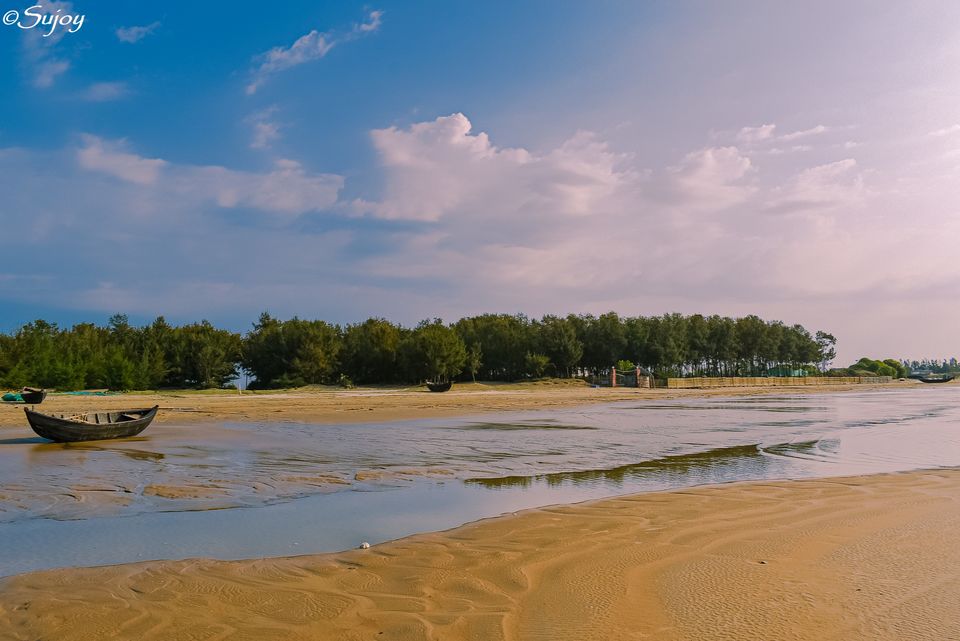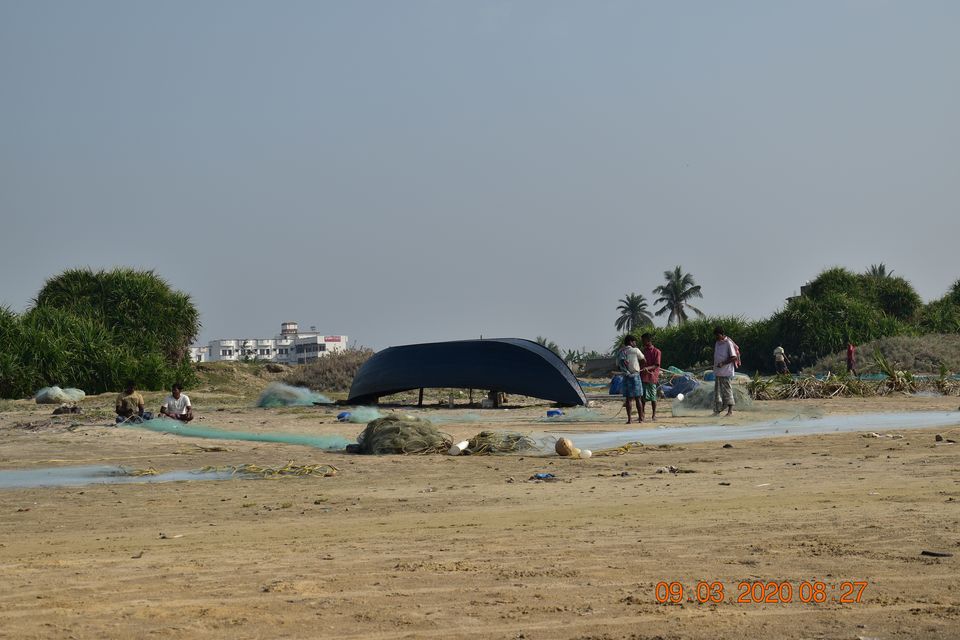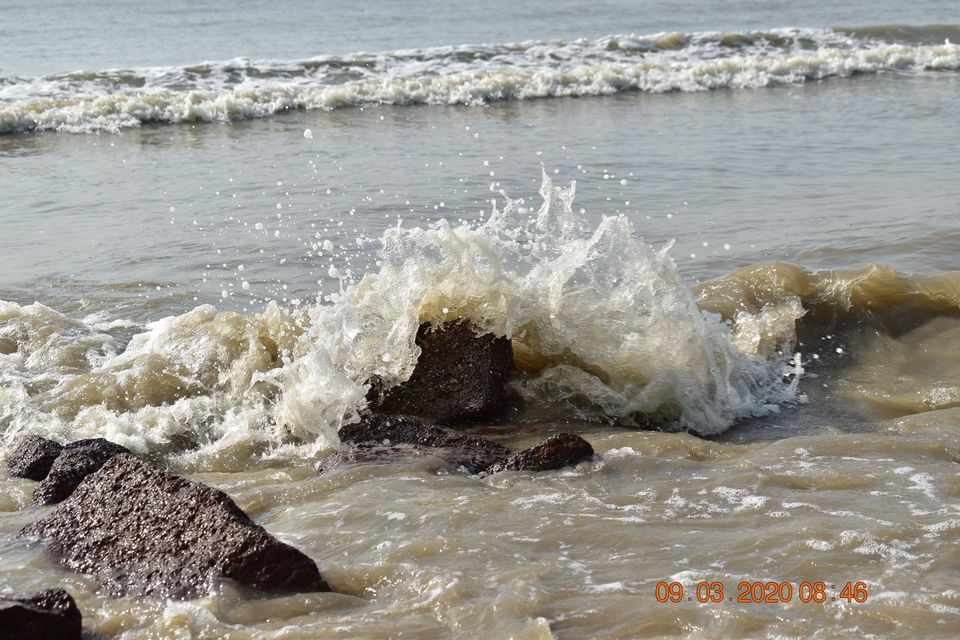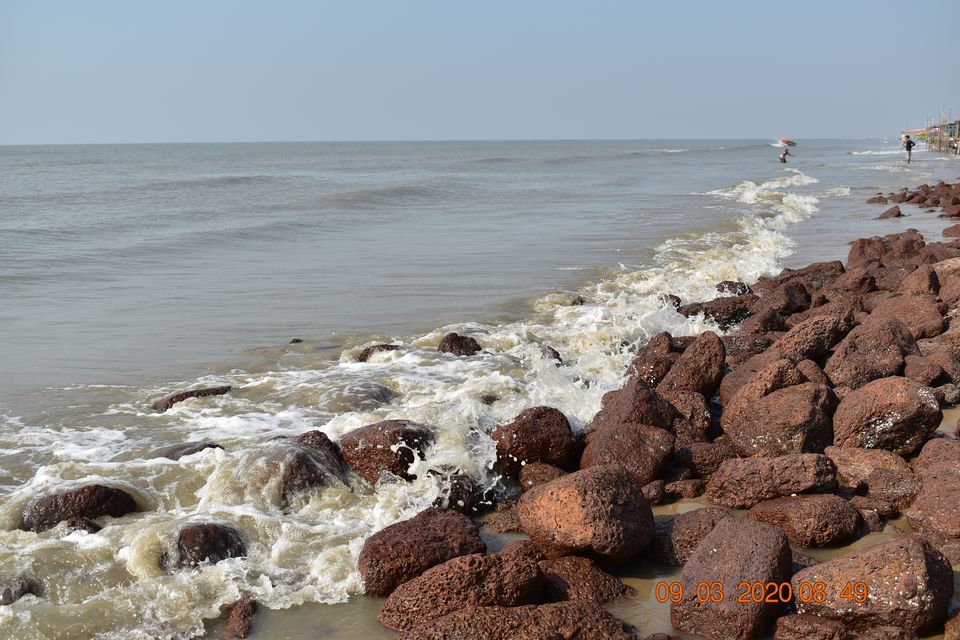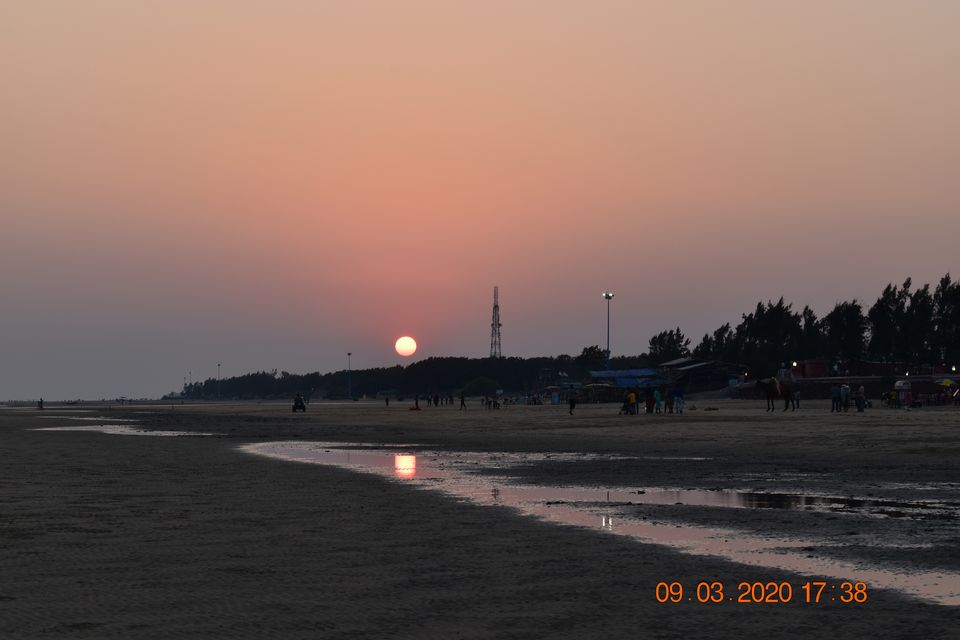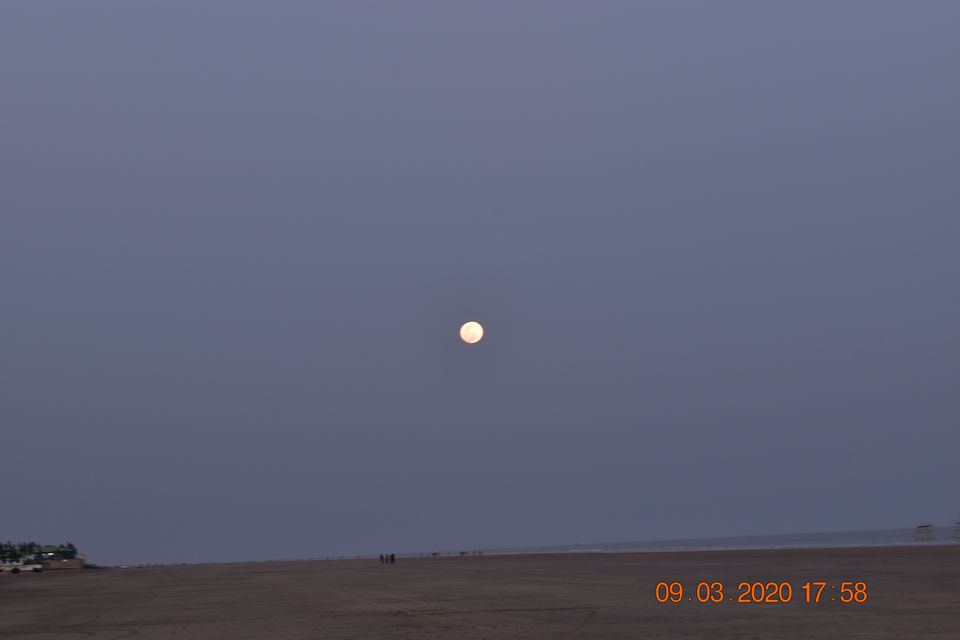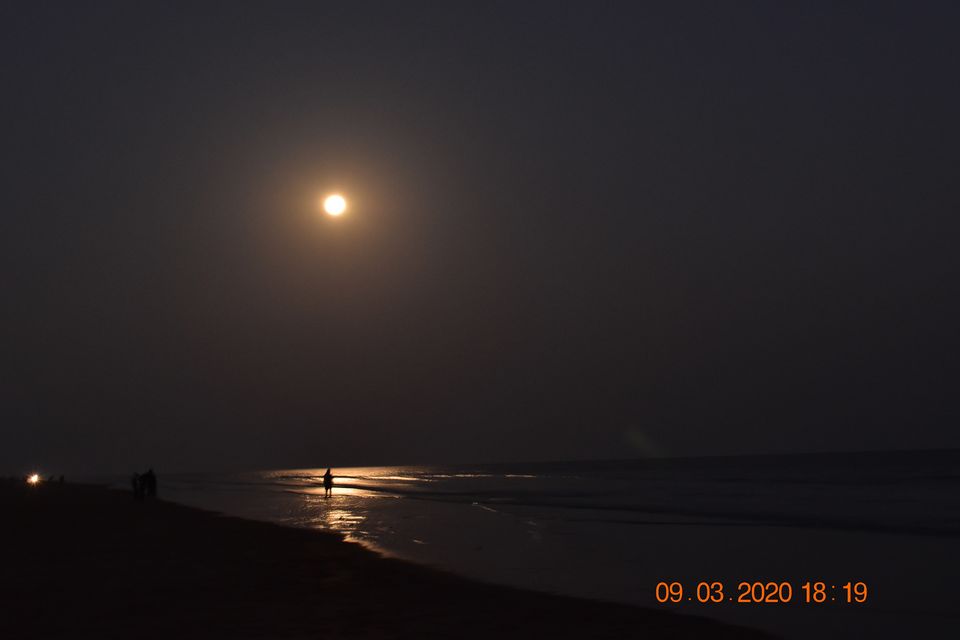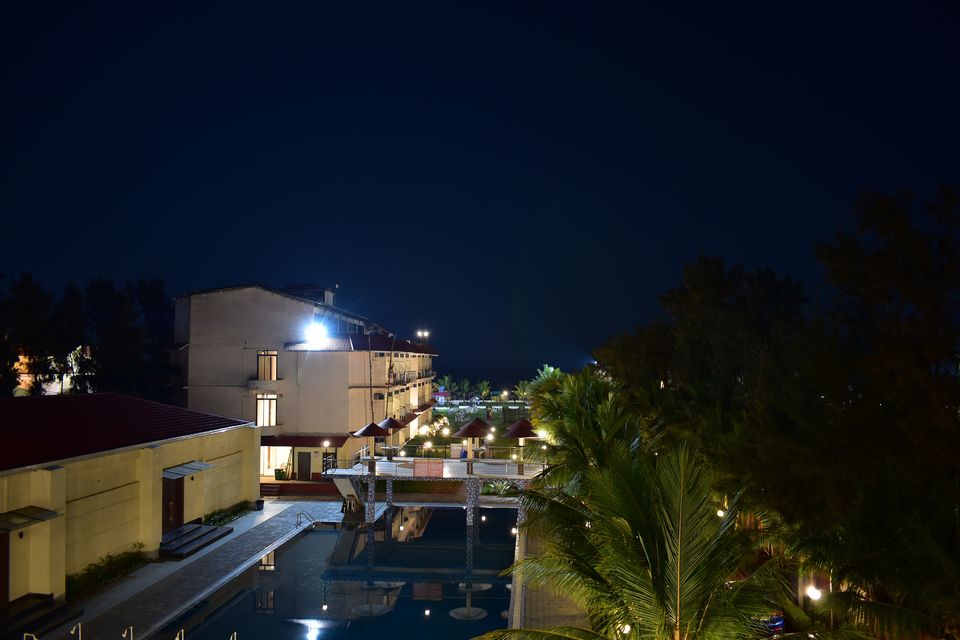 #10.03.2020 #
#Final Day#
#Kahani mein Twist#
As usual the day started with early rise and walk down the beach to follow the sun for the final time as today we are to leave for Kolkata. So today's plan was to get some more snaps of the morning and then wrap up things and check out from the hotel. The hotel was strict about check out time of 11 A.M so I didn't want to annoy them by getting late. They have their reason for that as all the rooms were booked and they didn't want to cut sorry figure to the incoming guests due to my late check out. So today we all three woke up early and left for the beach to witness the sunrise.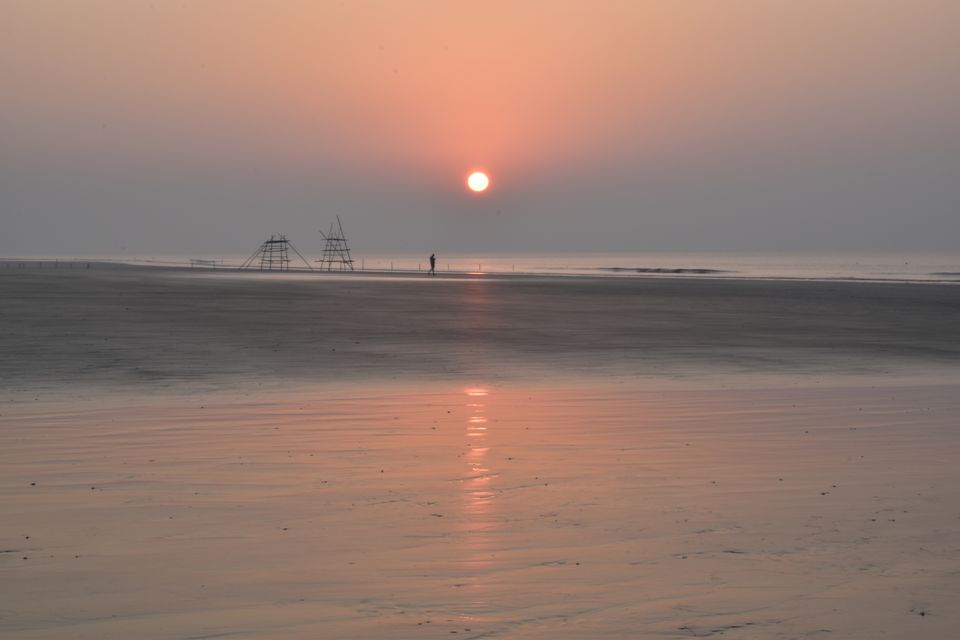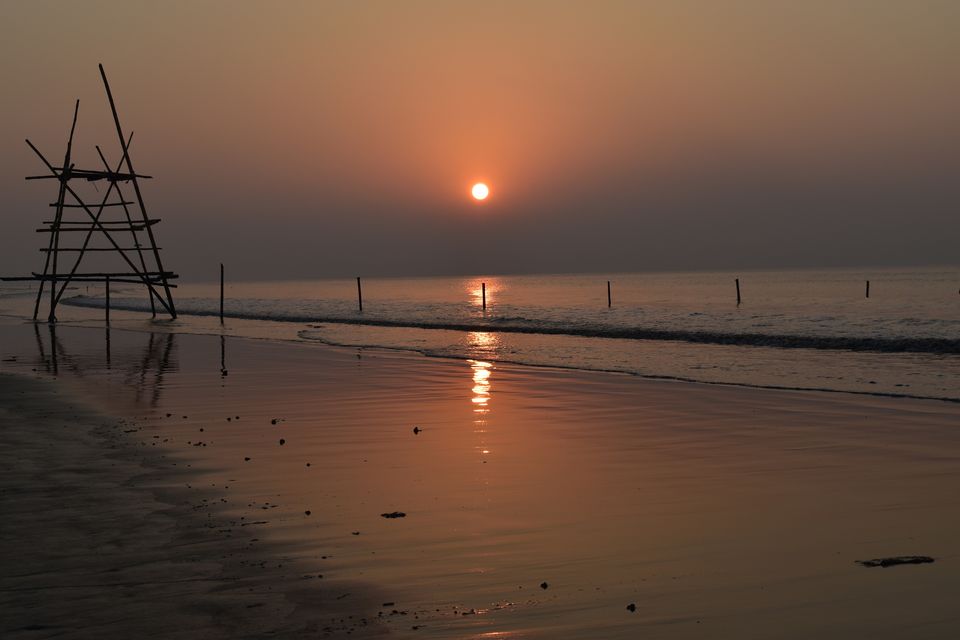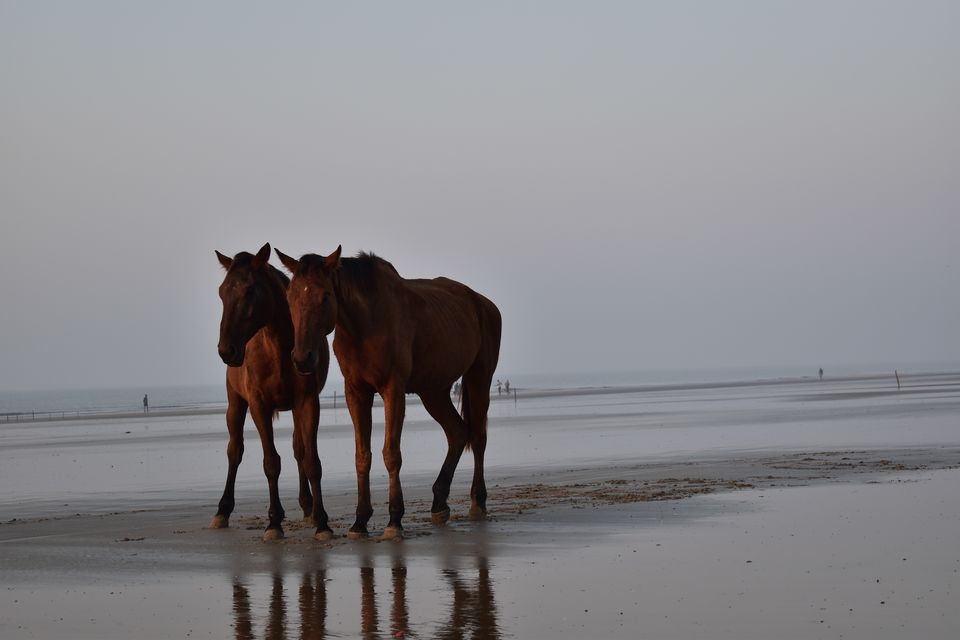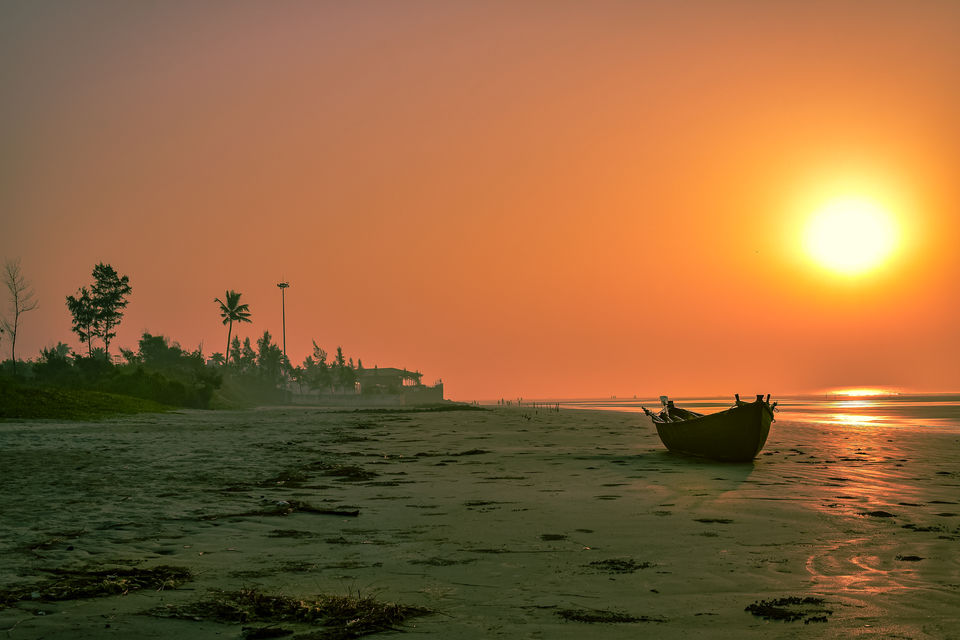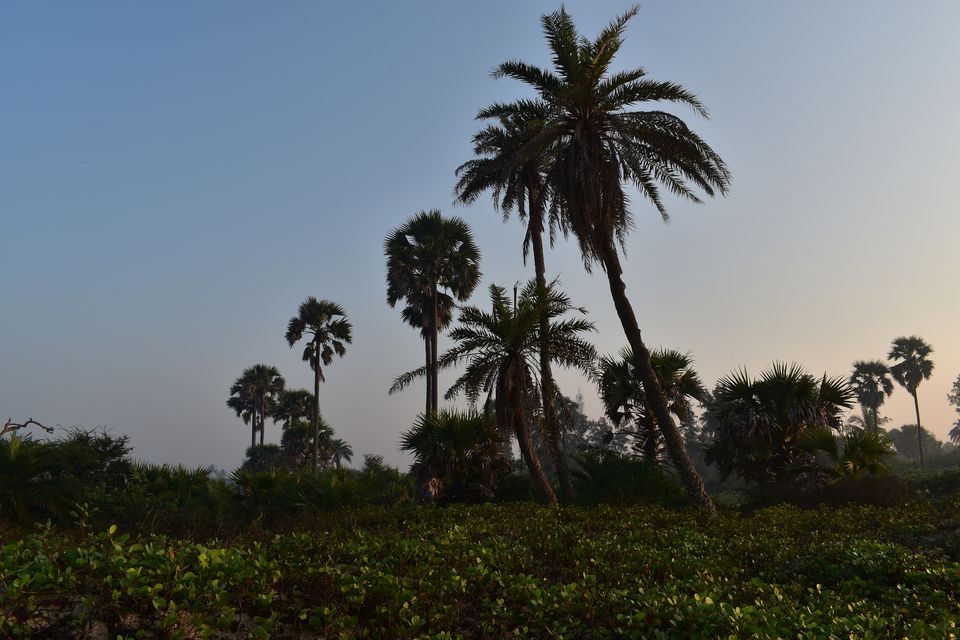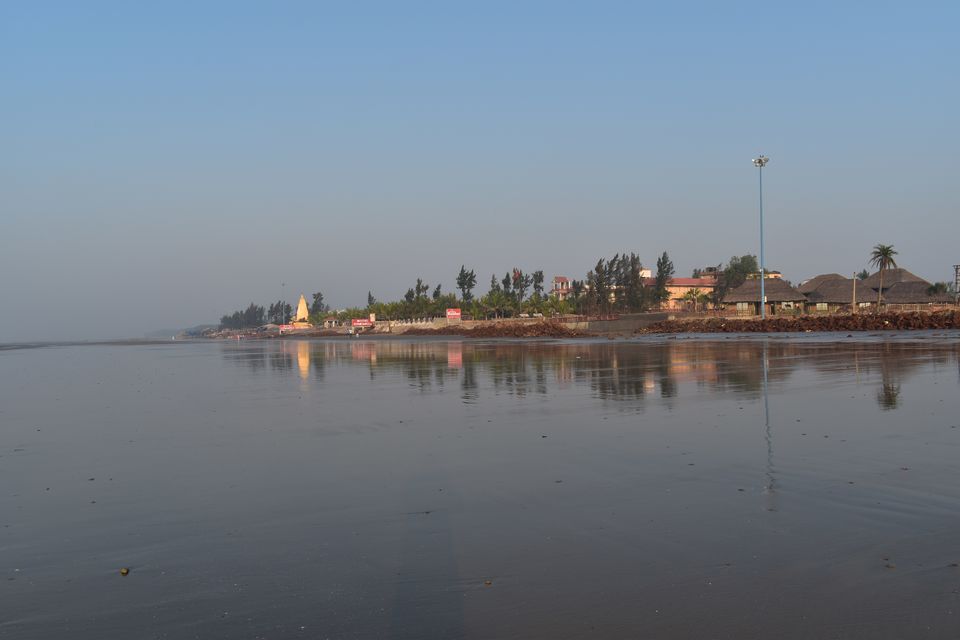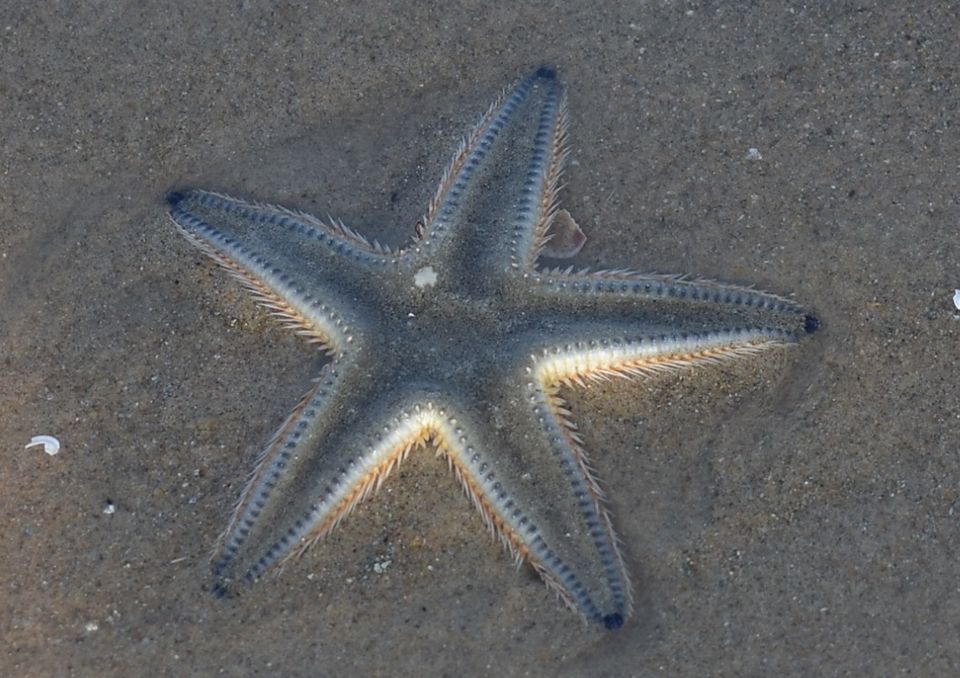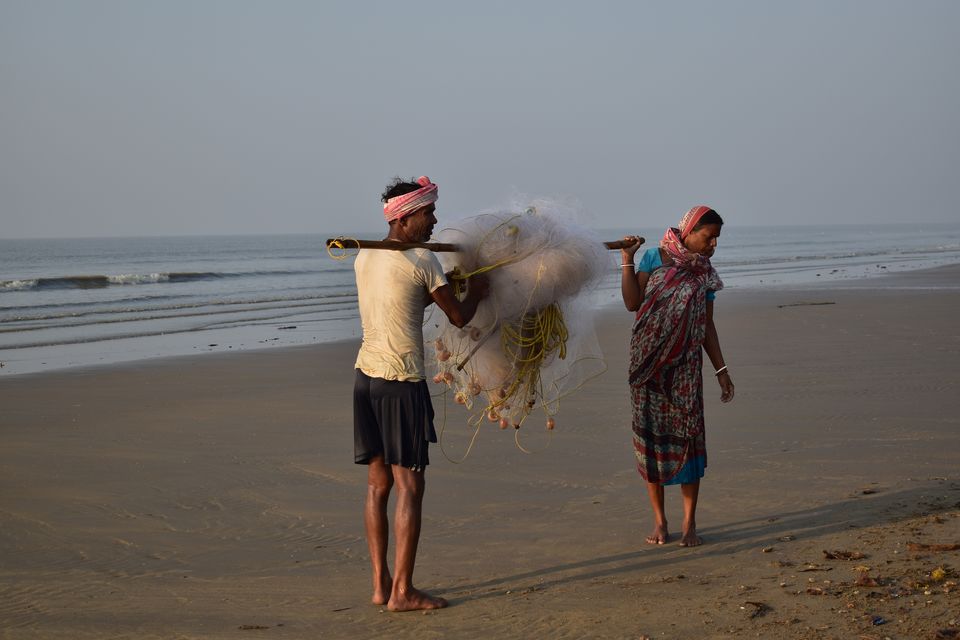 We returned back to our room and packed our luggage. BY 10.30 we checked out of the hotel and just after driving couple of meters from the hotel the idea came to my mind that can't we extend our trip for one more day and I shared this idea with my better half "Sharmila". She was more than ready. So now we decided to stay one night at Tajpur . Tajpur beach is also famous for Red Crabs and it is also a virgin beach with lesser visitors than mandarmani. So the next issue was accommodation. I quickly searched through google and found one property named Resort Sabuj Saikat near to the beach. Called up the property and checked about availability of rooms. The reply was affirmative and immediately we set course for Tajpur instead of Kolkata. Tajpur is barely 26 Kms from Mandarmani. So again we joined NH116B at Chawalkhola and drove for 15 Kms till Balisai and took left turn for Tajpur and reached the hotel around 12.30.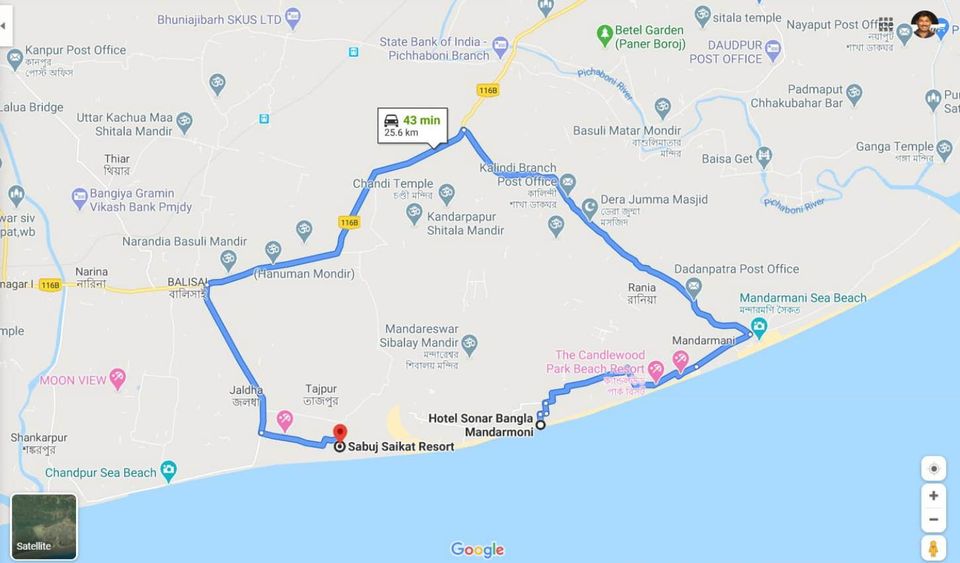 By the time we completed all formalities and settled into our room, lunch was ready and we were treated with hot steamed rice and delicious chicken curry. It was almost like home made food.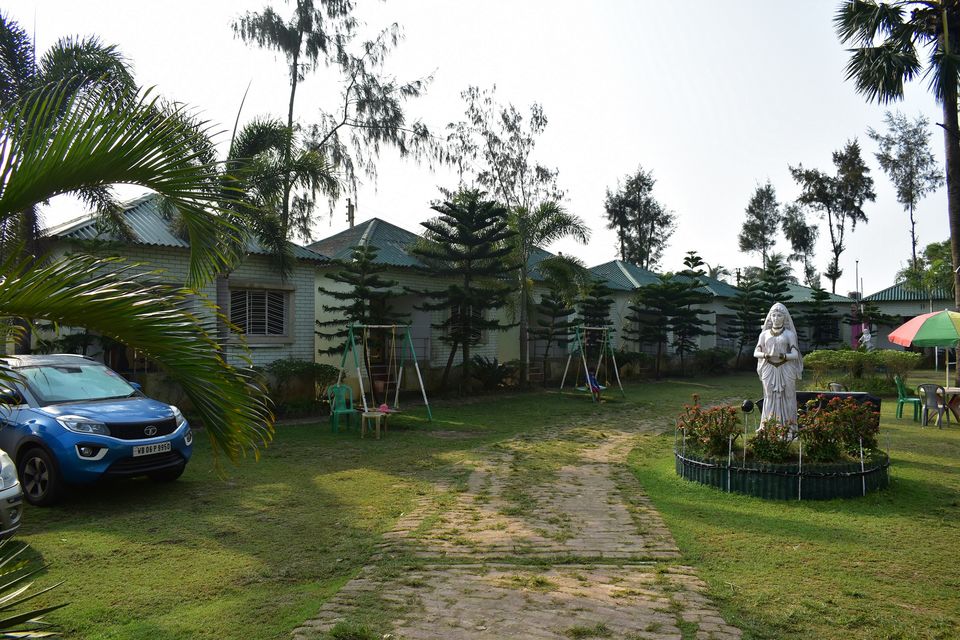 This property is situated very close to the beach; unlike Mandarmani here in Tajpur no Resorts are allowed to be built on the beach. All the hotels and resorts are situated away from the beach. After finishing lunch we took a bit of rest and then went out in the evening to explore the virgin beach of Tajpur. Now it was time to explore Tajpur beach.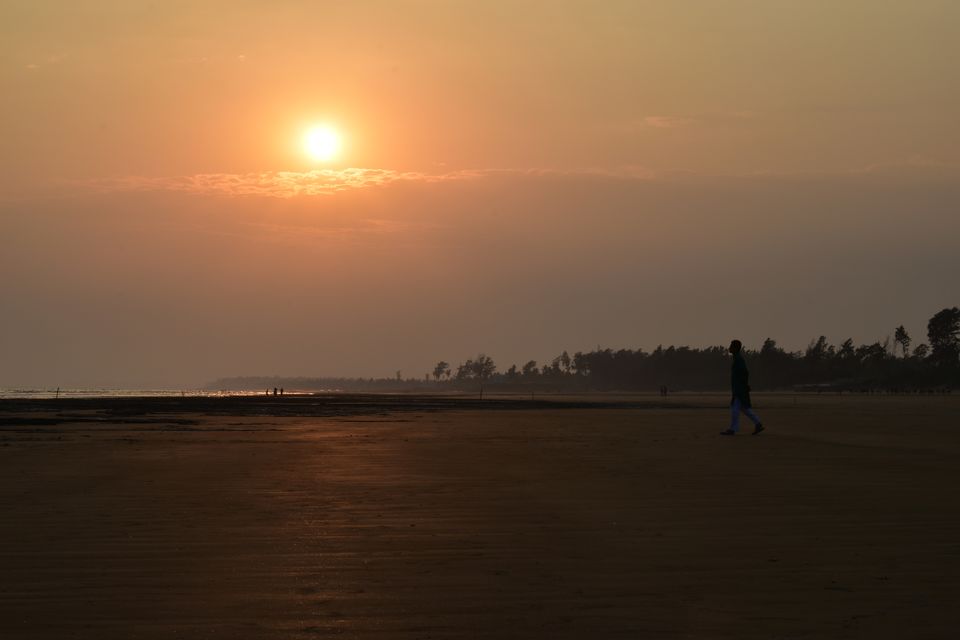 Tajpur is said to be one of the most hidden beaches in India. It is one of Bengal's recently discovered tourist destination that lies close to ever-popular Mandarmani and Shankarpur. After Digha, the beach at Tajpur seemed so serene and peaceful. Clean stretches, no hawkers, very few bathers - it was a treat to be there. May not be the best beach for taking a swim, but definitely the place to just sit down and watch the sun set and sun rise.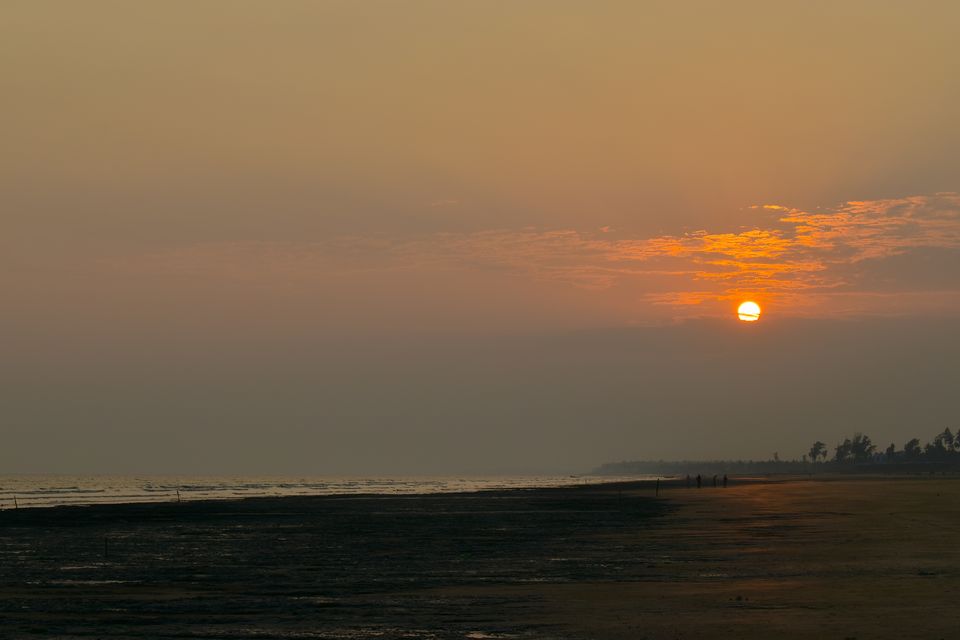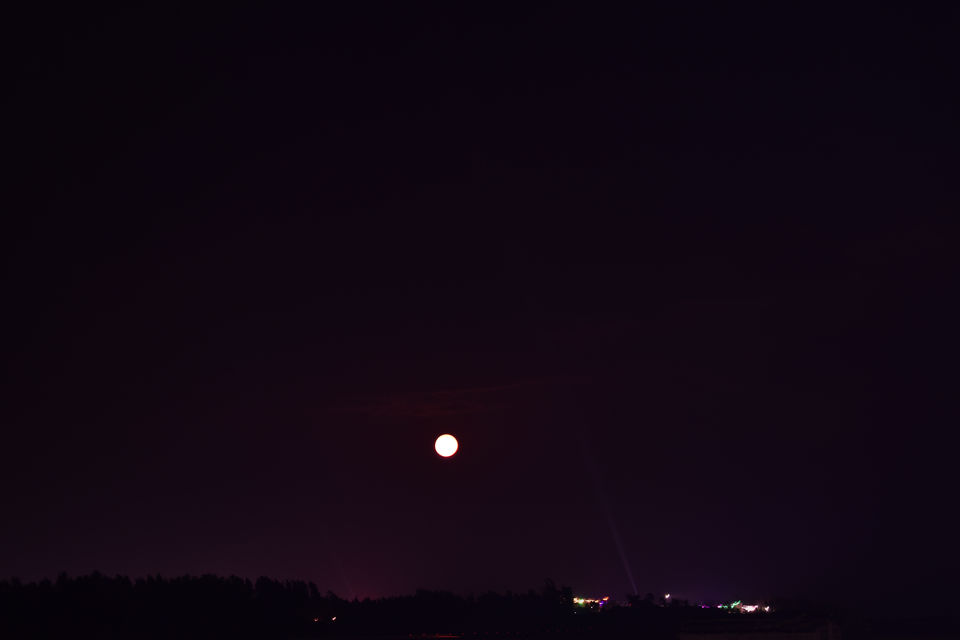 As Tajpur beach is less populated, after sunset it becomes dark with nothing to do. There are couple of shops /dhabas on the beach which serve delicious fish dishes. We chose to return to our resort and spend time there. Next day was our last day of the trip and as usual I was feeling a bit low. We started packing our bags.
In Tajpur, prime attraction is its sea beach with a dense of tamarisk trees and Red crabs, which are found during day time. So for the next day our plan was again to get up early and explore the beach. Witness sunrise and locate the Red Crabs.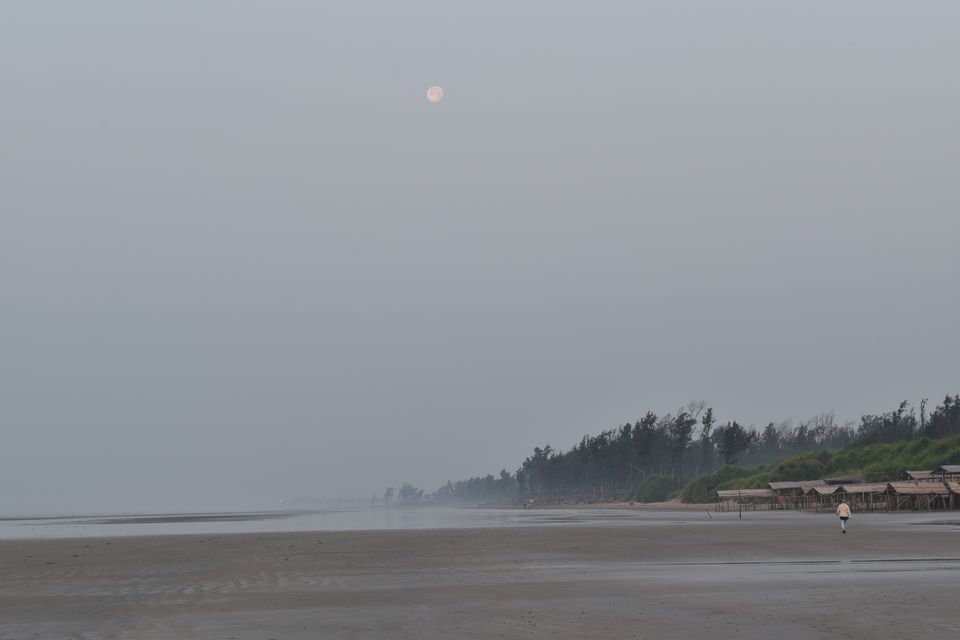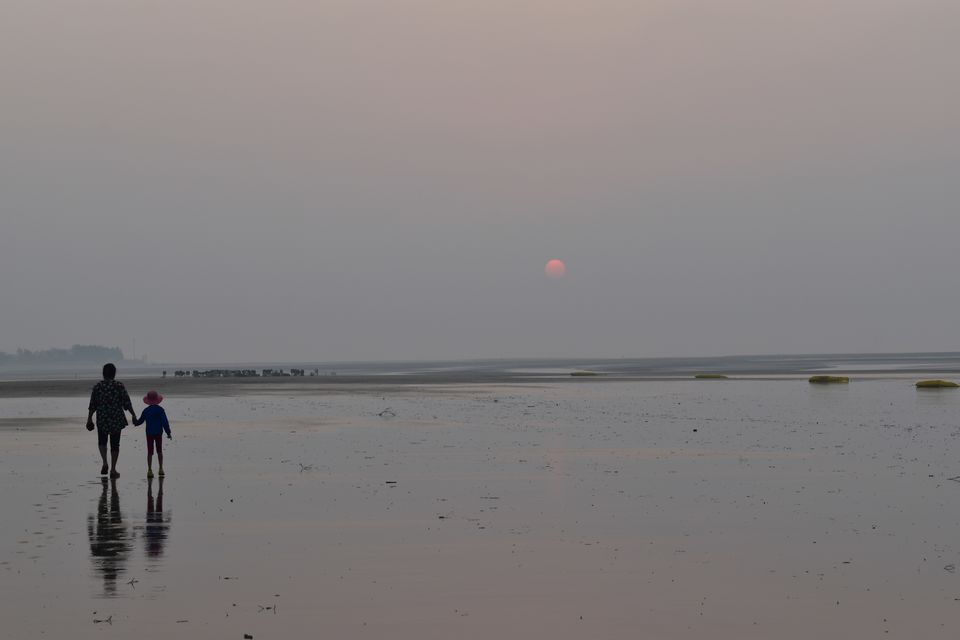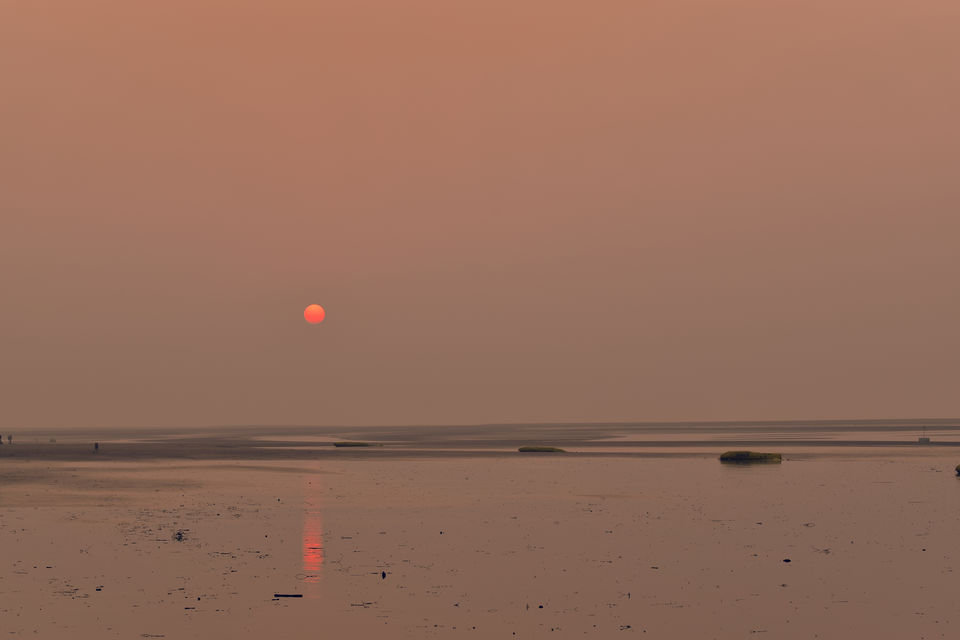 After spending three mornings at mandarmani beach, I could clearly feel the difference between the two beaches. Tajpur and Mandarmani. By this time mandarmani beach would have witnessed many tourists but here in Tajpur there were no one other than three of us. It's very peaceful and refreshing. The only activity I noticed was the fishing boats were returning back from high sea. They must have ventured out during evening and now returning back to their bases.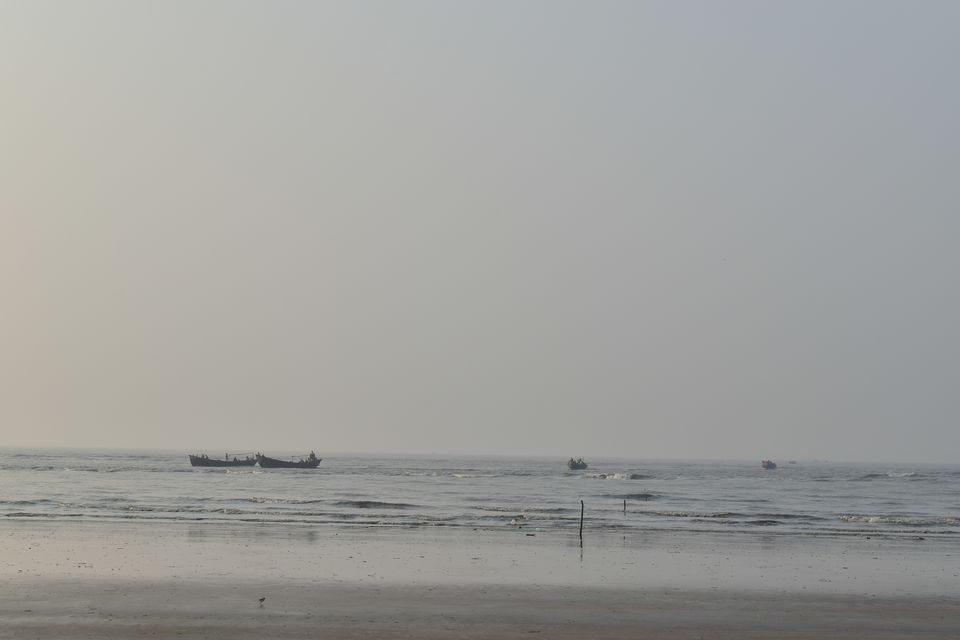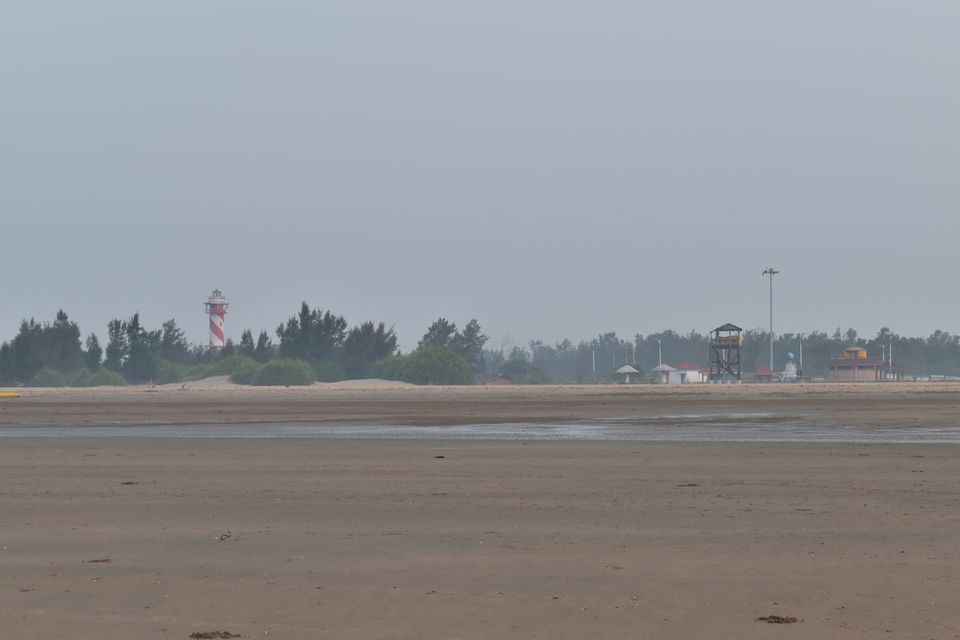 There are fishermen's villages in the vicinity, where one can observe the mundane life of fisherman. We didn't have time to explore that place so kept this for out next trip.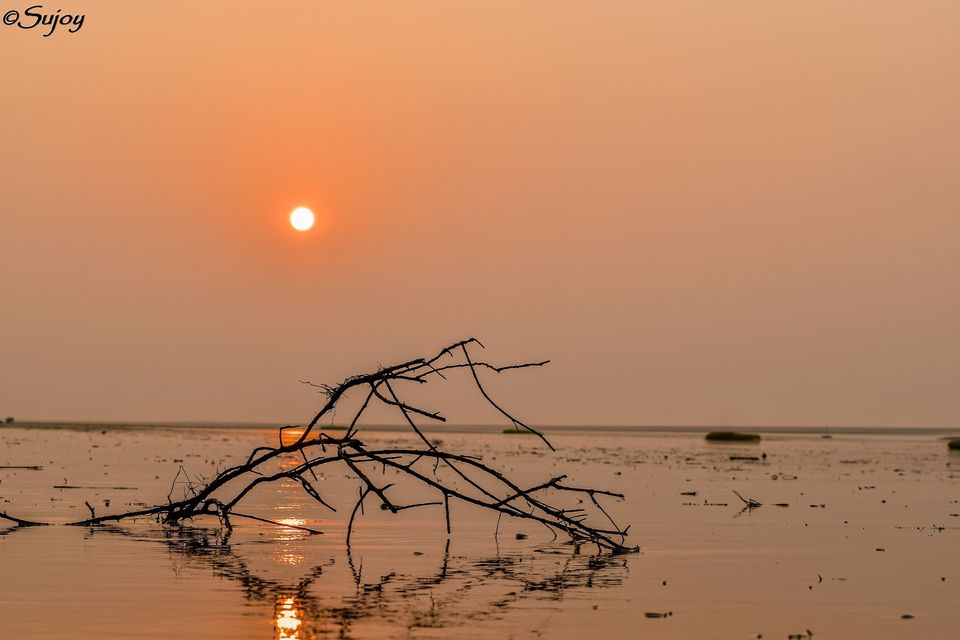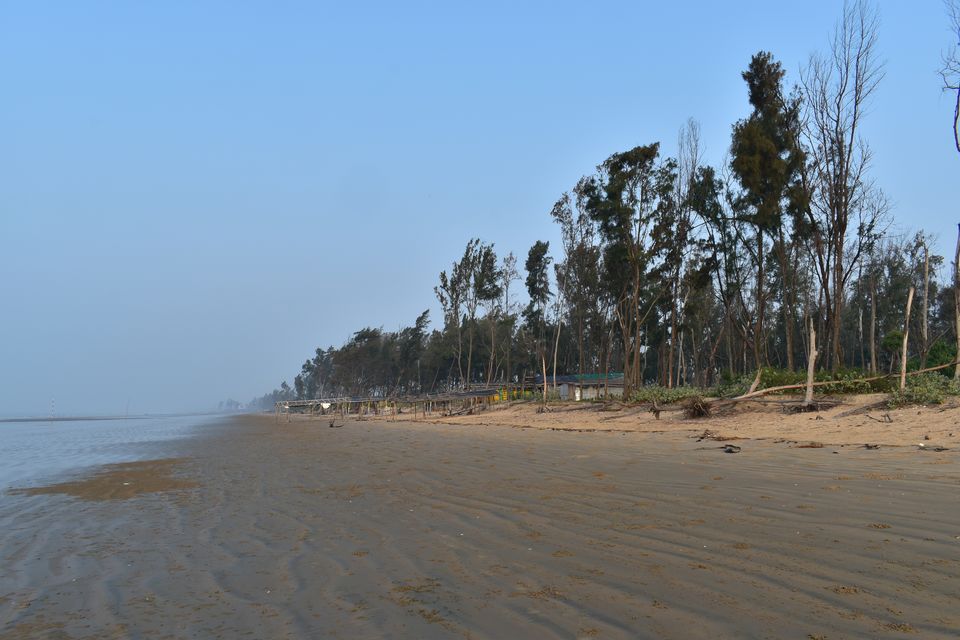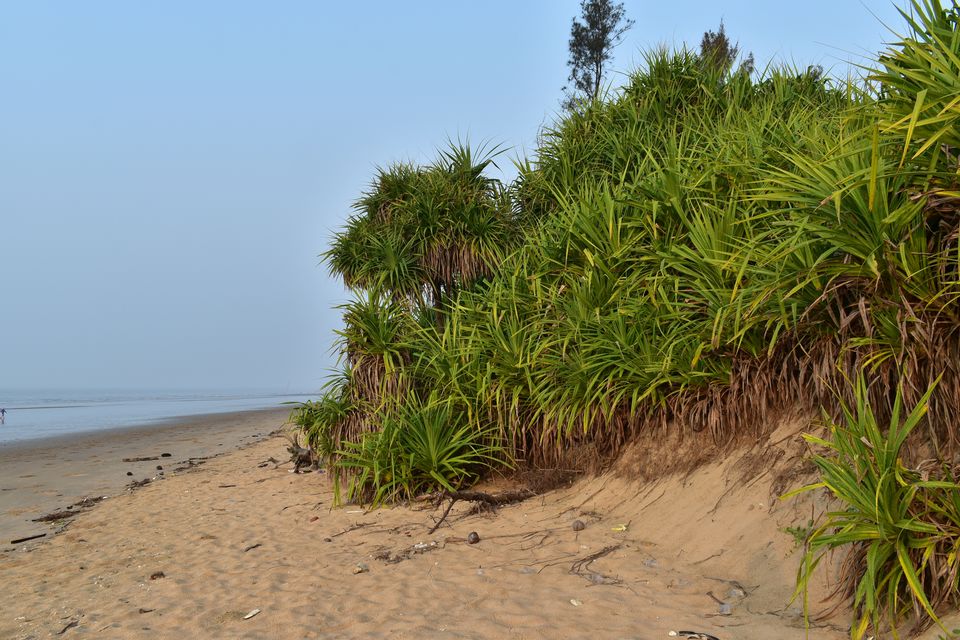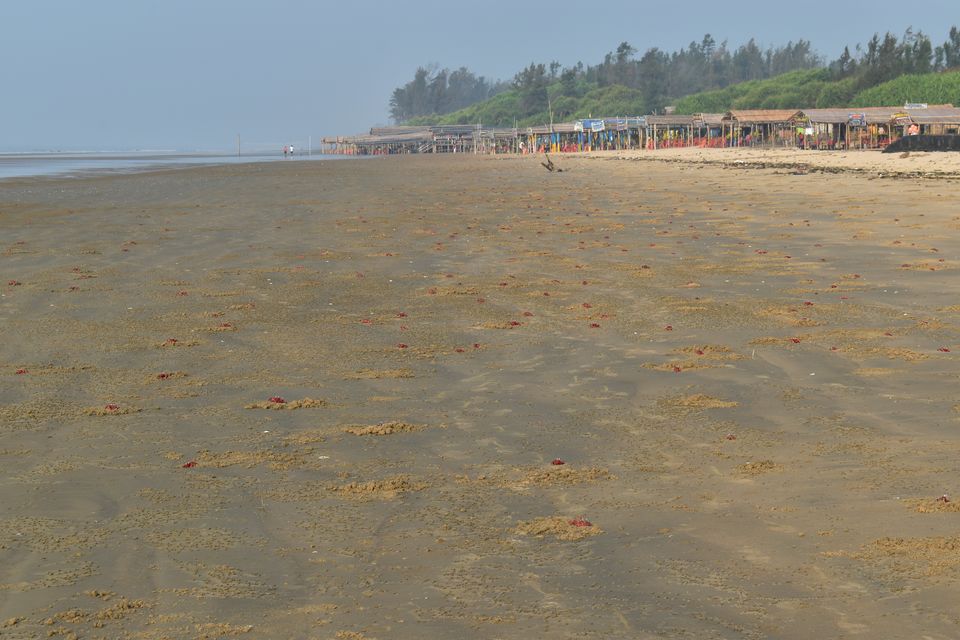 The beach is infested with infinite number of red crabs which play hide and seek in the sand. Their presence makes the beach look crimson. It was very hard to capture them through the lenses and they are very sensitive to the vibration generated by our footsteps. If you try to approach closer, very swiftly they will vanish into the sand. Anyway I was lucky at least to have been able to view them.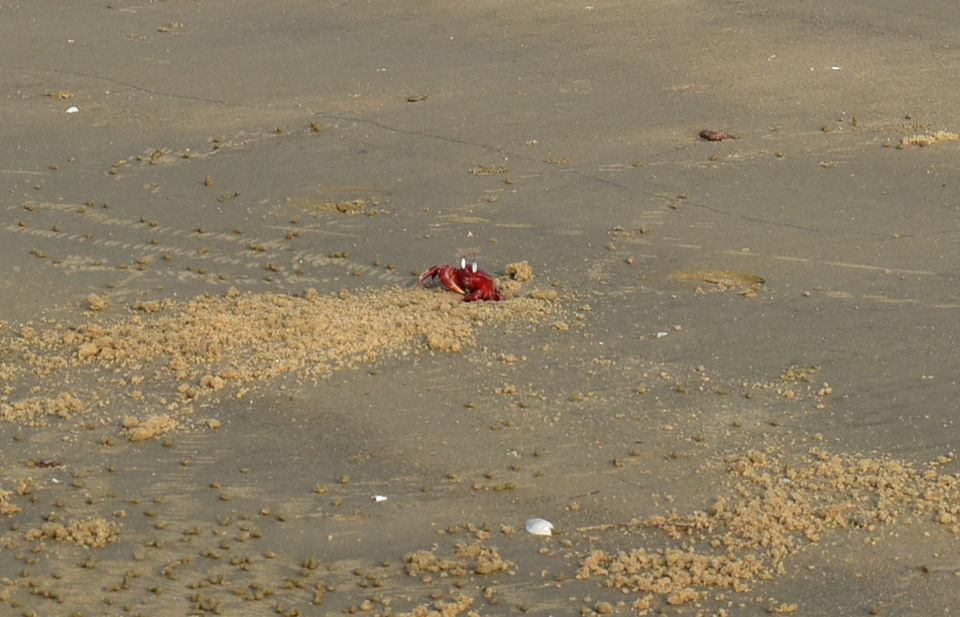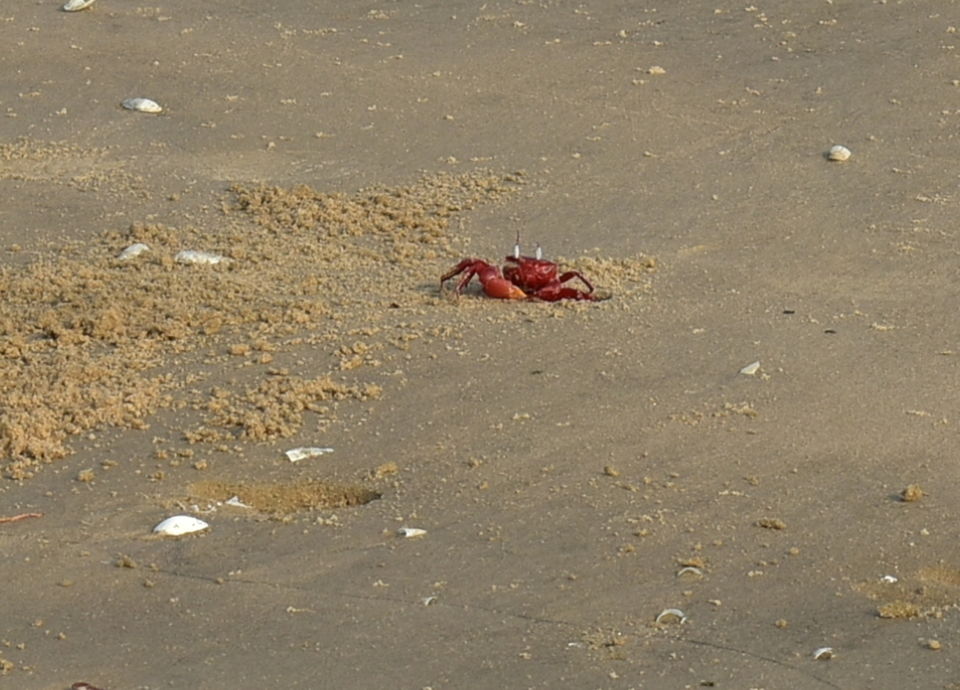 Now it was time to say goodbye to Tajpur and return back to the resort and get ready to for departure.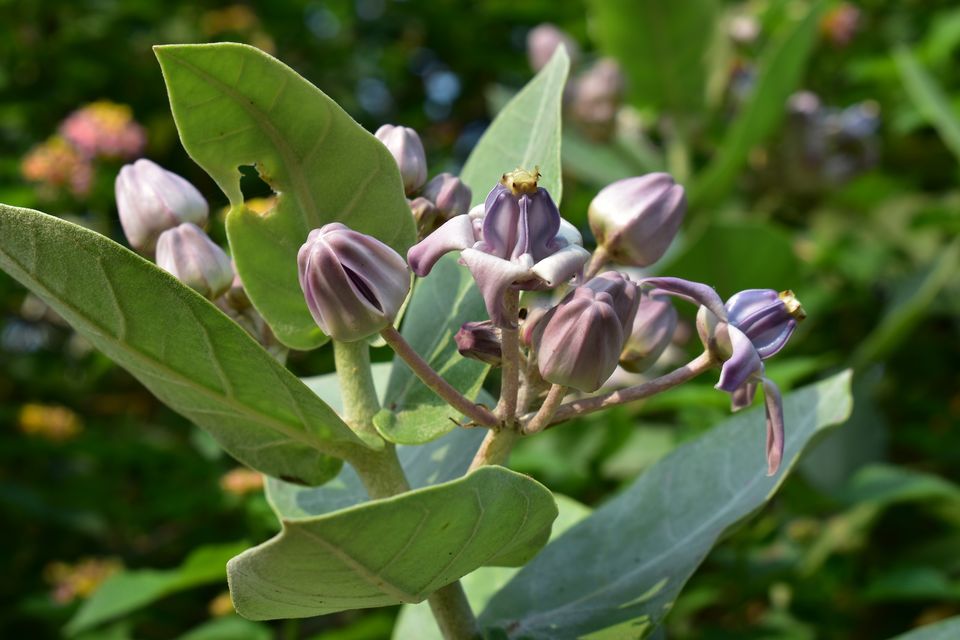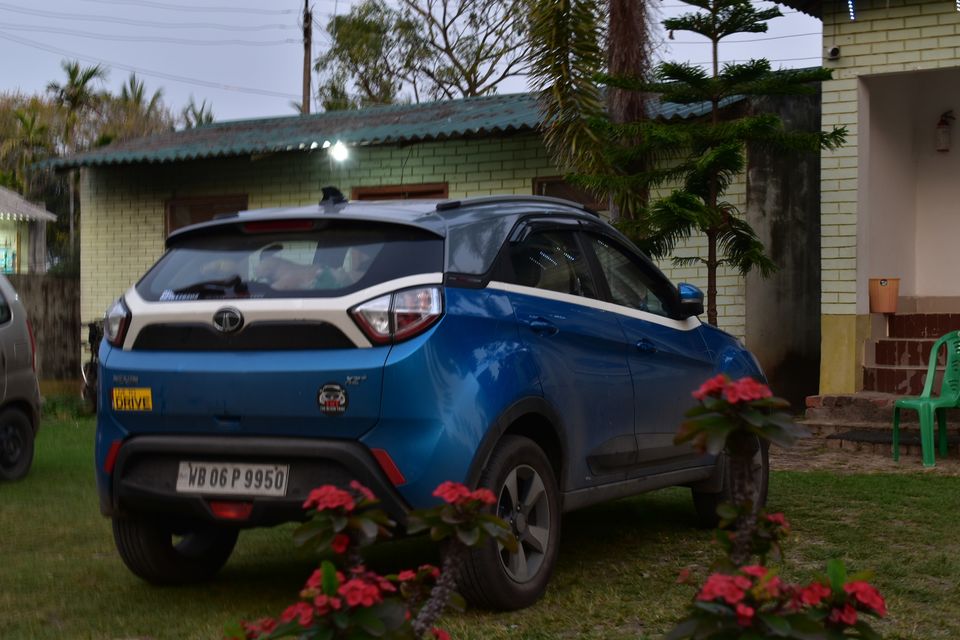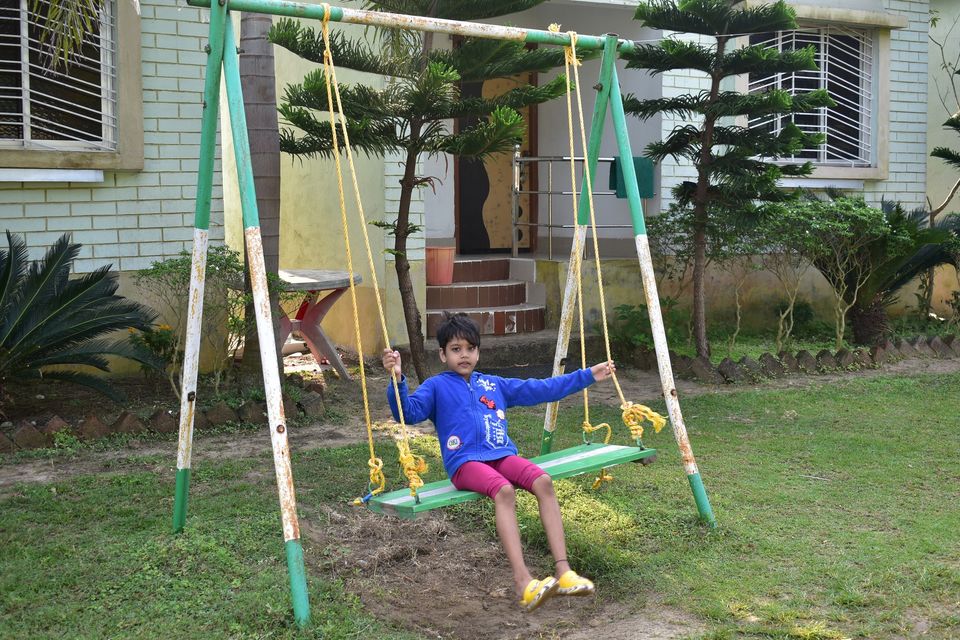 We completed our breakfast and started for Kolkata at 10.45 A.M. Drove through the picturesque NH 116B till Nandakumar.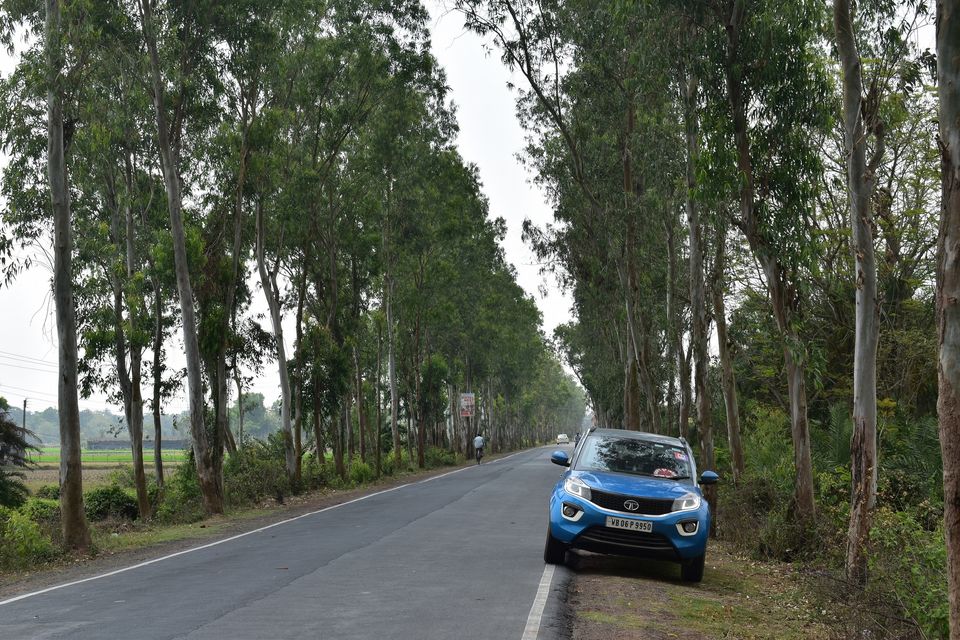 In between had a brief stopover for coconut water break.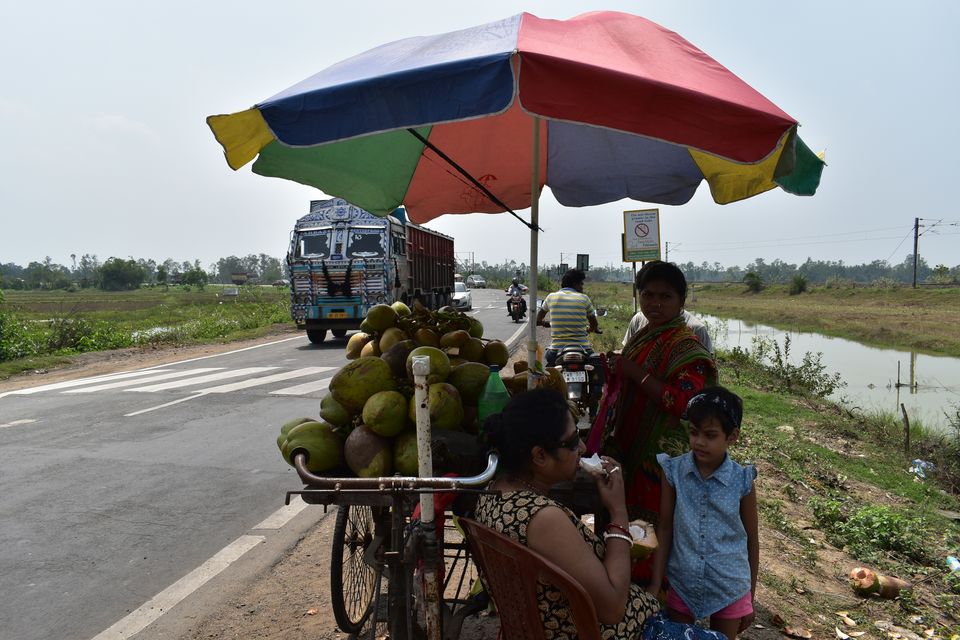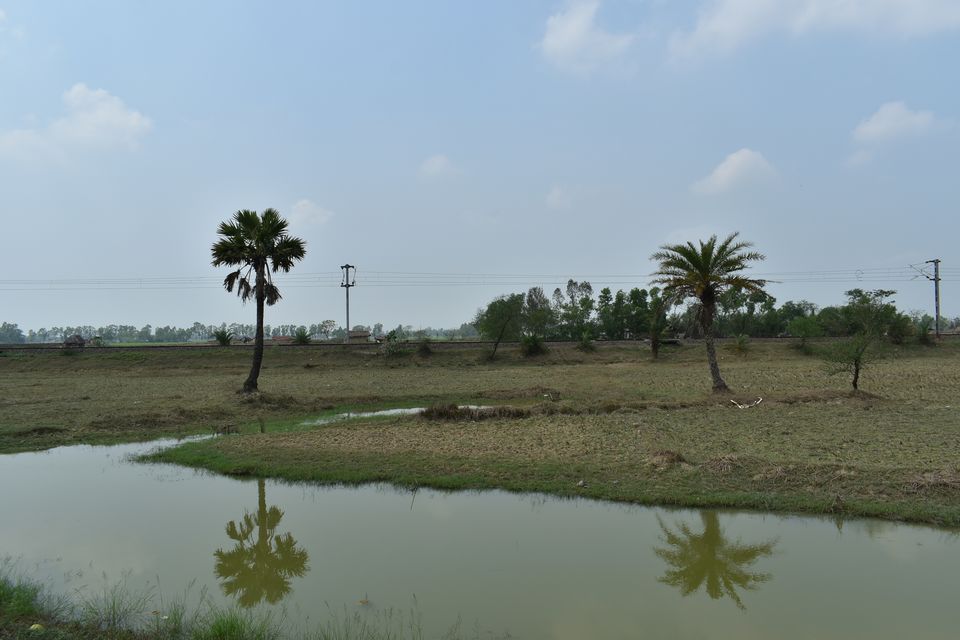 Had lunch at Sher –e- Punjab, Kolaghat and till Kolkata the journey was smooth. While returning didn't face any traffic at Dhaulagiri Toll Plaza. Reached home at 5 PM.