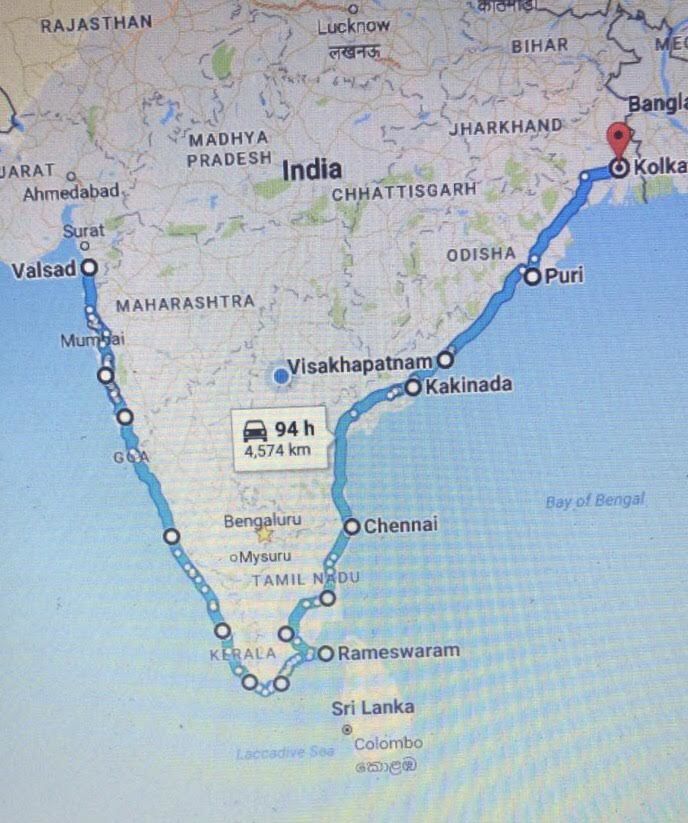 It all started with my north trip, I went to Ladakh in last June. During that trip, we touched the north most part of India. I enjoyed the trip a lot and was eager to have such kind of experience again. I started to look into south Indian cities/places and marking them on the map. While marking those places gave me the thought of a coastal trip to India which would cover more than 5000 km.
As I was planning a trip of this scale, it needed a thorough research on the challenges we would face in terms safety, money, health, accommodation. It took me almost 3 months to come up with a decent plan and fortunately was able to arrange a companion to accompany me on this trip.
Me, My friend and My Royal Enfield started the journey from a coastal city named Valsad (Gujarat) on 15 of December. The plan was to complete the trip and reach Kolkata in 15 days. This travel would leave a "V" mark on the Indian Coastal line which would cover almost all the major cities lying on the Indian Coastal belt.
After completing this journey, I was very curious to share my thoughts and experiences with others. Any journey plan would start with arranging accommodations and so was mine. But the tricky part here was that I wanted to keep the expenses as low as possible. It all came down to carrying our own tent set up and camp wherever we could find open areas to stop at in the night hours.
The very first day we setup our camp near at a temple in a random village and that night spent under the open sky left me an experience I would cherish for my lifetime. On the contrary, the night stay on the second day was very different than first day as we spent the night in a police station at Jaigad, Maharashtra as we were unable to find a camping site. This arrangement needed a lot of requesting to the police personnel and a question on what we would do for the upcoming night stays when we continue our journey. Fortunately, we found that spending the nights in petrol pumps is safer and convenient for us than camping in open areas.
Taking proper rest during nights gave us strength to spend the next day with an ease. We spent almost 6 hours in the day motoring, remaining time was spent in site seeing and eating variety of seafood available. Whenever we had to stop for having our meal, we were able to find a decent place to have delicious sea food no matter in which state we were.
Having said about the site seeing, Indian beaches hold unmatched beauty with them. India as a subcontinent is a shore for three different oceans each having its own character. While the Arabian Ocean in the east is as silent as it can be, the Bay of Bengal in the west is violent and the waves hit the shores as hard as they can. While travelling throughout the coastline we witnessed the oceans changing its color and it was worth watching. At Kanyakumari, the three oceans meet and the view was amazing while the sunset and sunrise on the horizon. We were searching for right spots where we can sit calmly and enjoy the refreshing air coming from the oceans leaving a cherished memory behind us.
By the time we reached Kolkata, we clocked 5200 km, and the joy gained by this cannot be explained in words.