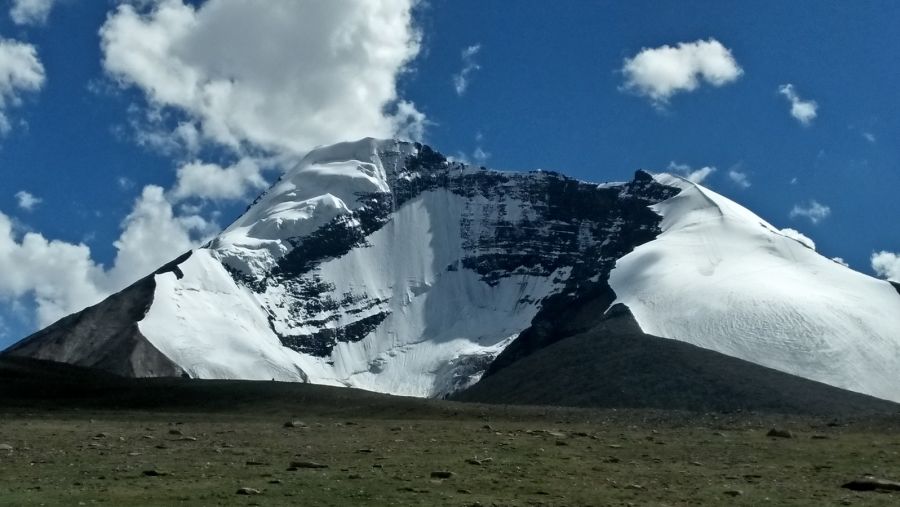 This Peak resembles a King's Throne. The Kang Yatse II Trek summit stands tall at 20,500 feet, 300 feet more than the highest summit, Stok Kangri in India. This trek is for the most and experienced trekkers. A trekker with a good physical endurance can make it to the top of the summit on this trek. Trekking of minimum 10 days is required to complete this trek and the distance is more than 75 kms. This is a trial.
Kang Yatse 2 offers a great chance to summit a 6200 meter peak requiring no mountaineering skills. It dominates the Markha Valley with its elegant presence and stands apart distinctively from its other surrounding peaks, few of which are also over 6000 meter high. The altitude, terrain, gradient of the climb, snow conditions and cold provides enough challenge even to the fit and experienced trekkers. Kang Yatse being a lesser known peak and remote, it offers a great raw experience of the Himalayas.
To Reach Leh:
There are many flights from Delhi to Leh and it is the best and comfortable mode to reach. One can also take a road trip from Delhi to Leh on a most lovely route through Manali.
The Route of Trek:
-Chilling-Skiu-Markha- Thachungtse- Nimaling-Base Camp-Summit-Base Camp-Kongmaru La- Chuskirmo-Chokdo-Leh
Cost:
Better to be done renowned and good trekking companies like Trek the Himalayas and Bikat Adventures. The cost ranges from 32K to 56K inclusive of all expenses from Leh to Leh.
The Brief Itinerary:-
Acclimatization at Leh/11,000 feet
The day is completely for acclimatization. Well-known for its monasteries and palaces, has its history well kept in Shey Palace, Thiksey Monastery and Thiksey Gompa. You can find thousands of adventure seekers or tourists in Leh during peak season.
Leh-Chilling-Skiu/11,150 feet-9 kms trek
The day starts with a 65 kms of drive to Chilling and also a trek of 9 kms to Skiu. On a drive you come across Gurudwara Pathar Sahib and Spituk Monastery and also Magnetic Hill. The village also has an old monastery to visit.
Shiu to Markha/12,200 feet-20 kms trek
This is the longest day in terms of distance. The best advantage of this day is that you will come across a of and every turn has an enchanting view to offer. This day overlaps a lot with valley trek route. An old monastery built in 1800s is a best place to visit at the end of the trek.
Markha to Thachungtse/13,400 feet-13 kms trek
This is the day you can view the King's Throne shaped peak of Kang Yatse from Umlung Village. There is also Tacha monastery to be seen. of grassland and the views from here are impeccable.
Thachungtse to Nimaling/15,400 feet-7 kms trek
This day has lesser distance to trek and the peak becomes much more nearer to view. Mystic Mani stones having prayer inscriptions will be found on the route. The lakes called twin Tigu lakes are seen on the way. Huge plain of Nimling where sheep, mountain goats, sometimes rabbits are found grazing today.
Nimaling to Base Camp/16,700 feet-2 kms trek
This is the smallest trekking day and all of your energy is meant to be saved today.
Rest and Training Day
This day is much meant for taking rest and also to get training. Keep your light for the summit push today. One should also go nearby for height gain trek.
Base Camp to Summit and back to Base Camp/20,500 feet-10 kms trek
The summit push will be starting in sub-zero temperature. The route to the summit is through the famous Kang Yatse shoulder. After a steep climb to the top, you will find the 360 degrees views of the Zanskar range, Karakoram peaks and mountains surrounding Kang Yatse. You might also notice the K2 Peak.
Base Camp to Chuskirmo via Kongmaru La/15,100 feet-16 kms trek
This day goes through the highest Kongmaru La pass. The pass has a view of Karakoram range and the excellent array of peaks and it's a visual treat for the trekkers. The descent from the pass to Chuskirmo is a route with a steep descent and a rocky terrain.
Chuskirmo to Chokdo/12,100 feet-3 kms trek
The last day of the trek with a little to walk and drive back to Leh from Chokdo, you will also come across Hemis Monastery.