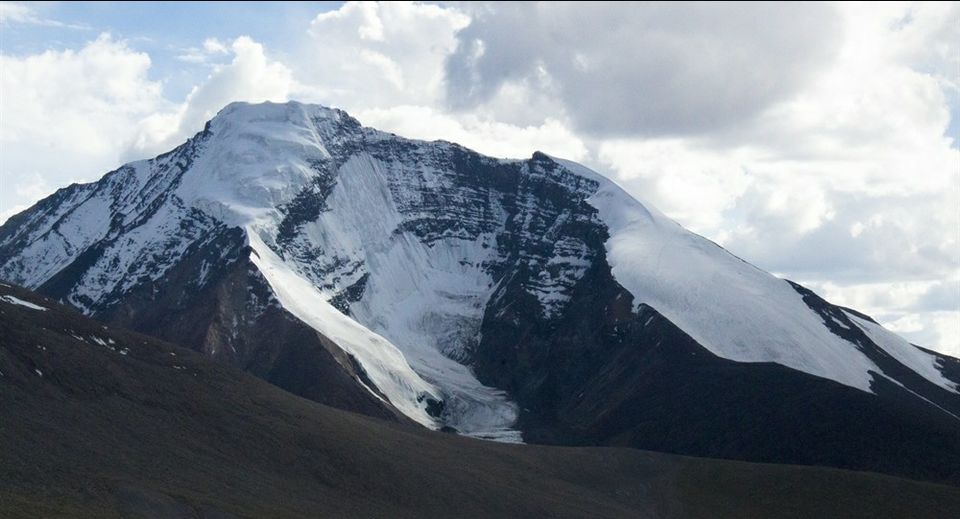 Finally the day arrived when we could actually fly and made our grounds at leh aiport. A breath of fresh air. Enroute to leh I met a group of individuals who I made friends with. Harsh, aditya, nimita and kush were a group for friends traveling for leisure purpose. We had spent two days at the airport and had exchanged ideas of adventure travel in leh. Kush was heading for stok kangri expedition. We parted ways at the airport to out respective accommodation.
The flight to leh was nothing less than a paradise when looked from above (or below). Words can fall short and they will, so check the snaps I had clicked.
I went and met my organisers, Bikat adventures. I went through the scheduled medical test and lastly the oxygen level test which to my relief came about 95% which is considered extremely good at leh on arrival and then straight had to head to my first touchpoint - skiu. The ride to skiu with rikjhin - a local driver was one of its kind, throwing me to every corner of the car and I literally felt bones shaking inside like fries while mixing peri peri. The place I had stayed overnight after reaching skiu was a beautiful homestay nestled just below a huge peak overlooking us with just five houses in the entire area. I wished a good night early around 7 pm after a delicious dinner which had momos, salad, locally grown sauted veggies, honey and chapatis.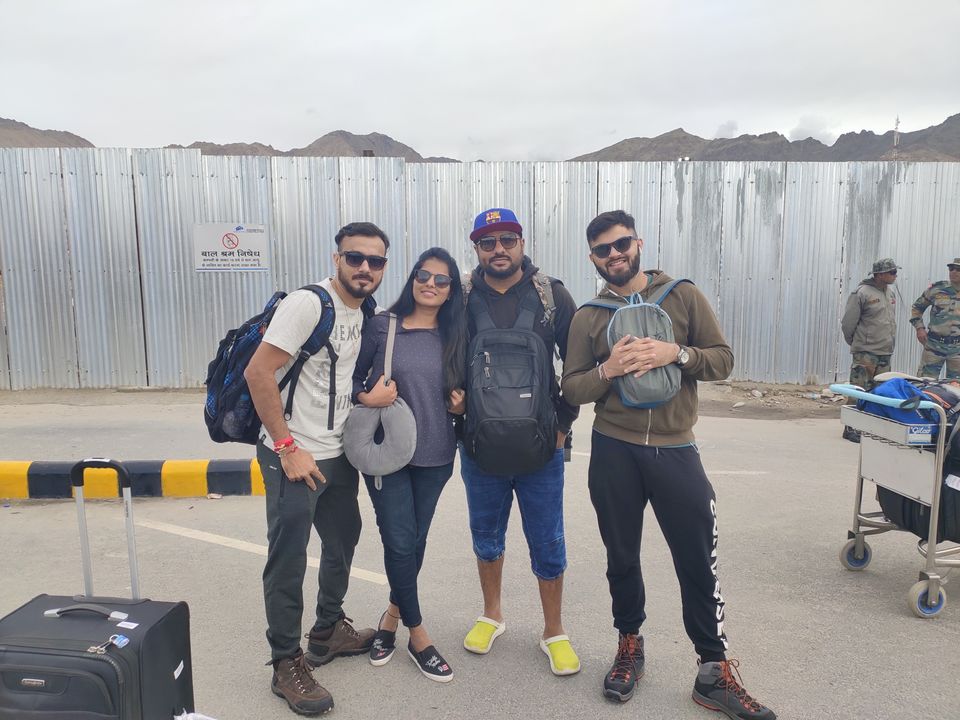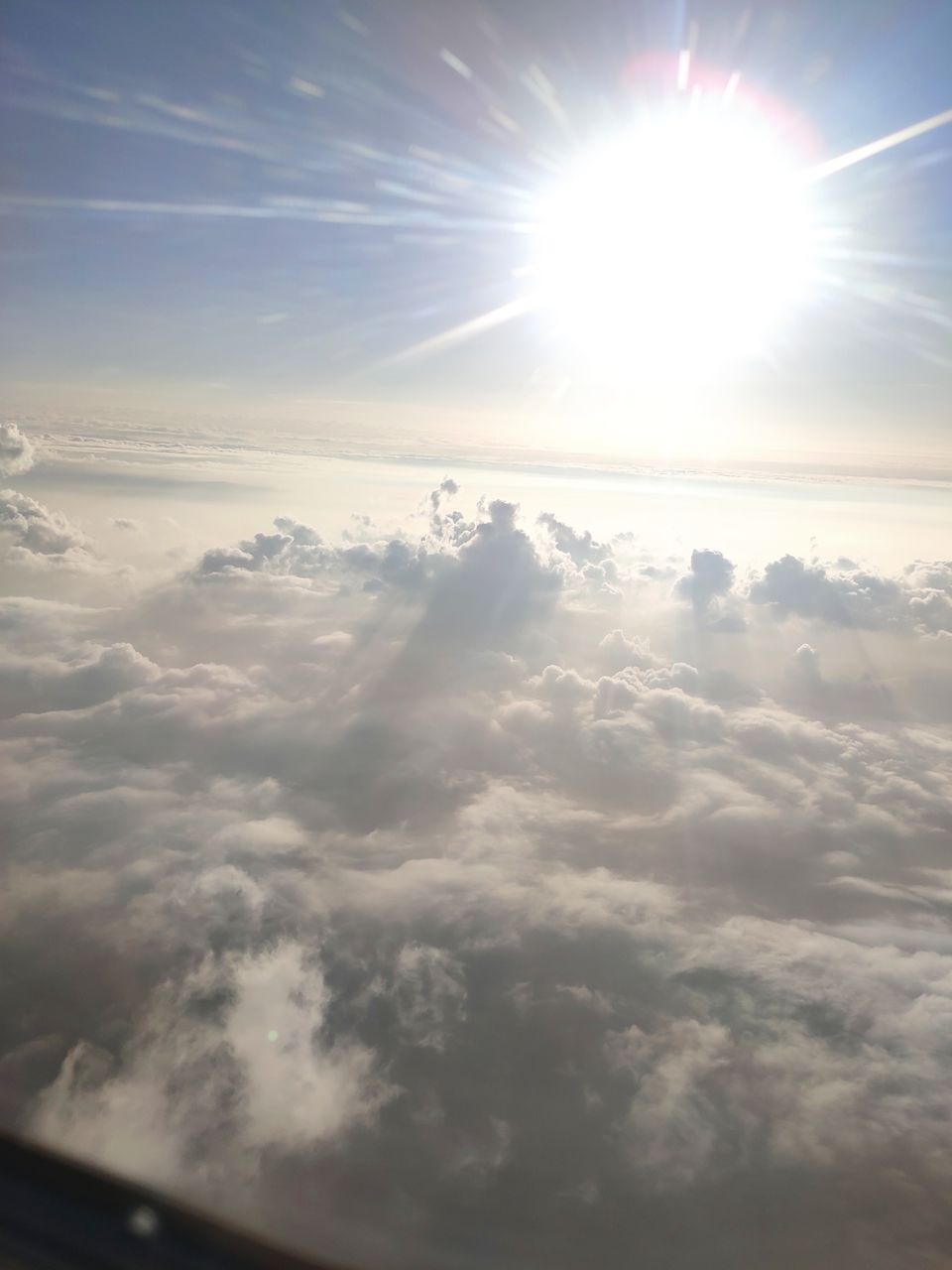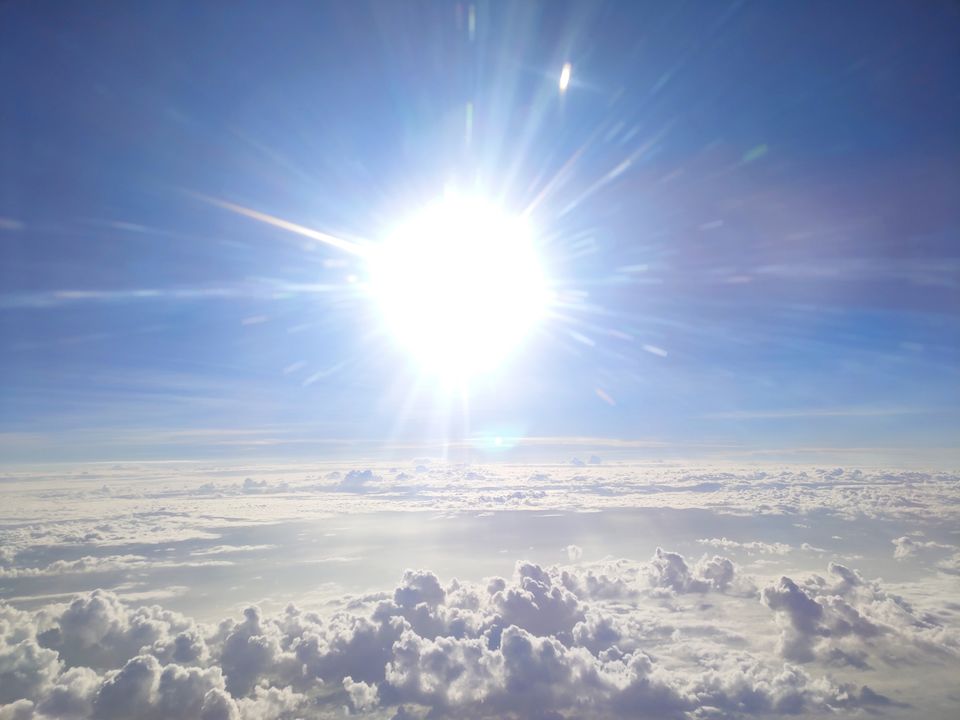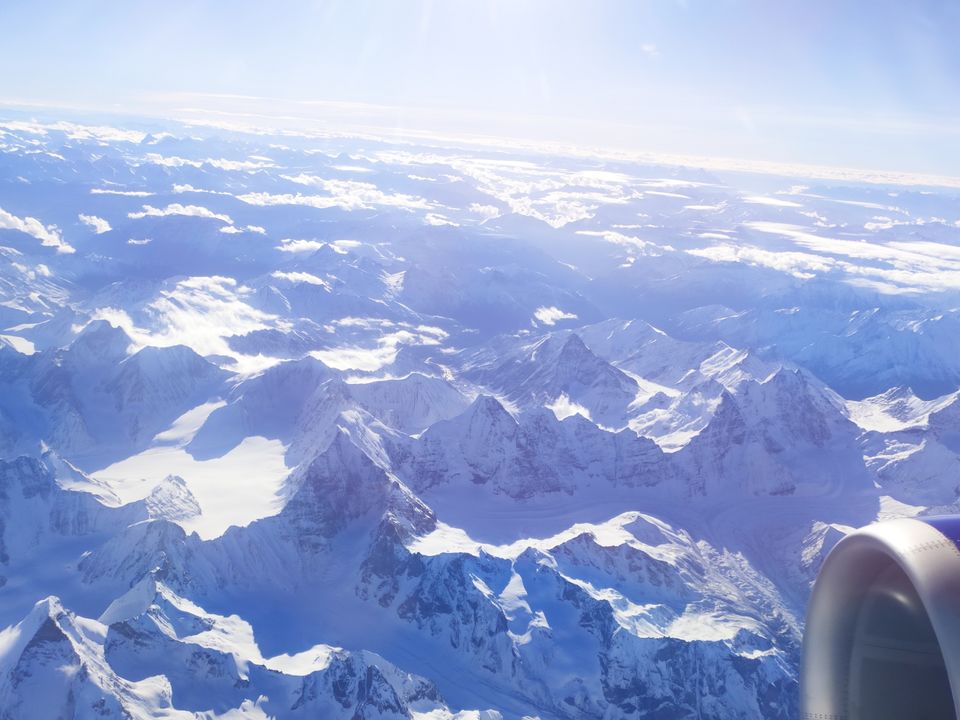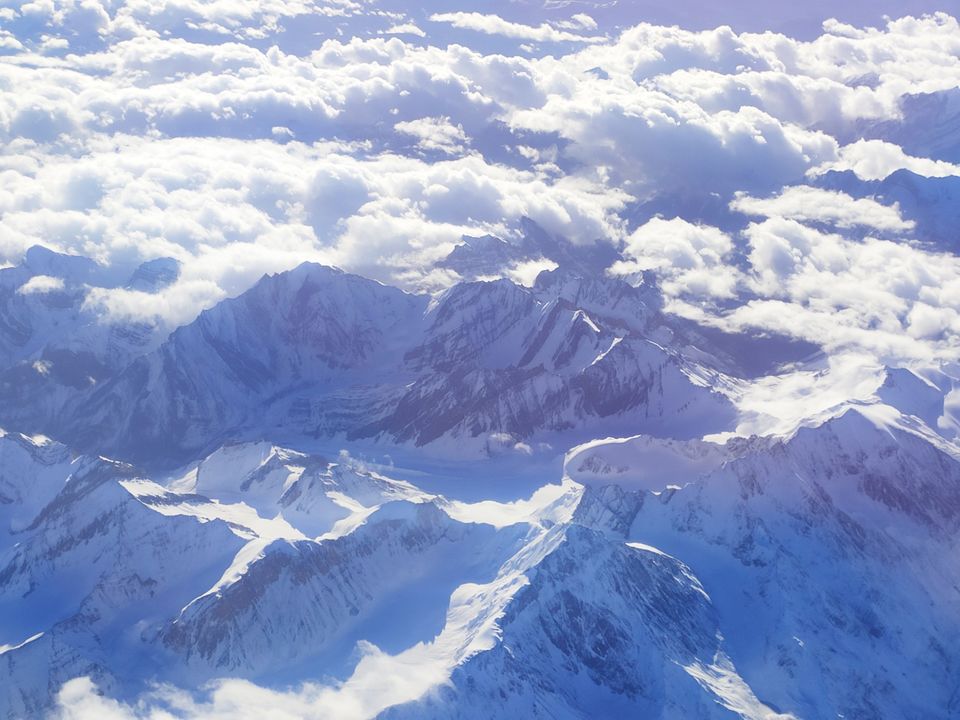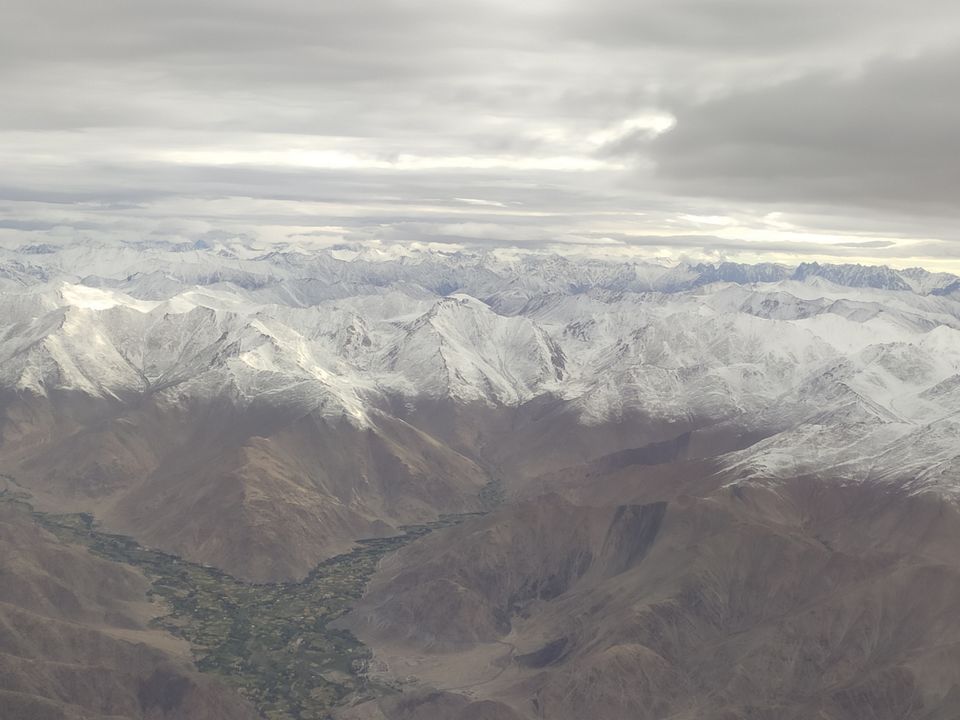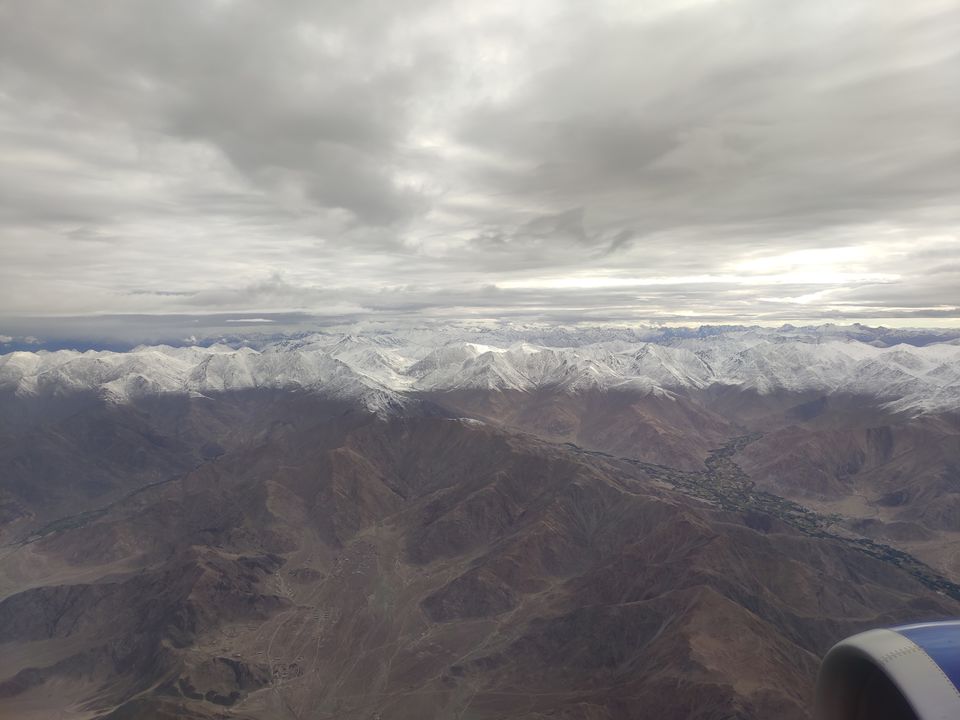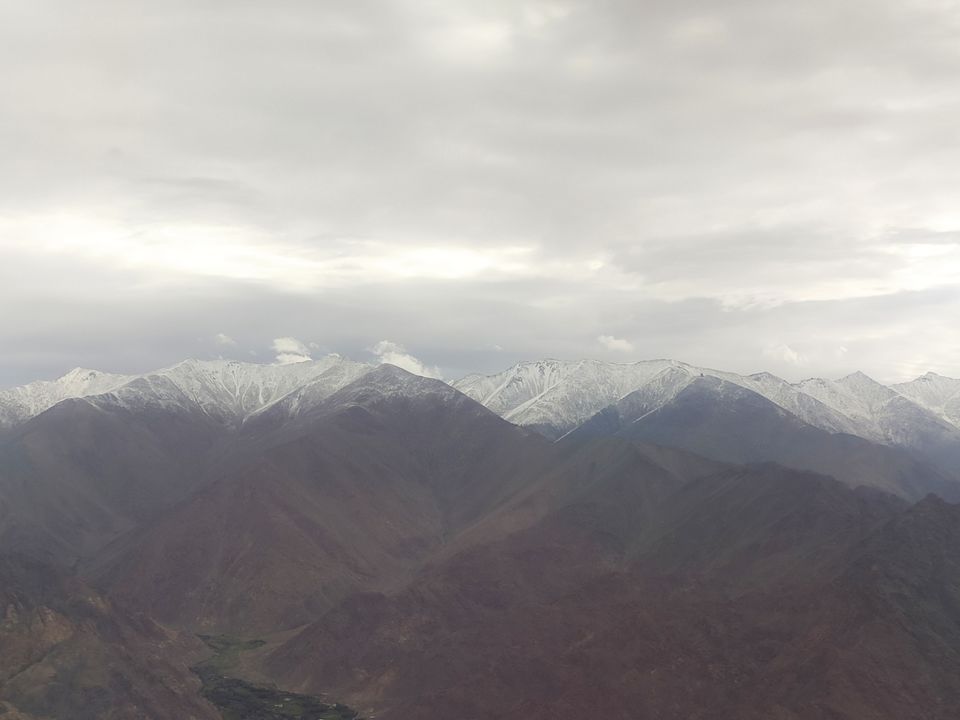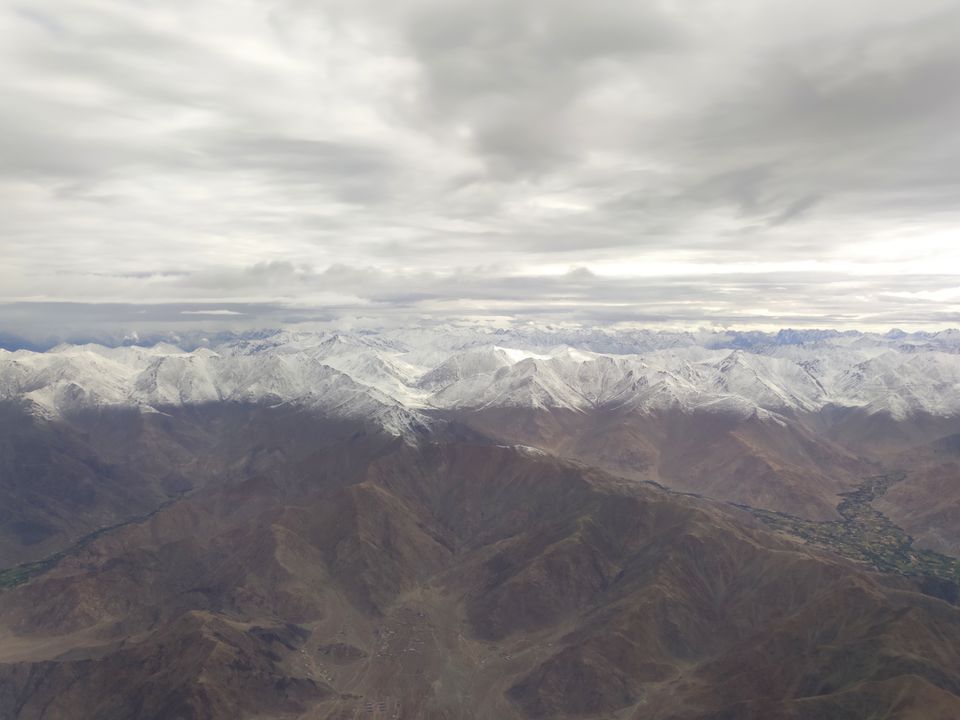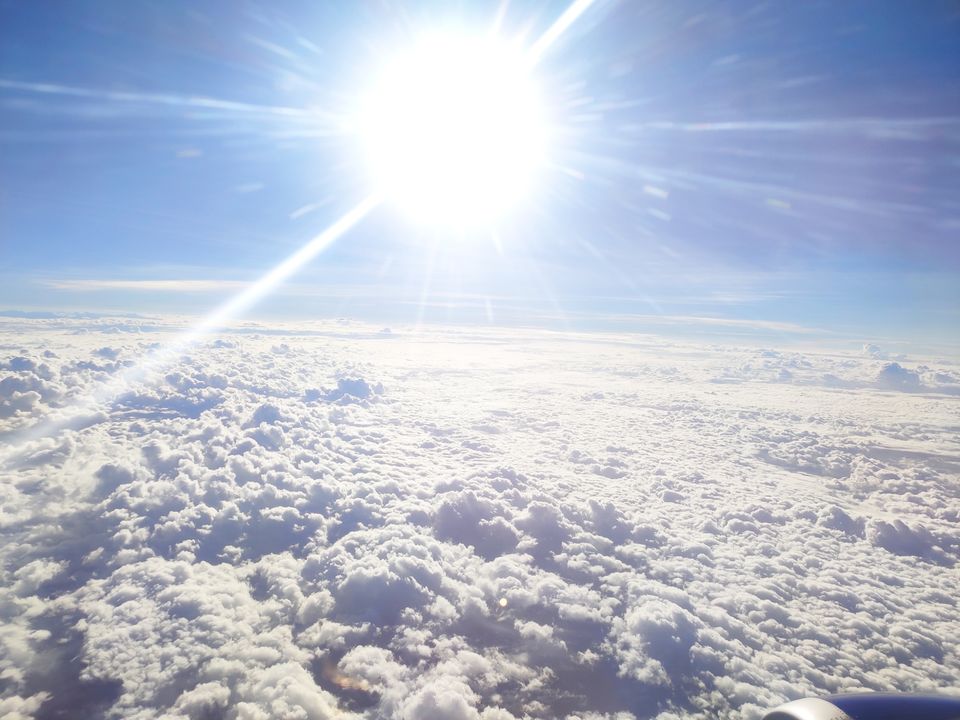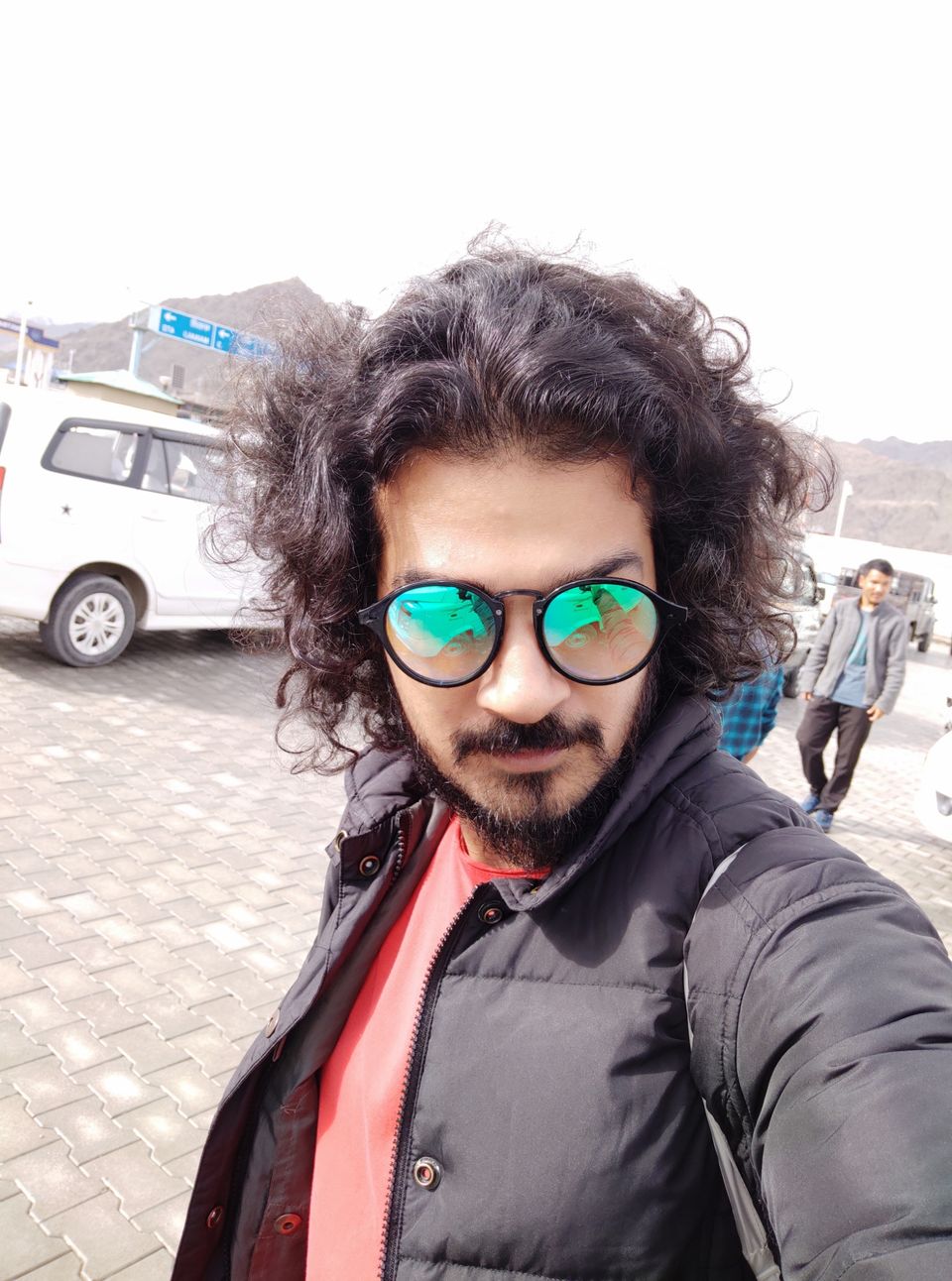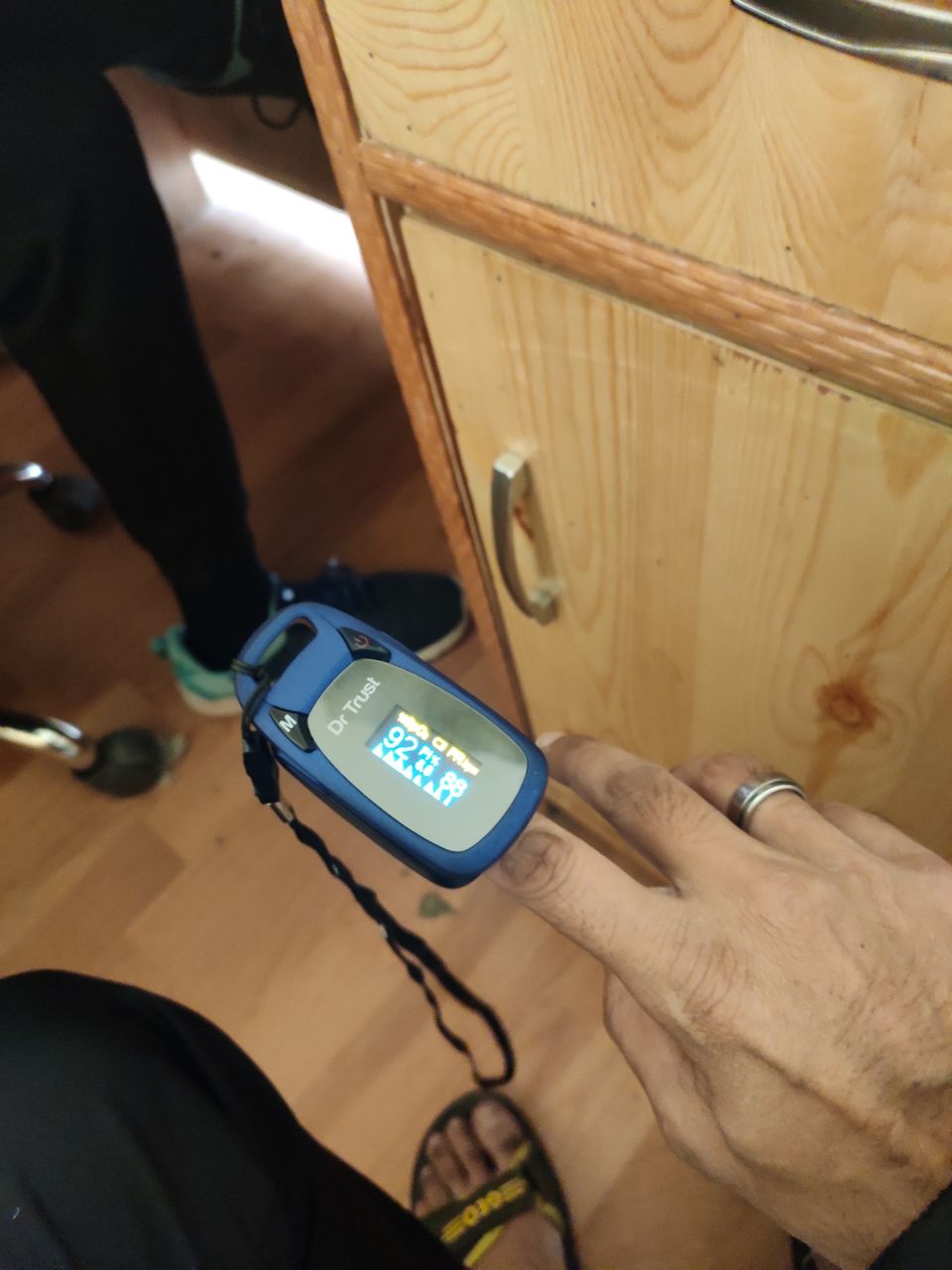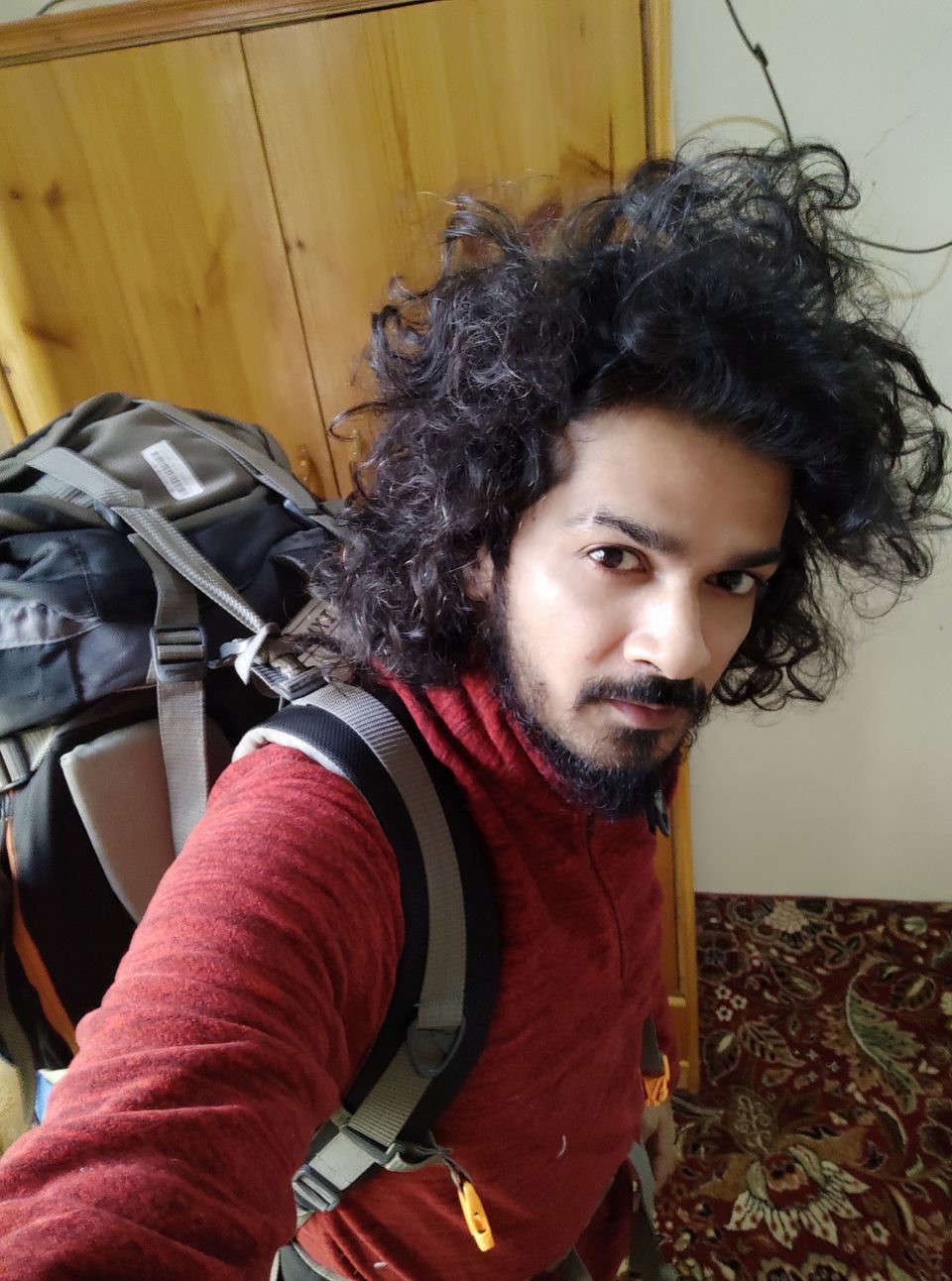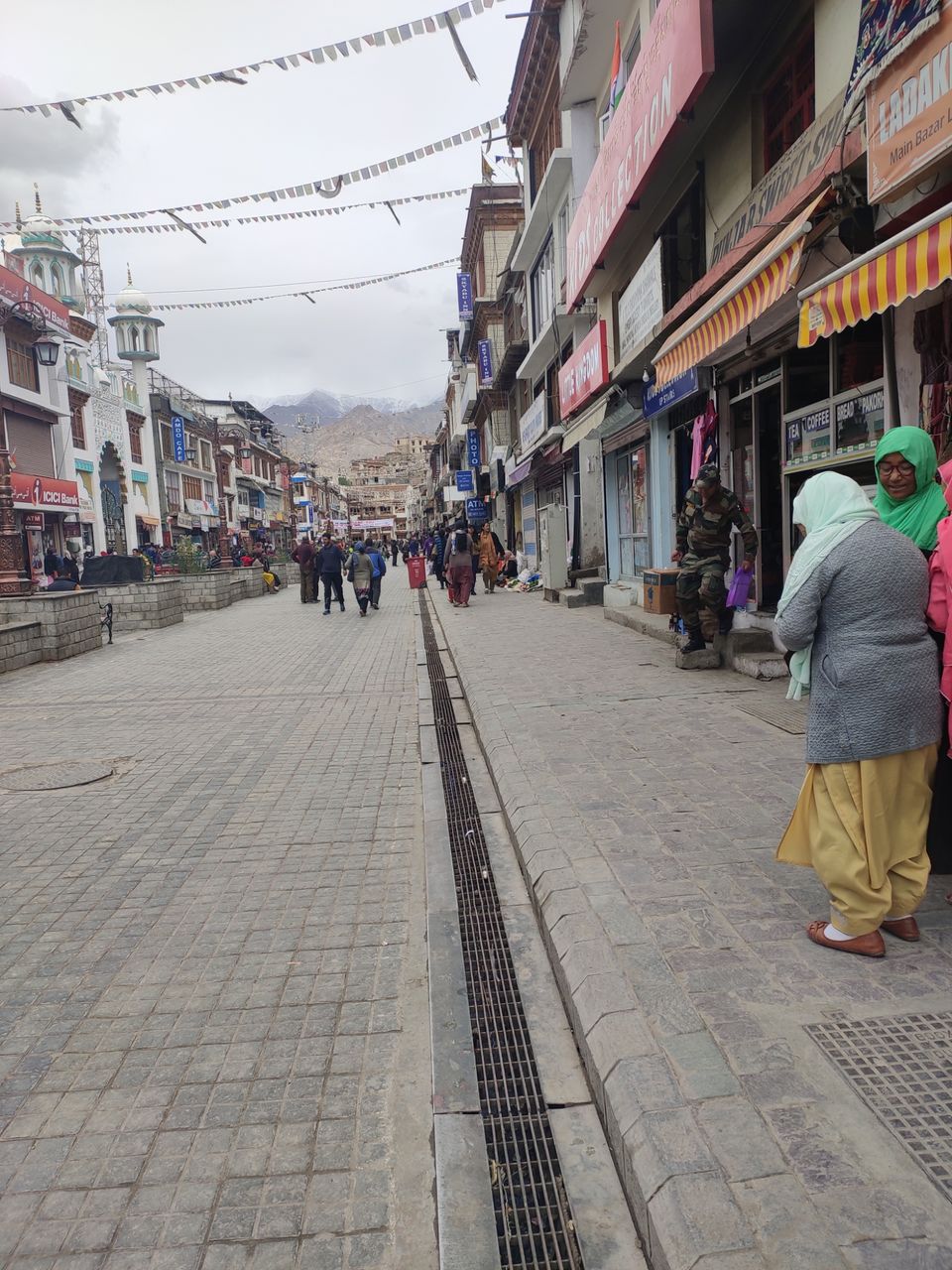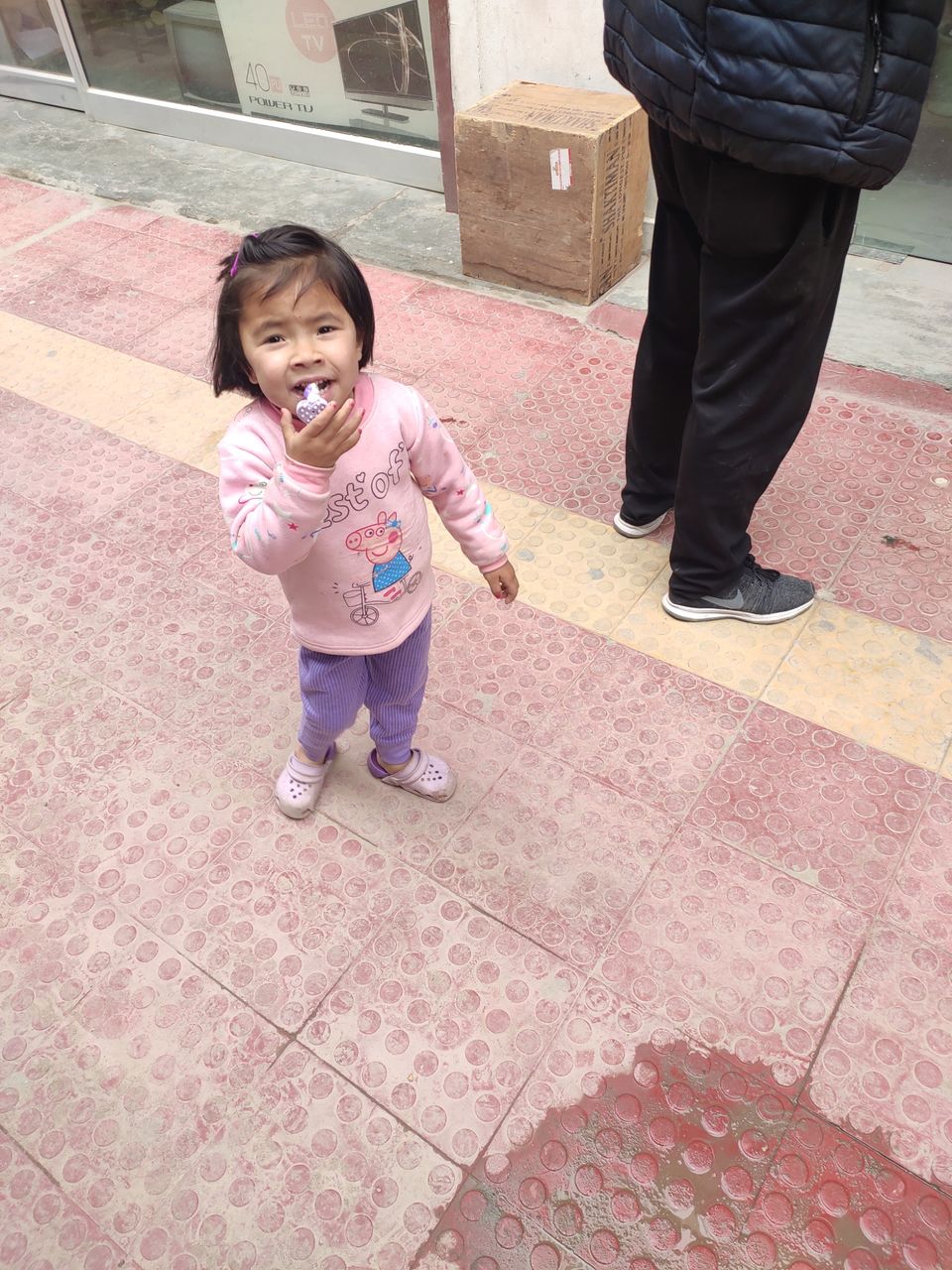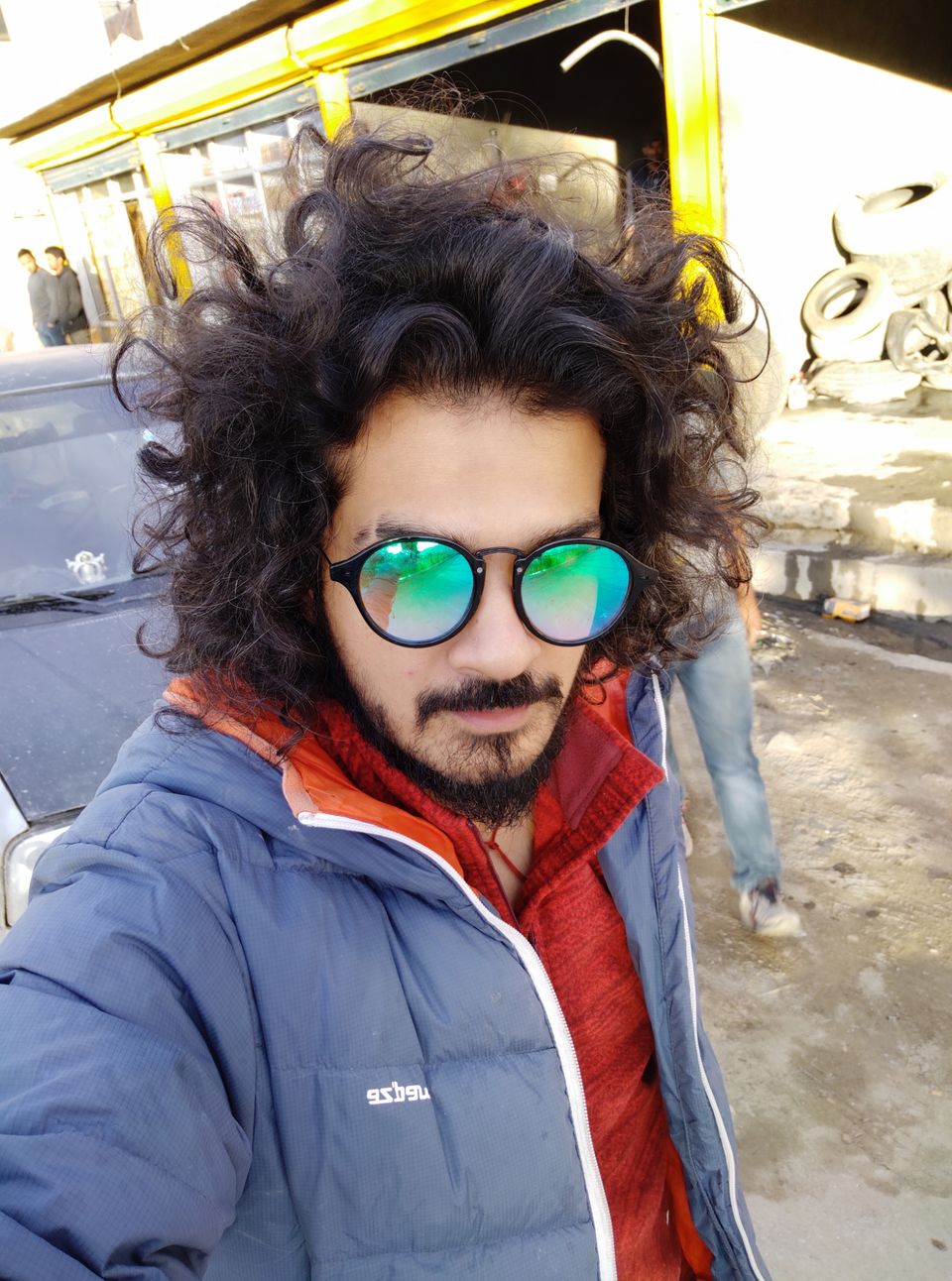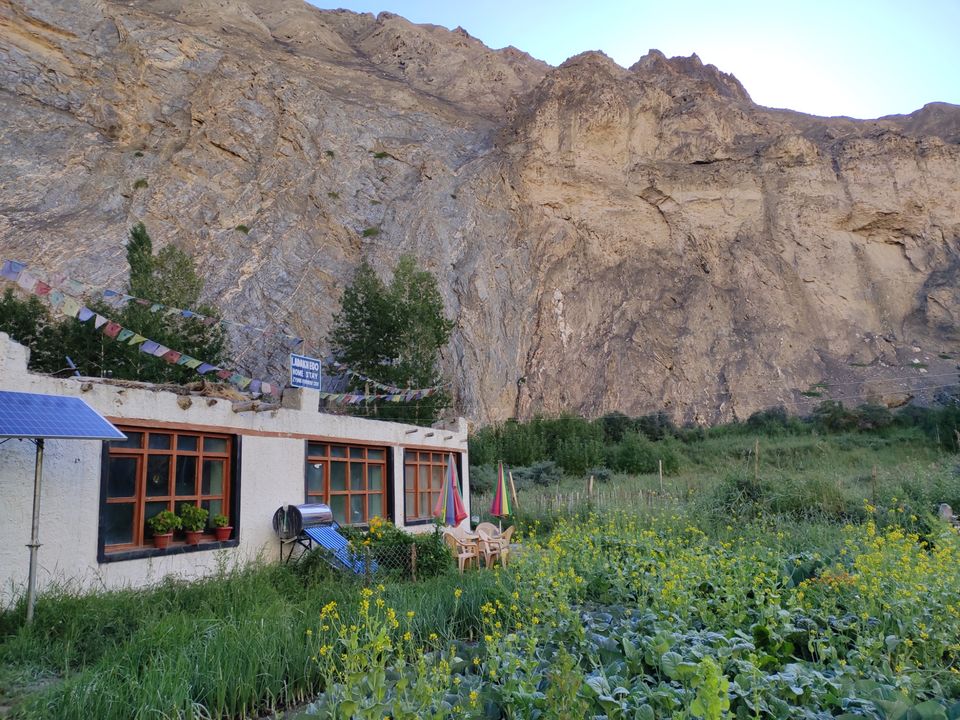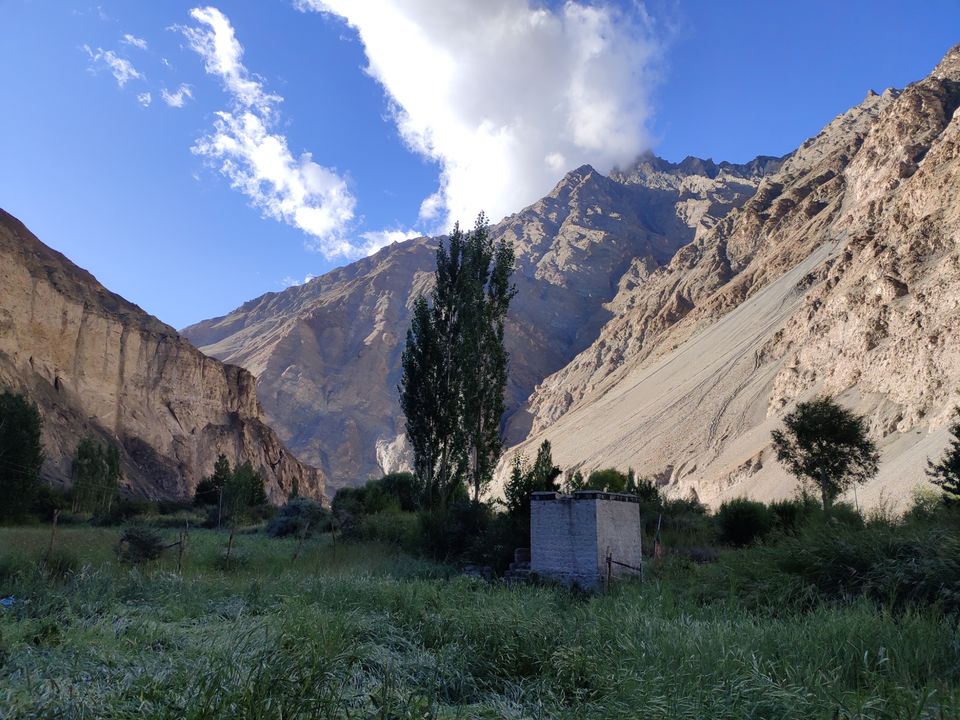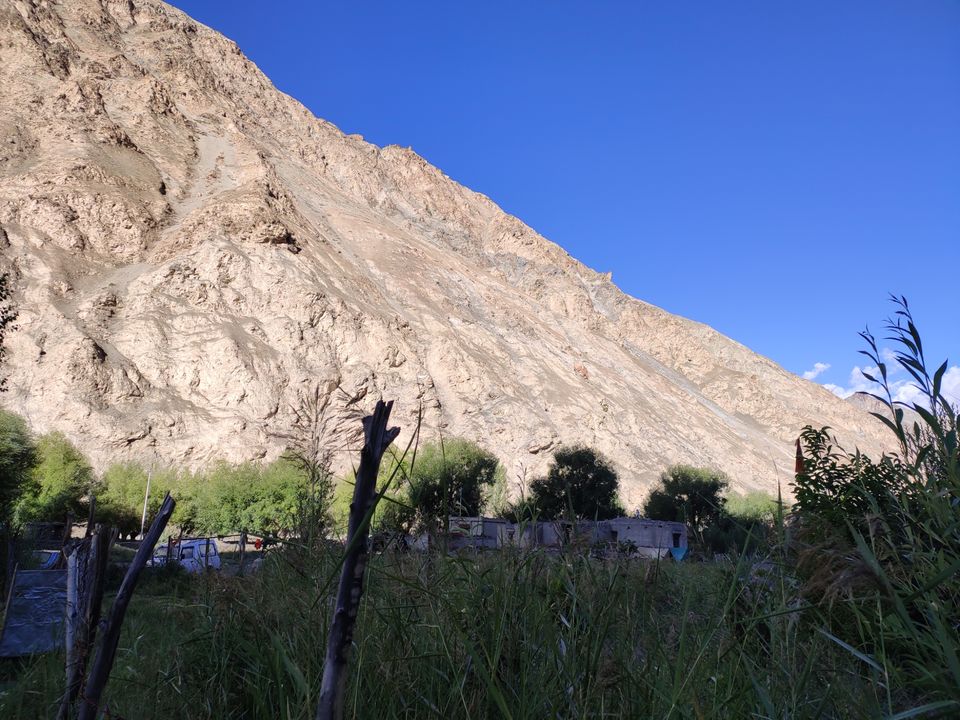 The last point of communication was long left behind, nonetheless the journey kick-started the next morning with delicious breakfast and a packed lunch from rikjin's home. The fellow guide chomdun - a Danny Dengzompa look alike and a heavily experienced guide came to pick me up to the point where I will meet rest of the team members. Chomdun is a veteran of 3 seven thousand + peaks (Annapurna, Makalu and Dhaulagiri) and an absolute champion climber. The way he tackled the challenges on the expedition was phenomenal.
A gentle uphill walk through the rugged terrain with rocks spread across the path, a never ending walk for next three hours cleared us up to the homestay where I will meet the trek leader rohit and the team.
Meeting the team
Rohit is a unique combination of being a seasoned climber and a carefree mountain guide. While his fitness levels and endurance are undoubtedly praiseworthy, he really impressed me on this expedition with his knowledge of the mountain and his leadership qualities. What's more, he is extremely friendly and fun loving – imperative for a long expedition.
Team - Arthur, a mathematician with a start-up in Paris joined by tamara, a psychologist and an actress who conducts therapy sessions for kids and adults. Rudy, a fun loving 67 year-young gentleman from auden, a beautiful small town near Belgium-german border,who you can talk with endlessly accompanied by Paul - a 67 year-young super fit gentleman from the same place with some unbelievable technical skills of wood chopping. Vibhakar - A gentleman with prior expertise of summiting Mt. Stok Kangri and trans himalayan treks and an avid bird watcher who throughout our journey translated his knowledge of birds and it's species to us.
A line I learnt from him as his wife is bengali which will stay with me forever was शरीर कास्टा टाका नास्टा – a Bengali phrase translated as – punish the body and lose money at the same time. A very good summary of the likely outcome of embarking on a grueling expedition like this.
Today's hike will take us to a local homestay where we stayed and took some time off to explore the uncharted valley till the stars lit up the night sky. The dinner table discussions was the time I cherished the most where we had discussions about anything under the sky from cuisines, art, nature, political theories, reincarnation to concepts of universe and human evolution, the list goes never ending. We bid a good night at around 2130 Hrs.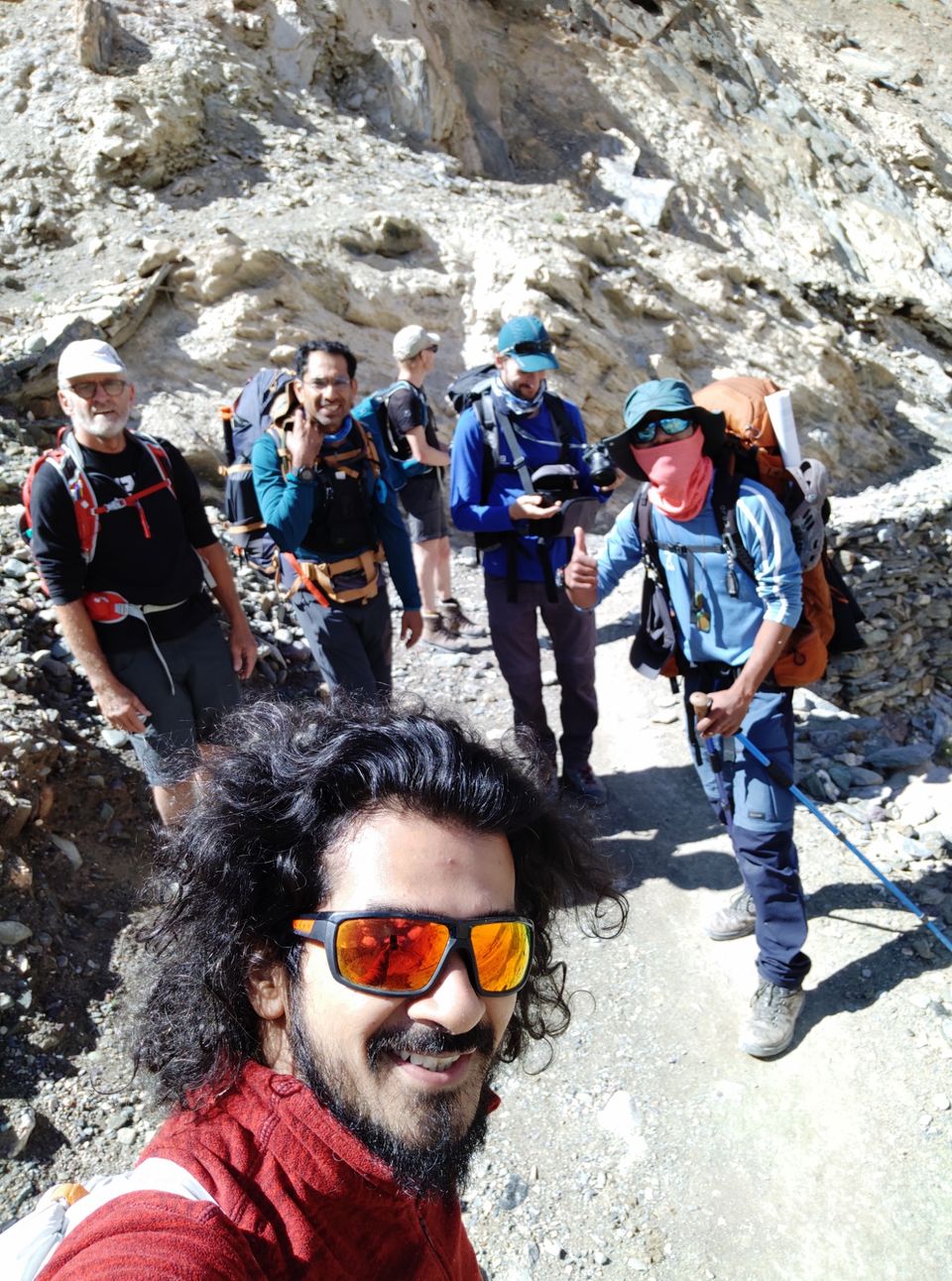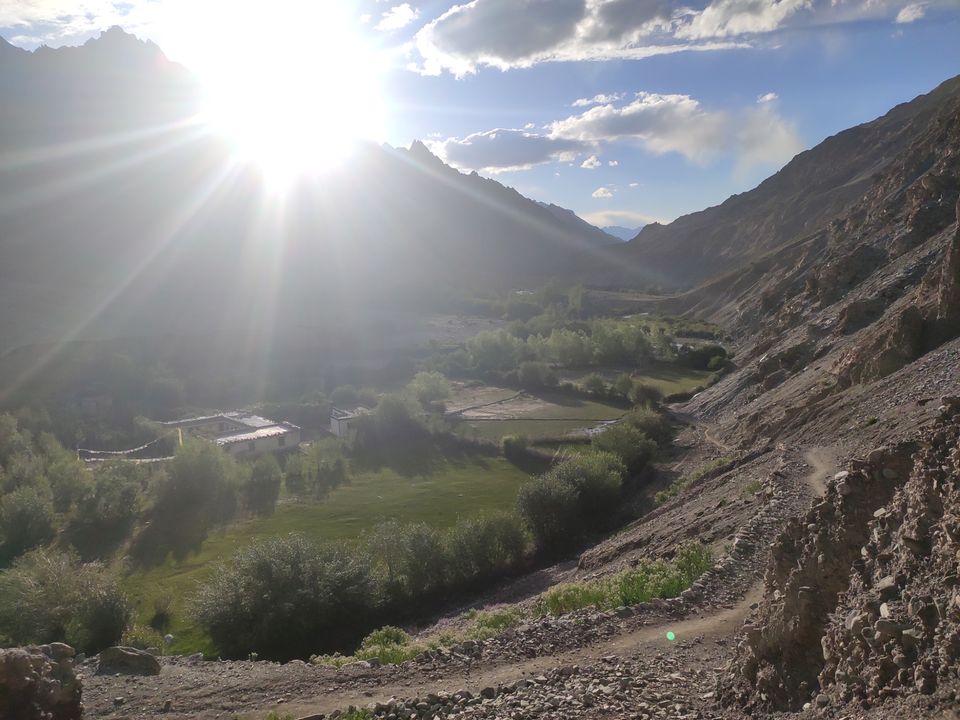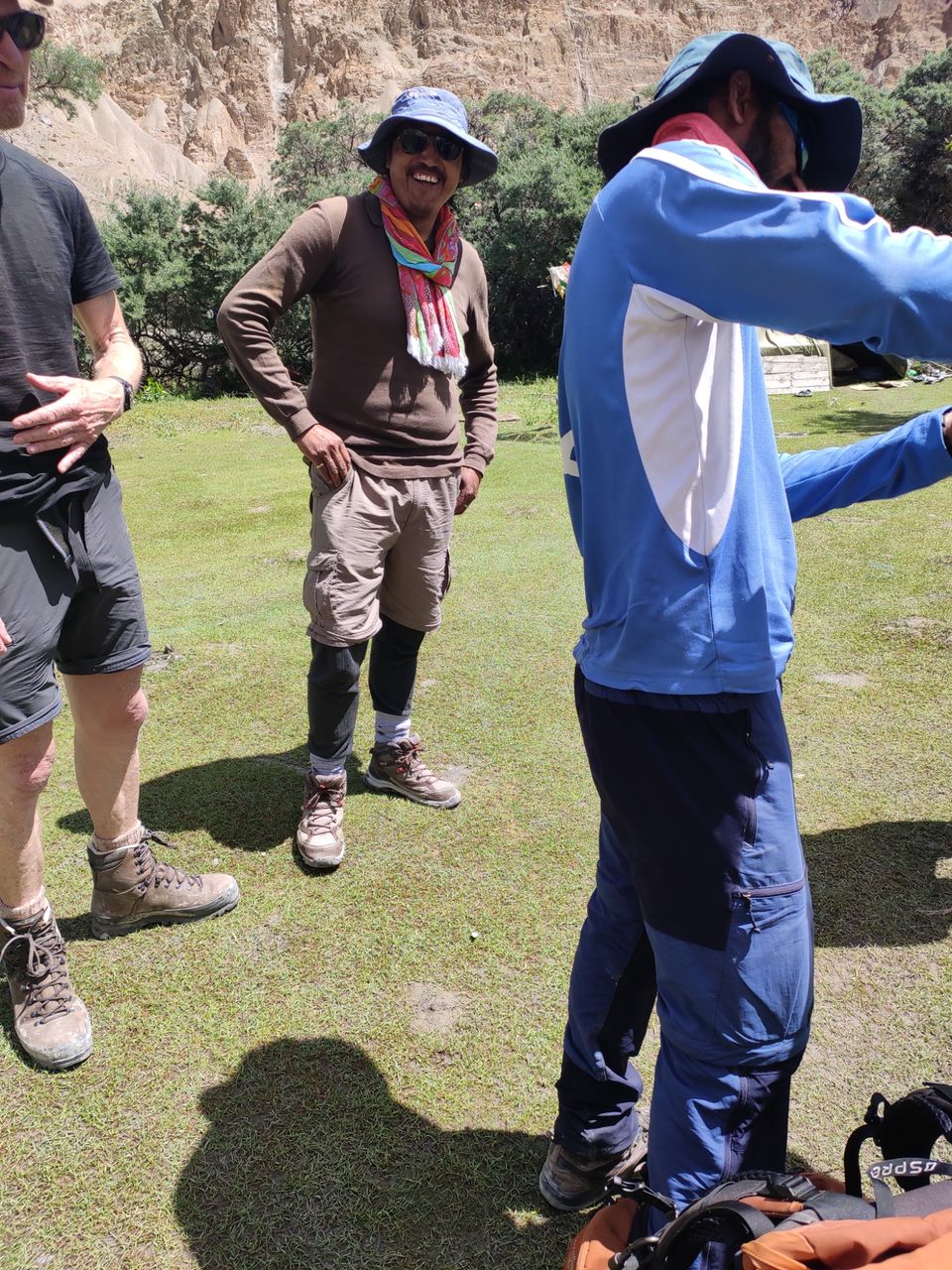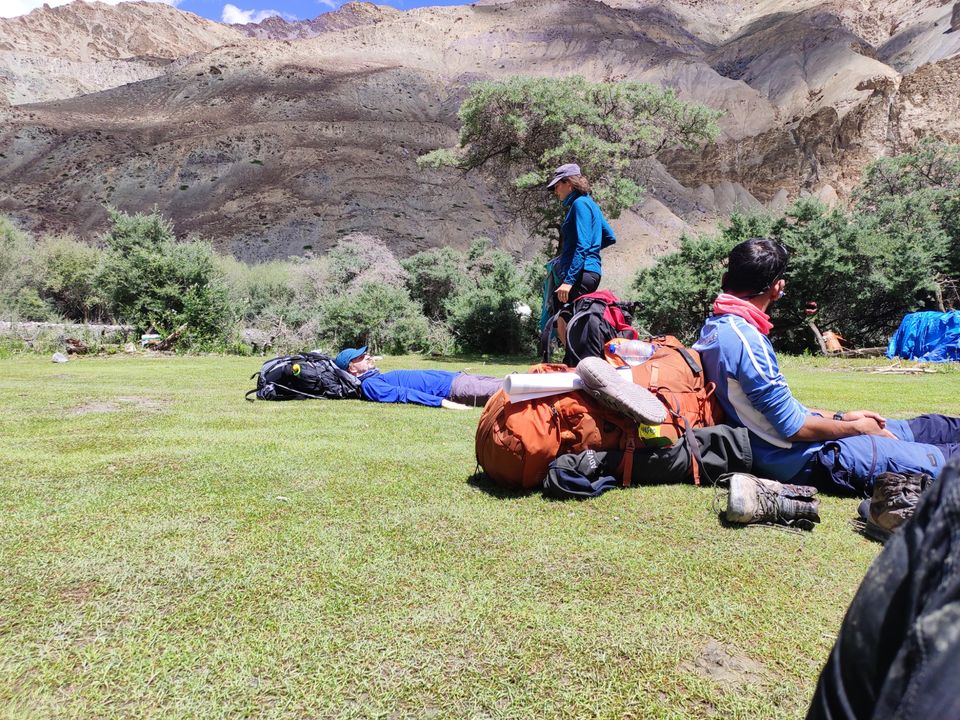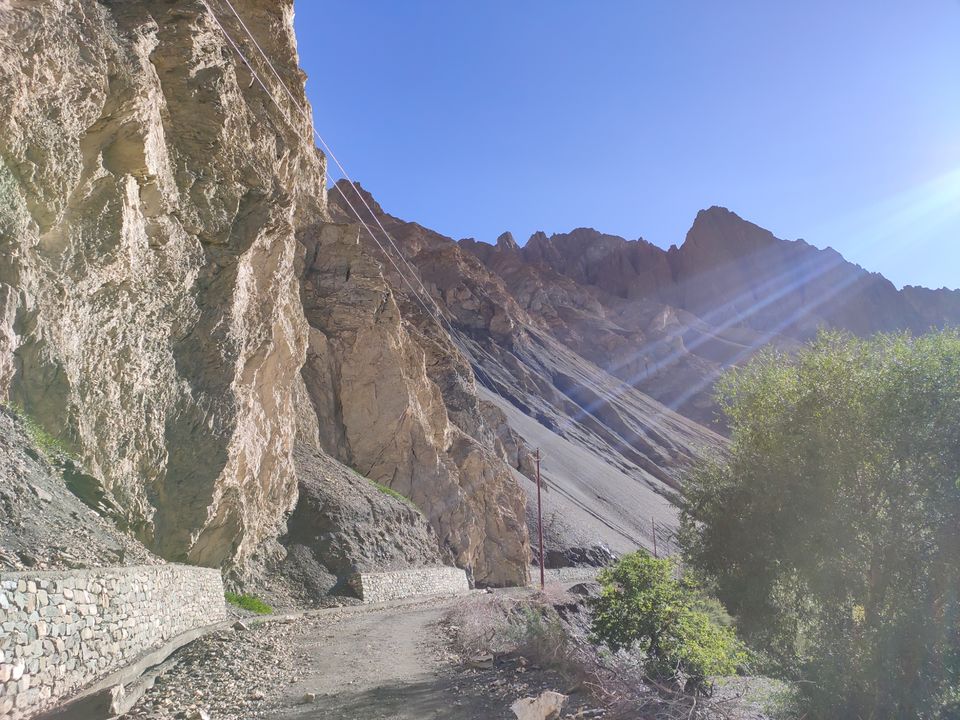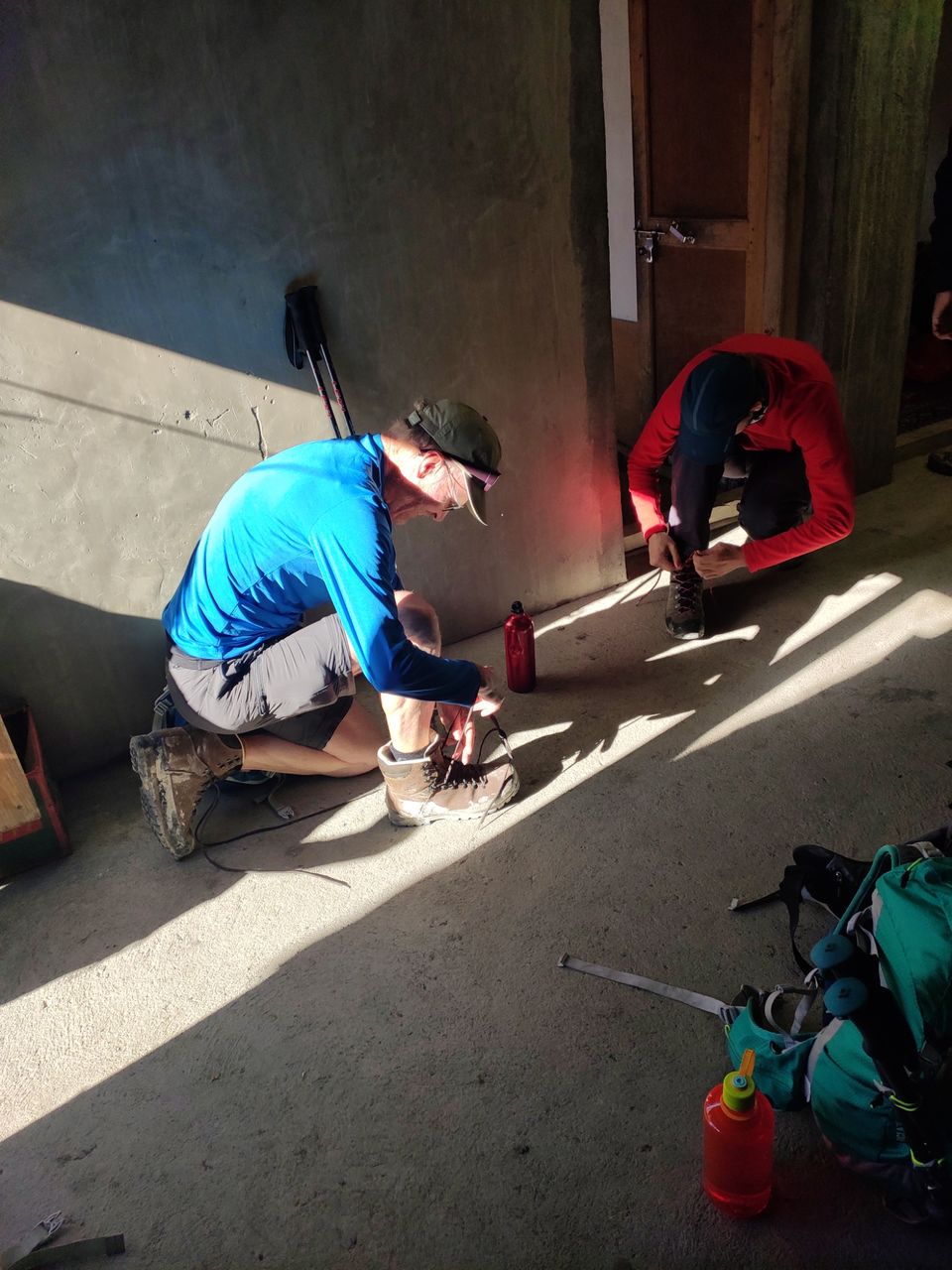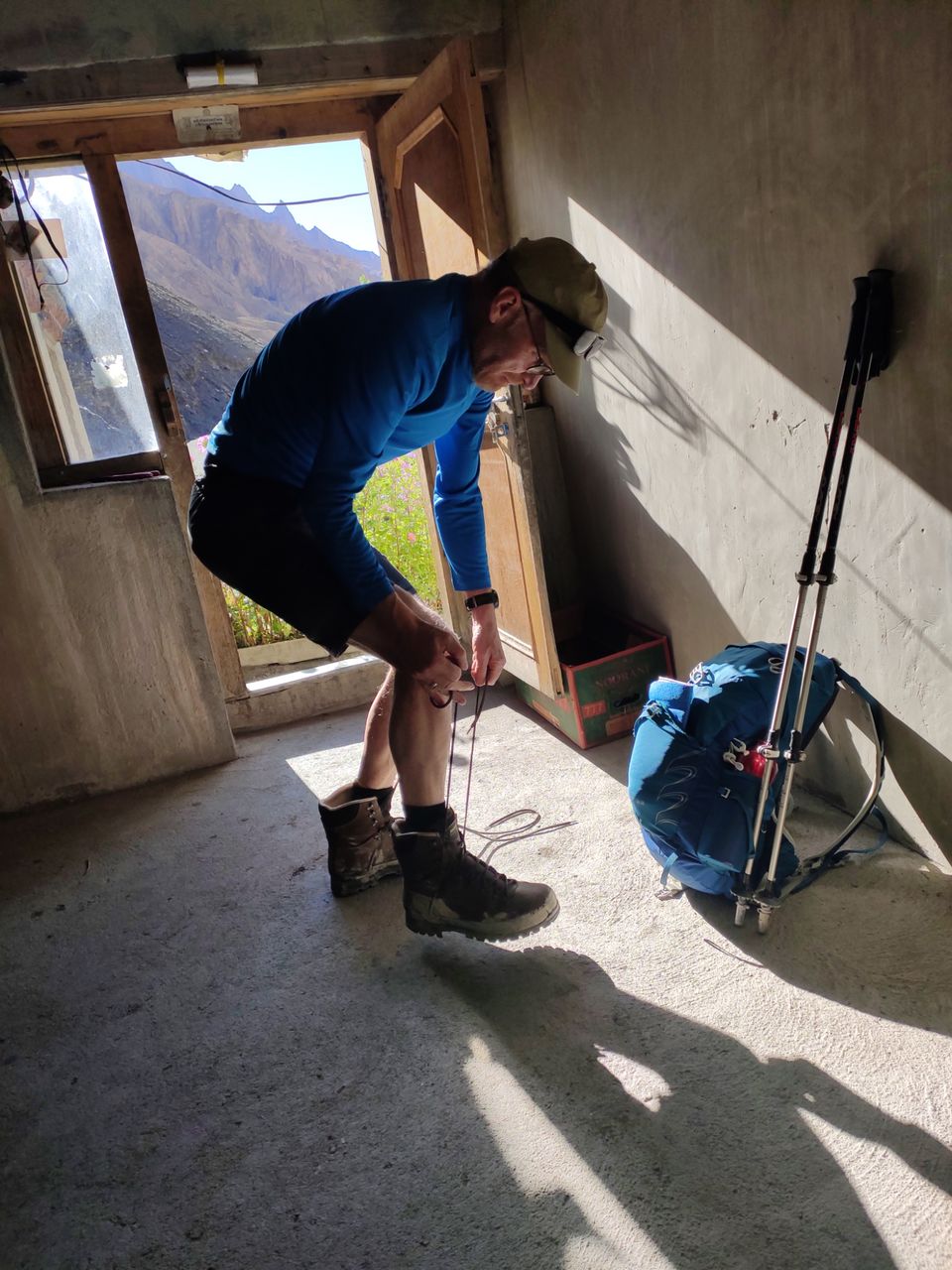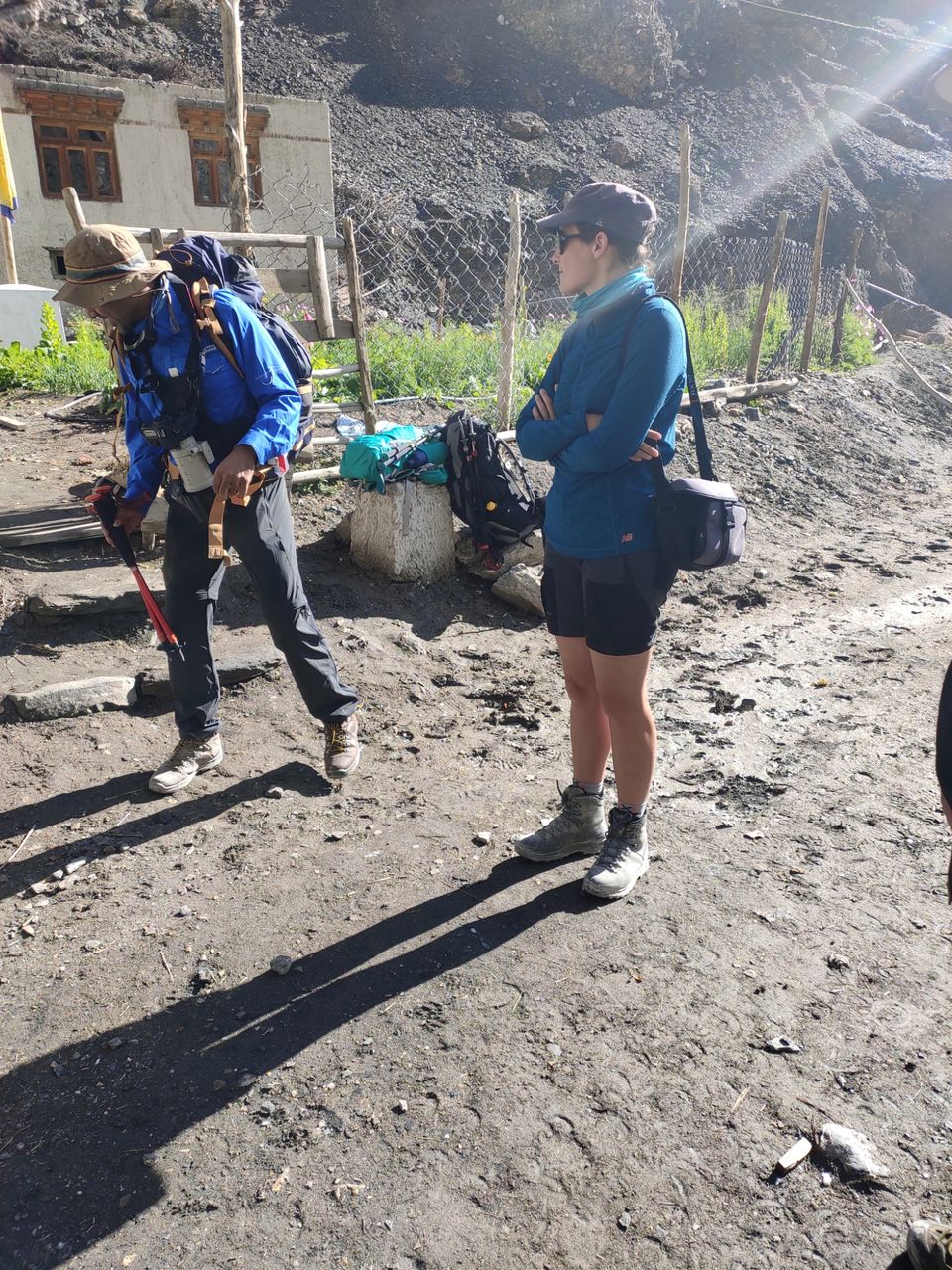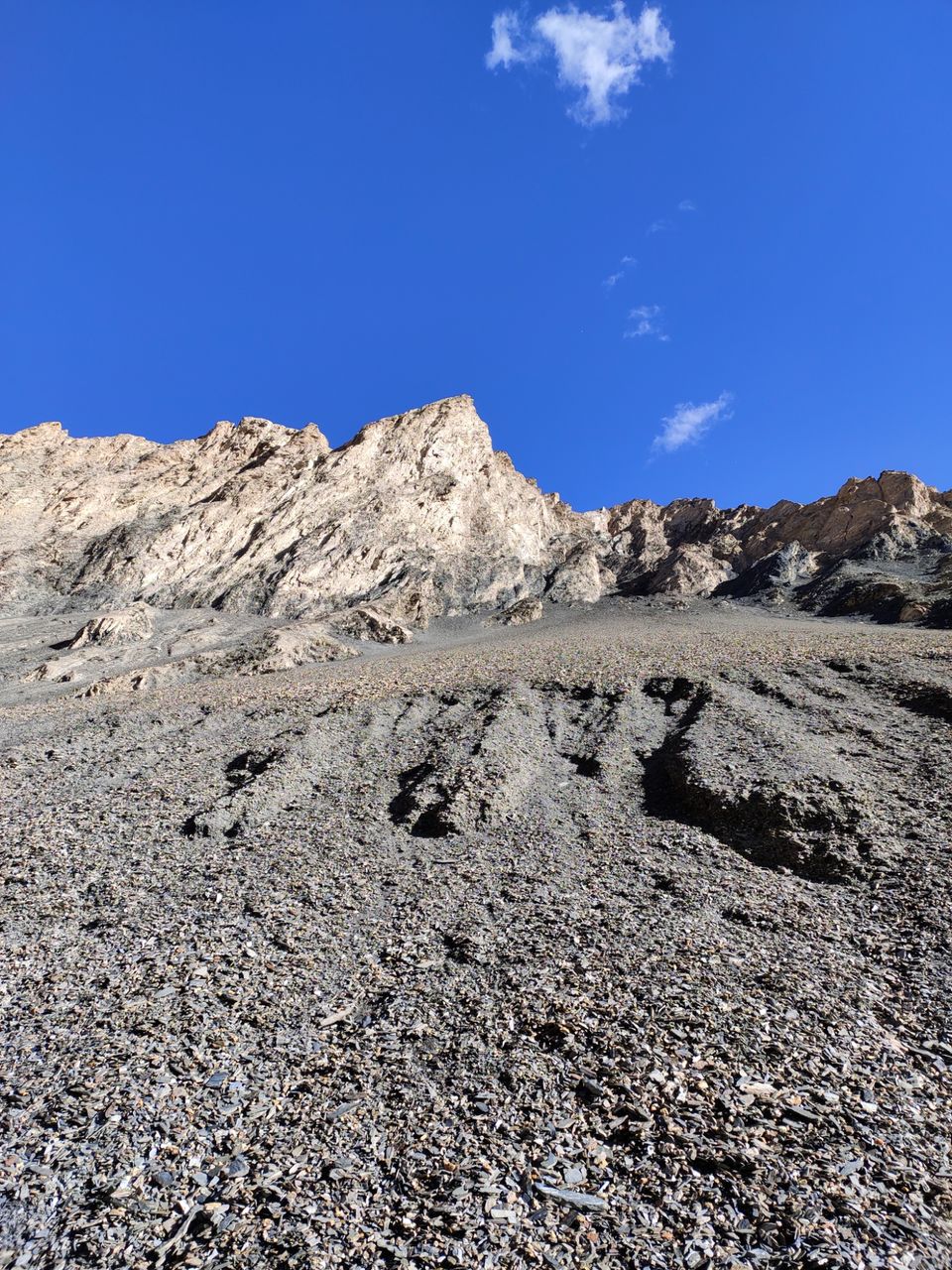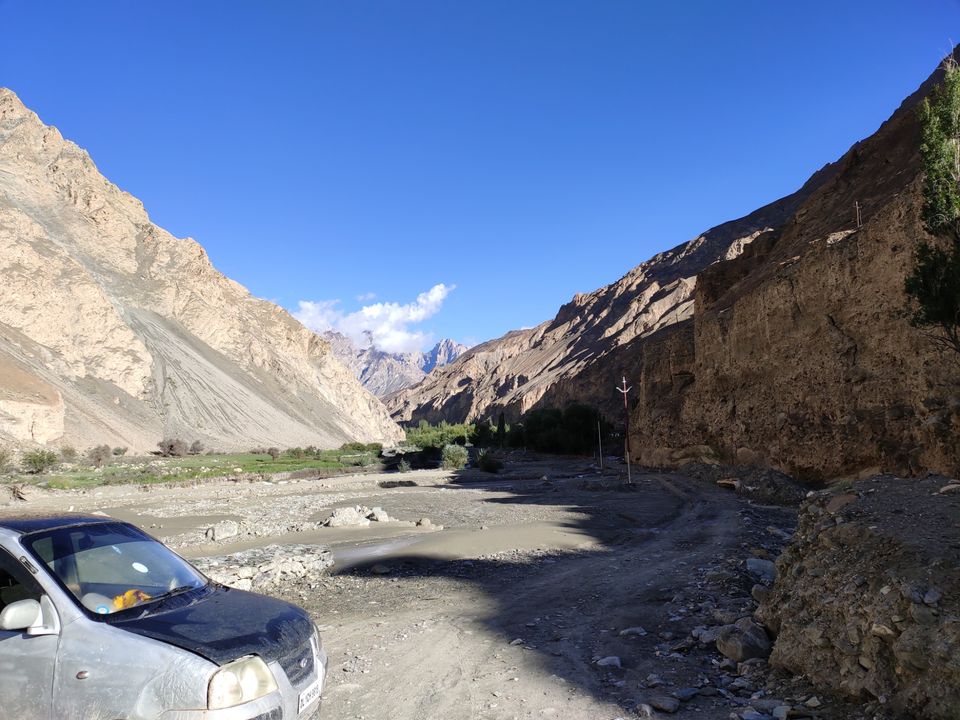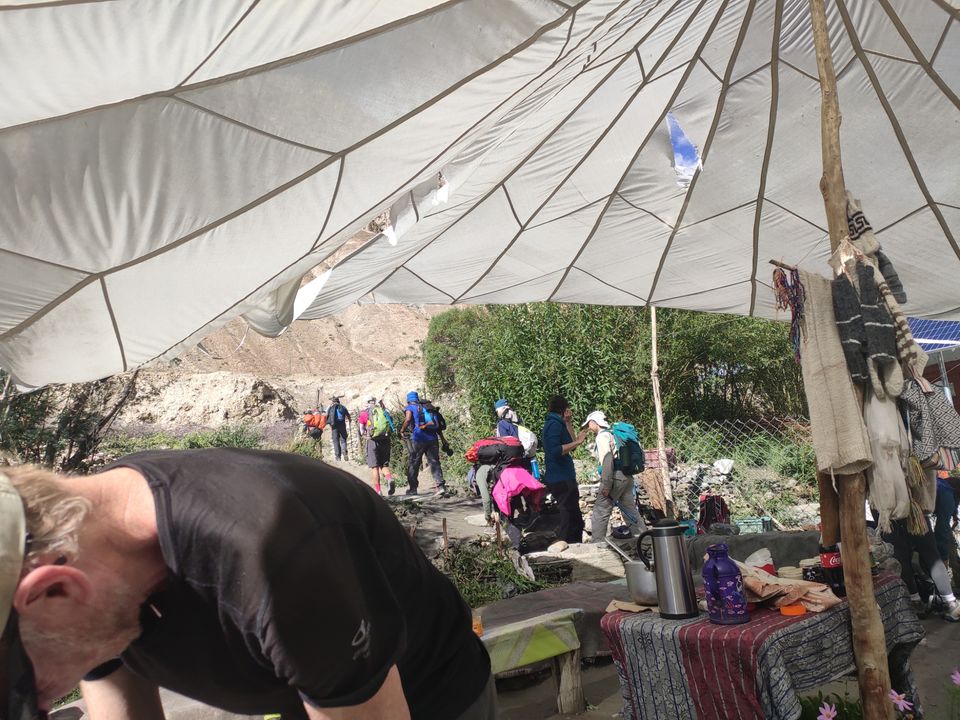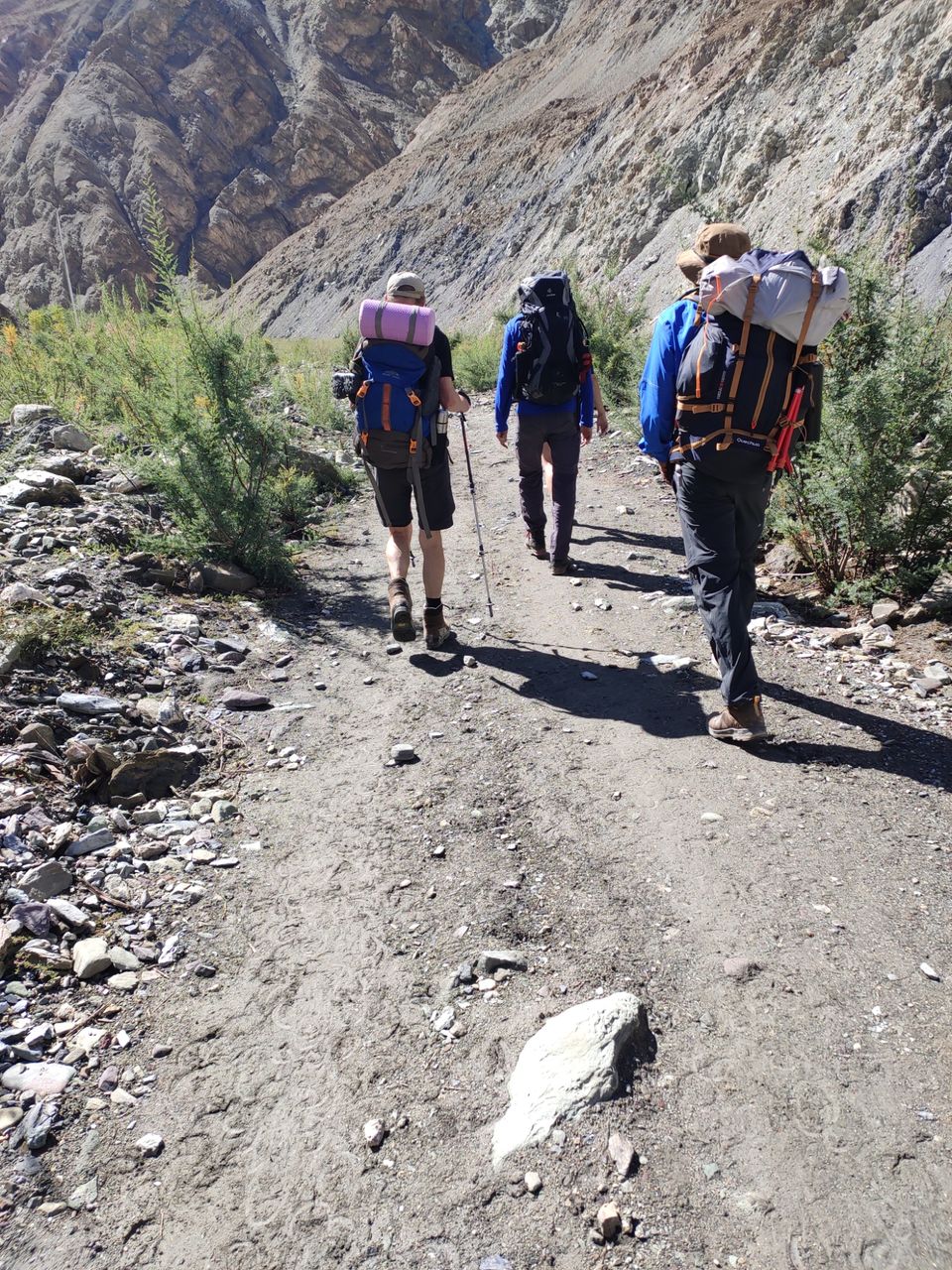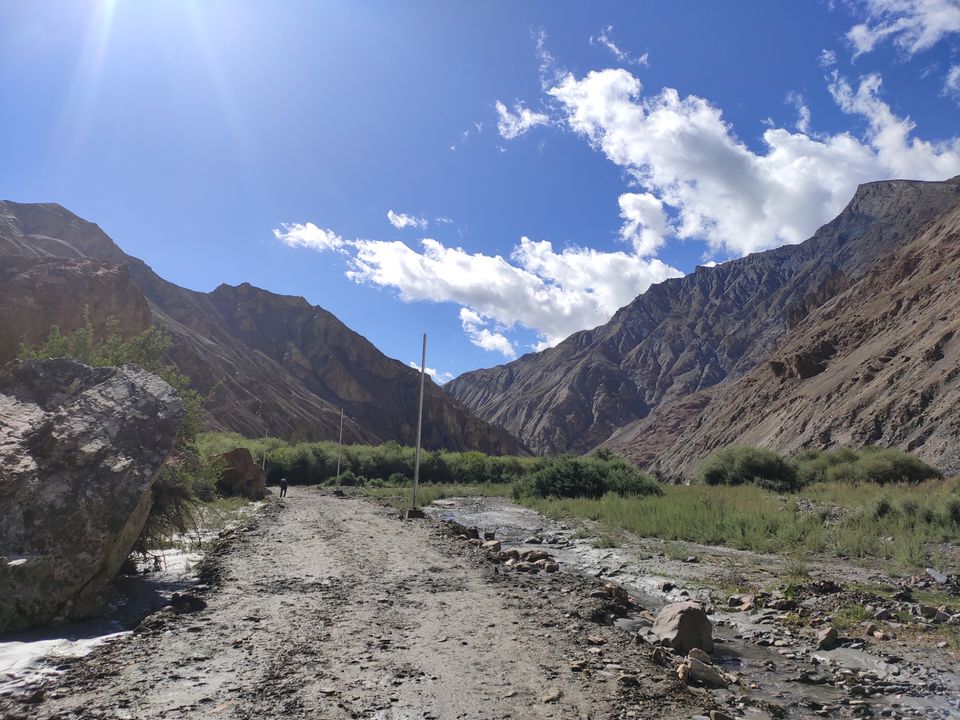 "Somewhere between the bottom of the climb and the summit is the answer to the mystery why we climb."
The Kangyatse 2 summit expedition was long staying awake in my mind
To give a shape to a dream long pending is not easy as it sounds and feel like to,like having trek booked, tickets booked and shopping for the essentials. The expedition starts first in your mind, way before it shows up in your actions. Having met with an accident and earning a not-so-welcoming spinal fracture, was put to rest for three months on bed straight. A roller coaster ride of struggle, emotions, support, frustration piled up only to give a shape of the aspiration named Kangyatse.
Apurva, fondly I call her kuhu was the actual designer of my entire journey literally walking me through every step I took till the top of the mountain. My wife, my love for life, someone without whom I could not have done what I managed to do. Without any further adieu let me tell you the gripping journey of summit to Kangyatse.
The transition from mountain to city life is the toughest of all and to explain someone of the beauty you witnessed, the tough situation you endured and how does it feel to be back to 'routine' is never easy. But to put that to perspective how do I manage to take you along the journey of KY.
So what do I do?
How do I get your lungs feel the same exhaustion and anxiety at the same time when we hit 19000 ft?
How do I tell you the exhaustion and excitement with which we ate frozen snicker bars on glacier with hour hands shaking violently?
How do I make your ego expand with subtlety and delight, the kind of happiness that moves up your vocal cords and makes your head sting when I turned around and saw the rest of the world infinitely below us?
I don't think I can.
Who knows though. Maybe the story of our journey can make you crave to have the same desire to experience this mountain's spell in person.
I have been on many other Himalayan treks thus far; Har Ki Dun, Rupin Pass, Kedartal, Roopkund, Manali-Leh Cycling (half) , Deo Tibba Base Camp, Stok Kangri base camp, Mt Everest base camp, goechala pass, Ghepan Ghat. My personal highest altitude record to date is 17,300 at the Mt Everest base camp.
At 17,000 feet, the air density is half as much as it is at at sea level. We are about to blow past that altitude.
The journey kick starts from Mumbai to delhi and to add to my struggle, we were stranded at delhi airport for two days because of bad landing conditions and weather in leh, and in the process I lost two important Acclimitization days.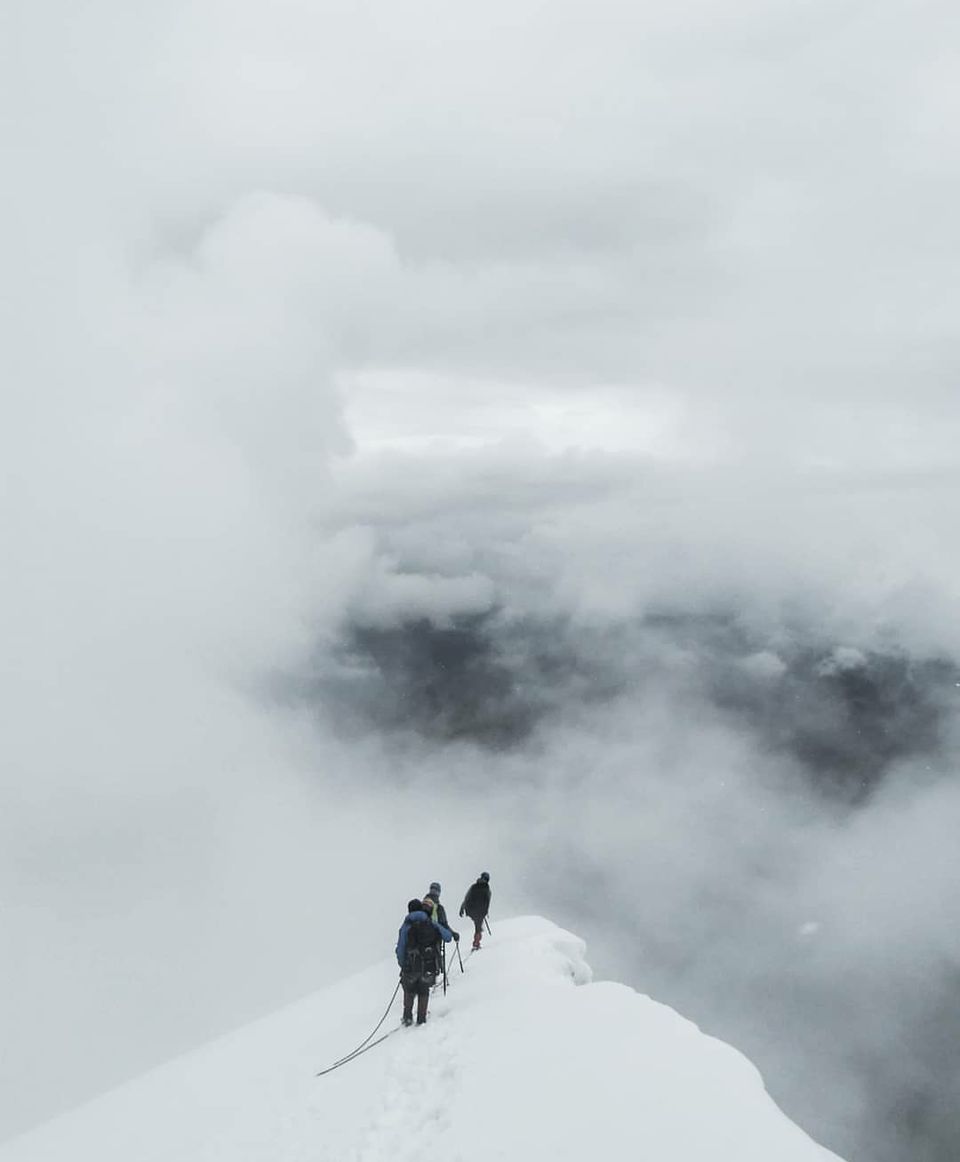 Sara and markha village - The place so tiny, not possible to pin on map.
We started day early in order to reach the beautiful markha village with our packed lunch and yummy breakfast to begin our day with. The best part of the breakfast was a surprise from a fellow trek leader from markha valley group from TTH (Trek the himalayas), Anu - girl from sori moriri, uttarakhand. She prepared handmade Apricot chutney by using stuff that I've only seen my grandma using it to prepare similar chutney back home. The entire group demanded more of it after the first taste and she had to make it again while we surrounded her to watch the procession of apricot chutney. She took some apricots and fresh mint leaves plucked from the mint shrubs right next to the rock and mixed it with some water and spices. We kept asking her questions and she kept walking us through the entire process which involved putting the mixture on a flat surface and keep muscleing it with a rolling pin.
Finally the mixture was put into a jar which was supposed to be run manually to mix it evenly. It was a hardwork paid sweet and sour, like literally. She shared lot of stories on how mountaineering is perceived as a profession even when you come from a mountain village. We started the day with lot thoughts to ponder over. My back had started to challenge me and I definitely must thank Rudy and tamara who offered to carry the heavy backpack for the entire day. We saw willow trees along our way where we were told that the cricket bats used by the likes of Smiths, Williamsons and kohlis are made from the wood of these trees.
Today was the shortest, flattest and most relaxing part of the whole hike. The landscape is magnanimous, but the mountains are sharper,steeper and with some gigantic cliffs.
Honestly, you could easily continue walking to a further village, but Markha is sort of a special place, worth spending half a day in.
It's the capital of the valley, hence the village with more things to do and see, from a couple of Buddhist gompas, to peasants working in the fields, playing with children or admiring the landscape.
By the way, Markha is the largest village of the valley, however it is composed of no more than 20 houses spread around a big area.
We had a river crossing and this time I did not leave any stone unturned to have the fun factor maxed out. I crossed the river patch thrice to and fro before I was stopped and shouted at by one of the sherpas in the name of catching cold before the deadly climb and so I ceased the act. We reached markha village dwindling through stones, rivers, moraines, scree and river greeting us every now and than.
It was a view to behold, the first hand sight and sniff of mighty KY peak. That was the first glance and a full blown view of KY. We realise immediately that it is a super tough ask on the summit day but the
Enchanting beauty captured our attention and it resonated with the purpose with which we came here.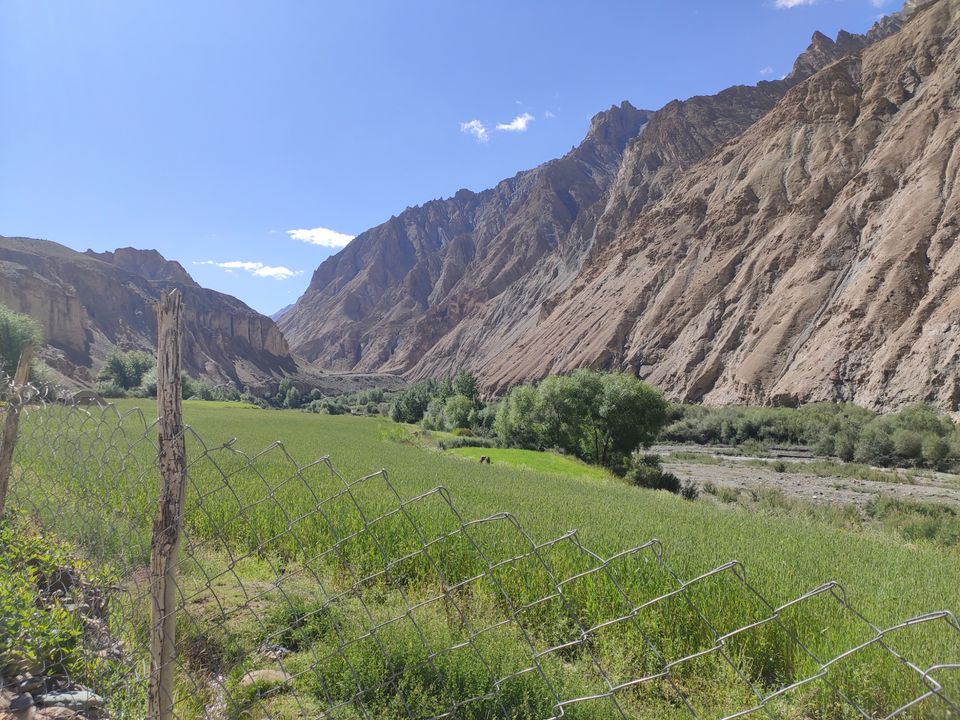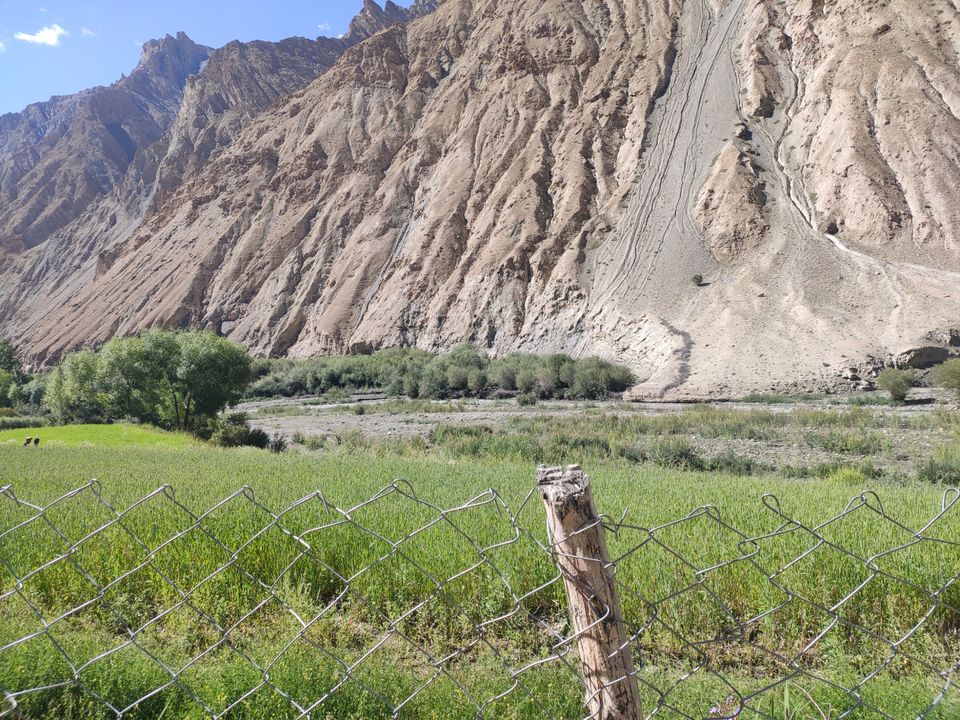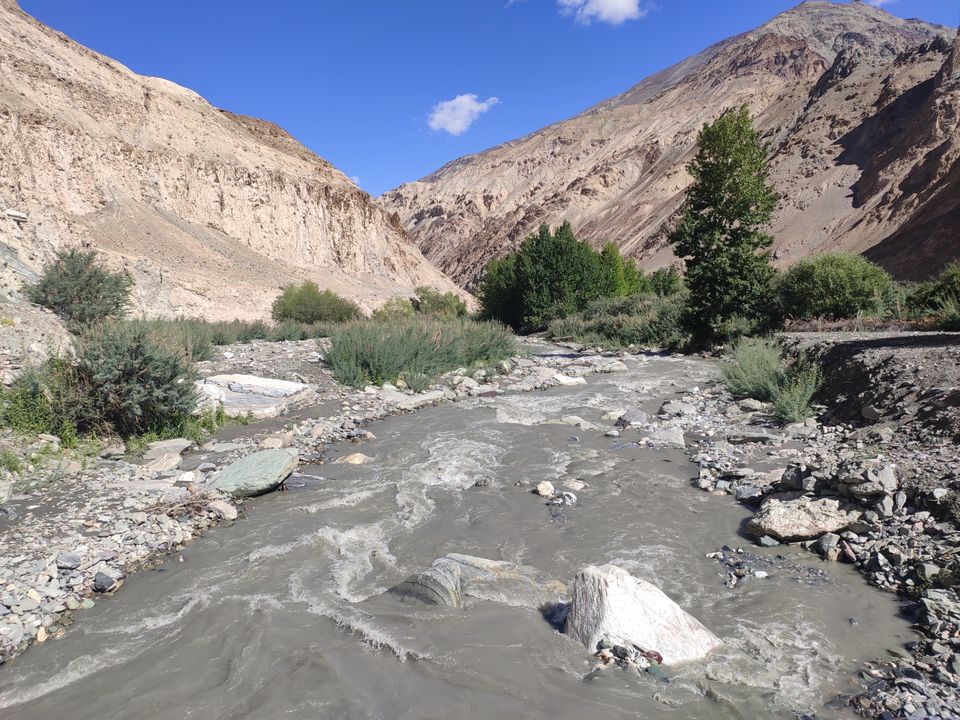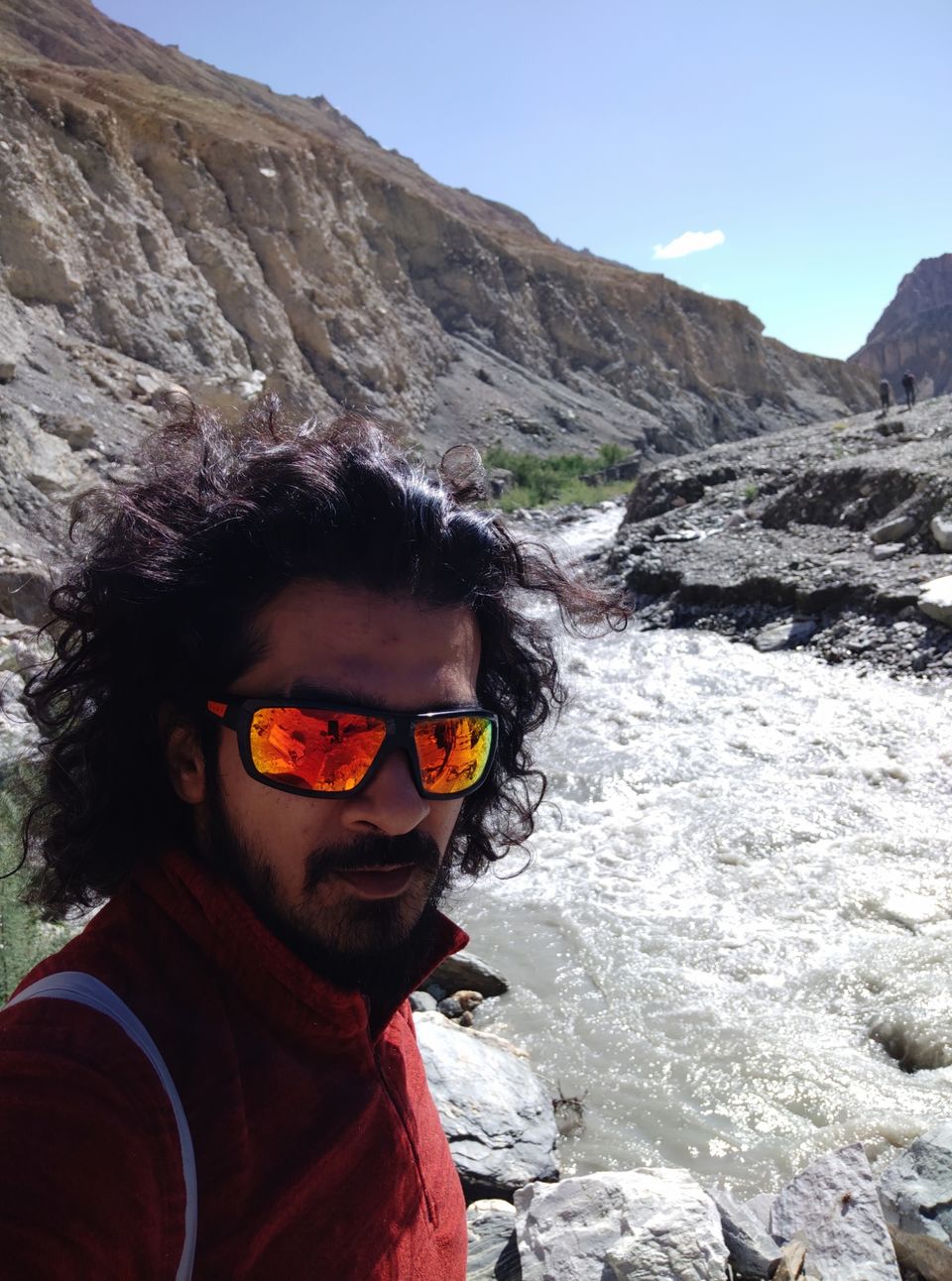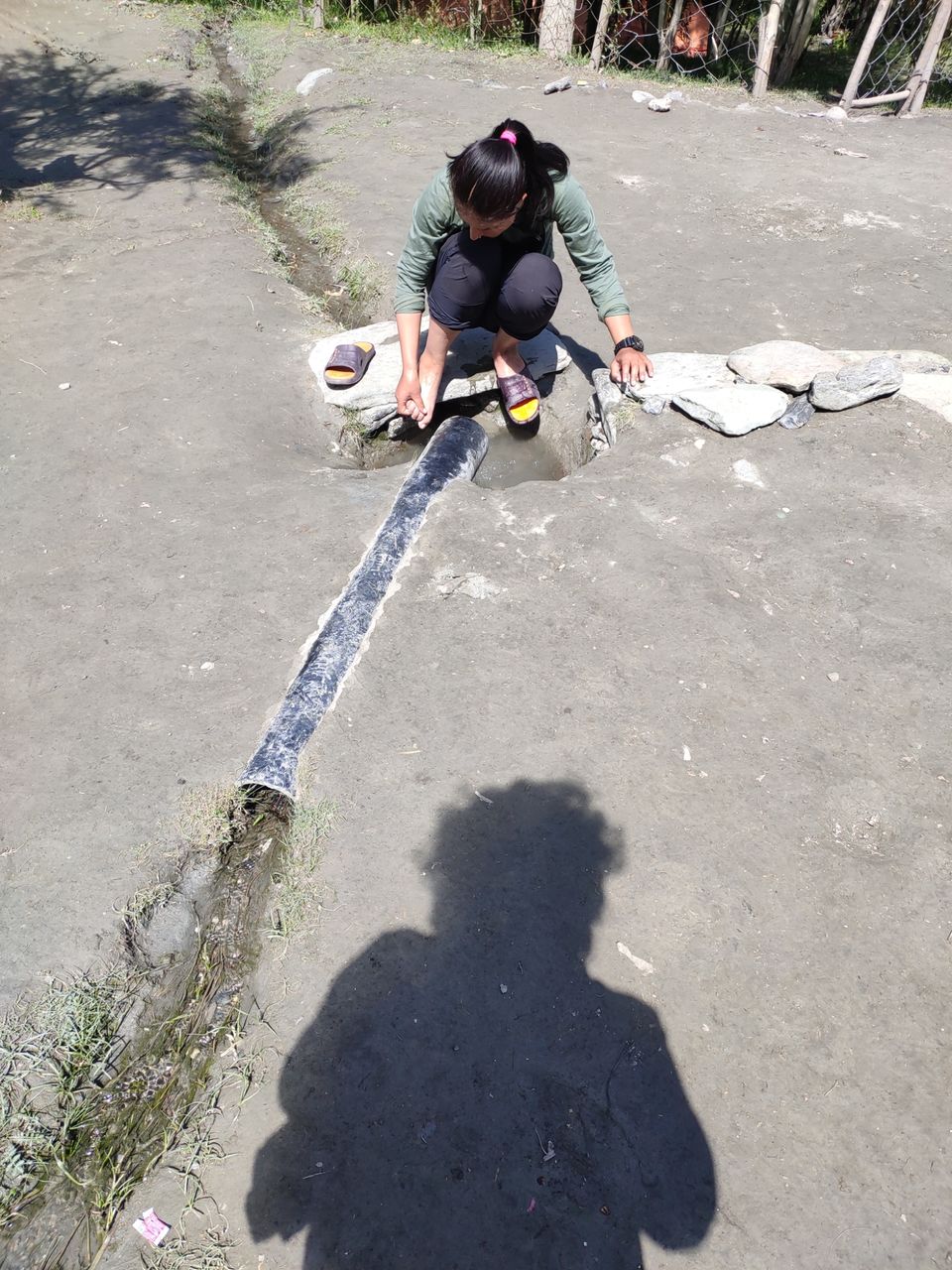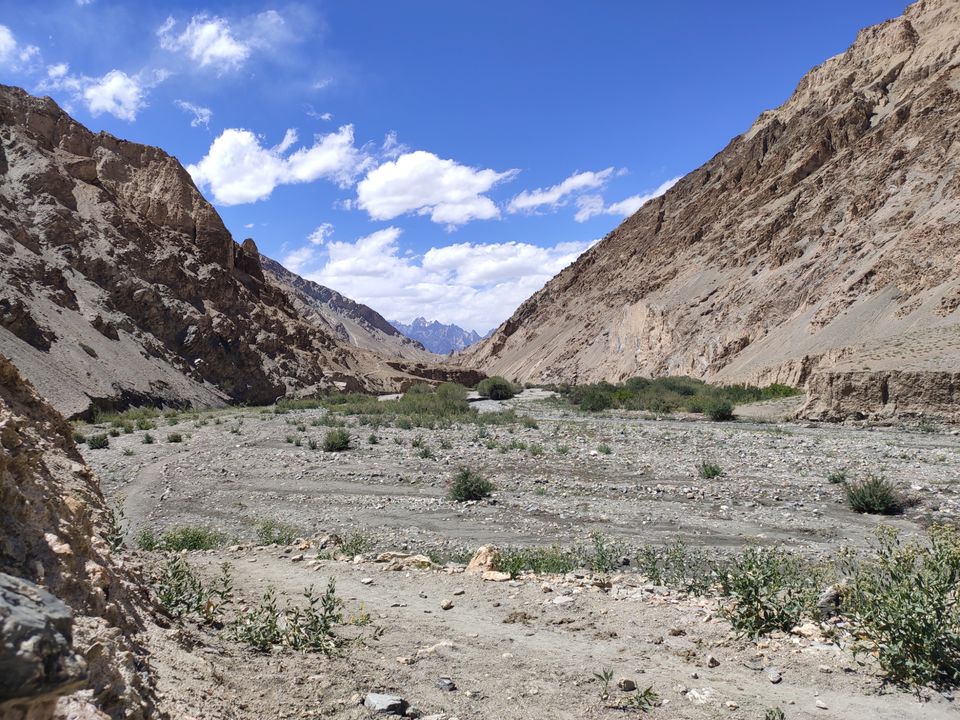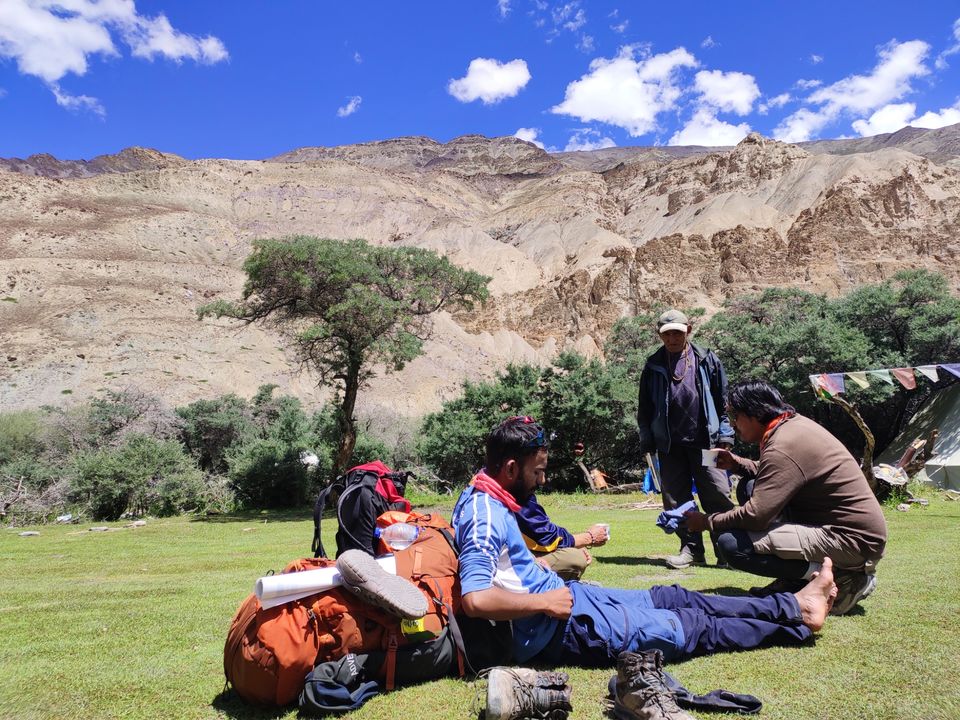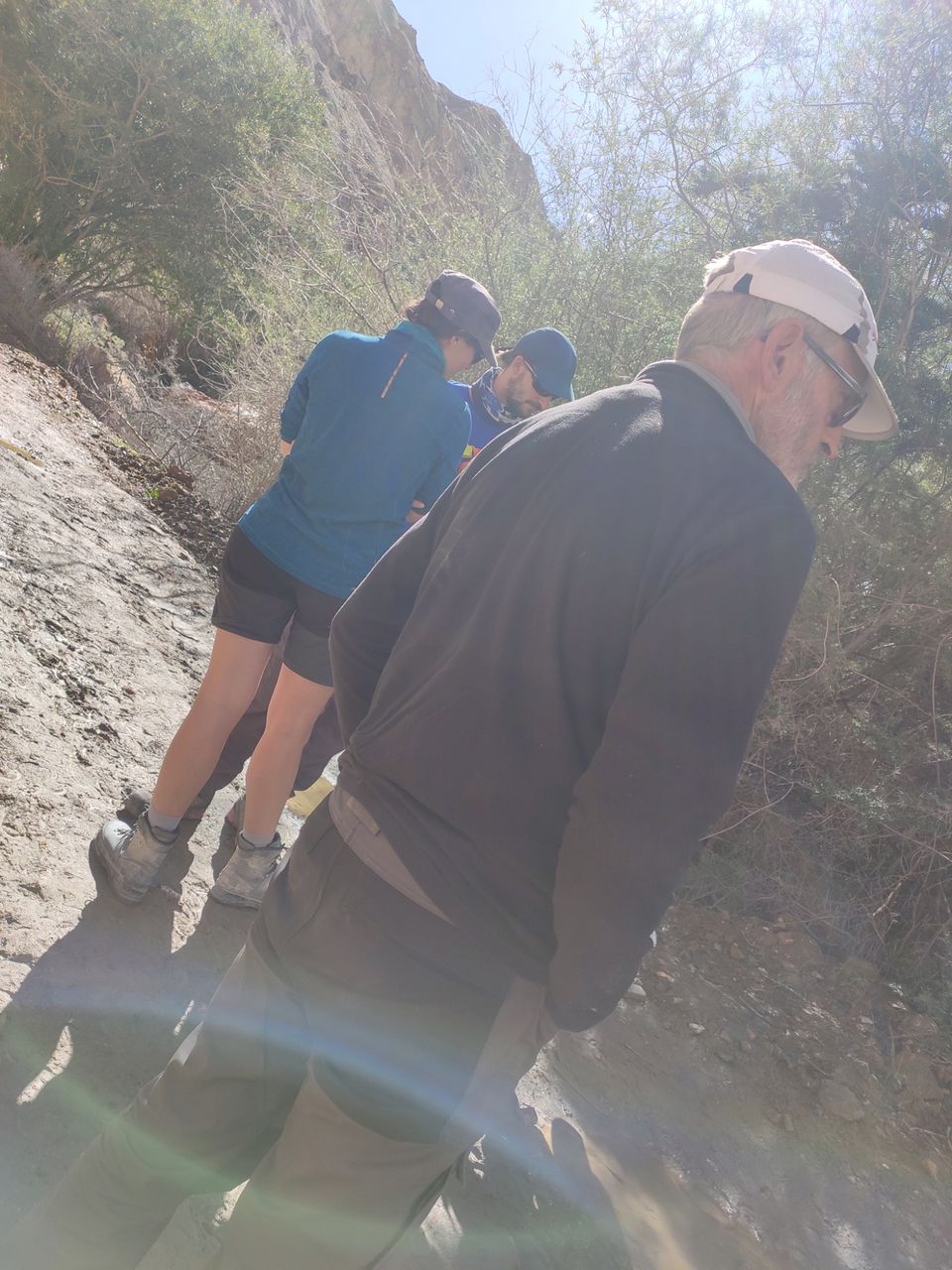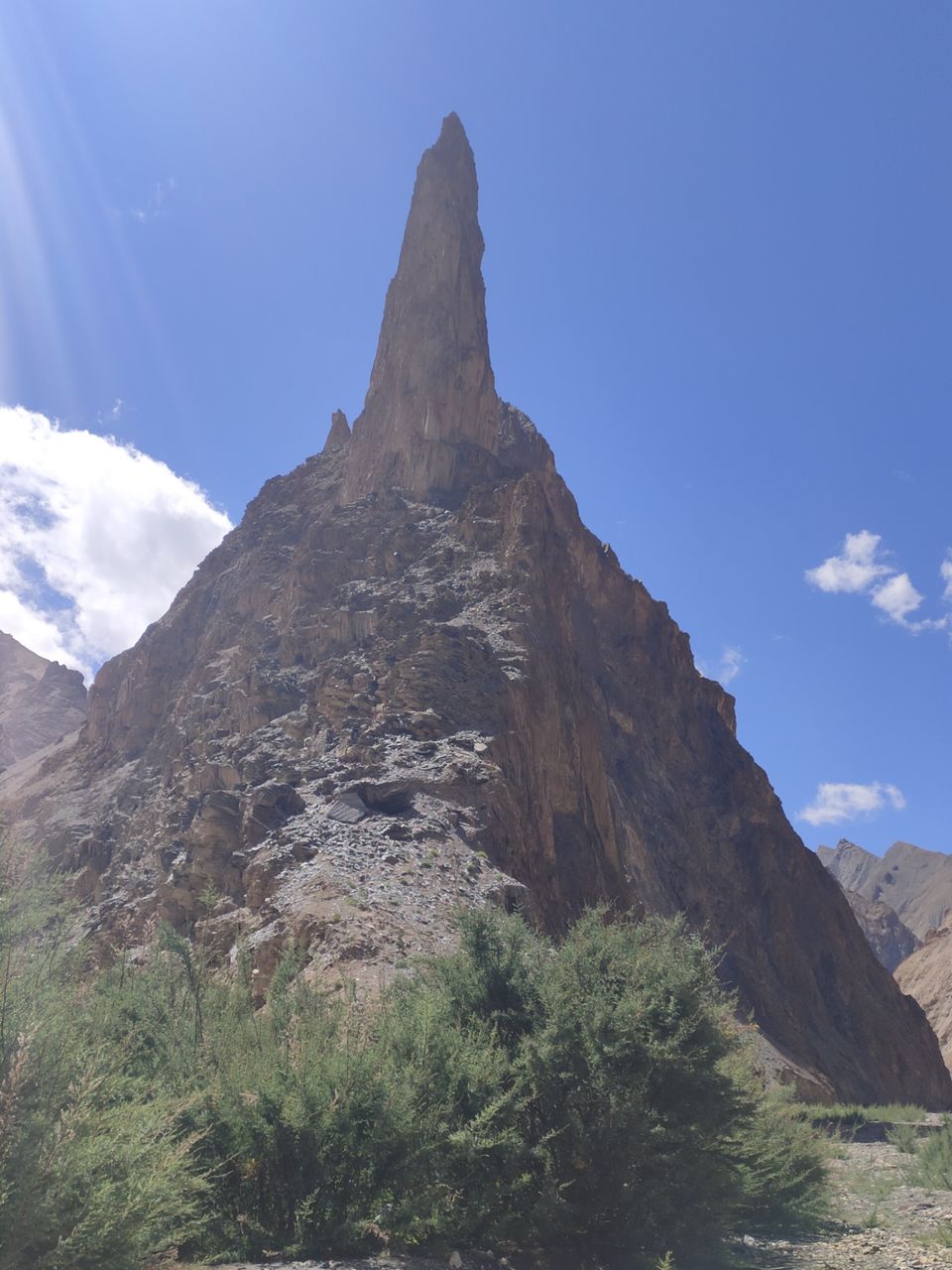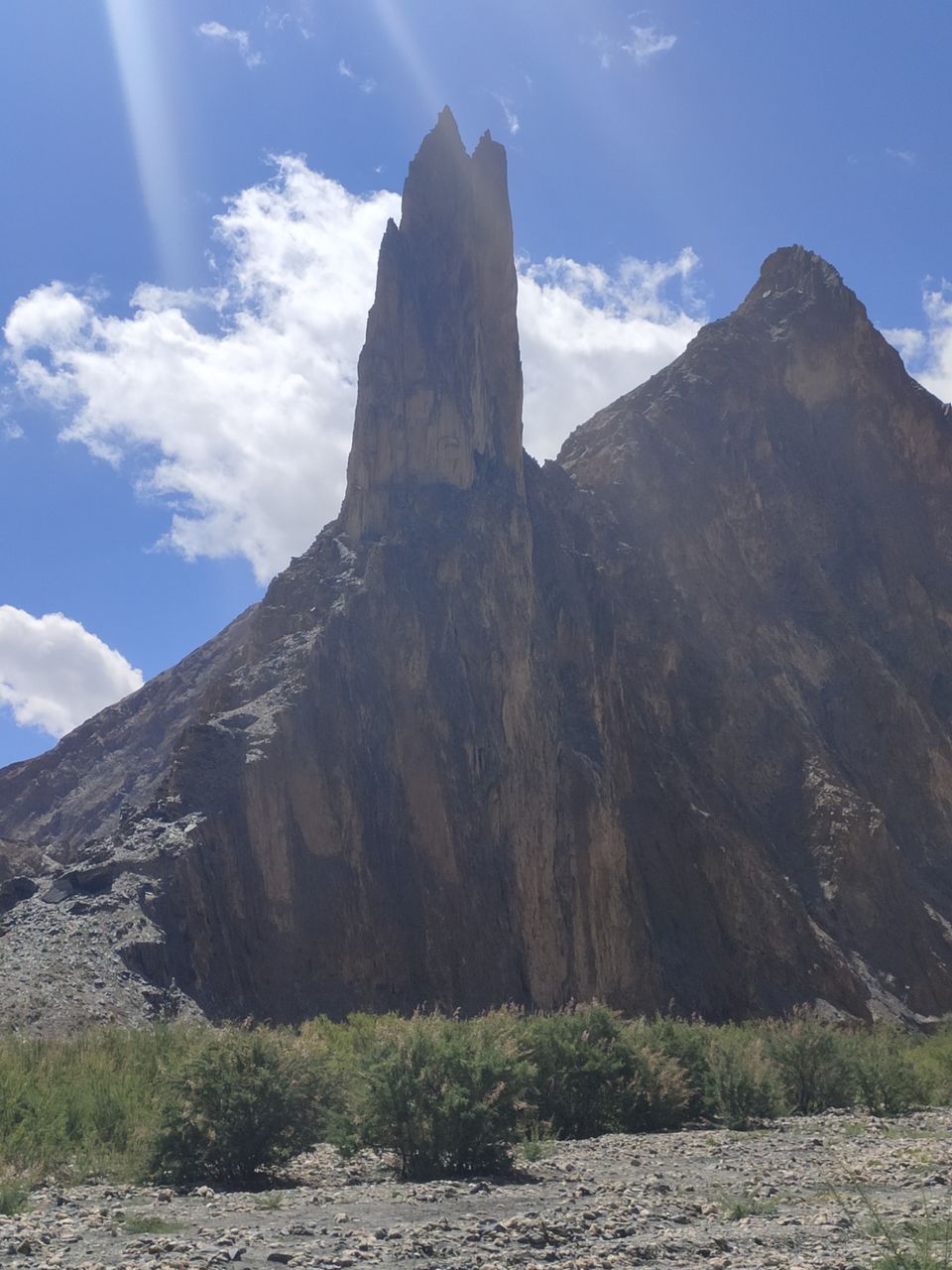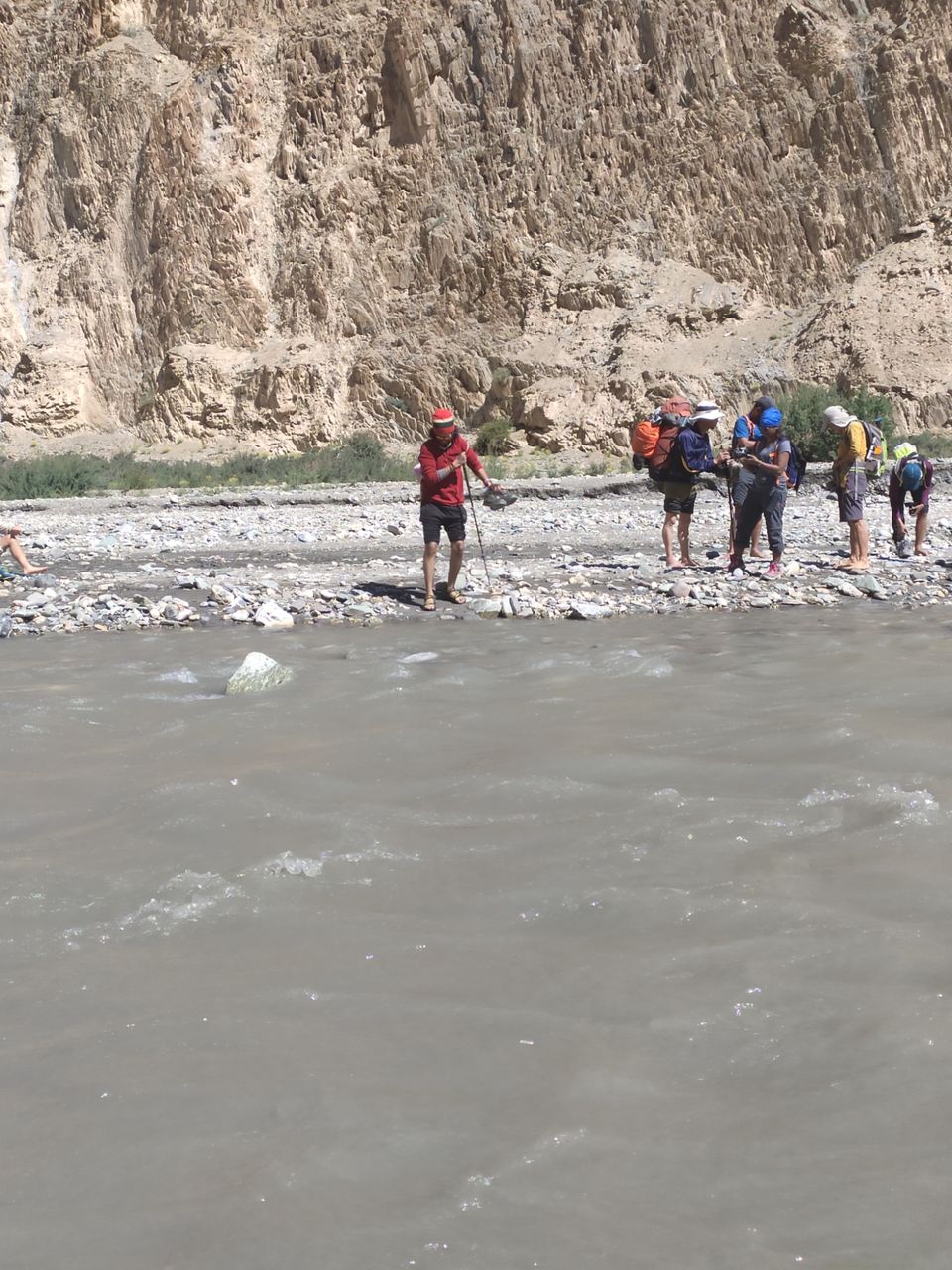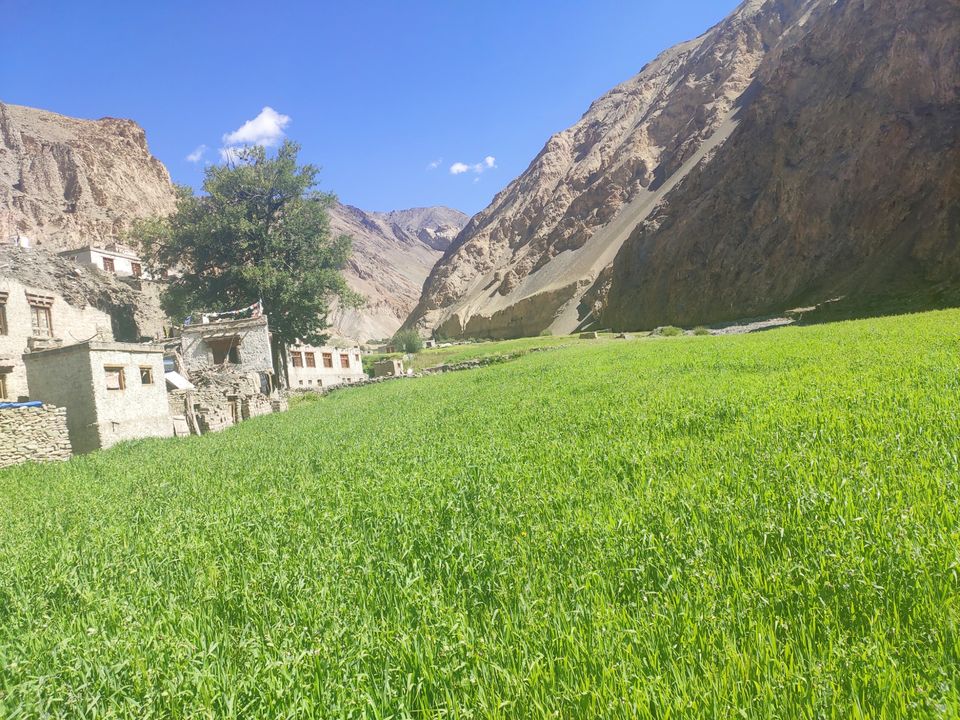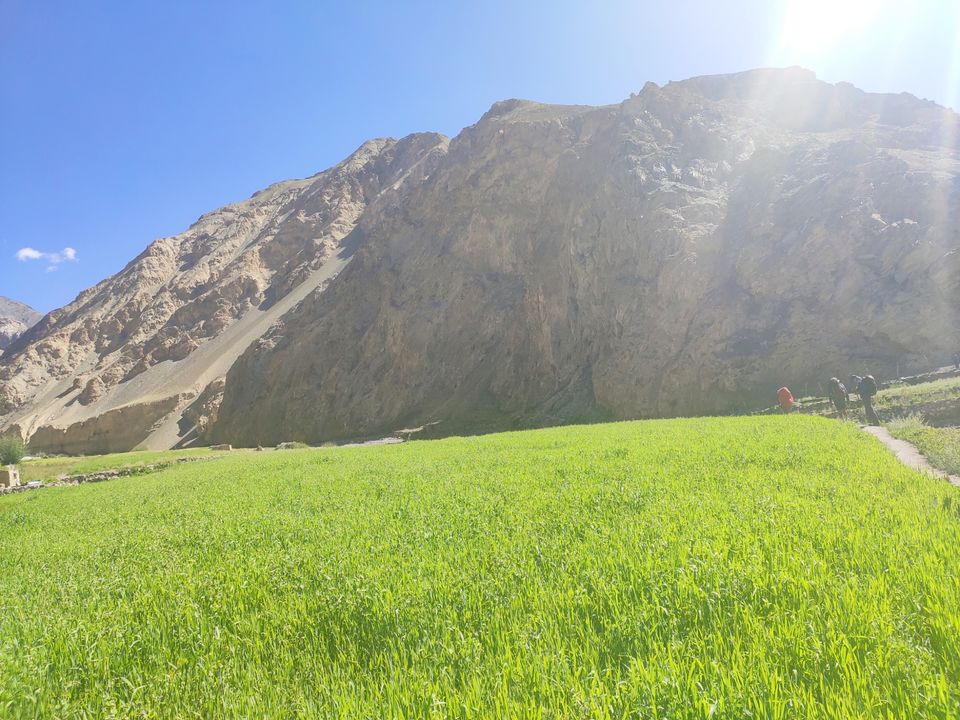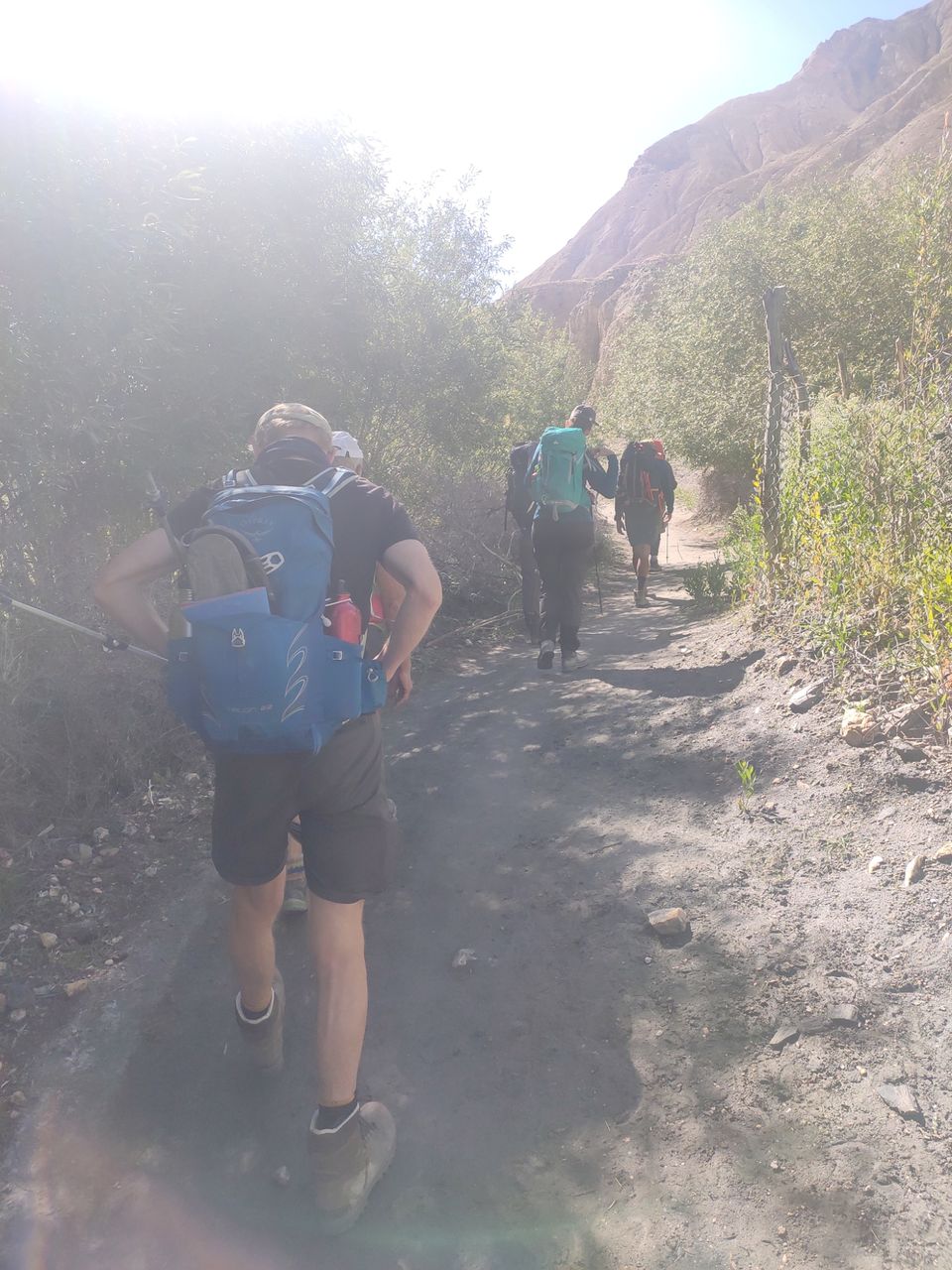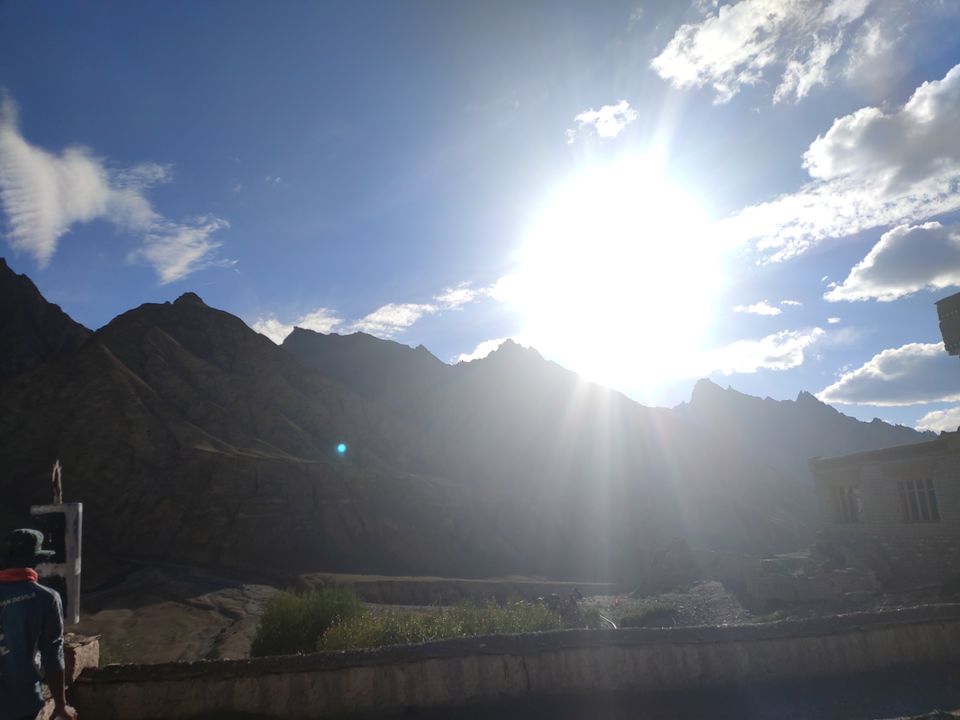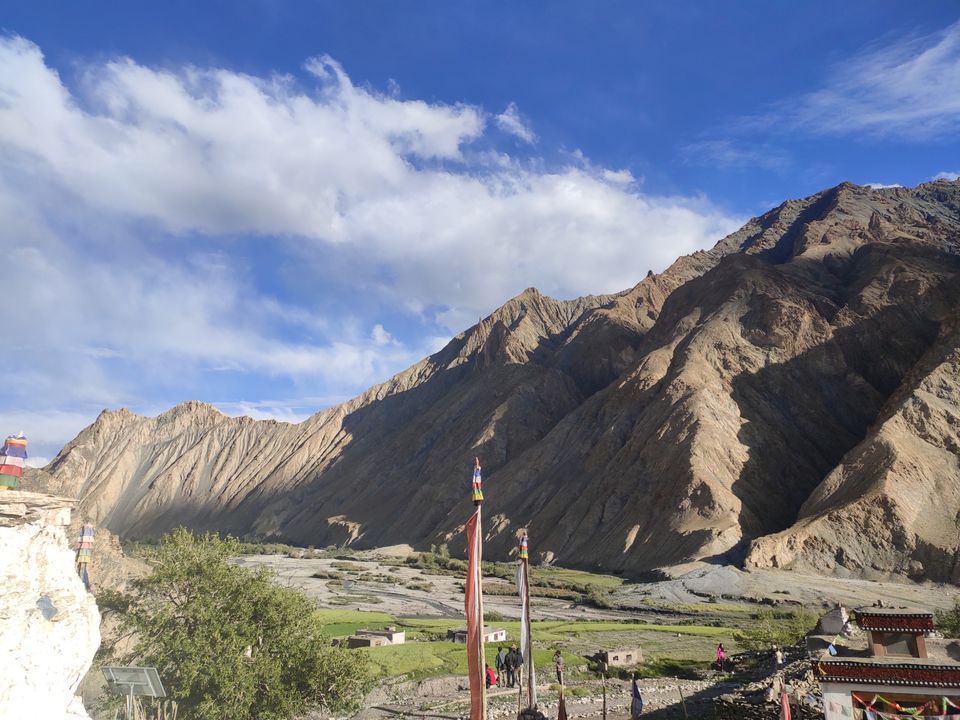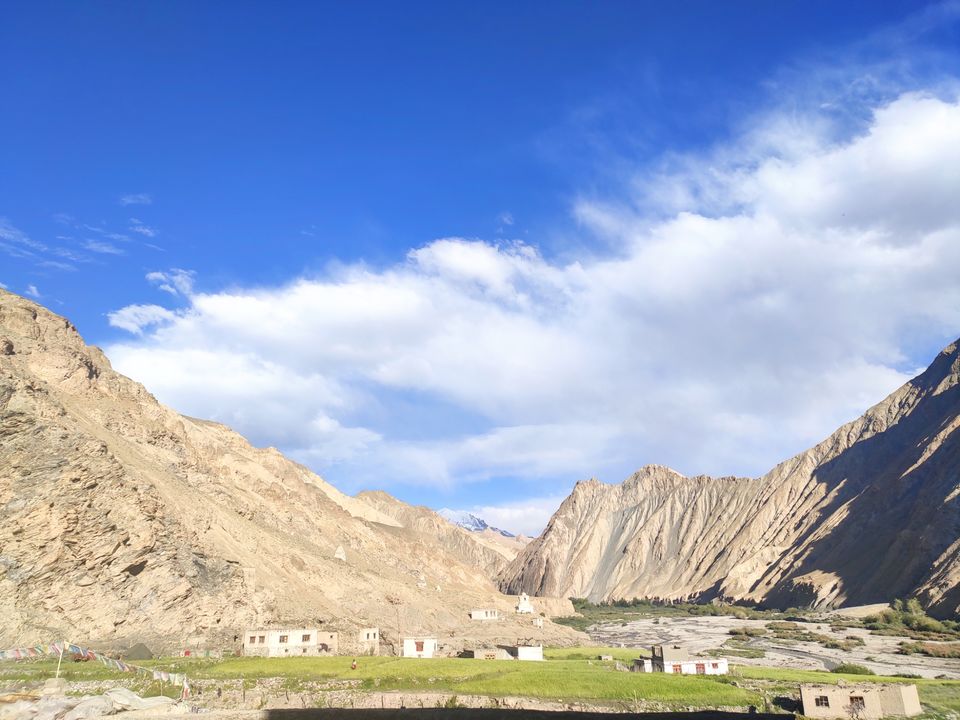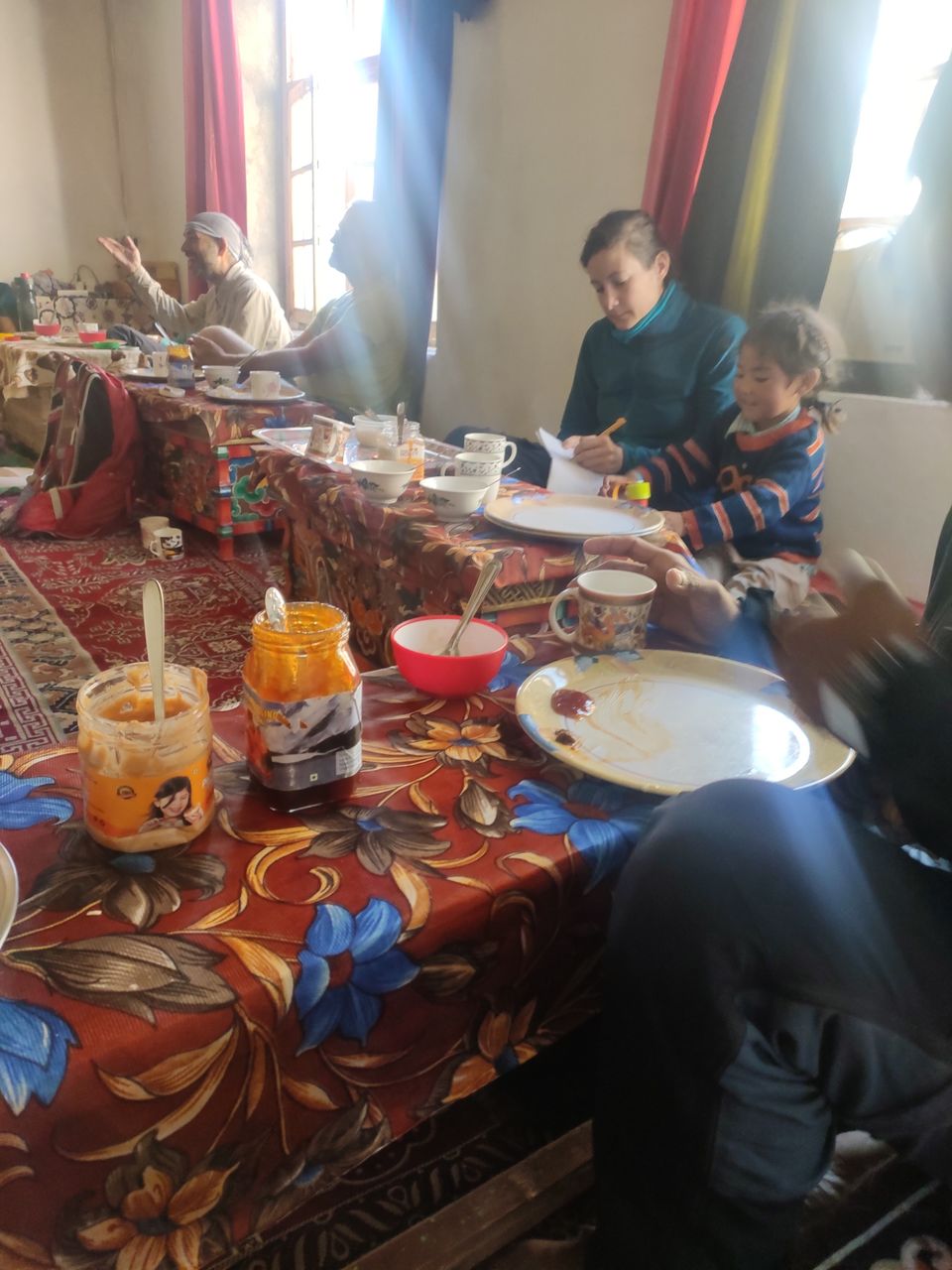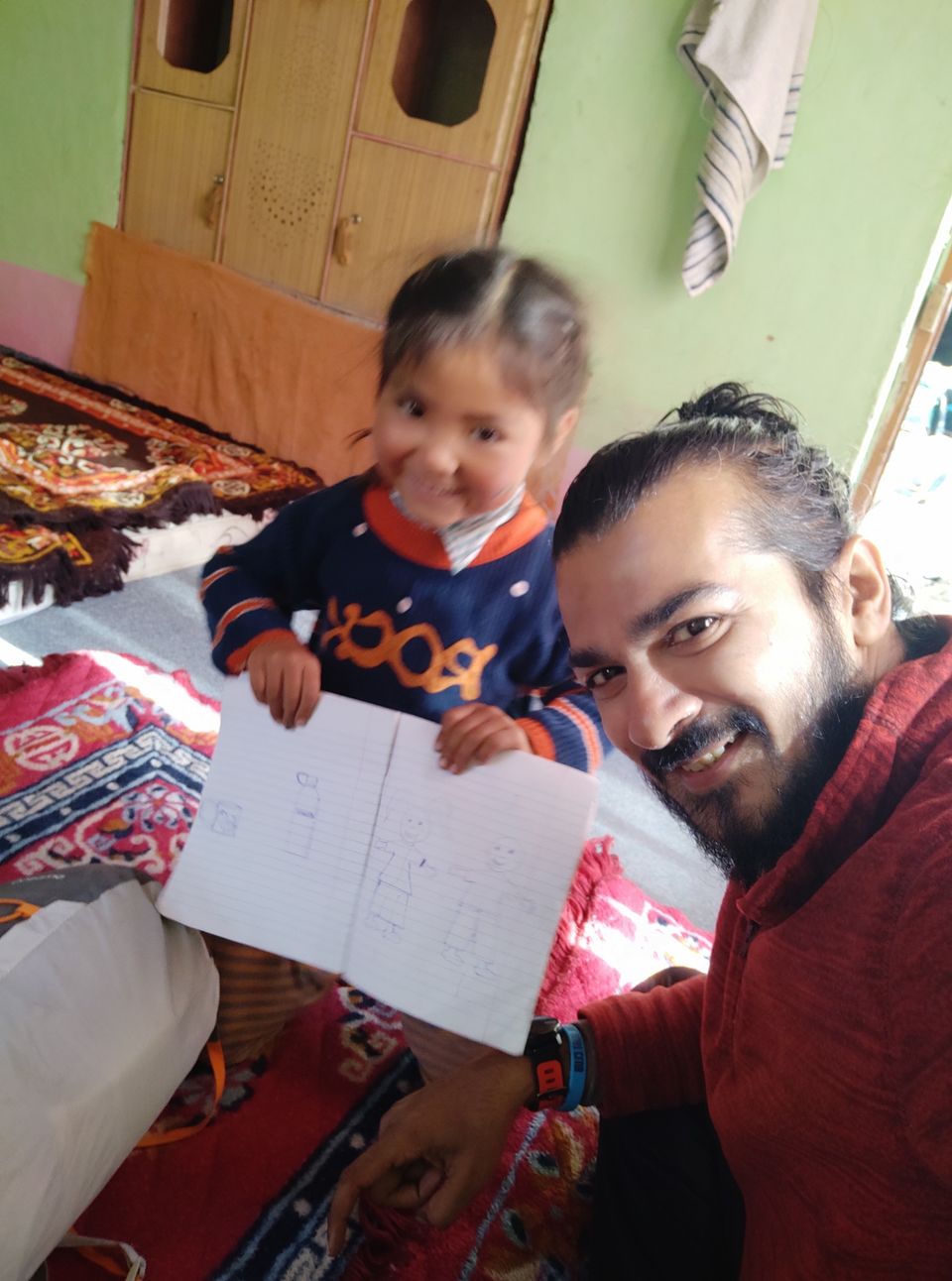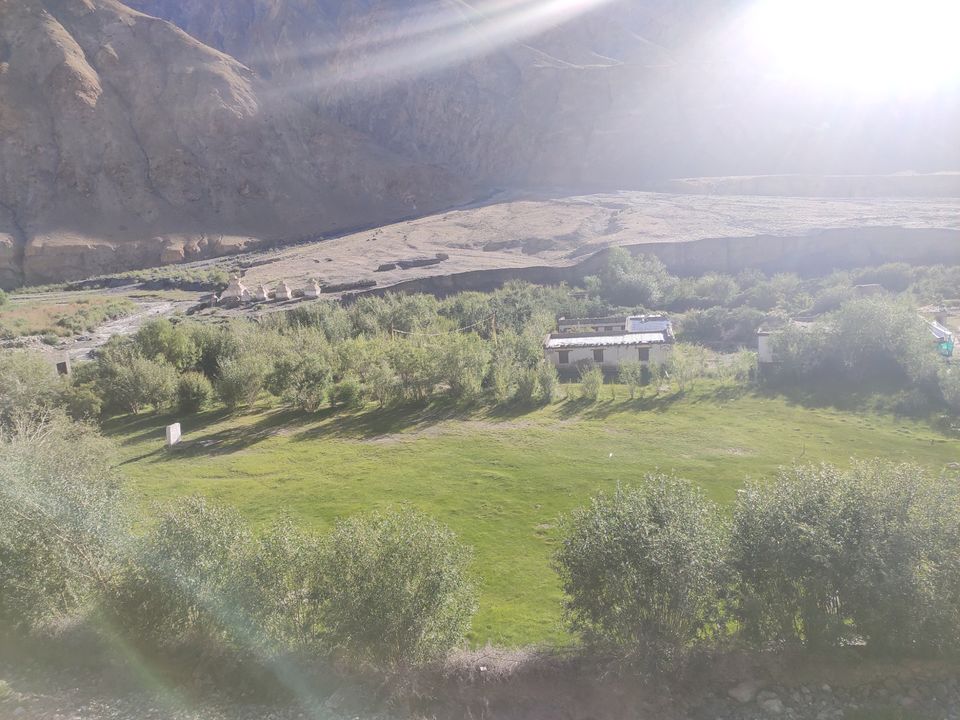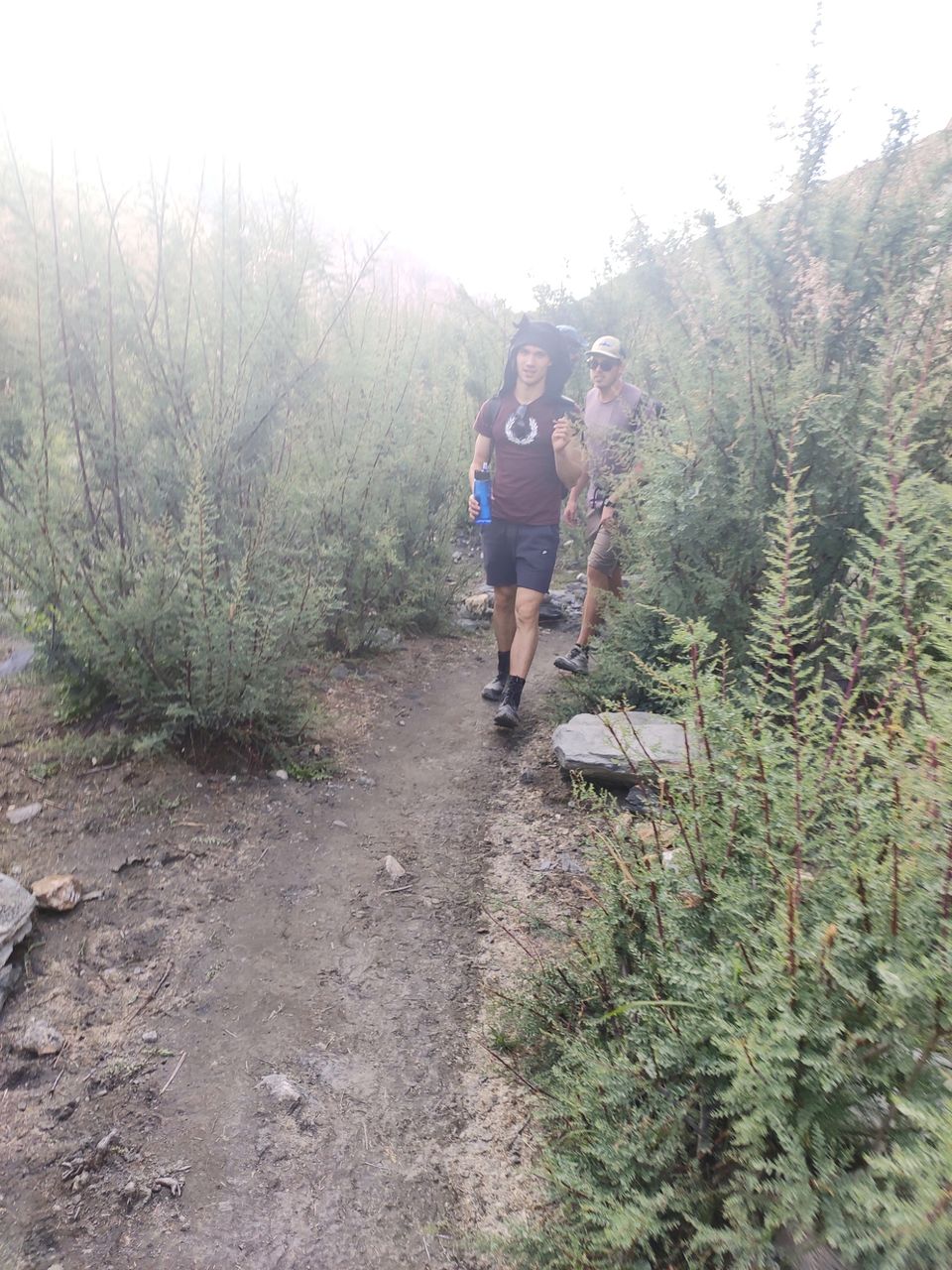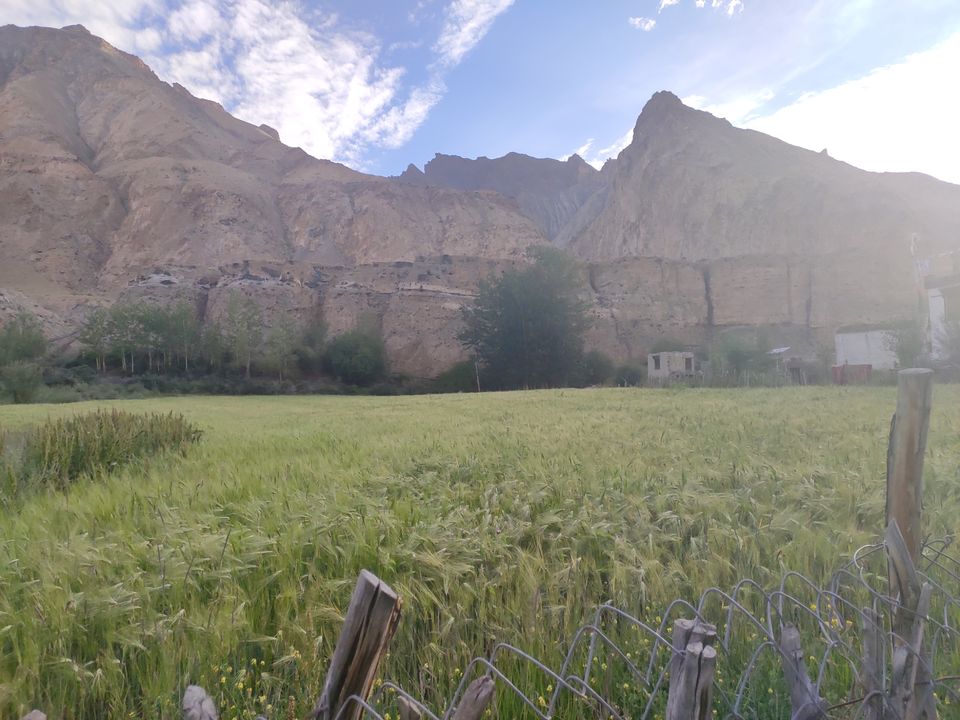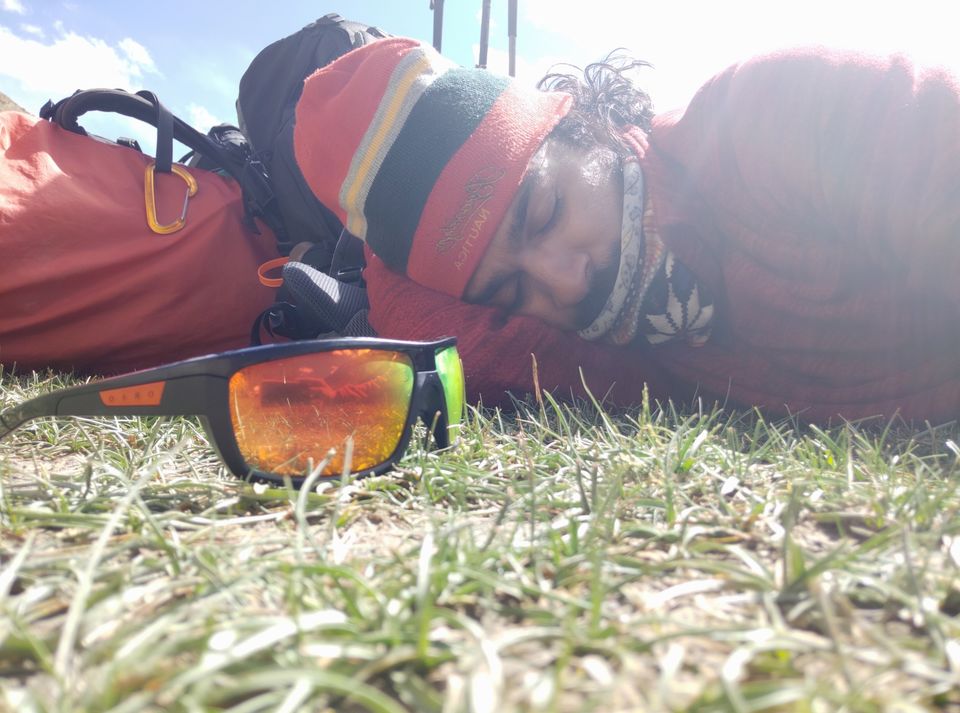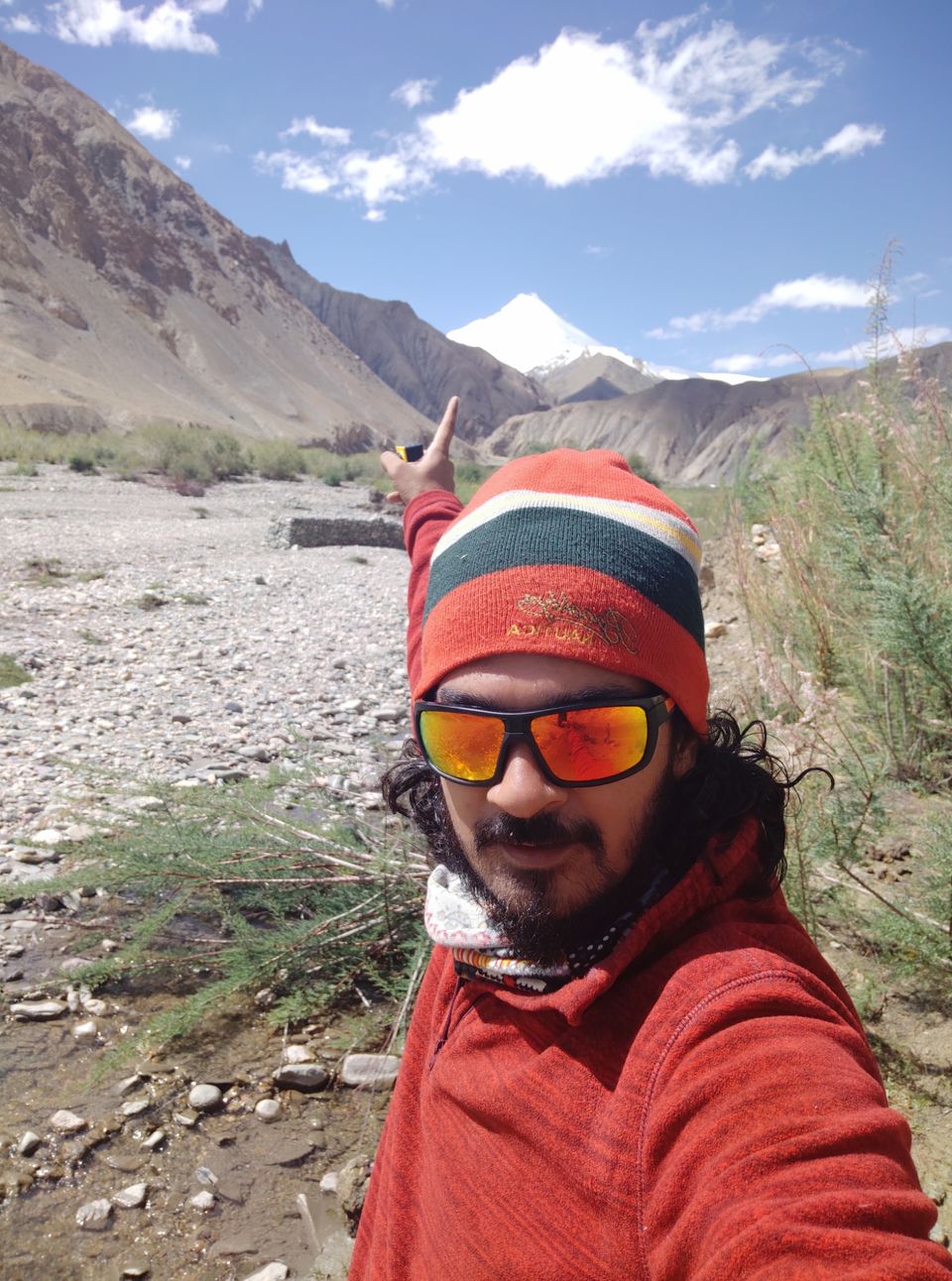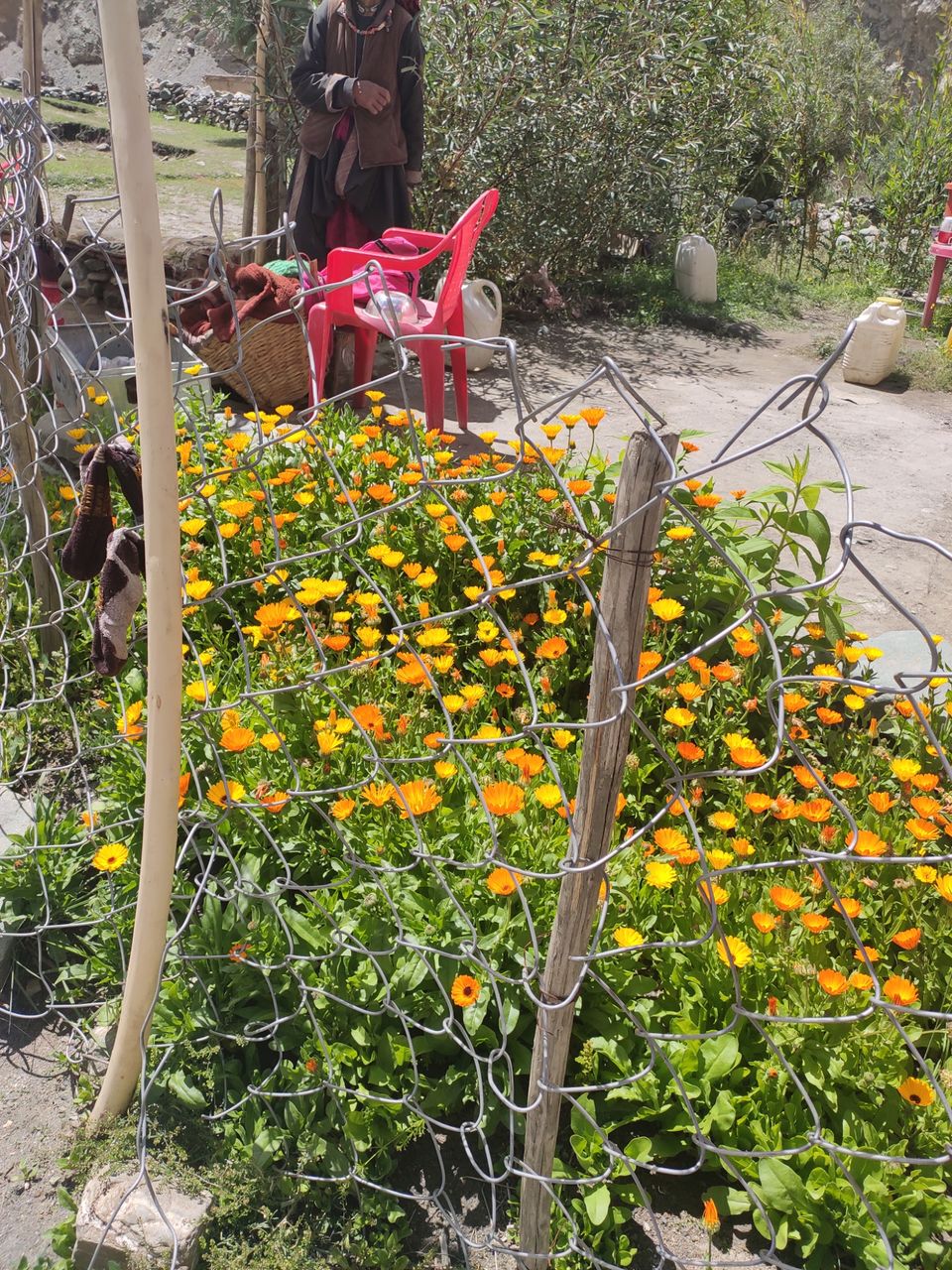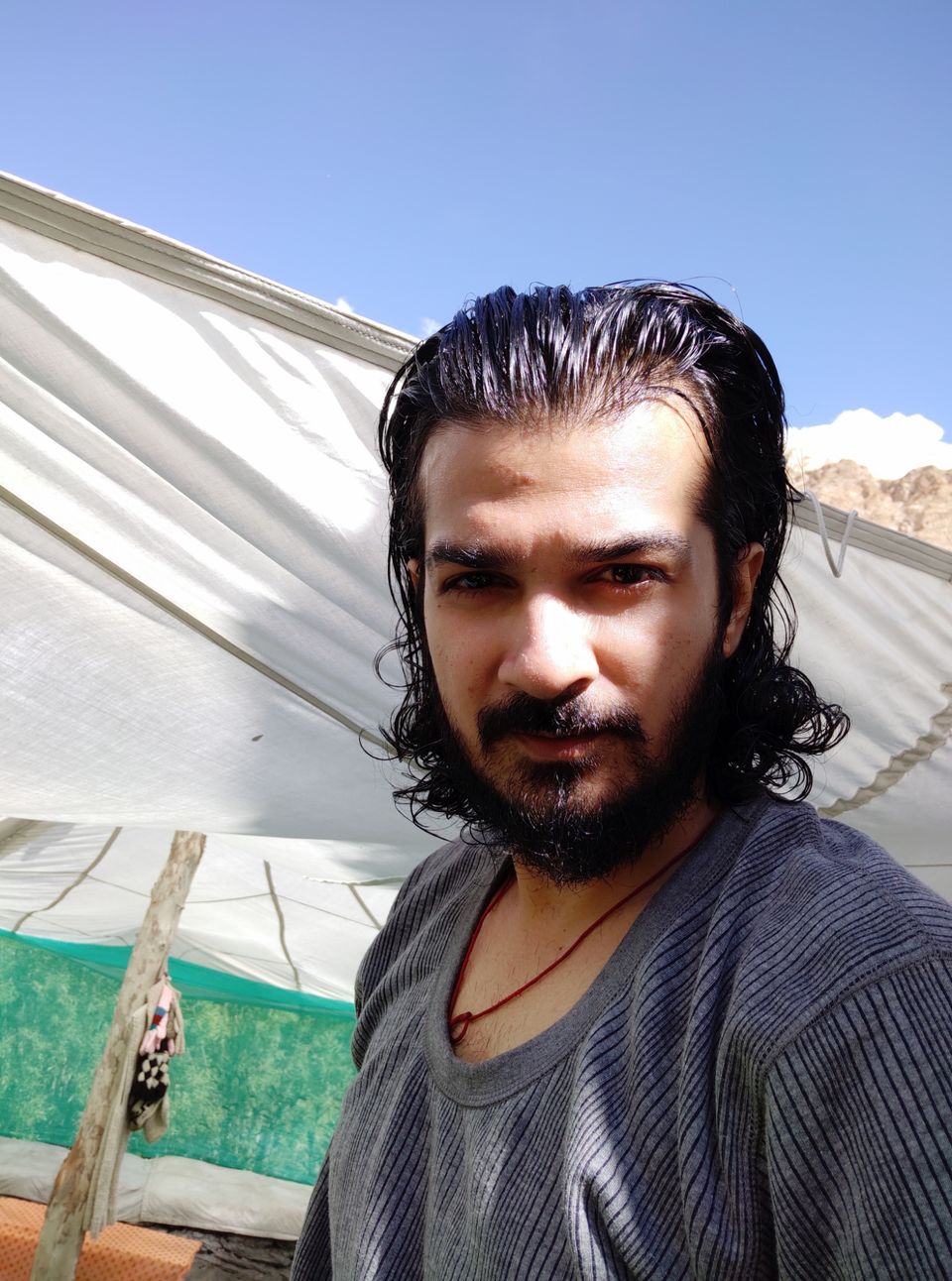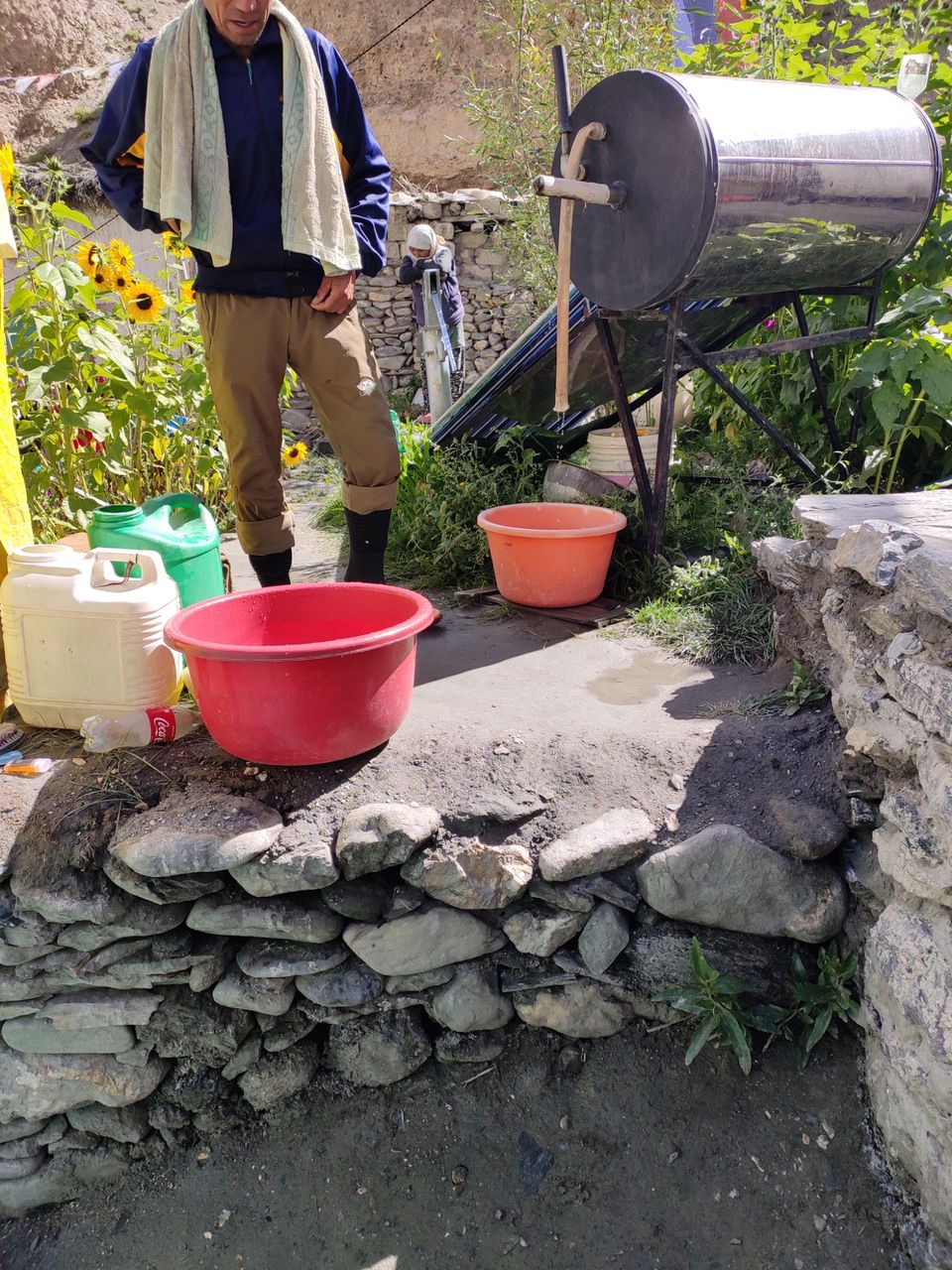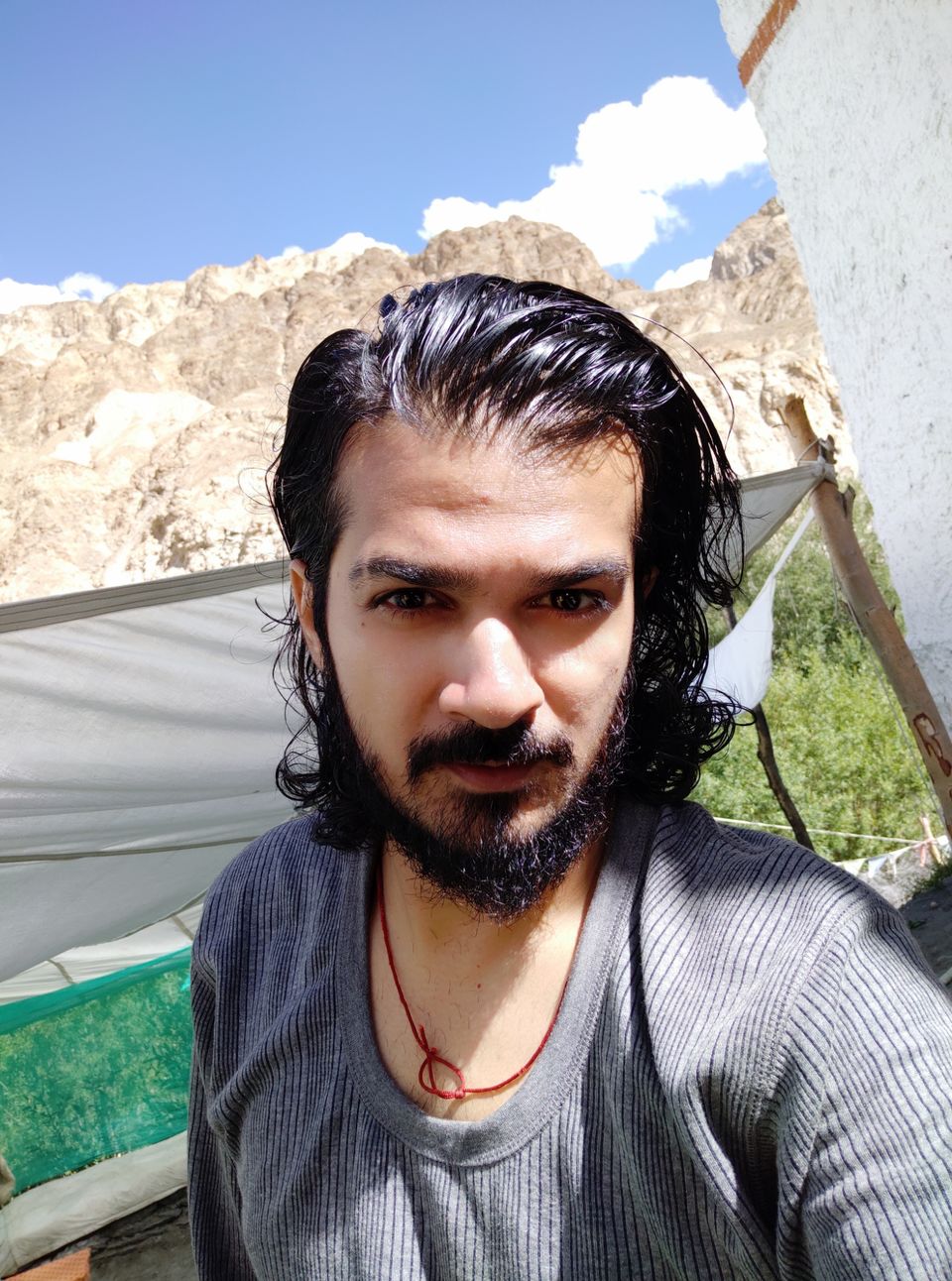 The day takes you for a long ride up through slippery scree with frequent river and nullah crossings. Before that, we woke up to some mouth watering lemon ginger tea in our comfy homestay, followed by sumptuous breakfast which had lentil and bell pepper gravy with bau lumps (made of corn flour with no filling) with honey, rice pudding, noodles and pink tea. We got our packets of lunch which today had a sight I was waiting for - a cheese slice and few chocolates with other stuff.
The altitude again today was unrealistic and we will be touching 3800m. The climb gradually gets steeper with every turn you come across. But everything else is washed out when you see and meet people from this markha region. Calm, smiling, serenity all around with no one complaining about daily struggle which is unimaginable for city dwellers like us. The residents embrace the looks similar to tibet due to the genes of immigrants in ancient times. They enjoy a natural joy of life due to the ascendancy of premoridial practices.
My thighs were paining for last two days because of never ceasing climb. The cherries, wild gooseberries and apricot trees sprawling around you adds a soothing touch to the strenuous journey. We had to walk around 8 hours today to reach hankar at an elevation of 3800m. That is not a height you would think of a luxury. The hike had lot of ups and downs through rugged terrain with winds blowing from every corner of the valley. Two hours in the trail and we had our first river crossing after trying to dodge it for quite a while. It's a glacial markha river that welcomes us with its icy water at the peak of it flow. The trek lead rohit advised all of us to put on our slippers and carry the load on our back while crossing. The first to go was tamara followed by arthur, me and rest of the group. It had a plank like adjustment first to balance yourself and than a descent through scree to reach the bank. We made it after some struggle successfully and took some rest by the bank sunbathing ( I was anyways burnt, so to say, tanned was an understatement looking at my face). We stopped by a beautiful green meadow overlooking towering peaks and had our packed lunch followed by some sleep. I went to explore the near by stream and took some rest by the rock.
We started our journey to homestay in about 45 mins post lunch and it immediately started to drizzle with steep climb in sight. We stopped by again and put on our rain jackets to shield ourselves. The climb and walk through uphill open land continued for next three hours before we reached sara. It was set up on a green plain, the perfect spot to spend the night and chill out. Tamara, rudy and I had a very strong discussion on brexit, European history and impact of world War 2 and how people perceive it differently in India, that made the tough walk a negotiable deal. We received a warm welcome by lady of the house, bodhi. A lovely lady wearing smile greeted us "Juley", brought me back nostalgia of all my previous trips to majestic ladakh. We had snacks and went to our rooms to rekindle with our baggage to be ready the next morning. I usually am not a person too keen to take bath at this height in particular but the bug bit me and I took a decision to take a bath at 12200 ft. Quite unusual as it sounds, I had my share of struggle to take a bath after squeezing bucket of water from a handpump (Gadar style) and put it in the solar heater, took it back to the make-shift bathroom and took bath with a huge himalayan spider overlooking me. Trust me, it was indeed a luxury. We met of lot of other trekkers for markha valley trek at the home stay who exchanged their share of struggle reaching hankar. People started helping the local household in food preparations while gaining some skills themselves. We marked an end of the day with another delicious dinner thinking about the next day to come along with its beauty and struggle. Check out the pics of beautiful hankar along the way to markha.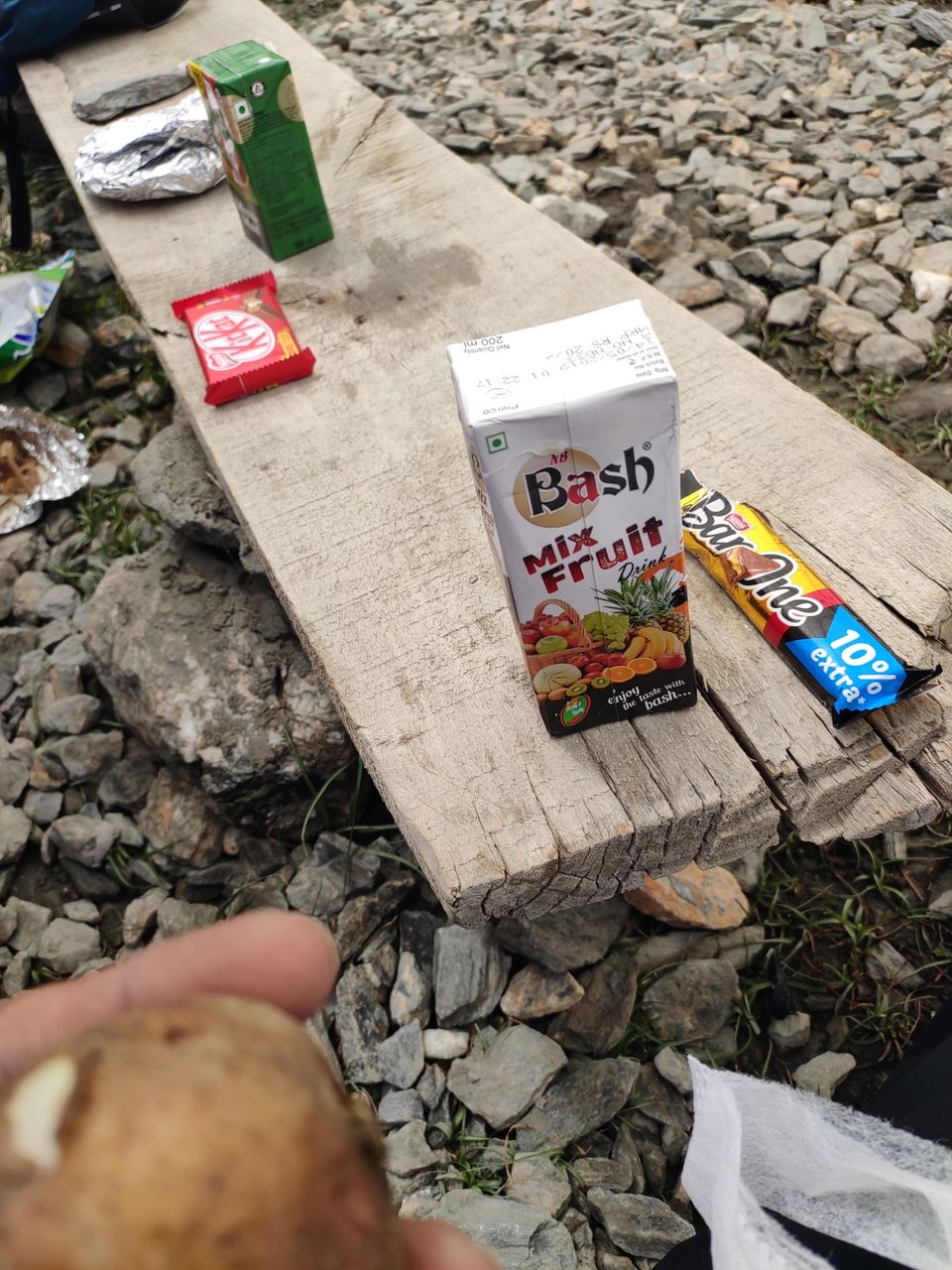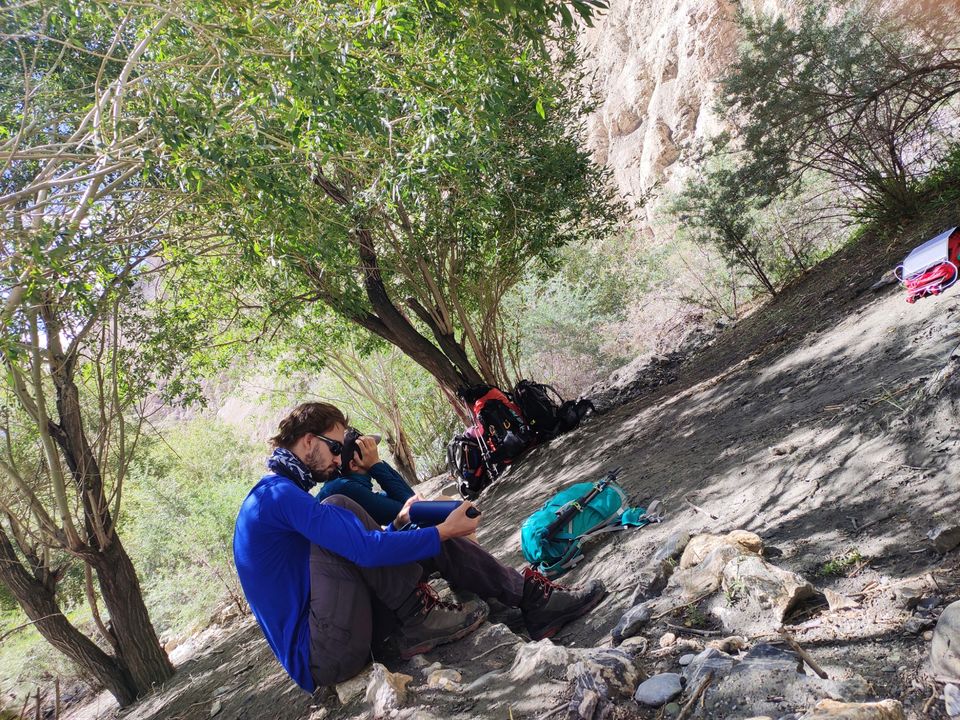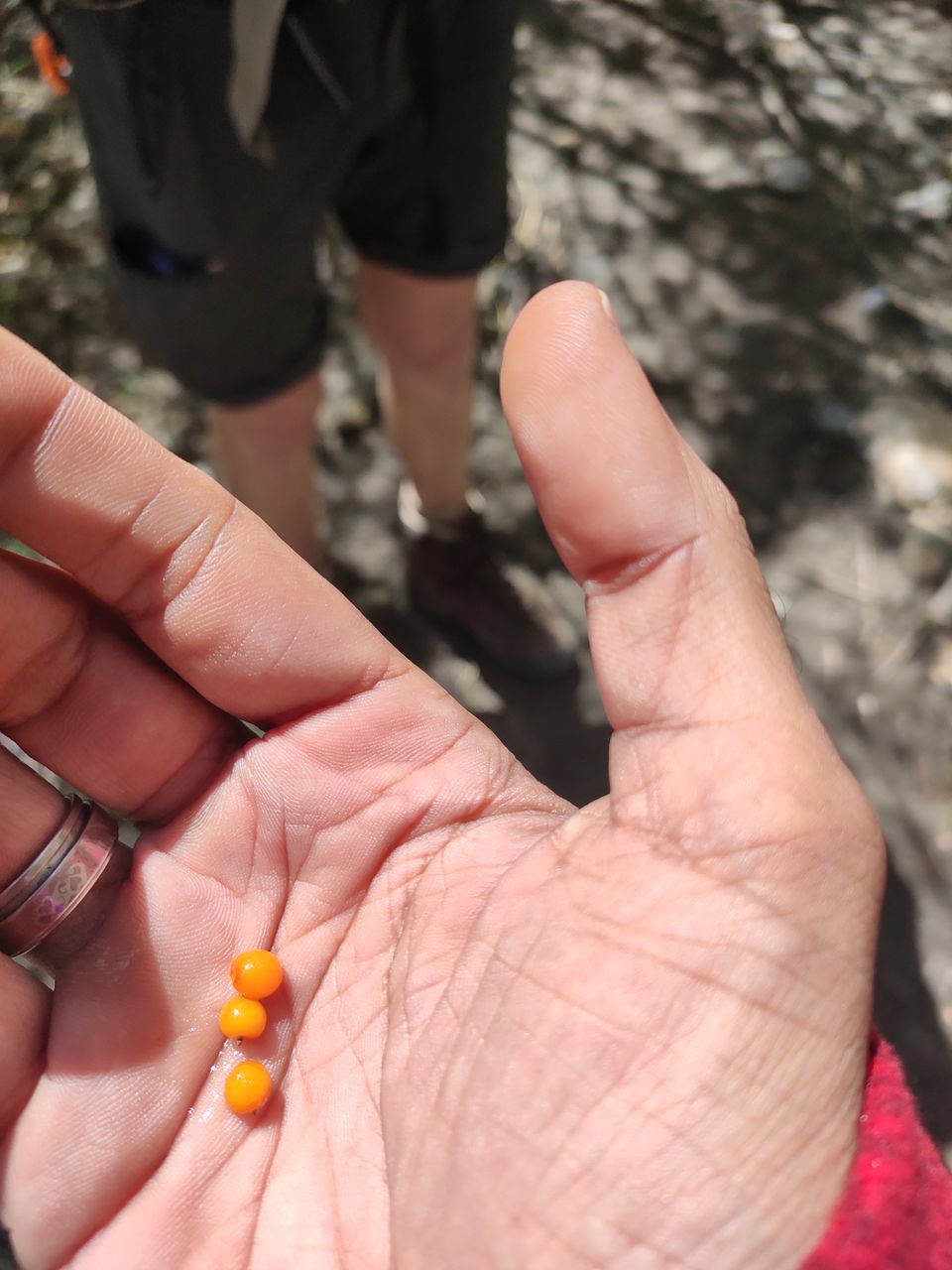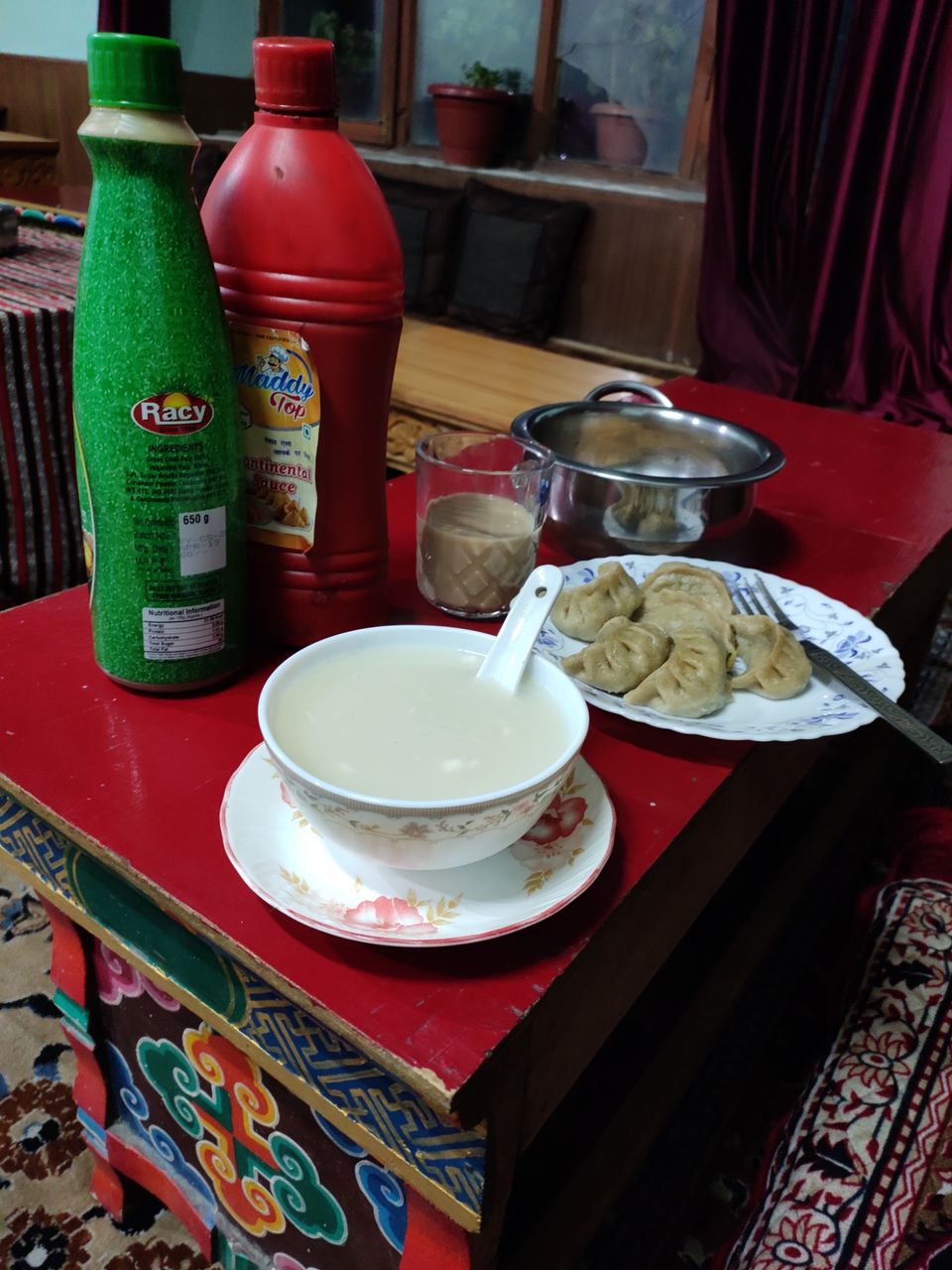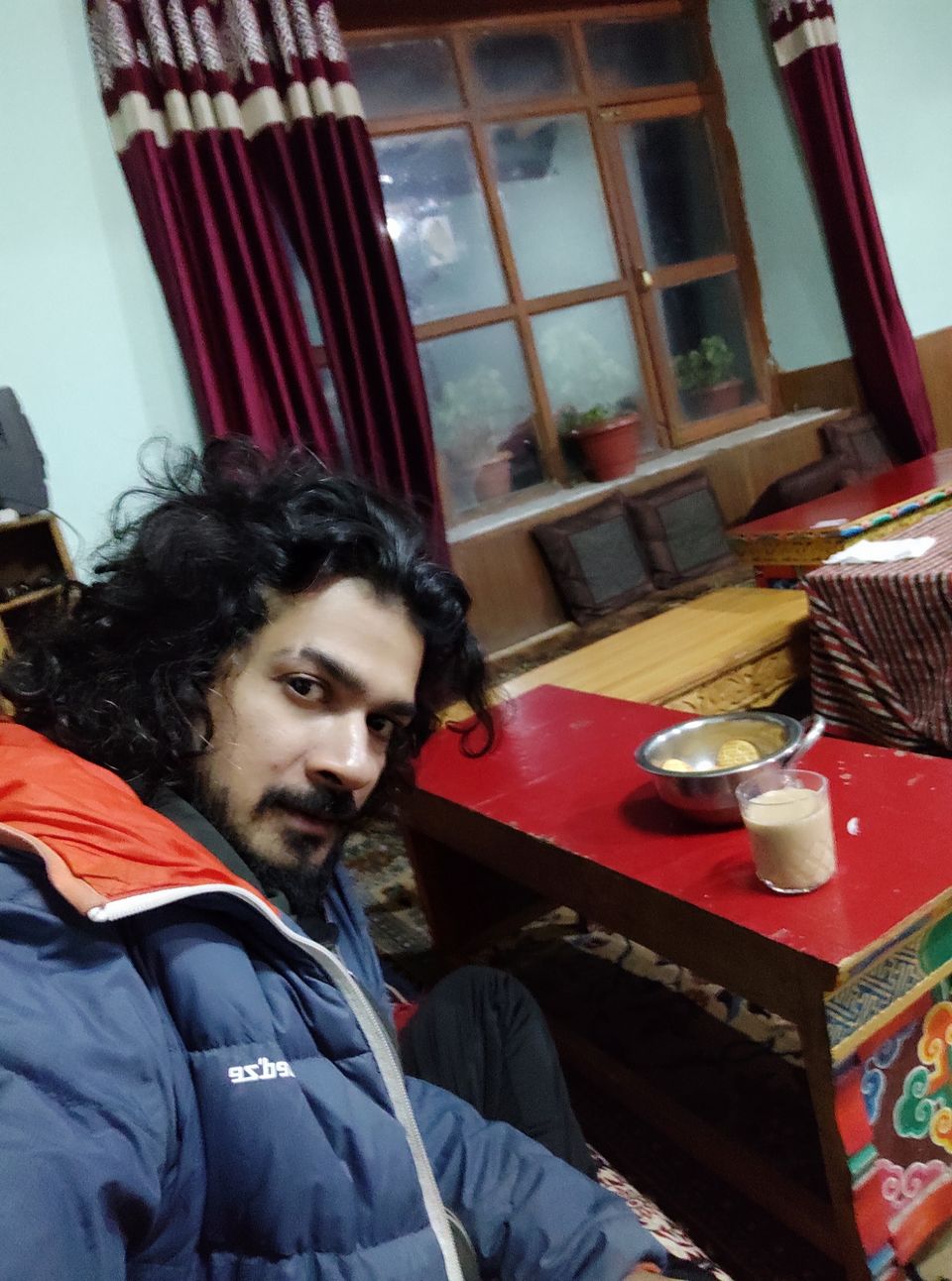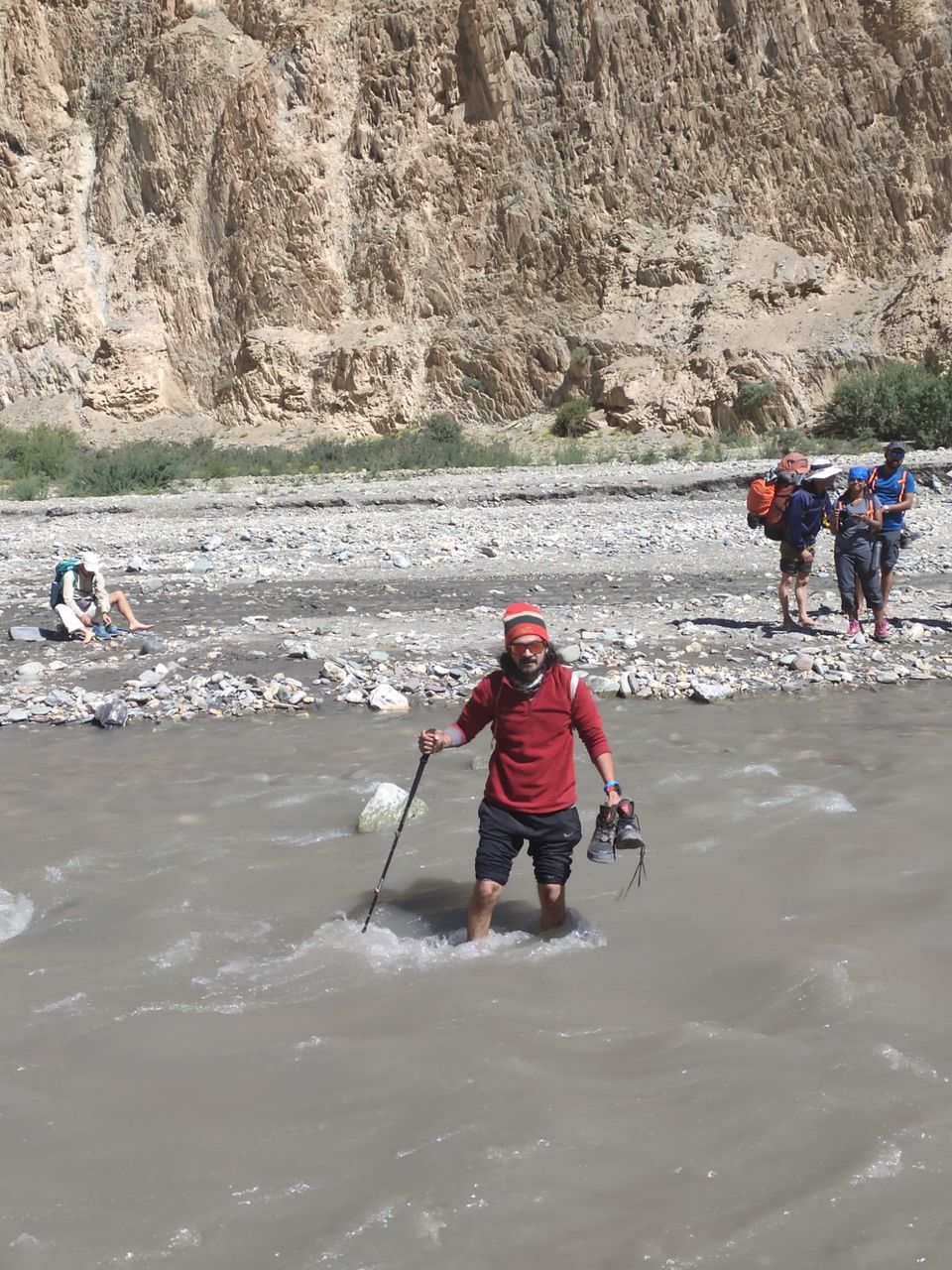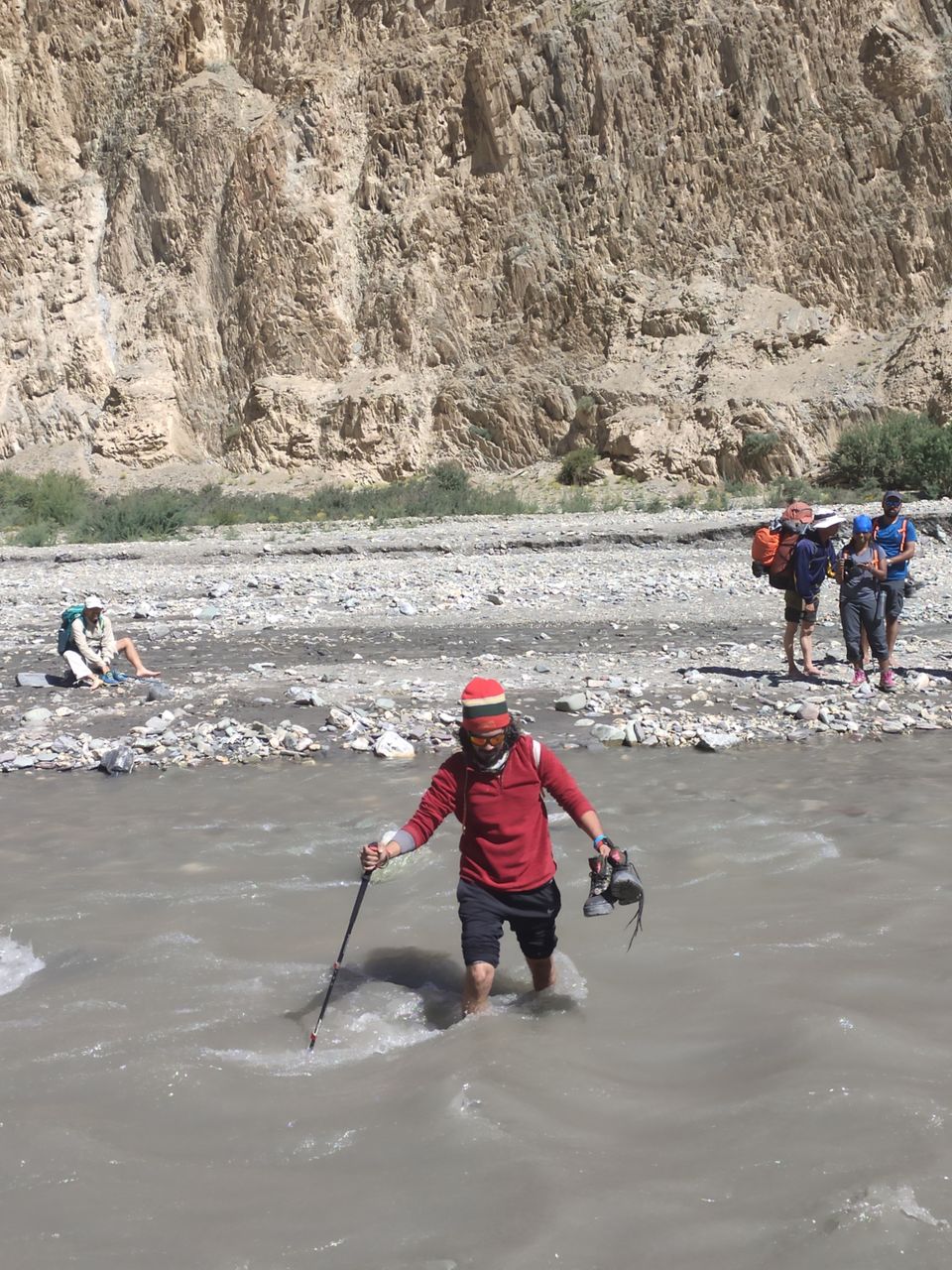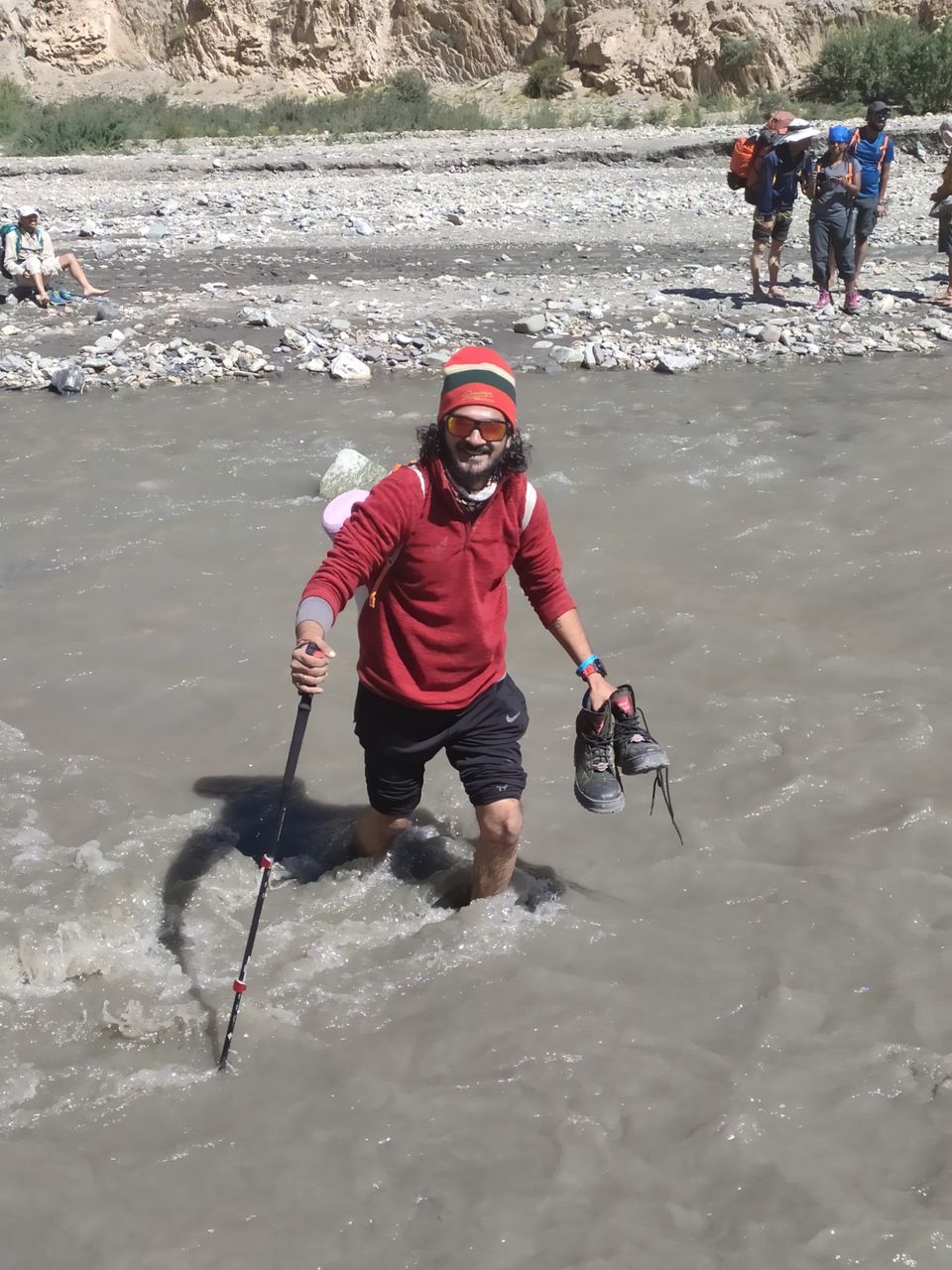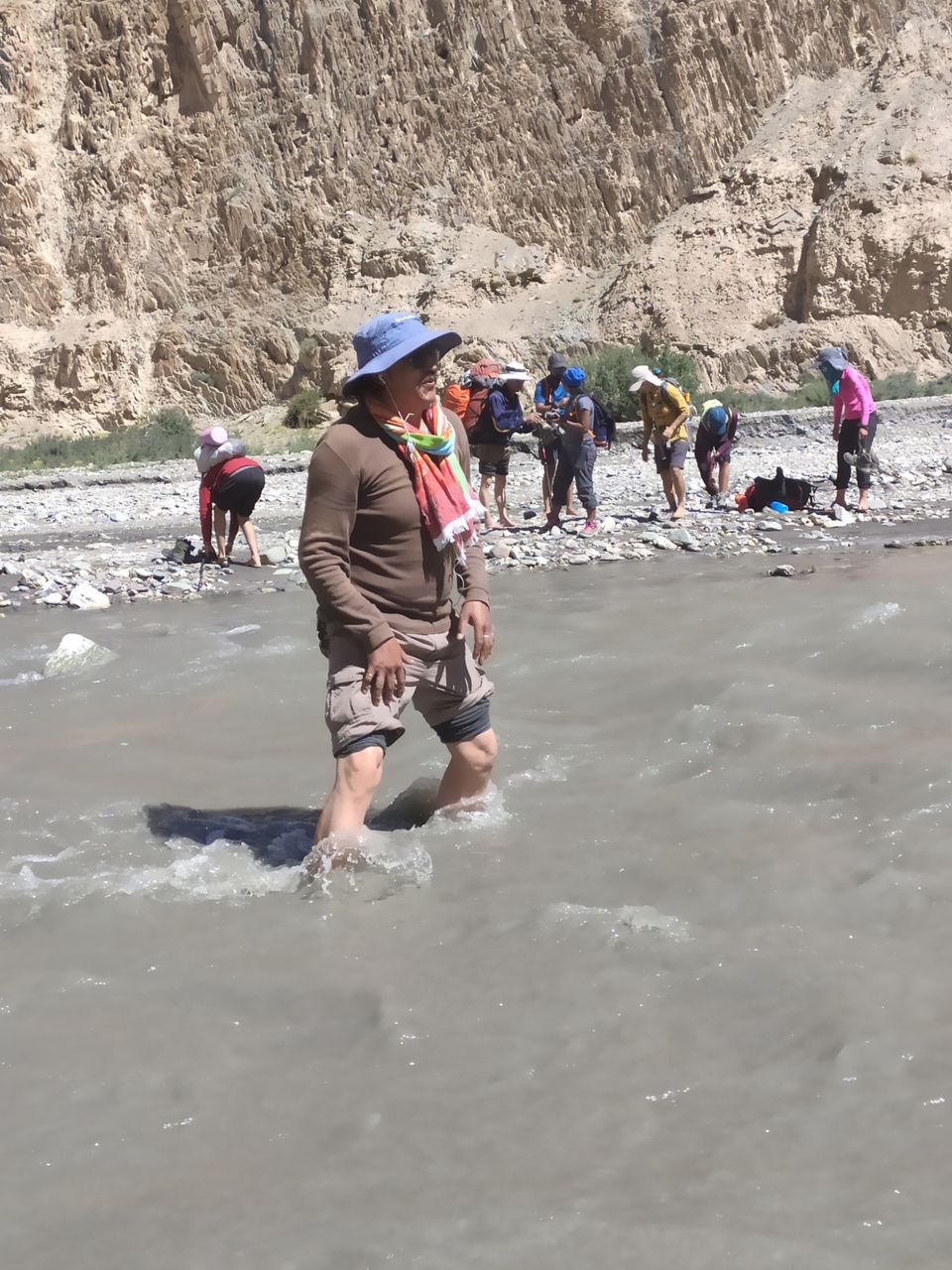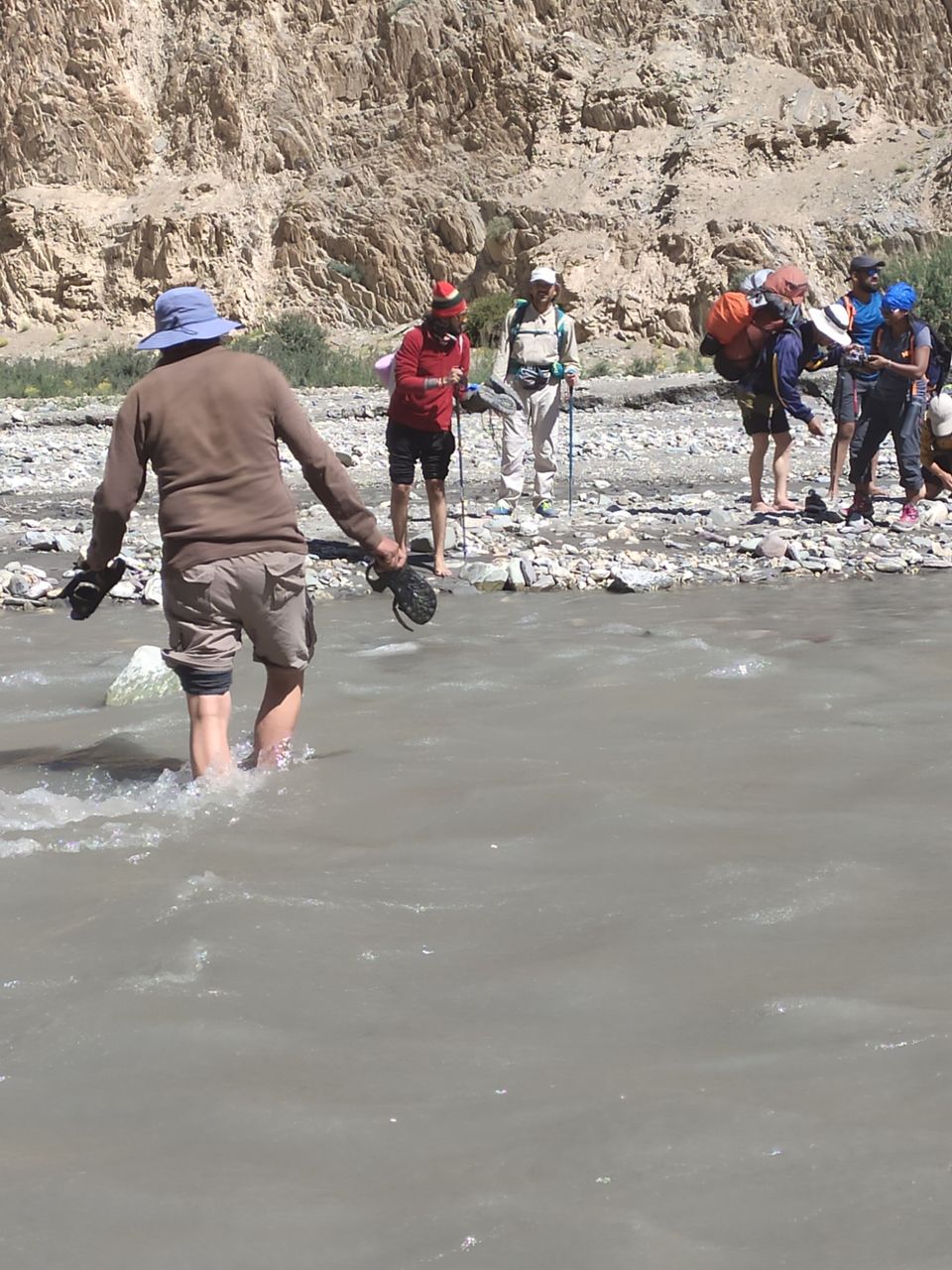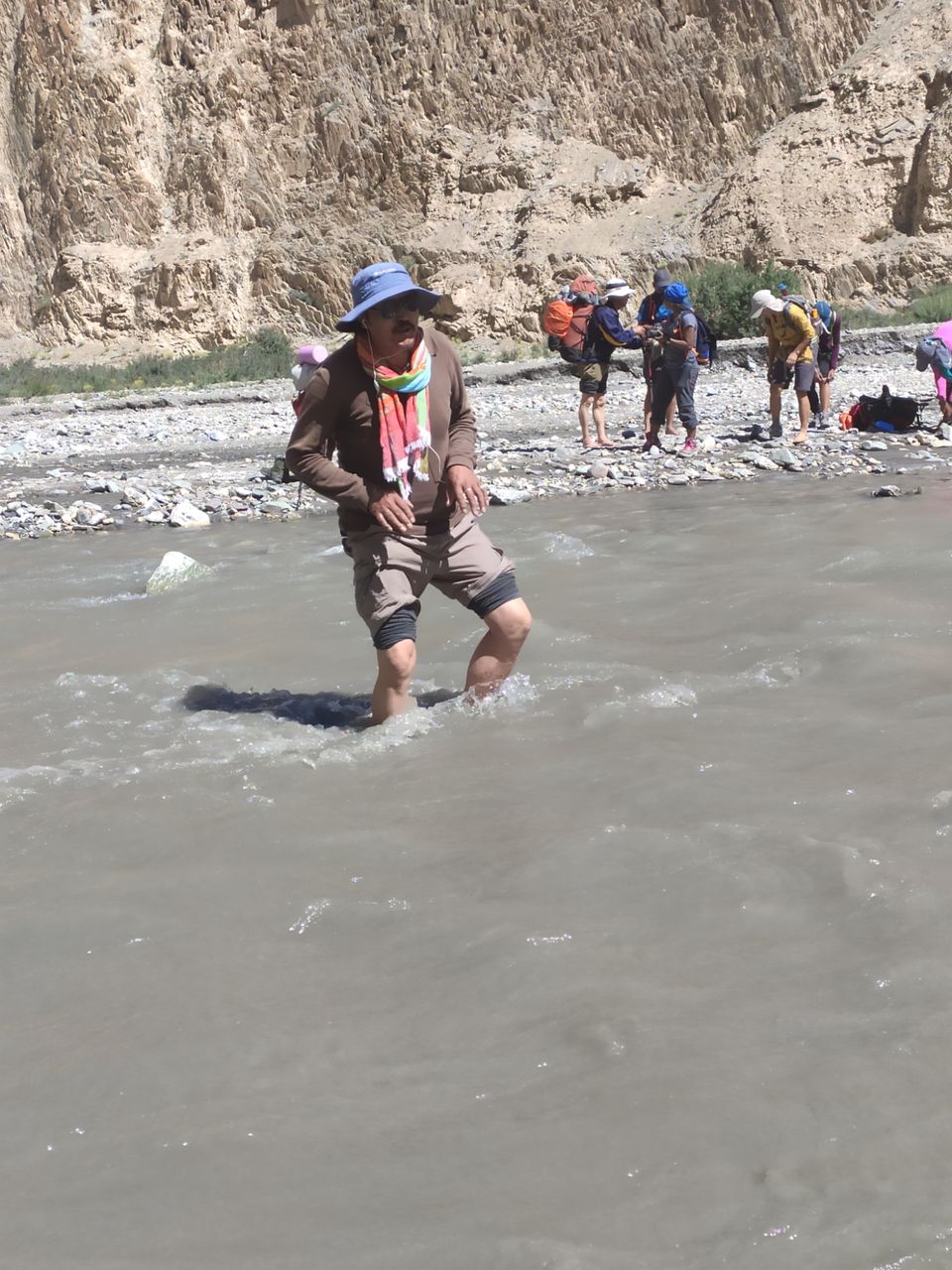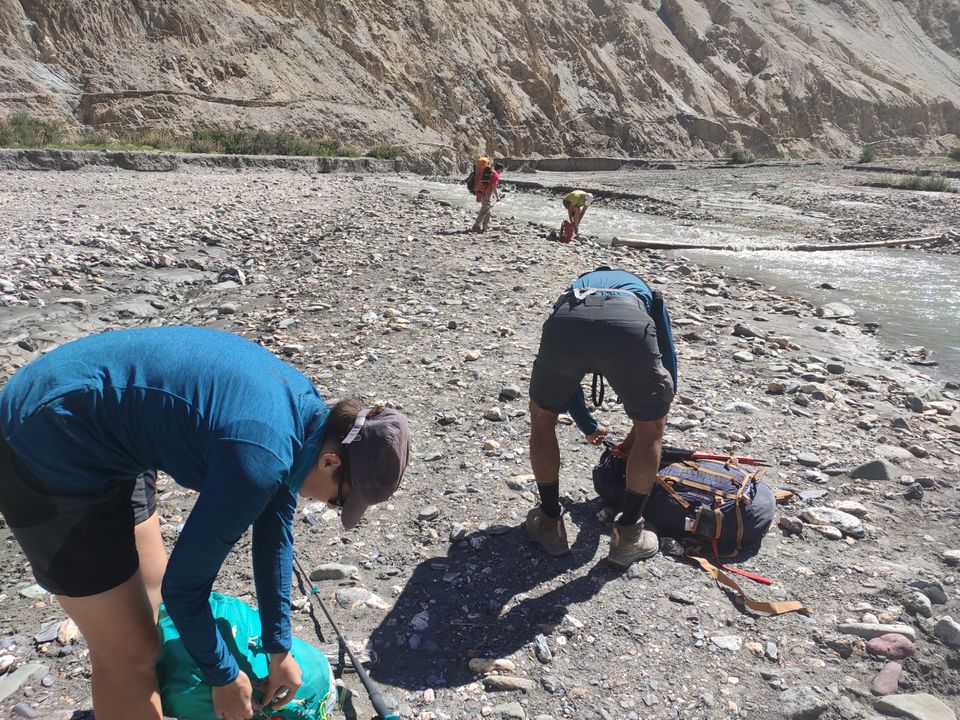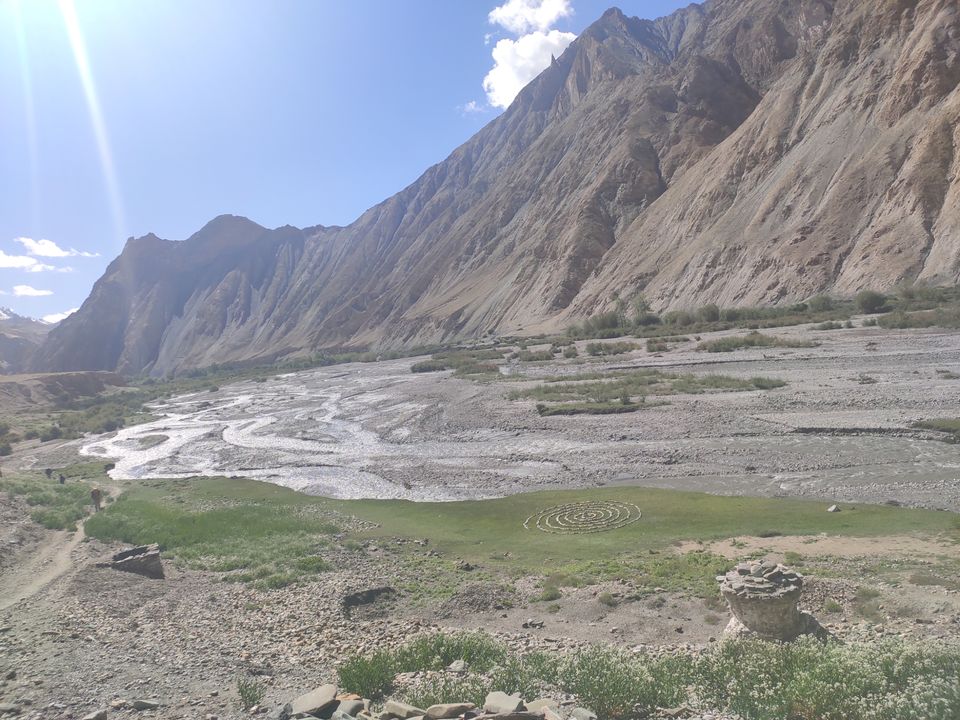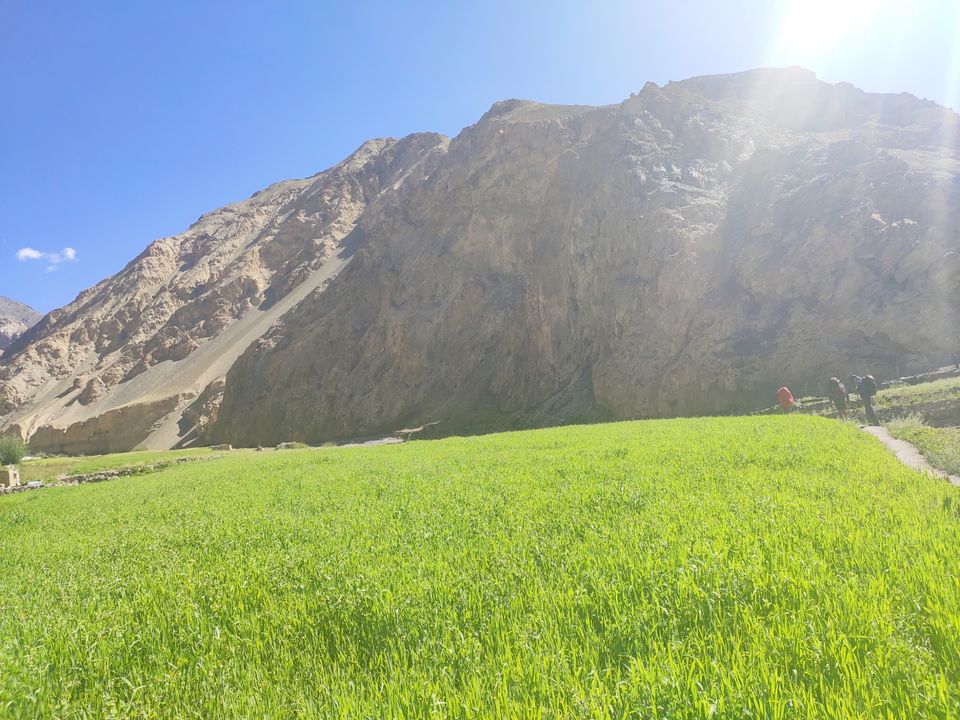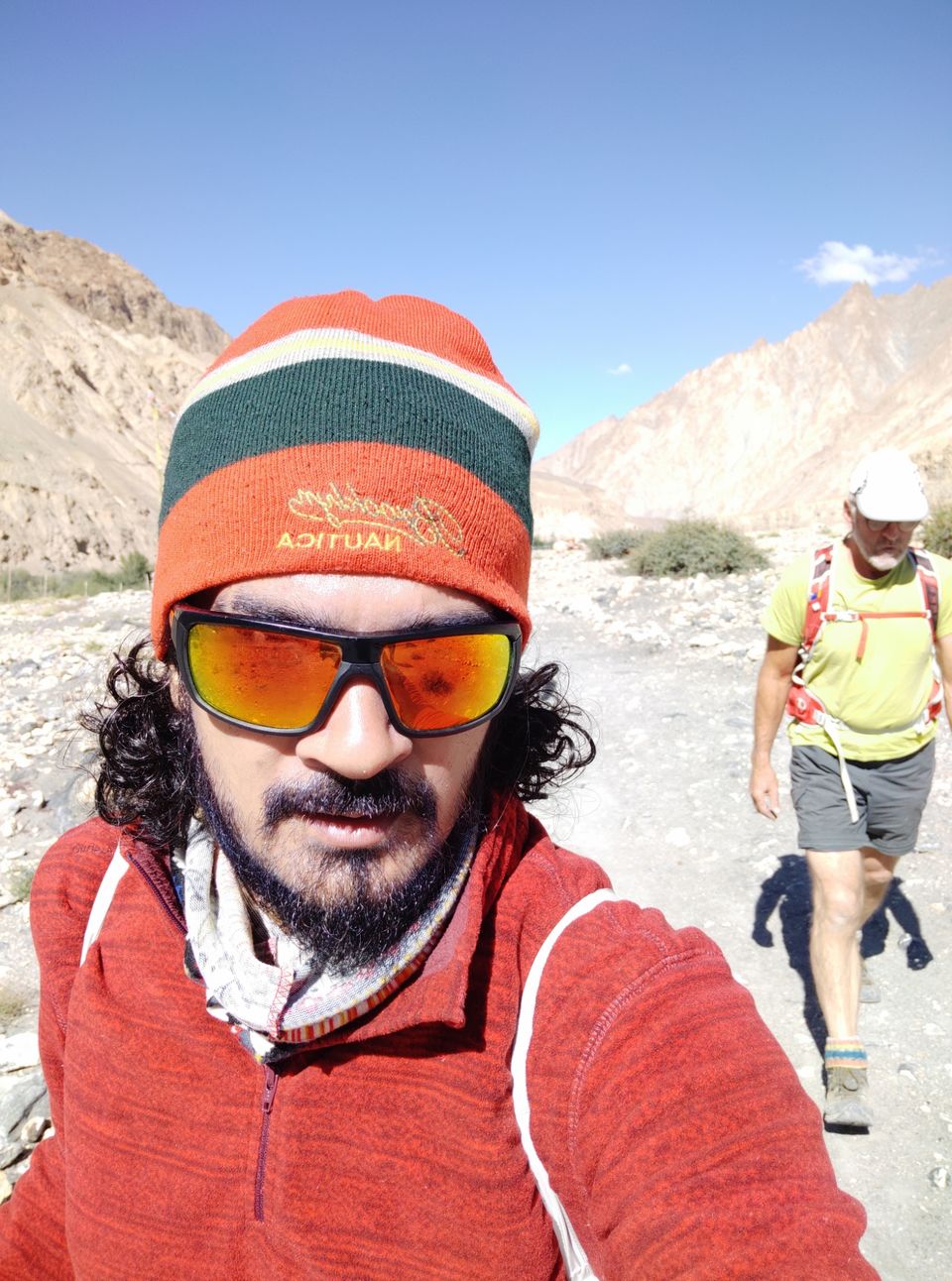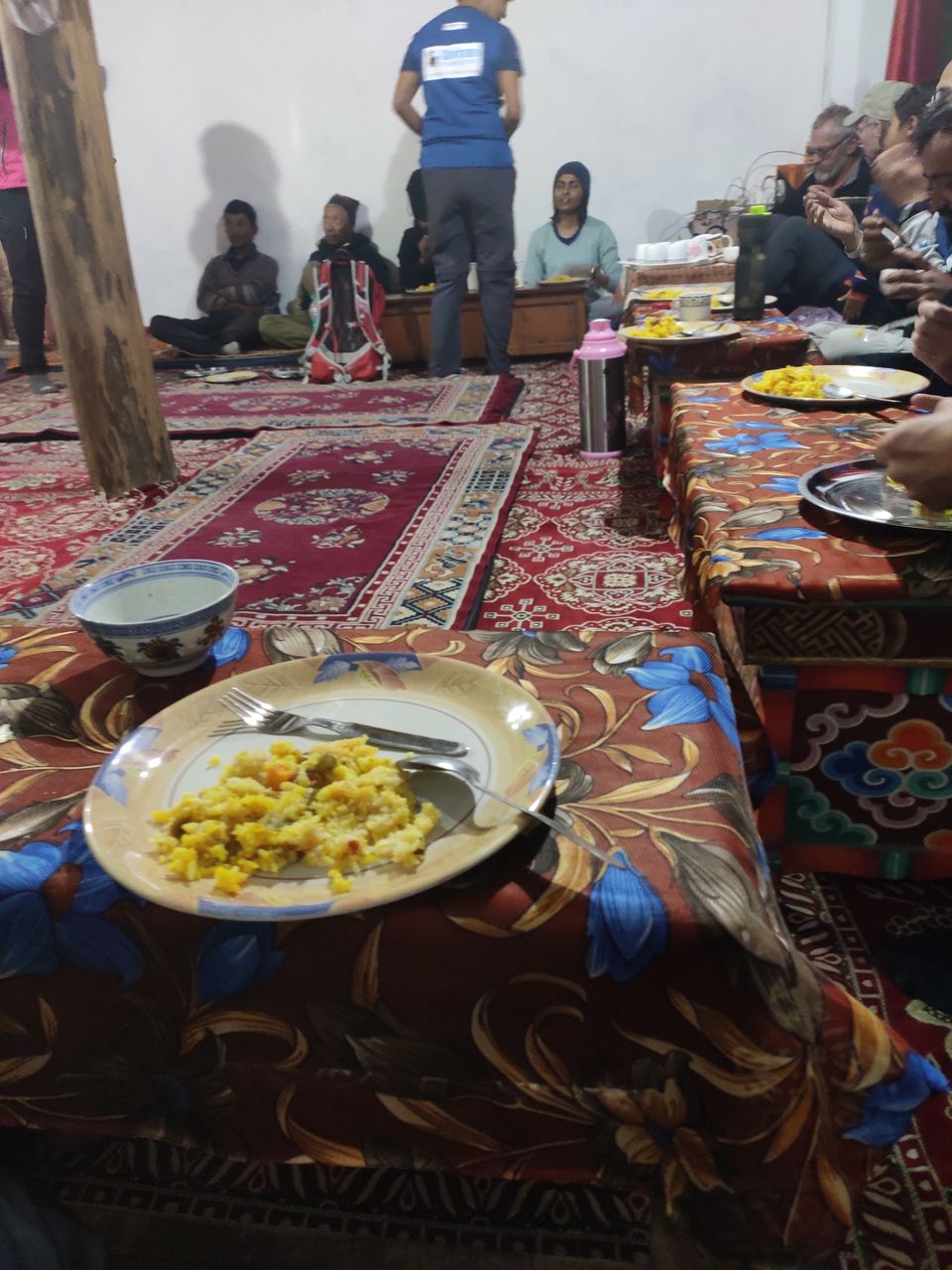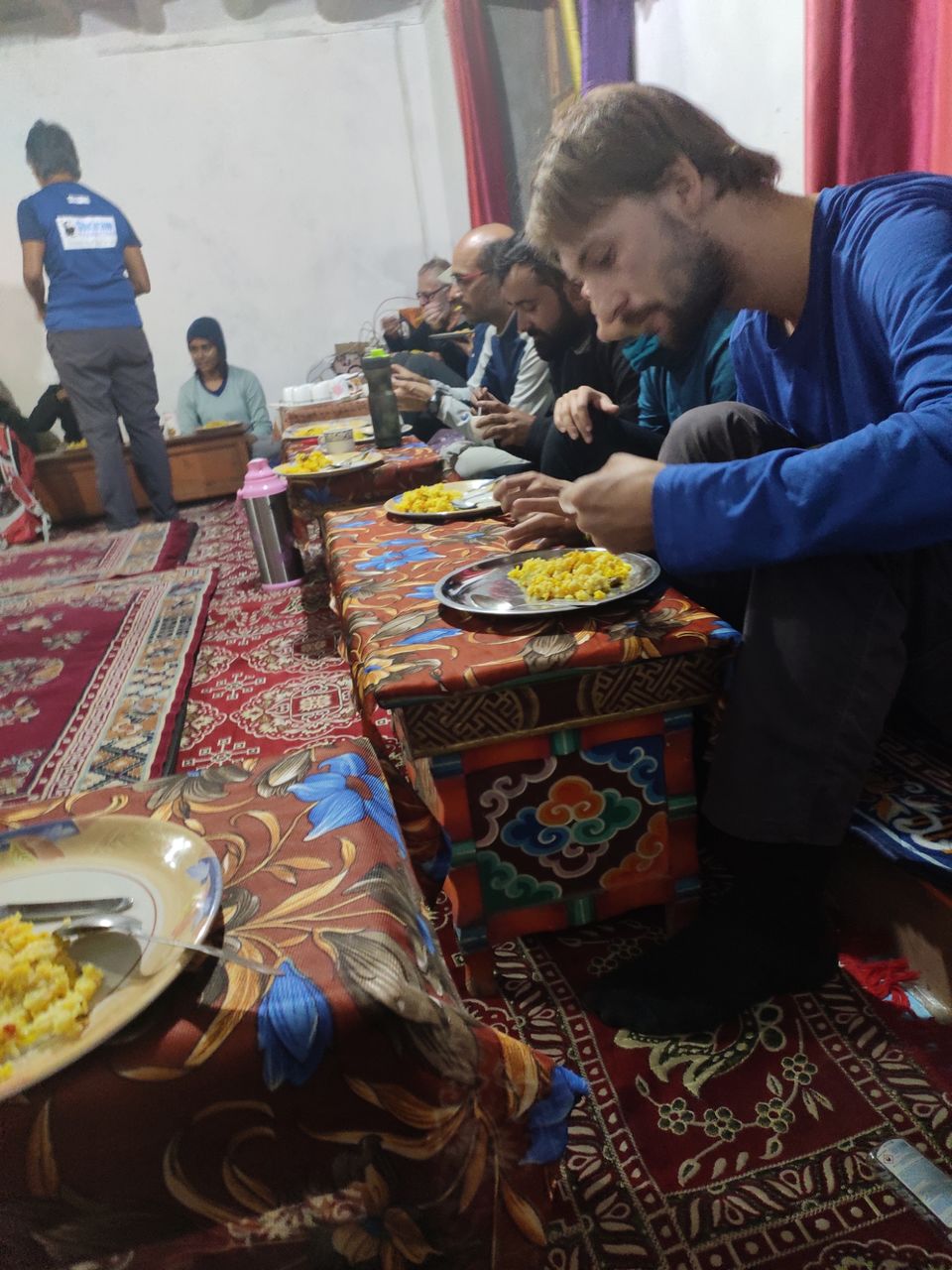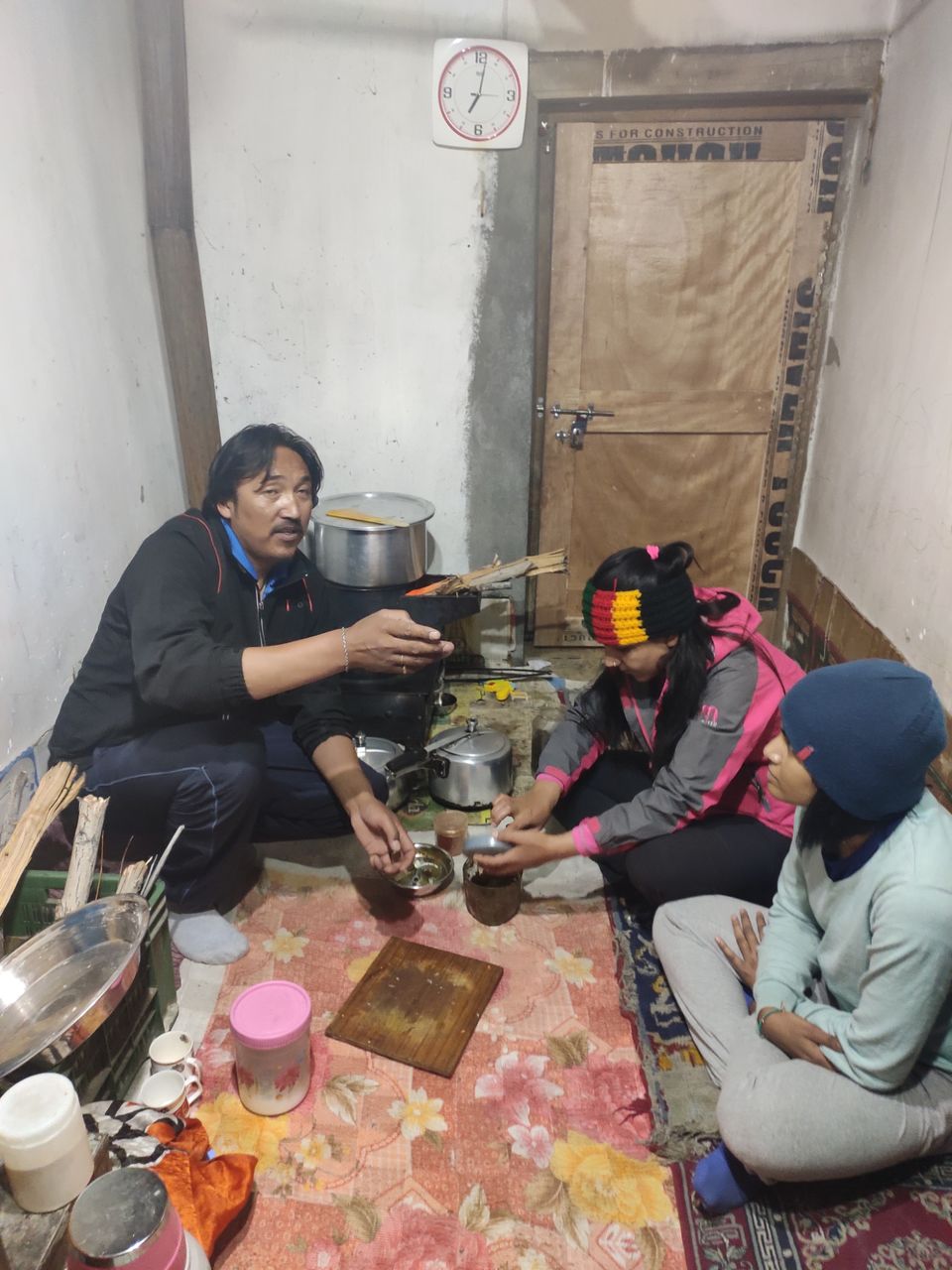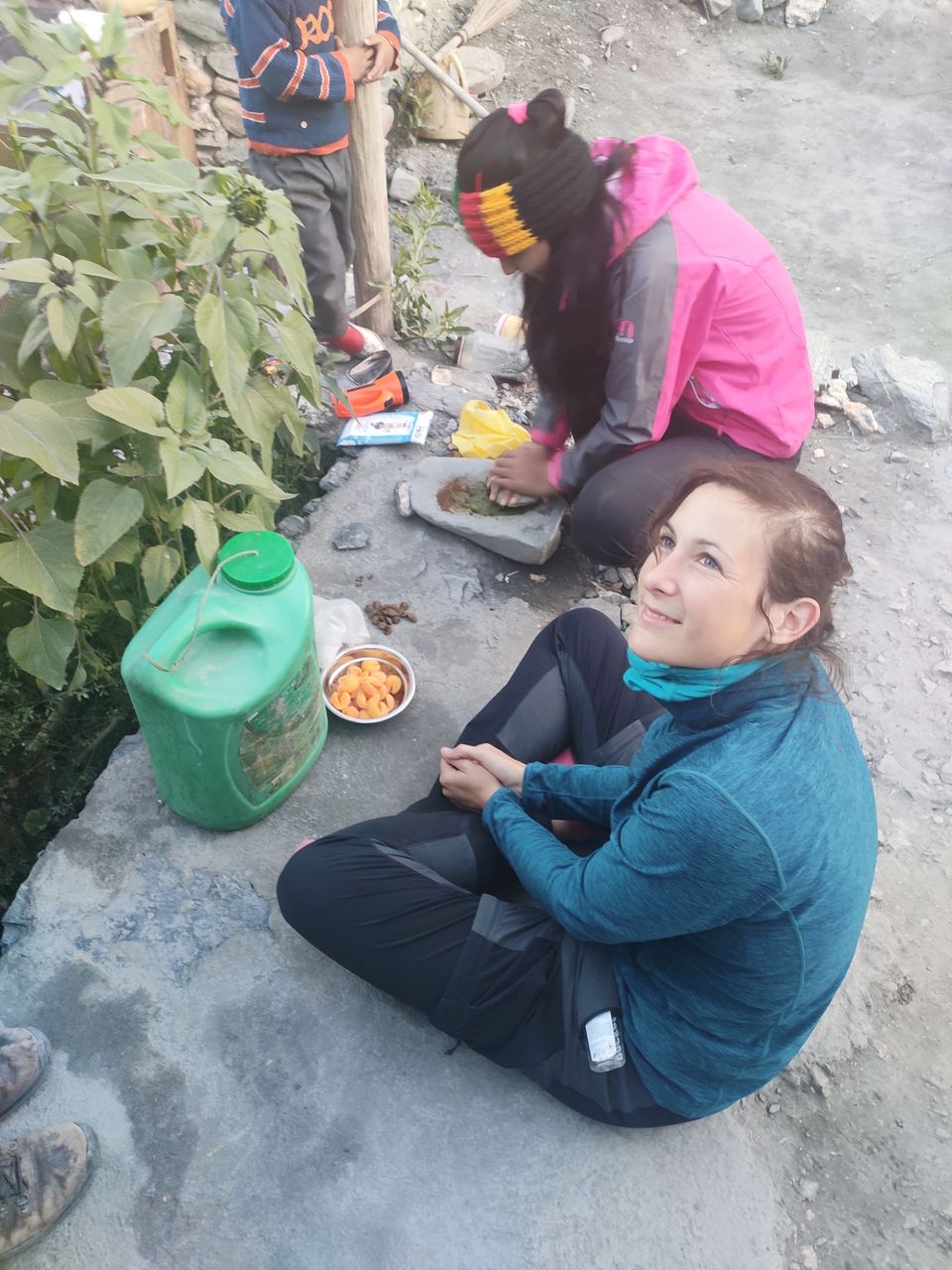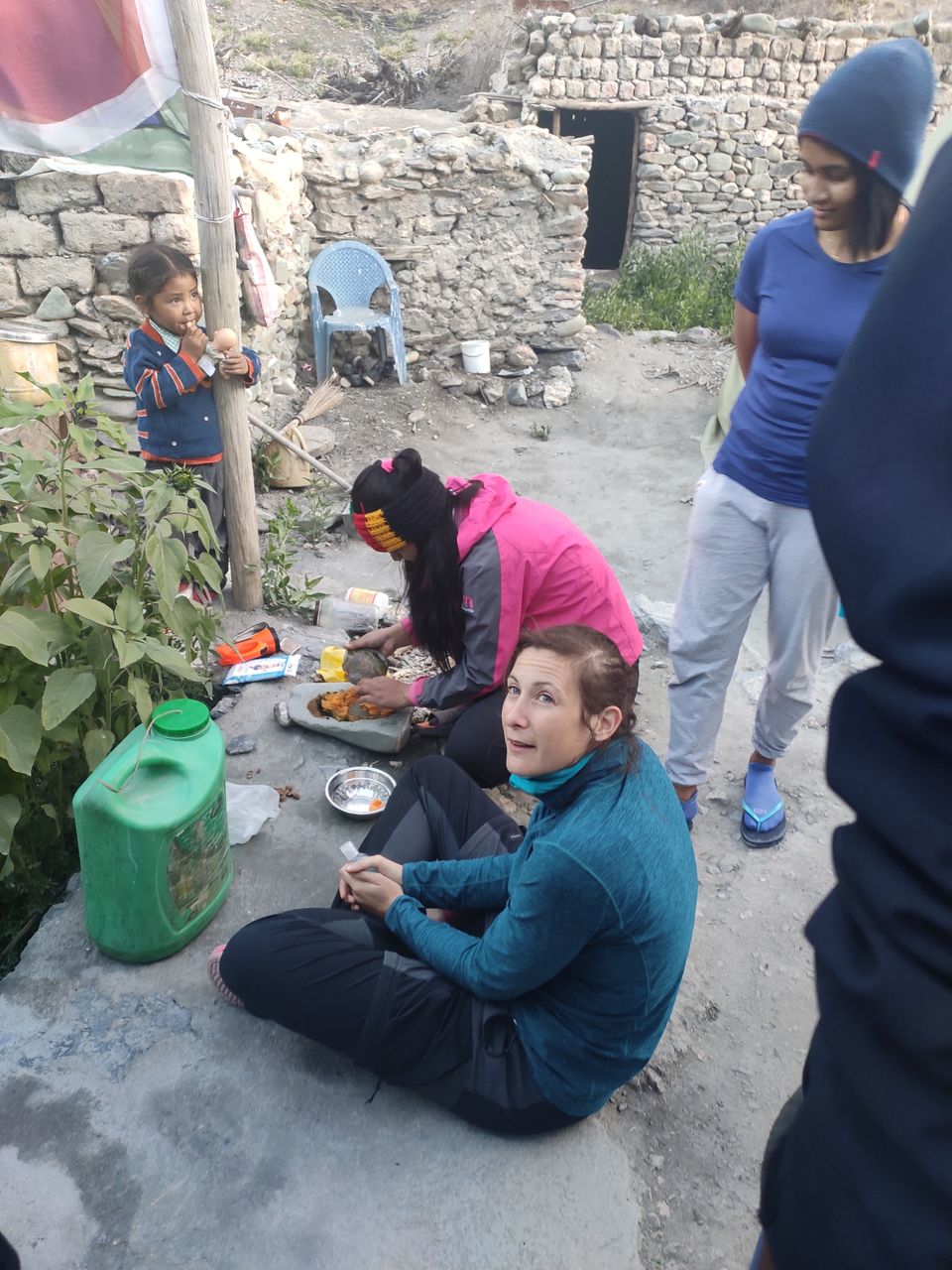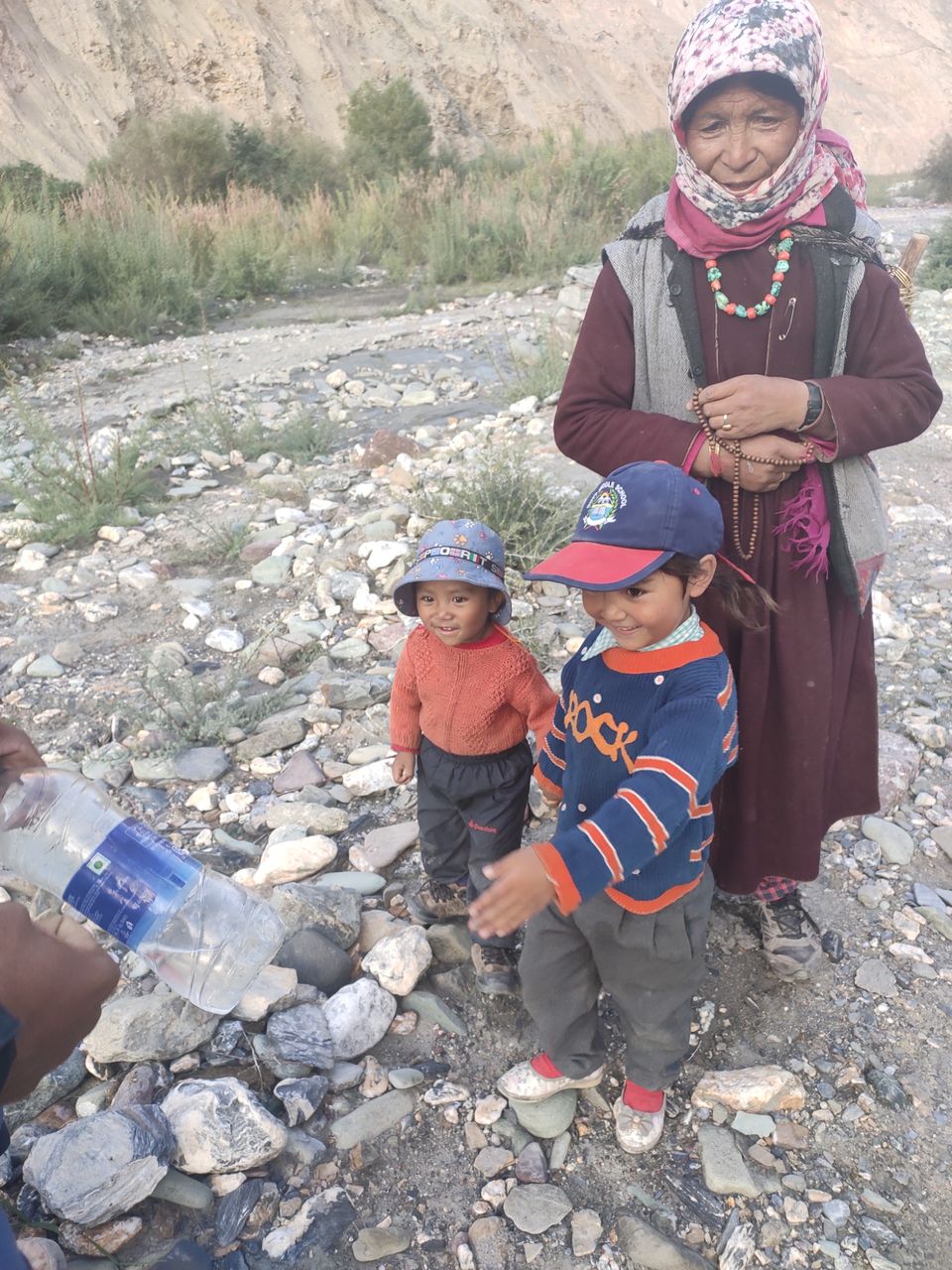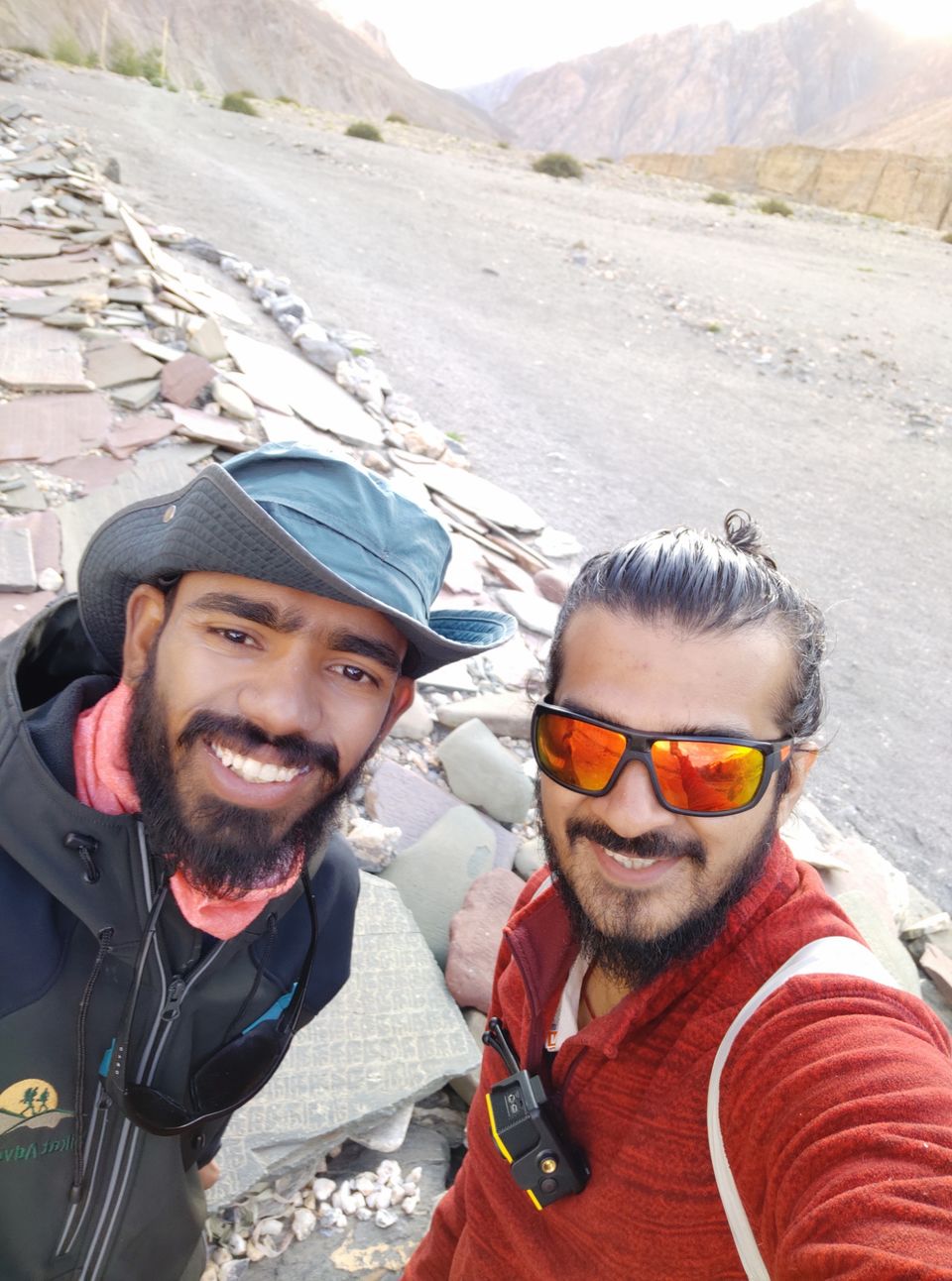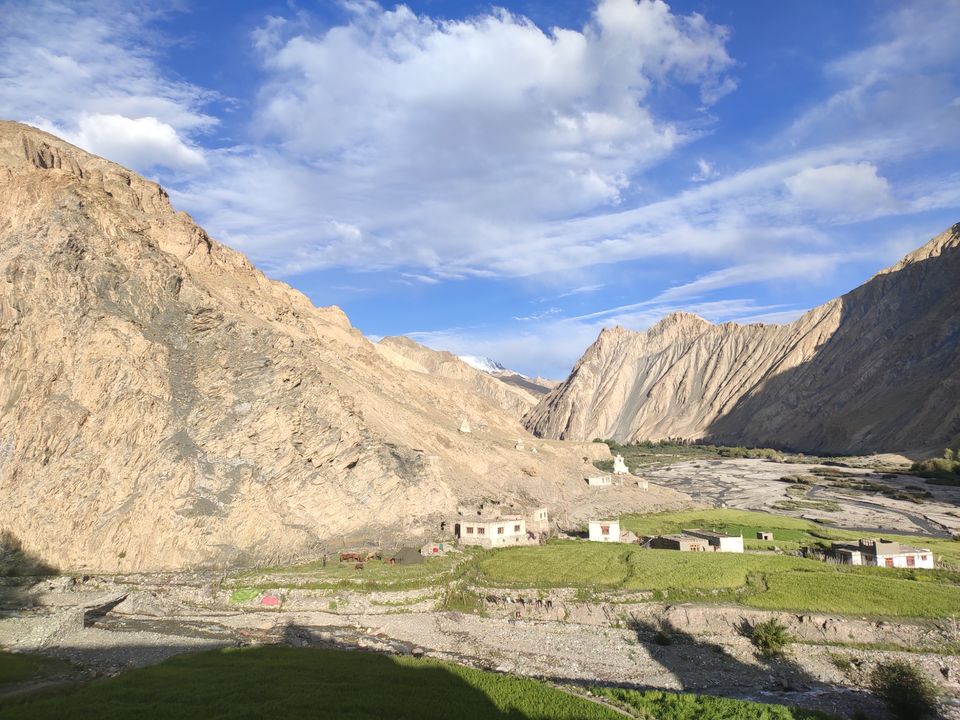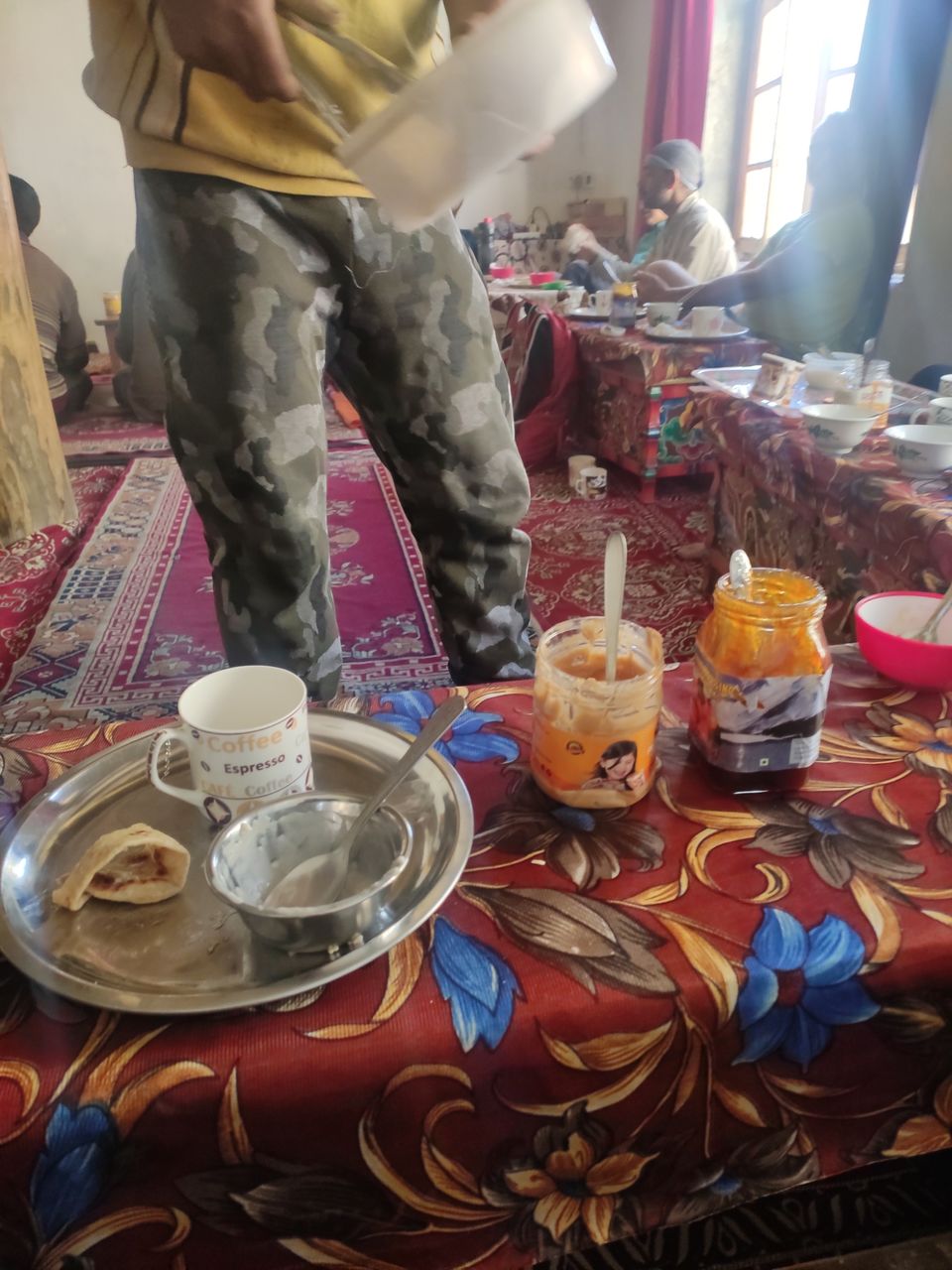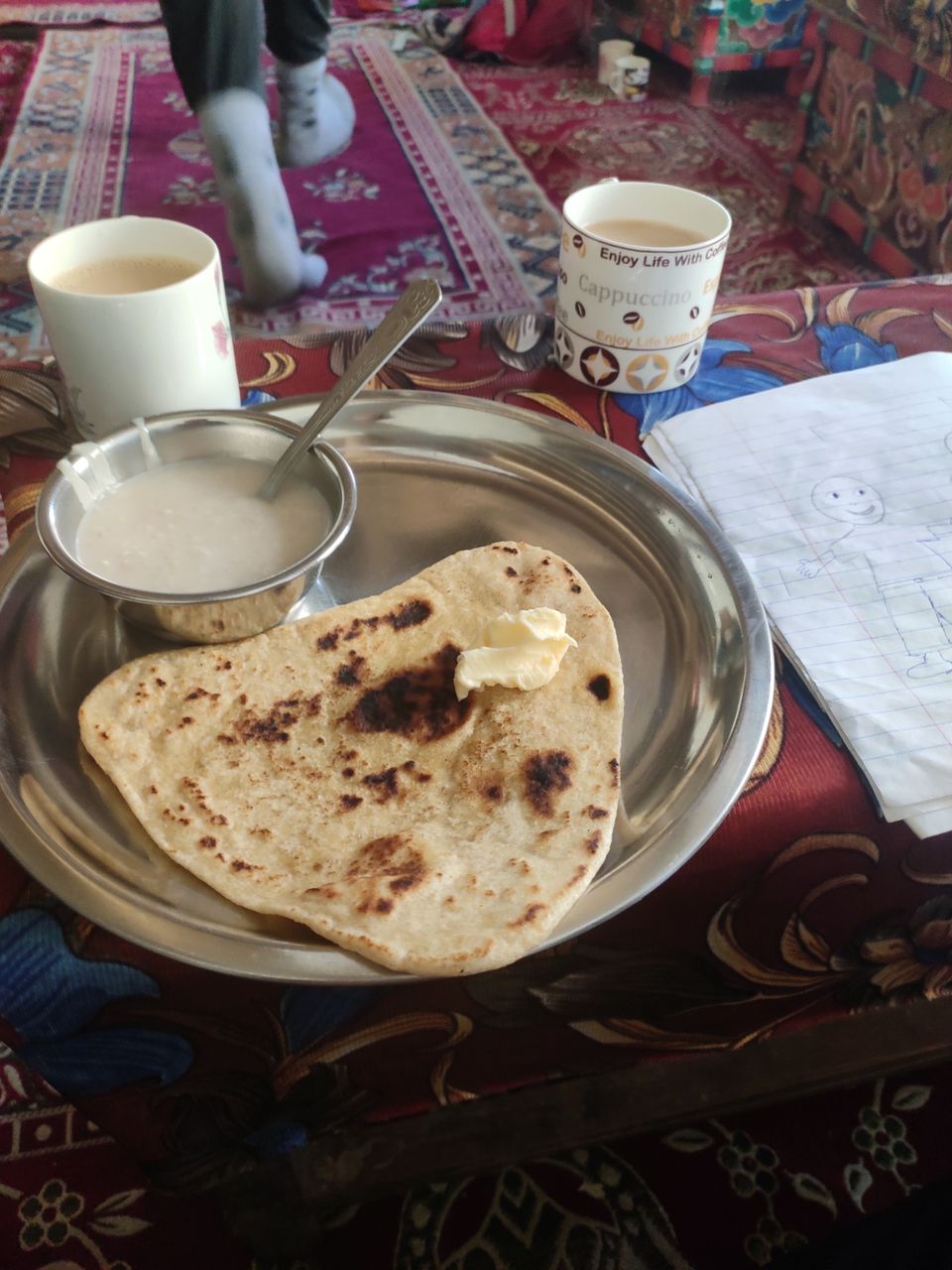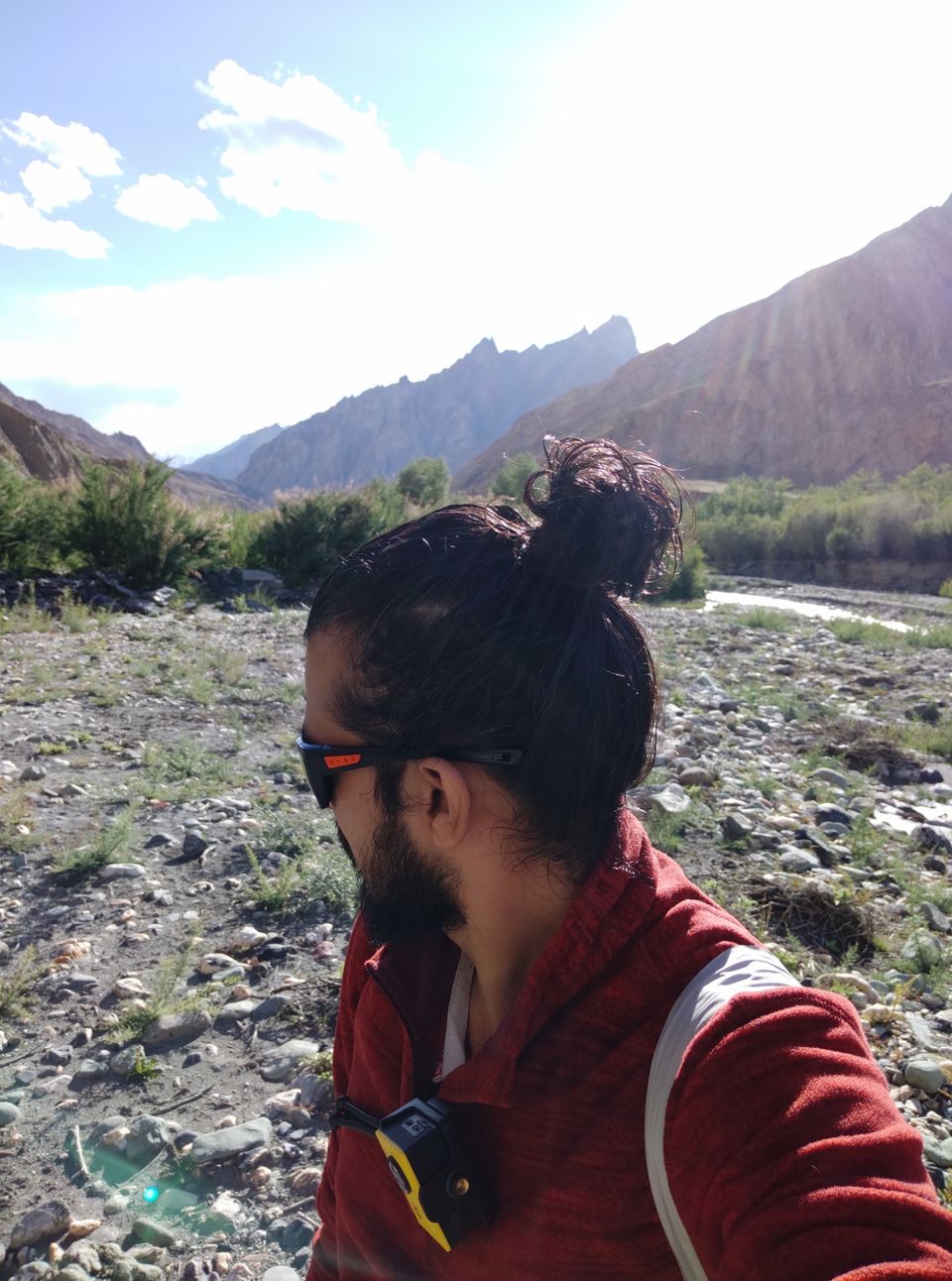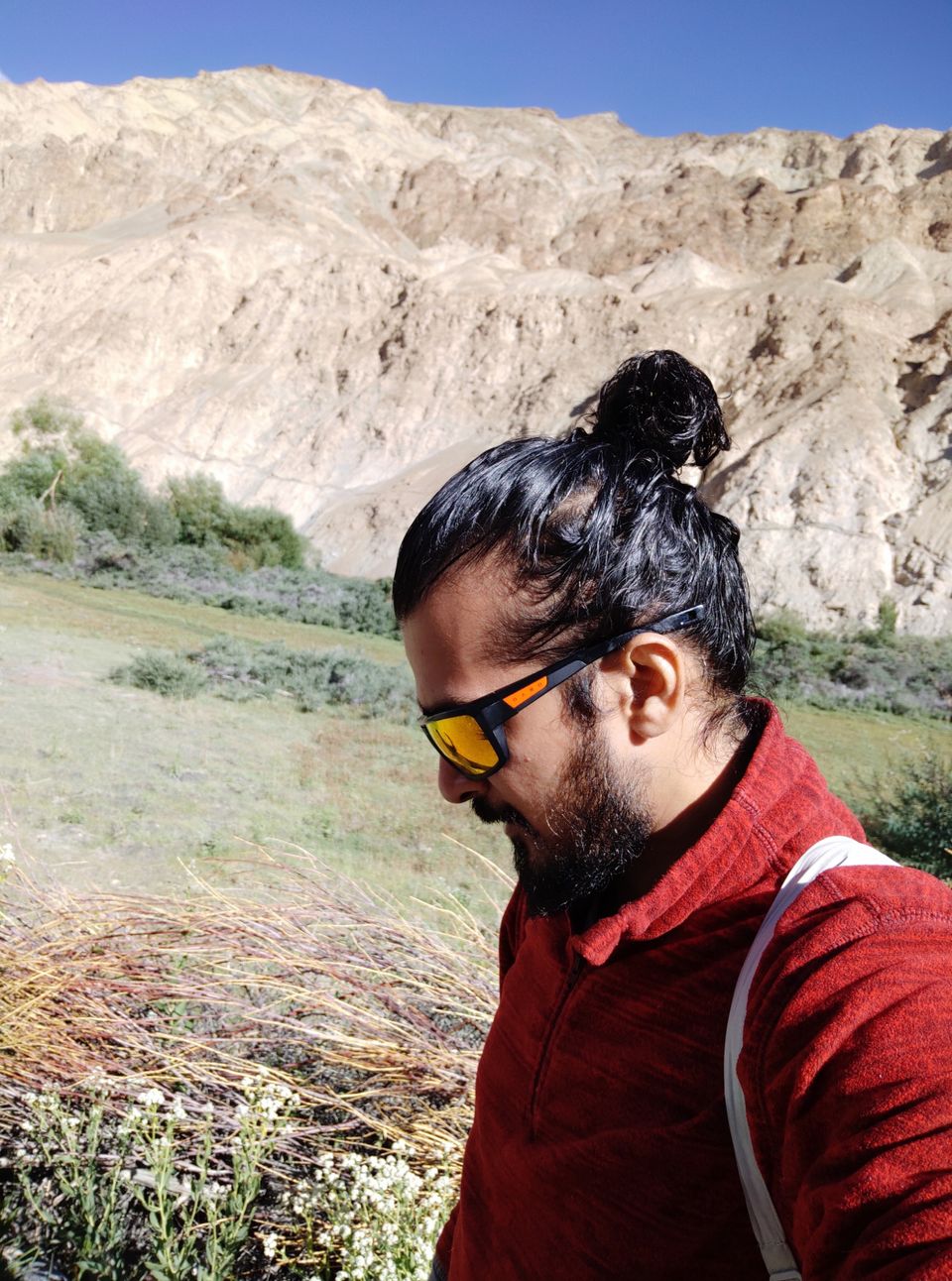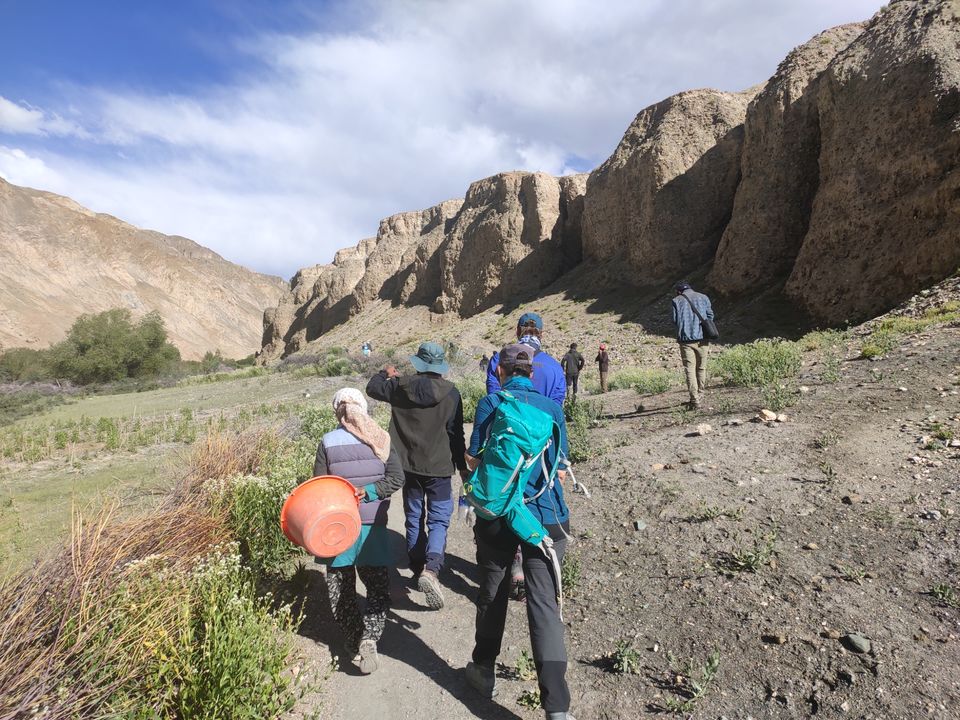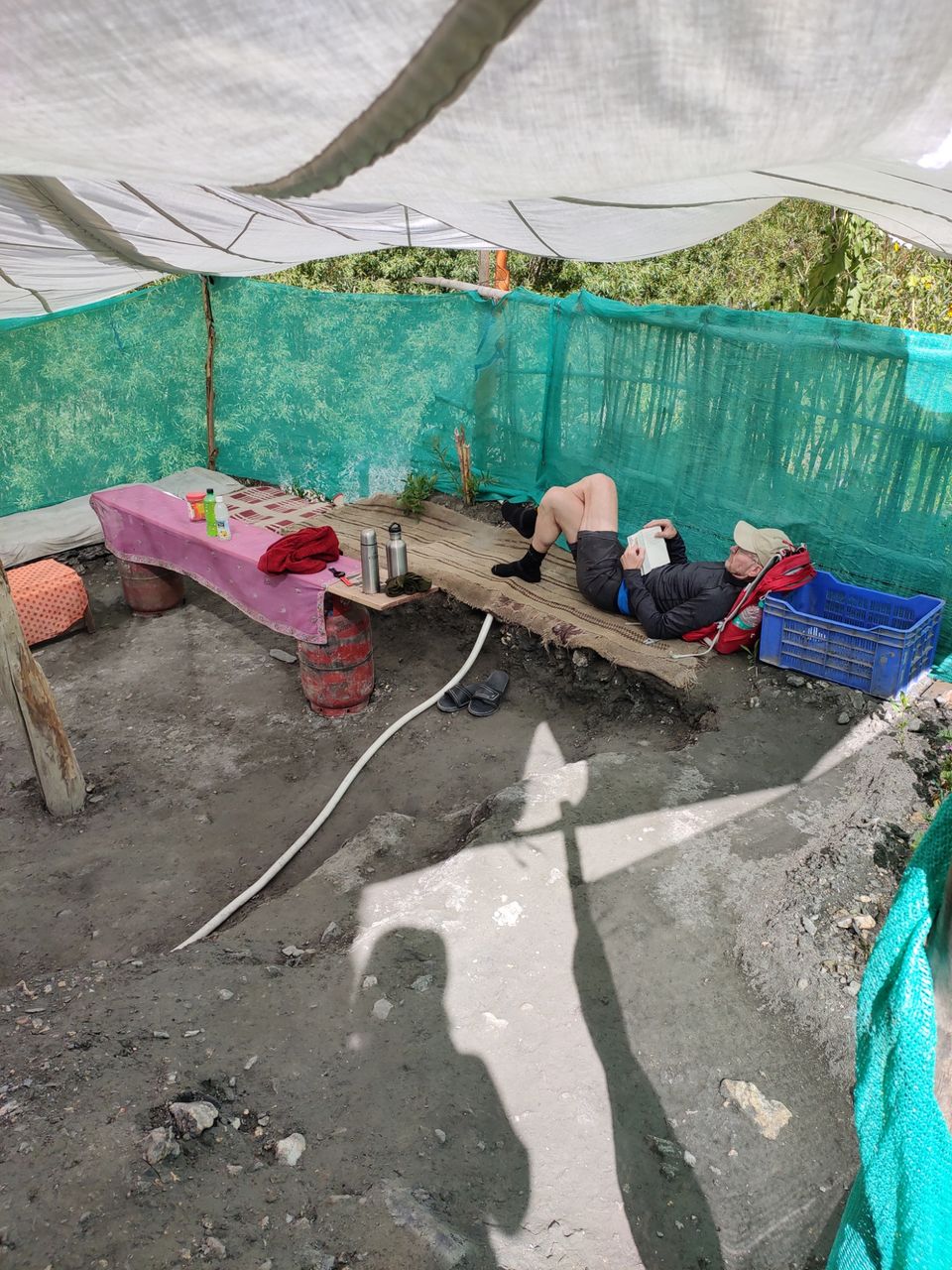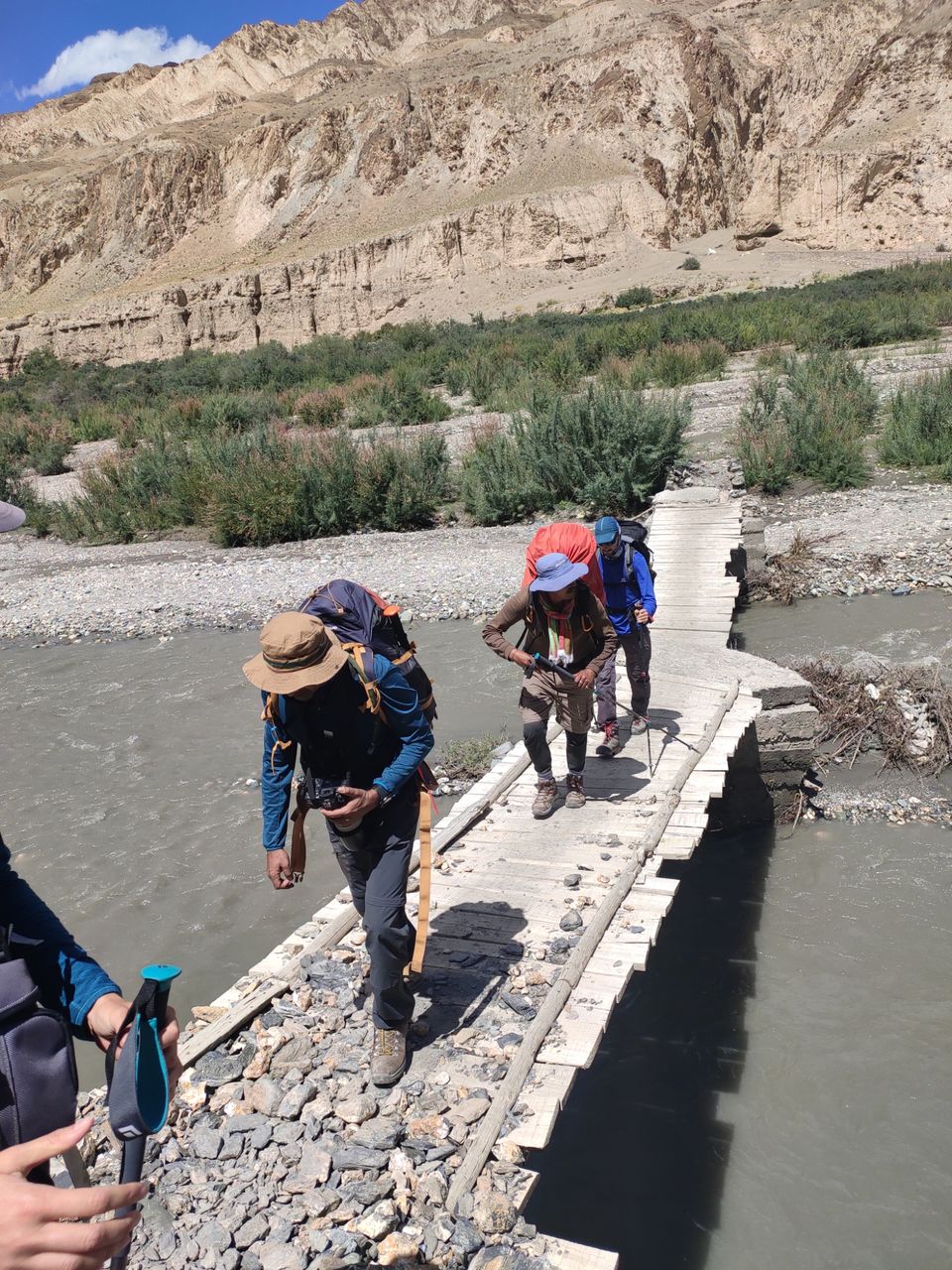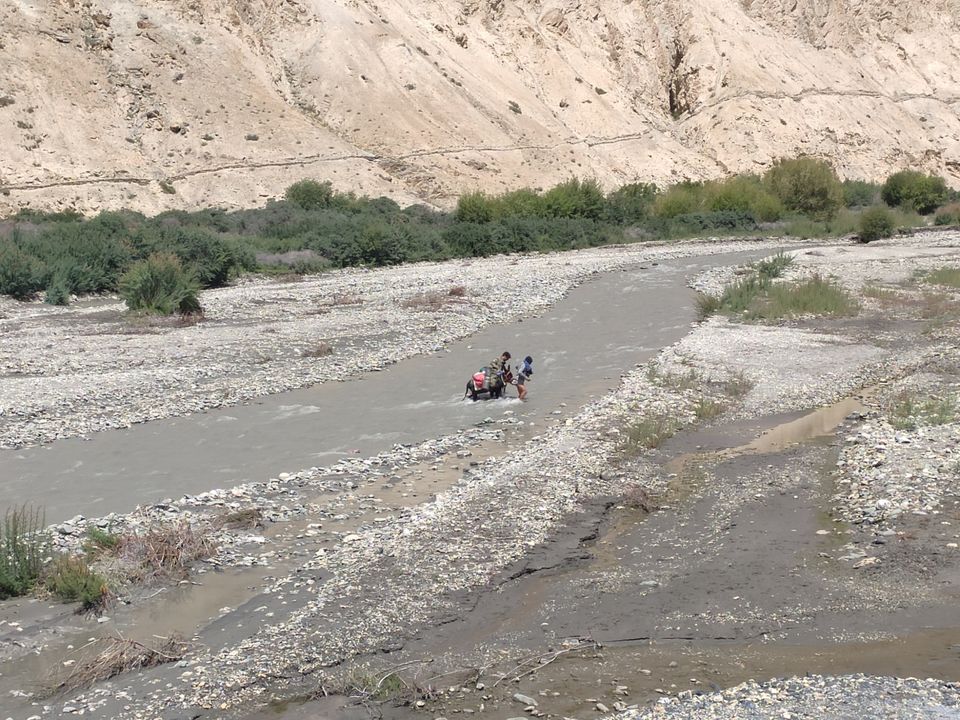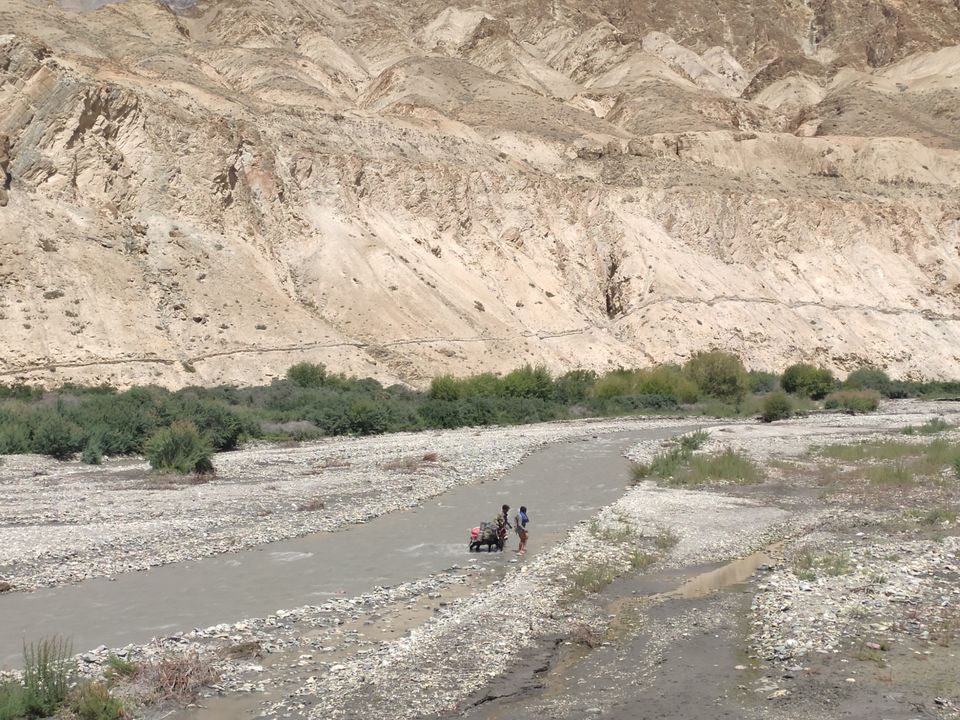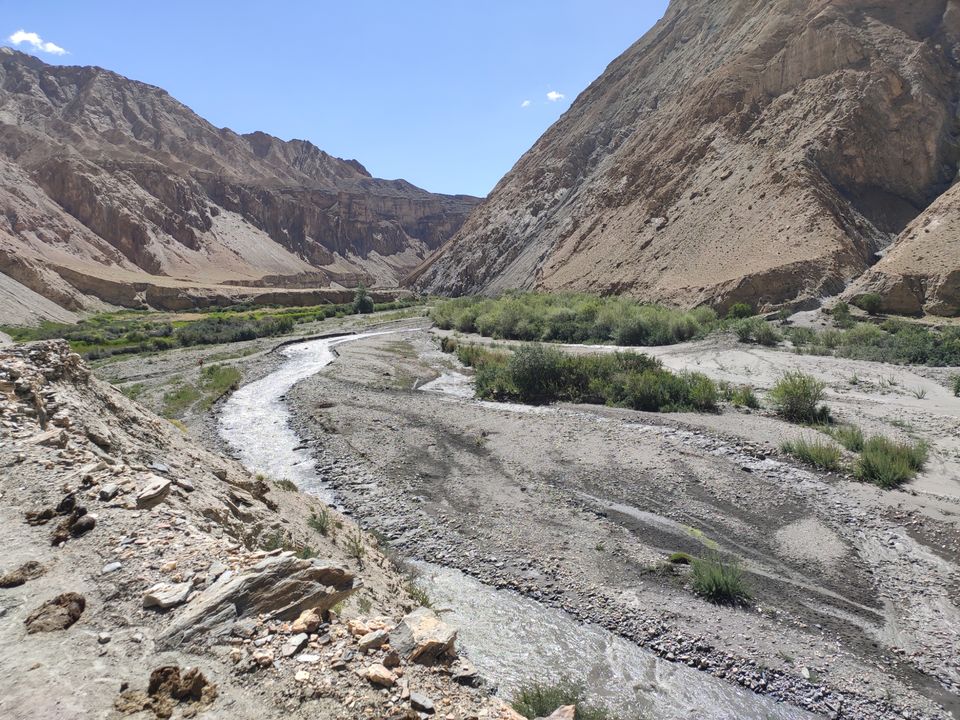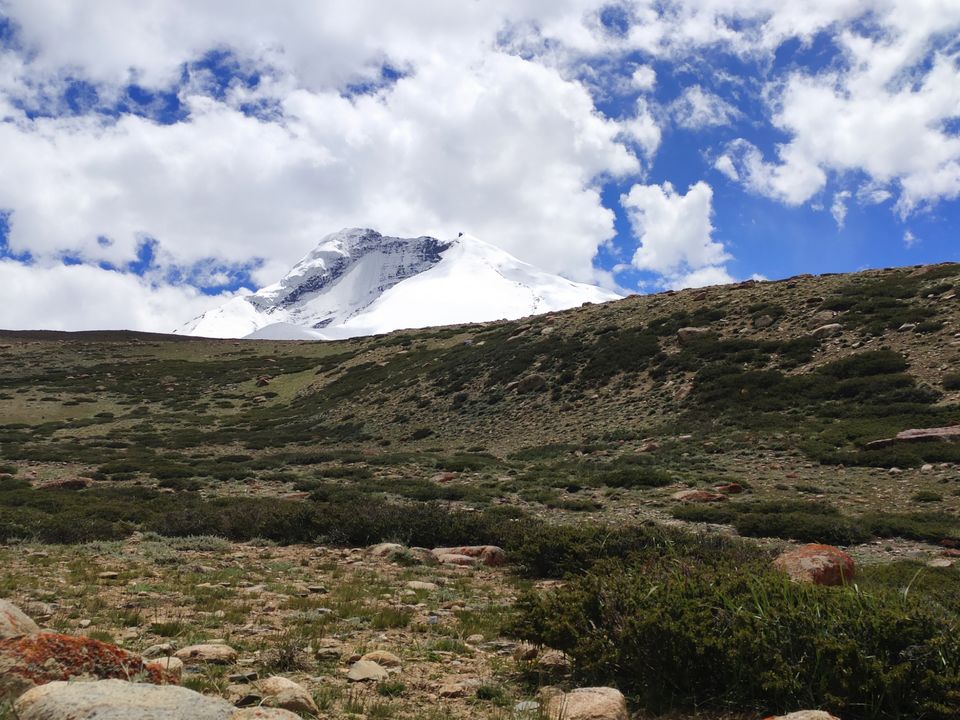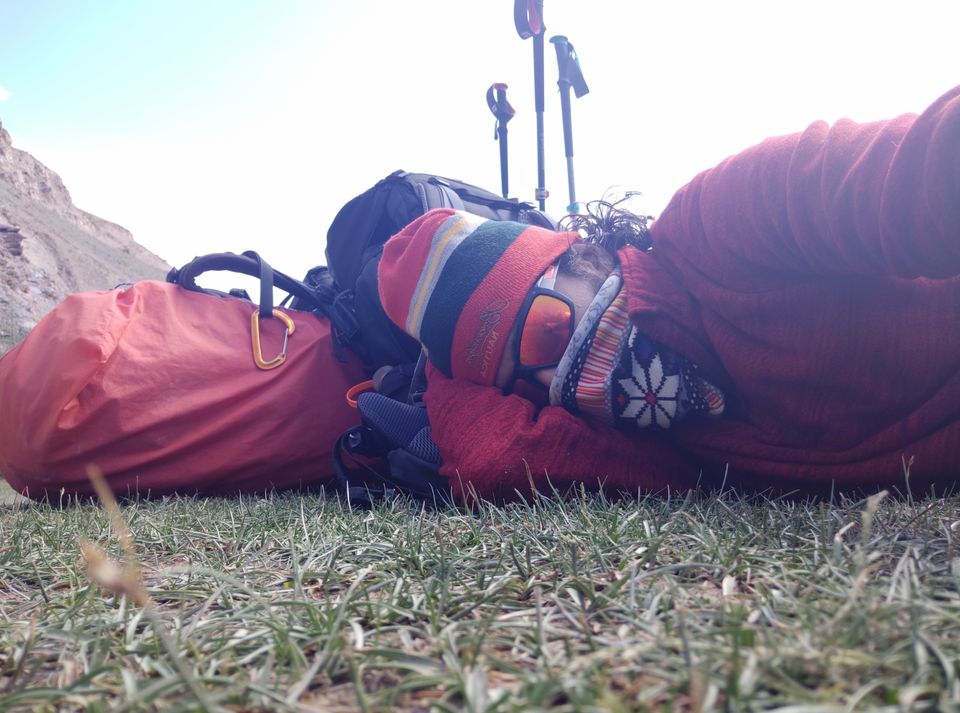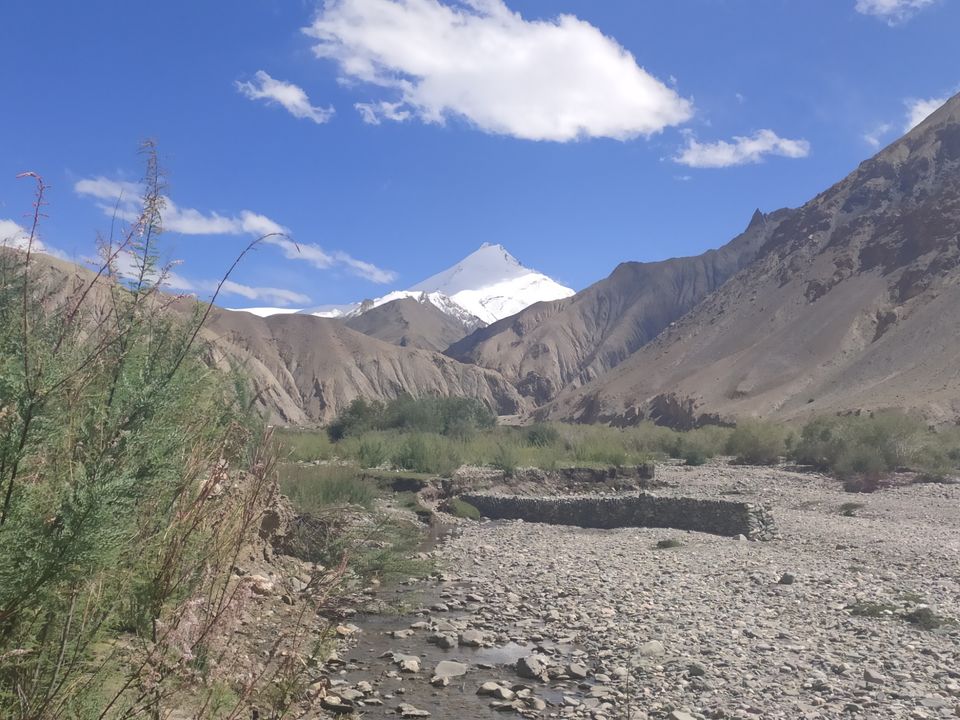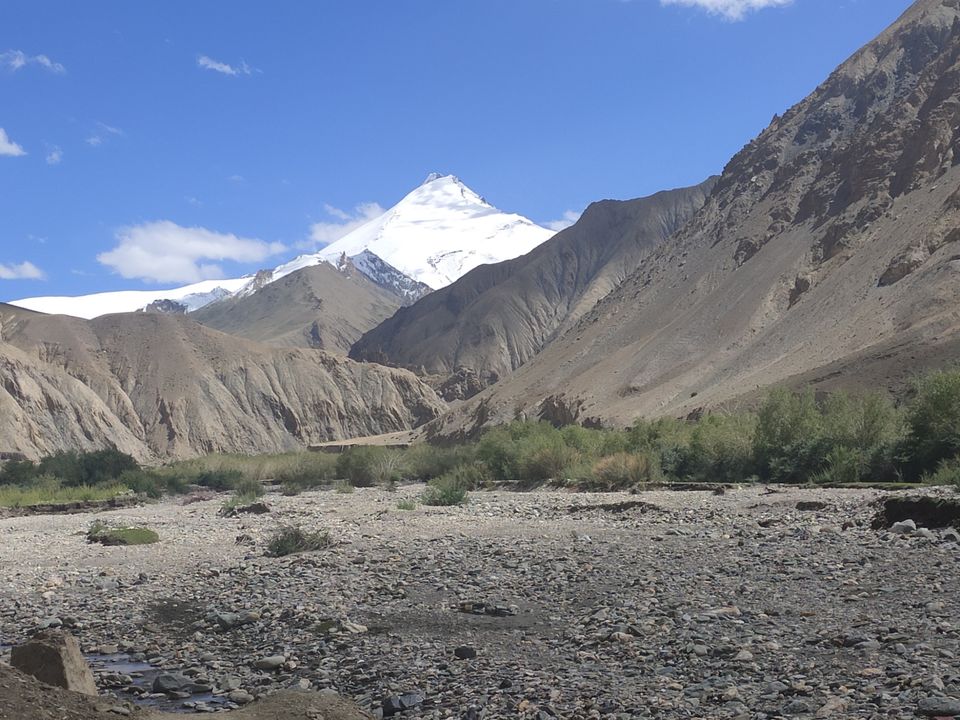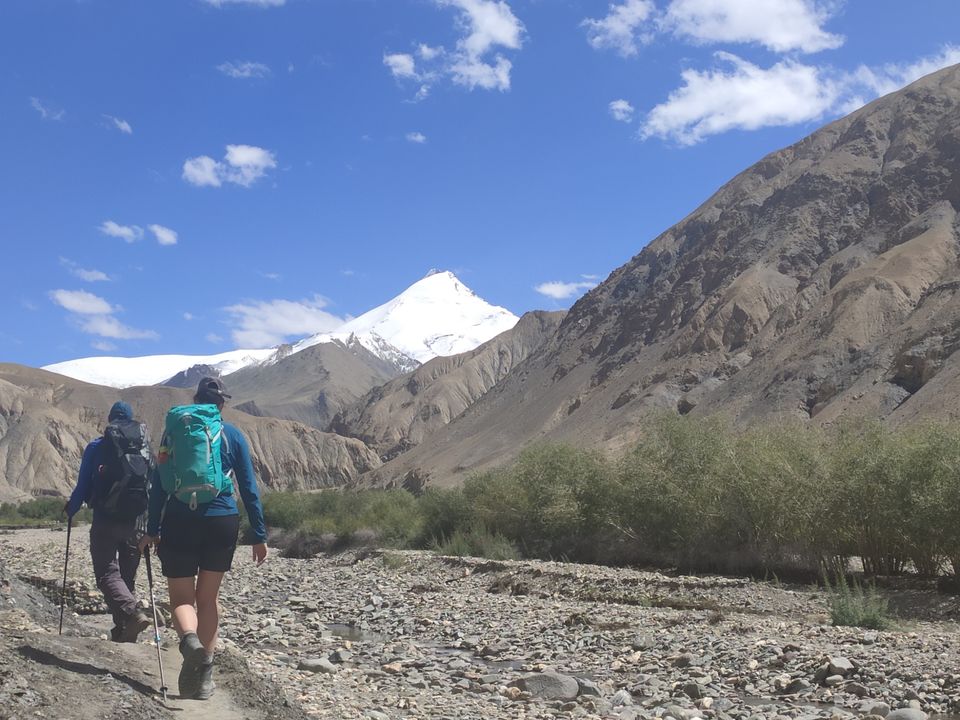 Thachungtse - Today's touch point
"The life you led, doesn't have to be the only life you have"
Started my day with this random quote. Playing in my head was the height where we need to reach. Situated at whooping 14100 ft (4300m) was a no joke. The day was scattered across some amount of technical climbing and a plank river crossing. We did the usuals at our homestay who served us basic food wrapped with lot of love making it a pure delicacy. I made a friend, a 5 year old dolkar. She kind of resembled a ladakhi barbie doll. Truly adorable, playful and a pro in drawing.
Well not to forget I again took a bath (check elevation ;)
Things start to become really interesting. Just a few hours after Markha, you can make out Kang Yaze peak, a mountain 6,150m.
If you are lucky, you can also spot some Himalayan deer. You need to keep following the valley until Hankar, situated at the half-way point, and where you can also get a warm meal.
When you leave Hankar behind, you need to get off the valley by turning left at some point. Don't worry, you can't miss it.
From there, the trail becomes tougher than ever. You will have to ascend 500m in just a few kilometers before reaching Thachungste.
Thachungste is a camping site at above 4,300 meters, placed just next to a mighty river and where hundreds of strange, tiny marmots wander all over the place.
This place is marked with pile of sharply carved stones with buddhist prayers with some real miniscule artistry from ancient times. Every 20 steps or so you will find these huge flatbed stones with beautiful buddhist carvings. I had to struggle a lot citing my back pain which had cropped up during the last three hours of the day. We started going for acclimitization climbs in the evening keeping in mind the days to come and elevation to gain. We had a meal which was far beyond the four course meal in a metropolis which had a rare blend of taste and health. Had a long discussion post dinner with Rudy and Paul on the authenticity of the dark belgium chocolate and about cheese with arthur and tamara since they come from Belgium and France respectively. With our tummy full and butterflies coming into play for the next day, we hit the sack. I sat outside for some stargazing but the strong chilly winds piercing through my bones made the philosopher in me get back to the room and sleep early.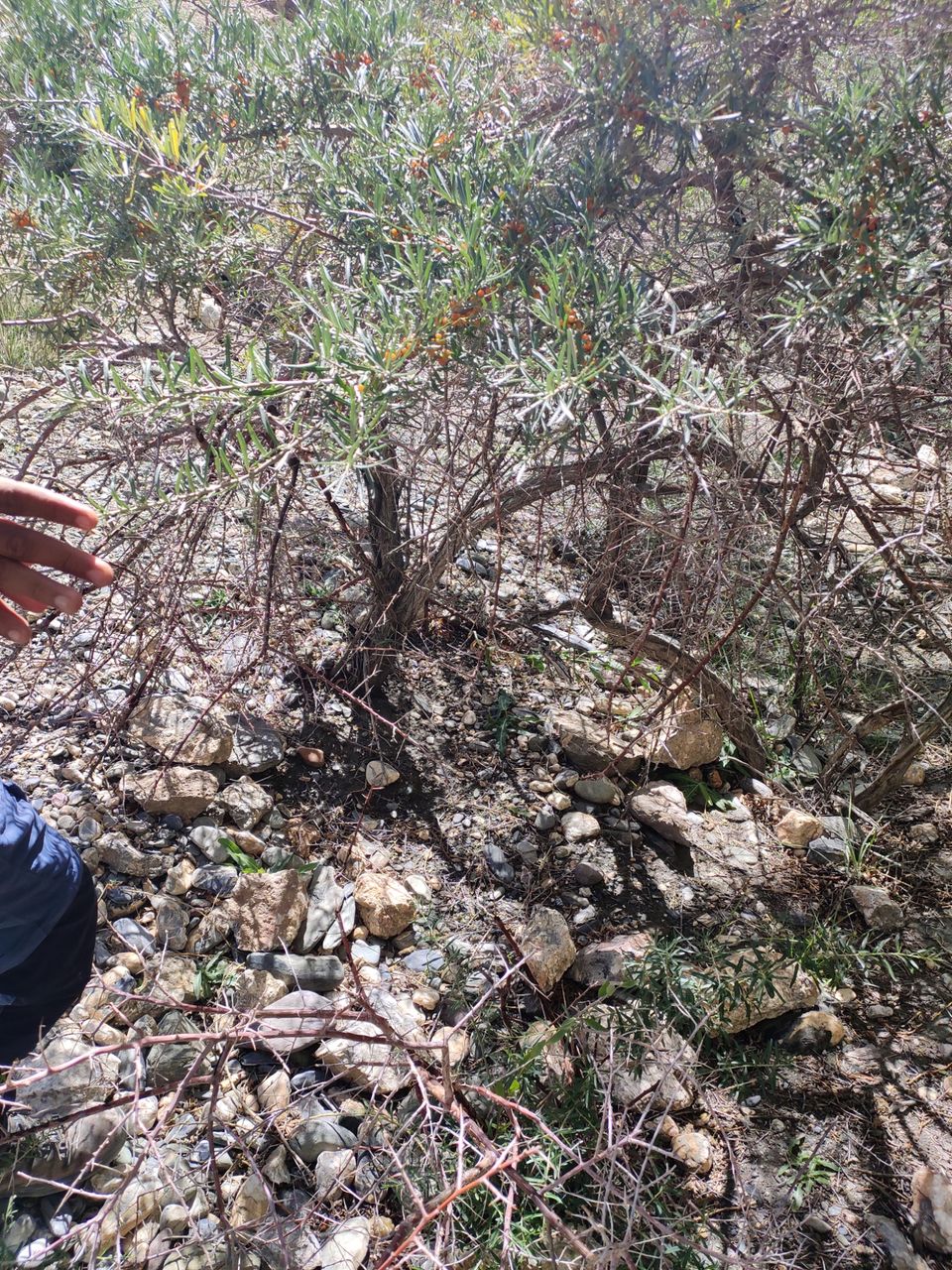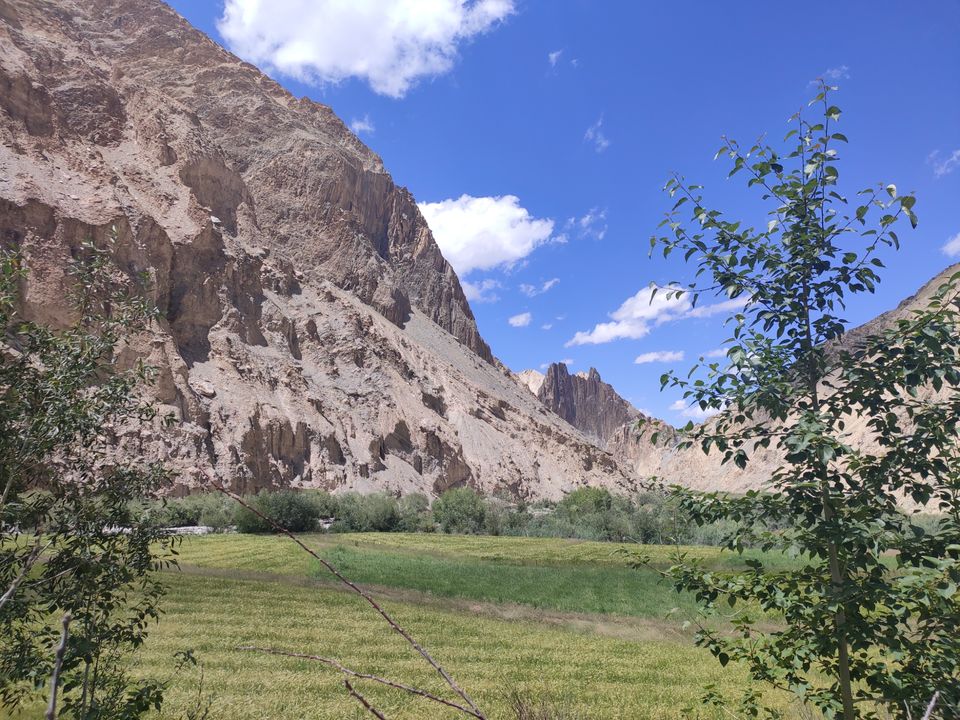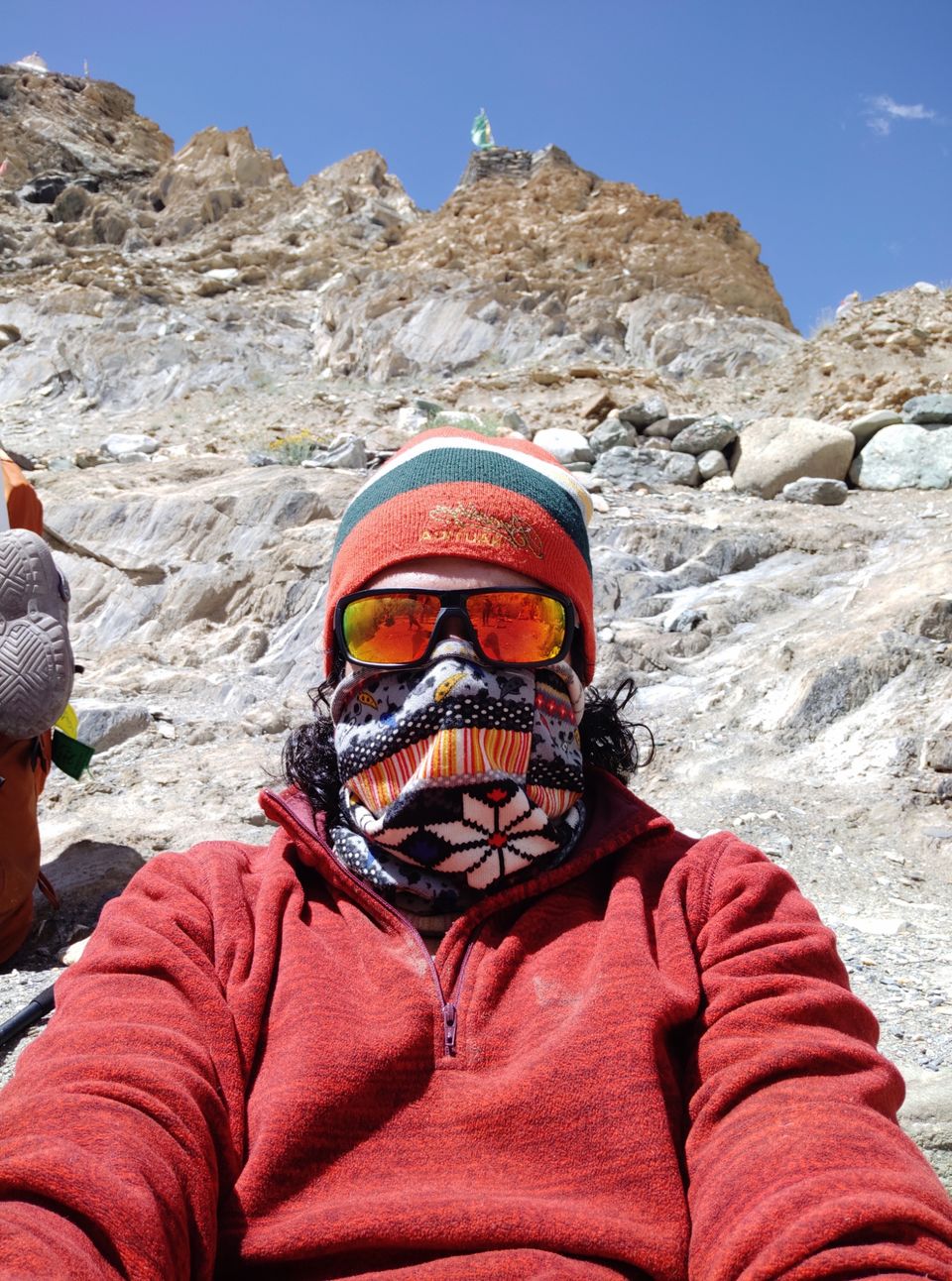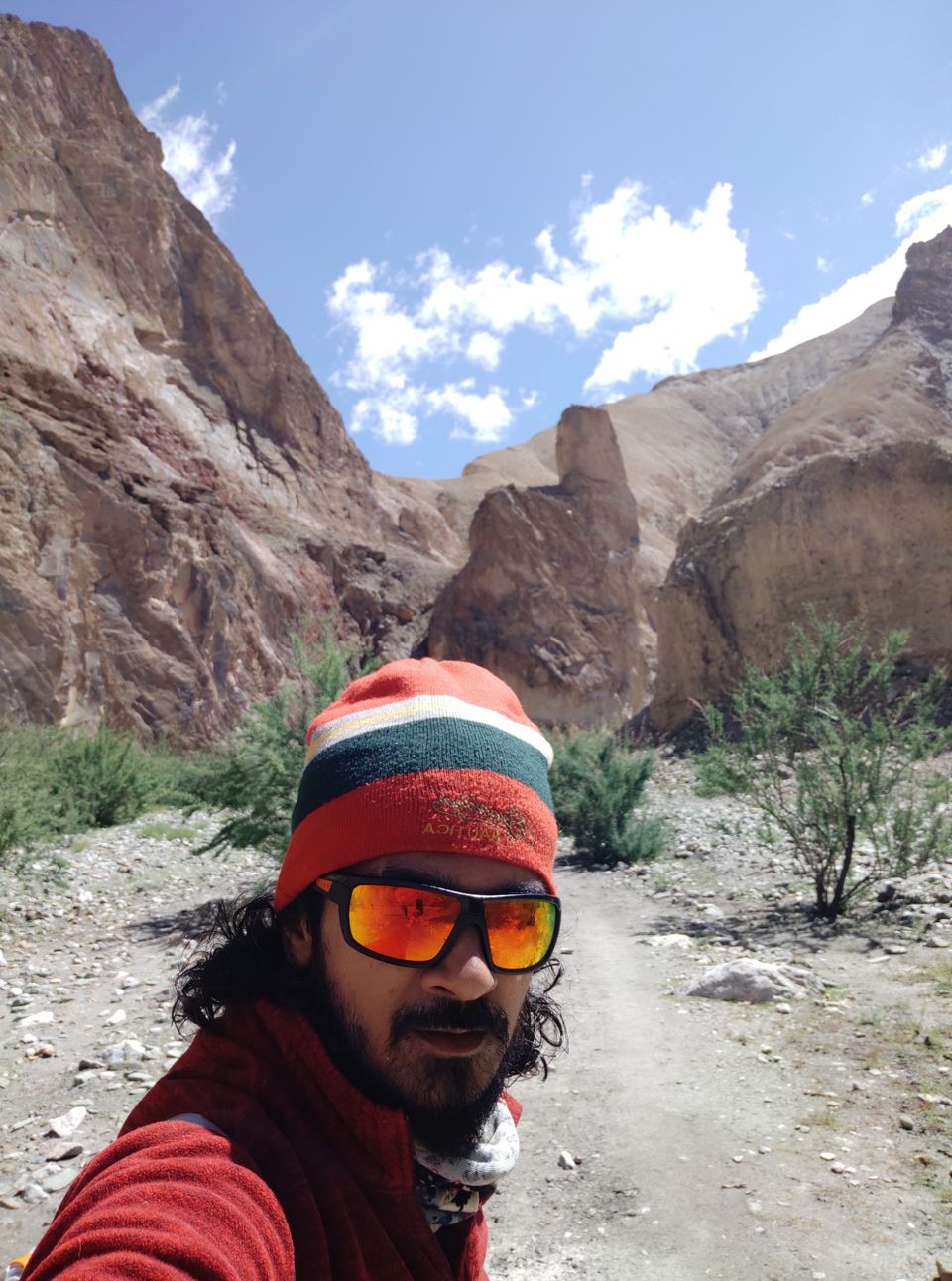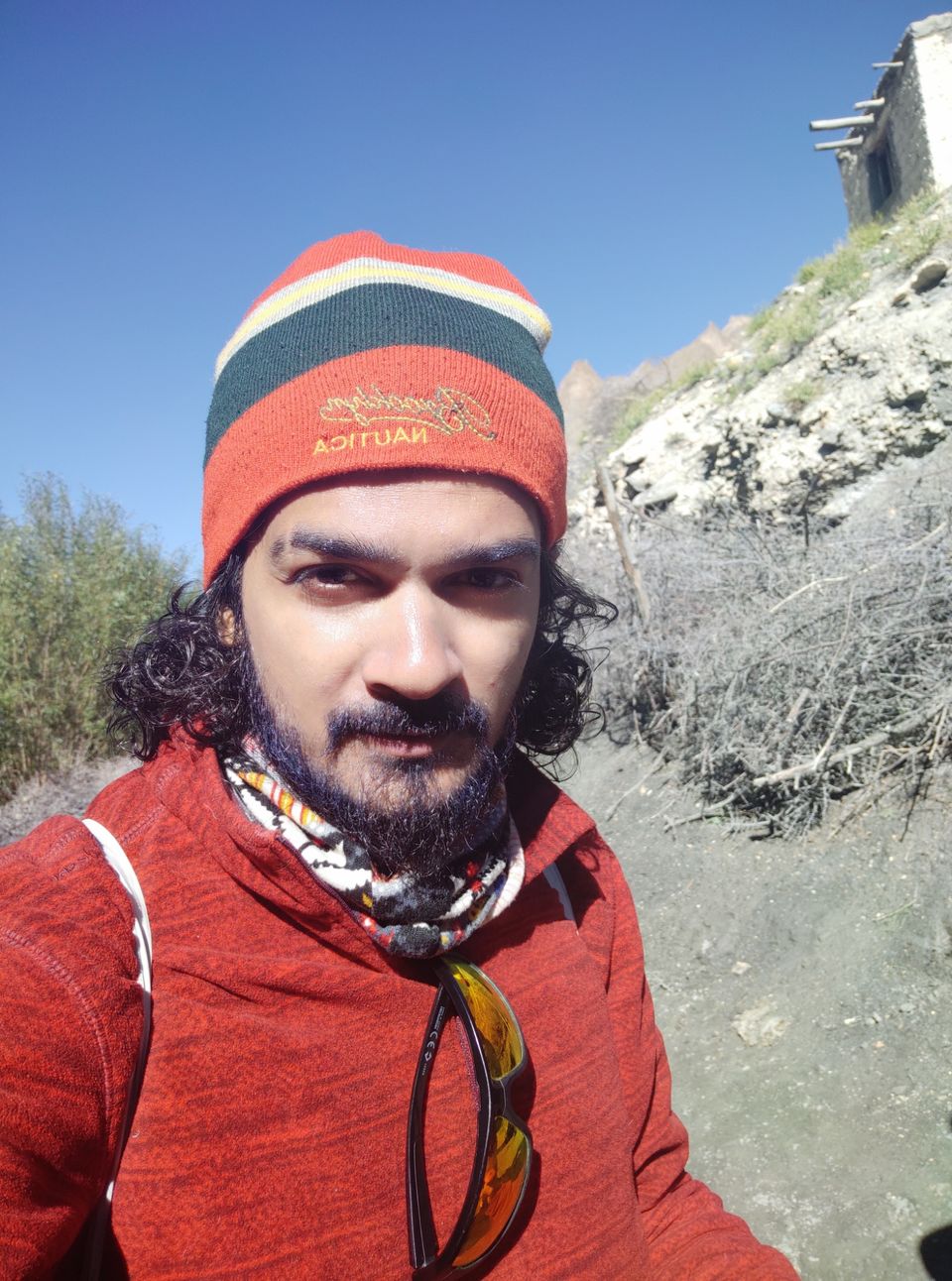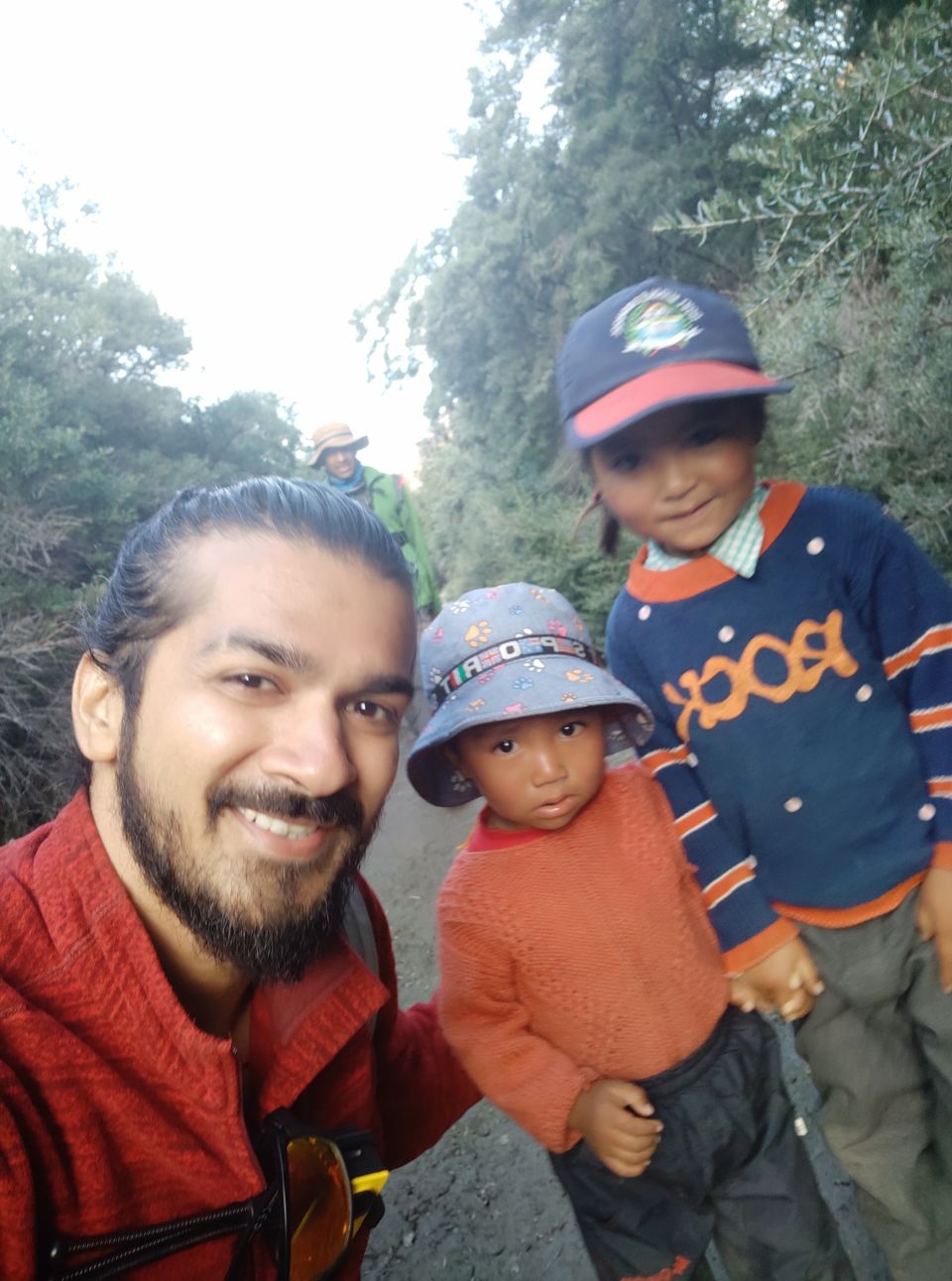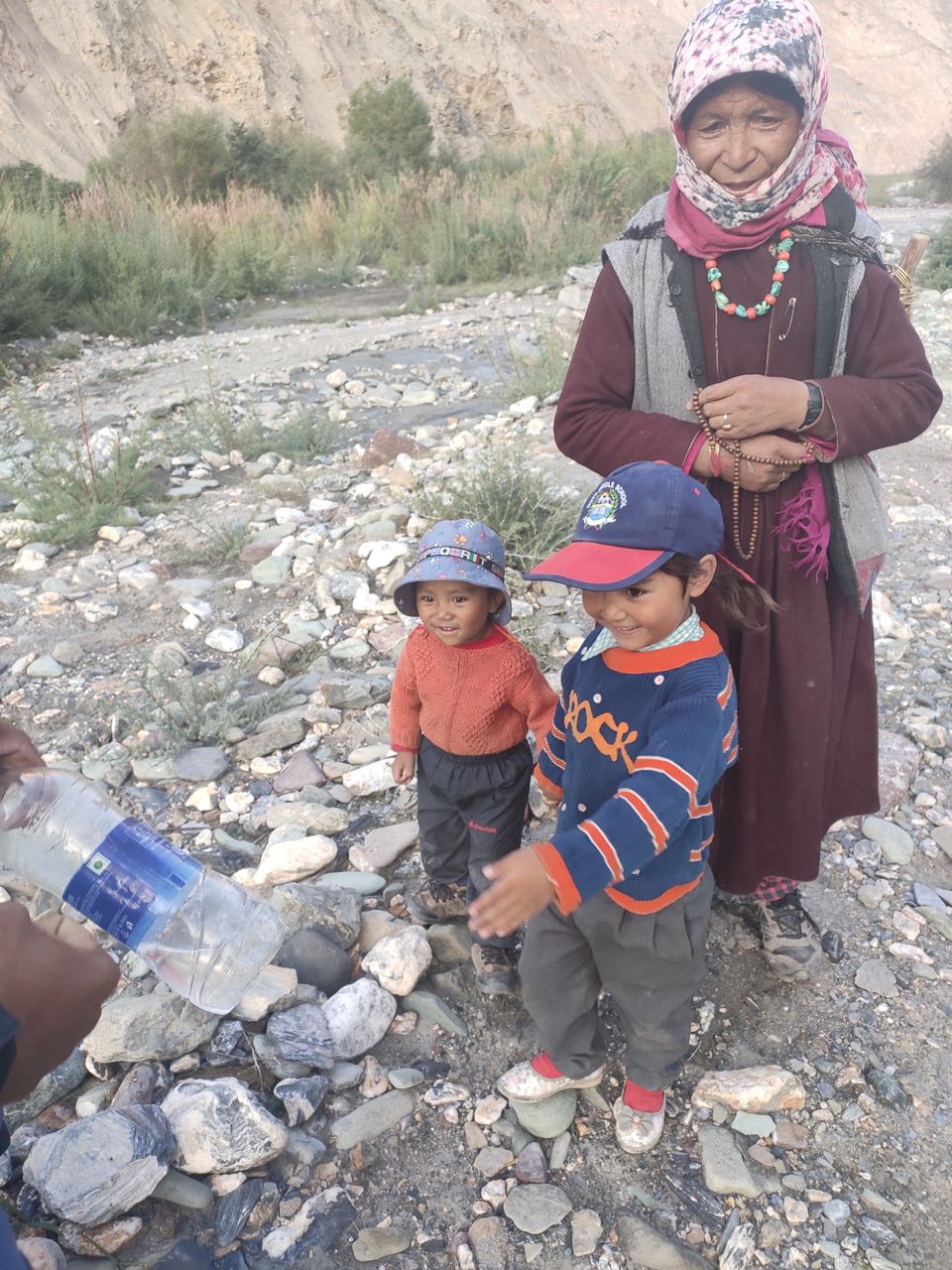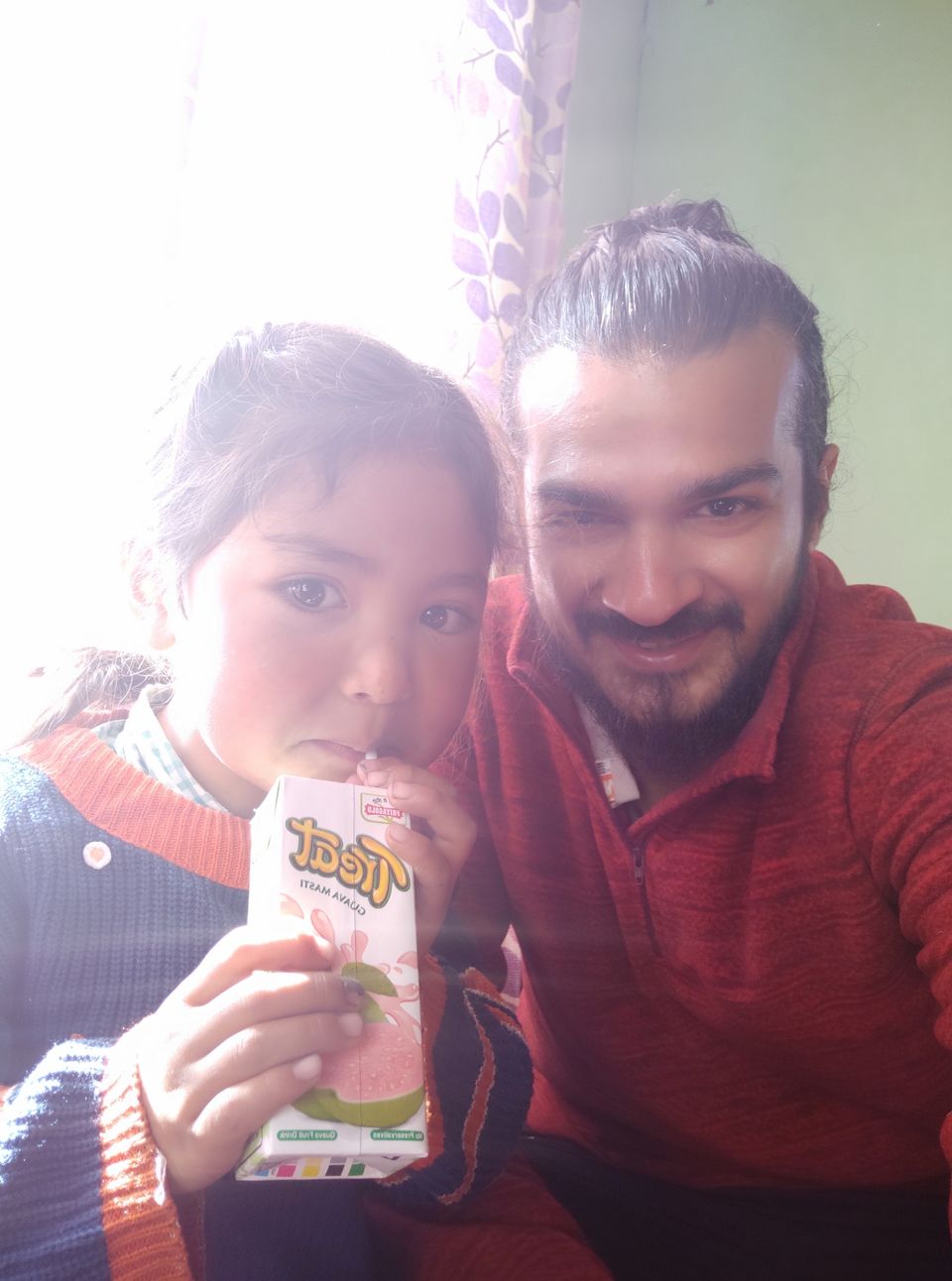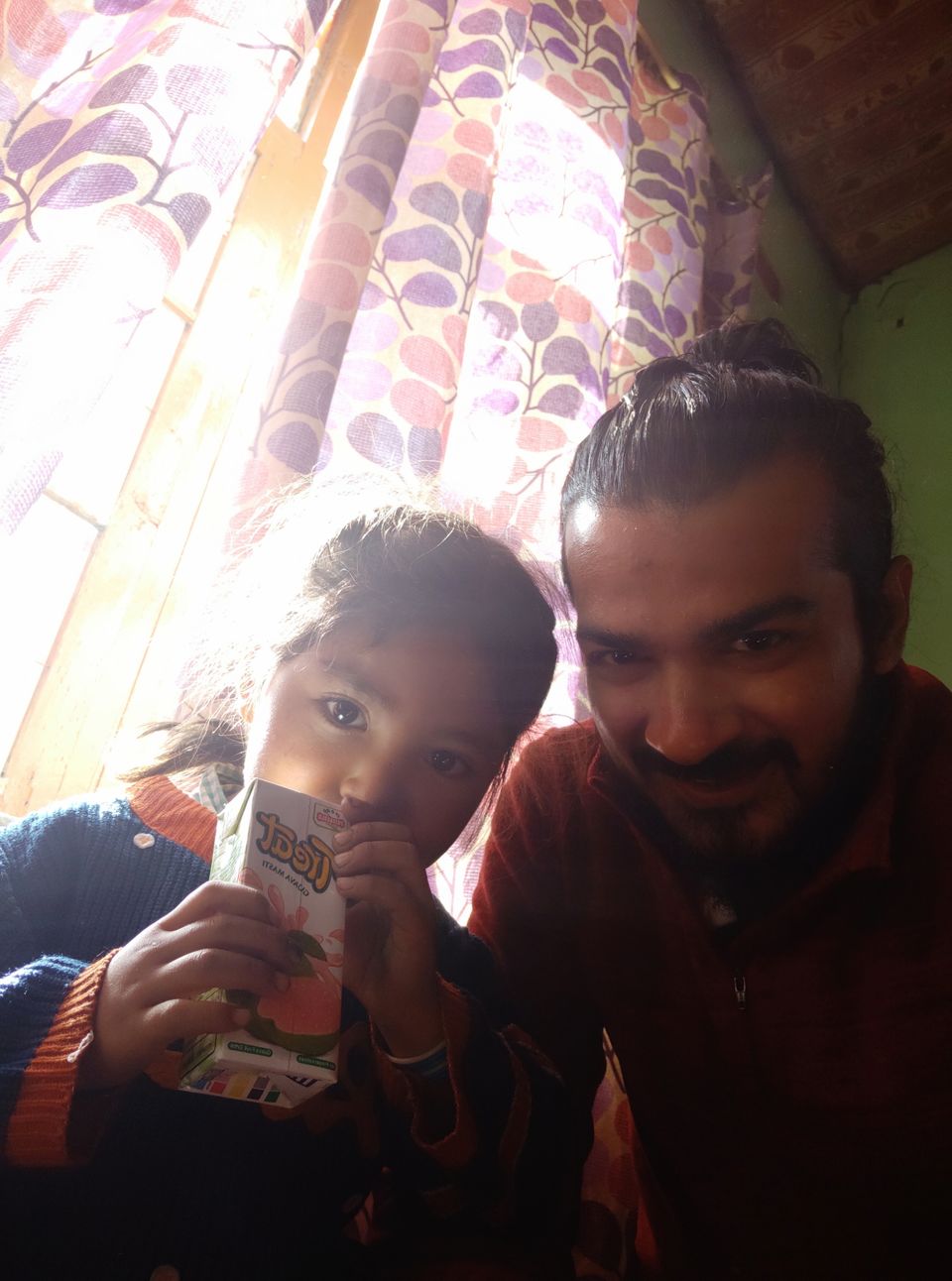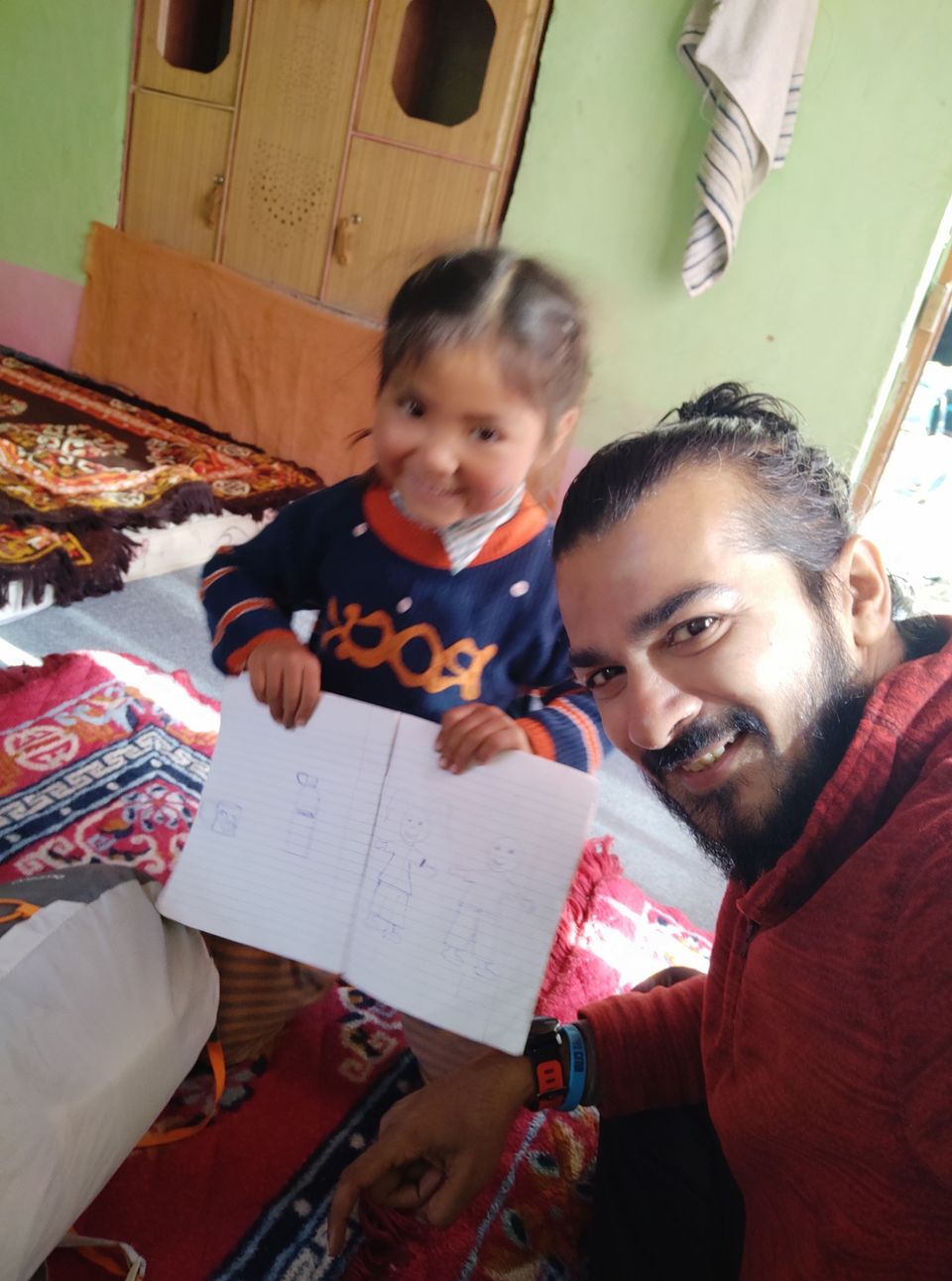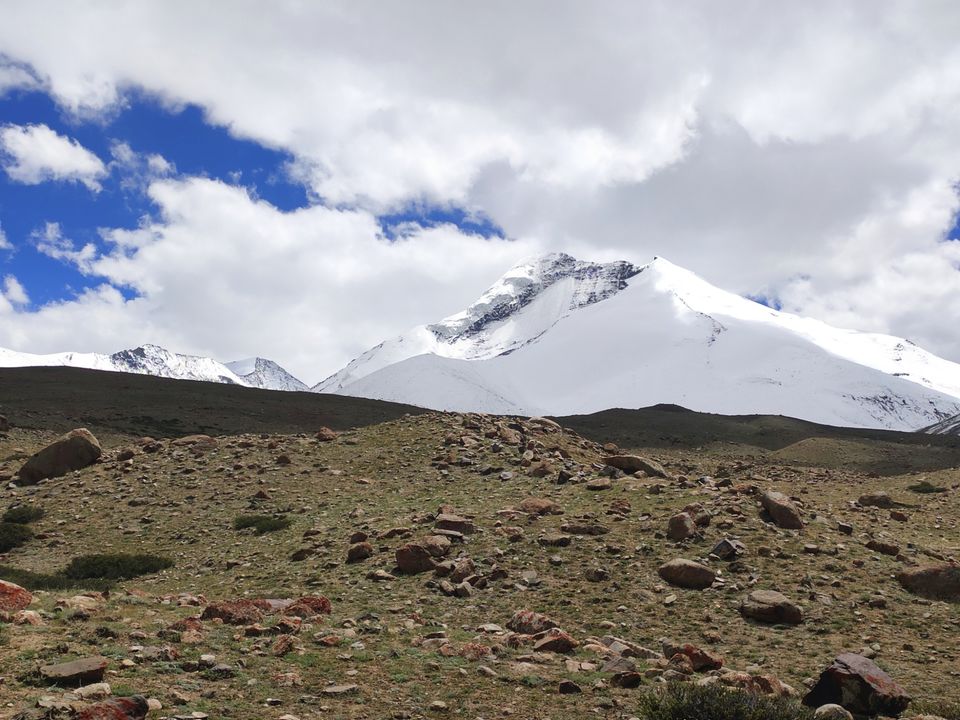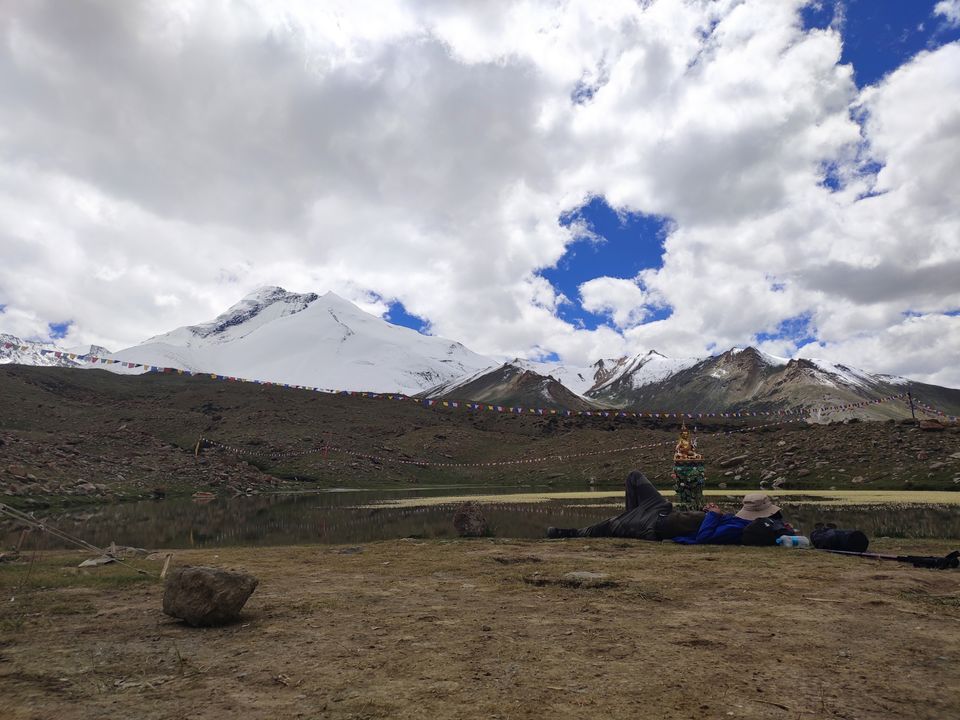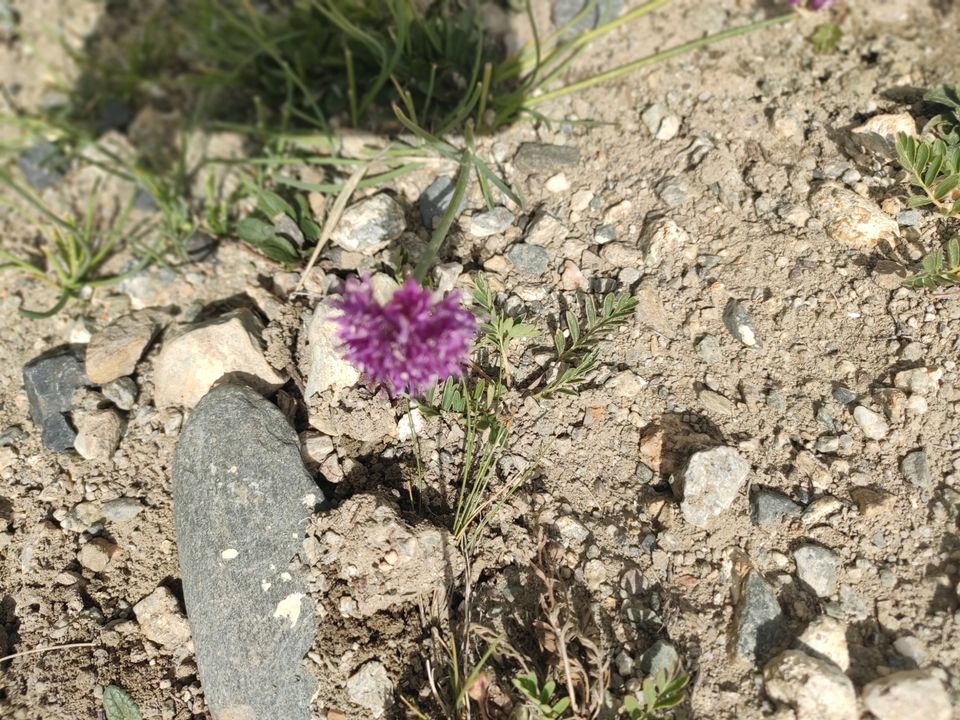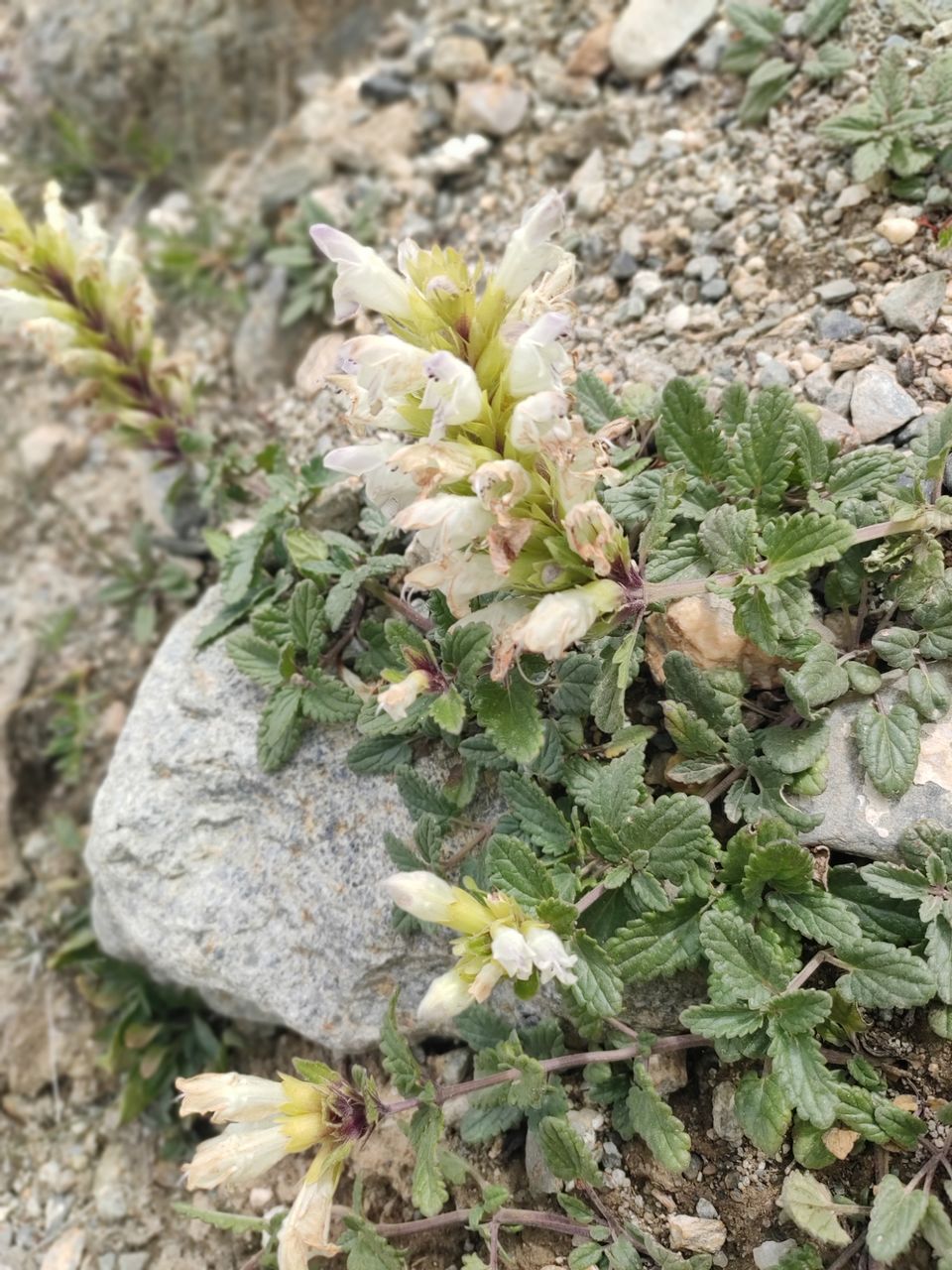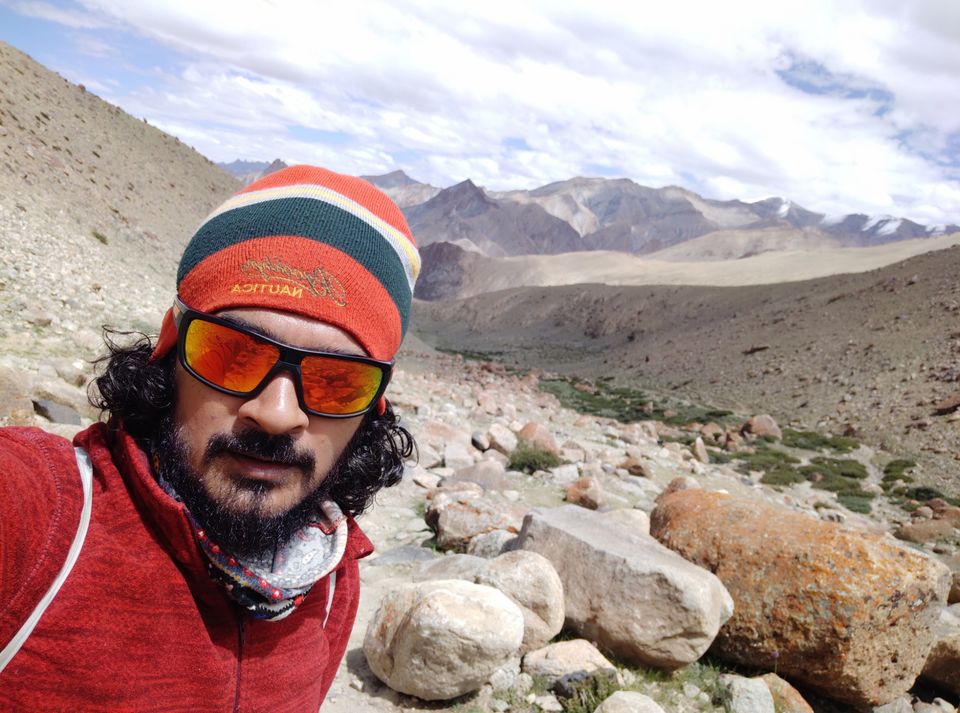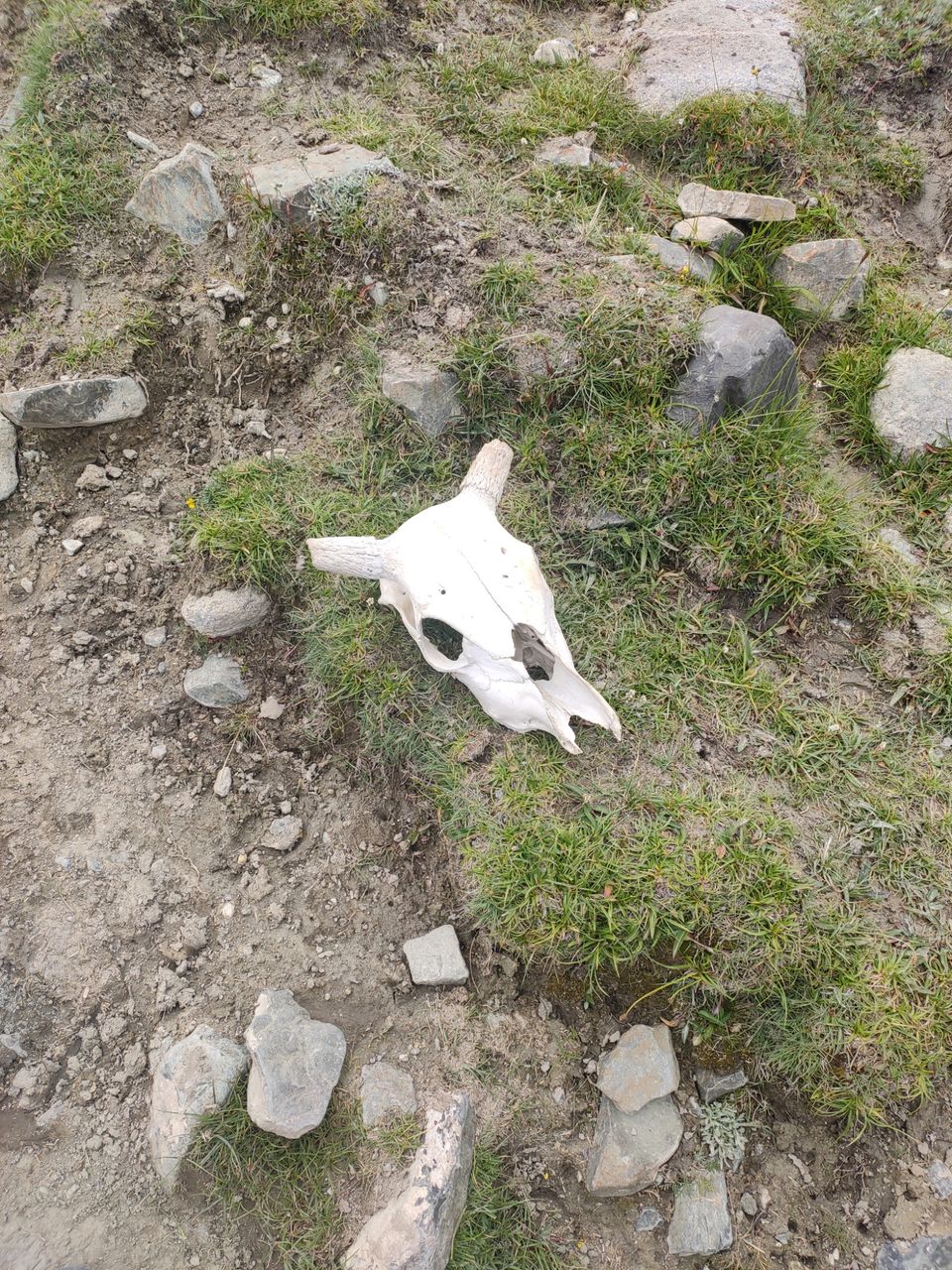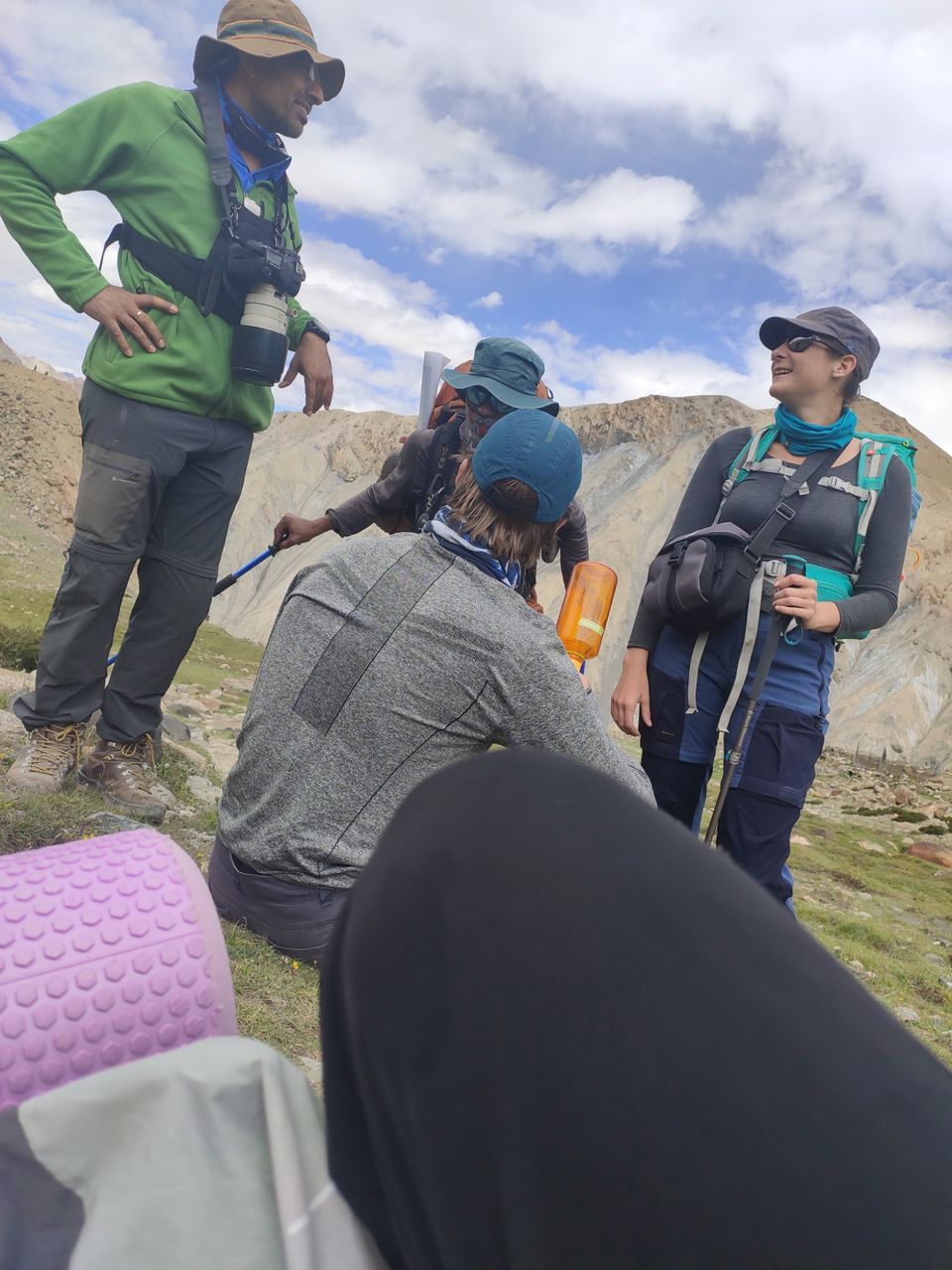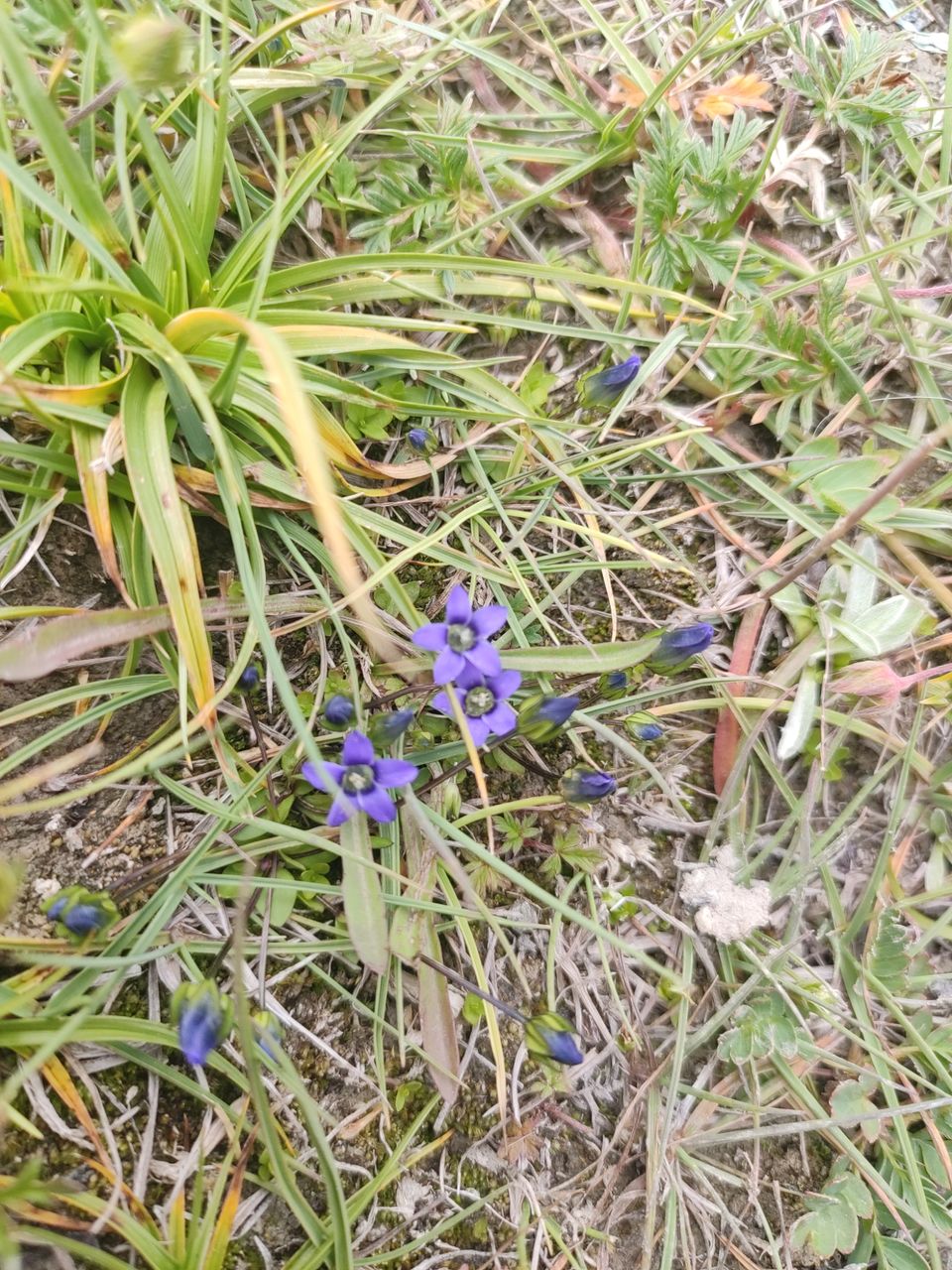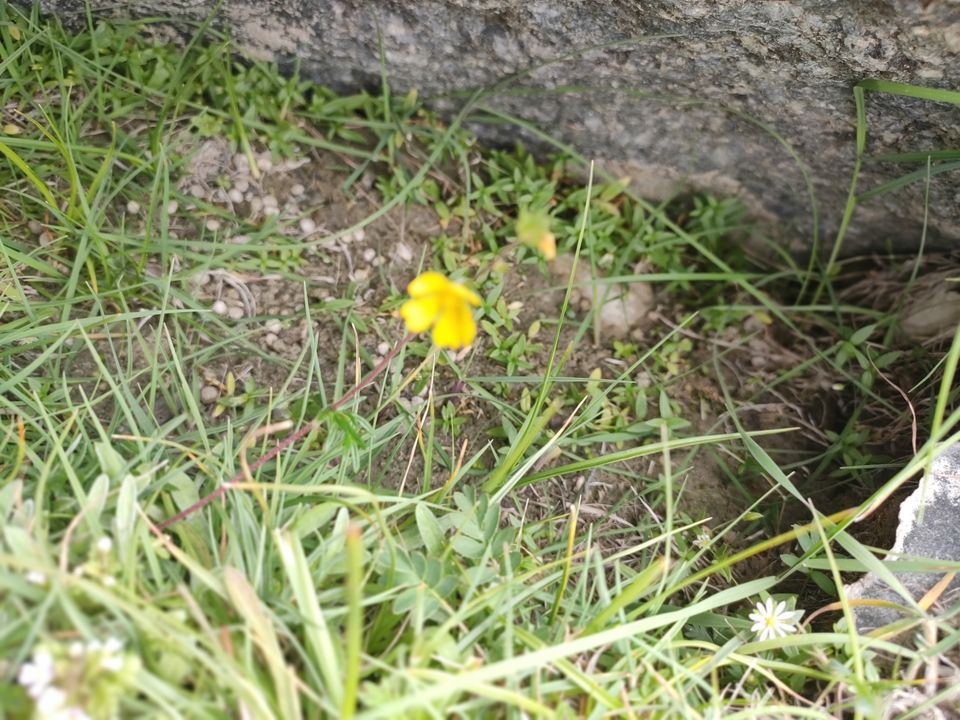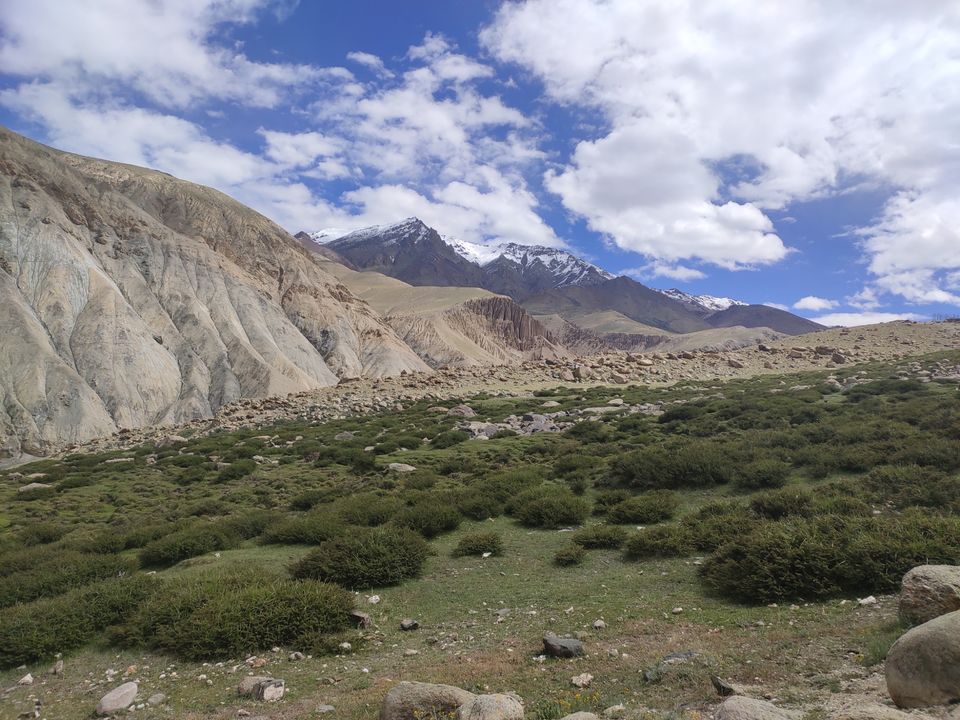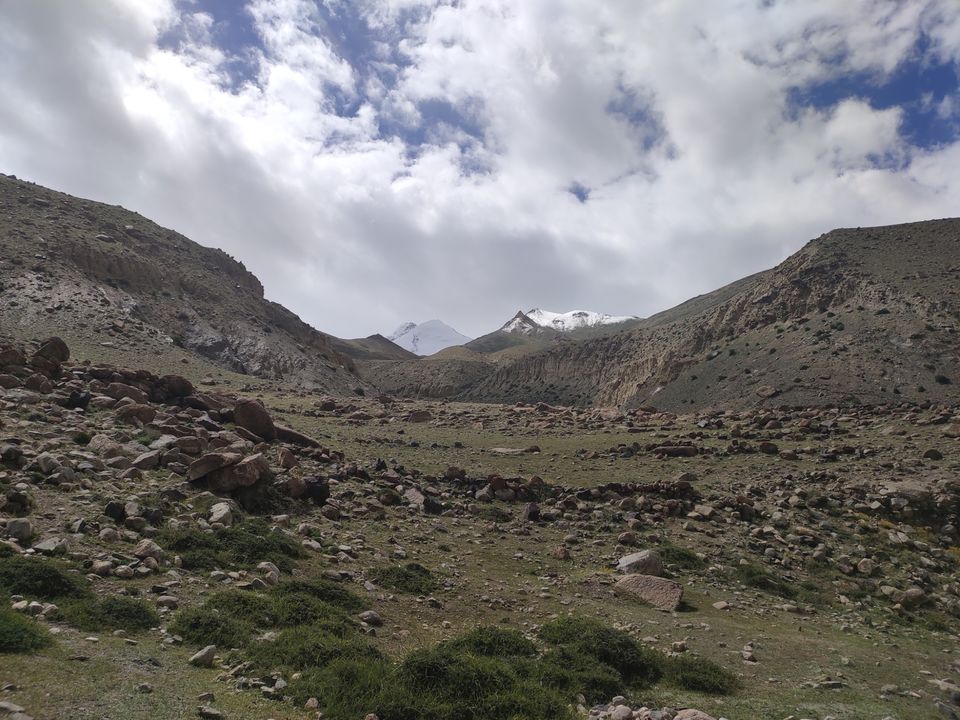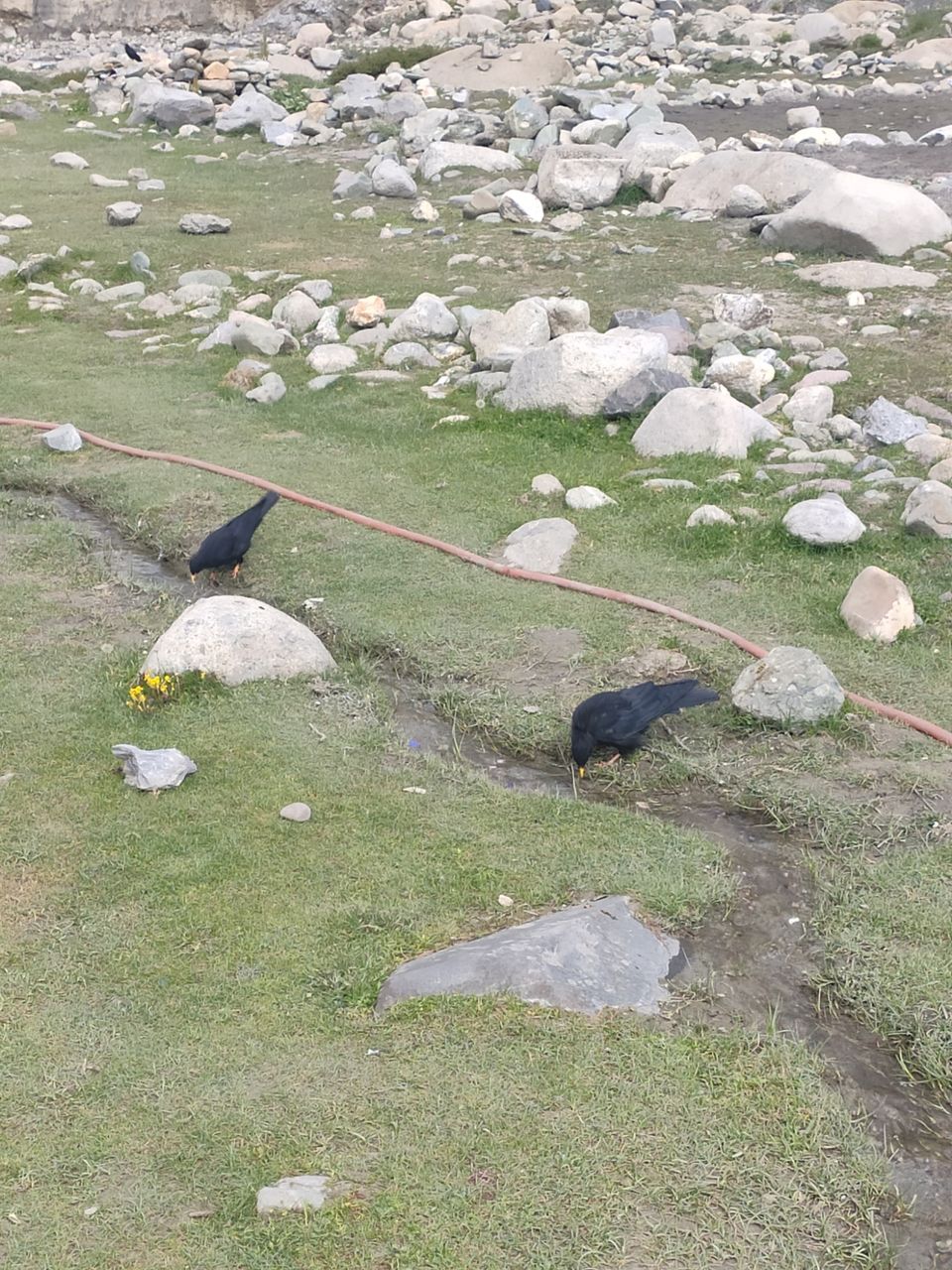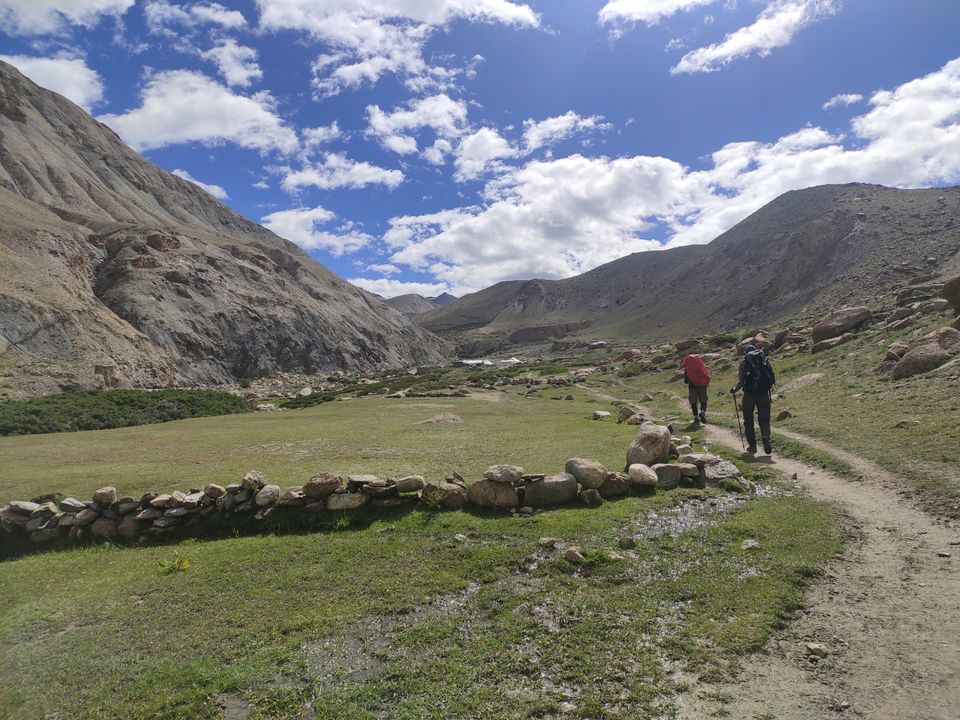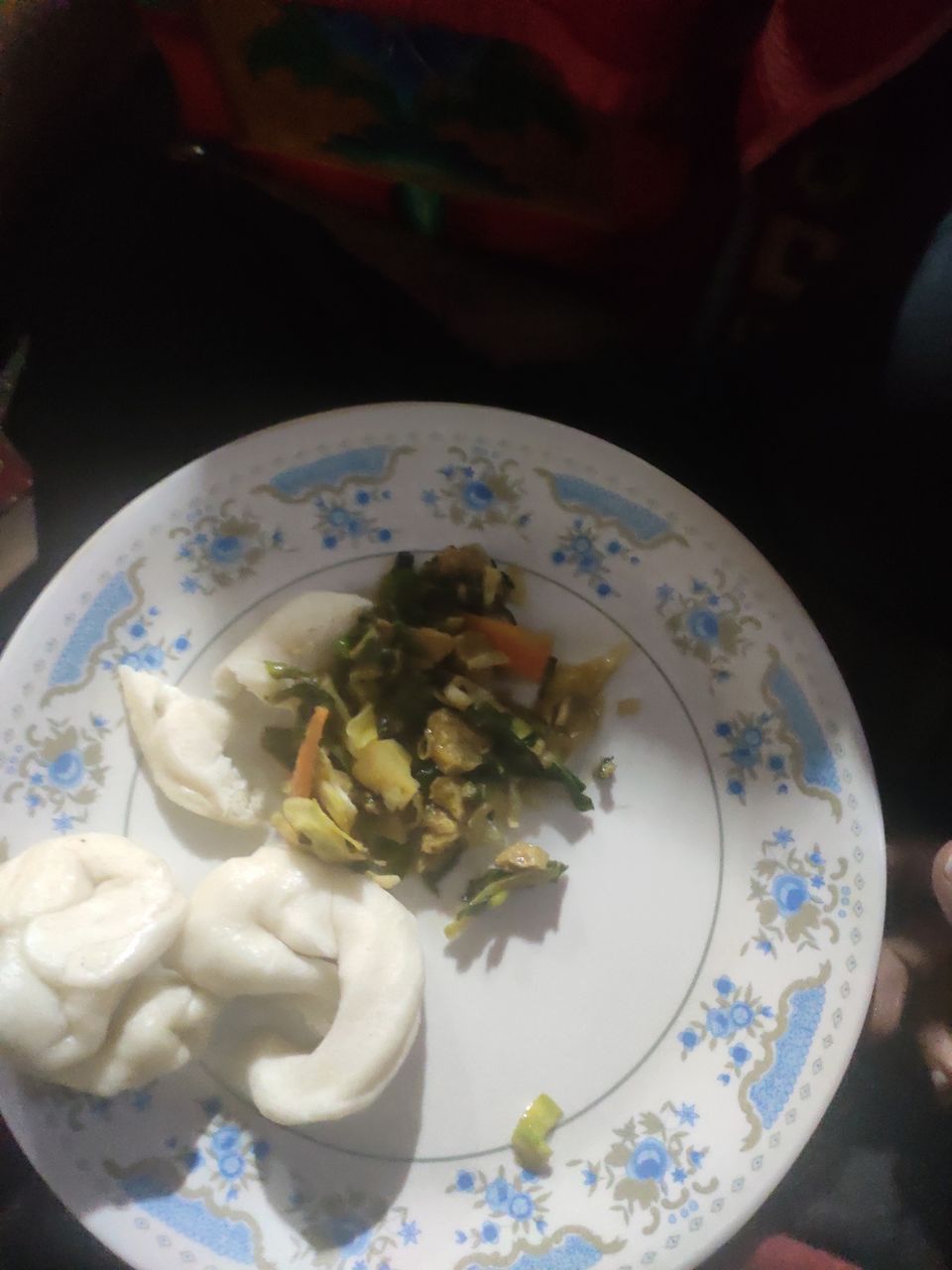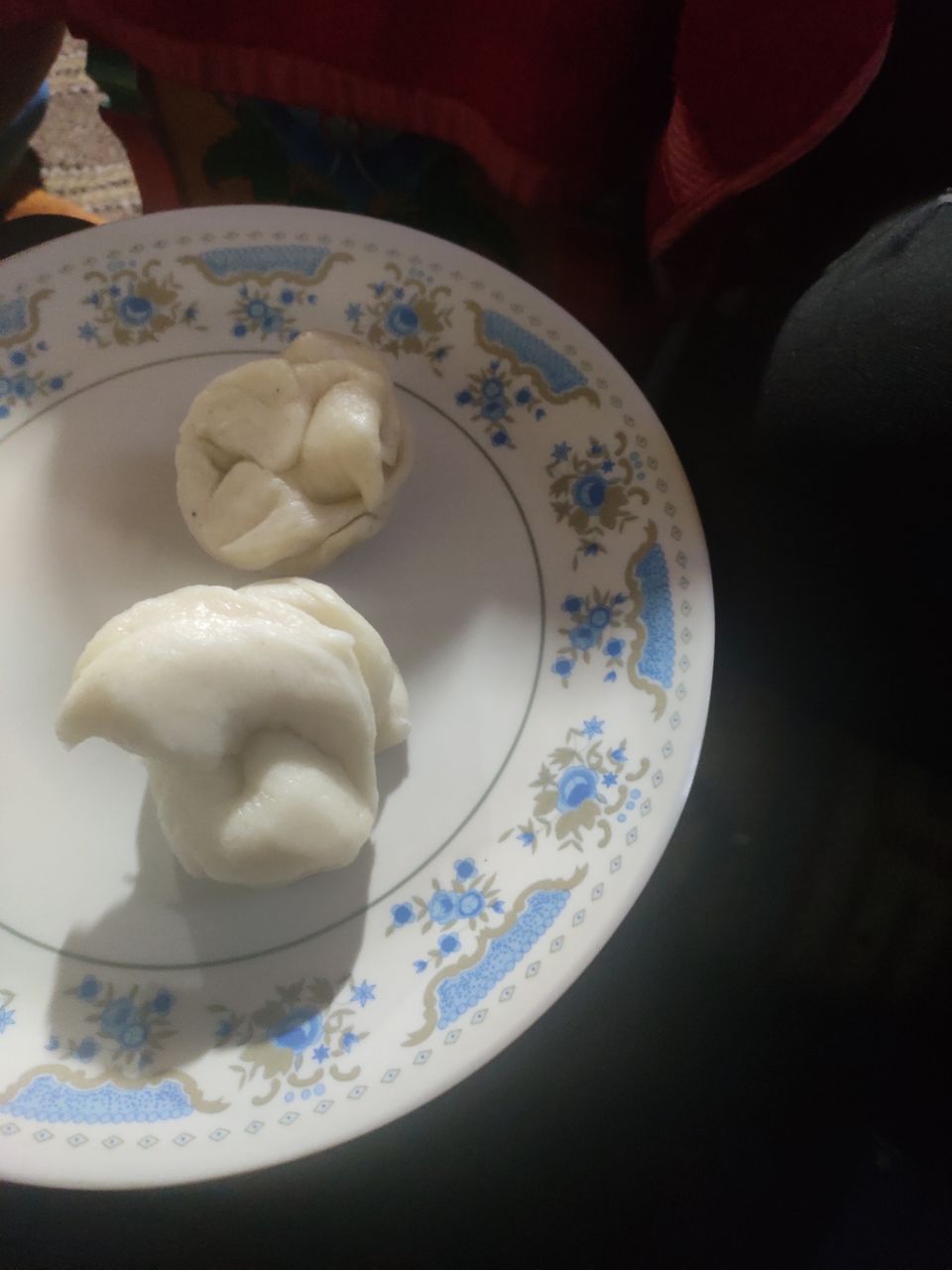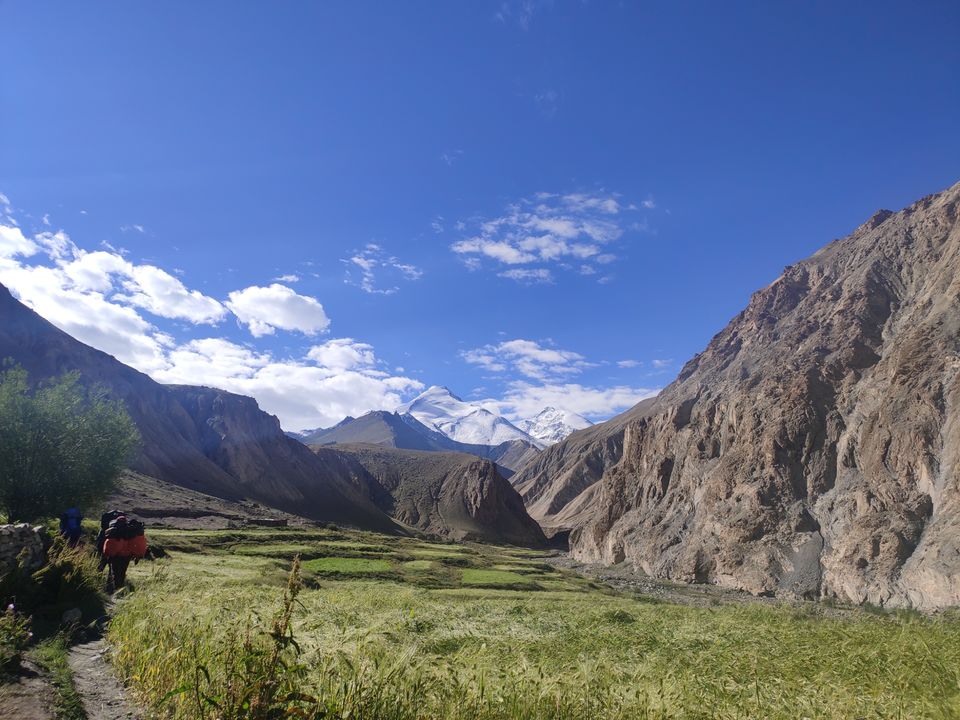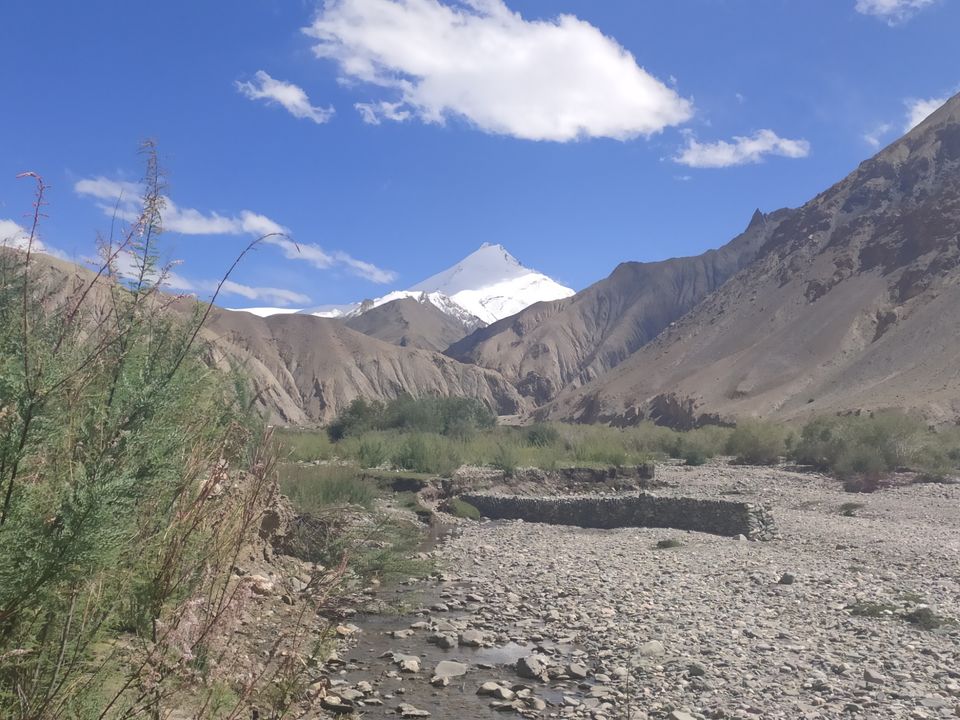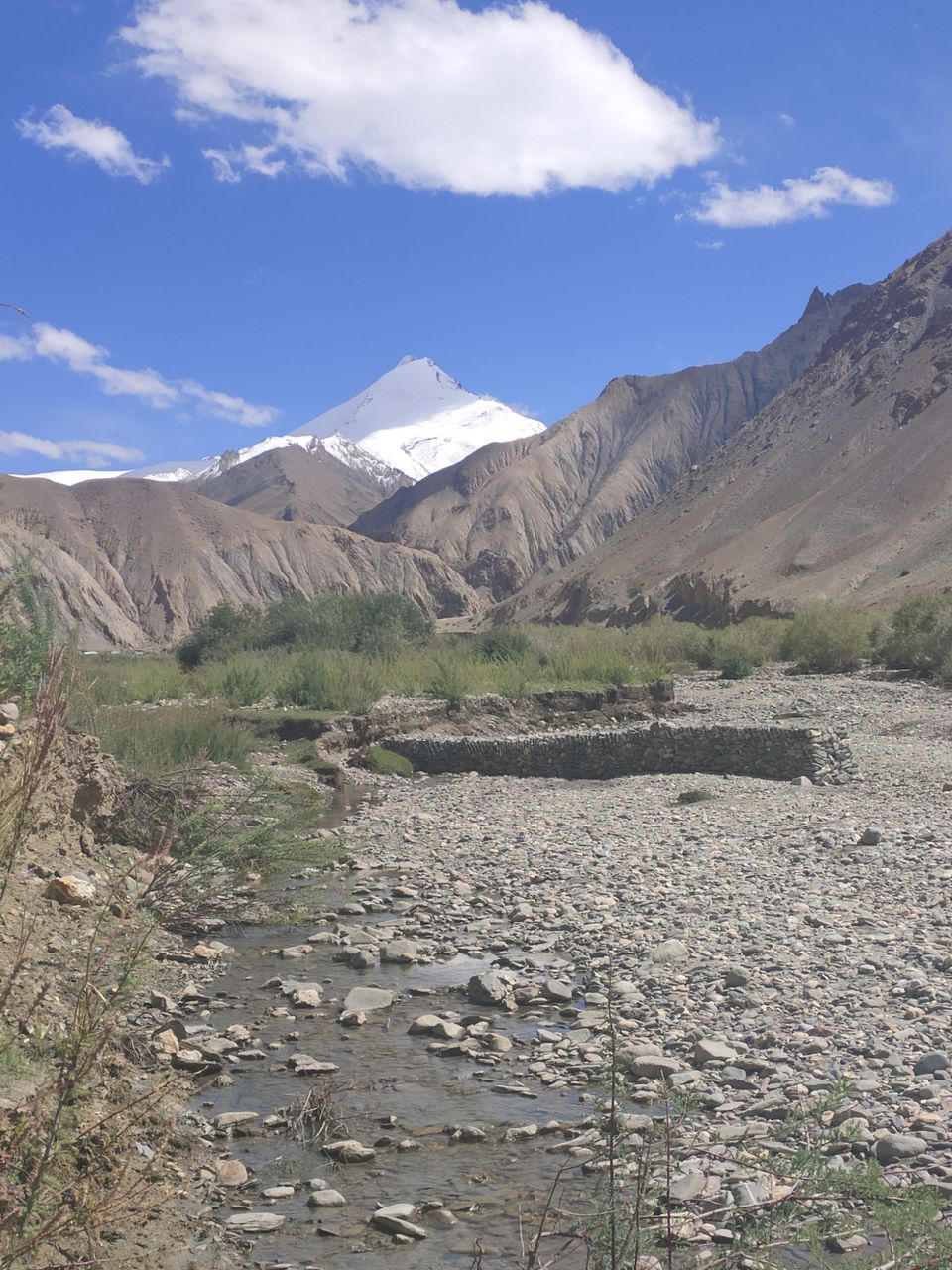 "Travel makes one modest, you see what tiny place we occupy in this world"
Today was the day when we will have to say good byes to comfy homestays and warm sicahen tents will welcome you in sub zero temperatures. They say nimaling camping grounds is the most beautiful camping site across all the treks in himalayas and why not. Considering the beauty with which it welcomes you with a majestic view of Kongmaru La paas, flowing streams, a lake at the height of 5200m (17060ft), huge purple mountains, grazing marmots, hornbills, lambs, yaks all around your camping site is indeed a sight to behold.
The toughest part of the whole trek before summit, but at the same time, the most rewarding. Most hikers split this stage into two and spend one night in Nimaling. We decided to do it in one day.
The first stretch from Thachungste to Nimaling is breathtaking.
You ascend from 4,300m to 4,800m in just 9km, passing herds of yaks and hairy Himalayan horses and very authentic Tibetan shepherds.
The landscape has loads of contrasts and, at one point, you can look to your left and see a green field with Kang Yaze in the background and to the right, gray and purple rocky mountains. My gosh!
We also got a chance to speak with pashmina (Authentic kashmiri wool) goat shepherds and talk about how do they live in such a harsh place from weather perspective. We move ahead off to a never ending steep climb once again and wondered how easily these marmots and pashmina goats move around so easily in this terrain. Do you really want to be a GOAT (Greatest of all times) climber? Just a thought.
We arrived at a beautiful nimaling lake overlooking mighty KY peak covered with clouds luring us all to explore. The divinity that one feels at this lake is beyond words and can only be experienced by sitting next to a rock and watching it endlessly. There is a stupa right in the middle of the lake which shines bright like a gold with sun rays falling on it. We had our packed lunch and slept by the lake side for almost an hour.
A small marmot jumped over me to wake me up and I quickly got up and ran behind him to capture his glimpse in my camera, but to my dismay, it was way to quick to go back in its hole.
We reached our campsite and the hard working sherpas had already made arrangements for our food but before that, there was a never ending training session from rohit, our trek leader on how to pitch tent as we had to pitch and unpitch tents ourselves going forward. After tent pitching with vibhakar, who happens to be my tentmate we headed to the kitchen tent where hot onion/potato pakodas and tea were waiting for us. Ah! A delicacy. I feel blessed just by the fragrance of fresh fried pakodas (only in mountains). We had our tummy full. An hour of rest and we had to go for an acclimitazation climb for another two hours till sun hit its pod. It was not an easy task after a long day. A climb almost at an elevation of 17100 ft with 40° incline was not something we were ready for. We came back tired and headed to the most favourite tent of all. No prize for guessing, YES the kitchen tent. We savoured on some pasta today along with paratha and pudding, and of course some mind blowing discussion with the group on what is everybody's take on karma, reincarnation and religion. The topic became a toss ball of table tennis and went from karma to past life regression, to novels and writers, to football and frisbees, to art and movies, to lovelife snd personal lives of each one of us. Wooahh it was incredible. The day's off and we hit the sack.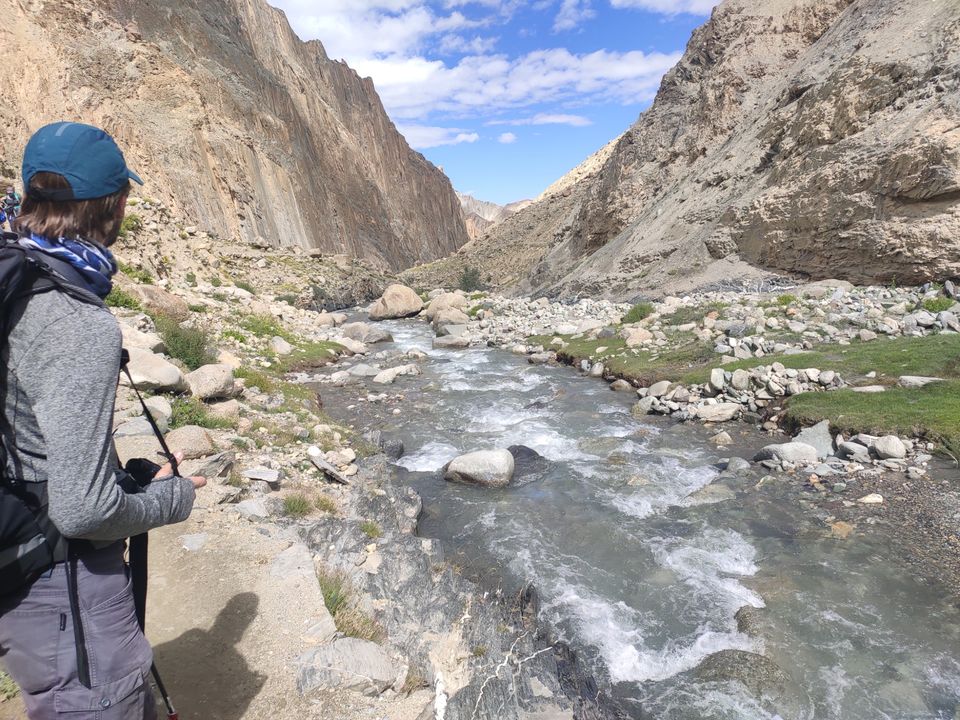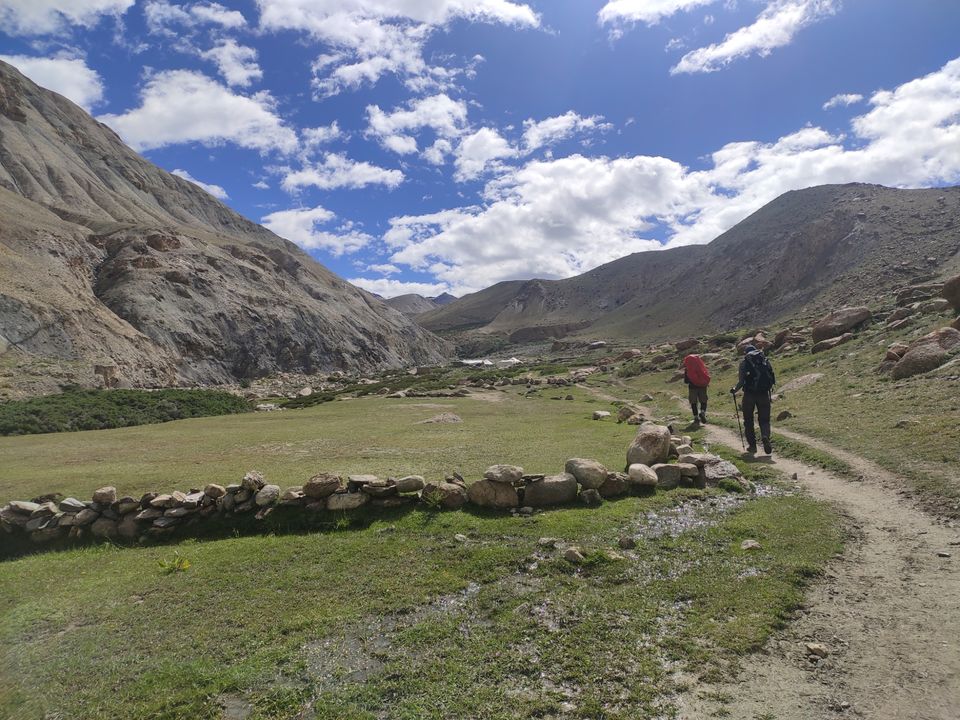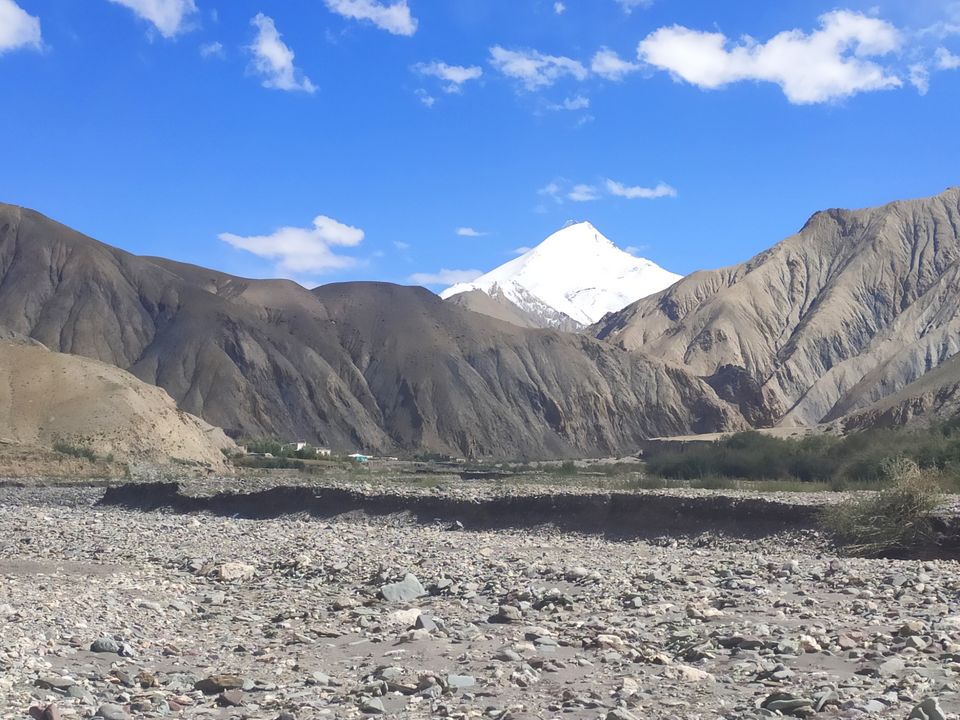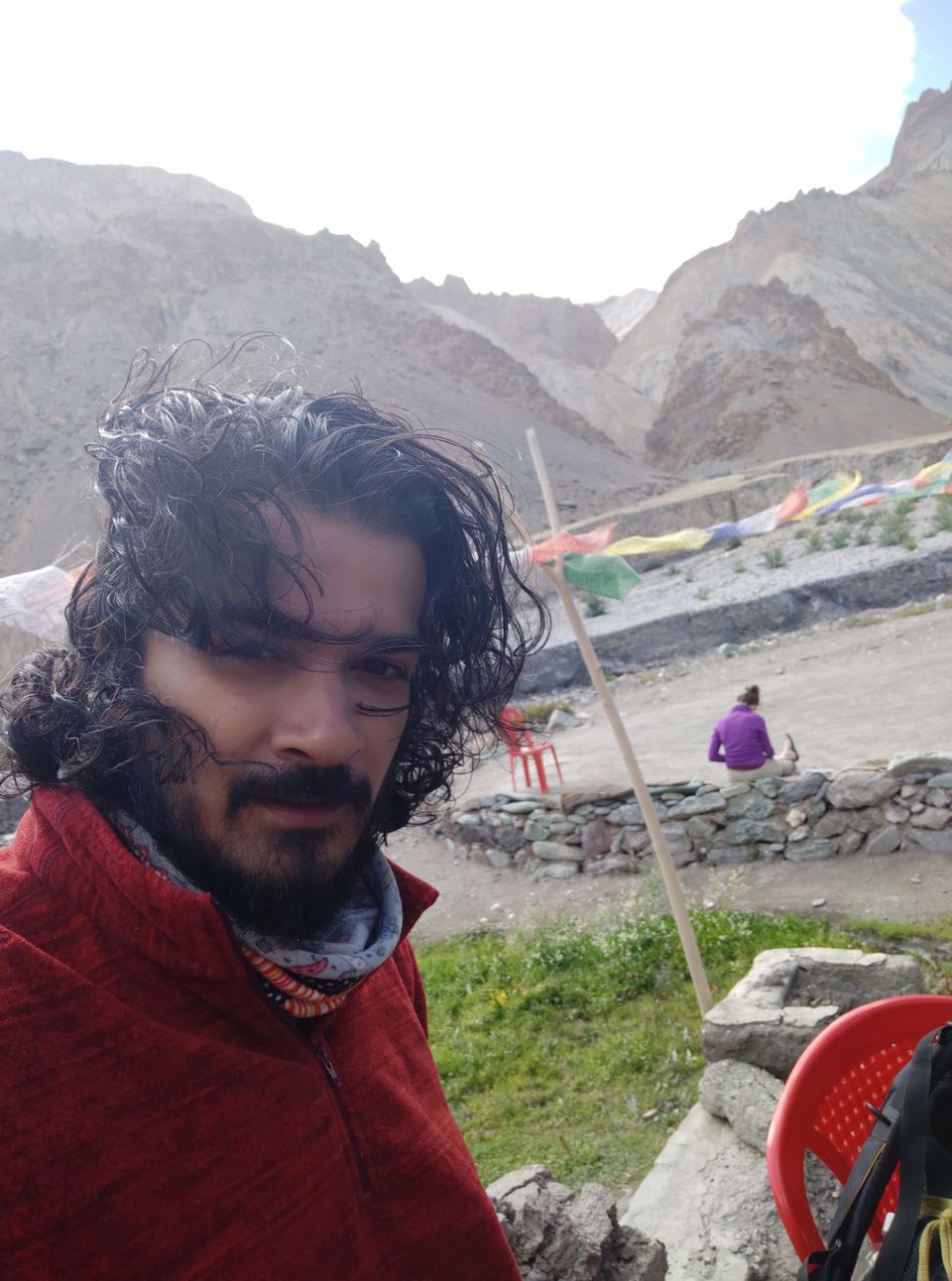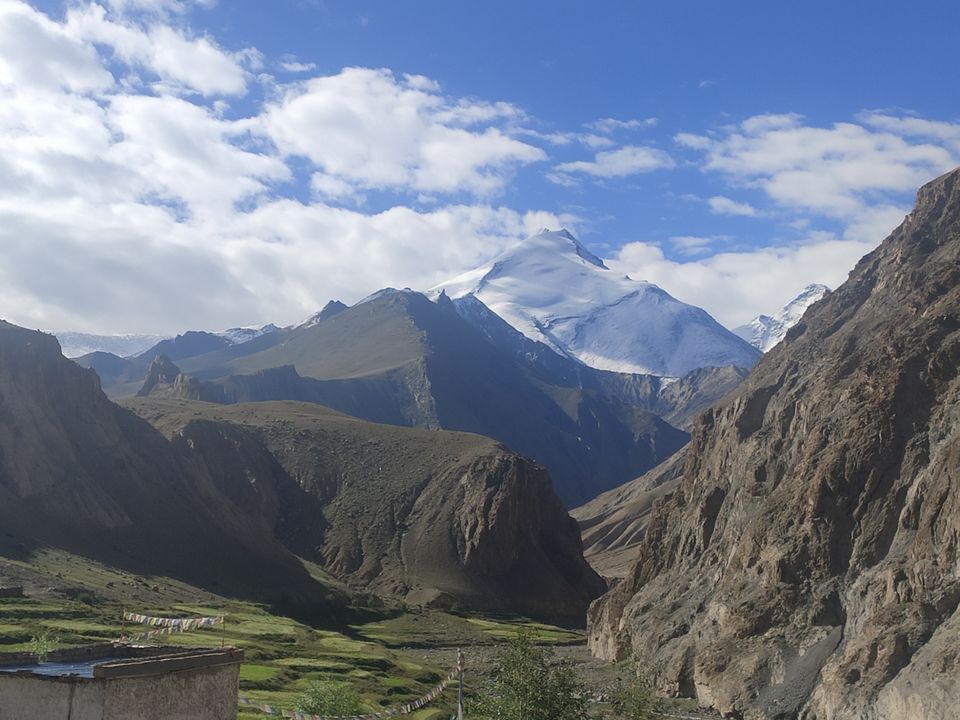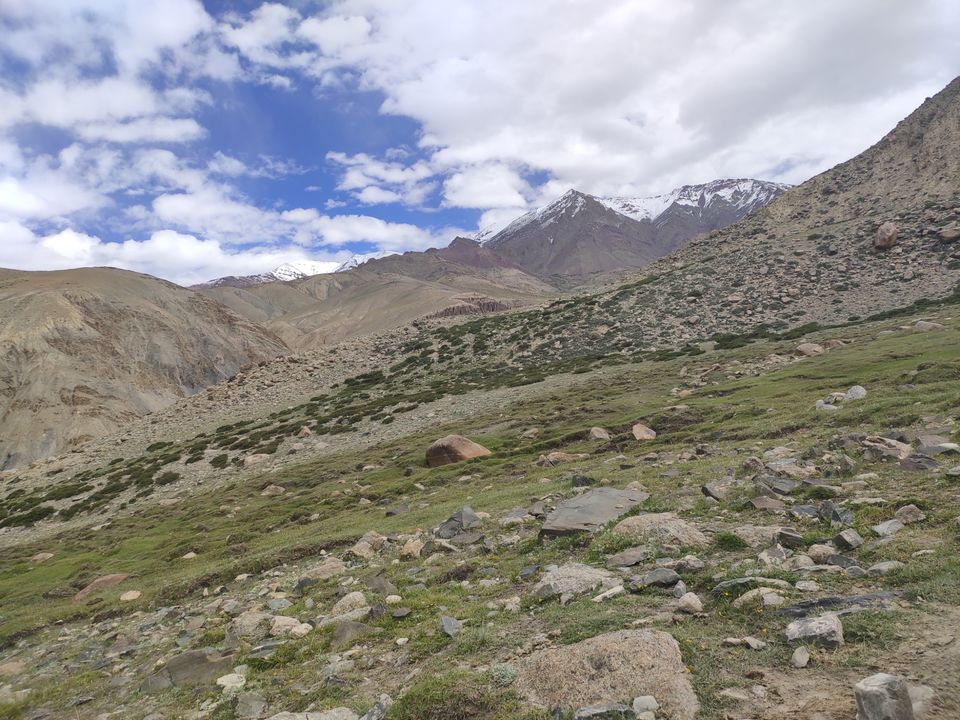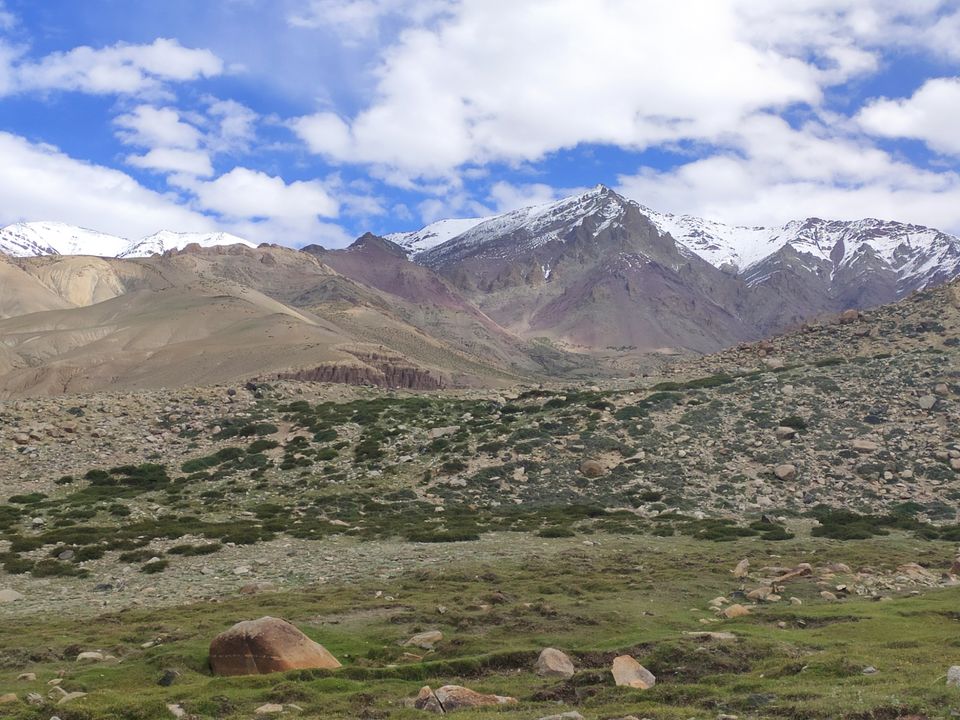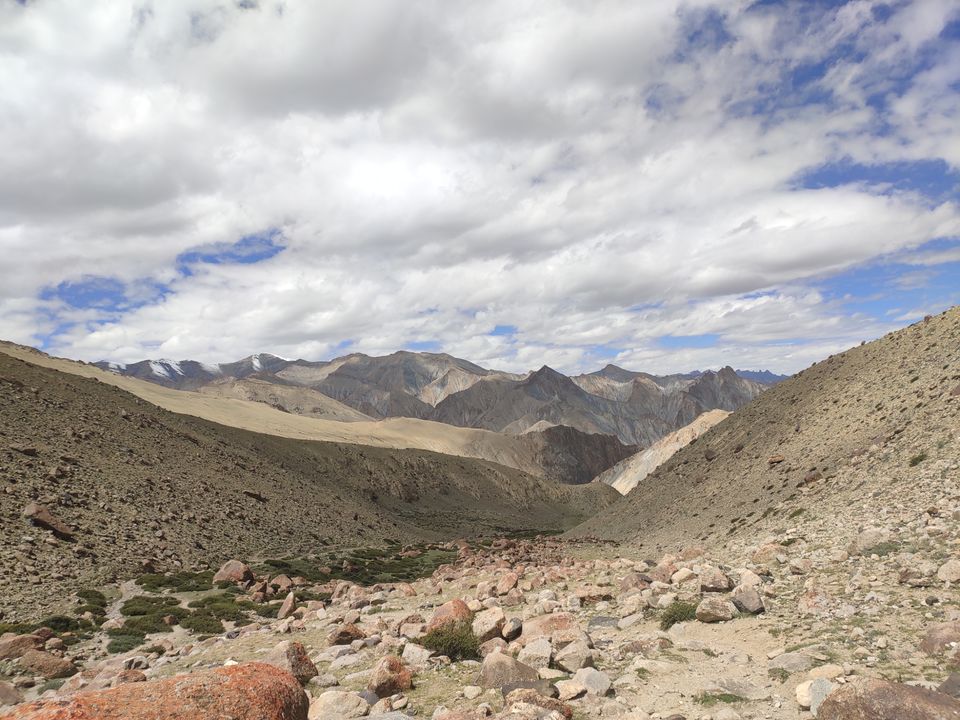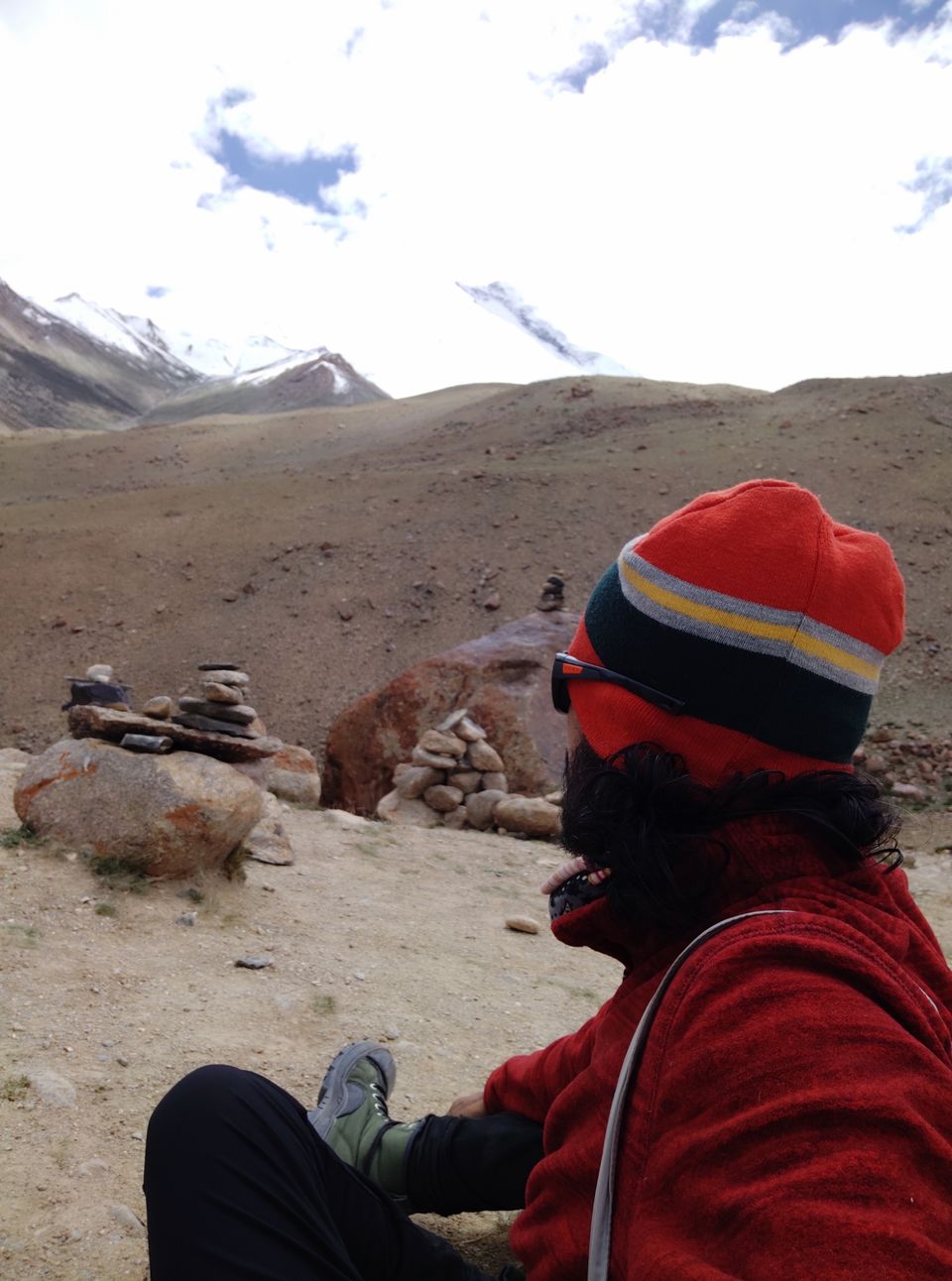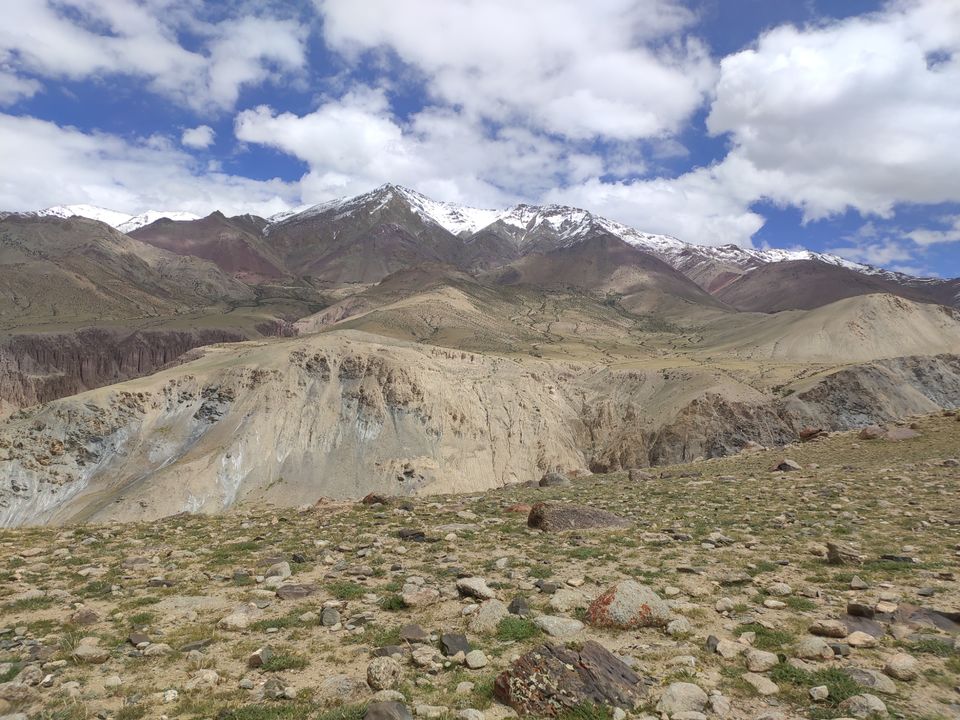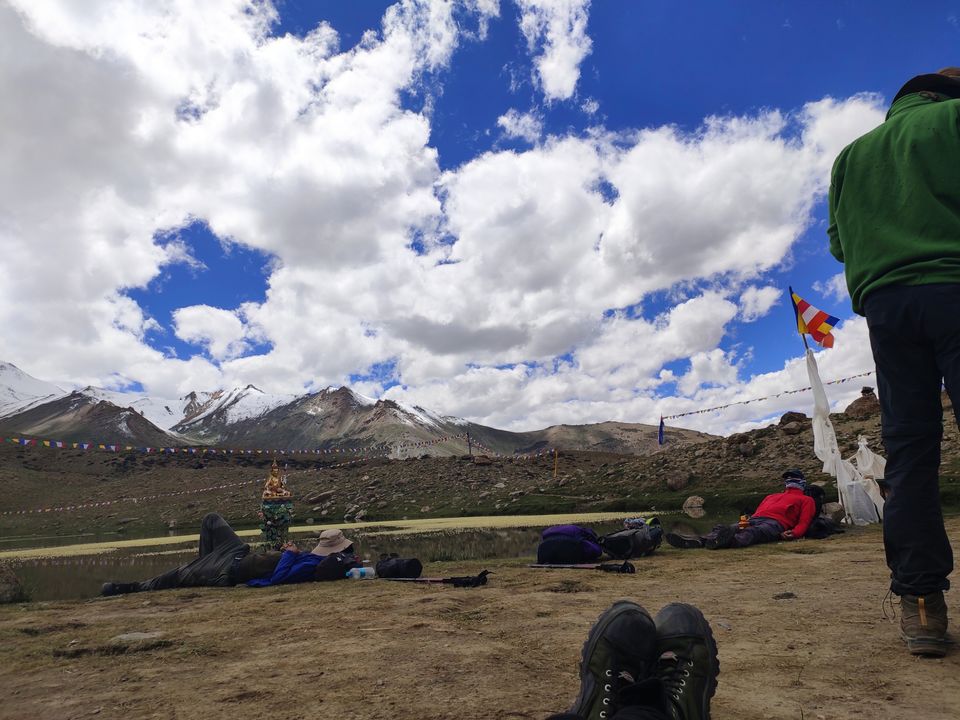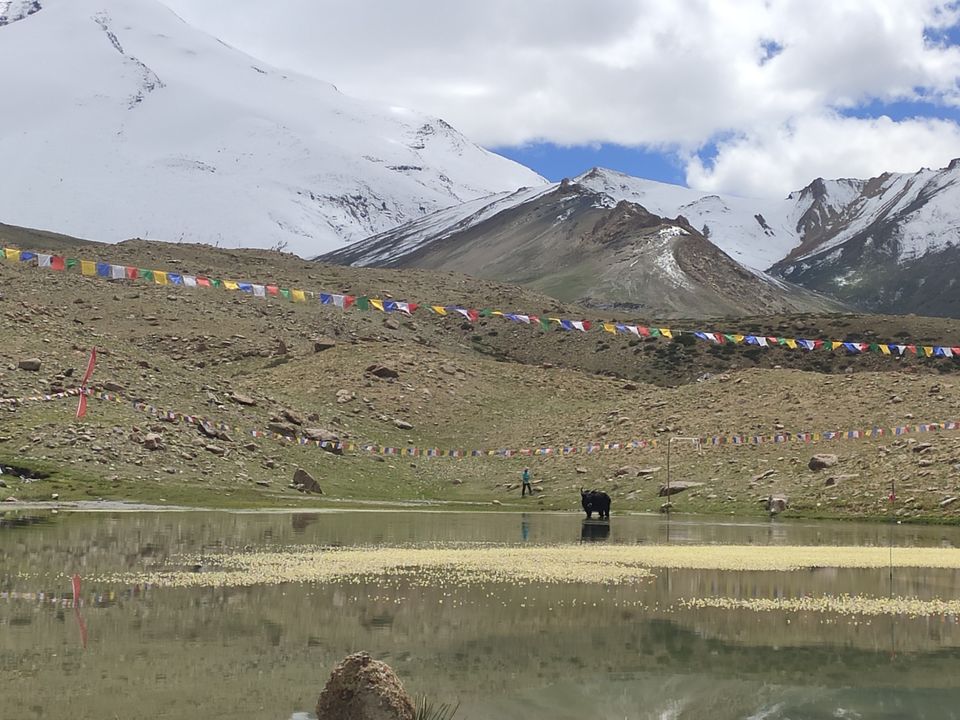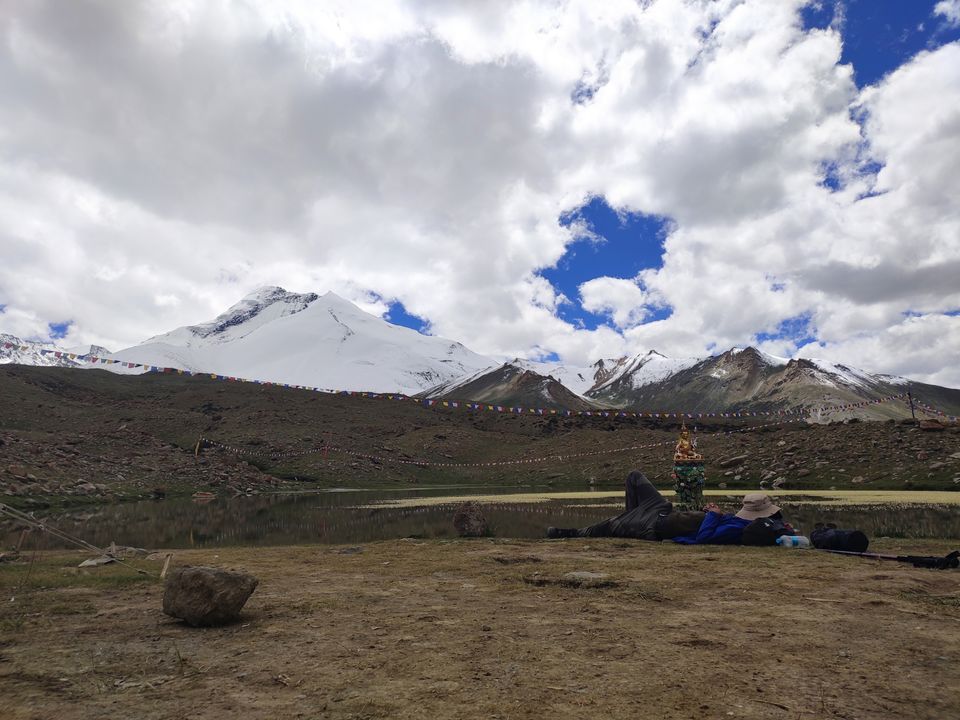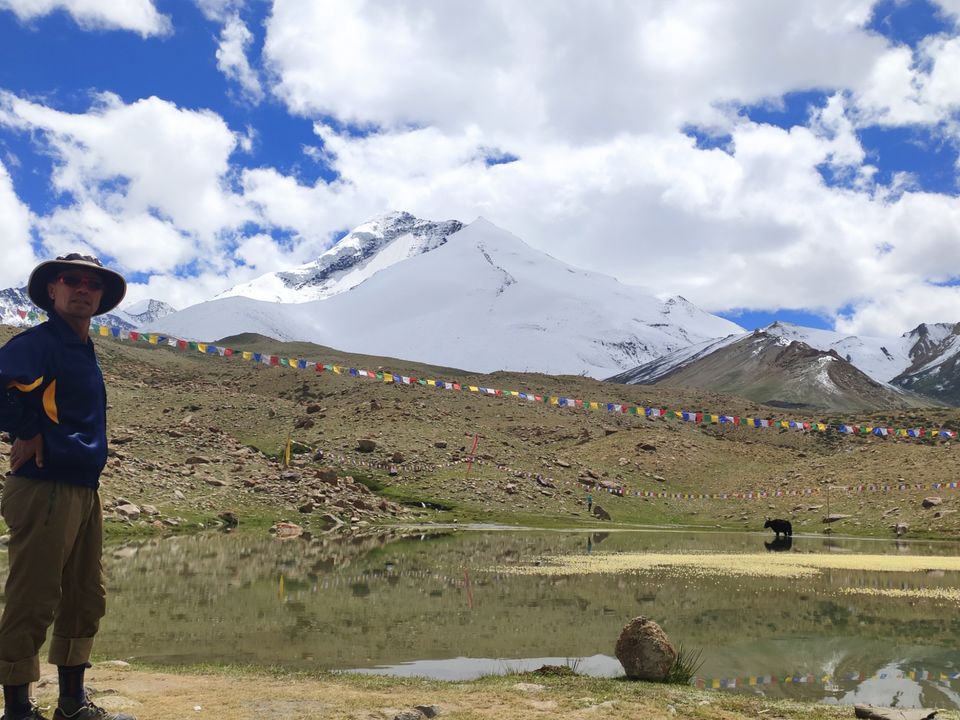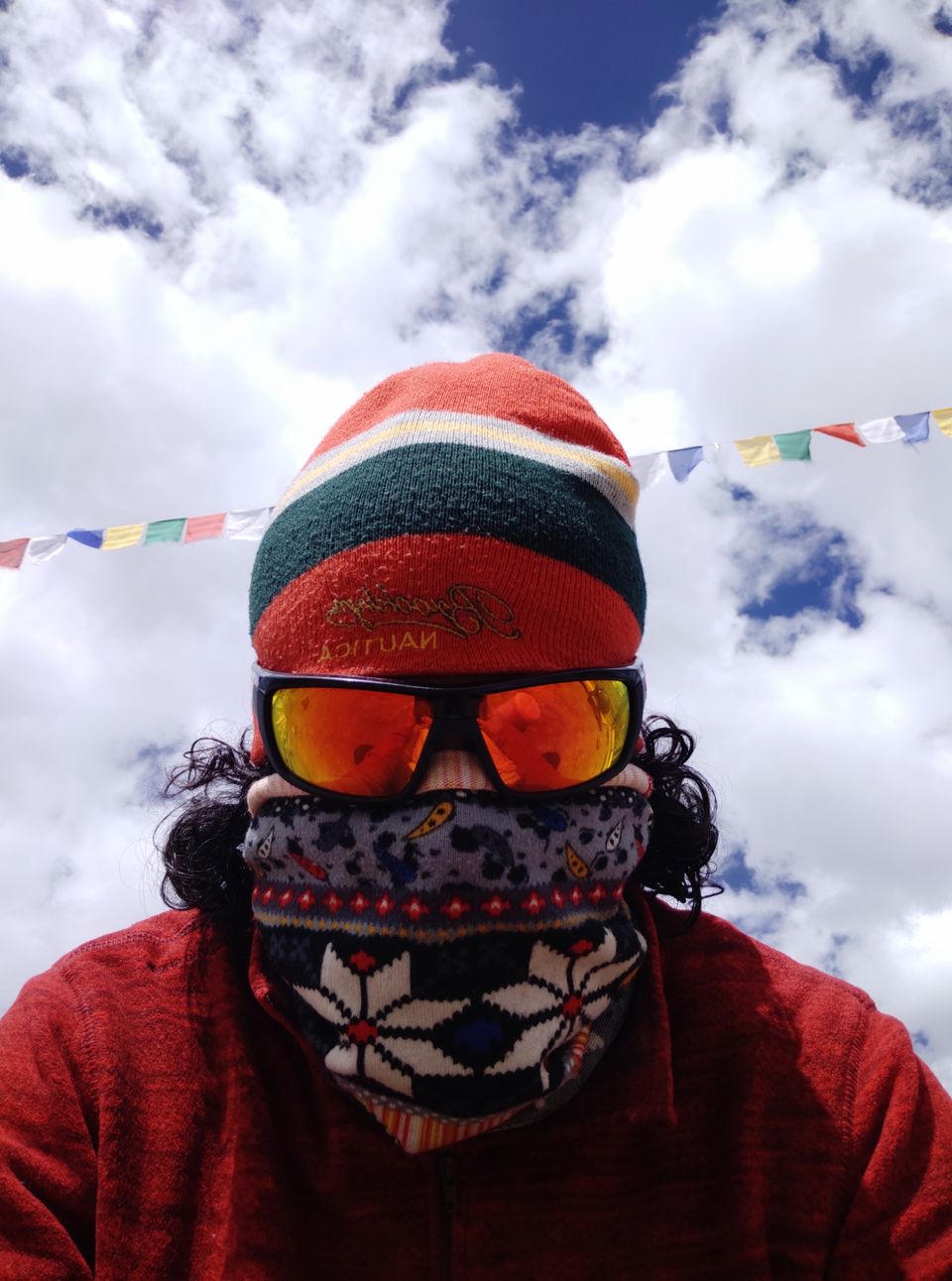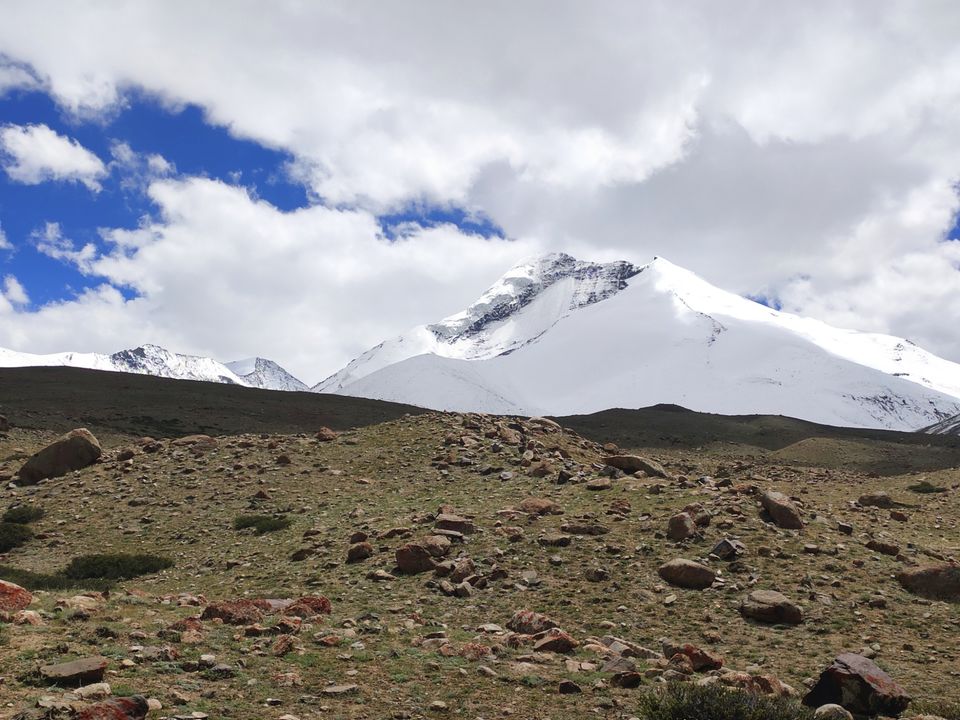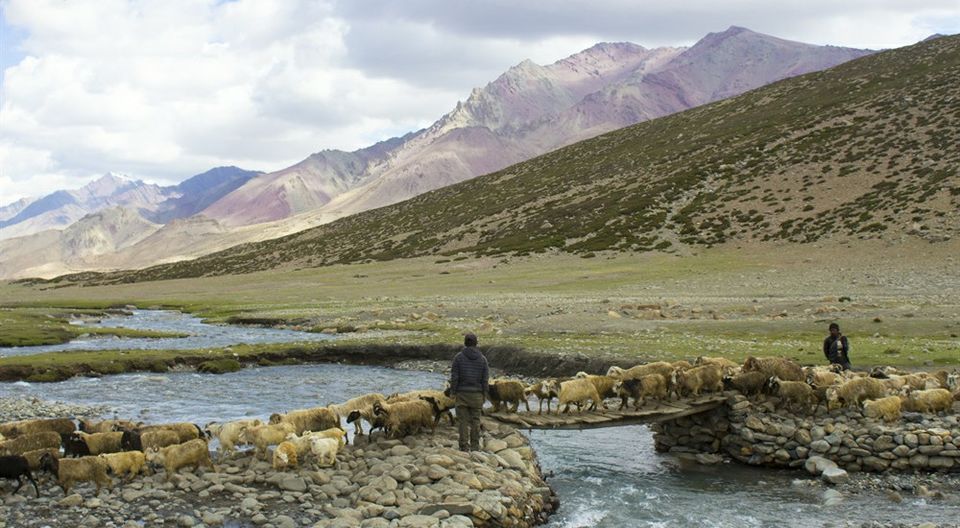 "I travel, I become"
A short day in terms of walking and climbing but a long day to KANG YATSE base camp from nimaling packed with lot of to-do-list before the summit day.
We cleaned up our tents and cleaned up the entire camping site - a norm to become a responsible mountaineer. We handpicked all the waste that we could see and put it in the trash bag. After hogging on some stomach orgasmic breakfast which included French toast, honey, pudding, corn soup and papad, pink tea, some dates followed by it and to much of our surprise some tinned gulab jamuns (traditional Indian sweet). We packed our bags and headed for the base camp which was at a distance of roughly four hours. A path mix of ascend and descend with scree spread all over had become a norm by now everyday.
Off to a good start! Our night's rest at Nimaling was the rejuvenation that we needed, and a hot dinner of sabzi and daal put some life back into our bodies.
Shepherds and literally thousands of cattle, goats and sheep infuse the place with even more life, and the sight of a hundred sheep crossing the river that had turned orange with the sunset is a view I don't think I can ever forget.
So the height today that we need to be at is 16,732 ft. I thought we've been higher, so should be easy. Wish I was right. We reached the basecamp around 4 pm and we thought we are done for the day however the trek leader rohit and chomdan had different plans for us. Post some snacks and rest we were called outside for a meeting only to reveal that it is the equipment distribution time followed by all-geared-up acclimitazation climb which will last for another three hours. I told myself, FUCK THIS I am not going for some practice time, but as if I had any option. My back had given up long back physically. Not me mentally. It matters the most.
We were distributed helmets, ropes, ice axes, double layered (super heavy) snow boots, crampons, gaiters, hyper screws and a harness. We were asked to check the fitment to avoid any last minute trouble on summit night. I put on my snow boots, gaiters, helmet, harness, ice axe and a pole with tons of layers on my body. I was looking like a mix of a tired construction worker cum coal miner cum rescue guide and may more combinations which hit me, may be AMS was acting up but I consider myself blessed as we checked our oxygen levels, mine showed 88% on oxometer, some relief! There was a competition for who can wear all the gears first and show it to the leader, despite our attempt to show off some skills, tamara won it and won two extra chocolate biscuits for herself.
We started our climb without crampons as they are required only on glacial surface. Nonetheless it was one hell of a climb as I ran out of my breath and took ample breaks to catch hold of it. The mere sight of KY so close was giving goosebumps to me. After climbing for almost an hour, chomdun asked us to stop and again there was a training session on what signs one must show in terms of distress, how to fall in case of slipping on ice, how to restrict the fall with ice axe, hands or poles. We had become a family by this time so communication was not a problem at all. I secretly wished that chomdun will stop and tell us to go back to campsite but adding to misery he continued and continued for next two hours going up, coming down, side ways, trying to fall and arrest the fall etc. Finally we reached at the point of return from where Mt. Kangyatse was smiling at us and waiting for us to come and bump shoulders. We came back and dumped ourselves in our favorite tent, by now you must know the answer - The warm kitchen tent. We finished our dinner only to be followed by some darn emotional conversation on our experience so far and the day to come (night). We bid good night.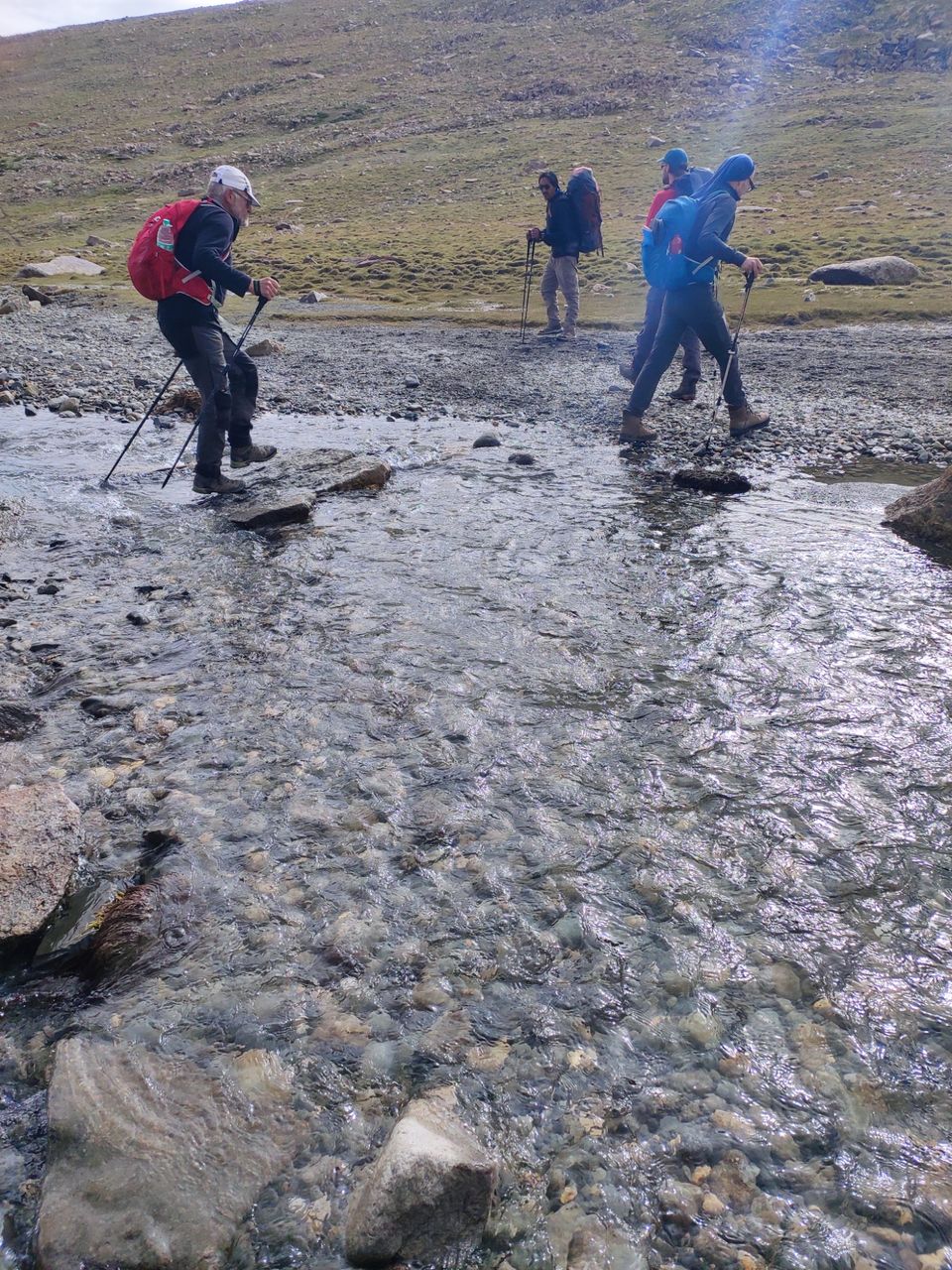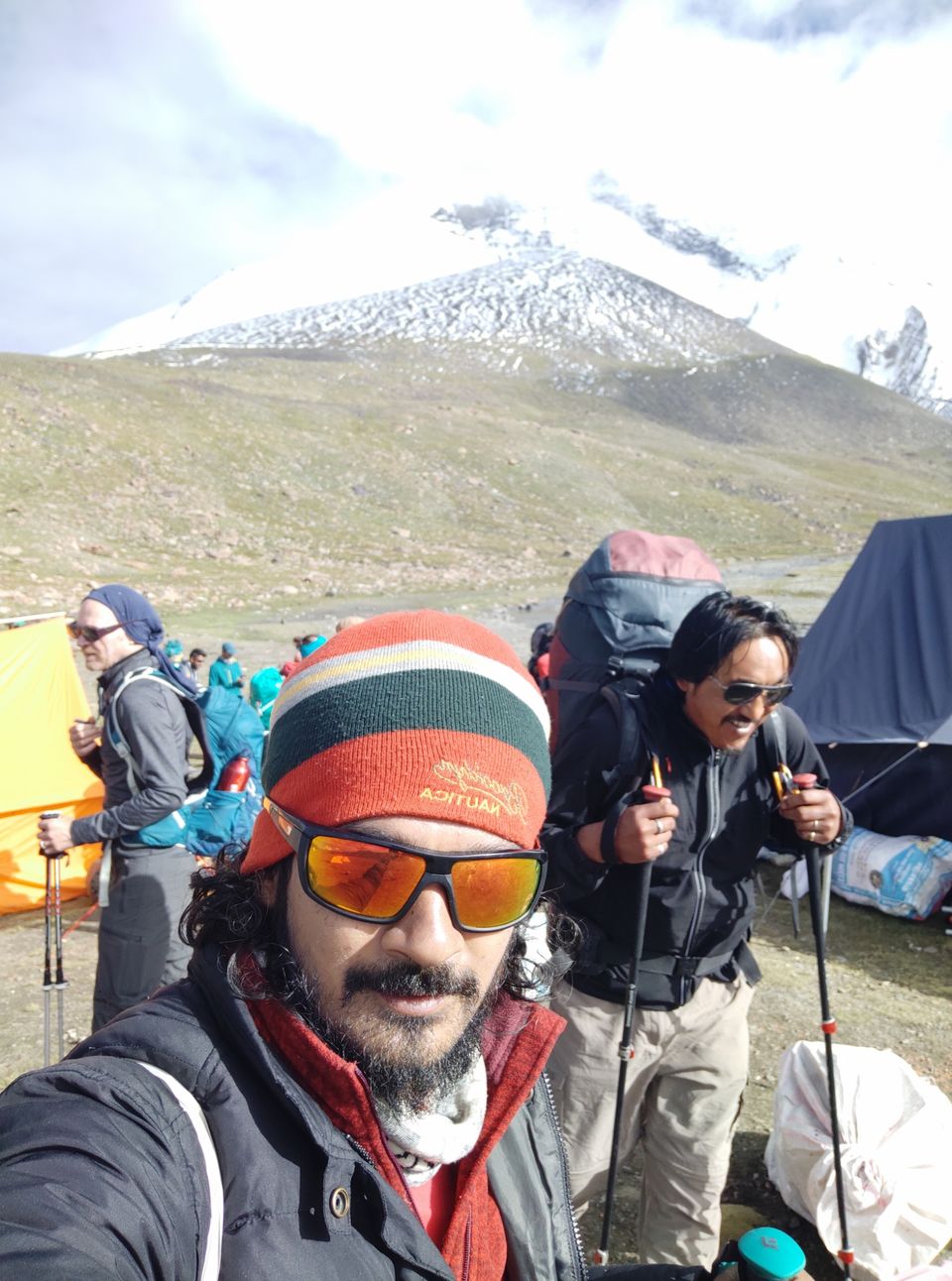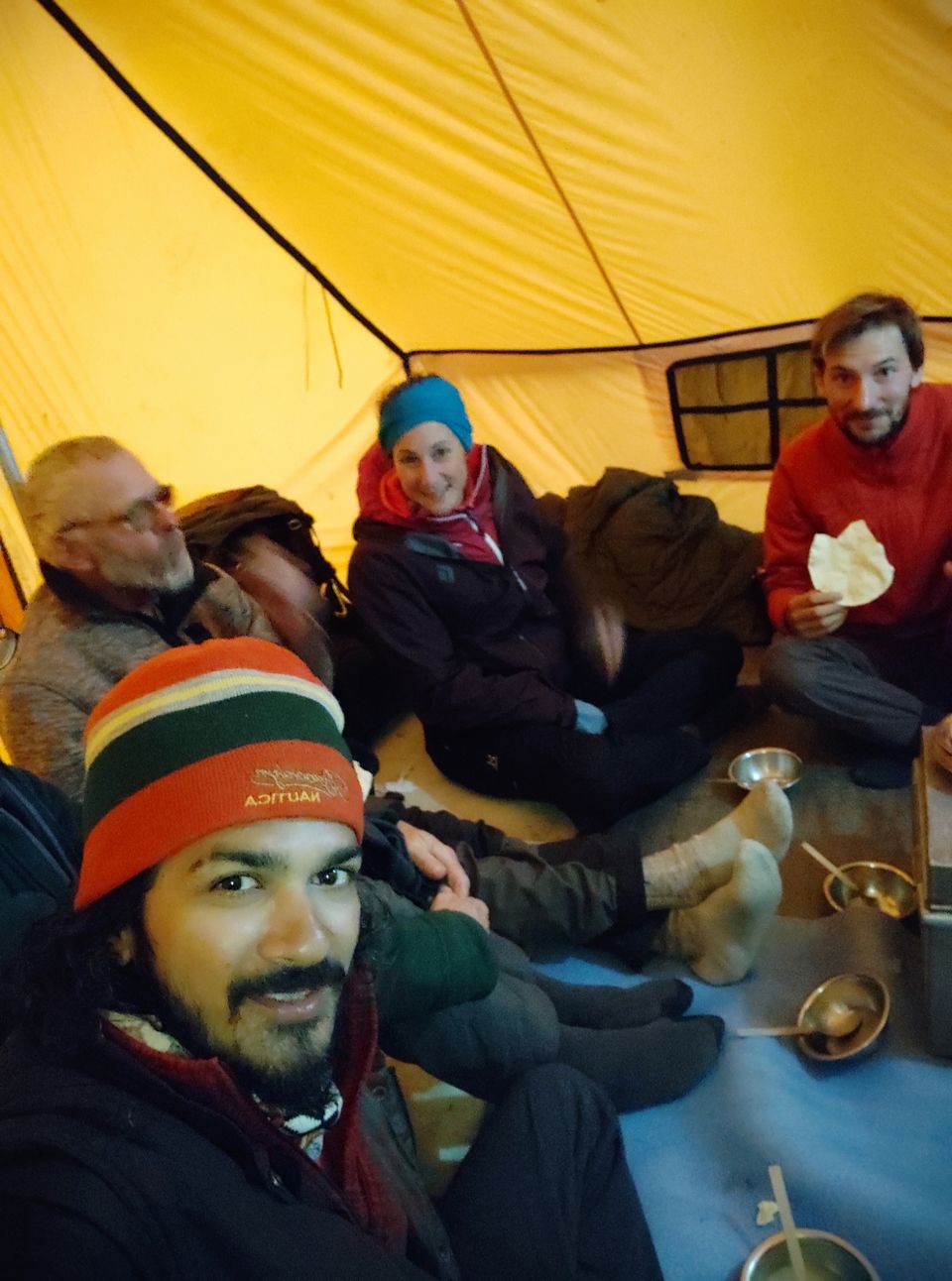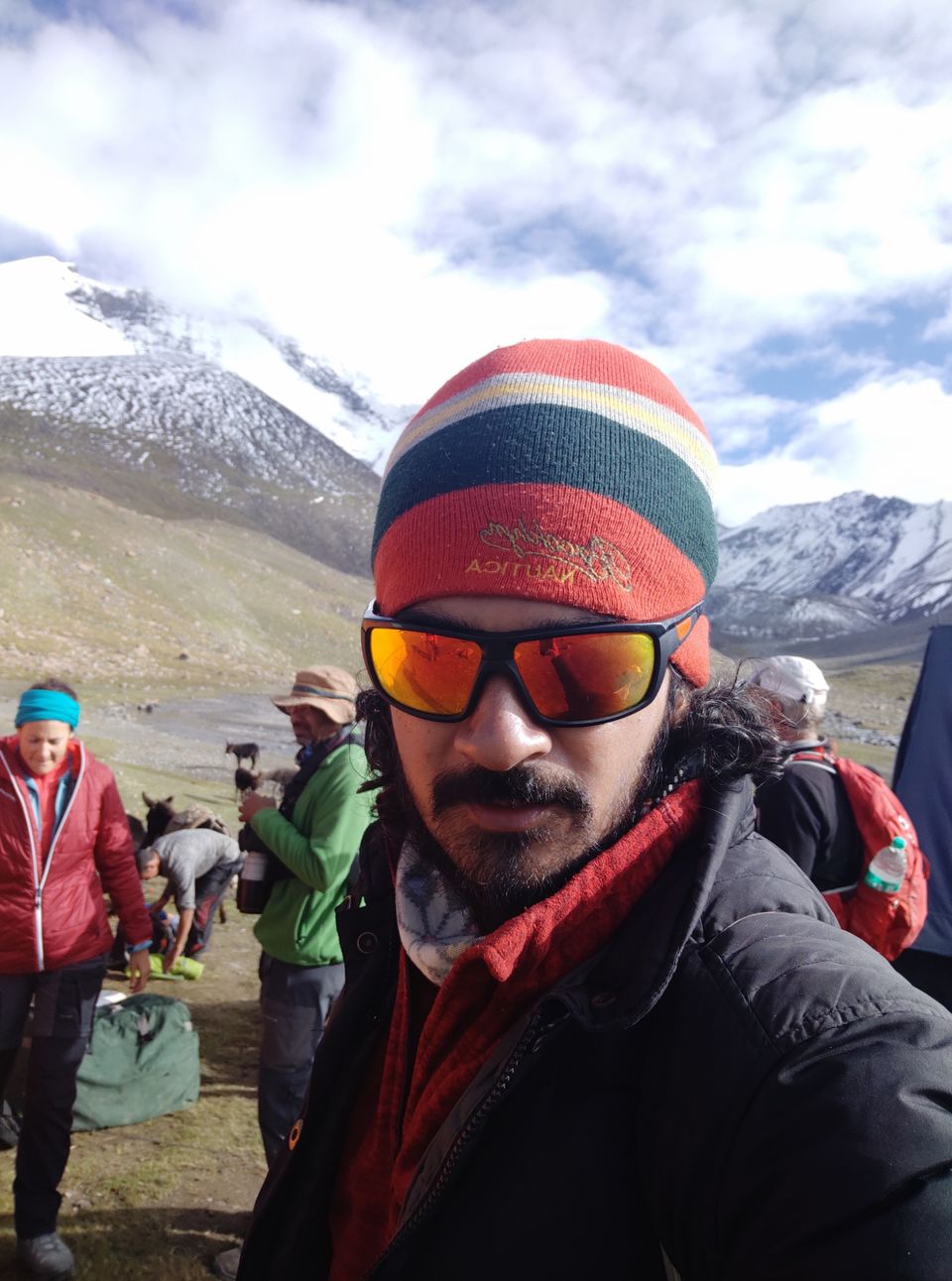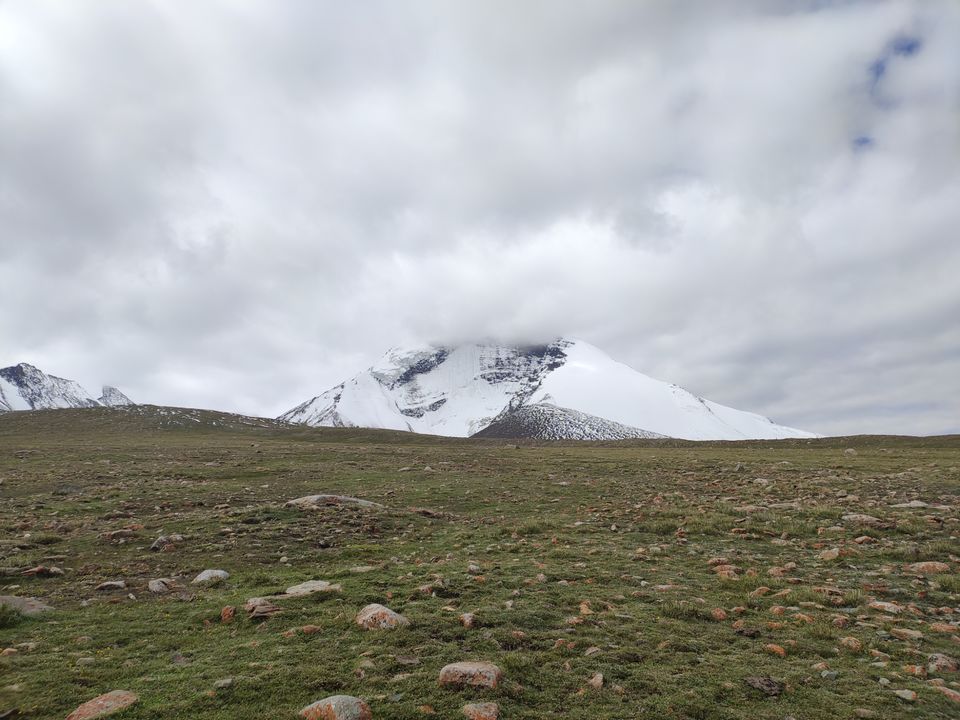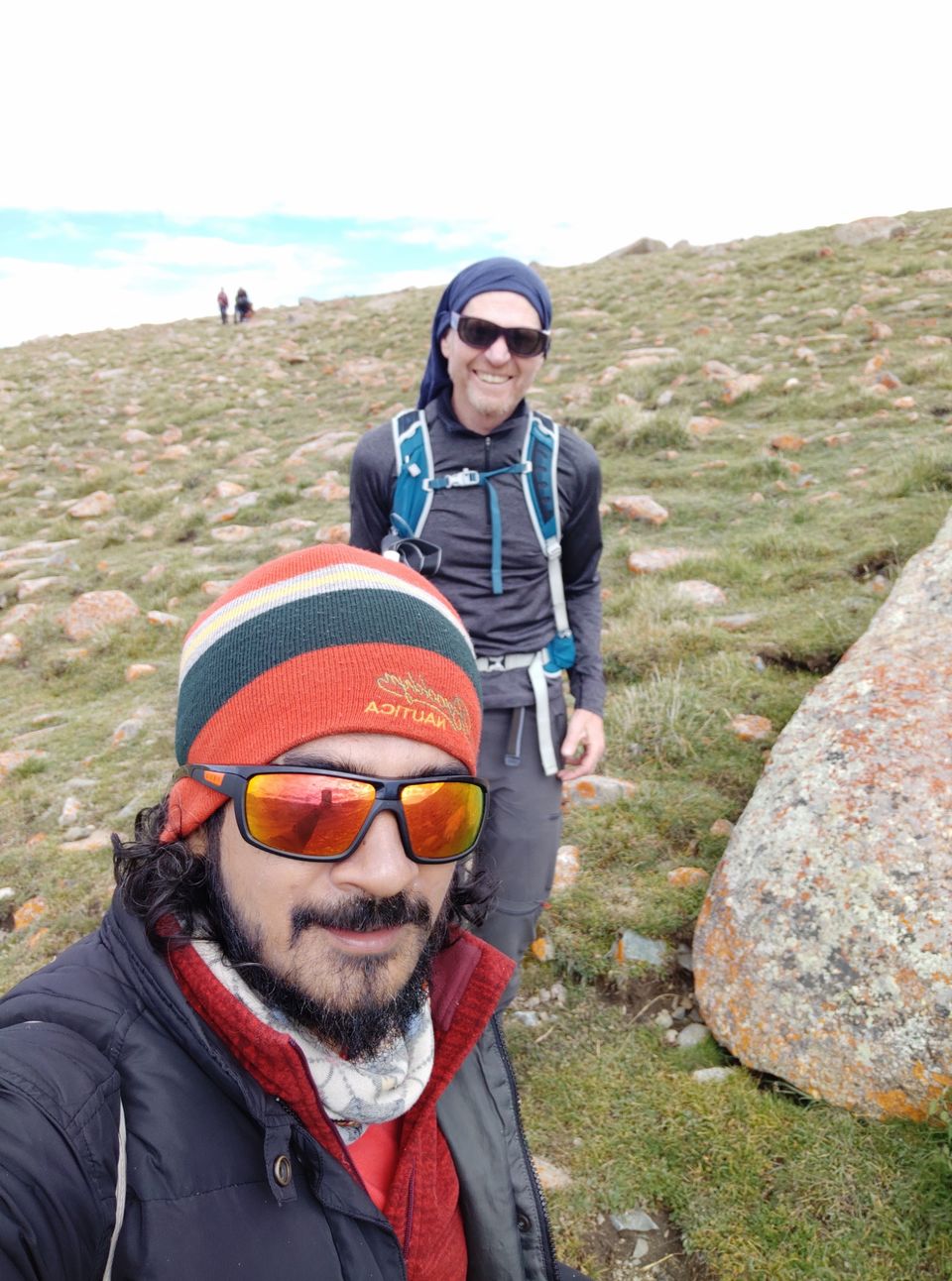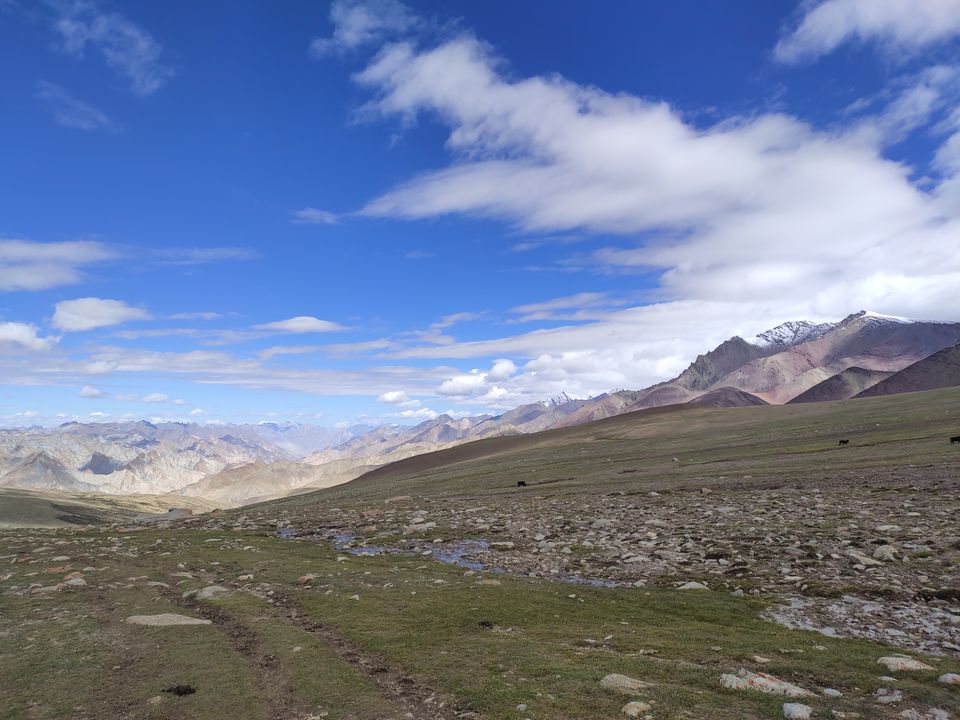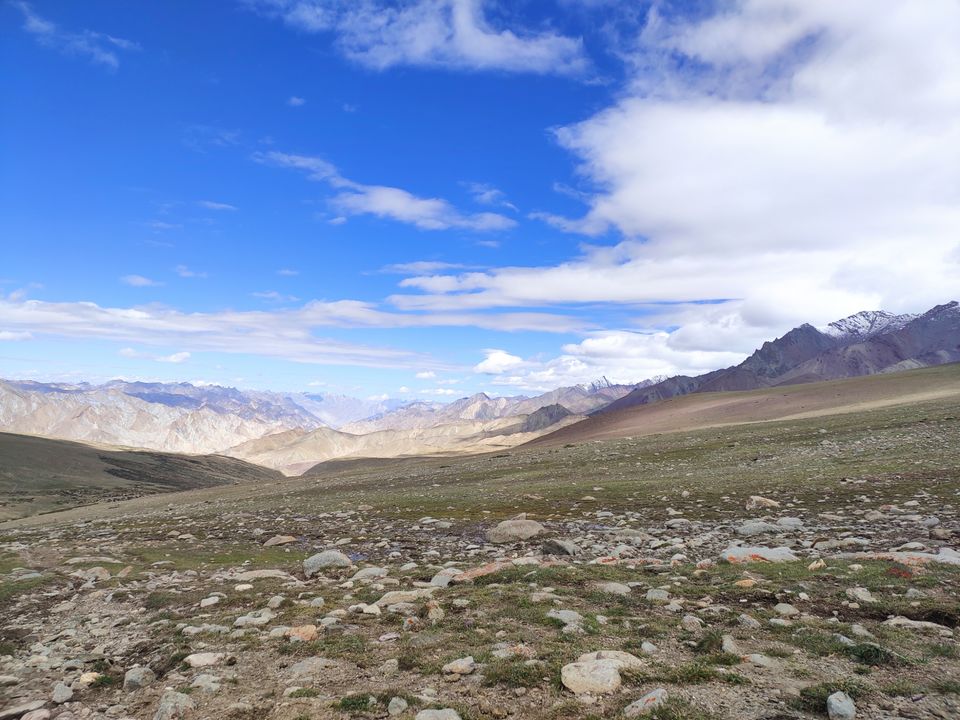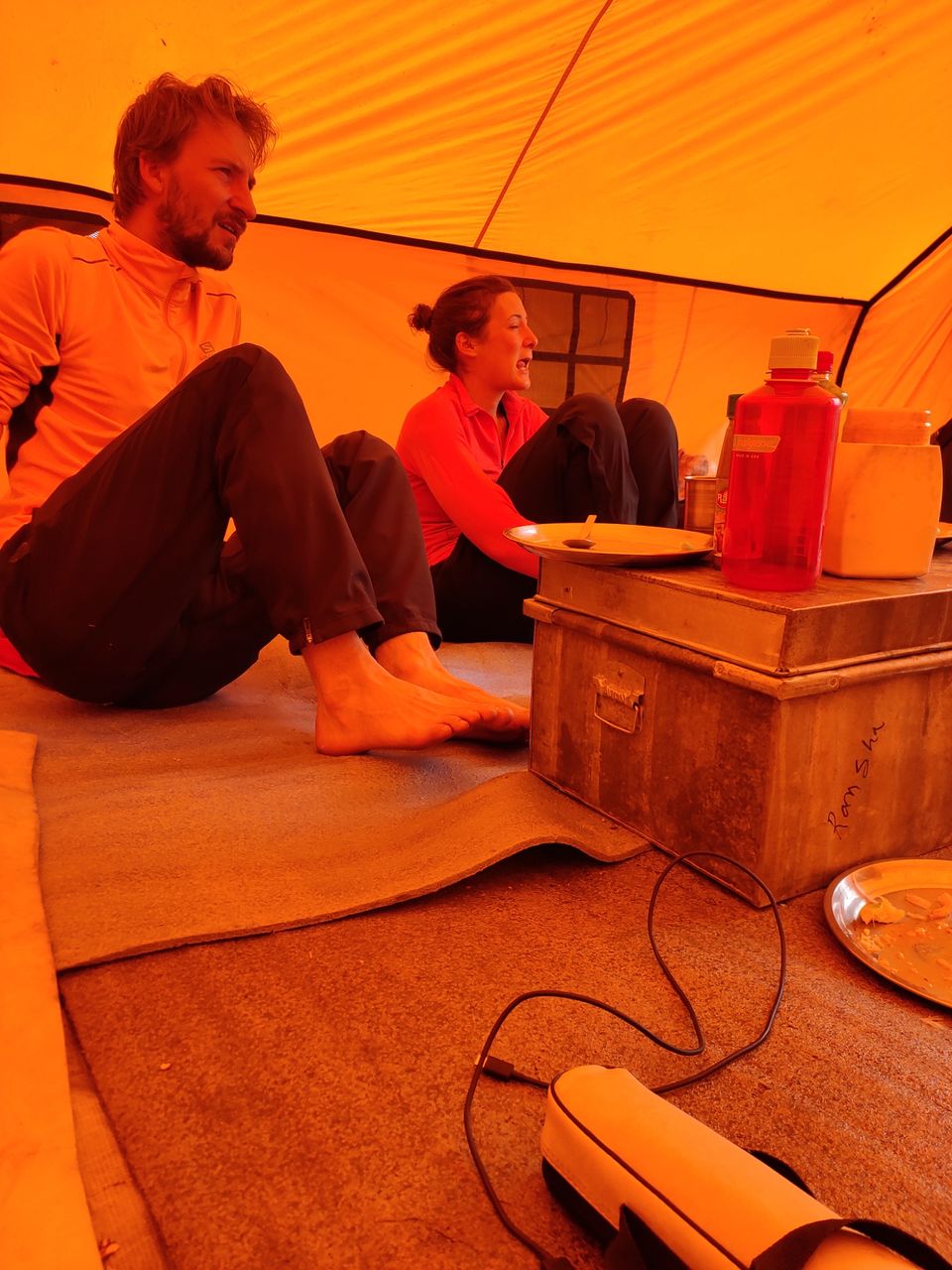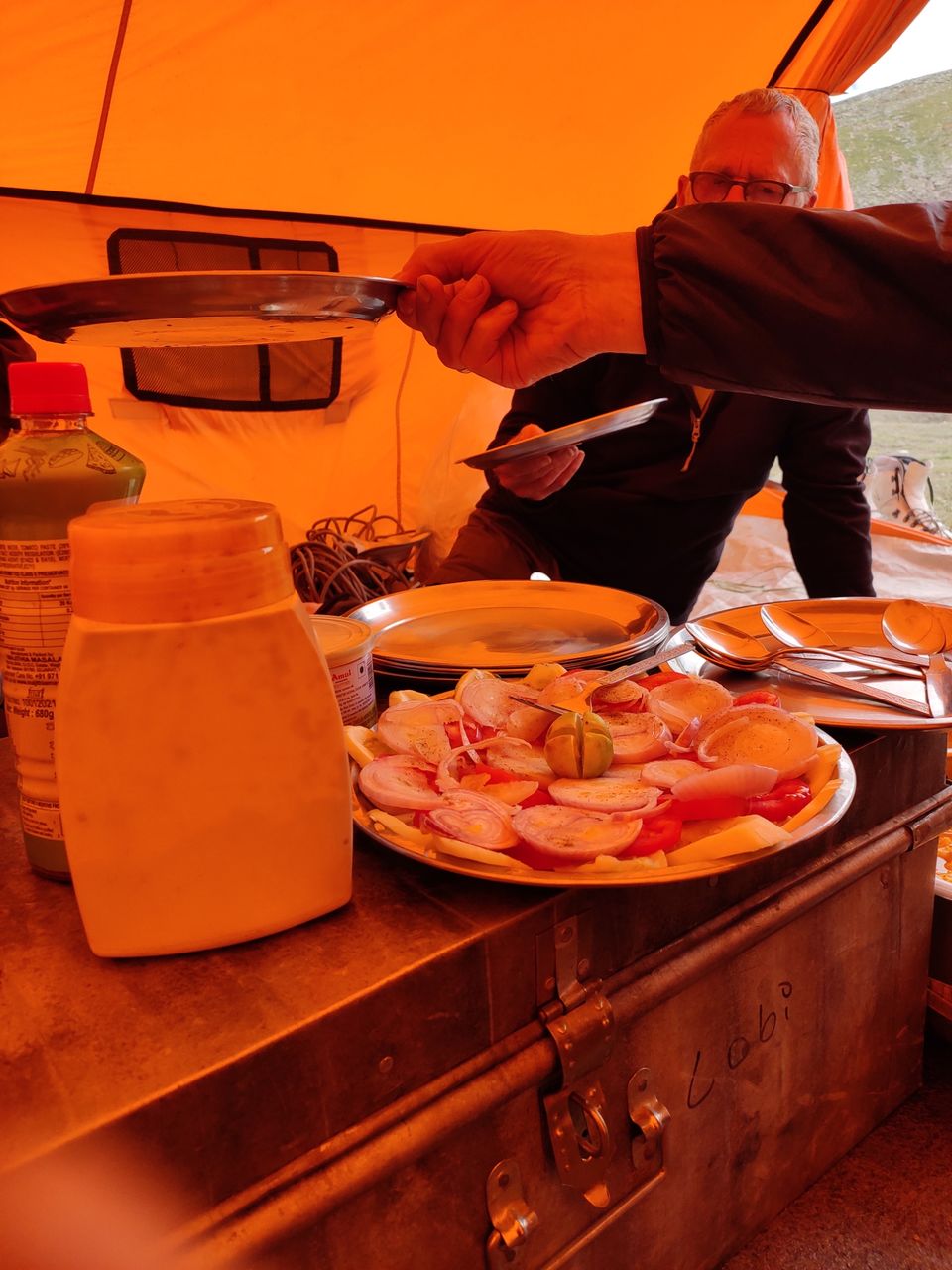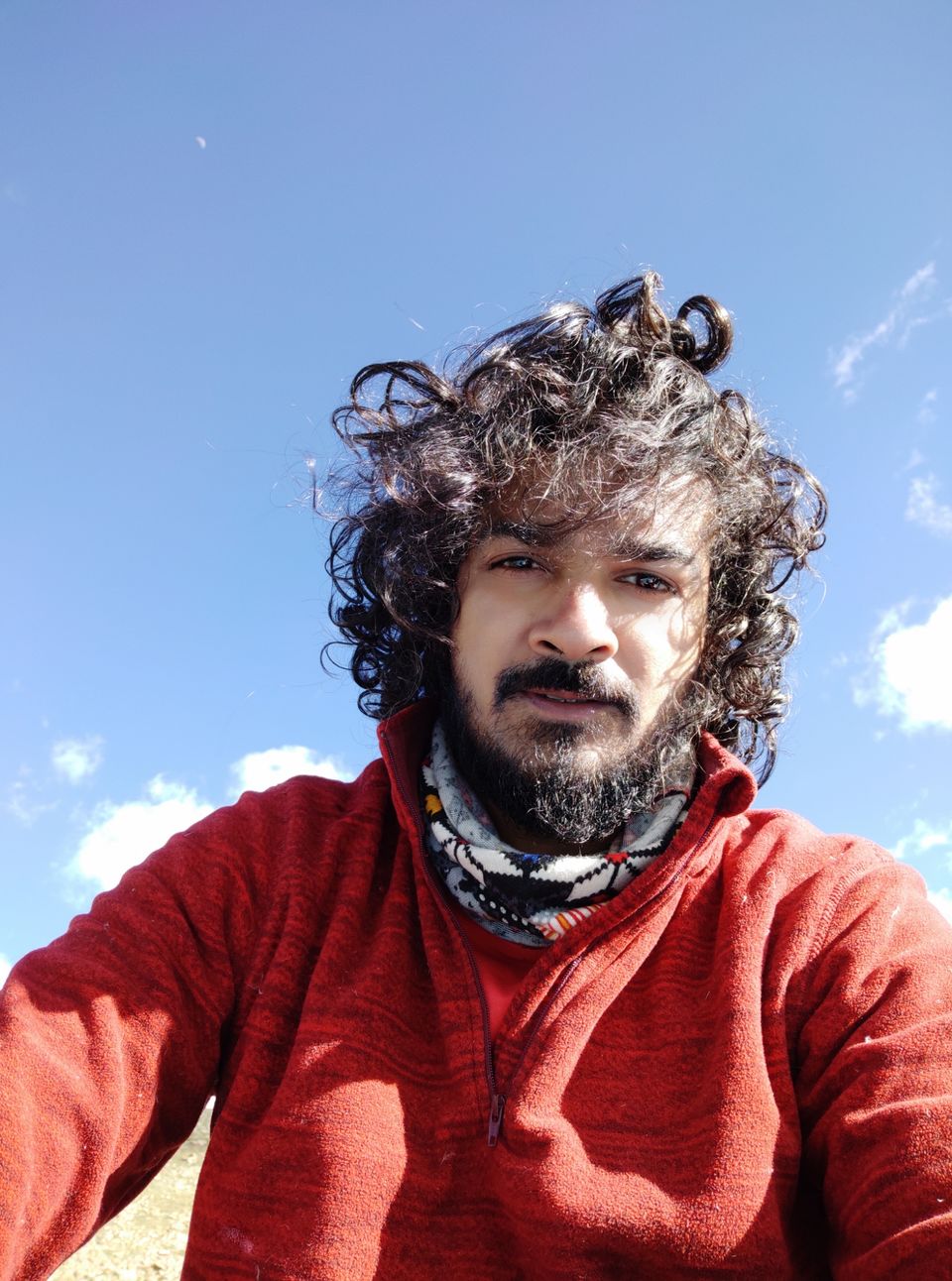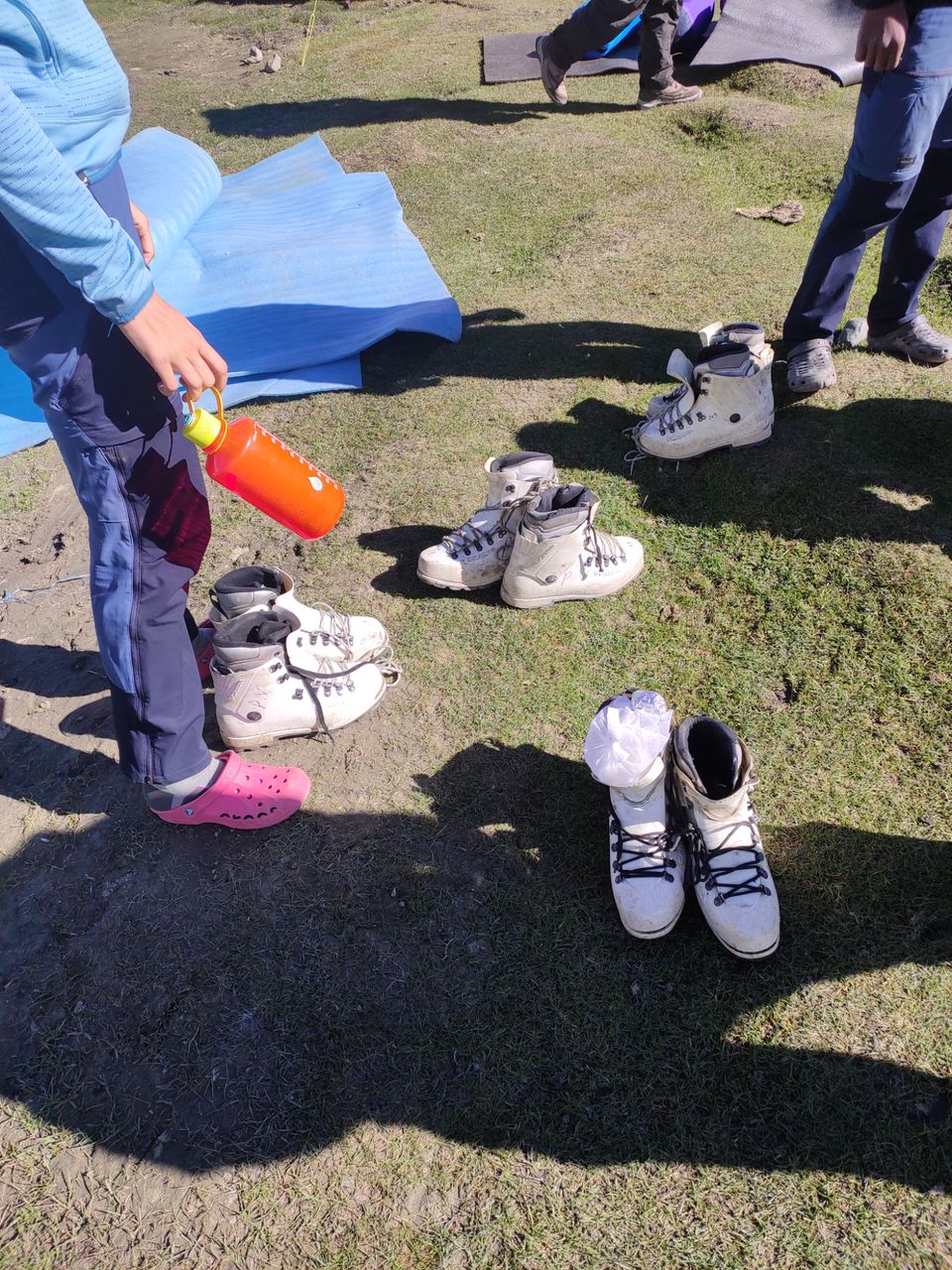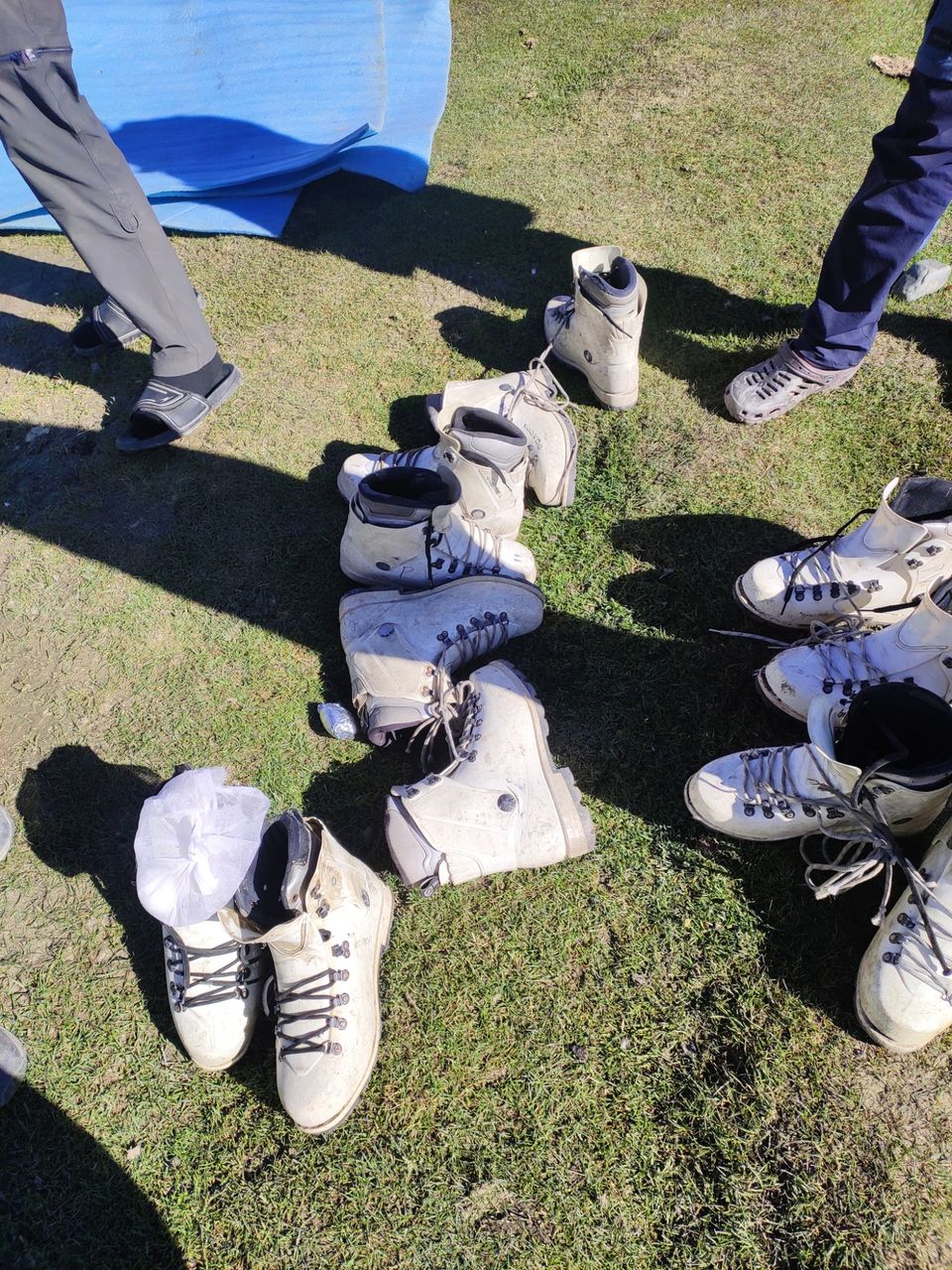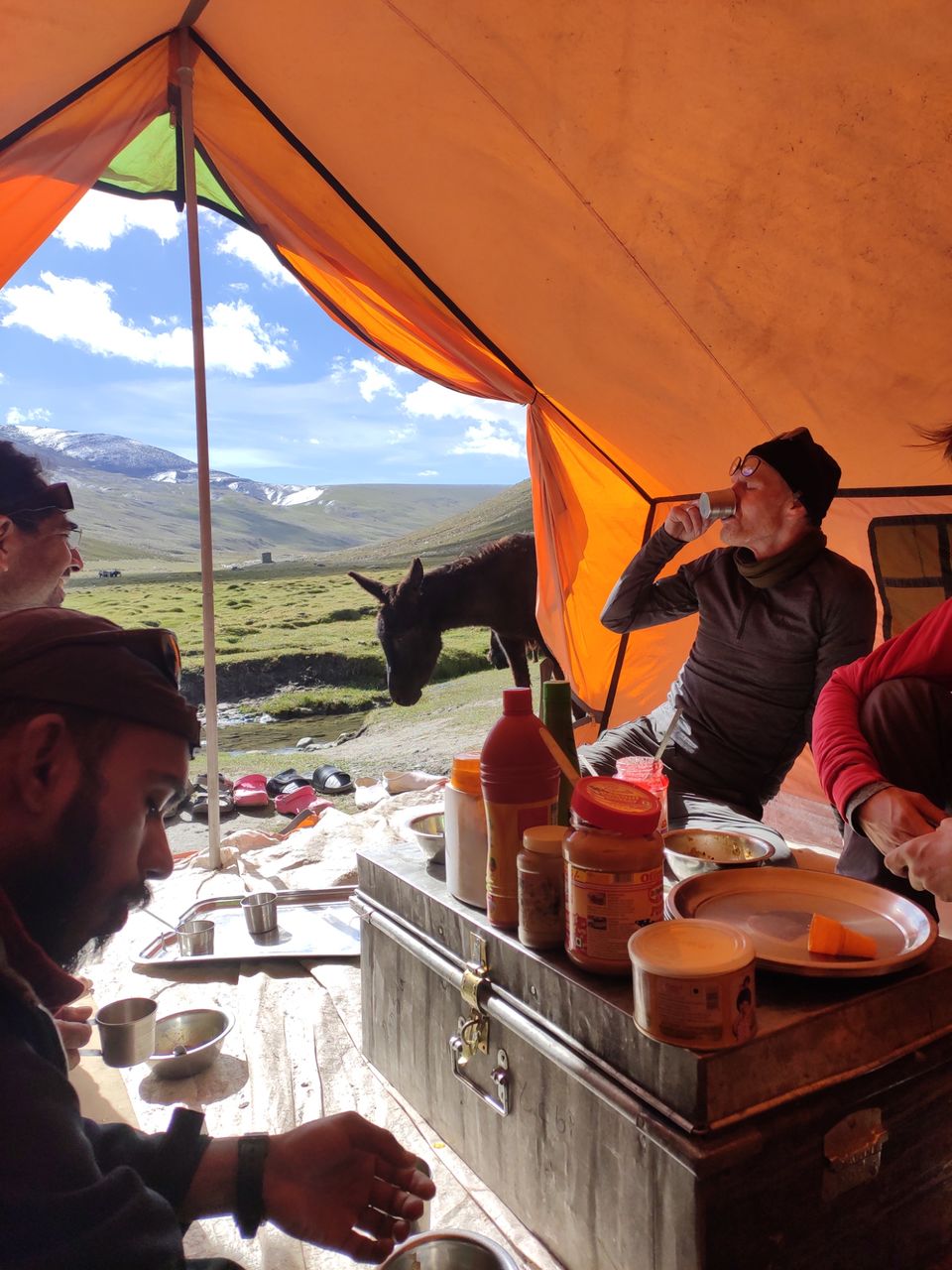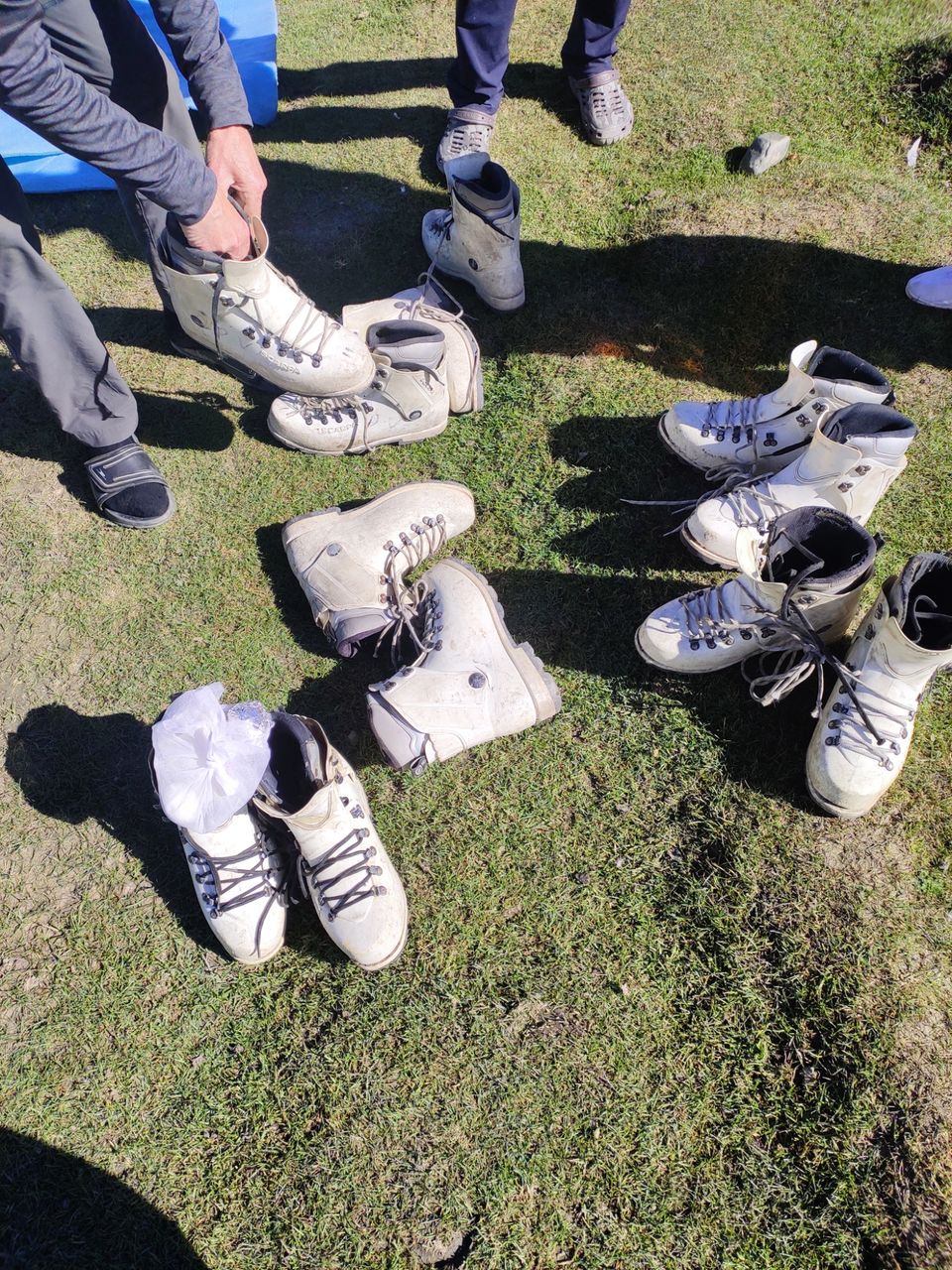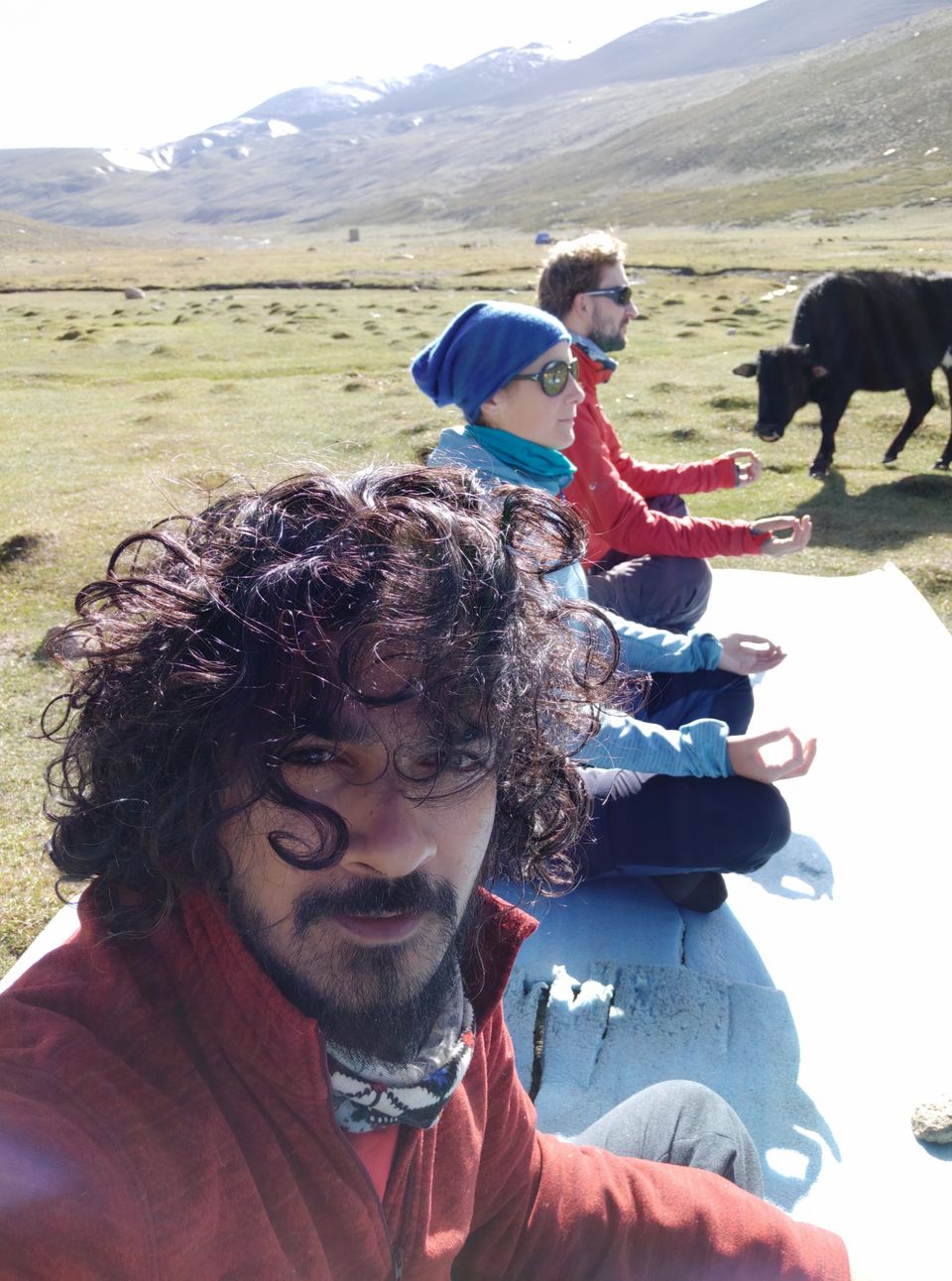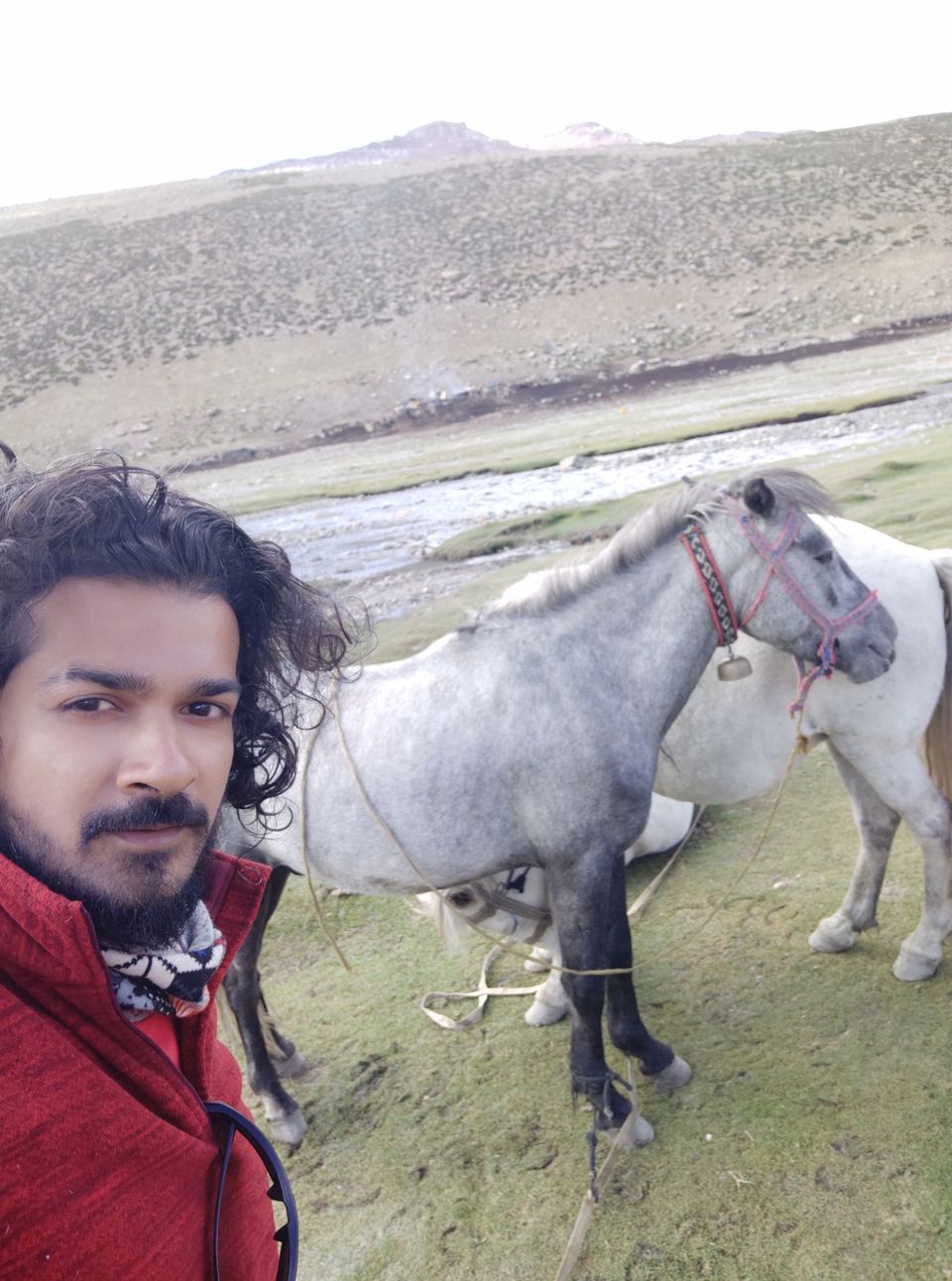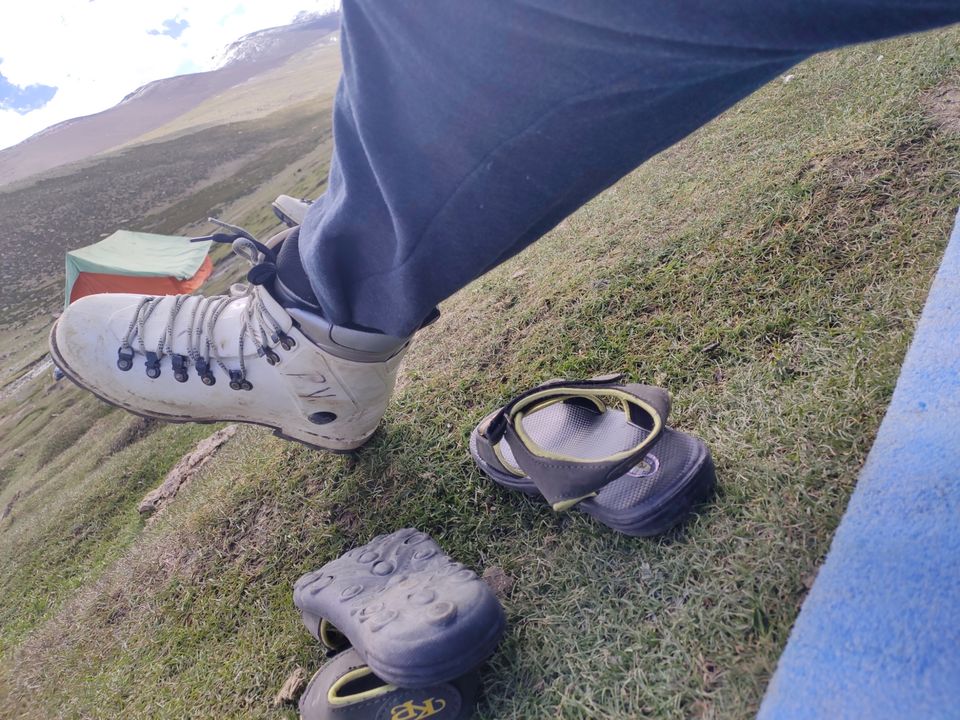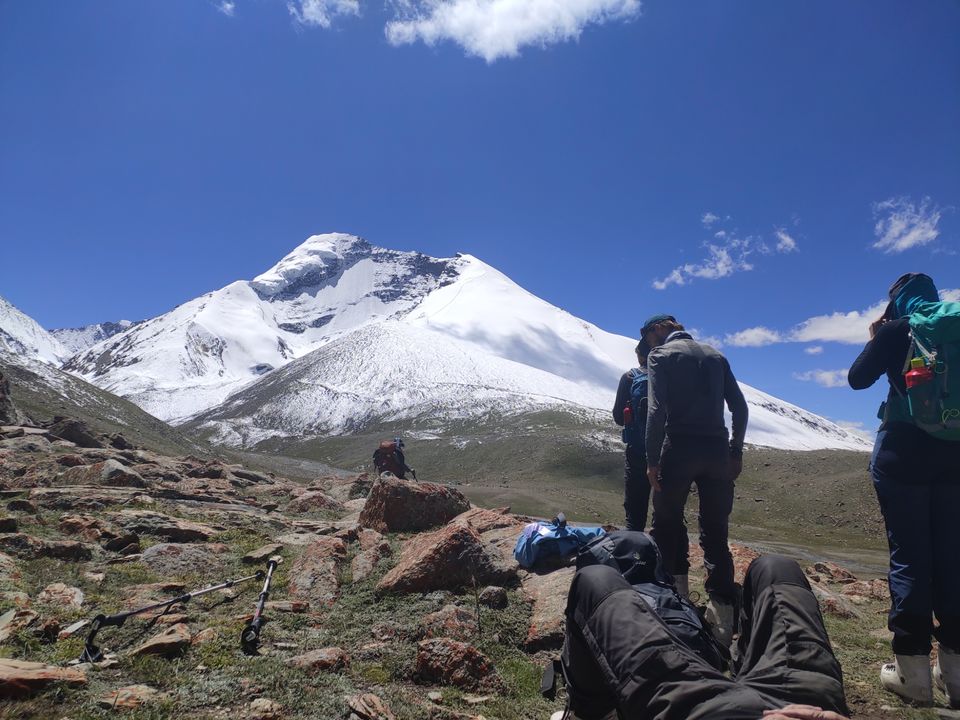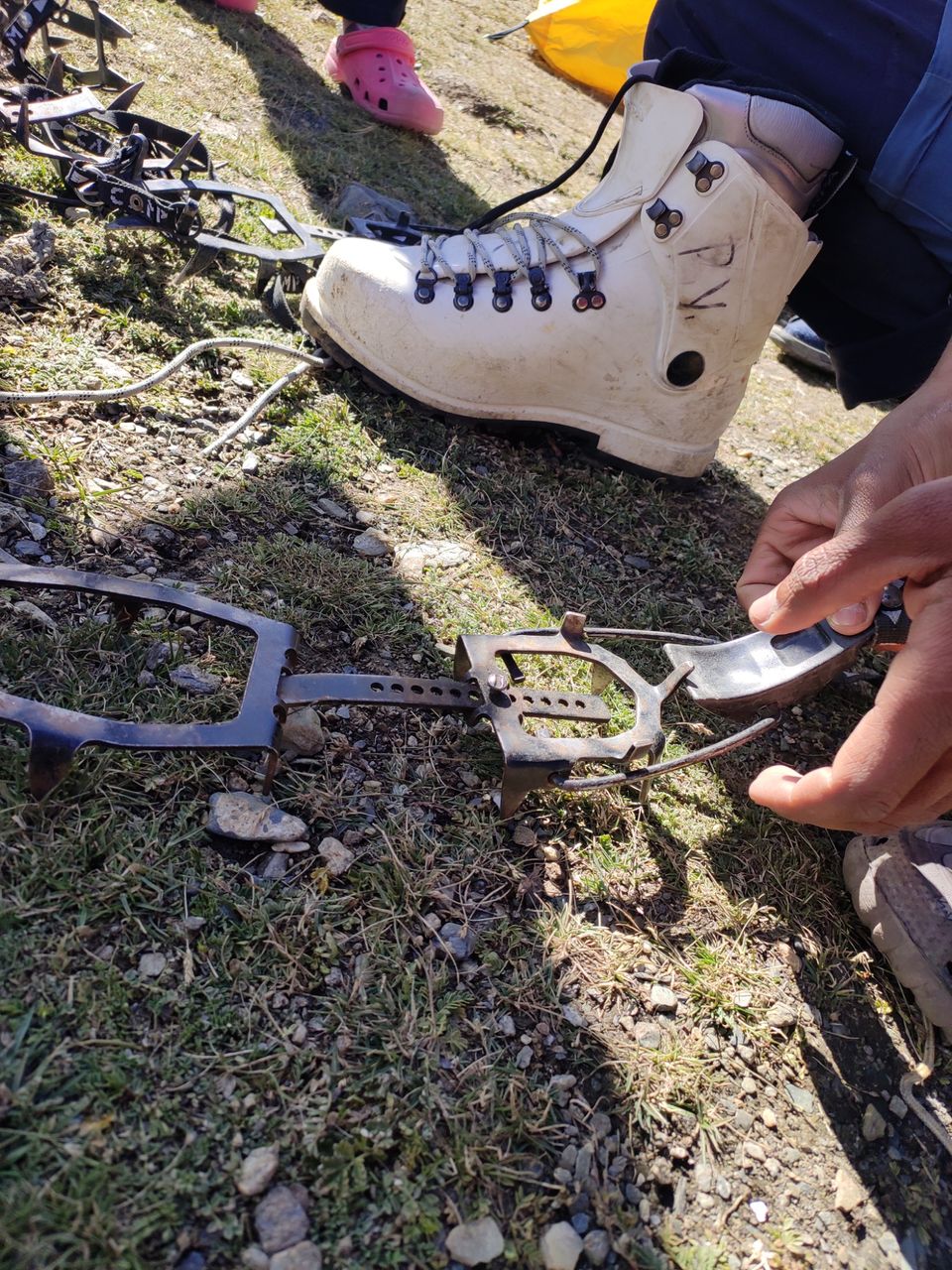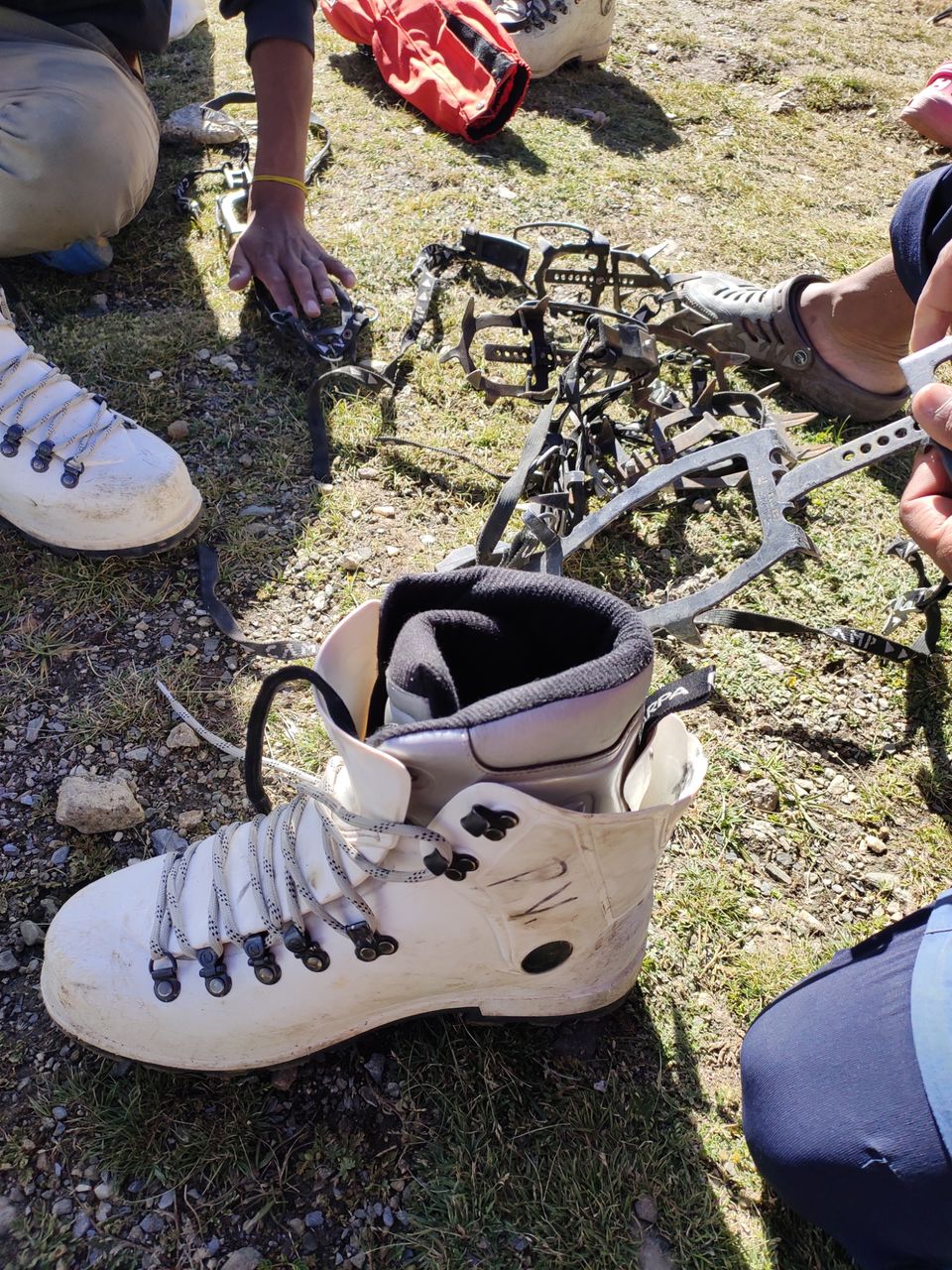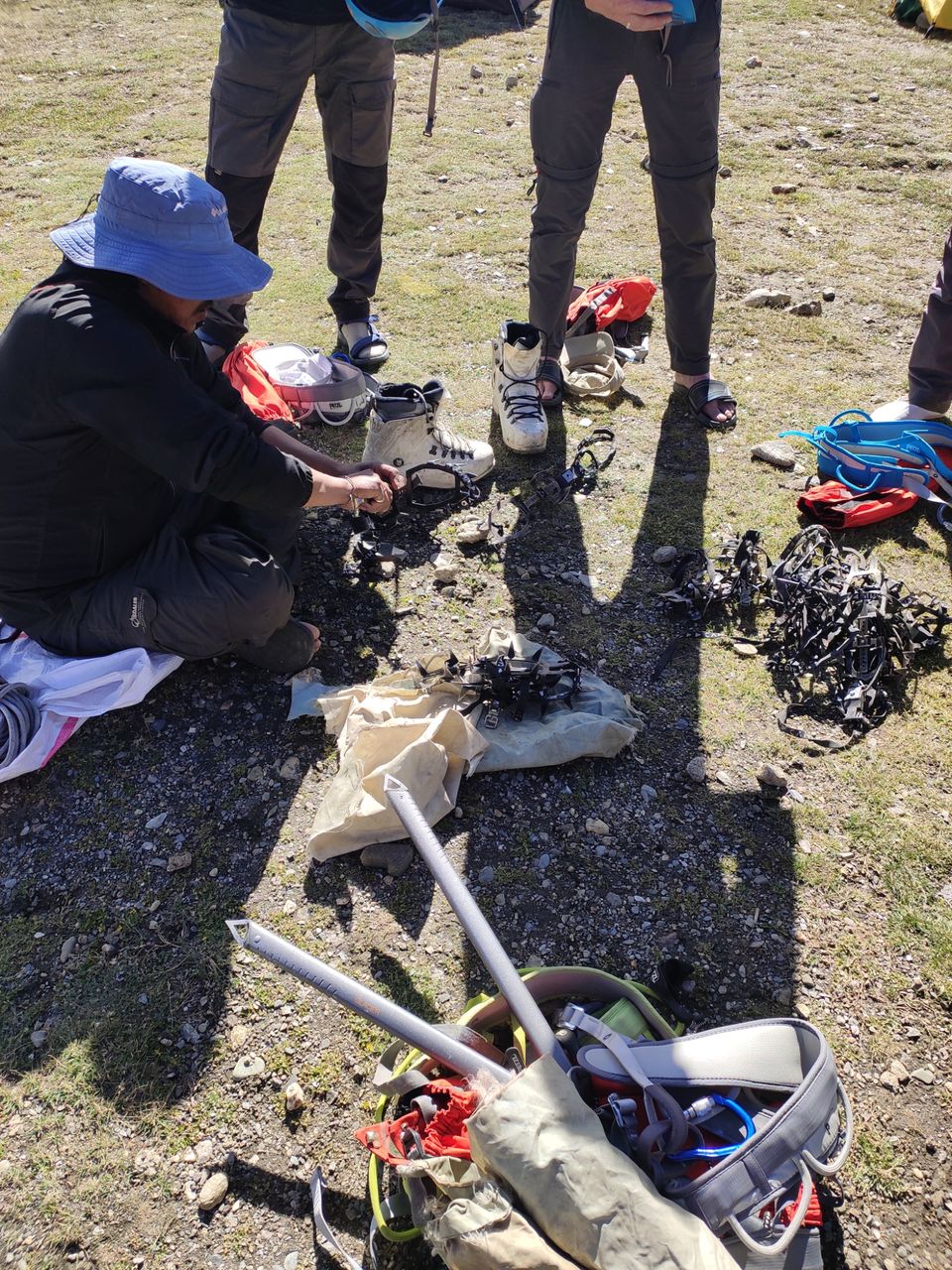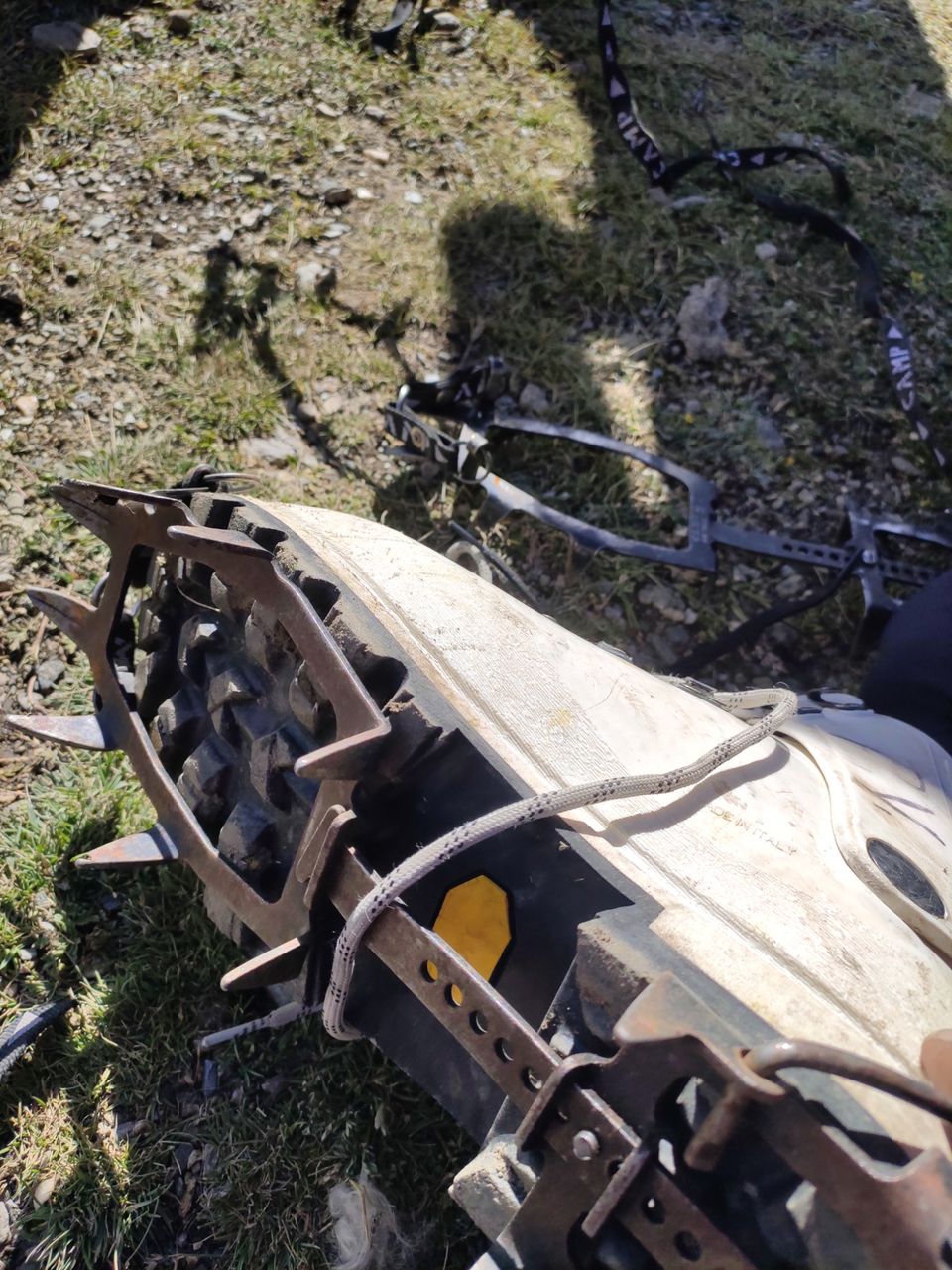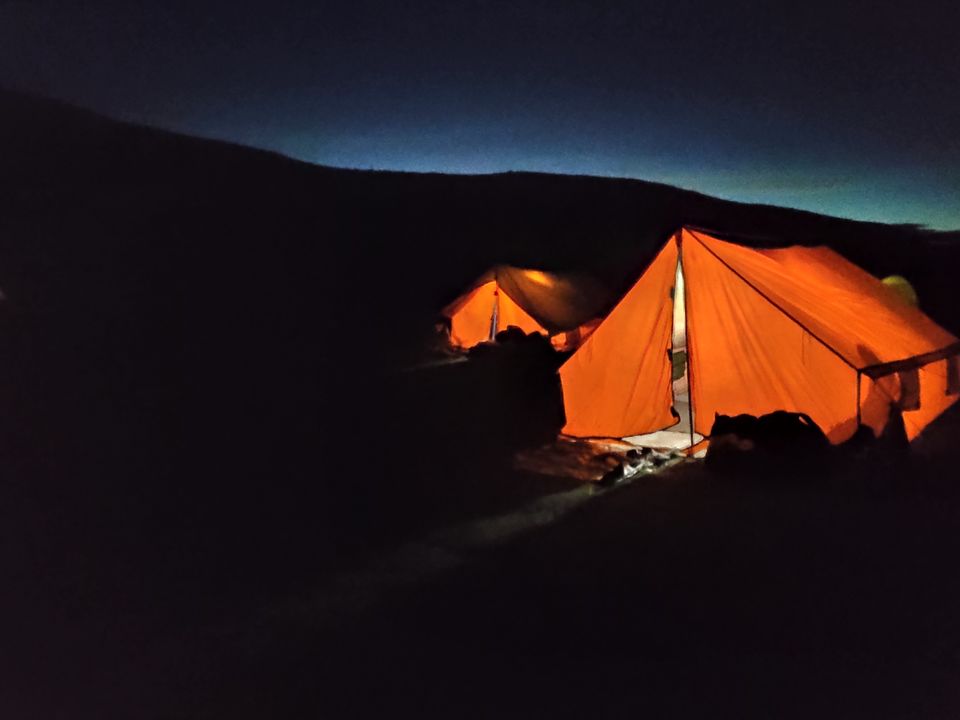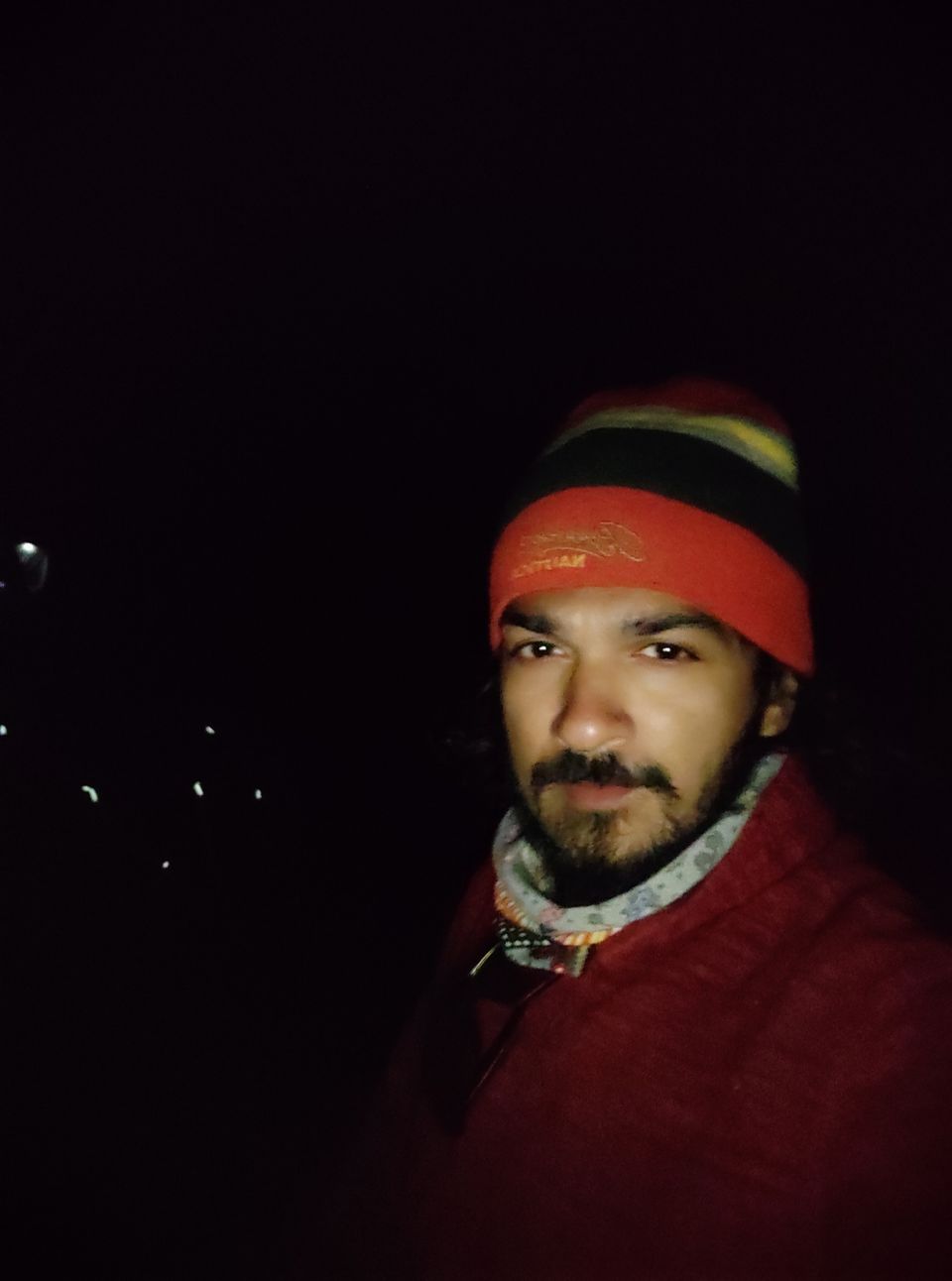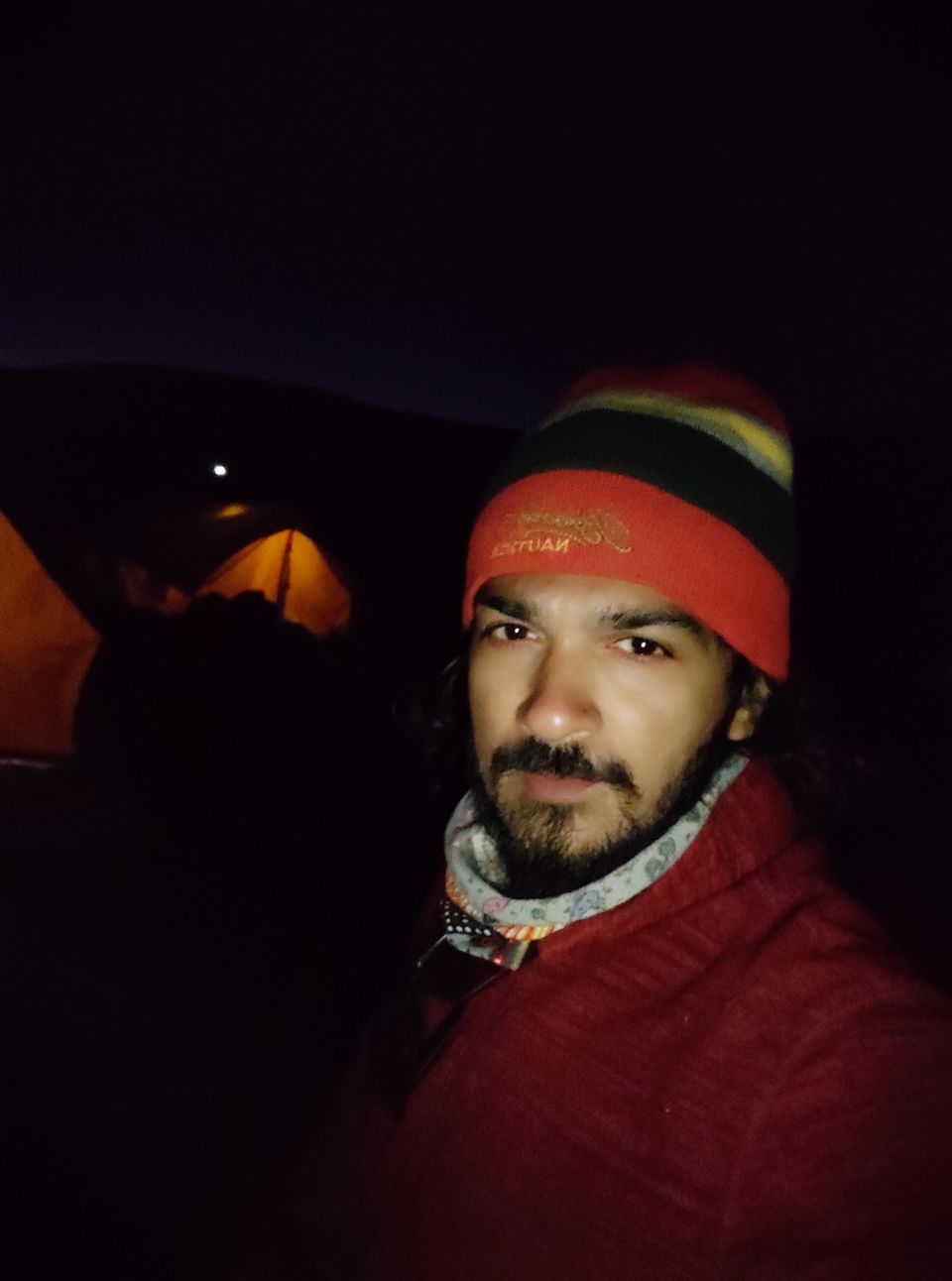 Summit day
"Life is either a daring adventure or nothing"
The day has arrived. Nothing more nothing less. All the effort put forth, all the dreams aspired, all the excitement built up, all the energy built up over the period of last few days, all prayers, all the fight with your family and friends,all those protein bars and dryfruits, all the hours spent in gym will be put to test today, tonight. But at the same time, koi mahan insan ne bola hai (someone great has said) that "you can't conquer nature you can just embrace it".
With this thought I started my day which was a quite one compared to the rest. No acclimitazation climb, no practice sessions, no equipment check. Just the same yummy breakfast and chit chat with the group. We saw lot of other climbers coming back from the summit, some with finished business, some unfinished.
It was noon and it was time for a light lunch. We finished it quickly and checked our gears once again. We did some meditation for about half an hour gazing purple, black and hazy mountains in the distance and bang opposite to them was our own Kangyatse.
Time - 1900 Hrs
The weather since evening was playing a game with bit of snow, up winds and rain visiting the dreaded glacier every now and than. Some of which reached campsite too, that made all of us gloomy, though we had a reserve day in place but the energy level was grounded for all of us.
We just kept staring at the gloomy sky ...in hope......which was taking away the summit view slowly but strongly.
We were told to be ready by 2045 Hrs with all the gears on. When you have to get out at night at 16500 ft you feel the the need to put on all the layers of insulation possible. I borrowed pack of warmees from trek lead rohit.
It took us almost 45 mins to don all the gears we had in our kitty, there we were! Glancing at the summit in starlit sky with some degree of clear weather and a pitch dark path leading to it. The path was layered with scree, moraines, crevasse and a steep climb starting from glaciepoint to never ending summit.
Tamara and arthur were first out. Next to go was vibhakar and me a long with Paul and rudy. Spine chilling winds made us shiver at the first wave of it. Sleepy, a little untidy but super energetic group started the March lead by chomdan followed by Paul, me, rudy, tamara, arthur, vibhakar and trek lead rohit closing the loop.
As you actually start walking up steep slopes, your body heats up, you start sweating, and you keep pausing to take off each of those layers.
Right from the word go, it was climbing and sheer climbing as we will be gaining close to 3500 ft in one night. The body started heating up and I felt like throwing away the layers I had put on but one wave of chilly down wind put my senses back where they belong. We kept climbing in pitch dark for about two hours straight. I had to stop twice to catch my breath. By the time we reached the glacier Point at 18000 ft, I was already toasted. We climbed another few hundred feet up a scree ridge before traversing onto the glacier, as we switched our hiking shoes to heavy, double layered scrapas, I felt like my hands were swollen because of sudden exposure to cold winds. The summit look deceptively closed, it was not.
The night had turned to day after hours of struggle up the glacier. I felt like absolute crap, to put it subtly. I could only breathe out of my mouth as a thick blood clad mucus started forming in my nostrils which I avoided for a while. Meanwhile, rudy started feeling exhaustion and had a fall, which was luckily arrested by tamara and rohit with an ice axe. Like Jack and Jill, we all fell at some point of time. Some near the ridge with a fall as deep as 800m, some on the glacier. I had my heart pounding, but man, was that the view of a lifetime!
Paul started experiencing severe bouts of cough and was completely exhausted and along with him, rudy took the decision to move down to the base camp. They were accompanied by Somu, a cook who had come with us for the summit night for extra support.
We dodged one trail breaking step after the other in our diagonal spanned almost straight up ice axes in hand. I literally found myself struggling with back pain and blood clad mucus flowing untimely, but also exponentially more with how small the world looked below us. It was truly one of the most unfathomable scenes I've ever experienced.
After 4 grueling hours of criss cross walking, trail breaking, moving through moraine and dodging Cravesses, getting dumped in knee deep snow and falling over and over again, we came to a rocky outcropping of the glacier where the summit ridge began. 300m ONLY from the top now.
I parked myself on the slope near the ridge with mucus still flowing and back still aching. After 7 hours of non-stop climbing may be I just need something to munch, I thought to myself. Without any appetite I munched on kitkat and snicker bar, hoping it would take away whatever was hurting and provide me with some energy for the final push. It did not :(
It had taken 4 hours to climb 150 m up the glacier. It was mostly chomdan and rohit breaking the trail and showing some displacement, but the slow pace of movement had gotten to all of us. The sun had risen by now and at 19500 ft it saps all the energy even at 7 am in the morning.
The snowpack along the shoulder was very compact to be walking on and we estimated another two hours to summit. By the way the distance left was mere 200m. I got another bout of blood mucus and I decided to bid a good bye! How unbelievable as it may sound, cruel it may sound, heart-breaking it may sound, sensible it was. One more bout could have made weak to an extent of loosing my balance and have a free fall down the slope. Tamara and arthur started feeling dizzy, loss of vision and a little shaky, they decide to go back to the basecamp. Chomdam accompanied us leaving rohit and vibhakar to their fate.
We made it back to the base camp a few hours later. A bit dejected and extremely exhausted. I noticed I had trouble balancing at times. Normally I am pretty sure-footed but I found myself tripping over easily avoidable stuff while coming back to the base camp. Vibhakar finished the summit and came back along with rohit at around 2 pm, which was praise worthy however we felt they should not have pushed to that extent, because staying exposed at that height anytime after 10am can prove risky. We congratulated vibhakar for the feat. We had lunch and slept again to wake up to see the setting sun over the mountain, painting the sky with every colour that exists.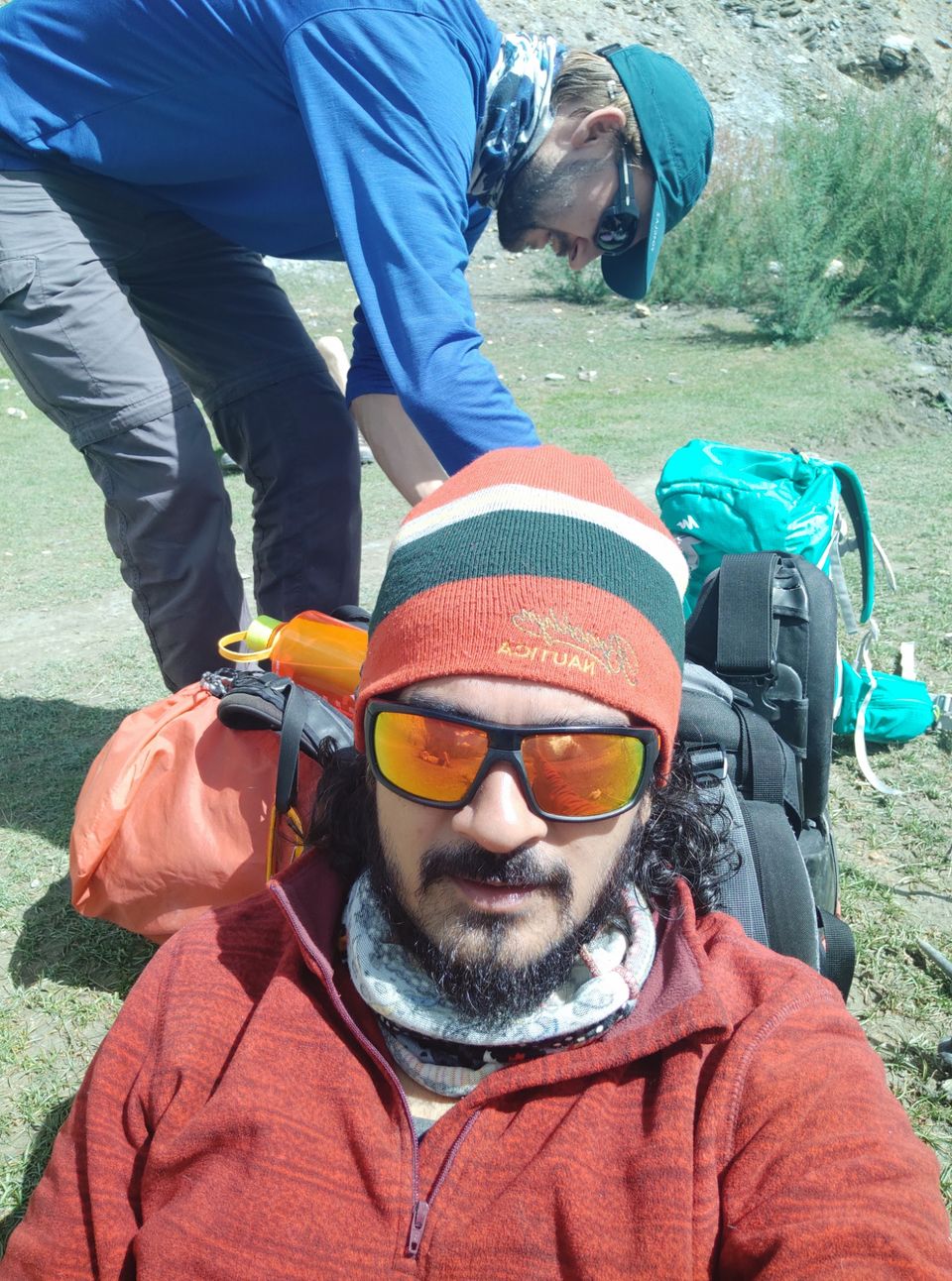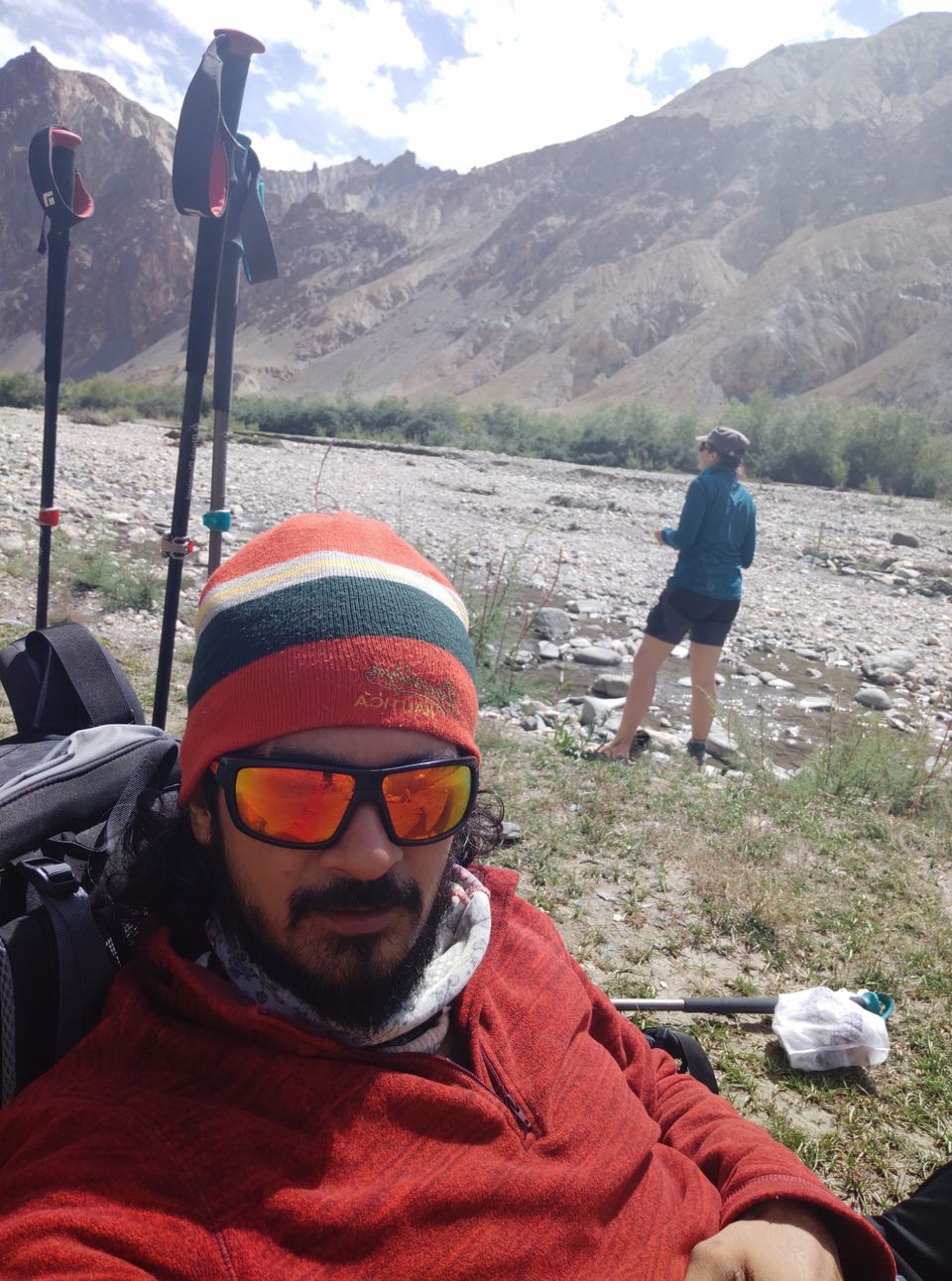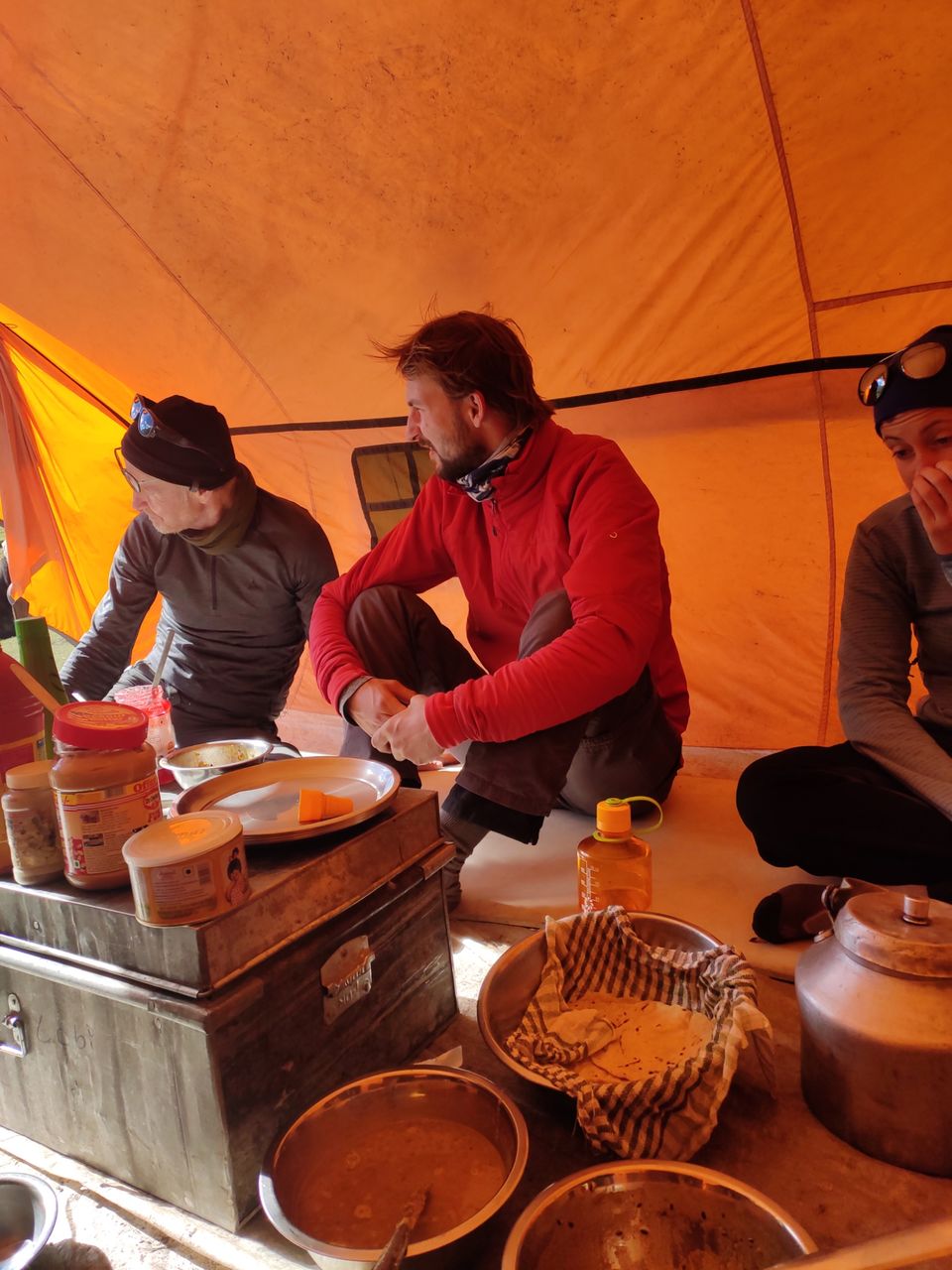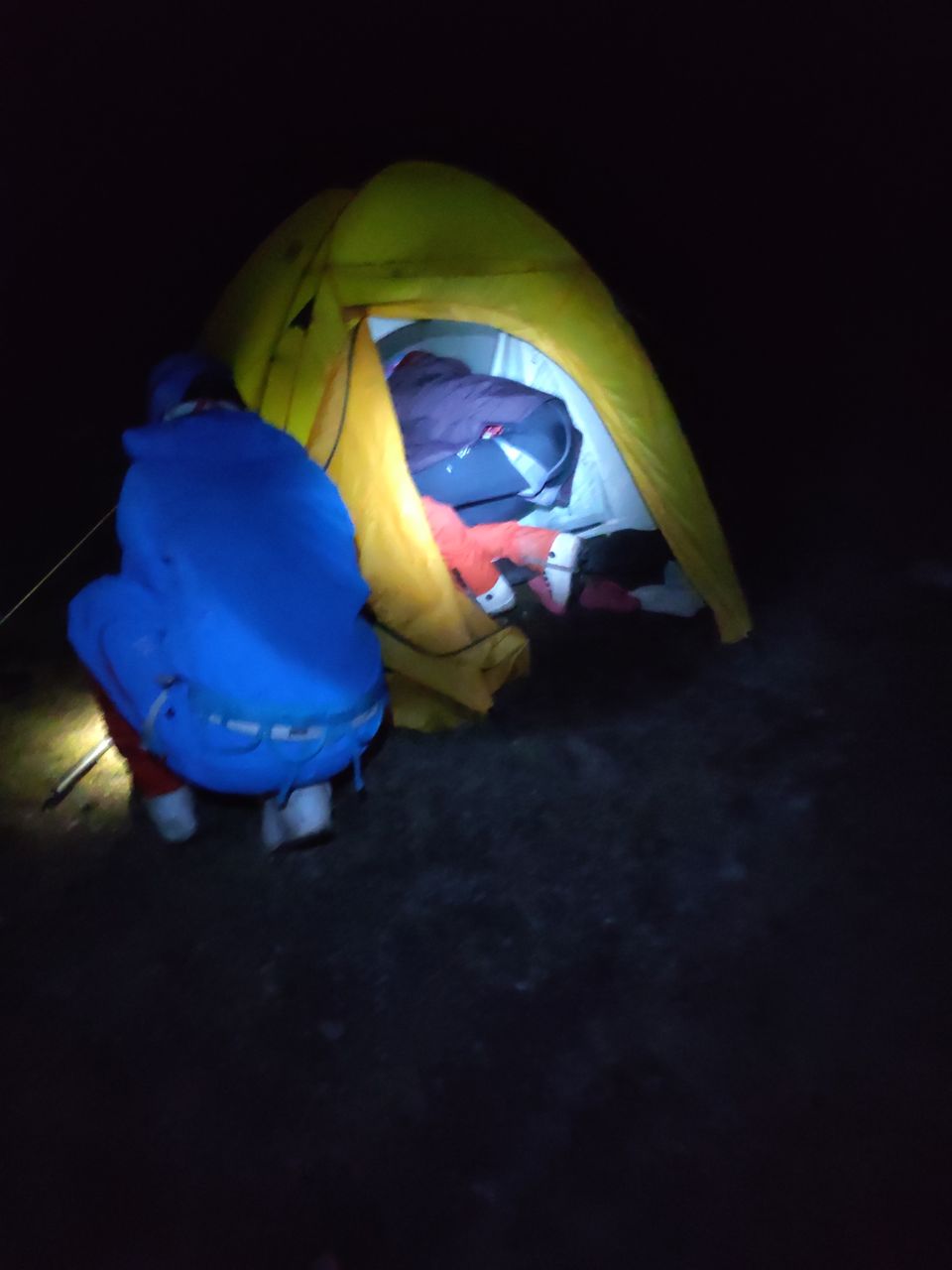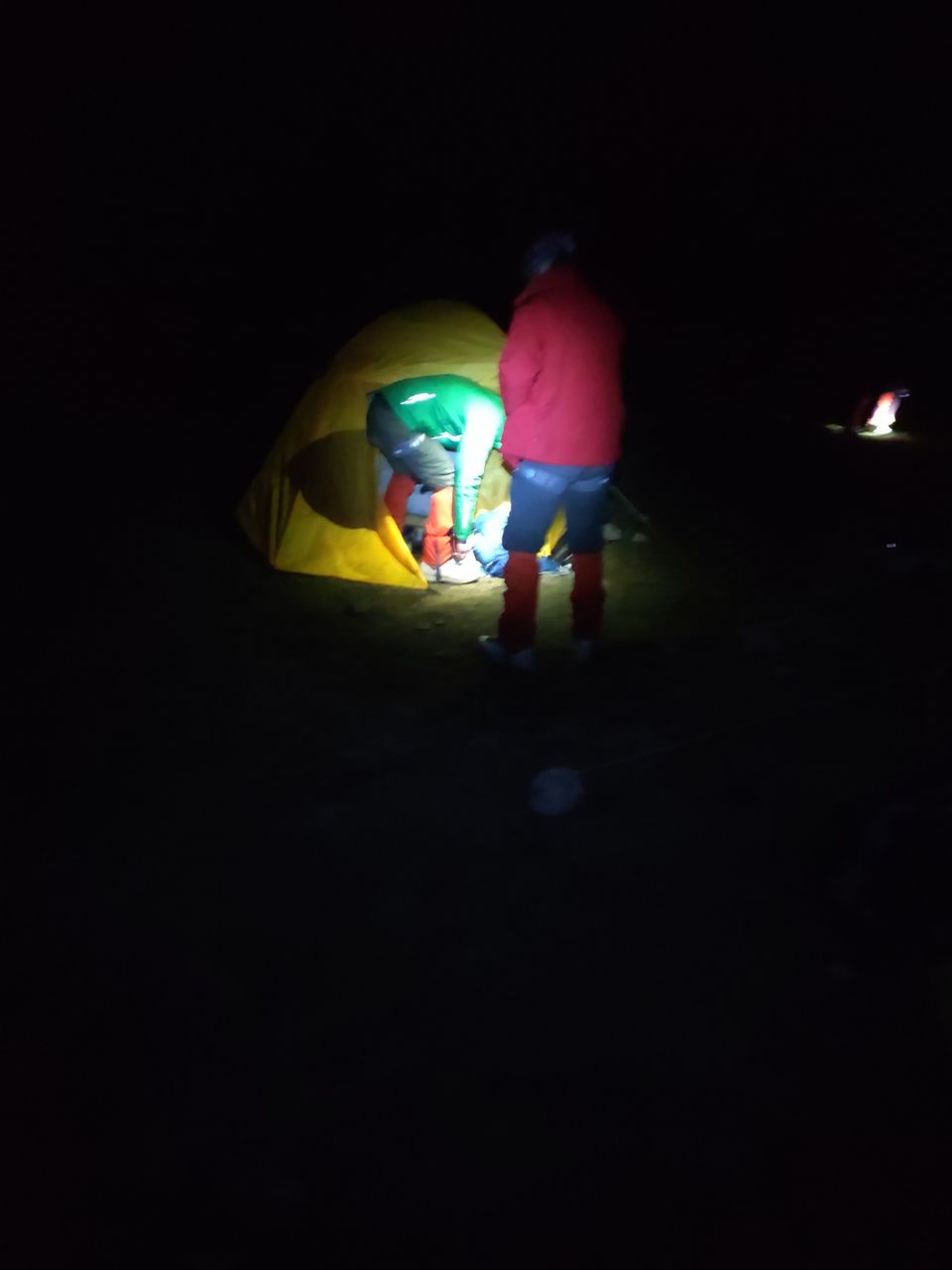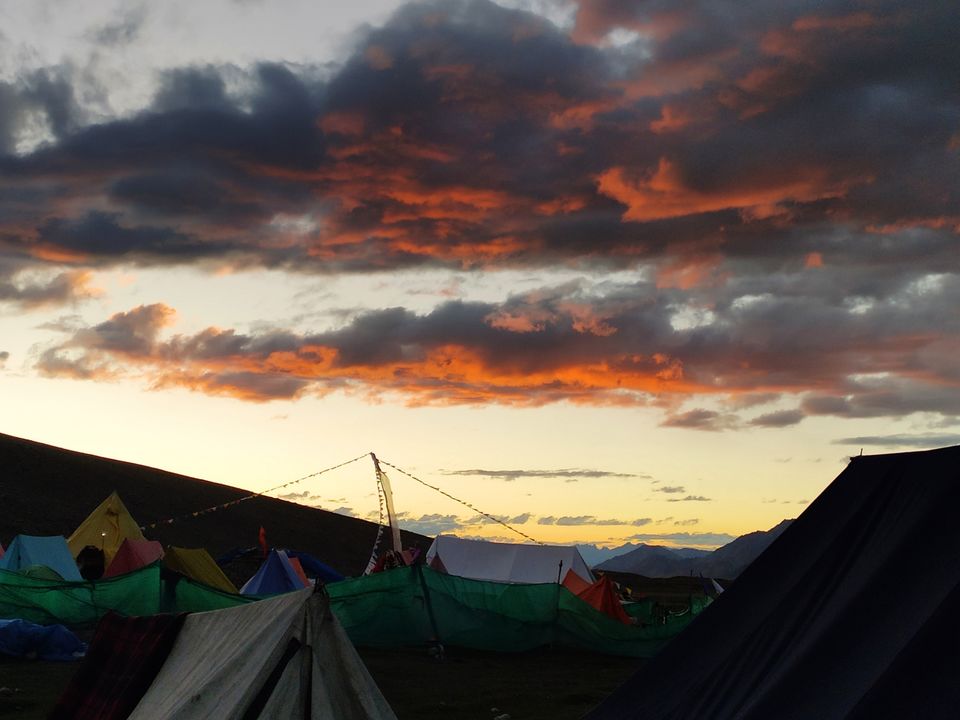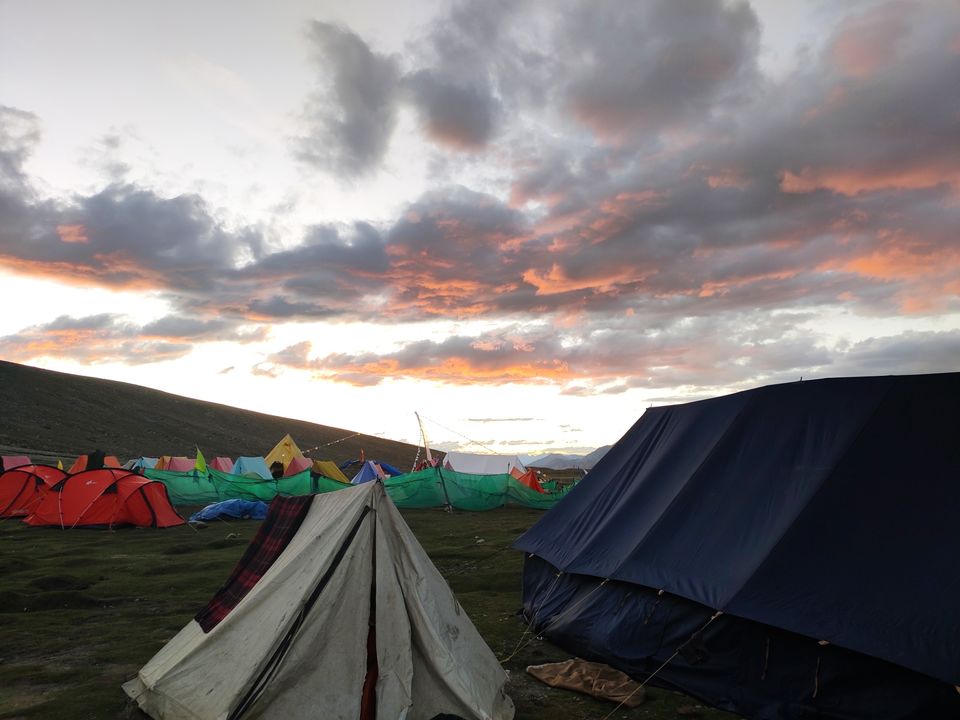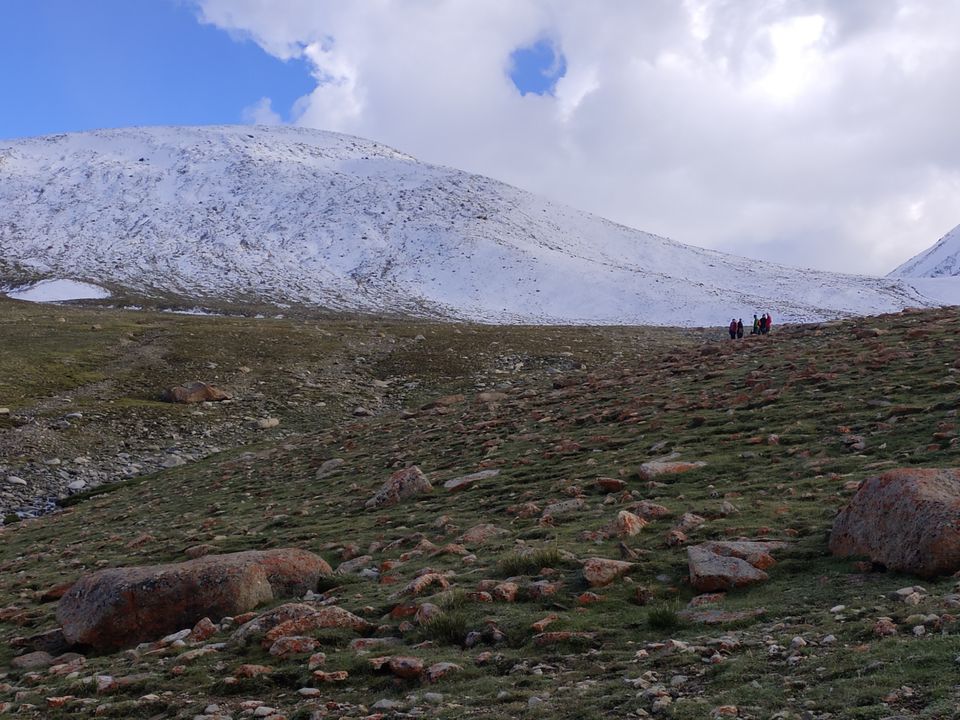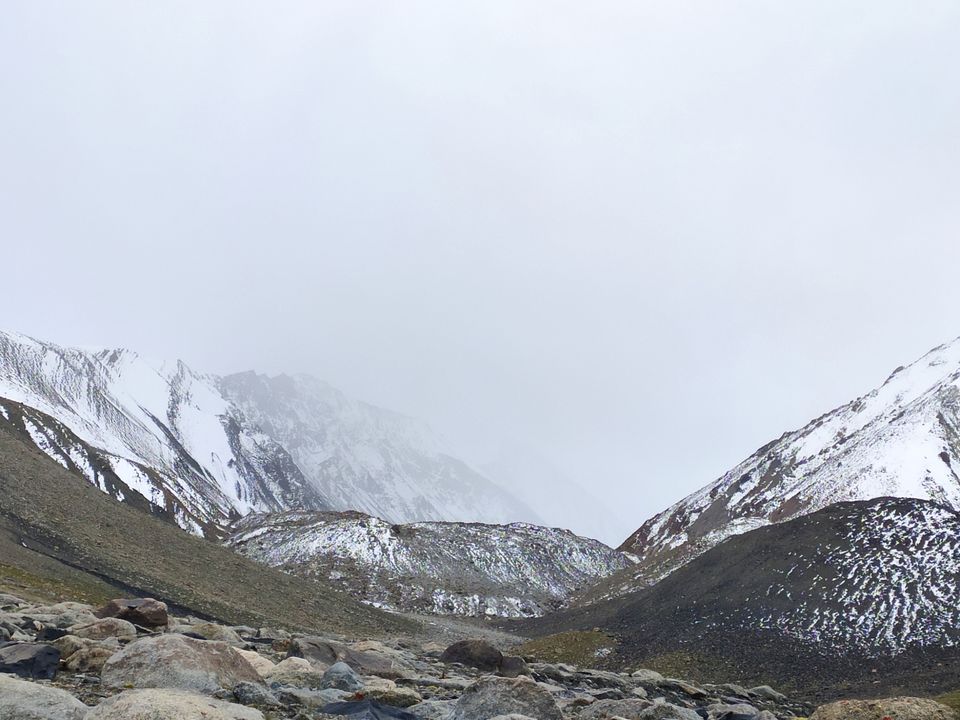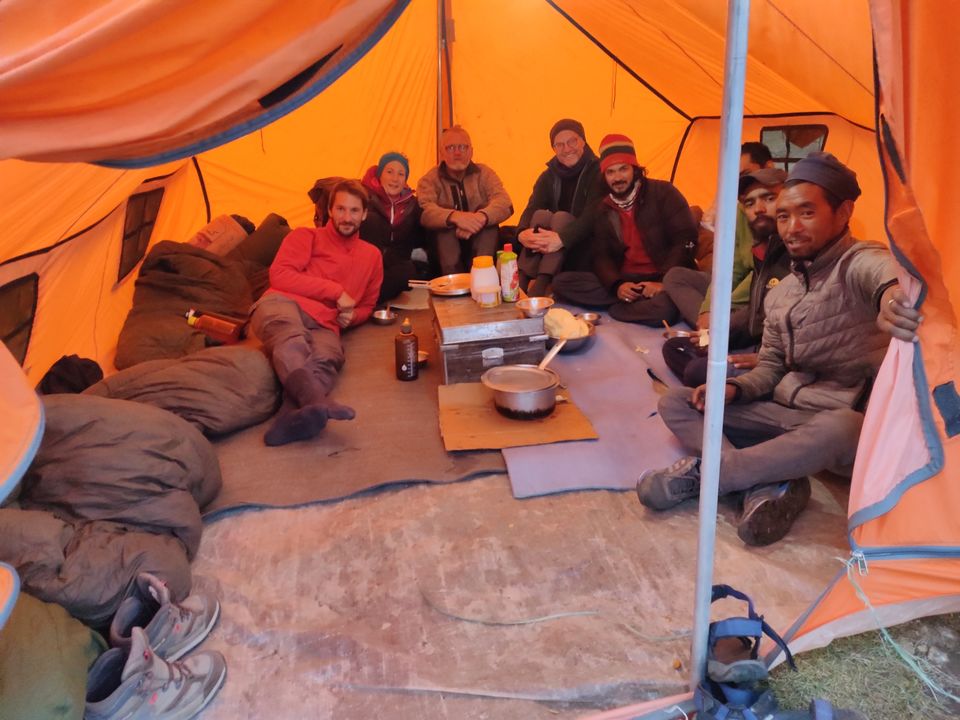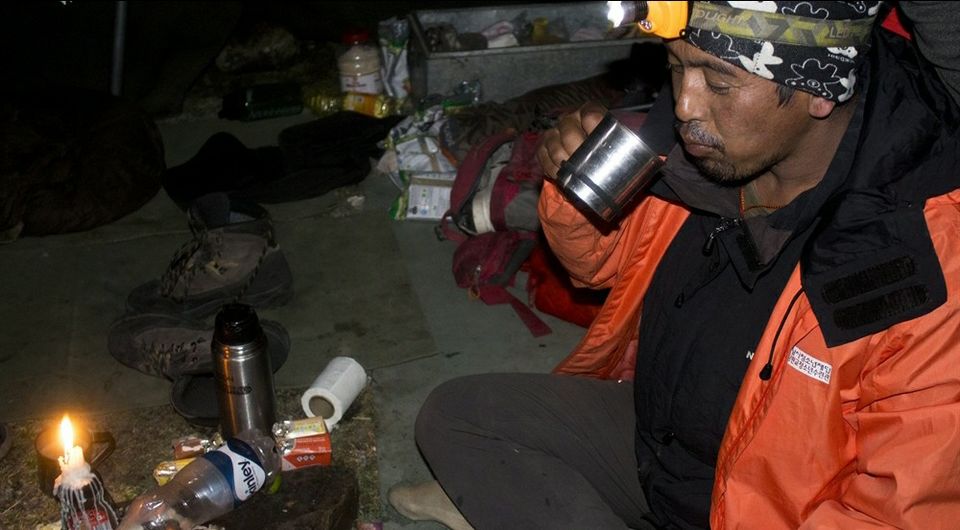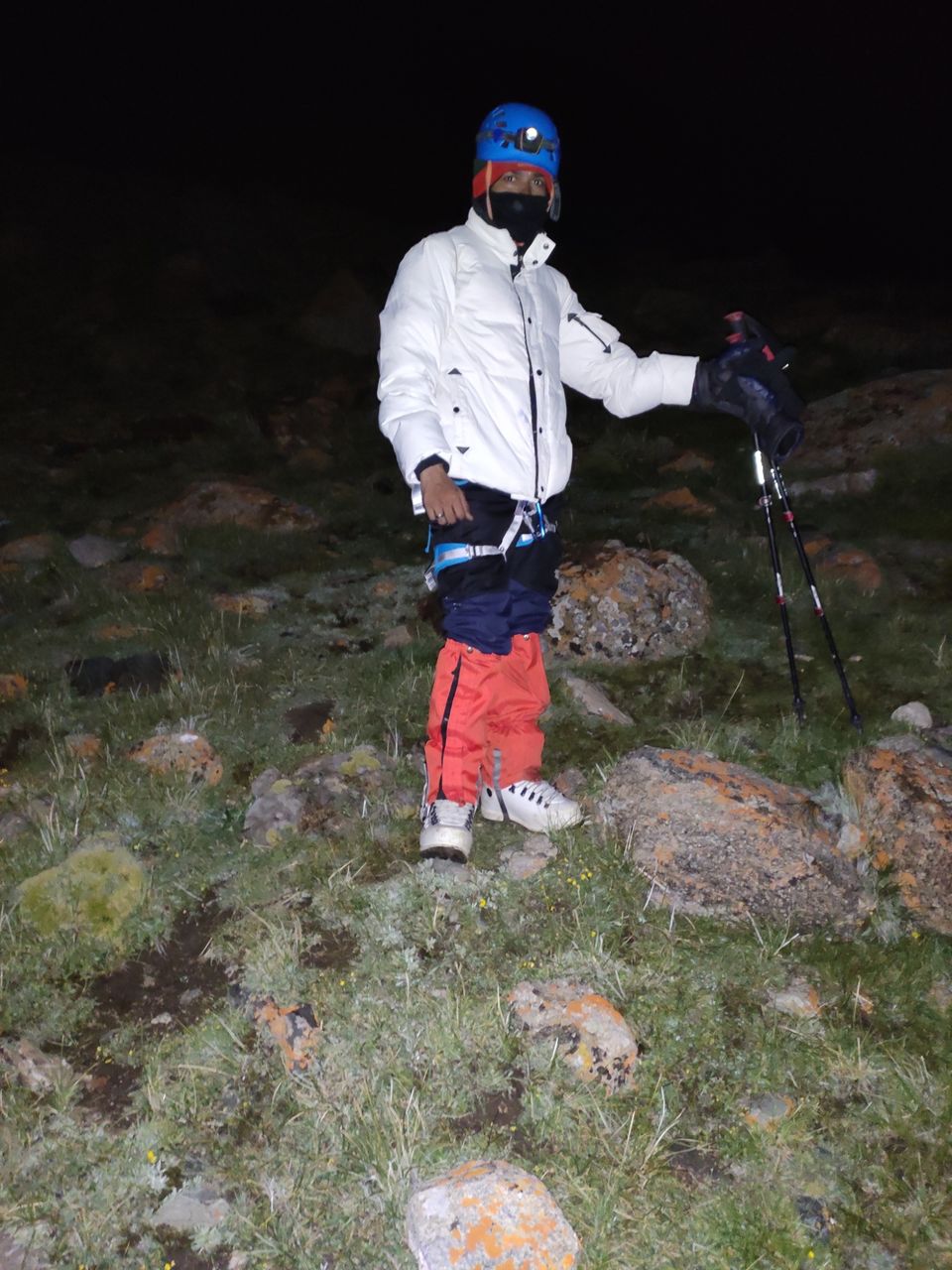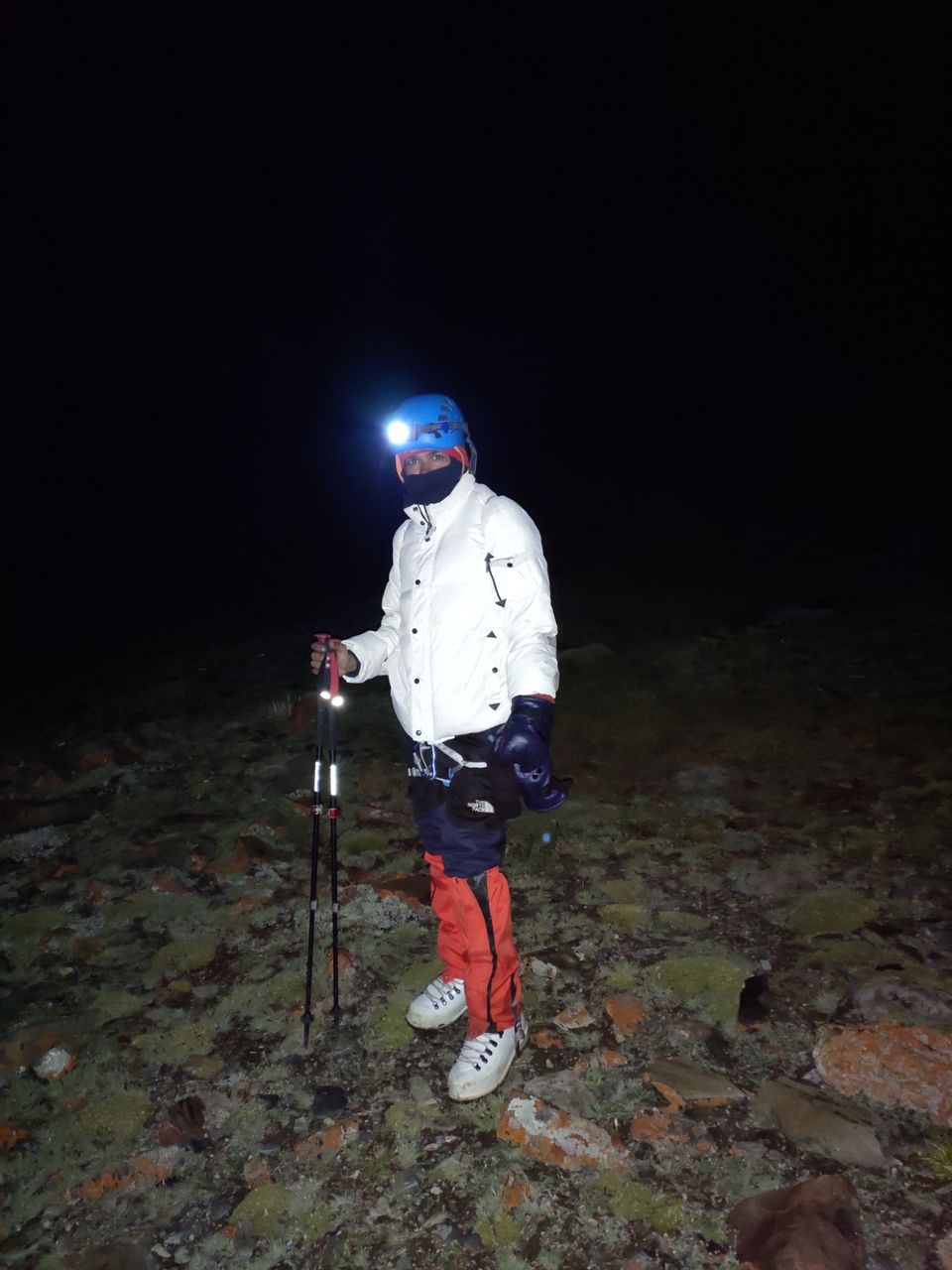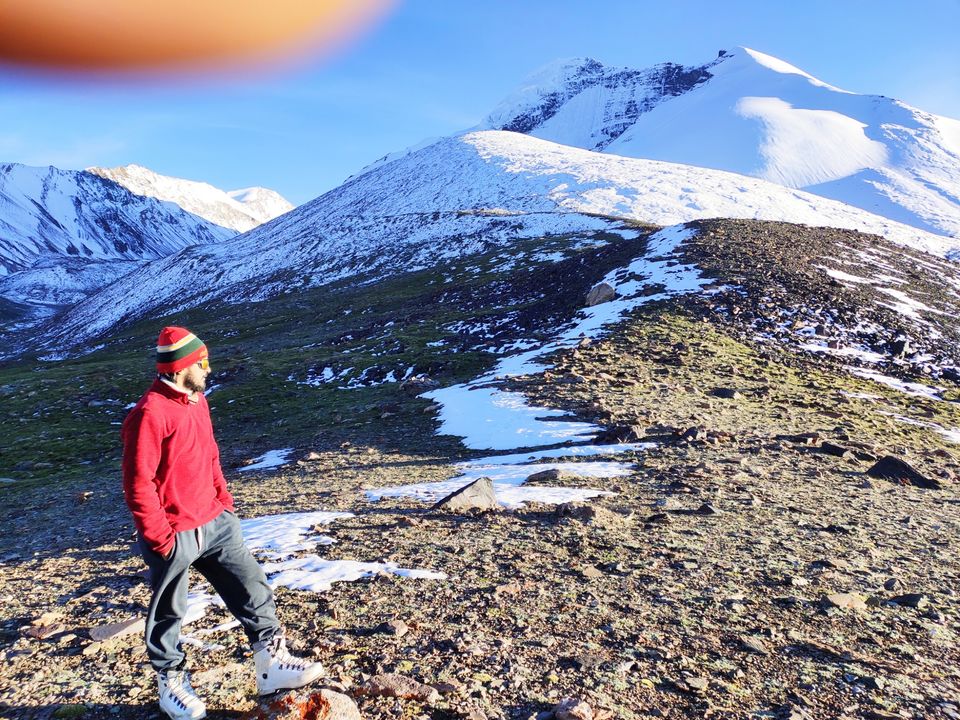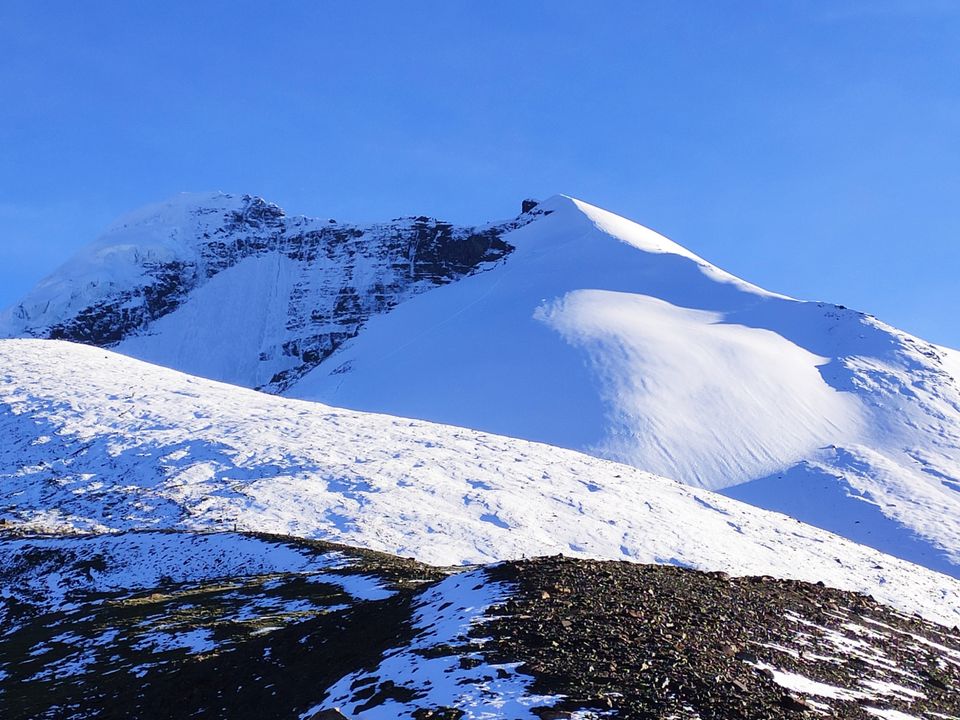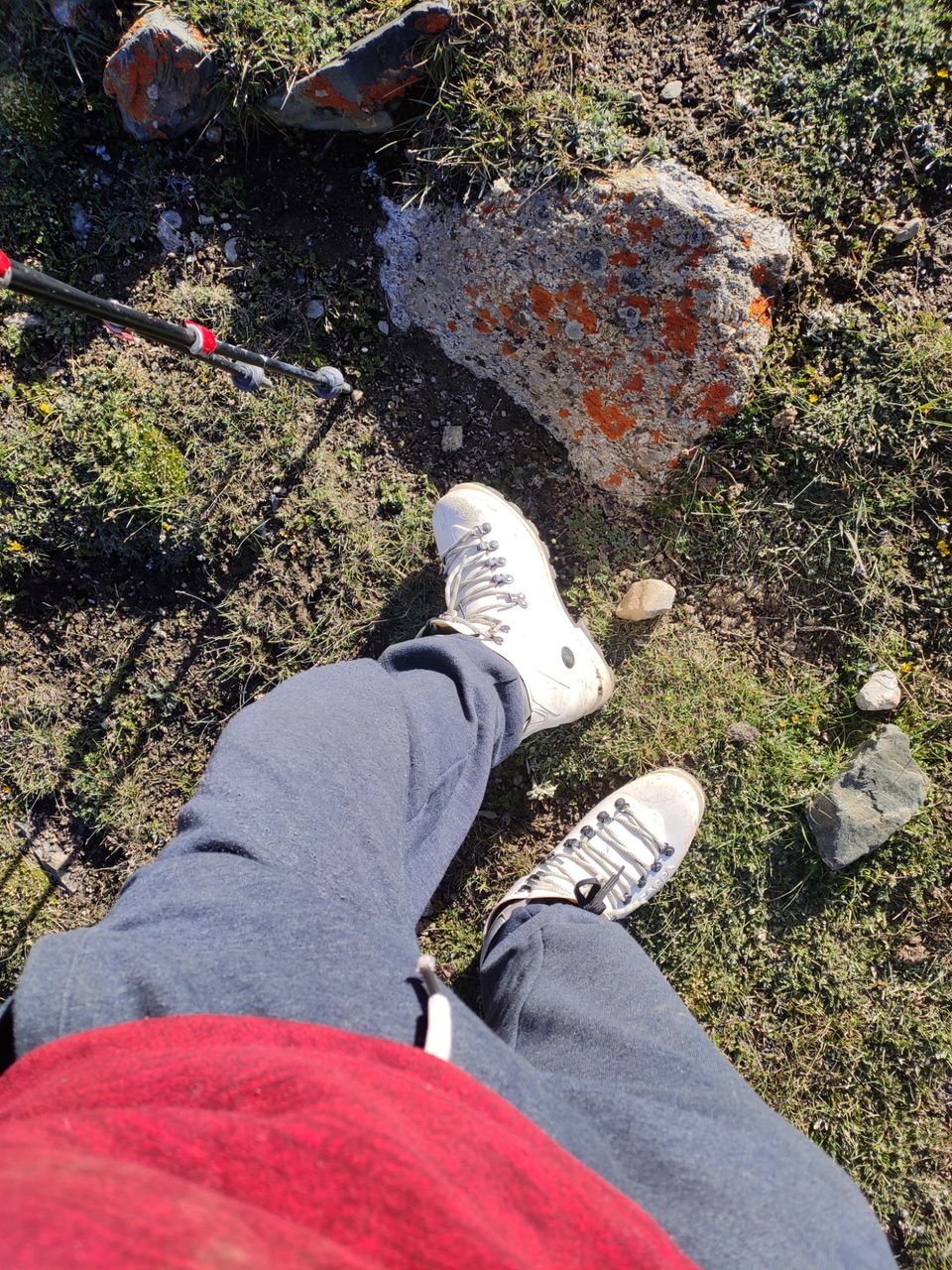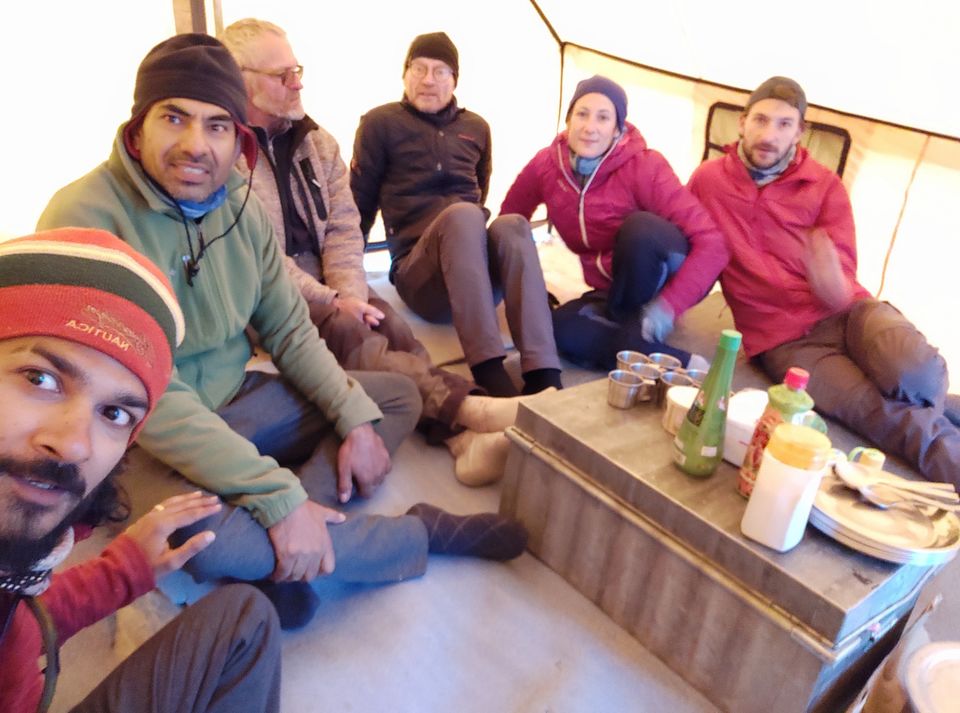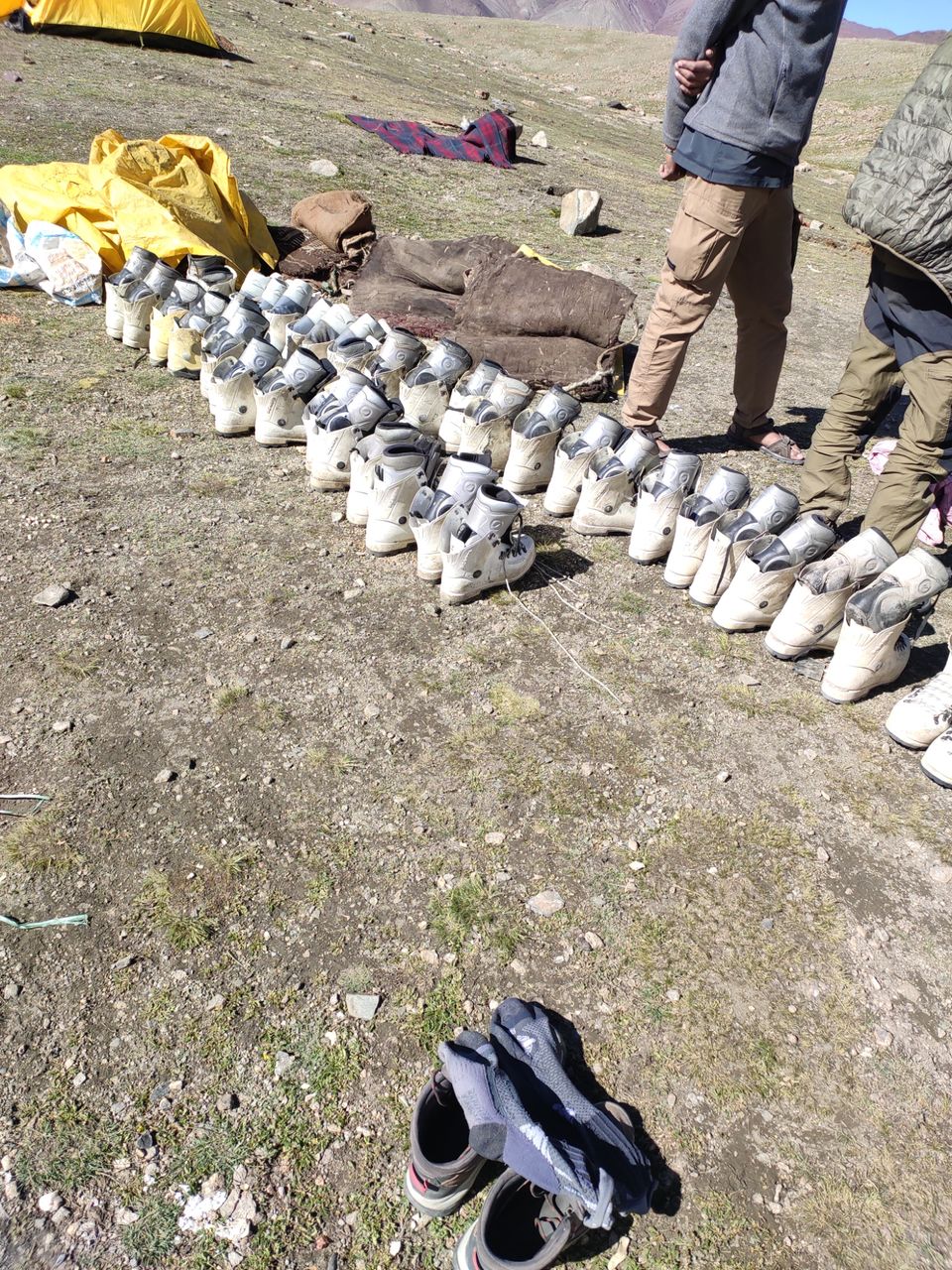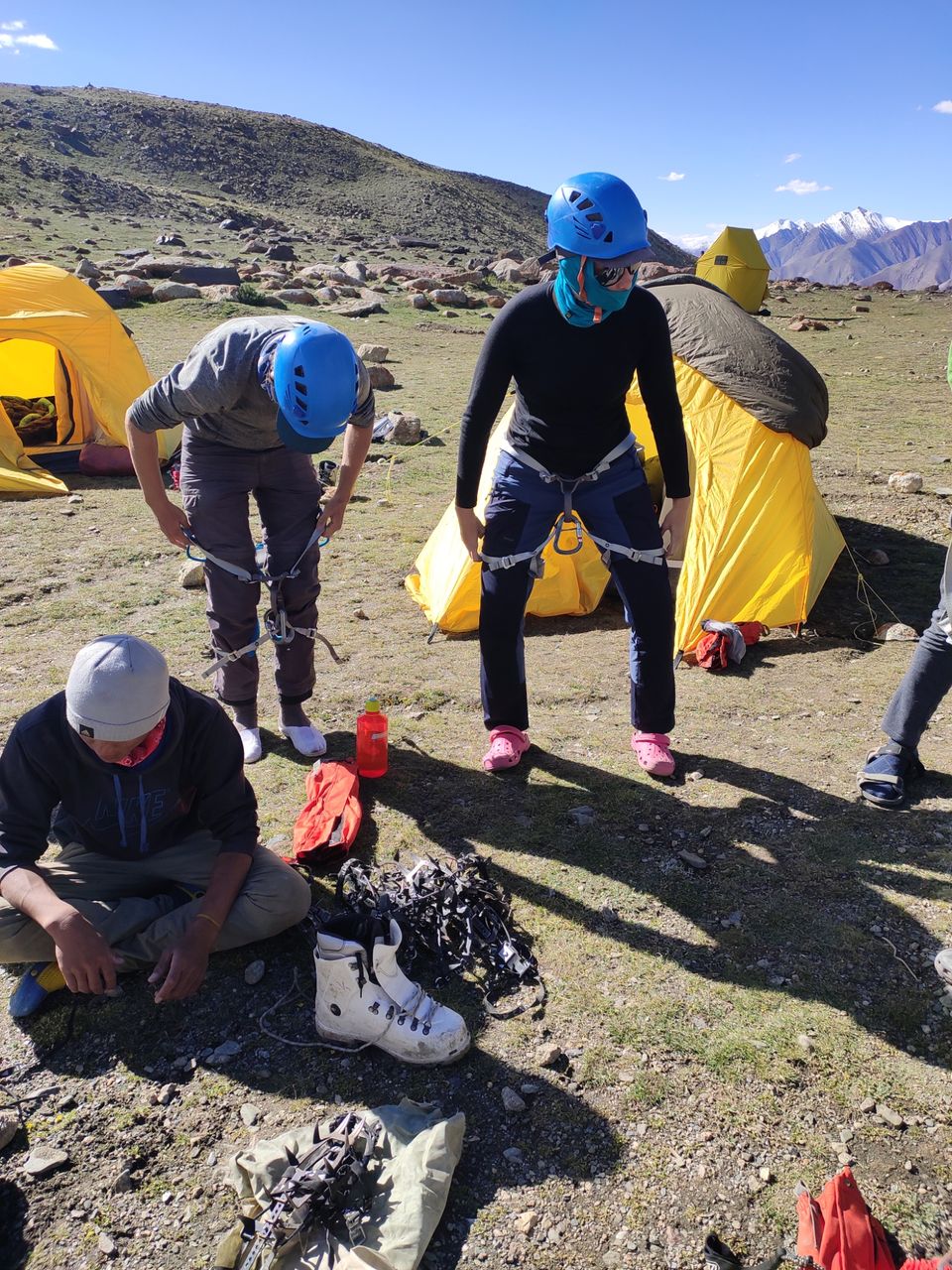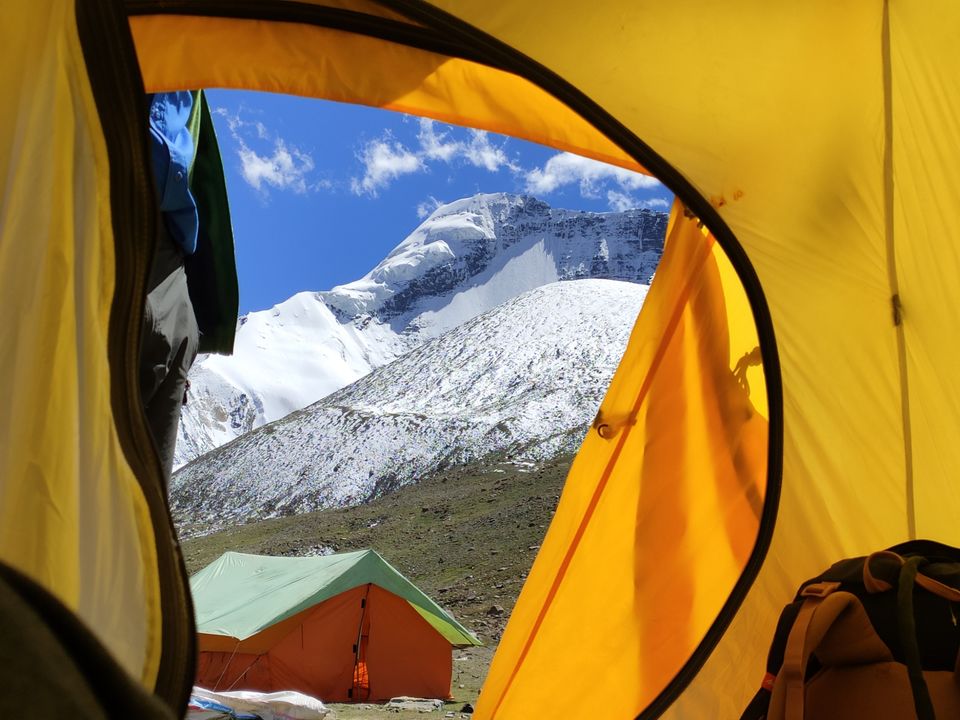 The nothing day.
" Stagnation is what I fear; adventure and failure are far, far better. Minimize the regret rather than risk"
If only there's a pill you can just pop once to get your broken heart to mend and take the pain away, people would be happier - I once believed in that. But every time I go for a trek I realise that a person needs to feel the pain and go through the entire process of letting go and moving on. I believe climbing a mountain is like dealing with a broken heart; you have no choice but to push through the pain until you become numb. And when you look back on the trail behind you and ask yourself if the pain was worth it, without a second thought you'll say YES. All the sleepless nights have a purpose.
Summit is called an attempt for a reason. You can only climb and embrace and never conquer. The fragile human ego has lot of deception to be cleared. It made me extremely happy and ecstatic to be coming on this journey after my accident. I take pleasure in completing two chapters. One journey was from my bed to basecamp and the second was from basecamp to the shoulder of KANG YATSE.
Chomdan was as gloomy as me, arthur, tamara, rudy and arthur for not reaching the summit. So close yet so far! But I am sure that's the reason they say "Journey is as beautiful as destination"
I took a stroll across the river where there was no one apart from grazing horses in the distant. It was a magical walk across multiple streams and stonehedge hopping. I put down my phone and camera to listen to some soothing music looking at the peak once again which was covered with fresh snow. The beauty was not meant to be entrapped in camera, I've still tried. Check out the snaps. The last leg was the toughest of all, climbing the mighty kongmaru la paas at 5130 m and an equally tough ride down. It was a visit to an avatar-like movie set descending through forest and barren land at a steep decline of 60°. We saw many deers, marmots, bharul (blue sheep), weasel, argali (ladakhi sheep), asiatic ibex on our way. After all it's HEMIS NATIONAL PARK. We crossed multiple streams and bridges trying to reach shamg sumdo where our car was waiting for us to take us to leh. The moment we reached our hotel, we jumped to take a nice hot water bath, got ready and met at a lounge to celebrate the NO MEAN FEAT with some beer and of course a cake. Check out the snaps.
To the mountains I've climbed, thank you for welcoming me with open arms. Thank you for reaching to the depth and every corner of my soul making my life beautiful as it is. Thank you for showing your beauty which never ceases to captivate me. Though it is true that I often come back home with broken or dead toe nails, sun-burnt skin, aching back and shoulders and scratches, you did one thing that I will forever be thankful for - You have healed my heart in its entirety and heal me every time I come to you.
Au revoir! Only to meet again.