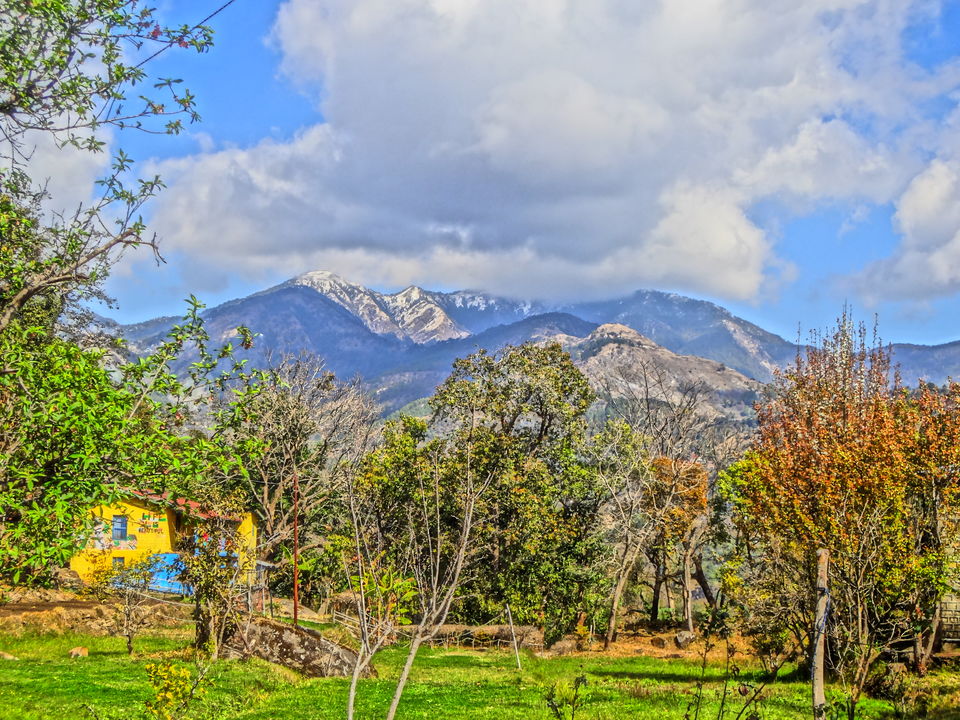 I know nearly everyone must have heard about kumaon
region in Uttarakhand but I think really few people know about
a place in that region called Jeolikot in nainital district .
My recent trip to jeolikot made me fall in love with this place
this place is situated near to nainital in a very secluded and peaceful environment.
Rich in flora and fauna this place fits for everyone needs
Whether you are here for a weekend getaway with friends
and family or looking for a place where you can read and
write or if you are a amid nature lover and bird watcher then
you are at the right place .
Day 1
Upon reaching jeolikot I went to India's first hiking hostel
Hots Hostel, so as the name suggest hiking hostel you need
to hike for around 700 meters to get there, the hike takes
you from beautiful thick forest of jeolikot to a very small yet beautiful village called Gajari ,
In between the hike you will find 1-2 small village houses
made in traditional Kumauni architecture, I noticed nearly all
the villagers have pet animals like dog, cow, goat etc.
After giving my lungs an exercise for about 20-30 minutes I
reached the Hostel and was really stunned seeing their vast
property they have with a beautiful view of the mountains, I
was welcomed by a dog named shanti she went on playing
with me, they have a café in which they serve nearly all
meals, I ordered a fresh lime soda and it was really the thing which I needed to refresh me up with,
The best thing of their property they have dorms and private
rooms which dates back to British time, 126-year-old
traditional British cottages, I stayed in dorm with some
fellow travelers along with me, all nearly possess the same interest as me,
Later in the evening I went to a small open bamboo hut
where the bonfire was placed and they called it as Dhuni ,
I really liked the concept, all travelers sat around the fire
place and we all were sharing our unique an exciting travel
stories and had some light snacks and booze, I really enjoyed
that evening, after that we all had our dinner cooked by chef
Hira ji mostly called bubu in Pahari accent and serve with all
love by Manish, the day ended really well, and I went for
sleep.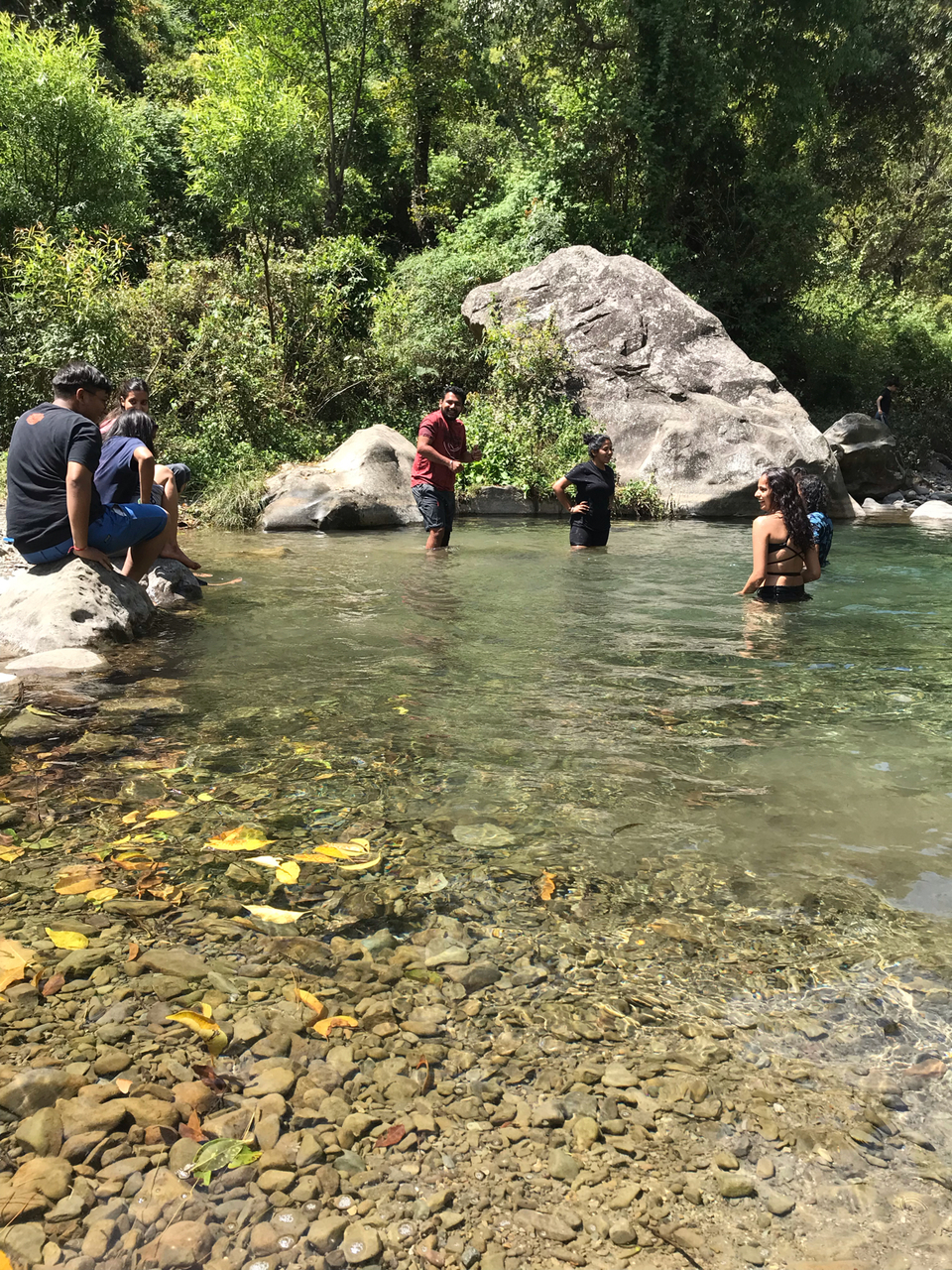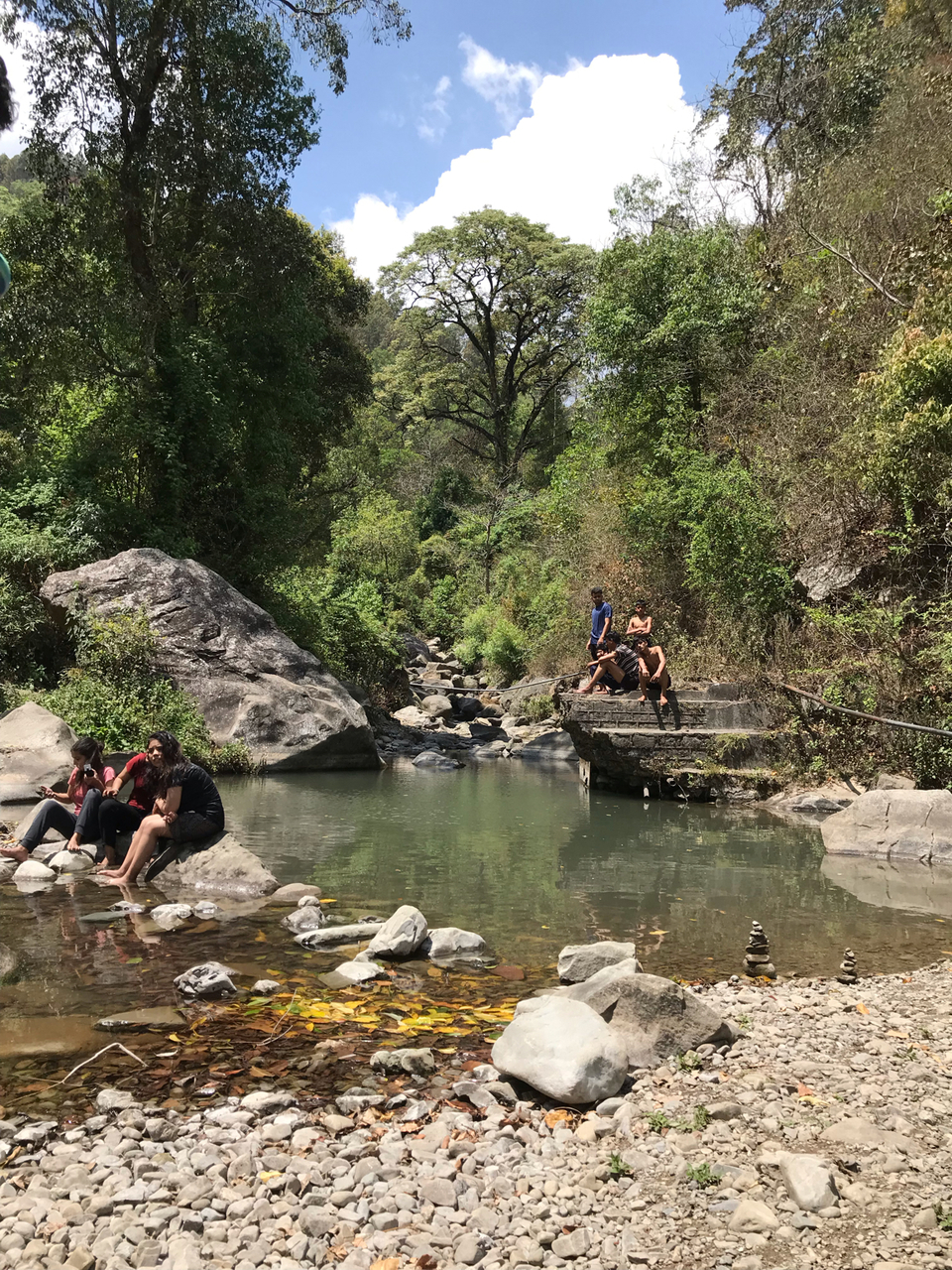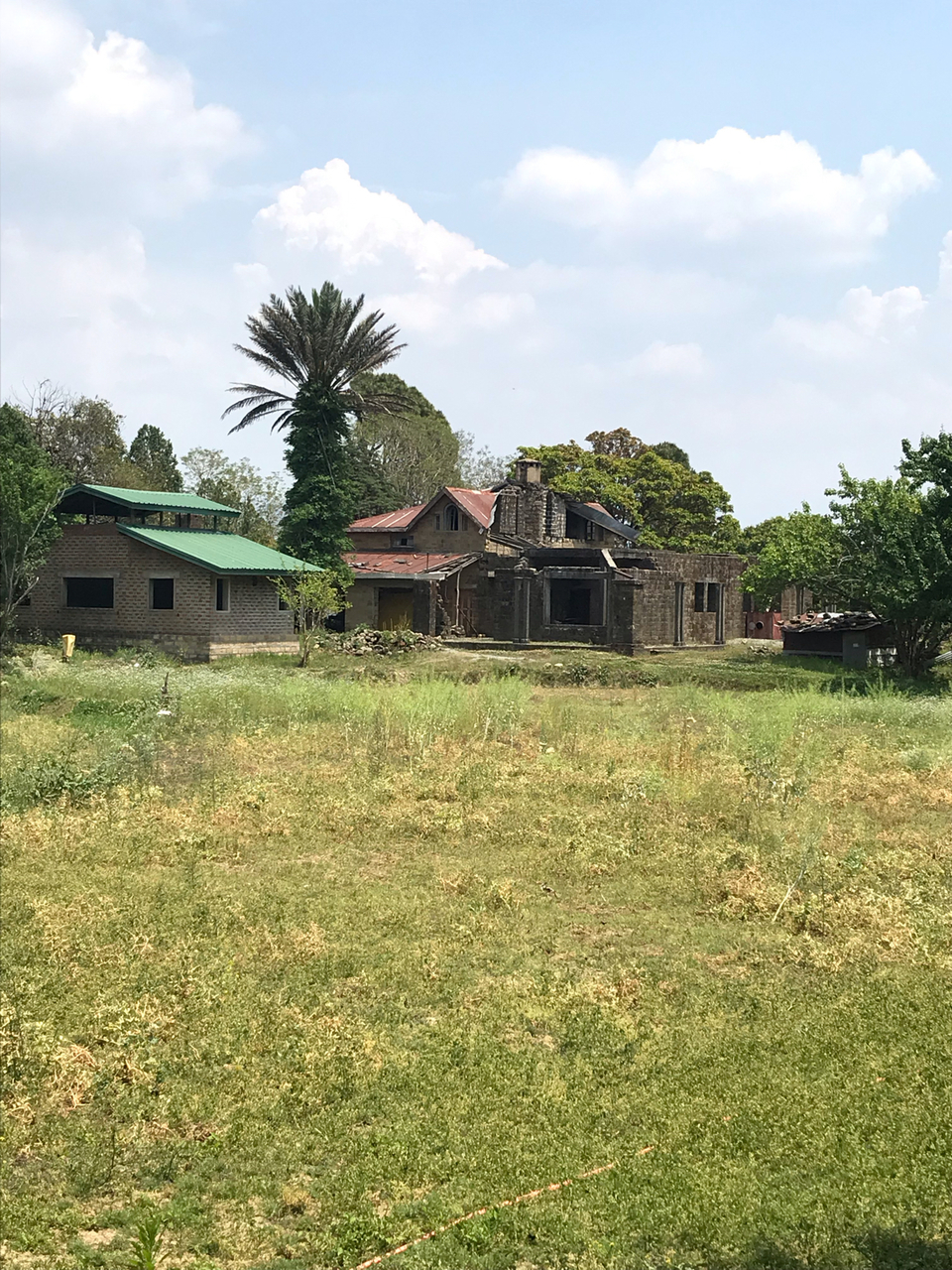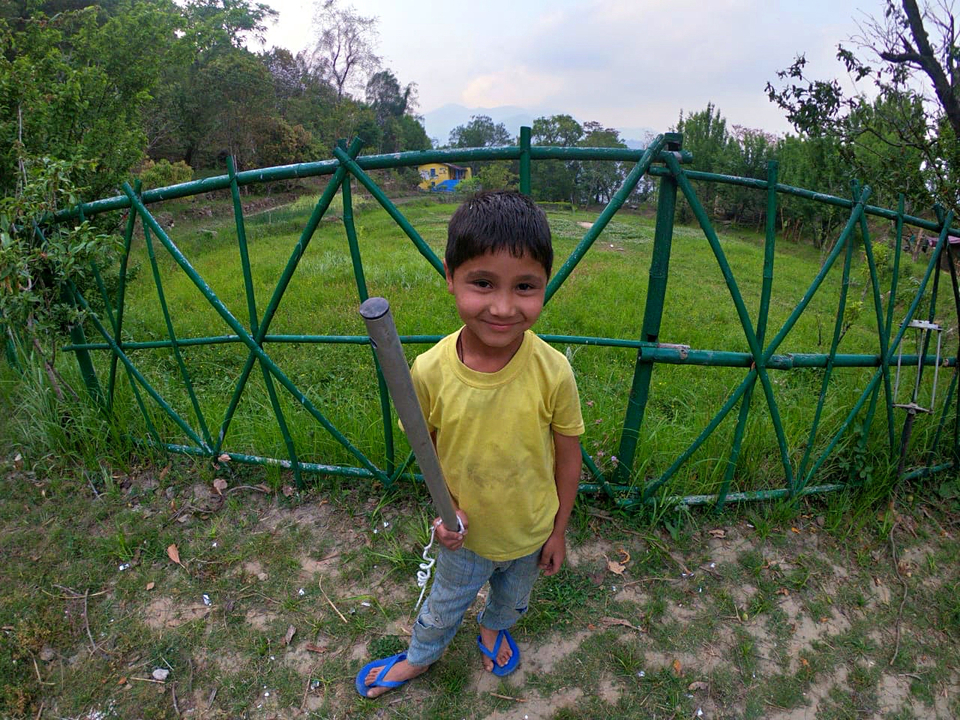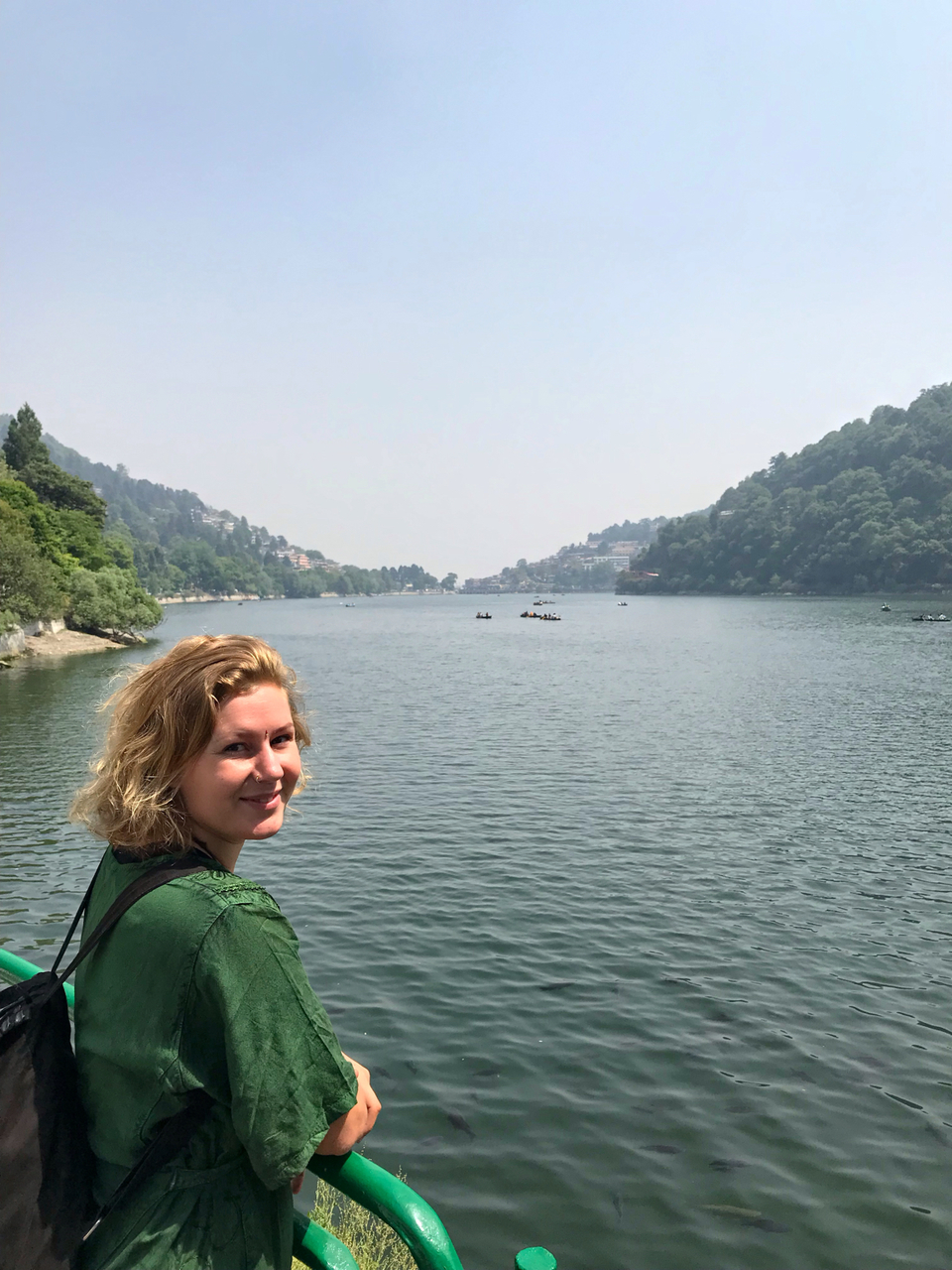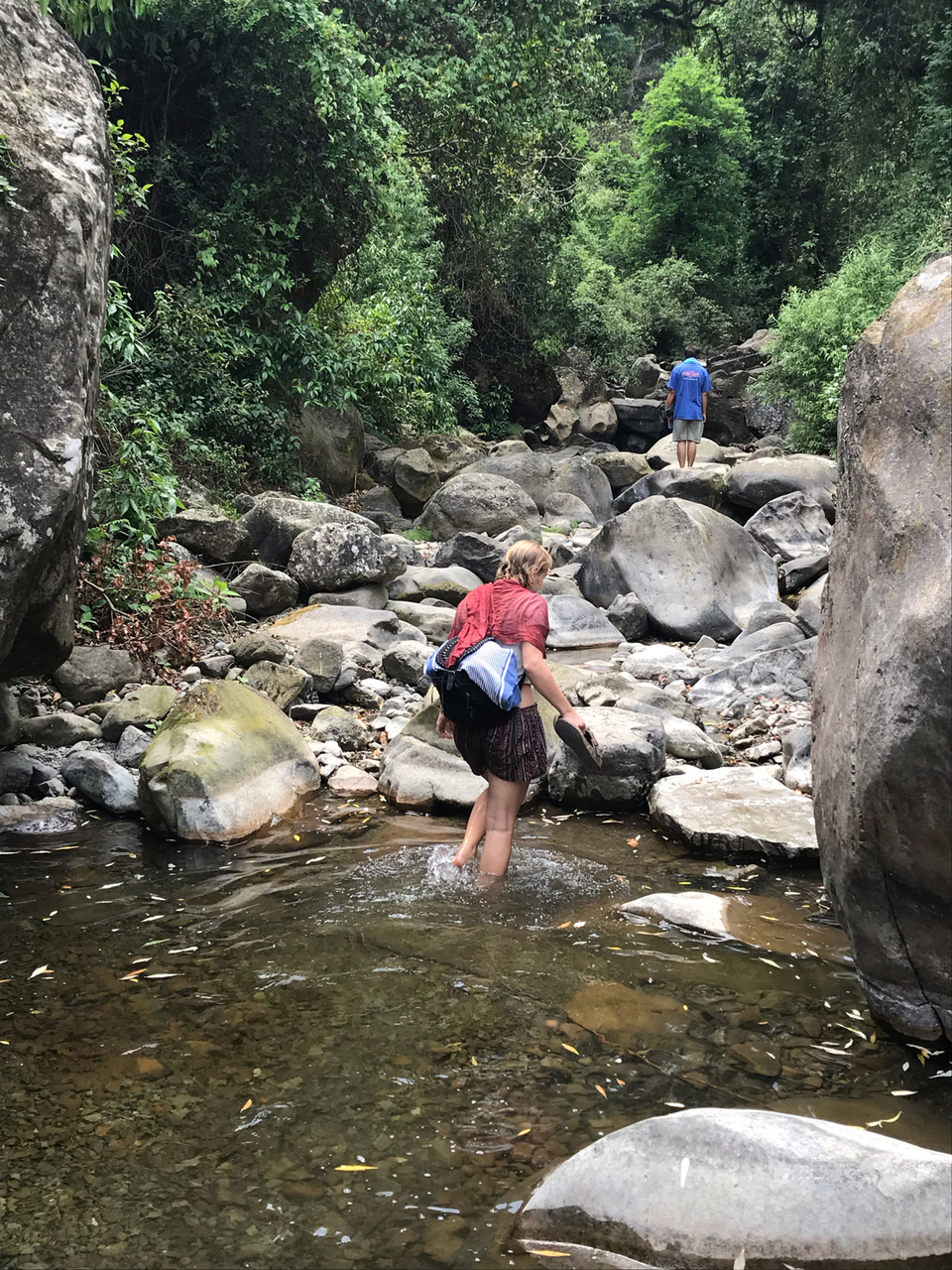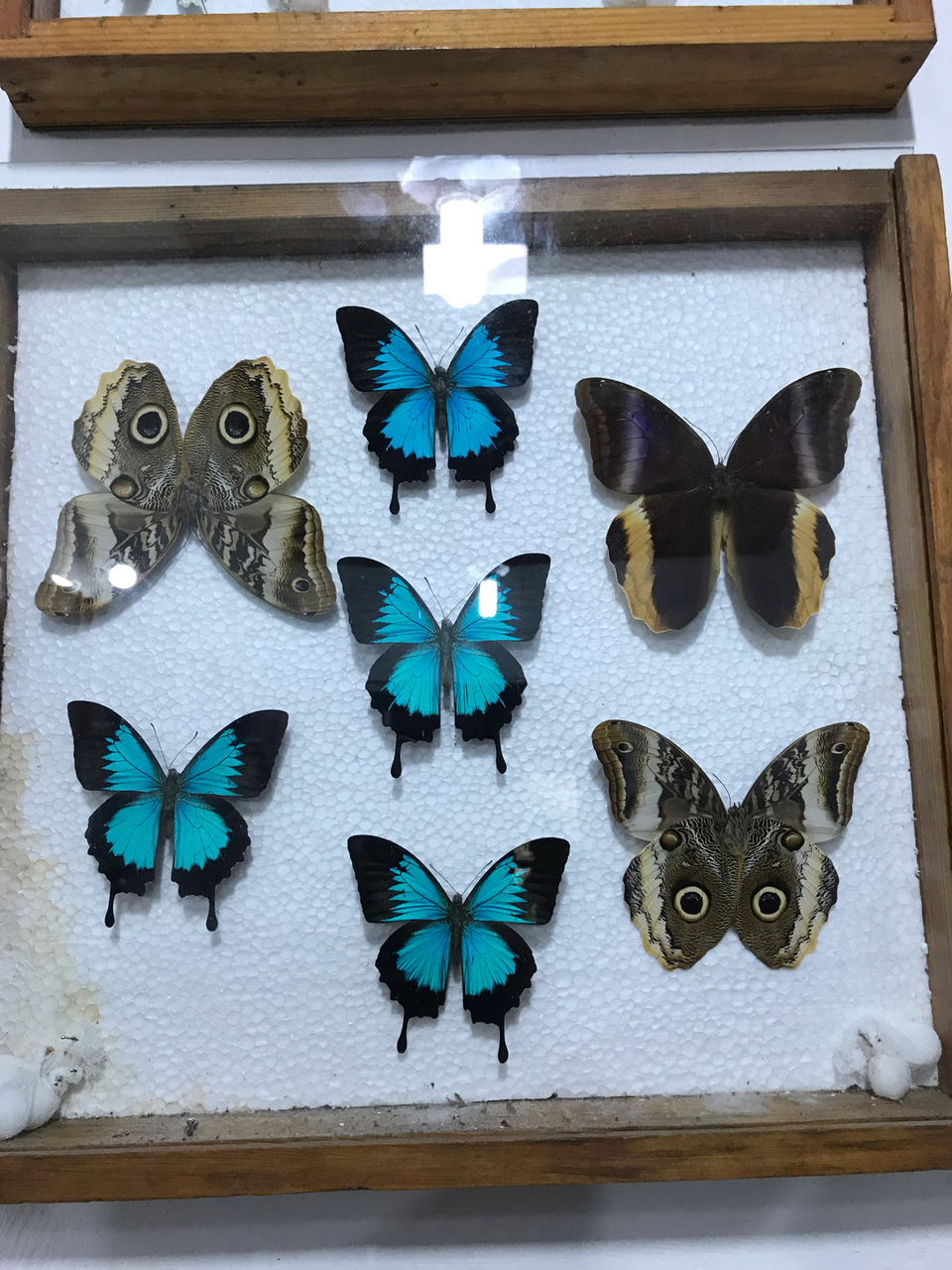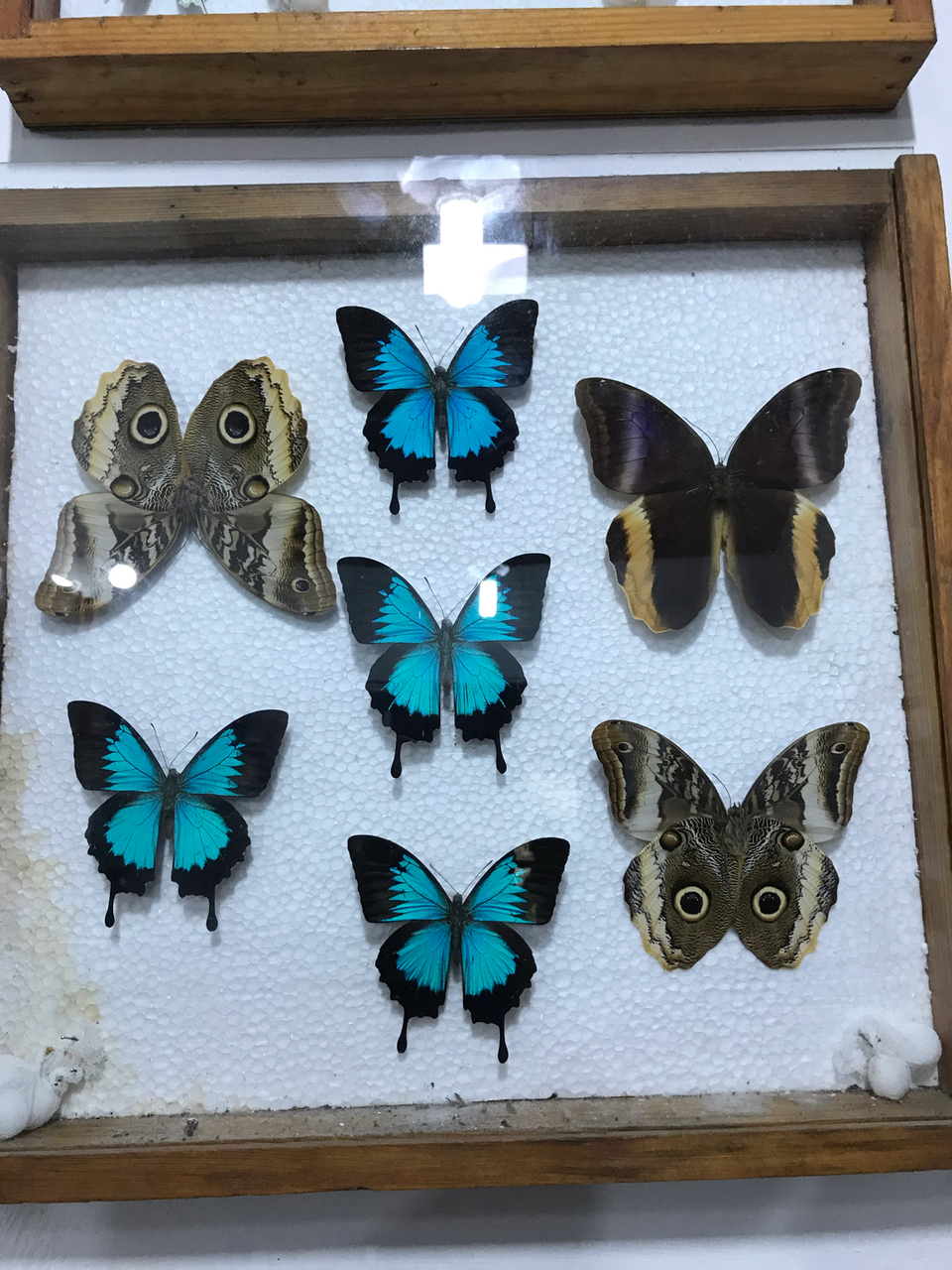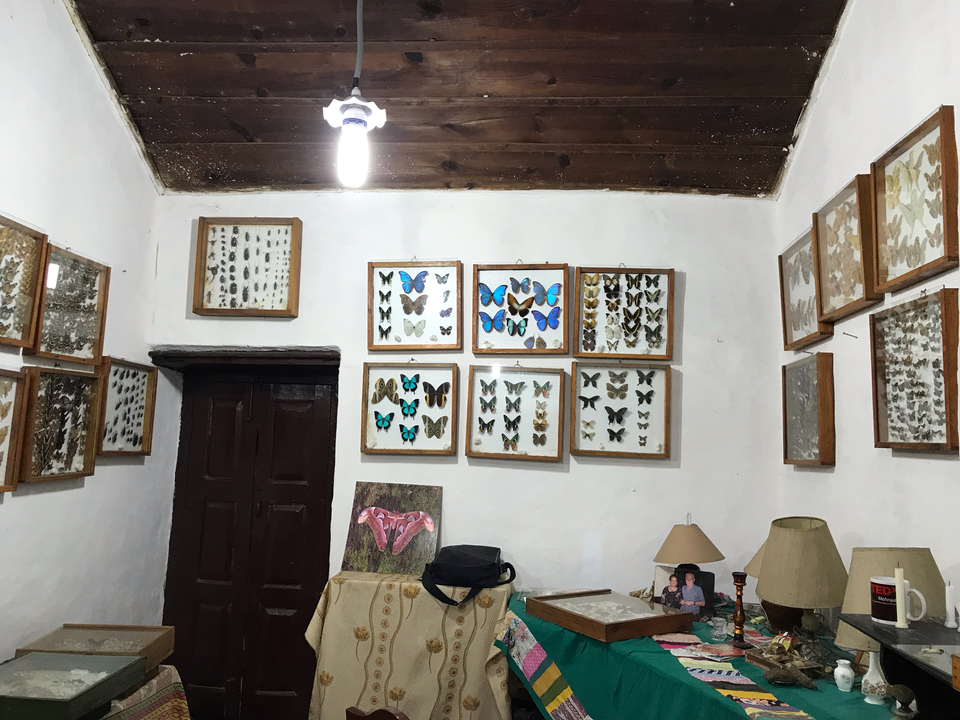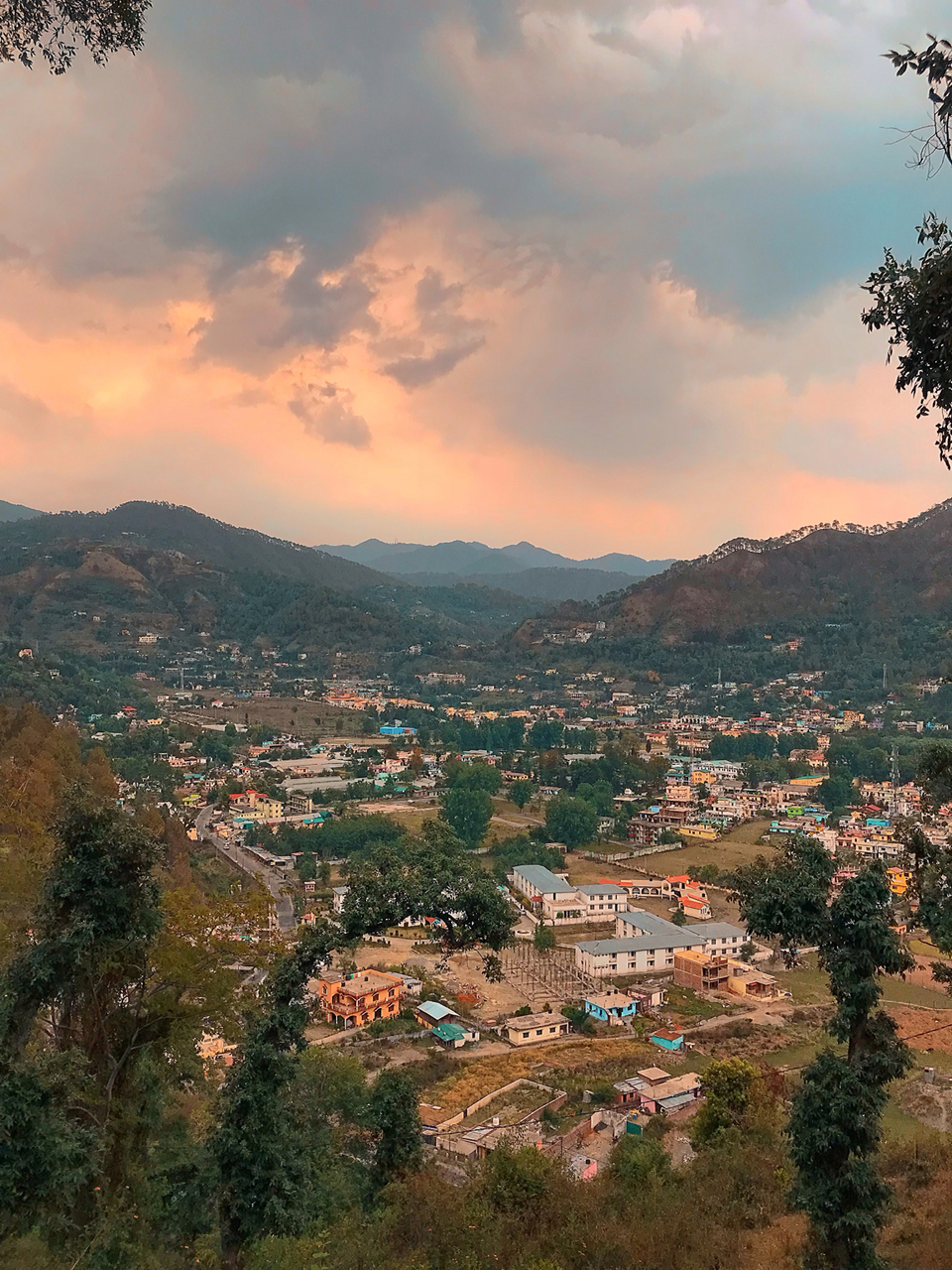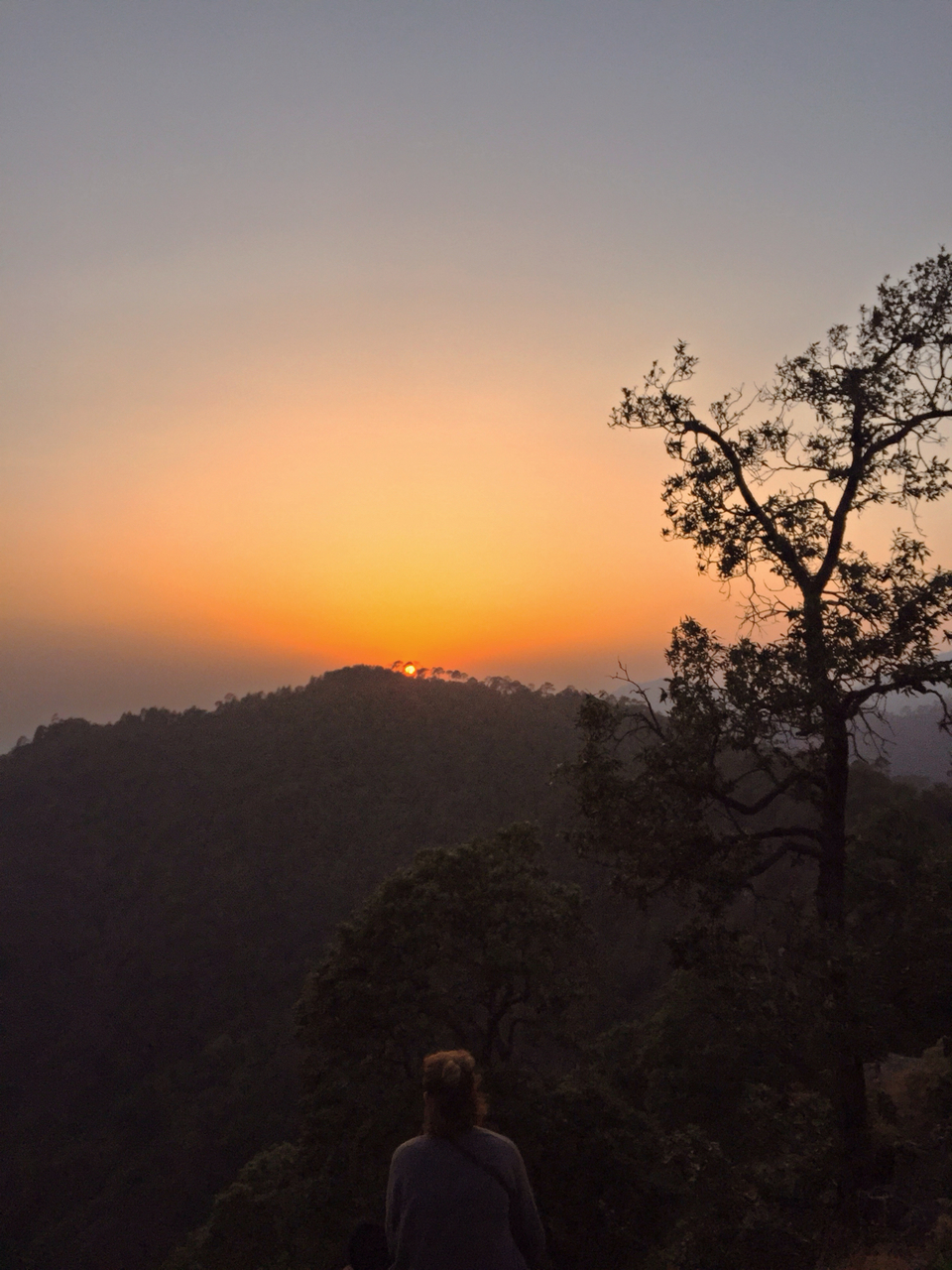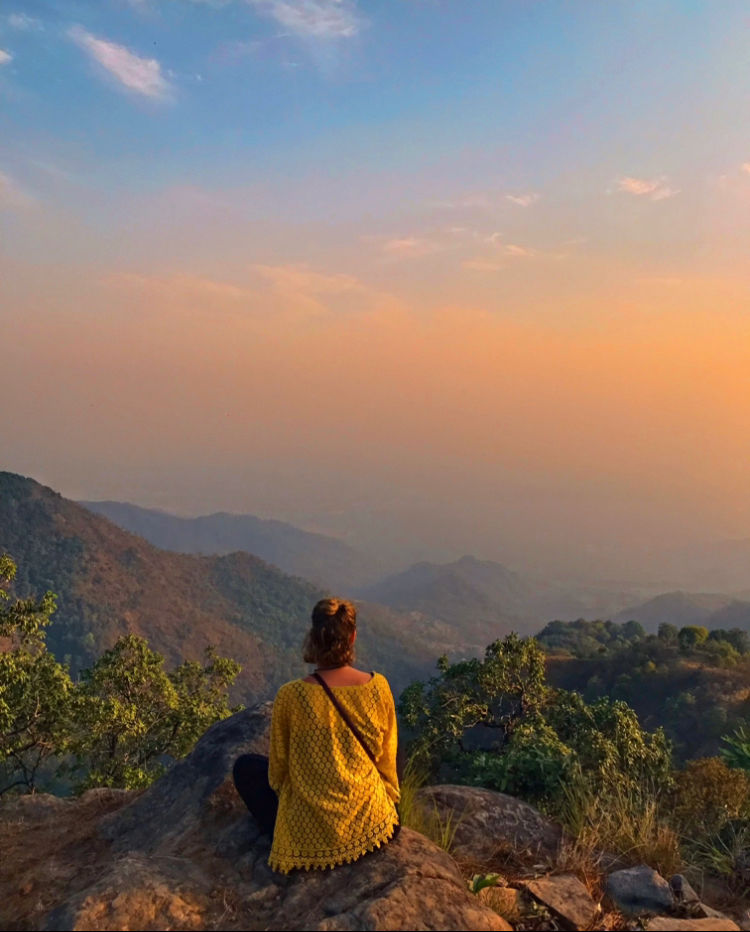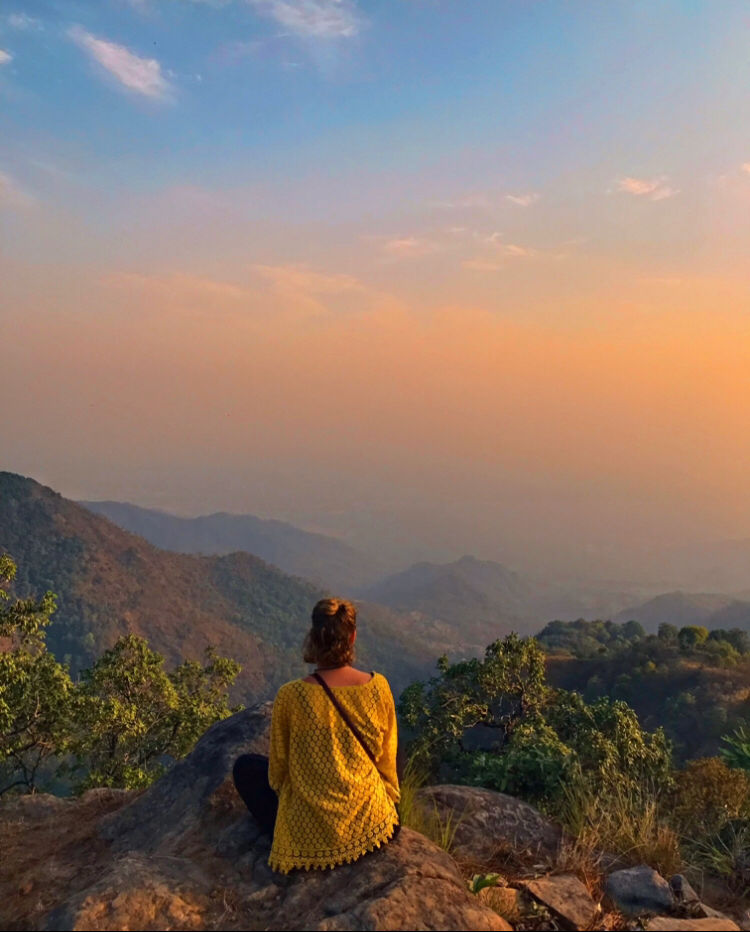 DAY 2
In the early morning I woke up by the sound of birds chirping
all around my place and it was so magical to watch different
species of birds that are hard to find in our cities,
Later I was called for breakfast and was served with Bread
butter, porridge and juice healthy right and tasty too.
After that it was the time for excursion, we all along with
Manish went to lagoon trek or water stream trek down in the
forest crossing villages, we reached and we all were
awestruck by the crystal-clear water everything was visible
underneath the water every stone, without wasting further
time I jumped into the lagoon which had freezing water and
refreshed me from within, I also tried fish pedicure for a
while and that tickling of the fishes made me really happy
, than we all went back to hostel for lunch, Bubu served us
bhat ki chutkani traditional Kumauni dish with fresh and
hot chapatis,
I was really hungry after playing in the water,
I was also told about another trek in jeolikot called sunset
trek or zero point trek, so I decided to do that trek in the
evening,
After resting for a while , I went on for that trek , this trek you upwards to the peak by crossing between many small villages , the trail of the trek is quite steep , but the location you go through will really amaze you , also you will find many local women working in their fields with a smile on their faces , after hiking up for around 35 minutes we reached at a temple called Bhudbhumiya Mandir , this temple has a major significance and importance for the people of jeolikot , just few steps from the temple we reached the sunset point and believe me the view was simply mesmerizing , the smooth breeze bought relaxation to everyone's face and filled it with joy .
I sat down for a while to get the most out of this beautiful place and waited for the sun to set , the sky gave numerous colors to see , after a while the sun was about to set the sky turned black after a while and we all were awestruck to see this kind of beauty of Nature .
Manish carried tea in a hot thermos which we all had before returning back to the hostel, the hike was worth every second.
We went down to the hostel and once again we all sat around the bonfire sharing experiences, photos and we didn't knew when the night passed away with laugh and learning new things from each other.
SHOPPING AT JEOLIKOT
Not much people know that Jeolikot is a paradise for fruits lovers and it's also a popular Fruit market in whole Kumaon region. Numerous exotic fruits are grown here including apples, peaches, apricots , strawberries etc. .
The must purchase is the organic honey, and fruit products like jam, fruit crushes and spreads .
Some interesting story about jeolikot guardian ghost
The story I am about to describe is what villagers of jeolikot told me.
It was sometime in the late 19th century when a certain Lt Col Warwick arrived in the village of Jeolikot near Nainital. Jeolikot was a designated station where the British men and horses rested before they proceeded to Nainital, a popular hill-town among the British who seeked the pleasure of European summers in India.
Warwick fell in love with a local girl and decided to construct a mansion here and live with the girl who he eventually married. This village, until then a camping site for the British, became home to many other officers after Warwick's house came to existence.
After a few years into the marriage, his wife passed away. Alone, Warwick lived in this massive house with 20 rooms all by himself. The servants weren't allowed inside and trespassers were often chased away. He had a personal church and a hospital within the property and the dilapidated structures still stand there.
After Warwick's wife's death, villagers noticed something strange. Every night they saw a woman riding a horse around the village and they could hear it galloping. Some curious villagers found out that it was in fact their Warwick Sahab who dressed up as his wife and rode his horse around the village every night.
Some say it was the despair of the young lover who missed his wife, others called it a sexual awakening of Warwick but the village accepted their Sahab's behaviour. People started believing that Warwick dressed up as a woman on a horse was their protector at night from not just dacoits but also wild animals.
Years later the believers still hear the horse galloping at night and Warwick dressed up as his wife on a horse is the Guardian Ghost Of The Village
PLACES TO VISIT AROUND JEOLIKOT
1.NAINITAL – SITUATED AT A DISTANCE OF 18 KM FROM JEOLIKOT , Formerly a British hill station, it's set around Nainital Lake, a popular boating site with Naina Devi Hindu Temple on its north shore. Mountains including Nanda Devi, Uttarakhand's highest peak.
2. BHIMTAL – At around 32 km from Jeolikot , Bhimtal is a perfect place to go on a day trip , there's a Butterfly research Centre and an aquarium in the center of Bhimtal lake .
3. Aries - Aryabhatta Research Institute of Observational Sciences (ARIES) is one of the leading research Institutes which specializes in Astronomy, Astrophysics and Atmospheric Sciences. An autonomous body under the Department of Science and Technology (DST), Government of India, the institute is situated at Manora Peak (1,951 m (6,401 ft)), about 9 km from Nainital, a popular hill station in Uttarakhand, India. The astronomical observatory is open to public during working days at afternoons, for night viewing however, three four days on moonlight nights are fixed and prior permission is needed.
4.KAINCHI DHAM - Kainchi Is a placed at an altitude of (1400 MT) On the Nainital – Almora Road, at a distance of 9 Km from Bhowali and 17 Kms from Nainital is a modern pilgrim center. This place has achieved recognition owing to the ashram of the famous Shri Neem Karoli Baba Maharajji .
5. Naukuchiatal - IT is a lake in Nainital, known for having nine corners. This lake is still untouched by majority of the tourist population and owing to this, has managed to maintain its serenity till date. Take a walk around the nine cornered lake to enjoy the beautiful natural setting. Otherwise, you can also go on a boating tour , paragliding and explore the scenic surroundings.
PLACES TO STAY
1. HOTS HOSTEL – TARIFF 500 PER NIGHT for Dorm WITH BREAKFAST .
Private cottages - 2k per night for double Sharing .
NOTE FROM THE WRITER
I was really filled with joy seeing how small things matter the most to the villagers , they nearly find happiness in everything they do , living a happy life away from city pollution and noise is what everyone's is dreaming but let me tell you there's a major difference in visiting a mountain and living in the mountain .
Living in the mountains requires strength, patience ,one have to work hard for each and every thing , living in the mountains teaches how to be calm and how to deal every situation with a smile on the face .
Also keep Himalayas and Mountains clean , keep a portable dustbin in your car don't throw the garbage here and there .
If you are doing any treks in mountains try to carry a bag in which you can put all the waste material , also try to collect waste materials you found on your way when you trek .
#keepexploring and Happy Travelling.
Follow me on Instagram @explorer_explore .