After a long time i am again back to share my experience of travelling to this little hill station known by the name of Bhimtal. I will start the blog with the famous quote that "its not the destination what matters is the journey" thats why always i prefer road trip because in that way one can really enjoy the journey. So this trip was initiated by one of junior in my organization Vishwajeet. One fine day i received a call on my intercom when vishwajeet told me that sir lets go for a bike ride, since i had done few solo bike trips i was bit happy that this time someone asked me for the bike trip. where in past its me only who begged to my friends for the bike trip but when no one shows interest at the end its only me riding solo to some destination, you guys might have seen in my other blogs. Anyways coming back to this trip he also suggested that we should ask Ravi one of our junior to come along with us as he has recently purchased new bike. Initialy i showed no interest as i have already done udaipur ride previous month. But vishwajeet insisted and said sir you search the place and since it will be first ride for ravi we will plan a ride within 300 kms. He suggested nainital, but since i have been to that place many times i dropped nainital, the he told me sir you decide the destination and we will ride. On that day after returning home i started searching place within 300 kms from delhi. When i was searching i came across "BHIMTAL" , it was just 302 kms from delhi and near to nainital, i thought we can plan to bhimtal stay there and do nainital day trip from there as vishwajeet wanted to visit nainital. Also the most important thing why i zeroed in to bhimtal because i came to know that one can do paragliding there. Because earlier i always thought that if i want to do paragliding than i must have to go Bir in himachal, but i was happy to see that bhimtal offers nearest paragliding site from delhi. Next morning i called vishwajeet and told him about bhimtal , he gave his go a head and meanwhile ravi also showed interest. So finaly we planned our trip between 15-17 oct 2017. 15 being saturday we planned to start our journey. As always i prepared a flag for this trip that i had mounted on my bike. The flag that i made from a local printer shop looked like as below:-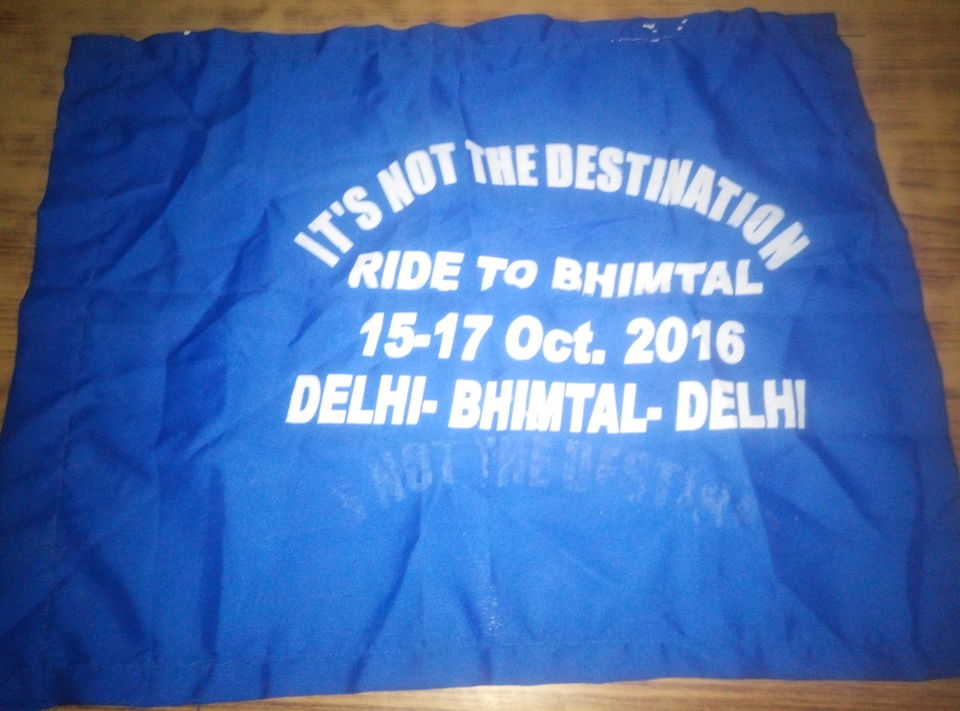 As always, My dad prepared my travelling bag and vishwajeet came to my house on 14 night. We told ravi to meet at my place in morning. We decided to leave delhi by 0600 hours. After final packing me and vishwajeet went to sleep by 2300 hours. I was dreaming about myself riding to a natural valley when sound of my alarm jolted me to get out of my bed. When i opened my eyes it was 0510 hours. Vishwajeet also opened his eyes after listening to the alarm. By 0600 hours we got ready and started loading our bikes, ravi messaged us that he is waiting for us at the main road near tilak nagar police station. We quickly reached to him and helped tied his bag with bungee ropes. By 0630 hours we kick started our bikes from tilak nagar and headed towards NH-24. We took the road from tilak nagar to dhaula kuan --akshardham ---and touched NH-24. We all were cruising at a speed of 70-80 km/hr when we crossed hapur by pass. Since i was aware of this route since my garhmukhteshwar ride i knew that there is a good dhaba with name Shiv tourist dhaba by our side. We stopped there to have breakfast. The following are the few pics from our stoppage at shiv tourist dhaba:-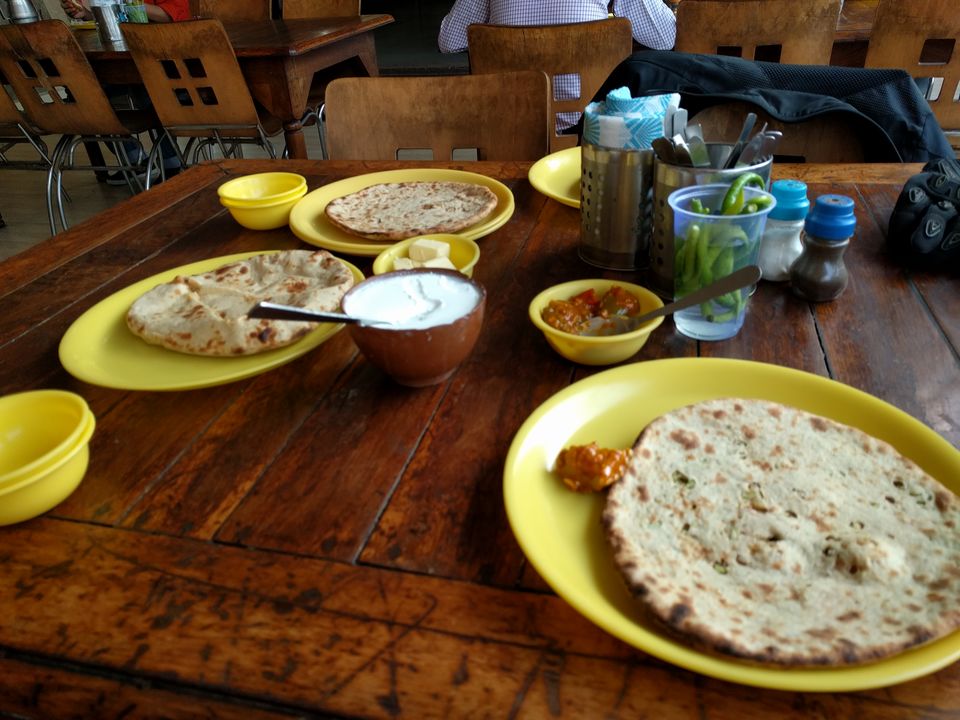 After having a good breakfast we again started our ride. We cruised at a speed of 70-80 km/hr and crossed garhmukhteshwar---gajraula---moradabad bypass ----As we reached rampur we quickly took a tea break, thereafter we started again and i would like to share this experience of the road from rampur to rudrapur This stretch is completely off road road with holes patches in short very bad road heard from locals that this piece of road is not getting developed because of state fight (between UP & Uttarakhand). Anyways after a rough patch as soon we reached rudrapur and entered uttarakhand again the roads become so great nice road with monkeys alongside and green trees. Here is a pic which i took at entrance of uttarakhand after rudrapur:-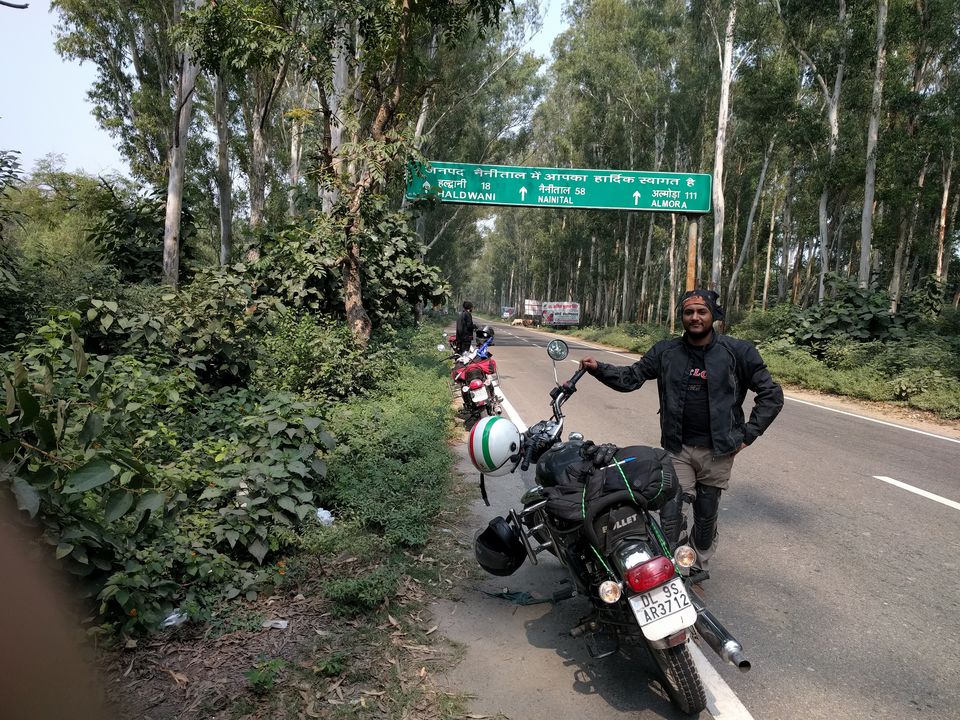 One can observe that the signboard behind mentions haldwani / nainital ahead. After taking this pic we again started our bikes and started to cruise towards Haldwani. We were now feeling a bit hungry as we had our breakfast way back before garhmukhteshwar. For having our lunch i already had decided before coming to this ride a that we will have lunch at "LEE'S KITCHEN". I came to know about this place from Rocky & Mayur Highway on my plates. Since i like Chinese food this place was on my mind from the day i had watched highway on my plate episode where they had visited this place. They knead their noodles freshly. So we cruised and crossed haldwani and kathgodam. After Kathgodam hill started and just as we started to cruise up the hills we saw the board on our right side mentioning Lee's Kitchen. We stopped for the lunch. Below are the pics taken at that place:-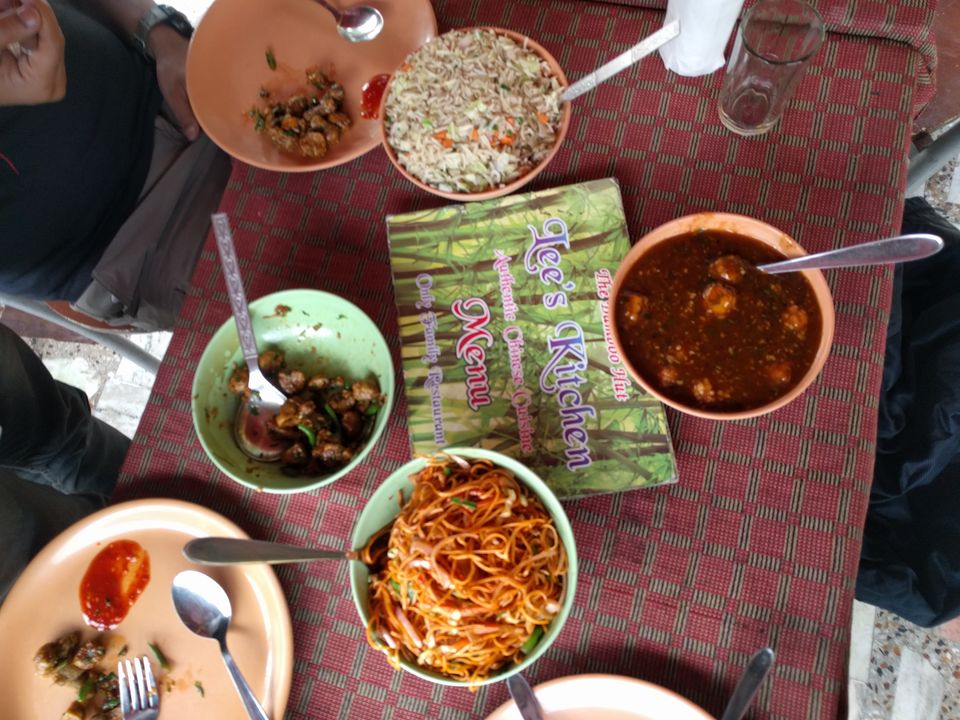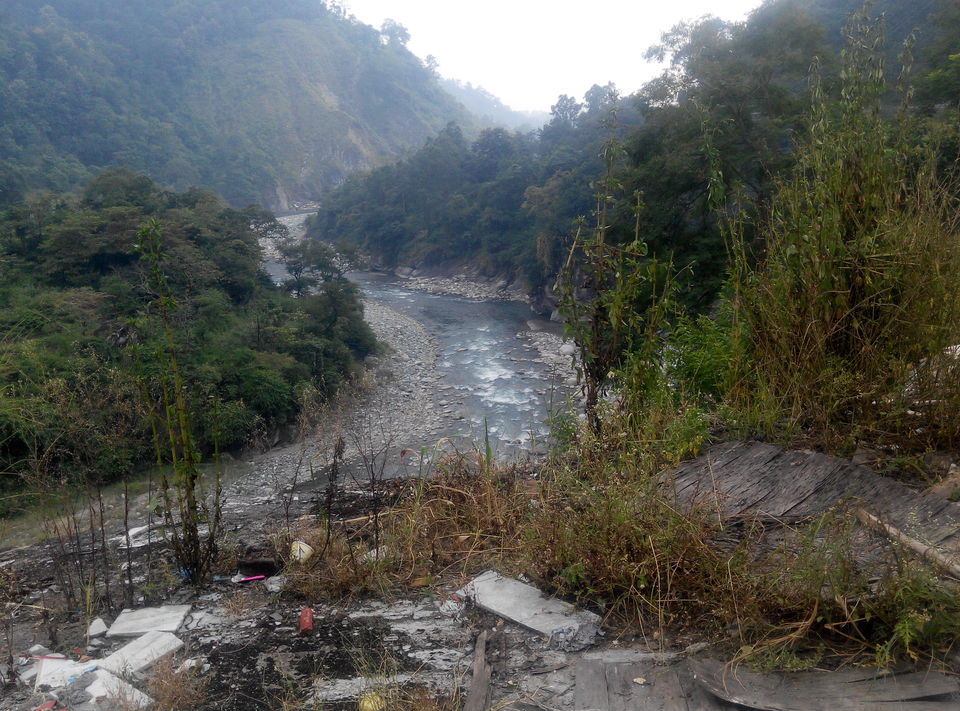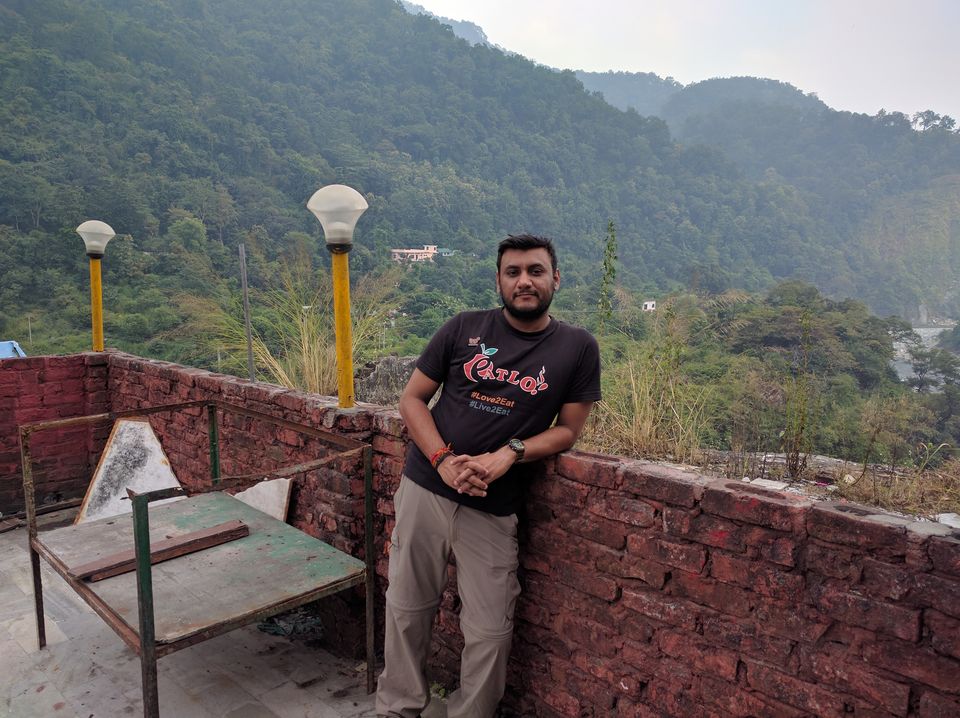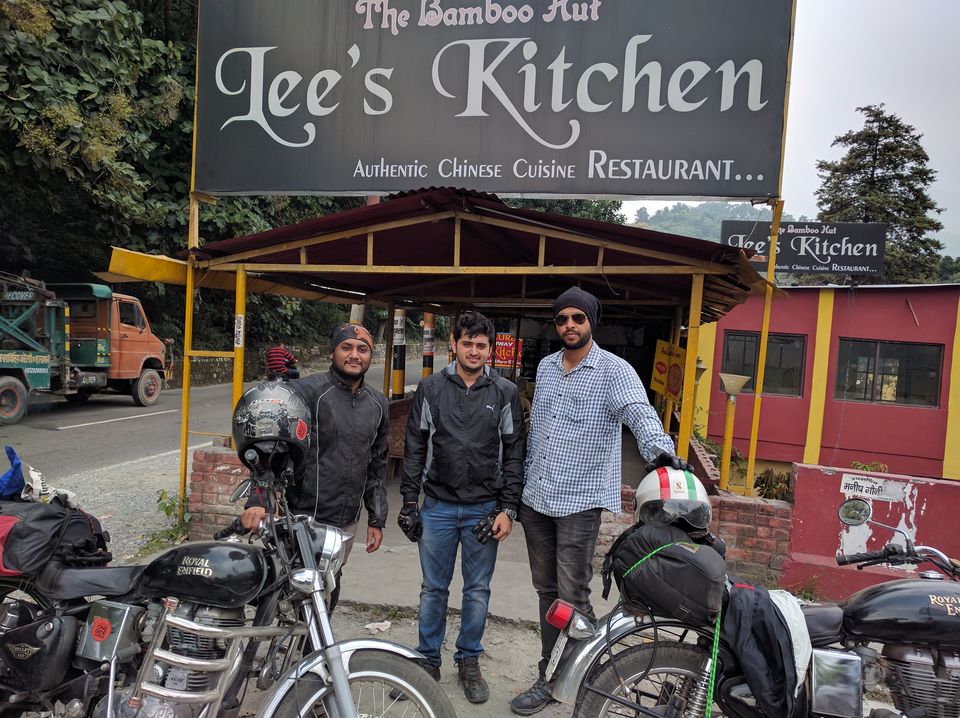 I recommend every traveler going by road through this road must try Chinese at this place You all will love it. After having a wonderful lunch we started our bikes and continued our journey to Bhimtal after riding around 20 kms we come across this milestone. I grab this opportunity to click my bike in front of this milestone.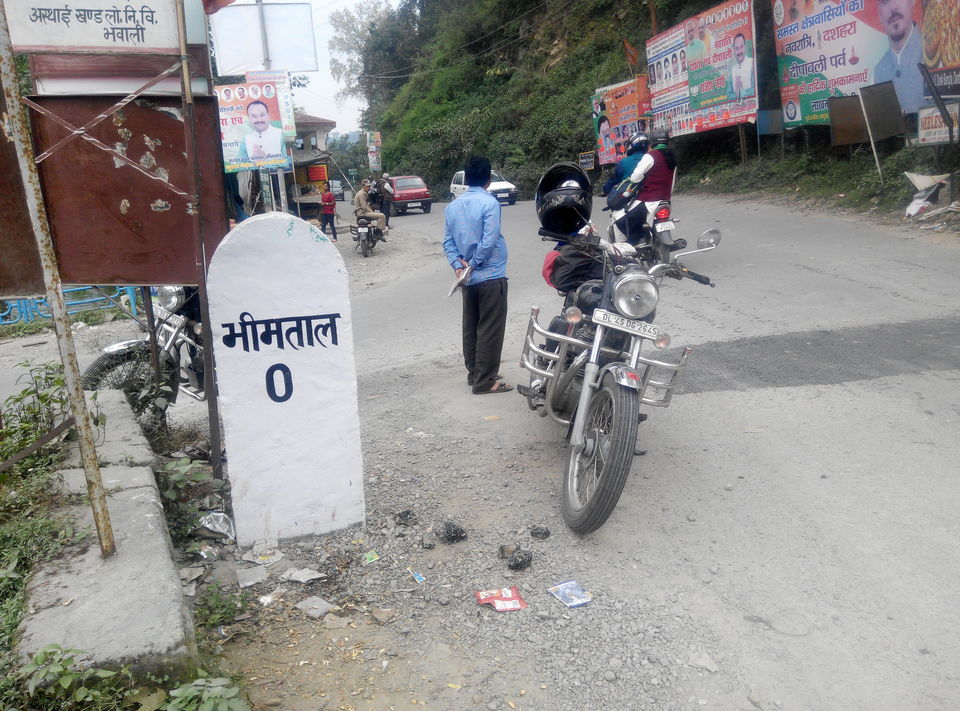 We had our booking at "Hotel Happy Home (Kaler grand inn)" So after reaching this place we inquired about this hotel when someone told us that this is around 5 kms away from this place on Sattal road. Sattal is also one of the small place good for hang out and enjoy nature. So we started our bikes and within 15 minutes entered our hotel at around 1530 hours. As soon we unloaded our stuff and entered our room i took a power nap for 15 minutes . This ride was not so much tiring except that stretch from rampur to rudrapur. By 1700 Hours we all took warm shower and got ready to visit "Kainchi dham". This place was already explored by vishwajeet and he only recommended us to go there, initially I and ravi were not interested to go as we wanted to relax at hotel so that we can enjoy early morning paragliding. But vishwajeet insisted that its a unique place. When i asked whats unique in that place he told first ride till there. So We started our bikes and started our ride to kainchi dham. It was just around 13 Kms from our hotel but since it was hilly road it took us 40 minutes to reach there. After raching this place i could feel a little breeze i saw a temple and we entered the temple. It was a hanuman ji temple. This was the place where one of the hanuman ji devotee "Neem karoli baba" resided in his ashram. When i was loosening my shoe laces i asked vishwajeet now tell the uniqueness of this place. At that instance one of the passerby stopped and asked you don't know about this place, I said No than he told do you know the founder of apple and Facebook , I replied why not i mean who in the world don't know about Steve jobs & Mark Zuckerberg. Then that person told me just google kainchi dham with these names and you will know the uniqueness of this place. I did the same while entering the temple. And i was surprised and felt so happy that i visited this place because of vishwajeet. I will keep this surprise of not telling the uniqueness of this place and for those who are reading my blog and don't know about this place just google steve jobs and kainchi dham.
In addition to above, also this place is located at mountains that look like scissors. Keeping this suspense for the readers I continue my blog. After visiting temple we came out with a great and proud feeling and all our travelling tired went off. We had some tea and pakoras in a shop just front of the temple. Below are the pics of that place:-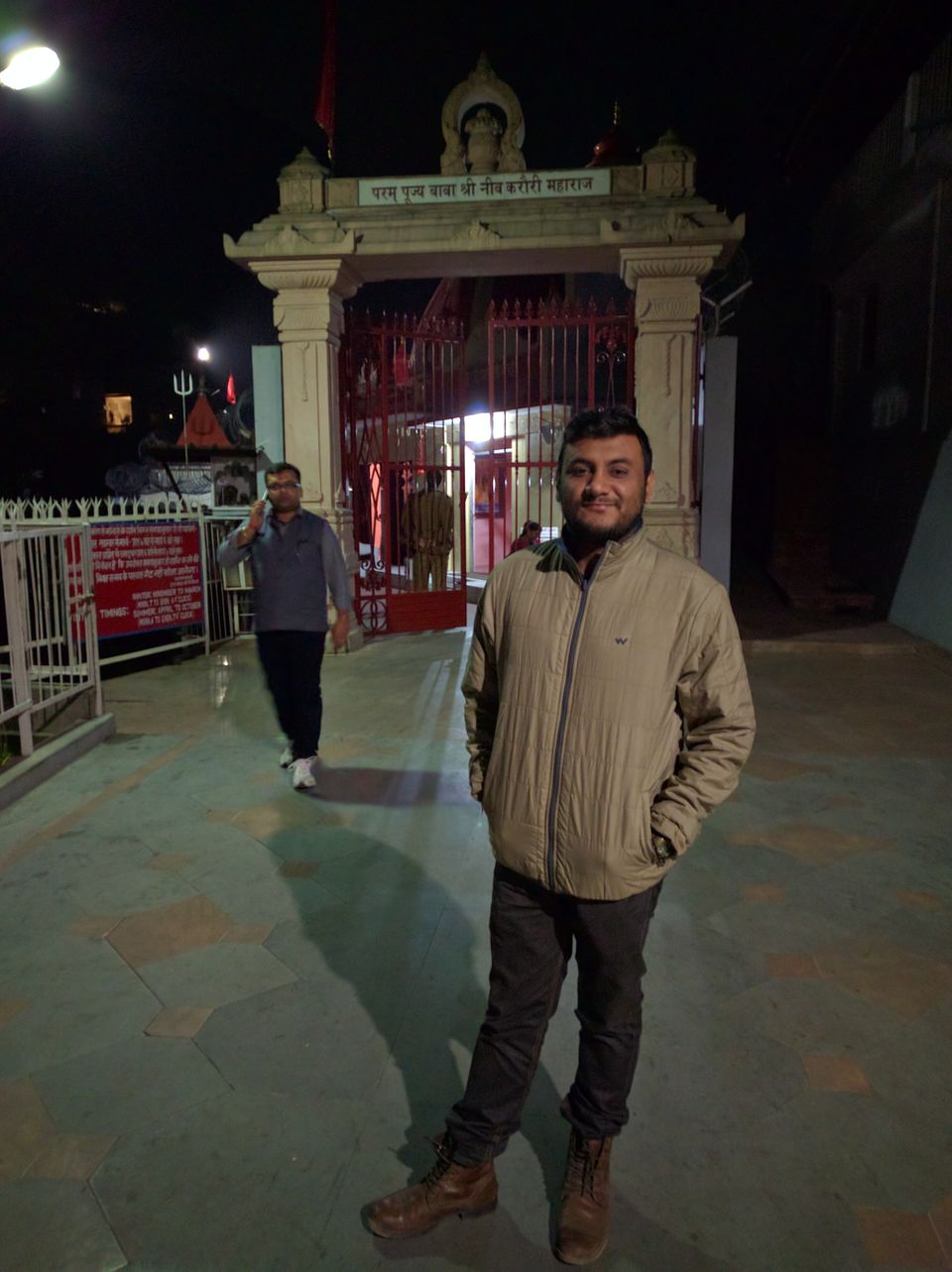 By then there were dark night and riding bike in night in mountains is bit difficult, But since we were just 13 kms away from hotel we started and covered our ride in 40 minutes. After reaching hotel we had some quality time sitting at the lawns of our hotel and discussed our experience of the day before winding up for the day. Below are the pics of that instance:-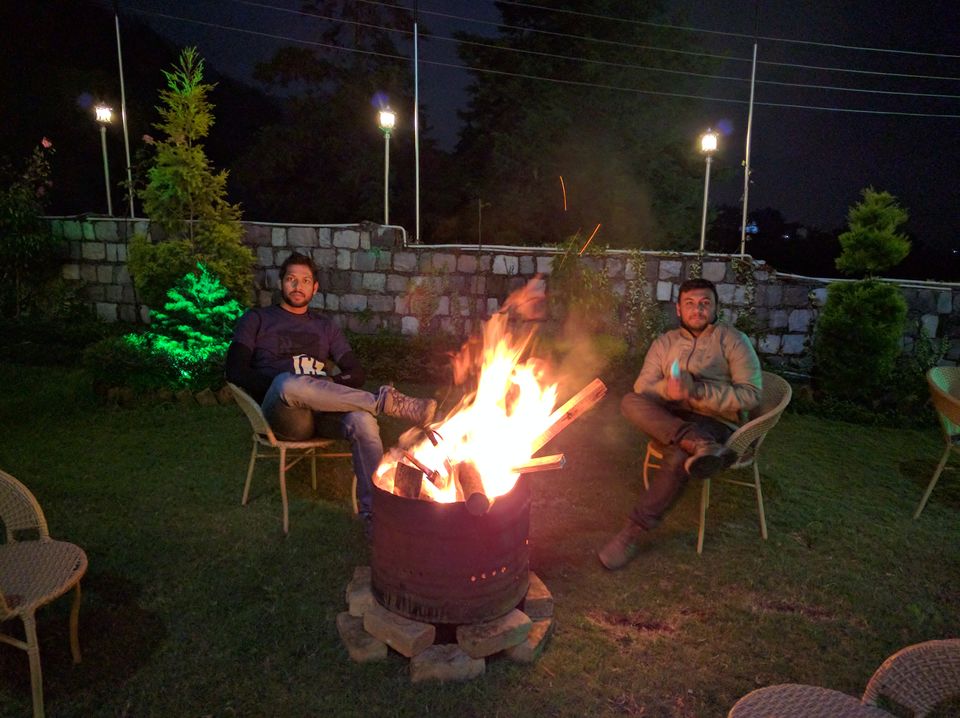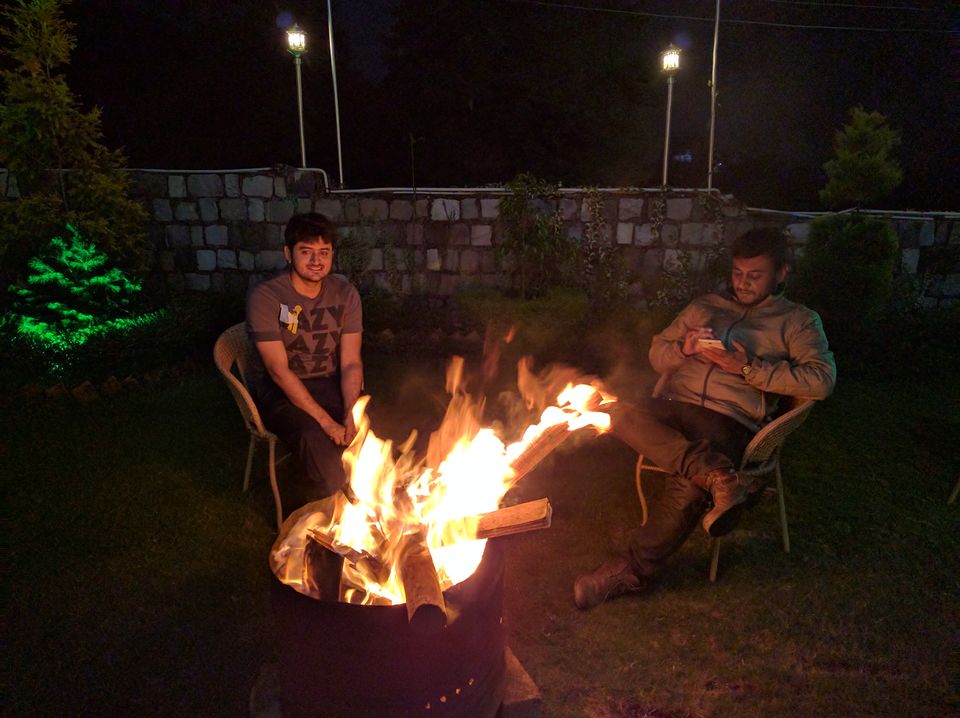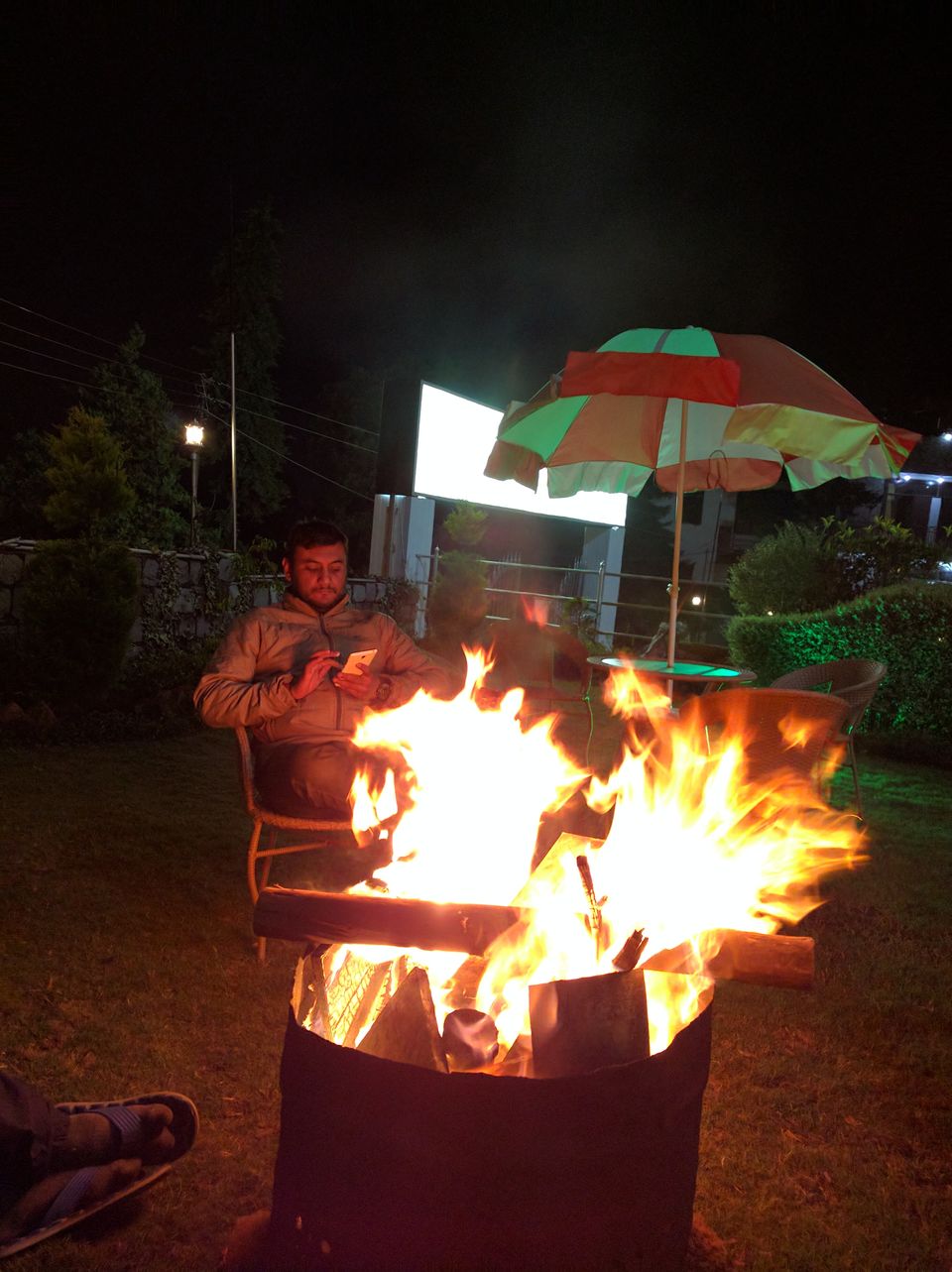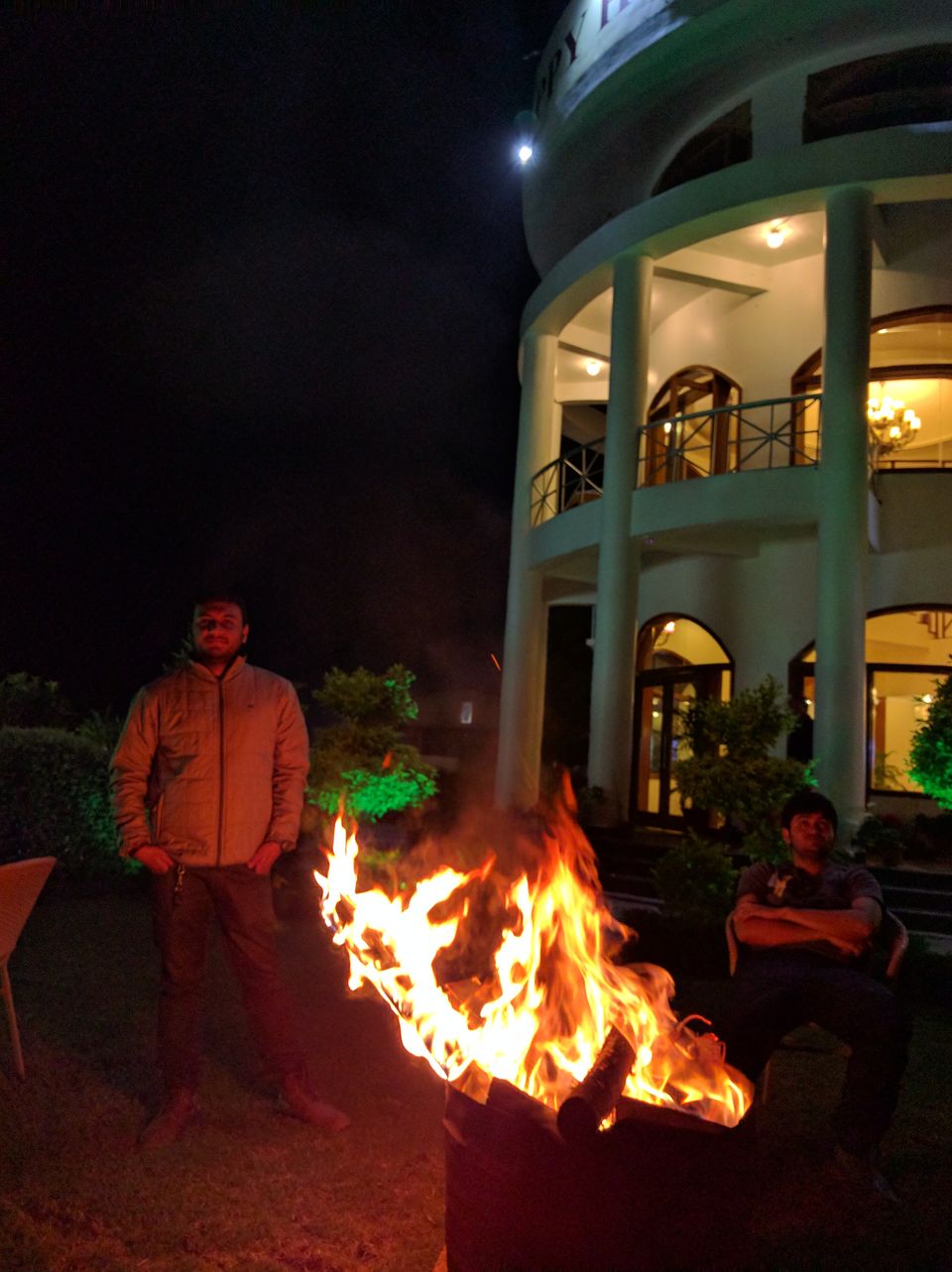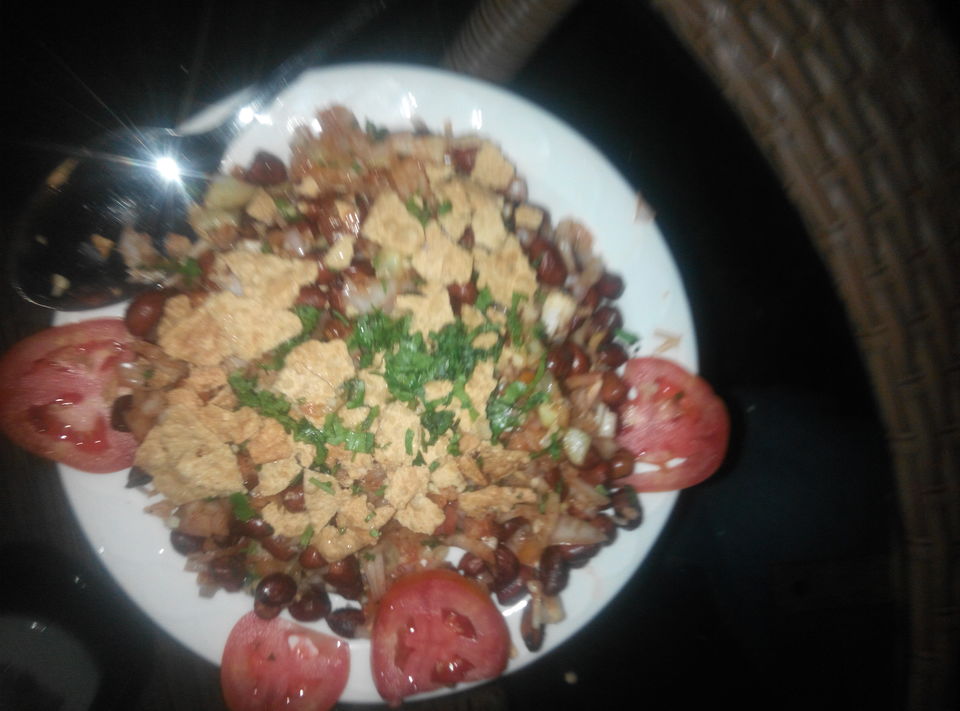 We went to sleep by 2330 hours. It was a sound sleep until my alarm buzzed at 0830 hours. We all got up and were excited as after breakfast we all had to go for paragliding. This was first time experience for all three of us. We had a relaxed breakfast at the lawns of our hotel:-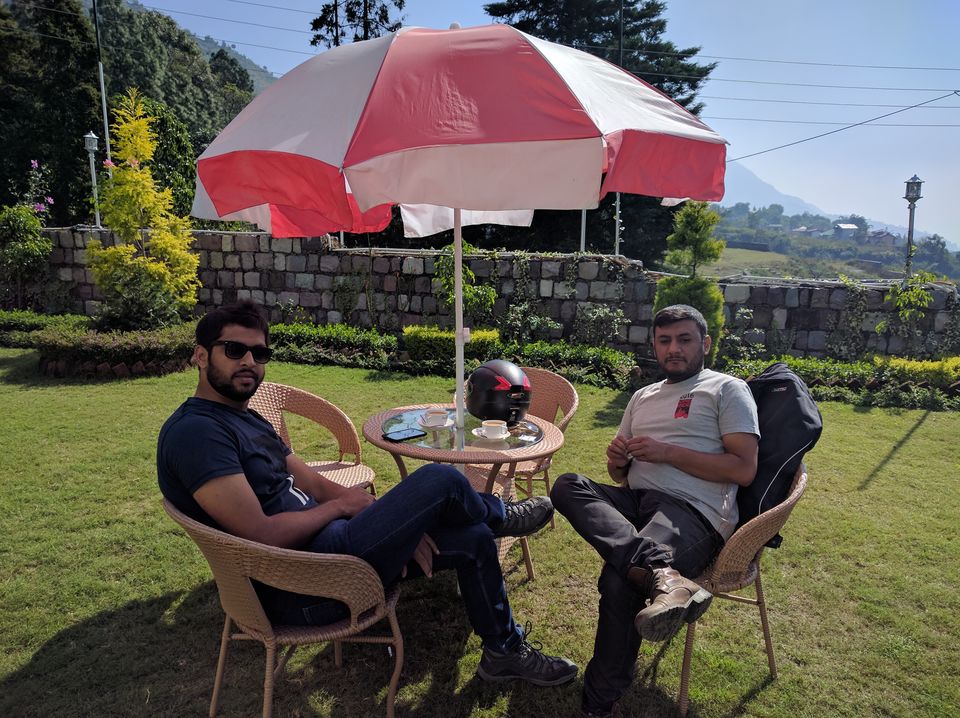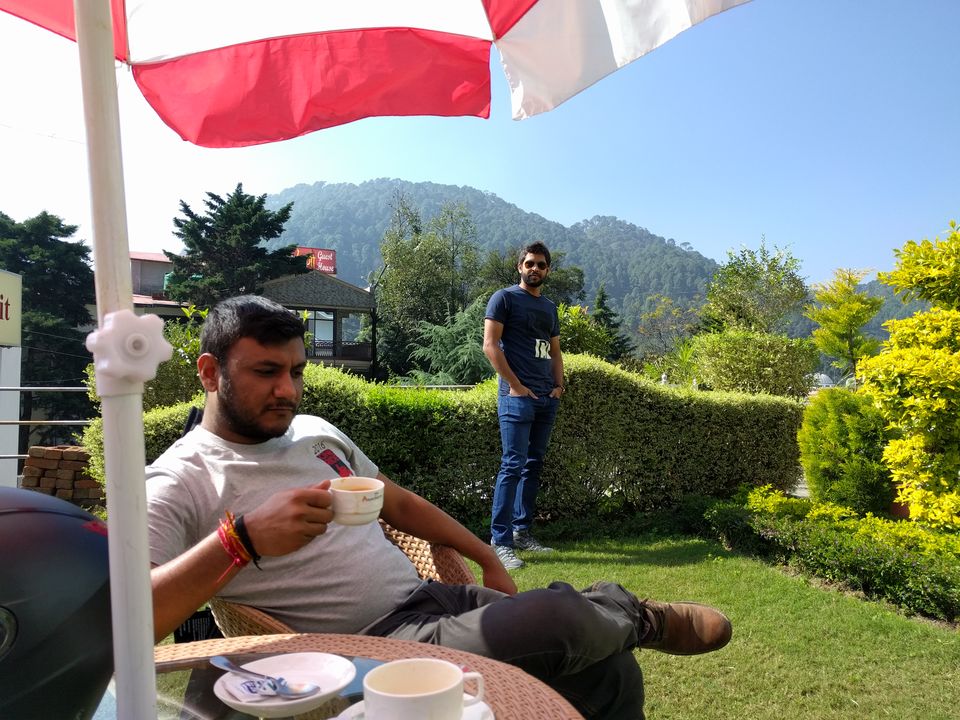 After a relaxed breakfast we started our bike and cruied towards bhimtal town to meet our agent for paragliding we bargained and got our deal fixed for Rs 1000 each for a 5 - 10 minutes paragliding. We kept our bike at the paragliding spot and did paragliding I captured a video of my experience and it was a wonderful experience.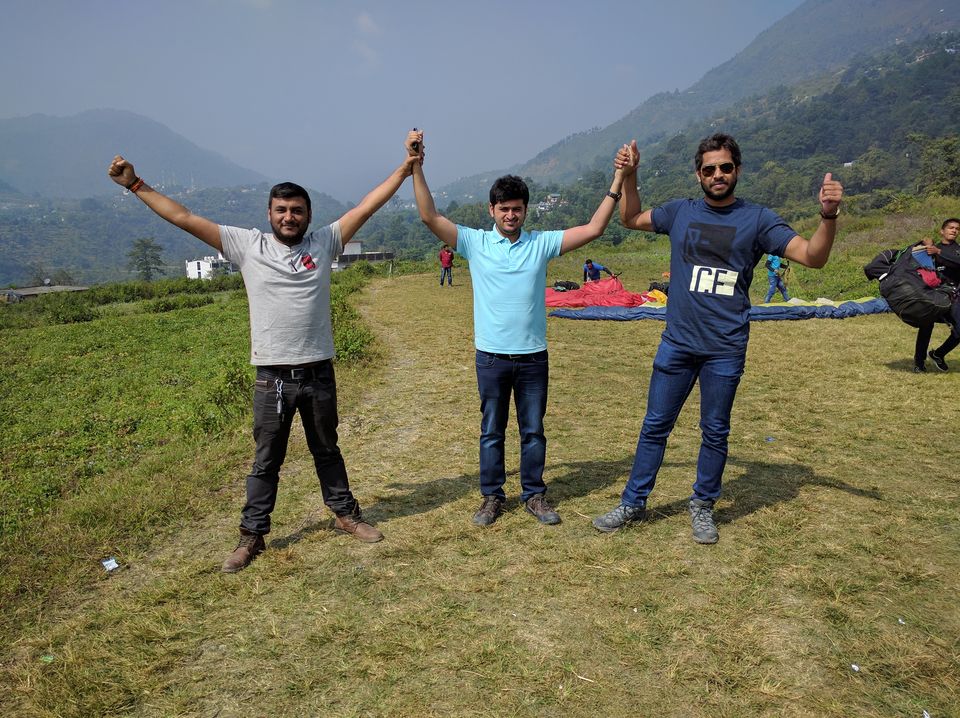 As soon we landed one by one agent's jeep helped us to bring back to our bikes. When i was doing paragliding i saw a tall hanuman ji stature from the sky so we all decided to visit that place. This place was "Naukuchiatal". I recommend all travellers to visit this place when you are in and around bhimtal.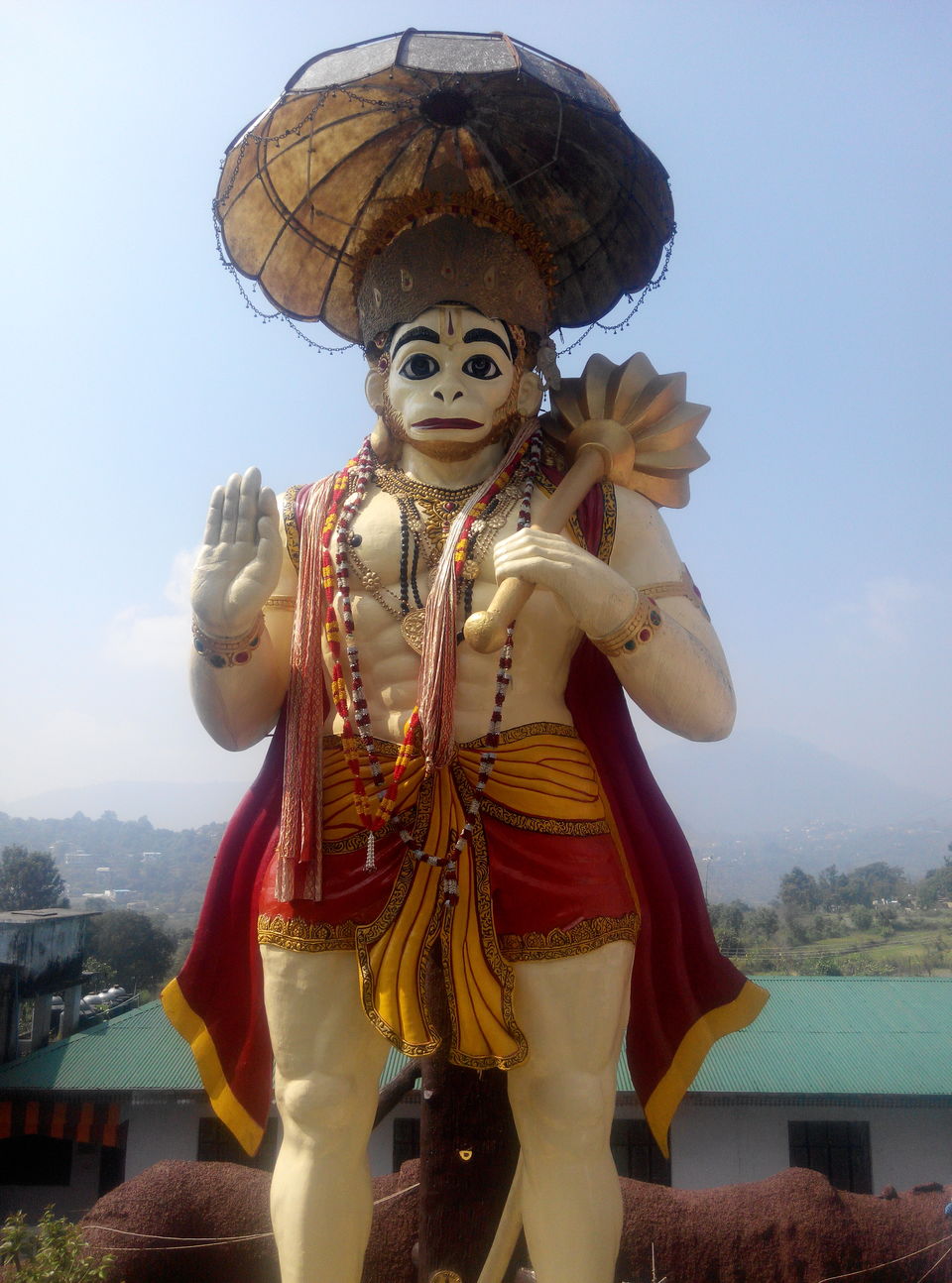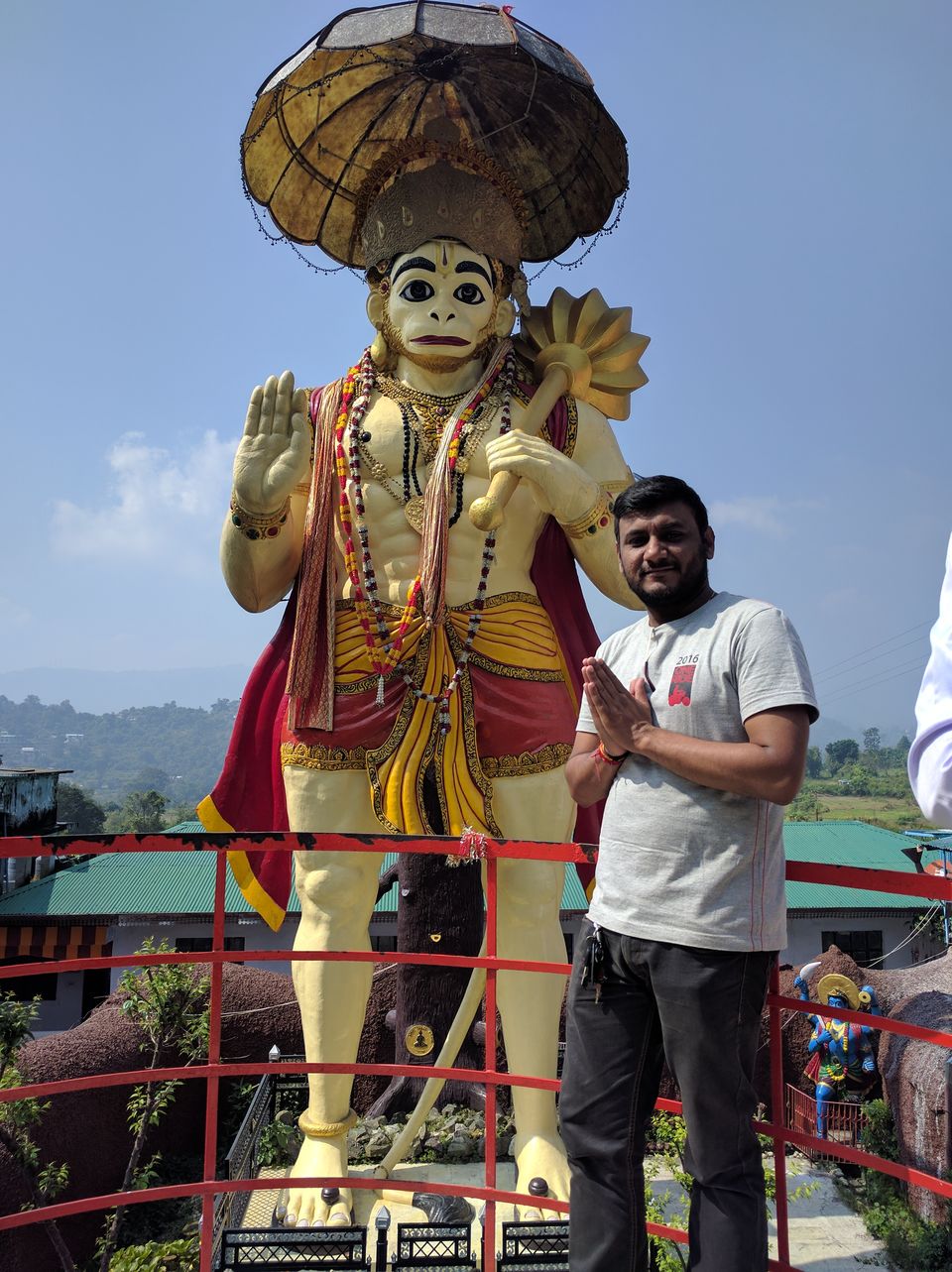 After visiting this place we decided to ride till nainital after passing bimtal town. At bhimtal we enjoyed some rajma chawal and neembu pani. The size of neembu was very big i think its called something else.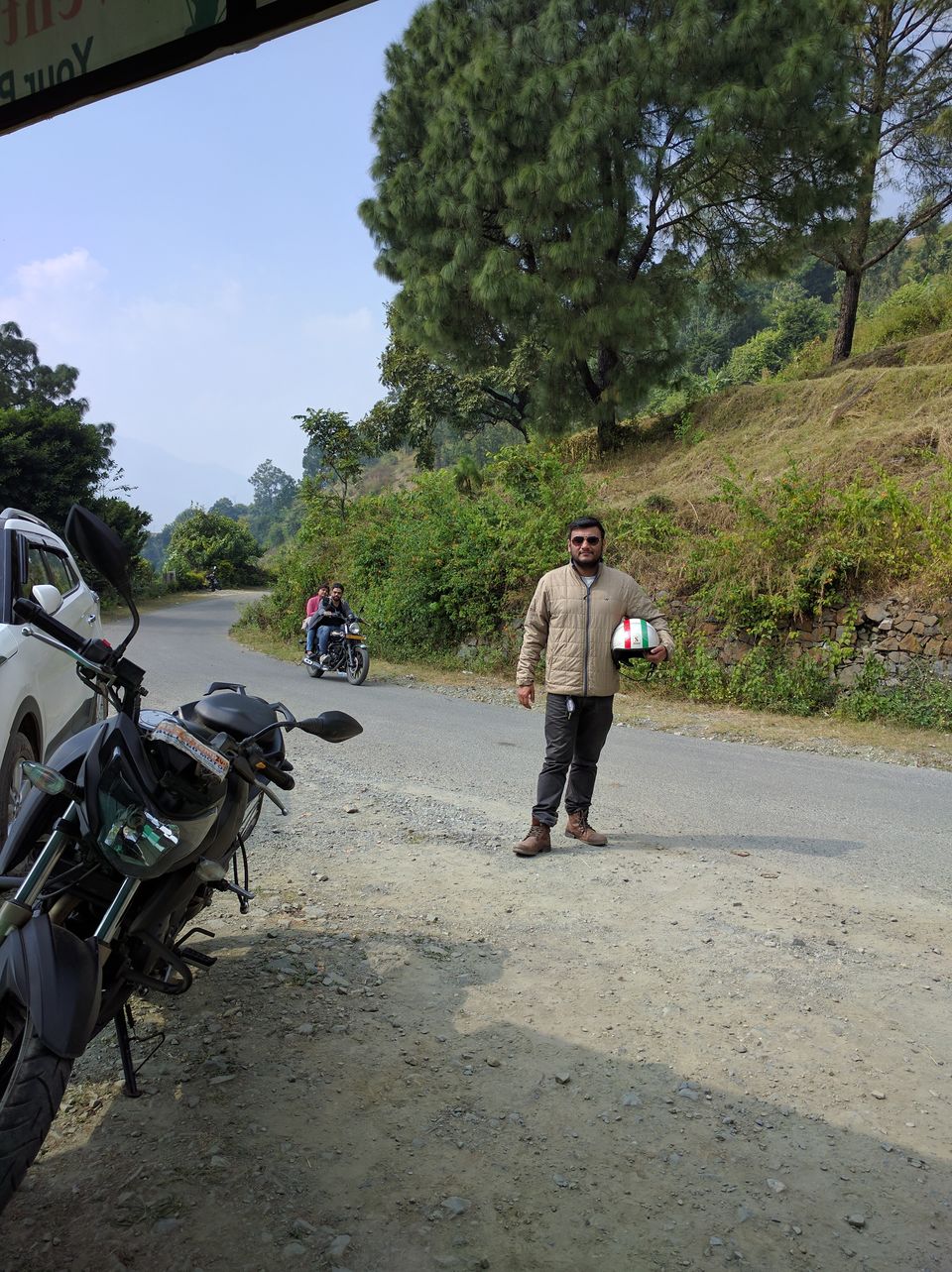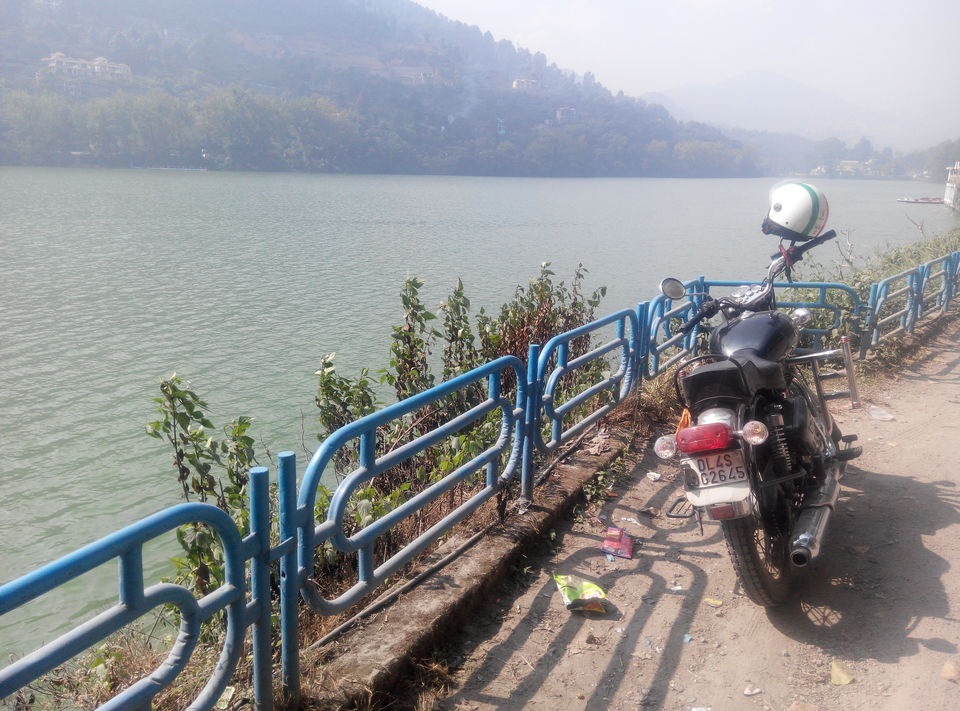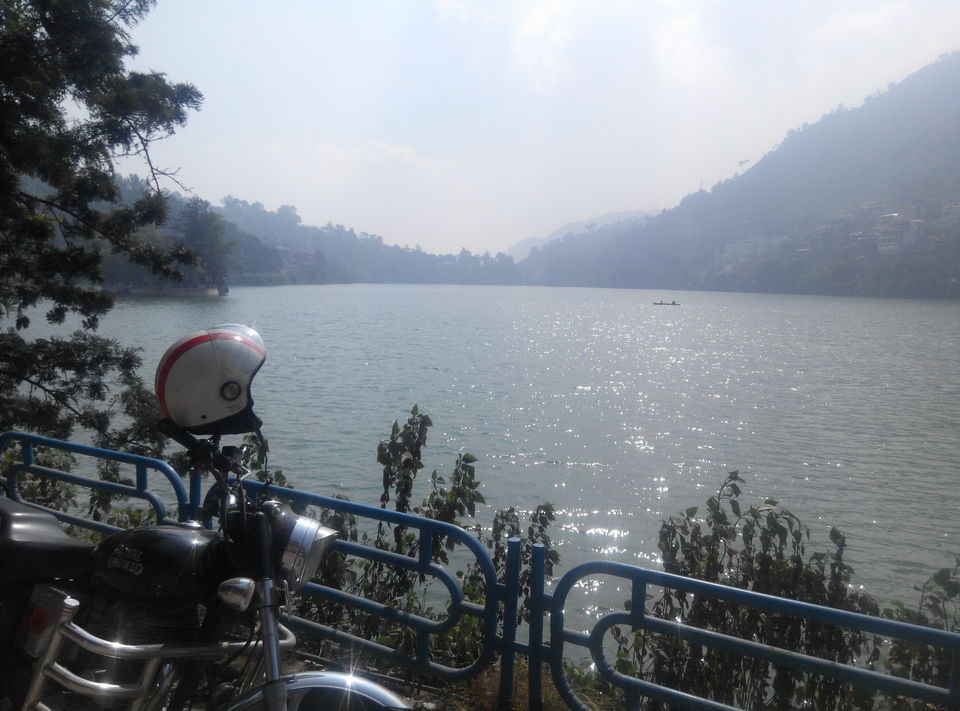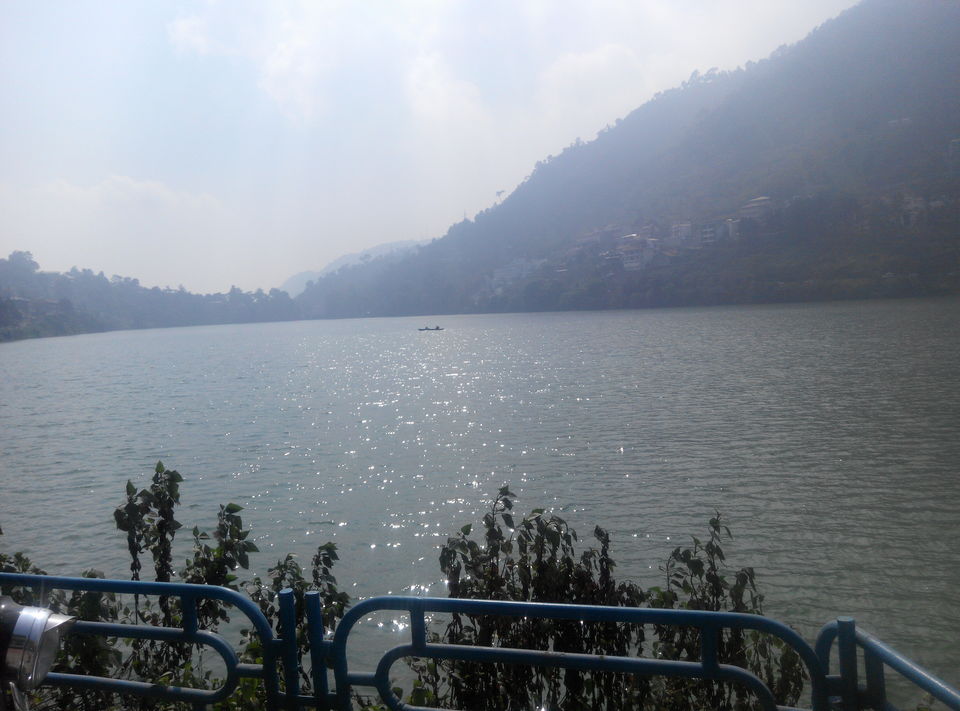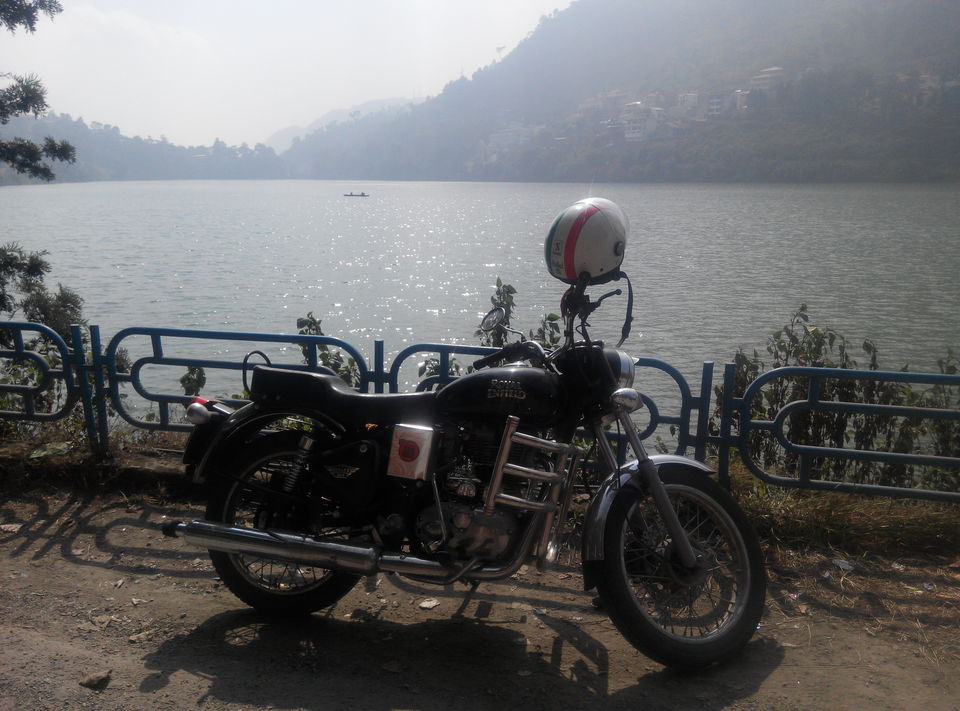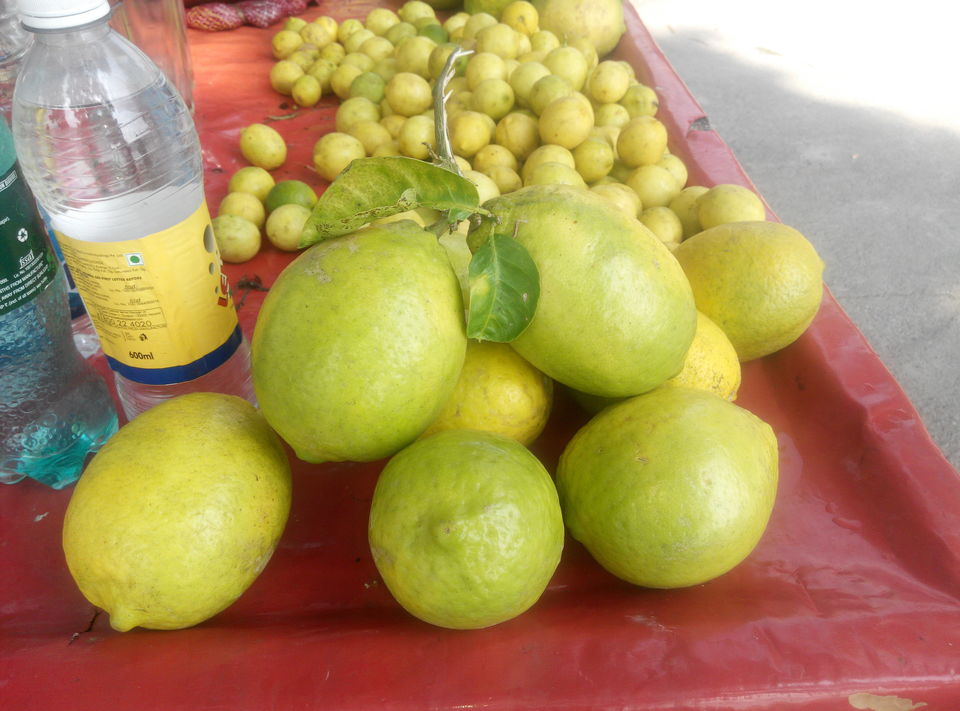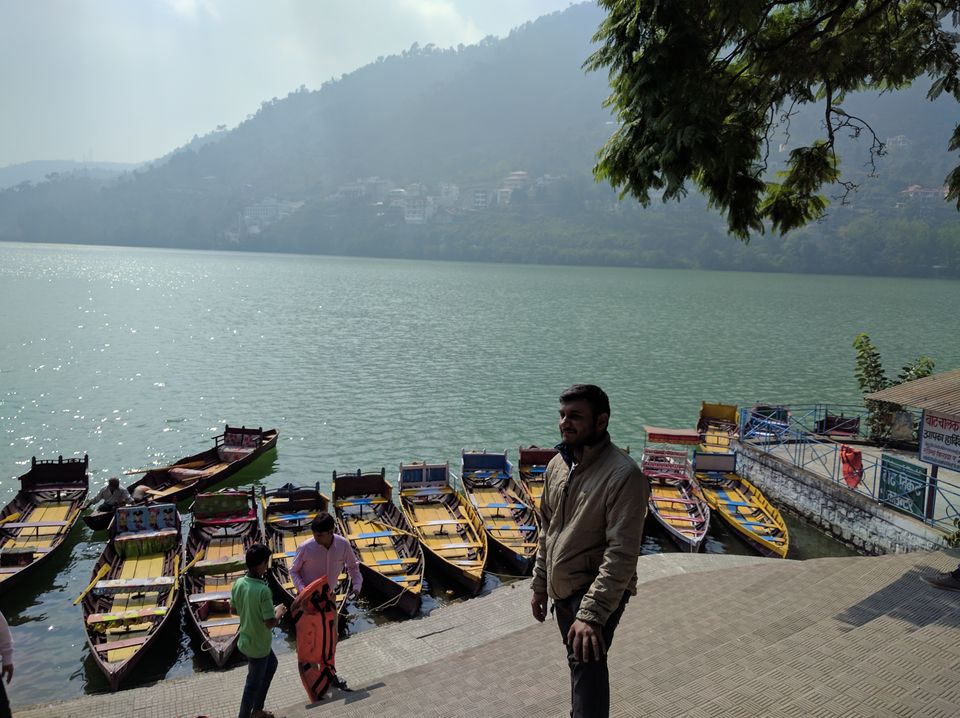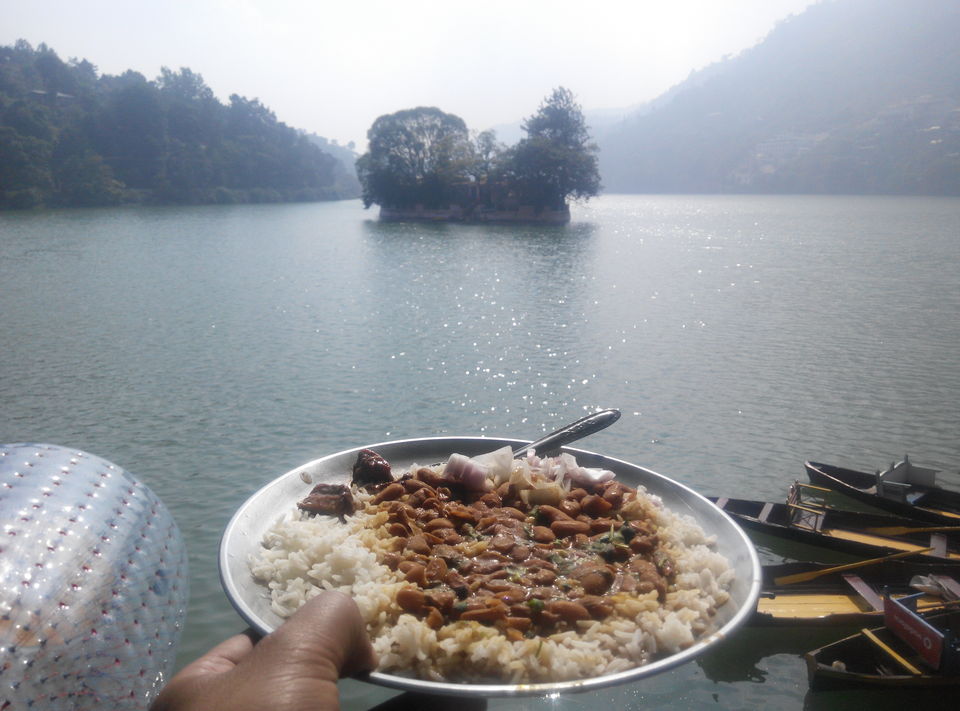 After having a good time at lake in bhimtal we started our ride to nainital. The ride was amazing cruising at slow speeds on the hills:-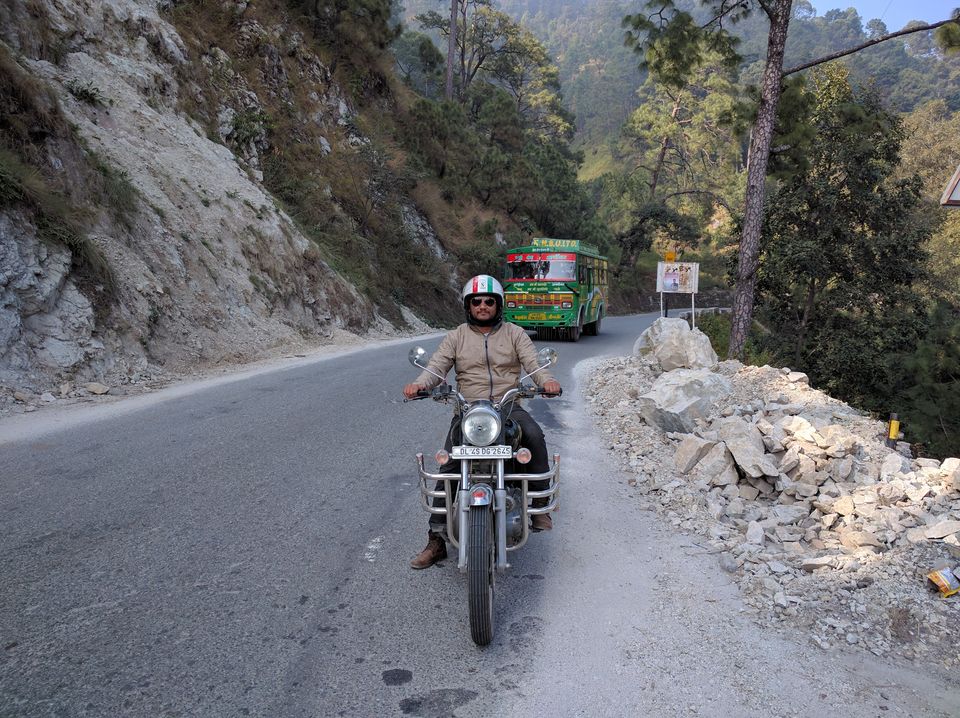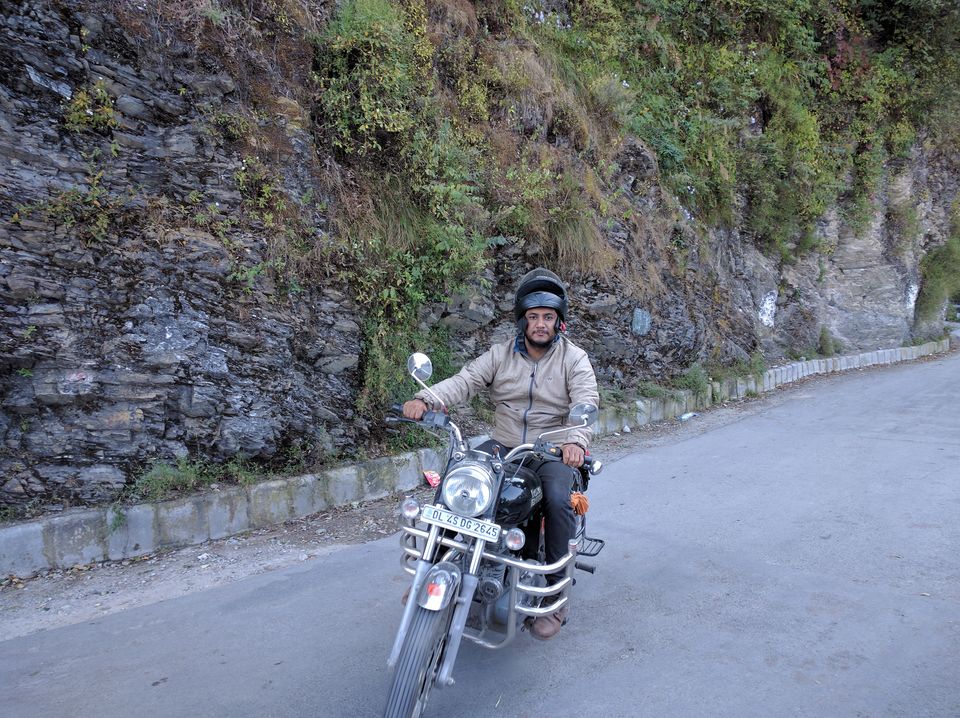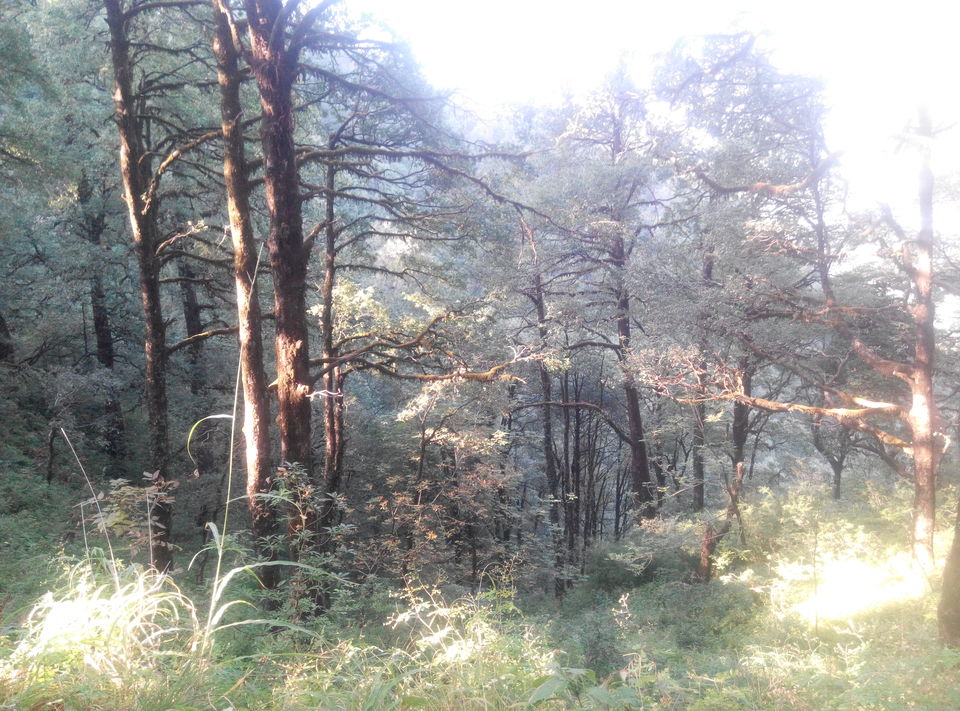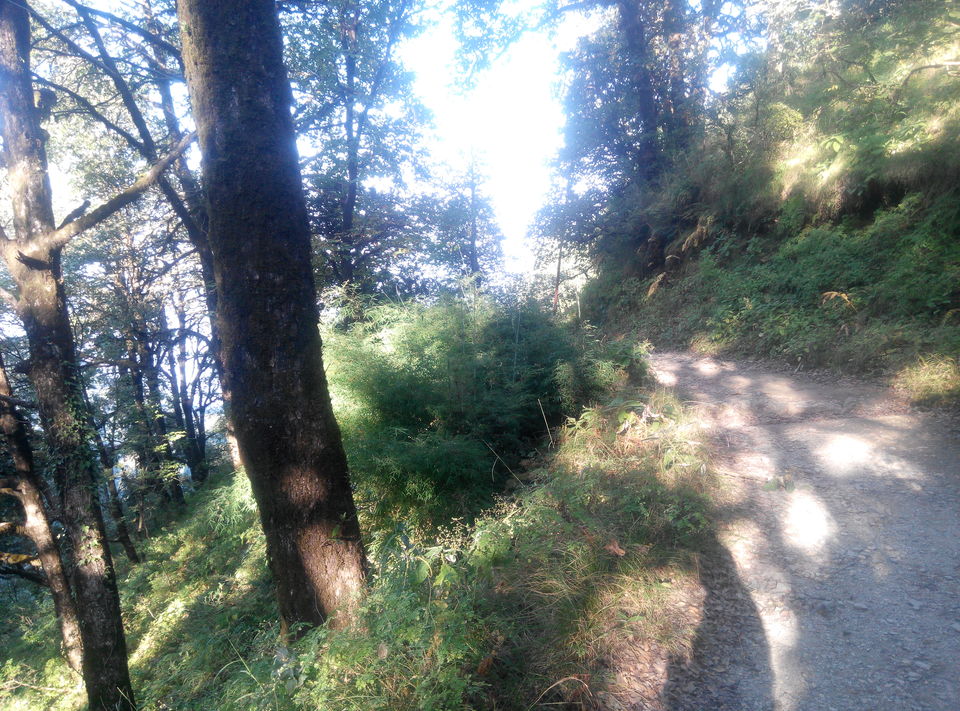 We did a small trek at naina peak.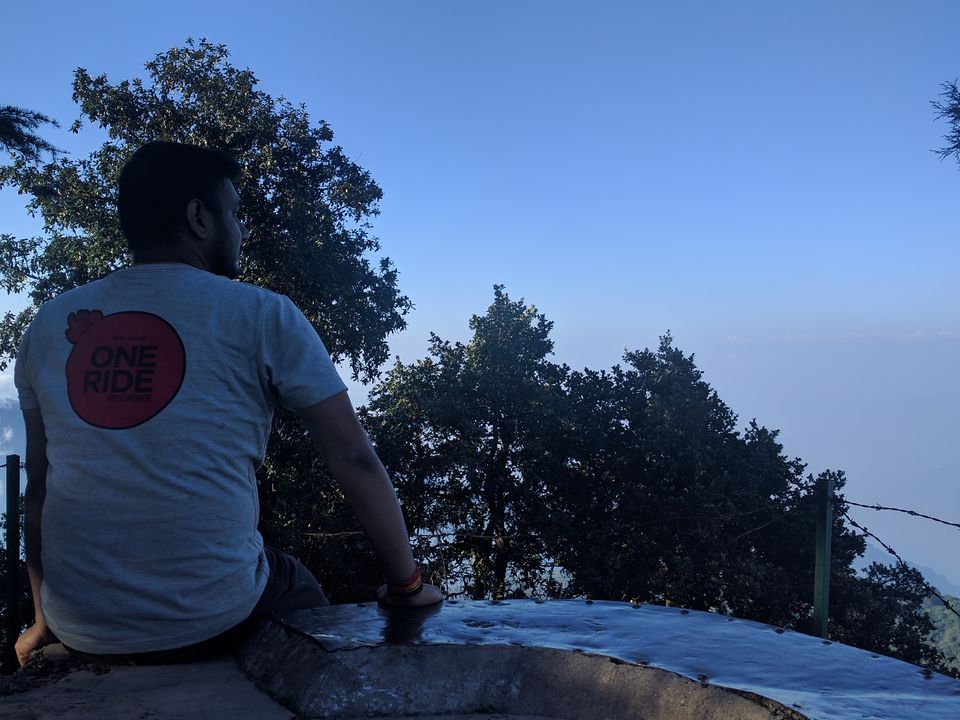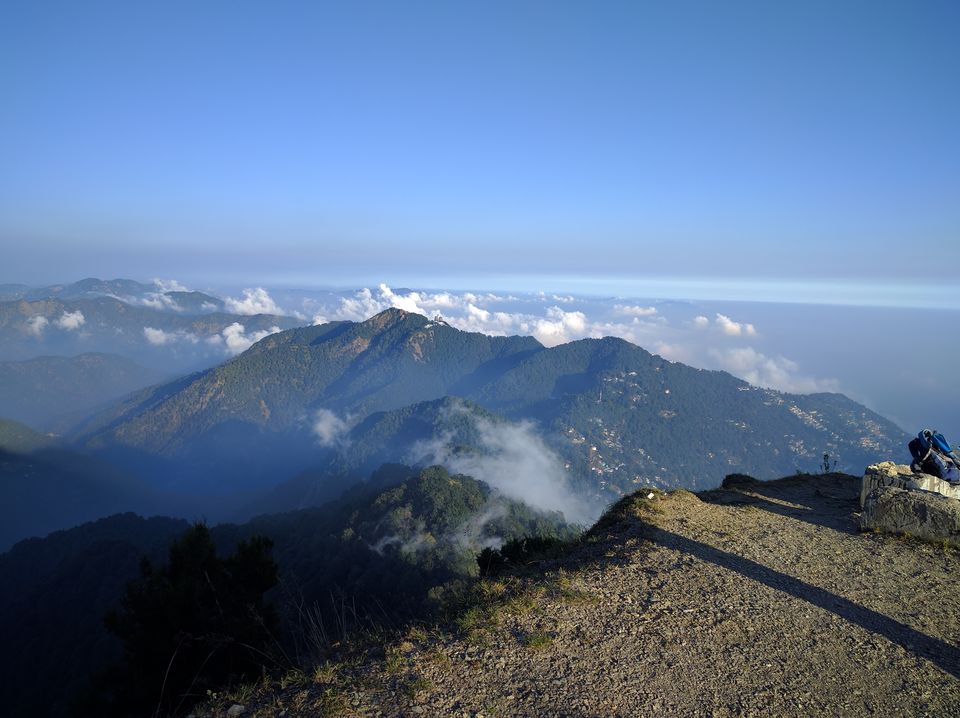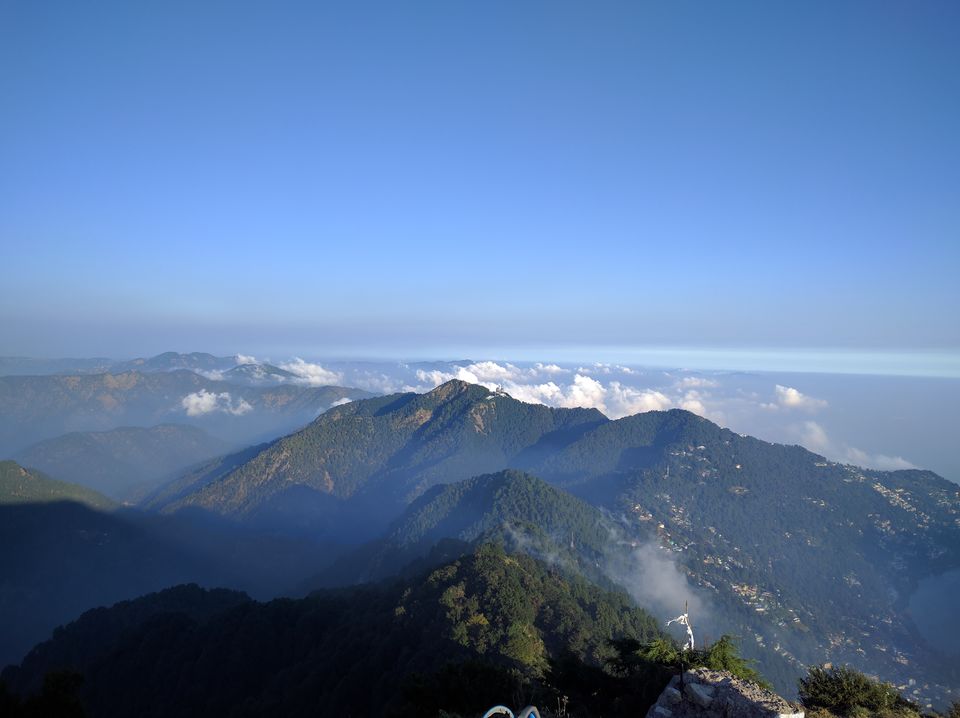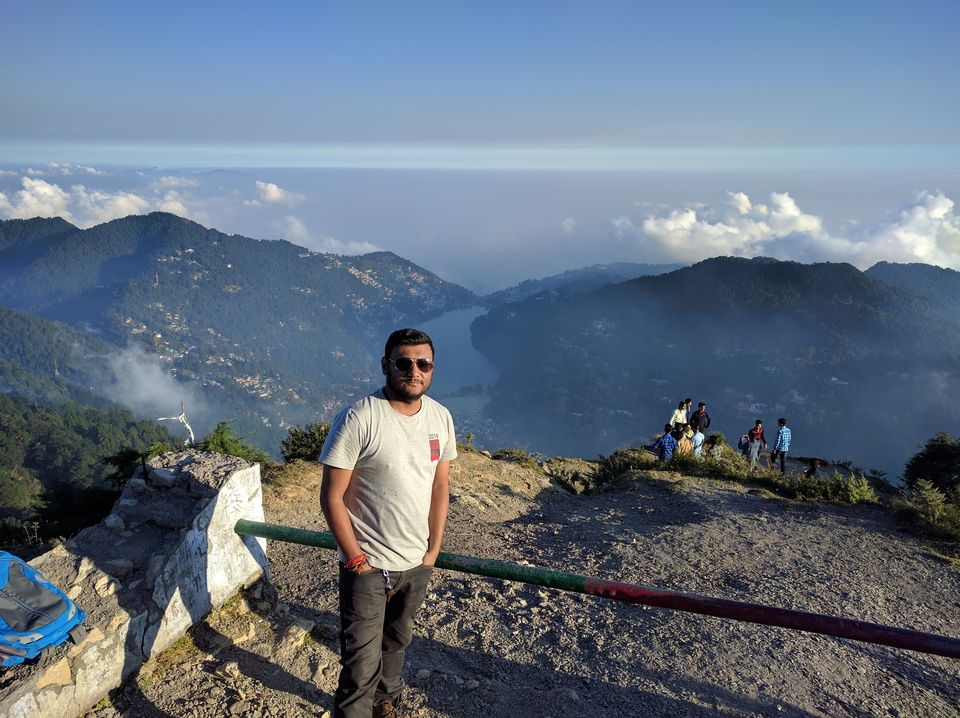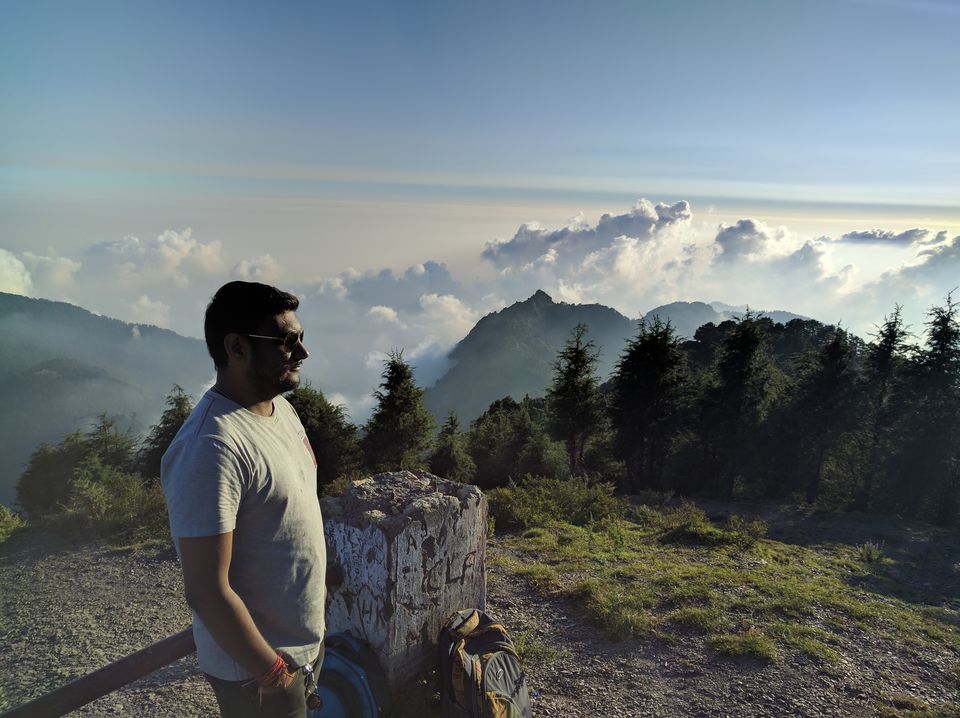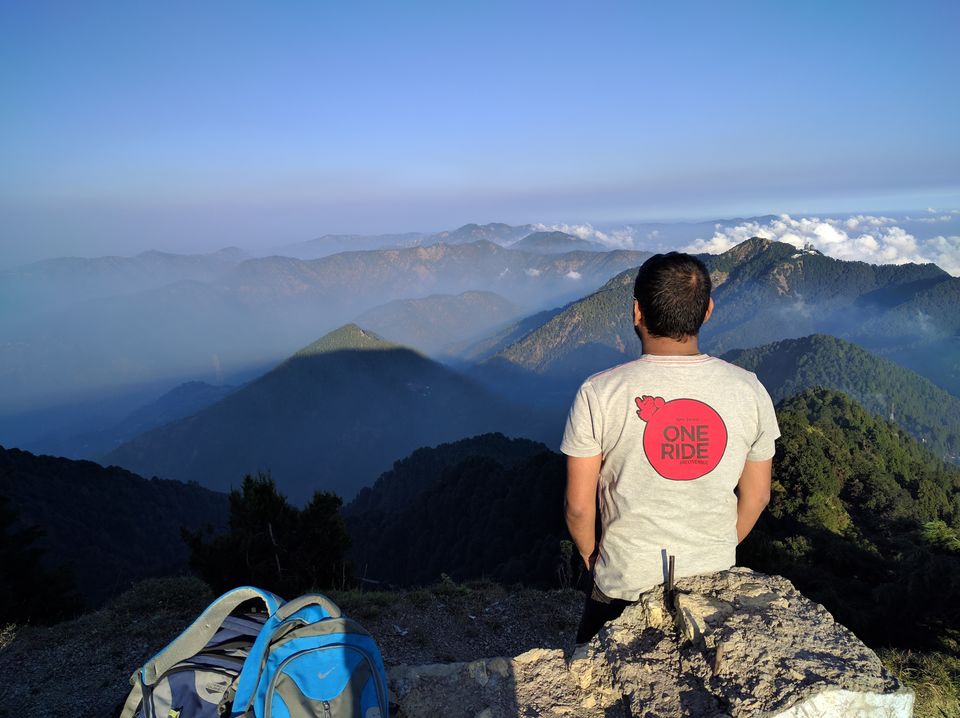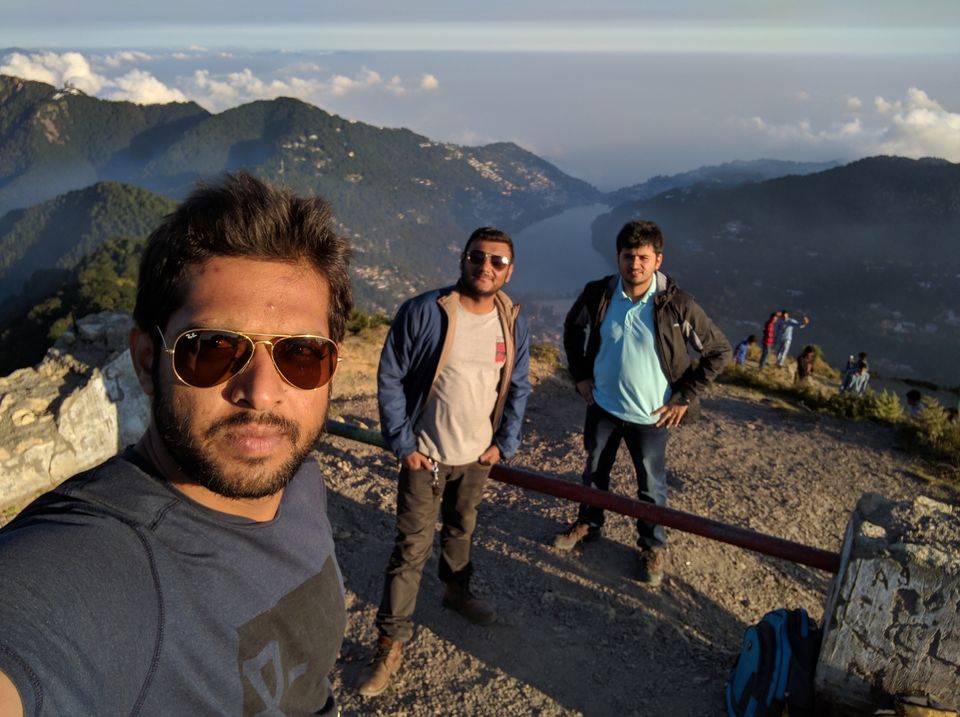 After trekking and having such lovely pics (above) we went to nainital main spot market area had some great coffee and went back to hotel. This was the hectic day but it was full of experience like paragliding and trek to naina peak. We winded our day after having good dinner and slept by 2300 hours. I and Vishwajeet woke up early and did a morning ride till sattal. It was 7 km ride till sattal.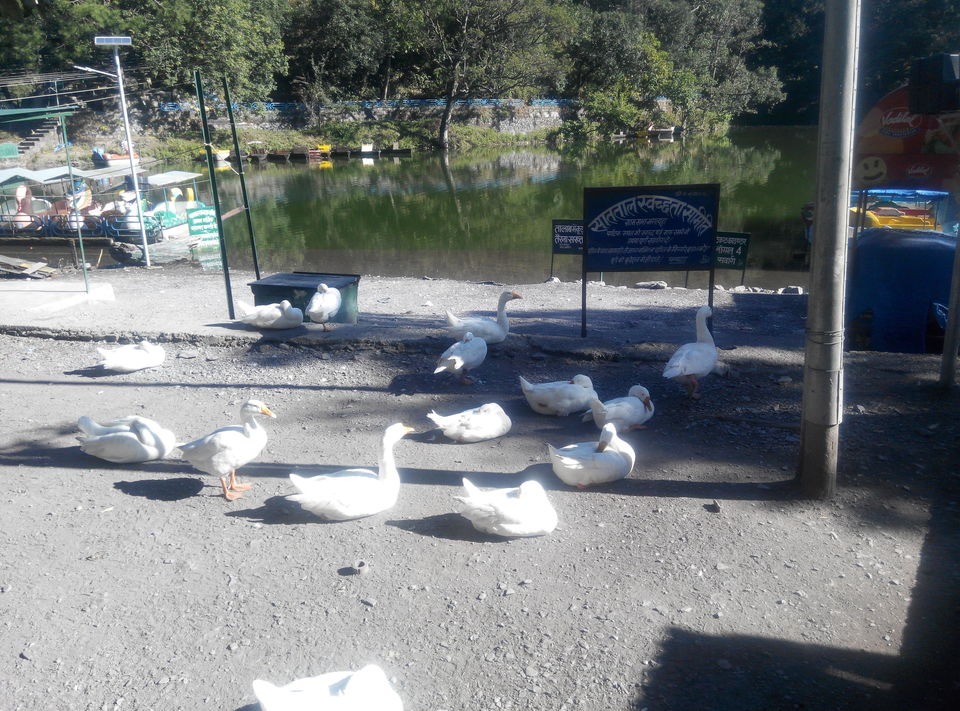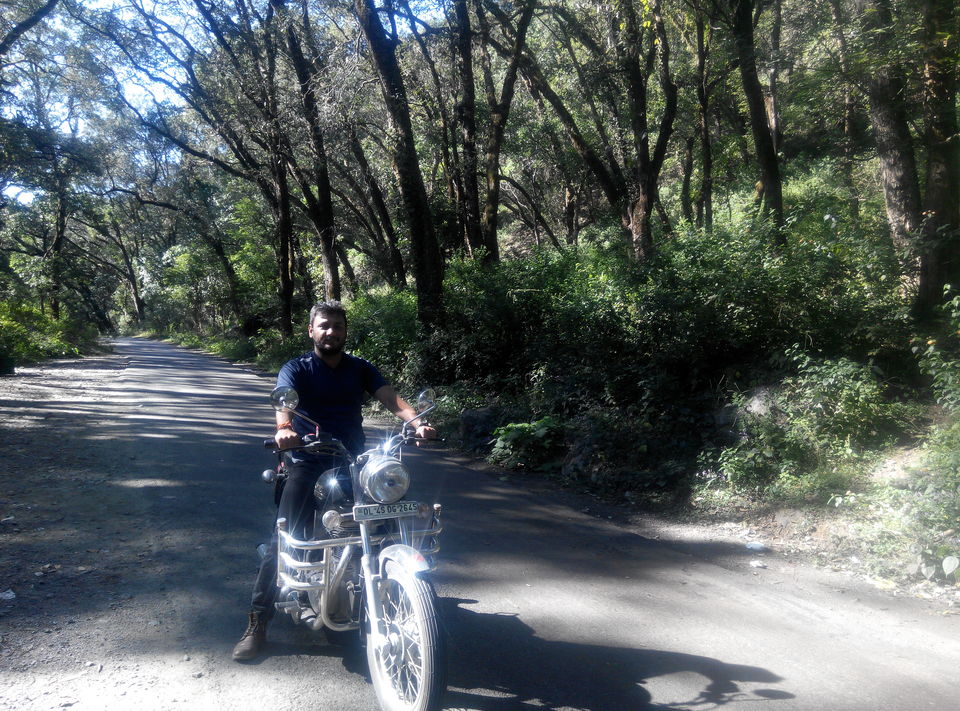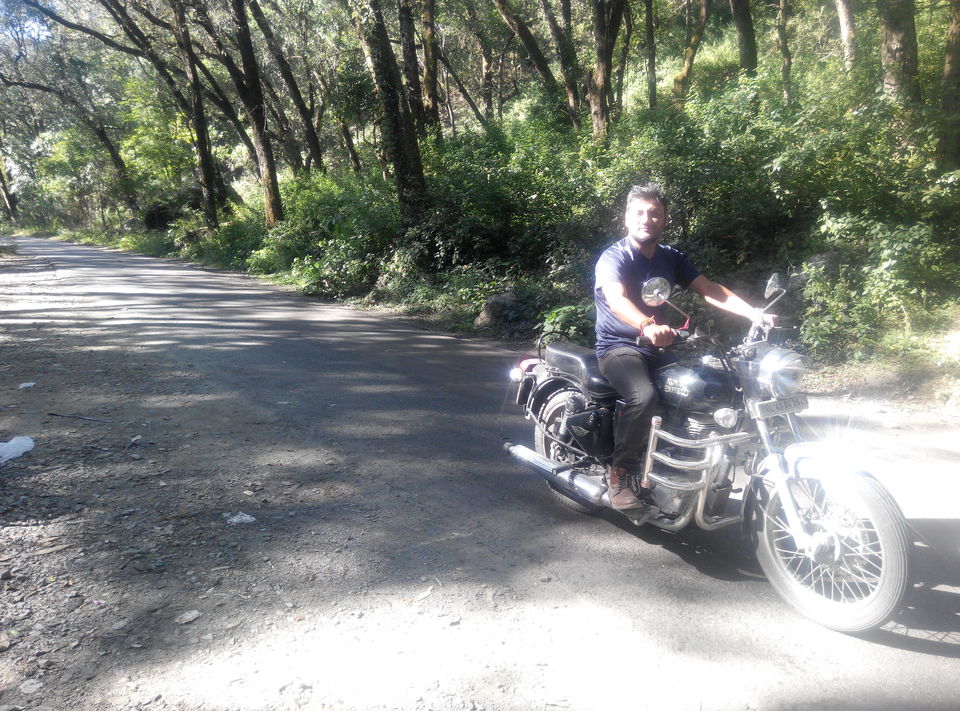 After having tea at sattal we both came back uptil then ravi was ready as we all loaded our bikes and started our journey back to Delhi.
Again a great trip was coming to an end where we explored bhimtal, kainchi dham, naukuchiatal and nainital in just two days. The return journey is always tough but it gives an opportunity to think back what we explored past days and our wonderful ride. With this i will end this blog and will upload my next venture soon.
Keep travelling guys it will keep you young always.