"Sometimes the road you travel doesn't lead you to the Destination you had hoped for. But if you can look back on the trip and Smile...Then it was well Worth it..😊"
Itne saal sochne aur plan karne ke baad, finally we decided and agreed for Kerala trip.
Ruia ka katta, Jahan baithke humney apni life ke saare ups and downs share kiye. Humaare trips plan kiye. Wahin humney humaara Kerala trip plan kiya. Poori R&D karne ke baad we decided ki yeh humaara road trip hoga Cochin se. Isse phele humaara mood ya destination badalta humney tickets book kar diye.
Ek baar flight tickets book ho gayi toh Iska matlab trip is on aisa sochna hai hum dono dosto ka. Kuch dino mein Zoomcar bhi book kar di for the trip.
Finally hum kerala ja rahe thee. God's own city kahan jaata hai Kerala ko. Humaari khushi ka thikana hee nahi tha. Kehte hai na log, jab aap zyada khush hote hai toh apni hee nazar lag jaati hai aapko. Samajh lijiye aisa hee kuch hua humaare saath bhi. Kerala was flooded because of heavy rains, humaare trip se ek week phele. Dosto ne, gharwaalo ne, sabne humey mana kar diya. Yahan tak bol diya gaya ki flight tickets cancel karwa do.
Par humaare hopes kam nahi hue thee. Baarish ruk jaayegi, cheezein theek ho jaayengi, yeh sochkar humney tickets cancel nahi karwaayi. Munnar ke hotel manager ko phone karke situation ke baarein mein poocha. He said, "Munnar is safe. Yahan kuch nahi hua hai, please don't worry. I keep you guys posted about the situation here."
His words "It's safe in Munnar" was a big relief for us. And now to save our trip, we have something strong to tell our parents. But every alternate day hum resort waale ko phone karke check karte reh.
Baaki cheezo ke baarein mein hum kuch soch hee nahi rahe thee ab. Bass ab trip ka intezaar tha. Situation bahut kharab ho rahi hai Kerala mein, yeh news par aa raha tha. Dost bolne lag gaye ki mat jao. Par hum kahan sunne waale thee kisi ki.
Finally the day arrived, 14th Aug 2018. We left for the airport for our trip. We cleared the security check and boarded the flight. Phir kuch aisa hua jo hum nahi sunna chahte thee. We got a call from our Munnar resort saying "please don't come to Munnar. Roads leading to Munnar from Cochin are blocked due to heavy rainfall". Ab hum kuch nahi kar sakte thee kyunki hum flight board kar chuke thee. Humney socha chalo Cochin tak jaate hai phir sochenge karna kya hai aage ka. Surprisingly humaari poori flight tourists se bhari hui thi. Sab Munnar ghoomney ja rahe thee humaare jaise. Poori flight journey humney yeh sochke nikaali ki if not Munnar and Thekkday then what?
Humaara poore plan paani paani ho chuka tha. Humey kuch nahi soojh raha tha. Aisa lag raha tha jaise bekaar ho gayi humaari chhutiya, humaare paise. Humey gharwaalo, dosto ki baat maan leni chaiye thi. Yeh sochte sochte hum Cochin Airport land ho gaye. Wahan humney hotel book kiya tha for one night. Luggage uthaaya, cab book ki aur bina soche samjhey hum chal diye. Humney socha jo hoga kal dekhenge, abhi hotel phauch kar, khaana khaake aaram karenge. Raaste mein humney cab waale se baat karne ki koshish ki. Hum bhool gaye the ki hum south mein hain. Language is a big barrier. Koshish bahut ki baat karne ki lekin na usse kuch samjhey aur jo woh bole woh humey kuch na samjhey. Phir uss cab waale ne apne manager ko phone lagaya aur humaari baat karwaayi. Humney usko humaari situation samjhaayi aur uska number save kar liya. Itni der mein hum hotel phauch chuke thee. Driver ka shukriya aada karke humney hotel mein checkin kiya. Hahahaha!! Hasi aa gayi mujhe yeh cheez sochke. Hotel manager se humney alcohol ke liye poocha "whether they serve alcohol in hotel or not". Phele toh usse laga hum mazaak kar rahe hai. Humaare doobara poochne par usse samjha ki mazaak nahi kar rahe hai.
We - Do you serve alcohol in the hotel?
Manager - Hehehe
We - Yes or no ?
Manager- You are girls. Girls don't drink ( In slow volume with cunning smile on face)
We - But we drink
Manager - Ohh!! But we don't serve
My friend- Is there any shop nearby?
Manager - It's too late
My friend- I need cigarettes
Manager - Looked at us and nodded his head.
We were not in a mood to argue with him. We ordered food for dinner and went to our room. Room service se call aaya. Aapko kaunsi beer chaiye? Haan yeh wahi manager tha. Batake humney phone rakh diya. We had our food yeh sochte hue ki kal kya karna hai. Tabhi mujhe cab manager ka whatsapp aaya. He mentioned the safest places we can visit in Kerala. We were surprised ki usne humey whatsapp kiya. Jagah batayi. Na jaan na pehchaan aur na hee naam pata hai phir bhi itni madad. Woh sirf yeh jaanta tha ki yeh do ladkiyaan hai jo Mumbai se Kerala ghoomney aayi hai. Usse baat karke humaara 1st destination decide hua. Alleppey.
Alleppey..Subah uthkar sabse phele Munnar aur Thekkady ki booking cancel ki gayi. Houseboat waale ko phone karke situation poochi. Inn sabke beechmein, baarish rukne ka naam hee nahi le rahi thi. Hum ready hue, checkout kiya aur apni zoomcar lene nikal gaye. Baarish ki wajah se kuch jagah paani bhar chuka tha. Kaafi der tak hum cab mein ghoomte reh kyunki humey zoomcar ki location hee nahi mil rahi thi. Finally hum location par phauche. Poori jagah paani paani ho rakha tha. Zoomcar li, houseboat waale ko phone karke confirm kiya aur nikal gaye apni pheli manjil ki taraf.
Cochin se zayada duur nahi hai Alleppey. 45 mins on map. Map ke hisaab se hum nikal gaye. Beechmein confirm karney ke liye humney logo se raasta pooch liya. Wahan kisi ne hume kaha ki "Aap houseboat par ja rahe hai?" Mat jao wahan "Red Alert" kar diya hai water level badhne ki wajah se.
Humney uski baat par dhayan nahi diya aur chal diye aage. Aage jaakar humey houseboat ka manager pick karne aane waala tha. Jab woh mila tab pheli cheez humney usse humaari safety ka poocha. Gehari saas lekar he said "Everything there is fine". I have other houseboats as well which are full. So you girls don't worry about it.
Finally hum houseboat par phauche. Paani bahut tha wahan bhi par bina sochey, car park karke hum houseboat par baith gaye. Wahan aur bhi log thee, jo ghoomney aaye thee. Humaari himmat badd gayi isse. Poori houseboat humaari thi. Sirf 2 log. Kind of private which we got in a very good deal.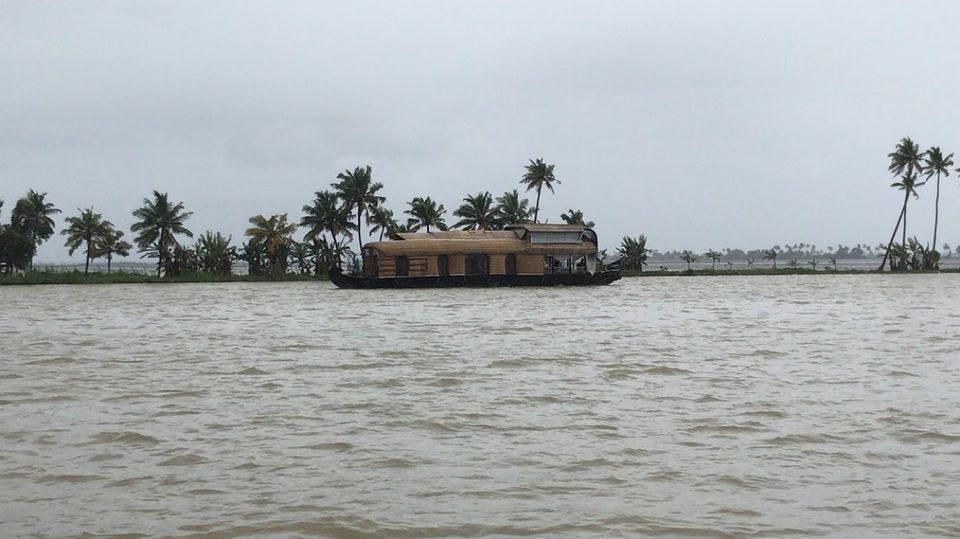 We noted down his mobile no. and with a smile our journey of houseboat started. It was a very different experience for us. Totally worth it. We were welcomed with an orange juice and banana chips. Hospitality on houseboat was overwhelming. Lunch, dinner, snacks all were of our choice.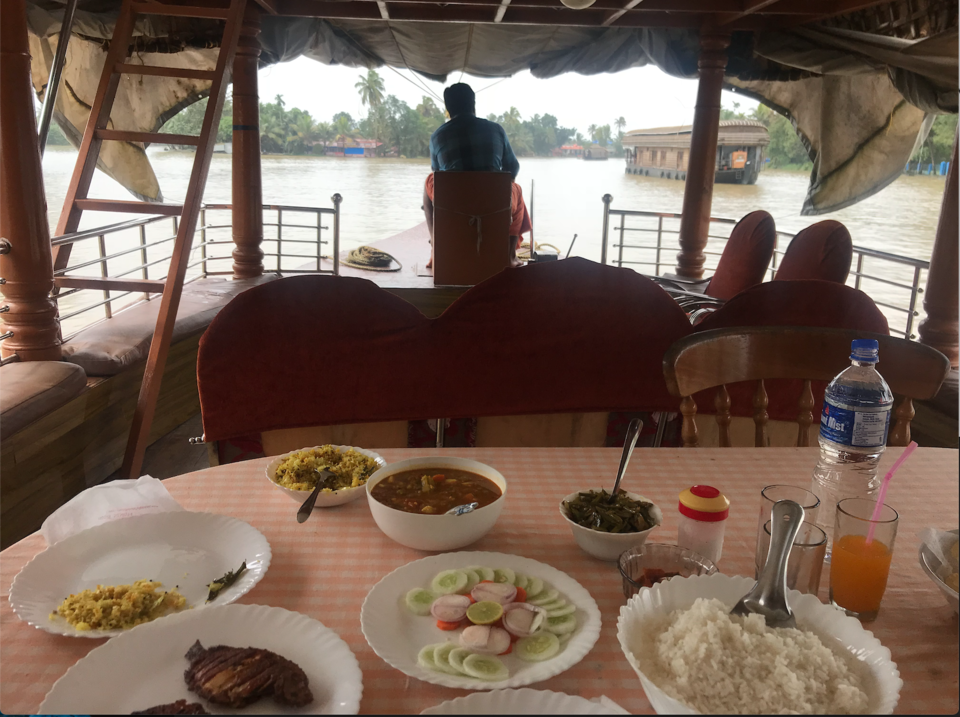 Dophar mein baarish ruk gayi thi. Khushi thi hummare chere par yeh dekhkar. Raat ko achanak se aandhi tufaan aane laga, baarish tej ho gayi. Dinner table par baithke hum bass mausam dekh rahe thee. Tabhi humey ek phone aaya, houseboat ke manager ka.
Manager - "How's it going girls"? okay listen, don't panic, I'm coming to the houseboat to get your car key as water level has increased at the shore.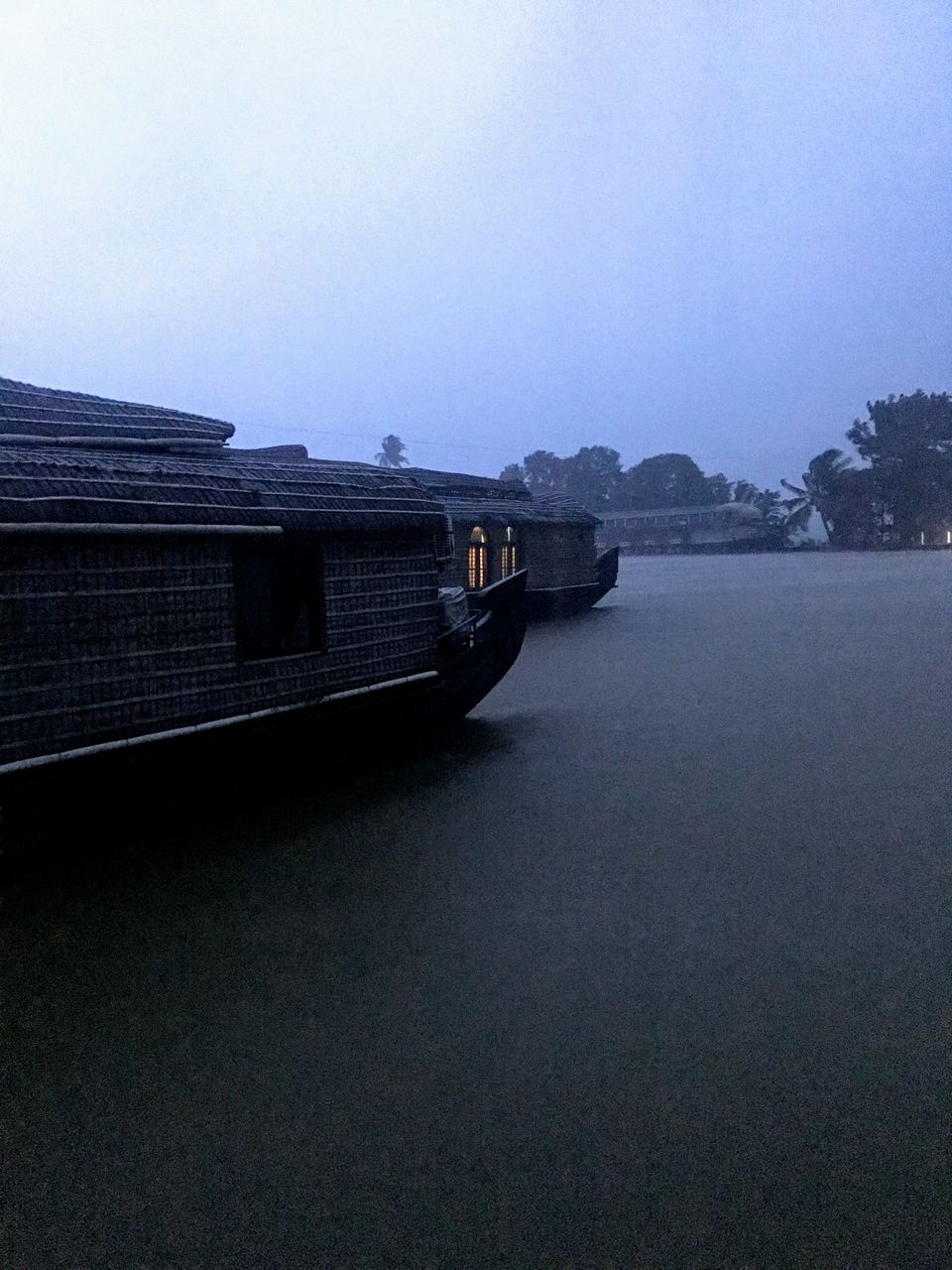 Koi yeh sunke panic kaise nahi hoga? Humney soch liya tha ki uske saath hum bhi chaley jaayenge waapas aur Allepy se nikal jaayenge. Kahan jaayege yahi nahi pata tha par. Dinner kiya aur manager ke aane ka intezaar karne lagey. His name was "John". Itni tez baarish mein, andhere mein woh key lene aa raha hai matlab situation kitni kharab hai. Finally he was here.
John - So how's the food? Enjoying?
Me - Yes, it's delicious. :) . What happened? How's the situation outside?
John- You don't have to worry about it. It's just water level has increased at the shore, so police asked us to remove all the vehicles parked there.
Me - Where will you park our car ? We were thinking, if we can also come along with you. We will go back to Cochin.
John - No no..You are safe here on houseboat. Situation in Cochin is worst than here. It's too late. Take rest. Morning, anyways you are leaving Alleppey.
With this he left.
We were worried. Uske kehne ka kuch asar nahi hua tha hum par. Humney socha ab subah ka intezaar karo aur nikalo Kerala se. Ab hum Kerala mein hee nahi rukna chahte thee. Humaari return flight Cochin Aiport se thee. Humney Jet Airways ko phone kiya aur request ki humaari flight reschedule karke Cochin ki jagah Trivandrum se karde. Jet Airways sunne hee nahi tayiyaar tha. Humney pata nahi kya kya bol diya unhe , senior manager se baat karli but woh sunne hee nahi tayiyaar thee. Atleast 30 mins hum unsse ladey phone par. Par koi fayada nahi hua. Thak haar ke hum so gaye.
Haan ek baat kehni padegi, itna comfortable tha humaara bed houseboat par ki pata hee nahi chala ki subah kab ho gayi. Subah uthte hee hum ready hue, bahar ki situation dekhi. Baarish ruki hui thi. Humaare chehre par phir smile aa gayi. Breakfast serve karte time humey bataya gaya ki bahar bahut paani bharne se abhi hum boat starting point par nahi le ja sakte. Humney socha paise jaaye toh jaaye, bass Kerala se nikalo. Kaafi places shortlist karne ke baad, we have decided our next destination "RAMESWARAM".
Pamban Bridge jo dekhna tha humey. Sabne kahan bahut duur hai RAMESWARAM, it's the other corner of India and we are at the other corner.
Logo ne kaha bahut duur hai, itna drive nahi kar sakte tum. Kerala se bahar nikalna humaara main motive tha. Kaise nikalenge, kitna time lagega, yeh toh sochna hee nahi tha humey. Nikalne se phele humney cab manager ko phone kiya aur poocha ki "RAMESHWARAM" jaana safe hai ki nahi. He simply said one thing, "leave Kerala as soon as possible". While leaving make sure you take highway and no shortcuts". With smile on our face we left for our new destination which was showing 7 hours in map. On our way we booked our stay. We were following google map but I don't know what happened to my map, we took the diversion and it took us to the shortcut.
Yeh woh shortcut tha jo lene se mana kiya gaya tha. Shuruaat mein toh humey samjha nahi kuch.
Humney socha aage jaakar hum highway touch kar lenge. Hum jitna andar jaate reh utna highway se duur hote gaye. Bahar nikalna bahut mushkil ho gaya tha humaare liye ab. Google map ko follow karte reh hum ki kahin na kahin toh hum nikalenge.
Yeh sochke hum chalte reh aage. Aaspas humaare bass paani hee paani tha. Google map bhi yahi dikha raha hai ki aaspaas paani hai. Woh normal paani nahi flood ka paani tha.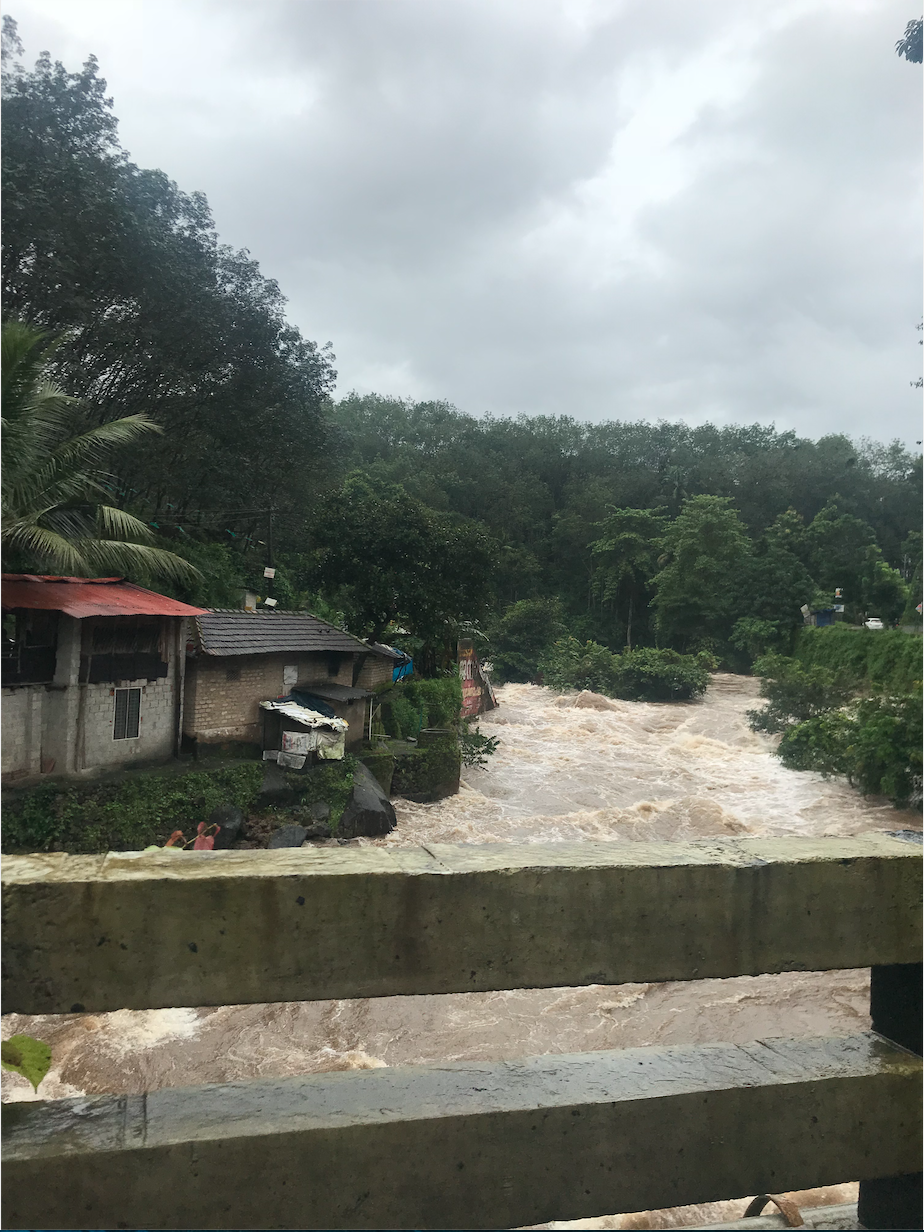 Samajh nahi aa raha tha ki hum kya karey. Bass chalte ja rahe thee hum. Ek jagah phauchkar humey laga highway touch kar liya ab. Wahan police ne rasta block kar rakha tha kyunki aage ki road paani mein beh gayi thi. Bina ruke, turant turn liya humney.
Thoda aage jaate hee humey logo ne rok diya. Sab jagah blocker tha humaare liye. There were couple of people standing. I asked them for the route to Trivandrum. They asked us to follow them. They were on bike. We were doing exactly the same they have asked us to do. At every point, they guided us. We reached highway sort of road. We thanked them and followed the route they told us. We were happy seeing the road having less water logging.
Gaane bajaye gaadi mein aur hum aage nikal chaley. Raasta saaf tha, hum khush thee, baarish bandh thi, aur kya chaiye kisiko. Itna aasan nahi tha humaara safar. Yeh tha humaara sabse bada blocker. Raasta jo humey 10 mins mein Trivandrum phauchata woh raasta bandh kar diya tha. Koi raasta nahi tha aur humey diversion lena hee tha. Google map reset kiya humney phirse aur Trivandrum ka raasta dekha. Har raasta humey galat jagah le ja raha tha. Tab humney socha ki Google Map bandh karo aur localite jaise logo se poochna chaiye.
Uss samay logo ko google map se zayada pata tha ki kaunse raaste bandh hai aur kaunse safe hai. Logo se pooch poochke hum finally Trivandrum phauche. Jo raaste humey 3 hours mein cover karne the usse cover karne humey 7 ghante lag gaye.
Raaste se khaane ka saaman uthaaya, paani ki bottles aur Trivandrum se turant nikal gaye. Finally flood se bahar thee but manzil abhi bahut duur thi humaari. Trivandrum se Nagercoil jaana tha humey taaki wahan se Tamilnadu ke liye highway le le.
Pata nahi kyun par hum galat raasta liye ja rahe thee. Google Map ke hisaab se woh shortcut tha par humaare liye usse bada long cut koi aur nahi. Iss beechmein bhut log miley jinhone humaari help ki. I'm still thankful to them. Na jaan na pehchan bass humey har jagah guide kiya.

Rameswaram phauchne humey kareeban 15 ghante lagey. Itne ghante ke drive ke baad raat ke 1 baje hum Rameswaram phauche. Uss raat humey aur kuch sochna hee nahi tha kyunki dimaag kaam karna bandh kar chuka tha. Khaaya aur so gaye. Subah ki dhoop kitni acchhi lagti hai yeh agley din uthke samjha. Pichle kuch dino mein humney clear sky jo nahi dekhi thi. Rameswaram mein zayada kuch ghoomney ke liye nahi hai. 2-3 jagah dhoondhi aur ready hokar nikal gaye. Abhi bhi humaari saari problem khatam nahi hui thi. Humaari return flight jo Cochin se thi woh humey change karawaani thi. Cochin Airport 21st August tak bandh tha isliye Jet Airways passengers ka boarding airport change karney ready ho gaya tha. We decided to board the flight from the airport closer to Rameswaram which is Madurai. Inn sabmein we didn't realised that we have zoomcar with us and we don't know whether Zoomcar has any drop location at Madurai. Before we could have done anything, humaari flight Madurai se ho chukki thi. Phir humey pata chala ki zoomcar ka Madurai mein koi drop nahi. Isse bura aur kya ho sakta tha humaare saath. There is no direct flight from Madurai to Mumbai. So we got 1 stop to Chennai for Mumbai. We tried to convince Jet Airways, instead of Madurai if we can board the flight from Chennai. Par Jet Airways ne toh decide kar liya tha ki woh humaari nahi sunega. Issi beech humey zoomcar se call aaya ki hum car Madurai Airport par drop kar sakte hai as an exception.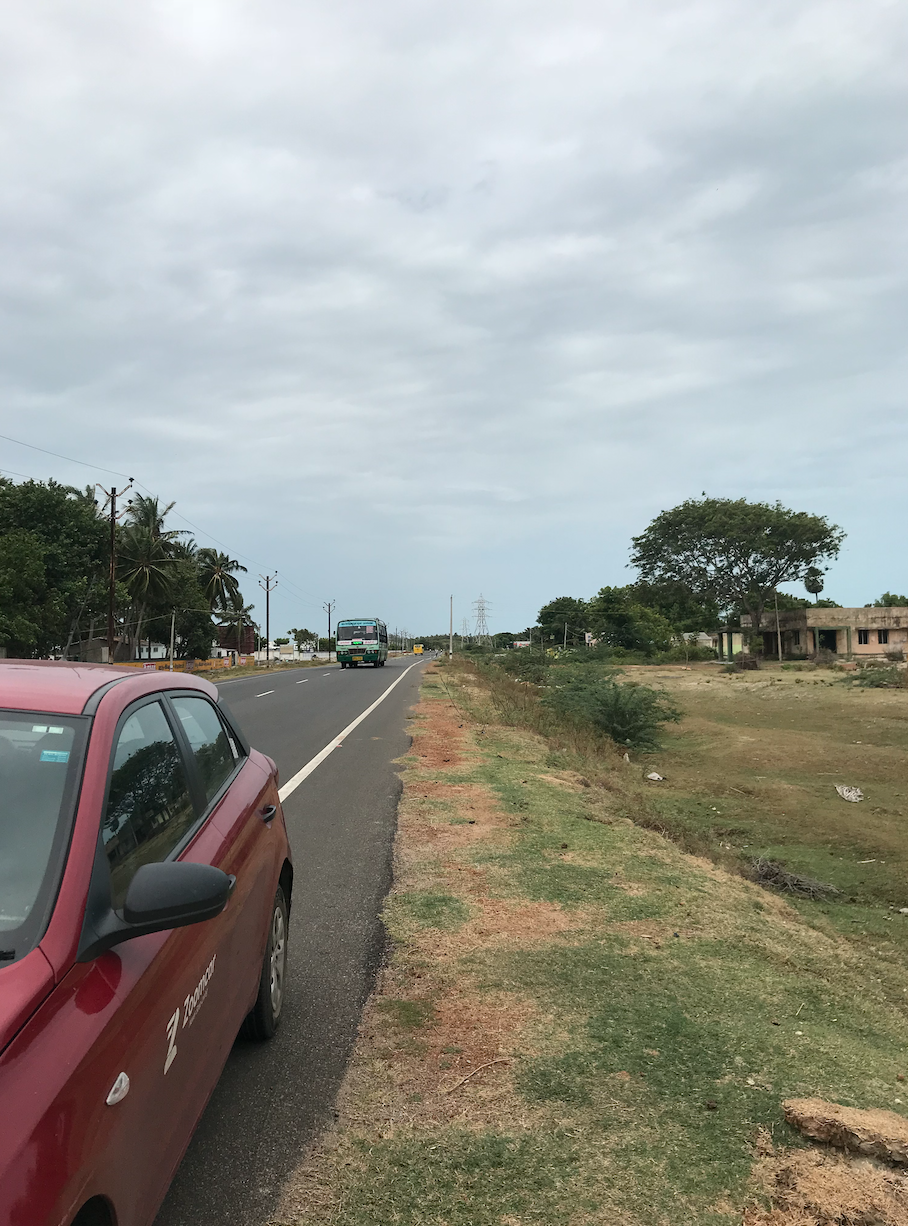 Pata nahi who called saamney se..But yeh sunkar itna relief mila. Ab Jaakar aisa laga jaise saari cheezein sort ho gayi hai. Itne adventures ke baad bhi yeh humaara sabse memorable trip hai.