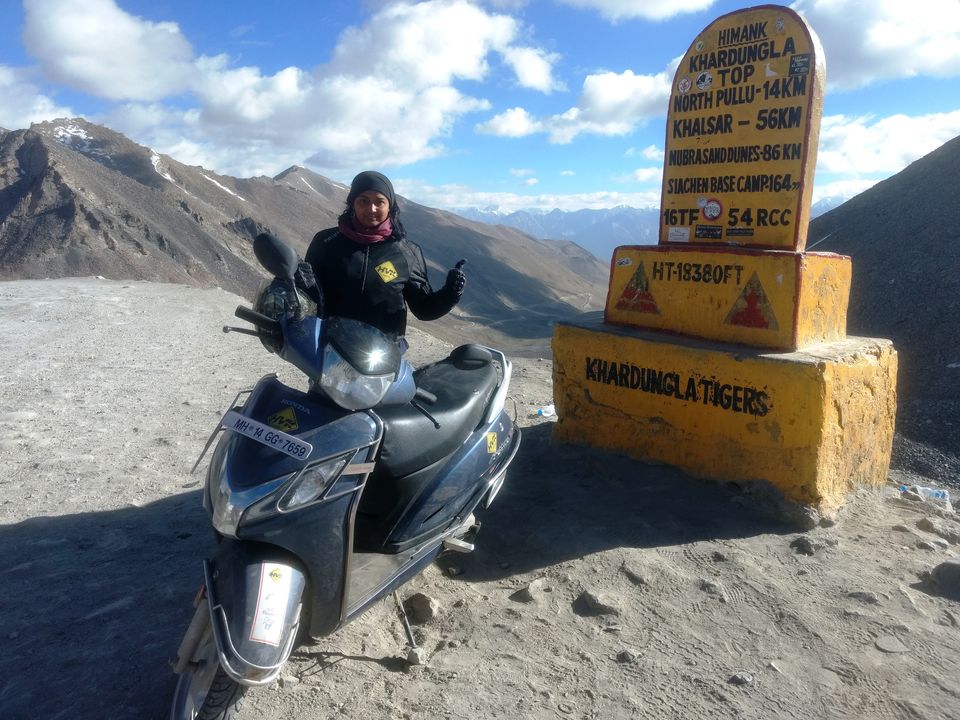 Yes you read it right and certainly it is a big achievement for me as it was Fastest North South Solo expedition by a woman. No such record is available with Limca Book of Records, India Book of Records & Asia Book of Records..
A Journey covering 11 states & 1 UT.. A journey through one of the toughest terrains in the world covering altitudes from 18,380 Ft to Sea level.. A journey through many high altitude passes, temperatures from 4⁰C to 40⁰C , from almost no roads to excellent highways, through scorching sunny, cloudy weathers & heavy rains..
My toughest and the most adventurous journey till now..
Being an adventurer I always wanted to do something extraordinary and each time I got into different adventures. After many treks in Sahyadris, road trips by car and high altitude trek in Himalayas; now it was a dream ride on my gearless scooter.. My Activa.. My partner in adventure!!!
H V Kumar!! The first person to believe my dream and give me confidence to take up this adventure!! I consider myself very fortunate to have his support & guidance for this adventure. I am very thankful to him for his precious time for all the discussions and sharing all his experiences and knowledge related to this ride. Hats off to his detailed route plan considering the terrain, the road conditions, weather conditions, the average speed of a gearless scooter, fuel stops needed and what not.. It was his advice to start the ride from Leh and cover the toughest terrain first which really helped achieve my target.
I could fulfill such an adventurous dream because of my great support team.. Thank you Prabal, Kedar, Ajay Jagga & Shraddha.. Your support always boosted my confidence may it be before the journey or during journey...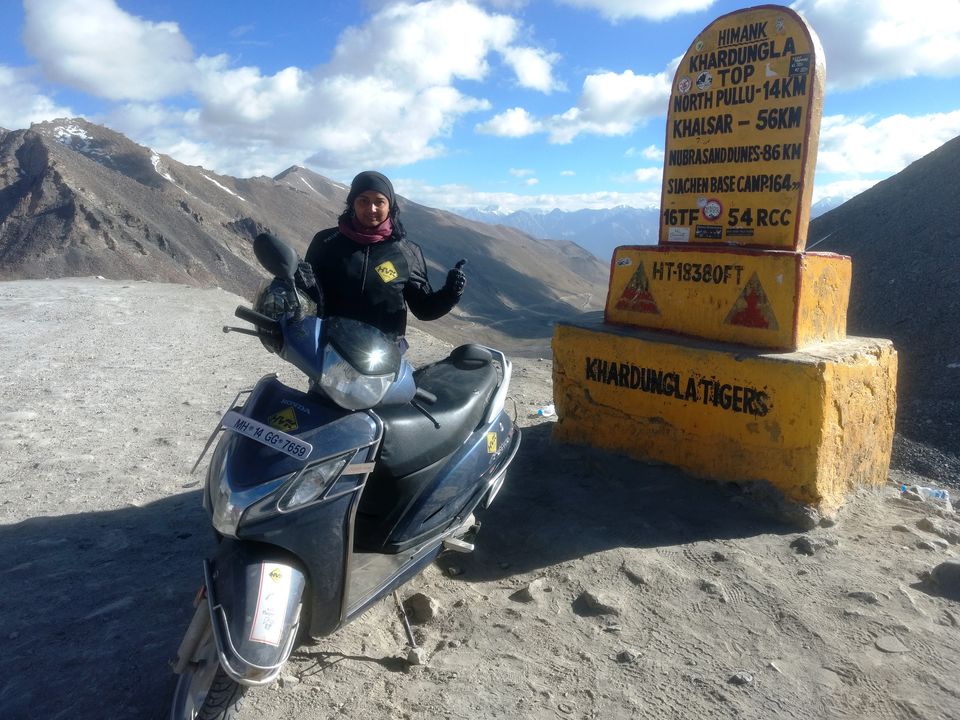 How did I achieve it.. Read on....
For this ride I shipped the scooter from Pune to Chandigarh. So my ride actually started from Chandigarh. Reaching Leh was the first big task in front of me. This journey gave me lot of required experience and learning to plan certain things when I actually started my record ride from Leh to Kanyakumari.
Day 1: Leh to Keylong
Distance: 364 Kms
Time taken: 14 Hrs. 43 Min.s
Finally, the day of my lifetime adventure arrived.. It was a mixed feeling of excitement and anxiety... There were just a handful of people who believed in me and this adventure. I reiterated in my mind and to my scooter that 'Yes.. Come On We Can Do It..'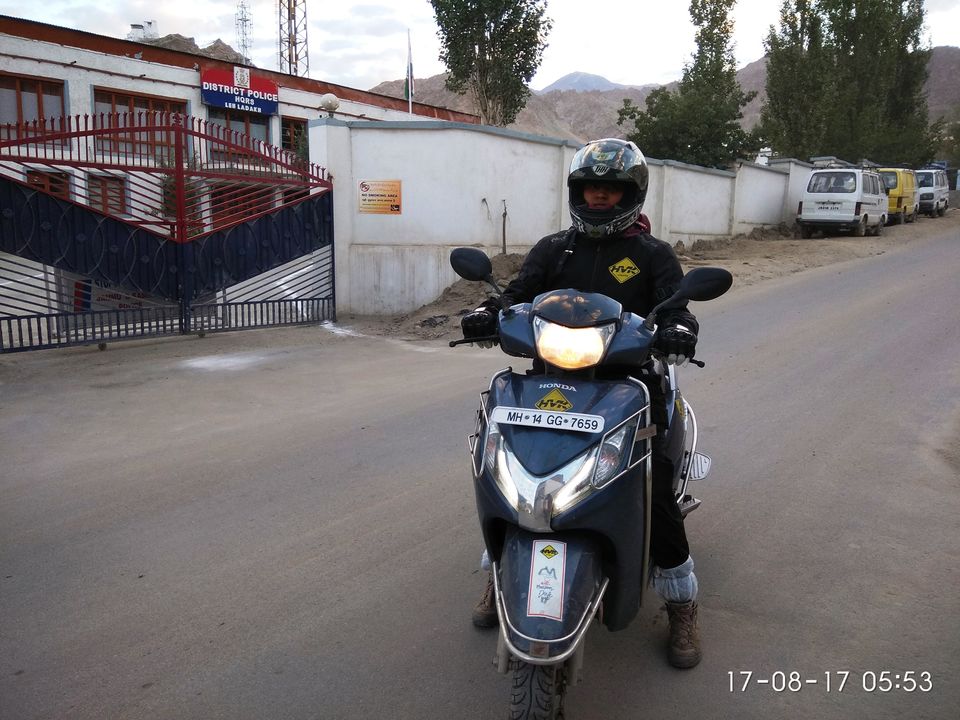 From all the information I had gathered and experience of this stretch while reaching to Leh, I know this was going to be the toughest day of the ride. The only key was to keep driving consistently without many breaks. So I kept small targets in my mind.. First was to reach Pang. As the roads were smooth till Pang the journey was going to be smoother but no the scooter started giving lags as we started climbing Tanglang La pass. I became cautious and kept the accelerator exactly to the point at which the scooter was cruising smoothly.. So my speeds ranged from 15 to 60 as my scooter allowed me..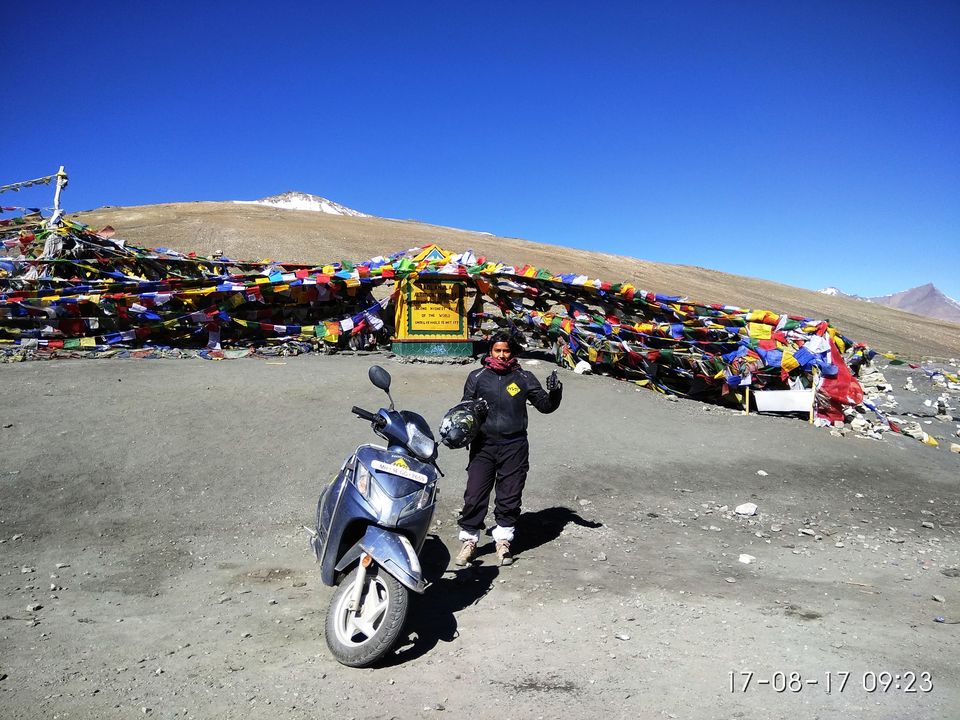 The rough roads tested me mentally... The bikers who passed by me were giving thumbs up which kept me going... Riding constantly at 15-20 Kmph was never going to be easy..Something that I had not practiced.. But I was determined and I continued riding..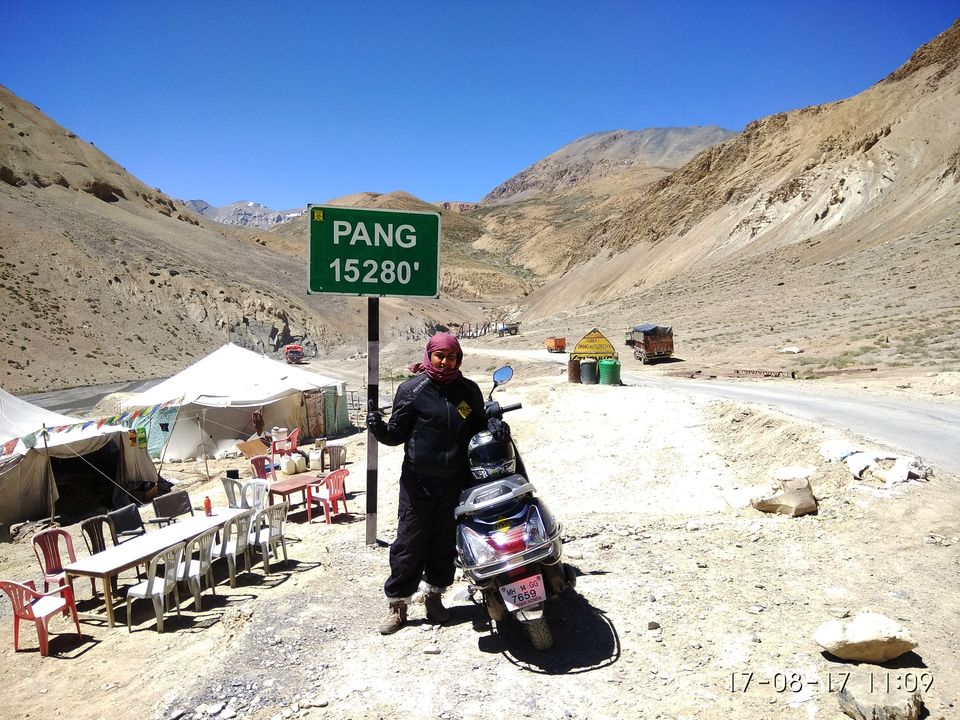 The road repairs were going on at many places. I got some patches with fresh tarmac laid down which was pleasing for few minutes till again I hit the bad roads. I was extra cautious while riding on rough roads for the risk of getting the tyre punctured as I had seen 2-3 bikers with this problem during my journey... Descending through Gata Loops was smooth in some patched and very tough in some as the repairs were not complete and the loose stones on the roads were bigger sometimes..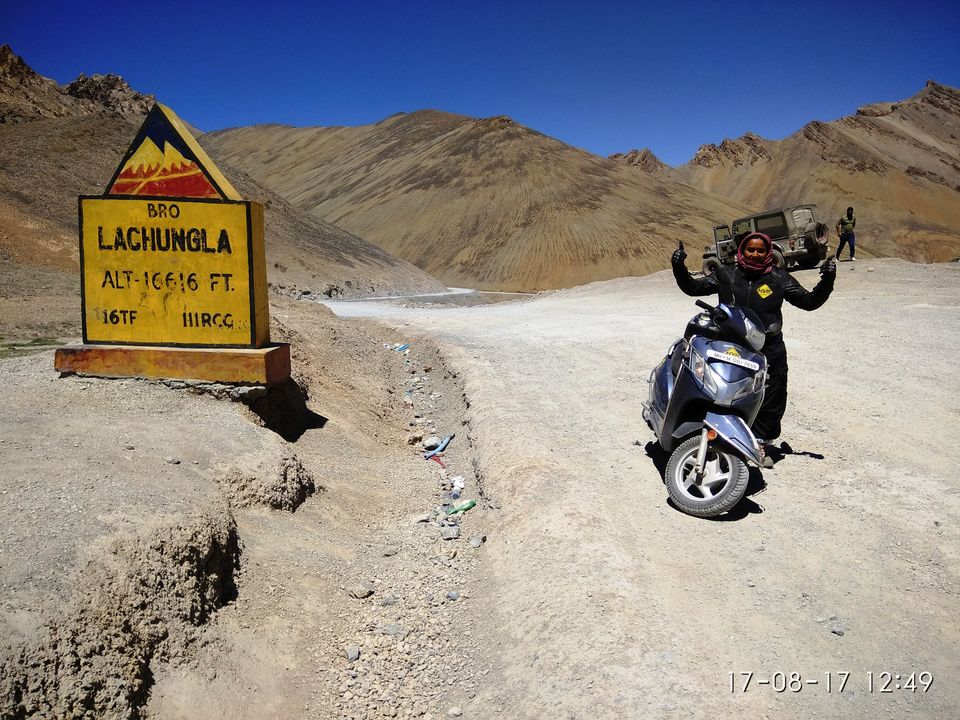 I reached Sarchu and the Legendary biggest water crossing was waiting for me.. From the lessons learnt while going to Leh, I had put plastic bags over socks inside my shoes to avoid getting my feet wet in the chilled water. Got few more water-crossings during the ride. I had almost lost the control in one of such water crossing as my foot could not get grip under water but I managed to keep the balance and came out safely. I was assessing the water and the stones under it before crossing over.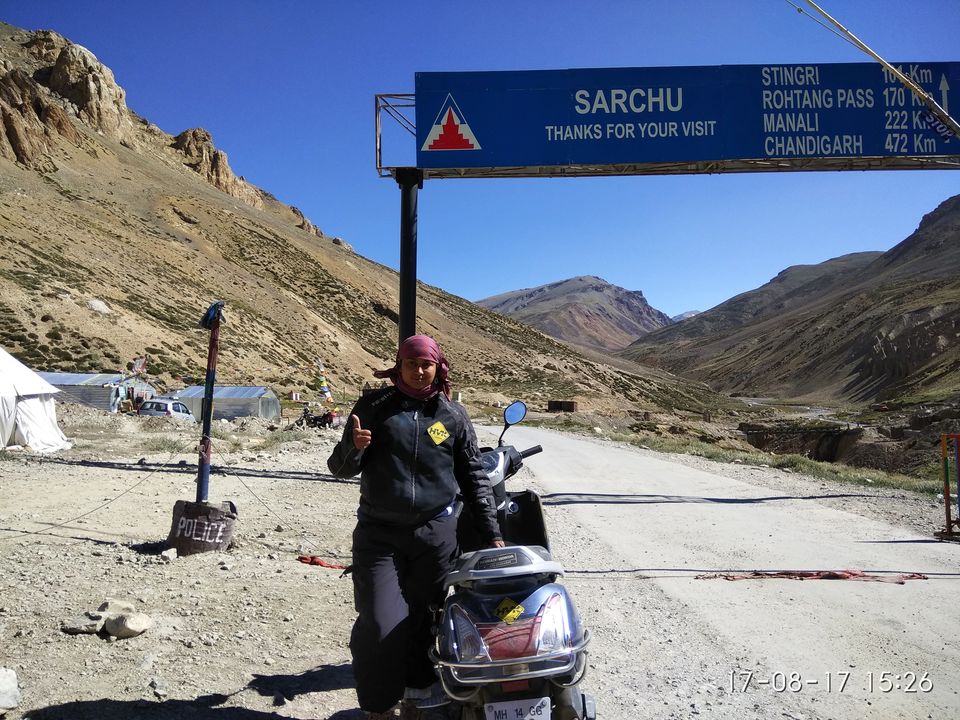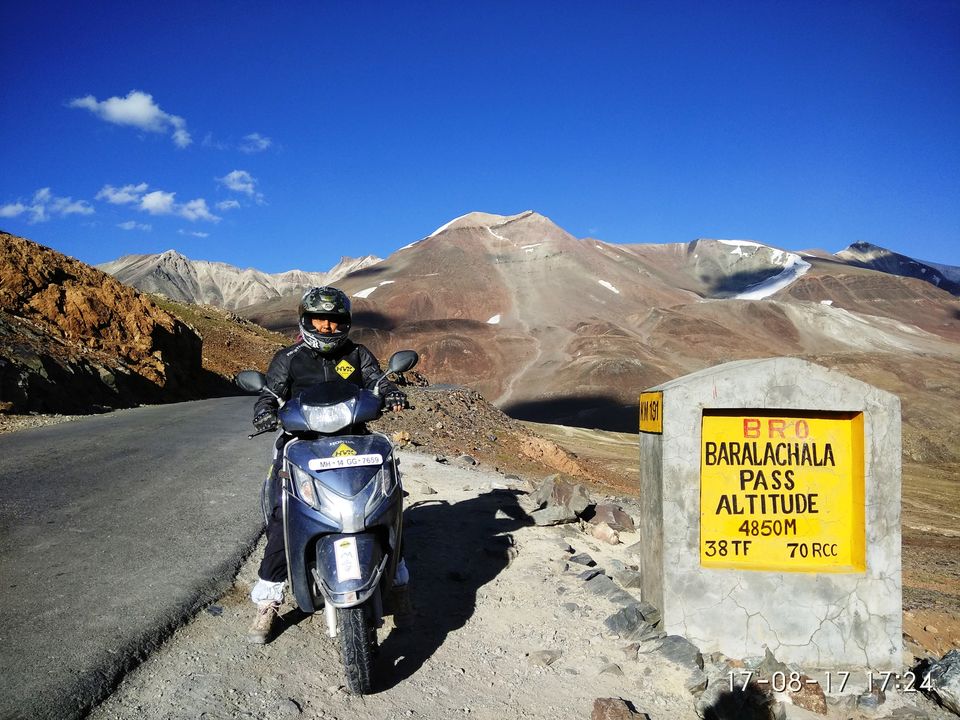 Once I reached to lower altitudes the scooter started behaving normal so I could do the speeds of 50+ kmph depending on road conditions..
As I reached Darcha it started getting colder and windy. By the time I reached Keylong it was all dark and I concluded my journey there. With the scooter giving lags at high altitudes it was my conscious decision to not to ride though Rohtang pass in the night...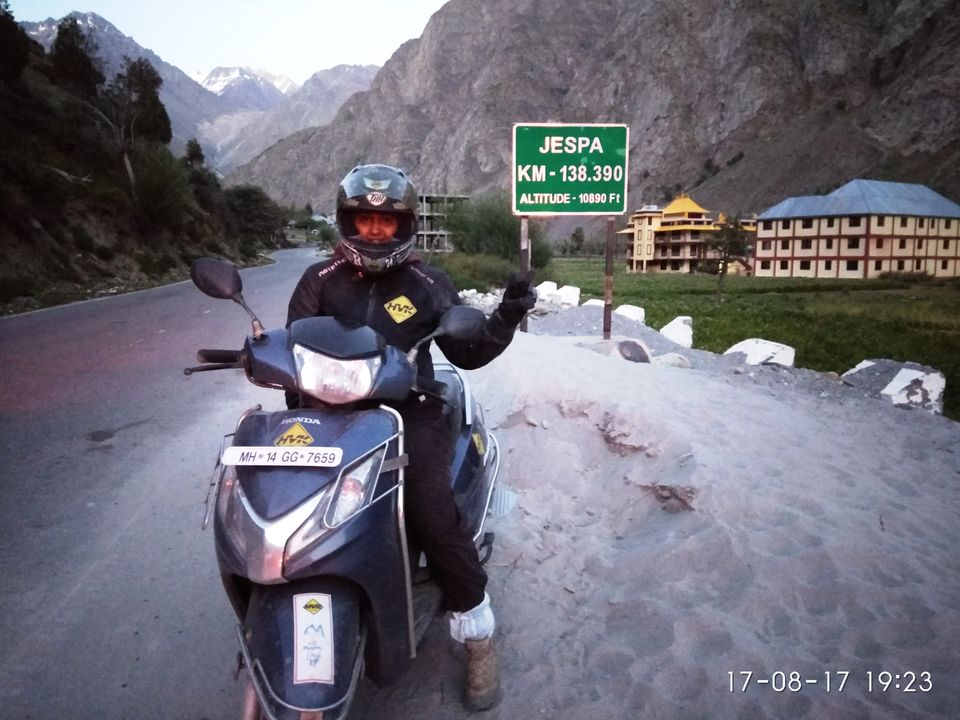 Day 2: Keylong to Chandigarh
Distance : 460 Kms
Time taken: 16 Hrs. 33 Min.s (Stop Overs: 3 Hrs. 20 Min.s)
I was restless as the stretch of Keylong to Manali was the addon from the Day 1 plan.. So I wanted to finish off this terrain faster and reach to normal roads..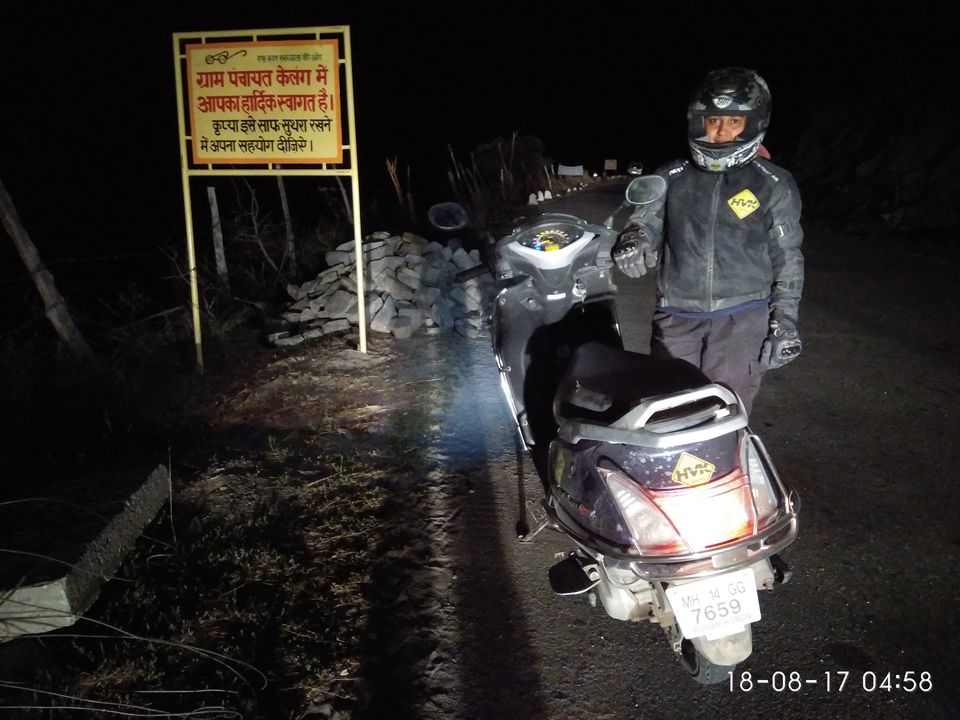 Ascending Rohtang pass was a tough job... Roads were very bad except few small patches and the truck traffic added more to it... It was difficult to keep riding behind them as I was losing the visibility of the road and due to slow speed of my scooter I could not overtake them easily.. Sometimes on a steep ascent the scooter gave up and couldn't move then I had to give a push to keep it going.. It was very challenging to keep the engine on in any situation as getting it off would have been very time consuming affair and I was in no mood to lose time..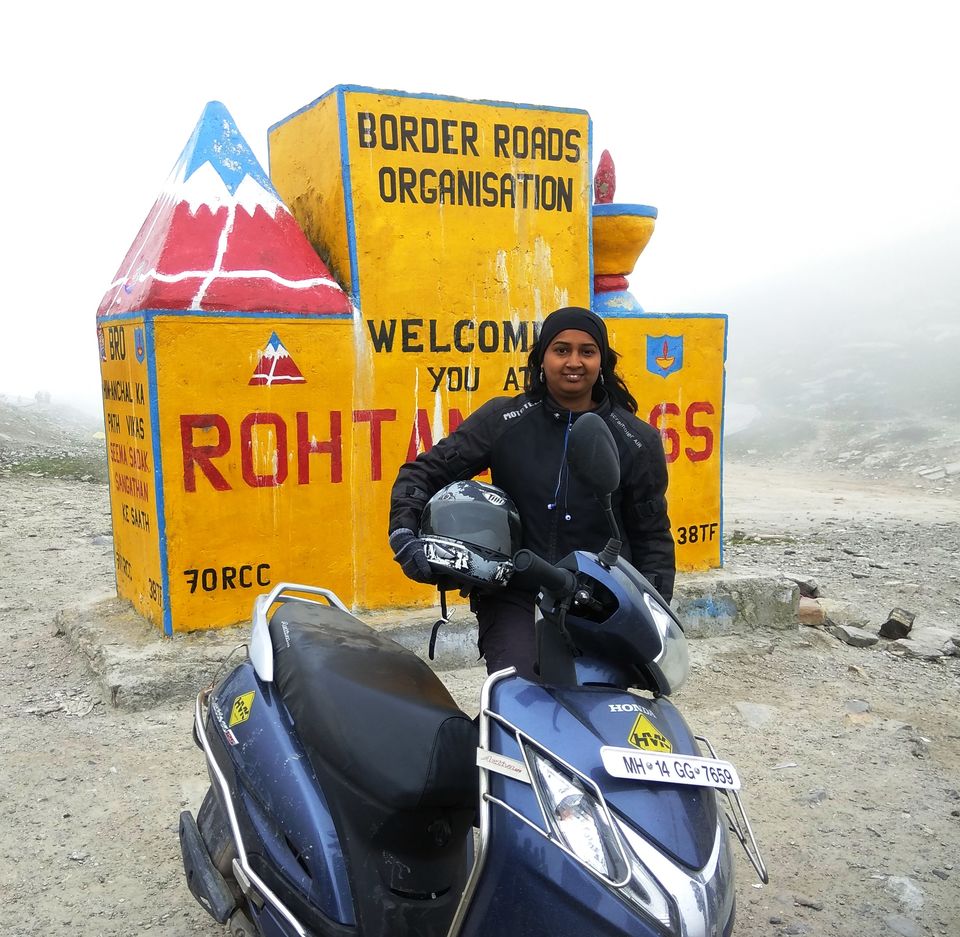 Once I crossed Manali, me and my scooter were all back to normal. Routine curvy roads & lower altitudes from now on.. Something which we had practiced together!!! We both celebrated this by doing some high speeds in good stretches.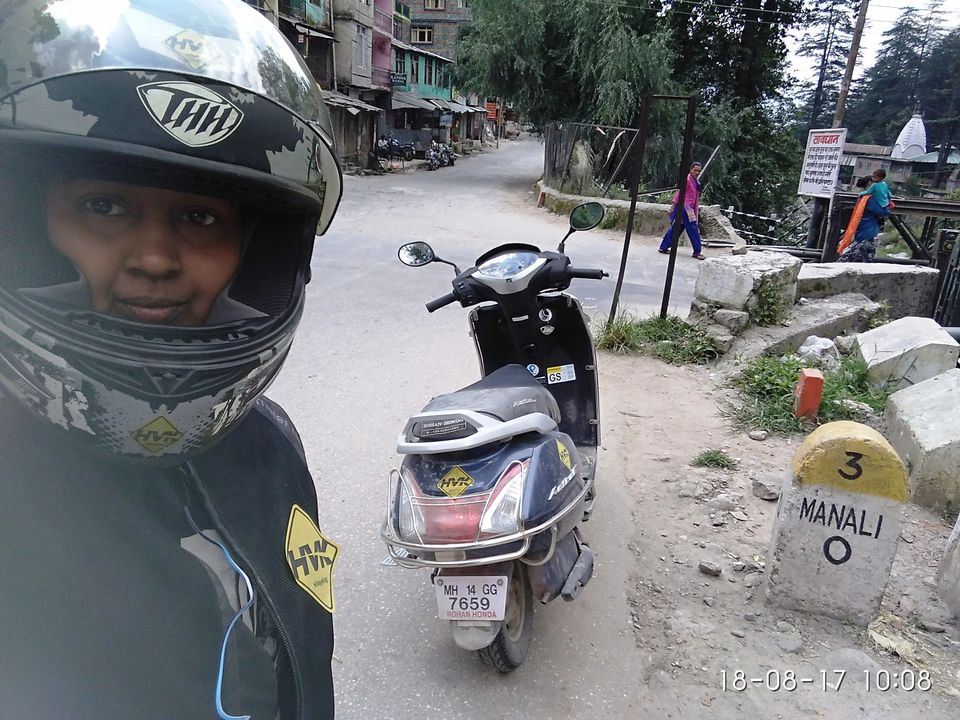 I faced huge traffic pile up due to an accident but managed to crawl through it from one side. There was heavy truck traffic which slowed down my speed and overtaking them kept me busy throughout the day. The weather became too hot as I kept going towards Chandigarh. I started feeling uneasy due to dehydration and lack of wind.. Then I took small breaks from time to time to keep myself hydrated and kept munching dry fruits to keep up the energy. What a day it was!! Through freezing cold, drive with thermals and then dehydrating hot.. Whenever I could do speeds above 70 kmph it was a relief from that uneasy feeling.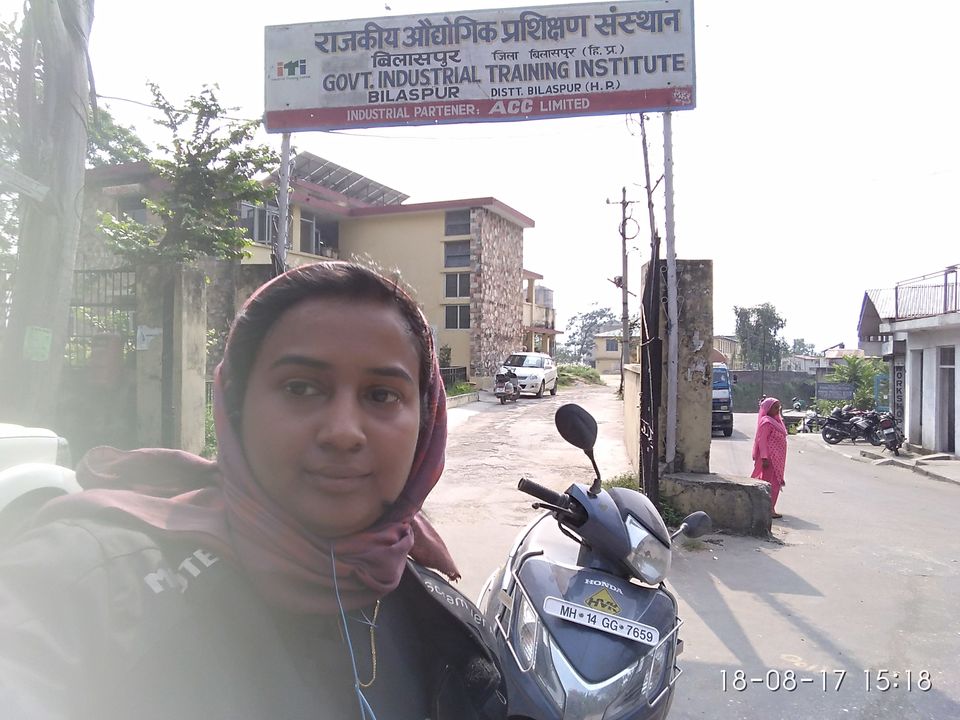 When I crossed Kiratpur & hit the plain highway I felt like Yayyyyy I have done it rather I have finished that tough terrain... the hardest part of the journey.
Reaching Chandigarh gave me sense of accomplishment to some extent as I had started my journey on the scooter from there. I had successfully completed that round trip.. Now I started preparing my mind for longer durations and longer distances.
As planned, I knew I will not get longer breaks now onwards to cover up time & distances so I decided to conclude that day's journey at Chandigarh and start with full energy the next day.
Day 3: Chandigarh to Sagar
Distance: 922 Kms.
Time taken: 19 Hrs. 37 Min.s (Stop Overs: 3 Hrs. 19 Min.s)
Until now the journey tested me mentally and now it was turn for my endurance. The only thought in the mind was to be consistent and keep riding as long as possible. I started with fresh mind for the fresh terrain. The thermals were gone and Raincoat was out for the job.
Started early in the morning and quickly passed through Ambala – Kurukshetra – Karnal – Panipat to avoid traffic in Delhi. I was all excited about today as I was going to ride on Yamuna Expressway and in this thought I kept cutting down the distance.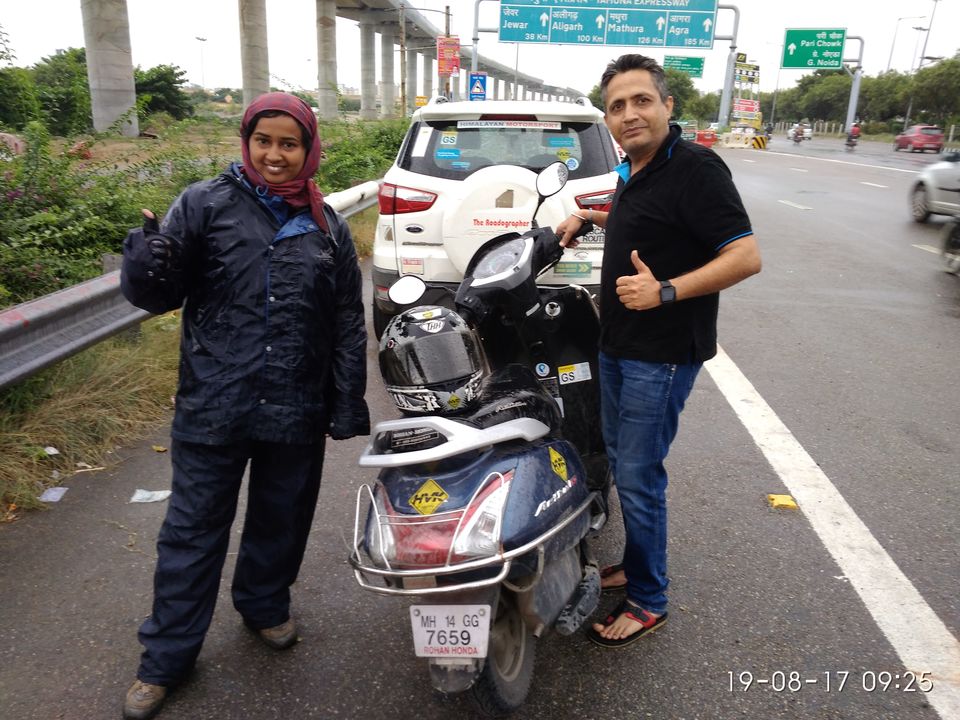 By the time I entered Yamuna Expressway (YEW) it started raining heavily. YEW was my opportunity to save some time as the road was butter-smooth and my scooter could easily cruise above 80 Kmph so I went hard on the accelerator. It was a sheer bliss!!!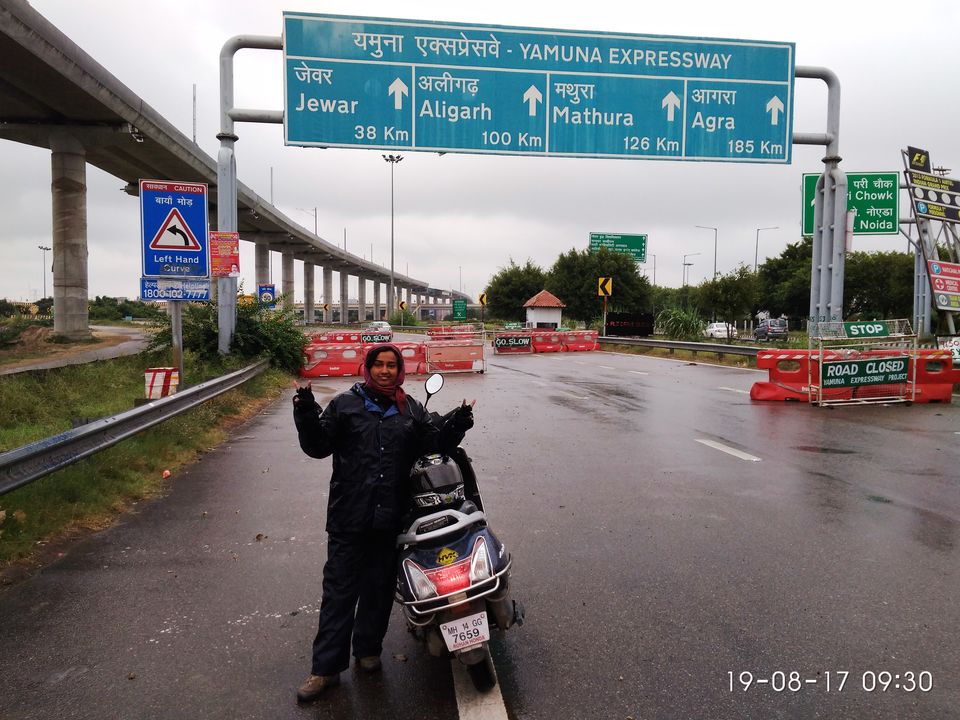 Passing though Agra was little slower due to local traffic. The roads after that were fine but there were diversions and truck traffic throughout. Also faced local traffic in towns like Dabra, MP. After we crossed Jhansi the roads became wider and smooth.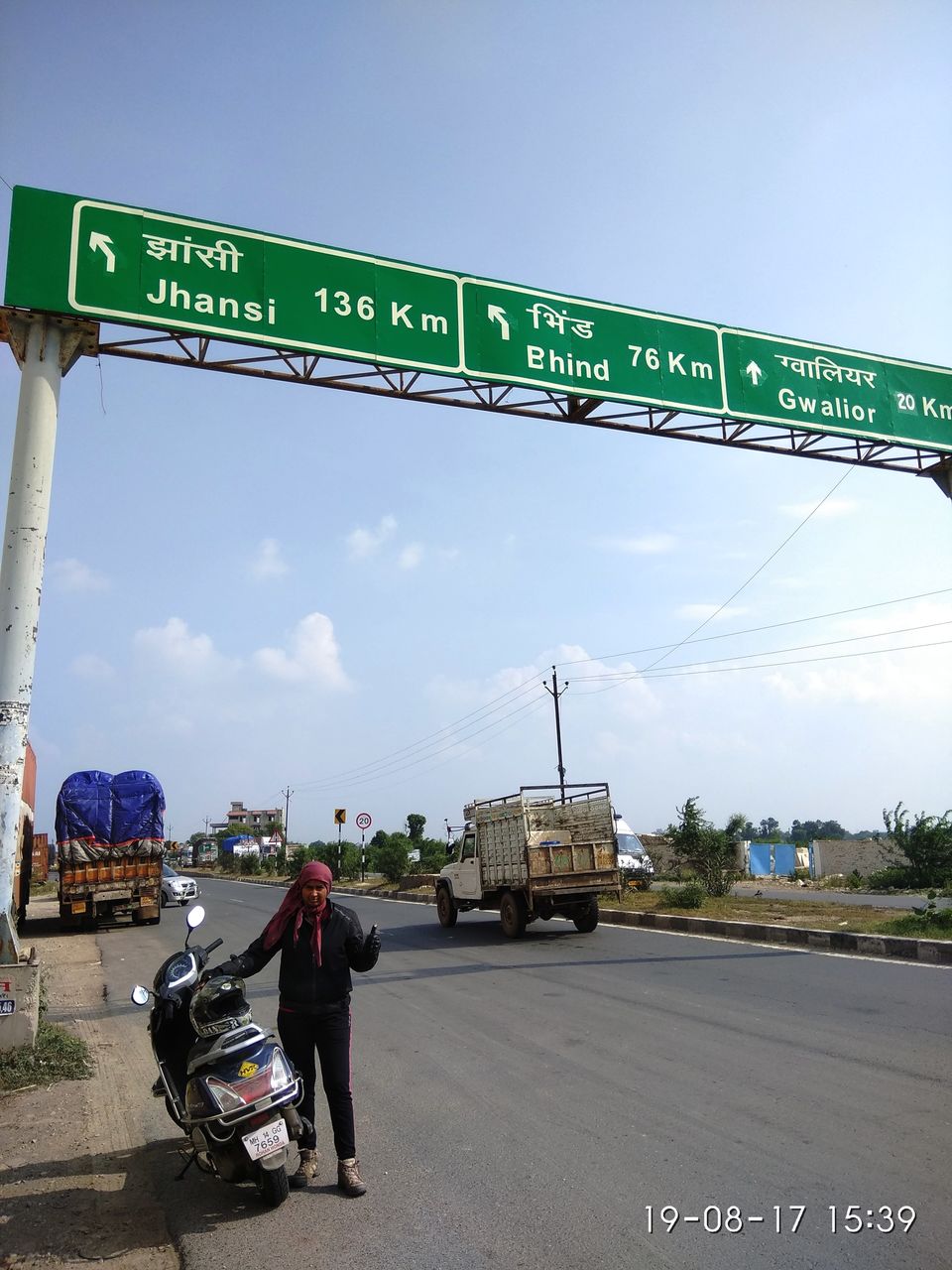 As it became darker in the evening the a new challenge came up.. Insects..There were lot of insects & flies in the air and they kept hitting on the visor of my helmet. I had to clean it several times as it was pitch dark outside and I was losing visibility.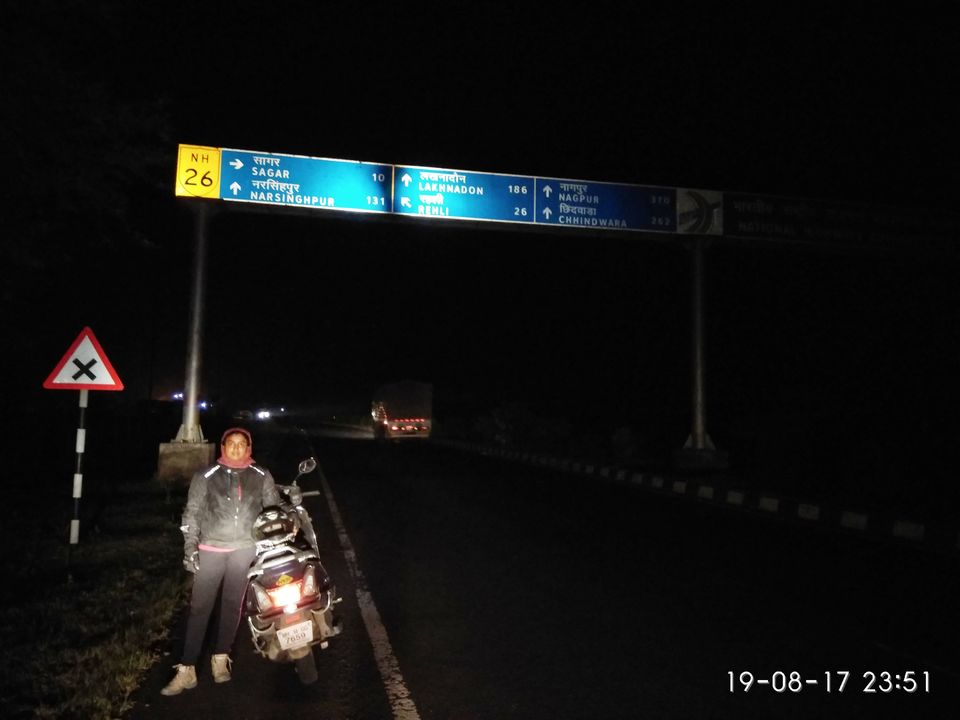 And now in the night cattle on the road..Welcome to MP.. There were lots of cows sitting on the road and I had to drive very cautiously to avoid them. This brought down my speed drastically. There were hardly any vehicles on the road and also the toll plazas were vacant & scary. I started getting hallucinations of mountains besides the roads as I hardly was able to see 10 ft in front of me..
It was almost midnight when I started feeling dizzy as I had been riding for more than 19 hours. That's when I decided to break my journey for the day!!
Day 4: Sagar to Kamareddy (Telangana)
Distance: 802 Kms.
Time taken: 20 Hrs. 48 Min.s (Stop Overs: 4 Hrs. 56 Min.s)
I started very early morning around 3 am. This was again going to be a long day and I prepared my mind for the same. As I was still in MP, the bottleneck of cows sitting on the road continued. To my surprise, I noticed that there were groups of people who were going somewhere and they added to my trouble. Some of them were sleeping on the road and almost occupied half the lane and that was very dangerous.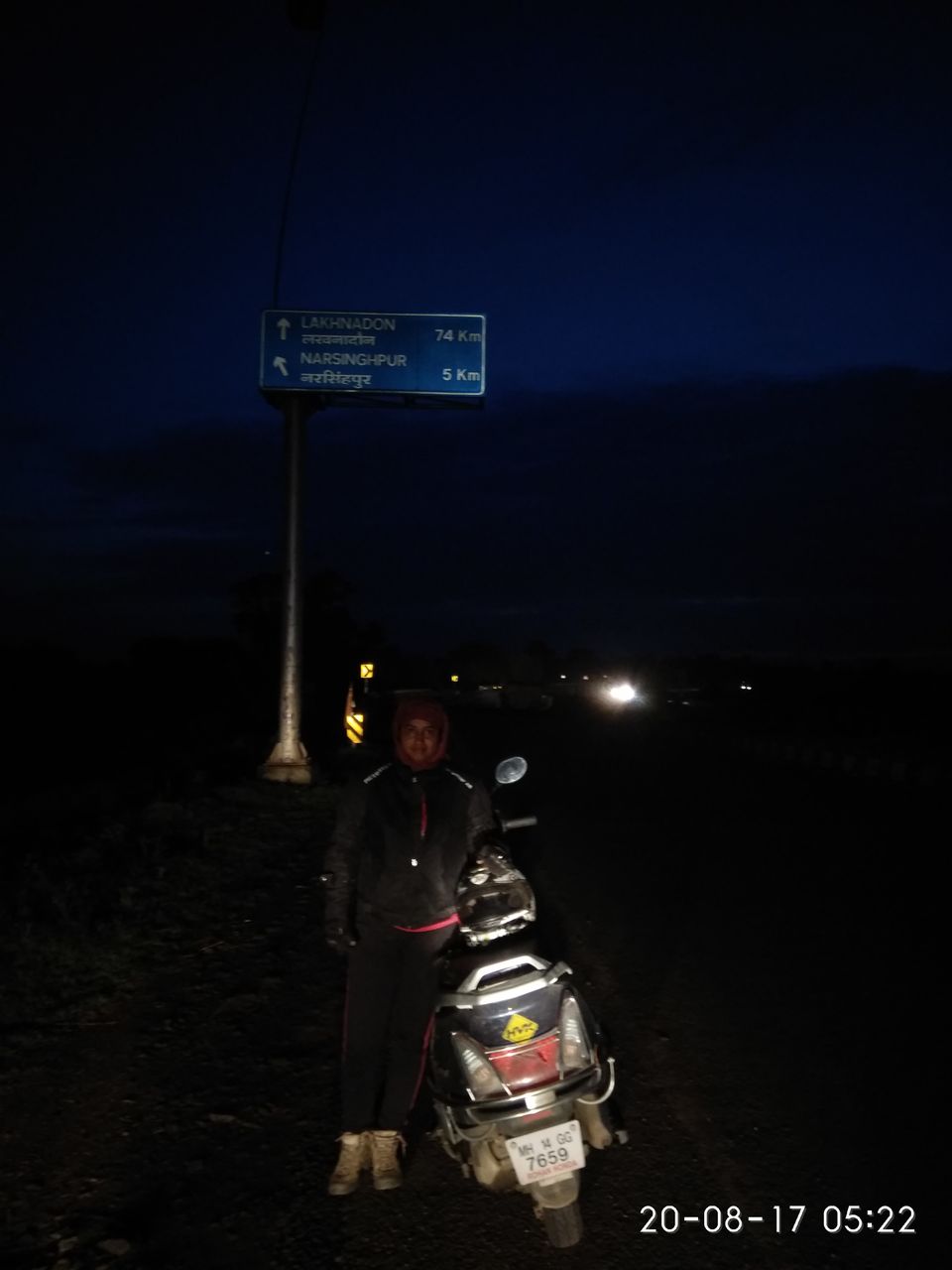 By the time of dawn I entered in foggy areas of MP and got few such patches where the visibility was just a couple of feet. As I had slept for very short time, I was feeling dizzy sometimes while driving. I took small 2 min.s breaks to get out of that & started sipping ORS whenever I stopped. Also I kept singing the songs loudly to keep myself alert.
The roads were butter-smooth and bypassed all towns which helped to avoid traffic. I managed to keep going and overcoming my dizziness by deliberate efforts.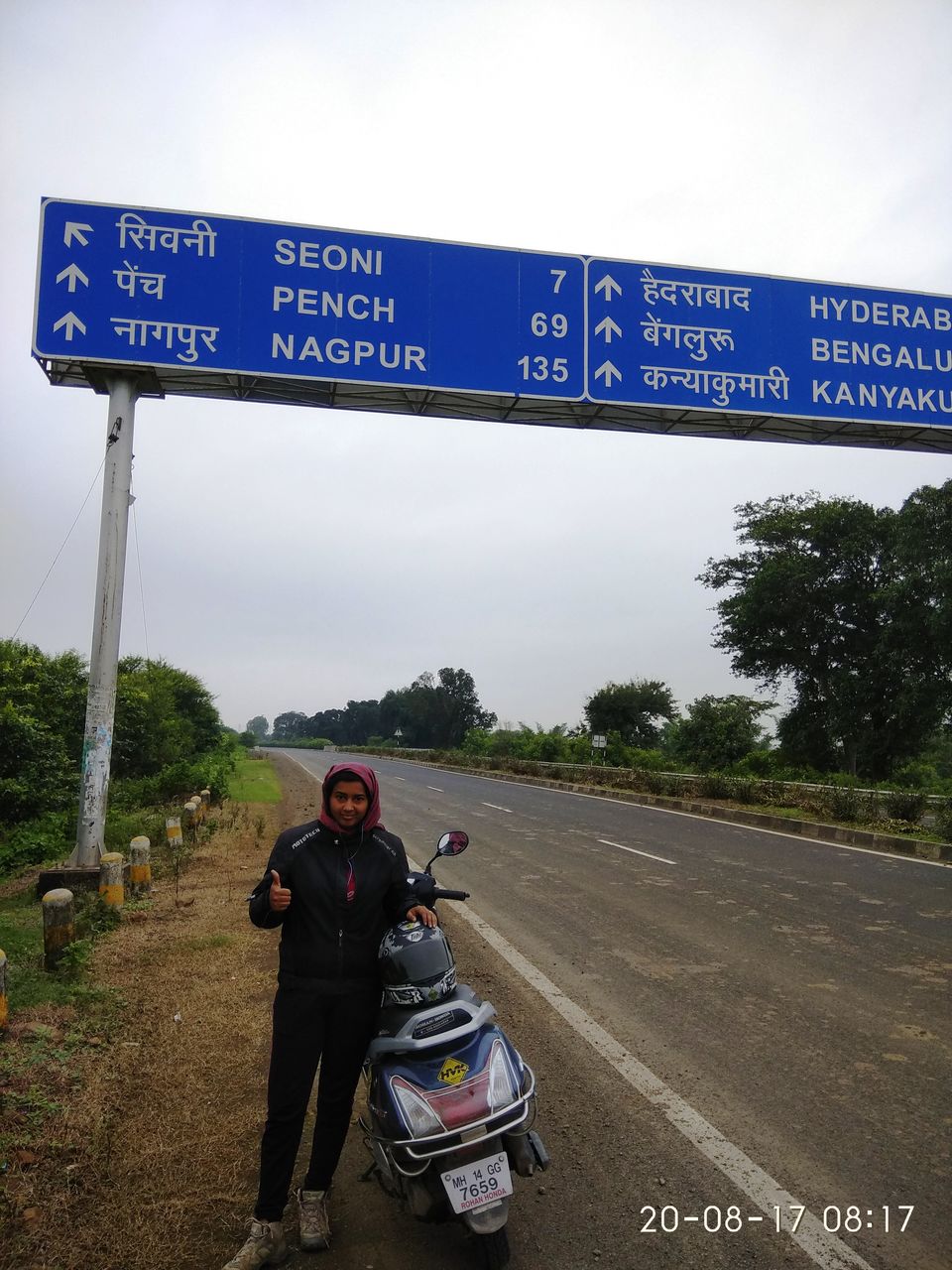 Soon I entered forest areas of Pench and the roads became bad. Lot of road work was going on and the diversions were in place. Bad roads continued till I reached around Nagpur. In Nagpur I got the servicing done for my scooter which took some time & then continued for the next destination. Now the milestones started showing distance to Kanyakumari and that excited me.. Finally that name appeared and I kept tracking the distance to be completed.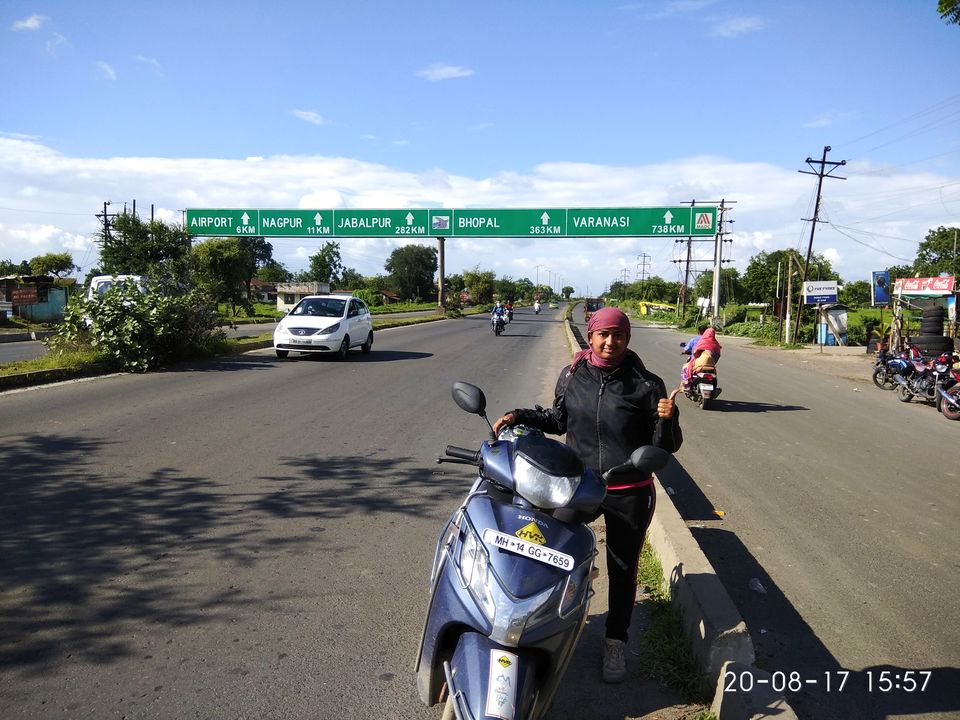 Post evening, it started raining intermittently and again the pitch dark highways started. Such darkness always gave me hallucinations of mountains besides the road. After stretching myself for more than 20 hrs I needed a bigger break to regain the energy for next 2 days so I concluded the journey at Kamareddy, Telangana for the day.
Day 5: Kamareddy (Telangana) to Kamandoddi (Tamilnadu)

Distance: 750 Kms
Time Taken: 18 Hrs. 33 Min.s (Stop Overs: 4 Hrs. 33 Min.s)
I started my journey for the day reiterating in my mind that 'this is it!! you are closer to your achievement.. keep going..' I reached Hyderabad just in time of early office hours and I could see the traffic rising!! The problem was that the Outer Ring Road was not available for teo wheelers so I decided to cross it though the city. The traffic was managed well and I steadily came out of Hyderabad and hit the Bangalore highway.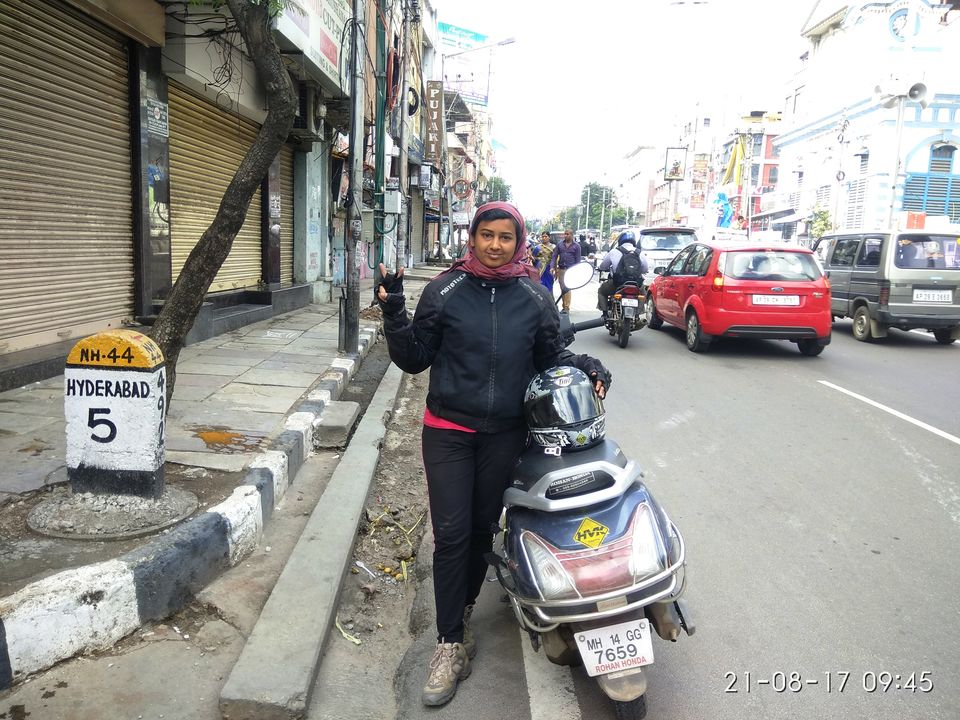 I entered in Andhra Pradesh in the afternoon and as I started getting closer to Anantapur I started seeing big black clouds gathering over the horizon. My raincoat was on its job once again and the rain started pouring in. After riding 5 minutes in rain it got so heavy that I could not see the road more than few feet and it was windy too. I had to stop for some time till the rain slowed down a bit.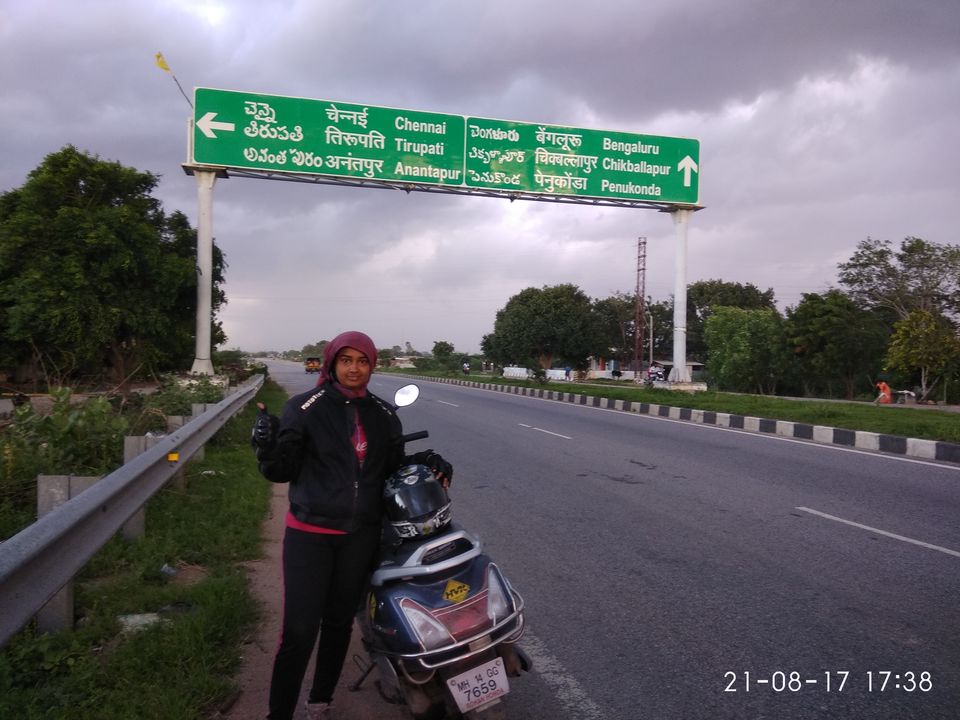 By this time the distance to Kanyakumari came down to triple digits which boosted my energy and I kept riding towards Bengaluru. It was late in the night when I entered Bengaluru so I decided to pass though the city and it was quite smooth.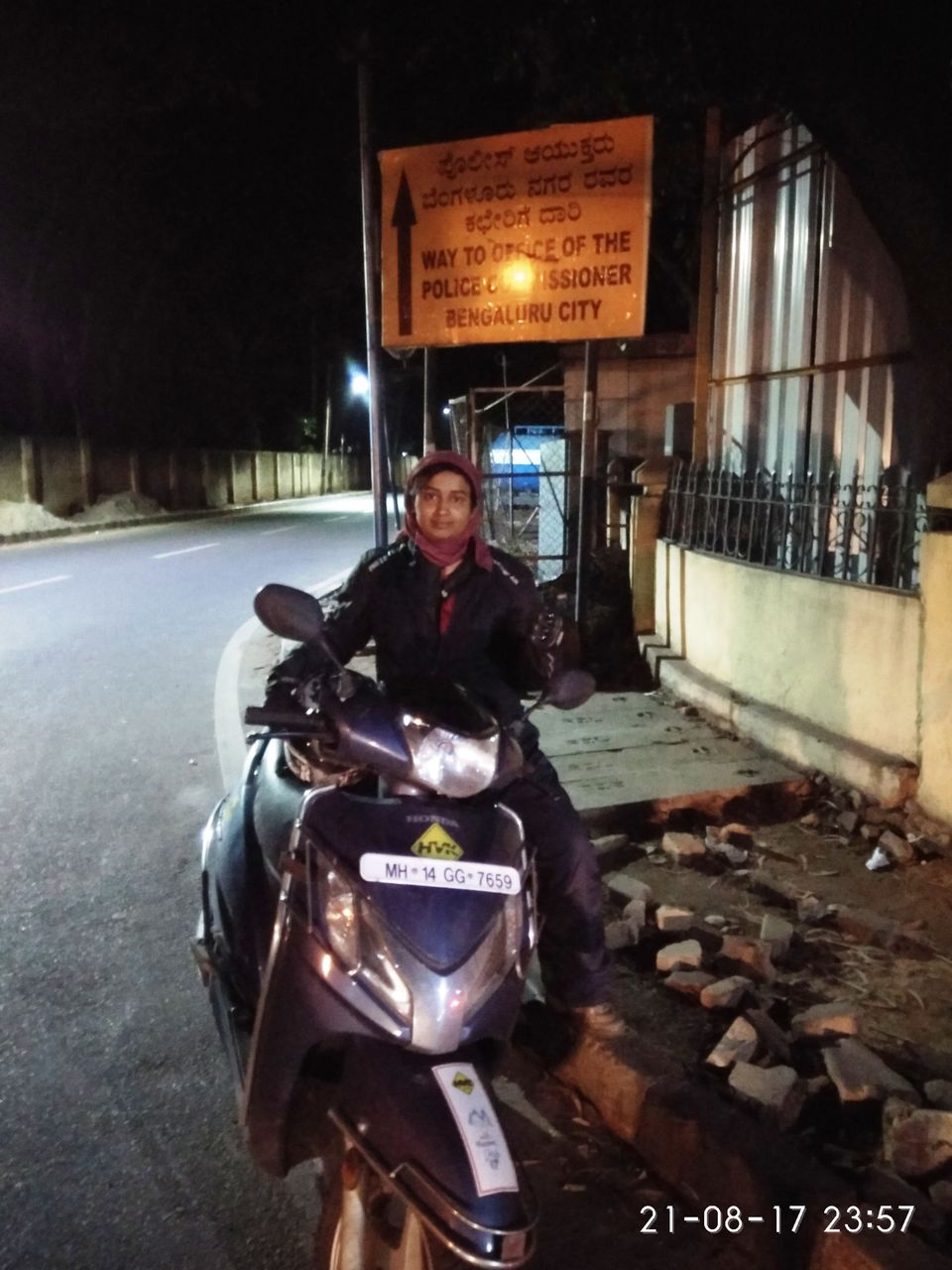 I entered in Tamilnadu and crossed Hosur by 1.30 am. After journey of 18 long hours I decided to break the journey for the day at Kamandoddi, Tamilnadu.
Day 6: Kamandoddi to Kanyakumari
Distance: 614 Kms
Time taken: 11 Hrs. 10 Min.s (Stop overs 1 Hr. 39 Min.s)
I knew this was the last leg of my ride and I could sense the time in which I will complete entire ride. With this thought in my mind I started towards Kanyakumari.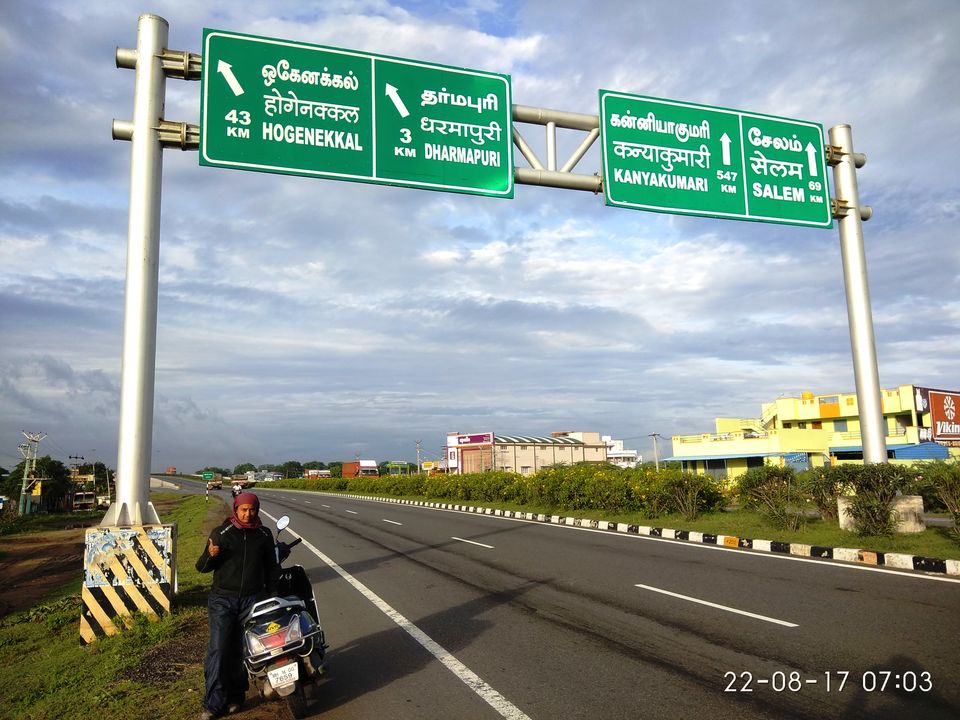 The ride through Tamilnadu was smooth and the only target was to reach Kanyakumari which kept me going faster..
As I crossed Madurai it started getting windy. The wind was so powerful that I was riding my scooter in a tilted position and this continued till the end. This slowed down my speed drastically.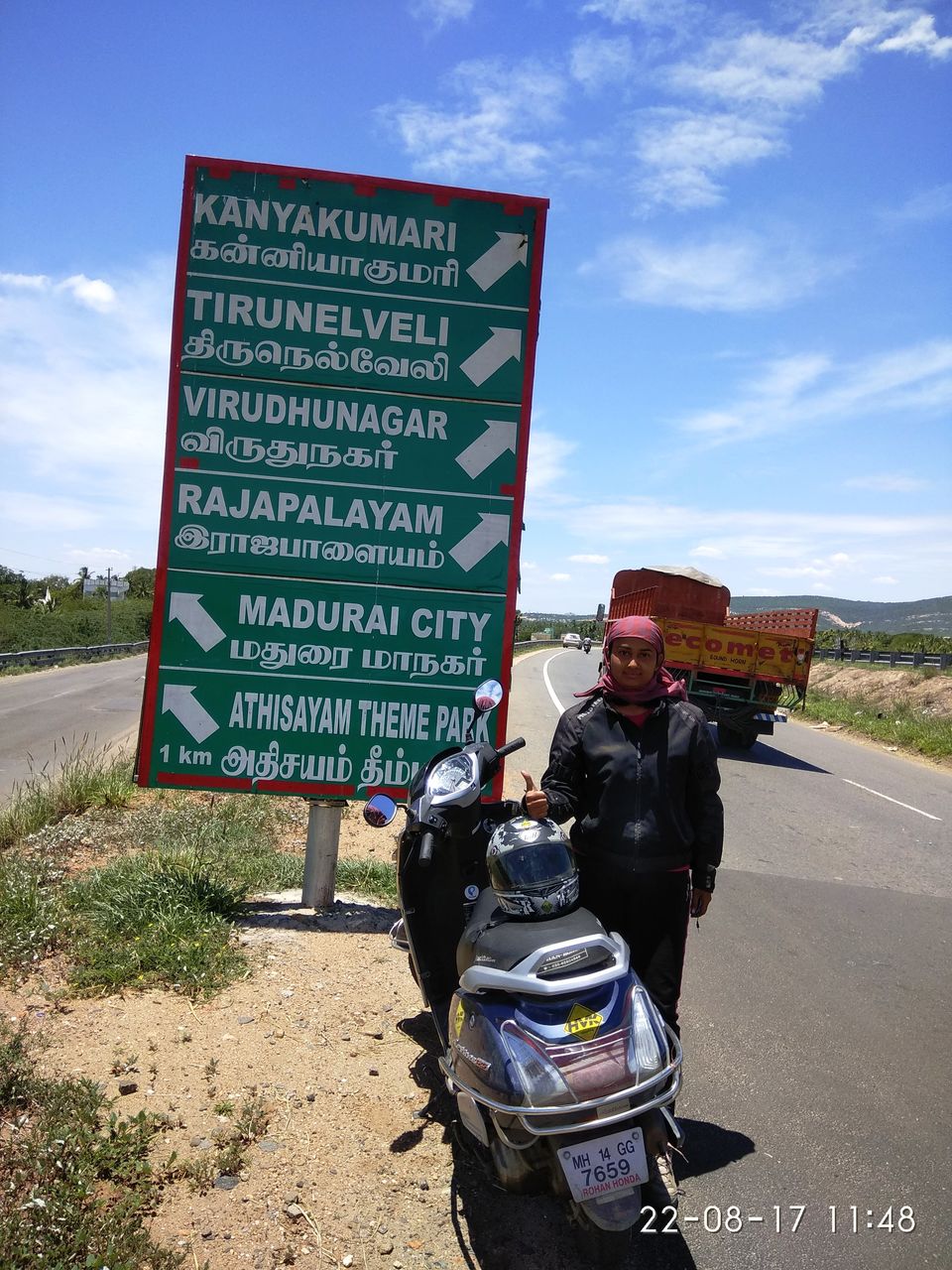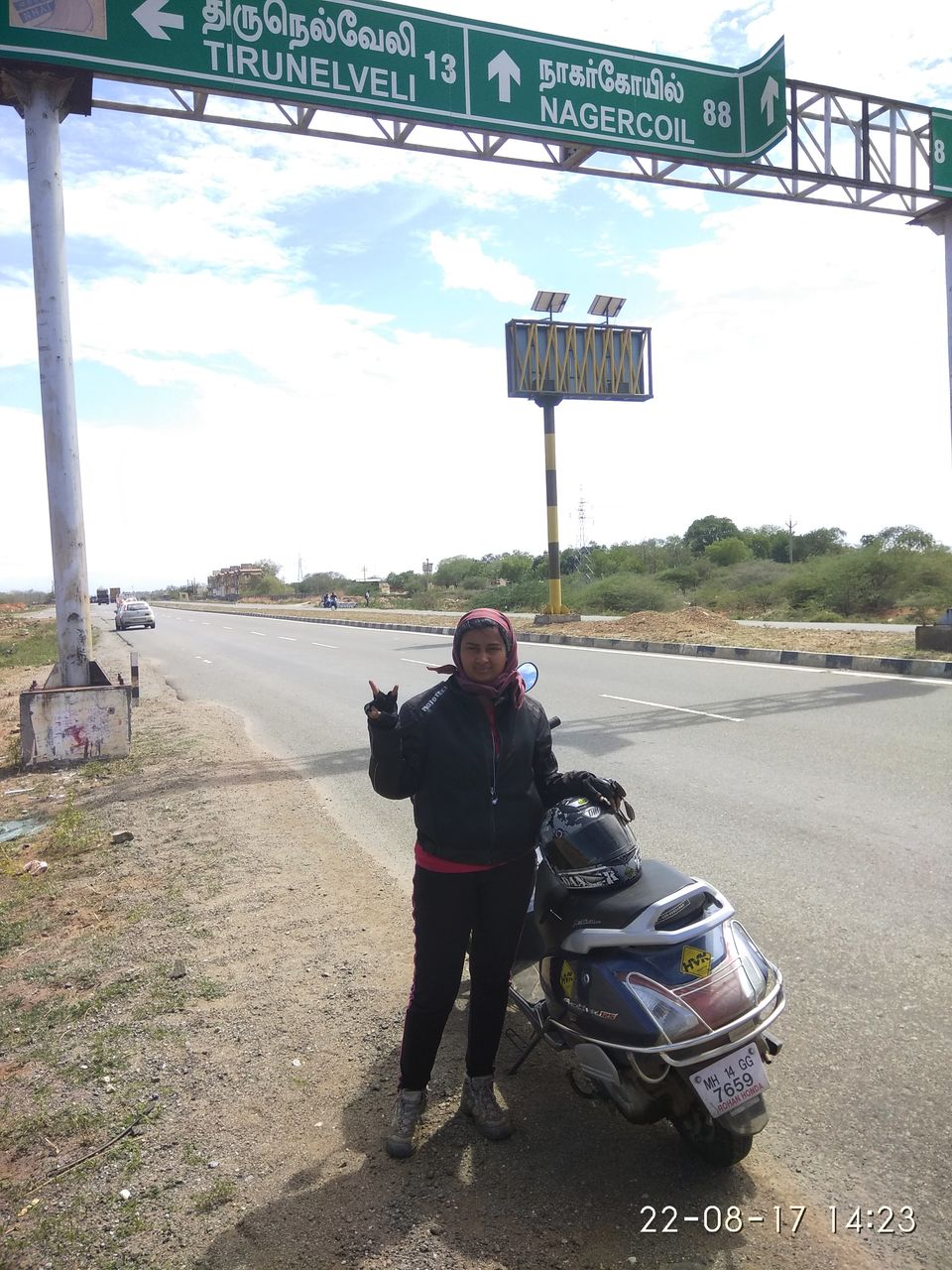 I kept looking at the milestones as they were counting down the numbers for me and now it was just a 2 digit number!!! Wow I was so close to what I had dreamed of.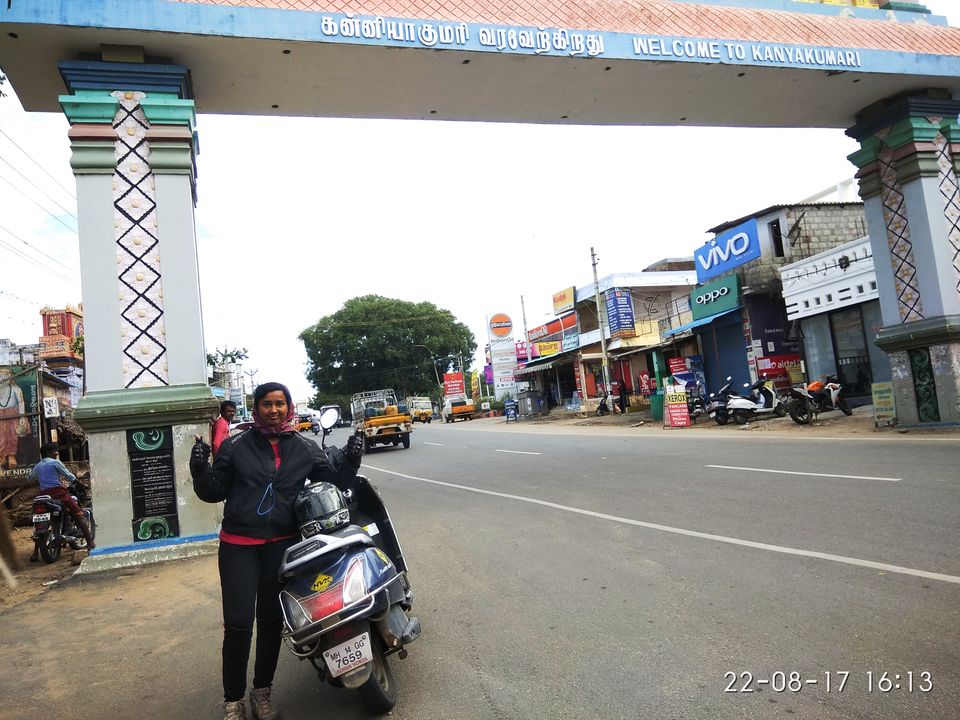 And yes finally ' Welcome To Kanyakumari' the board said!!! I felt so happy and satisfied... A journey of 3960 Kms was successfully concluded.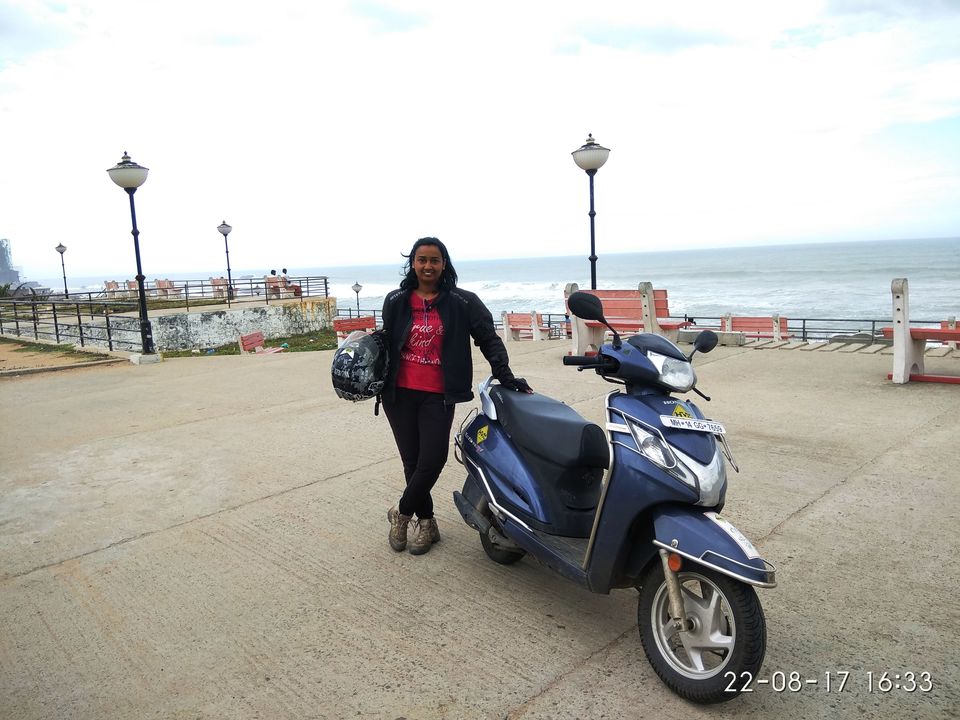 My ride has got recognized by India Book of Records.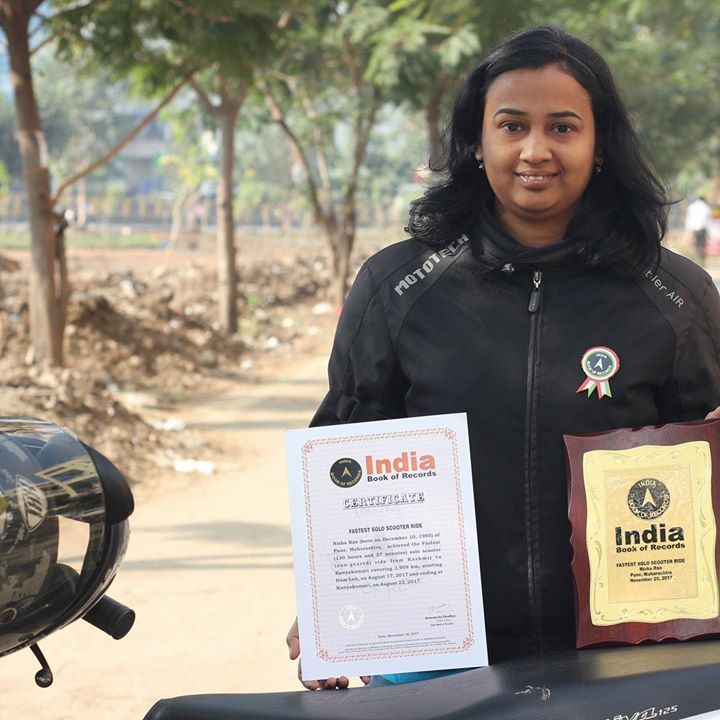 Frequent searches leading to this page:-
kashmir solo itinerary, places to visit near jammu, best time to travel kashmir, most visited places in jammu and kashmir, srinagar package for family, solo trip kashmir package from delhi, family trip package to gulmarg, srinagar honeymoon luxury package, top kashmir tour package for honeymoon, kashmir group trek package, top activities in kashmir, best local site seeing in kashmir