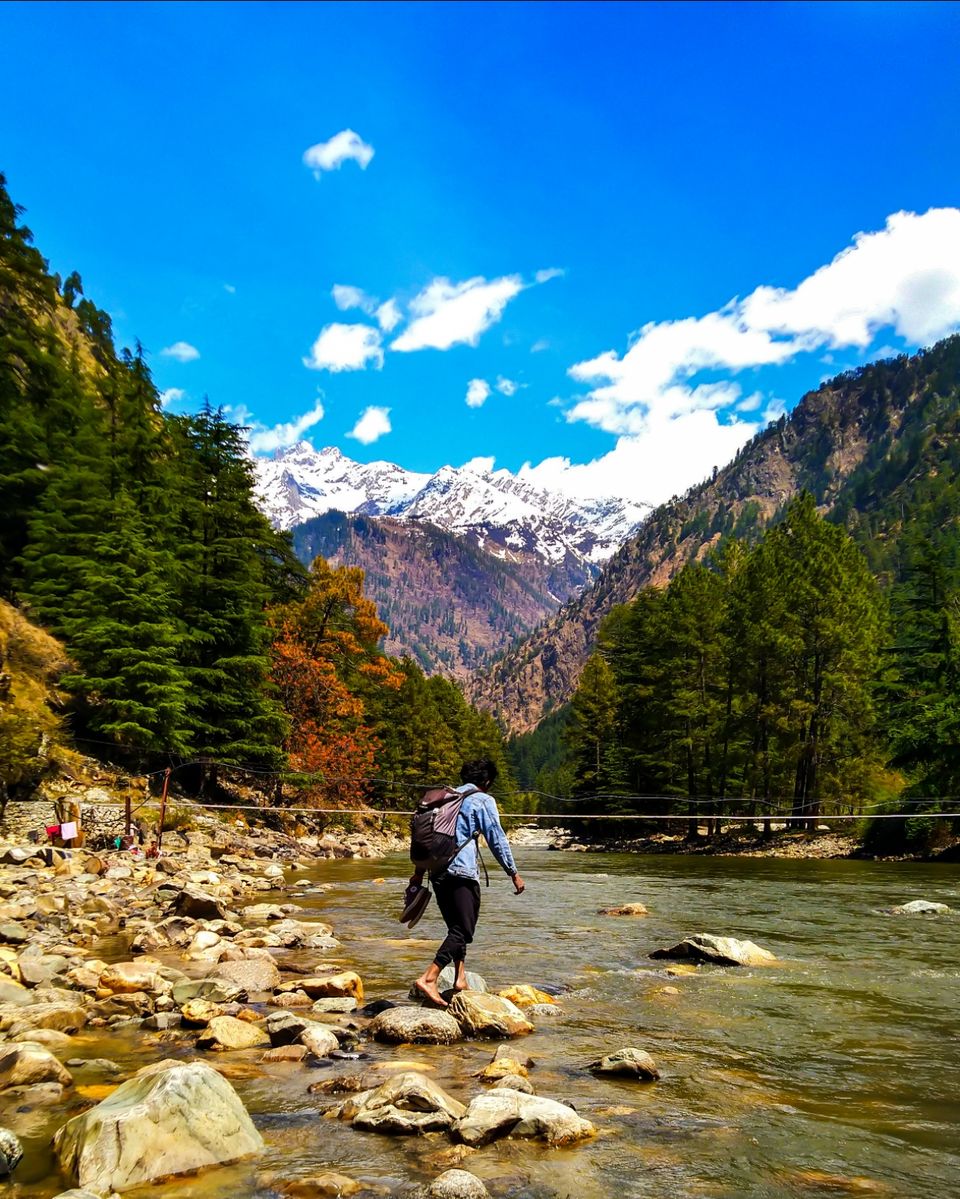 Like every other college squad this kasol trip was our first well planned trip where 7 of us  planned the trip  which shrinked to 4 members on the trip day . On first  weekend of April 2018  we finally boarded the Manikaran bus from Jalandhar busstand around 8 - 8.30 at night and somehow  we managed to grab the seats in that crowded bus.I was completely anxious about the trip throughout the bus journey and was instantly planning what to do,where all  to go and how to reduce the budget(Though we were all interested in less budget trip),like all in one go.And it costed us Rs.520 from Jalandhar to Manikaran in that HRTC(Himachal Road Transport Corporation) bus.And throughout that night millions of thoughts were messing up in my mind but still managed to sleep overnight.
It was a chill morning out there when we arrived Kasol which is around 5km from Manikaran. We were freezing in that lower temperature area (compared to our college weather) but somehow warmed up ourselves within few minutes.We first decided to head towards our stay so that we could first freshen up and follow the rest plan.We were continuously roaming around that small chill  kasol town in search of the way to the Chalal village where we planned to stay.And the Google map made it worse enough muggling up the way and brought us along a wrong direction.But thank God! A local pointed out the way towards the Chalal village which we were searching.
Chalal village was about 10- 20 minutes walk from the Kasol town where u have to cross a bridge over the Soothing,peacefull Parvati River and trek along the edges of the beautiful Parvati Valley.
Sceneic View: Shielded by majestic pines,soothened by the Parvati river and above all the snowcapped Himalayan view drives you lustful to nature  while walking through the trails of Parvati valley towards the Chalal village.Meanwhile the trek I confirmed  that Chalal village was in a hangover after the last few day's  trance party which  completely turned this underrated,quiant village into a psychedelic hub.
Budget Saver:  Chalal was chosen due to the primary reason that it offers u the food,stay and other services at a nominal rate where u can't imagine to get it at anywhere in Kasol.We were suggested to stay at Aju Bhai's homestay by our college seniors,and Aju bhai provided us with a perfectly fine,clean and spacious homestay for RS. 100/head(Total 400/Room) and that too with a most scenic view.
So Chalal welcomes you with a very low budget to high level accommodation services where u find a lots and lots of cafes and food hubs at every 100metre throughout the village.But we found a bit costly while having the food over there.
Still Chalal is a worthy spot to breathe the peace, calm and solitude from all the rush and crowded hymns of  kasol and don't ever miss the morning and evening scenic views sitting at the banks of River Parvati.And is generally a  safe place where u find the modest villagers who earn their earning depending  the tourist arrival,except the pine trees which scares you in the dark.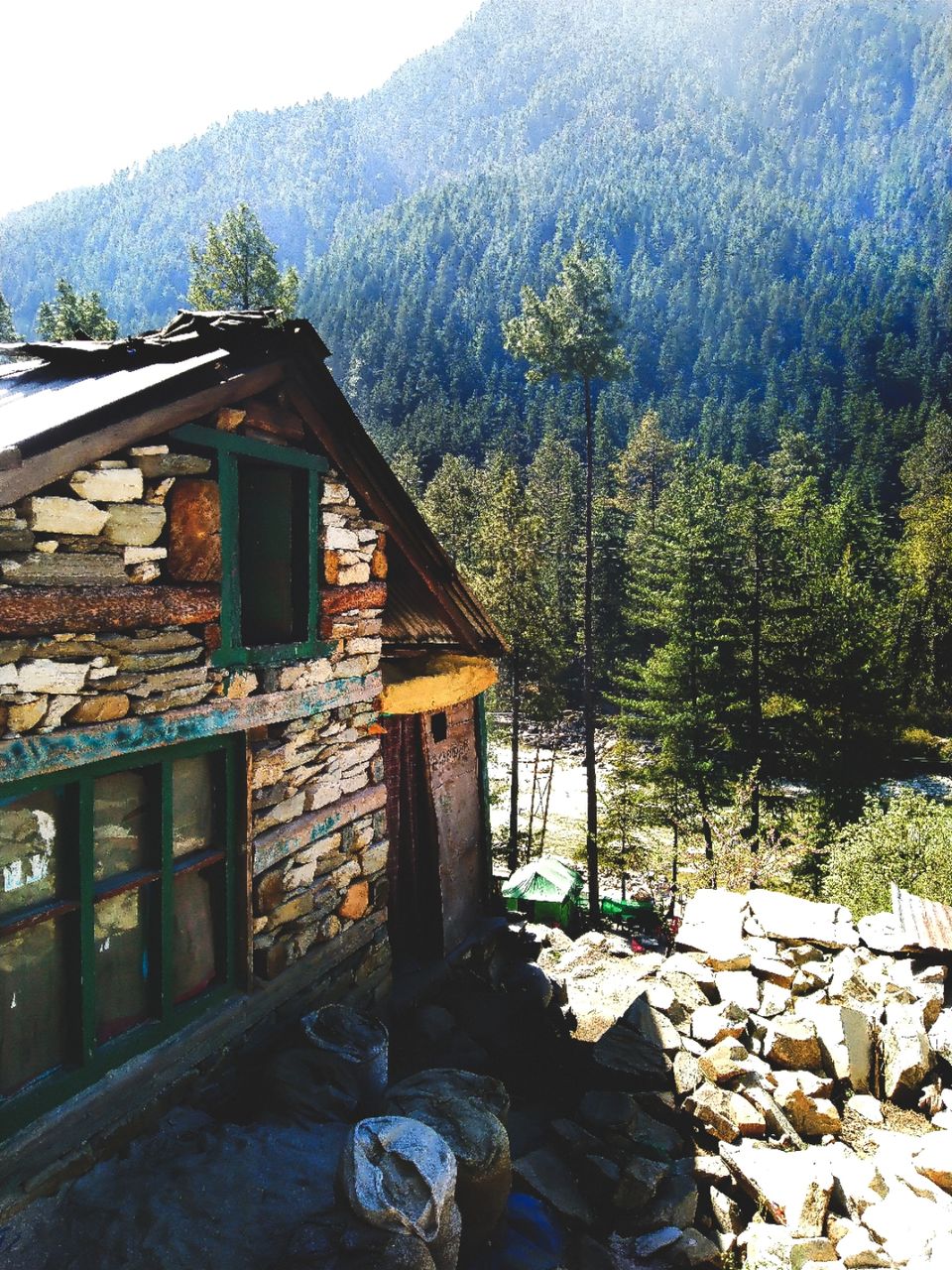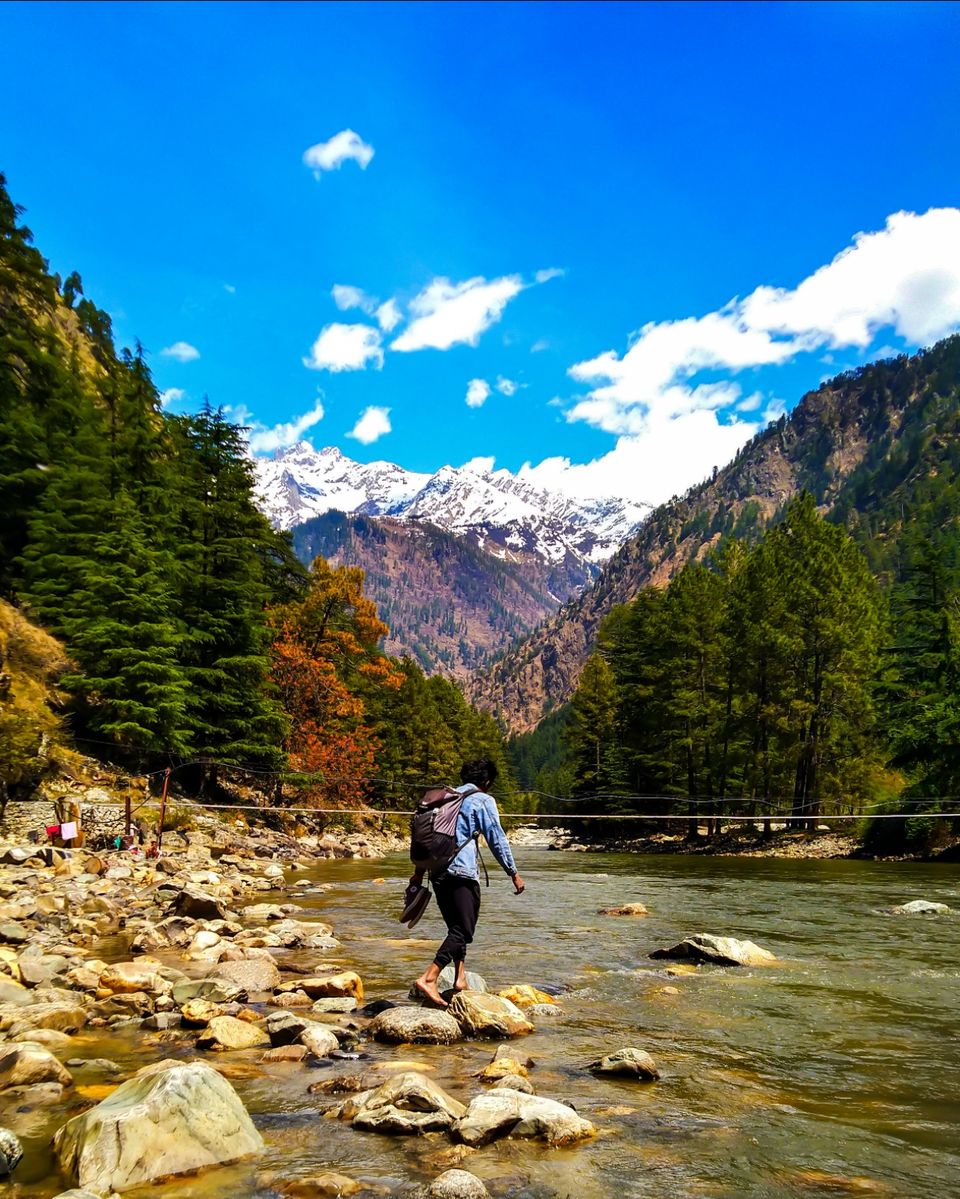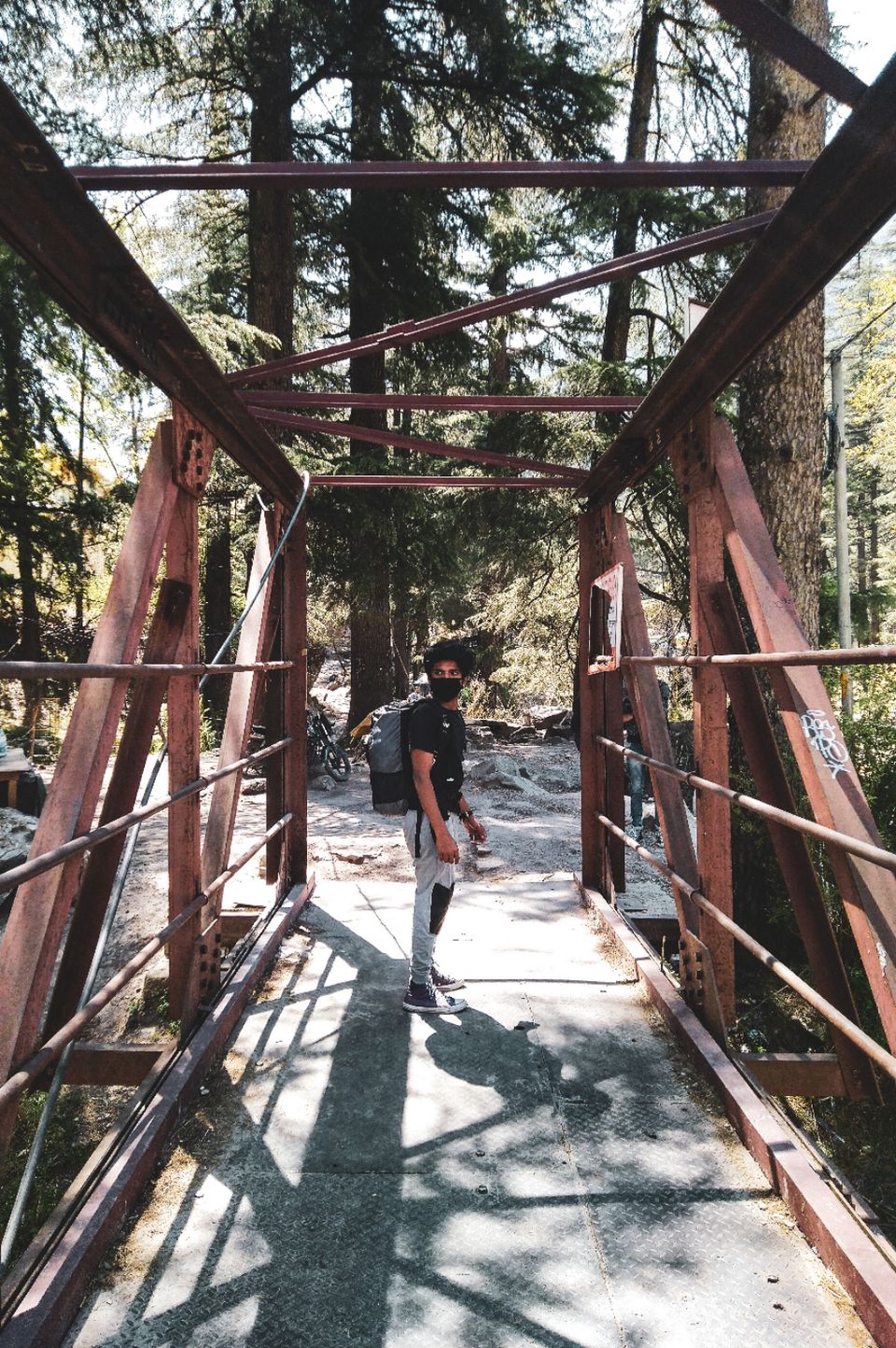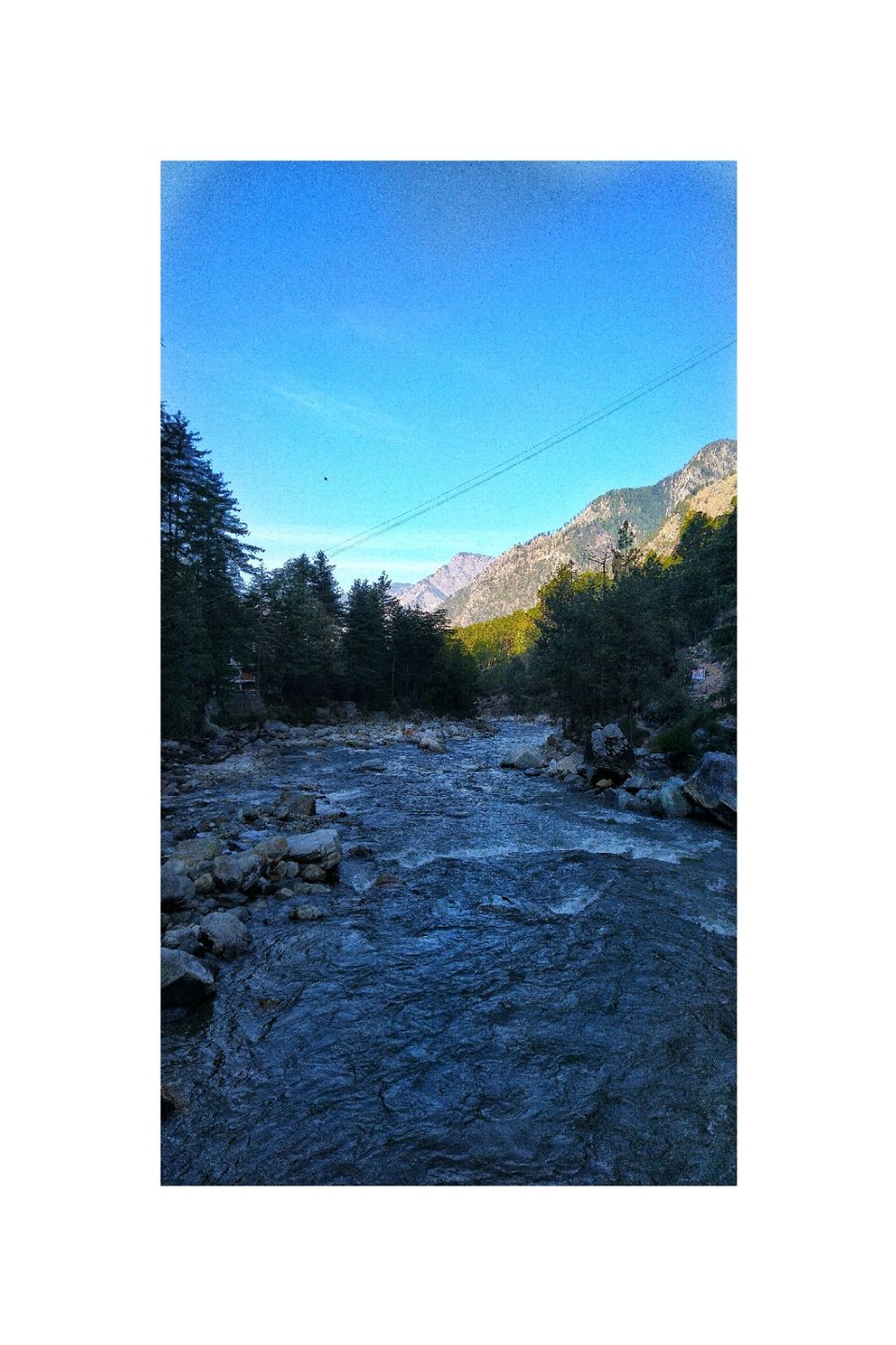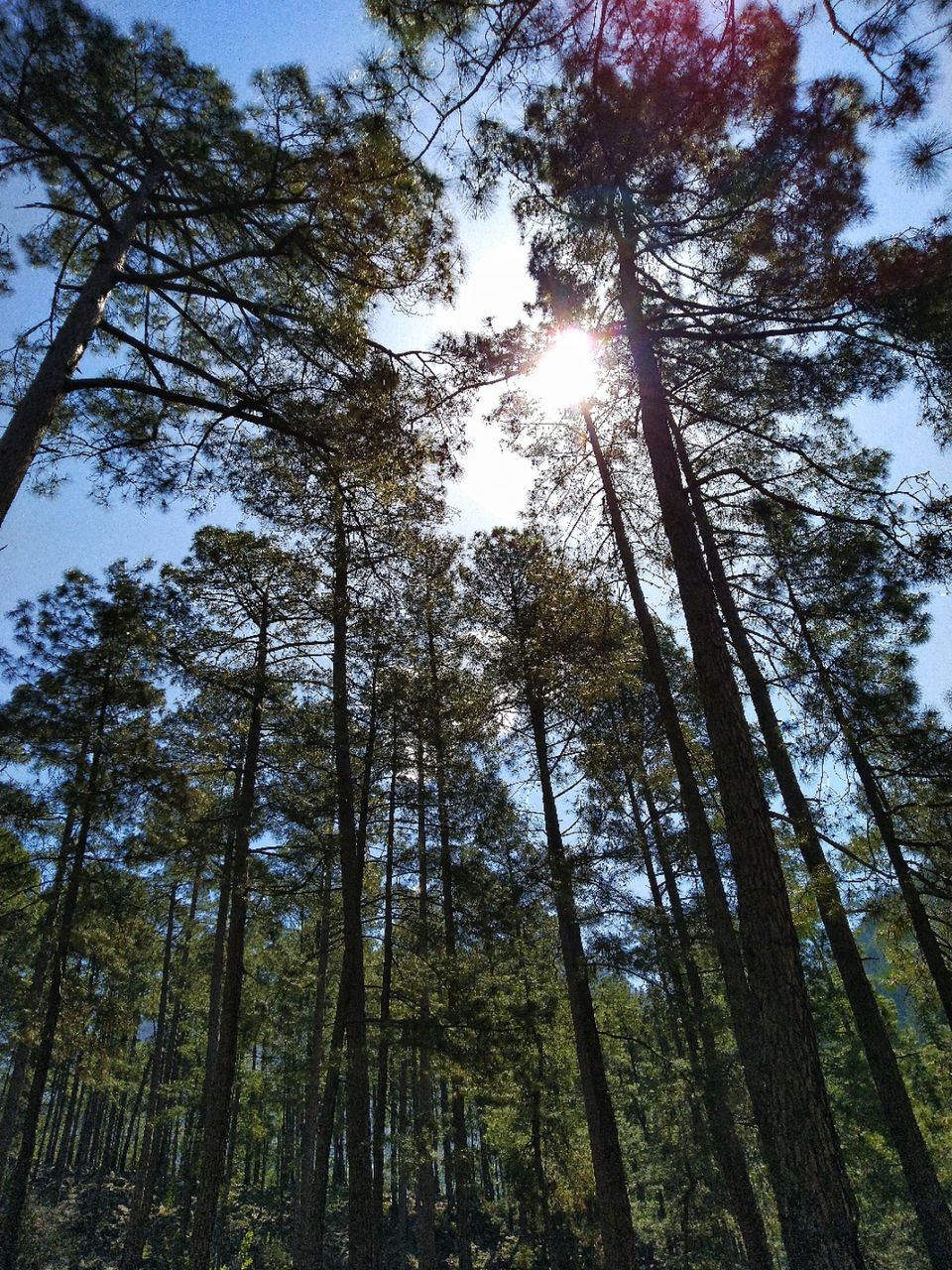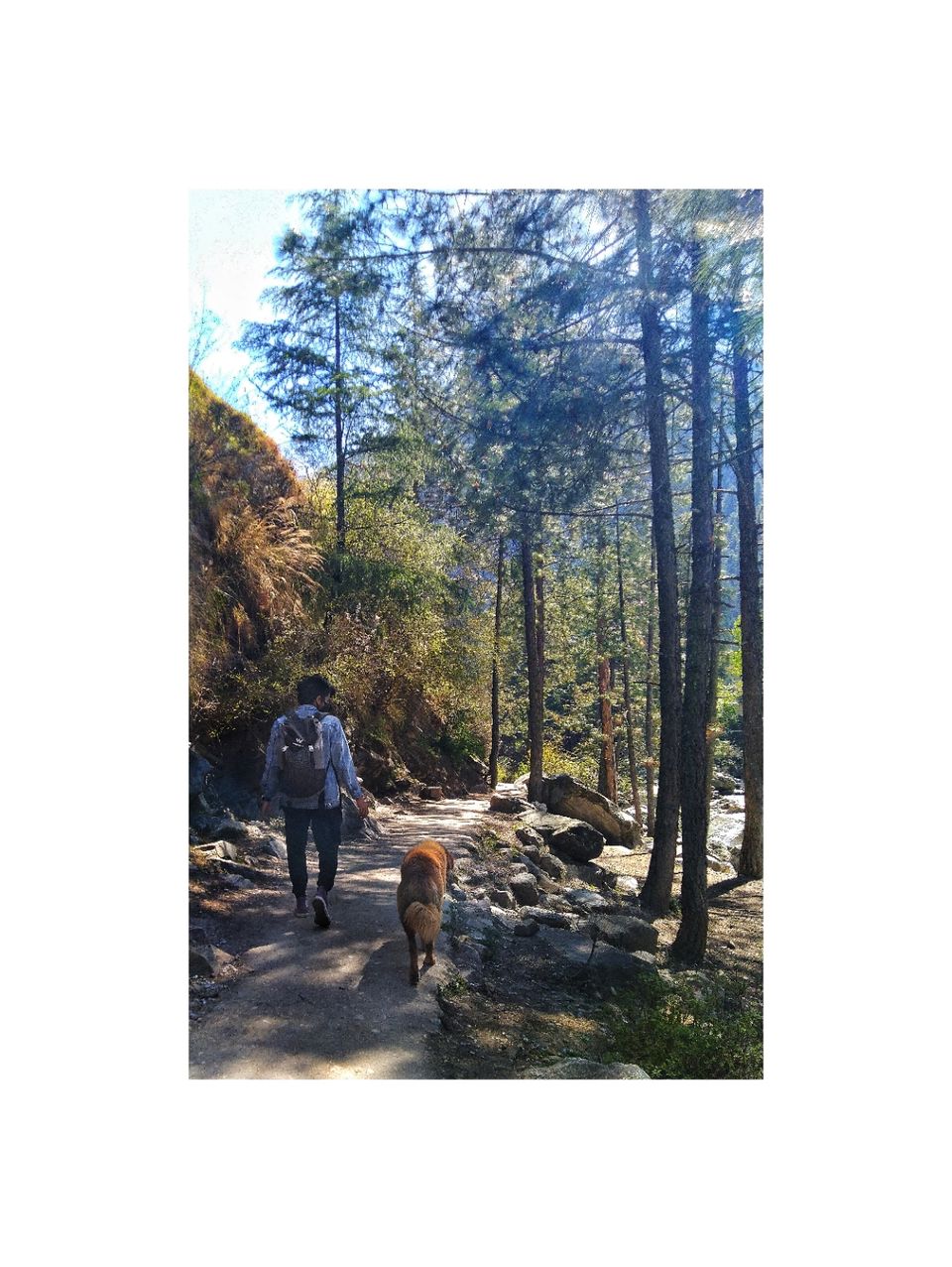 After settling in the room we decided to move towards Manikaran,so we walked backed to  Kasol from Chalal and we were  lucky enough that the morning tea and biscuits didn't let our energy down.We came with all food itineraries like Biscuits,Breads,Snacks,etc....so that we need not to depend upon the food from outside everytime.So from Kasol we boarded a bus to Manikaran (Ticket cost :RS.18) and reached Manikaran after 15-20 minutes. What I saw made me speechless because it was my first time experience where I witnessed the natural Hot spring and it's completely turning the Gurudwara into a mystical and divine place.Manikaran Gurudwara is a must visit spot and don't forget to add this in your trip to Kasol.A lot many foreigners were roaming around the town where most of them were  completely astonished by the view of divine Gurudwara amidst past the Hotspring pool.
After having a noon meal from here we waited for the bus to Barshaini.
The bus from Manikaran to Barshaini costed us Rs.35/head while the route was a bit risky and scary through the edges of valley road.It should be mentioned that the bus driver was one hell of a professional in his driving skills where he drived the bus very fast through the needle edges and we almost reached there  by  2pm in noon.
Barshaini can be  described as the junction where  u head to Kalga,Tosh and Kheerganga all three in different  directions.And after reaching here we were completely disappointed that the trail to Kheerganga as well as the Tosh village..Both were closed due to recent snowfall and landslide issues.This made us totally busted that we planned to trek to either Kheerganga or Tosh which was a must in our plan.But  considering the situation, we headed towards Kalga Valley in which u have to climb a medium steep hill for almost 1 hr.
It can be described as a mystical village...where u are completely surrounded by pine trees and also note that u could find lots and lots of apple trees in this tiny Hamlet located at an elevation of 2500 metres on a hill.The weather was changing instantly such that a thunderstorm was likely to occur.But moving along  this village we found magnificent piece of  architecture skills where almost all the houses were uniquely built using  the wood.We also found some leftovers of the snow during that first week of summer which made us more vibrant enough to move further. The rare Himalayan flowers,Wooden Houses,Apple trees,Pine trees,smiling common people,all together made this village one of a kind and I swear that u don't believe until you u see it.After spending a few hours over there we decided to head back to our stay in Chalal, as the weather seems to be  so scary with dusty and howling winds along with the furious thunder strike.And finally we moved back to our homestay with a disappointment over  not able to trek to Kheerganga or Tosh at the same time were glad enough to spend hours in that mystical valley of Kalga.
It only took 1-2 total hours to reach Barshaini from Kasol where 2-3 hrs were required for us to head back due to heavy rain and landslide issues.but still we reached room safely and the day gave us one hell of a  splendid experience in our lifetime.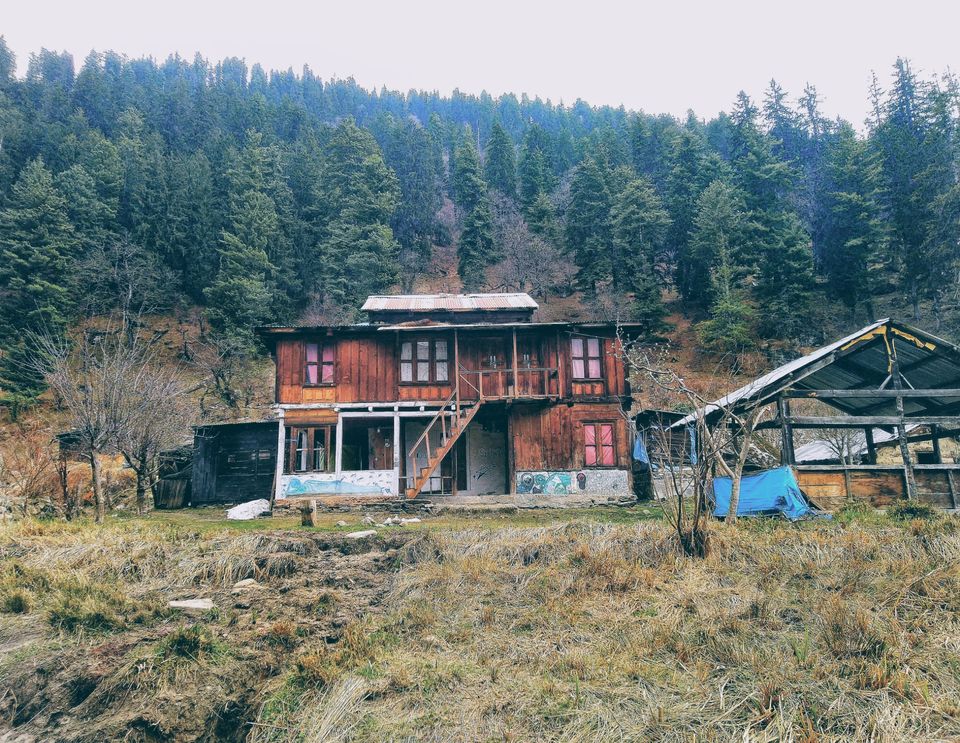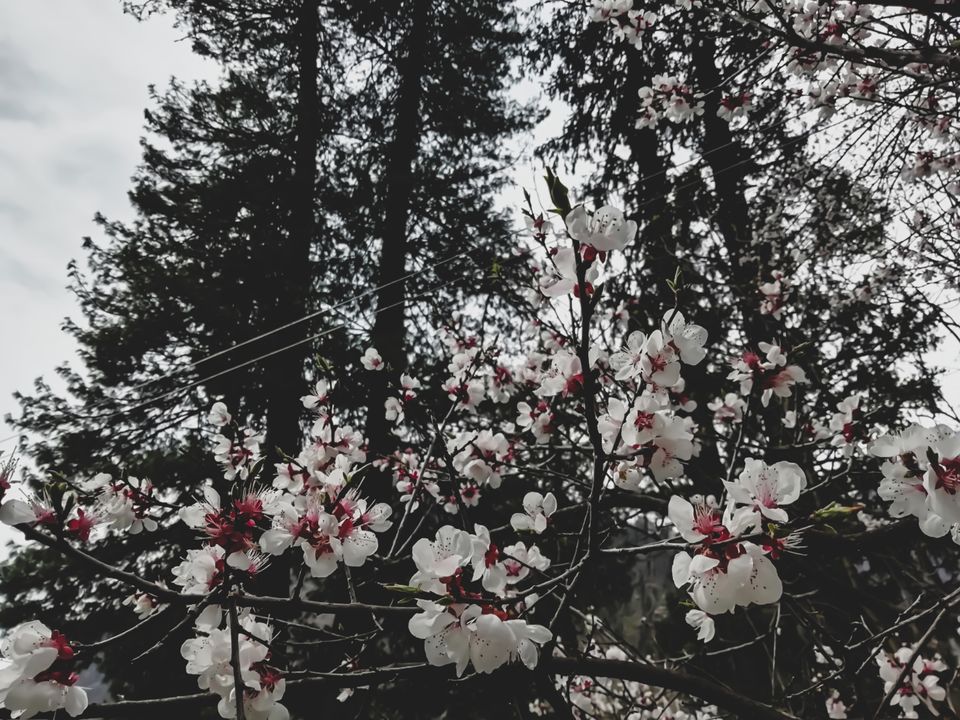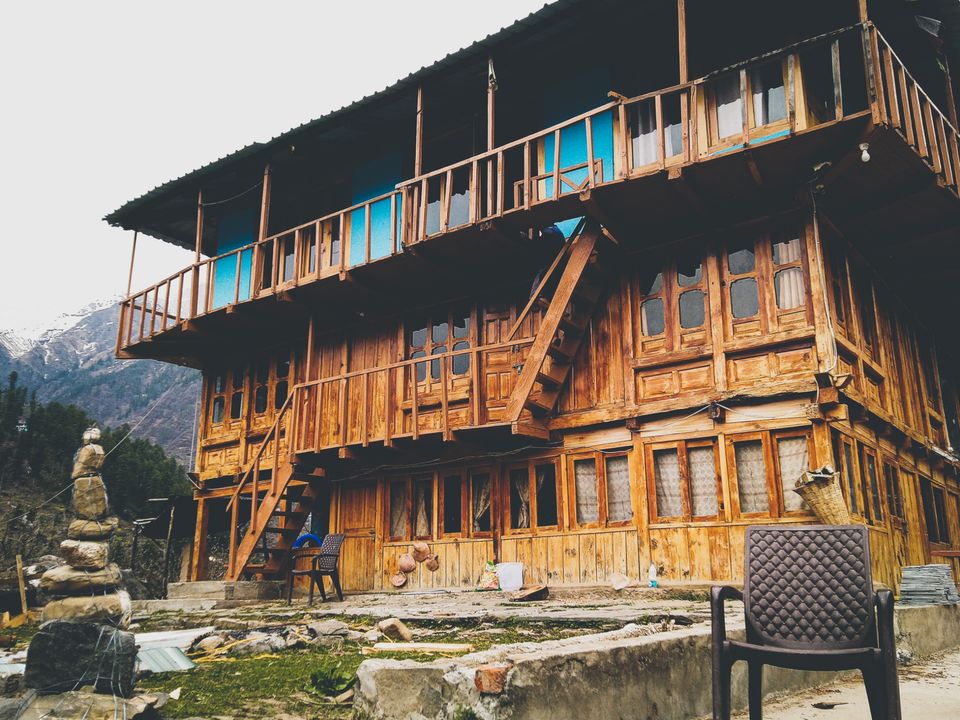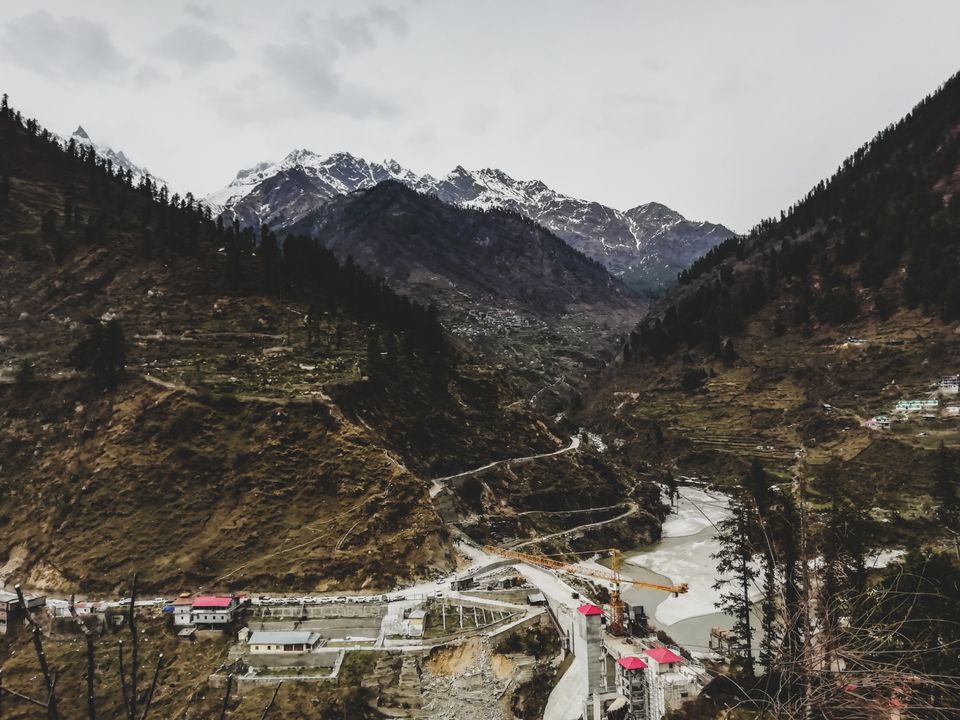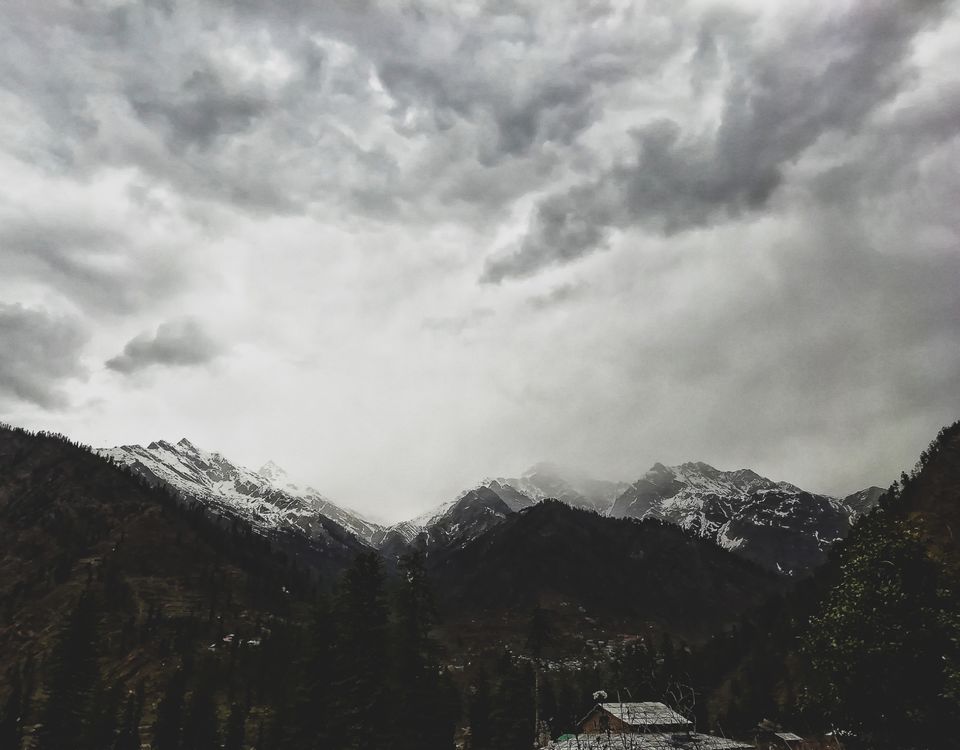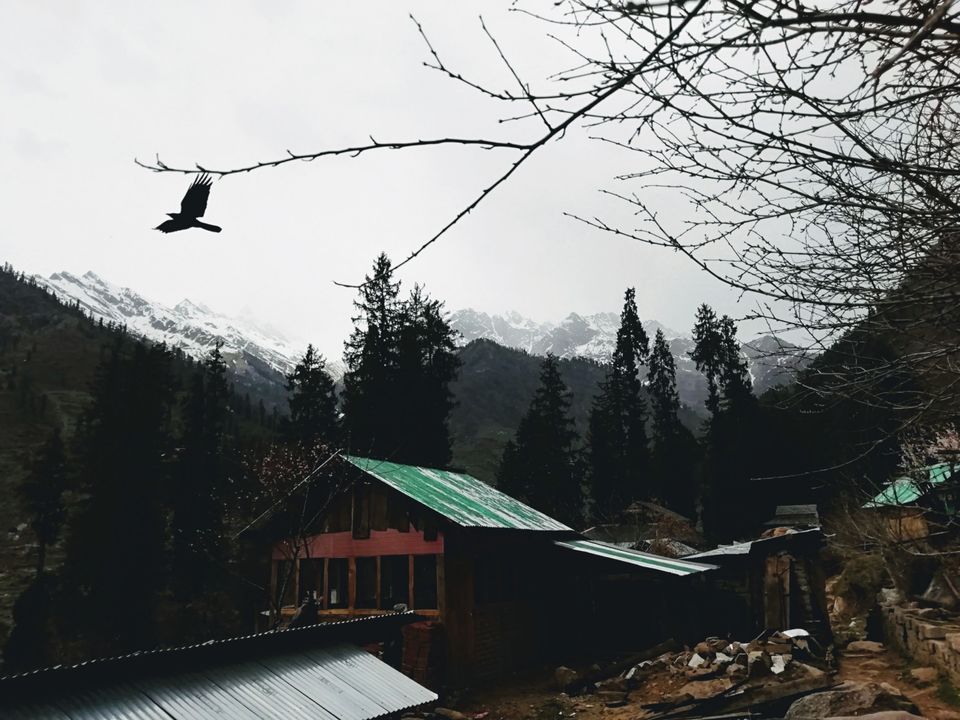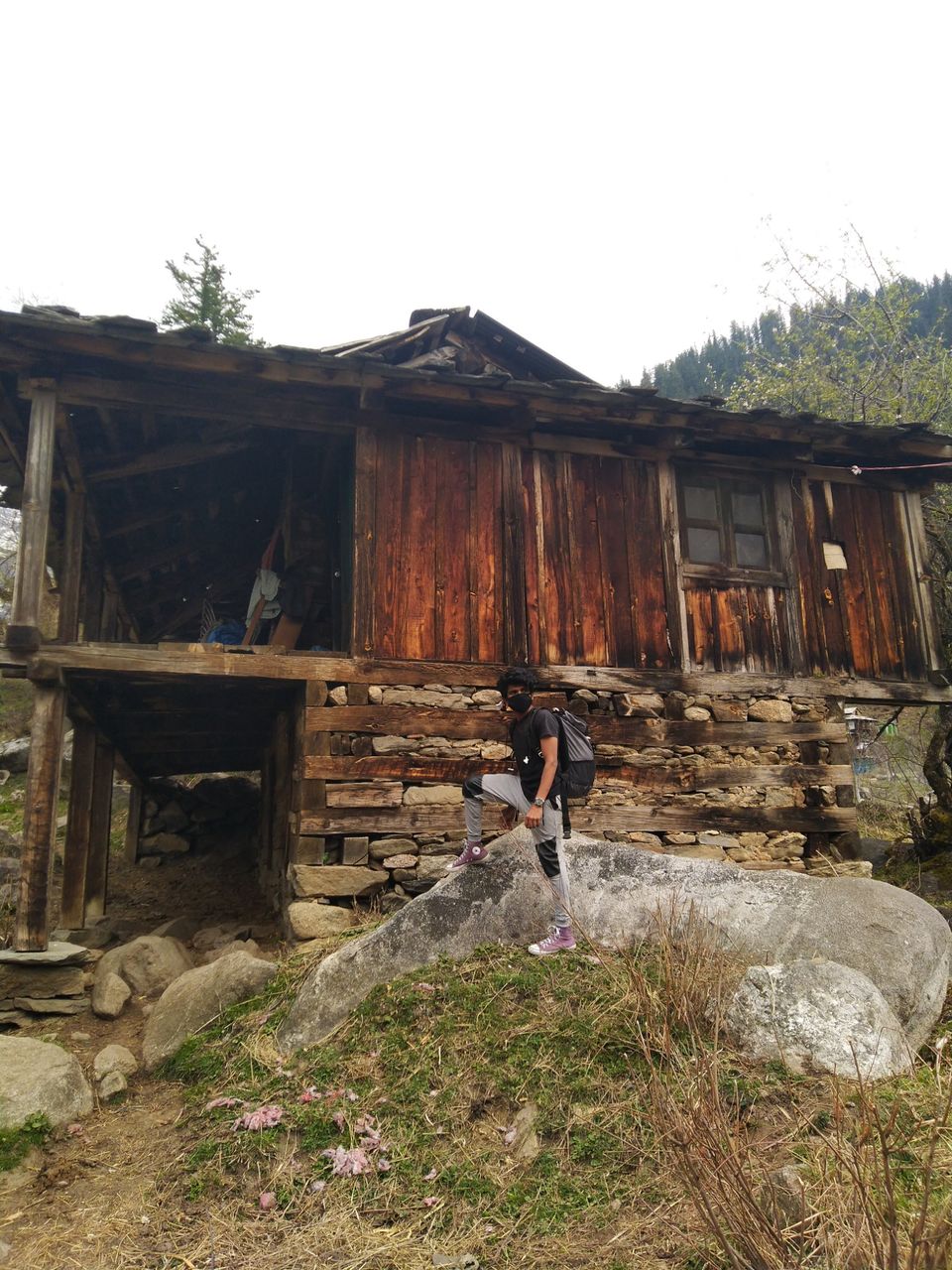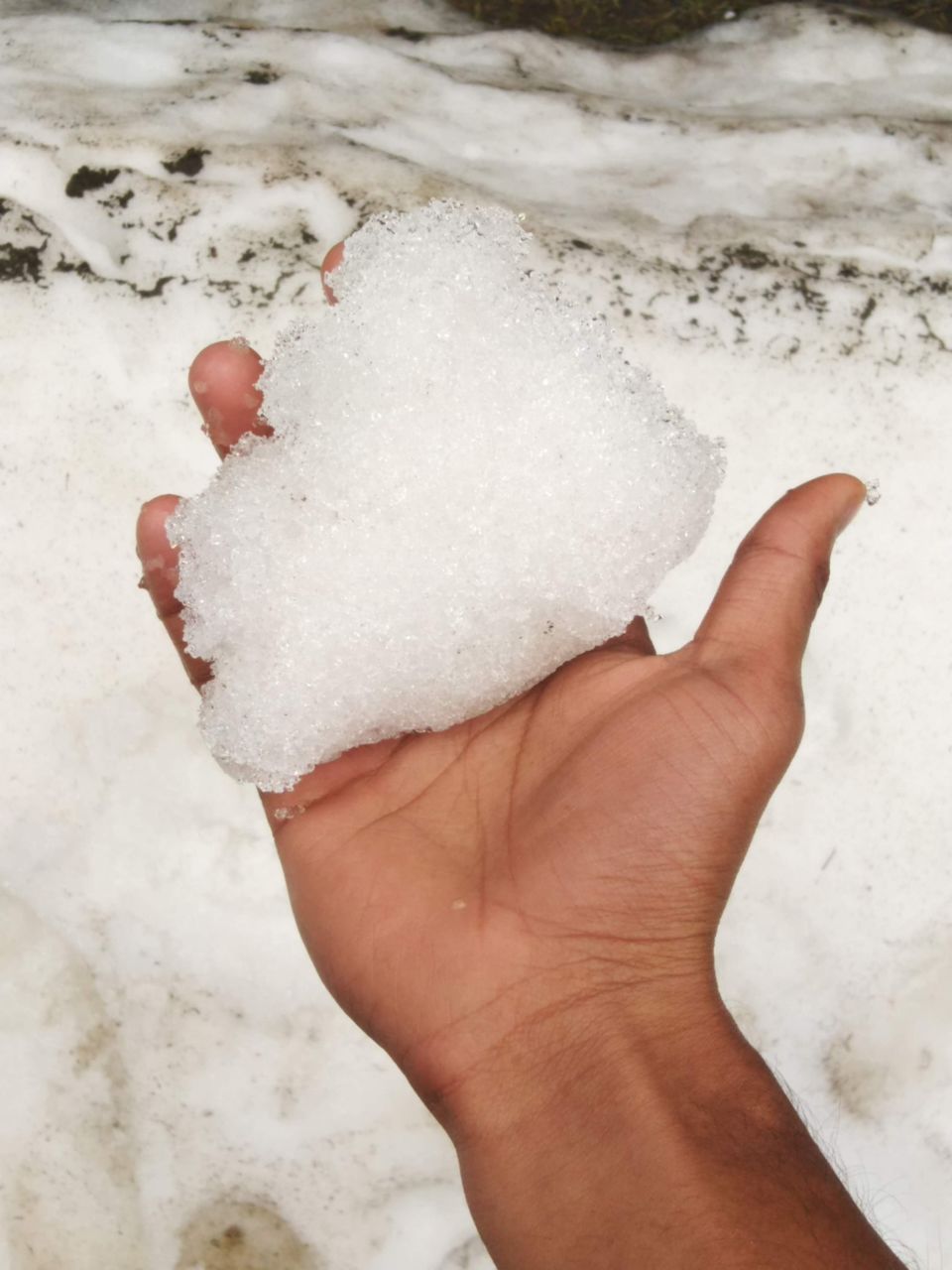 This was actually "No plan day" because we came to know that Kheerganga and Tosh were still closed and were worse enough due to yesterday's thunderstorm,so there was no point in waiting for it to get opened.So we woke up late and decided to spend the last day of trip gradually  without any hurry and worry.So we found a place at the banks of River Parvati and sat there dipping our legs in the river and clicking pictures.After a while moved towards Kasol Main market where we found a large variety of wardrobe which completely mesmerise the fashion beast in you.
IsraelianKurtas,Pyjamas,Bags,and many other things were there to grab your attention towards these shop.We bought a few things and had our  food(Parantha + Chai : RS.90/HEAD)  and decided to head back to college with unique Kasolian experience.So we took a bus to Bhuntar from Kasol (Rs.30) and from Bhuntar to Mandi (RS.95) and we didnt get time to roam around Mandi as we had to rush to get the Jalndhar bus from Mandi on the same night (Mandi to Jalndhar - Rs.400).
So on the way back to college each and everything that we did in that trip were filling my mind with an essence to plan more and more trips in the coming days of life.
PS: Sorry I couldnt click many pictures from every spot that I visited during this trip,and I regret on not able to add that many pictures during the trip.