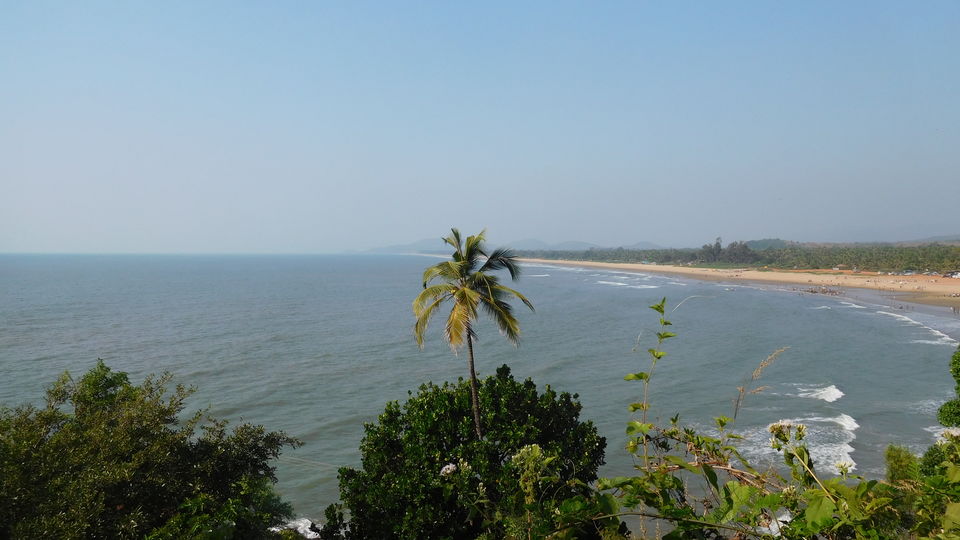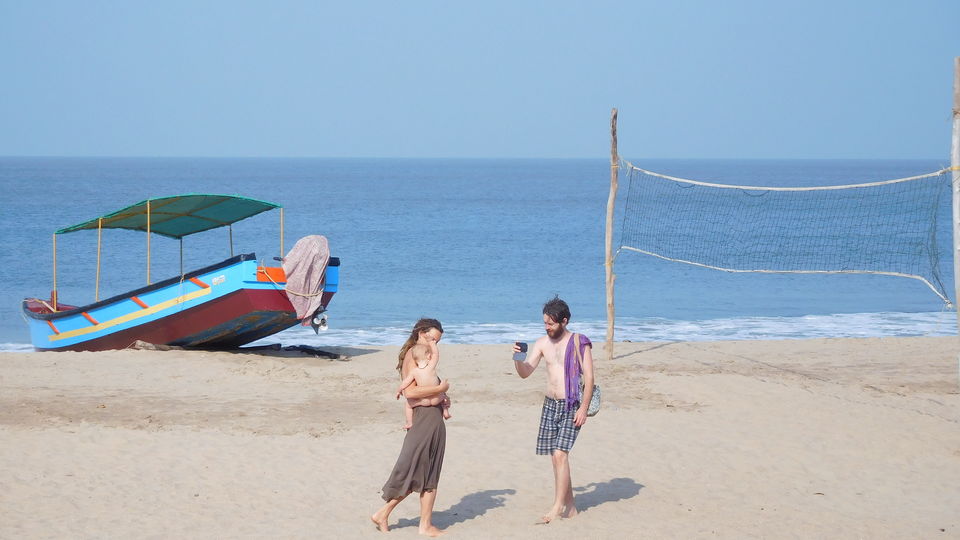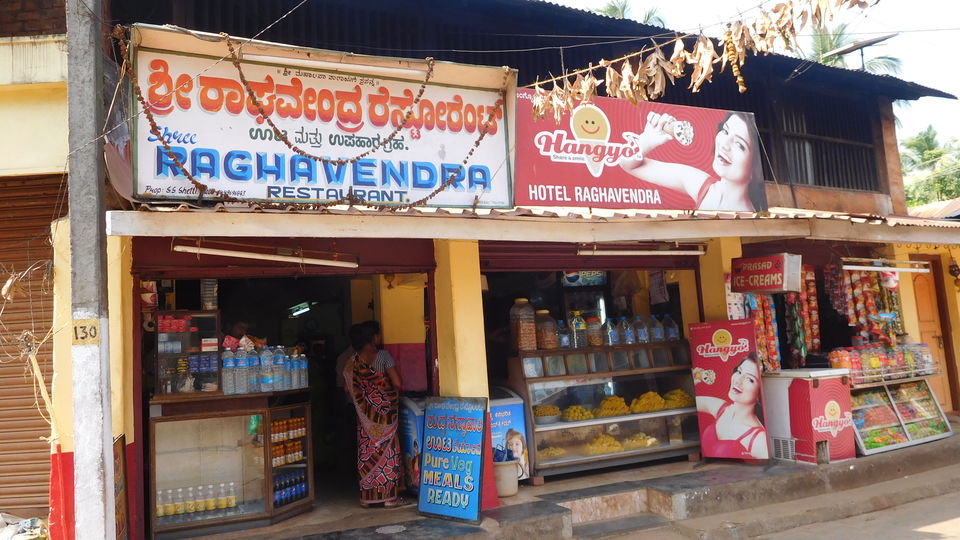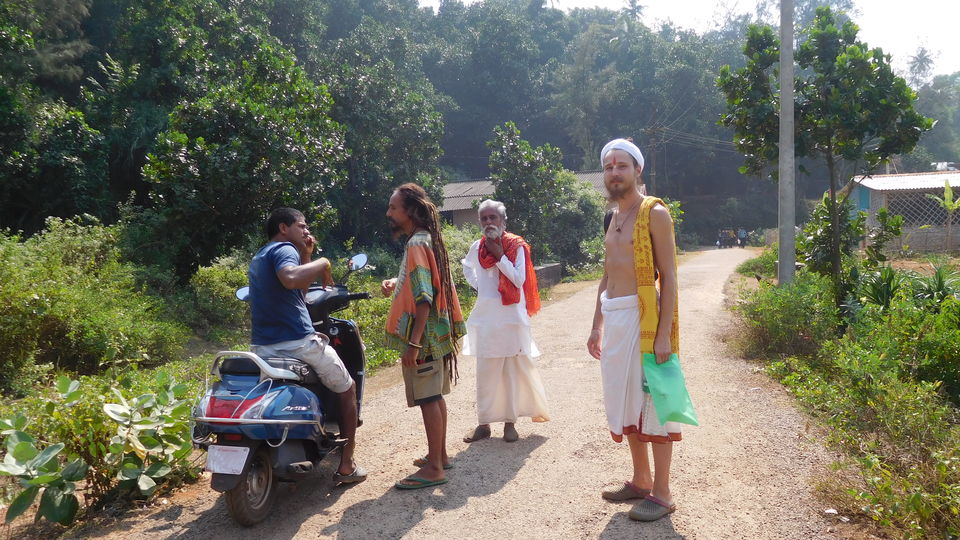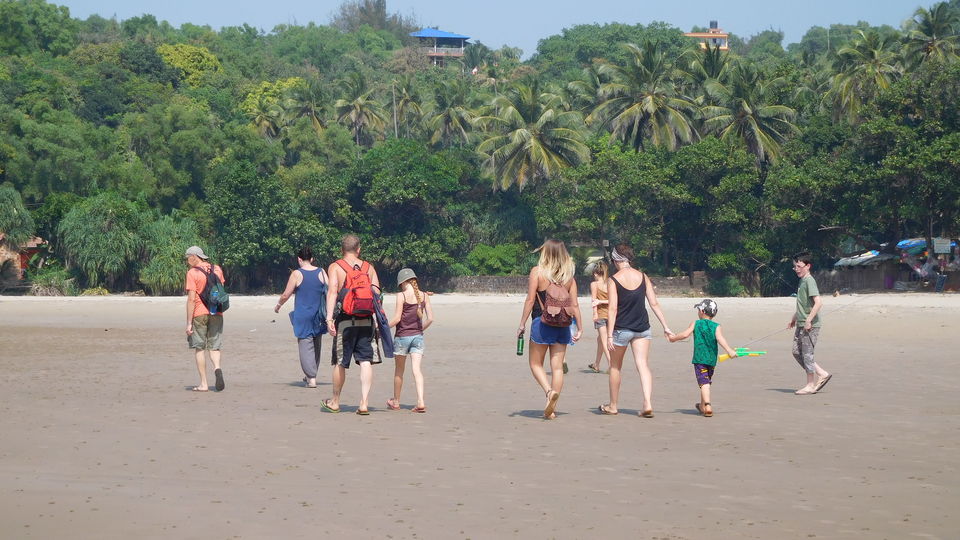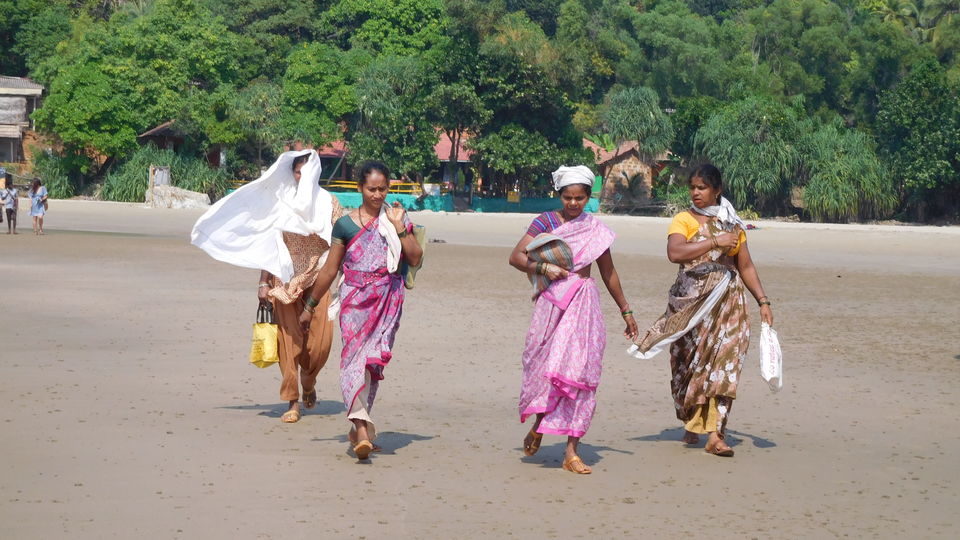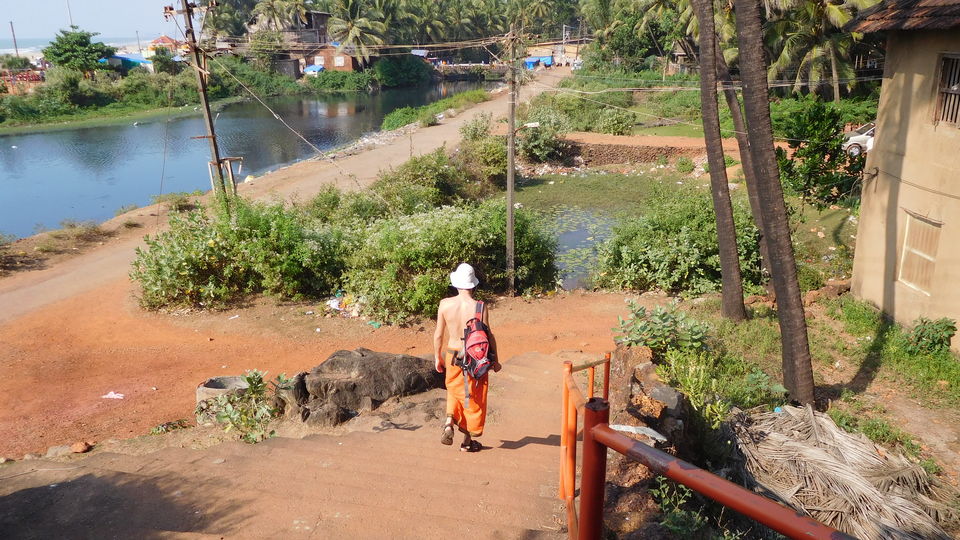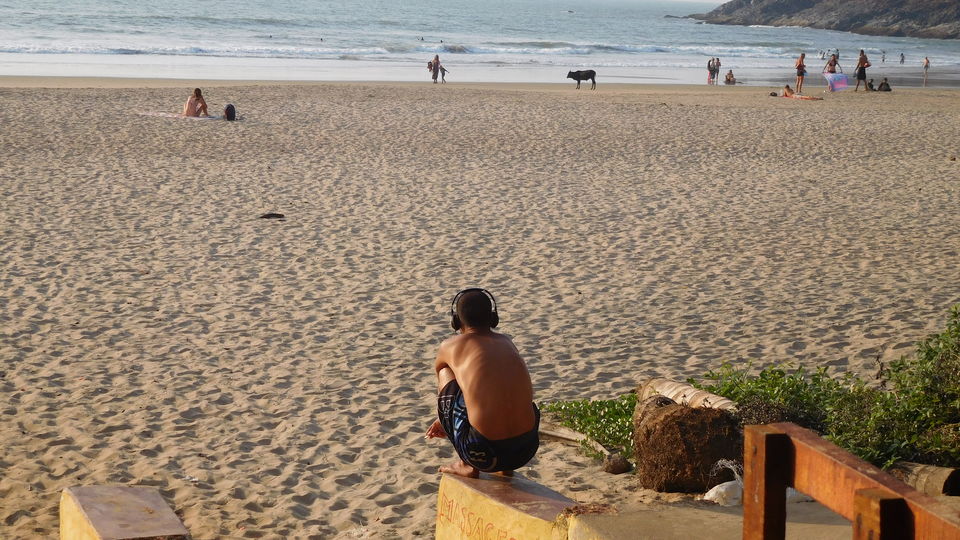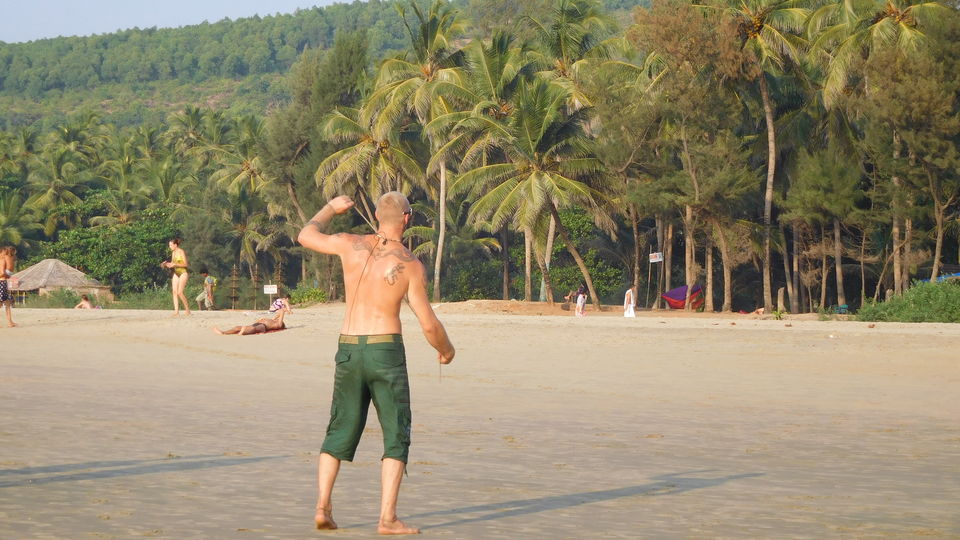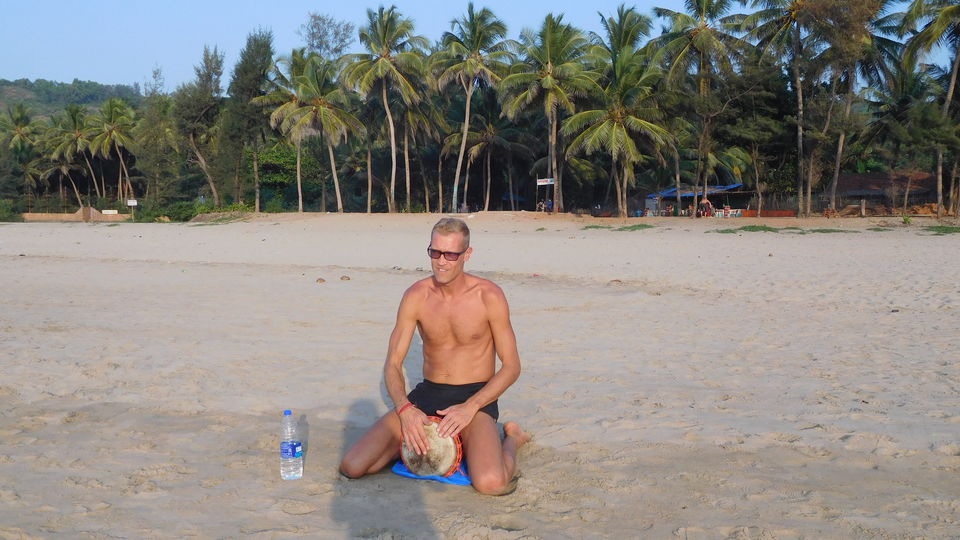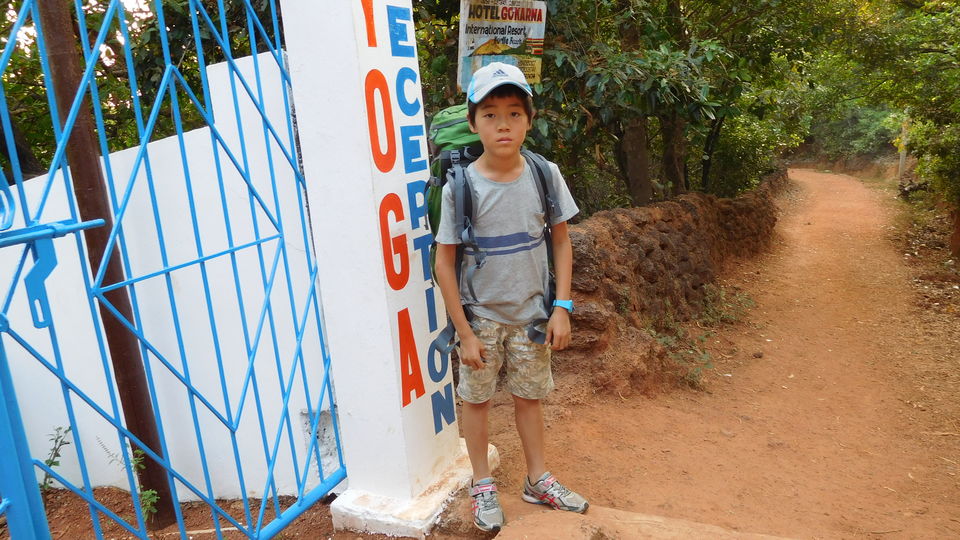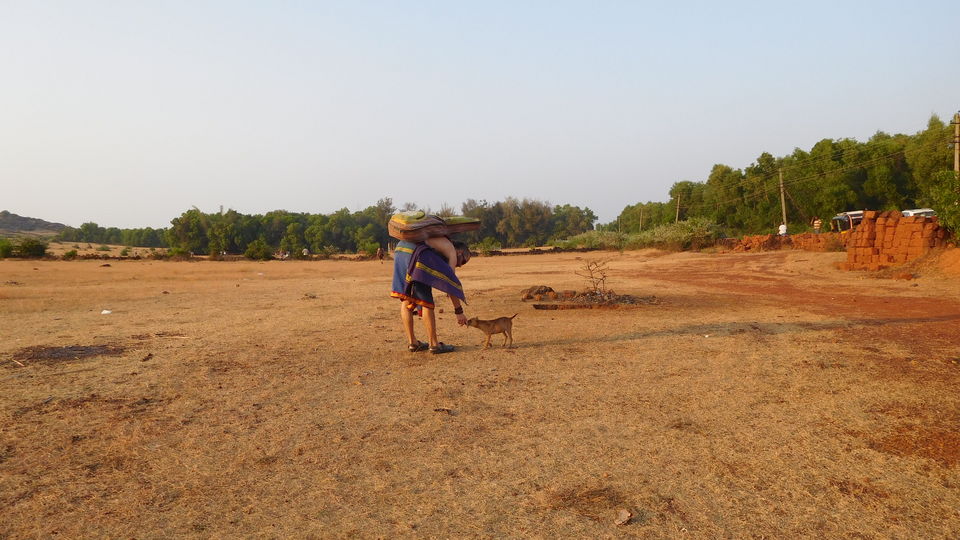 When I reached Gokarna, it was 2 in afternoon. Gokarna is religious pilgrimage town in north Karnataka's coastal part. I was pleasantly surprised to see the market full of tourists especially foreigners. I was hungry and my search for restaurant didn't take long time as there were no many options available in the town. I entered in Raghavendra Restaurant which was at the corner of main road, next to the bus stop.
Without thinking much I ordered Masala Dosa as soon as I settled down on the table. Restaurant was full, mostly with tourists. I was busy watching different tourists sitting in the restaurant. This is my hobby. I love watching people, catching their expressions. I am a people watcher. I suddenly realized that my table was being shared by a lady. She was wearing a Punjabi Suit with silver ornaments. She had blue eyes and short height. She was in her sixties, that I could guess from her skin. I complimented on the nose ring she was wearing. She thanked me with her charming smile.
After formalities l understood that she was from USA, it was her sixth trip to India. Gokarna was her one of the favorite places in India. She keeps visiting Gokarna every year since her first visit and stays there for least few months.
But the fun started when she refused to accept that I was an Indian when I told her that I am a solo woman traveler from India. In a melodramatic tone she shouted at me, what? You're still single? Go get married, it's not good to travel alone for a women. We laughed at her spontaneous performance like anything. She sounded like a typical Indian Granny to me. She was interesting. I was happy she chose to sit on my table.
Returning to her original tone she took me in flashback with her. She started, I was backpacking in Europe when I met John. He was a nice guy with a passion for traveling. We traveled together, fell in love. Without knowing I realized that I was pregnant with his child. I was only 27 years old. I was knowing John since hardly three months. Thought I had traveled almost all Europe by that time, I had a desire to explore the World. No one was there to give a suggestion. My mom wanted me to abort the child, because she knew although John was in a process to get separated from his wife, he was still married. I was confused. 
Days were passing and I was just thinking, rethinking and over thinking. This continued for few more days until I was tired of thinking. One day I sat down and closed my eyes and a sudden thought popped up in my mind. We were using all kind of precautions, still I got pregnant. There must be a reason behind it. This must be a God's will that I should give a birth to this child. I decided to give birth to my child.
We came back to California. I simply told John,  I won't force you for anything. This child is my responsibility as well. But if you want, you could be as involved as you want. John chose to go back to his wife and give his marriage a second chance. I didn't stop him, you can't make a man to stay. This is not a thing a woman should do.
I rejoined my job. This was a difficult time in my life. But I was witnessing change, change in people around me, change in me as a person, I was improving as a human being. When I was in my seventh month of pregnancy, John came back in my life. He had got divorce from his wife. His second chance to his marriage didn't work. I welcomed him in my life.   
John was a nice boyfriend. He took care of me. I gave birth to my first child, I named him Ruth, Its a Hebrew name, meaning a friend. We were having happy times. When Ruth was a year old, John bought a caravan. we went on a road trip to North America. This was the best ever experience. Traveling and taking care of a one year old kid, Incredible. I was improving as a person, as a human being. I was becoming more responsible. I was liking this change in me.
We, me and John decided to have one more child,  friend to Ruth. I gave birth to my second child, Ethan. Ruth was 2 years old that time.  One day John came back from office and proposed me for marriage. I was taken aback by his sudden action. I said, No, I dont want to get into legal things. I am happy with you and kids. But John was insisting me. He told me that He was a only child to his parents, so he wanted our kids to have his name. After knowing this I was angry with him. Though I was living in the part of the world which is said to be developed but not mentally. We still have male dominating society. But after few days I agreed and said Yes for marriage. I was in love with him. 
We got married in our house. Our two kids, Ruth was 4, Ethan was 2, few mutual friends of John and me were present for our marriage ceremony. Our parents couldnt make it to our wedding.
We both were working. We were happy with our jobs. Our kids were growing, they were going in school. We were enjoying of parenthood. John and I were in love. I couldnt ask for more than this in my life. 
That was our 13th year of marriage. I found out that John was seeing someone else. He wanted a divorce from me. This was a shock but I handled the situation. I didnt fight with him. I didnt even ask him, why? Why are you leaving our happy world? If the situation comes where you are put in situation to ask Why? you should not ask. This is the best way to let the things go. Her name was also Karin.
We took a piece of paper, and divided the things equally between both of us. The things we bought together for our home. This was hard but its better to be practical sometime. Each of us got two weeks of custody for our kids. We were living in a same city so it was easy for kids and with their school. Our divorce went peacefully.
I never broke my friendship with John. Because I didnt want my kids to face any problem because of our divorce. Other Karin was good, I wont say she was my best friend or something. But she was not bad at all. She took care of my kids as their step mother very well. We are friends on Facebook and we often like each others posts and pictures. 
 After John, I  had few boyfriends. Couple of them wanted to marry me. But I was firm on my decision not to get married. I very humbly rejected their proposals saying that I have already done it once. I have my two sons to raise. I am happy with it. I dont want to start it all over again.
Now my Ruth is 36, ethan is 34. Ruth got married two years back. I couldnt attent his wedding, I was in China at the time. He has a year old sweet daughter, Sky. I am a grand mom now. Ethan lives with his girlfriend, half of the year in Alaska and half in California. Last year he was missing me so badly, he came to meet me in India with his girlfriend for two months. They loved their stay with me in India, Camel safari in Jaisalmer and Goa beaches.
Last year, we all meet at my niece's wedding. I saw Sky for the first time. Thought we dont meet regularly, we are in touch with each other through Skype. We have a strong connection and a emotional bond.   
We didnt realize how time passed. I listening to her life story for two hours. Her journey of life was going on. She was going through all kind of experiences. Happy, sad, shocking, surprising. some were against her will, some she wanted to happen. But she never left traveling. This is what impressed me a lot. I was influenced by this strong lady. She welcomed life as it came. She never complained for anything happened in her life. She never quit her passion, passion for traveling for anything. She kept learning from life. She kept traveling. she is still travelling. 
I preferred a homestay in the village. Nangroi was my host. She is the best host and cook. She had four kids and they will make you feel like a home. I had wonderful time with kids and neighbors. I got to know more about their culture, matriarchy system, khasi language, their views towards rest part of India, how they see the World. I learnt lots of things with the Mawlynnong people. Cleanliness is one of them. Even kids of Mawlynnong are very well mannered .