"Love is powerful & magical. Falling in love with the right person makes it the strongest force in the universe that could help us overcome any challenge in life."
Meet the power couple, Mukta and Sanjeeva, who have been together for more than 34 years, and their love for each other has only grown stronger.
Mukta was born in a small town in Bihar. Growing up with nine siblings, resources were limited. But even at that time, her advocate father and government school teacher mother, made education a priority for their seven daughters and two sons. She was homeschooled until class five, and she joined the government secondary school in class six.
Whereas, Sanjeeva was the eldest of five children to a government high school teacher and a homemaker. When he married Mukta in 1985, he was a first line manager for a pharmaceutical company in Patna. He started working at a very young age and travelled almost 15 days a month.
"Growing up, we had limited means. I had never travelled, explored, or even taken time off. Things changed when I got married. My husband and I only met on the day of our marriage, because where we grew up there was no tradition of the couple meeting before they got married." says Mukta.
After their marriage, one of the first things Sanjeeva asked Mukta was, if she has travelled. Mukta had only travelled to Gaya and Varanasi once.
I told him that I didn't even have a passport, but he said, "We've got to make you one, because together, we're going to travel the world together."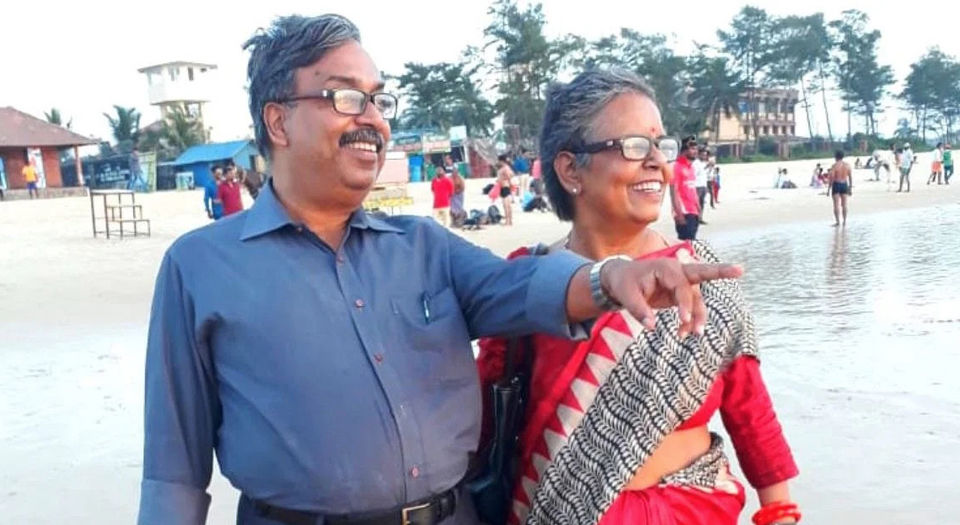 Despite their hectic schedules, where Sanjeeva was constantly touring for work and Mukta was transferred, the couple made it a point to travel to the different parts of India every six months. Initially, it was just the two of them. Eventually, their children and the entire family joined them, and their travels through eye-catching locations such as Jammu, Vaishnodevi, Kathmandu, Shimla, and many more, only added to the beautiful memories they made together.
The couple recalls a funny anecdote from their first trip to Darjeeling, which was their honeymoon.
"We were travelling in a bus. As it was raining heavily, we tried to shut the window, but landed up breaking it in the process. So, we spent the next 12 hours getting thoroughly drenched in the rain!" recalls Sanjeeva.
"We've had to sleep on our suitcases because we've missed trains and we've had to spend hours stranded in the middle of nowhere because our buses have broken down. But it's all been worth it!", he adds.
As the years passed, the couple kept ticking off more and more travel locations within the country off their list. The next big dream was to travel to Europe.
It was at the time that tragedy struck the family. Mukta was diagnosed with breast cancer.
"It was in October 2005. When I went for a checkup, the doctor immediately confirmed the tumour was malignant, and the only option was to undergo a mastectomy (the medical term for the surgical removal of one or both breasts) immediately. I was shocked and didn't know what to do," recalls Mukta.
"It was a major shock to the entire family and me. But we had to take a stand. We immediately decided to go ahead with the procedure and came to Mumbai from Patna, for her treatment," says Sanjeeva.
In 2016, just when they thought she was out of danger, her medical results revealed a relapse. Her body had become resistant to the drugs, and cancer had spread to her bones, lungs, and brain. She had to undergo rigorous radiation and chemotherapy for it.
But during this tough time, Sanjeeva made sure that his soulmate, Mukta remains motivated about life.
"It was the course of her treatment that made our travelling plans abroad even stronger. When I spoke to her radiologist, he appreciated the thought and encouraged us to travel," says Sanjeeva.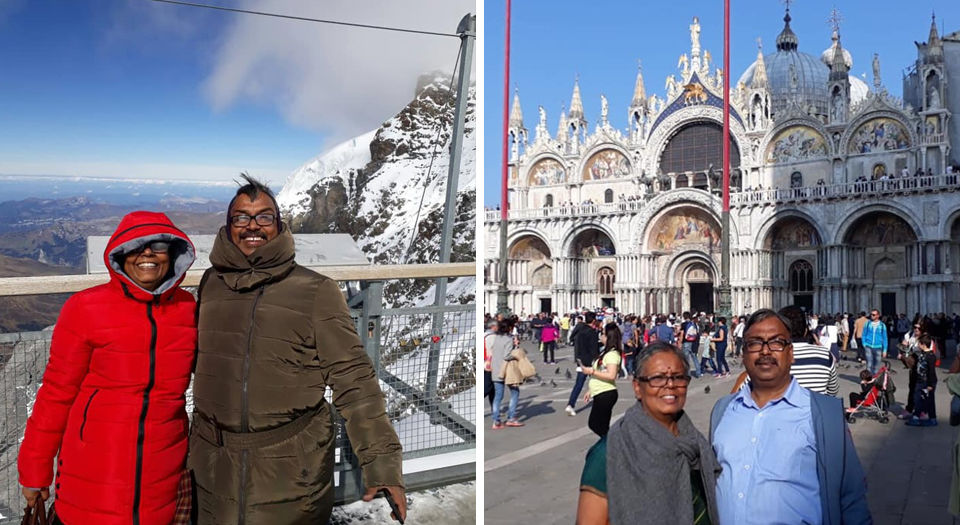 And so the couple's first trip abroad was across Europe, and ever since, there has been no looking back. They have travelled to London, Netherlands, Belgium, Austria, Germany, Switzerland, France, Italy and most recently, Russia.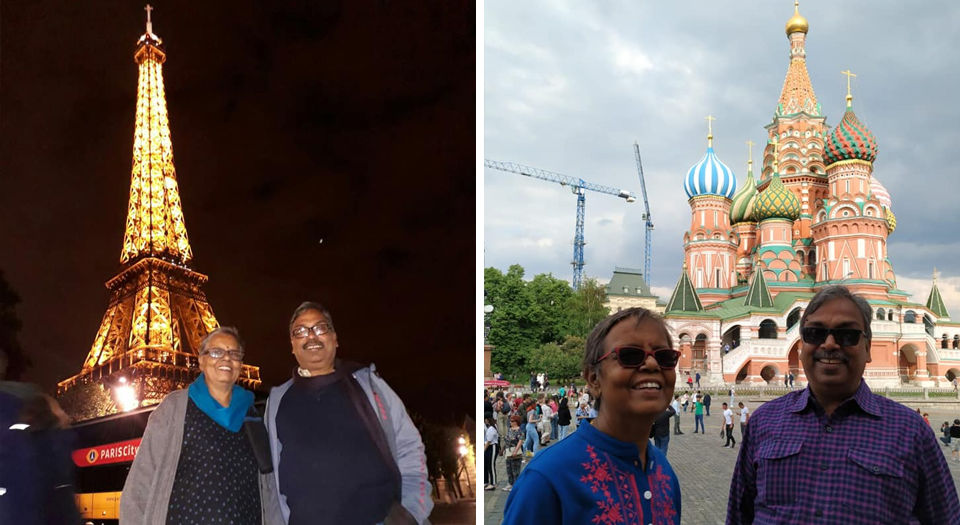 "We sit together mapping the places we want to visit. Once we are back from one trip, we plan the next. I saw how the first trip motivated her. I don't think our travel plans will stop anytime soon.", says Sanjeeva.
Shedding light on her favourite countries to travel, Mukta says, "I truly enjoyed walking the streets of France, Italy, and Switzerland. The architecture, the sculptures, the memorials - everything narrates the rich history and culture of these countries. It is almost as if you see the past come alive."
From the works of Michelangelo and Leonardo Da Vinci that were way ahead of their time to the medieval cathedral of Notre-Dame in Paris, that was burned to the ground; she loves it all.
She adds, "The transport system in the Netherlands is awe-inspiring too. People mostly cycle there, while some use trams and buses. The streets are empty roads and pollution-free. I enjoyed visiting five colleges at Oxford University, where the main hall had photographs and canvases of scientists, philosophers, litterateurs, etc. I also loved the synergy that exists in the architectural style in London and some of the heritage buildings in India."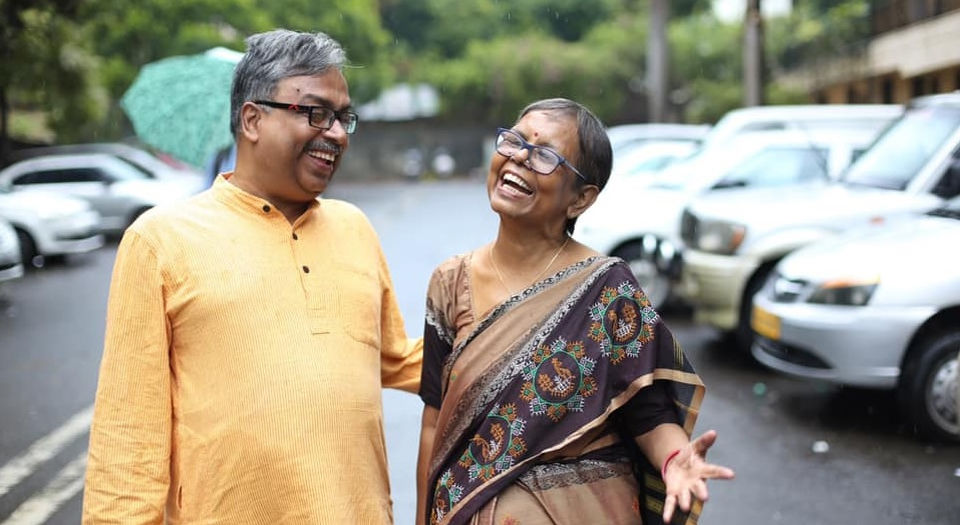 When asked their secret to a happy marriage, Mukta says, "We kept our professional and personal life separate. We ensured that we never got our work home. When my husband returned from work, he would be the most supportive husband and a doting father. To young couples, I say, whenever you find the time, even if you have limited resources, travel together. You needn't travel abroad. India too has beautiful locations to explore."
"Mutual understanding is the most important value that binds a couple together. Place your family first. Ensure to make time for them. Life's meaning lies not just in a successful career but finding mental peace too. Travel is the best teacher," adds Sanjeeva.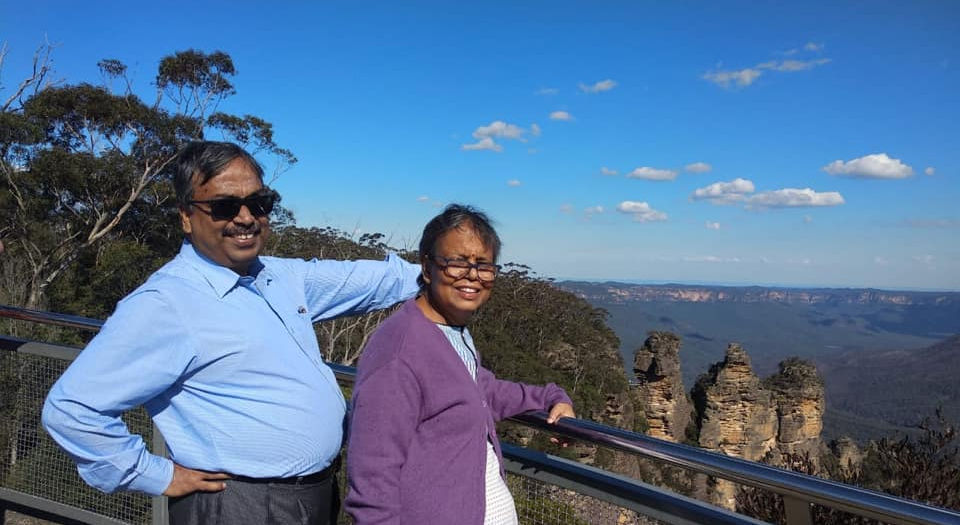 Mukta signs off, "On the day we first met, he was a complete stranger, but now he's the man of my dreams. Life with him has just been amazing. I never thought we'd fall in love, and when we did I never thought that our love would take us around the world. He never fails to surprise me and I couldn't have asked for anything more than a lifetime of new experiences with him."
There are so many women struggling with Breast Cancer today, but there are a few fortunate ones who receive such great support, love, and affection from their husband and families like Mukta.
For more travel stories and information follow me on Instagram @tan_s07.
Ready to travel for free? Earn credits and redeem them on Tripoto's weekend getaways, hotel stays and vacation packages after the pandemic is over!