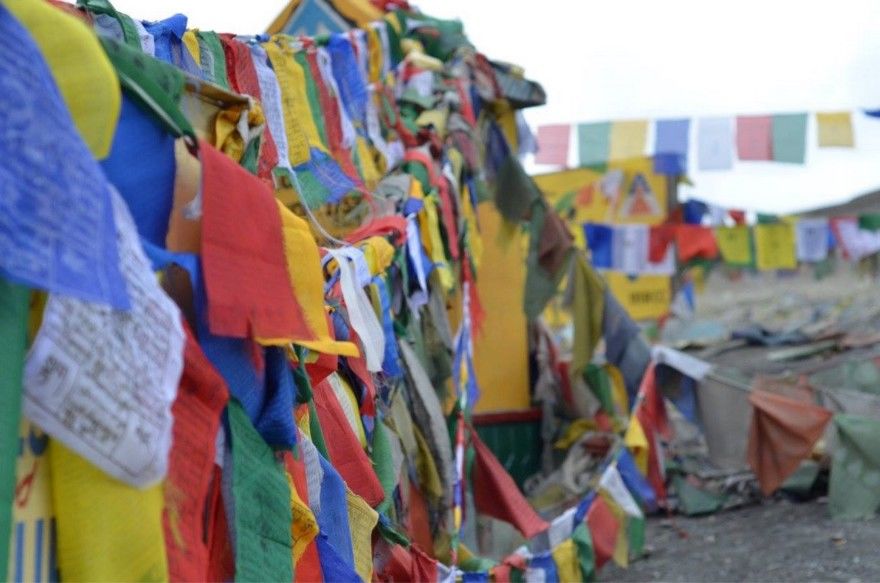 Ladakh had always been in the top of my list, and finally on 23rd June 2016. I started with my journey to live the dream.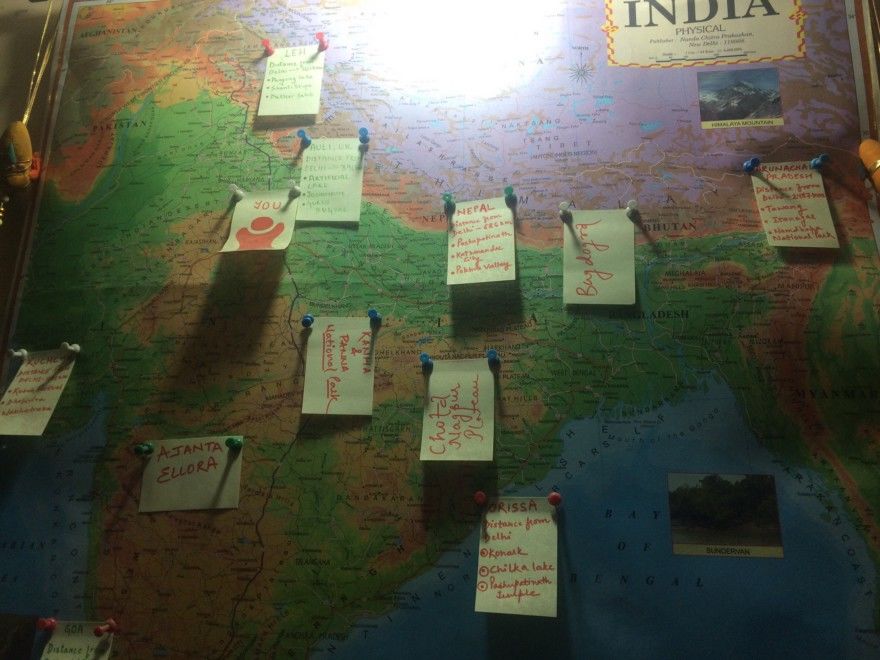 Like any other traveler I dream of trips daily, but 22nd morning was special. I got up to not just dream but to live. I decided to pack my bag and start my journey. I booked a tatkal ticket for Utar Sampark Kranti
On 23rd morning with lot of enthusiasm I boarded the train and started my trip to Udhampur, place where I had spent some time of my teenage. I got onto my berth as I held my breath i could here people speaking Dogri language not native yet reminds me of my people. I realized, I was not only to start a new journey but also was on my path to re-live my old self. This nostalgic feeling of going back to school days brought a smile to my face, quickly I took my phone out to text Rohit aka Jagga "Nikal pada hun mein ghar se, bachpan fir se jina hai"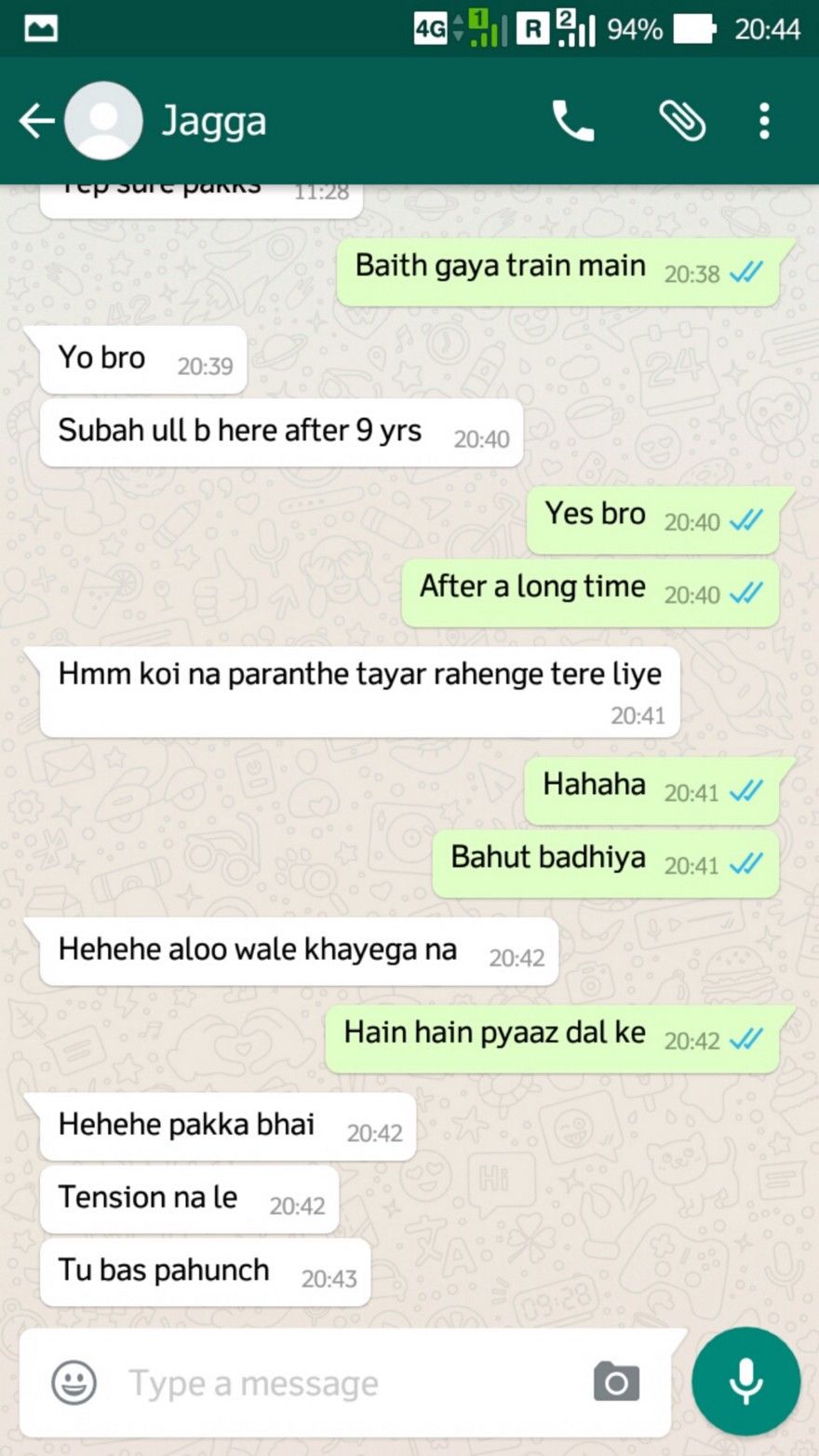 What else you want in your life It is quite difficult to get the train tickets, either you book it in advance or if you are lucky or might get Tatkal tickets as there are lot of passengers for Katra on this Route.
Total cost – Train cost 1290
Day 2–24th June 2016
Honking of the train brought me back to real world, I opened my eyes to a new morning. We were at Jammu Tawi railway station, I could not control the rush in my head. I immediately got up and sat straight to not miss any view of the lanes I had passed by last, 10 years back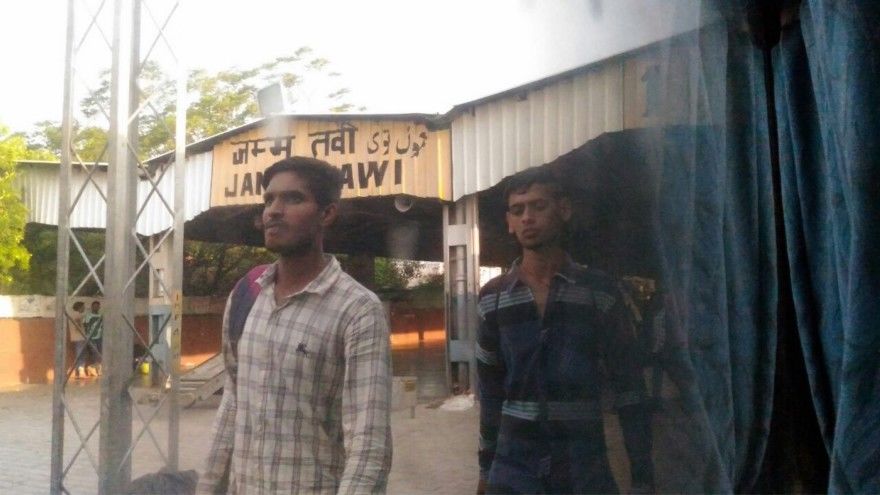 Train entering Jammu tawi station
I reached Udhampur at (time), I de-boarded the train and looked around, and my eyes found Red Royal Enfield Classic bullet 350 and Lakhan (Brother from another mother) on it. We hugged each other and one of the warmest hug in recent times.Friendship is a relationship that need no ties, how many days, months or years pass, yaar always remains a yaar. And their mothers' always mothers' to all. He took me to his place where, I we ate, sipped tea and spoke about how life has changed from then to now
we wanted to freshen up and I wanted to do it like old days. So we drove to 6–7 kilometers and this was our bathroom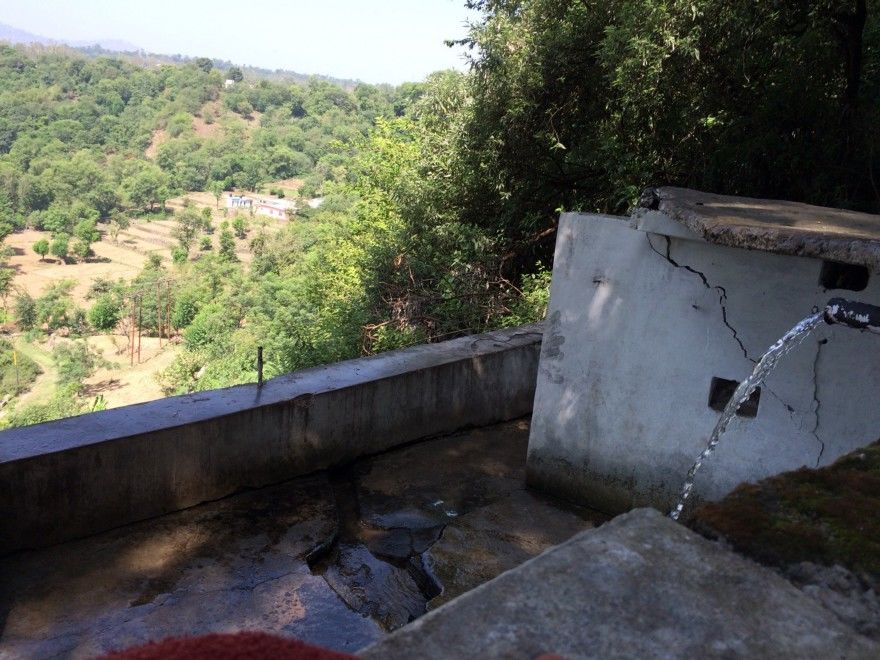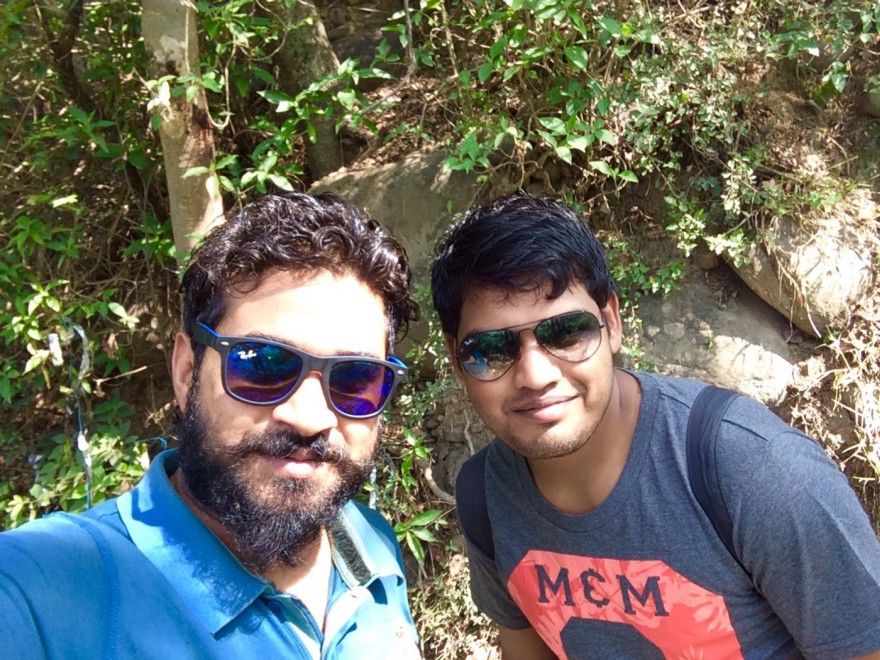 After shower we went to meet Rohit , Rohit used to stay in T-More, however they have rented out a new place in Main market. i never felt that i have come to his place after 10 years , it felt like i have been coming here everyday. After an hour or so we went to school walked around the lanes where we re- lived a lot of memories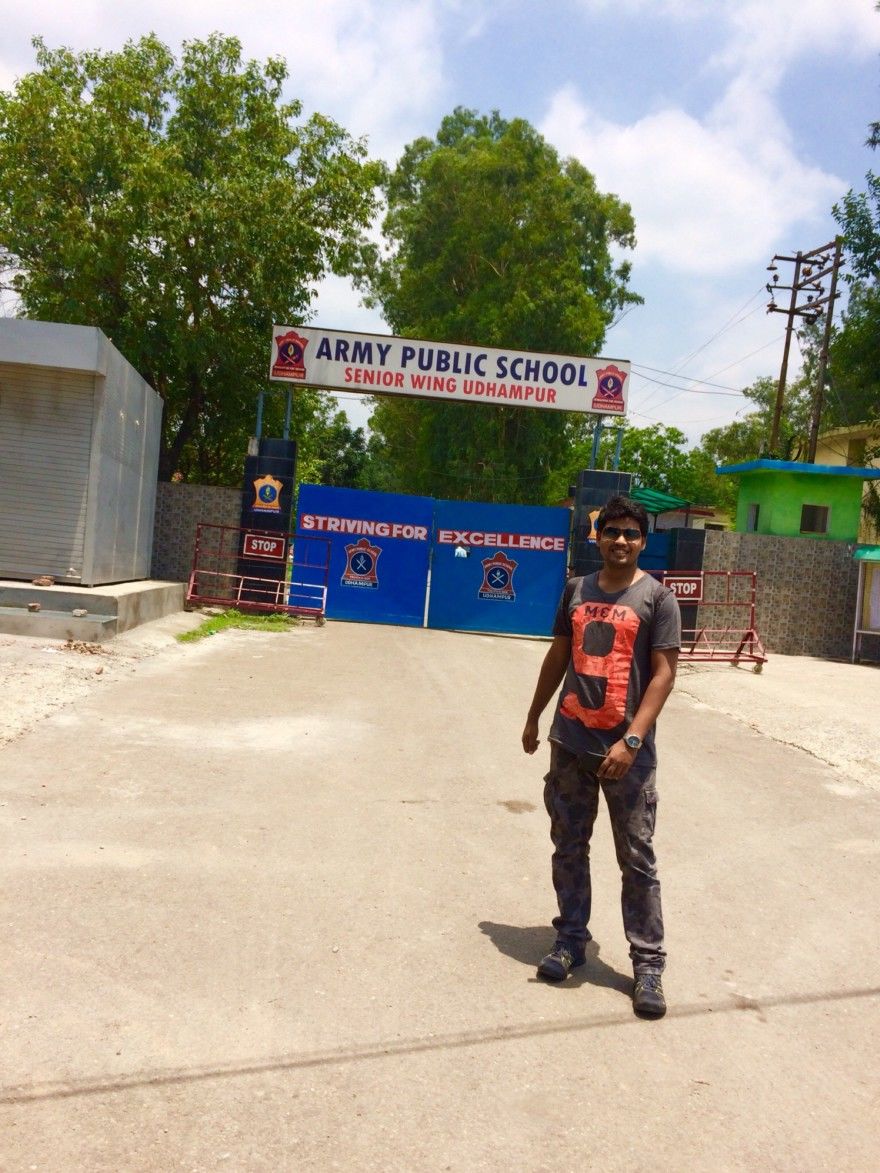 Udhampur may not be a regular tourist place but I mus say its a place every foodie must visit. Some of the must tries are- chowmein at Lambi galli, Nandu ke Kulche and Manthal ka chicken. I used to crave for kulcha's from past 10 years. And finally it was in my hands. you should have seen my Eyes. :P Once a foodie always a Foodie :P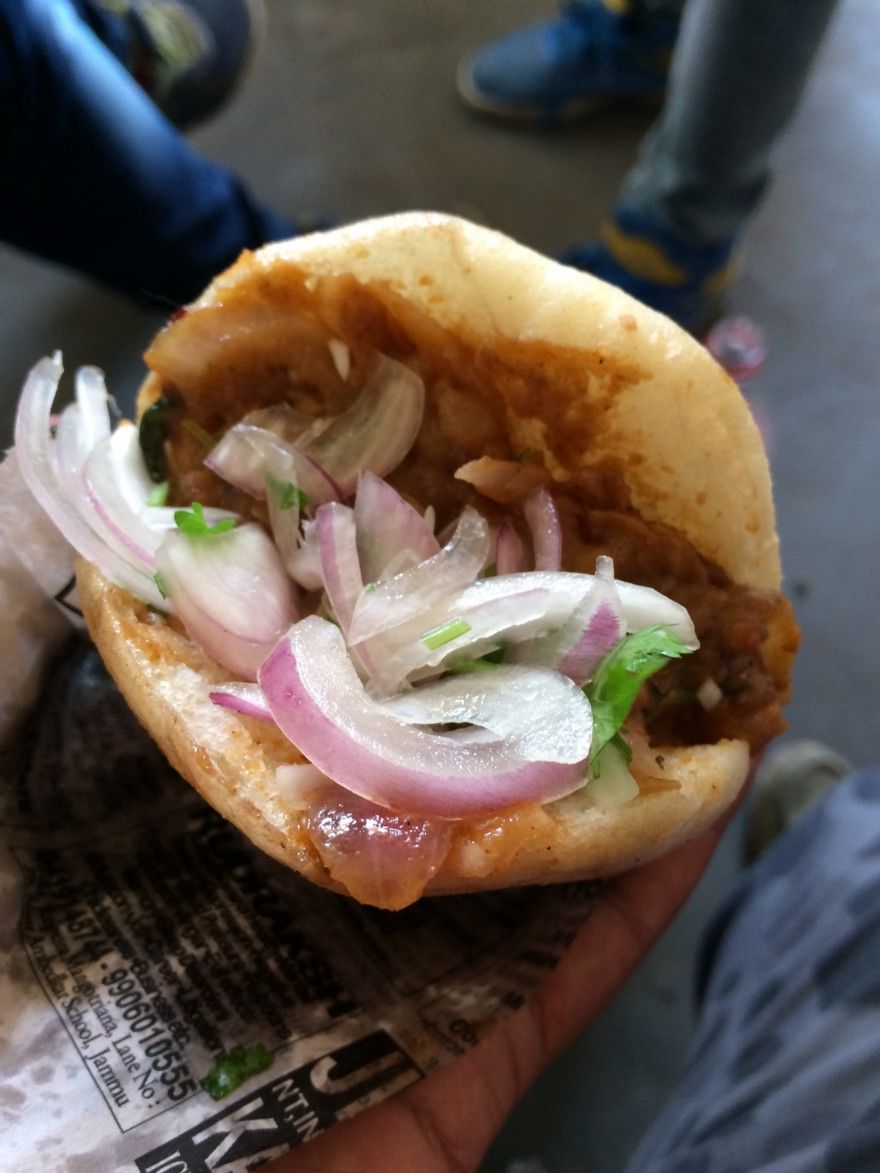 After having kulcha's we went to Rohit place for lunch and after that we went to Lakhan place , For Dinner I wanted to have dhaba Wala food , for which we went to Fauji dhaba and has an amazing food there. Rohit and Lakhan wanted me to stay there for an extra day, however I had to reach Ladakh on 27th June 2016. I slept at Lakhan place and got up in the morning to catch cab for Srinagar.
Total cost – 750
Day – 3–25th June 2016
There it ends, the living of living back the memories down the lane. And I was all ready to take a step closer to my dream. I woke up at 5.30 am, had a cup of tea and picked my bag to my way ahead, to my next destination- Srinagar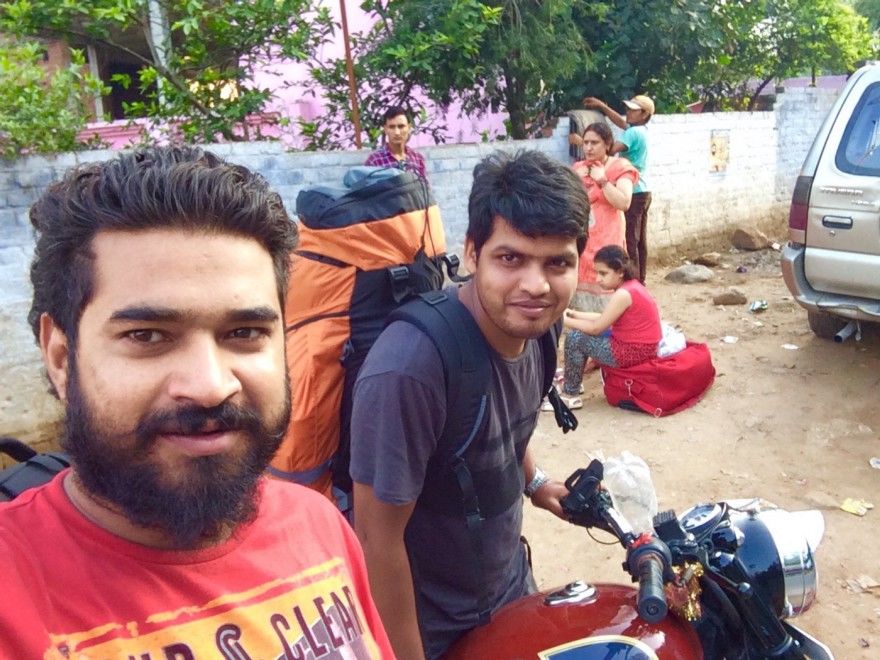 After waiting for 30 odd minutes at MH mor, I got a cab, it was occupied by a Marathi family from Pune, travelling up till Srinagar. After a while we all got talking. They were brothers and sisters and were travelling for the first time to Srinagar.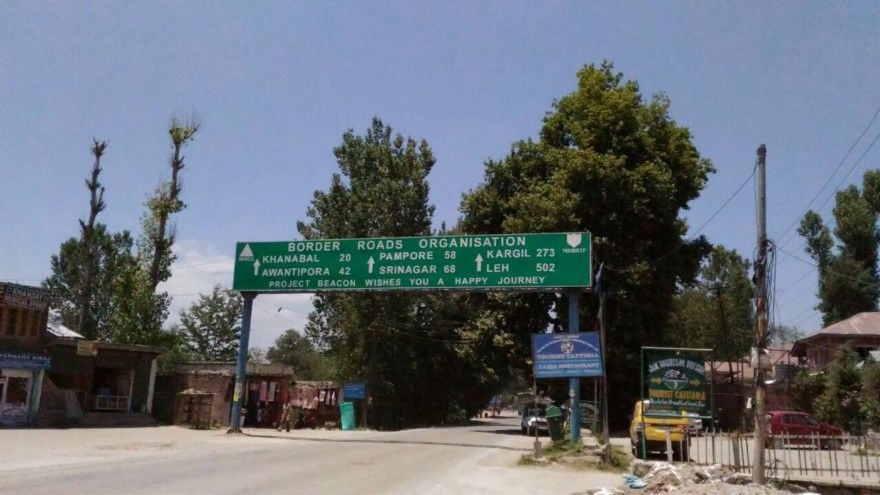 According to my research it normally takes 6–7 hours to reach Srinagar from Udhampur. However due to traffic , we took 8 hours and we reached Srinagar by 3 pm. Thanks to the company I had, traffic was not really a bane. I got down at TRC (Tourist reception centre) and took an auto to the Hospitality Homes near Nageen lake which was a 20 mins quick ride. I reached home stay and was warmly greeted and welcomed by Mr Riyaz (owner of the home stay), he showed me way to the room and i was served tea and sandwiches
Home stay rooms are recommended, they were clean, hygienic and cozy and the food was decent (pics attached)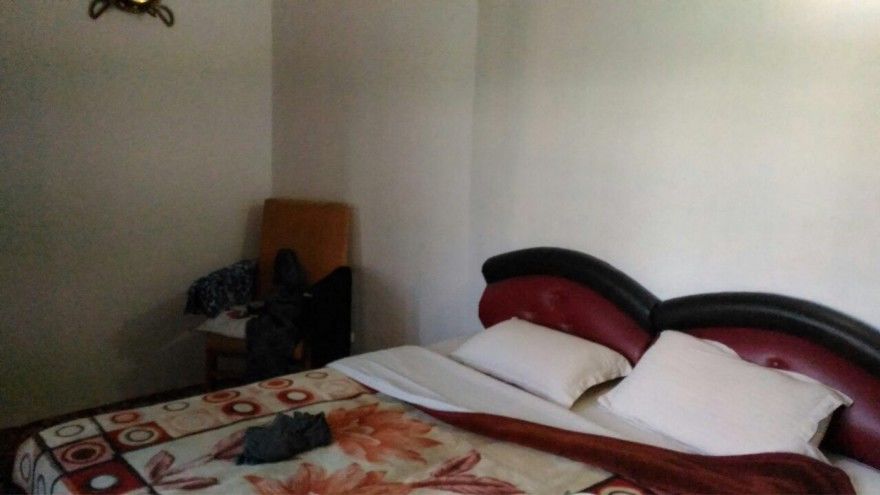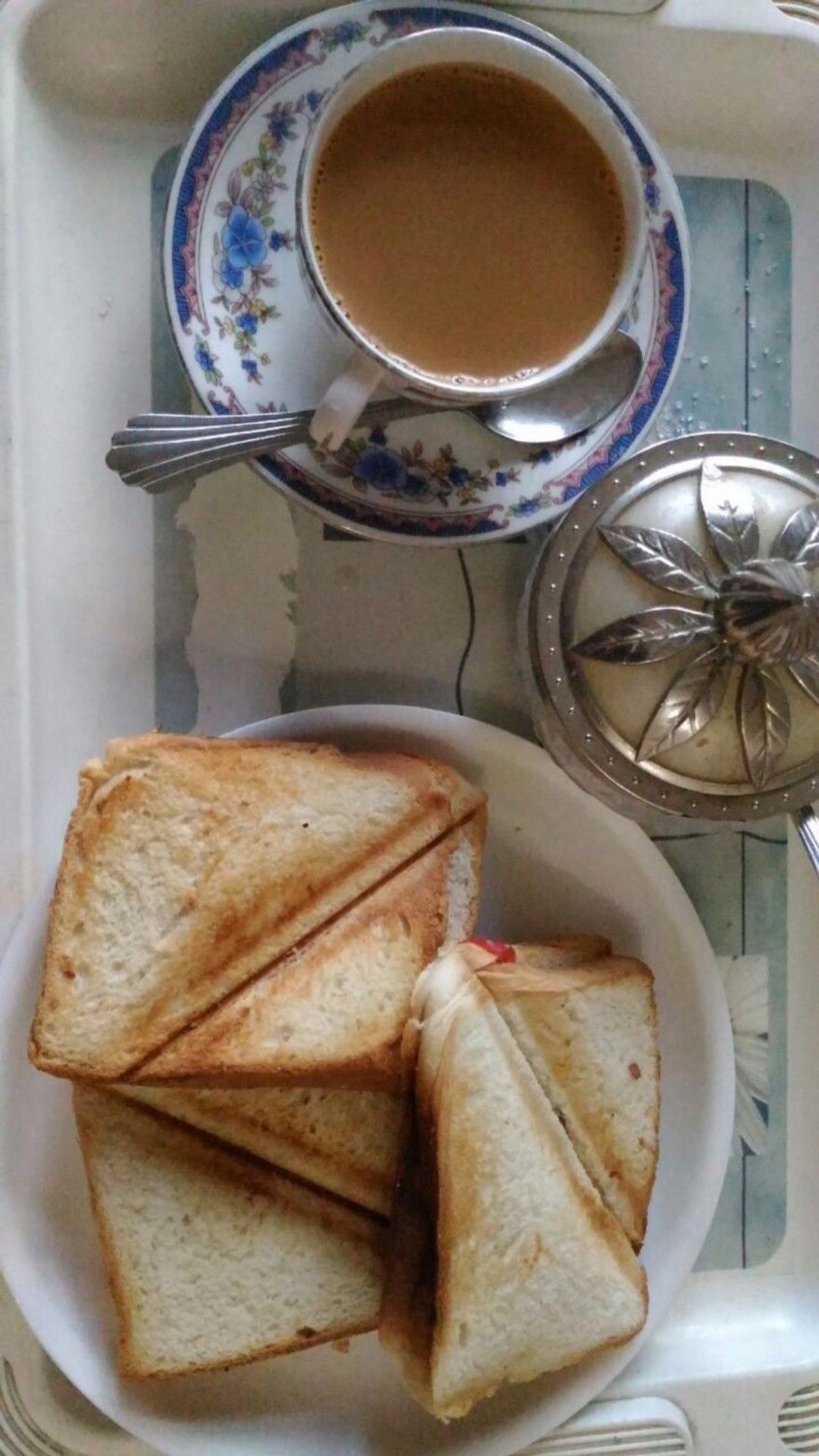 I settled my luggage. As Nageen lake was walk-able, I asked Riyaz to arrange Shikara for me, I went for shikara in Nageen lake, during sunset.
Shikara Ride Cost- Rs 500, for 90 mins ride.
Post which I booked my cab for next day morning to head forward to Ladakh after that i went for a walk around Dal Lake.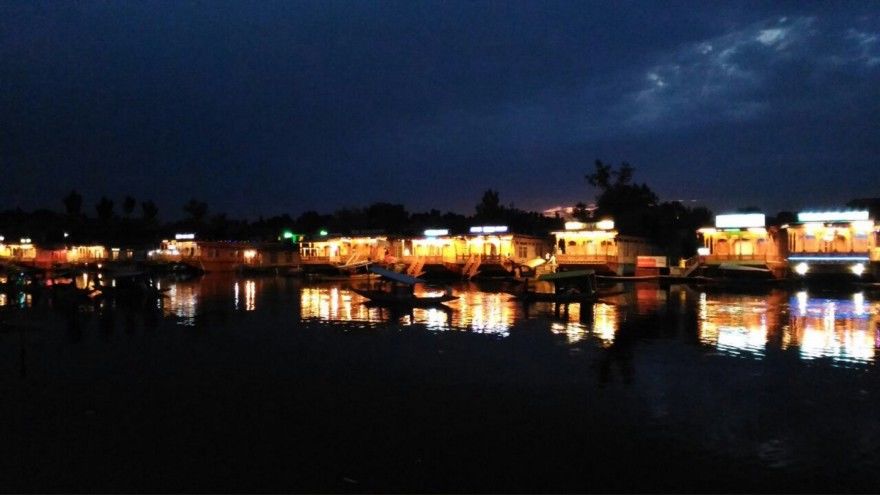 Dal lake in night I reached back the home stay at 10 pm, on the dinner table I met Riyaz's family. I started to talk to them about my dream trip, my life back in Delhi, my stay in Udhampur, my family. Right then his brother left the dinner table and walked out, I felt as if u offended him. Feeling sorry and confused i asked Riyaz what was the matter, he told me that I should hide the fact about my father serving to army while in Srinagar. It was a shocker to know that, my pride of being related to army could be the reason for someone to not share the dinner table with me. So much of differences, I went back to my room post dinner ended the day with a sour after taste of this feeling. Reality check — I realised that I am in Srinagar and they say it rightly " In wadiyon ki hawaon main kuch hai and I felt it'.
Tip — You can easily get a home-stay or a boat house in Dal lake, (Check online for better prices) and its better to stay near Dal lake only. lots of restaurants on the banks of Dal Lake.
Total cost – 2500
Day 4
I got up by 3:30, had Amir bought me a Kashmir special kawha and was off on road again. The cab started from Srinagar by 5:45 and I was on my way to Ladakh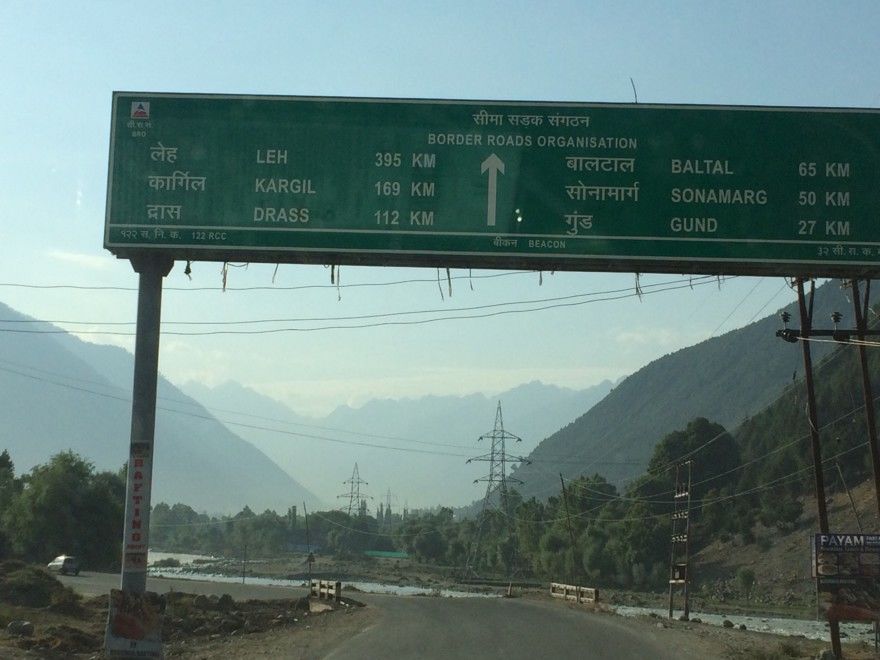 My co — passengers were school kids who lived in ladakh but traveled all the way to Srinagar for school. I shared my travel stories with them, they were so excited when I told them that i was on my dream trip, that they stopped the cab at every possible place they thought could be of interest to me, made sure that I see all the places on the way,and take pictures with them.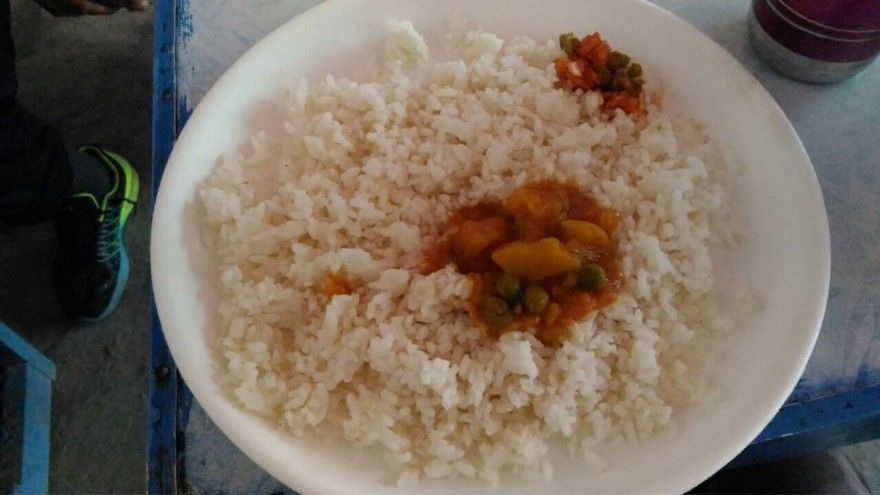 I saw everything from mighty Zozila
pass to second coldest and inhabited place in the world (Drass), to beautiful roads of Kargil, to tallest Tiger hill, magnetic hill etc. It was a hell of journey. A tiring one, but so much worth anything but their smiles. Only regret I should have come on a bike for this. Nevertheless I said Next time to myself . I reached Ladakh by 8 in the night and went straight to Ishey's place, rented a place for 500 bucks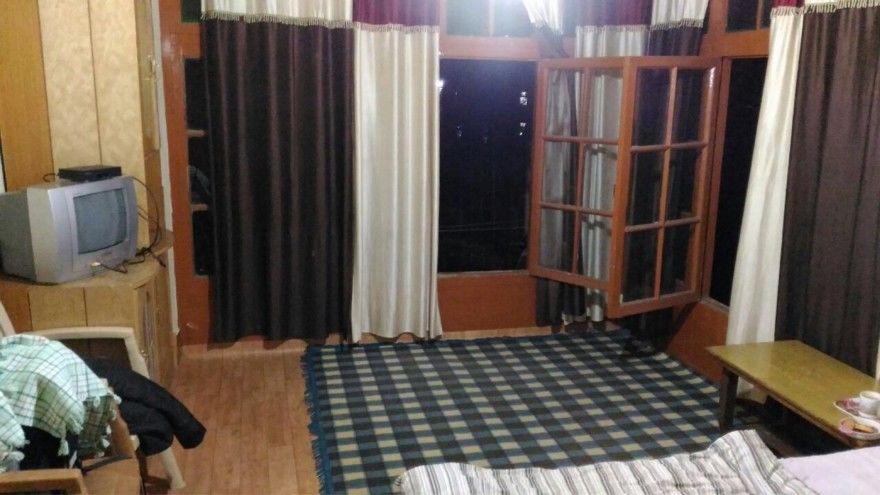 I was hungry so i asked ishey's mom for a good place to have dinner, she suggested me to go to Tibet kitchen for dinner. It is one of the beautiful places in Ladakh , i ordered a Chicken fried rice, The food was good , i was Tired and wanted to sleep badly. i went back to the guest house and slept comfortably for the next sunrise . I was about to meet Naina after a long long time. We always wanted to go for a trip. I knew she will disturb me early in the morning, still I made sure that my number was reachable. :P
Tip — There are buses from Srinagar to Leh with an overnight halt at kargil, however Cabs reach ladakh in a day , they start early and reach ladakh by evening. It is better to book a cab the previous evening as in morning you might not get seats. Cabs charge you from Rs1600 to 2000.
Total cost – cab- 2000+ lunch & dinner (600)+ Room (500)
Day 5
I got wake up call from Naina , she landed in Leh, I told her to reach hotel i.e Ladakh Himalayan retreat. I reach there by 9 and there she was . I was not sure weather these guys would like the hotel or not , so i booked only for a day, but they somehow liked the hotel , and we thought we will continue in the same hotel.however Hotel was Sold Out, so we had to look for other options. Now that I knew I will be seeing more of them I tried making conversations with Nikhil and Sneha :p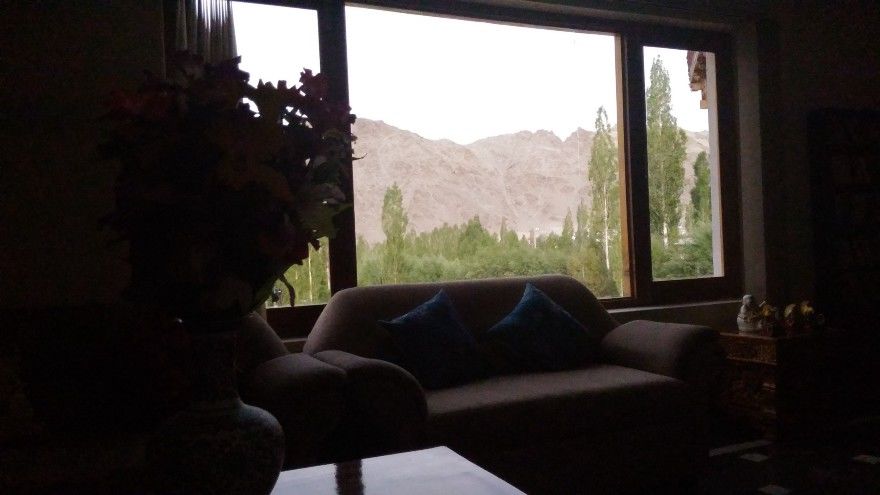 Soon after breakfast our rooms were ready, falling ill wasn't an option and knowing they travel today morning from Chennai, we decided to rest for some time. It was almost lunch time by the time we woke up. Before I could take initiative of ordering food.
Sneha was excited about the electric cooker she was carrying. She quickly prepared rasam chawal which I would say was "perfect Chennai tadka in Ladakhi rice". After lunch they slept again , i was eager to go out of hotel , however i couldn't ask anyone of them to come along with me , However by 7 we went for a walk around the hotel and nearby market to get ready for the journey further. Glucose, check. Chocolates and energy bars, check. 1st aid, check.
I knew a place which was suggested by a friend who had been to ladakh , we went there — A small beautiful Home Stay . Nikhil liked the place.
We were all set for the next day. We had our dinner and went off to bed.
Day 6
I next thing i remember is getting up in the morning and getting ready to check out of the Hotel. (check in and check out is at 8am) and we moved to a home stay, Jamspal Guest house ( Ishey's House). We planned to visit local sites. We rented two bikes (for 6 days), and the 1st glitch happened. We were just on test ride when the bike Nikhil was riding gave up.
We called Ishey for help, after waiting for half an hour, they came and found out that spark plug was burned, they replaced our spark plug and we reached petrol pump and filled our tanks. Soon again the same bike refused to move ahead, we called Ishey again and this time he took the bike to a mechanic, while we had to wait we went around to explore and found a small lunch house, since all were hungry we had our lunch there.
Bike did not get repaired, so no bullet for Nikhil, we was a little upset but soon he accepted the Karizma and we rode to Shanti Stupa from Fort road, which was just 3 to 4 kms away so it took us around 15 to 20 mins to reach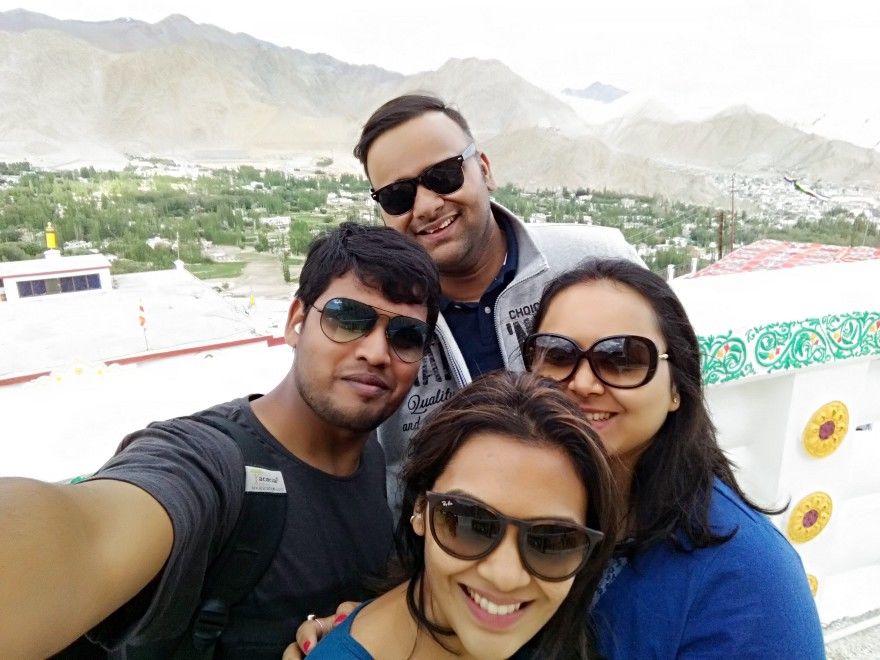 We all quite liked the place and more relief was to see Nikhil smiling again. We explored around and clicked a lot of pictures. We further rode to The Hall of Fame, but sadly it was closed. So we decide to have dinner on our way back at my by now favorite place "The Tibet kitchen"
Soon after dinner, Sneha told me its Nikhil's and Naina's birthday — tomorrow , Me and Sneha went out and got cup cakes for both of them and on our way back we met Ankit in the Guest House. As he was travelling alone we asked him to join us and he immediately agreed.
Sharp 12 am we knocked their door, Happy Birthday time!!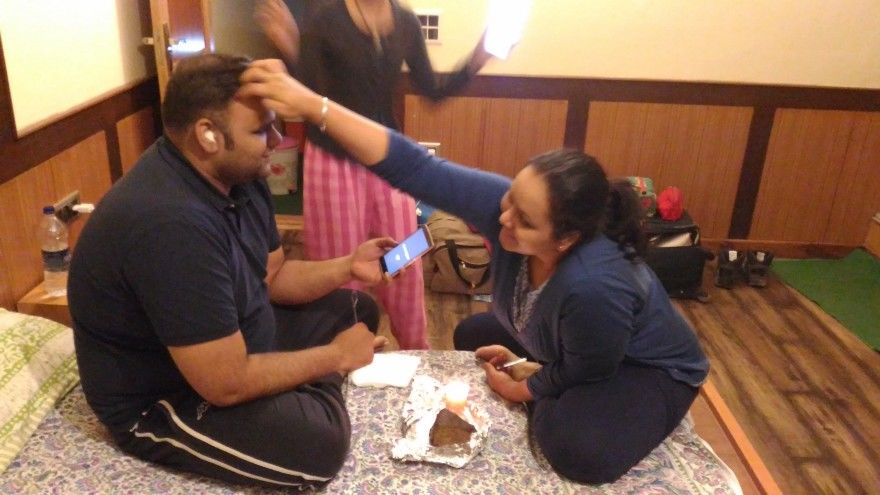 Post which back in our rooms we were. It was Khardungla on my mind!!"
Day 7

we planned to start early( by 6- 7)as i wanted to reach Nubra by max 5 so that we can see around Nubra valley. We started by 10am, for Nubra valley. We were already very late by the time we were on the road and then as all of us were riding for the 1st time on such roads, it was difficult to ride.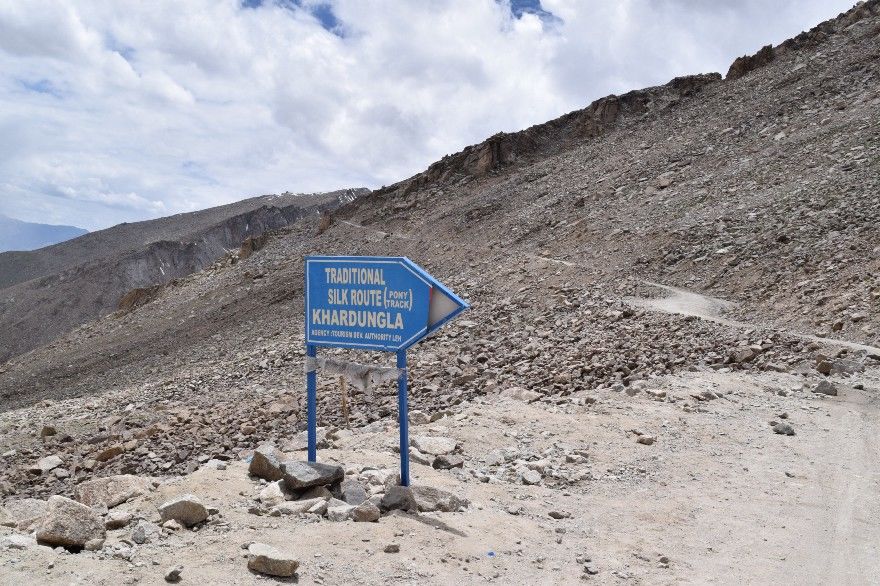 on the way to KhardunglaBut as soon as I realized Nikhil and Ankit were feeling unsure, I decided to lead the road, with a lot of burden in my head, It wasn't just new road for me but the experience of riding a bike as whole was new. it took us a hell of a beating , 3 hours to reach this place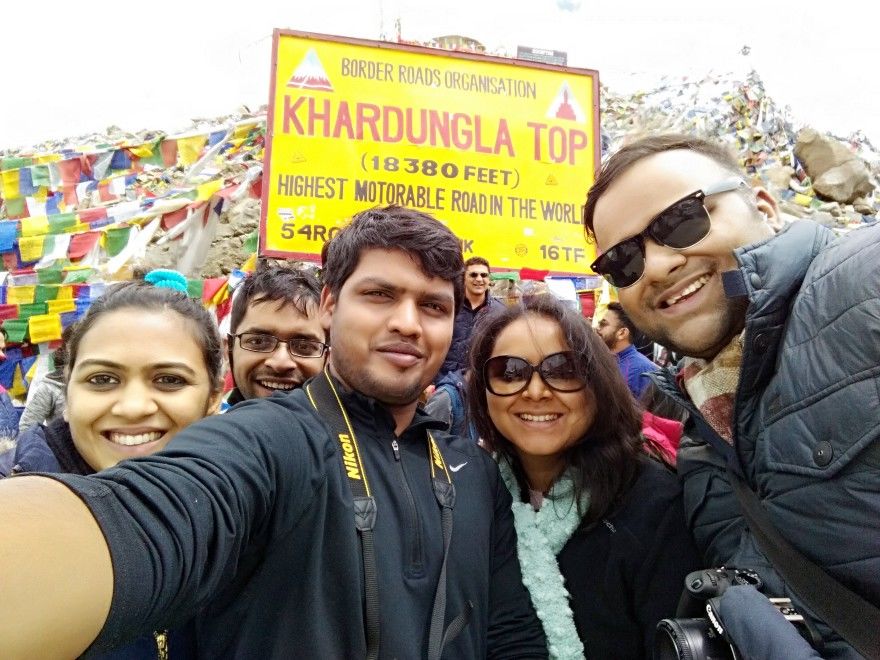 Yay ! We made it so far.Reaching Kardungla, secretly I was so proud of myself that I wanted to jump around, but I played cool!! :P
We took almost an hour "chai maggi" a typical pahad wali break there, and were back on the road to Nubra. In my head I was a hero already, "Khardungla pahonch gya, Nubra kya cheez hai!" and then I woke to reality, it was very difficult.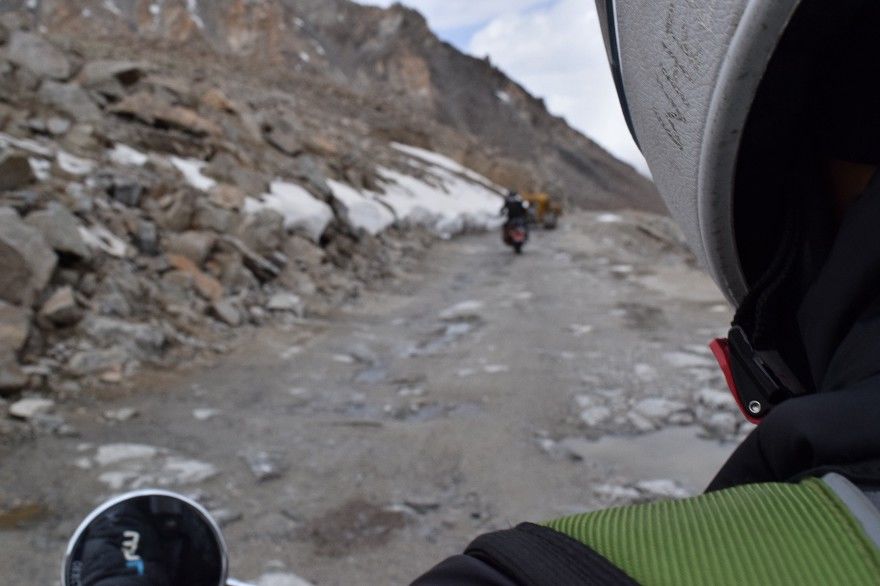 It was one of the difficult roads i have ever been.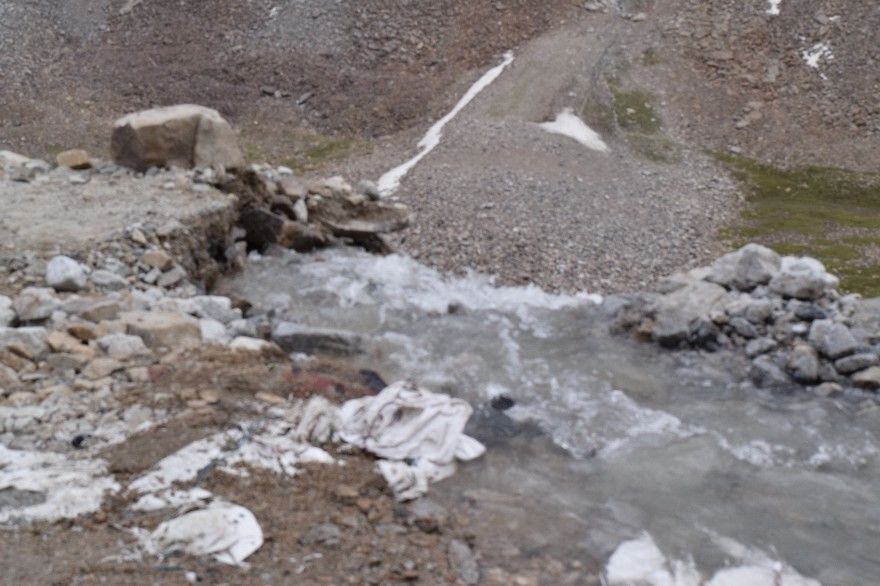 The Road to NubraThe Route till Northpullu is very bad and very difficult to ride on. By the time we reached Northpullu , we had experienced everything, Be it hail storm, Be it rains, etc. We were going very slow and were already late, it was 6 already and we were 46kms away from Hunder.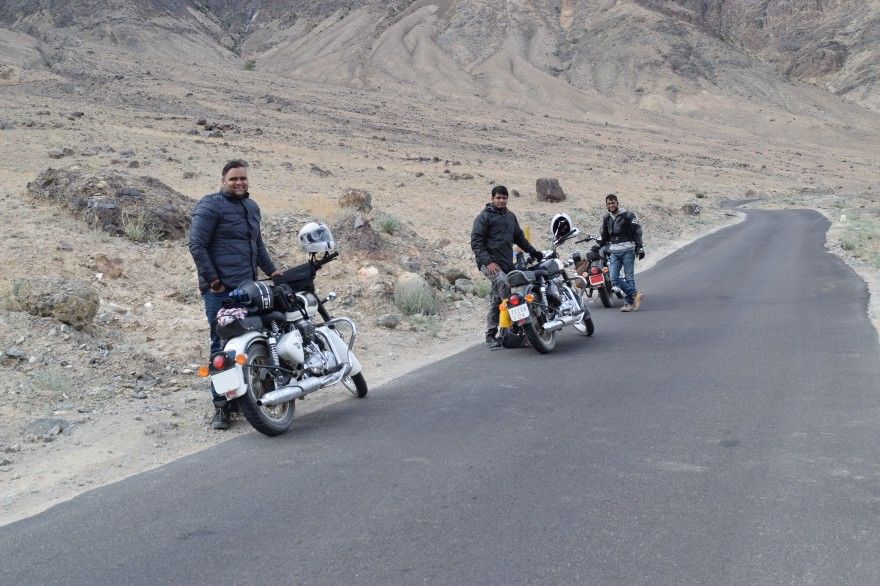 But that was somehow fine, as I was here now and did not want to miss any view. I clicked a lot of pics as I wanted to capture everything in my camera. A difficult ride ended up in a perfect place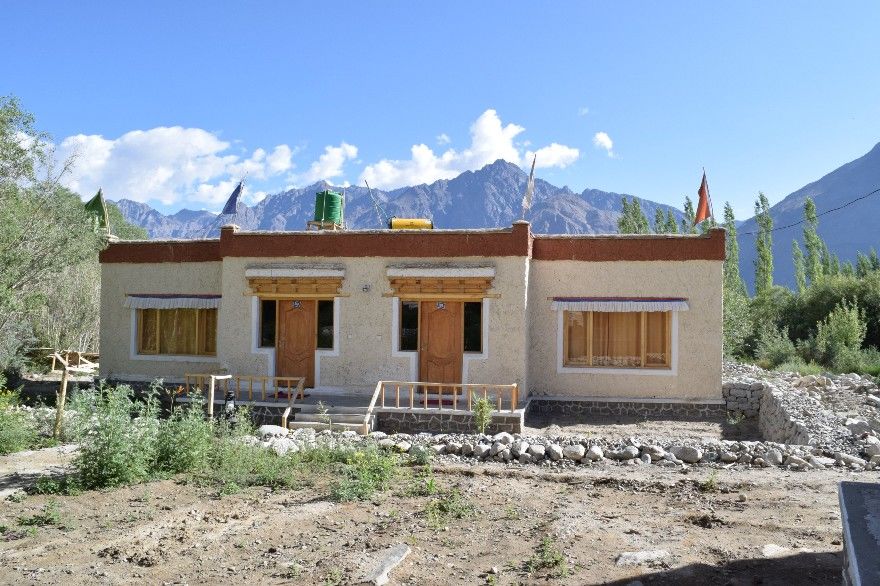 Our Stay at Nubra ( Hunder) — Clicked in the MorningBy 8.15pm, we reached Lotus eco resort, Hunder. We had our dinner there and got into our rooms. It was tiresome but every bit was worth it!
Day 8 — Nubra to Pangong Lake
Just after the breakfast at around 8.30 we started for Pangong lake, from Nubra, as the agenda was to reach there before the sun sets.
And Just when the road seems to be perfect this happened to us!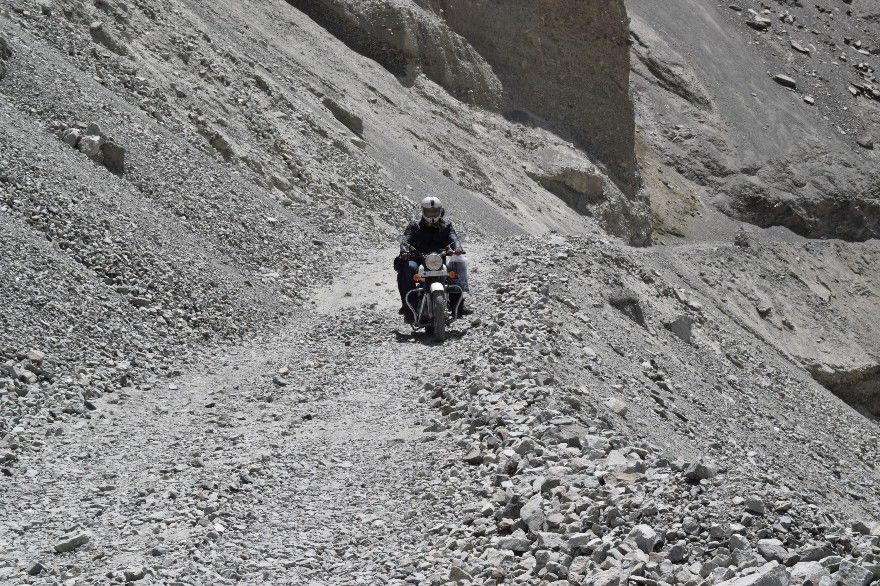 and this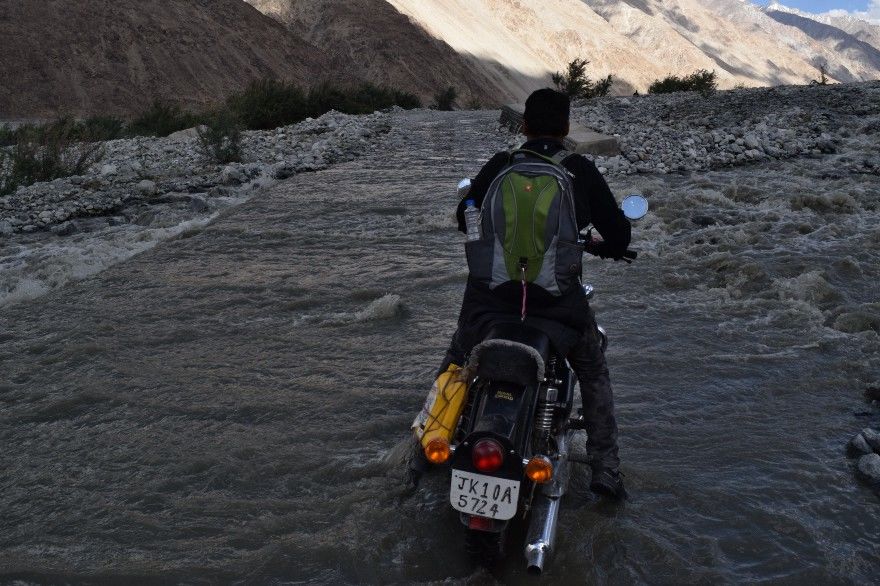 Overcoming obstacles feeling like a hero once again, we found a chai and maggi stall, as we inquired about the distance the stall man told us we still had atleast 4 hours ride, now it was time for us to buckle up and reach our destination before sunset. We reached we could not make it on time
Nevertheless, after 170 kms crazy ride we reached by 8. The road to Pangong from Nubra is much better than coming back to Leh and going to Pangong from Leh.
We looked out for out tents, had dinner and settled for the night.
I sat outside the tent for some time watching starts. It was too cold to be out, so went back to my tent and tried to sleep. However, I could not sleep in-spite of being tired thanks to the chilly winds.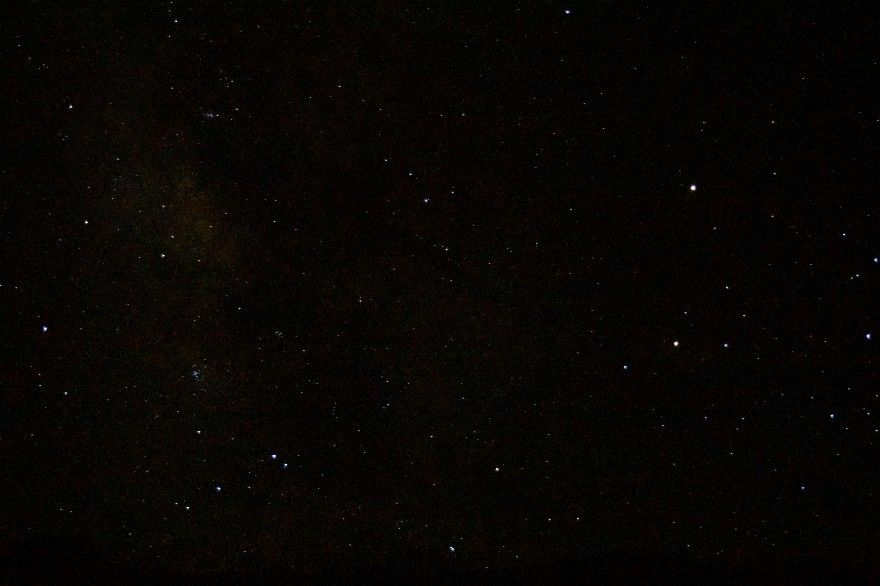 Day 9 — Pangong to Leh
We got up early around 5:30 to see the sunrise.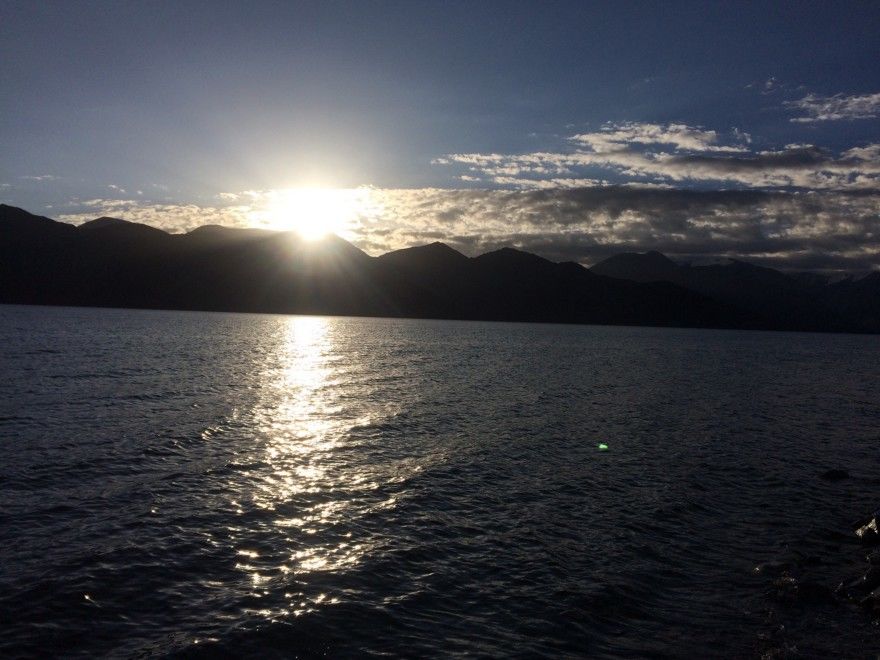 One of the best views I have witnessed, we sat there watching it for good 30 minutes soon when we were ready to leave Naina said, she can't sit on a bike any more. We couldn't leave her back, so we started looking around for help if anyone traveling by car could tag her along. We found a Doc from AMC (defense personnel) he was traveling with the family, he said they don't have space to give lift till Ladakh, however he came to check if Naina's condition was fine to travel ahead or no. He suggested us to move down. It is the altitude which is creating problems for Naina. We started our journey way back to Ladakh at 9, but again within an hour or so Naina started feeling restless, we stopped and had no option but try for help again. We found a group of bikers who were traveling from Pune and they had a back up vehicle. Luckily they offered help to us and they said they will drop Naina and Sneha to Ladakh. We gave our entire luggage to them and we started our journey to Changla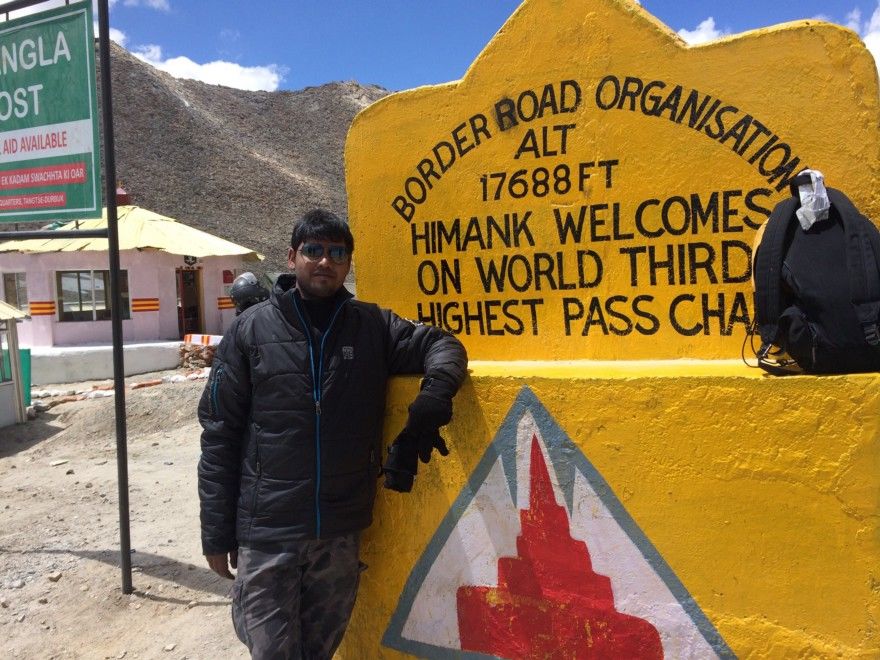 Changla passThe road to Changla is not in good shape and due to oxygen constraints, the bike seems to lose its power and it gets very difficult to ride. After crossing Changla, we could ride faster. I was feeling sleepy on the bike as I hadn't slept last night. I wanted to reach Ladakh as soon as I can. We reached Ladakh by 4:30pm and I directly went to bed. I slept for half an hour or so, and then Ankit came in. I was sleepy but I was living dream, I wanted to celebrate, I rode in Ladakh, Nubra , pangong , khardungla, Changla. I took shower and then Ankit and I went to Kc restaurant in Ladakh for couple of drinks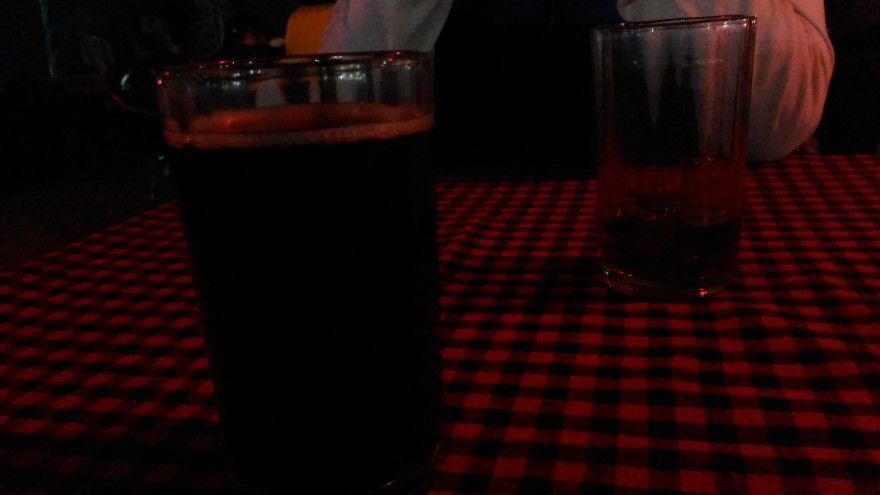 we spoke about random things and then Ankit told me that he has to leave tomorrow for delhi, we were looking for flight tickets , however we couldn't book because of internet issues. we thought we will go to airport to get tickets but we got to know that everything was closed. so we came back to hotel and we said we will see each other tomorrow. i wished him Good night and came in my room.
Day 10
Next morning got up to the news that Ankit has left already for Delhi. We got up late that day, as we wanted to take rest; the only plan of action for the day was to visit Leh Palace and hall of fame. We had our lunch and headed straight to Leh Palace
They charge you extra 50 for the camera to take pictures inside. It is an old Palace which is made up of stones and Mud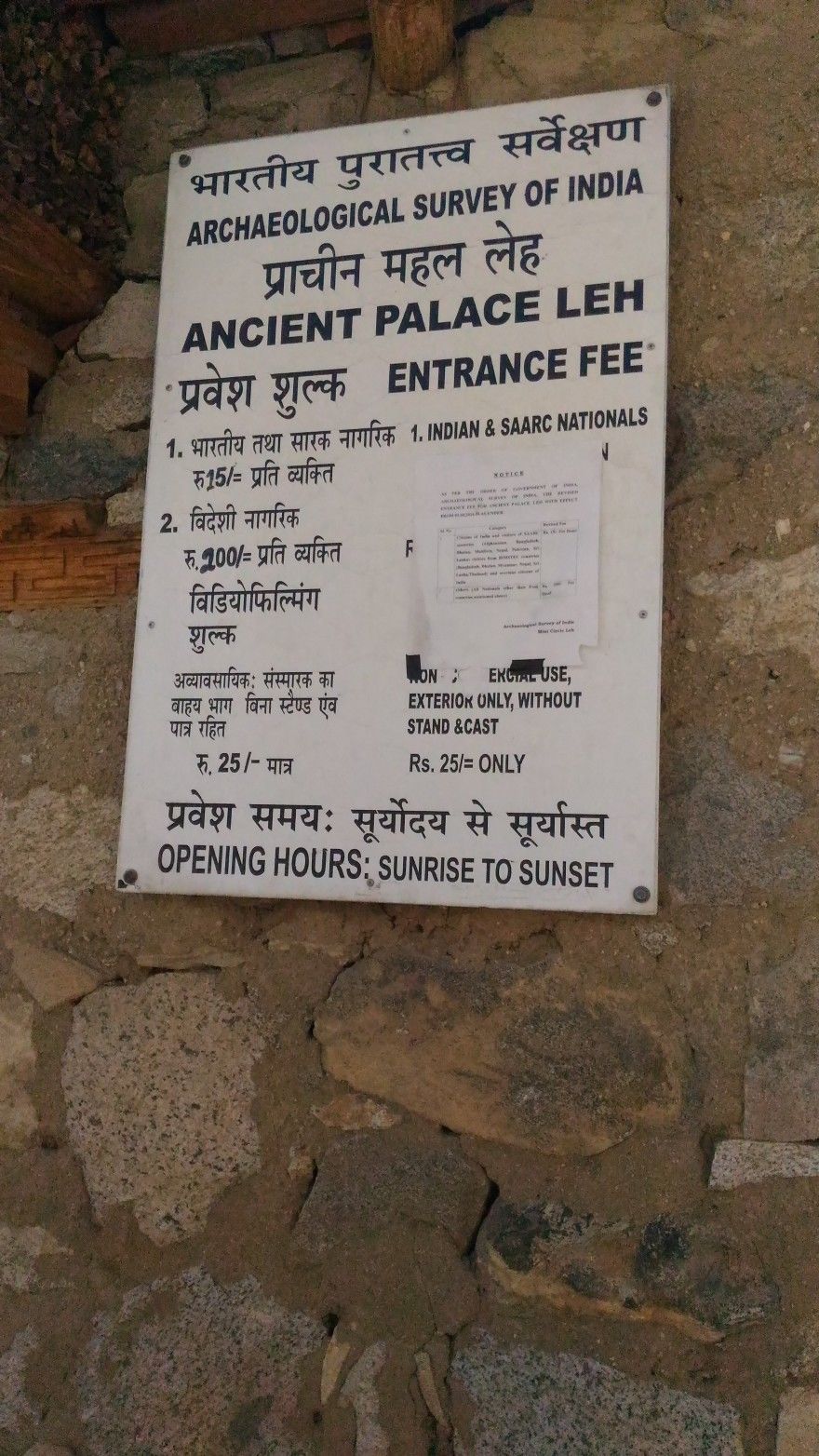 We were there for almost 45 mins and then we proceeded to Hall of fame
Hall of Fame gives tribute of all the casualties which happened in Operation Vijay and also showcase the Army life in Siachen, BRO ( border roads Organisation), Kargil War. These kind of places always makes me feel more proud of Indian Army, I feel more thankful to them for making our lives easier. I mean we all crib about our lives sitting peacefully, think about people who stay in places like Siachen, who take up challenges of surviving at -55 Celsius. I read last letter of Sir Capt.Thappar to his parents. The amount of sacrifices our Army guys give for us, makes me feel smaller in every phase of life. They teach you to be responsible, accountable to everything in your life and they teach you to thank god for whatever you have in your life. Y father belongs to Army, may be that's why I got bit emotional when I read the last words of Sir Capt.Thappar. No pictures clicked, as I believe certain things if could be captured I wish they were captured for real.
By 7 we were done with Hall of fame and then Sneha wanted to explore the local market so we went to Tibetan market and after that, this time all four of us went to KC for couple of drinks. KC plays some local music which is quite refreshing from regular, we stayed there for a few hours and then we went out for dinner.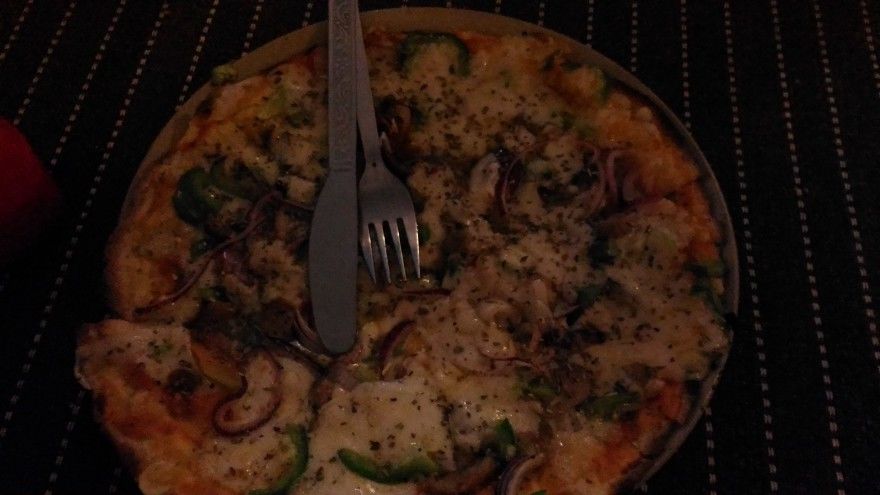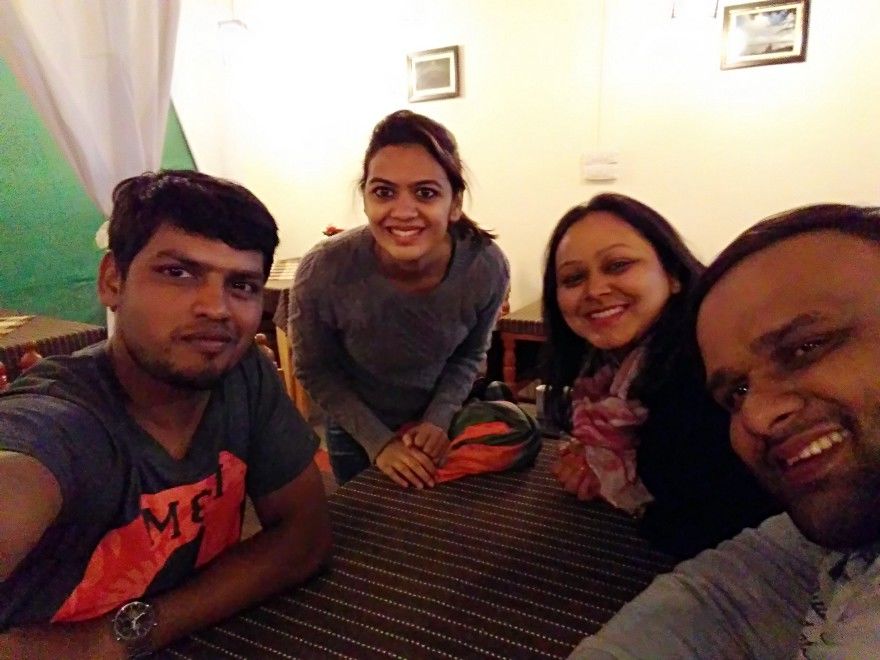 We couldn't finish the pizza, so we carried it to the guest house, where I and Sneha nibbled to it while talking staying up till late.
Day 11
Today we were suppose to go to Rancho's schools and Hemis Monastery, but before that Sneha wanted to get a shawl so we visited few local markets but couldn't find anything of her choice. We directly headed Rancho's school from there. Rancho's school is not exactly Rancho's School , this school has been there from much before the movie, however after the movie the school became famous as Rancho's school. It is basically a fully residential school. We had breakfast there which we thought was costly, so we went to the reception where someone guided us to the shooting point.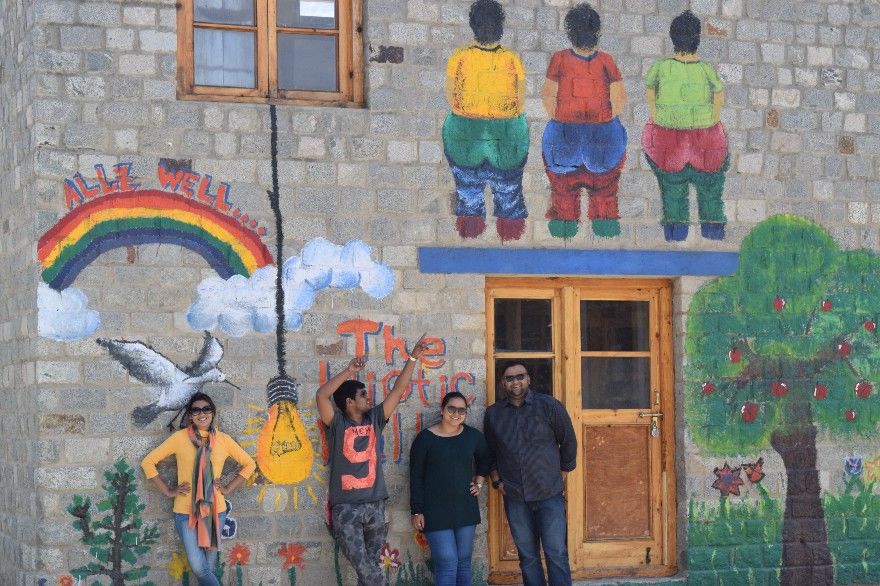 We took pictures and then we headed straight to Hemis Monastery. Hemis monastery is situated in Hemis village approximately 45km away from Ladakh, it is said to be one of the biggest monasteries of Ladakh. It took us an hour to reach the monastery we reached there by 1:45 pm and monastery was closed till 2 (for lunch break), the moment it opened I went straight to the temple and sat there. I have some strange attraction for Monasteries, I feel peaceful, I sat there for almost an hour and then we headed back to Ladakh, while our way back we visited Tibetan market again (Girls and their shopping) after which we were back to our rooms and here we were packing our back getting ready to head back home. We had dinner and were on our respective beds soon.
Day 12
The morning came with a rush, the trip was to end. We concluded by our last journey up til the airport, laughing and talking about how special the time was.
Next I was in my flight with a heavy heart, and the Ladakh hangover begins!!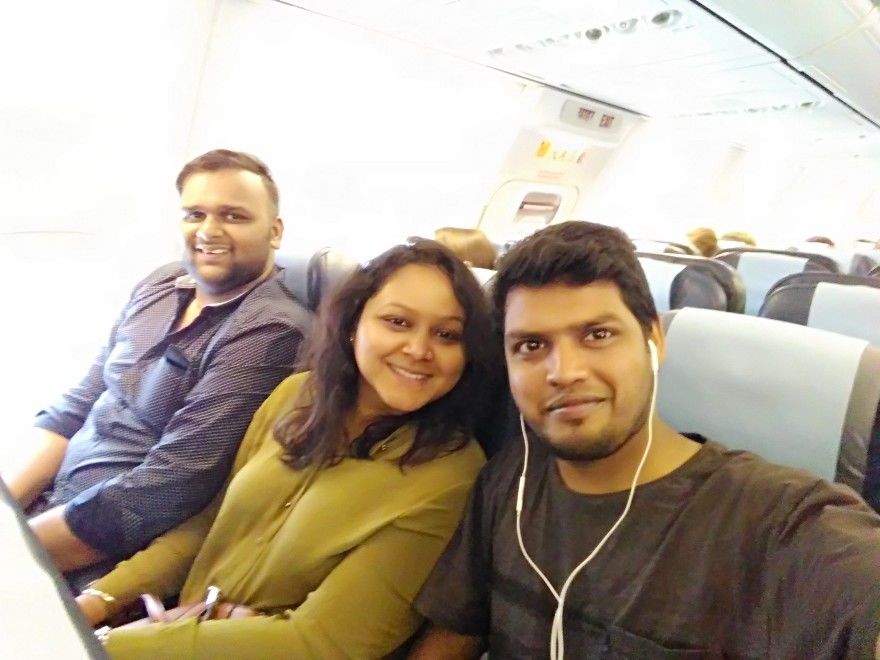 P.s -I wrote this almost after 4 weeks of coming back from Ladakh and I am probably still not over it.
Till the Next time.
For any Queries - satyen_07@ymail.com