Ladakhi Losar: The Cultural Extravaganza of Ladakh
Ladakh is one of the must visit destinations famous for its breathtaking view of clear blues skies, the dusky track and the smiling faces that make you fall in love with this place. The people here are radiant, smiling and always ready to welcome you with a cup of salty butter tea showering you with their warmth and affection. Probably because they understand that you are away from home, just like a good number of them, who are Tibetan in descent and staying in Ladakh as refugees.
Ladakh is also termed by many as the "roof of the world" and rightly so, as it lies at an altitude ranging from 10000 ft to 20000 ft above sea level. Ladakh is often referred to as Little Tibet.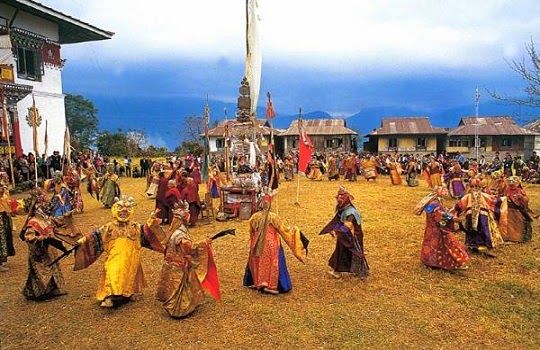 Reasons to plan a trip to Ladakh during Losar festival
Losar is the Tibetan New Year, a three-day festival that mixes sacred practices along with prayers, ceremonies, hanging prayer flags, sacred and folk dancing and finally partying.
Day 1: Lama Losar
Day one unfolds with the Tibetan Buddhist commencing the New Year by honoring their dharma teacher. It is also traditional to offer sprouted barley seeds and buckets of tsampa roasted barley flour with butter on tables to ensure a good harvest.
His Holiness the Dalai Lama and other lamas gather in a ceremony to make offerings to the high dharma protectors. The day also includes sacred dances and debates of Buddhist philosophy.
Day 2: Gyalpo Losa
On this day, "King's" Losar is honored for their community work. Long ago it was a day for kings to hand out gifts at public festivals.
Day 3: Choe-kyong Losar
On this day, people make special offerings to the dharma protectors. They raise prayer flags from mountains and rooftops and burn juniper leaves and offer incense sticks.
This ends the spiritual observance of Losar; however subsequent parties may go on for another 10 to 15 days.
Ladakh Packages:
Trip to Ladakh is incomplete without visiting few of the places mentioned as below.
Leh is the land of Lamas, the Buddhist Monks. Leh houses numerous Buddhist monuments, monasteries and study centers.
Alchi is an ancient Gompa located 70 km from Leh on the banks of river Indus in Jammu and Kashmir. It is the only monastery on flat ground in Ladakh. Inside there are thousands of miniature-sized paintings depicting Buddha.
It is among the oldest known Gompas, dating back to the 10th century. This monastery lies in Kargil District, about 125 km west of Leh. Two annual masked dance festivals are celebrated.
"Go ahead and plan for a spiritual journey especially during Losar and fall in love with Ladakh over and over again"
Frequent Searches Leading To This Page:-
Places to Visit in Ladakh, Best Tour Packages for Ladakh, Top Ladakh Tour Packages for Family, Top Ladakh tour packages with price, Budget Trip Packages for Group to Ladakh, Things to do in Ladakh, Ladakh Holiday Tour Packages