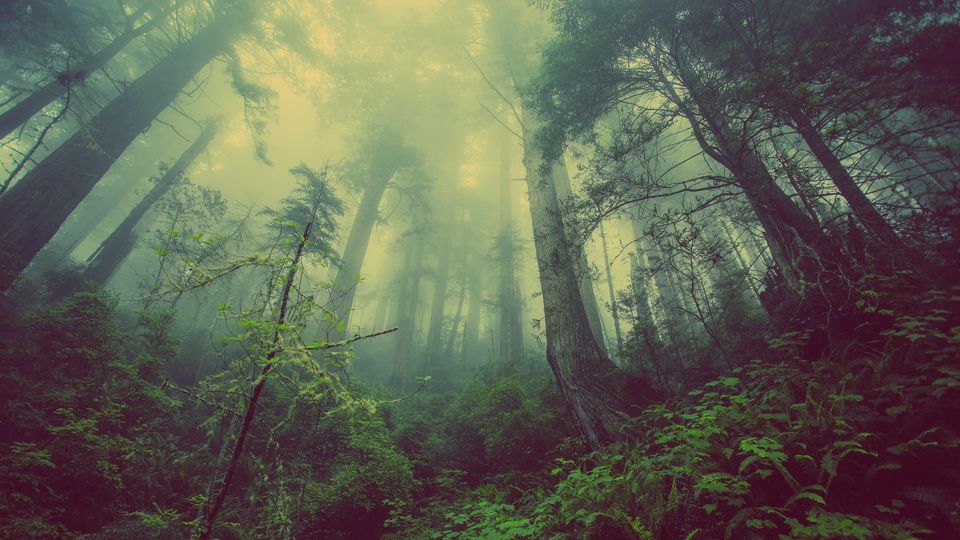 There's something surreal about nature's realism. About elusive woodland creatures that would make you believe in magic. About heaven-tickling trees where sunlight is but a guest without traces of civilization's unrest. Legends over time have come to call these places, The Rainforests.
If you're wondering what is so special about them, you should know they act as the planet's thermostat regulating temperatures and weather patterns by adjusting to their surroundings. Dubbed as the lungs of our planet, they are saliently characterized by torrential rainfall, forest canopies, reduced sunlight and a thriving biodiversity.

There are fundamentally two types of Rainforests - temperate ones and tropical ones.
Fortunately, India is home to some of these verdant tropical environments that help maintain the sanity of nature. Here's where you can find them.
1. North & South Western Ghats Rainforests
This Great Escarpment of India is one of UNESCO's eight hottest hotspots of biodiversity around the world chiefly due to its rainforests. Stretching from Maharashtra all the way through Karnataka and Kerala to Tamil Nadu, this montane rainforest is home not only to preys and predators but also some breathtaking flora, endemic mammals, aves and aquatic life whose origins date back to the Cretaceous period (Gondwana).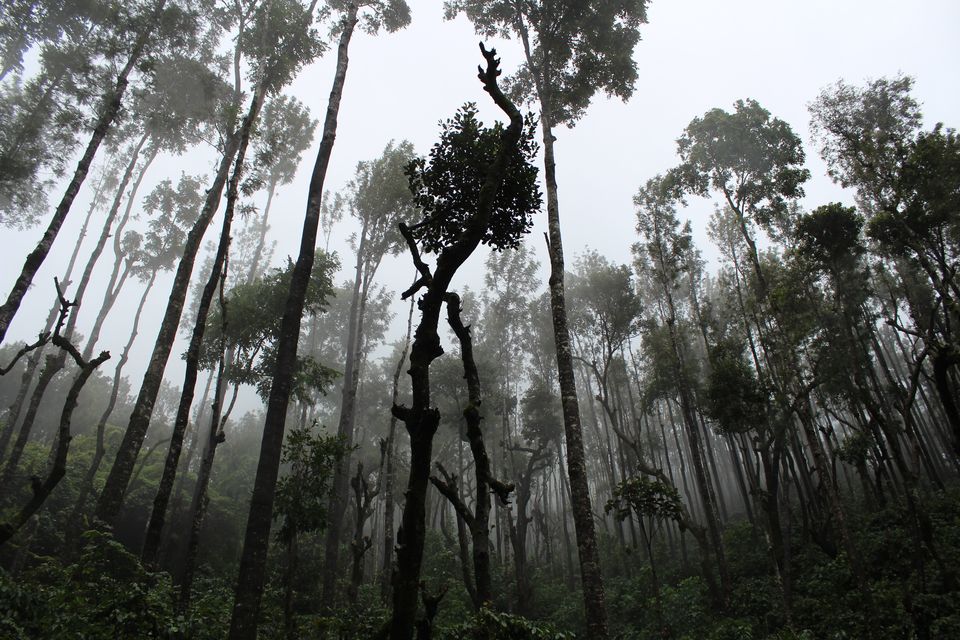 2. Northeastern Rainforests
Untainted by civilization and industrialization, perched at an altitude of 900m, marked by swamps, grasslands, moist deciduous & riparian forests, across the Assam Valley overlooking the mighty Himalayan foothills, extending all the way through Meghalaya, Nagaland, Mizoram, Manipur and spilling a little over Arunachal Pradesh, are India's freshest rainforests.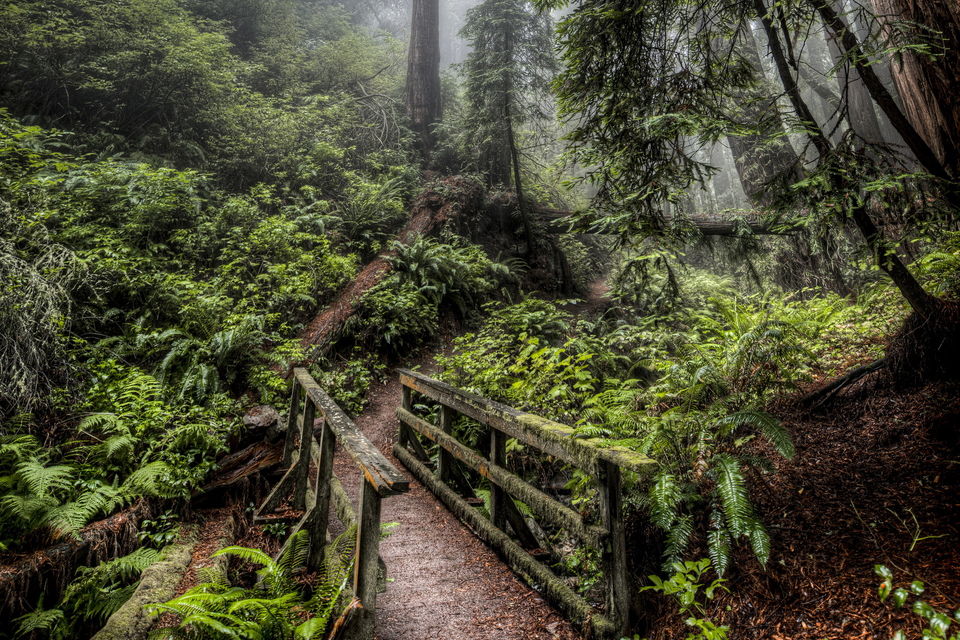 3. Andaman & Nicobar Tropical Rainforests
In a land where forests account for 84.4% of the landmass, it's safe to establish the Andaman and Nicobar Islands is an adventurer's stomping ground. Long has this viridescent paradise been the subject of study for ecologists. 12 different varieties of forests call these islands their home. Littoral forests, Andaman tropical evergreen forests, the Andaman semi-evergreen forests, Andaman moist deciduous forests, the Southern Hilltop evergreen forests, the Andaman secondary moist deciduous forests to name a few. The vast expanse of canopy cover have turned these lands into habitats for some profound creatures of regal bearing.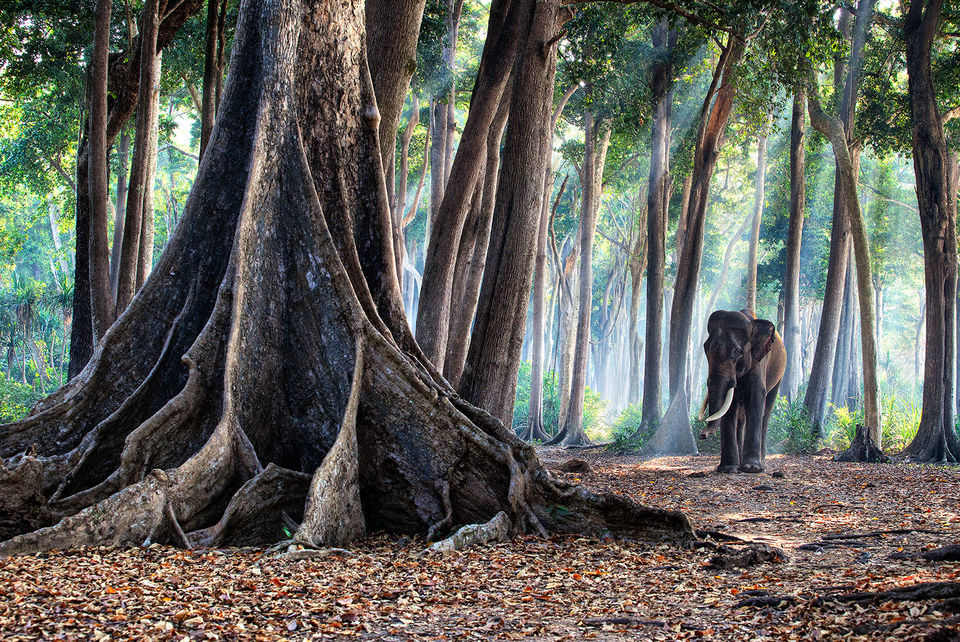 Average Annual Rainfall: 2800 mm.
Flora: Butea superba, Kydia calycina, Cullenia exarillata, Mesua ferrea, Gluta travancorica, Palaquium ellipticum, Memecylon subramanii and Nageia wallichiana.
Fauna:
No. of mammals - 155 (13 are endemic and 7, near-endemic)
Majorly tigers, elephants and gaurs.
No. of repitles - 484 (90 are endemic)
No. of amphibians - 206 (103 are endemic)
No. of aves - 309 (13 are endemic)
Attractions:
Periyar National Park, Kerala
Indira Gandhi National Park, Tamil Nadu
Kalakkad Mundanthurai Tiger Reserve, Tamil Nadu
Agumbe Rainforest, Karnataka
The Sakleshpur Trail, Karnataka
Average Annual Rainfall: 1750-2068 mm
Flora: Andaman Redwood, Syzygium, Cinnamomum, Artocarpus, giant Hollong and Shorea assamica.
Fauna:
No. of mammals – 122 (2 endemic, 2 near endemic)
Majorly Asiatic elephants, one-horned rhinos, tigers, wild water buffalos, Sloths, Jaguars & Tapirs.
No. of aves – 370 (2 of them are near endemic)
Majorly Bengal floricans and the Manipur bush quails.
Attractions:
Manas National Park, Assam
Joydihing wildlife sanctuary & Jeypore reserve forest
Dehak & Dehing Reserve Forest
Khasi Hills, Meghalaya
Namdapha National Park and Trek Trails
Average Annual Rainfall: 3000-3800 mm
Flora: Dipterocarpus griffithii, D. turbinatus, Sideroxylon longipetiolatum, Hopea odorata & Endospermum malaccense.
Fauna:
No. of mammals – 62 (32 are endemic)
Majorly Dugongs, Dolphins, Spotted deer & Jaguars.
No. of aves – 246 (99 are endemic)
Majorly Andaman Teal, Megapode, Andaman woodpecker, Andaman Drongo, Andaman Treepie, Andaman Cuckoo-Dove, Andaman Wood Pigeon, Andaman Serpent-Eagle and Andaman Scops Owl.
No. of reptiles – 76 (24 are endemic)
Majorly Leatherback turtles, Water Monitor Lizards, Reticulate Pythons, Bearded dragons and Vinesnakes.
No. of aquatic species – 2729
Majorly Boomerang corals, Boulder corals, Crocodiles & Crabs
Attractions:
Mahatma Gandhi Marine National Park, Port Blair
Mount Harriet National Park
Campbell Bay National Park
Saddle Peak National Park
Havelock & Neill Islands
Rainforest Facts:
1. They are habitats to 50% of the flora and fauna on the planet
2. They're also home to about 50 million indigenous people.
3. Only 1 % of the light that strikes the top of the forest canopies, finds its way to the forest floor.
4. Trees are so densely tangled that it takes approximately 10 minutes for the raindrops to hit the ground.
5. The massive bamboo plants grow nine inches everyday
6. There are vines as thick as a man's thigh.
7. 1 out of 4 ingredients in our medicines, stem from Rainforest plants.
8. 70% of the plants are medicinal in nature.
9. Without Rainforests, there would be no chocolate.
10. Most importantly, industrialization is destroying rainforests at an alarming rate. If the lungs of our planet suffer, we all do. So perhaps, it's time for us to take a step back because the best way to preserve nature is by not trying to.
Frequent Searches Leading To This Page:-
rainforest in india name, rainforest in assam, list of rainforest in assam, tropical rainforest in assam, characteristics of rainforest in assam