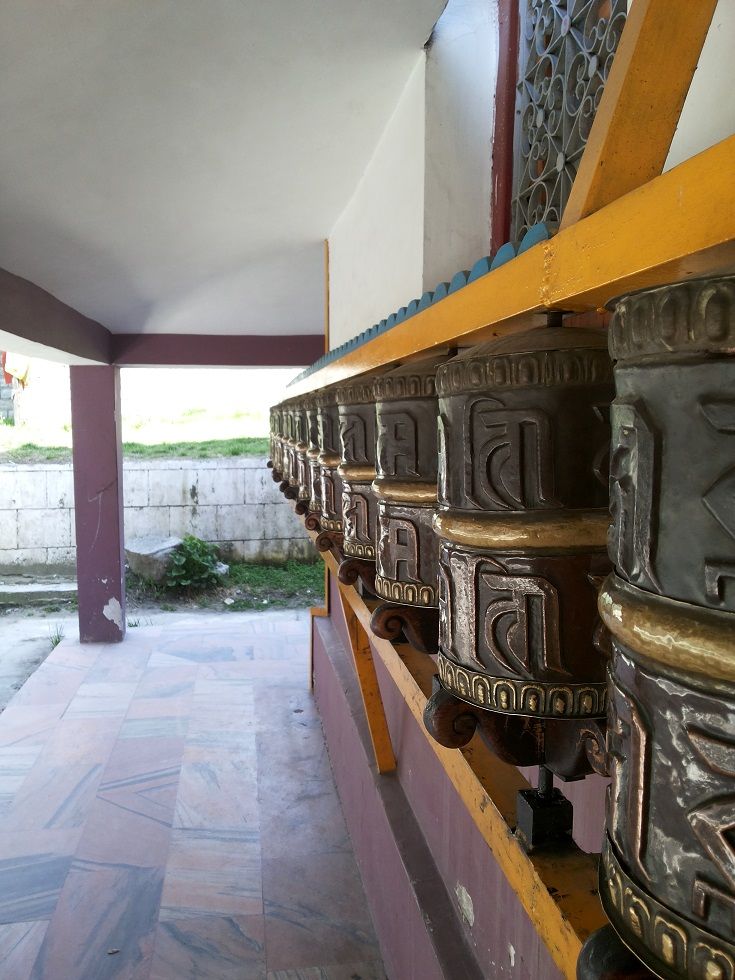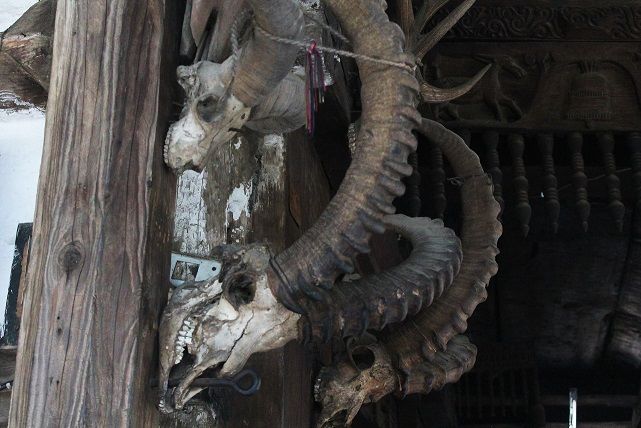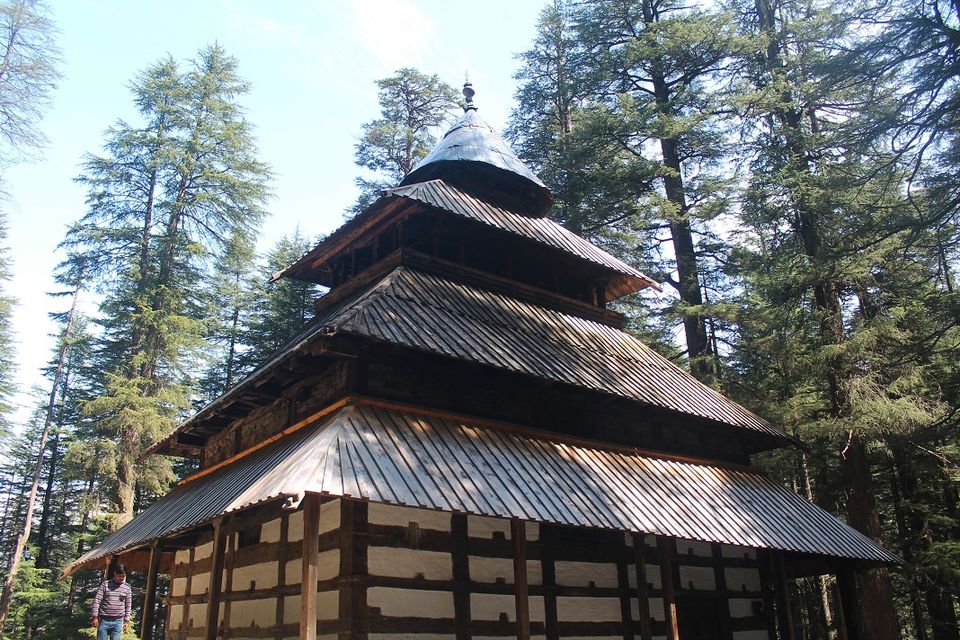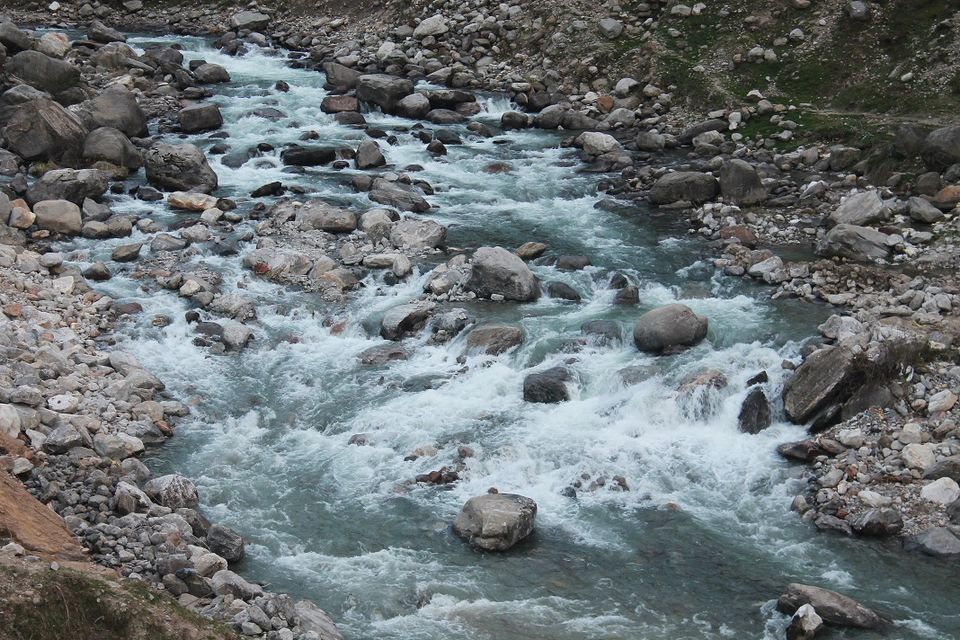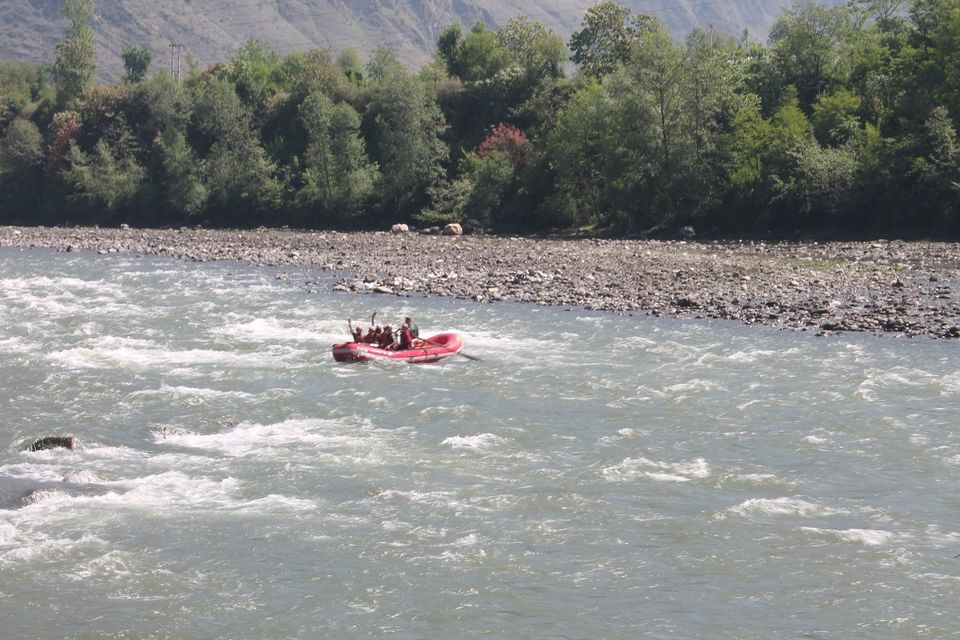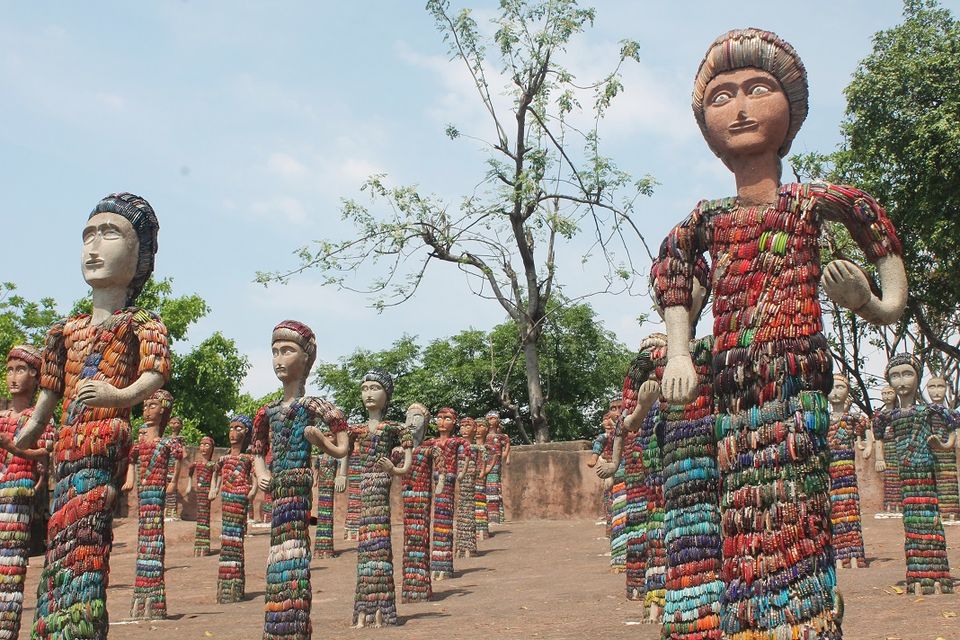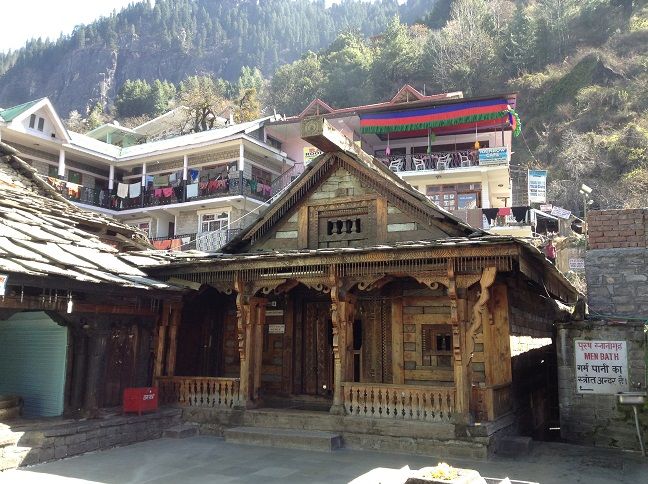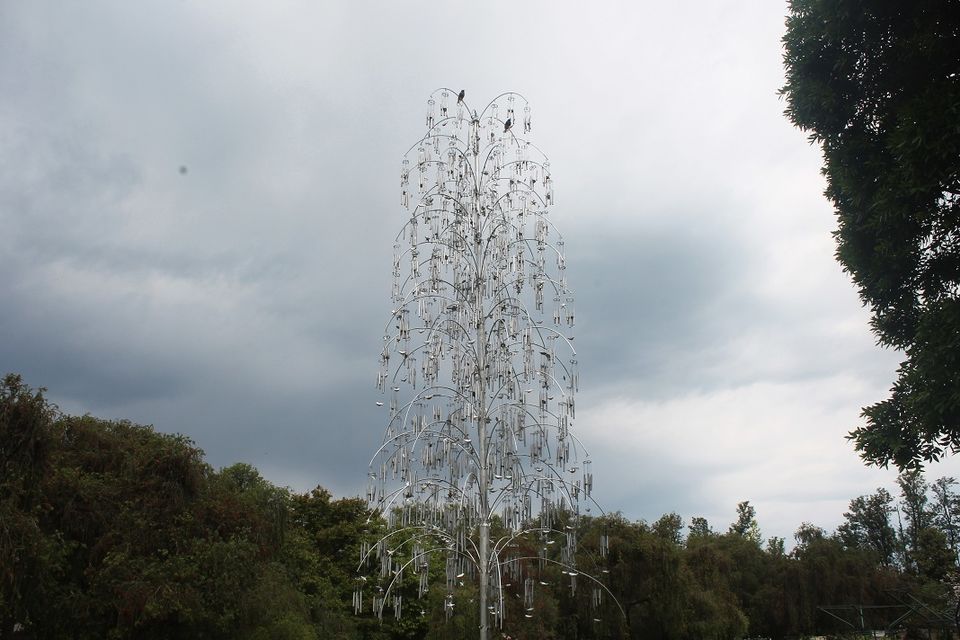 The day after our trip to Solang, we woke up early. The hangover of the snow experience was still there and it was something which I will never be able to forget. This day was to be spent exploring Manali with its temples and monasteries and of course the "Maaaal Road" (read Shimla to understand what Maaaal Road is :P ). We first went to Vashishta Muni temple. The temple is a wooden structure with a slate roof. There is a hot spring gushing out near the temple which has been converted to a public bath. The water was pretty hot indeed. However I was hoping to see more of an open hot water spring. But there was no "pool" as such. There were pipes which carry the water out of the mountain. Not entirely "natural"!
Our second stop was the Hadimba temple. Hadimba was the wife of Bhima, the Pandava. It is in the middle of a cedar wood. Something that really surprised me here was that ibex horns and skulls were hung outside the temple. Not something you'd see outside a "temple" near you. There were many such horns, antlers and skulls nailed to the outside of the temple. Probably attributed to the fact that she was a "rakshashi". The inside of the temple is a cave which was were Hadimba and her brother Hidimb used to meditate. A little distance away from this temple was a small shrine dedicated to her son with Bhima, Ghatotkacha. There is a board here which says that the offerings in this shrine should be limited to birds and trishuls (tridents). After this, we walked down the road for some shopping. I picked up the classic Himachali cap – a souvenir from this amazing state.
We also went to the Siyali Mahadev Shiva temple which was quite close to the other temples. Hungry with all the walking, we bought a few packets of Kurkure. I was amused with what I saw – the packet was blown up like a balloon. Thinking it to be a defective piece, I picked up another one. But they were all blown up tight like balloons. The pressure outside was much lesser than the packaging pressure making the packets blow up! I fought the urge to blast it open by popping it as I didn't want it raining chips inside the Traveller! We drove along the Beas and saw that the river had become stronger with a lot more water coming down from the ice melt. Next, we checked out the Tibetan monastery and circumambulate it rolling the pins and chanting "Om Mani Padme Hun". Monasteries are always soothing, be it Madikeri or Kathmandu or Sikkim.
Finally we went to the Maaal Road (after an identical introduction of the place from our guide). We got a chance to check out the local cuisine. One of my friends had lived in Manali and on her recommendation we tried out some restaurants there. Fresh river trout is awesome! Have it grilled or from a tandoor, it tastes delicious! Satisfied, we retired for the day. The next day was mainly going to be travel.
Having spent a good two days in Manali, we left for Chandigarh. We said good-bye to the snow and moved on towards Kullu. Next on our list was river rafting in the Beas.
There was a stark difference in the water level as the river continued to swell and flow down stronger than ever. We got on our rafts near a place called Bhuntar. We got into our gear and held on tight to the inflatable raft. I got an oar to steer the raft but I doubted it was going to have any impact with the river flowing so fast.
It was easily one of the most thrilling things I've done! With the river flowing so strong, we were at the mercy of the currents. As the river bed was full of boulders of various sizes, there were strong eddies and whirlpools in the water. And all you could do was watch yourself going right in and water splashing all over. That was the "not-so-fun" part – the water was freezing cold and there was nothing we could do about it. At regular intervals, there were a bunch of huge boulders and eddies. After that, a small stretch of calm water. The river was beautiful. With mountains on both sides with snowy peaks shining in the sun and apple orchards on the banks on either side. It was breathtaking. Also, the guy controlling the raft from behind would splash some chilly water on us when he felt it was getting less thrilling. That added to the "breathtaking" experience as we gasped for breath.
We covered 13km on the river and rejoined our Traveller at a place called Jhiri. We passed by the Aut tunnel, Hanogi Mata temple and the Pandoh dam again. There was a beautiful hanging bridge on the way where we took a small break. The houses there had their car parking slots on their roof. The houses were on the slope next to the road and the vehicles were parked just off the road on the roof. Talk about effective utilization of space!
We took a longer but better route to Chandigarh through Una. Thanks to this, we got to see the Gobind Sagar lake, Bhakra Nangal dam (enormous one this!) and the Anandpur Sahib in Ropar. By night, we reached Chandigarh, the capital city of Punjab and Haryana.
We woke up next morning to explore the "City with a Plan". Chandigarh is amazing. There are maps all over the place with identical sectors and roads and circles. After a few circles, my head was going round in some circles. Quite confusing for a new-comer. We left for the Rose garden after breakfast.
It was drizzling slightly with a gentle breeze and the sun peeping through the dark clouds occasionally. It was a beautiful garden with an amazing number of roses and other flower varieties and even a wind-chime tree. Apparently, this is strictly a "tourist" place. Most of my friends from Chandigarh were dumbfounded as to why I would visit there of all places!
We then went to the famous Rock Garden – Nek Chand's masterpiece. There were sculptures here that are made of trash – now I knew where the broken toilets and wash basins of Chandigarh would have disappeared in those days. There were huge mounds made out of cement bags and coal. It is something like a labyrinth with narrow passages which occasionally open into waterfalls and open areas with sculptures. Not a place to go on a hot sunny day. But the weather was on our side that day.
We then went to see the Sukhna lake – boating was closed due to the strong wind. I met my close friend from college for coffee and that marked the end of the eventful trip. We get back on our flight to Mumbai. The last 10 days had been really amazing – a long pending trip finally completed. With Delhi, Agra, Fatehpur Sikri, Kurukshetra, Shimla, Kullu, Manali and Chandigarh ticked off, it is time to explore some places up north!