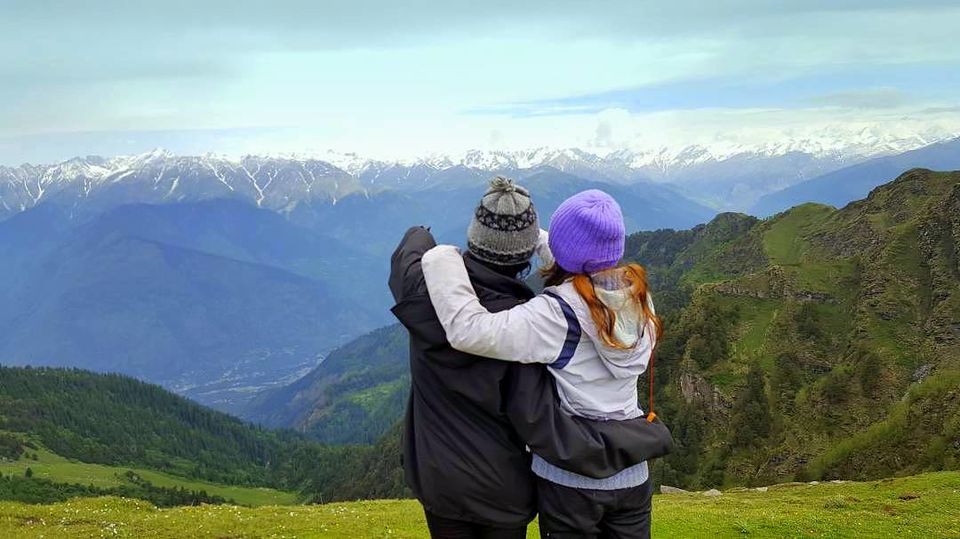 Imagine walking up to this breath taking view, sitting in you tent with your feet in your warm sleeping bag and cold winds blowing around.Yes, all these efforts just to see a perfect view like this.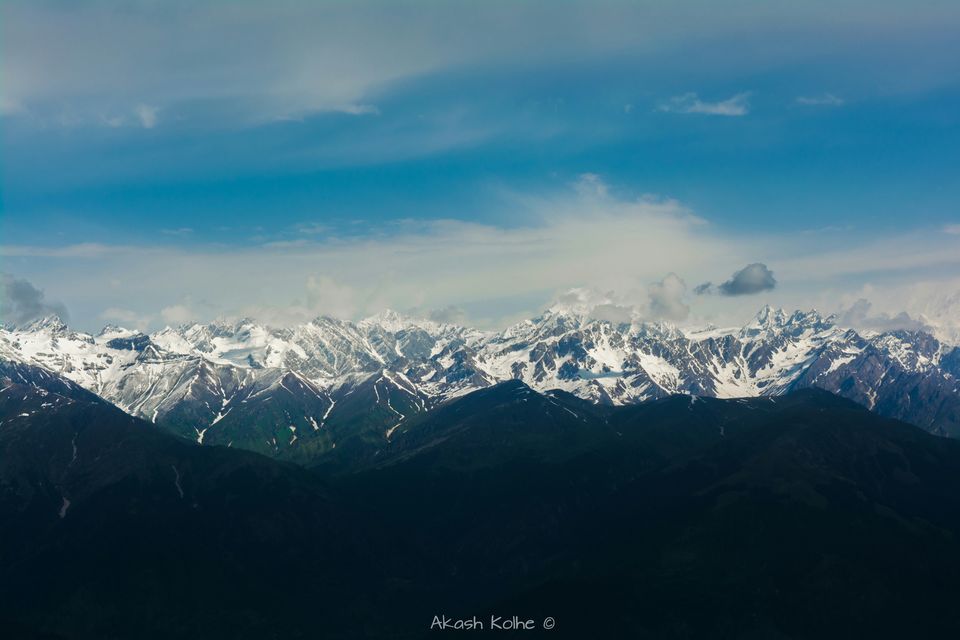 This is the magnificent view of the Himalayas, captured at the height of about 13000 ft. A trek to Chanderkhani Pass, Kullu dist. of Himachal pradesh. This forms a pass between the villages Rumsu and Phulga through the famous village of Malana.
The Chanderkhani Pass trek was organised by the Youth Hostel Association of India (YHAI). A Travel NGO which arranges various treks and expeditions.
How to reach
1. By Air- The nearest airport is the Bhuntar Airport which is situated on NH21. From Bhuntar you can rent a car and reach to the base camp of YHAI at Kullu 15 miles road. You can also get down at Delhi airport and book a YHAI bus or rent a car/bus.
2. By train- You can book a train ticket to Ambala or Amritsar, according to your plan and then book a bus to Kullu. The frequency of the buses is good. And trust me the journey through the bus is the best. You travel through the ghats surrounded with vibrant green trees and turbulent river. It is one of the best traveling experiences you will ever get.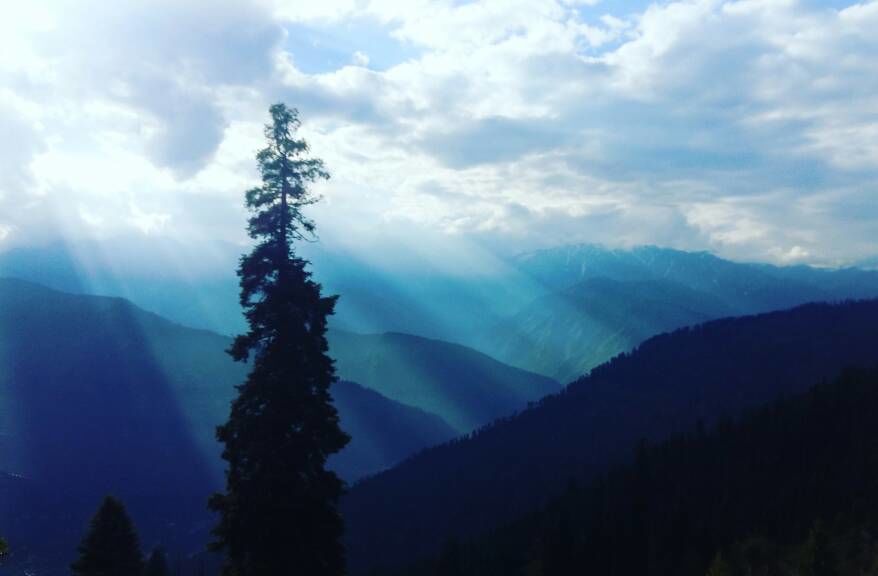 The program was for 9D/8N
DAY 1
First day is the reporting day for the batch, it is a rest day. The participants can explore the camp and the sites nearby.
DAY 2
Acclimatization Walk- On the second day we were taken for an acclimatization walk around the base camp. The walk was for about 5 km. to make our body get accustomed to the terrain and walking at higher altitudes, which was going to help us for the actual trek. The walk was very peaceful and pleasant, we also made new friends during the walk.
DAY 3
Rappelling - In the morning after out breakfast, whole of our group was taken to a nearby hill for rappelling. Here each one was guided and instructed about the methods and tricks for rappelling. It was a lot of fun, climbing down the rock with ropes tied to your body. A must experience for everyone. Later in the afternoon we were given a small orientation regarding out Chanderkhani Pass trek.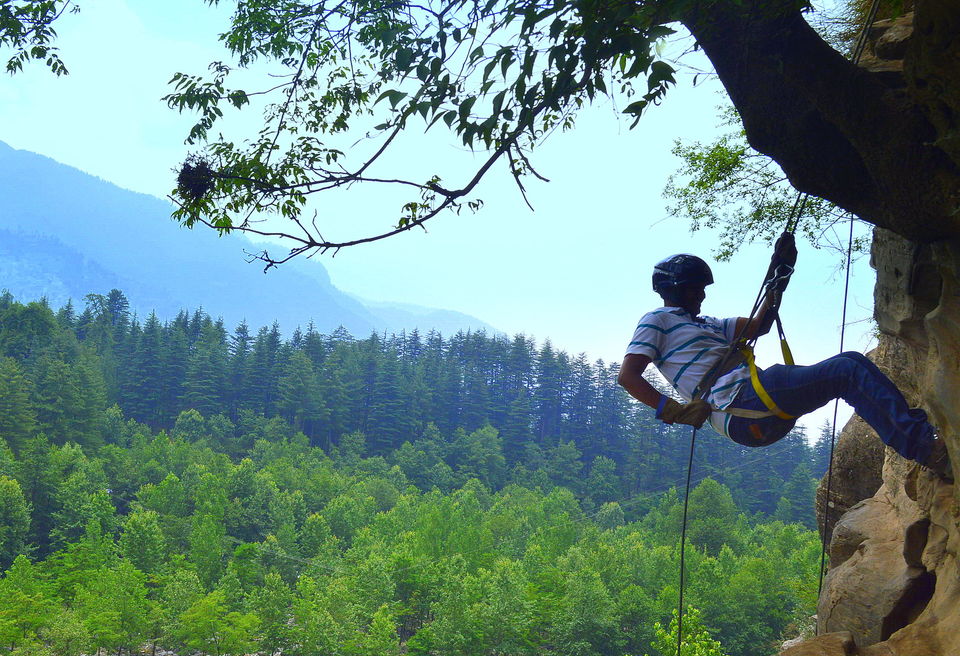 Now let me tell you a secret (which will no longer be one). After the orientation program me and 3 of my friends literally decided to quit the trek and go back home. We all sat down and made plans to escape; plan A, if that failed we had plan B and then plan C too. We were really doubtful whether we could complete the trek or not (as it was our first experience) and I am sure every newbie must have felt the same. But all Thanks to guide sir who motivated us to go ahead.
DAY 4
Here comes the big day. It was our 4th day, and the whole group was expected to be ready at 7 am sharp. Now imagine, 65 people waking up at 5.30 -6 am in the chilling weather and getting ready for their first ever Himalayan trek while the other people were still in their cozy beds dreaming. This was going to be our schedule for the next 5-6 days.
And without fail, everybody was ready sharp at 7 am. There we were, all excited as ever to explore the king of mountains 'THE HIMALAYAS'. Shouting our motivational slogan 'Chanderkhani not so high, 35..... 35' (35 was our batch number). It is a ritual at YHAI that every batch has to make their own unique slogan. With this enthusiasm and determination we set off towards our destination.
We were transported to a certain height by bus, from where our actual trek started. Our first spot was 'Bijli Mahadev Temple', where we reached after a trek of few exhausting steps.The temple is called so because every 12 years lightning strikes the temple and the shivalinga is broken into 2 pieces which is then joined again with 'Ghee' used as an adhesive. Isn't it just magnificent? Here sitting on the green grass, we all had out lunch boxes and left for our first halt in the jungle. With a short walk over the mountain we reached our first camp i.e 'Sola Tanki' (16 water tanks). This was at the height of 7930 ft.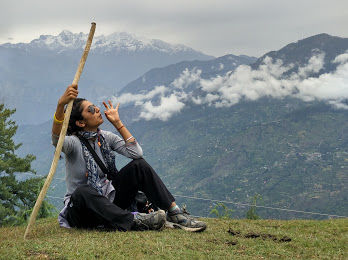 DAY 5
Our next camp site was 'Montinag',which was at the height of 9180 ft. This trek from Sola Tanki to Montinag was a bit tough as we were trekking on a steep slopes with a valley on the other side. But this is what trekking is all about. Experiencing things that sends chills through your veins. Montinag was a place where we arranged camp fire and sung songs at the top of our voice.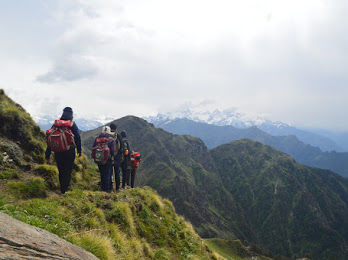 As we walked past the Mountains, and valleys and trees, Everything seemed to change. Especially you could feel the change in yourself, I personally started to feel more energetic and happy, I was appreciating the every possible detail of the mother nature.
DAY 6
Our third camp was at 'Ubla Thach' at a height of about 9793 ft. Trek to Ubla Thach offers you a mesmerizing view of Parvati valley on one side and the Beas river on the other. Here you also come across grasslands and grazing pastures, see the livestock grazing and interact with the local people and see their life-style.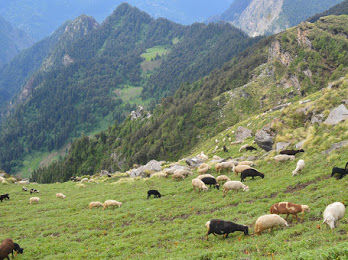 DAY 7
The next camp site was 'Dohra Nala' at a height of 10692 ft. This was a camp set in a deep valley surrounded by tall mountains and a nala (narrow water stream). At this camp we finally came across a bit of a bad weather, it was raining and the pathway was all slippery (I slipped here twice). But the 'Gulab Jamun' served at dinner were worth the efforts.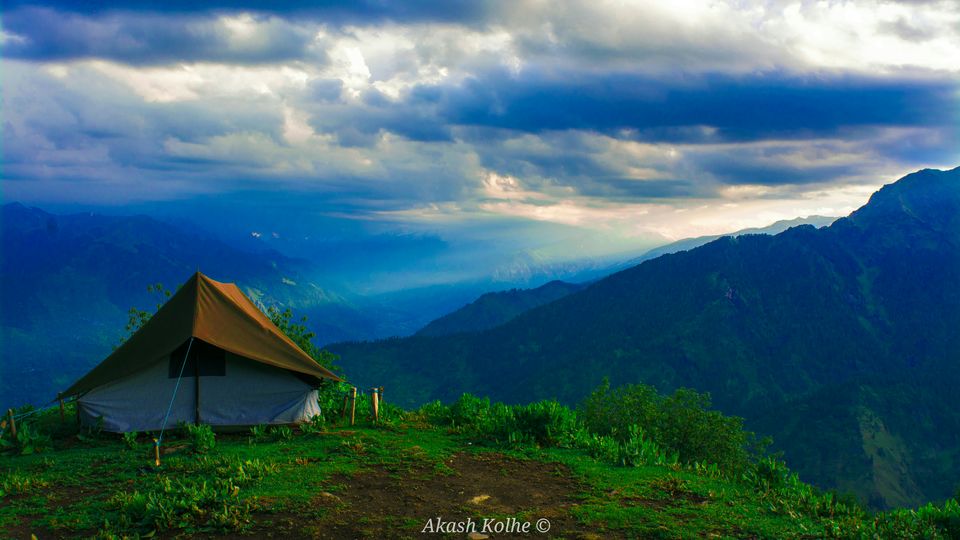 DAY 8
It was early morning, about 6 am and we started our final trek towards out final destination. This trek was going to be the toughest one i.e 5-6 km ascending and 5-6 km descending in a single day and we had to climb steep slopes with rocky terrain. But our enthusiasm and quest for beauty kept us going. After a long trek with several breaks we finally reached our destination Chanderkhani Pass at a height of about 12200 ft. What an enchanting view it was, no words can explain that feeling. All I wanted to do was sit there for hours and satisfy my eyes and fill my heart with the enthralling beauty of the luscious green and snow clad white mountains. It was cold there, but still the wind felt warm just like at home. Within a fraction of a second all the stress vanished, and what left was hope and joy. Have you ever experienced goosebumps on your skin by the thought of having a small house at such a pleasant place?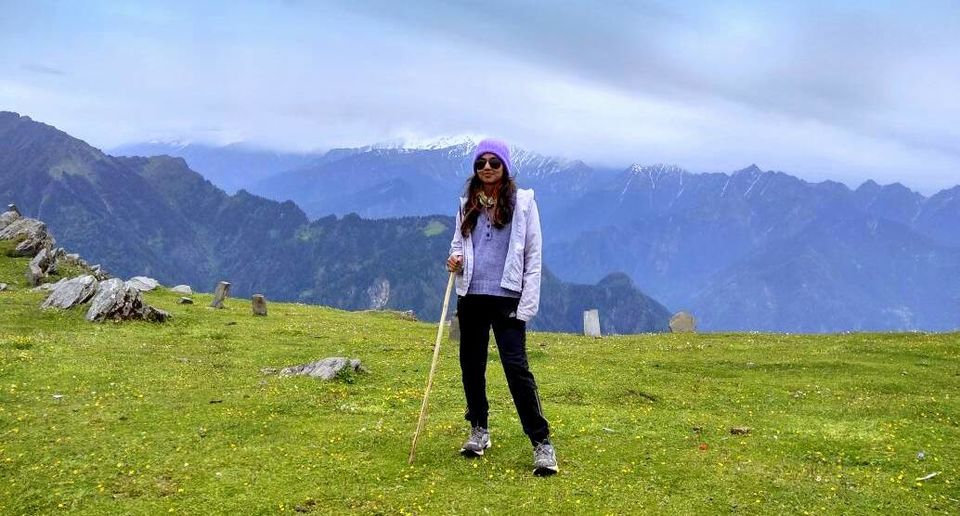 I was experiencing a love affair with these mountains, nothing could compare my satisfaction and delight. There is no one but you, the tall mountains which are now within your reach, the infinitely expanded sky and your vision so far that you can see the sky kissing the mountains, the sunlight peeping through the clouds and the gleaming snow.I was experiencing Heaven on Earth. A tear quietly rolled down my cheek as an appreciation to myself for being able to stand there and witness the charming scenery. Nothing could compare to the joy and satisfaction I felt at that moment.
As much as I wanted to stay, no amount of time was enough. We had to leave descending towards our last camp at 'Naya Tapru at a heigh of 9970 ft. And the view from our tents was just bizarre. Our tents were literally built on the edge of the mountain. We also experienced hailstorm here, tiny ice balls falling from the sky and rolling down on the earth. It was the best camp site so far.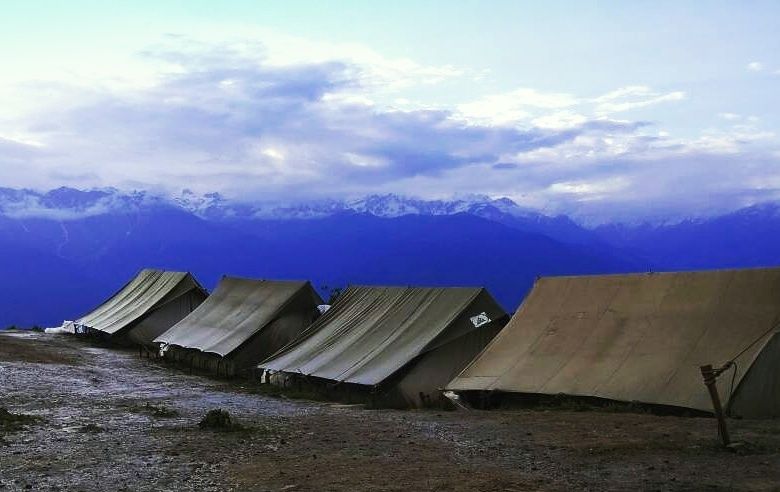 DAY 9
We all with our heavy hearts, packed our backpacks and started descending towards our base camp at Kullu. It was the last day of our trek, but I was sure everyone had already planned their next trek. Because once you taste and witness the immense beauty of nature to the extent that your eyes black out and you get high, it becomes an addiction forever. A love affair with the mountains.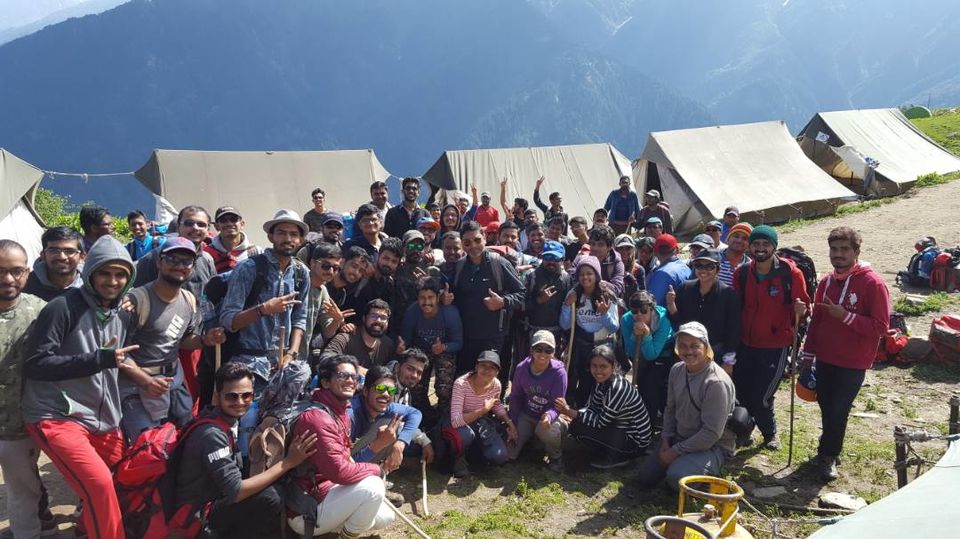 An appealing request to all of you, if you ever get a chance to trek to the Himalayas, please go for Chanderkhani Pass trek. It is a must experience once in a lifetime,trust me this is going to change you forever. Happy Traveling!