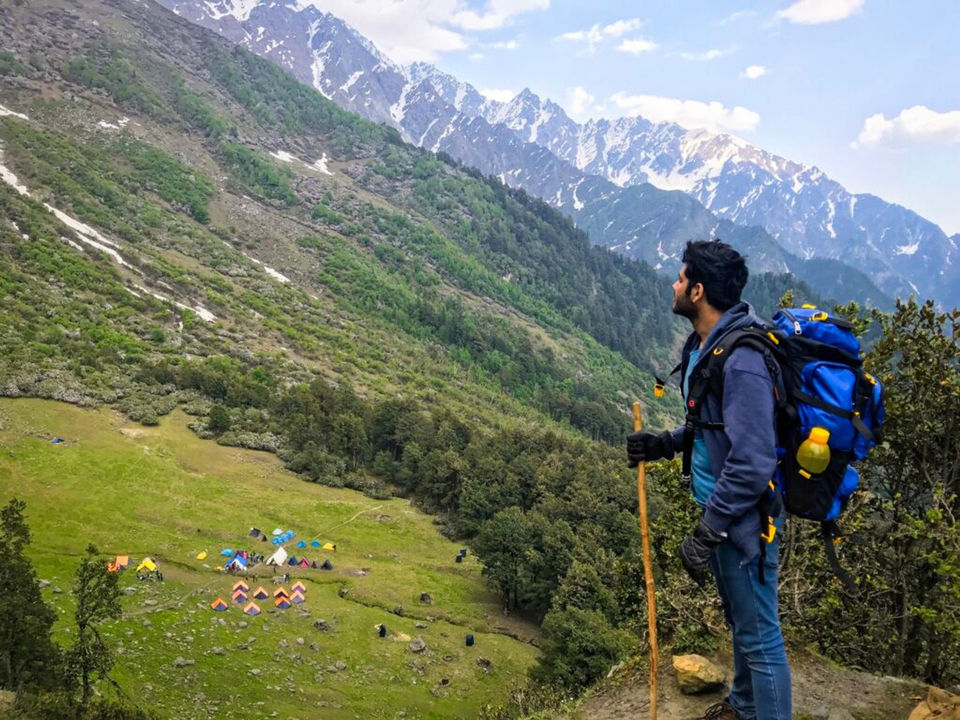 So here i'm sharing my first Himalyan trek expedition. I was total newbie for Himalayan expedition. I went on a trek with YHAI (Youth Hostel Association of India). They have good and well-planned trekking programs with good facilities.
Duration of our trek was 11 days. Kasol was our Base camp. So basically I had to reach Kasol and after that YHAI guides and instructors will guide us through.
How to Reach Kasol:
By Train: Nearest railway stations are Chandigarh and Ambala. From Chandigarh, Kasol is about 270kms, that is approx 8 hours of journey. From Chandigarh you will get HRTC bus and Volvo buses as well, which will direct drop you at Kasol.
By Air: Nearest Airport is Bhuntar, Kullu. Kasol is just 30 kms from Bhuntar. Many HRTC buses run on this route, so you'll get plenty options. Note: Airfare for Bhuntar, Kullu is very high.
By Road: You can book cabs from Delhi or Chandigarh to Kasol, or plenty of bus option on this route, buses like HRTC buses, Volvo buses, Sleeper, Non-sleeper, Semi-Sleeper buses, etc. Distance from Delhi to Kasol is 520 kms, approx time will take 12 hours to reach, And distance from Chandigarh to Kasol is 270 kms, approx time 8 hours to reach. I would suggest if you can start from Chandigarh it would be much more preferable, because if you start from Delhi, Chandigarh will come on the way though.
Best time to Visit Kasol:
March to June: Pleasant weather at this duration of the year which makes the hill place more serene and the liveliness just being perfect for a tour. Temperature of Kasol is also pleasant during this period around 8 degree to 32 degree.
Places to Visit / Things to do at Kasol:
1. Take a refreshing bath in Hot spring at Manikaran: Manikaran is the home to the natural hot springs which are sacred to the Sikh and Hindu Belief. A bath and a visit here are surely some of the best things to do.
2. Camping beside Parvati River: There are many options available for camping besides gushing Parvati River, if you are nature lover it will be wonderful experience for you.
3. Trekking in Kasol: There are many options for trekking available in and around Kasol. Major trekking routes: Bhuntar village Trek, Saar Pass Trek, Kheer Ganga Trek, etc.
4. Try Israeli Cuisine: Kasol is known as the mini Israel of India. You can try delicious Israel cuisine at many cafes in Kasol.
My Journey till Base Camp: Kasol
I flew Delhi from Mumbai. I had booked late night flight as they are cheap ( my pocket loves it ) and I didn't had any time bound issues. Landed in Delhi early morning at 4:30 am. My bus for Bhuntar was at 7:30 am, so I laid over at the Airport for few hours and than book a cab for ISBT Kashmiri Gate Bus Stand, It took hardly 30 mins to reach Bus Stand as early morning Delhi roads were empty, loved it.
After reaching Kashmiri Gate Bus Stand, I came to know that Bus which I booked, that was semi-sleeper A/c HRTC bus from Delhi to Kullu has been cancelled- oh God. I got scared what to do now ? because I had booking for OYO rooms in Bhuntar for the night stay and the next day I had to report to the base camp, so I went to Bus Operator asked him for any other bus or alternative option, He suggested me that "Sir, you go to Chandigarh in HRTC bus and from there you'll get plenty of buses for Kullu and Bhuntar"- could not got the booked bus but got the right advise. So I decided to go to Chandigarh. Boarded the bus at 8 am from Delhi, it was about 5 hours of journey from Delhi to Chandigarh. Bus dropped me out side the ISBT Bus Stand sector 43, Chandigarh, from where I got the bus for Buntar. and the journey of 9 hours begins….
I boarded the bus for Bhuntar around 2 pm in the afternoon in non A/c HRTC bus, and I knew this journey was going to be hectic. I prepared my self mentally and physically with the luck of getting the window seat. So window seat, Headphones on and scenic roads of the Himachal Pradesh is bliss.
Himachal Pradesh roads are average, Road construction is all along the valley and plus it's so dusty in the valley at most places because of the it, so you'll end up inhaling loads of dust. but besides the road conditions the views are awesome and can do photography enroute.
Note: Better to have a anti-vomit medicine if you feel mountain sickness or travelling sickness.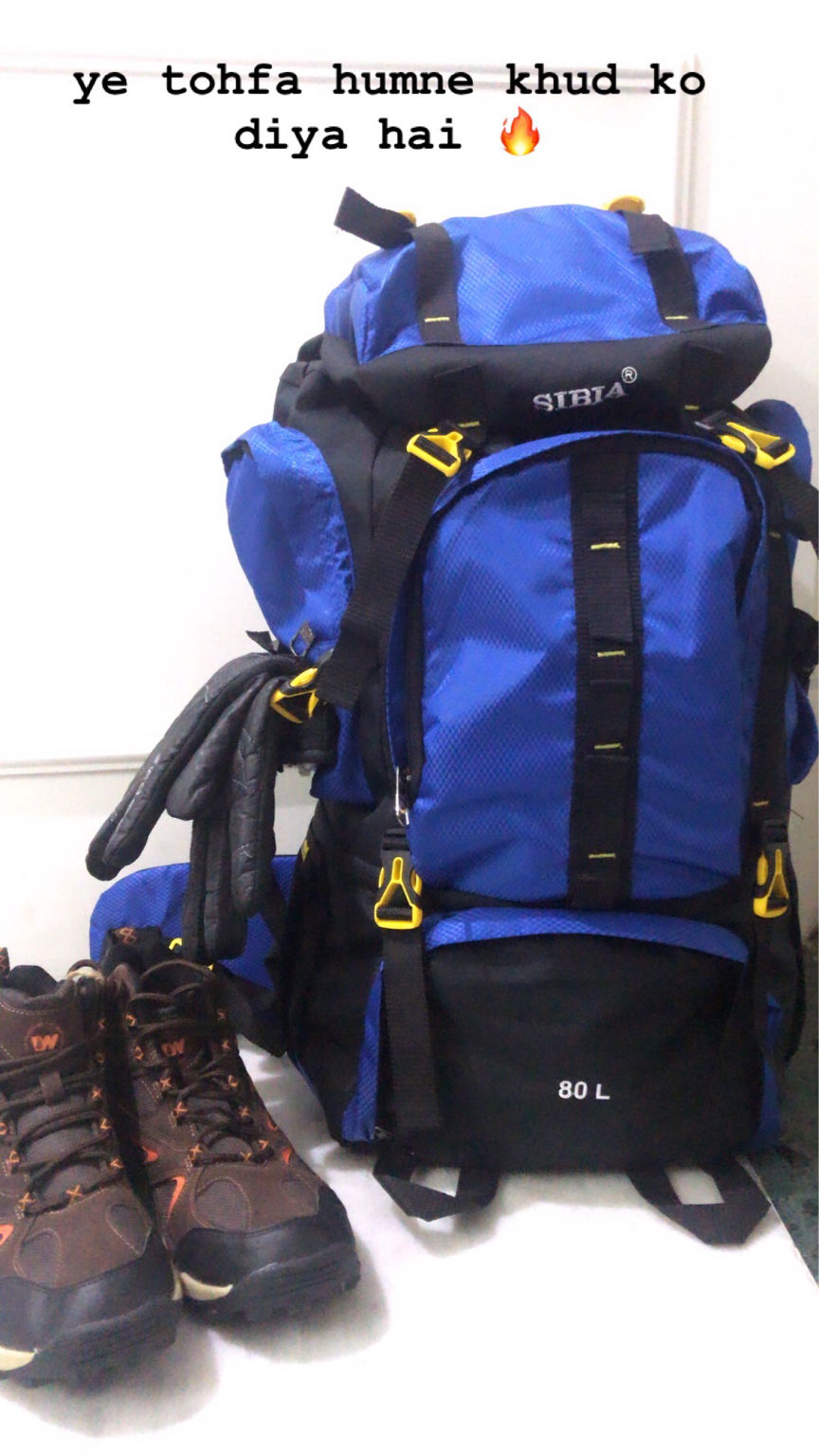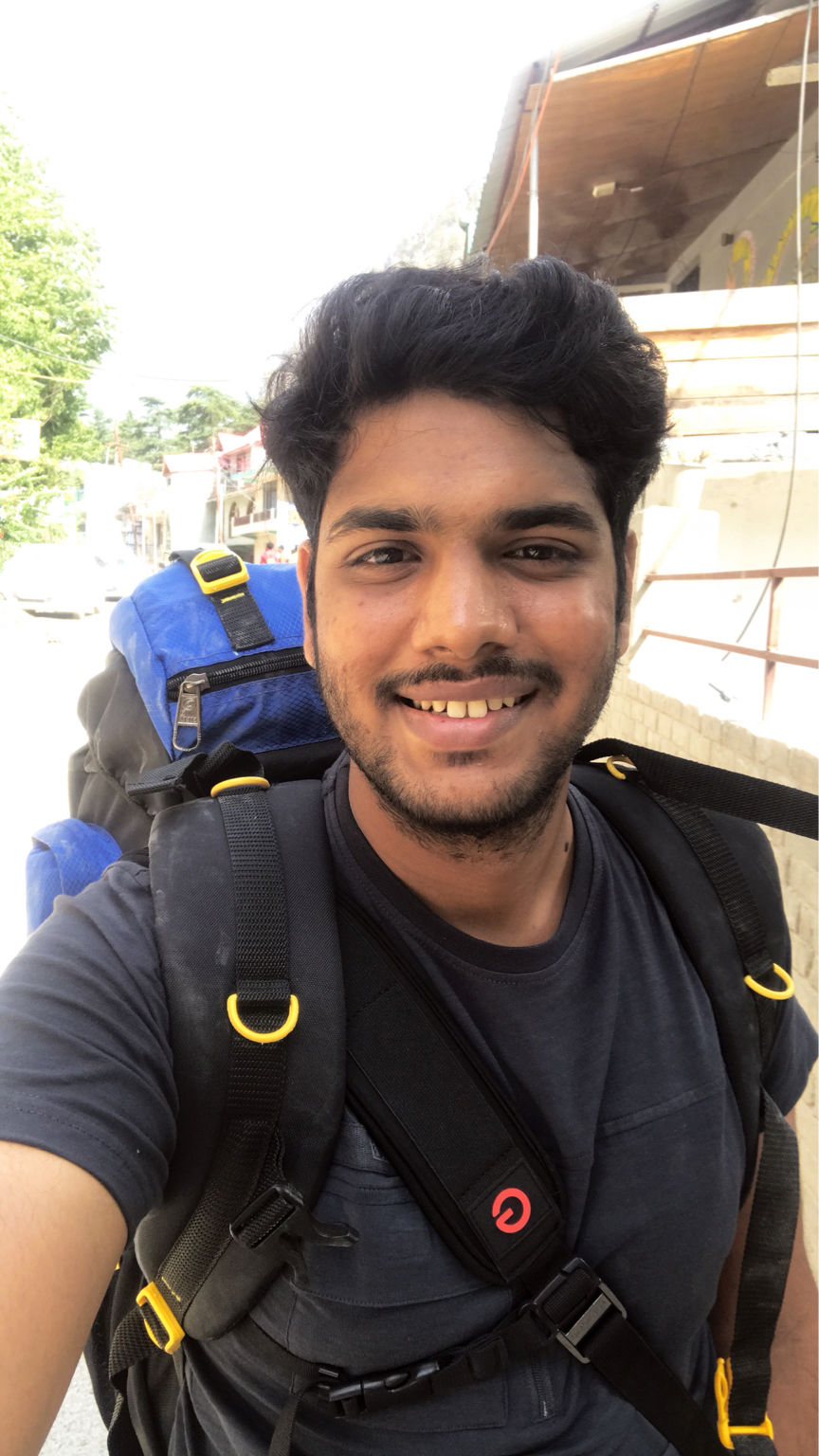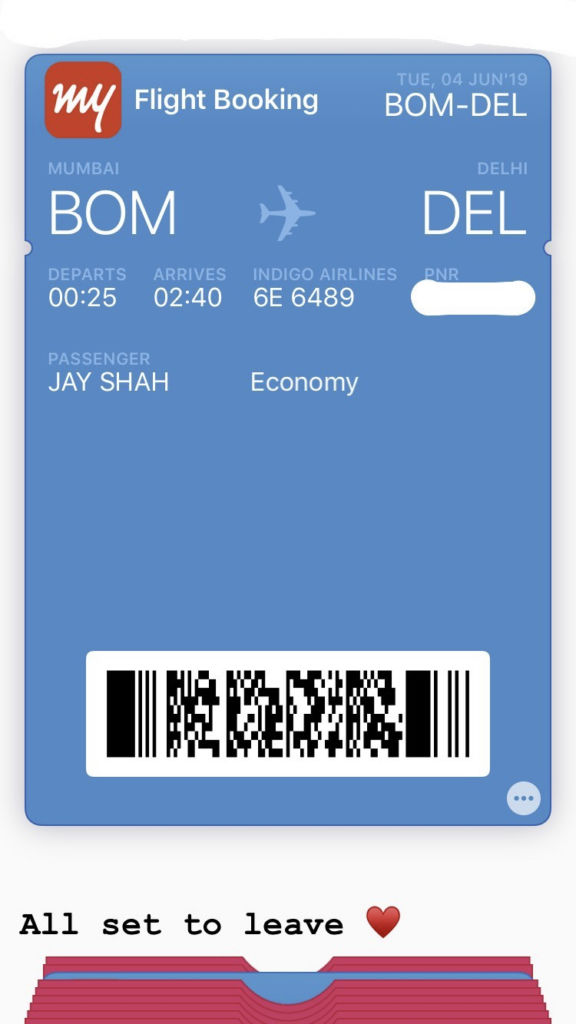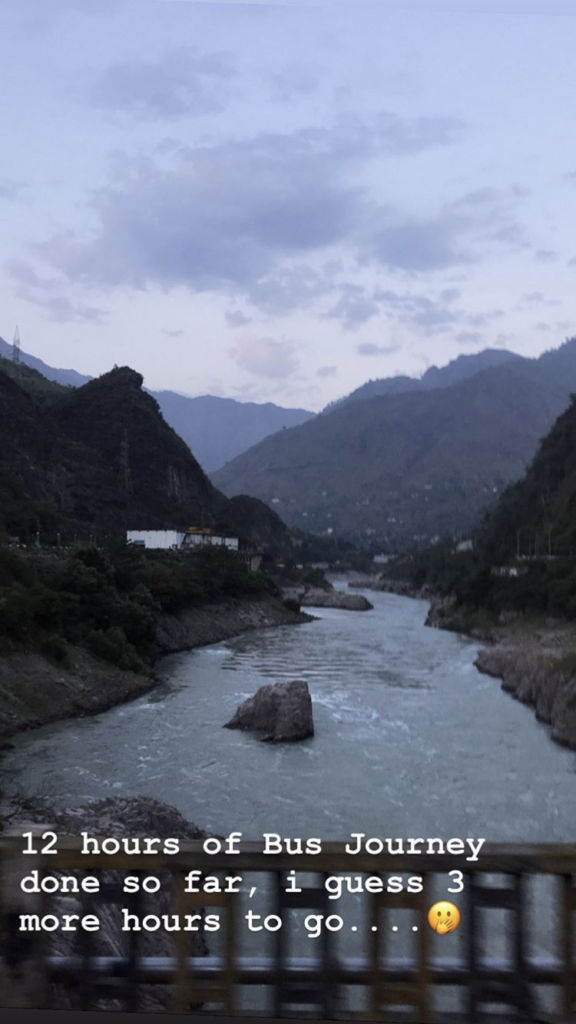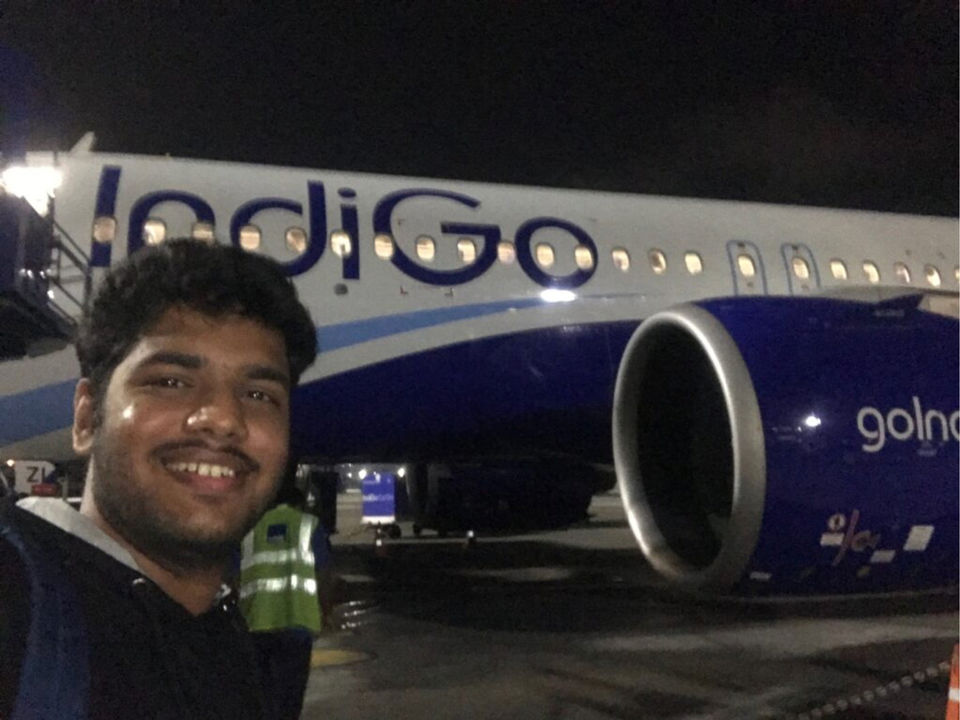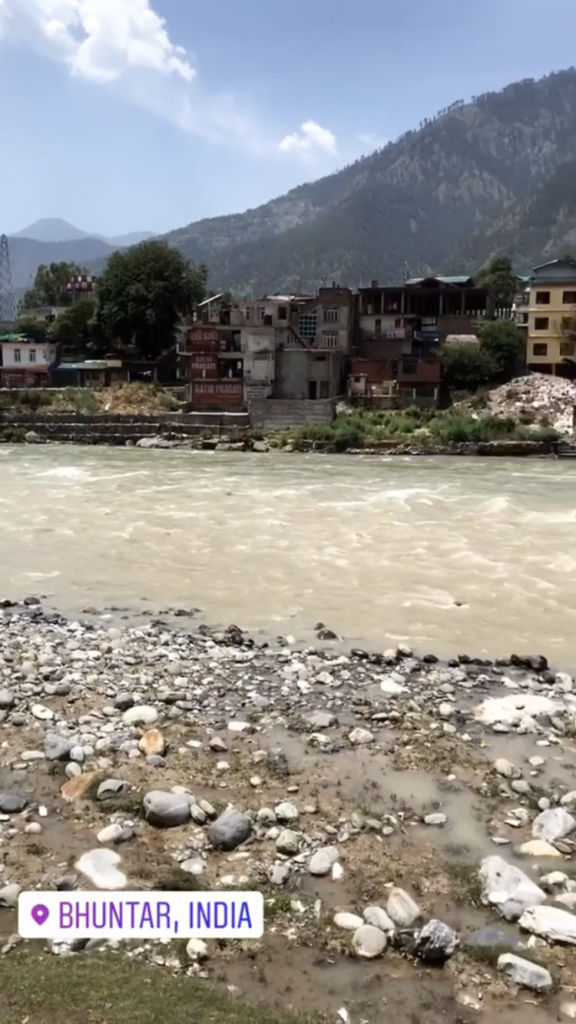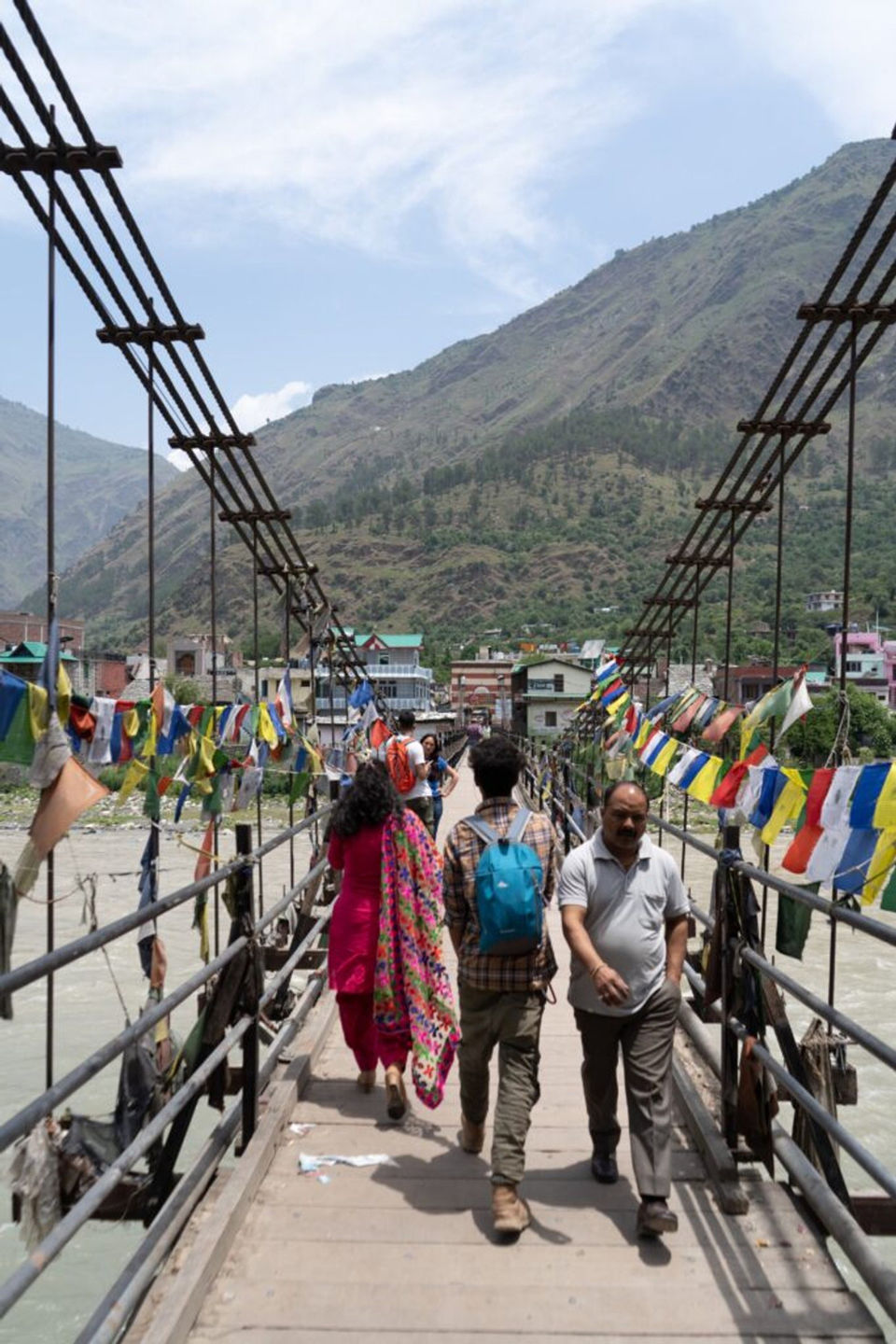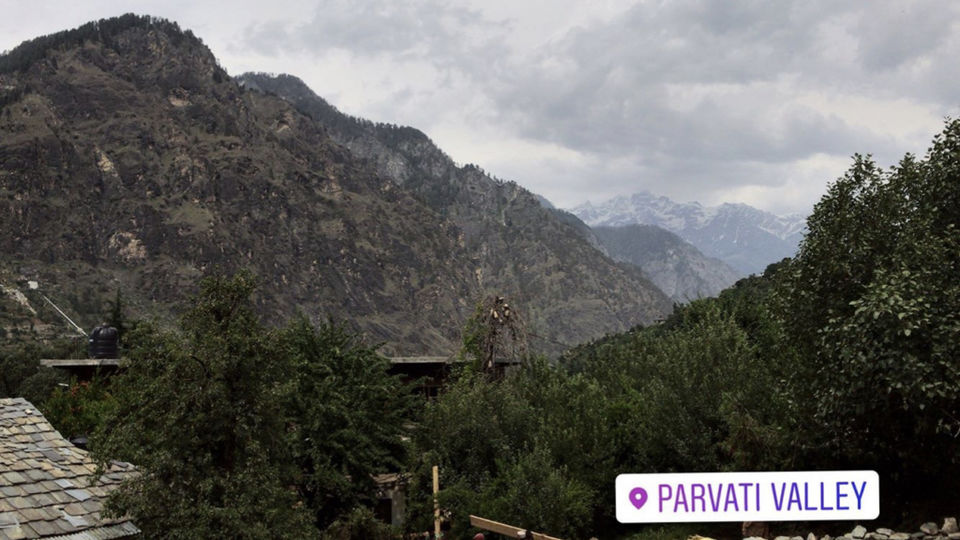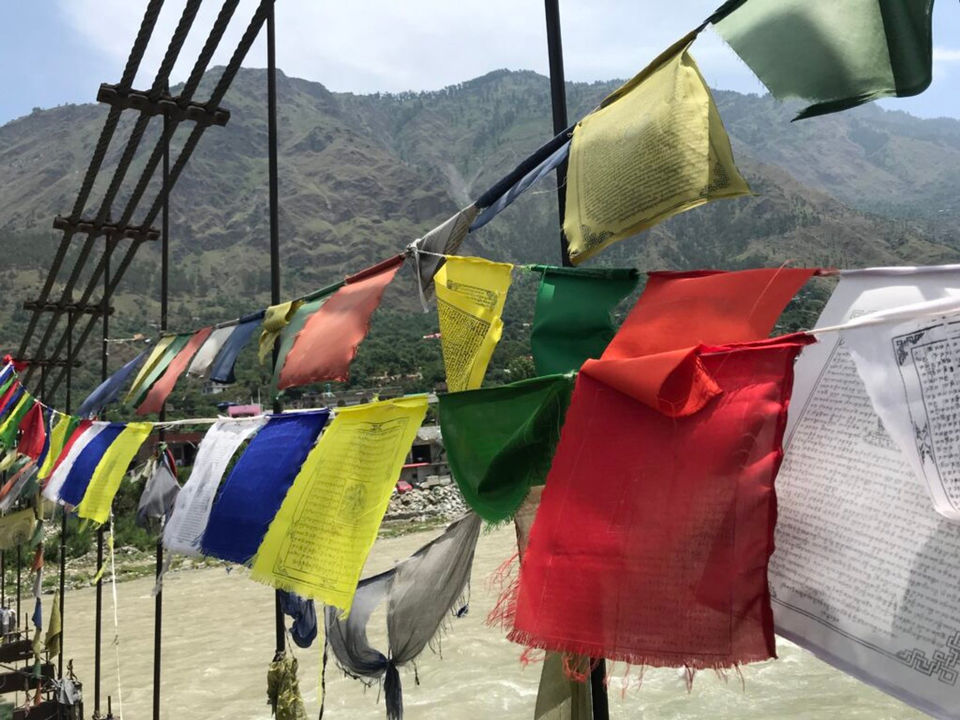 I checked out from my hotel around 9 am in the morning, and trust me, in the morning it was a total different town than yesterday night's ghost town. Lovely Beas, tourist all around streets and crowded market. I roam around the market and than proceeded to the bus stand for further journey. There are many HRTC buses running from Bhuntar to Kasol, it's around 2 hours journey. But roads are full of twist and turns with Parvati River running alongside.
Solo Travel ends here, now experience and expedition with YHAI Group:
Day 1: Reporting at Base Camp, Kasol
If you are staying with YHAI than base camp for YHAI Kasol will come before the actual Kasol town, so after dropping off, you need to walk around half km back way. First day at base camp was just documentation and reporting. They'll allot the tents randomly, so if you are coming in a group don't expect that you will stay with your friends. In each tent, 10 people are accommodated, boys and girls in separate tents.
During the rest of the day visited the Nature Park Kasol, Nominal charges are there to visit the Park, i.e. Rs. 20/-, but it's worth visiting, nice park with Parvati River along side and mighty, huge Devdar trees in the park, play area for kids and amphitheatre to chill out, don't miss to cool down your feet in the icy, chilling Parvati river running through the park.
As per the rule, you can't roam outside the camp site after 6 pm. Before the dinner we collected our Blanket, bedsheet and rucksack bags from YHAI which we have to return after the trek. After that had dinner early around 7 and spend sometime with tent mates and trek mates. In our group we were total 47 trekkers, all were from different town, of different age and total strangers to each other, but who knows in next few days we all will built a bond of life-time.
As per the rule, you can't roam outside the camp site after 6 pm. Before the dinner we collected our Blanket, bedsheet and rucksack bags from YHAI which we have to return after the trek. After that had dinner early around 7 and spend sometime with tent mates and trek mates. In our group we were total 47 trekkers, all were from different town, of different age and total strangers to each other, but who knows in next few days we all will built a bond of life-time.
Note: Better to have a spike guard, as only one spike guard is provided by them among 10 people.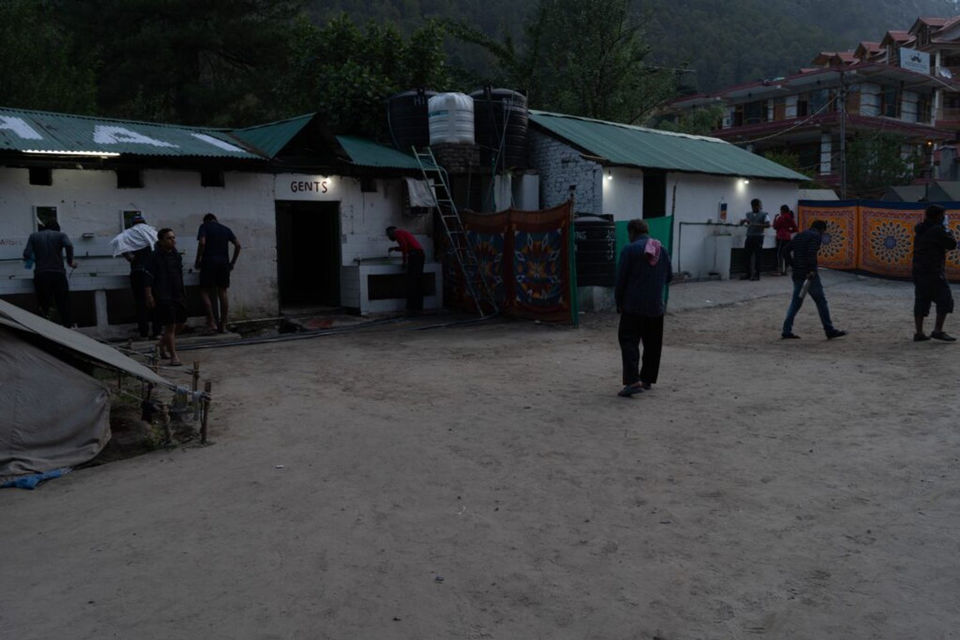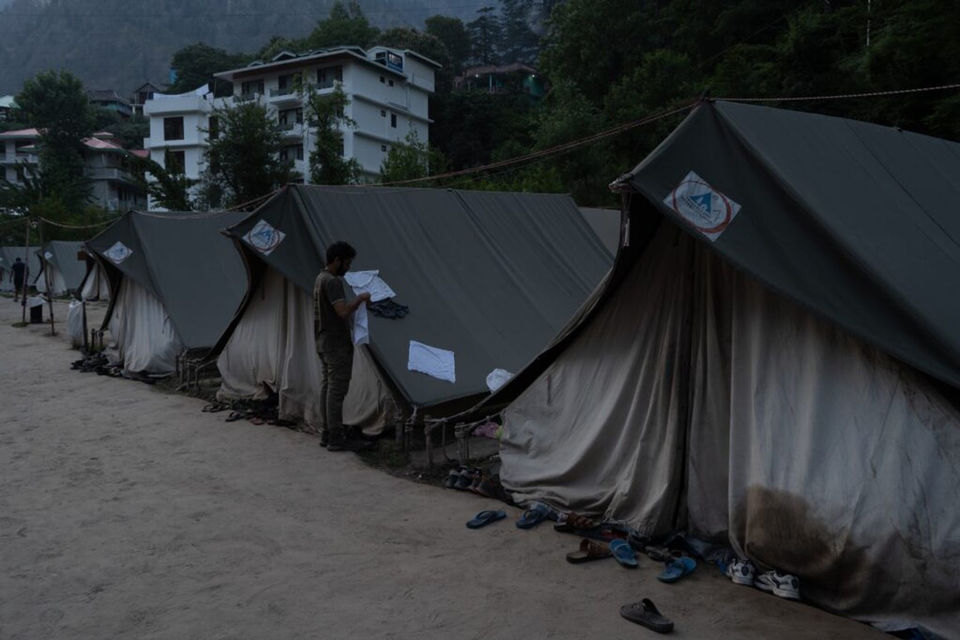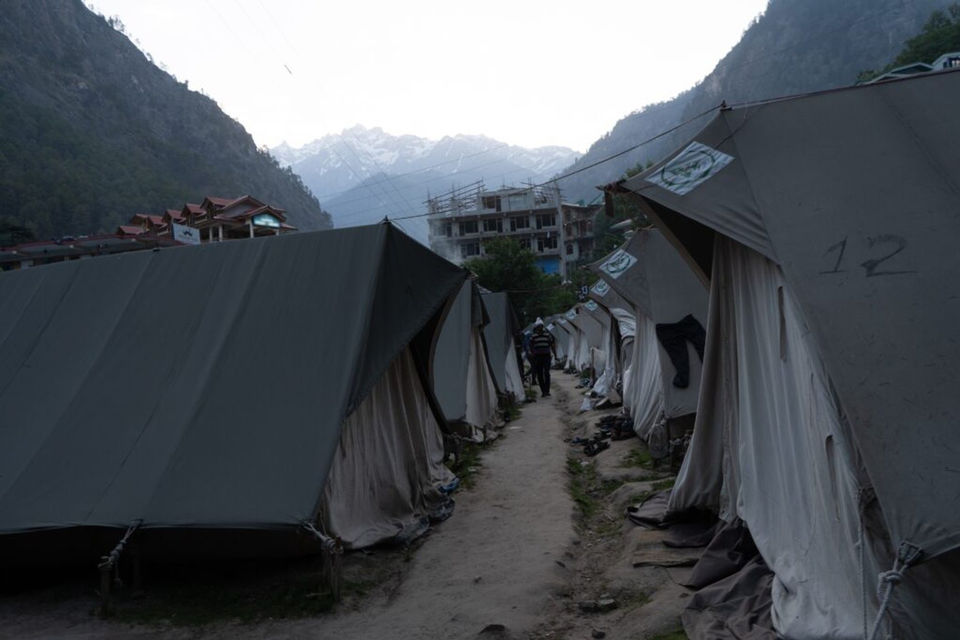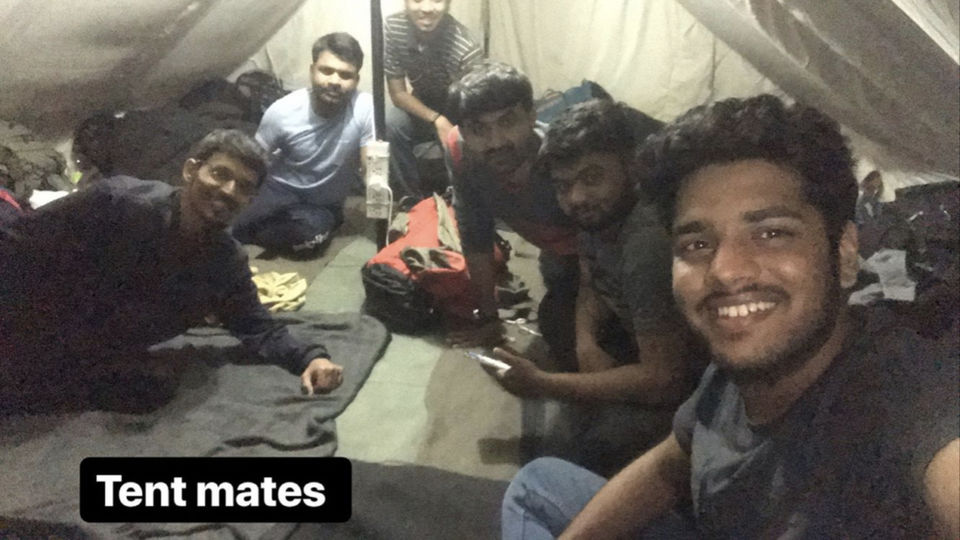 Day 2: Acclimatisation Grade 1
Next 2 day's schedule was already briefed to all of us and before the actual trek begins we had to acclamatise our self for the actual trek.
Next day we woke up 5.30 in the chilling morning of Himalyas, temperature @ 8 degree !!! , loved the hot morning tea and freshen up. Next was the morning exercise, and trainer took us for jogging in the jungles of the kasol for about 3 kms and exercise for about an hour, and then was the very much needed breakfast. Then as per tradition we see off to our senior groups for their final trek. After that we got the instruction to load our bags around 4-6 kgs, for the acclimatisation walk Grade -1.
We started our acclimatisation walk around 9 am and the Guide took us all for a small trek of 6 kms. Hot lunch was ready at base camp. Later on our Base camp leader gave us orientation and instructions related to treks, mountain sickness, AMS, High Altitude Sickness, dehydration, etc. and how to deal with these kinds of sicknesses.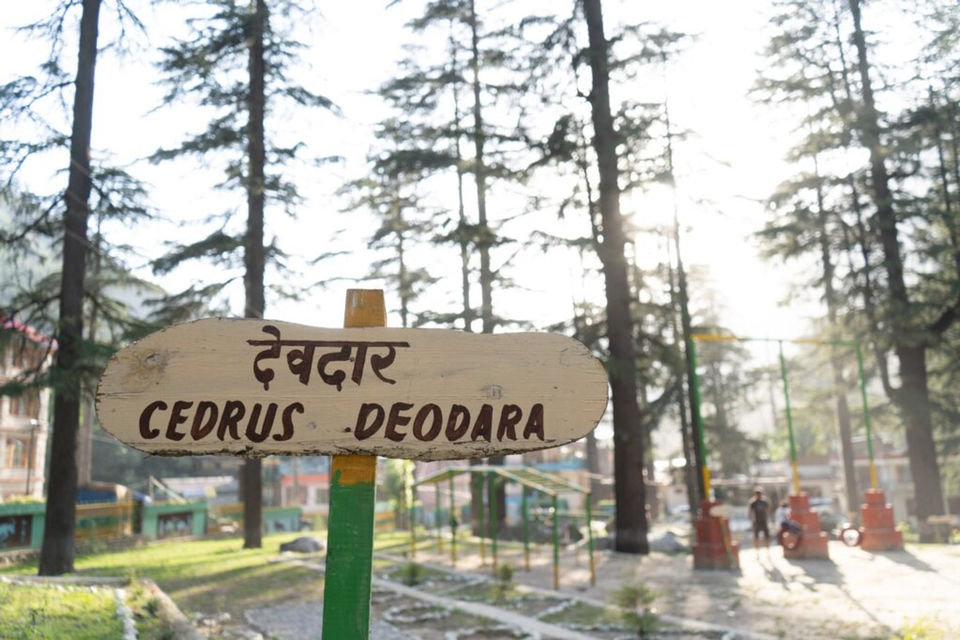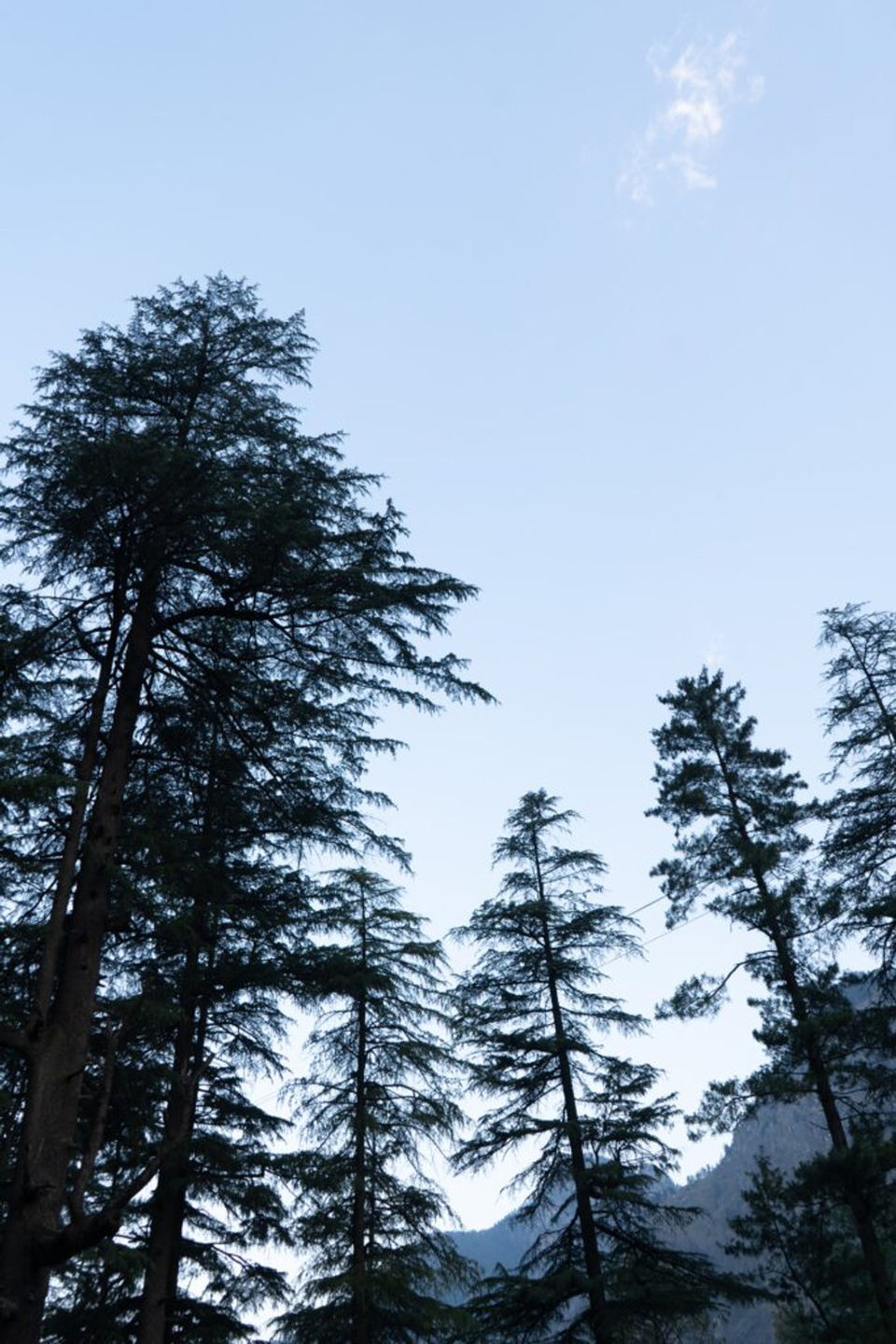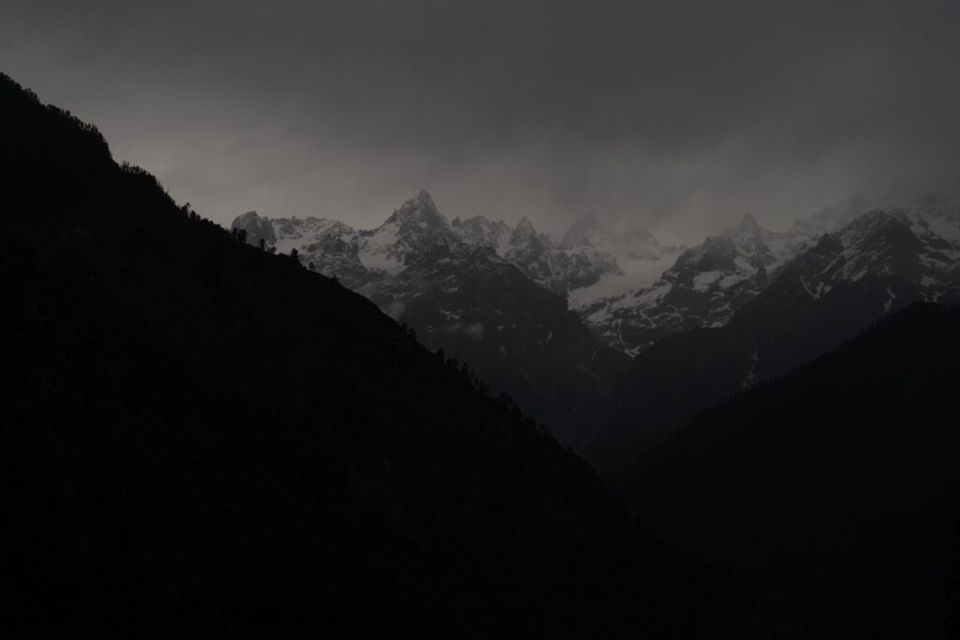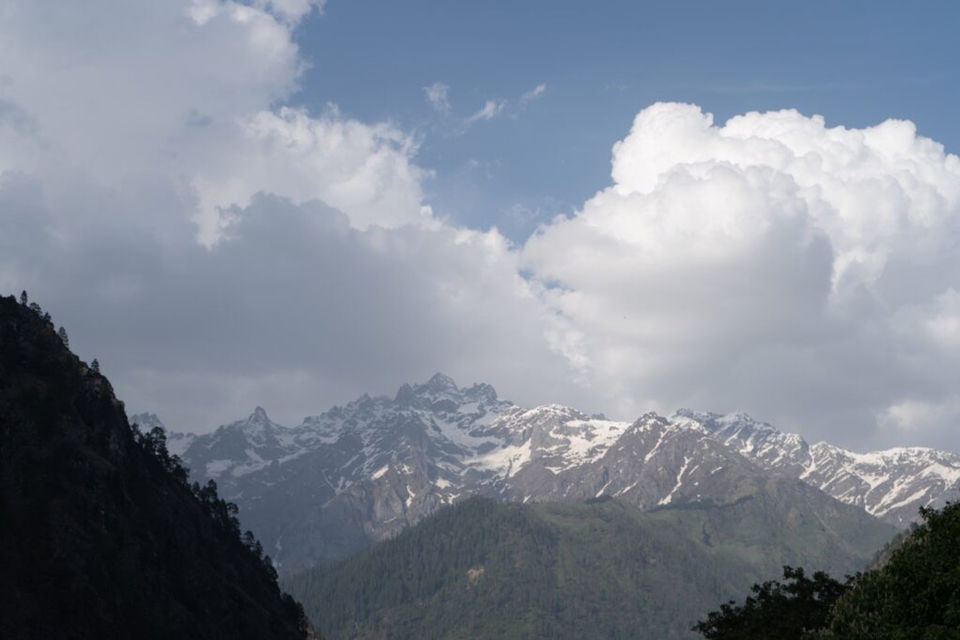 I reached Bhuntar around 11 pm. Bhuntar is town just few kms before kullu, but when I got off the bus, it was like a ghost town, not a single person on the street, all the houses lights were off and the whole town was dead sleep, and in that situation, the major challenge for me was to cross the wooden bridge over the full fledged flowing Beas river as my hotel was on the other side of the river, and it happened to be the scariest experience of my life.
Totally unknown town, charon aur andhera, not a single person on the street, my increasing heartbeats …. prayers, my phone and google map helped me, and I walked about 1 km in pitched darkness to reach my hotel, just to found that no one was awake there, even hotel manager was also asleep. I called OYO as well as Hotel manager and after few calls finally managed myself to checked-in to my room. Treak ke pahele hee fat gayi thi.
In Kasol town you'll get all types of trekking gears in the market, I had already brought windcheater for me and Water proof cover for my trekking Bag, but if you are carrying small capacity bag, than Poncho is really good option and you will get it from the market for very cheap price, also for trekking shoes, your regular sports shoes won't work, in the ice you will get slip, so either buy hunter or professional trekking shoes from Bata, which will cost you around 3k, or else if you want shoes for just one single trek I would recommend buy rubber sole shoes from Kasol market, which is just for Rs. 300/-, make sure you bargain with the shopkeeper. The only negative side of that shoes I felt was there is no cushion padded in the shoes, so it's bit uncomfortable.
Day 3: Acclimatisation Grade 2
Next day was as same as day 1, beside orientation we had leasuire time, so me and my tent mates decided to visit Manikaran, which is just 4km ahead of Kasol.
Manikaran is famous for it's hot water spring and for Gurudwara. We went there by HRTC bus, you'll get plenty of buses from Kasol to Manikaran. Bus journey cost us Rs.20/- per person single ways.
Hot springs are situated next to the Gurudwara. Bathing in hot water spring was next level experience for all of us. It was so pleasant experience that we didn't want to come out of the hot spring. I must say that if you are visiting to Kasol, do visit Manikaran. We were supposed to have lunch at Gurudwara Langar but there was too much of rush and we had to reach our base camp on time, so no prasadam there.
After returning from Manikaran, we packed our bags for the final trek, which was going to begin from tomorrow onwards.
And the actual Saar Pass trek begins:
Day 4: Kasol to Grahan (7,700 feet)
Early in the morning, after getting freshn up and breakfast we lined up at the common area. Final instructions were given by the base camp leader. After singing the national anthem, we begin our trek and the journey to conquer mighty Saar Pass begins. Next few days were going to be life changing for all of us.
It took us almost 6-7 hours of trek to reach Grahan Village. It was first day of our actual trek and I was having bad fever and sore throat. Trek was very hectic for me, my friends literally pushed me, and kept telling, "come on, keep walking". we roughly hiked 2,500 feet from Kasol. Grahan is at altitude of 7,700 feet above sea level. The moment we entered the village it started drizzling and temperature suddenly got dropped. In mountains you can't predict weather. Just moment before it was bright and sunny and moments after it's raining. So be prepared for the moody weather.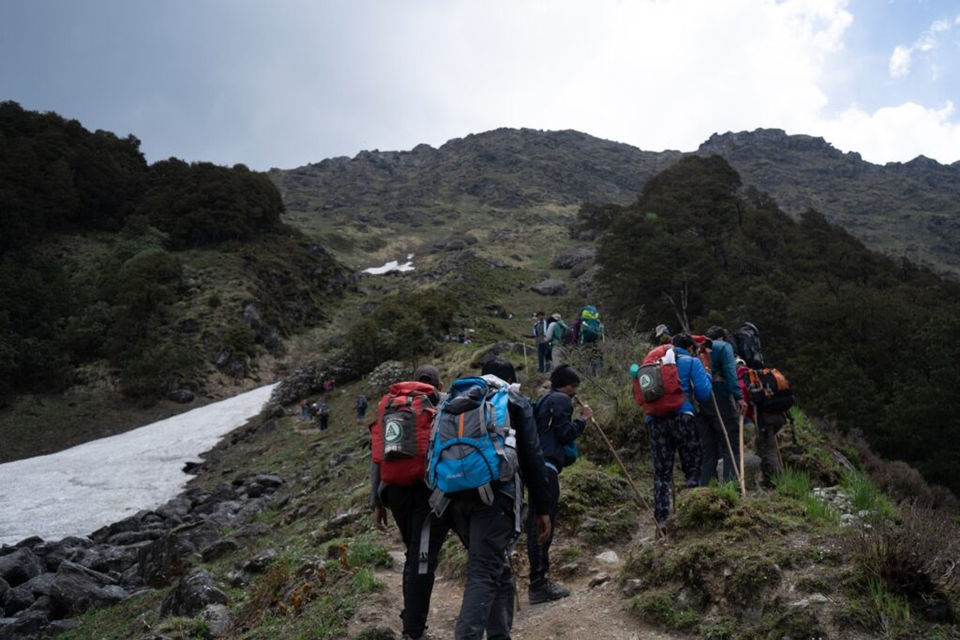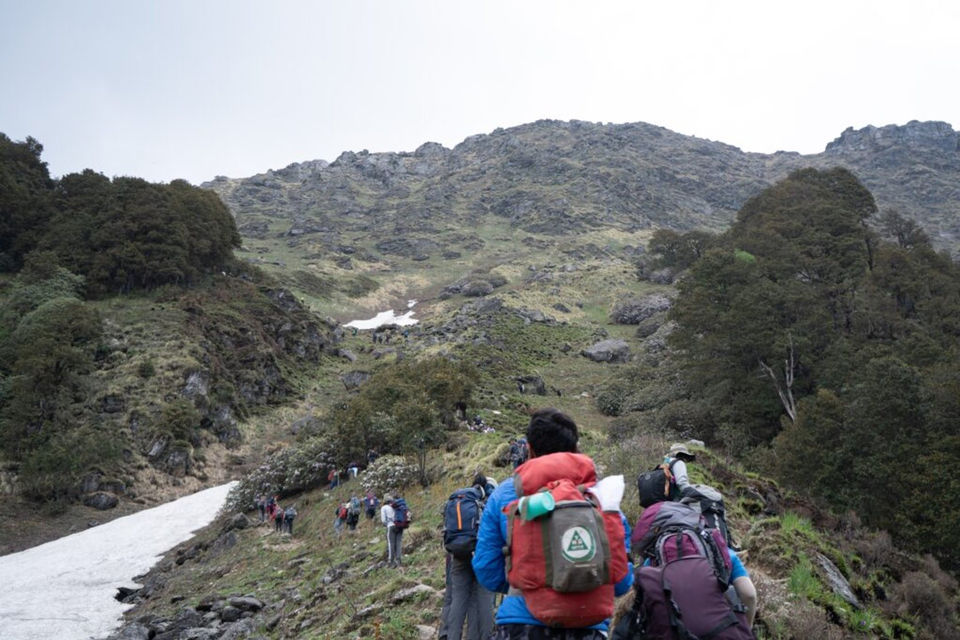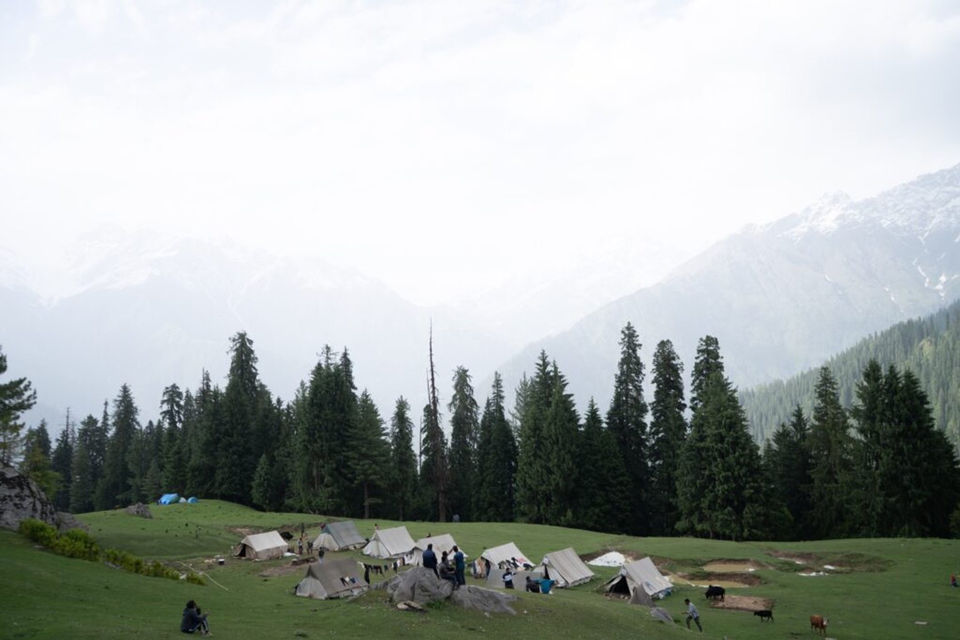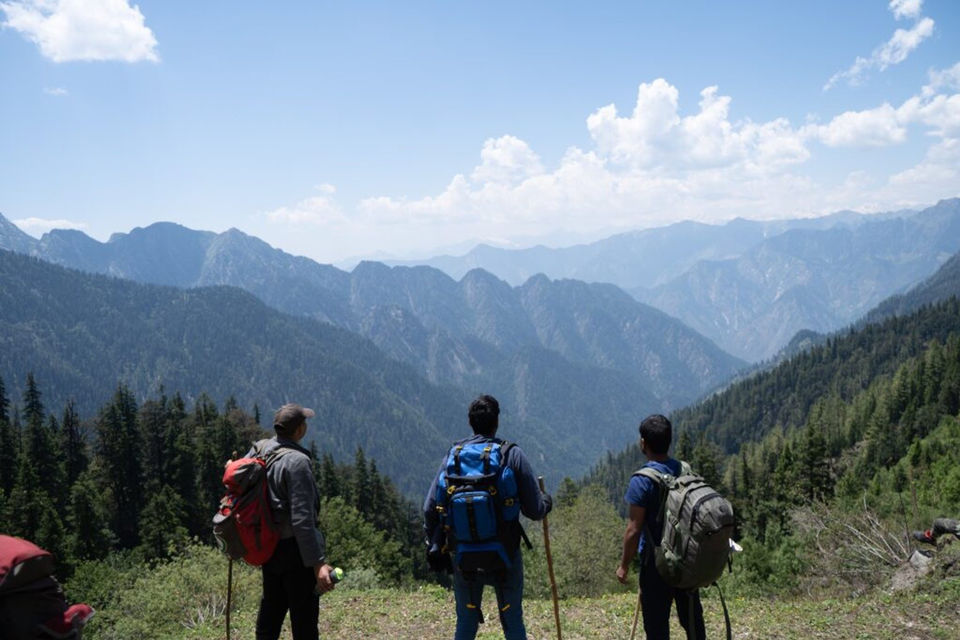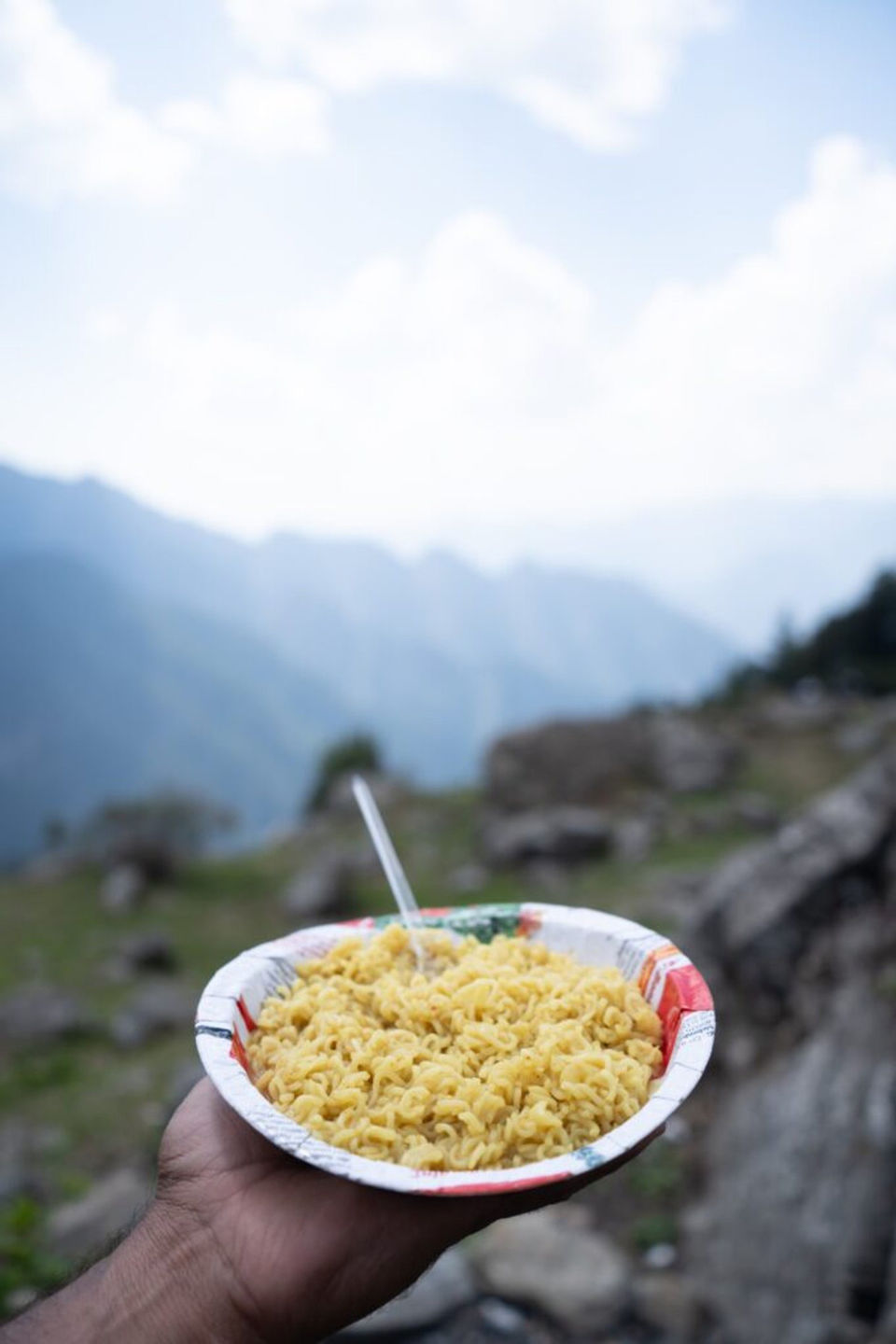 Grahan is beautiful village, typical village type structured houses. People around were very sweet and friendly. They did small bonfire for us. I took medicine for the fever and went for sleep, I was so tired I slept for 13 hours and woke up next day morning. I felt so fresh and my fever was also gone.
Day 5: Grahan to Padri Camp (9,300 feet)
It was an easy trek and took hardly 4-5 hours to reach Padri Camp. The best thing about this camp is that it is surrounded by beautiful snow covered mountains. We roam around the camp site and there was icy cave near by. I must say it was most scenic camp site from all other site. We did stargazing in the night and it was pleasing view, snow covered mountains and sky full of stars.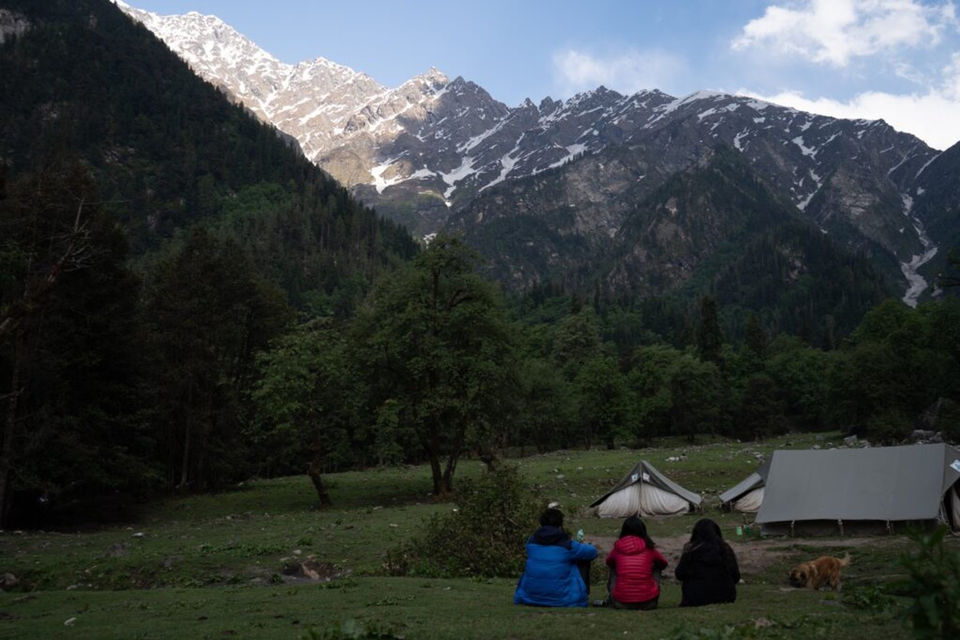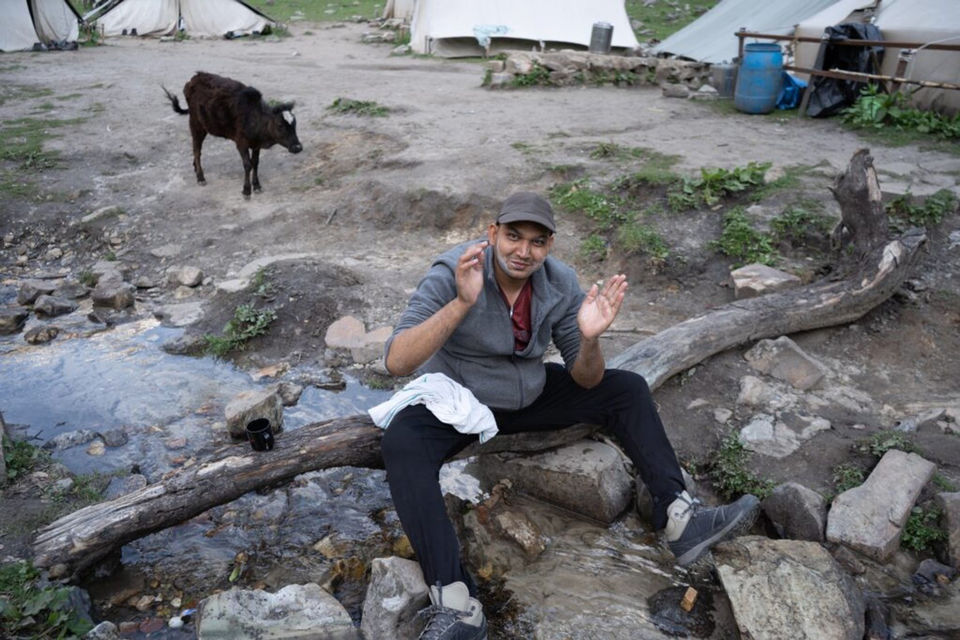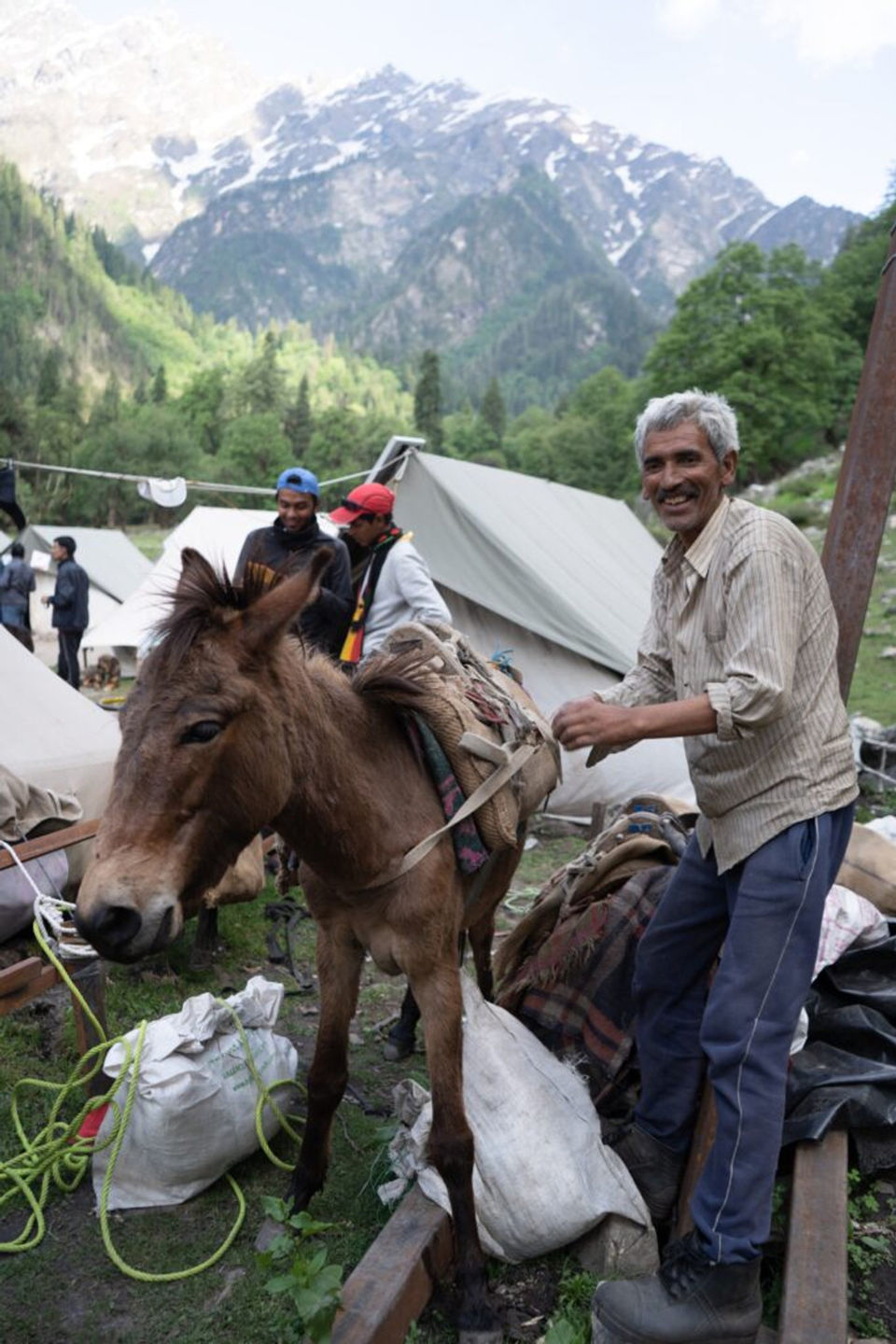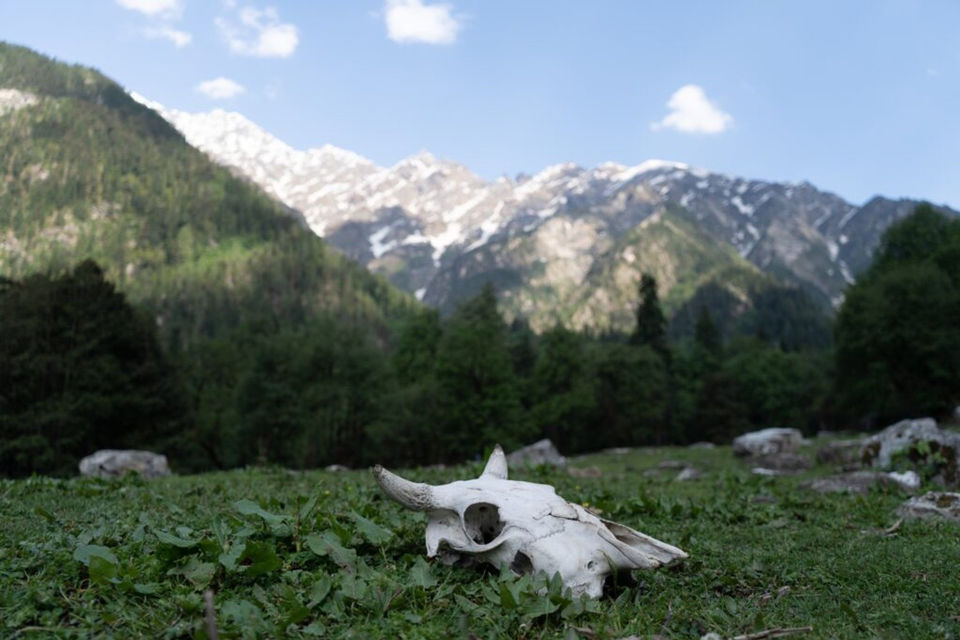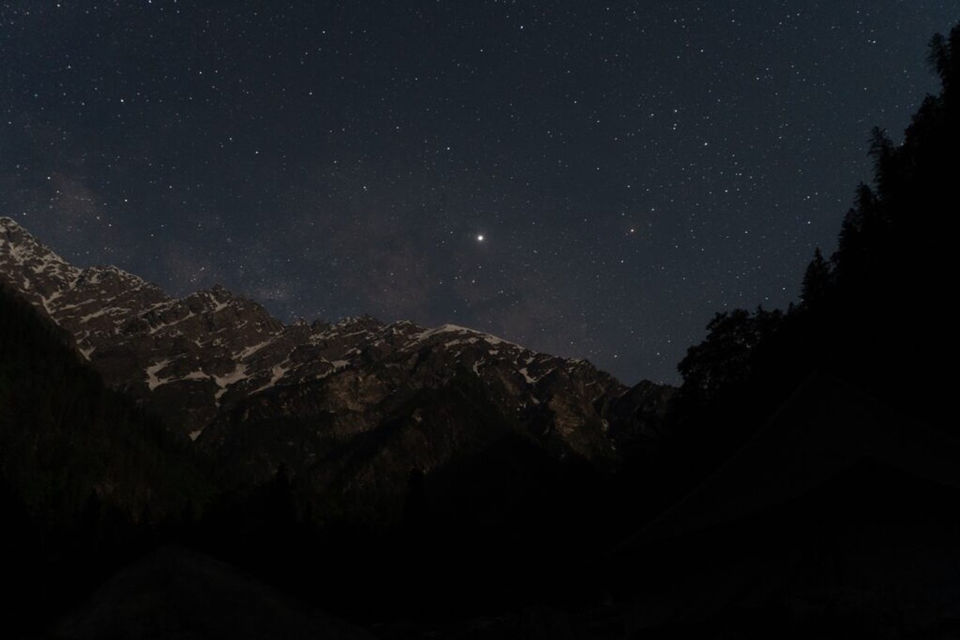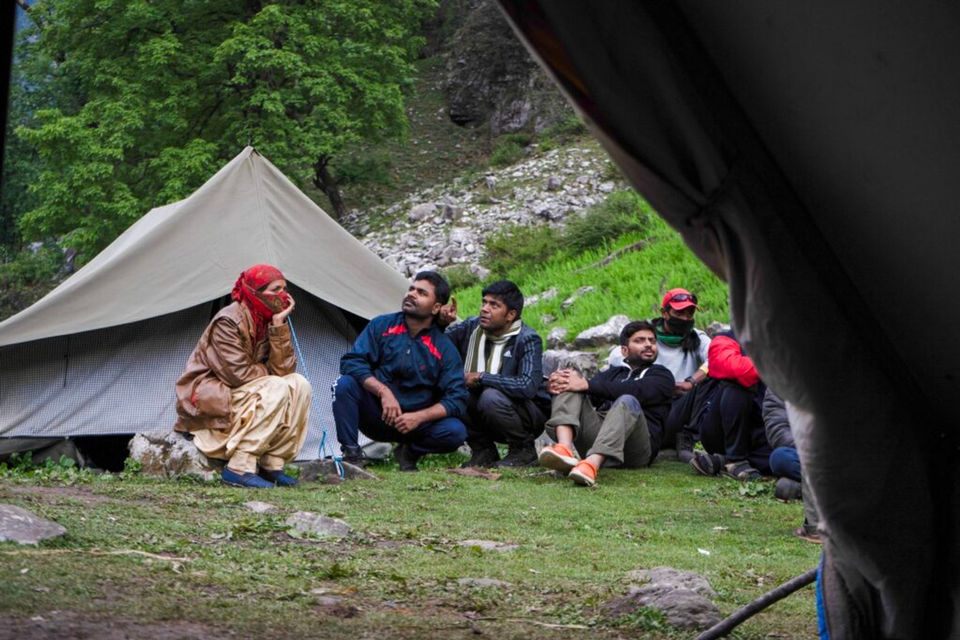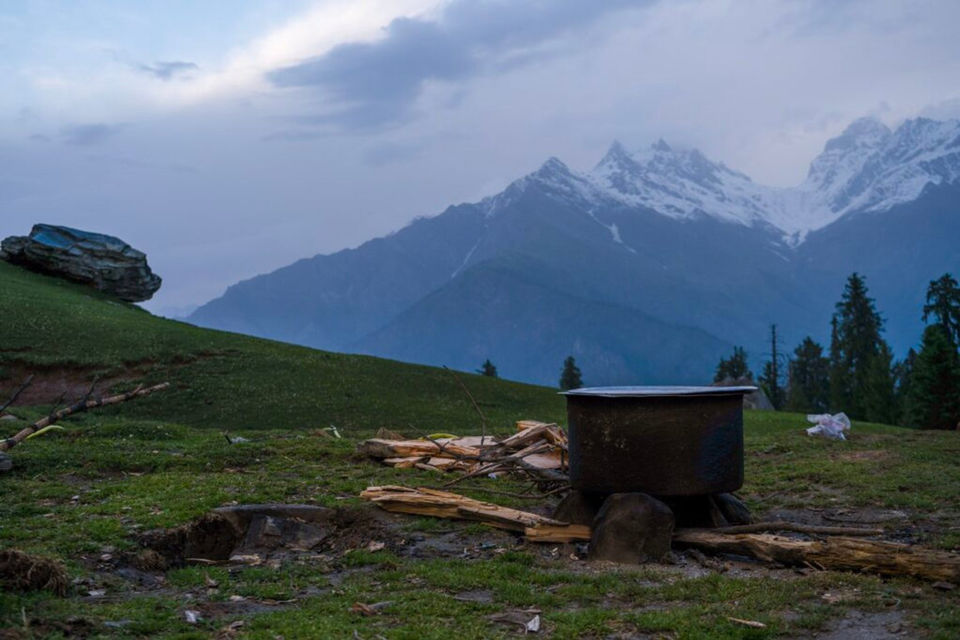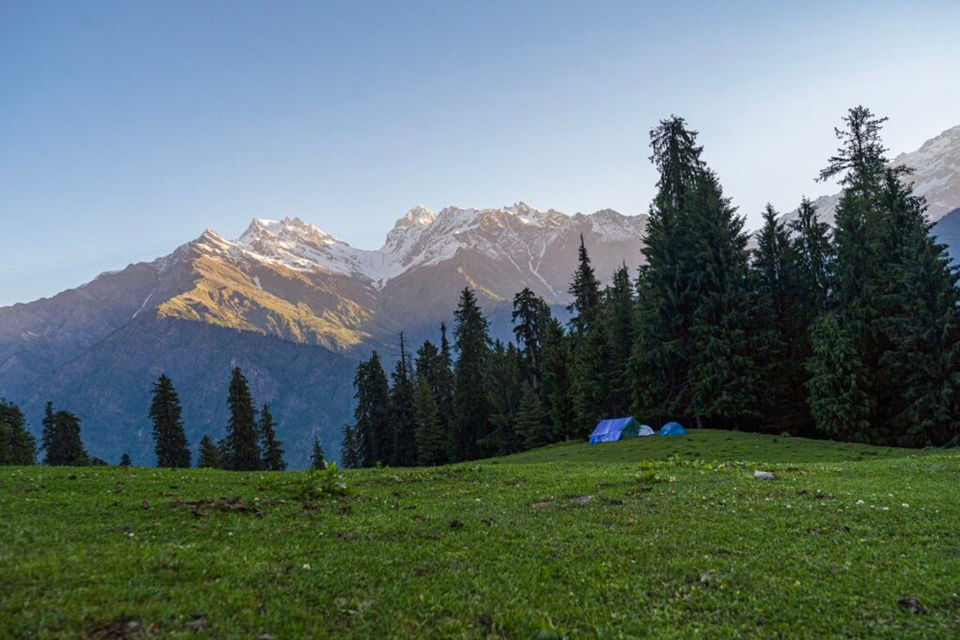 Day 6: Padri to Mingthatch Camp (11,200 feet)
We woke up early for a beautiful sunrise. Sunrise in the mountains are so stunning that eyes forgets to blink. We hiked around 6 hours to reach next camp Mingthatch, we crossed little patch of ice during the hike. Just before the camp site the hike was damn dangerous, we created human chain to cross the ruff patch, the view after the hike was very superb Which took away our tiredness.
Trekking, tiring and caring created a very good bond amongst all of us all. In the evening we all set together and sing along old songs and enjoyed the evening.
Day 7: Mingthatch to Nagaru Camp (12,500 feet)
Next day's hike was short but steep. On the way to Nagaru camp weather suddenly got changed and hail storm started. It was my first experience of snow fall and view was so damn amazing. After hiking for 5 hours we reached our highest altitude camp at 12,500 feet. Camps were on the edge of the ridge. Panoramic view from the top was stunning, 180 degree view filled with snowy mountains and aerial view of valley, never ever seen such beauty before.
In the evening weather suddenly got changed and it again started hail storm heavily, wind blast was so strong and temperature dropped down to 4 degree!! At this altitude oxygen is also hardly 1.5%. Our trek guide and camp instructor told us to stay inside the tents and not to go out without company.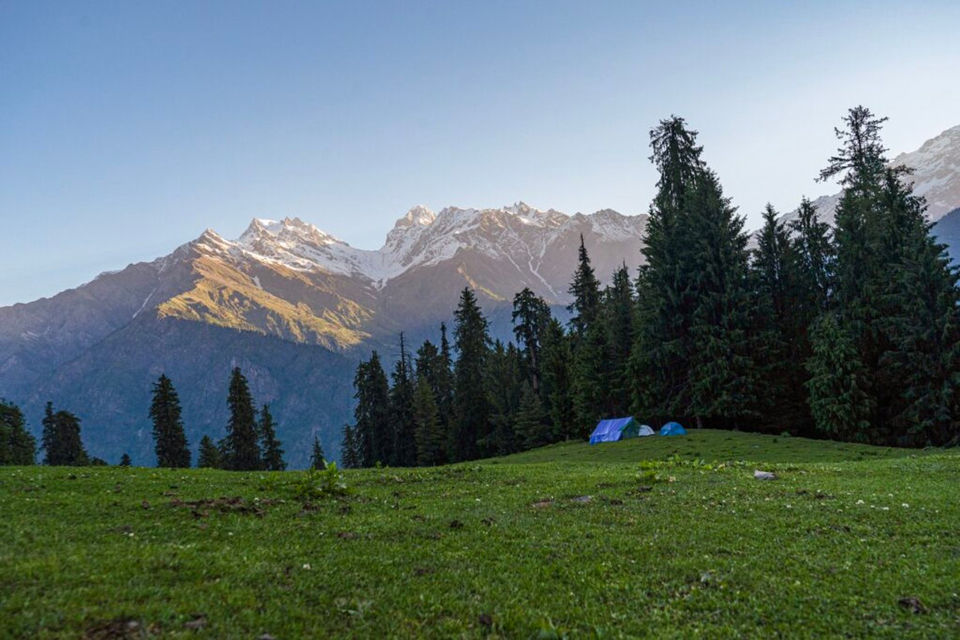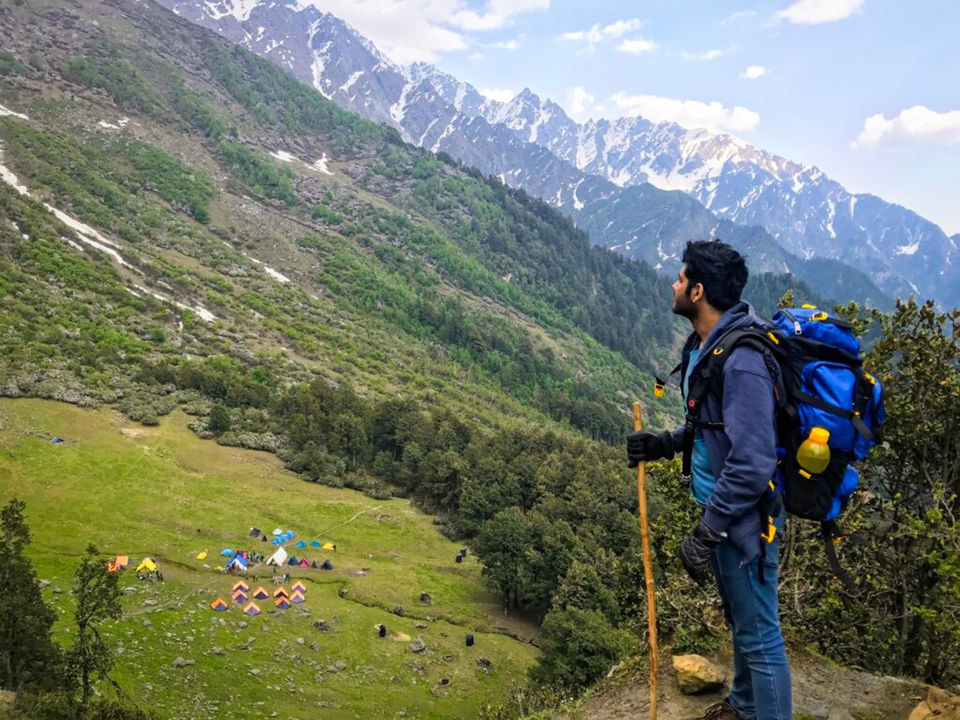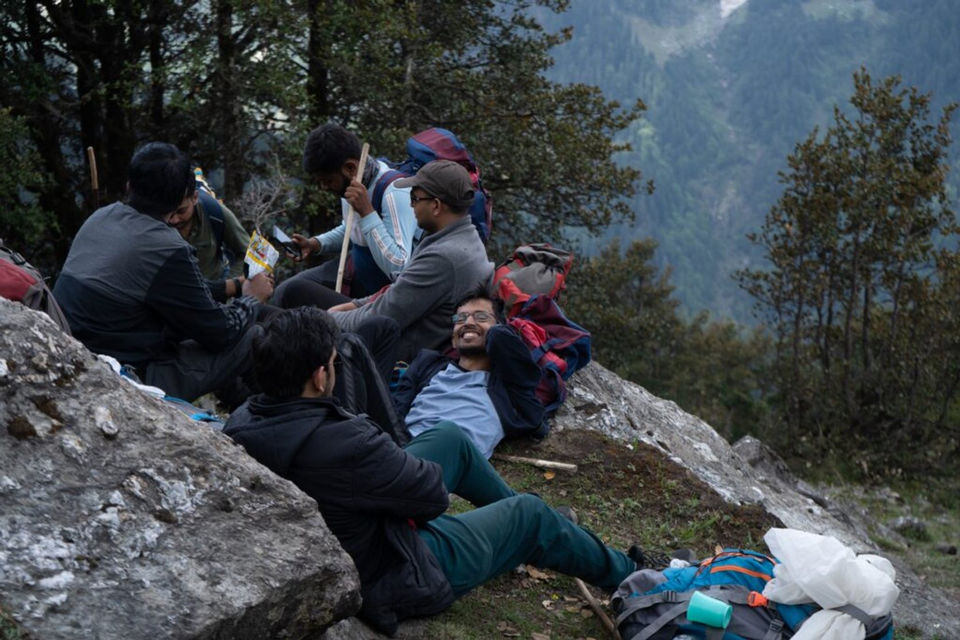 Day 8: Nagaru to Beskari Camp (Highest point of the trek, 13,800 feet)
For the summit we had to start our trek early in the morning around 4 am, but weather was so horrible out side, it was still fog and hail storm continued. it got cleared at around 4:30, our guide started shouting "Quick line up for the summit, fast, fast", we all were ready with our bag packs , he instructed us that "This is the time, we have got clear window for the summit, let's begin our trek before weather again go worst". so we begin our trek for the final summit.
Mid way to the summit suddenly weather became so worst, again hail storm begun and dense fog built up that you can't even see person standing just besides you. I don't know the temperature but it dropped so drastically, even our cameras stopped working.
At this point our guide asked us "Situations can go wrong and storm can become even worst, so it's you guys choice whether to continue for the summit or not?", we all decided that what so ever happen will go for the summit. We kept talking continues with each other while climbing ahead for the summit. That 30 min hike was horrifying for all of us, but with God's grace weather got cleared and we finally reached the summit after hiking for about 4 hours from Nagaru camp site.
In all the directions it was just white fresh snow, and mountains covered with it. It was proud moment for all of us, to reach the summit. We were filled with happiness and proud, all these days we hiked, trekked to reach at the summit and here we were at the top of the Saar Pass at the altitude of 13,800 feet above the sea level. YES, WE FELT BEING AT THE TOP OF THE WORLD, not literally but mentally !!!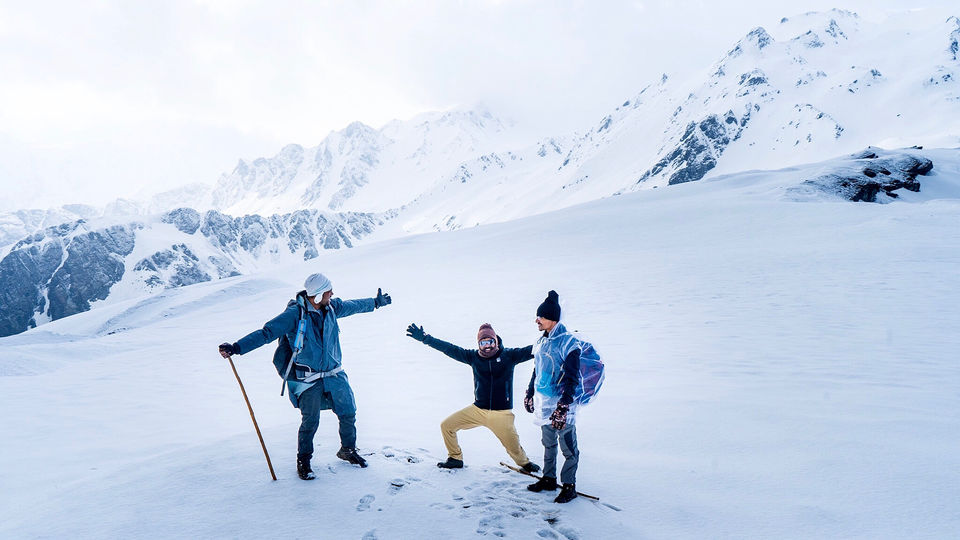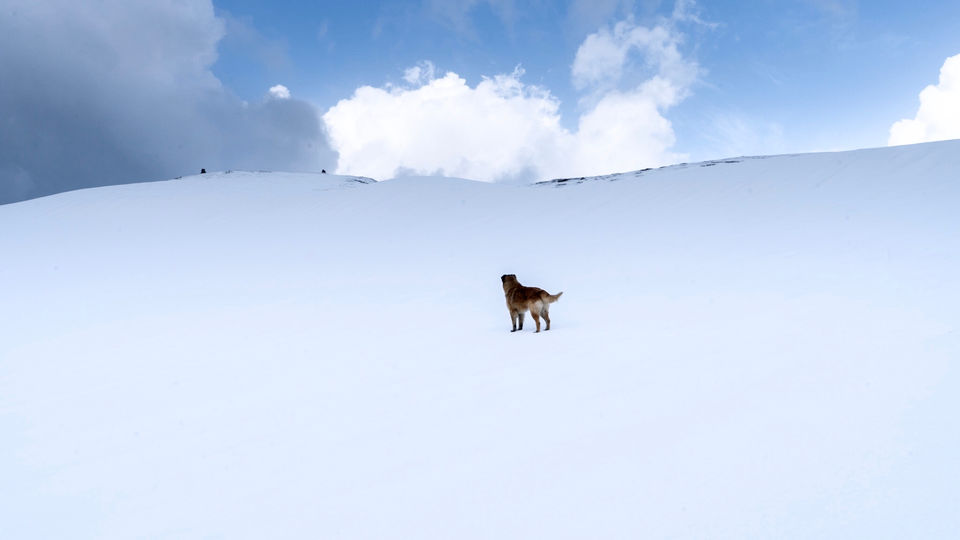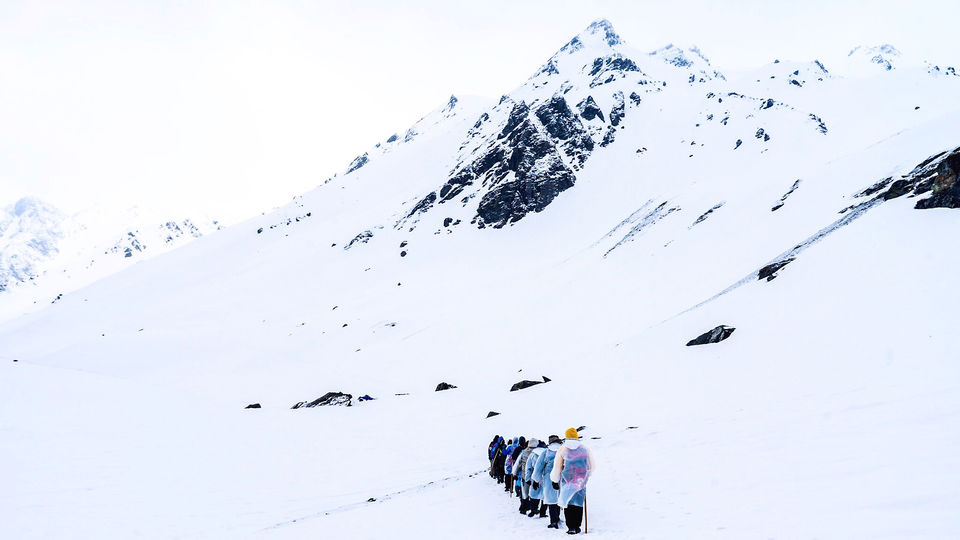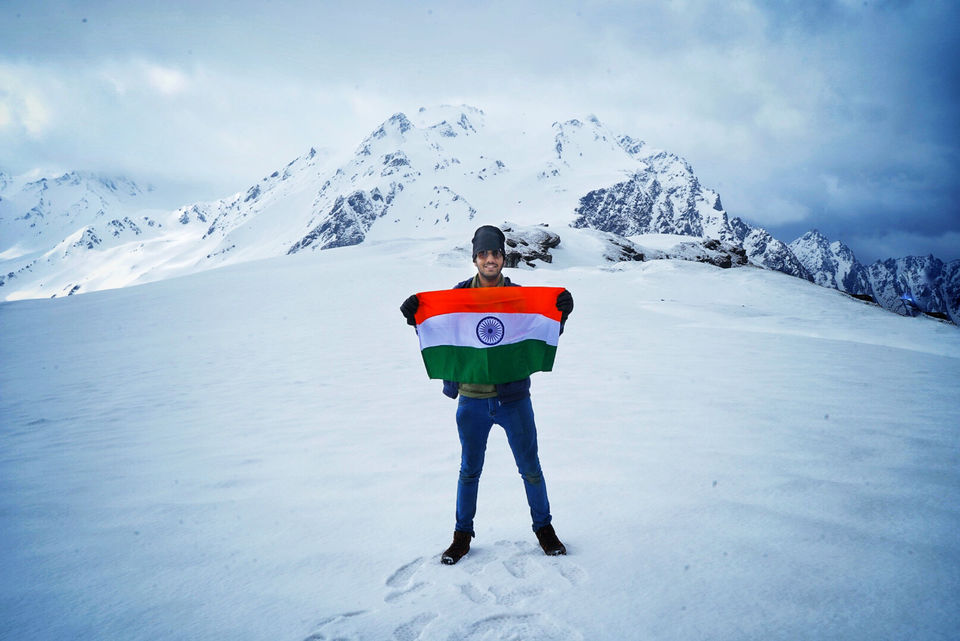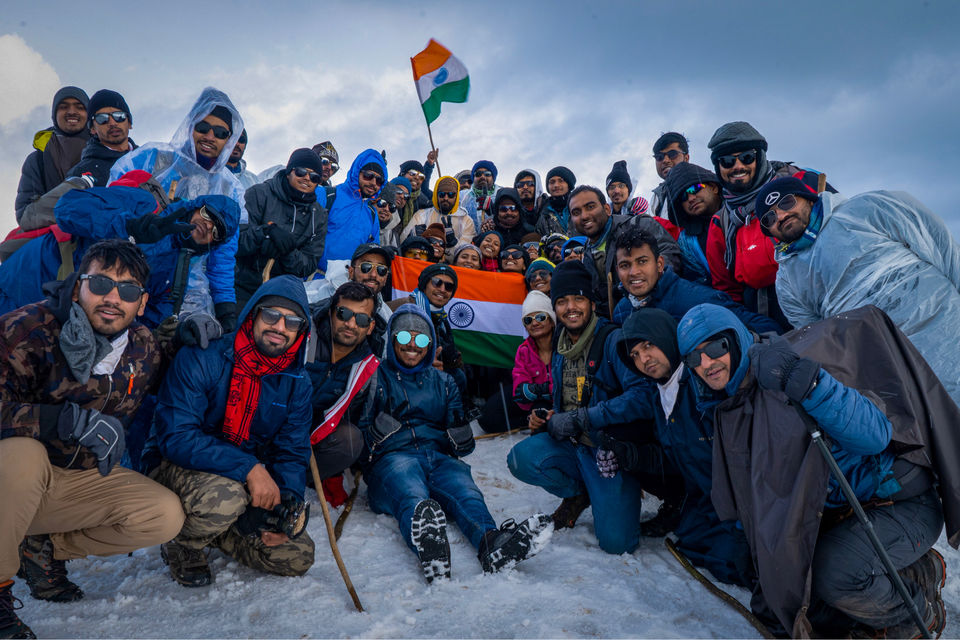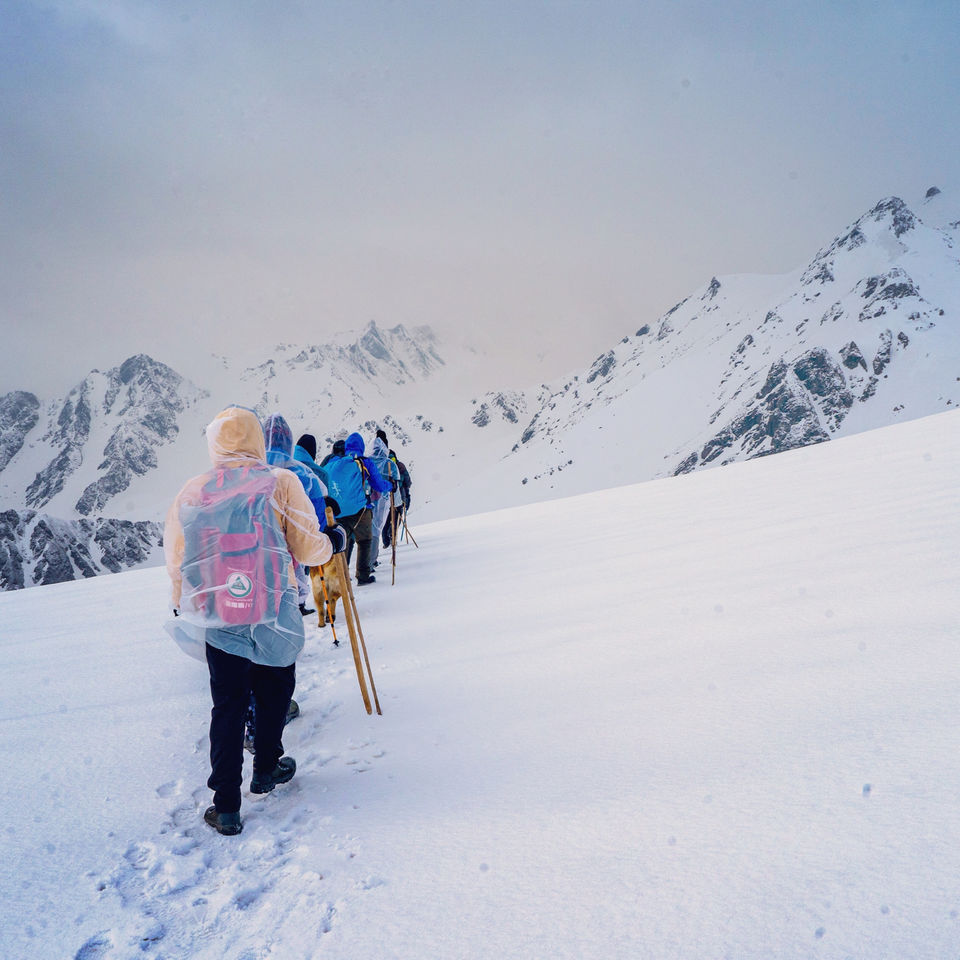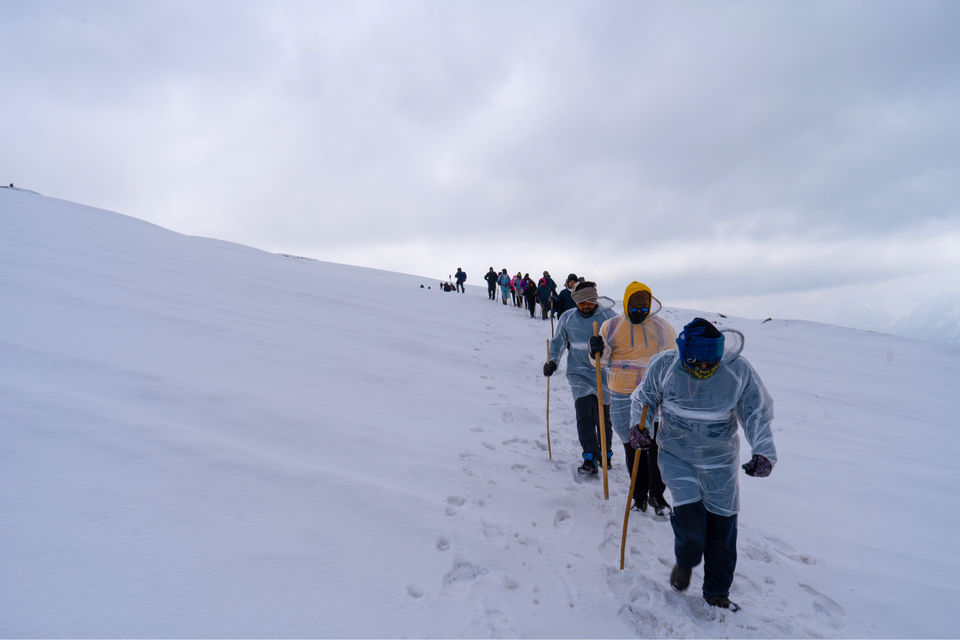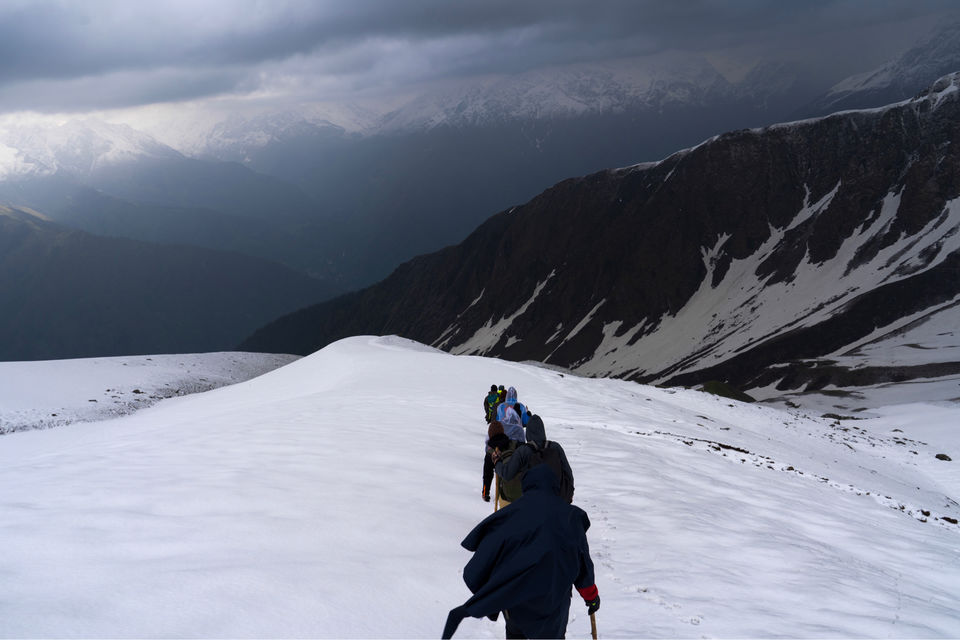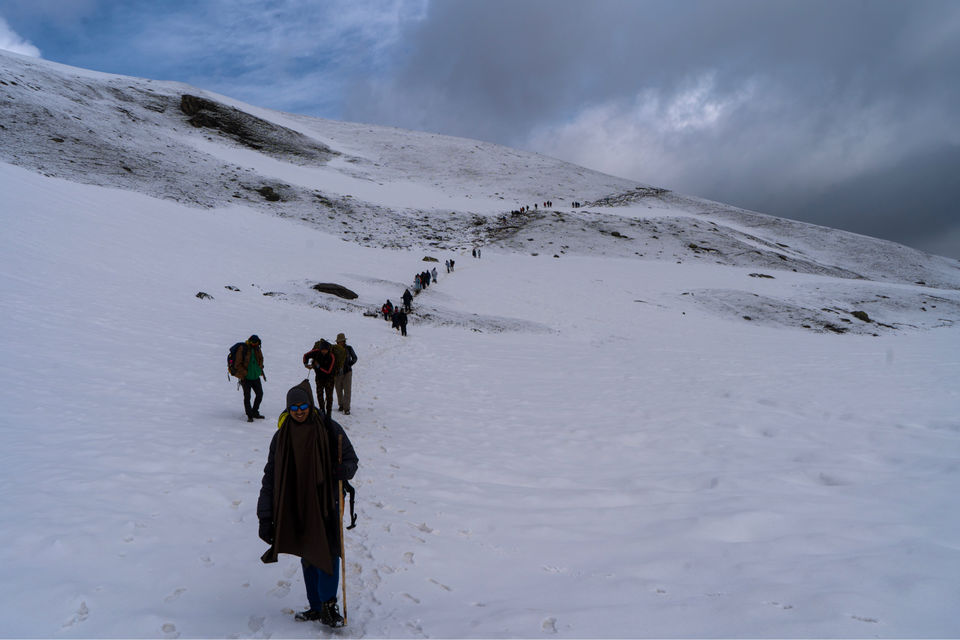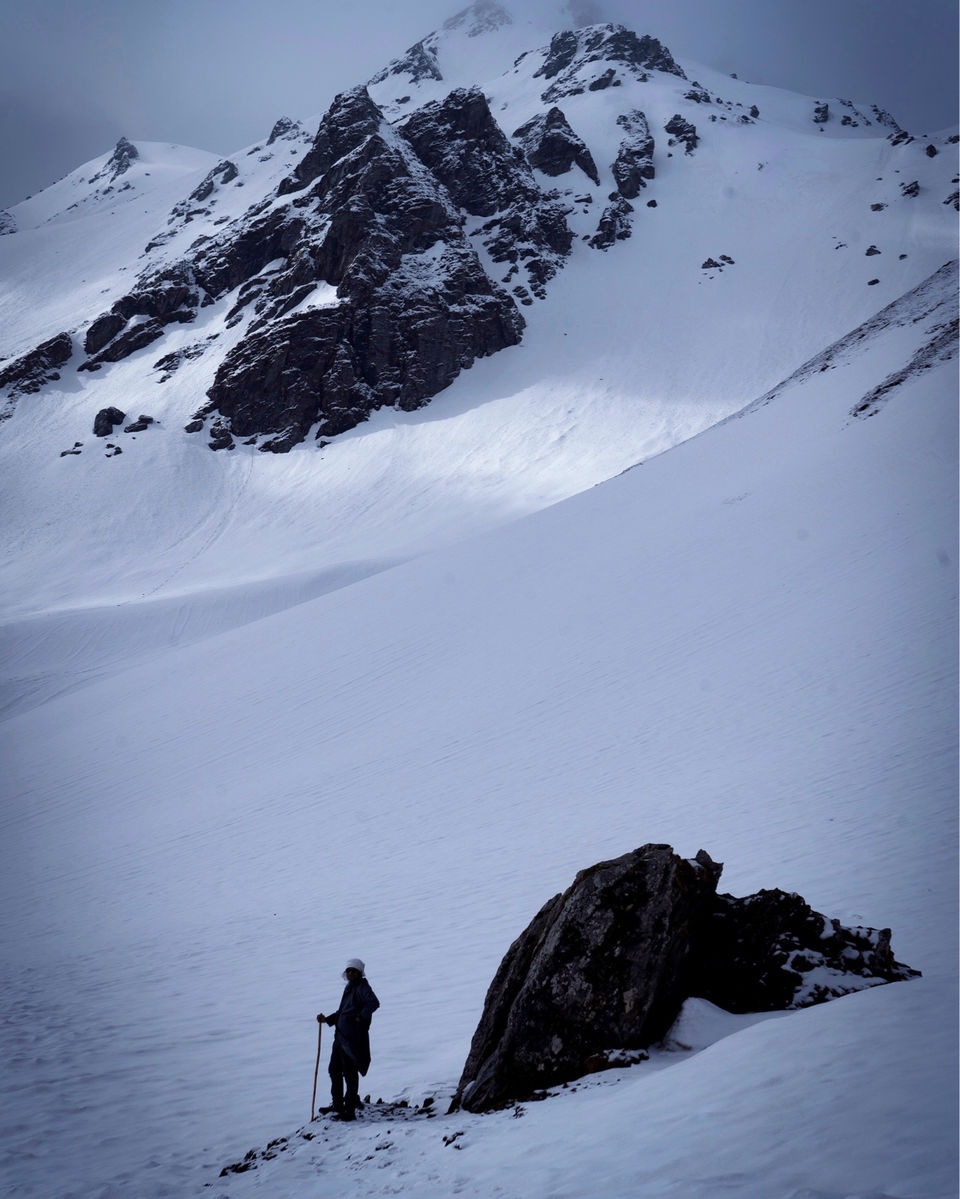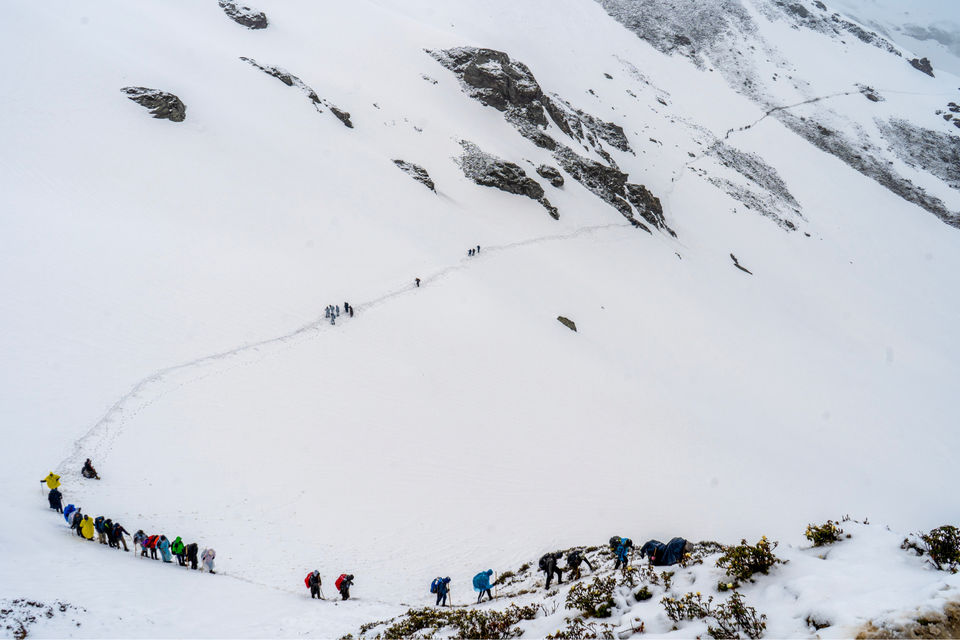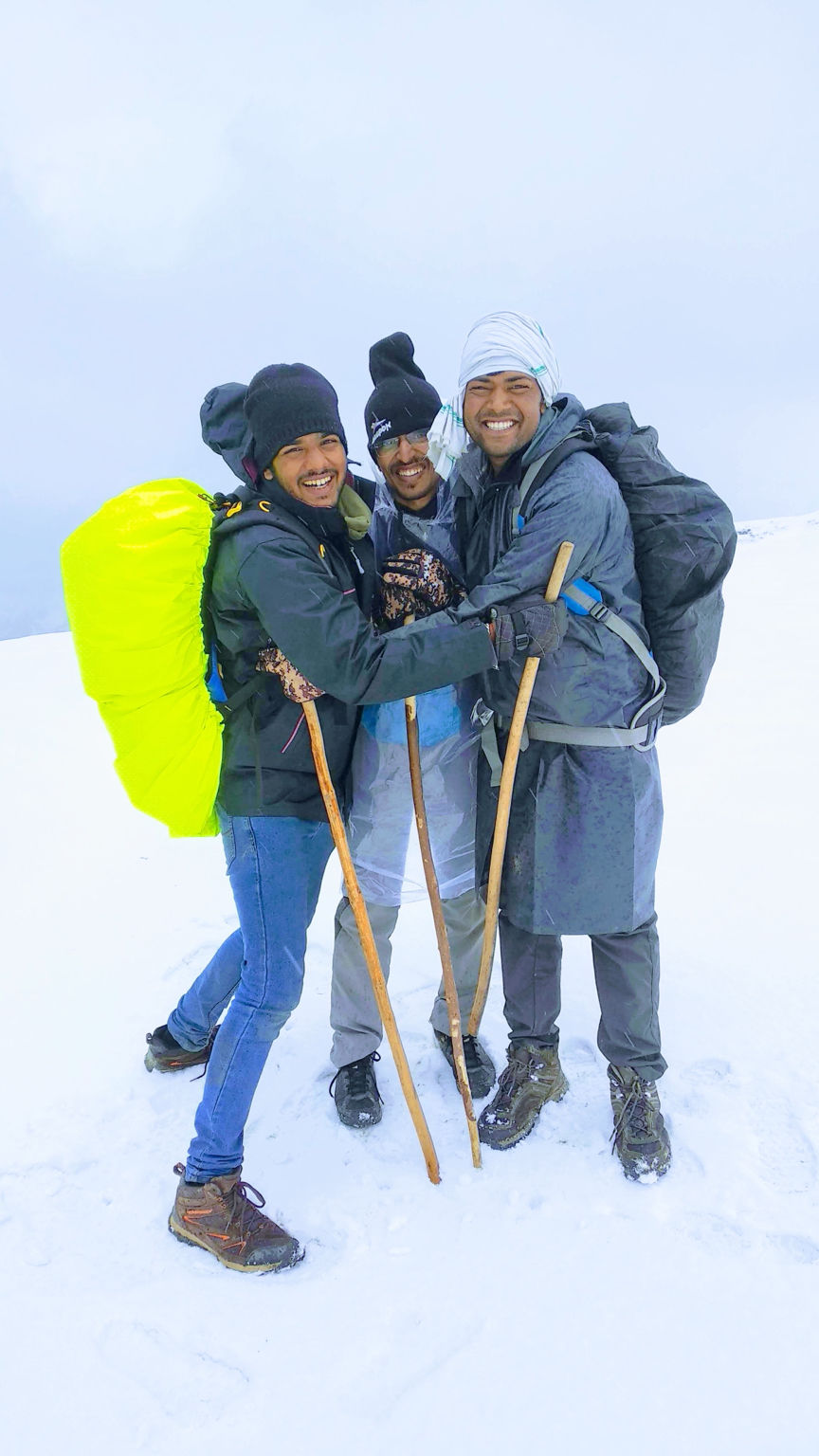 We started descending journey after spending about half an hour on the top. It was became difficult because of fresh snow fall. Trails were filled with snow and without verifying proper trail ground, it can be fatal, one wrong step and you will slip down into deep trench. Our guides slowly cleared the path for us and we followed them in single straight line. Situation got even worst when it started raining and afterwards it turn into snow fall and hail storm, but slowly and steadily we crossed the ruff patch and reached exciting part of the descending trek – SNOW SLIDE. We slide for about 3-4 kms in the snow and it was a life time experience, many of us got tumbled on the slide but it was fun for all.
After descending from snow slides, snowy patch got over and it started raining heavily, we guys didn't stopped for any break and literally run toward Beskari Camp with the wet cloths.
The whole trek from Nagaru to Beskari camp took us about 10 hours to complete.
Day 9: Beskari to Bhandak Thatch Camp (8,000 feet)
Trek from Beskari and Bhandak Thatch is pretty much easy, you will also get a chance to do small patch of rappelling, it was a fun part. We trekked for about 4 hour that day and reached Bhandak Thatch, this was the last camp site of our trek. Nice camp site and flat surfaced ground at 8,000 feet. We played cricket and had lot of fun.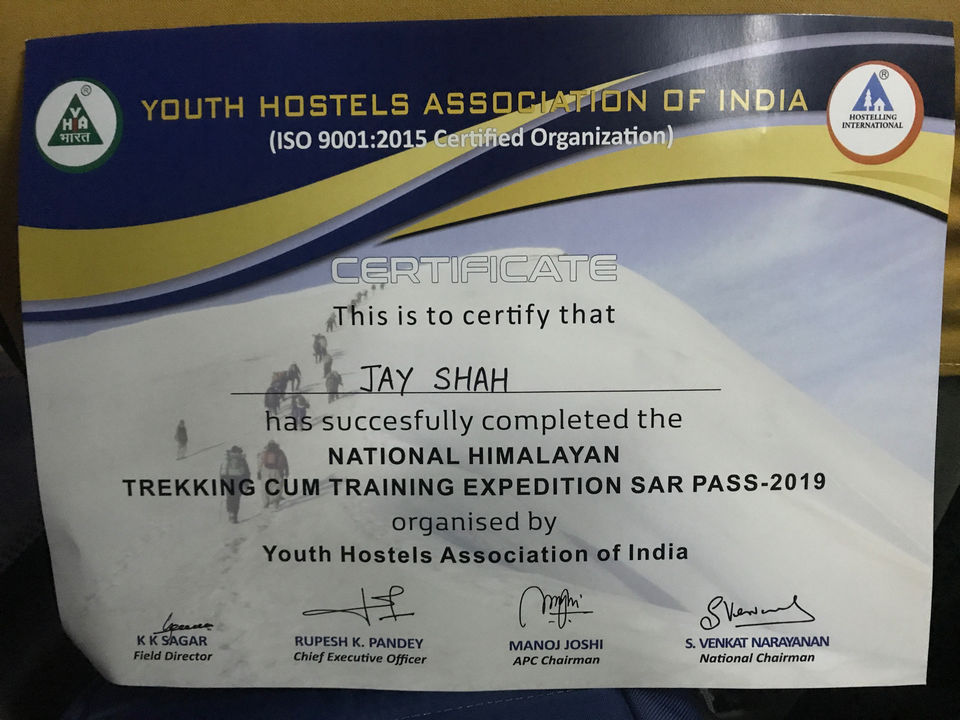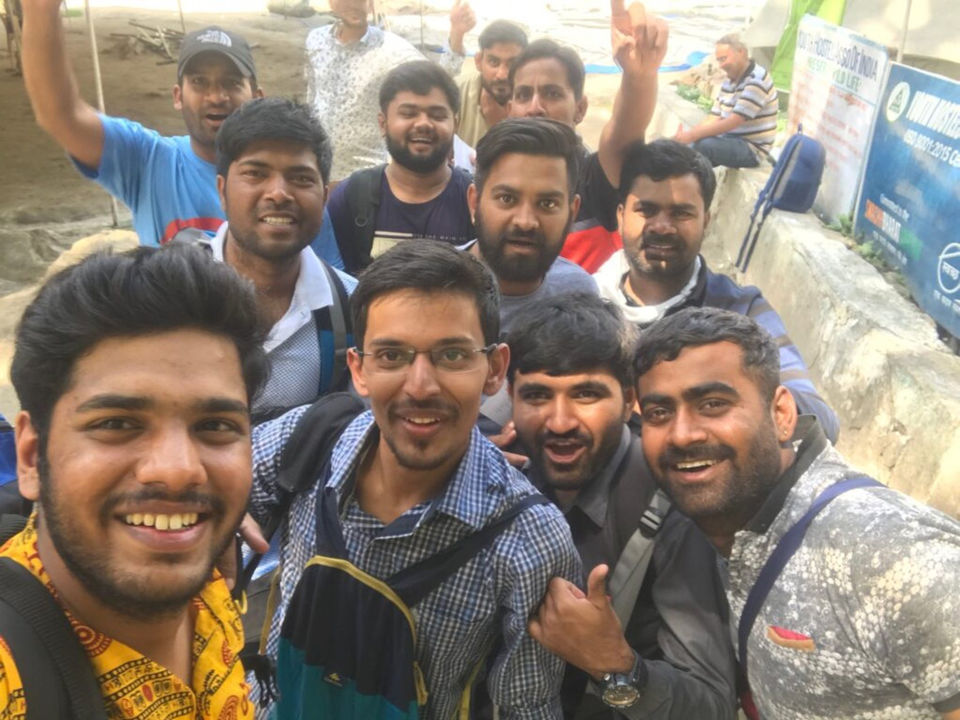 Way Back to Capital (Delhi) and than Home (Mumbai):
We boarded the AC semi sleeper bus in the evening from Bhuntar, it was pretty comfortable and we reached Delhi next day around 9 am. I had flight for Mumbai next day early morning, so we roamed around in metro, local market and had lunch at Parathe Wali Galli. If you are visiting Delhi, and you are foodie, this place is heaven for you. So many different types of Parathas and glass of Lassi. It made our day. After heavy lunch we booked a room as we all were tired and the Delhi heat, from 8 to 28 degree!!
We rested few hours at hotel and left for the Airport and Reached Mumbai where it was drizzling and finally monsoon started at Mumbai.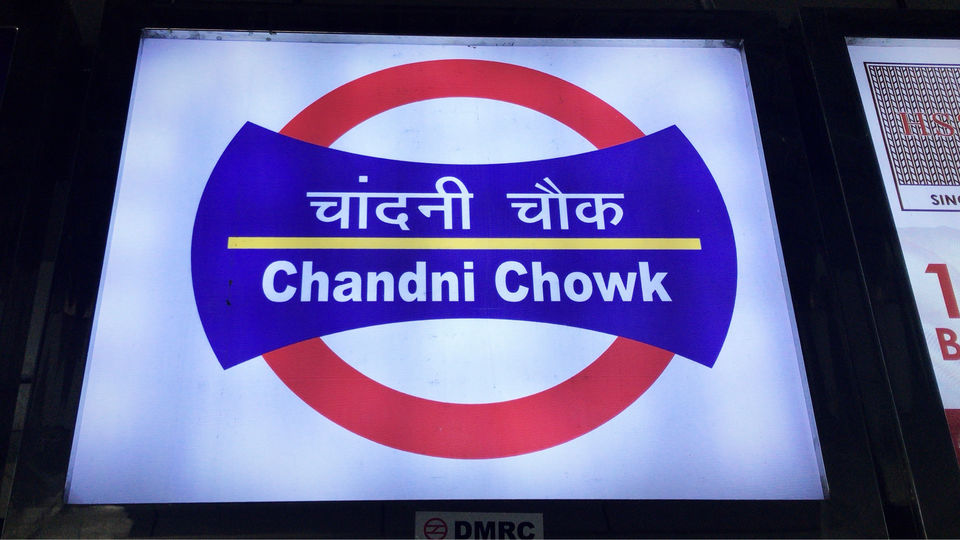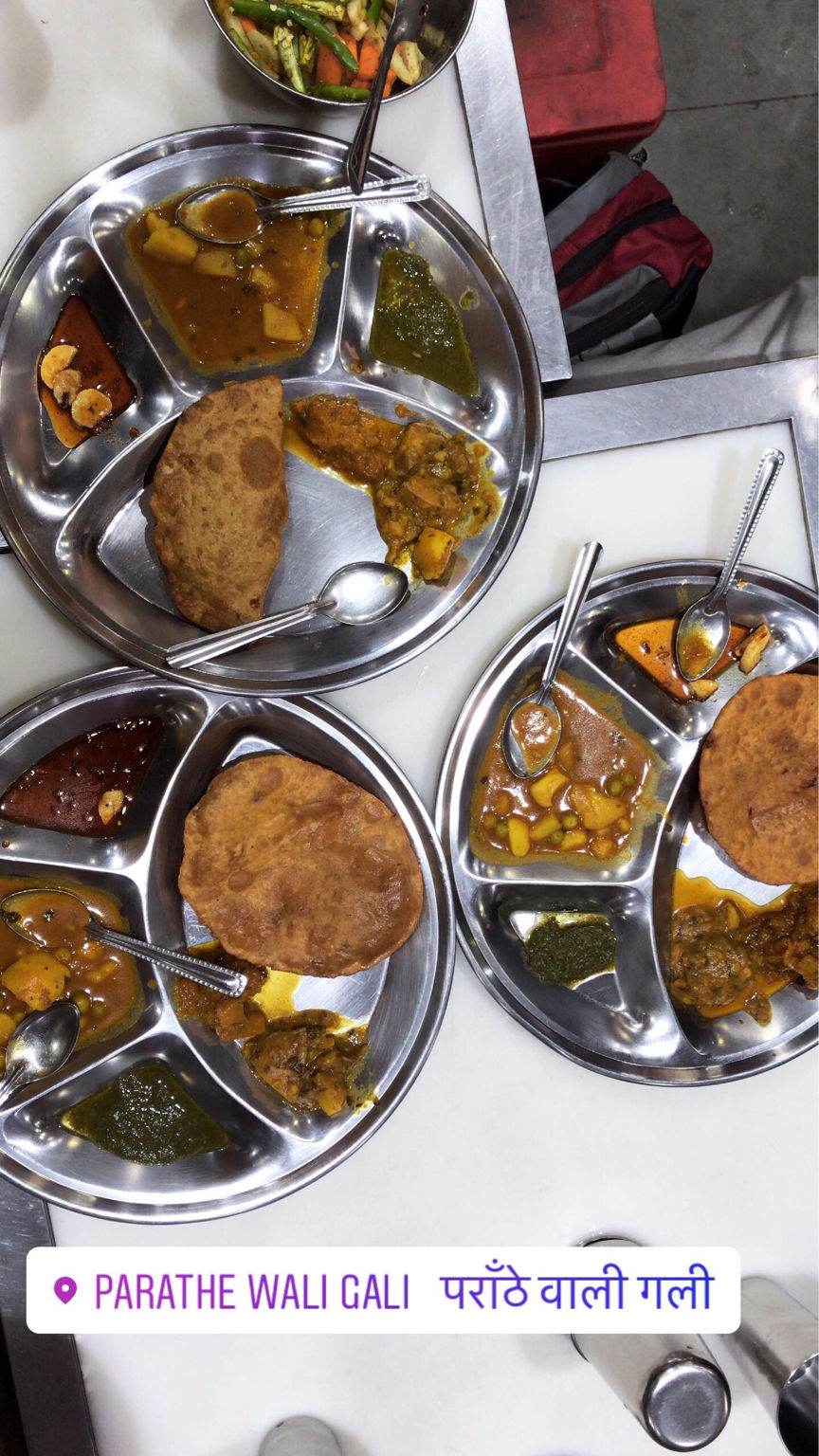 Day 10: Bhandak Thatch to Barshani (Small Trek) and than Kasol (By bus)
We started early in the morning to descend to Barshani from where we were going to board the bus to reach Kasol, our Base camp site. It hardly took us 3 hours to reach Barshani, trek was very easy. From Barshani we boarded the HRTC bus and reached Kasol at 1 pm.
After collecting our certificate for the successful completion of Saar Pass trek, we did farewell and goodbyes to our base camp and trek mates. we started our journey way back to our home, with bag full of memories, hand full of new friends and unforgettable adventure.
I hope you like my Blog post and my travel story.
You can also check out my travel blog on my website: https://www.wanderingpixelblog.com
Also watch my Travel Video on my YouTube channel: https://www.youtube.com/channel/UCAuT4dwhBIaMJZhP66WziQw
Do follow me on my social media:
Instagram: https://www.instagram.com/wandering_pixel_/