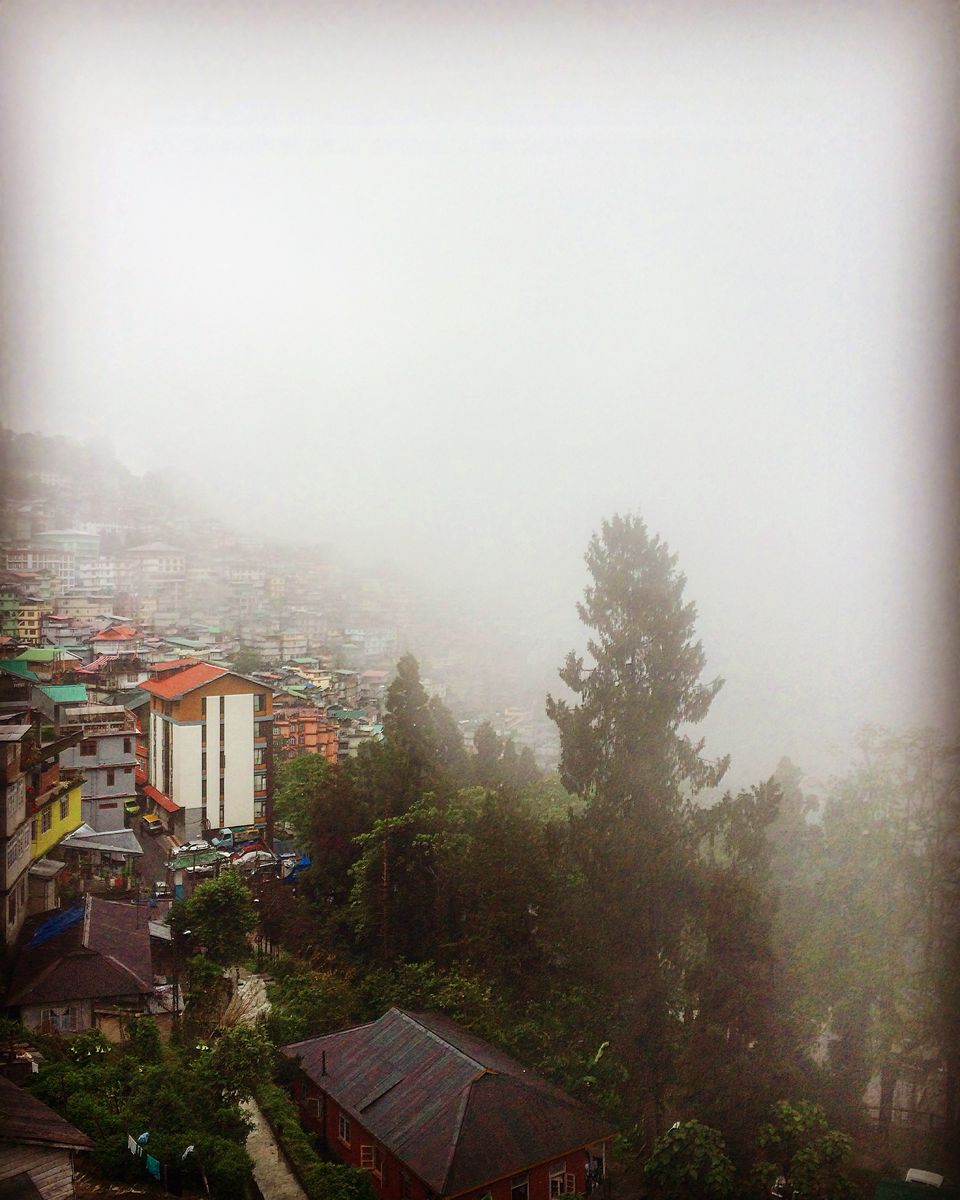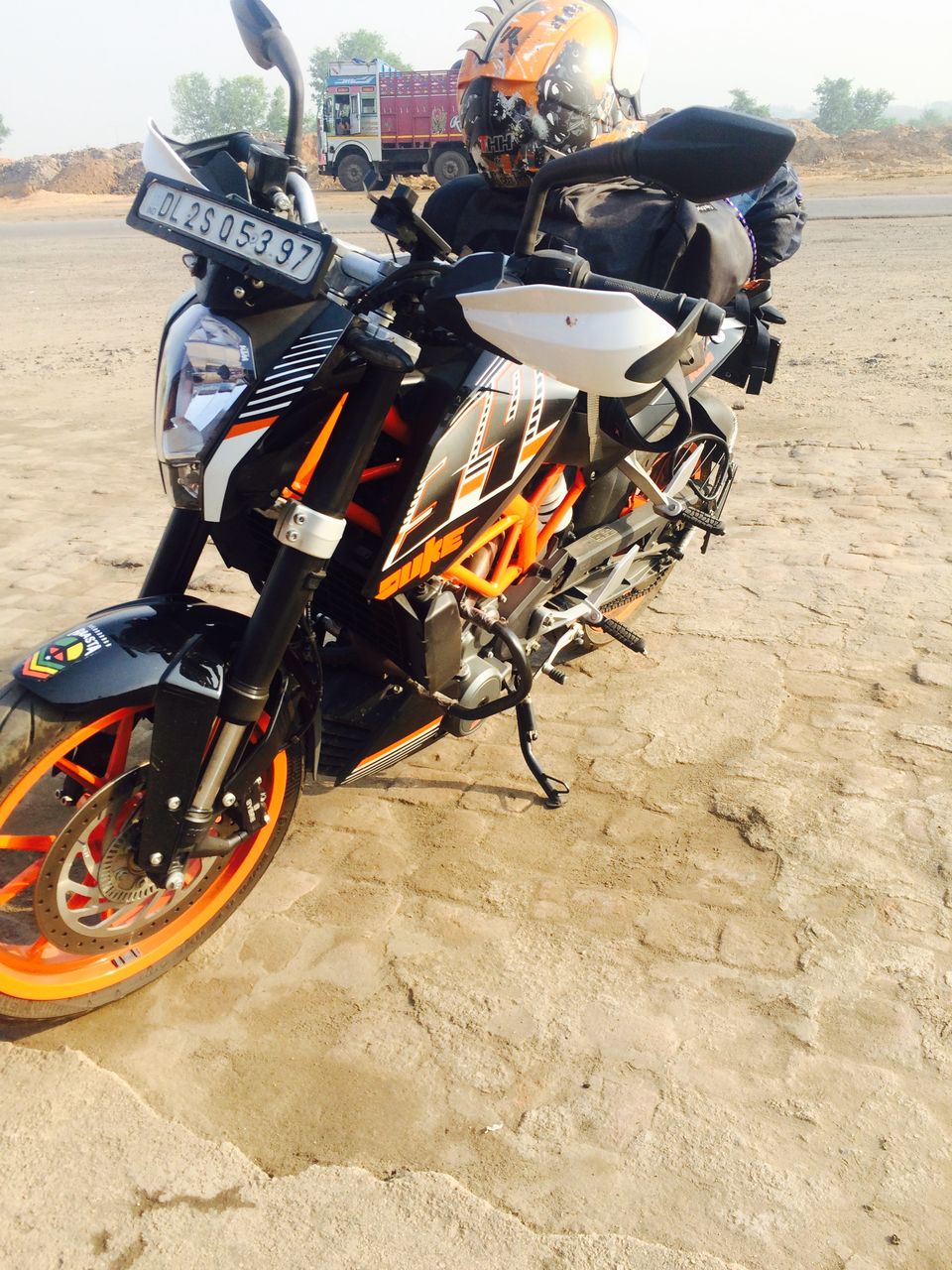 Around 5:30 am I started my ride from Ranchi. Did all my ground works, got my bike serviced and with a road map I started my ride. I set up my target that this much Kilometer I will be riding and will reach my destination by this time and all those unrealistic calculations started up in my head. But my real deal started when I started getting lost during my journey. Like the road signs are very confusing and I wasn't using GPS as to save my battery, but at the end have to take help of my GPS. Almost after getting lost somewhere around Bokaro, I managed to get back on track. Now another challenge which almost made me change my mind to postpond this trip, was the bad weather condition as a mini cyclone started up when I reached Banka, the wind was so powerful that I saw a guy was not able to handle his cycle. I was all alone in that weather, managing to ride my bike in that windy situation which almost made my riding difficult. Haven't said about the road conditions, right!!! I was almost riding on the stones which was all scattered all over the road, as there were road construction going on. Though it was very very tiering to ride on such a road and the weather was also not at all supporting.
However, I managed to reach Bhagalpur by 3:30 pm. I decided to stay in that city for a day so that I can have enough rest, as next day I have to ride till Gangtok and I was already exhausted. I found a decent hotel named Hotel Karan, and halted there for a day.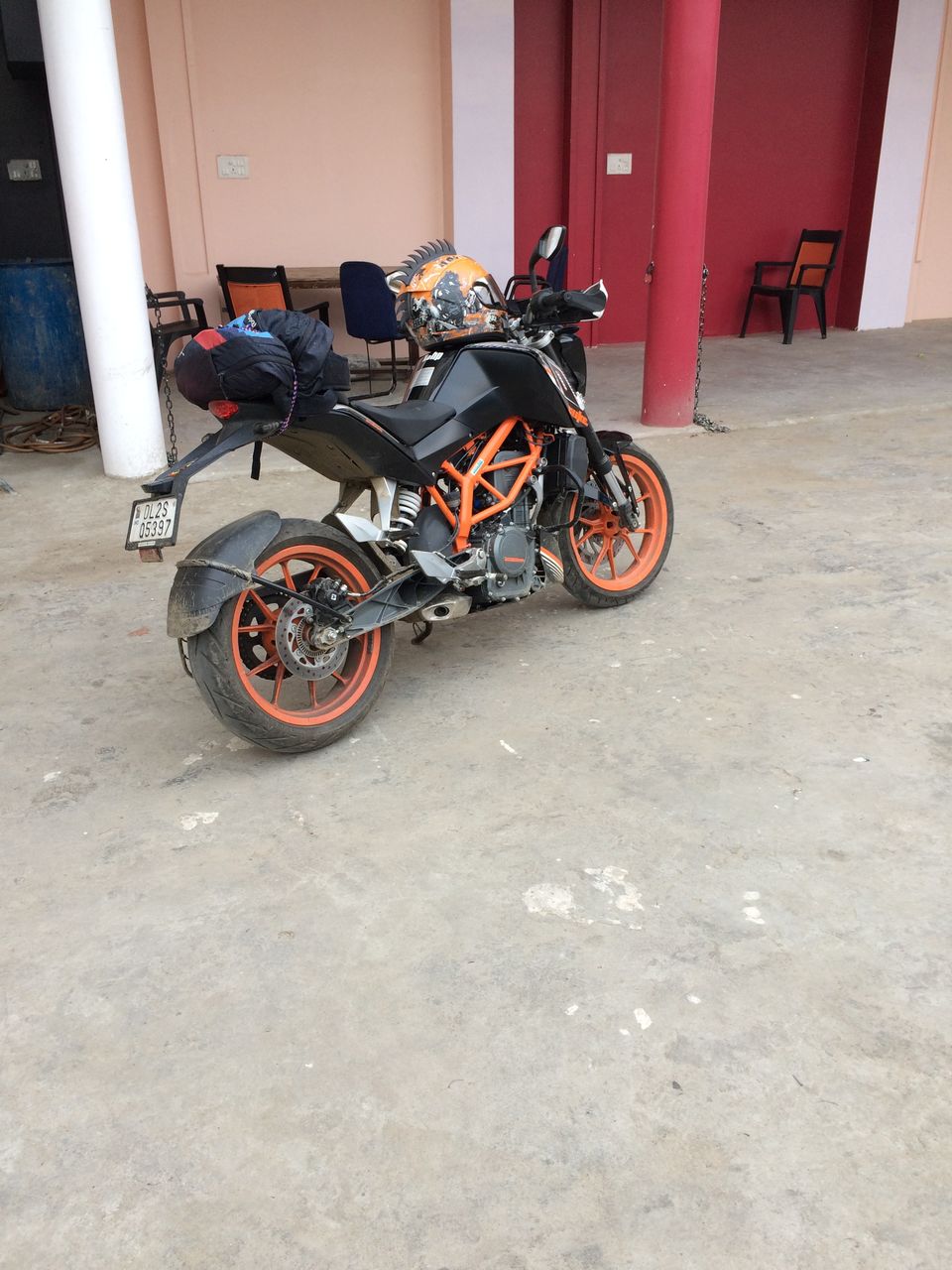 Next day around 5:00 am I started my journey. I checked my navigation and headed towards that direction. There is a bridge which is almost 13 km stretched out. And in early morning there was a massive traffic jam on the bridge. Thank god I was on a bike as I managed to drive through that jam . It took almost 45min to cover 13km bridge. I reached Naugachia and from there I have to head on towards Purnea. After Naughachia I was finally riding on NH. Though it was a 6 lane road but after riding on such a terrible road it was like a reward for me and my bike. I reached silliguri by 11am which I didn't expected to reach so early. From Silliguri, Gangtok is almost 150km. I halted for a tea and started again.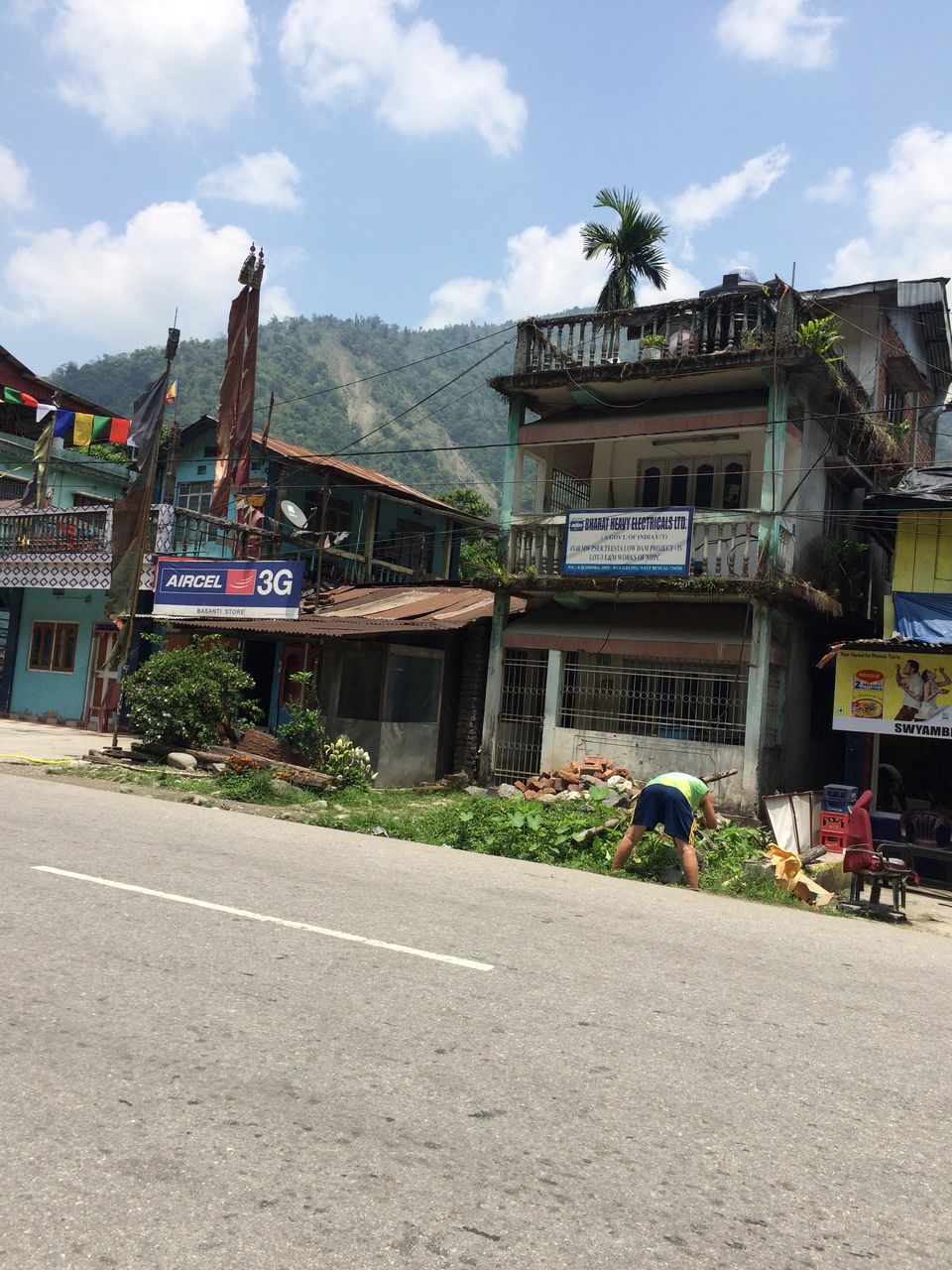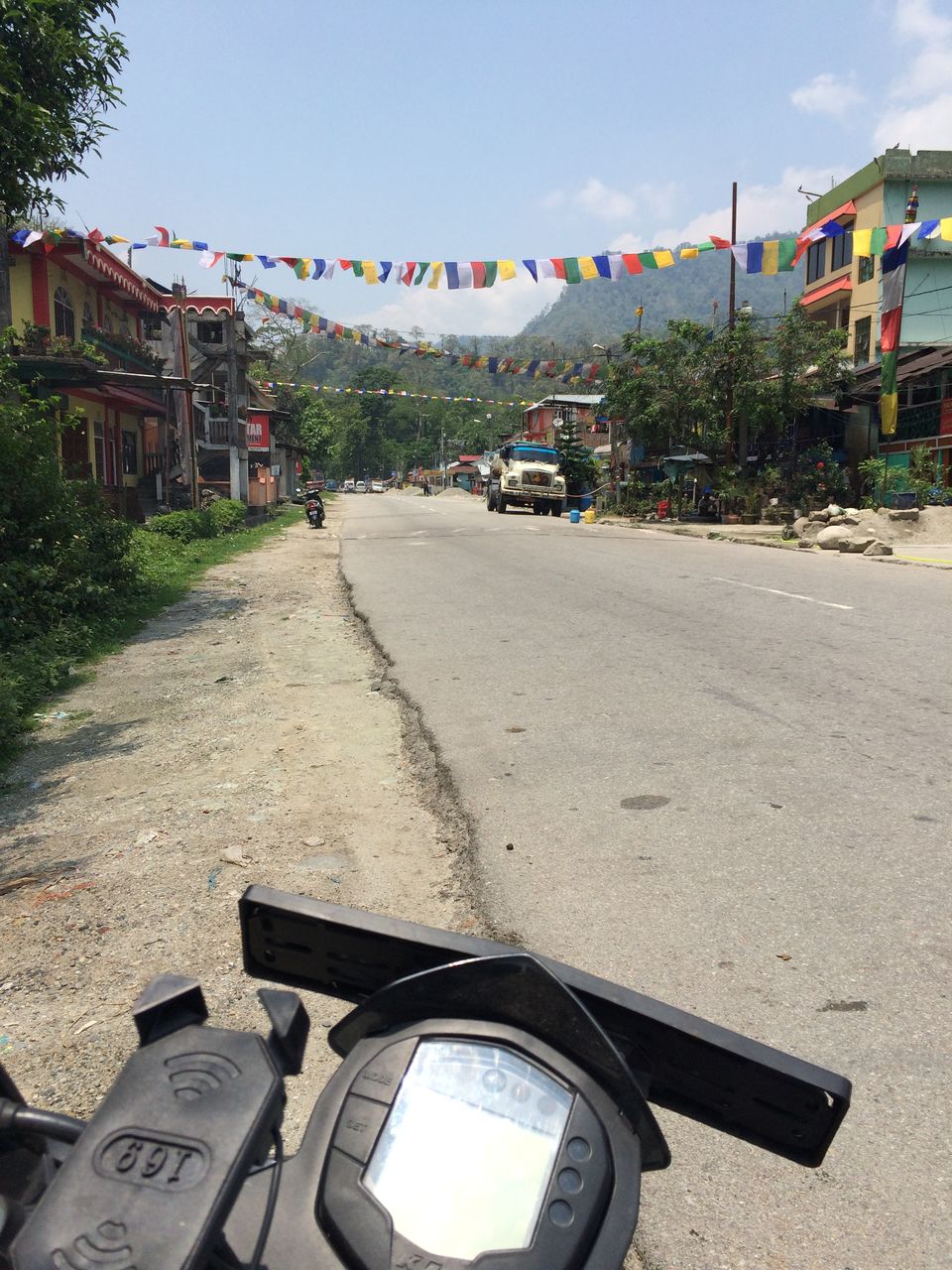 Way to Gangtok was so beautiful I was actually enjoying it. I was waiting for the Teesta river which I was going to cross. Now I was on a valley which was very narrow, that when a car has to overtake then another car has to move almost at one corner to give a pass. And that too there are some road construction going on that valley which almost occupied half of the space. I am acrophobic and I was riding on the valley which was almost 200ft above the Teesta river which was flowing across the valley. I started riding on the corners of the valley but the main challenge was waiting for me which the other side will gonna fall on my left, i'e I'll be on the edge of the valley. Totally scared and actually praying. Slowly slowly I was ascending and the river view was getting narrower, along with the height my fear was also increasing. Cars driving furiously on that valley from the opposite direction as they are the trained drivers, making me nervous. For a while I tried to deviate my fear and started viewing the nature beauty and most beautiful part of that valley was seeing the small shops along side of the road. There are many small food joints over there for the tourists. I was almost 90 km away from Gangtok and kept on riding. I was hungry though but though I'll have it in Gangtok.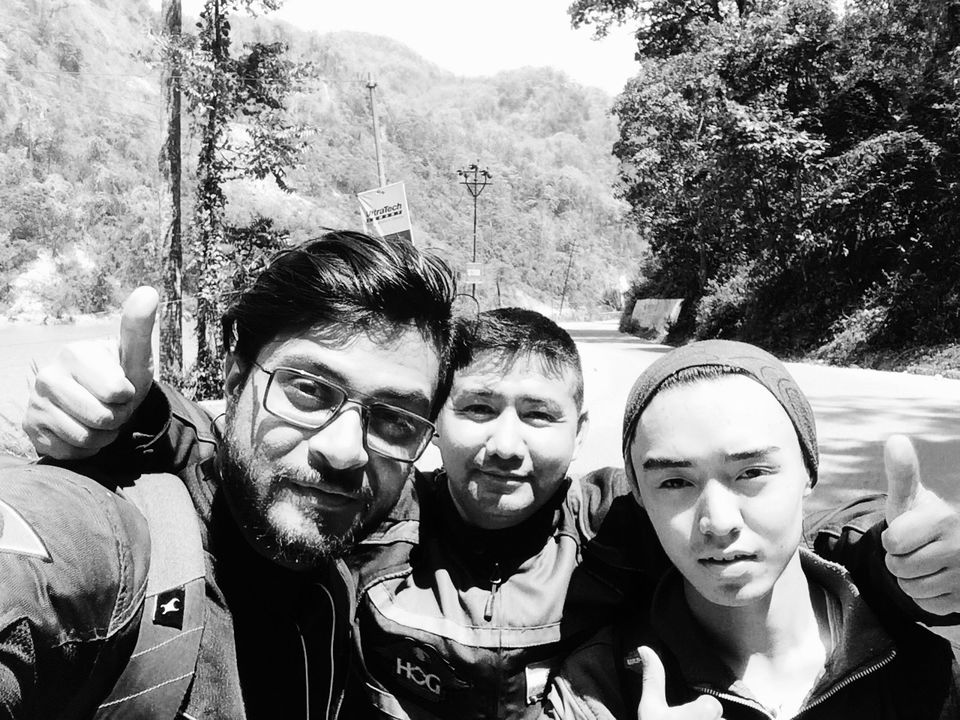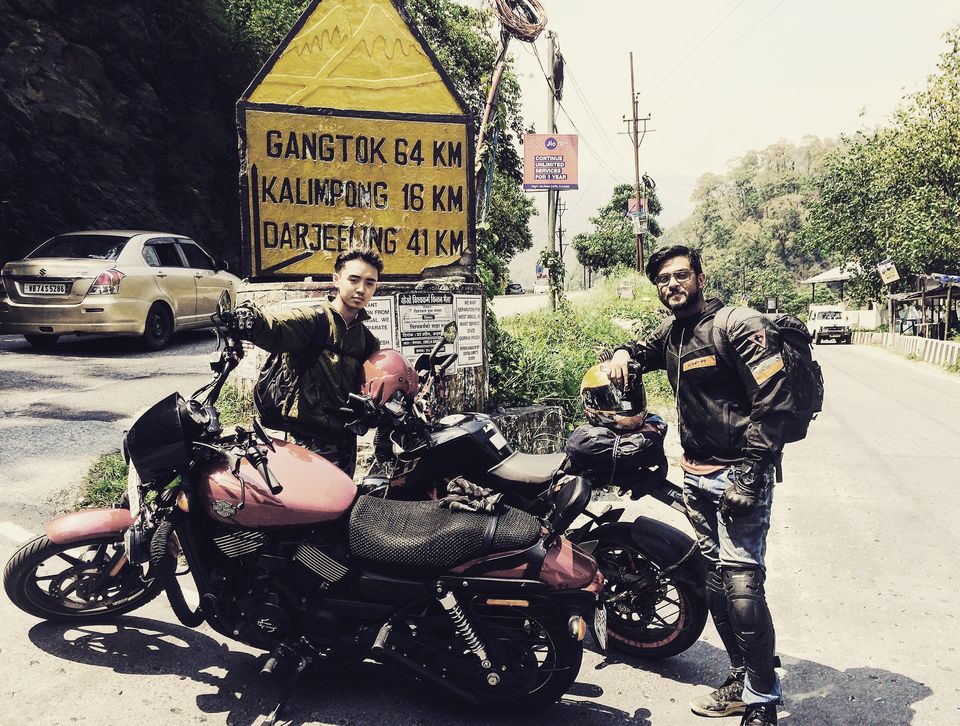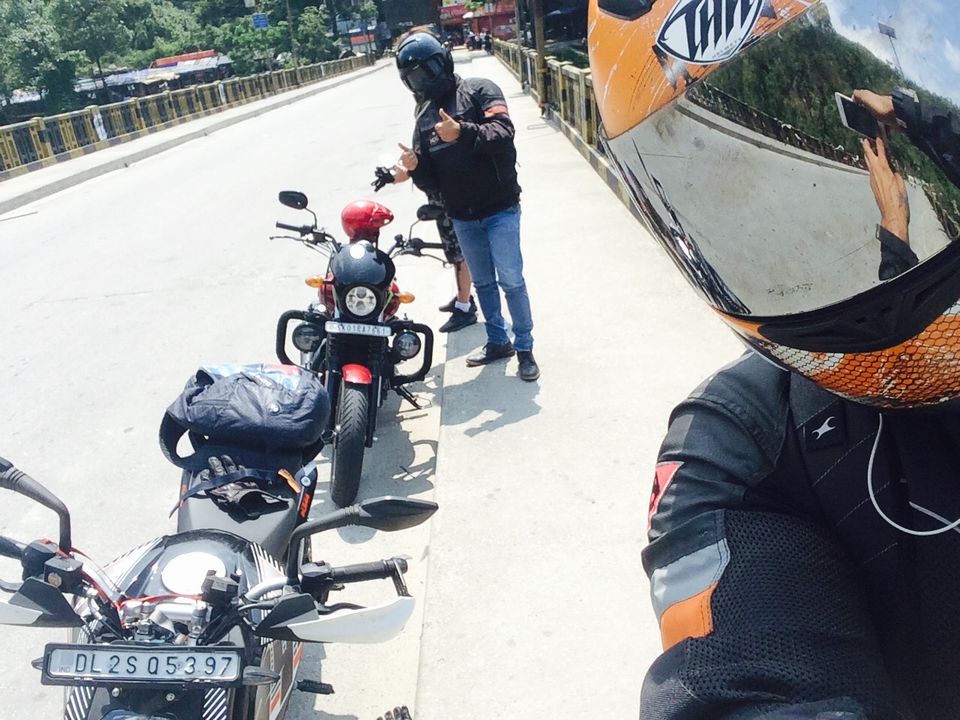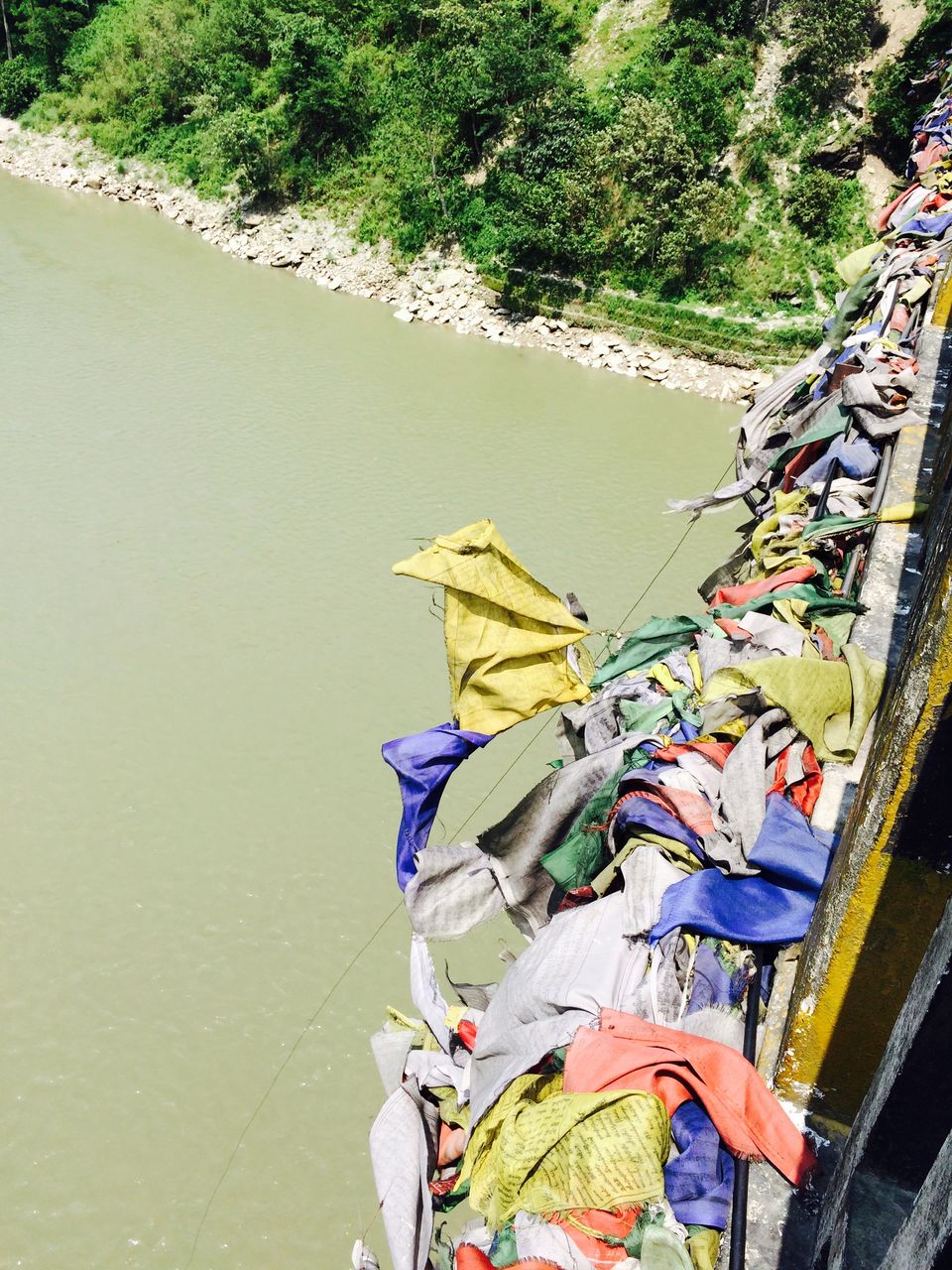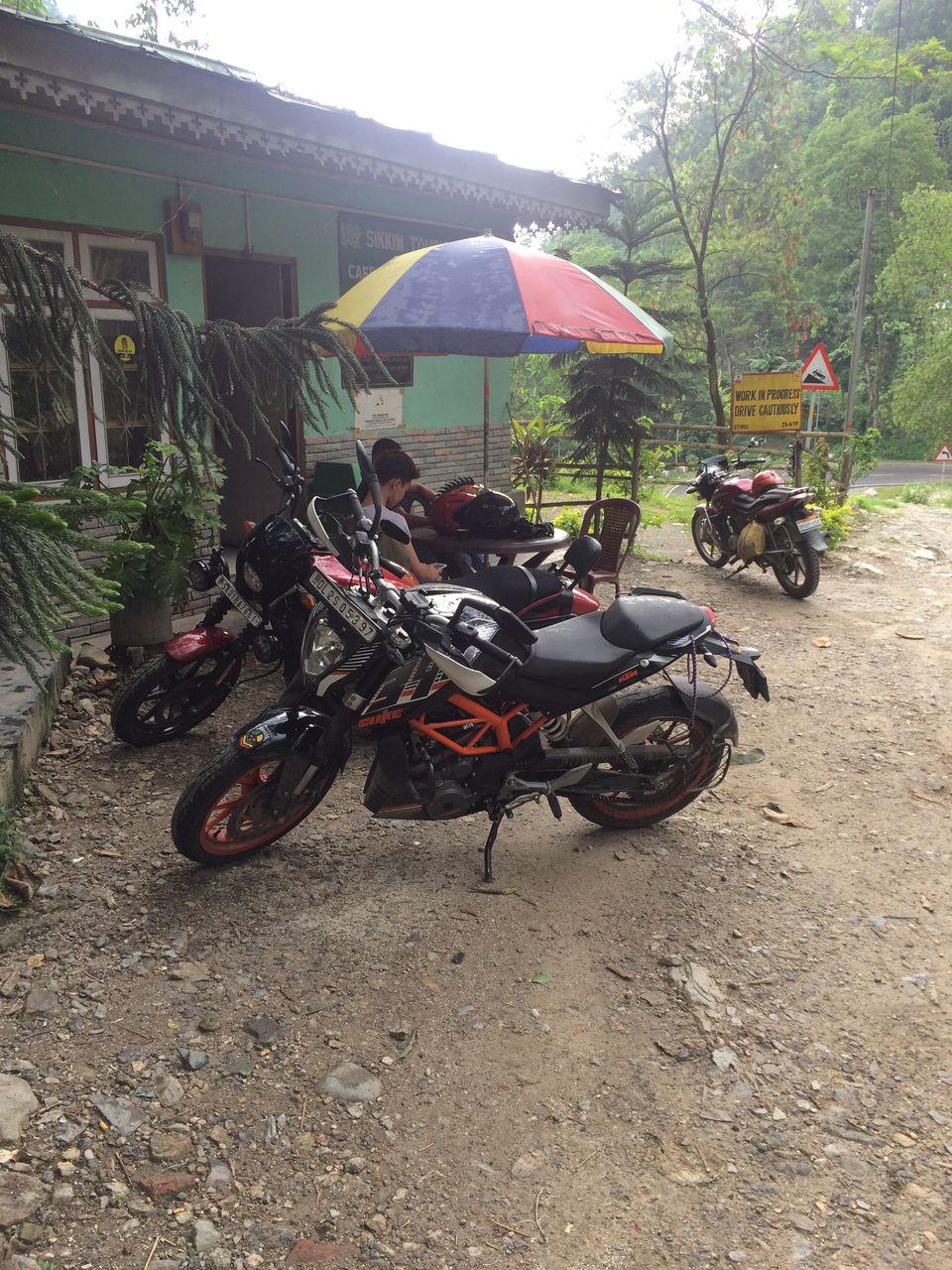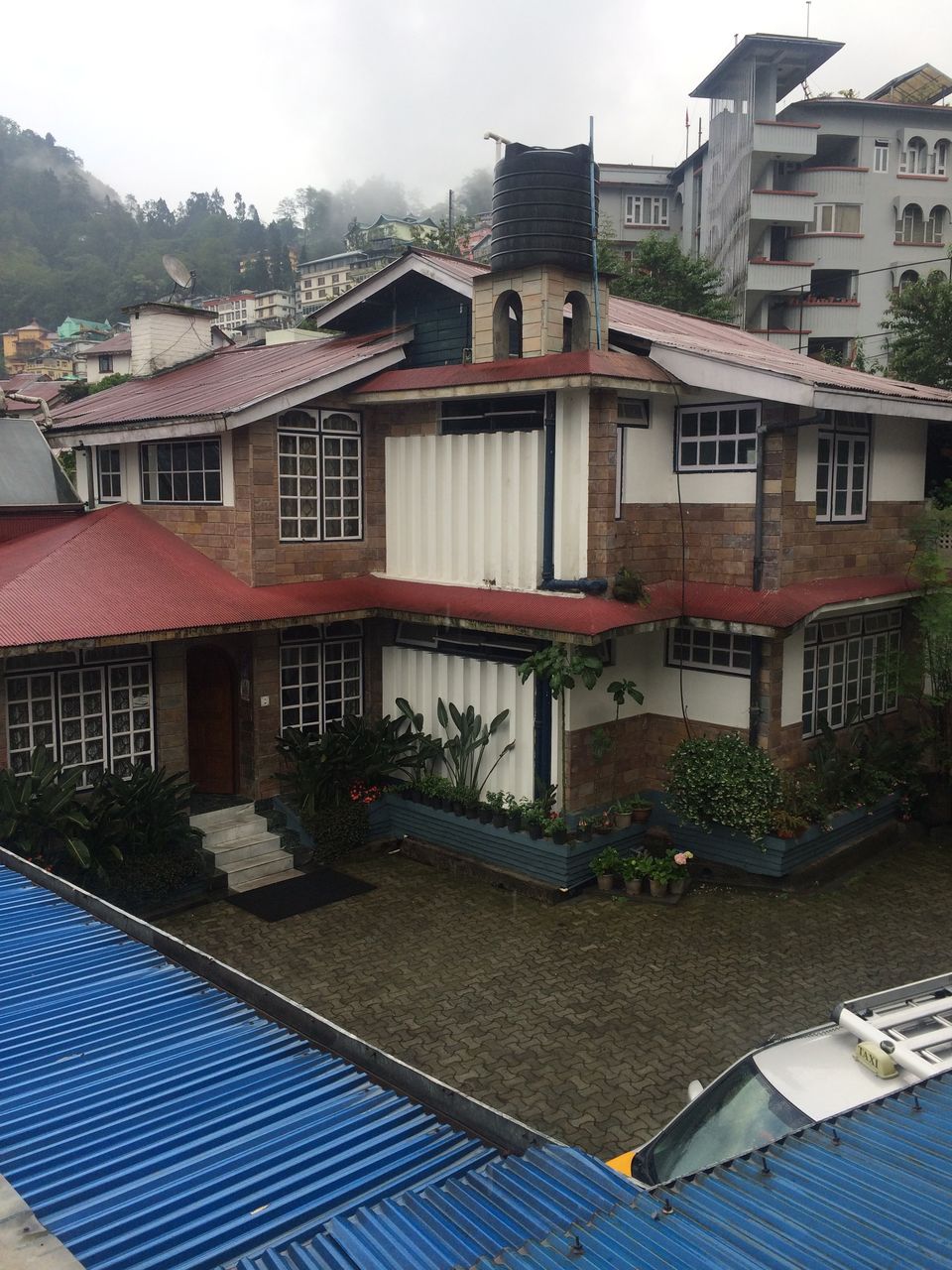 I saw lot of bikers over there with full geared up. Many returning back from their trip. But all were in group, and I was riding solo. After driving few Km on that valley, a biker overtook me and signed me to stop on a side. He was riding Cherry Red Harley Davidson street 750. He was fully geared up with Shark Helmet which was actully killer. He was having a pillion rider too. We stopped and we introduced each other. Most amazing thing about them was they were father and son. Mr Manish Gurung and his son Yash Gurung. Me and his son share the same name and I was very happy and feeling relaxed to meet someone on that strange valley. He told me that he noticed me few Kms back and signed me thumbs up but I didn't noticed that. I told him that I was very scared and was not looking left or ride as I was totally concentrating on the road. He laughed and he asked me, if I have booked any hotel up for my stay and why I am visiting Gangtok. Told him I haven't booked any hotel yet but will look for one when I'll reach over there. He told me I know a place where I can stay and you'll gonna love it. I was like Ok I don't have any issue. He made a call and booked a room in his own guest house which his wife owns it. I thanked him and he said in Gangtok avg decent hotel rent is 1500 plus, which was ok for me. Now we started our ride and he told me where we have to stop next for food and some pictures. I followed him on that valley like a shadow cause he was localite and roads over there are well known to him. Yeah one more thing I want to tell about that person. By profession he is a Law man, I mean he works in Silliguri Court. So no one stopped us during our ride till Gangtok. We stopped at coronation bridge on top of Teesta River at Sevoke. View was so amazing that I couldn't take my sight off from the view. Down the bridge River Teesta flowing and along side the river small houses with different ruff colour complemented the view. Along the side of the bridge prayer flags were tied on. We clicked few selfies over there and started riding again. Few Km away we stopped at on place on the valley itself, for food. We entered one small restaurant where he was already famous and regular too. People know him and they actually showed respect to Mr Manish. Actually he is a member of a famous Biker Group which popularly known as ABS (Alpine Biking Squads). I found ABS sticker at that restaurant and no-wonder they know him because of that. We ate chicken, rice and some accompaniments which was delicious. After having lunch we started our ride again this time we wont be stopping at anywhere. But suddenly weather changed and it started getting cloudy. I saw it was raining on the upper part of the valley, actually this is the beauty of the valleys that we can see what's happening on the upper part. Finally it started raining and we have to stop at one small tea stall. That place was small but at least we can have pasta, puri and subji and one more unique feature about that place was you can make your own meal by cooking your own food. At least it will gonna make you feel satisfied that you are having your own cooked food in the hills. So me, Manish bhaiya and his son Yash had tea and waited for the rain to stop. But it was actually a bad idea to wait for the rain to get stop, so we decided to continue with our ride. My spartan riding gear, I though it will gonna protect me from rain, but I was wrong. At that time I remembered the shopkeepers word, " Sir, it is water proof, it will not make you wet" idiot liar shopkeeper. Manish bhaiya told to get a plastic and cover my bag as I was having my cloths in it. I got one plastic from a small shop and covered it, and continued our ride. More 8km to ride till our guest house. After 30min we reached guest house. Place was beautiful as it was situated on top of the hill along side of the valley. Clouds covering the other side of the valley was like another city on top of our place was covered with white blanket. Manish bhaiya and I parked our bike on his parking and he started washing his bike instantly. And he asked me to wash my bike too. I was totally tiered and my cloths were drenched in water due to rain. Though I denied washing up my bike. But I just splashed some water through pipe and parked my bike on the back side of his house. I took my luggage and my belongings to my room which his wife already got it ready for me. His guest house name was Cherry guest house, and that place was according to me the most beautiful place to stay.
After an hour I have to rush to meet one person who will brief me about my journey to silk route, for which I was there. Manish bhaiya showed me that place where Mr Bhushan will meet me. It was his office of tours and travels. I went to his place and he showed me one form which I need to fill it up along with that form I have to attach 4 documents like Bike registration paper, insurance paper, driving licence and identity proof along with passport photo. I have already done some homework back at my home before starting my trip. I did same what ever he asked me to do and he said to visit Manan Bhawan next day by 11 am and submitt this form along with all the documents. I asked for the silk route permit but for 3 days. As he said I'll have to stay when I'll reach half way as it will be risky if I'll ride in dark in that valley.
Next day I woke up and went to Manan Bhawan for the permit. Weather was cloudy as it was same, rain rain and only rain. That too in intervals of 15-20mins. And took umbrella from aunty and went to that place. It was 10min walking from my guest house. I produced my documents to the officials and they asked me to come after 3:30pm. I did the same. I thought of visiting some local markets over there in Gangtok. Markets were happeningl, though they were simple and small but MG road where the main market is situated. I went there and did some window shopping, just to pass my time. I had lunch in one the Chinese restaurant over there. I planned to have hookah in the evening with some booze and started hunting for that place. Asked few local shops and they suggested a place called "Live and Loud" is the place where I'll get hookah and it is a good but over rated lounge. Around 12pm I got a call from the secretariat that I got the permit but only for 1 day. And I have to return back on the same day. So basically it was something like a challenge for me to cover silk route in a single day though it was my first time ride to the mountains. I asked if they can increase my permit but they denied and said it can be covered in a single day. I said yes, but in back of my mind there was someone making me scared that what will you do in dark on that valley full of snow and black ice on road. Roads will be more narrower and slippery but I didn't listened to my negative thoughts and decided to do it in one go. I prepared my self got with few necessary things, which I'll be needing during my journey. There wont be any petrol pumps when I'll leave the city. So I took 4 ltrs of petrol in a bottle and some rain covers for my bags. Now I am having the permits but they made me wait to get that permit for more than 2hrs in that office. There were 3 more people over there from Kolkata who were waiting with me for the same. At last I took it and rushed towards my hotel. Was happy to get the permits. I got 4 copies of envelops.
I was too excited that night. I was browsing about the silk route valleys and places near by that place. I slept early as I have to leave by 4 o'clock in the morning. I woke up at 4:15 am approx. I already did my packing with all the necessary items that I'll be needing during my ride. I checked out from my room and went garage. I tied up my luggage on bike and went to police station as for the permit from the local police officials over there. I was already informed about the long queue at the police station. Many cab drivers and few bikers were waiting for the permit. Standing for about 20min over there I got the permit to go ahead from the police officials.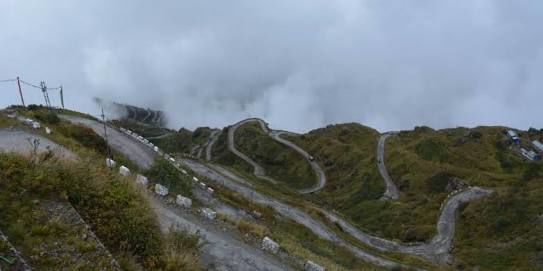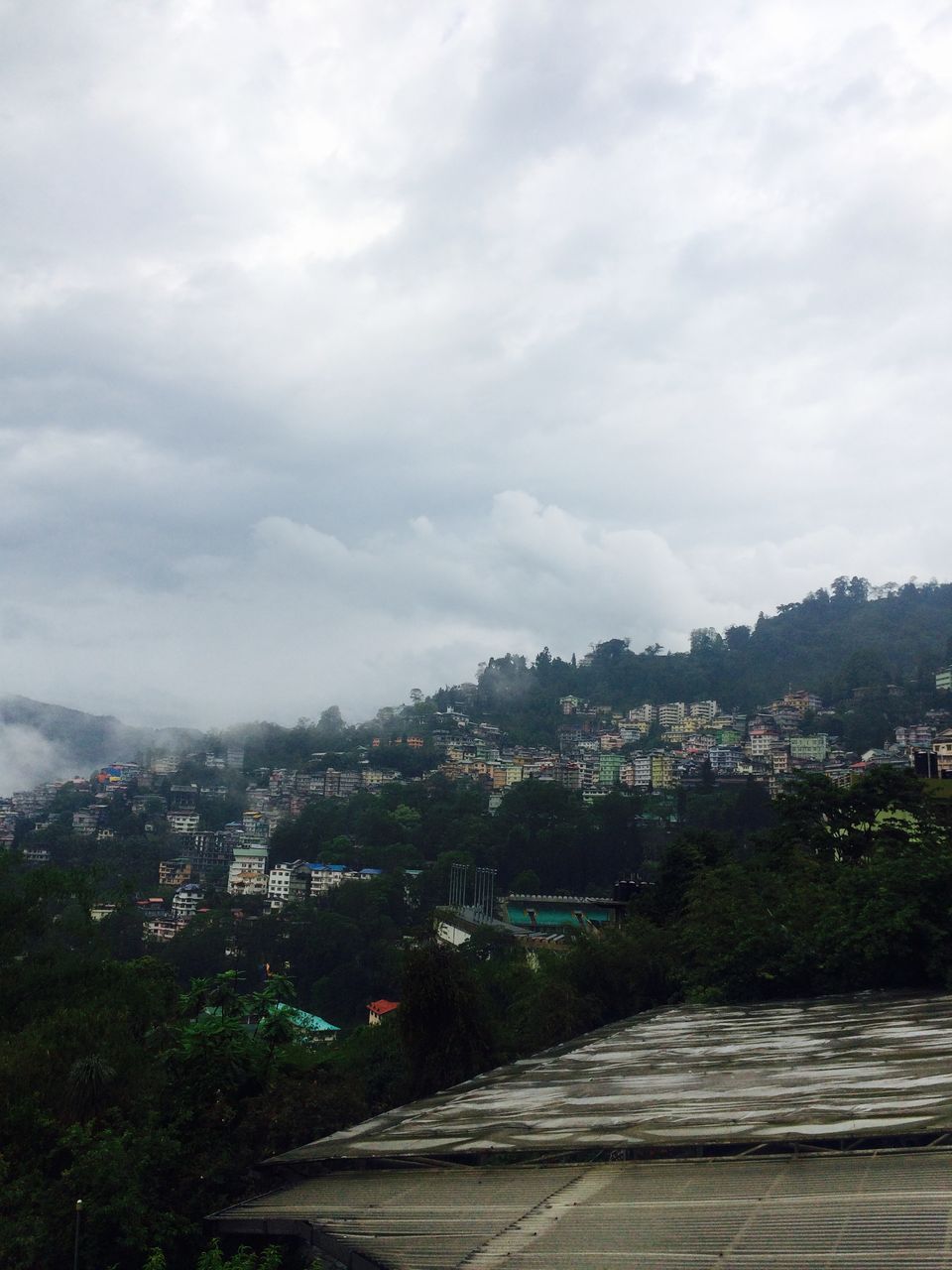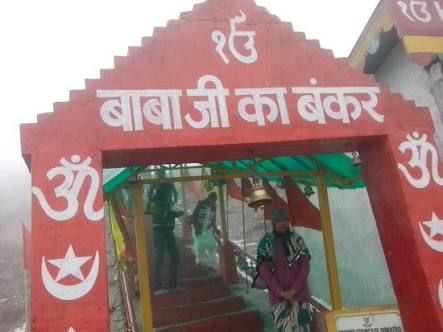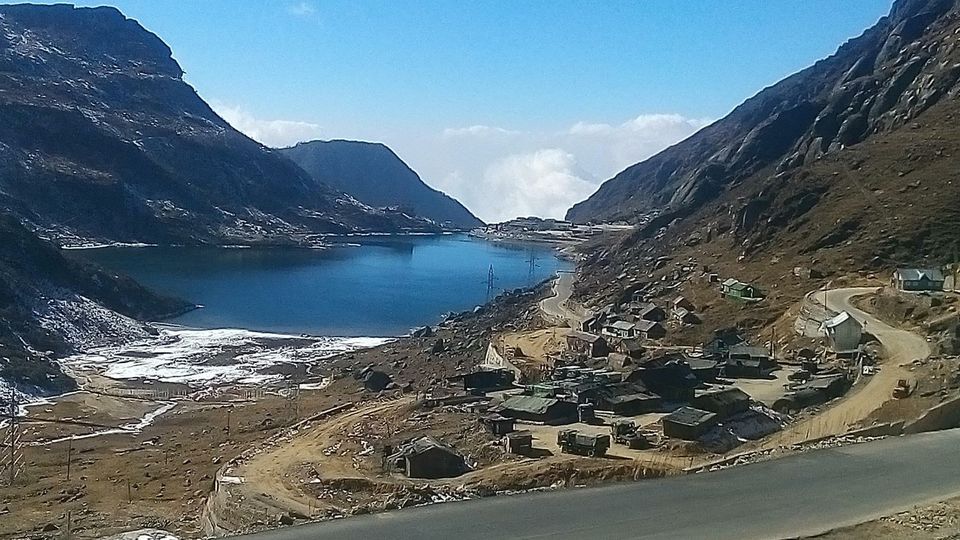 I headed towards the silk route with a big smile on my face and a bit of nervousness too. I was very careful while driving that time from the starting itself. Roads were getting trickier and narrower but still I was not thinking of anything else only I was enjoying the beauti of it. I couldn't take pictures at that time but I took picture when I reached Tsango Lake. Half of the lake was frozen and the temperature was also low. Now I was almost 12300 ft above the sea label. There were yaks and people can get themselves clicked in the traditional dresses. I stayed there for 15mim almost, as I have to save time for more riding as I was having a day permit. So I said bye bye to tsango lake and went to old silk route r0ad. I didn't wanted to go the Nathula pass as it will again gonna take time to cover in single day. Thanks to BRO as they maintained the road well and made it safe enough to ride on it. Though precautions need to be taken while riding but it was good. In few places I didn't found any road as it was all dry and sand all over the place. And in few places there were no boundary walls on the side of the valley and fog were also there covering the valley. I was confused at that time like whether I should go ahead or go back. As I haven't taken going back as an option, I continued on a speed of 20kmph. And crossed every small hurdles. I said it was my first time in those kind of roads. But enjoyed a lot. Slowely temperature started falling as I was reaching more heights then. Though I was wearing doctor's glove inside my biker glove it didn't protected me from the cold but it protected my fingers from getting wet. Roads were unduly high but my Duke 390 made it easy to climb up and down, hats off to KTM. On my way there is one Mandir dedicated to all the Indian soldiers, folk heros and Saint Baba Harbhajan Singh. I didn't stoped there but saw it from outside. I stoped ahead for some tea as I was feeling tired now. I had biscuits and a cup of tea which revitalised me. I took a break for 10min max then again back on track. Now I have to reached Zuluk which was almost 38km which will gonna take an hour or more tor reach there. It was 2 PM at that time. I drove and drove and finally by 4:30PM I reached Zuluk. Now from Zuluk siliguri was almost 140km away. Now I have to reach Siliguri by 8 o'clock.
Now my journey was about to end, while driving I was thinking I actually covered the old Silk route in a day which was not a big deal for many but it was for me as being a acrophobic I fough my fear and covered it in a single day. I was bit excited at that time and happy too. I reached Icche Gaon by 6:20Pm which comes under West Bengal. Now I was not riding on valleys. Finally I hit the National Highway. I made already booked on small hotel in Siliguri and finally reached there and crashed on bed. Early morning I'll be living for Ranchi.
So this was my experience which I wanted to share. I will again visit this place but this time I'll cover North Sikkim. Hope you all like it.