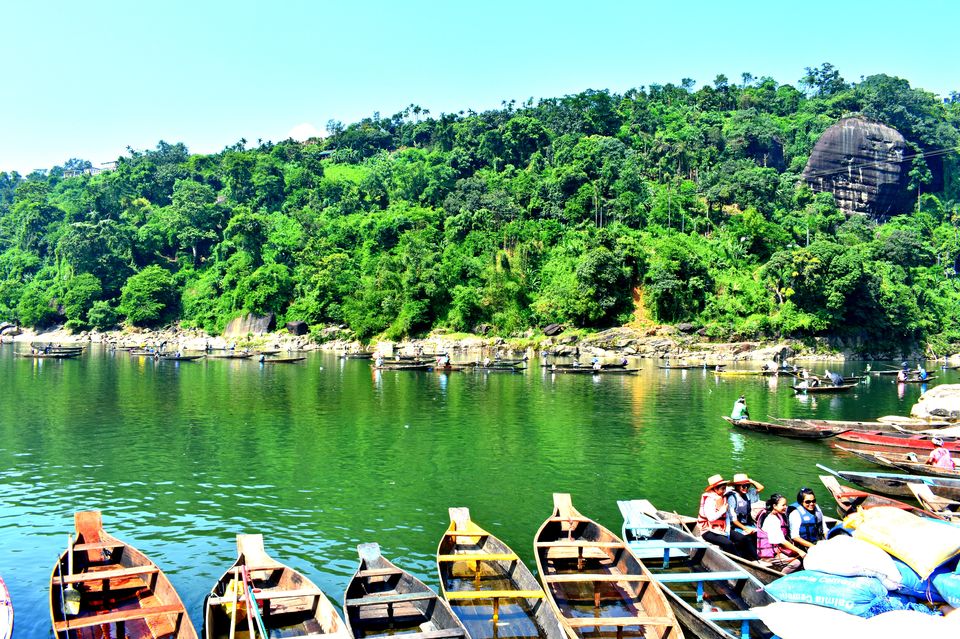 JOURNEY INTRODUCTION
Finally my second solo ride ended on 28-10-2017 with 20,255 kms in 74 days. I started my second solo ride from my home town Bangalore on 15-08-2017. My friends and cousins came to send me off that day, first day I left home a bit late at 8:45 PM due to rain.
I am very thankful for those who came to see me off for my ride on a rainy day.
This is the route that I took:
Bangalore - Kanyakumari - Trivendrum- Mumbai - Dwarka - Jaisalmer - Amritsar - Gulmarg - Khardung La - Nepal - Gangtok - Tawang - Dimapur-Cherrapunji - Kolkatta - Konark- Visakhapatnam - Chennai - Rameshwaram - Kanyakumari - Bangalore.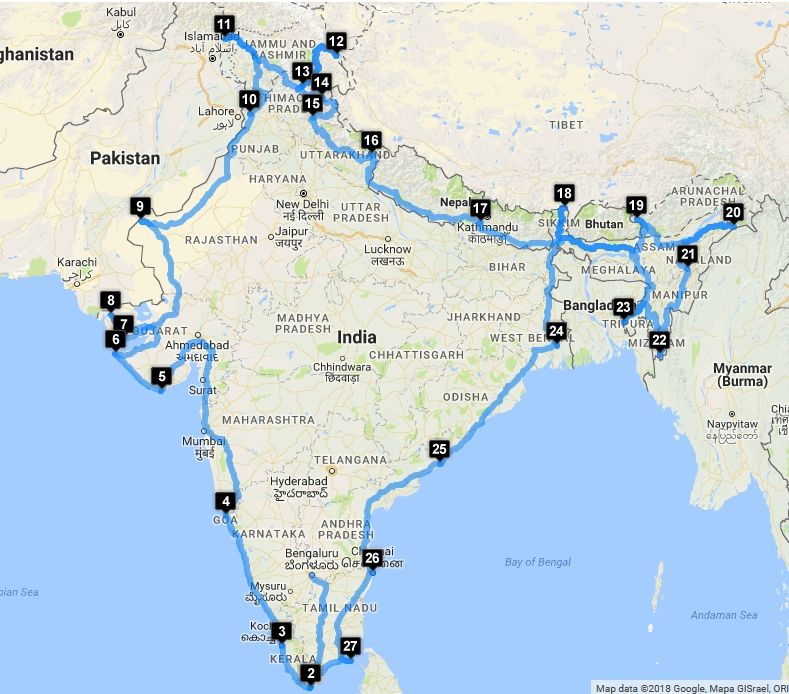 First I headed towards Kanyakumari and then I traveled along the borders of the country I covered 20 states and one neighboring country, Nepal. I traveled with continues rainfall until I reached Gujarat. Through out my journey rain has always been the part of my journey, he is one of my best friend too because wherever I go, rain often accompanies and enquires about my well-being haa haa haaa…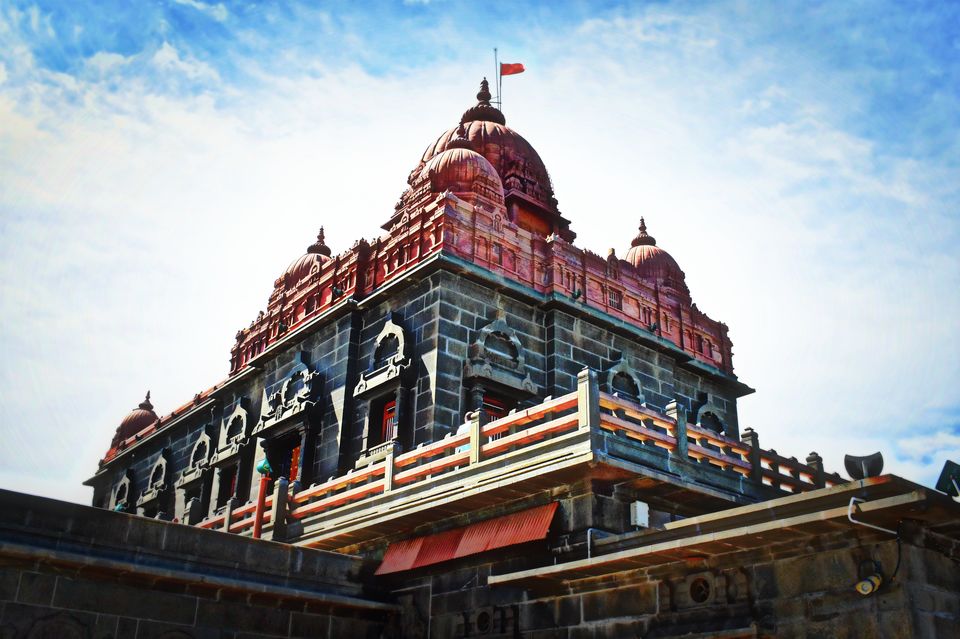 Vivekananda Rock Memorial
PREPARATIONS
For this kind of journey fitness is very important that's why I used to train at my gym for 6 months before my journey, another important thing is self confidence.
I saddled with my bare necessities
A good helmet
Cameras (Still Camera and SJ action helmet camera),
Couple of ATM cards.
Bike spare parts , tools and puncture kit.
6 sets of clothes, Boots, loafers, rain jacket, riding jacket, thermals and winter jacket, riding gloves, woolen gloves, 5-6 pair socks.
First aid kit .
Passport size photo's , ID proofs and vehicle Documents (original and each document 10 Xerox copies),
Memory cards, chargers, pocket knife, torch, pen drives, camping tent, sleeping bag, one basic mobile for emergency, route map.
Cigarette lighter, bungee ropes, wire lock.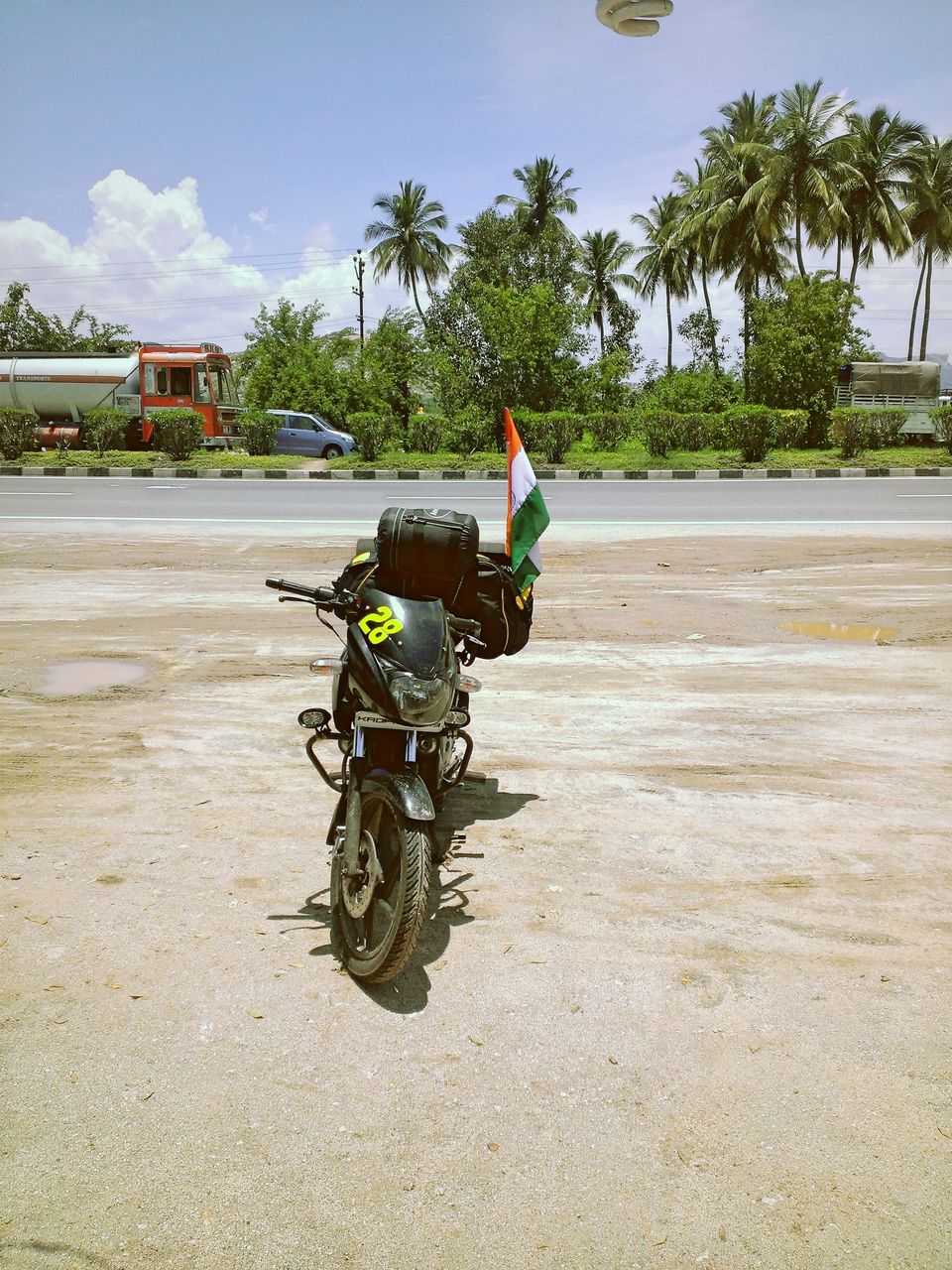 A fortnight prior to my ride I took my bike to my friend's garage and reset full engine and I changed every major parts like clutch plates, chain sprocket, bore kit, spark plugs, cone set & fork oil, front disk pad & rear brake shoes, clutch & throttle cables, and front (MRF), rear (CEAT) tubeless tyres, 2 extra led focus lights.
EXPERIENCES
According to my personal ethics I never used horn in my life whether in city or highways. As same in my journey I never used horn even once because I was very confident about my driving I usually get irritated by horn ,the riders must be very conscious the best part is wind conveys me the presence of other vehicles around and I don't install mirrors too because I feel comfortable riding without mirrors. I rode without using horn and mirrors all my journey , I know its wrong I broke bikers rules and I apologies for that.Traveling from Gokarna ( Karnataka) to Mumbai via Panjim is a therapy for bikers because curve roads in the forest and greenery was the best experience I have no words to explain it because the experience can only be felt and can't be explained to others sometimes . So I can't explain that feel when I get lost in nature.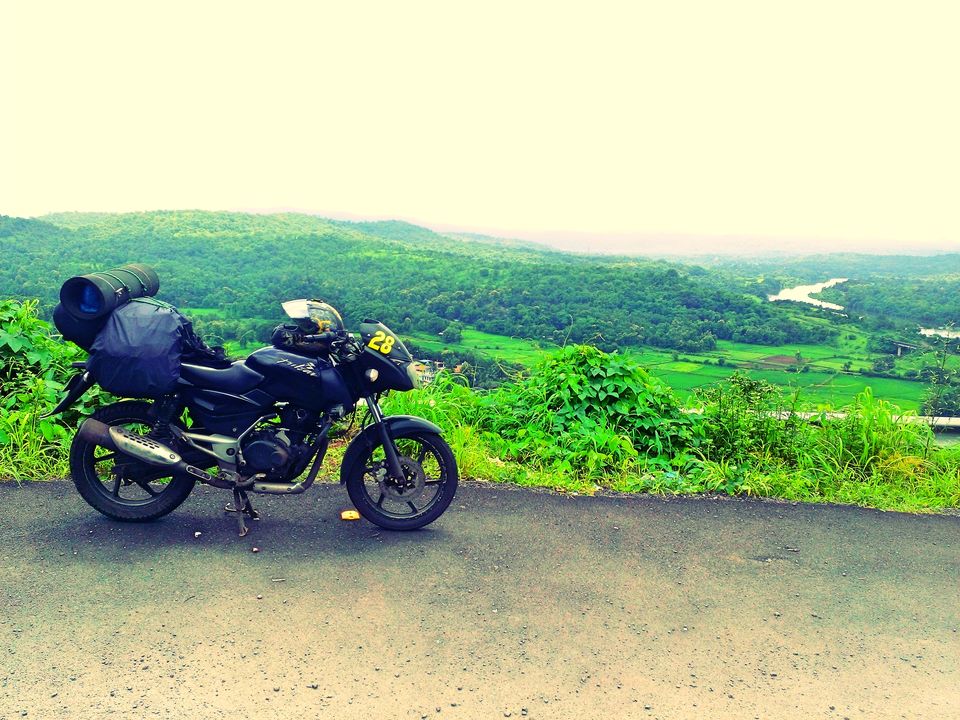 After that I traveled from Jaisalmer, Amritsar, Gulmarg and headed towards Teetwal, Teetwal is located at India- Pakistan border so obviously it is a restricted area, if someone wants to visit they must get a permit. People there told me Teetwal permit will be available at Baramulla DC office so I went to Baramulla DC office and I requested for permit to visit Teetwal then they told Teetwal does not come under Baramulla district and that I need to contact Kupwara DC office then I turned towards Kupwara road, suddenly few army men stopped me for inspection and checked my whole luggage then started to inquire me where I was from? Where was I heading? Asking so many questions like this and I answered everything they asked, after that they informed their senior officer, a few minutes later they arrived a jeep full of soldiers. There were more than 10 soldiers who started checking and inquiring me once again. After all this, they were not allowing me to enter Teetwal, they refused my request because Teetwal was one of the most dangerous areas in Jammu-Kashmir which is filled with militants.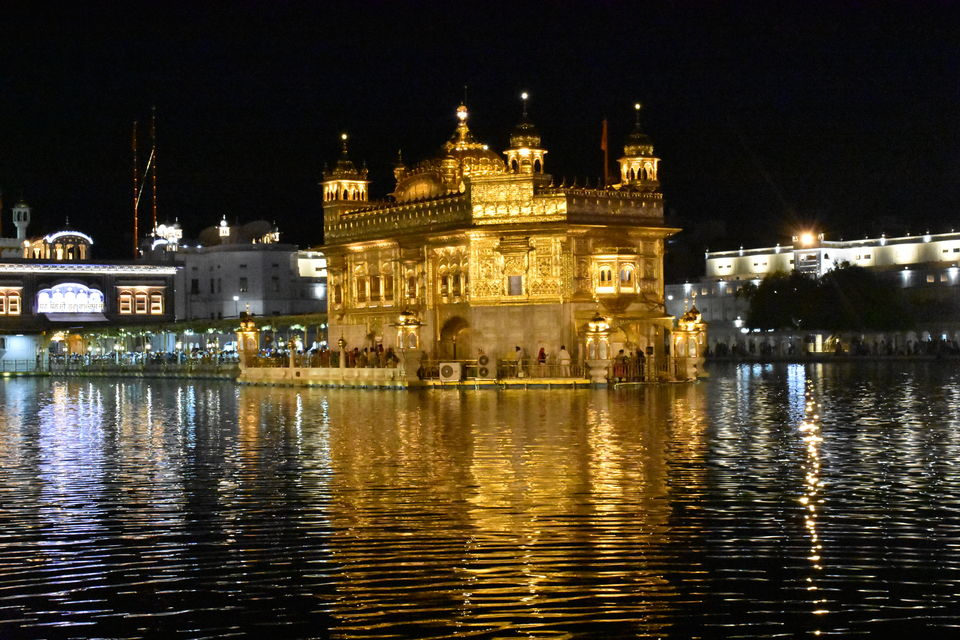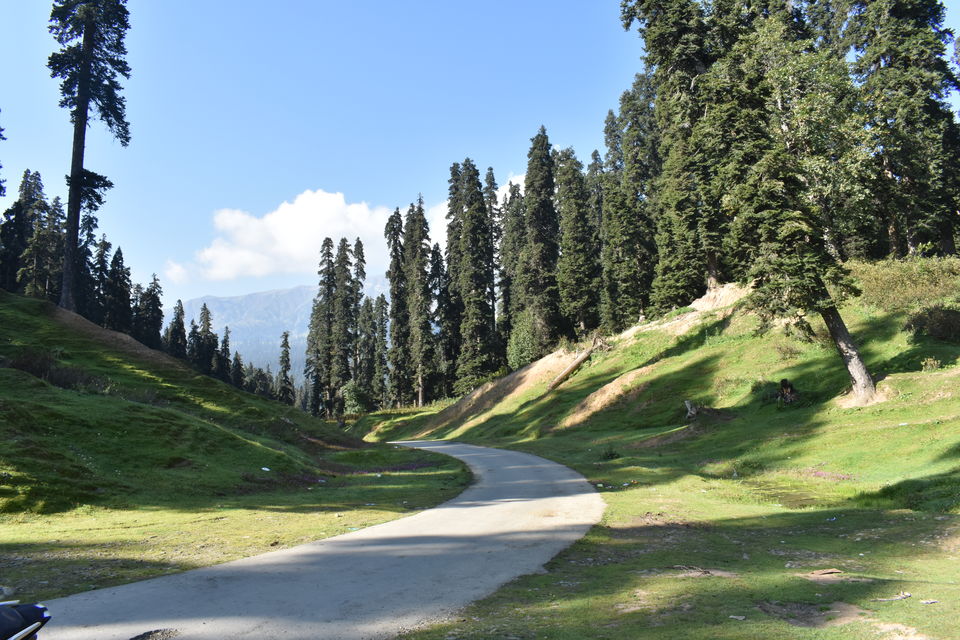 The drama ran for more than 2 Hours finally they allowed to enter Teetwal but they offered me a cool drink and personally suggested that its not a good place to visit especially when you are on a solo ride, its not safe, there is no guarantee for our life! after all their concern I withdraw to visit Teetwal. That day I stayed in Sonamarg and was watching a news channel in my hotel, the channel telecast that Kupwara was bandh for some problem then I smiled for making a good decision and thanked myself for canceling visit to Teetwal.
After Sonamarg the next fuel pump is in Kargil so please be aware of riding on low fuel. Zozilla pass is always the toughest to ride I am sure every bikers enjoy that because its too dangerous and challenging. On day 23 I reached Leh, my bad luck Leh was bandh for some local issue on that day, so I waited till next day to get a permit for Khardung La, after I got permit the next day I headed to Khardung La . Once again there was a bad luck ,the Khardung La road was under repair, there werent possibilities of opening that day. I had already wasted one day at Leh due to bandh so I thought of not spending another day in Leh waiting for Khardung La road so I decided to head towards Pangong lake.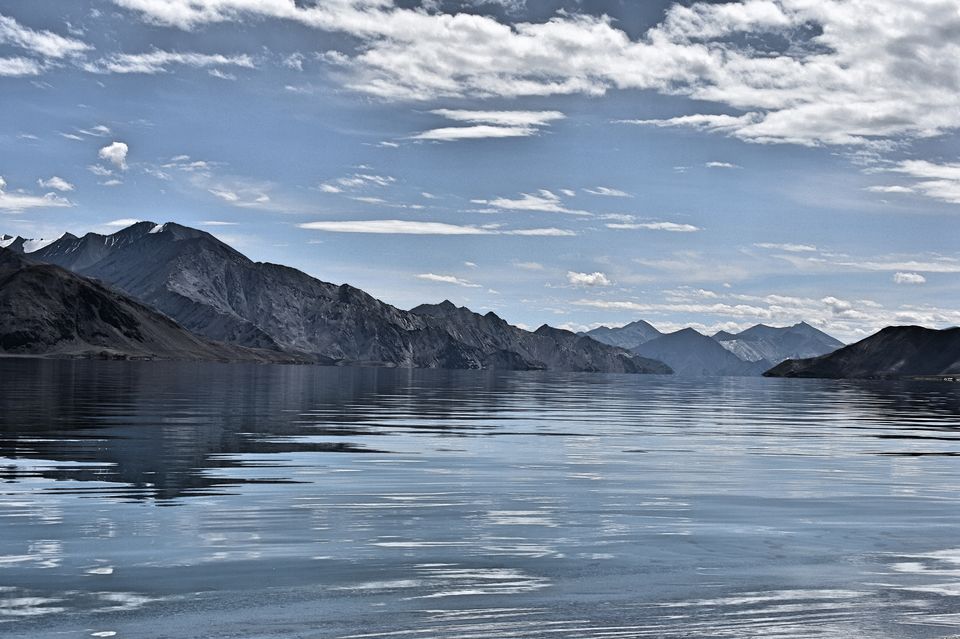 If you are traveling solo don't feel you are alone because you don't need to search for a company, people always find you in a biker world. I met 6 peoples while riding to Pangong lake they all came from Delhi. I traveled 3 days with them its really unforgettable, they treated me like one of them I enjoyed their company a lot, on the last night with them, after dinner we spent time together with hookah and had a lot of funny conversations till midnight 3 O'clock. Its one of the memorable day of my journey and thank for all of them who made my journey special in three days. MISS YOU GUYS…-(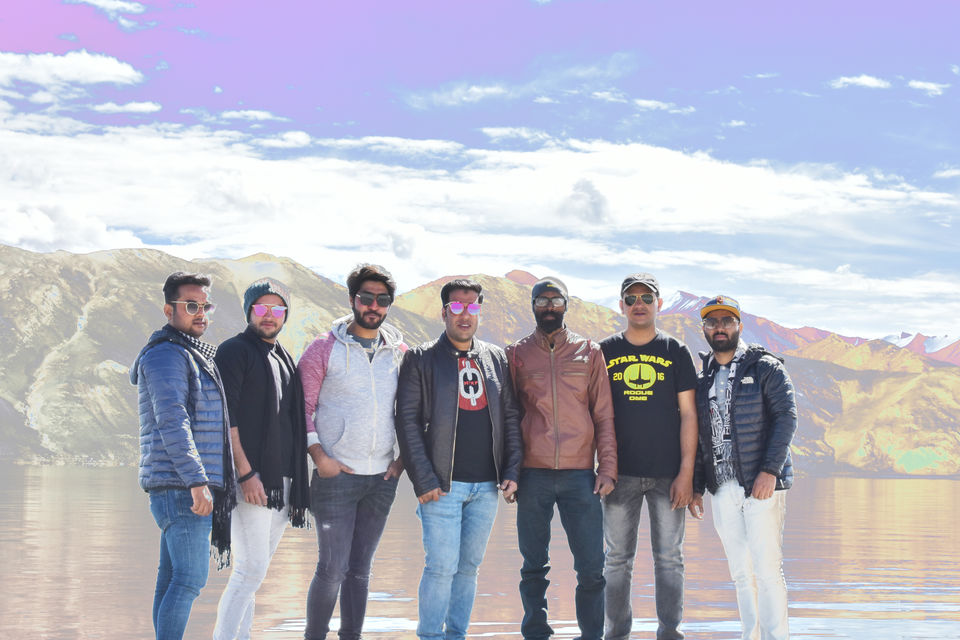 After visit Pangong lake and Nubra valley on day 26th day I succeeded in reaching Khardung La second time in my life time I am proud of that.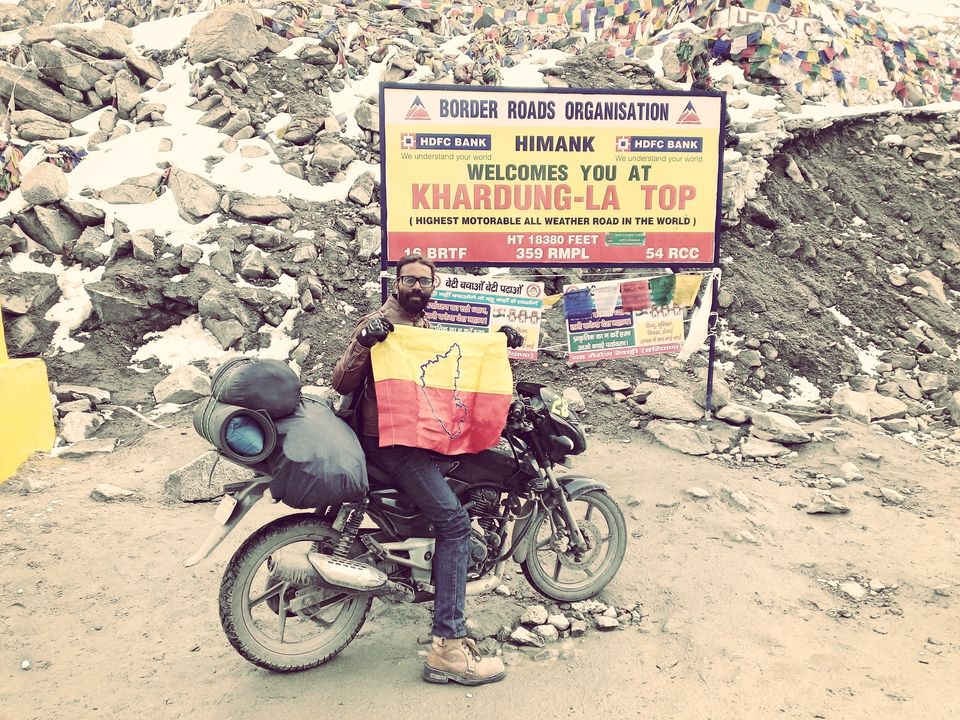 For the first time in this journey I stayed in rented camp in Sarchu. Even though I had camping tent I was not in a mood to use it as I was a bit tired on that day, I was the first customer in that whole camping site, there was only one boy in charge of that camping site, his name Raju he was from Nagaland and he charged me 500/- (Including tea and dinner) usually camp rent is 1500/- per head but he charged me just 500/- due to off season. After me few people came for camping, 4 camps filled with 9 people including me. Raju was the only cook to make dinner for us I thought one boy cooking for 9 peoples is a bit tough so I helped him in cooking, it was another memorable experience.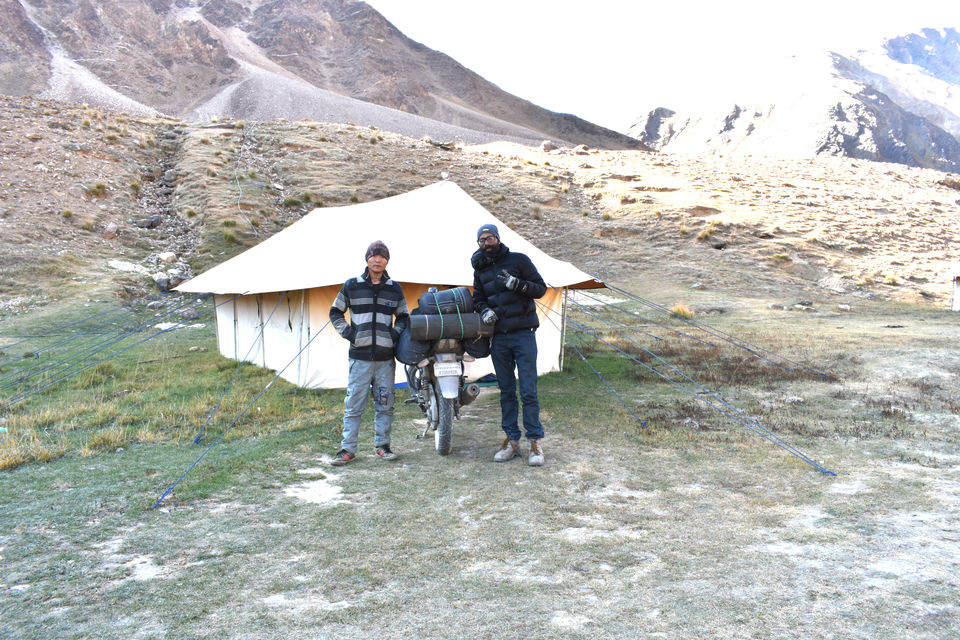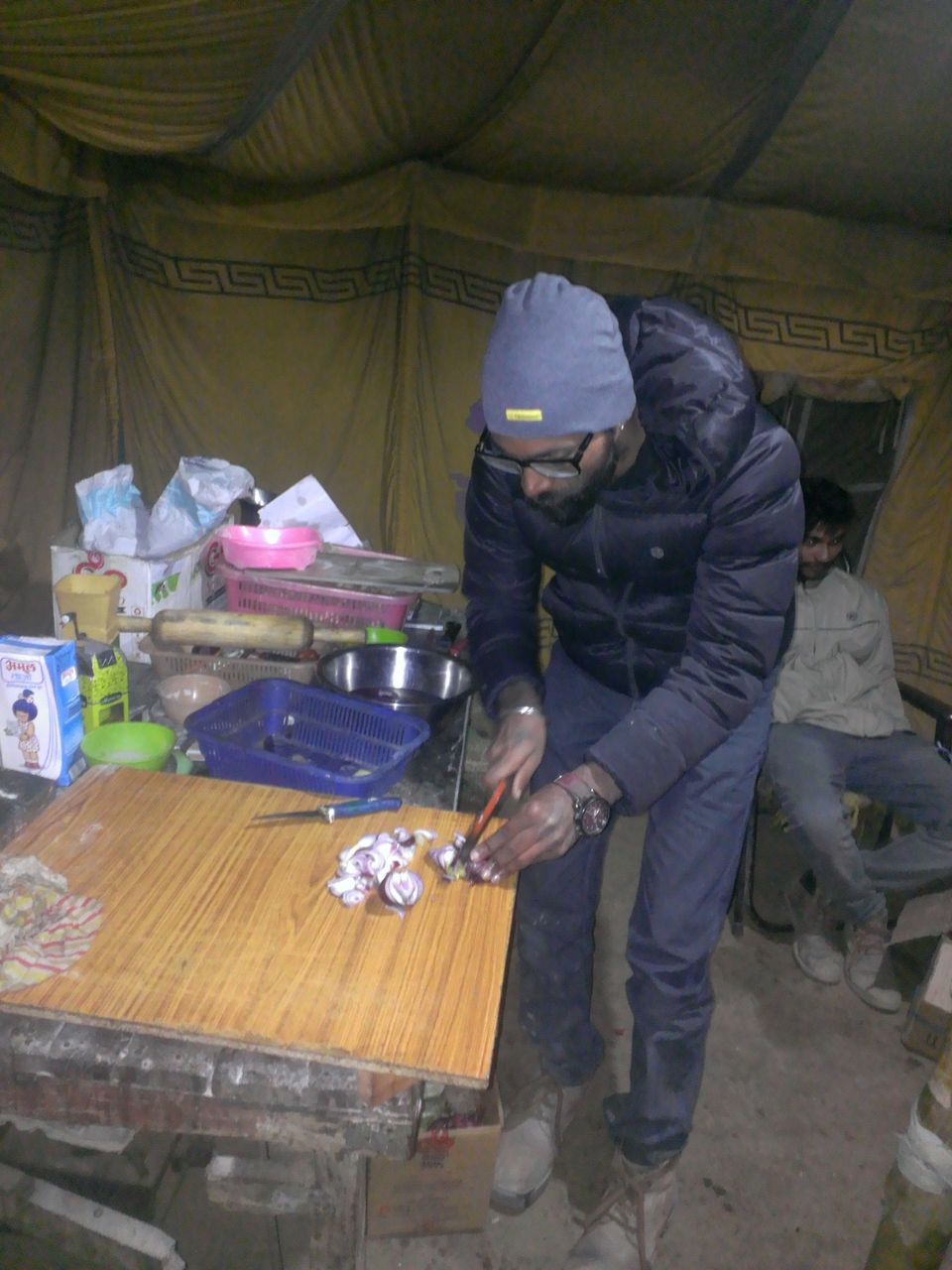 Another challenging task had entered my routine, it was the journey through Spiti valley, it is one of the toughest off roads in Himalayas, roads were full of large stones at the bottom of the flowing water it was kind of testing our patience and riding skill, it is really challenging especially when you are solo. After I entered Spiti valley I didn't travel too far on that day I managed to camp in my own tent.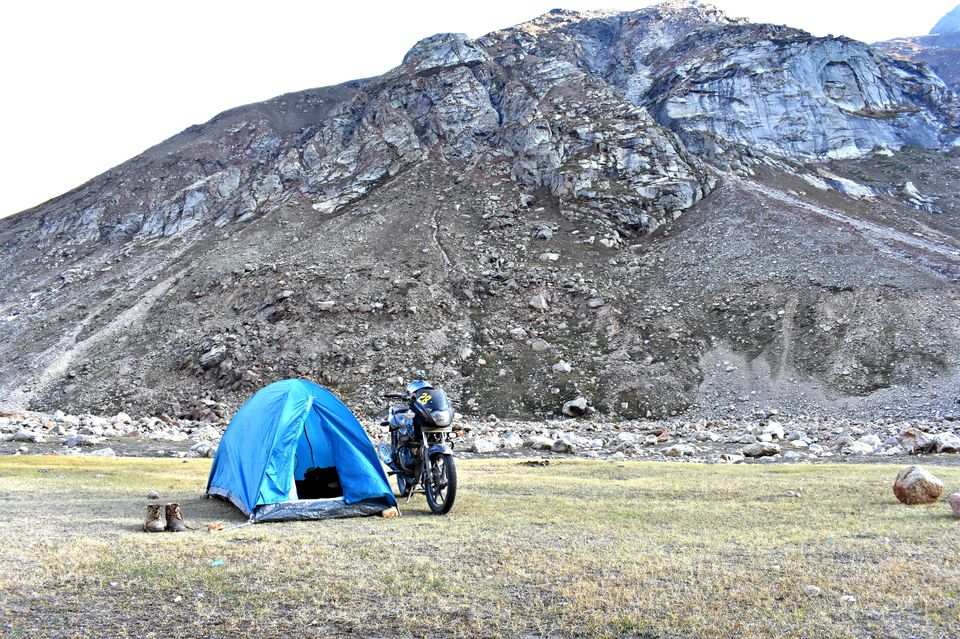 When you enter Spiti Valley from Khoksar its very tough to ride after 4:00 PM because on the roads there is high water flow according to locals and you will not find any facilities like hotels, petrol pumps, mechanic shop etc… until you reach Kaza.
On the 29th day I stayed in Kaza , which is a small town in Himachal Pradesh, Where I found a cute little kid who was the daughter of hotel manager, she became attached and spent most of her time with me . On that day we had our dinner together and took her for a long walk into the town to buy her an ice cream it was almost 10.00PM and the place was not filled with much people at the time and though I was a stranger to her she was not scared to accompany me because "Trust and true Love don't give way for fear". The next day when I was about to check out of the hotel so I went to the manager for handing over the room key ,the girl saw me and came to know that I will not return back after I leave so she stopped me at the door blocking the way, I some how managed to get her out of the way and moved towards my bike. Suddenly she started crying , I was not able to see her face because I was getting too emotional. The very next minute I left the hotel or else it would have been more complicated for both of us emotionally.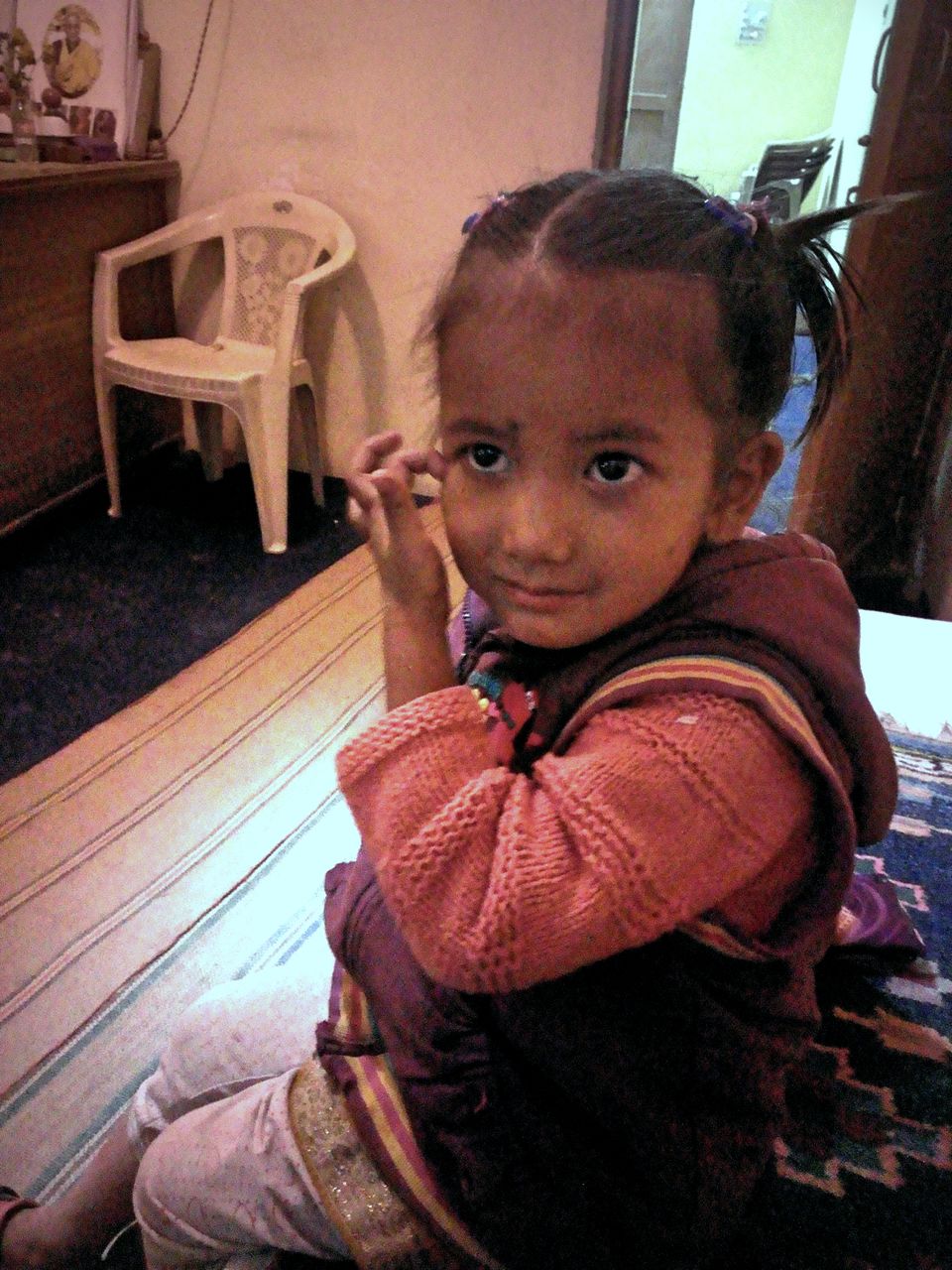 Last byes are very tough to handle but Its common for all the travelers so we should always be prepared for this kind of situation and last byes. That's why travelers don't get attached too much with anyone because we know how tough last byes are. That was one of the sad experiences of my journey…-(
Uttarakhand is one of the best place to travel for bikers, roads are too small but good if you want to forget something and relax Uttarakhand is the best to travel as it is covered with rivers and mountains as I told earlier its kind of therapy to eyes and soul for bikers. I skipped some places to in Uttarakhand because of rain. Rain always shows up.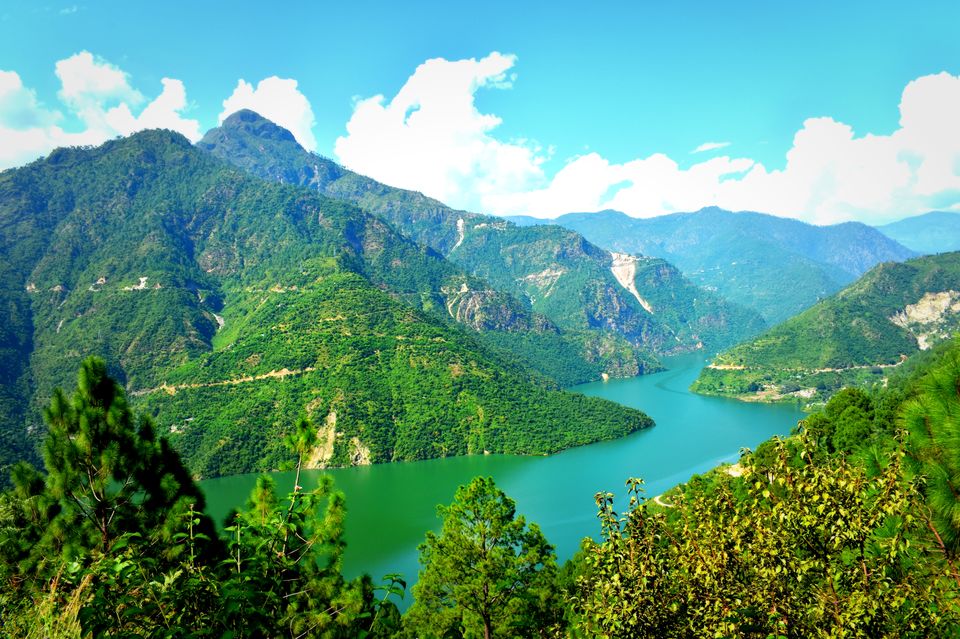 Entering Nepal doesn't need of visa or passport for and Indian citizen because Nepal is our friendly neighboring country I entered Nepal from Banbasa(Uttarakhand). First we have to register our details at Indian border After crossing Banbasa you will enter Mehend nagar(Nepal) we get Nepal permit there only. We have to submit our any ID proof Xerox copy they will ask us the number of days permit required. Per day they will charge Rs. 80/- after you get a permit, there is another cabin in front of permit office for traffic permit they will once again verify your permit and id proof then they will attach one more permit and they will charge Rs. 50/-. I didn't travel too much in Nepal because of unpredictable weather I entered Nepal from Utttarakhand and I managed to exit via Khakarbitta(Nepal) within 4 days.
No need to worry in Nepal about currency exchange and language. We can exchange our currency easily if you are unable to exchange currency don't worry wherever you go in Nepal they accept Indian currency and there aren't any language issue as they speak Hindi everywhere.
I didn't have a good experience in Nepal because for the first time on the 37th day my bike rear tire got punctured and on the same day a bunch of goats suddenly rushed into the road and I was unable to control my bike and I slightly hit one of the goat and I fell down from the bike…-(
On day 41 I headed to Darjeeling drenching in rain it was one of the best experience to travel in fog covered roads in rain, roads are too small I couldn't find out what was ahead of me on the road because its full covered with fog after I reached Darjeeling once again bad luck met me, Darjeeling was on a bandh since last 3 months because citizens of Darjeeling protesting towards making Darjeeling a separate state. Once again I skipped some places and headed towards Sikkim, bad luck always followed me, when I went to tourism office to get permit to visit Gurudongmar lake, Yumthang valley and Nathula pass, the security informed me that the office will be shut for 6 more days, tourism office was closed for 11 days for duserra festival.
If u want to visit tourist places in Arunachal Pradesh you must need a permit in Assam. Permit requires 2 passport size photos and one Id proof copy it will take a day's, ie time if you apply today you will get your permit the next day.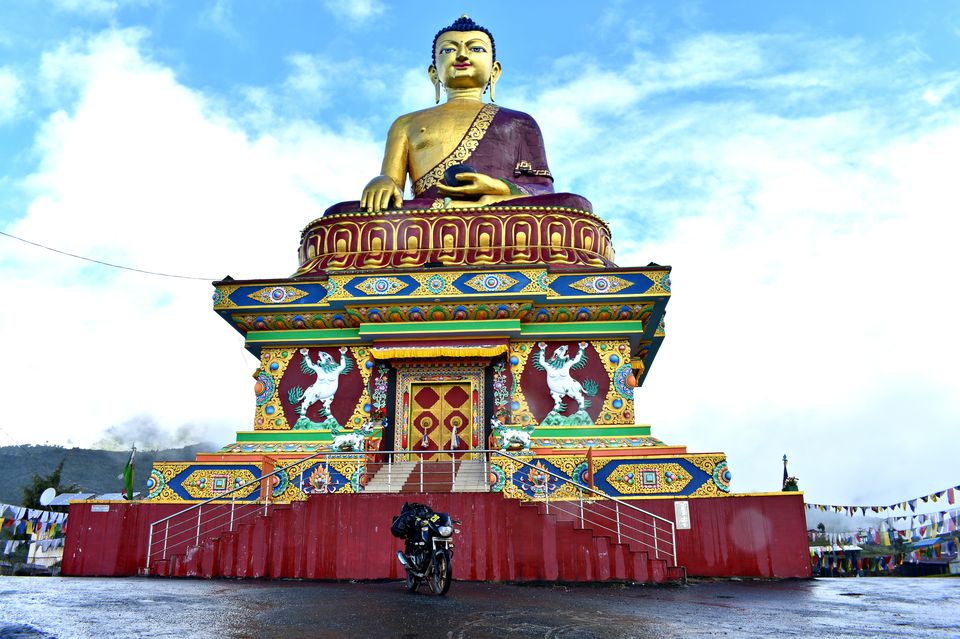 After my visit to Tawang I met another stranger and he was a cashless traveler he is from Hyderabad. So many peoples don't know about cashless travelers. Cashless travelers, as the word itself suggests never use money while traveling and they don't borrow from others and usually they don't use any gps, cameras, internet. They travel free of cost convincing people for food, traveling and accommodation if they fail to find roof for the night's stay they will manage to spend whole night somewhere road side or on a sleeping bag. Its very difficult to travel like them hats off to you man and whoever travels cashless. He planned to travel all over India and when I met him he had already completed 198 days and his total plan was to travel 600 days almost 2 years. I spent 4 days with him, it was a wonderful experience.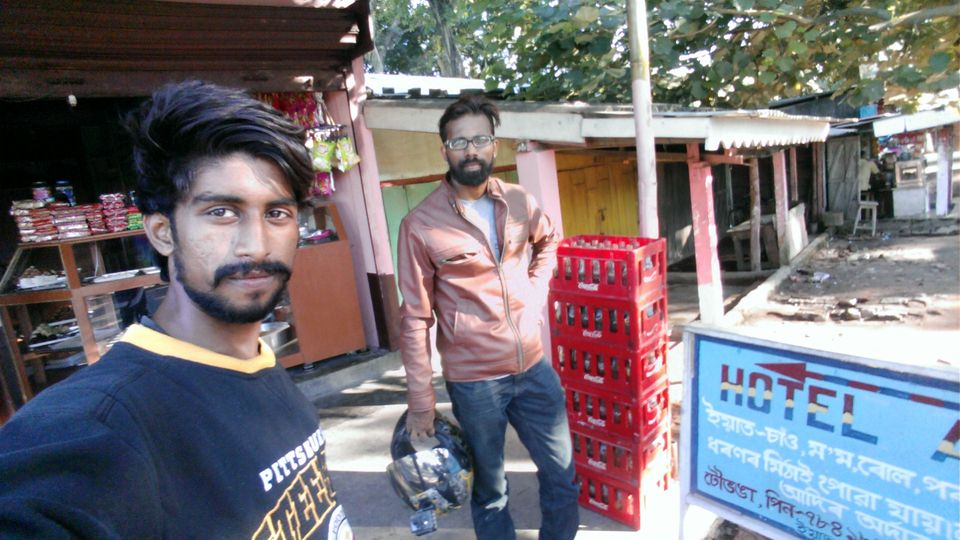 Roads are'nt good in northeast we cant cover target kilometers in northeast per day ,I rode only 200-250 Maximum 300 kms,it was a great deal adjusting the northeast food culture as the food menu was usually pork and fish . After I reach Kolkatta I covered 500 kms daily. On day 73 I returned to Kanyakumari via Konark, Visakhapatnam, Puducherry, Rameshwaram.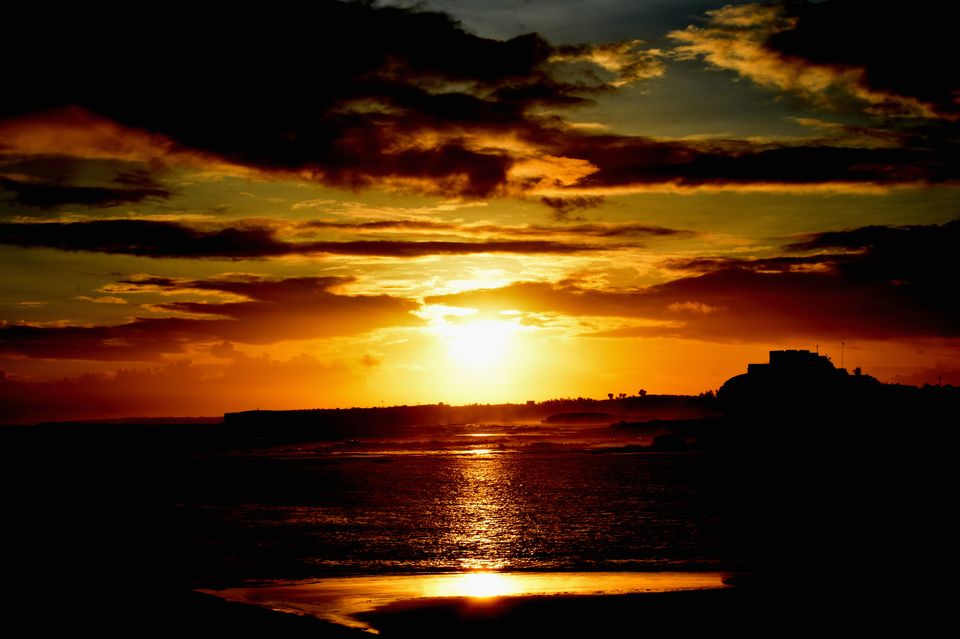 When I reached Kanyakumari on my 73rd day I felt I have nothing to regret about my life, I did something little big. Many bikers travel solo and ride more than my journey may it be the kms or duration, may be within India and abroad too. But my journey was a bit different because I bought my pulsar 150 cc(2009 model) on 2011 second handle before I took my bike for this journey I already re-bored him 3 times and I had reset the full engine once. In this condition its not easy to travel over 20,000 kms covering every nook and corner of India in pulsar 150cc and there were no sponsors for my journey I borrowed loan from my close friend.
Day 74 I left Kanyakumari at 4:45 AM and I managed to reach Bangalore by 8:00 PM with 711 Kms without any big obstacles in my whole journey.
LESSONS
There is no need to fear because every stranger is your well-wisher even stone hearted people, angry people, and thieves also because first thing you are stranger to them, another thing is if you tell them about your solo journey they will be amazed and they don't have a time to cheat or rob you because itching starts in their mind and they are thinking about you, how is it possible for one guy to travel across India on a motorbike and they forget about themselves and will start to appreciate and they are more curious about your journey.
You will invent a great master and brilliant student within you.
After all the travel in ghats, terrains, hill stations, highways you feel you are not master yet in riding and you feel there is a lot left to learn about riding.
Its not about how much you trust your bike it's a real test of how much your bike trusts you.
Always remember your previous mistakes.
While you are on a solo journey each day is filled with surprise - new roads, people, location and people always cheering you up and motivating you, strangers never let you down, one stranger's thumbs up will change your whole day.
One day your whole journey reminds how you were before your journey who you are right now, how your journey made you stronger.
Don't expect every biker to be in your brotherhood zone.
It teaches you how to deal with Incompatibility.
You will be wise when you realize all the above experiences cannot be learnt anywhere else.
MORAL
Sometimes you just need to disconnect and enjoy your own company like stop your bike somewhere in an isolated area smoking cigarette, thinking something, talking to yourself, making your own decisions and implementing your thoughts. It's a wonderful experience when a great master and student comes out within you, you will feel proud when something like that happens.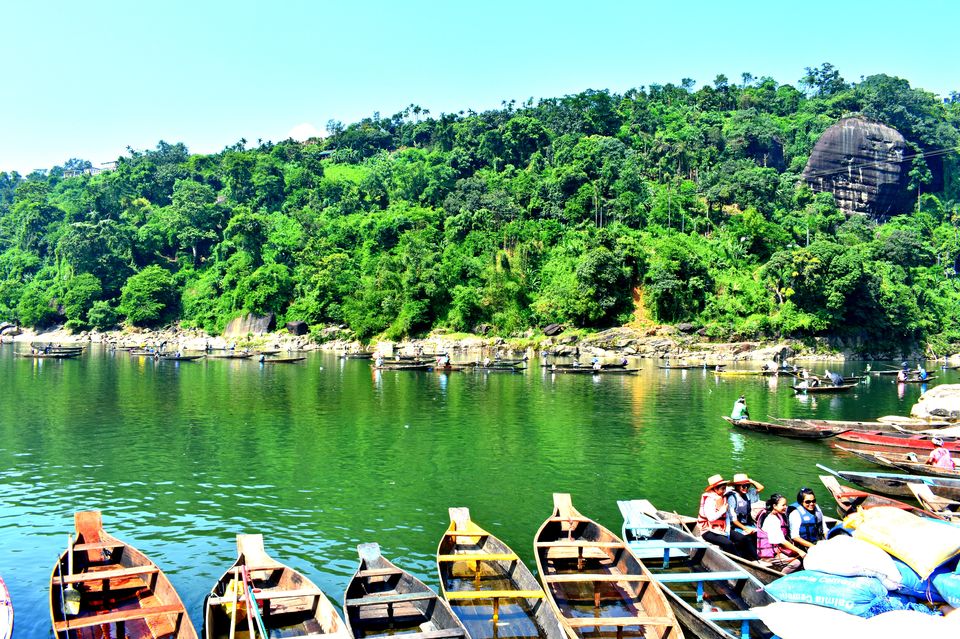 Whatever you do in your life, be confident of your journey. If you really want something out of your journey take your brain with your heart along the journey because every time you couldn't succeed with your plan sometimes you have to listen to what your heart whispers and also at times you have to see the world with your brain not from your heart, finally sometimes you have to tune your brain with your heart.
Before I started my journey some of my friends, relatives and whoever I met during my journey everyone asked me why are you doing this stupid thing, are you mad its full of wasting time and money but what they don't know is not everyone get a opportunity to travel all over India, visit to Khardung La which is still many bikers' dream in a life time but I reached two times KHARDUNG LA in back to back year both time I rode solo from Bangalore, another point is there is no point in saying like its waste of money. I spent 2 lakhs for this trip but those who have a lot of money they cant earn this kind of experience sitting at one place and earning lot of money. I rewarded with what money cant buy even if I worked a whole life time.
"Its not about how much we earned, its about what we learned from our earnings".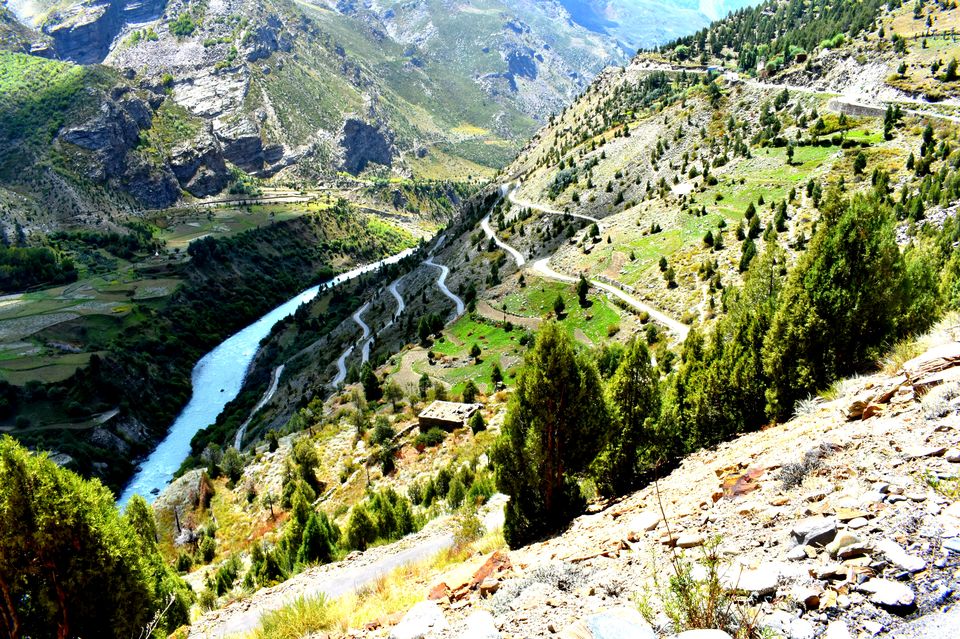 CONCLUSION
I'm proud to have such a bike like this. He never leaves me alone , never puts me under pressure and he never breaks my hope, he is the most trust worthy in my whole life of whoever I have seen. Its not just important that I know everything about him, what's more important is he knows everything about me and how I feel. One thing he always remembers about me is that I trust him very much that's why he never lets me lose my faith in him. Hats off you Mr.28 I never ask you anything in future because you did so many things more than what I expected in my life. I started to taste real life From you. Once again thanks buddy to being a part of my life, I'm really proud to have you. Whatever I achieved today all credits goes to Mr.28 because I just sat over him throughout my journey but he bears every inch of the pain and every tough situation and after all this he shows me a real life.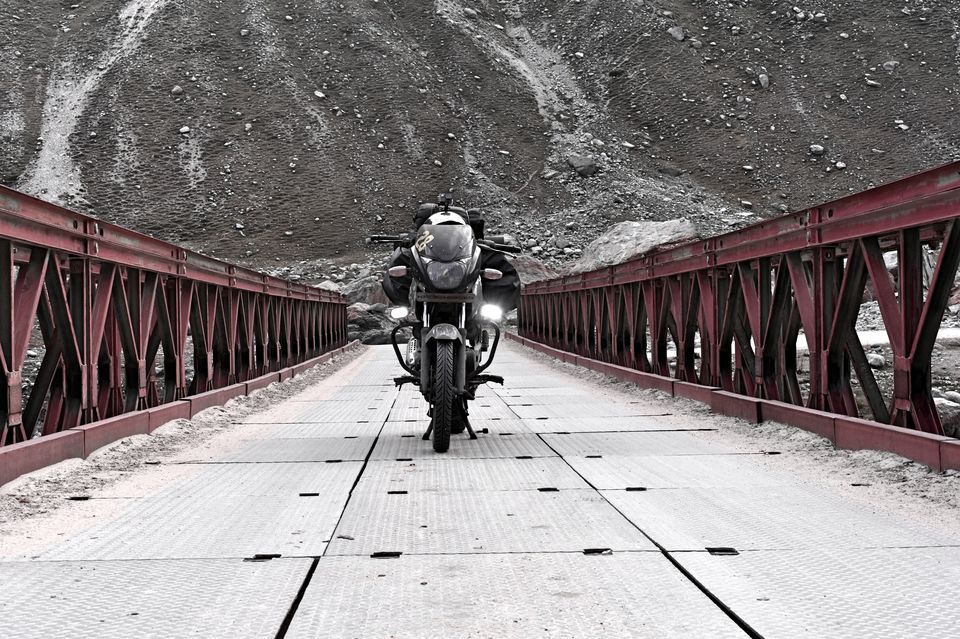 "Its not about what you ride its all about how strong a bond there is between you and your bike".
Special thanks from bottom of my heart to my buddy Vaishakh (who sponsered money), Prasad (My friend cum tuner) who prepared my bike for this journey and I thank everyone I met along this journey and whoever encouraged, motivated, helped and cheered me up.
Facebook Page > https://www.facebook.com/vishwa.vishwas
Instagram > https://www.instagram.com/vishwa_vishwas28/
YouTube Channel > https://www.youtube.com/channel/UCTUeRptci0OIN1tOEtdOHDg?view_as=subscriber