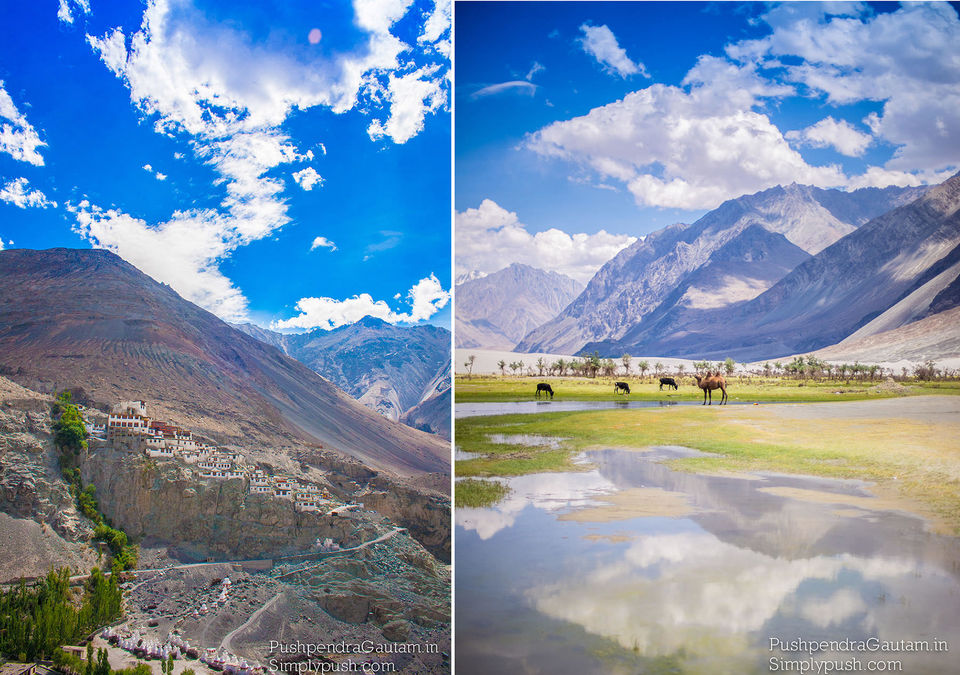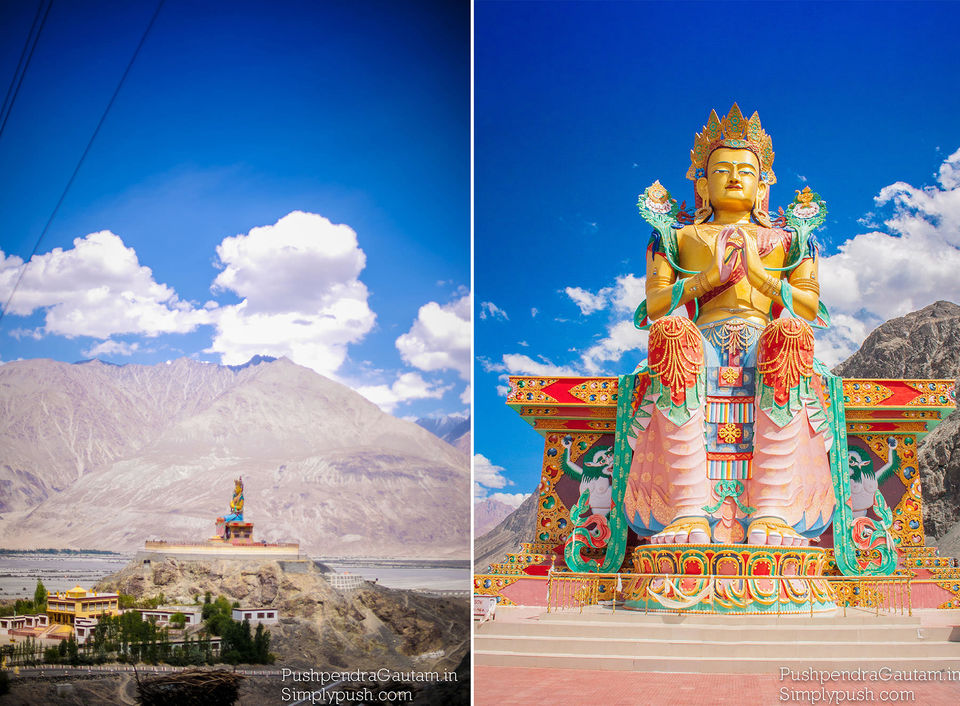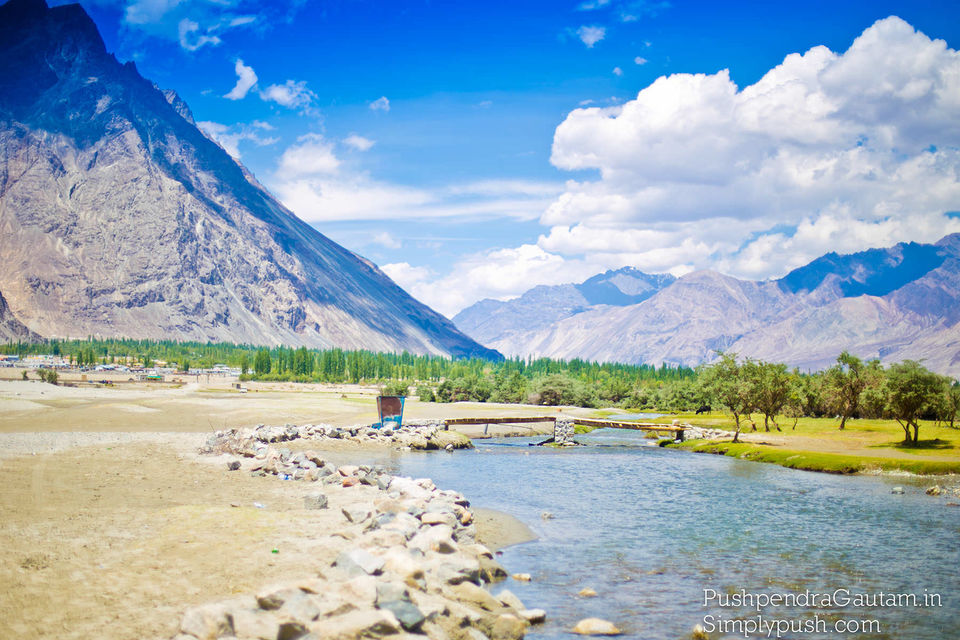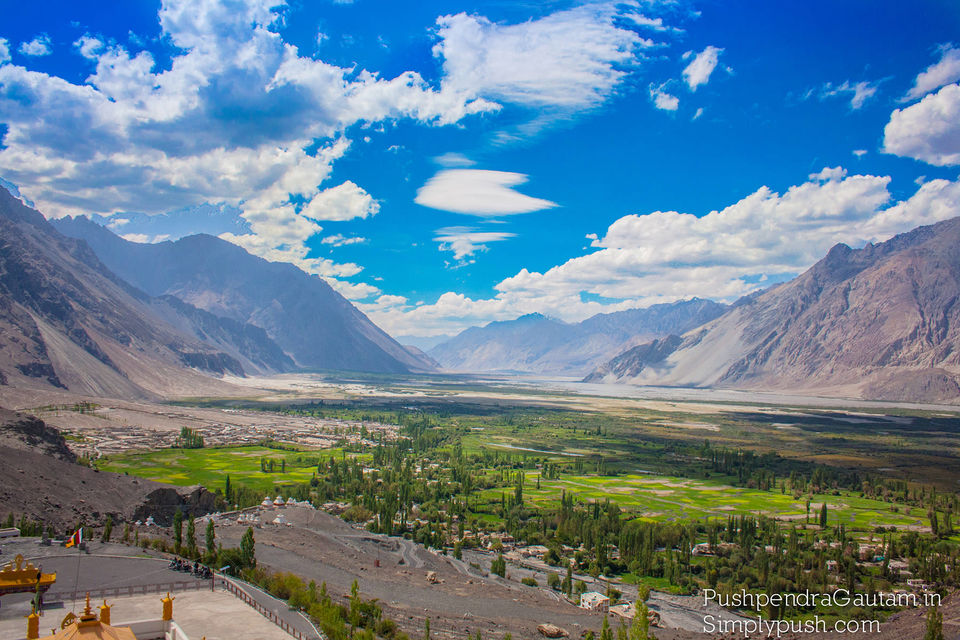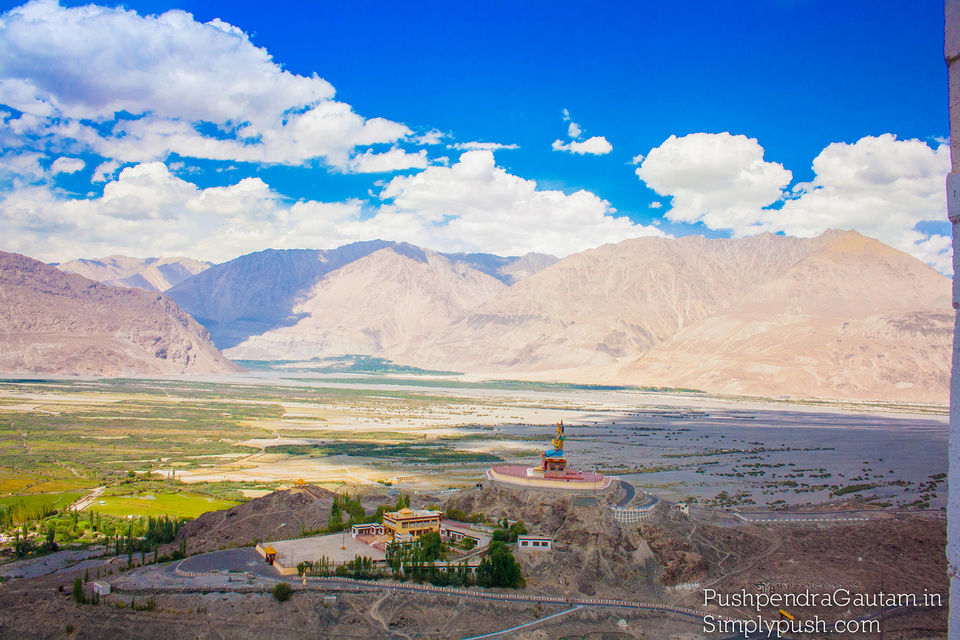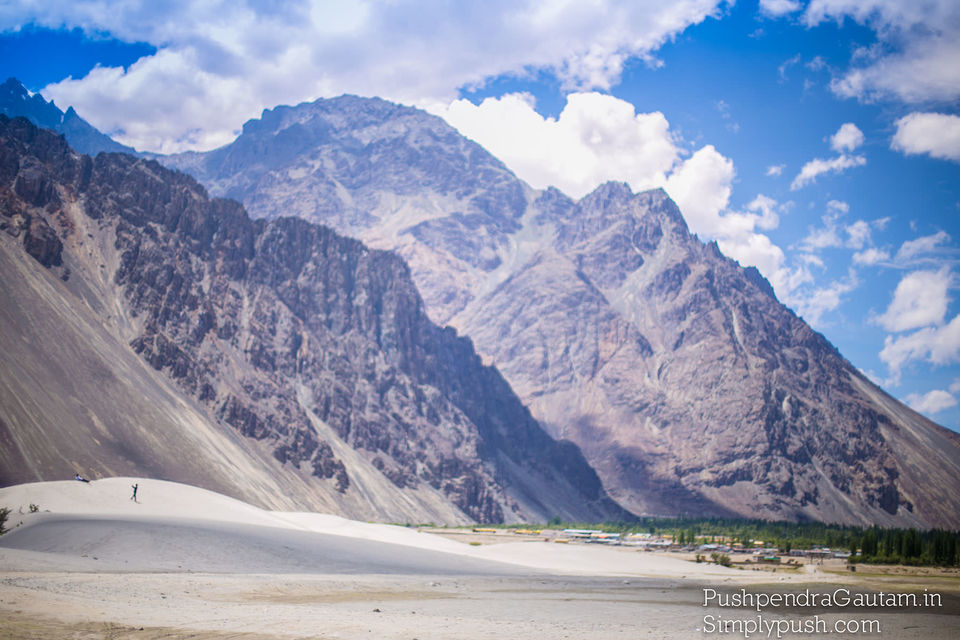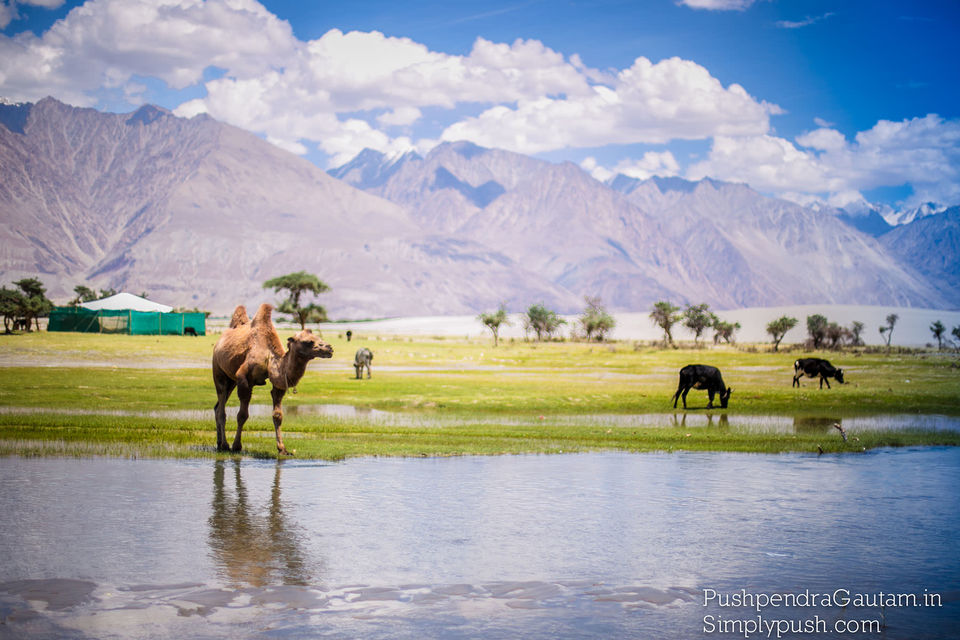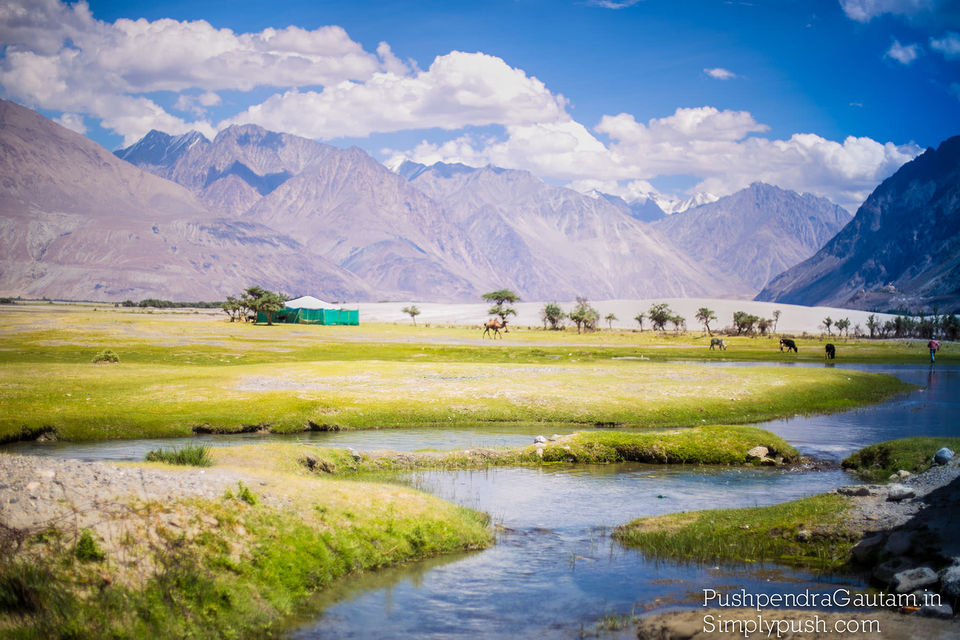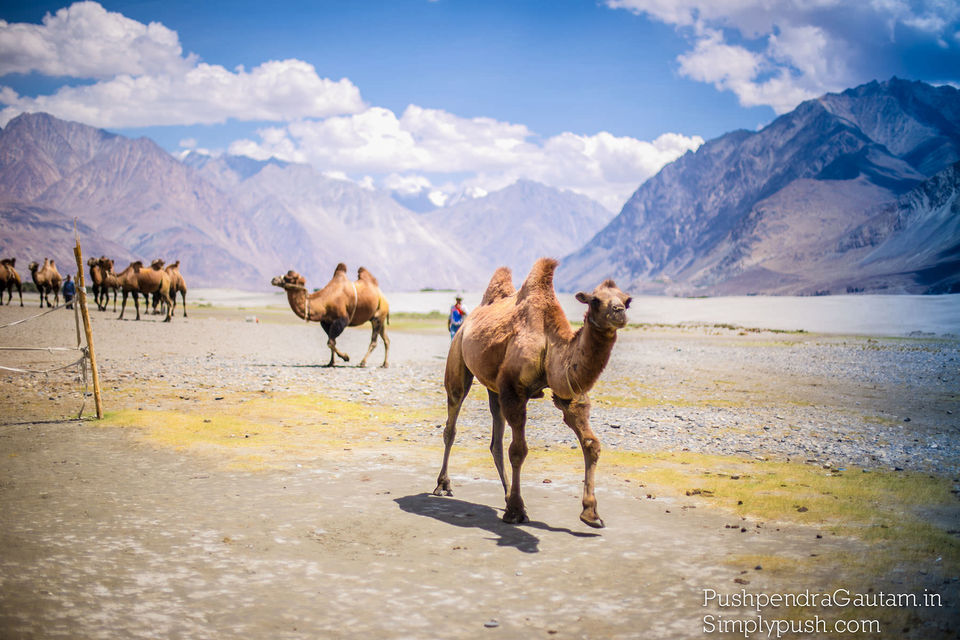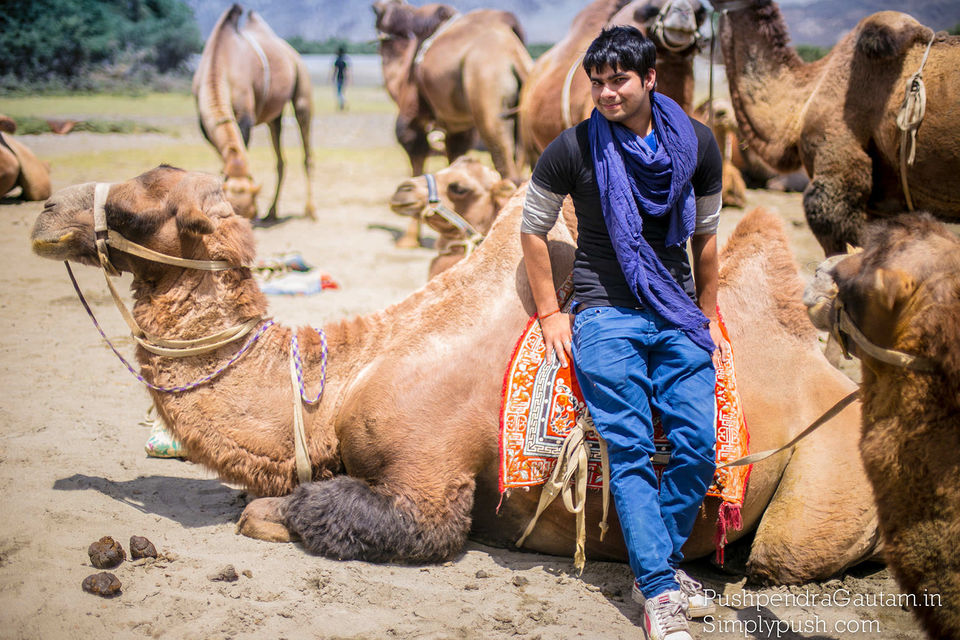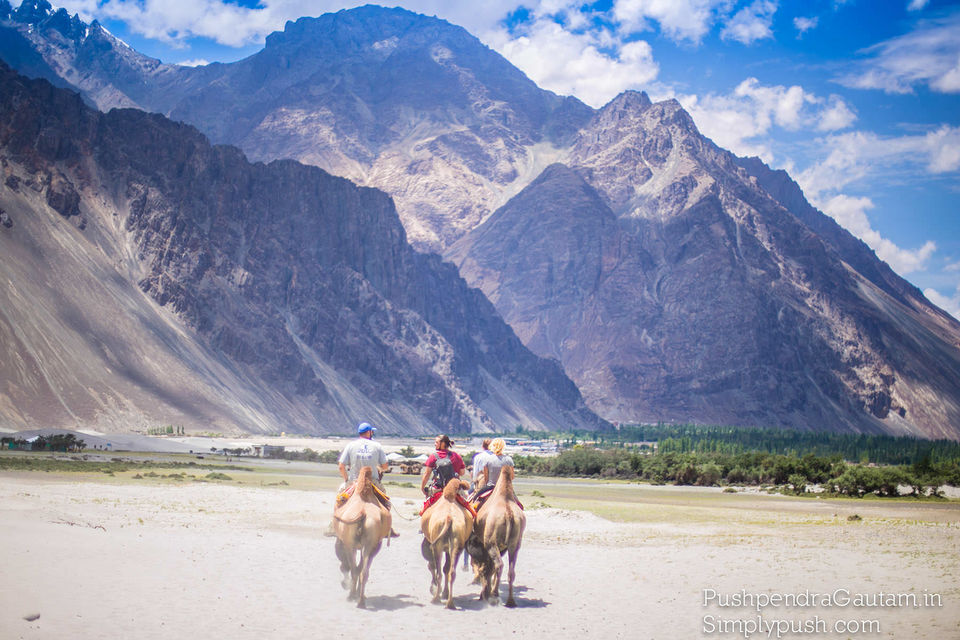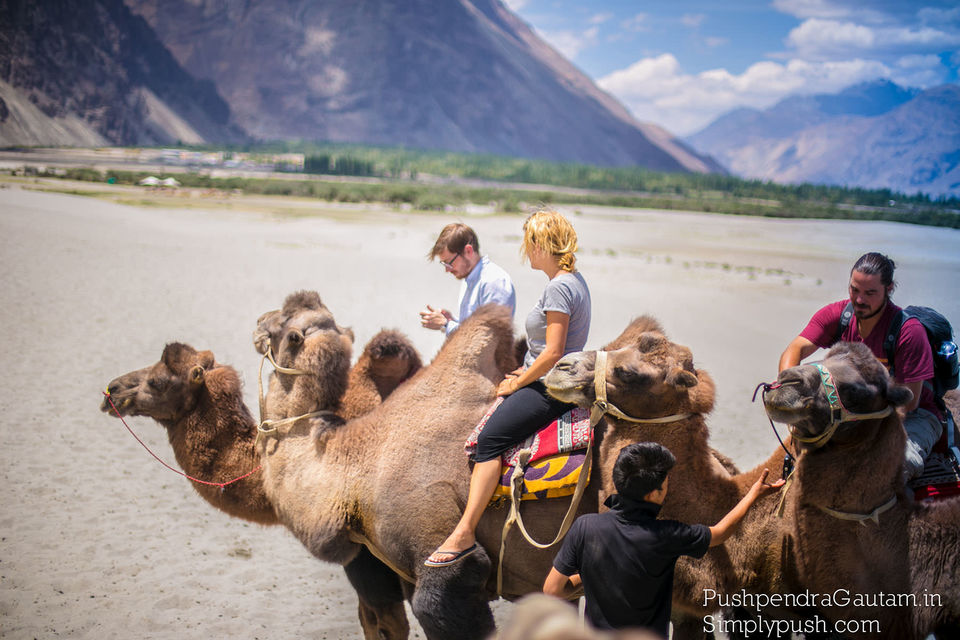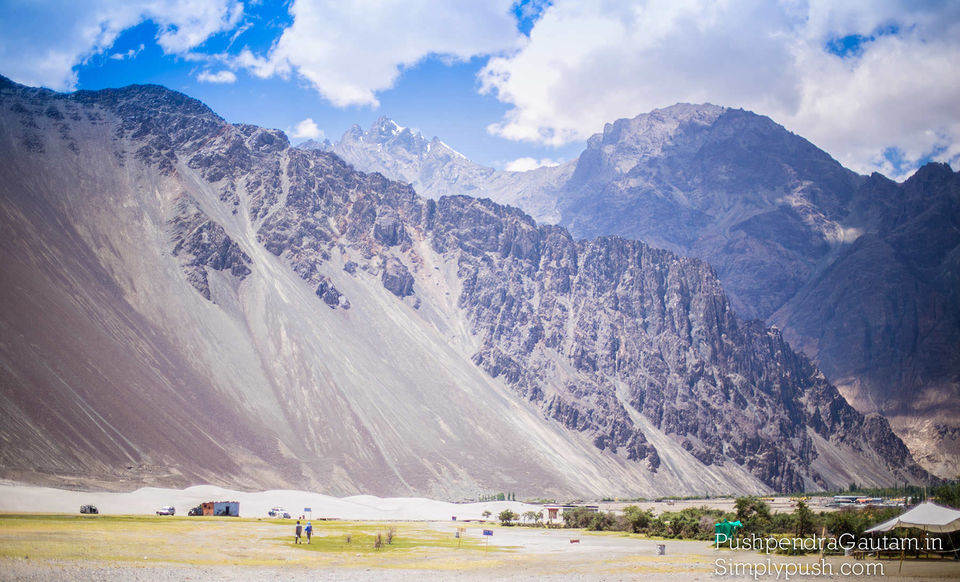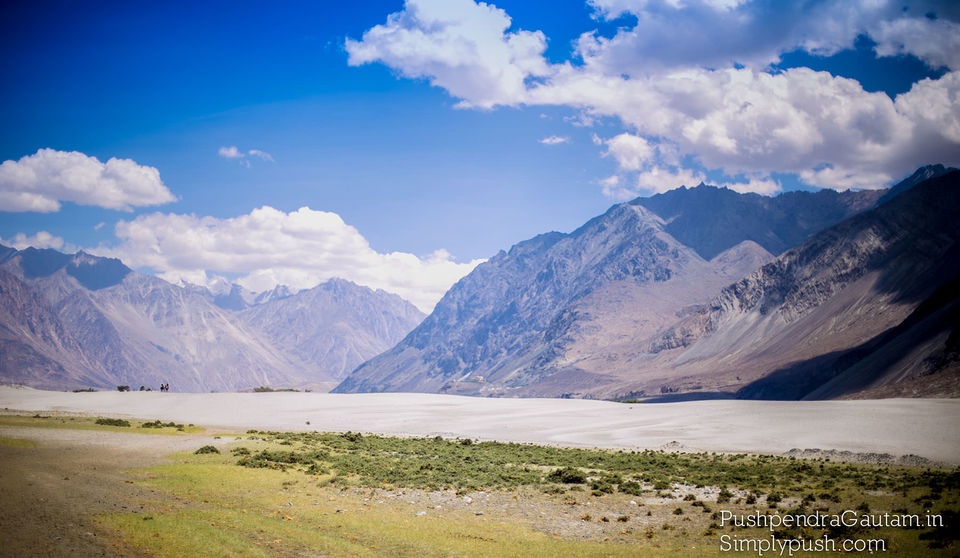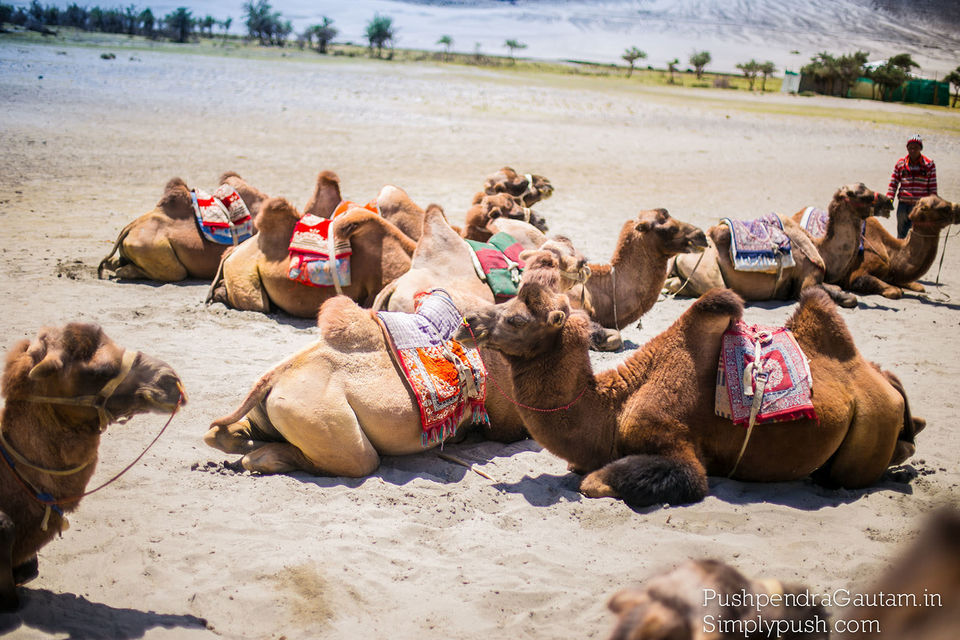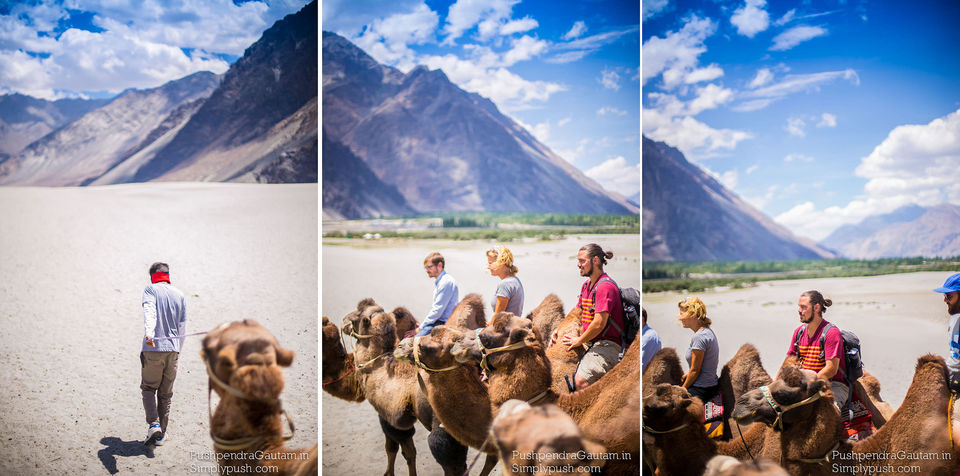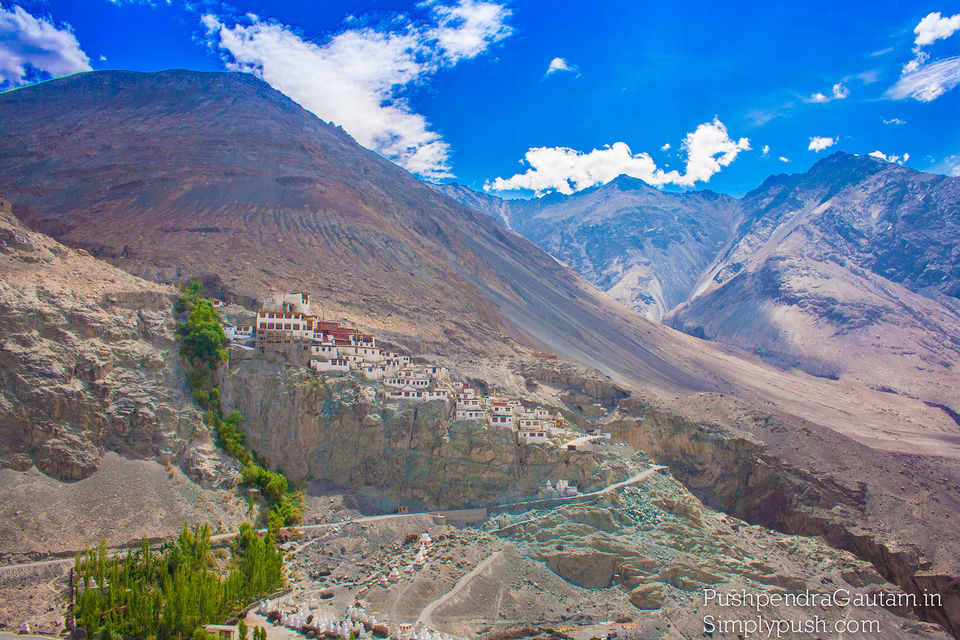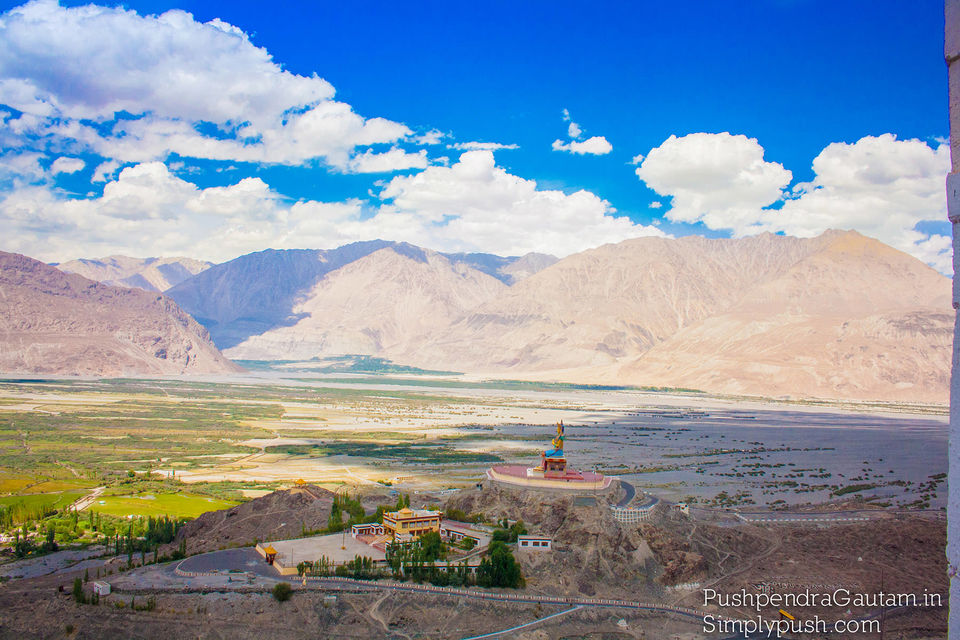 Ladakh - the 'Land of the High Passes' - is among the most stunning parts of the Indian Himalayas. Wedged between Pakistan, Tibet and China and India's Himachal Pradesh, it forms the eastern part of Jammu & Kashmir. North of Leh, Ladakh's 'capital', lies a far-flung and austerely beautiful enclave cradled by rugged mountains ‒ Nubra Valley. Diskit the capital of Nubra is about 150 km north from Leh town,the capital of Ladakh district.
Like the rest of the Tibetan Plateau, Nubra is a high altitude cold desert with rare precipitation and scant vegetation except along river beds.
Below is the most general route to Nubra Valley from Leh that most people usually follow. You can reach in about 5–6 Hrs depending upon the number of break you take in between and of course at Khardung La:Leh – Khardung La Pass (40 KMs) – Khardung Village (34 KMs) – Khalsar (23 KMs) – Diskit (19 KMs) and return.
Do not forget to refill petrol/diesel at Leh petrol pump as there used to be a fuel pump at Diskit but never seen that in working conditions. So, better tank up at Leh only before making a dash out to Nubra Valley.
Permits: First and foremost, all foreign nationals require a Protected Area Permit (PAP); apply either in person at the District Commissioner's Office in Leh or via an authorised travel agent (plenty in Leh). The PAP, which costs 600 Indian rupees (INR), specifies where you can visit and overnight. Officially you'll probably be listed as part of a 'group' (minimum two people) but in practise solo travellers have no problems. Visitors should carry multiple copies of their PAP for Nubra's various checkpoints.
Transport: Buses to/from Leh connect Diskit (and occasionally Turtok) and Sumur but it's far more efficient catching shared taxis to/from Leh and even between various Nubra destinations. Leh-Diskit or Sumur, about 5-6 hours, costs around INR400pp. Once in Nubra taxis can be arranged for tailored itineraries; Diskit's taxi stand is a particularly good place to arrange this. Rates are generally fixed though out of season or with fewer visitors there's scope to negotiate. Sample rates (for the whole vehicle) include Diskit-Turtok-Diskit day-trip INR3700, Diskit-Sumur one way INR1000. The ultra wide landscapes, humongous mountain faces, lovely trails, wide variety of colors and musical Shyok river flowing midst the valley will take your breath away at first sigh.
The region actually comprises two valleys: Nubra and Shyok. Both their rivers rise amidst the remote and heavily glaciated peaks and troughs of the Karakoram Range. The Nubra joins the Shyok in ‒ as far as tourism is concerned ‒ the region's heart near Diskit before flowing westwards into Pakistan to eventually join the mighty Indus.
Leh is at an elevation of approx. 11,500 feet. And Khardung La is at 18,500 feet. The distance between the two places is just 40 kms. So, you gain an immense amount of altitude in a very short span of time - the fastest way to get altitude sickness!
The main attraction here is Diskit Gompa, or monastery, perched high above town on a craggy spur. You can drive up here but it's a joy to walk among the mani walls (elongated, almost artfully arranged mounds of stones engraved with Buddhist prayers and mantras) and whitewashed chortens (dome-shaped monuments housing Buddhist relics).
Panamik lies on the right side of Nubra valley, while Hunder and Diskit lie on the left side. At Hunder, the high altitude desert begins..White sand dunes for several kilometers, clear blue sky above elegant Karakoram with Shyok river at the base. Definitely a unique place on the earth!! Desert, mountain with snow, river all at one place!
About 10km west of Diskit stands Hunder village. Camels can often be seen grazing on the dune-like landscape between the foot of the mountains and the braided Shyok River. It's a pretty village, ideal for ambling, with a small roadside monastery known as Chamba.
The major attraction of a trip to Nubra Valley is the highest motorable road, Khardung Pass Being at lower altitude than Leh at an average altitude of 10000 Feet or 3048 metres, Nubra Valley is an ideal place to fit into the acclimatization schedule of your Ladakh trip once you reach Leh. Bactrian camels are also a major attraction in this area
Local communities once prospered on an extraordinary trans-Himalayan trade which originated with the Silk Road. Comprising huge mountains, yawning valleys and vast uninhabited hinterlands, most of Ladakh's boundaries may look almost impenetrable on a map. Yet for centuries great caravans of wool and cloth, opium, spices and skins, coral and turquoise, gold and indigo negotiated several routes and their hazardous passes mainly between Leh and Yarkand (in China). The already withering trade finally died in the late 1950s when China largely sealed its borders.
This trip was first published on Pushpendra Gautam's blog.